Our verdict:
As close as you can get to a $900 Dyson fan air purifier without spending more than $200, but comes with a few too many cons to truly recommend to everyone.
When I took a deeper look into ULTTY, the company behind this air purifier/fan combo, there was not much information on their website. When I looked at archive.org, the first site went live on July 28th 2020, and in their 'About' page mentions a factory you can visit but that info was removed from the latest version of the site. Analyzing their website details further, DNS records show that the site was registered in China, which makes sense.
ULTTY seems like a smaller version of Taotronics. They are both Chinese manufacturers selling units directly to American customers. They don't just sell fan and air purifier combos but also garden hoses and frying pans.
As a manufacturer who sells direct, they don't waste time on marketing, with their value proposition defined by their low cost and ability to manufacture new designs quickly. They currently have multiple types of air purifier/fan combo units, and also a fan/heater combo that sells very well.
In the space of air purifier and fan combo units, we have one main player which is Dyson, and the next smaller competitor would be ULTTY. The main point of difference between ULTTY and the competition is price – consumers can spend $150 to get a seemingly similar unit to a Dyson air purifier/fan combo, which costs at least $799.
The unit we are reviewing today is the CR021, although now there is also a CR022 for sale which is slightly larger and more powerful. The ULTTY CR021 uses a H13 HEPA filter and has the ability to work as a fan and air purifier combo, or just one without the other.
As with all the units we test here at HouseFresh, we bought this air purifier/fan combo with our own money, so we could truly be open and honest about our experience. We want to help as many people as we can to get the right unit for their specific situation.
TL;DR The Low Down on the Unit
Can't be bothered to read more? Then insert my key thoughts about this air purifier/fan combo straight into your brain below:
What We Really Like:
👍 Bladeless fan is great – feels very sci-fi and futuristic
👍 H13 HEPA filter that is not normally used in cheaper air purifiers
👍 Simple remote that does everything you need
👍 Small size and lightweight so easy to move around
👍 Price is much cheaper than big brand competitors
What We Think Could Be Better:
👎 The lack of activated charcoal means it has no odor-removing ability
👎 Air cleaning performance is similar to a $70 air purifier
👎 No on-board sensor for indoor air pollution
👎 Cheaper build quality and design when compared with higher priced models
Spec for Small Spaces
As a fan/air purifier, we would expect a much lower CADR score for the price, and as expected, this unit is really designed for smaller spaces or those not needing to clean a lot of air quickly.
| | |
| --- | --- |
| Purifier technology: | H13 HEPA |
| CADR (CFM / m³/h): | 35 CFM |
| Recommended room size: | Up to 320 sq. ft. |
| Filter life: | Every 3 – 6 months |
| Noise level (low – high): | 32 dB – 59 dB |
| Dimensions (in inches / in cm): | 23.5 x 10 x 10 inches |
| Weight (in pounds / in kg): | 8.5 pounds |
| Energy consumption: | $54.31 per year |
No Dyson, but Still Looks Great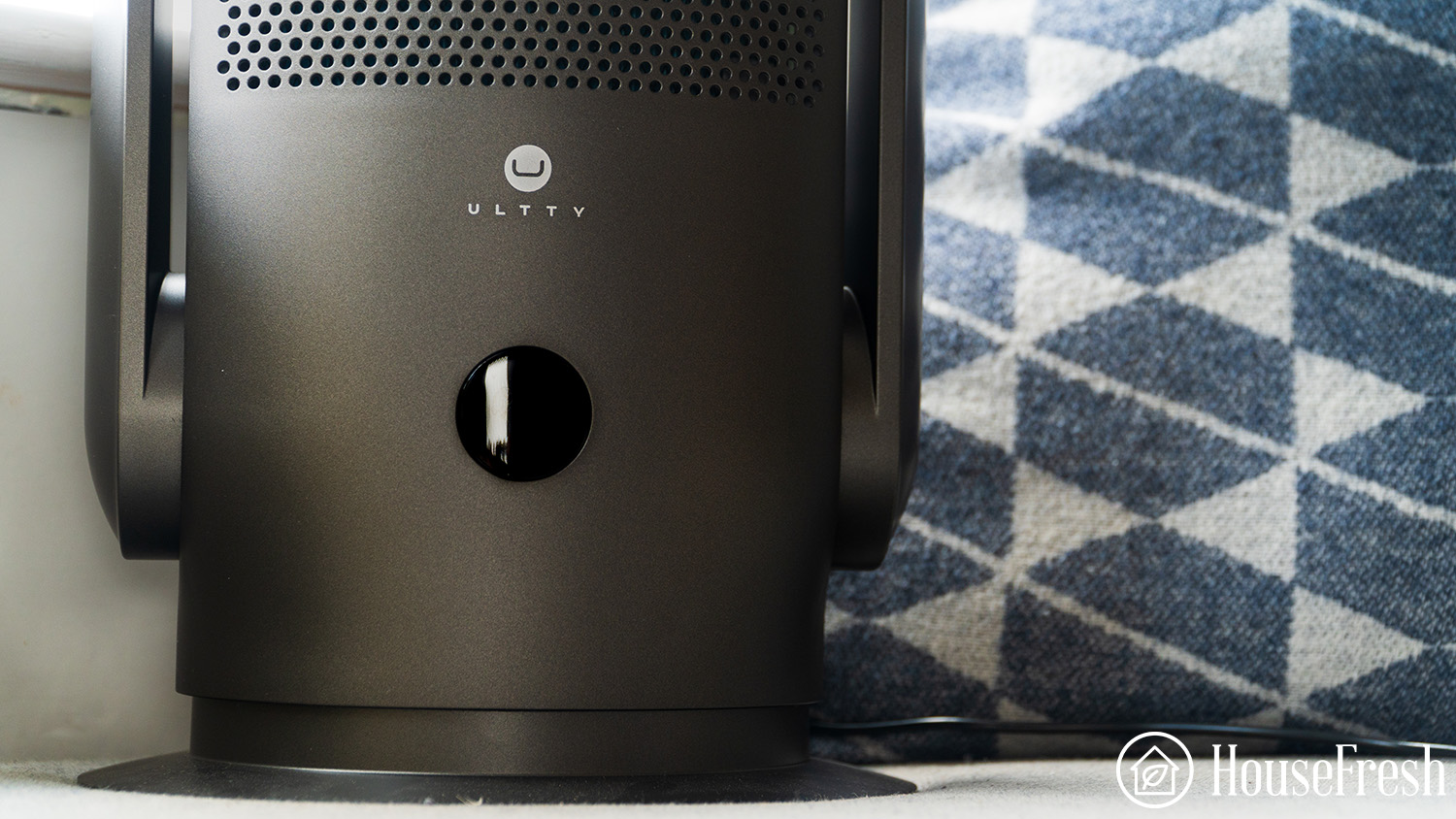 OK, so it doesn't feel like it achieves the same goals as the Dyson design, but considering its cost, it's not a bad looker. It still has the bladeless fan of the Dyson, with the main body used as the location for the HEPA filters. The screen is simple with 9 speeds available but no onboard particulate or VOC sensors.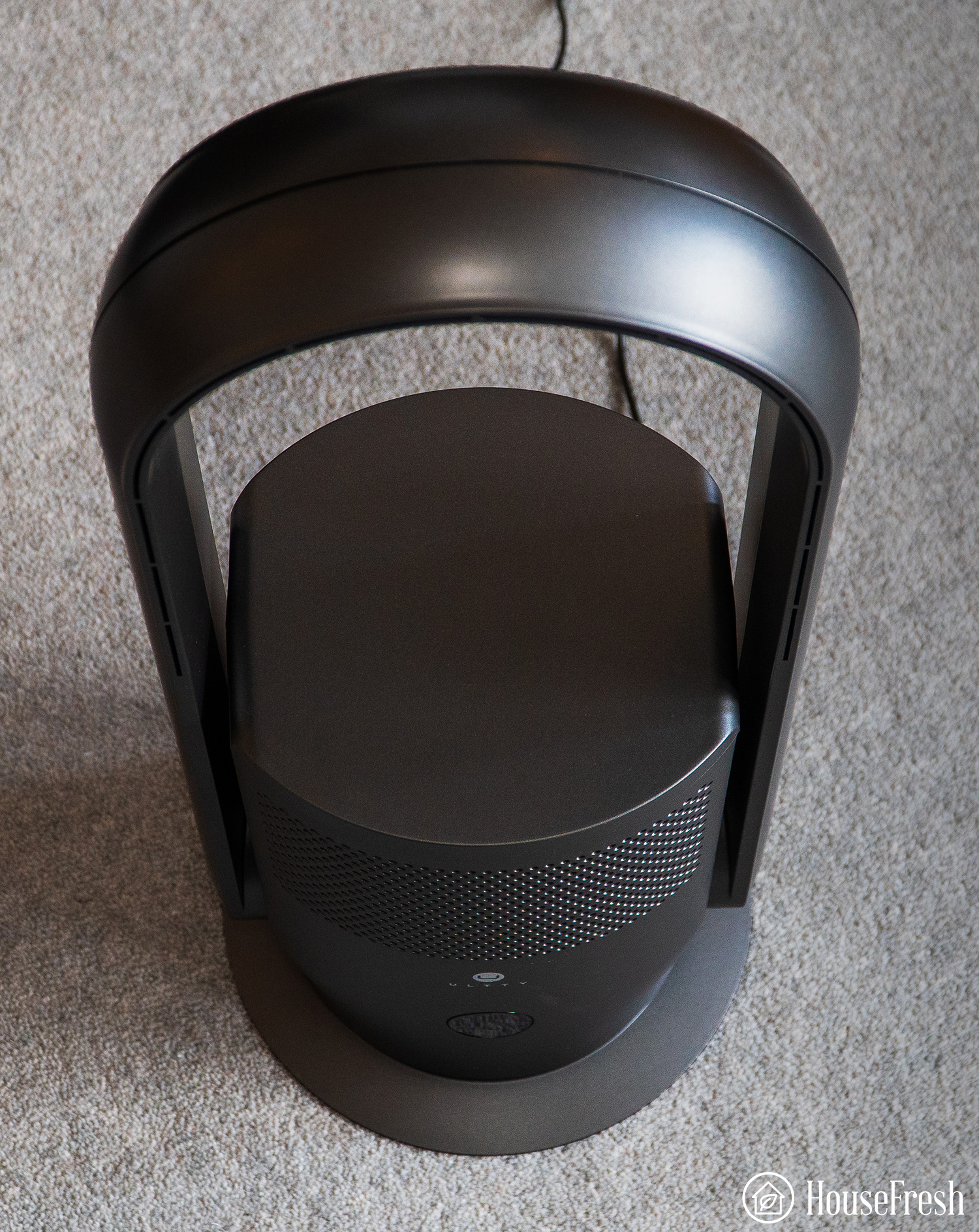 When you compare it to the Dyson combo units it's much shorter but has a similar floor footprint.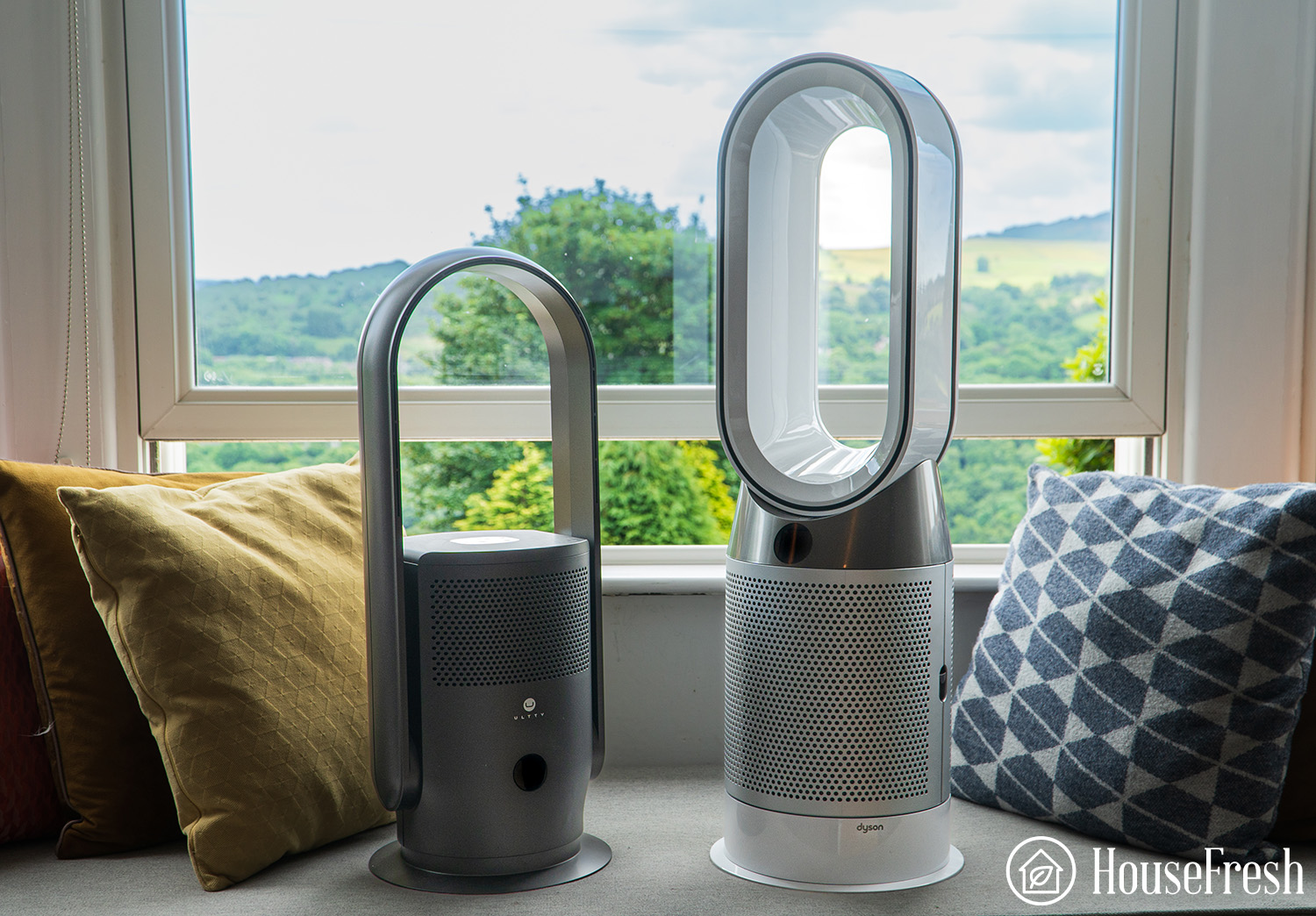 Filters Won't Remove Odors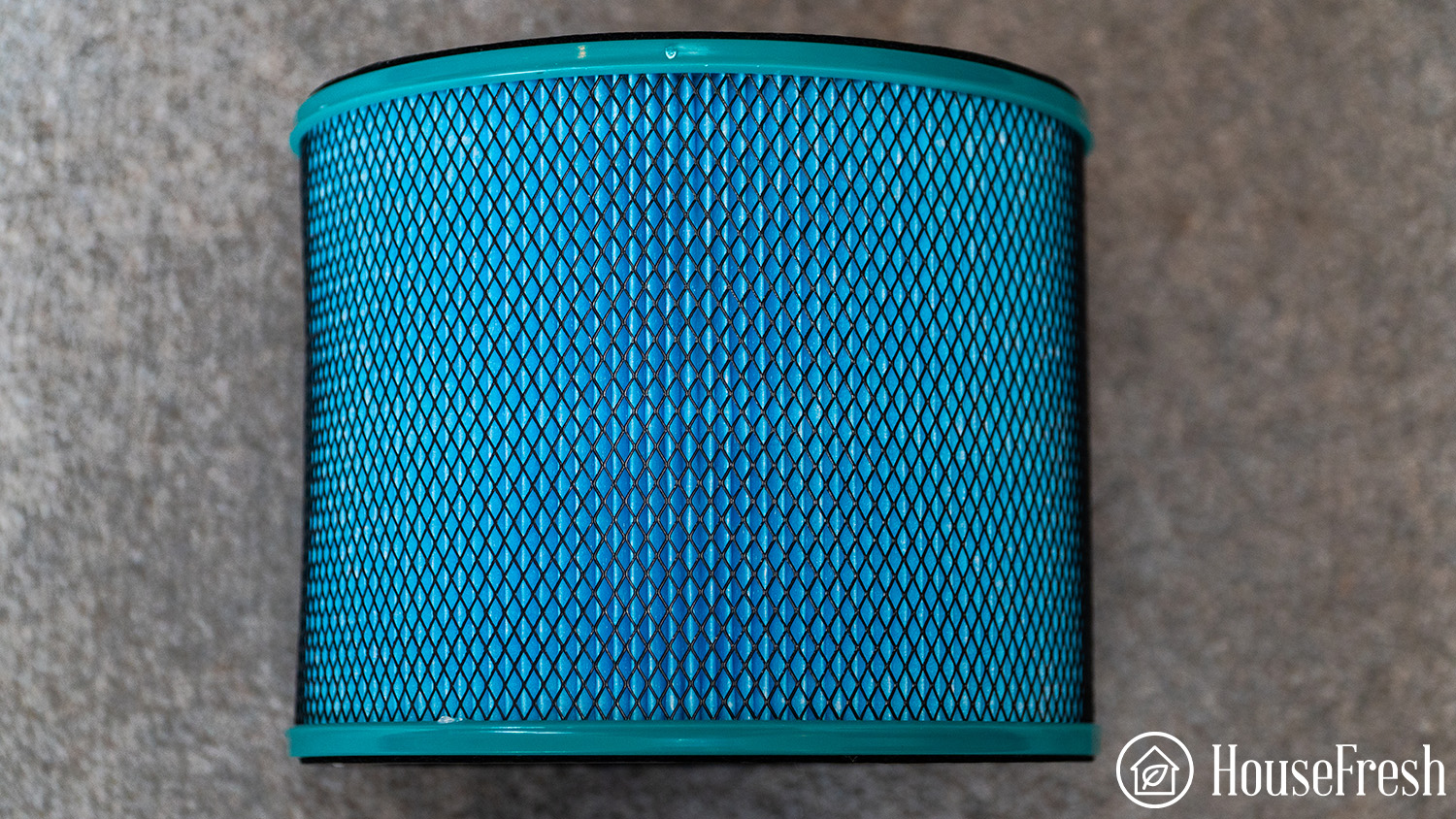 H13 HEPA is medical grade (and the same as what Dyson chooses to use) but I think this was a mistake for such a low-powered fan. Lower-grade HEPA filters can still remove many small particulate particles from the air and are usually a better fit for air purifiers with low power fans.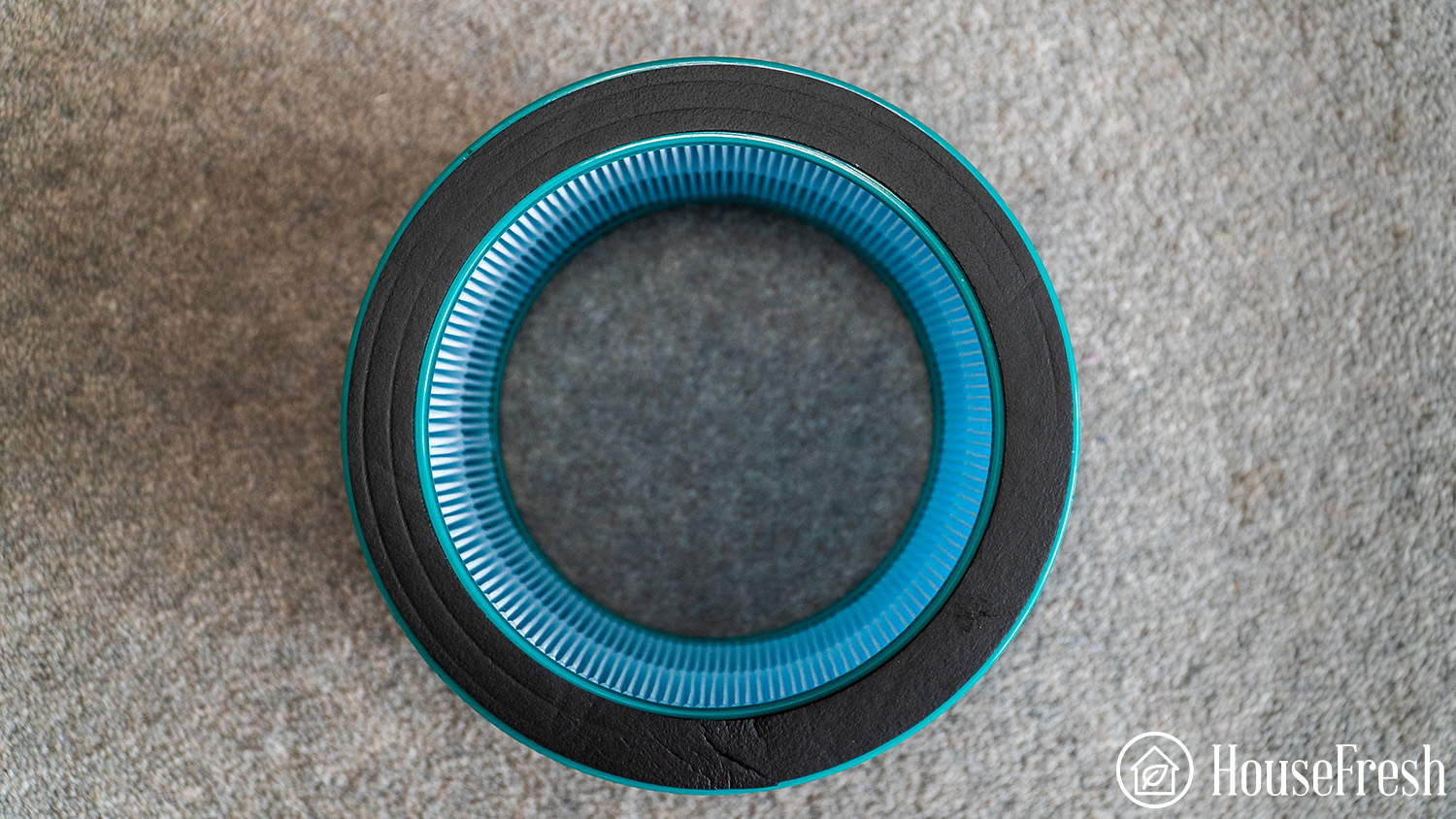 The higher the grade of HEPA, the denser the fibers and the harder it is to push air through them. This was one of the reasons we saw such a high cleaning score for the Smart Health S even though it used H11.
The big downside about the type of filter ULTTY uses is that it has no activated charcoal – it doesn't even use the cheap impregnated type that we see on lower budget versions. This means that whilst the HEPA will remove particles, all odors will not be removed. This feels like a big home goal, as I know that a good majority of household users will want to remove odors, that's why we see activated charcoal used in budget air purifiers like the Levoit Core 300.
The lack of activated charcoal is something that I really hope this manufacturer looks at for future versions, as right now, it has no odor-removing ability.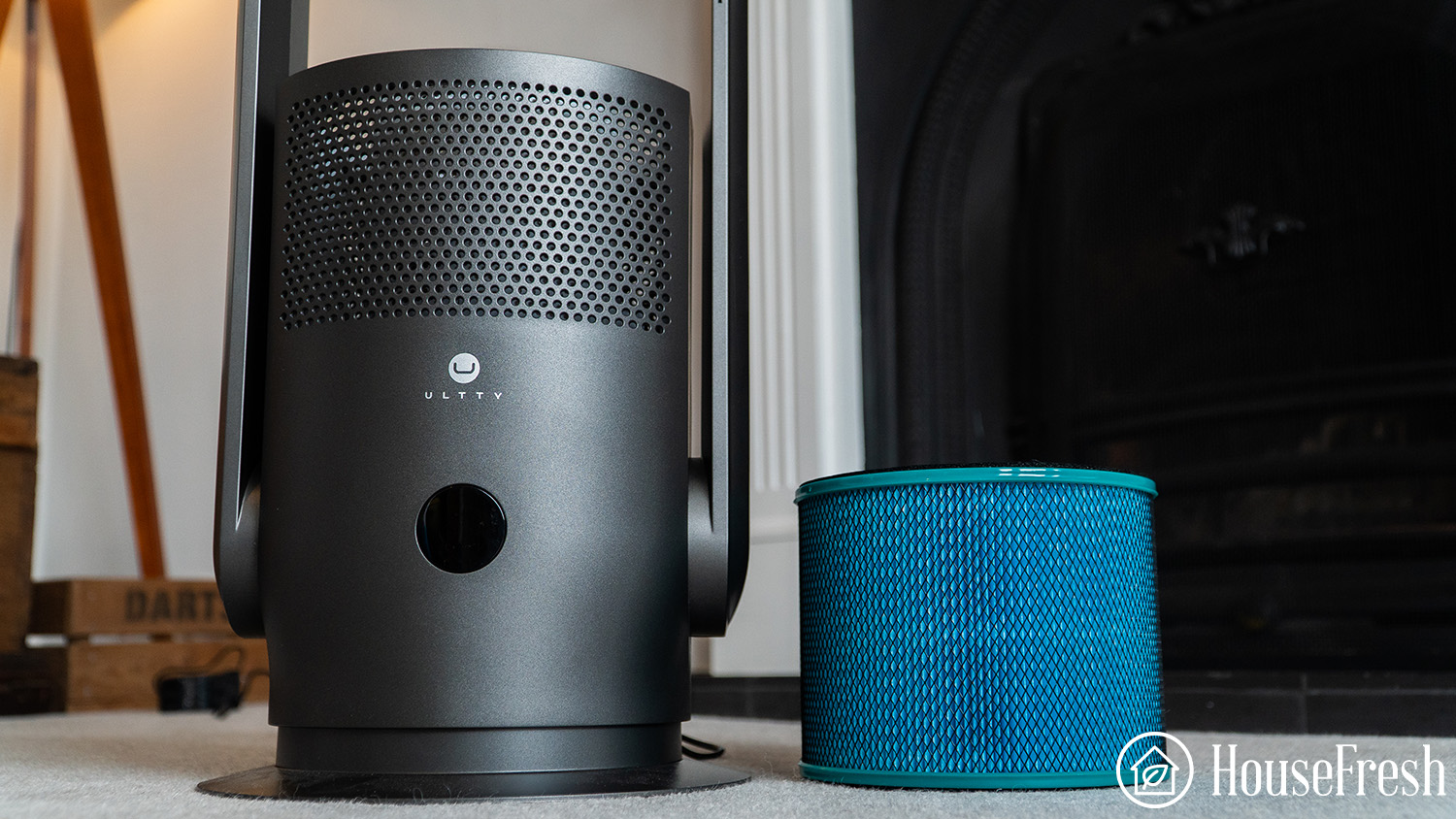 This might seem like a silly thing to say but do make sure you remove the filter from the plastic bag it arrives in. Every manufacturer will keep filters sealed, so they are not used passively. If you don't remove the plastic, the air will not be cleaned and you might even cause overheating problems or melt the plastic.
Simple Remote Control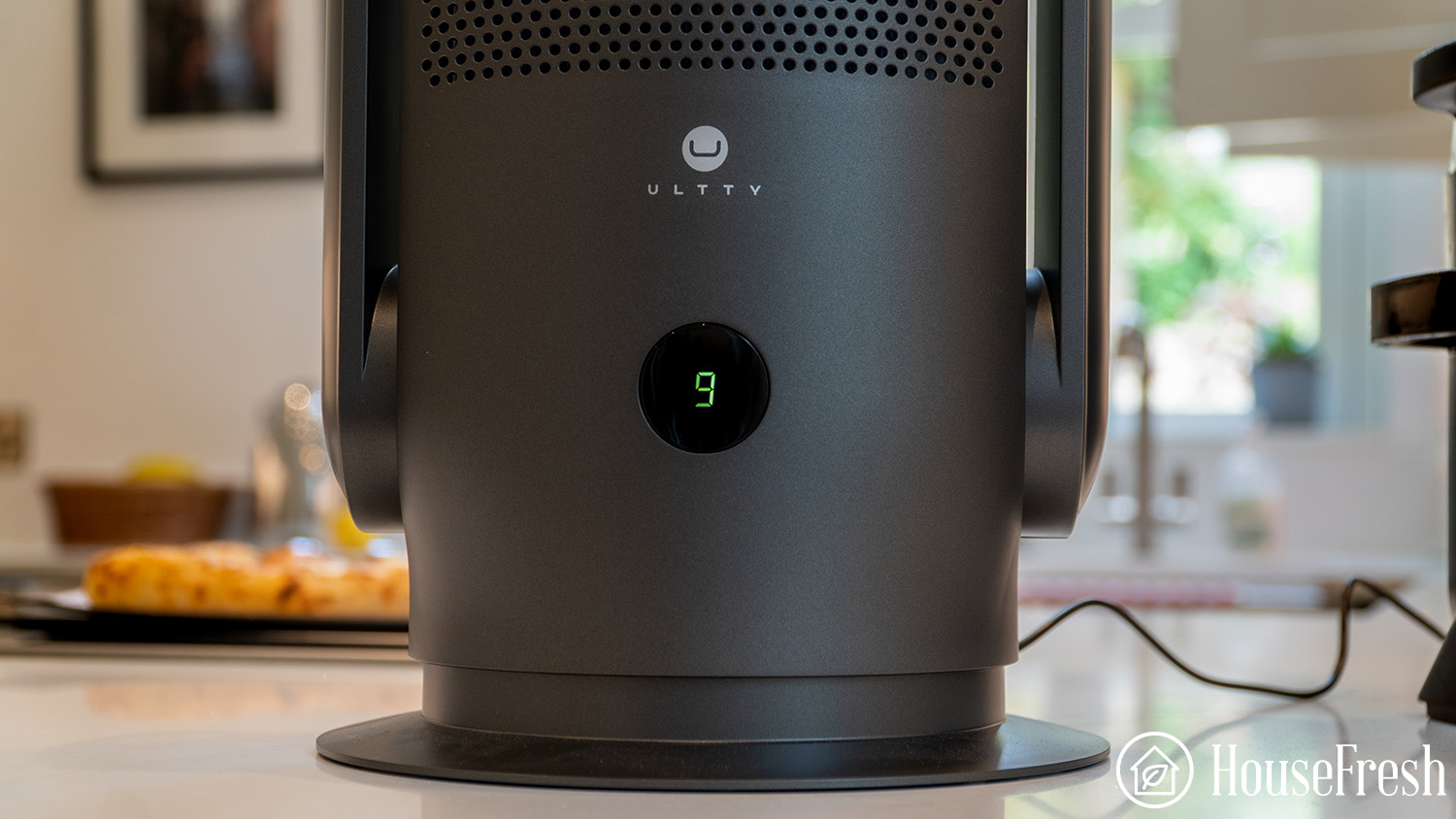 Unlike Dyson units that need an app to truly unlock all of their capabilities, the ULTTY keeps things simple with an old-school remote control.
With the remote, you can adjust the level of rotation, the speed of the fan, and also set night mode or timers. Whilst an app would be nice to have, I would be worried that it wouldn't be built to the high standard we saw with the Dyson link app, so I am much happier with this simple approach to using this fan/air cleaner.
Room Cleared in Just Over Two Hours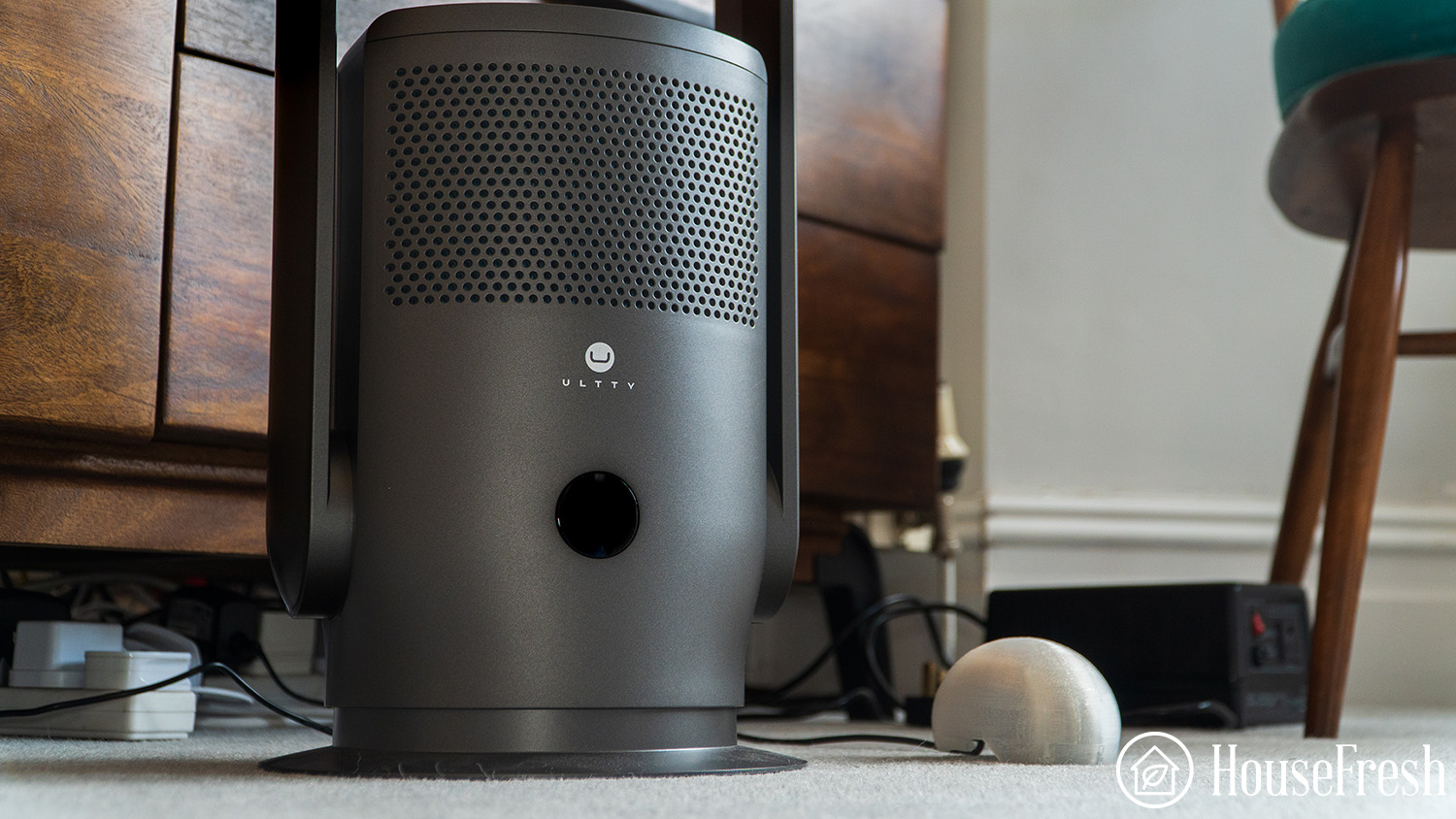 As with all the reviews we perform here at HouseFresh, we actually go deep and see how well the ULTTY CR-021 is at removing pollutants from the air.
We do this by performing the same test that all our air purifiers are put through to see how fast they clean one incense stick's worth of pollutants. As all our air purifiers are tested in the same room (a 705 cubic ft office), we can then compare performance across all models and brands.
We use a Purple Air indoor sensor which allows us to export the pollutant count every 2 minutes for PM1.0ug/m3, PM2.5ug/m3, and PM10.0ug/m3. As we also have a professional background in data analysis and information design, we like the visualize the data in an interactive chart for our readers to explore:
I knew this fan/air purifier combo wasn't going to beat records for cleaning particles from the air based on its price and reported CADR, but it was good to see that it did manage to remove all pollutants within 131 minutes.
In comparison, the Dyson HP04 combo units managed 84 minutes, but this does come at a cost of close to $900. Looking at pure air purifier performance, you will see that the ULTTY device is similar to the Levoit Core Mini with 113 minutes, but I was glad to see that this combo unit still managed to clean the air quicker than the Molekule Mini, which took 141 minutes with its PECO technology that costs close to $400.
| | | | |
| --- | --- | --- | --- |
| AIR PURIFIER | TIME TO CLEAR OUT THE ROOM | NOISE LEVELS (dB) FULL POWER | PRICE IN USD |
| ULTTY Bladeless Tower Fan and Air Purifier | 131 minutes | 59 dB | $149.99 |
| Dyson HP04 | 84 minutes | 62 dB | $794.99 |
| Levoit Core Mini | 113 minutes | 44 dB | $49.99 |
| Molekule Mini | 141 minutes | 86 dB | $399.99 |
The ULTTY has a maximum sound of 59 dB which is less than the Dyson HP04 but more than the 44 dB we see with the Levoit Core mini. It's a good unit for sound especially considering the function of a fan which is inherently more noisy.
But feel free to have a listen below to see if the sound would be a good fit for your ears:
The Cost to Run a ULTTY Bladeless Tower Fan and Air Purifier Combo: $84.30 Per Year
Most people just look at the initial price of an air purifier, or as in this case a fan/air purifier, but there are extra long-term costs you have to consider with both electricity and filter costs needing to be taken into account.
1. Electricity costs
Energy costs are not getting cheaper and are doubtful to see any big drops in the next few years, so energy usage is now something that every homeowner needs to consider. There is no point getting a gadget that uses so much electricity that it outweighs any benefit it provides.
With a top wattage use of 35 watts, this air purifier/fan is not something that will break the bank as even 24-hour usage will only cost $54.31a year if you live in California. Find out how much it would cost in your state using our calculator tool.
The fact that this does two jobs could be something to consider as running both a fan and air purifier could cost much more than this. Overall, it's a very efficient machine for the price.
2. Filter costs
HEPA technology is remarkable — just using fabric filters you can remove tiny particles and viruses from the air. But the main downside is that over time these filters will need replacing if they are expected to keep cleaning air with the same performance.
The genuine filters from the manufacturer cost $29.99 which might seem cheap, but considering it has no activated charcoal, is a little higher than I would want to pay. If you are open to generic filters, you can get them for under $15, which seems a fairer price considering the technology used.
In comparison, you pay $70 for genuine Dyson air purifier replacement filters which do contain activated charcoal, but you can see how these costs can start to add up.
Whilst not the cheapest filters, the fact that you can get generic filters for $15 matches up with the cheaper initial investment cost.
ULTTY H13 HEPA Replacement Filter with Medical Coating, True HEPA Filter For R21/ R020 Purifying Fan, Medium
Professional Protection: H13 HEPA + special medical coating
What is H13 HEPA? Usually reach and over H13 level HEPA can be called True HEPA.
Extended lifespan: Add special medical coating to keep cleaning in micro , wirecloth make the large particle like hair or pet fur easily brush off. You can easily extended this H13 HEPA filter's life to 3 monthes.
Perfect Sealed 360° Purifying: perfect air-tightness is the a prerequisite of air purification. With ULTTY design, you can easily exchange every replacement filter in perfect.
Traps Large Particle: Ultra-fine Nylon Pre-Filter captures large particles such as dust, lint, fibers, hair, and pet fur, also helpful to maximize the filter's life
Bottom Line
There are some major downsides to this combo unit.
The lack of activated charcoal seems like something that could be fixed easily without a massive increase in price for filter replacements. As for the fan, I am as happy as I was with the Dyson — having a bladeless fan is great for when you have kids as you don't have to worry about them poking it with their fingers.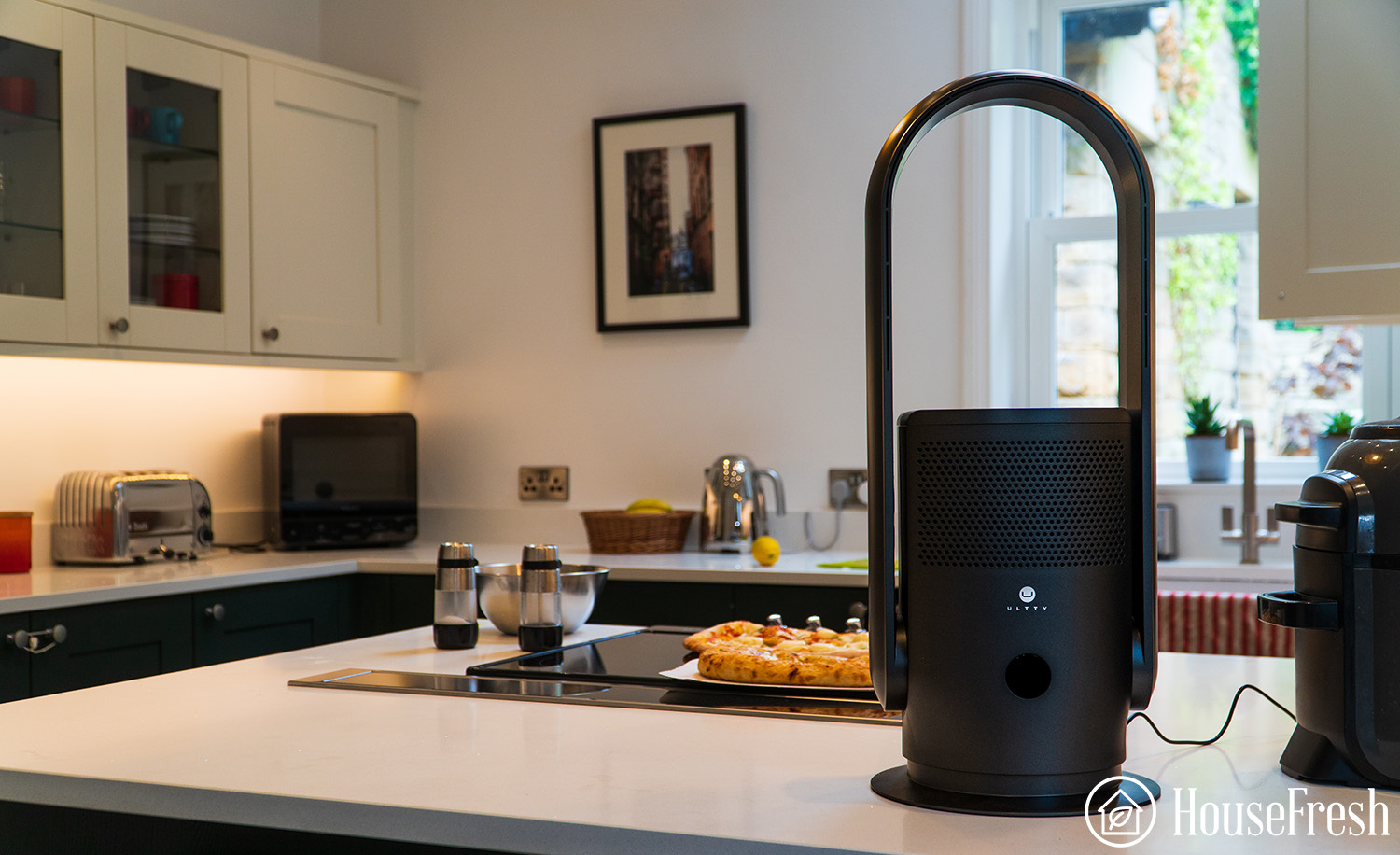 If you really like the idea of a fan and air purifier that doesn't cost the earth then you don't really have any other options currently than the ULTTY models. But if you are more worried about getting the best air cleaning bang for your buck you would be better off with a cheap fan and a cheap air purifier as you will get far more performance per $ spent. 
If you really want a combo fan + air purifier and have the money to spend, I would recommend the Dyson combo units as they look way better, have better performance, and have a ton of extra smart features with an app that is actually useful, but it does come at a cost that is closer to $1000.
The Rules We Followed When Reviewing the ULTTY Bladeless Tower Fan and Air Purifier Combo
Way too many "air purifier reviews" are made by people with little understanding of the air purifier industry and reviews and are often shallow with no real-world testing to compare the performance with other air purifiers in the market.
Here at HouseFresh.com we bring together experts who have experience with user testing and evaluating air purifiers over the last 10+ years. Our team of experts can reveal the true reality of an air purifier based on real-world data that we analyze and our knowledge of the industry.
We hope that our reviews will help as many people as possible to make sure they find the right air purifier for their specific needs.
That's why:
1. We don't take freebies in exchange for reviews. We want to be free to say if a product sucks and accepting free units doesn't align with our goal of neutrality.
2. Manufacturer data is a good start, but it doesn't always match with how well a unit cleans in our own home, so we always test every unit we review at HouseFresh.
3. As we test all our units in the same room we can provide a comparison between units that is simple to understand – how long did it take to clean all the pollutants?
4. We use the air purifiers in our own homes to evaluate long-term usage experience as well as keeping an eye on long-term costs, such as how often it filters need replacing under normal conditions.
Our Testing Process
As consumers, we always research CADR rankings and other performance metrics published by the manufacturers, but we don't like to leave it at that. We wouldn't be able to recommend a unit without being 100% confident we are making the right call without our real-life performance testing.
That's why we test all the models we review here at HouseFresh in the same room (sized 705 cubic ft) performing the same job (removing incense smoke). This allows us to compare units side by side.
We use the PurpleAir PA-I Indoor PM 2.5 Sensor that combines the ability to track PM1.0ug/m3, PM2.5ug/m3, and PM10.0ug/m3 every few minutes.
We then can visualize this data using Flourish to help us clearly work out how long it took this specific unit to remove all pollutants from the air.
SOURCES
We calculated the monthly energy consumption costs with the help of our air purifier electricity usage calculator. We calculated daily and yearly costs associated with running an air purifier for 24hs a day in California. You can customize the result by air purifier wattage and by state.
Last update on 2023-02-04 / Affiliate links / Images from Amazon Product Advertising API