Our verdict:

The Blueair Blue Pure 311 Auto is perfect for cleaning the air in rooms of around 400 sq. ft. If you have a larger space, consider upgrading to the Blue Pure 211+ as you get much better air cleaning performance for a little higher price. 
💡 Pro tip: Be sure to look for the latest generation 311i Max as it has the same performance and price but includes full app support.
Blueair is well known in the world of air purifiers as they've been selling them since 1996. Originally from Sweden, the company became part of the multinational Unilever in 2006. They create many different air purifier ranges, and Blue Pure is their budget performance range. This range doesn't have the features and extras you get in their premium ranges.
The cheapest Blue Pure air purifier (Blue Pure 411+) is available for just $119.99, and the 311 Auto we are reviewing here costs $229.99.
Why You Should Trust This Review

We don't accept free units in exchange for reviews. We buy all the air purifiers with our money, so we can share in detail how they perform with no biases.

The core part of our review process is our performance test. This is where we put all units through the same test inside the same space so that we can compare their performance like for like.

This is how we tested the performance of the Blueair Blue Pure 311 Auto:

1️⃣ We lit an incense stick to release particulate and VOC pollutants in our designated testing room (705 cubic ft).

2️⃣ We turned the Blue Pure 311 Auto on and set it to full speed.

3️⃣ We used our Purple Air indoor sensor to record the levels of PM1ug/m3, PM2.5ug/m3 and PM10ug/m3 particulate, allowing us to see how long it takes the 311 Auto to clean the air. 

4️⃣ We also tracked how much power the Blue Pure 311 Auto uses when running at its top and bottom speeds with the help of a power meter.

5️⃣ Finally, we recorded noise levels emitted by the air purifier at the highest and lowest fan speeds with our sound level monitor.

This review will walk you through the findings of our performance test. Whenever possible, I will compare this unit with other similarly priced air purifiers on the market so you can decide which of them is better for your individual needs. I will also share my impressions when using this air purifier regarding the design, portability, user experience of its control panel, and more.
Okay, let's get to it.
TL;DR The Low Down on the Blueair Blue Pure 311 Auto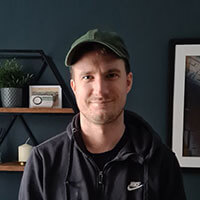 "If you don't want to use a bigger air purifier and have a room around 400 sqft, this is the perfect unit. I still think the Blue Pure 211+ is a better deal with an extra 100 CFM CADR for $100, but if this is too big/pricey, then make sure you check out the Blue Pure 311i Max as this has the same cleaning performance, price and also comes with smart app support."
Danny Ashton, Founder & Senior Writer
---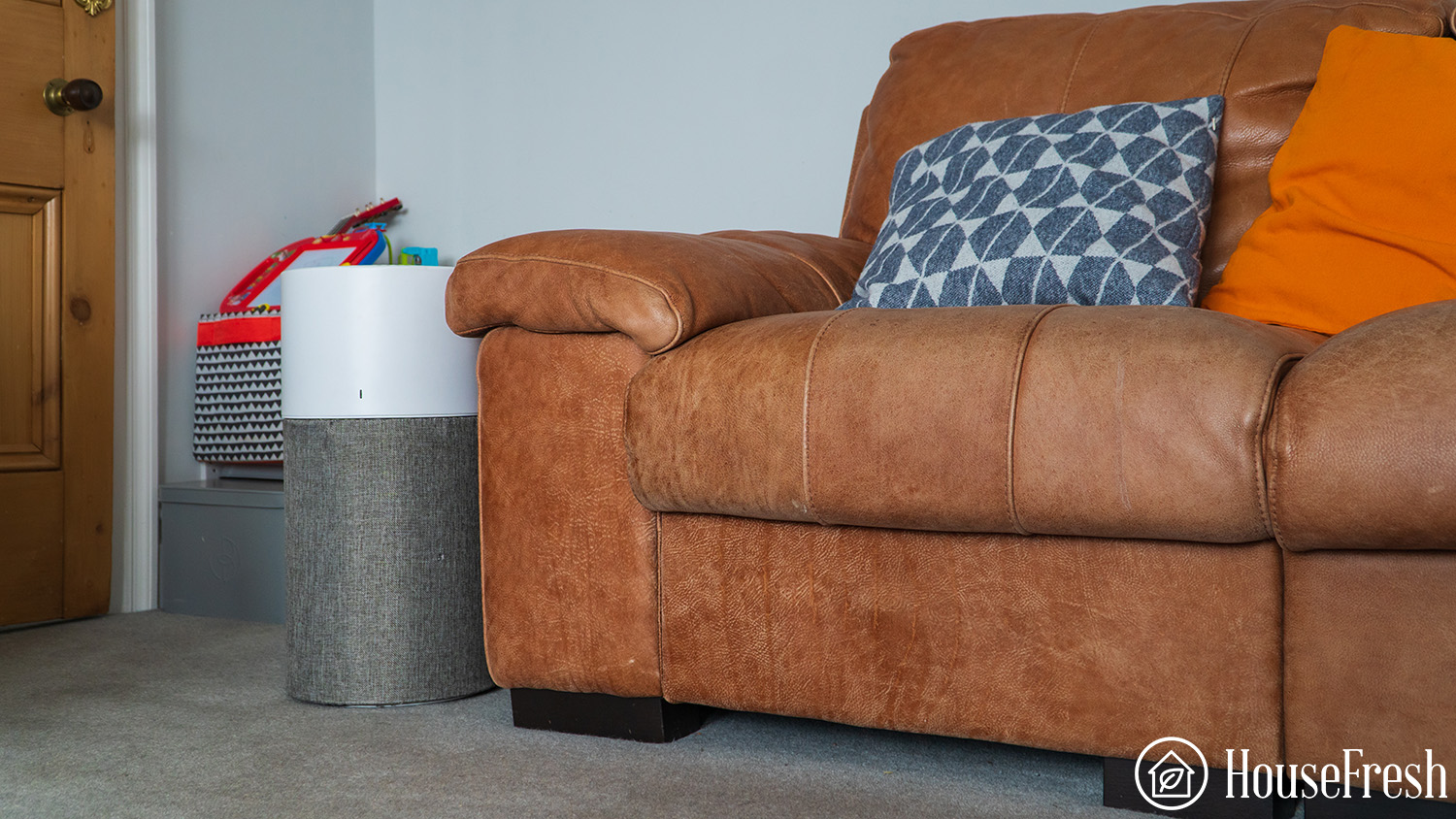 What We Really Like:
👍 Took 21 minutes to clean our test room compared with 43 minutes for the smaller Blue Pure 411+
👍 53 dB at max fan speed was less than the Blue Pure 211+, which hit 56 dB
👍 34.5 watts at full speed which makes it one of the most efficient at this level of performance
👍 Ability to customize the design with different choices of pre-filters
👍 HEPASilent brings high CADR without the usual size and cost you see with pure HEPA and activated charcoal
What We Think Could Be Better:
👎 You need to pay more to get the AUTO mode which feels like it should be standard
👎 Smart features are only available on the latest generation — I wish this were rolled out to all models
The Specifications
250 CFM CADR for less than $240 is a strong proposition considering you would need $500+ for a similar performance from other air purifiers.
| | |
| --- | --- |
| HouseFresh Rating: | ★★★★☆ |
| Time to clean our test room: | 21 minutes |
| Air purifier technology: | 3-stage True HEPASilent filter with activated charcoal |
| Recommended room size: | 388 ft2 |
| Clean air delivery rate (CADR): | Dust 250 CFM (425 m3/h) Pollen 244 CFM (415 m3/h) Smoke 250 CFM (425 m3/h) |
| Dimensions (in inches / in cm): | 20.5H x 10.2W x 10.2D inches (52.1H x 25.9W x 25.9D cm) |
| Weight (in pounds / in kg): | 6.8 lbs (3.1 kg) |
| Noise level (low – high): | 23dB – 53dB |
| Filter life: | 6 months |
| Manufacturer's warranty: | 1 year (can be extended to 2 years by creating a Blueair account and registering the unit within 60 days of purchase) |
| Estimated energy consumption: | $36.79 per year |
Customizable Design and Simple Control Panel
The Blue Pure range of air purifiers all have the same simple look, with one button to control everything. You also can change the pre-filter to fit your interior design scheme.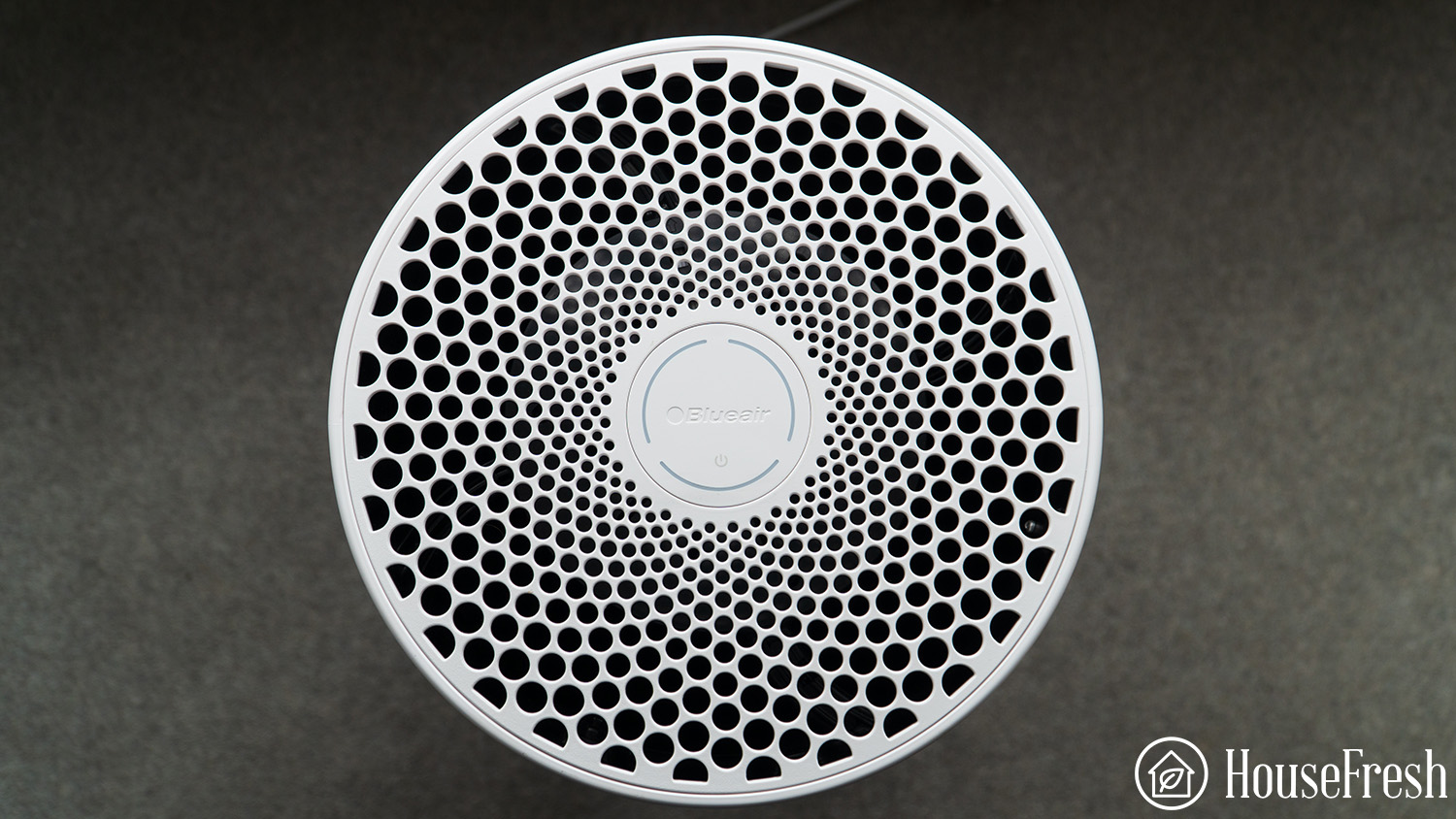 Simple is the name of the game with the Blueair Blue Pure 311 Auto. The control panel can't get much simpler with a device like an air purifier. One-click switches into auto-mode, and you can then leave the unit to change speed automatically as it senses new pollutants.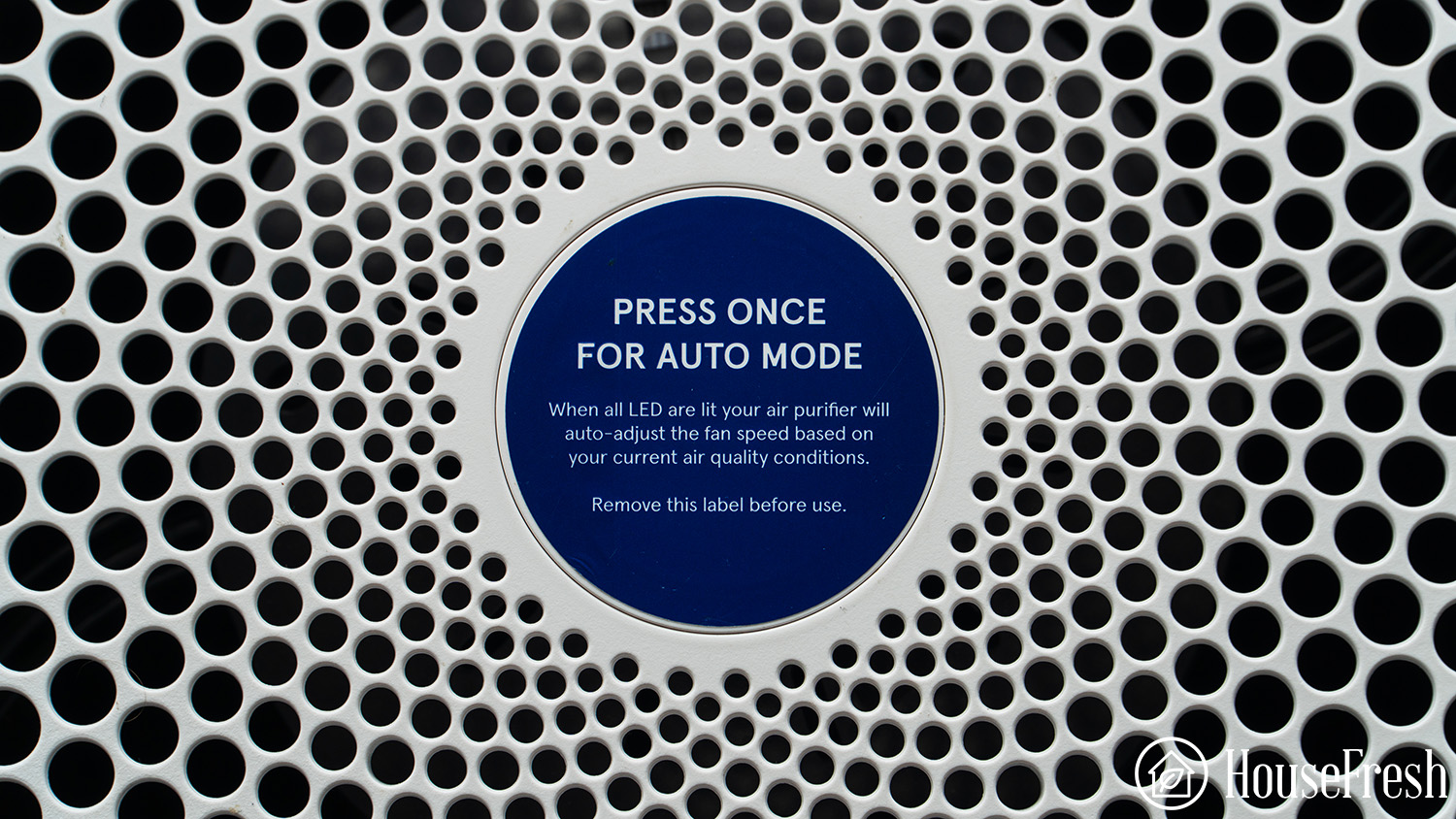 Pressing the button again, you can adjust the speed with three options. Press the same button again and it switches off. It's that simple!
On the front of the unit is a small LED that acts as an air quality indicator and a filter replacement warning light. When in auto mode, this light will report the air quality in your room with three different colors. Your air quality is measured in real-time using the sensors on the back of the unit.

A cool feature that Blueair has used previously is to customize your unit using the different color pre-filters. Keep the gray one it comes with, or spice it up a little by swapping it out for Arctic Trail, Night Waves, Archipelago Sand, Winter Reed or Aurora Light: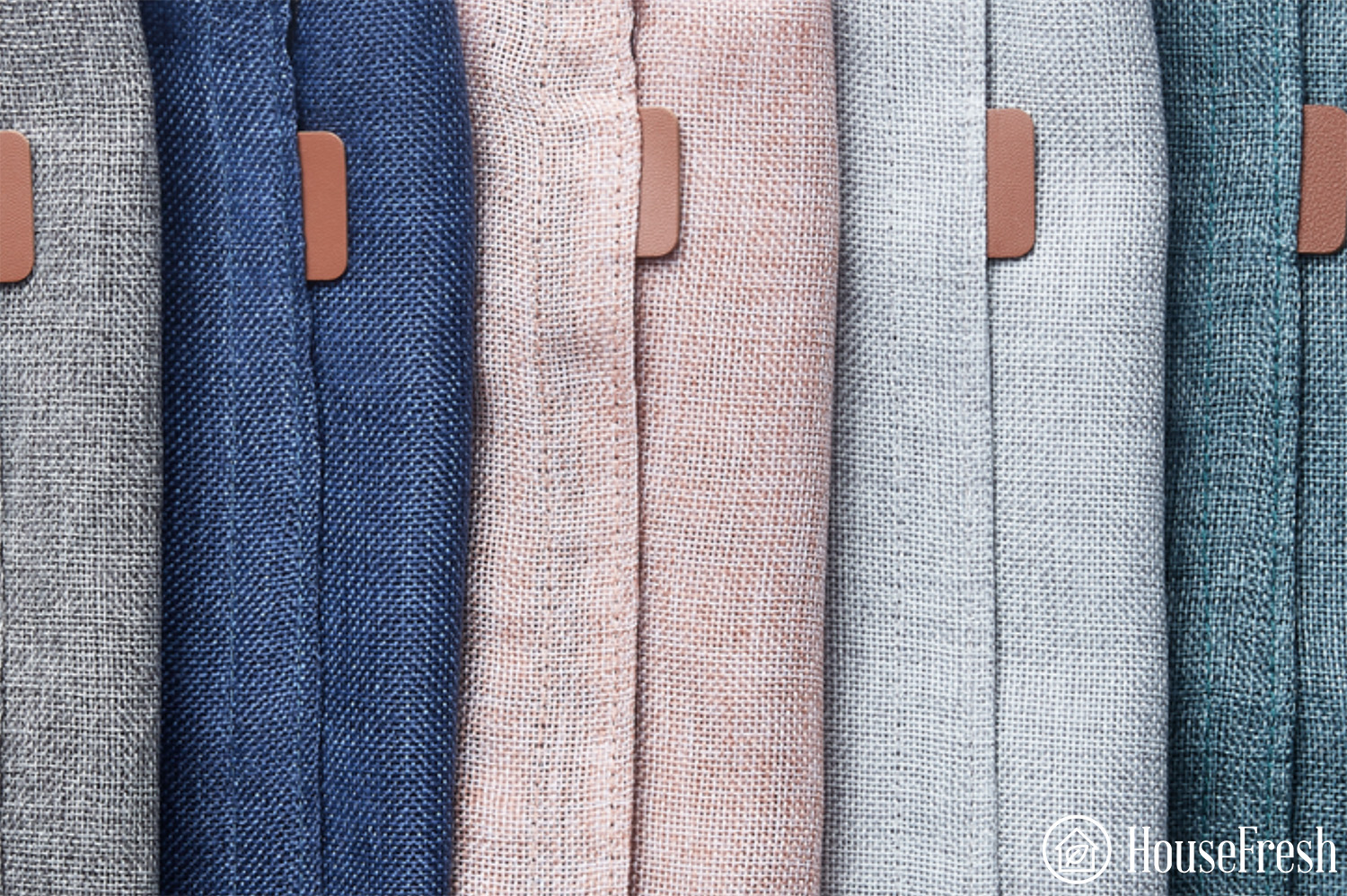 The 311 Auto is the middle-sized unit in Blueair's Blue Pure range, between the smallest 411+ and the second largest 211+.
When comparing the Blue Pure 311 Auto (right) with the 411+ (left), you can see the difference in size is not as stark. The fact that the 311 Auto manages to drive 250 CFM with such a small unit is impressive: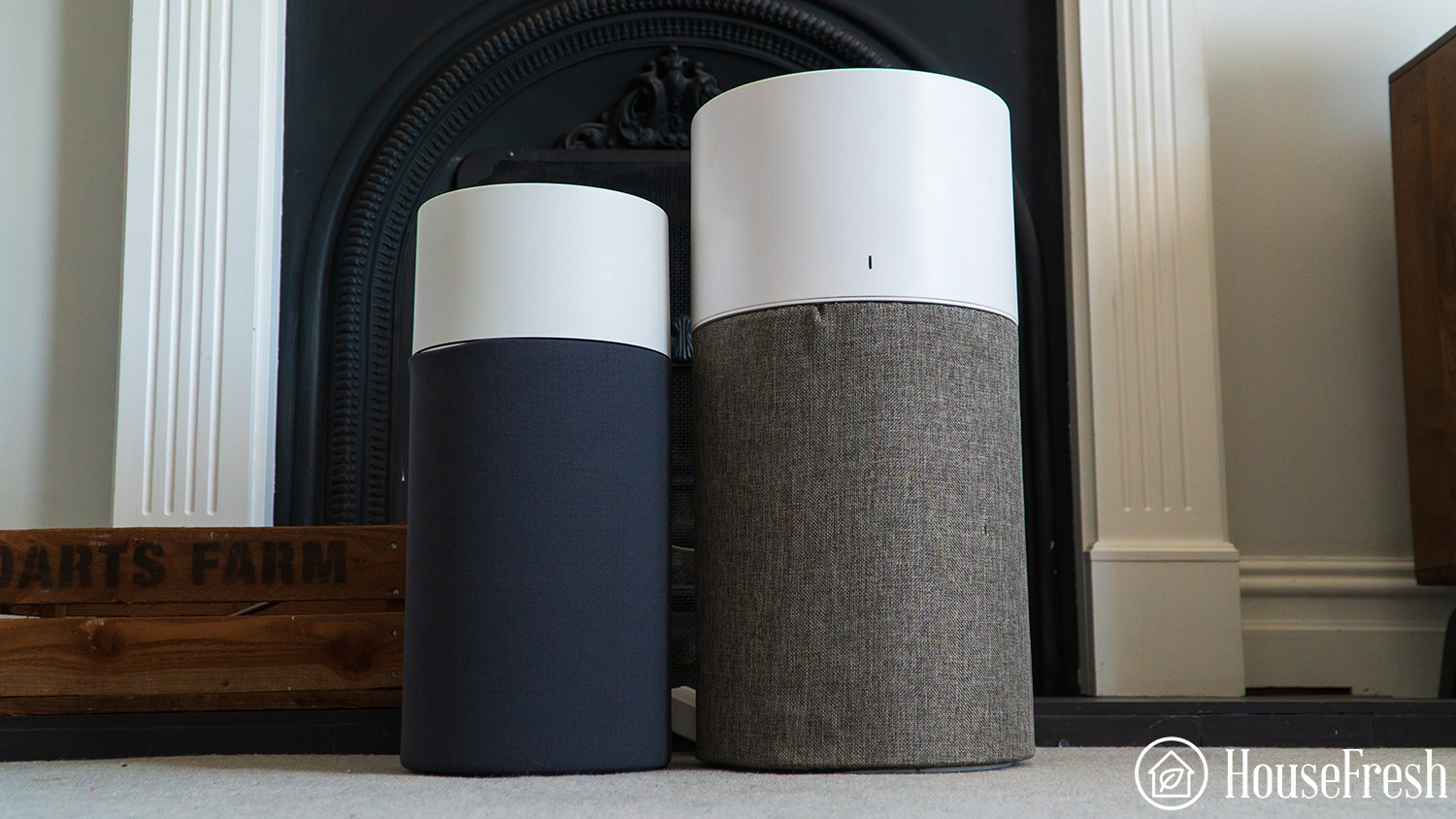 The size difference is more noticeable when comparing the 311 Auto (right) against the larger 211+ (left). The 211+ weighs 12.5 lbs (5.67 kg), nearly double the 311 Auto (6.8 lbs or 3.08 kg).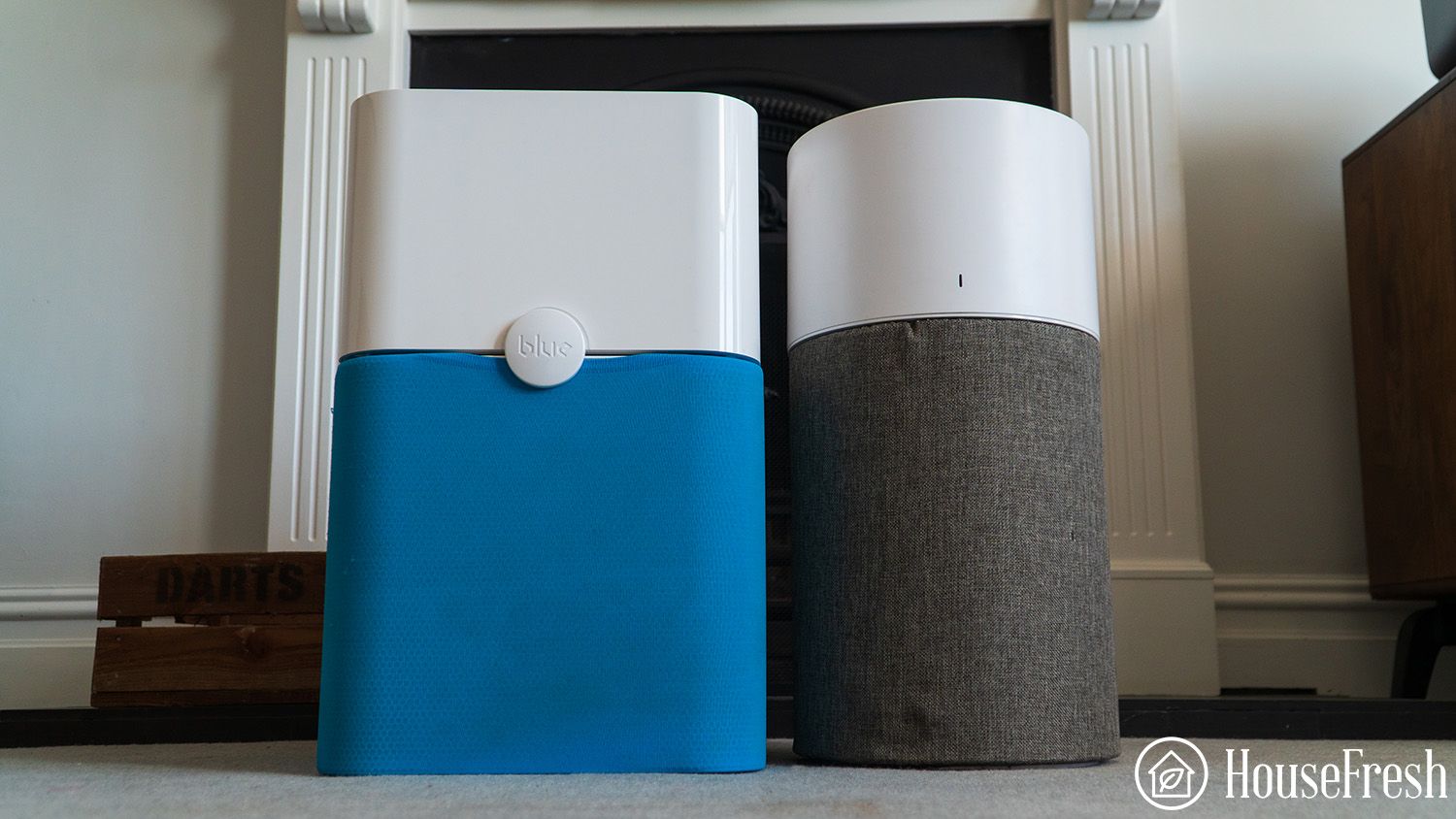 The Blueair Blue Pure 311 Auto is a good-looking air purifier that will fit small to medium-sized rooms without taking up too much space.
HEPASilent Filtration Technology for Rooms Sized 400 sq. ft.
As with all the Blueair range, the Blue Pure 311 Auto has a filter powered by HEPASilent technology, combining electrostatic and mechanical filtration technologies.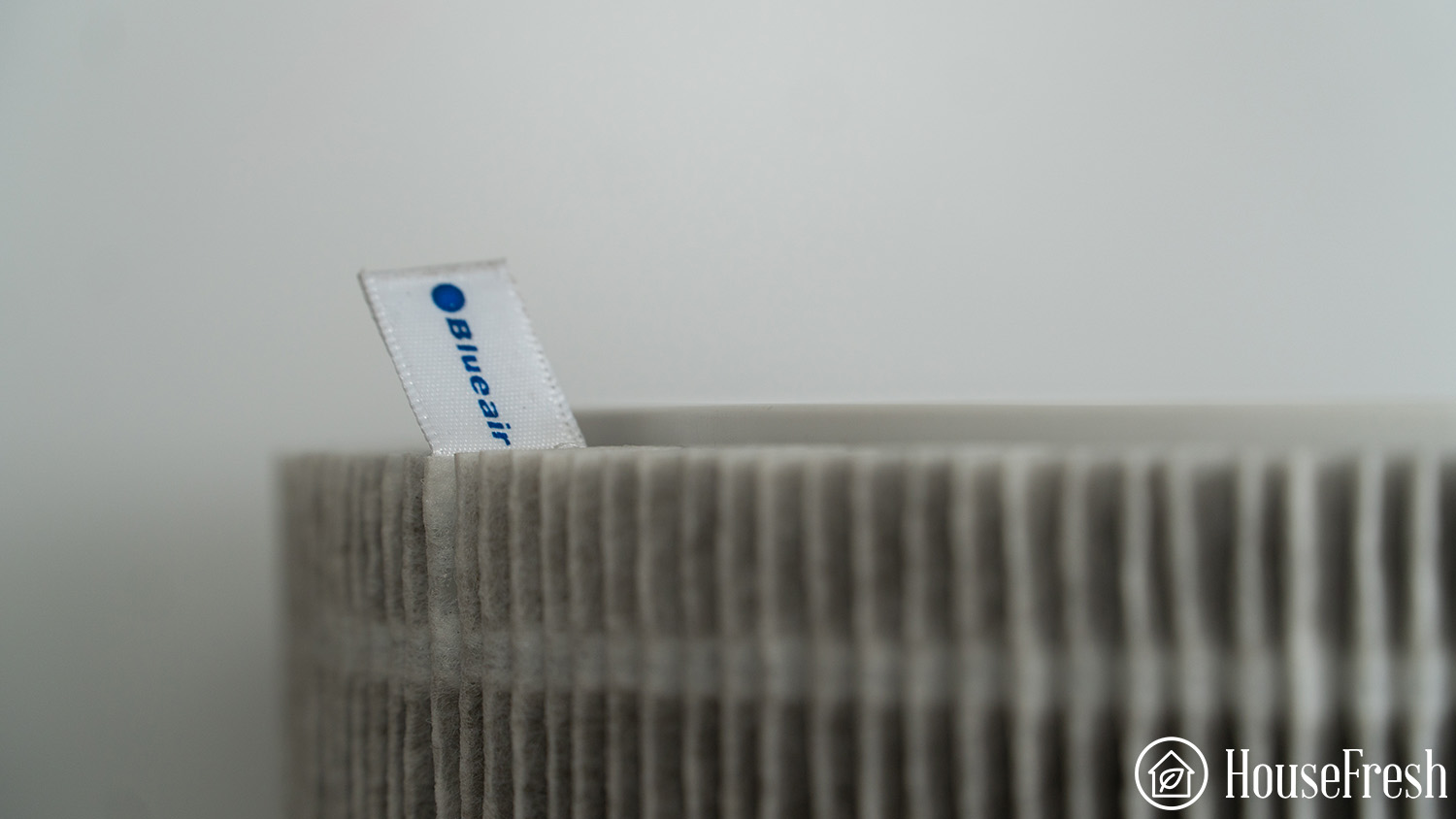 Wondering how HEPASilent technology works? The fan draws air into the Blueair Blue Pure 311 Auto, where airborne particles receive an electrical charge causing them to adhere to the filters.
Larger particles get stuck in the washable pre-filter before the air moves through the HEPA filter, which removes pollen, dust, pet dander, viruses and bacteria: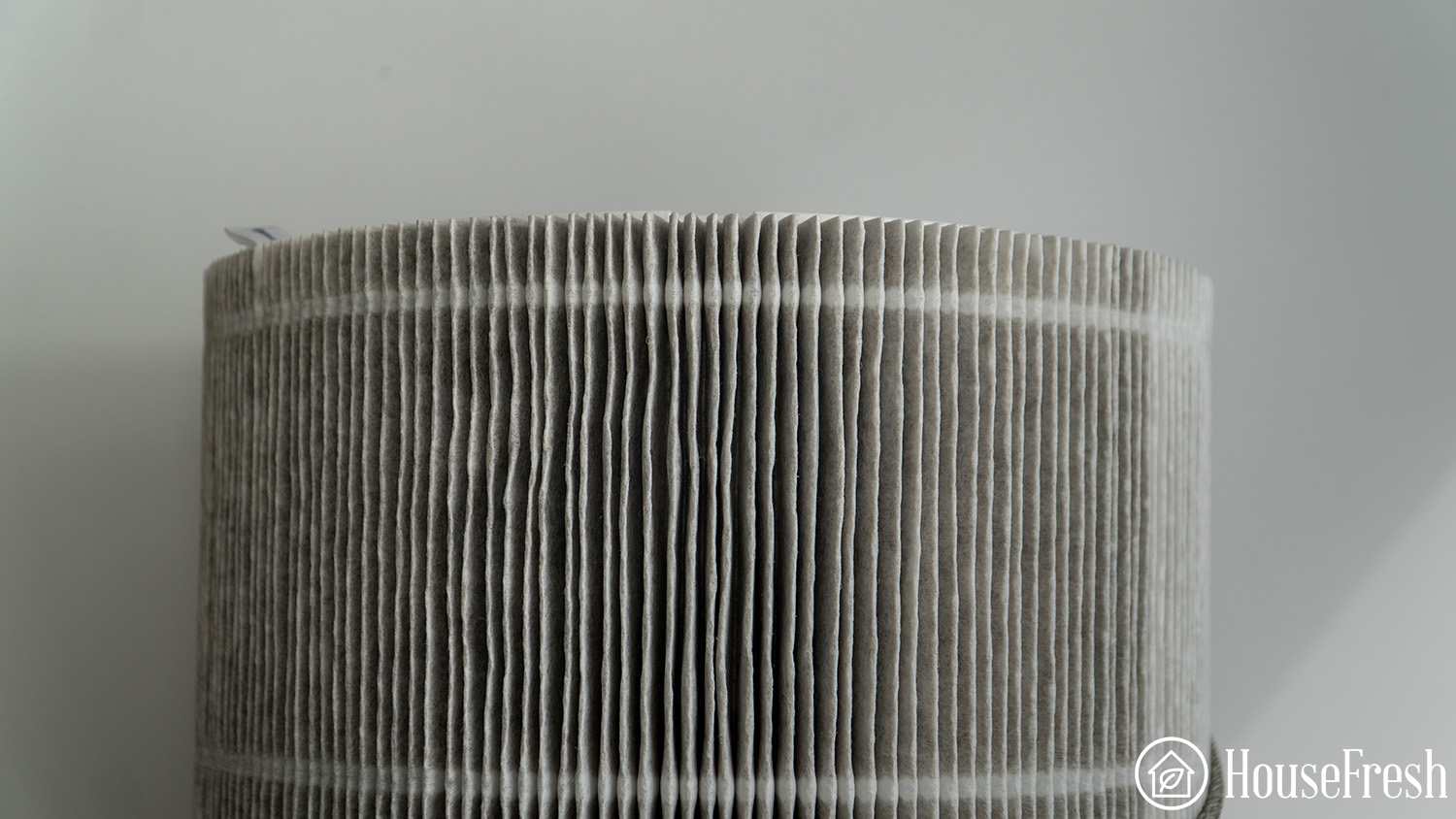 From that point, the air moves through the activated carbon layer, which removes odors from pets, cooking and smoking.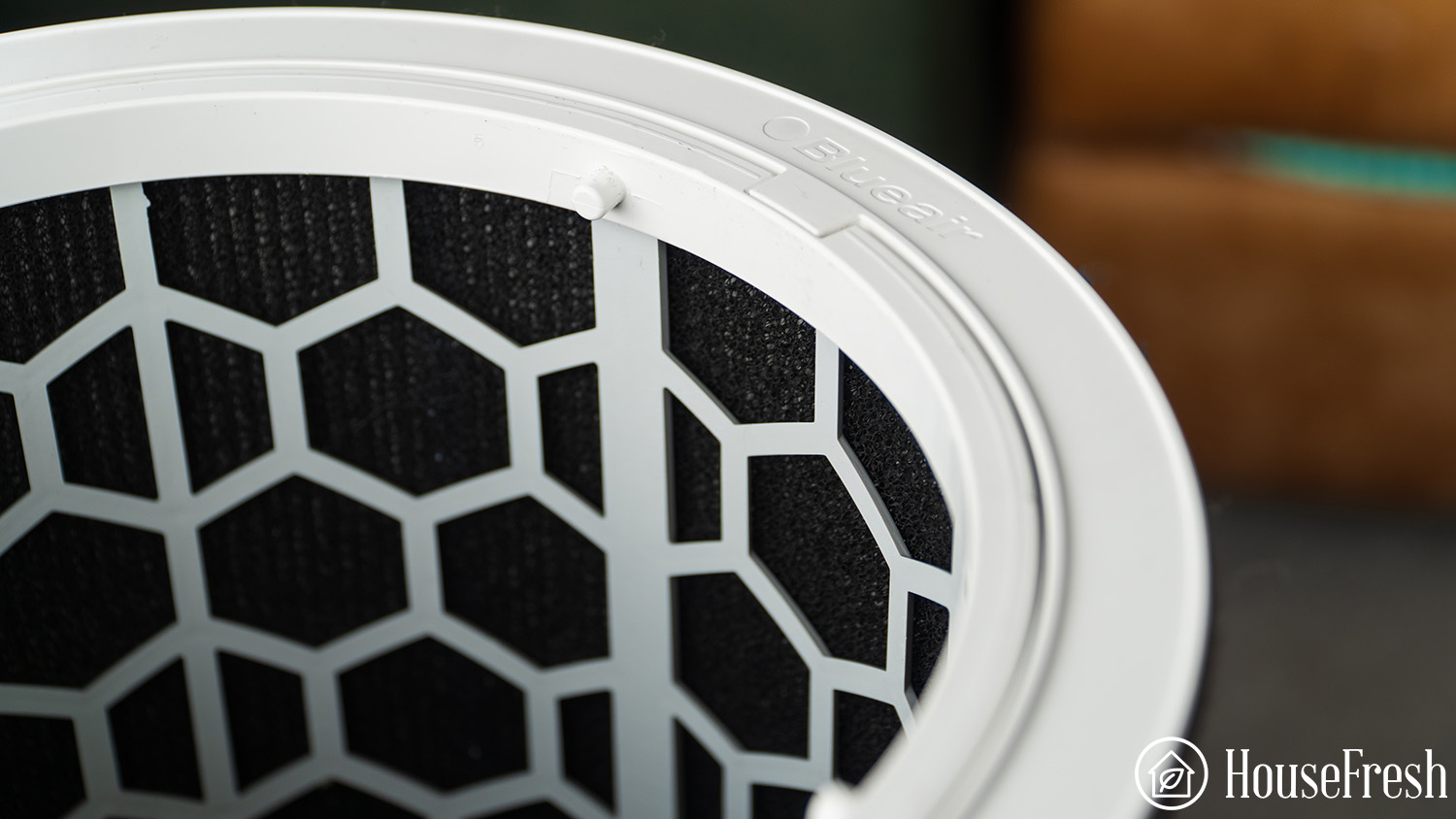 The HEPA filter will need replacing around every six months (the filter replacement indicator will let you know when), but don't worry; it's super easy to do so.
Follow these step-by-step instructions:
Unplug your 311 from the outlet
Twist the top of the unit (the white bit) until you feel it unattached from the body, and remove
Peel the velcro from the pre-filter and pull it from the HEPA filter
Pull the pre-filter over the new HEPA filter and reattach the top
💡 Pro Tip: This is the perfect time to wash the pre-filter and clean the rest of the air purifier so it works to its maximum efficiency.
As with the 411 and 211 range, the Blueair Blue Pure 311 Auto brings excellent performance for $ spent, dB created and energy usage. The HEPASilent matches its expectations, and this unit has the best air cleaning performance value for rooms sized 400ft.
⚠️ Be aware that when receiving a new unit or buying a replacement, the filters will be in a sealed bag and must be removed before they can be used.
The Blueair Blue Pure 311 Auto Cleared Our Test Room in 21 Minutes
The main job of an air purifier is to remove tiny particles from the air, as we know how damaging they can be. We test every unit we review with the same methodology to determine its effectiveness in this area.
We burn an incense stick in our 705 cubic ft test room, and using an air quality sensors, we track how long it takes a specific air purifier to remove PM1.0ug/m3, PM2.5ug/m3 and PM10.0 ug/m3.
We track this data and compare the performance to all the other units we have tested.
Air Cleaning Performance Test Results
The Blueair Blue Pure 311 Auto took 21 minutes to achieve a level of 0 PM1. This is 22 minutes better than the smaller 411+ and only three minutes less than the larger and higher-priced 211+.
The 311 Auto provides excellent cleaning performance on a budget. It took the Alen 75i three more minutes to clean our test room. The Dyson HP04 combo unit, which costs over $700, took 63 more minutes to remove all the pollutants.
Noise Levels Test Results
The Blue Pure range is hard to beat for pure power to sound. We had high hopes for the HEPASilent technology and were impressed with the maximum level of 53 dB, which is in range with much smaller units with less performance like the Levoit Core 300, which took 40 minutes to clean and had a maximum sound level of 50dB.
Cost to Run the Blueair Blue Pure 311 Auto: $116.77 Per Year
1. Electricity costs = $36.79 per year
At its maximum fan speed, the Blueair Blue Pure 311 Auto only recorded 34.5 watts, the same as the highest-power LED bulbs on the market. Compared to competitors, it pulls much less power; the Levoit Core 300, for example, recorded 45 watts for less air-cleaning power.
2. Filter costs = $79.98 per year
The filter costs are fair for this level of air cleaning performance and the all-in-one filter only needs replacing twice in 12 months. Some generic filters are available, which brings the cost per year down to $43.99 for two filters, one of the cheapest we have seen for this level of air cleaning.
Technology
3-stage True HEPASilent filter with activated charcoal
2-Pack Replacement HEPASilent and Activated Carbon Filter
Technology
3-stage True HEPASilent filter with activated charcoal
Technology
2-Pack Replacement HEPASilent and Activated Carbon Filter
---
Bottom Line
The Blueair Blue Pure 311 Auto gives you a great performance ratio to sound, price and energy usage. This is the perfect air purifier for those who love the Blueair Blue Pure range and have rooms that are too big for a Blueair 411+ but not big enough to warrant a Blueair 211+.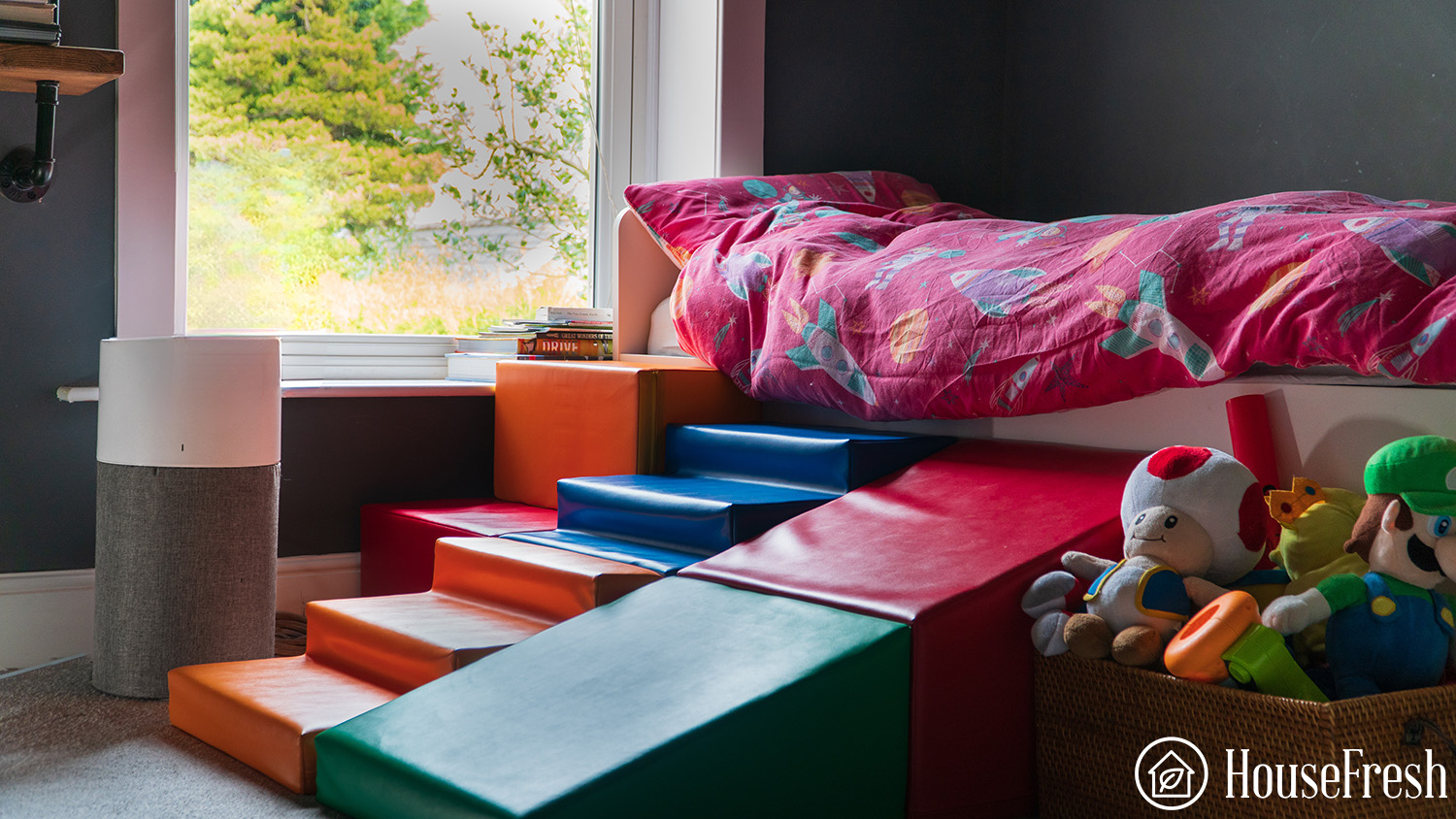 If you want an air purifier that with a customizable design that is lightweight and offers solid air cleaning performance for a medium-sized room (like a living room or a bedroom), then the Blueair Blue Pure 311 Auto is a good option to keep your room free of pollutants without noise disturbance or bulky aesthetics.
---
SOURCES
We calculated the monthly energy consumption costs with the help of the Department of Energy's appliance energy calculator. We calculated yearly costs associated with running Blueair Blue Pure 311 Auto for 24hs a day for 365 days. We chose to run this calculation utilizing the U.S. average utility rate of $0.12/kWh as of the 1st of May, 2023.
Last update on 2023-06-05 / Affiliate links / Images from Amazon Product Advertising API