Originally from Sweden, Blueair has been in the air purifier industry since 1996. The company was bought by the mega-corporation Unilever in 2016.
Their Blue Pure series of air purifiers offer simple units that do an excellent job of cleaning the air. Their trademarked HEPAsilent™ process combines a mechanical HEPA with an electrostatic charge to clean more air for less power, lower price and less noise.
We already found the original OK to be a solid performer, and the Blue Pure 211+ is an easy purifier to recommend for those looking to clean larger spaces.
The Blueair Blue Pure 411+ is the upgraded version that hopes to build on the success of the Blue Pure 411 with higher air cleaning power for less energy usage.
We're here to tell you if it meets those high expectations.
Why You Should Trust This Review

We are fed up with air purifier reviews that don't go beyond the aesthetics and are overly positive due to it being a freebie from a manufacturer. We don't take freebies and use our own money to buy every air purifier we test.

We want to say when something sucks and not be beholden to keeping manufacturers happy. Our goal is to help you find the right air purifier, which requires us to be honest about what works and what could be much better.

The main goal of every air purifier is to clean the room of pollutants like dust and smoke. While we research self-reported lab data, we also test every single air purifier in our test room so we can see how it performs.

Our testing process:

1️⃣ We light an incense stick to generate particulate and tVOC pollution in our test room, which is 705 cubic ft.

2️⃣ We turn on the air purifier at its highest level and track how quickly different PM1ug/m3, PM2.5ug/m3 and PM10ug/m3 particles are removed from the air using our Purpleair Indoor sensor.

3️⃣ We use our energy meter to record the energy usage of every unit at the lowest and highest speed.

4️⃣ We use a sound level monitor to record noise levels at the highest and lowest speed.

My review will cover all our findings from the performance test outlined above. If you have any questions about this unit by the time you reach the end, please email me as I have tons of data.
TL;DR The Lowdown on the Blueair Blue Pure 411+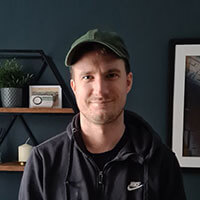 "A clear upgrade on the decent Blue Pure 411, the Blueair Blue Pure 411+ is an easy budget air purifier for those looking to clean a small space like a bedroom and who don't want something that will create a lot of noise." — Danny Ashton, Founder & Senior Writer
---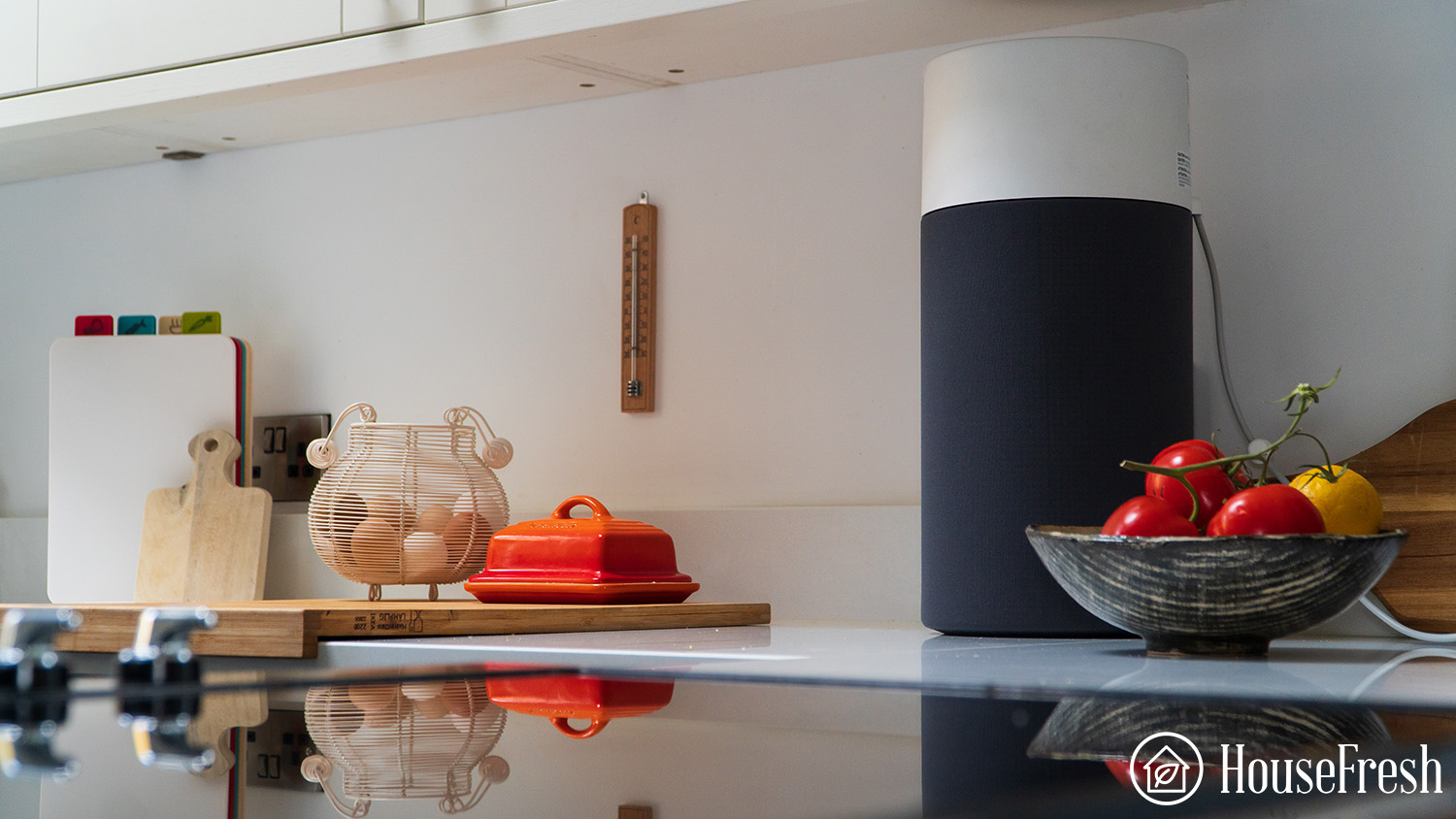 What We Really Like
👍 Great cleaning performance to price — cleaned our test room in 43 minutes for less than $140
👍 Max sound is one of the lowest we have tested at 46dB
👍 Has a higher cleaning power but uses the same small amount of electricity as the 411
👍 Improved Pollen CADR over the older 411 with 131 CFM VS. 96 CFM
👍 Small footprint and easy to live with thanks to the alternative color pre-filters
What We Think Could Be Better
👎 Not pelleted activated carbon, so expect not to last as long for removing odors
👎 Not auto-mode unless you pay for the upgrade
👎 HEPASilent is non-optional
The Specifications
Check out the full specs of the Pure 411+ below:
| | |
| --- | --- |
| HouseFresh Rating: | ★★★★☆ |
| Time to clean our test room: | 43 minutes |
| Air purifier technology: | 3-stage True HEPASilent filter with activated charcoal |
| Recommended room size: | 185 sq. ft. |
| Clean air delivery rate (CADR): | 120 CFM |
| Dimensions (in inches / in cm): | 17H x 7.8W x 7.8D inches (43.18H x 19.812W x 19.812D cm) |
| Weight (in pounds / in kg): | 3.4 lbs (1.54 kg) |
| Noise level (low – high): | 17dB – 46dB |
| Filter life: | 6 months |
| Manufacturer's warranty: | 1 year |
| Estimated energy consumption: | $10.51 per year |
Swedish Design That Is Easy To Live With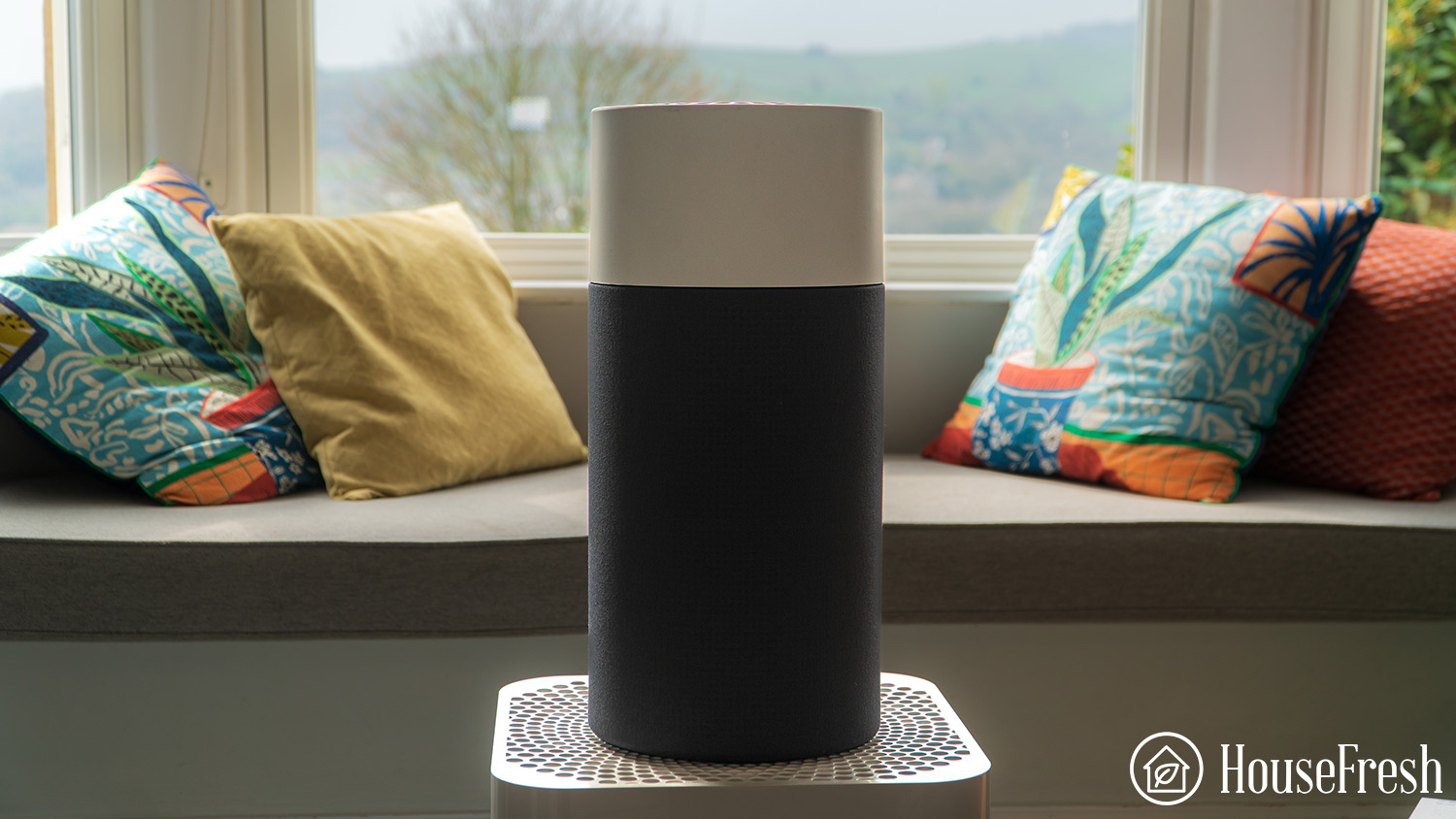 I have been a big fan of Blue Air designs for a while. You can customize the overall look by changing the filter to a different color, but it's still a good-looking machine, even without the pre-filter.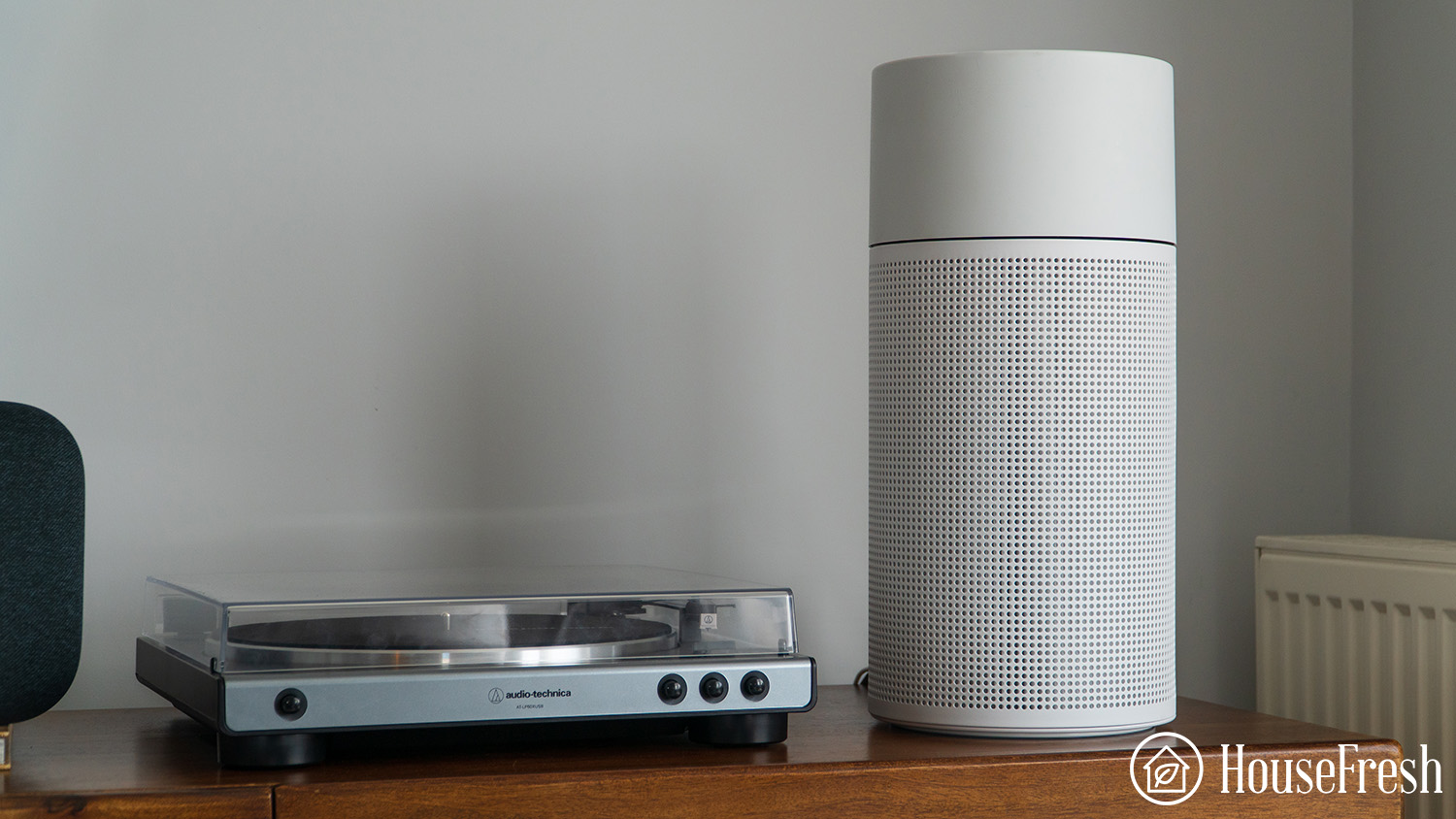 Simplicity is the name of the game with Blueair purifiers and the 411+ is no different. It has no fancy features like timers and auto-mode with app support, although upgraded models do offer these features for a higher price.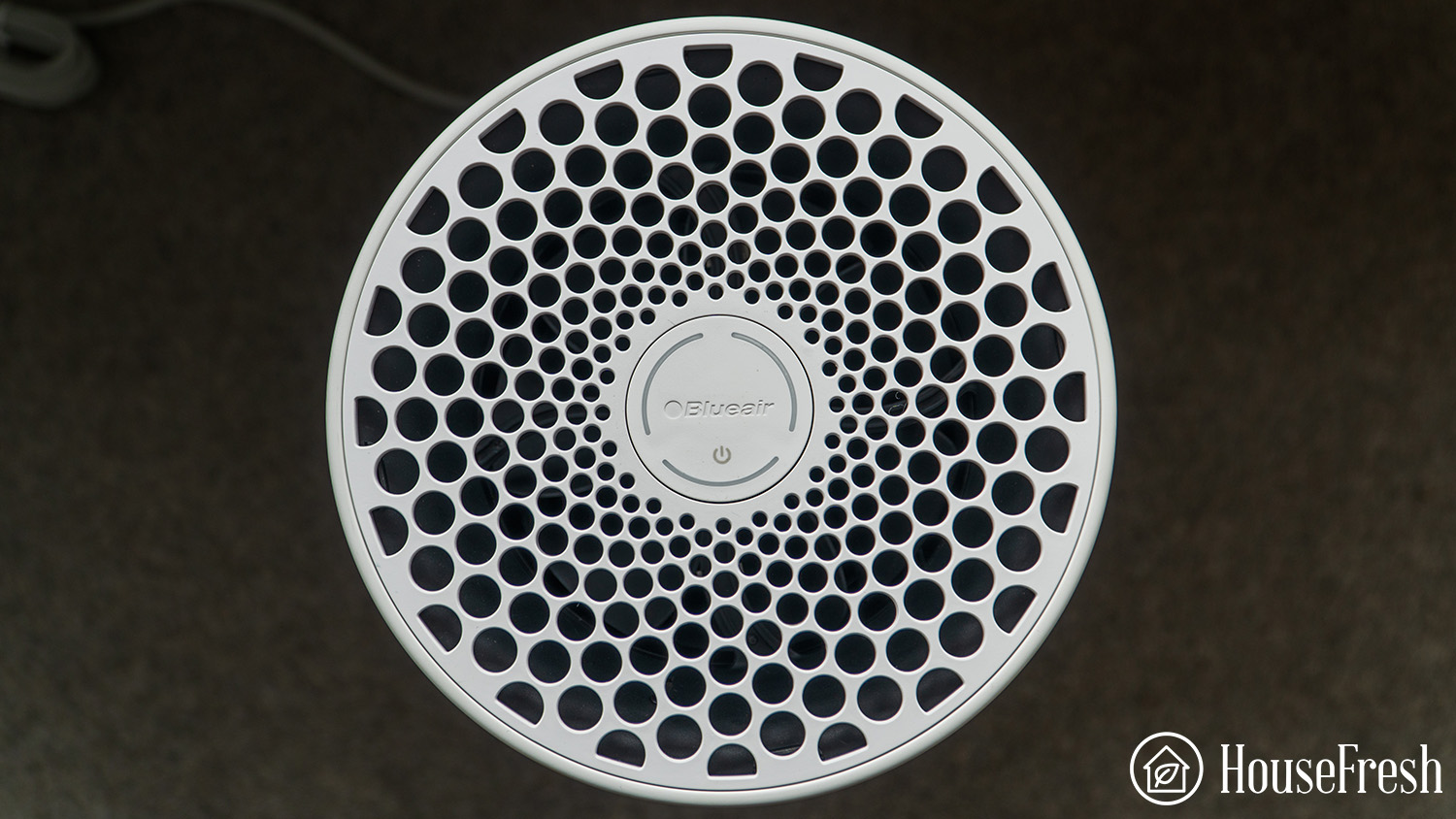 I particularly liked the magnetic cord straightener as it's a convenient way to ensure the cable remains tidy and in place.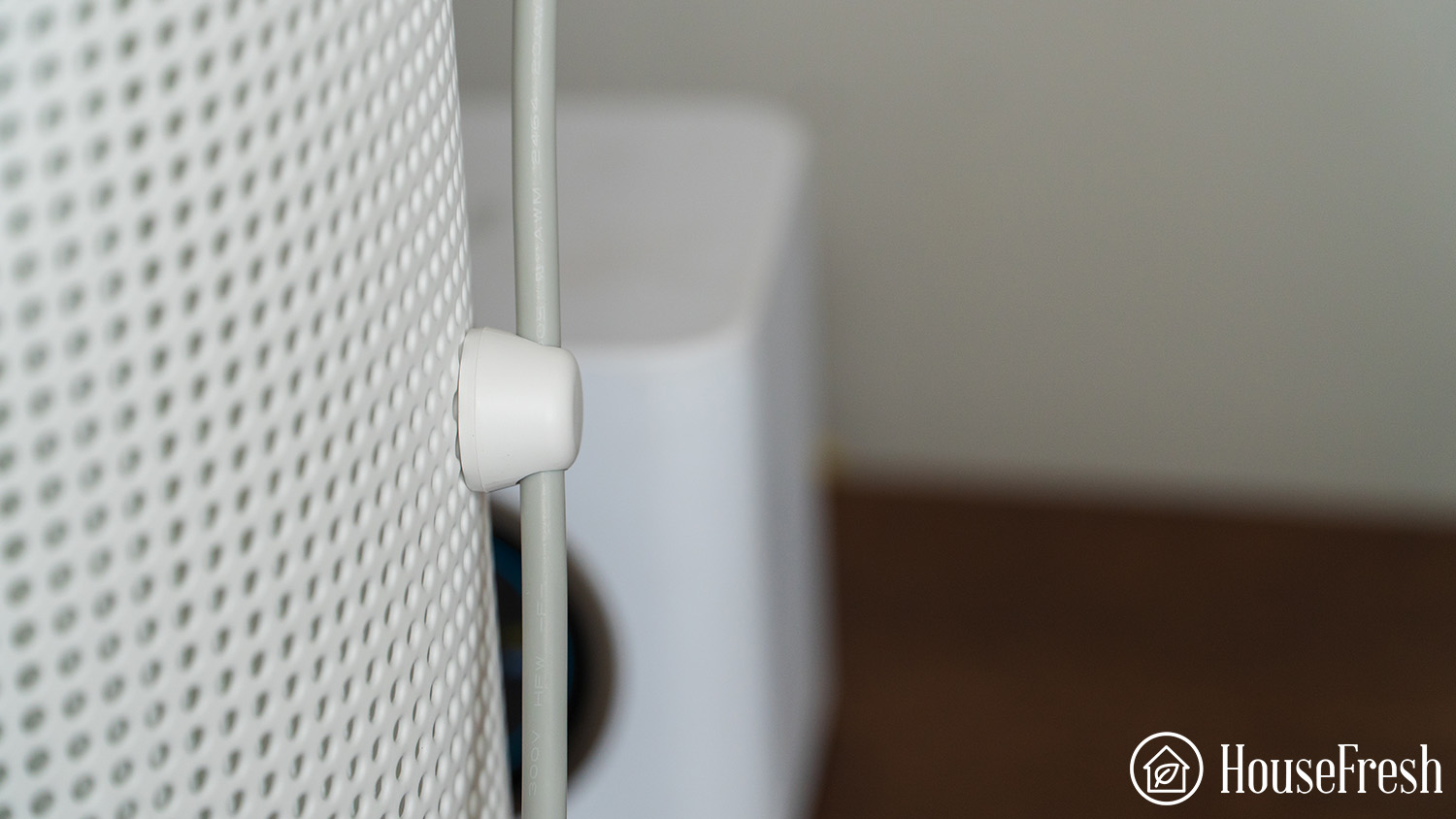 One of my favorite things about the Blueair Blue Pure 411+ is how compact it is compared to other units. Just to give you an idea of size, check out the photo below, where you can see how small it is compared to the Blue Pure 211+ (left) and the Blue Pure 311 Auto (right):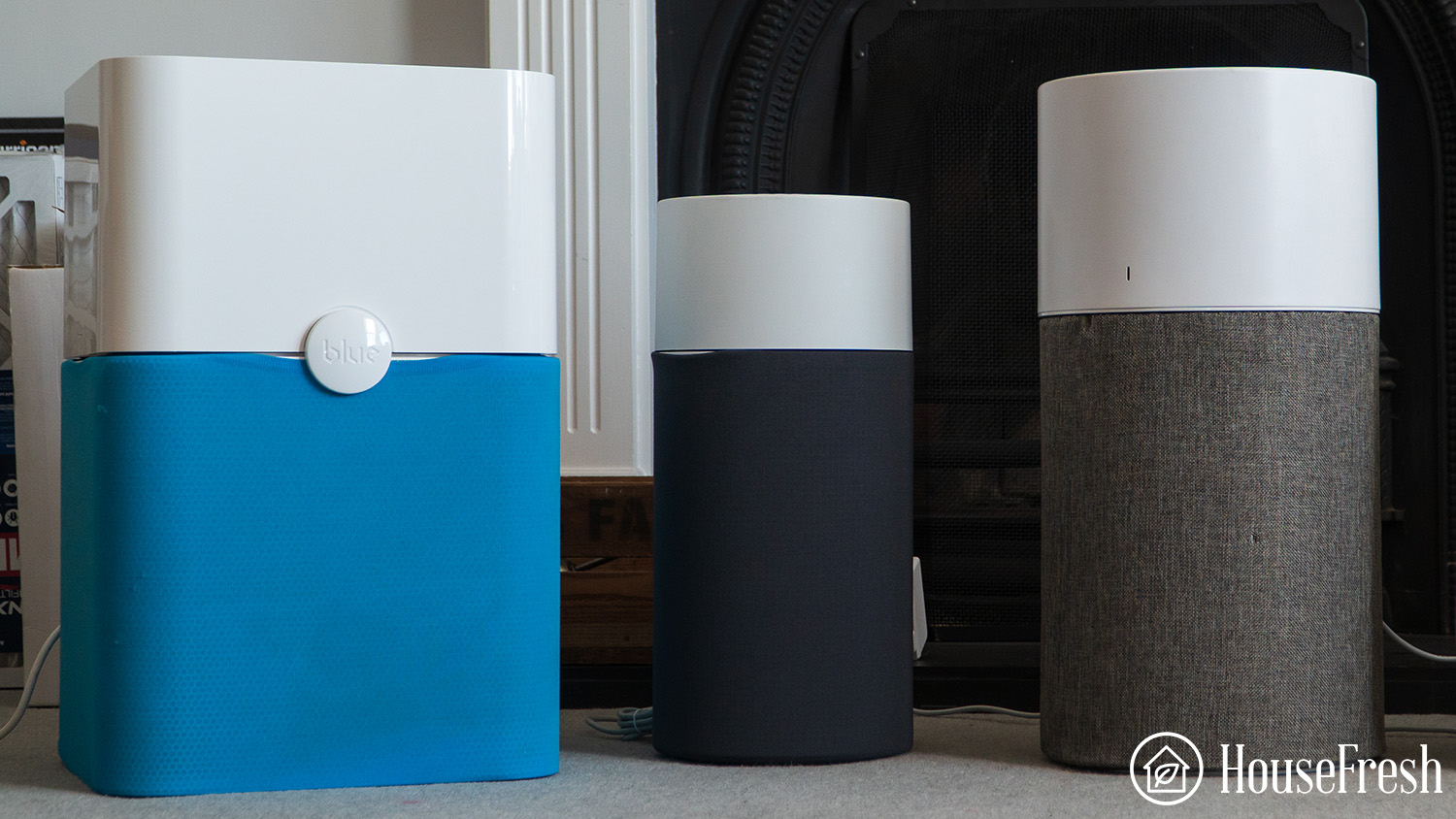 The Blue Pure range allows you to change the pre-filter to match your interior design, which feels like a nice Swedish touch.
Unique Trademarked Filter System
Blueair combines HEPA, activated charcoal and electrostatic charge to create a combination filter that can achieve 120 CFM on 10 watts of electricity.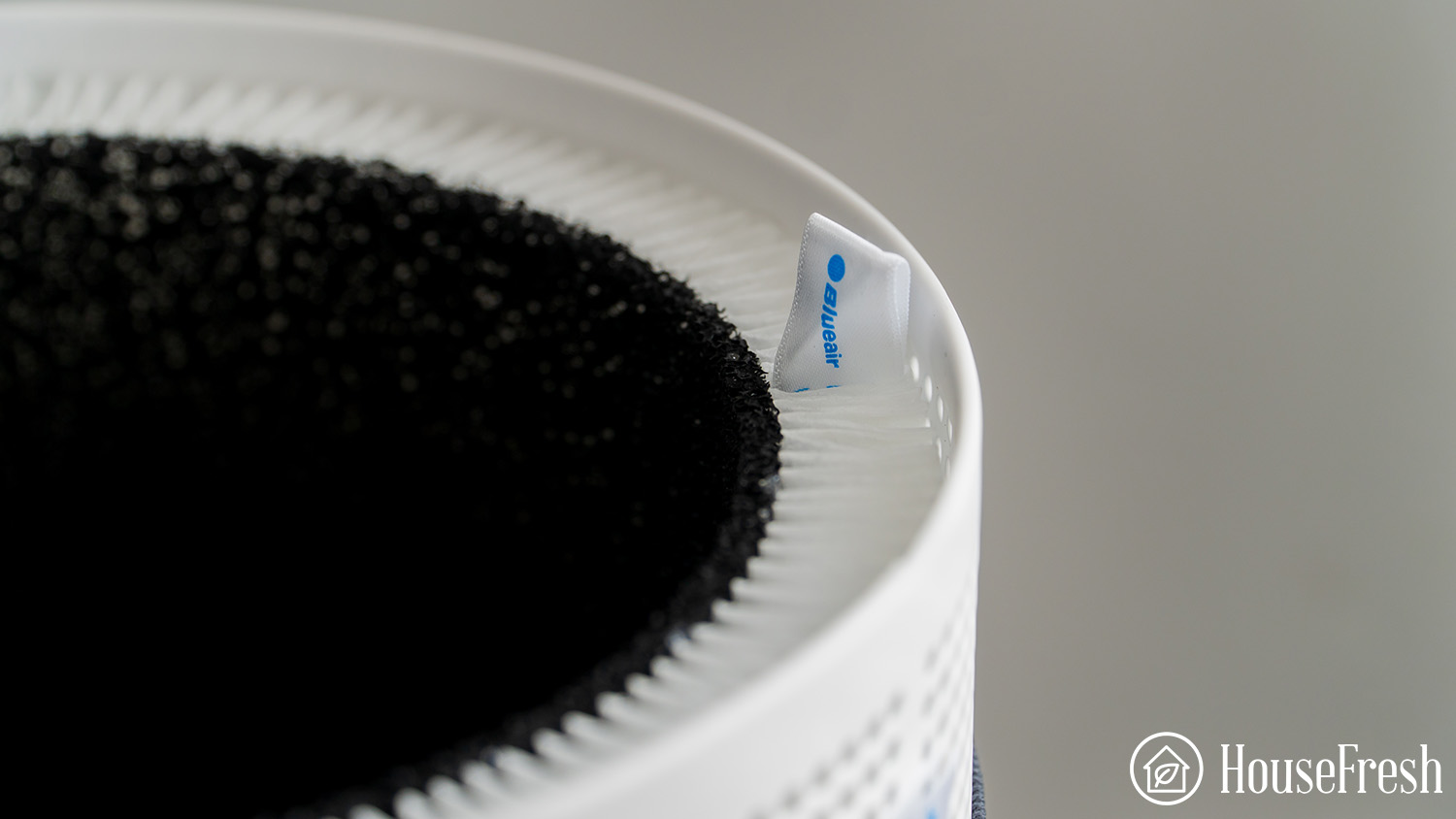 Comparing cleaning performance and energy usage, it's clear that the HEPASilent filter fulfills its promise of cleaning the air quietly.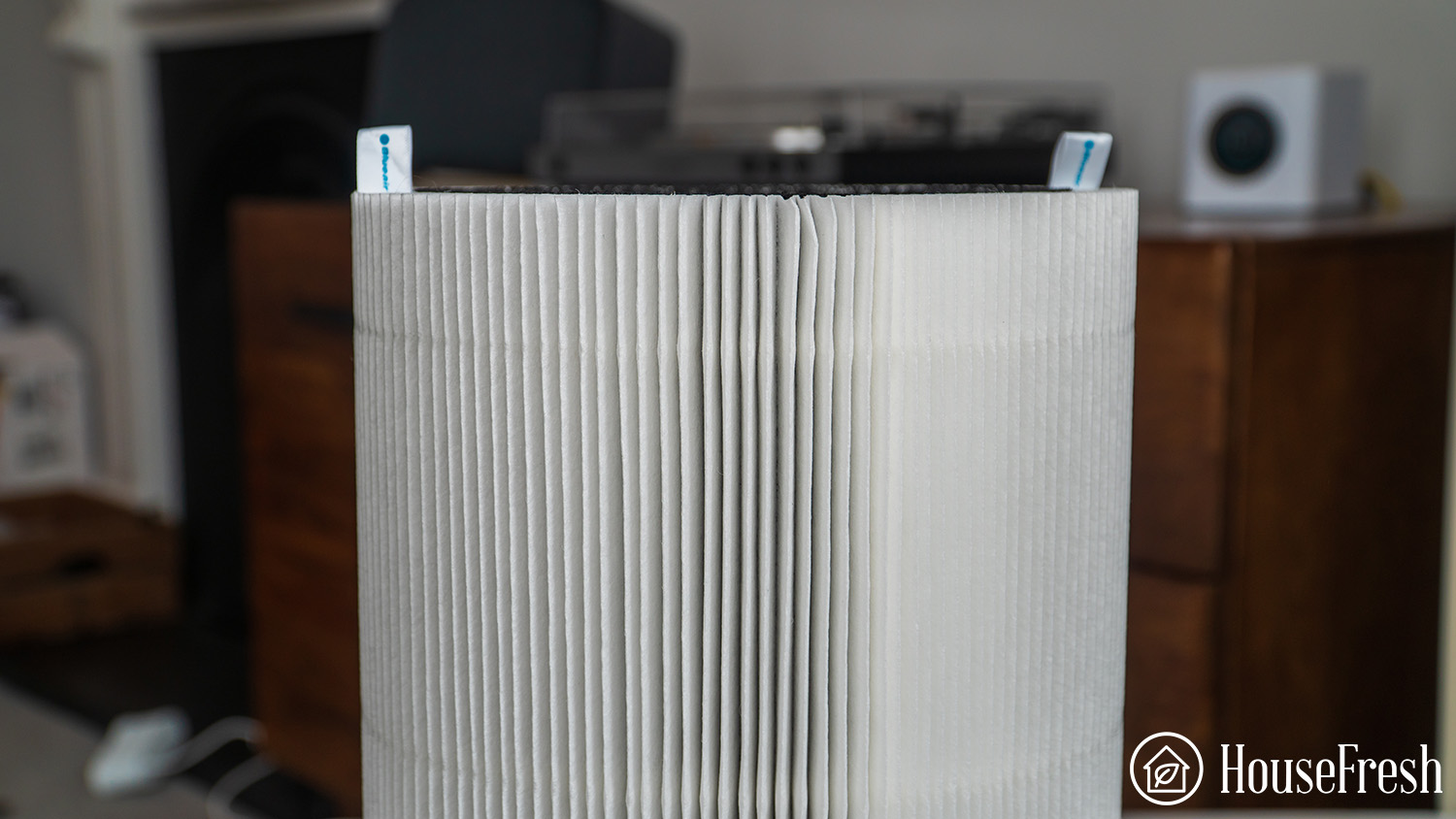 A slight minor issue: the filter of the Blue Pure 411+ includes activated charcoal as an impregnated fabric — they perform worse in general for VOC and gas removal than the pellets you see in some brands of air purifiers like the Alen BreatheSmart 45i and Levoit Core 300.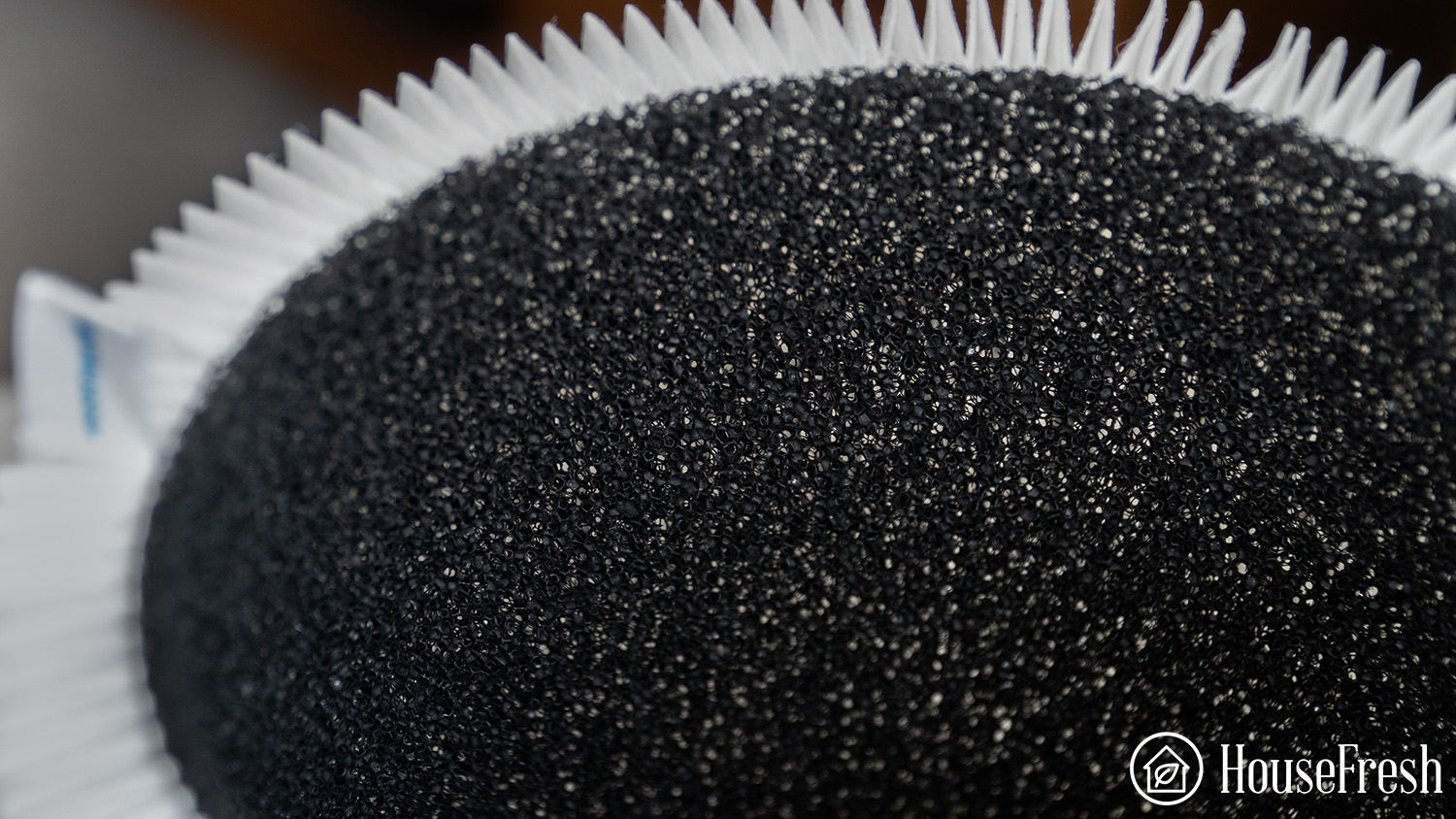 As with all HEPA filters, they need replacing periodically when the fibers become complete with trapped particles. You won't have to mark it on your calendar though; the 411+ will tell you when it's time with a glowing red light.
When the time comes, follow these simple steps:
Unplug your 411+ and turn it upside down
Twist the cap off to reveal the filter inside
Use the tabs to pull the filter out of the unit
Insert the new filter, replace the cap and plug your 411+ in
💡Pro Tip: When you're ready to replace the filter, this is the perfect opportunity to maintain your air purifier, like giving it a good clean inside and out.
Like many air purifiers, the Blueair 411+ will come with filters in a plastic bag, so be sure to remove them before you switch the unit on for the first time.
The Blueair 411+ Cleared Our Test Room in 43 Minutes
We think it's super important to get a clear idea of how well an air purifier will do its primary job of removing particles from your home.
We simulate pollution by burning an incense stick in our 705 cubic ft test room and track how quickly an air purifier can remove PM1.0ug/m3, PM2.5ug/m3 and PM10.0 ug/m3 using the Purpleair Indoor sensor.
Air Cleaning Performance Test Results
It took the Blue Air Pure 411+ 43 minutes to bring particulate pollutants down to zero in our test room. This compares favorably with its older brother, the Blueair 411, which did it in 68 minutes with similar power usage and price.
It compares very well to the Dyson PH03, a humidifier and air purifier combo which cost over $700 but needed 70 minutes to clean the same room.
Noise Levels Test Results
The stand-out feature of the Blueair 411+ is its maximum sound levels of 46 dB, much lower than many of the air purifiers we test when running at their top speed.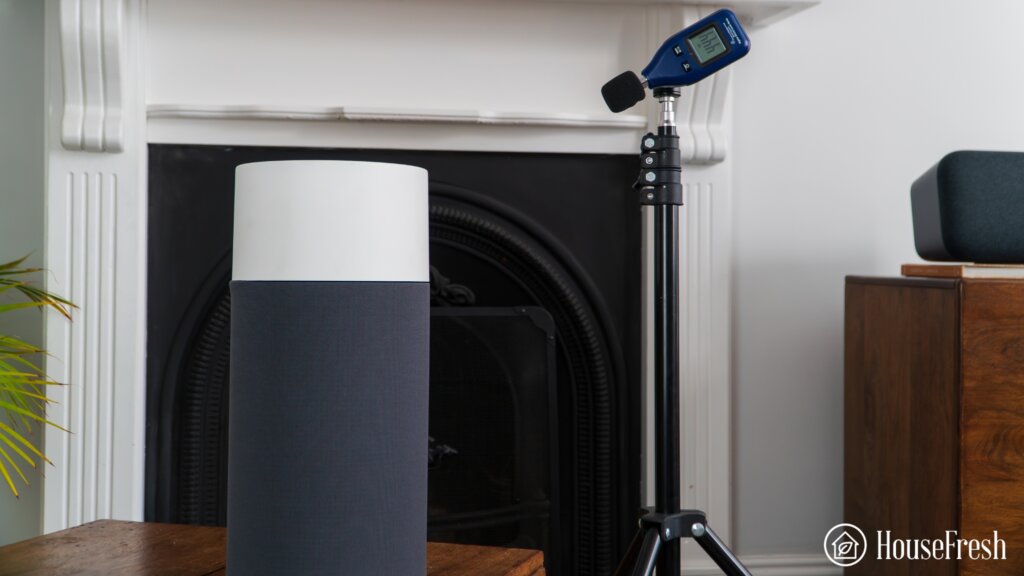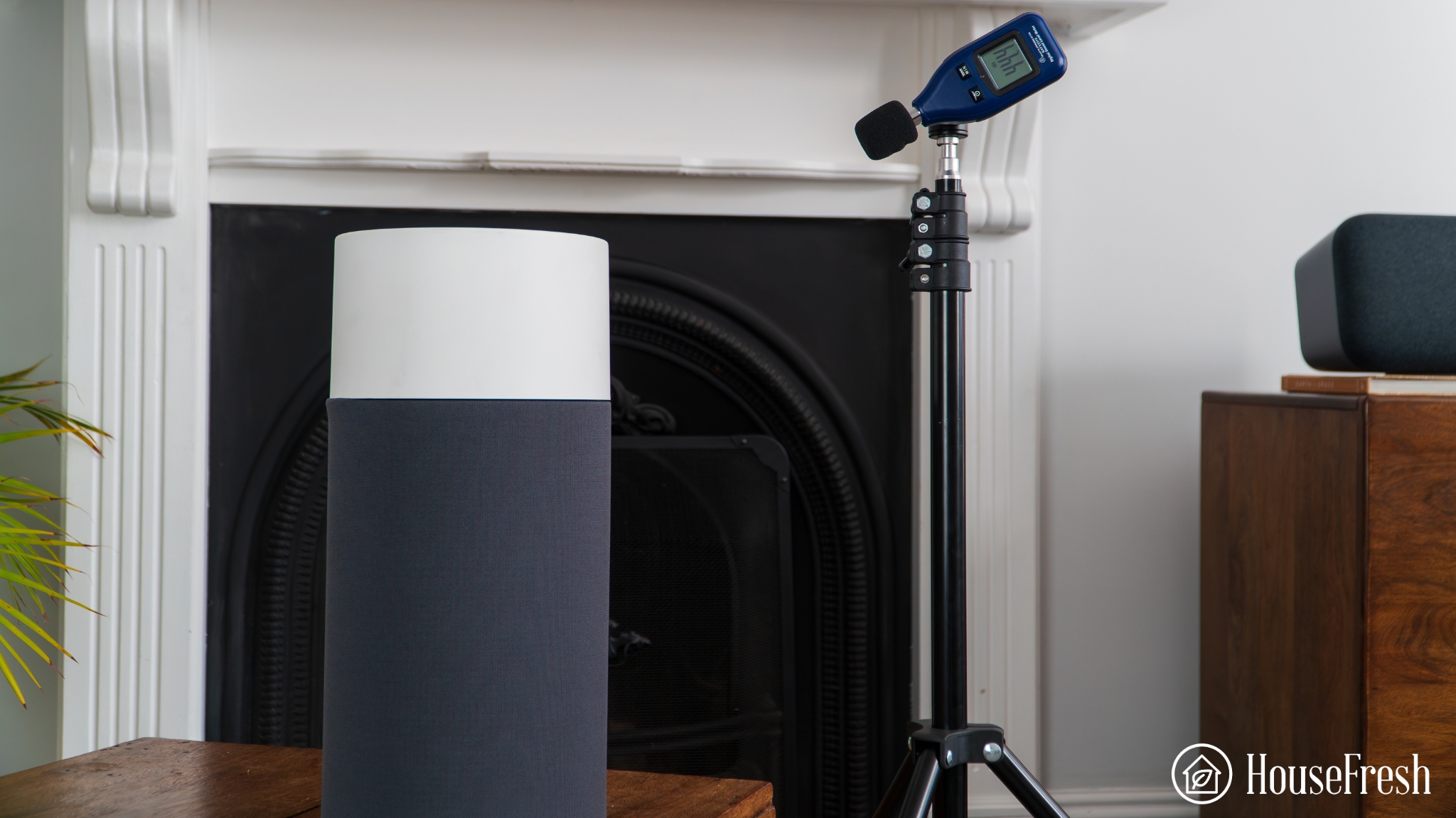 The Levoit Core 300 creates 50 dB, and the smarter Mila air purifier goes up to 76dB at its highest speed. The HEPASilent technology lives up to its name of cleaning the air without bringing sound pollution to your home.
The Cost to Run a 411+: $57.49 Per Year
1. Electricity costs = $10.51
With maximum energy usage of 10.4 watts, the Blueair 411+ sips electricity at a meager rate. It compares well with the Levoit Core 300, which pulls 45 watts at maximum and even when compared to the lower cleaning performance of the Core 200S, which draws 28.82 watts.
Blueair has managed to find a way to turn 10 watts into the ability to clean our room in 43 minutes.
2. Filter costs = $46.98
Mechanical filters like HEPA and activated charcoal have a limited life as they become impregnated with particles from the air, restricting airflow and eventually reducing performance.
Most small air purifiers need filter replacements every six months and the 411+ is the same. Genuine filters are a little cheaper than competitors at $23 compared to $39.99 for Levoit Core 300 and if you don't mind going for generic filters, you can find them for $10 per filter.
BLUEAIR Blue Pure 411 Auto, 411, 411+ Genuine Replacement Filter, Particle and Activated Carbon, fits Blue Pure 411 Auto, 411 and 411+ Air Purifiers
COMPATIBLE WITH ENTIRE BLUE PURE 411 AIR PURIFIER LINE: Blueair Combination Particle plus Carbon Replacement Filter compatible with entire Blue Pure 411 air purifier line consisting of Blue Pure 411 Auto, Blue Pure 411, Blue Pure 411 plus air purifiers
FILTERS BUILT TO LAST: Using a 360-degree air intake and up to 4x the filter surface area the Genuine Blue Pure 411 Particle and Activated Carbon Filter lasts on average 6 months to a year; optimizing air flow and performance over time
AUTOMATED FILTER REPLACEMENT: Subscribe & save up to 10% on auto-delivered filters when replacement is needed; We recommend replacing your filter about every 6 months when used 24 hours a day
REMOVES EVEN TINIEST AIRBORNE PARTICLES DOWN TO 0.1 : Particle filter removes airborne particles such as pollen, pet dander and dirt from your indoor environment*
TRAPS HOUSEHOLD SMELLS: A layer of carbon mesh traps light household smells, smoke, synthetics, and volatile organic compounds (VOC)
---
Bottom Line
A great upgrade to the previous Blueair Blue Pure 411, the 411+ has improved cleaning power while maintaining low filters and energy usage costs. The primary benefit of this air purifier over others is the lower level of sound generation.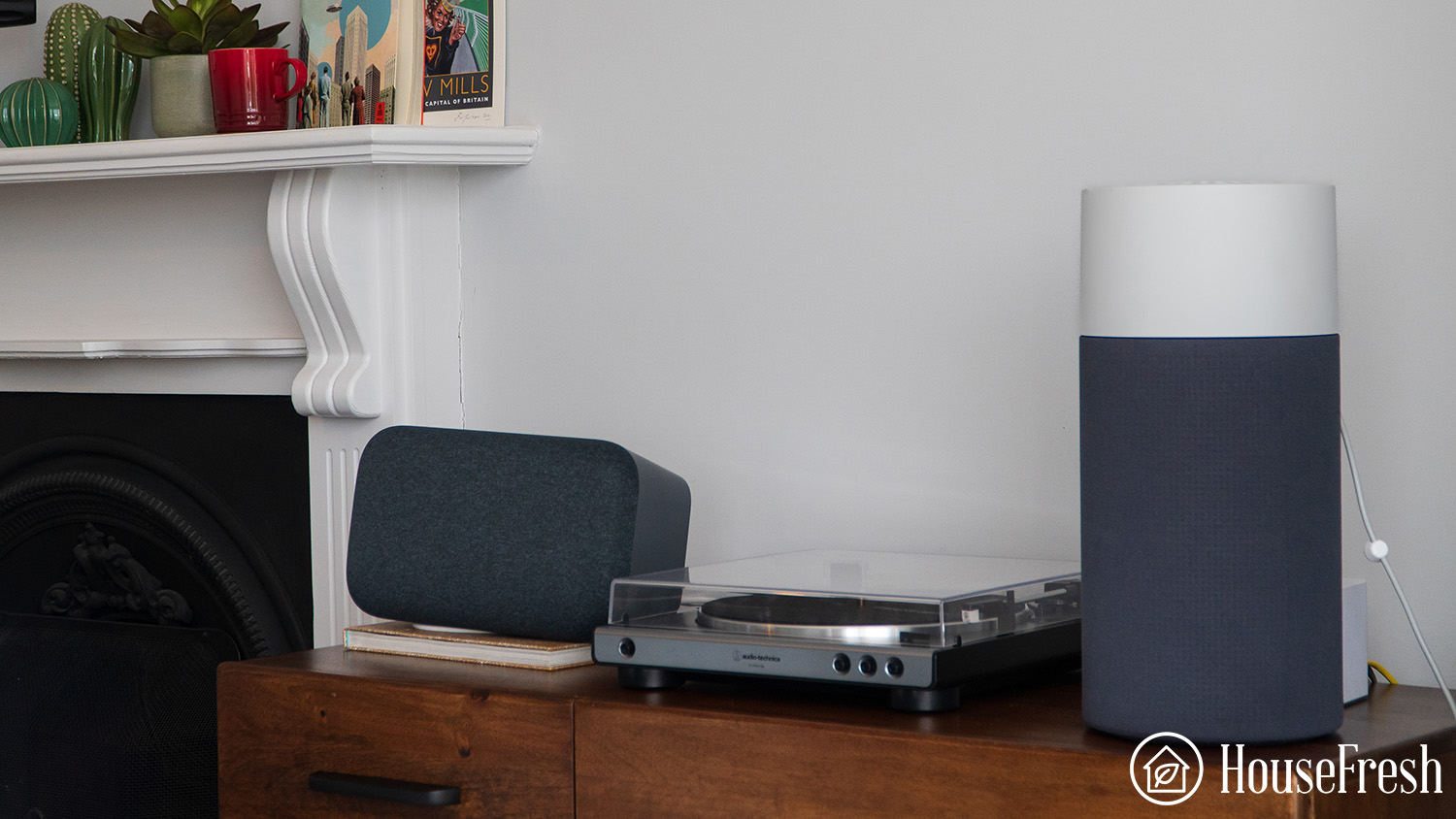 If you have a small room and don't want to generate too much noise, the Blueair 411+ is well worth considering.
---
SOURCES
We calculated the monthly energy consumption costs with the help of the Department of Energy's appliance energy calculator. We calculated yearly costs associated with running Blueair Pure 411+ for 24hs a day for 365 days. We ran this calculation utilizing the U.S. average utility rate of $0.12/kWh as of 1st of April 2023.
Last update on 2023-12-02 / Affiliate links / Images from Amazon Product Advertising API