Our verdict:
The Blueair Blue Pure 211+ blew us away with its air cleaning capabilities; our thorough testing showed performance levels not normally seen at this price point. The lack of auto-mode and app support might put some people off, but you can't go wrong with the 211+ for large spaces in your home. Some consumers might prefer a pure HEPA and activated charcoal filter vs the HEPASilent™ that the Blueair uses, but just know this choice will mean having to pay upwards of $600 for an alternative to the power of Blue Pure 211+.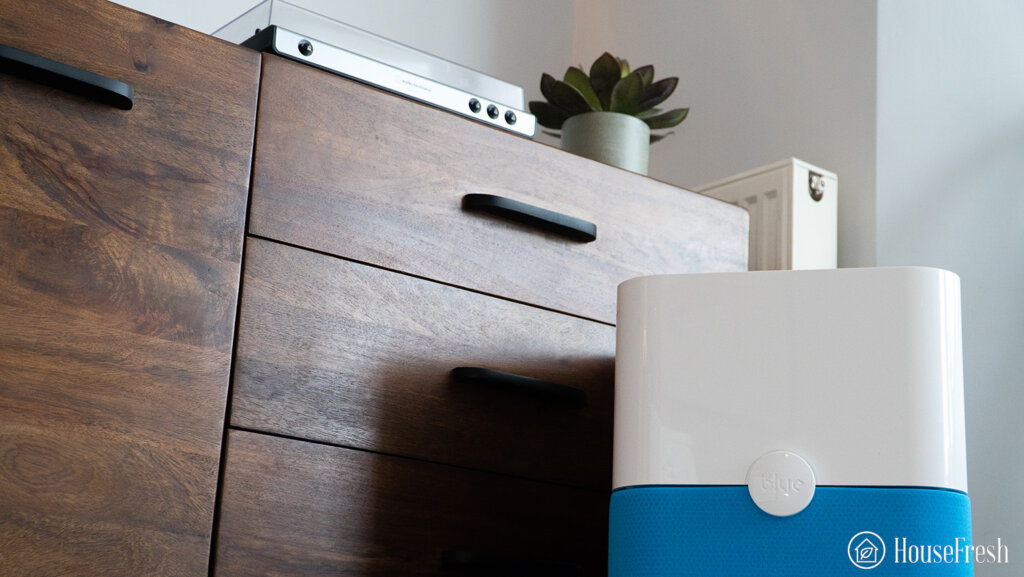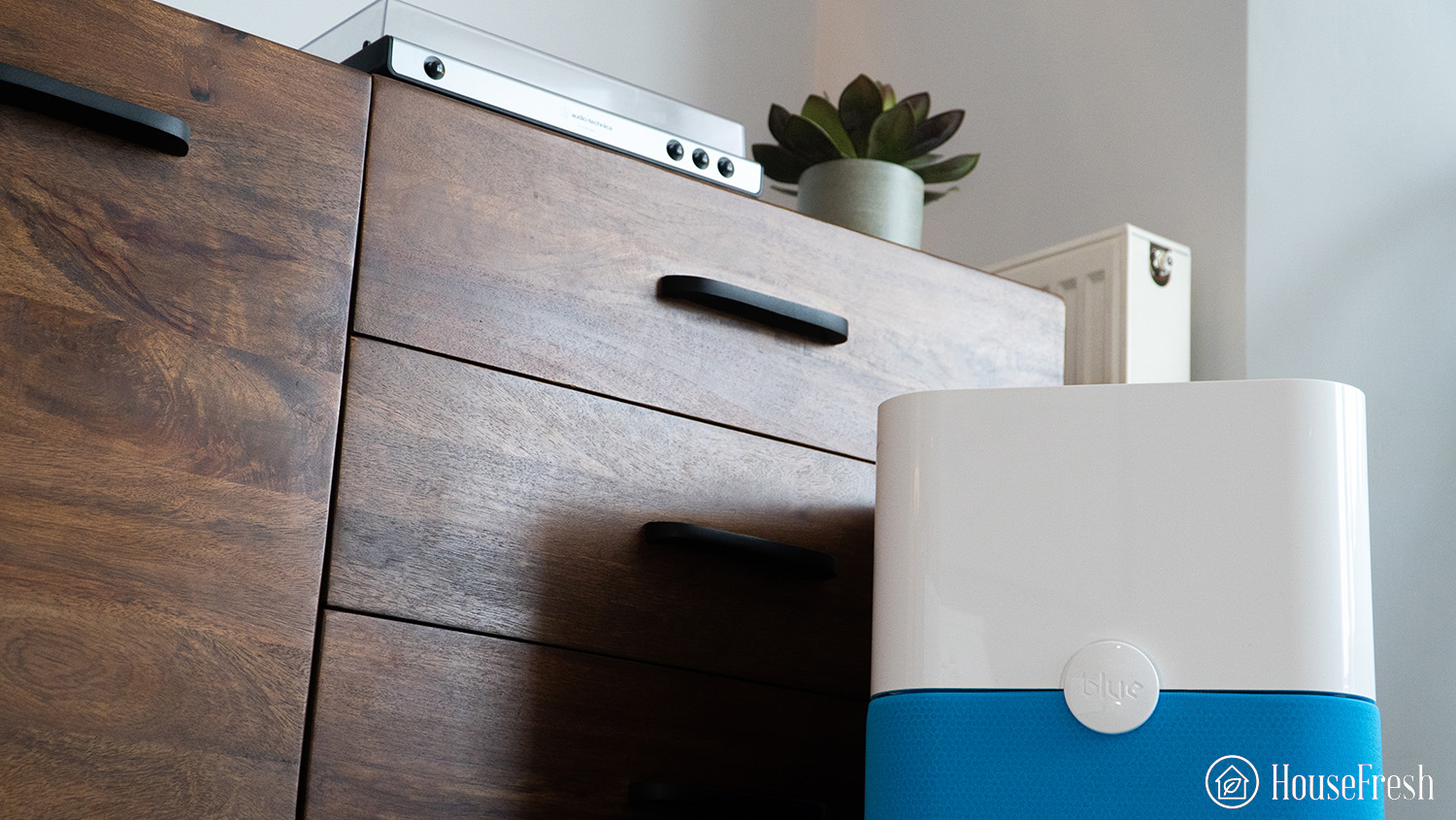 Blueair has long been one of the top names in the air purifier business. For over two decades, the Swedish company has been designing and building award-winning purifiers with the objective of providing the same clean, fresh air inside the home as what you might find in the pristine Swedish countryside.
Thanks to their flagship HEPASilent technology, Blueair have developed a range of ultra-efficient purifiers. By combining a traditional HEPA + Activated Charcoal filter with an electrostatically charging chamber, the filter is able to capture charged pollutants with ease as they pass through the unit. This enhanced performance allows the user to operate the purifier on lower fan speeds, creating a quieter environment whilst saving on energy bills.
With Blueair's range of purifiers already gaining an excellent reputation, we decided to see how the Blue Pure 211+ measured up. This purifier fits into the design-conscious, easy to use, and somewhat budget-friendly Blue Pure range of products offered by Blueair, with the 211+ designed for use in larger rooms up to 540 sq. ft.
As we don't accept free products here at HouseFresh, you can be sure we will provide an unbiased account of this purifier's features and performance, whether fantastic or flawed, to see if it truly lives up to the accolades and is worth spending your hard-earned cash on.
TL;DR The Low Down on the Blueair Blue Pure 211+/221 (UK and European version)
Don't want to read the full review? Here are the main pointers to come from our performance test of this unit.
What We Really Like:
👍 Excellent CADR rating, especially when considering the price.
👍 Tests back up impressive spec, making light work of our particulate pollutant test.
👍 Super simple to set up.
👍 Customizable design thanks to the interchangeable fabric pre-filter.
👍 Pre-filters can be cleaned by vacuuming or popping in the wash for a deep clean.
What We Think Could Be Better:
👎 Lack of additional features such as an air sensor, timer, or app makes it feel more basic.
👎 Not the quietest purifier on the market.
👎 Blueair filter replacements are fairly costly.
The Specifications
Currently retailing for $299.99, the Blue Pure 211+ appears to offer excellent value for a purifier boasting a CADR rating of 350. Alternative purifiers with a similar rating, such as the Alen BreatheSmart 75i or Coway Airmega 400, cost twice as much, so it will be interesting to see how it compares in our real-world tests.
| | |
| --- | --- |
| Purifier technology: | HEPASilent™ and Activated Charcoal Filter |
| CADR (CFM / m³/h): | 350 CFM |
| Recommended room size: | 540 sq. ft. |
| Filter life: | 6 – 8 months |
| Noise level (low – high): | 31 – 56dB |
| Dimensions (in inches / in cm): | 20H x 13W x 13D inches / 51H x 33W x 33D cm |
| Weight (in pounds / in kg): | 12.5 lbs / 5.67 kg |
| Energy consumption: | $36.28 per year |
The Look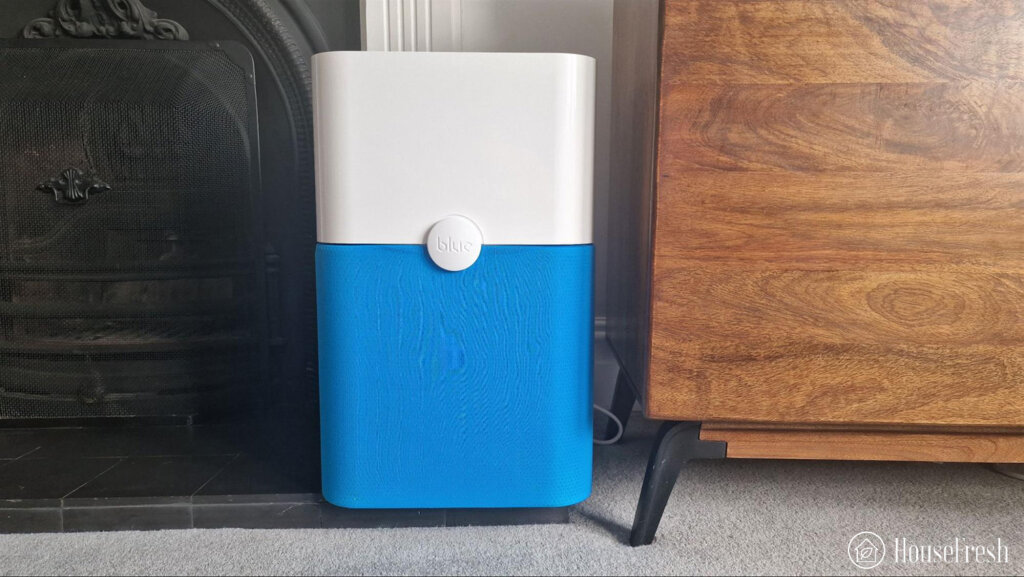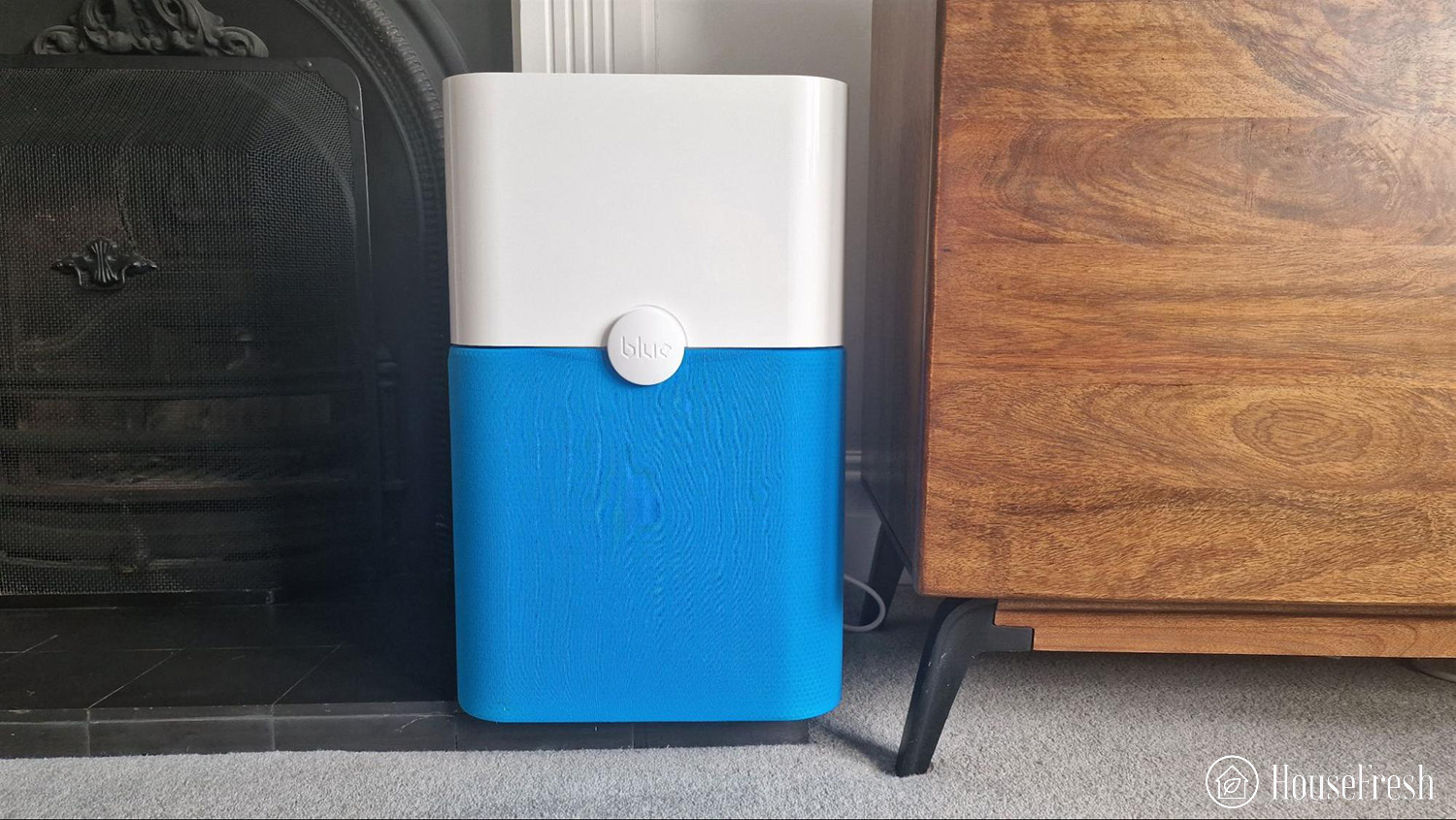 Blueair are certainly not afraid to embrace bold design. In a world of mundane, white, rectangular appliances, they introduce much-welcomed color and texture to their products. The fabric pre-filter doesn't just capture large particles, but captures the imagination at first glance. Coming in a range of customizable colors, you choose a style to best suit your decor or switch it up with a variety of interchangeable covers.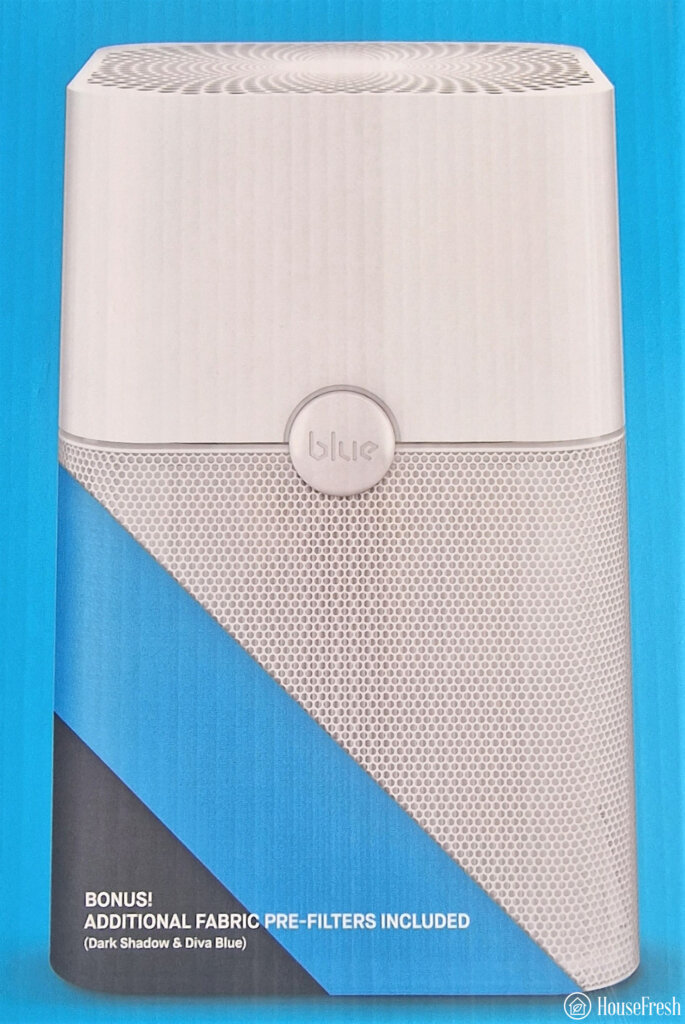 In true Scandi fashion, we see clean, sharp lines and a focus on modernity, as well as simple functionality that doesn't compromise on design. Attention to detail is personified by the air outlet grill which takes on a unique honeycomb pattern. While the one-button design allows you to easily operate the purifier without complicated or cluttered controls and settings.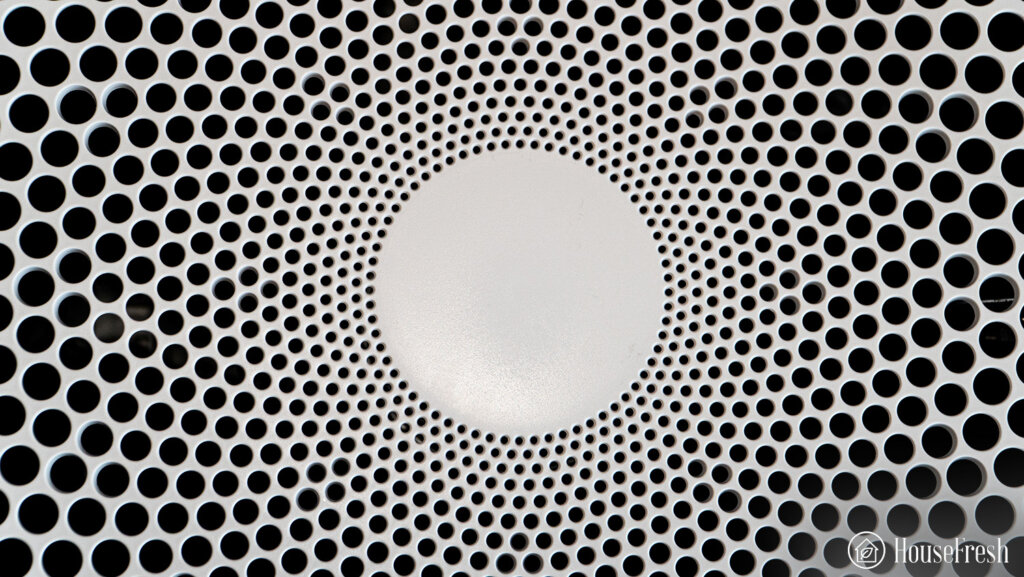 We see a stark difference in design when comparing Blueair's range to some of its competitors. Although a fantastic purifier in its own right, the IQAir Healthpro Plus resembles a copy machine from the 1990s, while the Blue Pure 211+ embraces a modern aesthetic that doesn't sit awkwardly in the home, but can complement your style and decor.
At just over half a meter tall and 33 cm deep and wide, this purifier won't eat up much of your valuable living space whilst still packing a mighty punch for a smaller machine.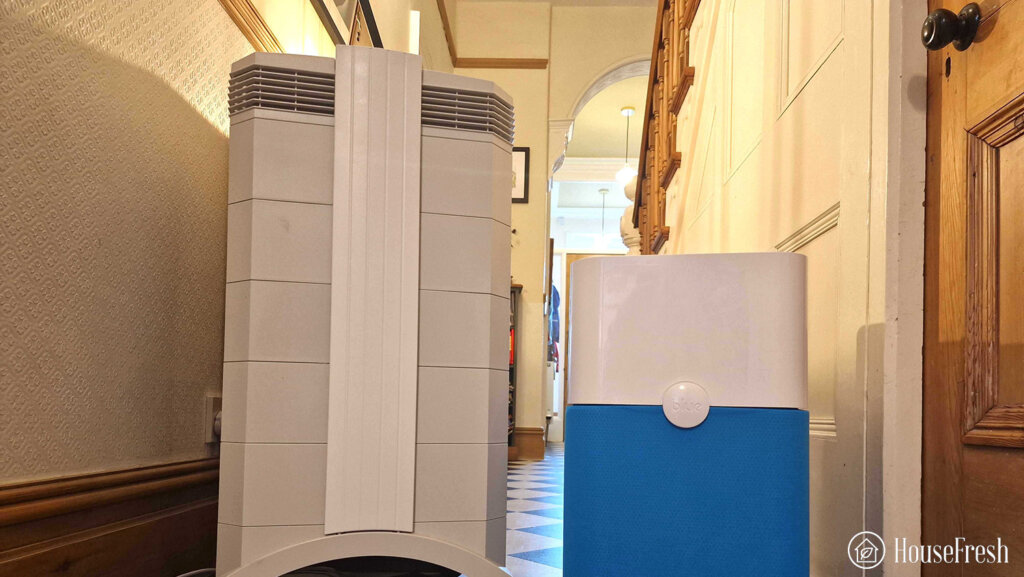 The Setup
Upon delivery of the purifier, we found a compact yet securely packed box, with all the components and instructions well presented inside.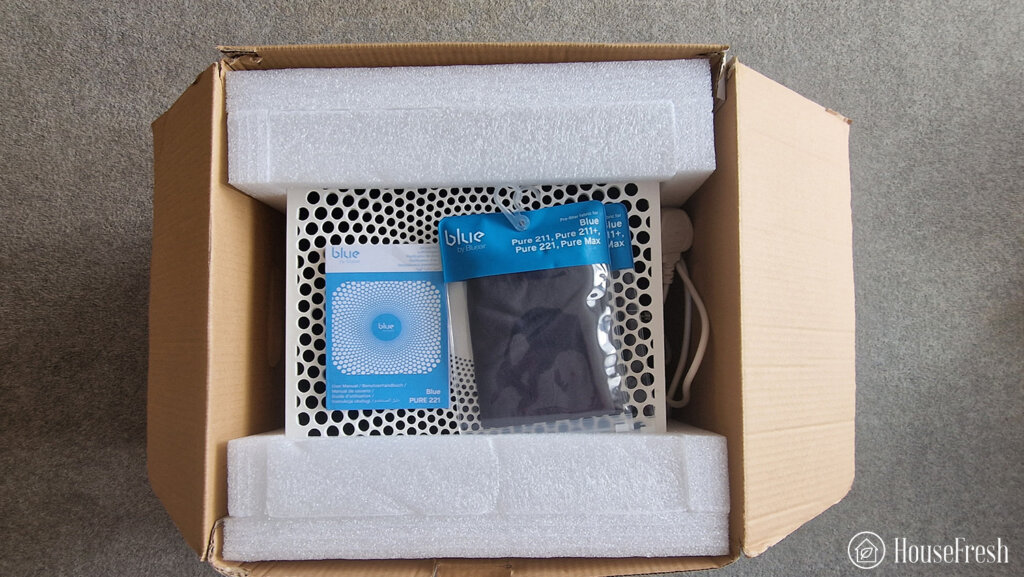 With everything unpacked, open the purifier by pressing the two release buttons on either side and lift the top off. The HEPA filter then easily slots inside the purifier while the pre-filter has to simply be pulled onto the outer grill like a sock. With everything in place, all that's left to do is plug the machine into the mains and begin purifying.
One negative we found whilst setting up the Blue Pure 211+ came when maneuvering the unit. The instructions state when moving the purifier, to take hold of the machine by the top, however there are no handles or obvious points where to grip the purifier. Without castor wheels either, this makes the unit harder to move around the home and is the first time we've encountered a discrepancy between the instruction manual and how the product is used in the real world.
The Filters
The Blue Pure 211+ comes equipped with a trio of particle busting filters. With a fabric pre-filter that fits to the outer body of the machine and the HEPASilent filter which combines HEPA and Activated Charcoal, that slots inside. Check out how easy it is to get your filters up and running below.
If you've done any research into air purifiers, you will no doubt have come across the term 'HEPA filter'. Standing for High-Efficiency Particulate Air filter, this has become the benchmark for air purification, as it guarantees the filter will remove at least 99.97% of airborne particles as small as 0.3 microns in size. While HEPA is good enough for most manufacturers, Blueair has developed a supercharged version which they call HEPASilent.
The difference-maker between regular HEPA and HEPASilent filters is the introduction of an electrostatic charge, which works similarly to an Ionizer. By charging the particles, not only does the purifier kill 99% of germs, viruses, and bacteria, but they also attach negative ions to particles, which makes them attracted to the positively charged fibers within the HEPA filter.
The benefits of this process are measurable in the amount of particulate matter that is removed from the air. HEPASilent filters are able to capture 99.97% of particles as small as 0.1 micron, meaning far fewer pollutants pass through the purifier. While also allows the purifier to run more efficiently, operating on slower fan speeds to reduce energy consumption and noise pollution, without compromising on quality.
Built into the HEPASilent filter is also a sheet of activated carbon to tackle VOCs such as chemical fumes, smoke and, even bad odors. Plus, a washable, mesh pre-filter captures larger particles before they enter the purifier, extending the lifespan of your HEPASilent filter.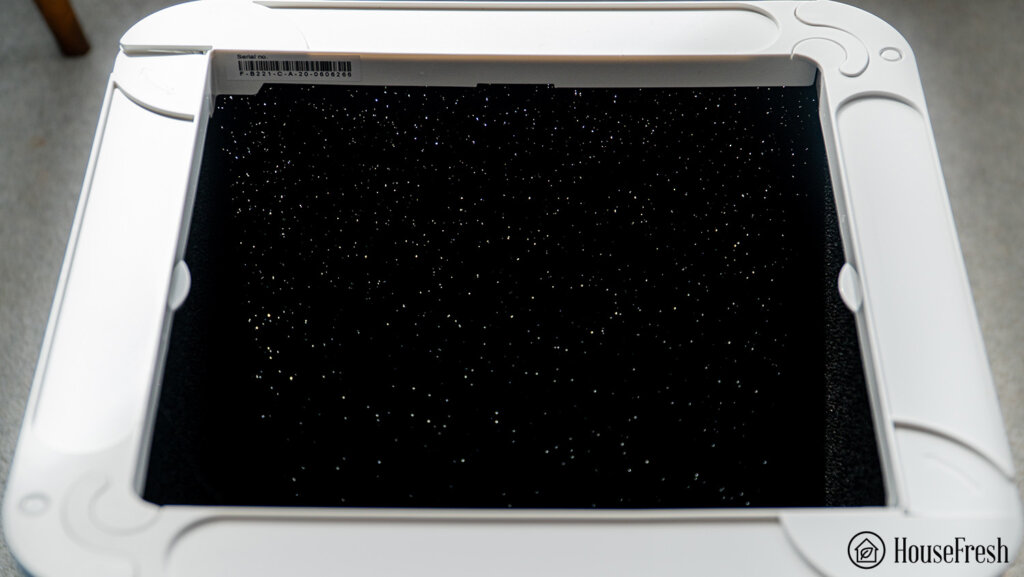 When installing your filters, remember to remove the plastic sealed bag that they are delivered in before inserting them into the purifier.
The Controls
When it comes to operating the purifier, the controls could not be simpler. There is one button located on the front of the purifier which turns it on, and cycles through the three fan speeds, before turning it off again.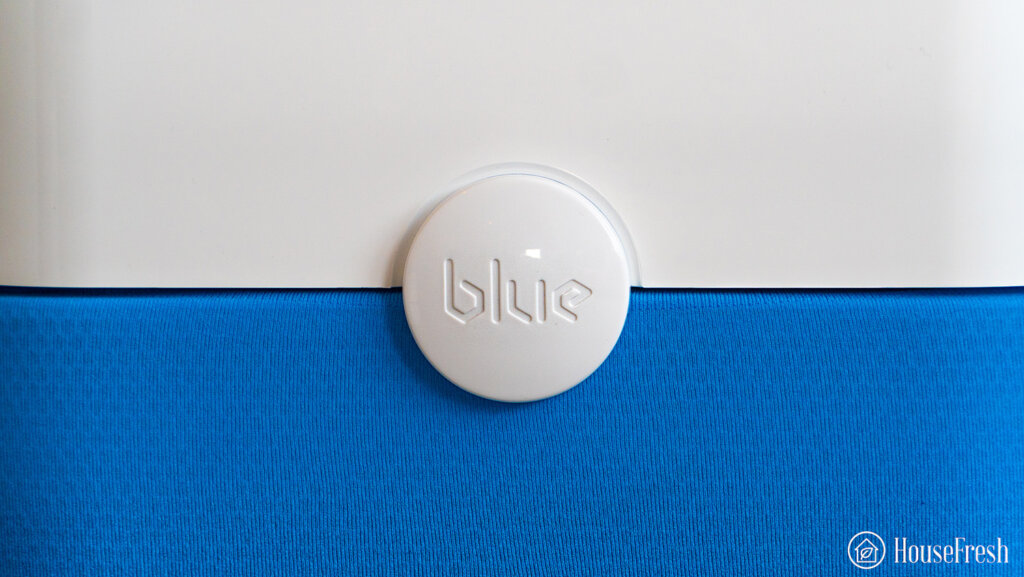 While the fuss-free controls will appeal to many, the lack of additional features and controls really highlights the limitations of this purifier. Where alternative manufacturers have introduced timers, air quality indicators, and auto settings, the Blue Plus 211+ has none. Even the Blueair app is reserved for their flagship models, which doesn't include the 211+. The only additional flourish we see is when the power button glows yellow after 5 months to indicate it's almost time to change your filter and turns red a month later.
If an auto-mode is something that you think is going to come in useful, then you will have to upgrade to the newer but very similarly powered 211+ Auto version which is $40 more.
The Performance
Now let's get down to the nitty-gritty and find out how the Blueair Blue Pure 211+ performed in our real-world tests. We set the purifier up in our testing laboratory (aka the home office), which measures up at 705 cubic ft.
As always, we used incense sticks to fill the room with both particulate matter and VOC pollutants. With our trusted PurpleAir indoor sensor on hand to record the results, measuring PM1.0ug/m3, PM2.5ug/m3, and PM10.0 ug/m3 throughout the test.
With the incense alight, we fired up the purifier on its highest setting at 09:45, where our sensor showed PM10.0 levels at 3054ug/m3 and PM2.5 had reached 2108ug/m3.
The level of pollutants in the space rapidly decreased, reaching a reading of 0ug/m3 across all three sized particles by 10:05. Taking just 20 minutes to completely purify the air within the space.
The rapid rate at which the Blue Pure 211+ eradicated pollutants is very impressive. Outperforming other purifiers with similar specs such as the Alen BreatheSmart 75i which took 24 minutes and the Levoit Core 400s which took 33 minutes and even pipping the IQAir Healthpro Plus at 25 minutes. All while costing a fraction of the price of its competitors.
When measuring the volume of noise produced by the unit, at its lowest speed, it creates 31dB. This is very quiet but not quite as low as other units we've tested, that manage to fall into the whisper or pink noise decibel range. With the fans set to full speed, the reading reached 56dB, this is around the average we've found throughout our tests and is comparable to your AC unit.
Take a listen for yourself below to get a better idea:
The Cost to Run
1. Electricity costs
As energy prices soar around the world, it is now more important than ever to consider the operating cost of appliances that you run at home. While we believe you can't put a price on breathing quality air, we understand that purse strings are tightening. So to help you factor a new air purifier into your budget, we've done the math and figured out how much the Blue Pure 211+ could cost you in the long run.
First, let's look at the highest cost you might incur. When running the purifier on the highest speed setting, we recorded 55.5 watts of energy being used. By using our energy usage calculator, we know this will set you back $120.57 per year, if used at this setting 24 hours a day, 365 days a year. Which in turn, works out at $0.33 per day.
Of course, unless you live inside a chimney, it's unlikely you will have to utilize the highest setting on your purifier around the clock. The good news is that we recorded only 16.7 watts being used on the lowest setting, which you are most likely to use for the vast majority of the time. At this speed, your annual costs come right down to $36.28 or $0.10 per day, even when used continuously.
2. Filter costs
As HEPA filters get clogged with debris over time, in order to keep your purifier running at its optimum, you will need to periodically replace them to allow air changes to take place efficiently. Another key consideration when purchasing an air purifier, therefore, should be how often and how costly replacing the filter will be.
The filters that Blueair produces for their Blue Pure 211+ model cost $69.99 and will last for 6-8 months. This is rather expensive, however not an uncommon price when compared with other air purifiers in its class, with filter replacements costing the same amount for the Alen BreatheSmart 45i and $129.00 for the Coway Airmega 400 (which last for 12 months).
To save money on filter replacements, you can try the generic alternatives that are available on Amazon for the cheaper price of $41.79. These also have a lifespan of 6 months and customer reviews generally indicate the performance matches the official Blueair product.
BLUEAIR Blue Pure 211+ Genuine Replacement Filter, Particle and Activated Carbon, Fits Blue Pure 211+ Air Purifier (Non-Auto)
COMPATIBLE WITH BLUE PURE 211 plus: Blueair Combination Particle plus Carbon Replacement Filter compatible with Blue Pure 211 plus air purifiers (non-auto); not compatible with Blue Pure 211 plus Auto air purifier
FILTERS BUILT TO LAST: Using a 360-degree air intake and up to 4x the filter surface area, the Genuine Blue Pure 211 plus Auto Particle and Activated Carbon Filter lasts on average 6 months to a year; optimizing air flow and performance over time
RECYCLABLE: Please check your local recycling facilities for availability
AUTOMATED FILTER REPLACEMENT: Subscribe & save up to 10% on auto-delivered filters when replacement is needed; We recommend replacing your filter about every 6 months when used 24 hours a day
REMOVES EVEN TINIEST AIRBORNE PARTICLES DOWN TO 0.1 MICRON: Particle filter removes airborne particles such as pollen, pet dander, bacteria, mold, viruses, and dust from your indoor environment
Bottom Line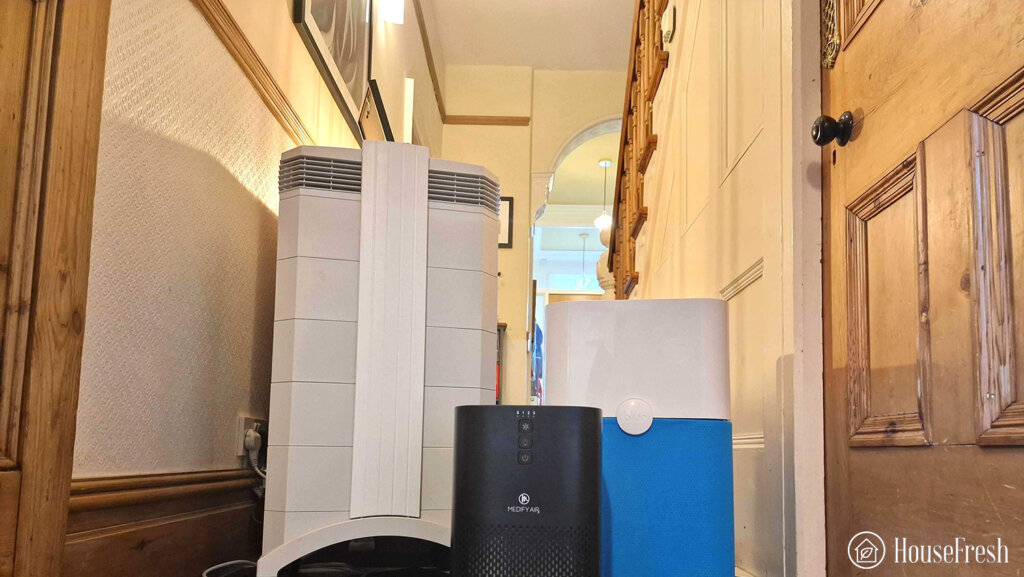 The Blue Pure 211+ performed excellently in our real-world tests, clearing a mid-sized space of all particular matter within 20 minutes. Outperforming some of the industry-leading purifiers in the process, such as the IQAir Healthpro Plus.
While this performance speaks for itself, the design also deserves a special mention. The sleek, modern aesthetic would appeal to many people and thanks to its customizable design will sit comfortably in any home.
Where I feel the Blue Pure 211+ lets itself down, is through its lack of features. While many people will like the simplicity of this purifier, when comparing it to the Alen BreatheSmart 75i or Coway Airmega 300, which performed almost as well in our tests, they offer a great deal more in functionality, provide detailed feedback to its user and come with all the bells and whistles you expect from a premium product.
There's no denying this unit is a brilliantly performing product for a very reasonable price. So, if you're seeking an easy-to-use purifier that gets the job done with a minimal amount of fuss, look no further than the Blue Pure 211+.
Why trust us?
The team at HousFresh has been reviewing air purifiers for over 10 years. We are fed up with marketers of air purifiers who sell the dream of a new air cleaning technology but fail to deliver. We don't trust anything until we buy an air purifier with our own money and test its air cleaning performance in our test lab. We combine the research on the expected long-term costs you will be expected to pay and share all our data openly. Our ultimate goal is to help as many people achieve clean air in their homes.
If you need more information feel free to email me as I'm always keen to talk about air purifiers and am only happy to help with specific issues.
SOURCES
We calculated the monthly energy consumption costs with the help of our air purifier electricity usage calculator. We calculated daily and yearly costs associated with running an air purifier for 24hs a day in California. You can customize the result by air purifier wattage and by state.
Last update on 2022-12-05 / Affiliate links / Images from Amazon Product Advertising API