Our verdict:
One of the best portable air purifiers on the market, with enough battery power for short and medium-haul flights.
It would be good to see activated charcoal in future iterations, but for now, the Smart Air QT3 is one of the best portable units on the market.
Levoit is a company from the USA that manufactures all its units in China and they are part of Vesync Co Ltd, a publicly traded company with 1,200 employees. It's been a significant player in the United States for budget air purifiers since it entered the market in 2017.
The Levoit LV-H132 was the first model that Levoit brought to market when it launched in 2017. It was designed as a smaller/budget-friendly air purifier for small spaces of up to 129 ft². There are no timers, auto-mode and app support — all things you find with newer Core Model S units.
The Levoit Core 300 is one of my favorite air purifiers at HouseFresh, so we were excited to review the LV-H132.
Why You Should Trust This Review

As with all our reviews here at HouseFresh, we bought the Levoit LV-H132 with our money. That means we can tell you precisely what we think.

We always do our desk research, but when it comes to reviewing air purifiers, you need a way to compare performance. We have a simple way to compare performance across all different types of air purifiers that you don't need a Ph.D. to understand.

Before writing this review of the Levoit LV-H132, we performed the following tests:

1️⃣ We lit an incense stick inside our test room of 705 cubic ft. Then we used the PurpleAir Indoor air quality monitor to see how fast PM1.0ug/m3, PM2.5ug/m3 and PM10.0 ug/m3 were removed from the air when running the Levoit LV-H132 at top speed.

2️⃣ Using an electricity usage meter, we tracked how much energy was used by the Levoit LV-H132 when running at its lowest and highest fan speeds.

3️⃣ Using a commercial sound meter, we recorded how loud the LV-H132 can be when running at the top and bottom fan speeds.

4️⃣ Lastly, we used Flourish to visualize the data to see how the Levoit LV-H132 compared to other air purifiers at the same budget and room size.

Using the above process, we can compare units like for like instead of just scoring them based on manufacturer data.
Intro out of the way, let's get on with this review, shall we?
TL;DR The Lowdown on the Levoit LV-H132
---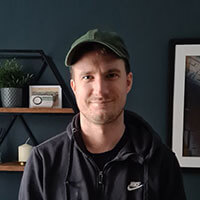 "It has the same long-term cost as other Levoit units but with far less cleaning power. You can get much better performance with the Levoit Core 200S."

— Danny Ashton, Founder & Senior Writer
---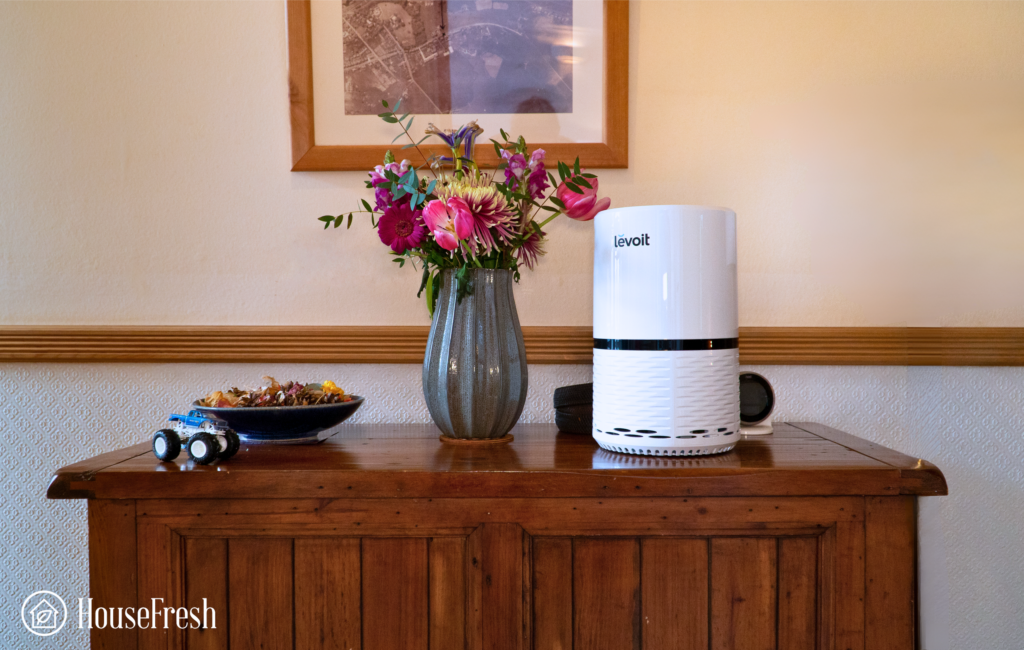 If you don't want to read my full review, then here is my rundown on the LV-H132:
What We Really Like:
👍 Simple controls and light on top is an excellent design touch
👍 Initial cost is fair at under $70
👍 Generic filters are available that allow you to run it for just over $30 per year
👍 Sound levels are acceptable and very quiet at the lowest speed
👍 Filter light is appreciated and will allow for better long-term performance
What We Think Could Be Better:
👎 Air cleaning performance is sub-par for this budget and would struggle with even the smallest rooms
👎 Efficiency is lower than other Levoit products, such as the Core Mini or Core 200S
👎 Long-term costs are high when you consider you can pay similar for twice the cleaning power with something like the Levoit Core 300
The Specifications
Often found retailing for $70-$80, this is one of the cheapest air purifiers sold by Levoit.
| | |
| --- | --- |
| HouseFresh Rating: | ★★★☆☆ |
| Time to clean our test room: | 1 hour and 38 minutes |
| Air purifier technology: | H13 True HEPA filter and activated carbon |
| Recommended room size: | up to 129 sq. ft. |
| Clean air delivery rate (CADR): | 40 CFM |
| Dimensions (in inches / in cm): | 7.9L x 7.9W x 12.6H in (20 x 20 x 32 cm) |
| Weight (in pounds / in kg): | 6 lb (2.7 kg) |
| Noise level (low – high): | 25 dB – 50 dB |
| Filter life: | 6 months |
| Manufacturer's warranty | 2 years |
| Estimated energy consumption: | $28.38 per year |
Small Design and Simple Controls
The Levoit H132 is a small air purifier and has a cylindrical design similar to the Levoit Core range. The stand-out design feature is the light in the middle of the purifier, which could act as a night light.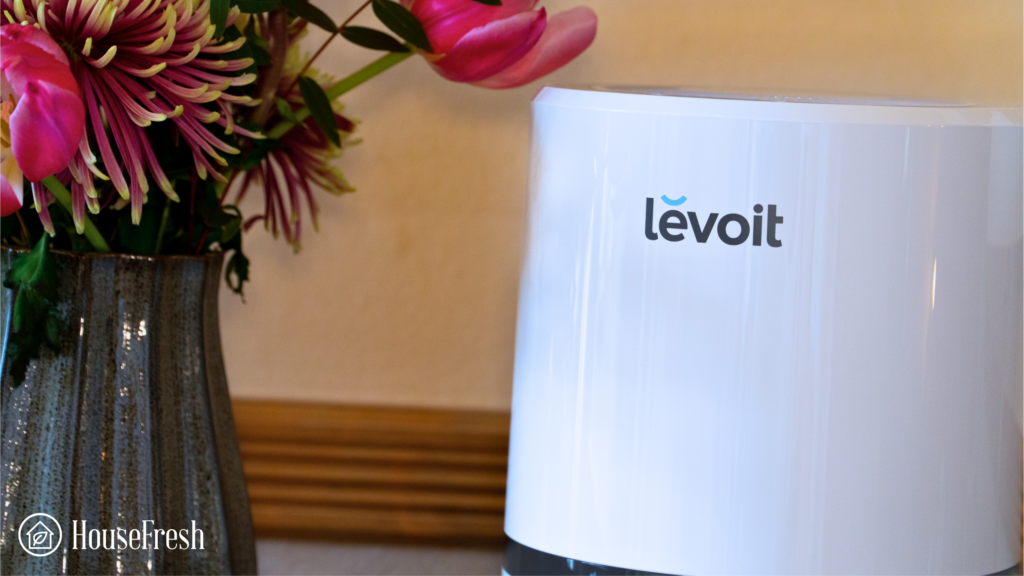 The LV-H132 has a simple control system — a power on/off button, night light and fan speed button with three different speeds available.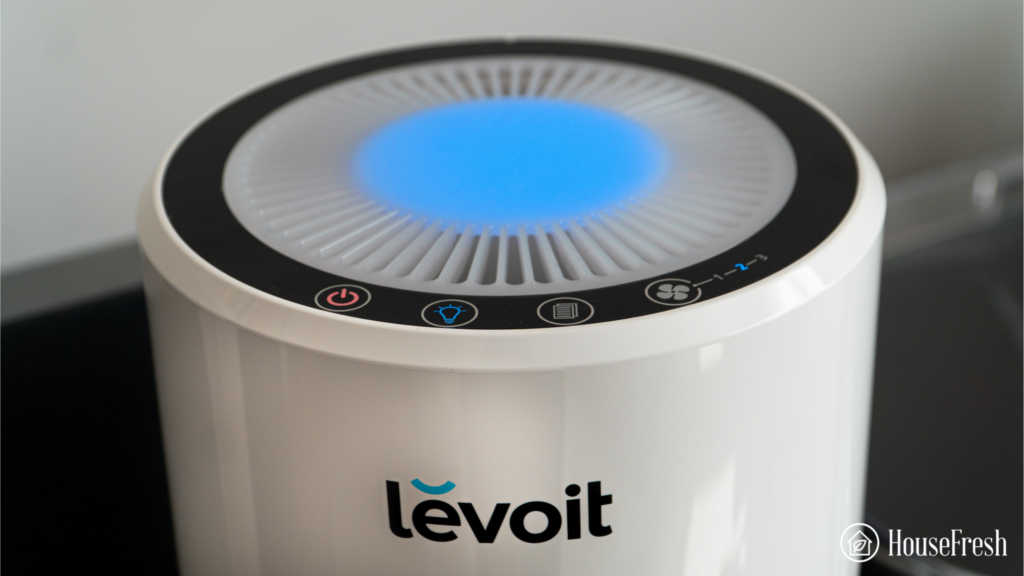 You will notice that the third button shows an icon for the HEPA filters. This will turn on when it's time for you to replace the filters in the unit.
💡 Once you have replaced your filters, the filter warning light can be reset if you hold it down for several seconds.
Limited Filtration System
The LV-H132 includes the 3-stage filtration technology Levoit offers in all their units. The filter uses a pre-filter cover, which can be removed to expose the H13 True HEPA filter with an integrated activated carbon filter.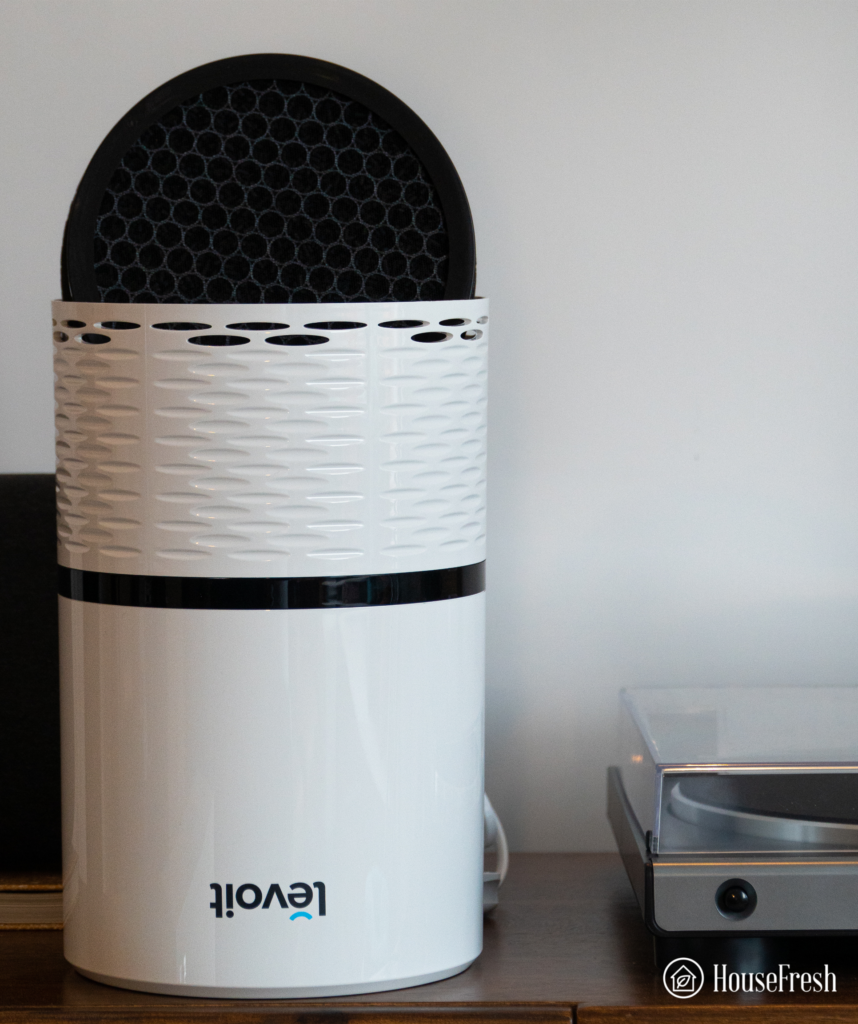 The main feature of the filter is the powerful medical-grade HEPA H13. However, due to the small size of the LV-H132, it won't be as powerful as other Levoit units when dealing with pollutants. That said, it gets the job done.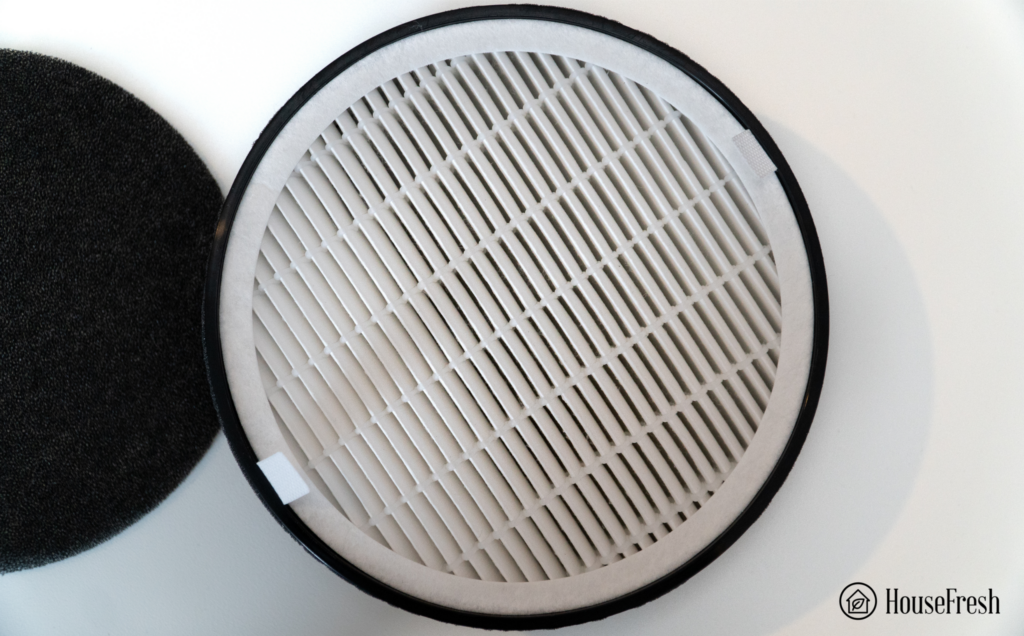 A carbon filter is integrated, which will come in handy for combating gasses and odors. Similarly to the HEPA filter, the carbon filter is much smaller than those in units like the Core 300.
The good news is that the LV-H132's carbon filter uses activated pellets — better than many other budget units that use impregnated fabric.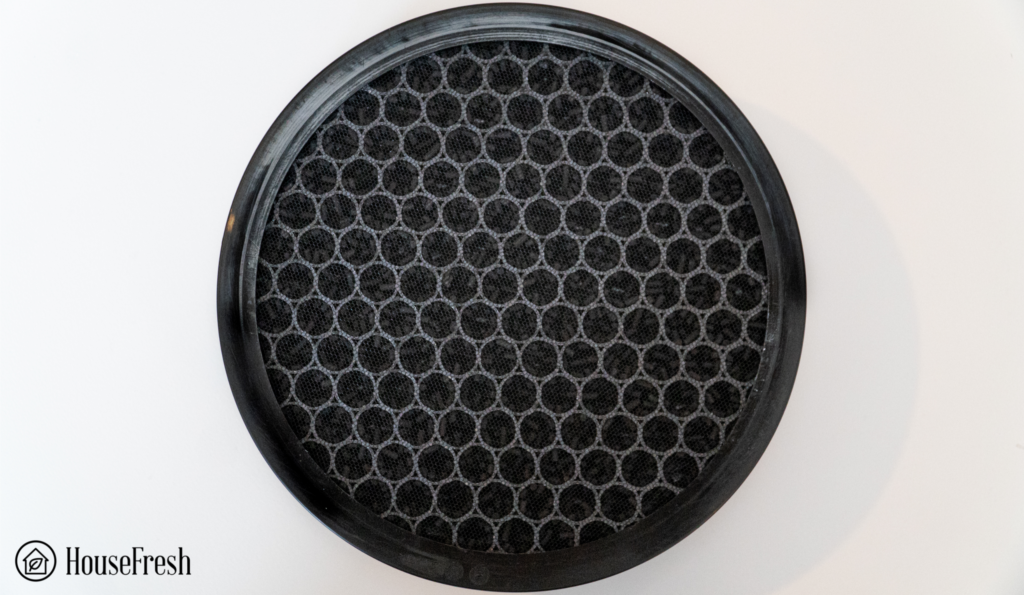 When the moment comes to replace the filter, you will unlikely have any issues as the process is quite straightforward.
You can watch this video to see how it's done:
Due to the small size of the LV-H132, it is limited in the number of pollutants it can remove, especially when compared to larger units. While we appreciate the use of pelleted charcoal, it's still minimal and is unlikely to significantly impact the amount of VOCs or odors in the air.
⚠️ New air purifiers will come with the HEPA filter covered in plastic or inside a plastic bag. Remove this before you start the unit; otherwise, it won't work.
The Levoit LV-H132 Cleared Our Room in 98 Minutes
The Levoit Core 300 is one of our favorite air purifiers in the budget range, so we had high hopes for the LV-H132.
We tested the LV-H132 following the same process for all other air purifiers we reviewed. We placed it in our 705 cubic ft test room, used an incense stick to generate smoke pollutants and then turned on the LV-H132 at full speed.
We used our PurpleAir indoor sensor to track PM1.0ug/m3, PM2.5ug/m3 and PM10.0 ug/m3 to time how quickly the air purifier brought the level of pollutants back to 0.
Have a look for yourself:
It took 98 minutes to fully remove all the pollutants in our test room.
Air Cleaning Performance Compared to Other Air Purifiers
This was much longer than the $99 Levoit Core 300, which took 40 minutes and was close to the much smaller and cheaper Levoit Core Mini, which took 113 minutes. Interestingly the Levoit Core 200S has the same price as the LV-H132 but took 61 minutes to clean our test room.
At this level of cleaning performance and this price, it's tough to recommend the LV-H132 even for a small room, as consumers would get more bang for their buck with the Core 200S or even more with the Core 300 for just a little extra spent initially.
Noise Levels Test Results
As with many small air purifiers, at its lowest speed, the LV-H132 doesn't generate much noise at 25dB, but it reaches the same levels as the large Core 300 at the highest speed with 50dB of sound generated.
We always like to record videos showing sound levels as noise can be subjective. Listen to the LV-H132 for yourself:
The Cost to Run a Levoit LV-H132: $69.36 Per Year
1. Electricity costs = $28.38 per year
The LV-H132 is now an older unit compared to the Core series of air purifiers and it shows with its energy usage. At its highest speed, we saw that it drew 26.7 watts, while the newer Levoit Core 300S managed to clean much quicker, which pulled only 14.6 watts.
While it's still a reasonably low cost to run continuously 24/7 at $28.38, I would still prefer to choose a more efficient unit like the Core 200S that uses the same amount of power but cleans our room 37 minutes quicker.
2. Filter costs = $45.98 per year
Filters directly from Levoit Cost $22.99 per filter, which comes to $45.98 per year. We see a similar cost with the Levoit Core 200S at $45.74 and the Core 300S at $60.
One of the big benefits of a popular brand like Levoit is that you can often find many generic filters available at a lower cost. We found a generic filter set for the LV-H132 that brings total yearly costs down to $32 per year.
Technology
3-in-1 Nylon Pre-Filter, True HEPA Filter, High-Efficiency Activated Carbon Filter
HEPA and carbon filters compatible with Levoit Air Purifier LV-H132
Technology
3-in-1 Nylon Pre-Filter, True HEPA Filter, High-Efficiency Activated Carbon Filter
Technology
HEPA and carbon filters compatible with Levoit Air Purifier LV-H132
---
Bottom Line
When the LV-H132 was first released in 2018, it would've been a decent unit for those on a budget. As of 2023, there are far too many high-performing budget air purifiers like the Levoit Core 300S or Taotronics AP003 that clean far more air and cost a similar amount both in initial machine cost and long-term costs in filters and electricity.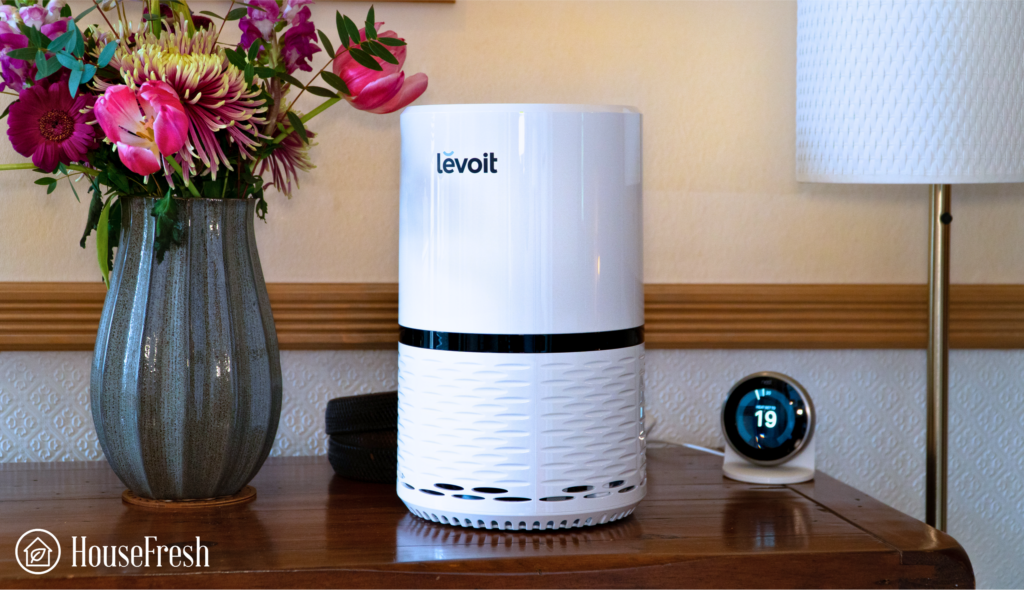 If you need an air purifier for a small room, we would suggest looking at other units like the Levoit Core 200S at the same cost and, if possible, look spend a little more for a large unit like the Levoit Core 300 or Taotronics AP003 that would cost the same in energy and filters but would be able to keep your air clean much cleaner.
---
SOURCES
We used the Department of Energy's appliance energy calculator to calculate yearly costs associated with running the Levo LV–H132 for 24hs a day for 365 days. We ran this calculation utilizing the US average utility rate of $0.12/kWh as of 3rd March 2023.
Last update on 2023-09-13 / Affiliate links / Images from Amazon Product Advertising API