Our verdict:
The Core Mini is a new air purifier with plenty of benefits. It won't be powerful enough for bigger rooms and filter costs seem high with long-term usage, but it's perfect for travel and use in small spaces like the car, RV, and campervans. The Core Mini is one of our top contenders as our best car air purifier for 2023.
Levoit is currently one of 3 brands for Vesync Co who have offices in LA, USA, Shenzhen, PRC, and Hong Kong, and is traded on the Hong Kong stock exchange. Running since 2012, its revenue last year was $458 million, and it has 1.24k employees according to financial data.
The Levoit Core series really changed up the game in the world of air purifiers. Previously, cheaper units performed poorly, and it was often better to recommend consumers avoid them. With the Levoit Core 300, Levoit finally brought a really good CADR score for less than $100 and forced other manufacturers to improve their game. Unlike many cheaper units, the Levoit Core series contain no ionizer functions and just relies on efficient fans with good quality HEPA and activated carbon.
Currently, the Levoit Core 600S is the most powerful unit we have tested and is the current champion to beat in pure HEPA performance.
Whilst the Core 600S is a powerful unit, it's also way too big for most users. Even the Levoit Core 300 is fairly large, so there was a gap for something smaller. The Levoit Core mini is still a "Core" but is much smaller than any other air purifier in the series and is the smallest unit we have tested to date. I expect this will start a new trend for "mini air purifiers" as I know that we have a number of other smaller units from other manufacturers to test over the next few months.
As with all the tests and reviews we do here at HouseFresh, we bought this Levoit Core mini with our own money to avoid any biases of accepting free goods in exchange for reviews. Our ultimate goal is to share the data and let you make up your own mind if this air purifier sounds like a good fit for you. If an air purifier sucks, we have no problem saying it.
TL;DR The Lowdown on the Levoit Core Mini
---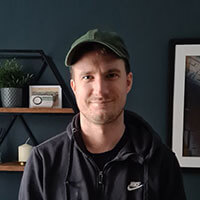 "It won't be powerful enough for bigger rooms and filters costs seem high with long-term usage, but it's perfect for travel and small spaces like the car, RV and campervans."

— Danny Ashton, Founder & Senior Writer
---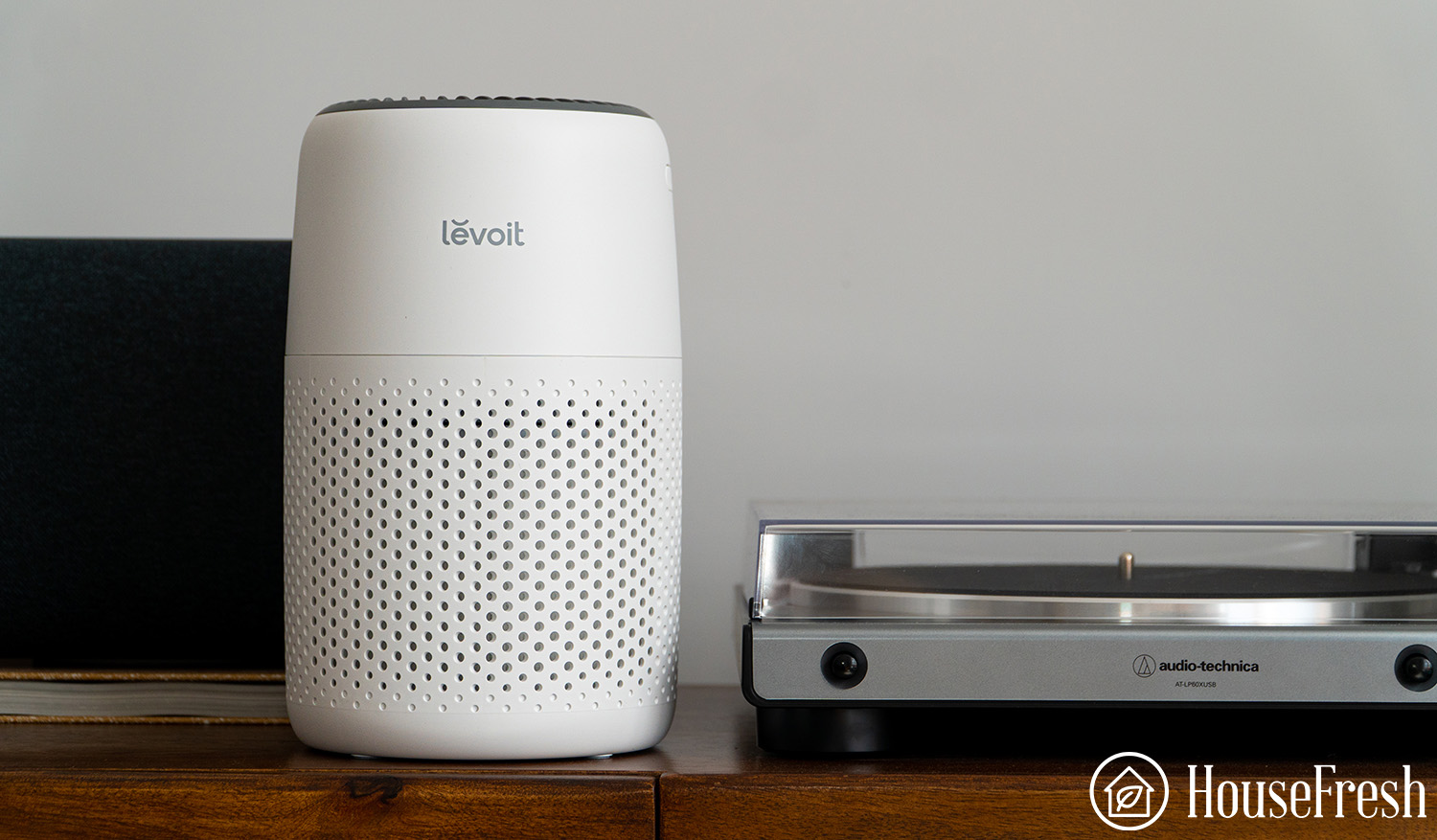 I get that not everyone needs to read every aspect of my review for this air purifier, so in a nutshell, here are my thoughts:
The Core Mini is a new type of air purifier that has plenty of benefits with its super low power draw (6.4 watts or $7.36 per year to leave on 24/7) and a decent level of cleaning performance compared to its size and energy needs.
What We Really Like:
👍 Cleaned our performance test room in 113 minutes, which was much better than higher cost and much larger units
👍 A very low power draw of 6.4 watts, which was equal to less than $20 of electricity costs a year to run continuously
👍 So small. Makes bringing it along on trips super easy, so a great one to throw in the luggage for vacations
👍 Super quiet at full power compared to other units
👍 Very low cost to buy unit initially as they are regularly available for less than $50
What We Think Could Be Better:
👎 Filter costs start to add up as it has higher filter costs if used regularly as the Levoit Core 300S
👎 Performance won't be adequate for houses with high ceilings or anything bigger than a small room
The Specifications
With a CADR of 35CFM, this isn't a unit you will want to use in a large room, but seeing as it costs less than $50 it equates to $0.7 per 1 CFM which is OK for a unit of this size.
This CADR range is a fairly new category for air purifiers, so there aren't many units to compare, but the Levoit H132 has 40CFM which costs more in both initial costs and long-term costs.
| | |
| --- | --- |
| HouseFresh Rating: | ★★★☆☆ |
| Time to clean our test room: | 1 hour and 53 minutes |
| Air purifier technology: | H13 (Medical) Grade HEPA and Activated Charcoal |
| Recommended room size: | 178 sq. ft. |
| Clean air delivery rate (CADR): | 32 CFM |
| Dimensions (in inches / in cm): | 10.4H x 6.5D x 6.5W inches (26.4H x 16.4D x 16.4W cm) |
| Weight (in pounds / in kg): | 2.2 lbs (1 kg) |
| Filter life: | 4 – 6 months |
| Noise level (low – high): | 25dB – 44 dB |
| Estimated energy consumption: | $6.31 per year |
Pocket Sized Simplicity
I am a big fan of the simplicity of Levoit units, and the Levoit mini matches this style. One clear on button with 3 speeds and then an alert for changing the filter.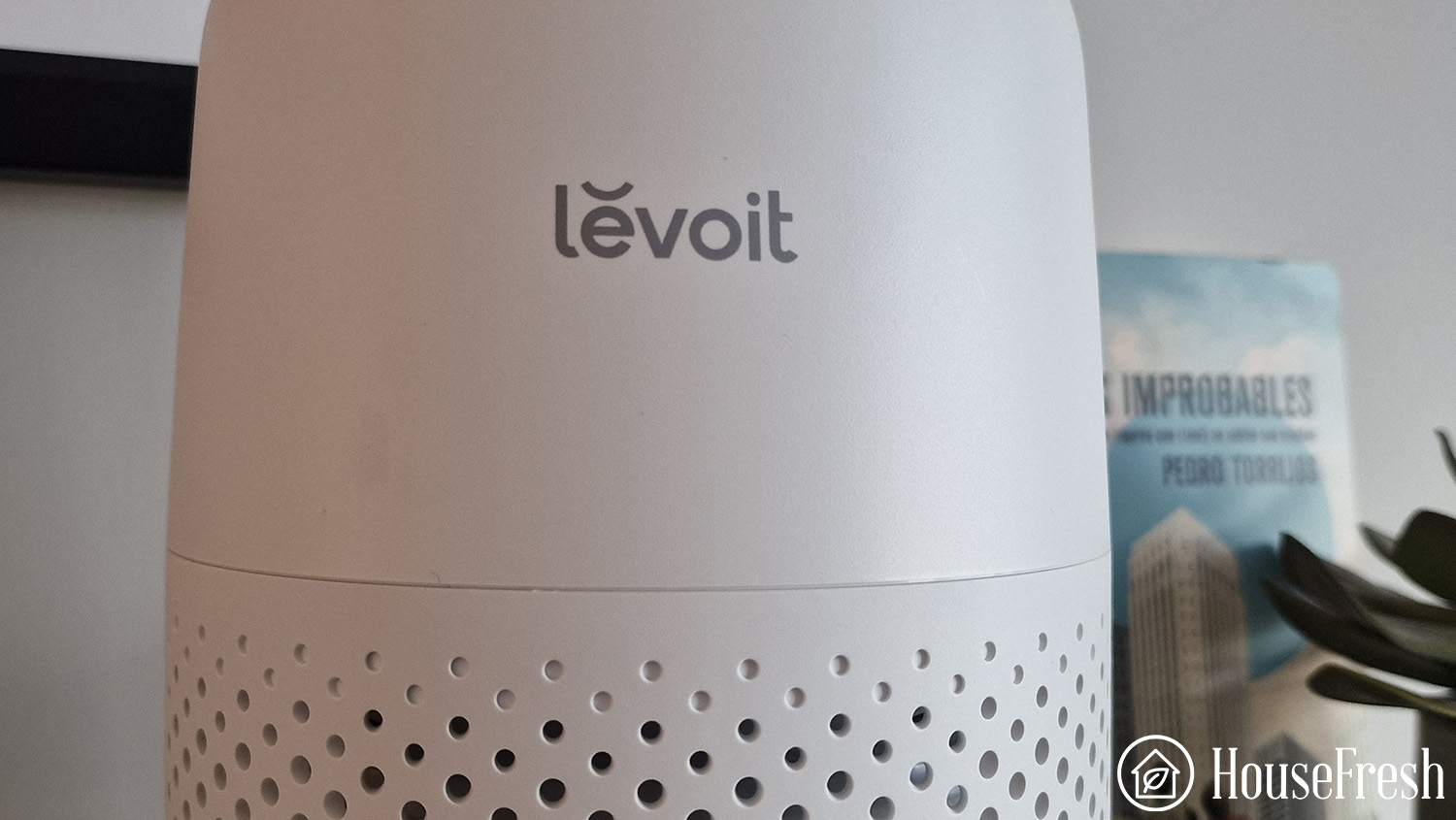 The next big thing that strikes me is the size of the unit. When I first bought an air purifier, this is the size I imagined based on the picture. In reality, most units on the market are fairly big, like the popular Core 300 or the Medify-25.
The mini matches its name and weighs just over 2.2lbs and stands at only 10 inches high. I would not have a problem with bringing this air purifier along with me on a trip, as you could use any bag to carry it.
The Levoit Core Mini is the smallest unit in the Levoit core range. In the photo below, you can see the size comparison against the Levoit Core 300S, which is a small to medium size unit by Levoit.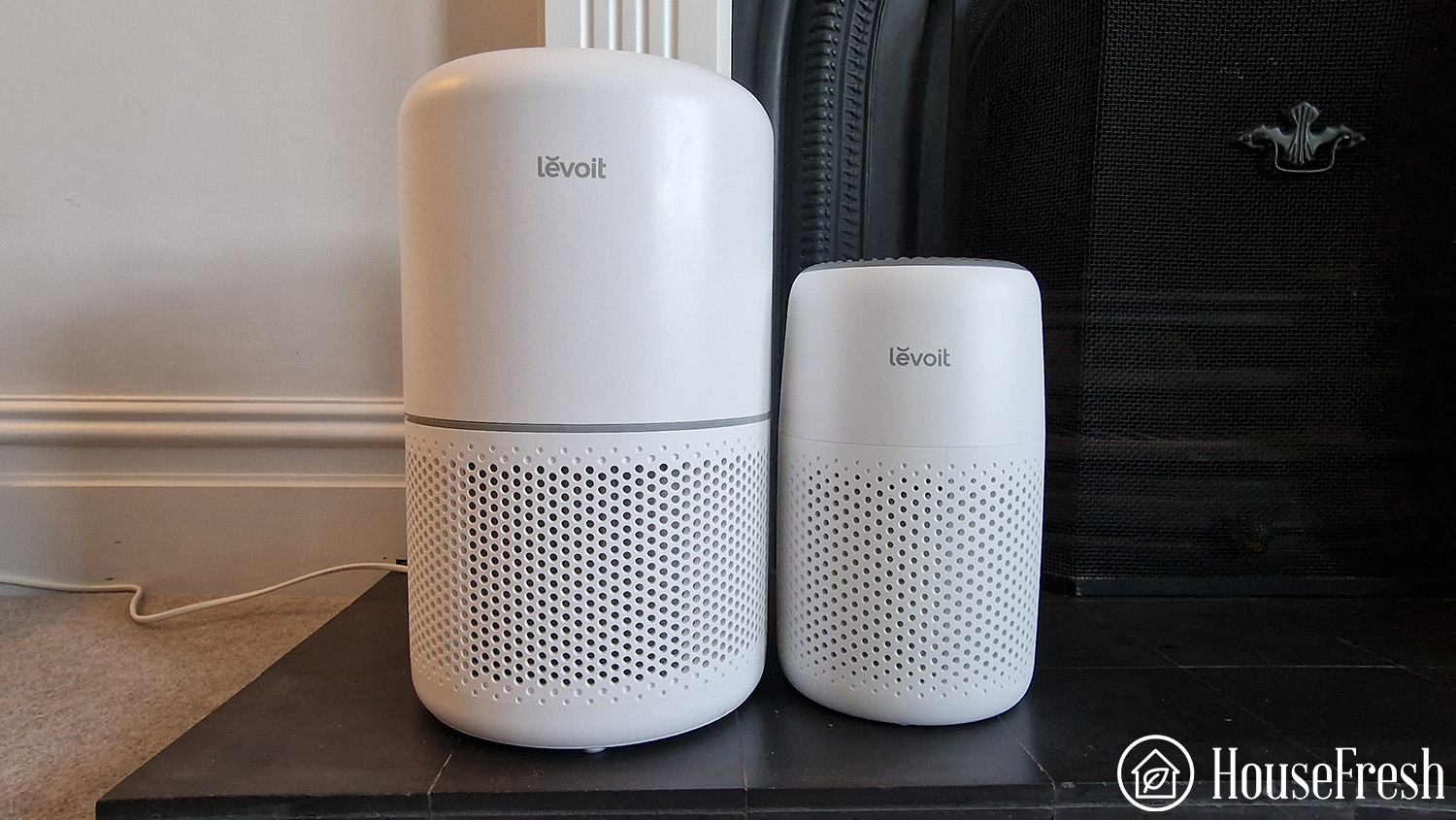 As of this review, the Levoit Core Mini is the smallest unit we have reviewed, but I do know more "mini" type air purifiers are coming into the market, so in the future we will be able to compare the Core Mini with similarly sized units.
HEPA + Carbon = Solid Results
The Core Mini uses a HEPA filter that captures 97% of 0.3-micron particles, which puts it into the H11 series of HEPA filters. This is less than the H13 that is used in larger units, but it makes sense to use a unit with a smaller fan like this, as it will clean more air per watt of electricity used.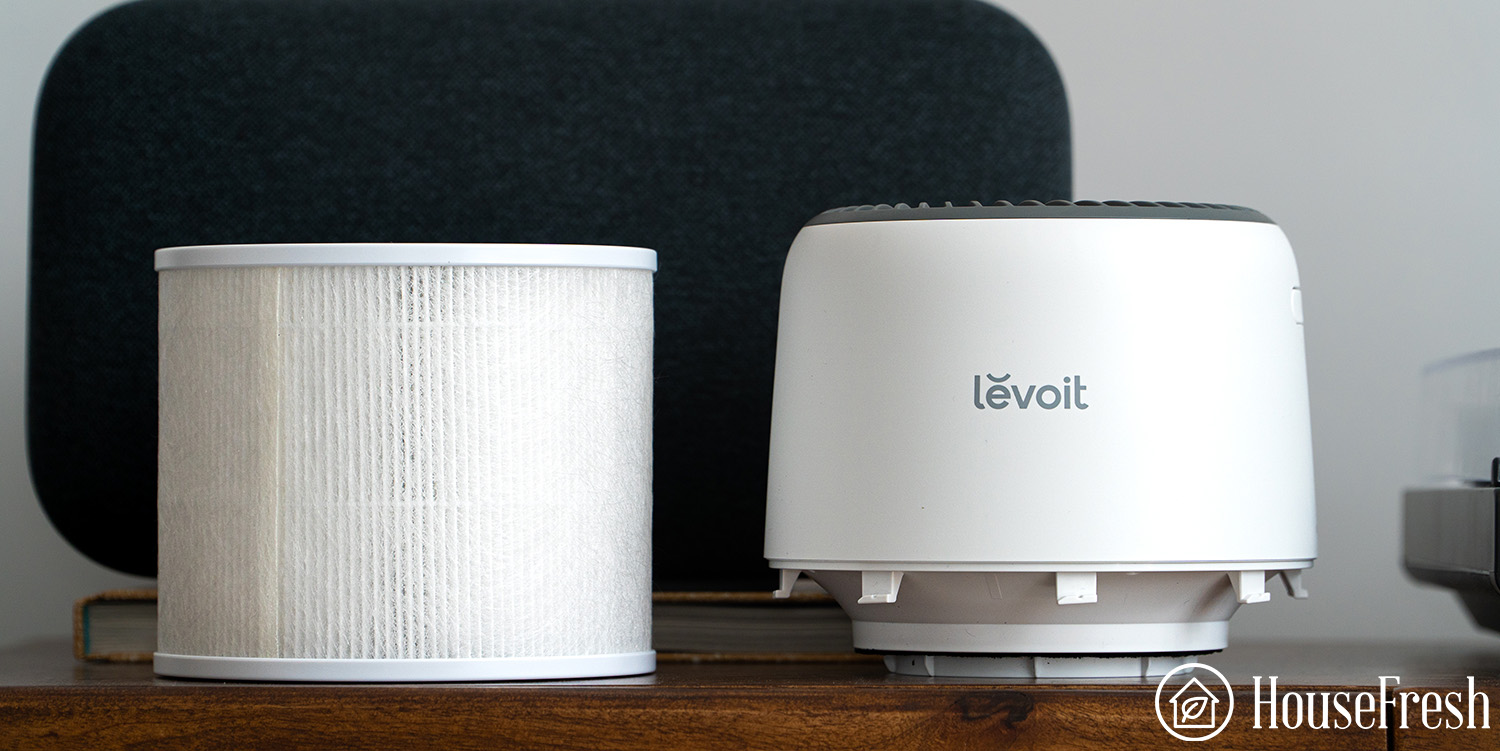 We saw this with the Smart Air S which did really well in our tests and Smart Air did their own tests to compare how different HEPA-rated filters performed.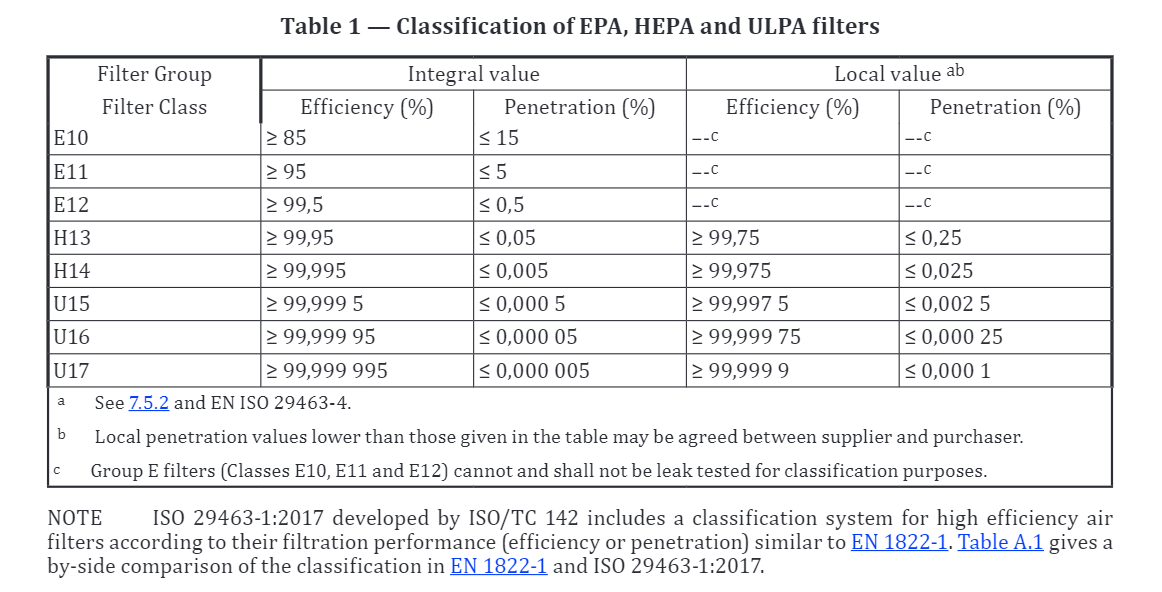 The filter also contains an integrated activated carbon filter, which is a nice addition for dealing with small amounts of odors or VOCs.
The good thing about the Levoit units is that they have many options for replacement filters. Whilst we would all want to purchase genuine filters, there may be times that they are unavailable but due to the mini being so new, there does not yet seem to be generic filters available.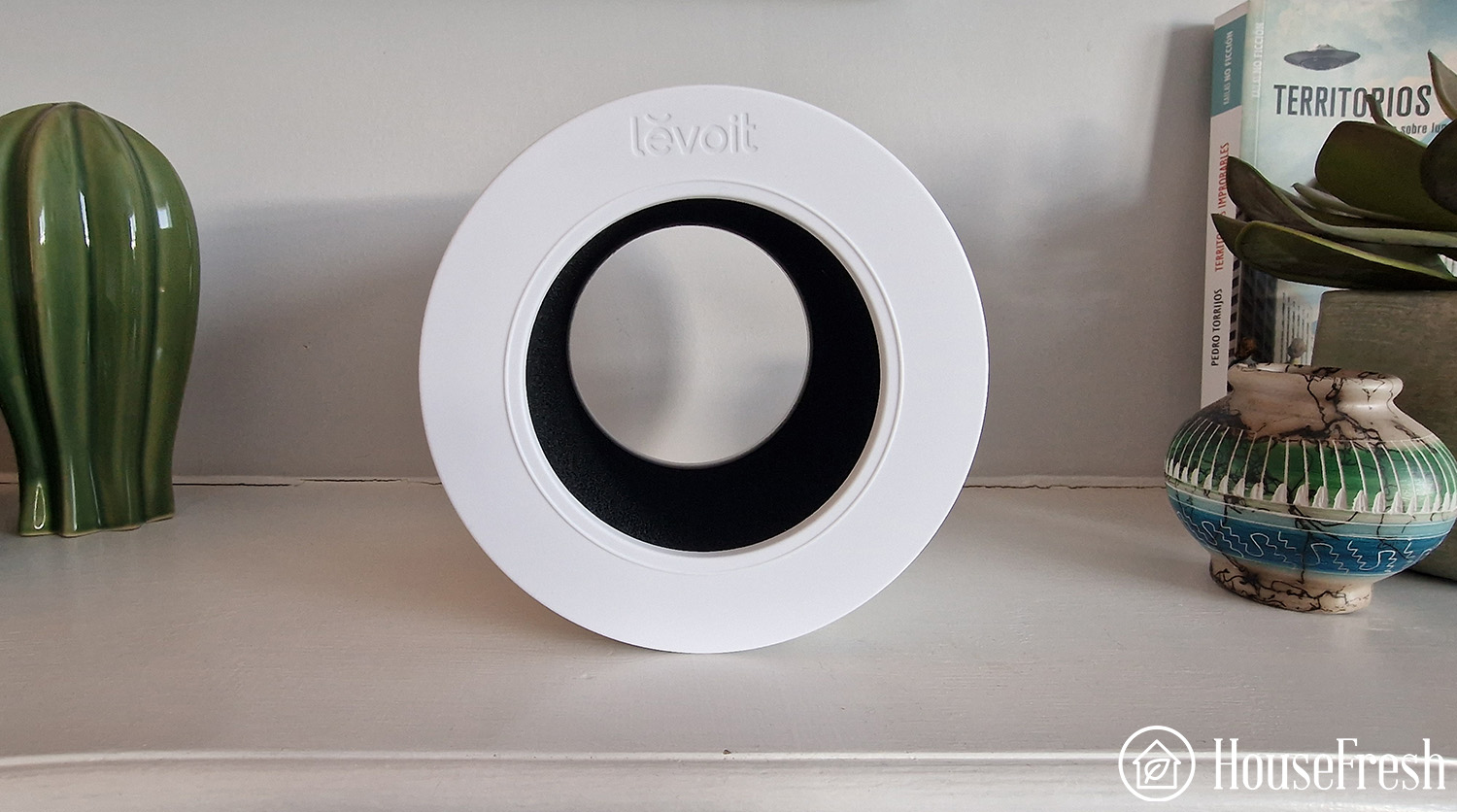 I really like that Levoit chose just to cover the filter in plastic and not the whole thing. This is a requirement as otherwise the filter will start cleaning any air that is around it, even whilst sitting unused inside a box.
Always remember to take the filter out of the box before turning on your Levoit Core Mini for the first time. You will be amazed at the number of people who forget to remove the plastic and then complain that the air purifier doesn't work.
Essentials Only
One unexpected feature of the Levoit Core Mini is the ability to diffuse essential oils. Whilst I don't believe many of the outrageous claims about the "science" of essential oils, it is a nice feature for an inexpensive air purifier. I expect many people will use it in combination with the cleaning power of the filters.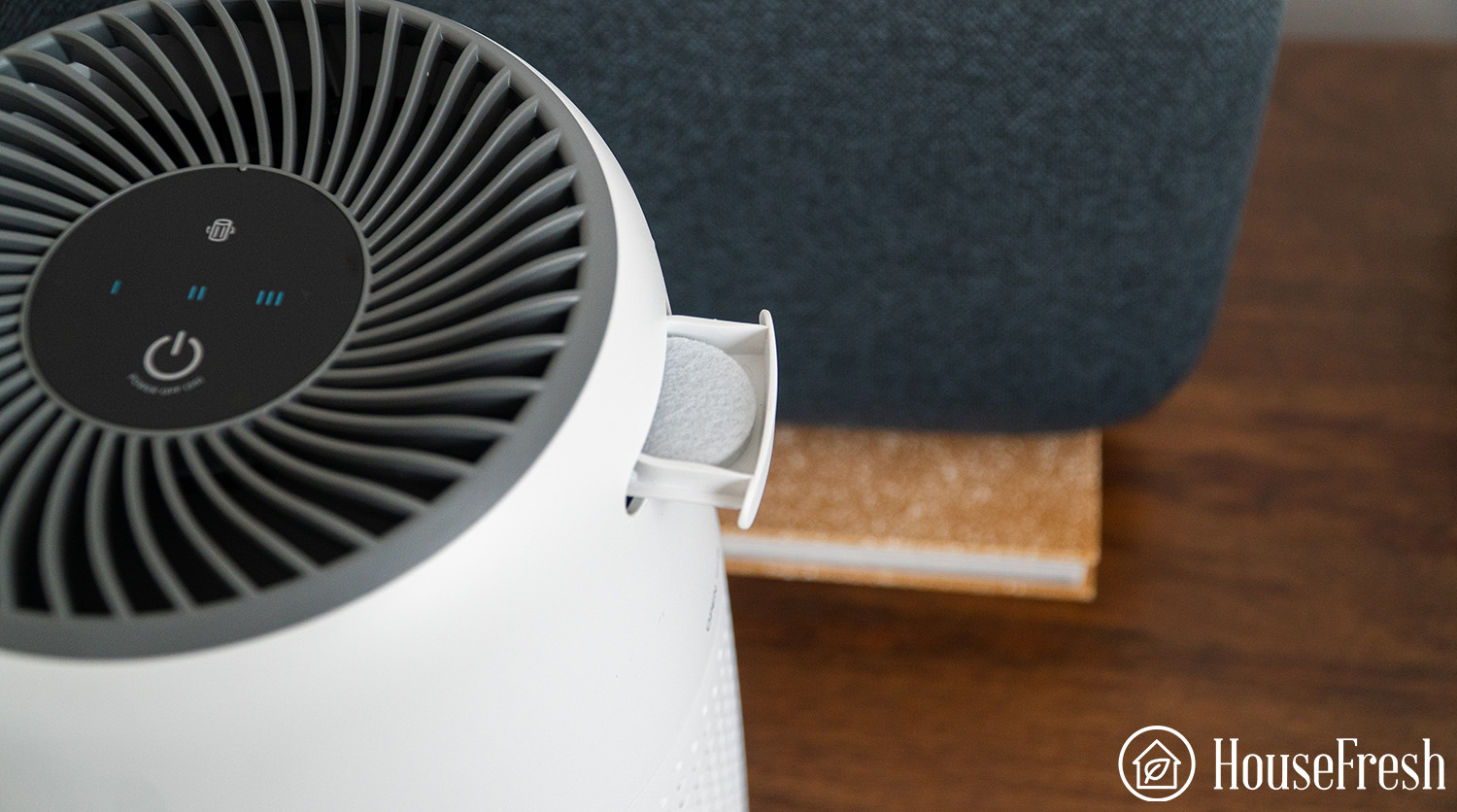 Simplicity is the name of the game with the Levoit Core Mini. It has a total of 4 buttons, including 3 speeds and the on/off button.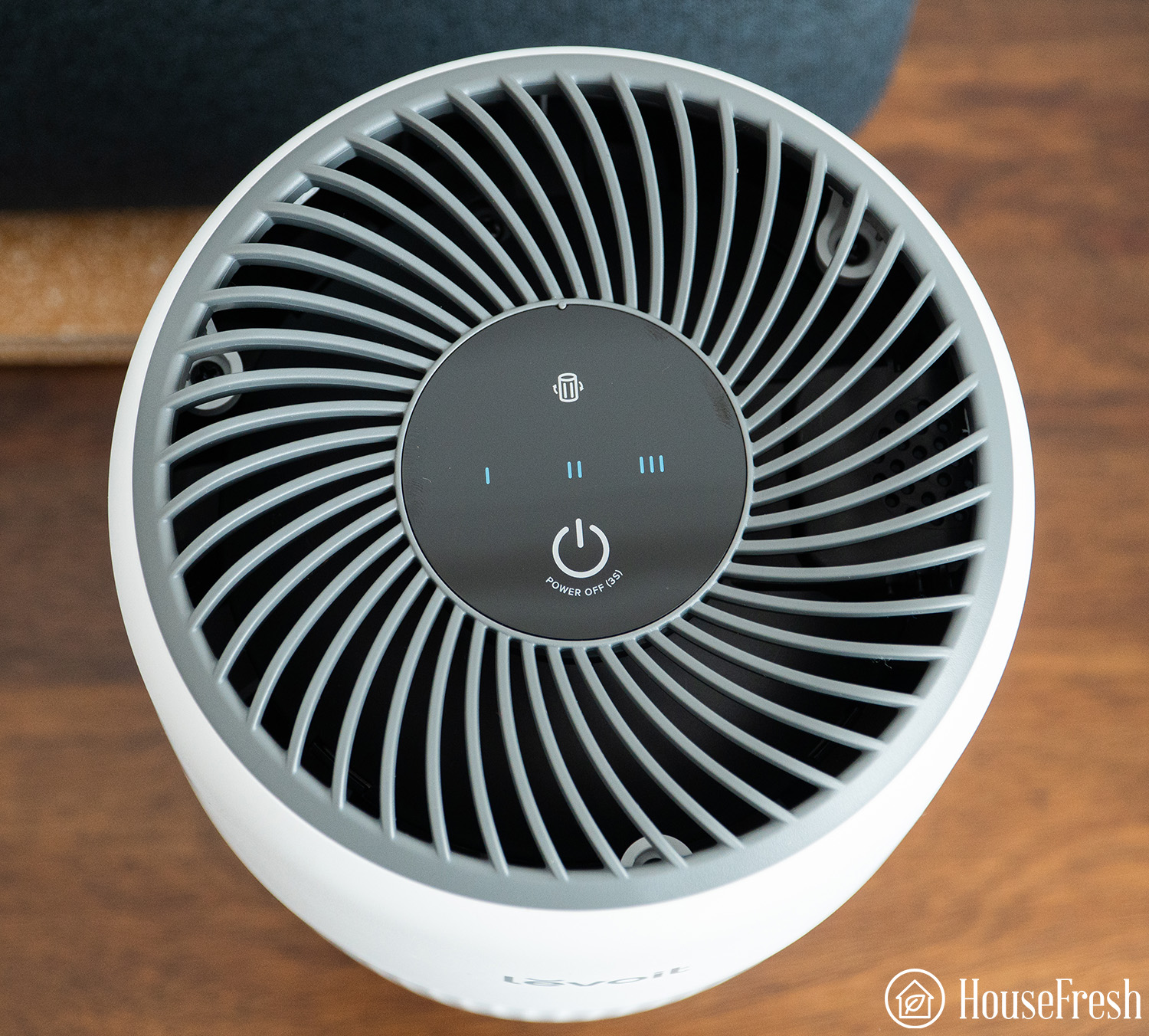 It's also worth mentioning that the Core Mini doesn't have any app support. Personally, I'm happy with that as I feel it would just add to the cost but have little value day to day.
🔌 Be aware that the power cable is slightly different because it unplugs directly into the unit. I believe this is due to the smaller wattage size not requiring the same power level to perform.
Small Size, Big Performance
Anyone can take a few pictures of an air purifier and call it a review. Here at HouseFresh we see no value in this approach. We want to test and push the units in our own homes and check that the marketing message matches up to real-world usage.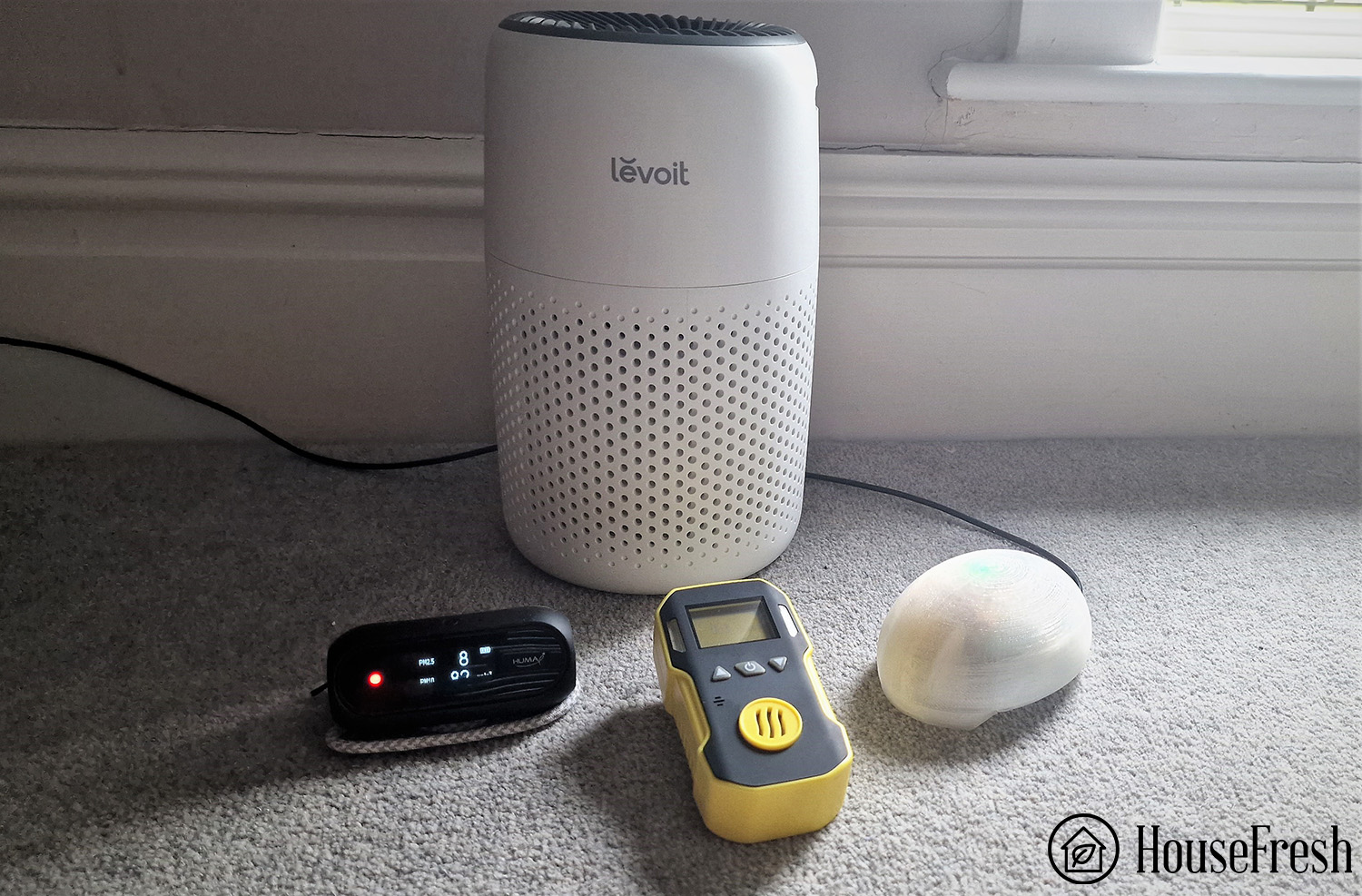 The main way we compare performance of all the air purifiers we test is by creating pollutants with an incense stick in our test room of 705 cubic ft. We then use our Purple Air Indoor sensor (which can track PM1.0 μg/m3, PM2.5 μg/m3 and PM10.0 μg/m3) to track how long it takes the air purifier to bring the levels back to 0 across the board = no pollutants in the air. The great thing about this method is that we're replicating a common use case for an air purifier at home: removing common household pollutants from the air.
The science of air purification is very clear. Activated carbon and HEPA can do a great job of removing particles, odors, and VOCs. Don't get caught up in the latest technology fad (there are plenty) as they don't usually live up to the expectations and almost always end up costing consumers more $$ in the long run.
So, how did the Levoit Core Mini perform?
Air Cleaning Performance Compared to Other Air Purifiers
I have to say I am impressed as its size and power requirements are so low I was expecting a much slower time. In total, it took 113 minutes to completely remove the pollutants in our test room. This is a little more than the GermGuardian AC4825e which achieved 104 minutes and is much bigger and uses a lot more power.
Noise Levels Test Results
It was also much better than the Molekule Mini we tested that cleaned the room in 141 minutes and was so loud I worried it might hurt my ears and cost 5 times as much.
A top level of 44dB is impressive, but to be expected with the reduction in size and power usage. 44dB is similar to a bird call, so a welcome addition to our list of the best quiet air purifiers.
The Cost to Run a Levoit Core Mini: $88,81 Per Year
1. Electricity costs = $6.31
Cost of energy is not something that is usually discussed when buying a new gadget, but it should be when you think about air purifiers. They will often be used for many hours per day, and electricity usage can build up, especially with older, less efficient units.
When we tested the Levoit Core mini with a power meter connecting to our electricity supply, we found that it used a maximum of 6.4 watts. We calculated that this would cost you $6.31 per year, according to the Department of Energy's appliance energy calculator.
The Levoit Core Mini is one of the lowest-priced but well-performing air purifiers that we have tested here at HouseFresh. In comparison, the older Levoit Vital 100 pulled 46.3 watts, which would cost over $48.36 a year in the same period.
2. Filter costs =
If there is any fly in the ointment for this review, it would be the cost of new filters. These are much smaller filters, will require more regular replacement and don't come cheap. They are priced similarly to large units like the Core 300S, which has much better performance and still not super high electricity costs as you could use it on a slower speed.
Assuming replacement every 4 months, that's $74.91 a year, which is a lot more than the initial cost of the air purifier. In comparison, you would be paying $60 for the Levoit Core 300S, cleaning much more air in the same period.
Technology
H13 (Medical) Grade HEPA and Activated Charcoal
3-in-1 Pre-Filter, True HEPA Filter, and Activated Carbon Filter
Technology
H13 (Medical) Grade HEPA and Activated Charcoal
Technology
3-in-1 Pre-Filter, True HEPA Filter, and Activated Carbon Filter
---
Bottom Line
I like the Levoit Core Mini, but I do worry that it's likely not the best air purifier for everyone. It's too small for medium to large rooms, and the costs of filters will add up over time. It is perfect for smaller spaces like an RV or Car as it's super portable, and so if you are looking for super quiet or an air purifier for travel – the Levoit Core Mini would be my number one choice.
If you are looking for the best $ to performance, then look at the older Levoit Core 300 as it has much better performance and similar filter costs. The mini is aimed at those with smaller spaces who don't need such regular usage that filter costs will become an issue.
---
SOURCES
We used the Department of Energy's appliance energy calculator to calculate yearly costs associated with running the Levoit Core Mini for 24hs a day for 365 days. We ran this calculation utilizing the U.S. average utility rate of $0.12/kWh as of March 12th, 2023.
Last update on 2023-09-15 / Affiliate links / Images from Amazon Product Advertising API