Levoit is a brand launched in 2016 by Vesync Co., a company originally called Etekcity that began trading in the U.S. in 2011 as an Amazon seller of small home appliances.
If you look through our air purifier reviews, you'll notice a few different models from Levoit pop up. This is no coincidence. Since 2016, Levoit has proven that high-performing air purifiers, with plenty of smart features, can be produced at a price we consumers love.
The Levoit Core 200S is aimed toward a new generation of mini air purifiers, a trend that the Molekule Mini propelled. Even though the Core 200S outperforms the Molekule without it even being switched on, it still doesn't do quite enough for us.
Why You Can Trust This Review

At HouseFresh we pride ourselves on all our reviews being honest, authentic, and unbiased. To keep this standard we buy all the units we review personally and test them in our own test room to get accurate comparisons with other units.

Before writing this review, I put the Levoit Core 200S to the test:



Air cleaning test:

I used an air quality sensor to track how long it took the Core 200S to clean thick incense smoke from the air in our 705 cubic ft test room.



Energy consumption test:

I recorded actual energy consumption when running the Core 200S at its lowest and highest speeds, with the help of an electricity usage monitor.



Noise levels test:

I used a sound level meter to track noise levels coming out of the Core 200S when running the unit at its top and bottom speeds.

With all this data in hand, I could compare the performance of the Levoit Core 200S against other similar units knowing that the comparison would be fair as all air purifiers were tested under the exact same conditions.

These are our opinions.
We don't take bribes.
TL;DR The Lowdown on the Levoit Core 200S
---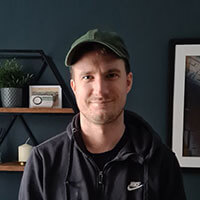 "If you have a small room and want a unit that is easy to use and looks quite stylish, then the Core 200S will take care of your needs without breaking the bank."

— Danny Ashton, Founder & Senior Writer
---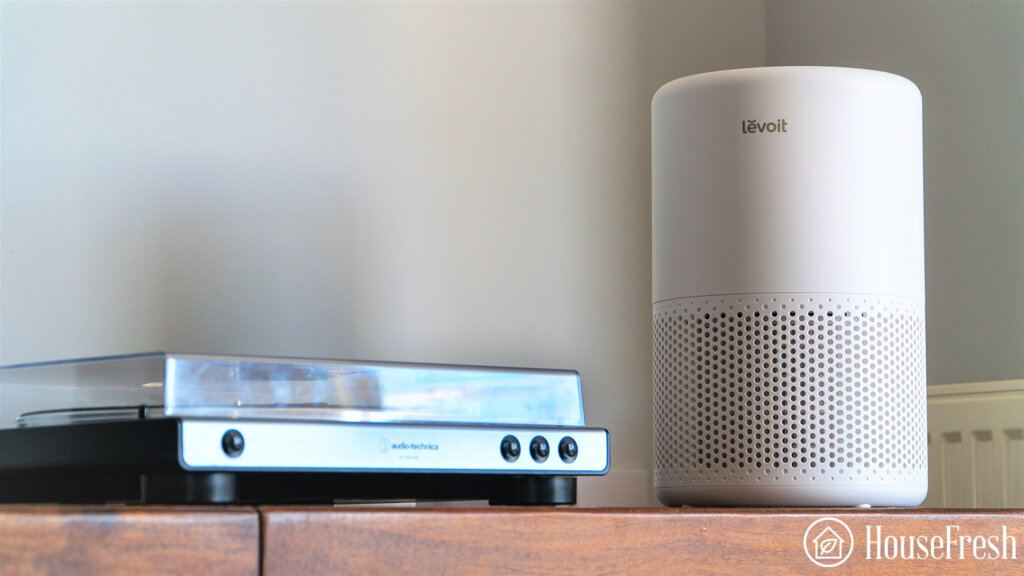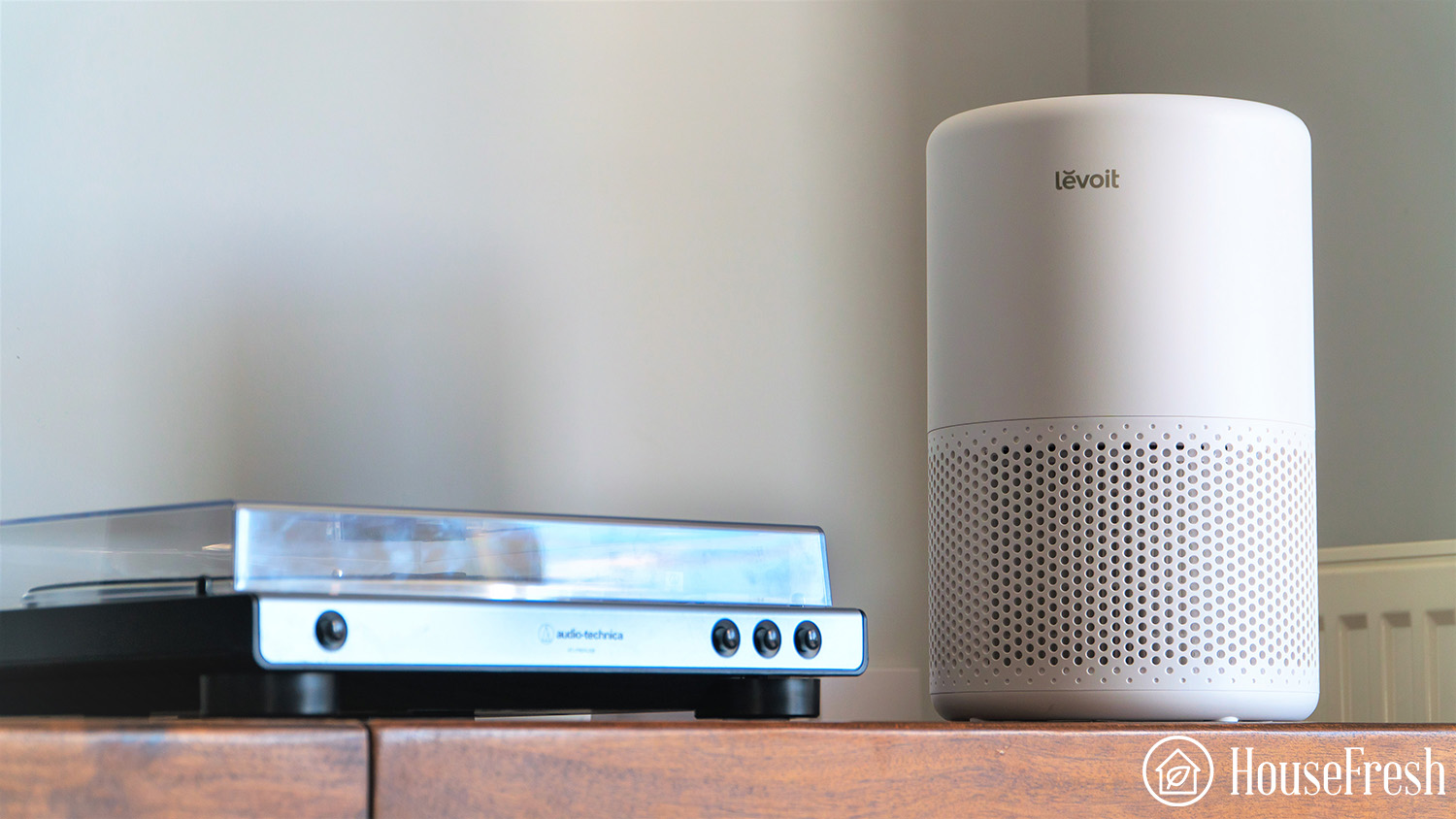 Don't want to read the full review? Here are the main pointers from our performance test of the Levoit Core 200S.
What We Really Like:
👍 It's not big so can fit snug in the corner of an office or bedroom
👍 The control panel is easy to navigate
👍 The app is simple to set up
👍 The fan sound is barely noticeable on sleep mode
👍 It's incredibly light at just 6.6 lbs
What We Think Could Be Better:
👎 I'd like to see it with an air quality sensor
👎 Would look cool if it came in different colors
👎 There are better-performing units from Levoit at a little extra cost
The Specifications
One reason why Levoit is one of the market leaders is because of its price point. They manage to cover all bases with units for different-sized rooms whilst keeping costs down. The 200S retails at $89.99*, which, compared to other units catering for the same room size like the Medify MA-15 at $129* or Blueair's Blue Pure 411 at $119.99*, makes this unit very attractive.
| | |
| --- | --- |
| HouseFresh Rating: | ★★★☆☆ |
| Time to clean our test room: | 61 Minutes |
| Air purifier technology: | Levoit 3-Stage Filtration (Pre-filter for large particles, main filter for airborne particles, high-efficiency activated carbon filter for odors and gasses) |
| Recommended room size: | 183 sq. ft. |
| Clean air delivery rate (CADR): | 118 CFM |
| Dimensions (in inches / in cm): | 12.6H x 8.07W x 8.07D inches (32H x 20.5W x 20.5D cm) |
| Weight (in pounds / in kg): | 6.6 lbs (3 kg) |
| Filter life: | 6 – 8 months |
| Noise level (low – high): | 24dB – 48dB |
| Estimated energy consumption: | $30.48 |
Sleek and Modern Design
If you've seen any other units in the Core range like the 300 or 400S, you'll notice that they nearly all have a cylindrical design. The Core 200S is no different.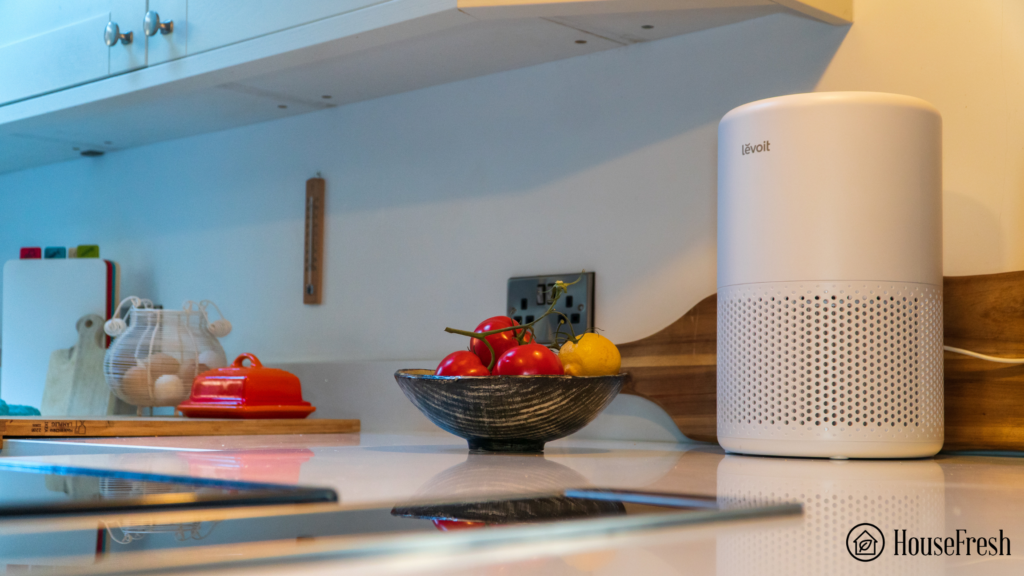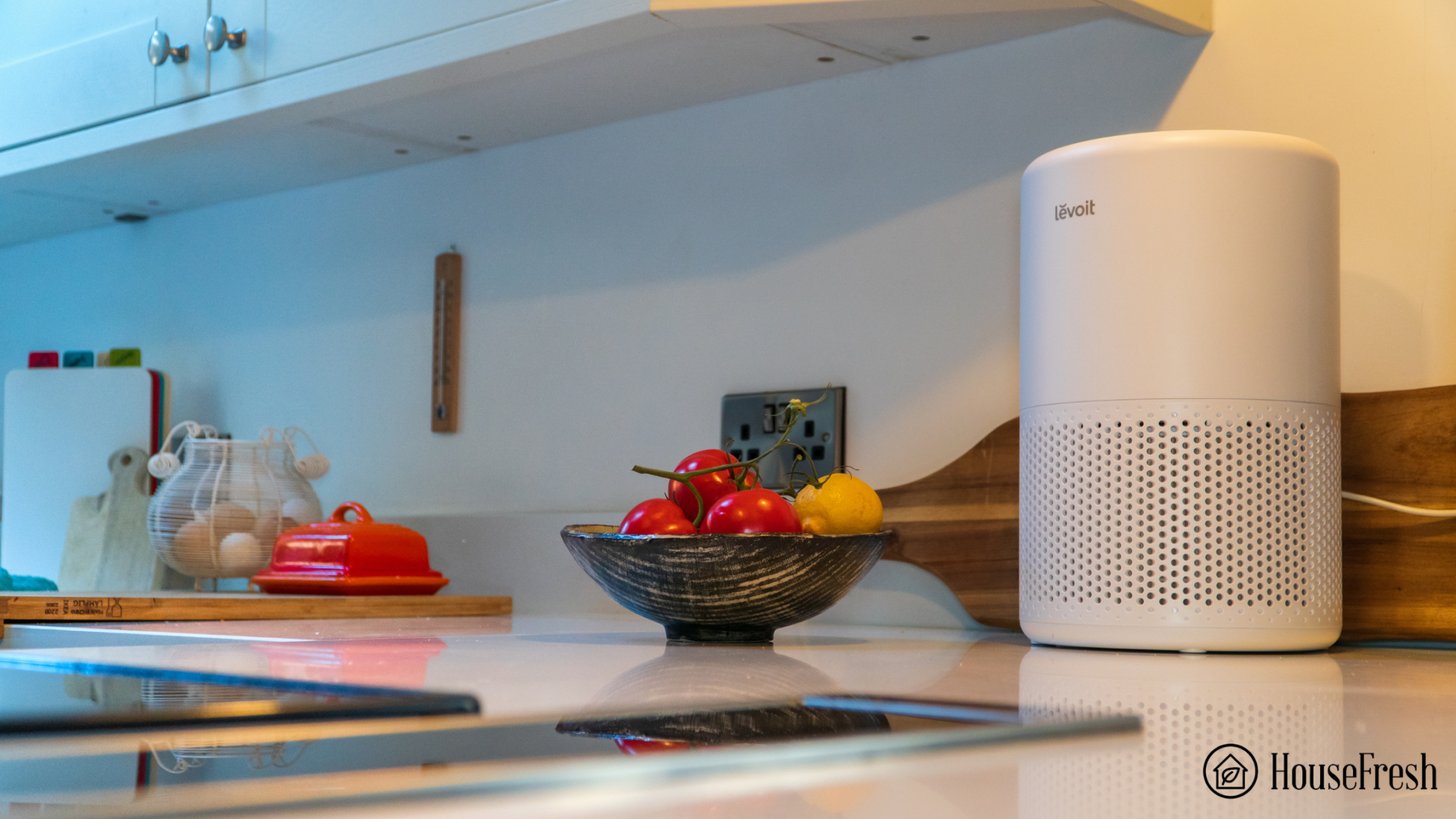 It's sleek, it's modern, and it's unintrusive, but it still only comes in white and can't be disguised as anything other than an air purifier.
I know it's only a budget unit but, for me, Levoit could put a little more effort into making their units more attractive to the eye (hence why I've tried to be a little arty with the pictures).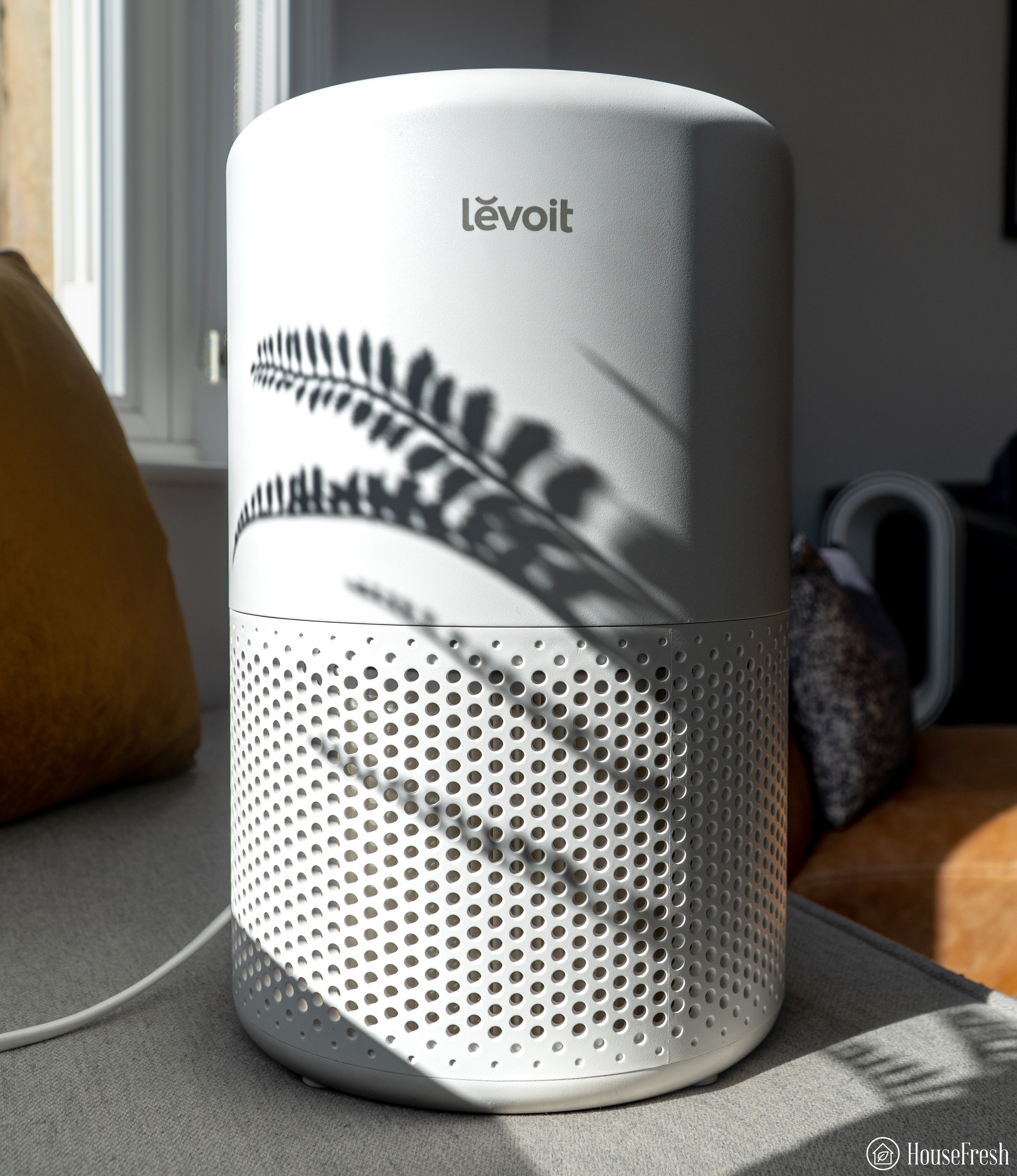 It's not a bad-looking air purifier by any means. This is only my humble opinion. But if you had a little more money to spend, and design is a key factor, I would go for BlueAir's Blue Pure 411 or the Medify MA-25.
The 200S comes well packaged. Levoit has ensured that it won't suffer any damage at the hands of cavalier delivery drivers when shipped. My only objection is that each component is wrapped in a lot of plastic which isn't particularly needed. Come on Levoit, think of the turtles!
3-Stage Filtration Technology
The filters and the fan are the key components in every air purifier; bad filters = bad air. Luckily, you don't have to worry about filter technology when buying a Levoit Core 200S.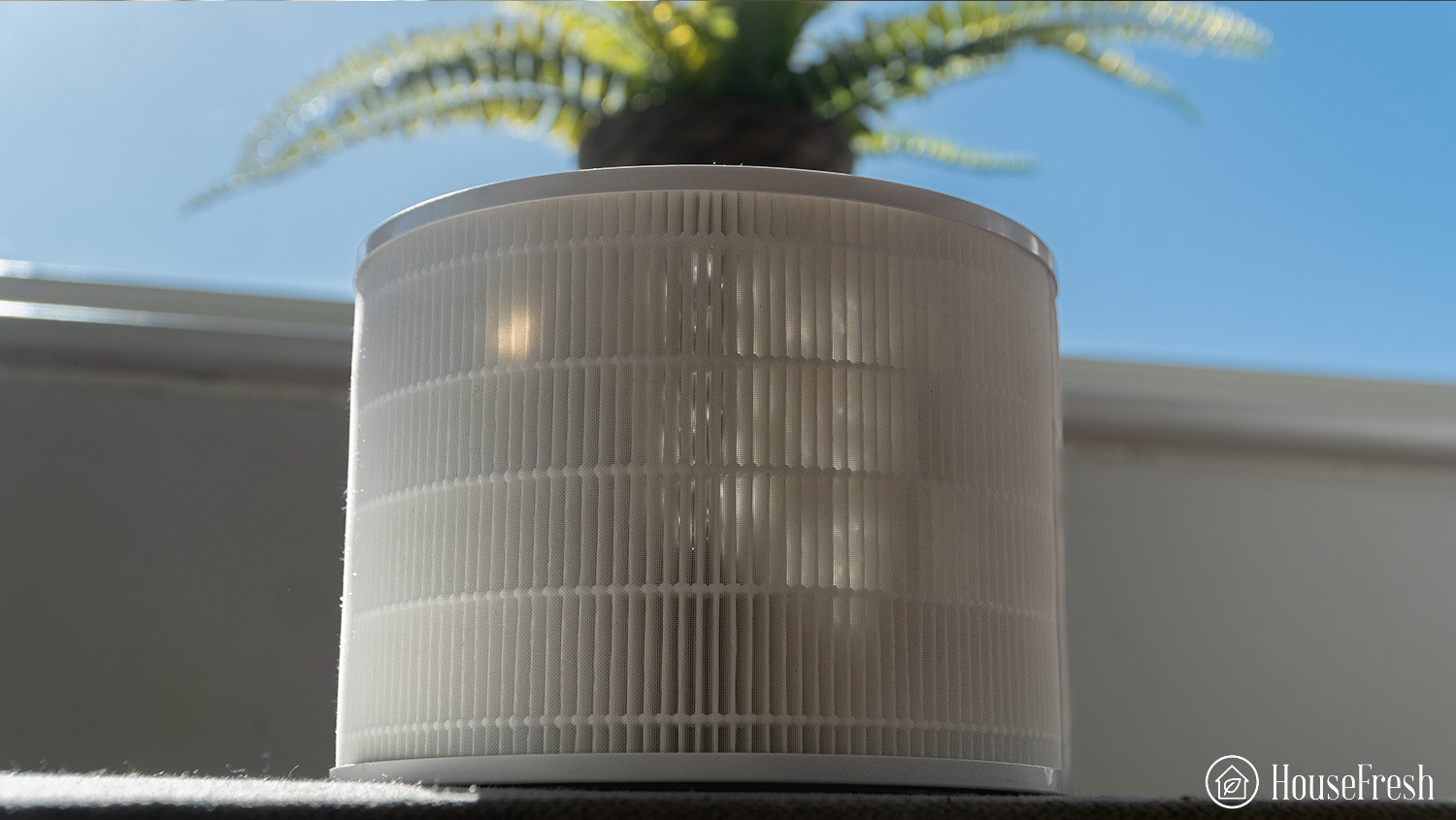 Each of Levoit's units in the Core range comes equipped with a 3-stage filter to maximize the filtration of nasty airborne pollutants nobody wants in their home:
Stage One: Nylon Pre-Filter
The pre-filter is designed to be the first line of defense. It captures the larger particles that float around your home like dust, hair, pet dander, and lint. Not only is it trapping these particles, but it's also prolonging the life of the main filter allowing it to concentrate on smaller particles instead of being bombarded by everything.

Stage Two: Main Filter
This is where the magic happens. Levoit's Main Filter captures at least 99.97% of particles 0.3 microns in size (one micron is equivalent to one one-thousandth of a millimeter, so yeah, small). This takes care of fine dust, smoke particles, and pollen for all you fellow hay fever sufferers.

Stage Three: High-Efficiency Activated Carbon Filter
This is the part of the filter that takes care of odors. To remove odors like smoke, cooking smells, and other ominous smells from your home, you'll need an activated carbon filter that's packed full of charcoal to adsorb those VOCs.
Levoit has shown us that they can do filters right… very right; just check out our review of the Core 600S.
The 200S contains the exact same filter as the 600S, but there is a big difference. This comes down to size rather than the filter itself.
In this smaller unit, the Core filters don't have nearly the same cleaning ability.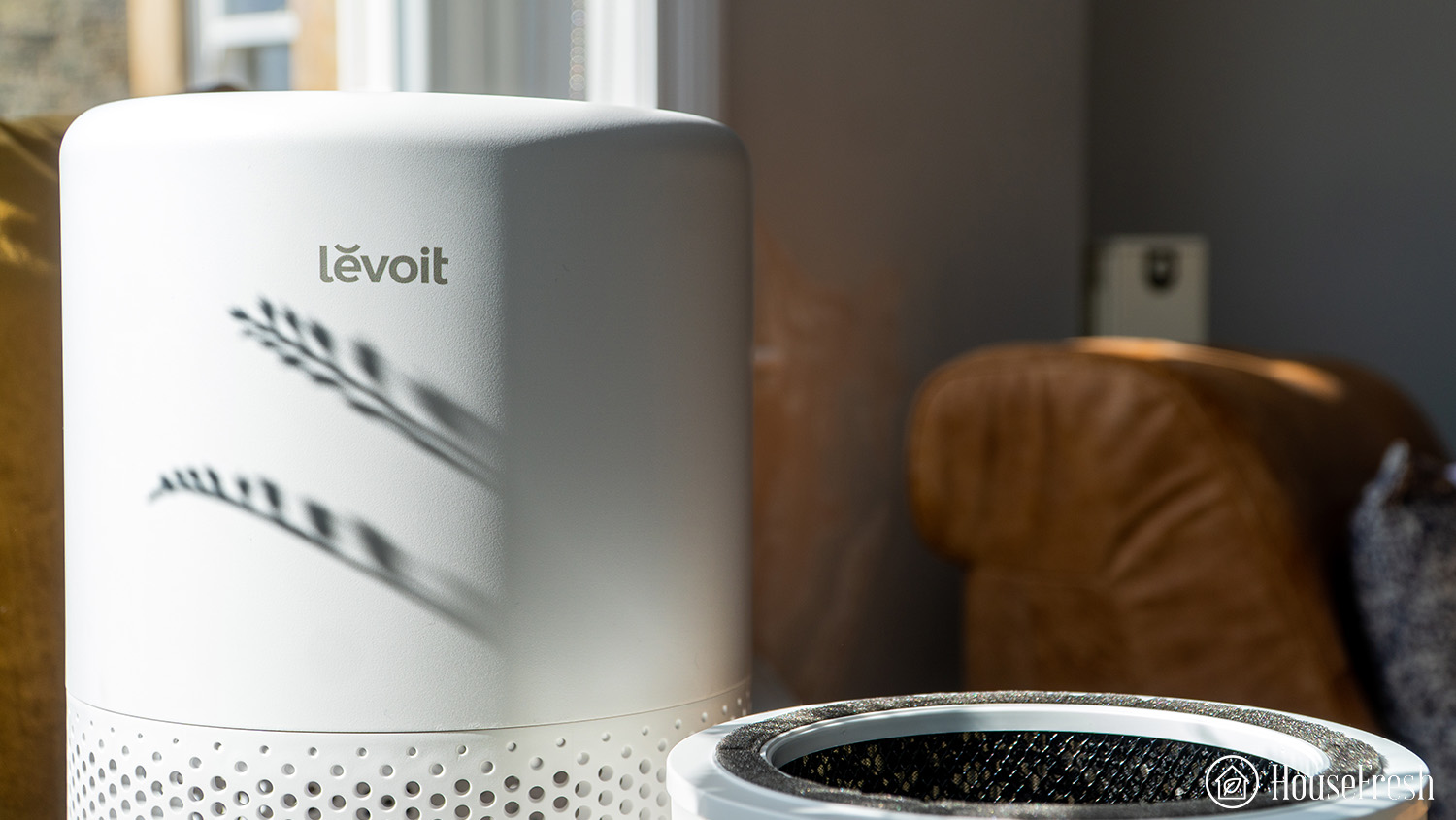 I'm sure you will have worked it out, but I still need to remind you. Remember to remove all the packaging from the filter before turning the air purifier on. If you don't, you'll notice two things;
The air in your home won't get any cleaner
After a while there'll be a strange burning smell coming from the unit, that's plastic your smelling… not cool
Controls That Are Easy to Navigate
After you've unwrapped everything, you're pretty much ready to go. Simply plug the 200S into a wall socket and switch it on. The controls are really easy to navigate.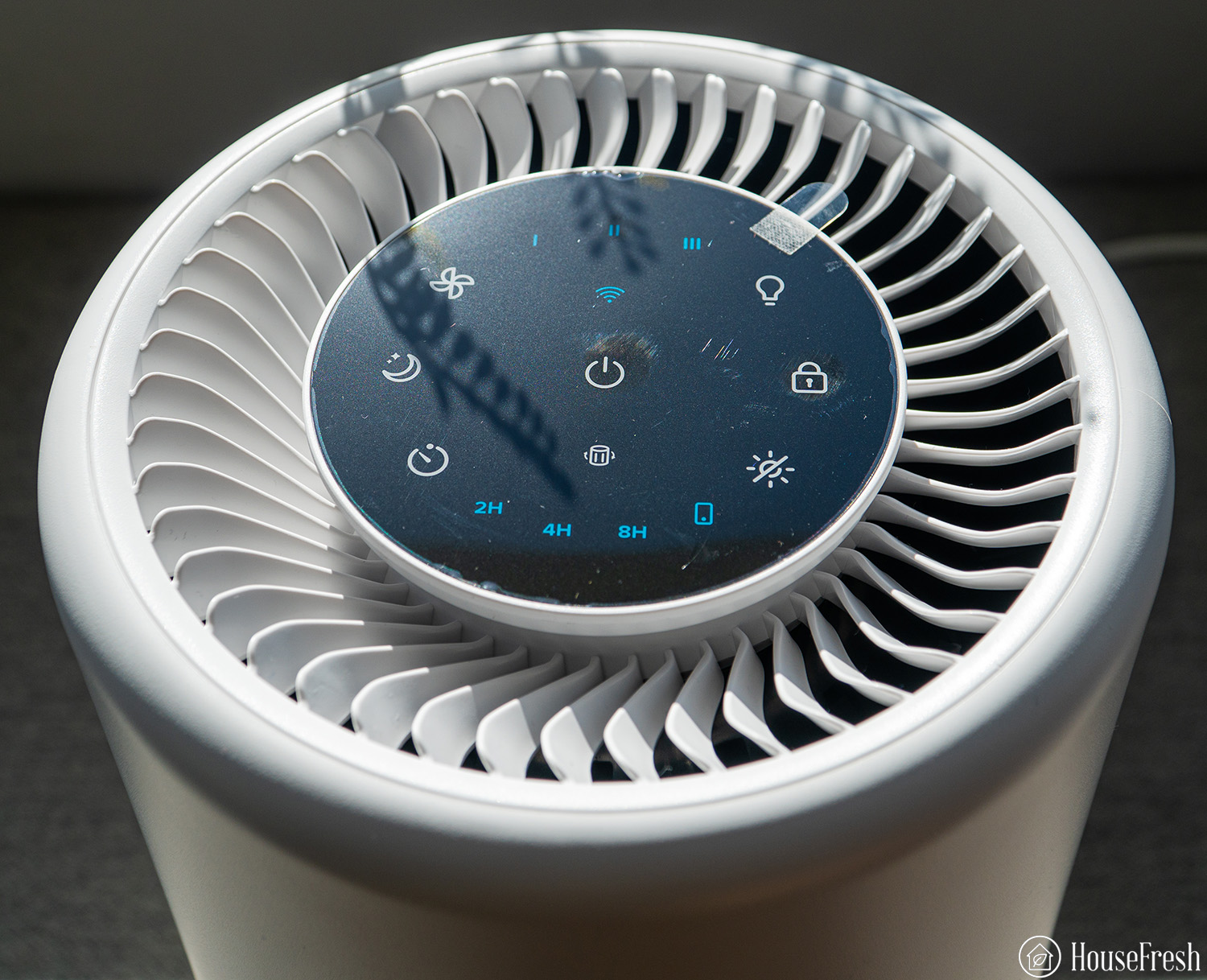 When I look at an air purifier, I'm always thinking about how easy it is to use. Not just changing the fan speed but also navigating its features. Levoit has always been great at setting out its controls to maximize space and usability.
The 200S keeps this tradition alive.
The circular touch panel is very user friendly and is set out with clear icons for each function. There are no physical buttons that tend to stick over time, and each setting is spaced out enough that you're not hitting the wrong one by accident.
Here's what each one does:
| Button | Function |
| --- | --- |
| | Turns the air purifier on/off. Press and hold to configure the air purifier. |
| | Turns on, off, or blinks to indicate configuration status. |
| | Cycles through fan speeds: I (low), II (medium), and III (high). Tapping the Fan Speed Button while the air purifier is in Sleep Mode will exit Sleep Mode |
| | Turns Sleep Mode on. Press and hold for 3 seconds to reset the Check Filter Indicator. |
| | Cycles through timer options. |
| | Turns the night light on/off. |
| | Turns the display off (not including the night light). |
| | Prevents current settings from being changed. Blinks when any other button is tapped to indicate that Display Lock is on. |
| | Lights up when the filter should be checked. Reset the Check Filter Indicator light by pressing and holding the Sleep Mode button for 3 seconds. |
You're in luck if you're anything like me and like to use an app wherever possible.
You can connect the 200S to the Levoit smartphone app through Wi-Fi. It's the same app Levoit uses for all their units, so if you've already used it on a previous device, you'll know your way around. If you're new, don't worry. The app is easy to navigate and doesn't take too long to set up.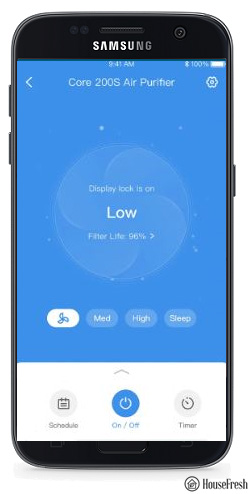 Here, you can control fan speed, set the timer, monitor the filter life, and turn the unit on/off, as well as schedule it to come on when needed. Unfortunately, as the 200S doesn't have the AirSight Plus™ air quality sensor like the 600S, you cannot monitor the air quality in your room from another location.
After testing it with the Android version, I found it handy, but there is no real smart tech. It's just a remote control you can take anywhere. Also, they try and sell you stuff on the app, which lets it down for me.
The Levoit Core 200S Cleared Our Test Room in 61 Minutes
We put every air purifier we buy through the same set of tests. We do this so we can get accurate results of how well it performs in a real-world scenario and also so we can measure it against other units we've tested.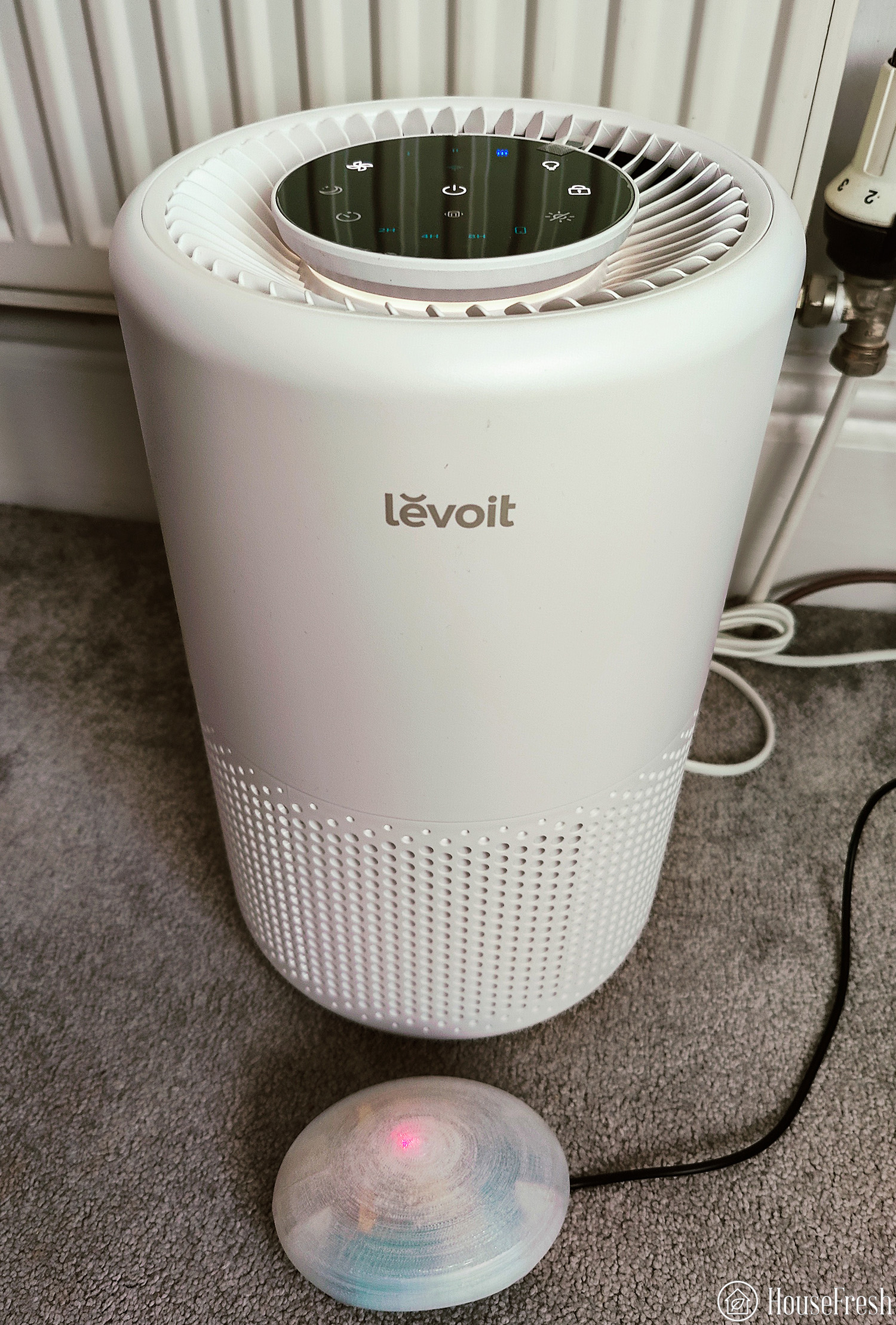 When it comes to air cleaning performance, the test is simple: we placed the Core 200S in our 711 cubic ft test room and filled that room with incense stick smoke so we could measure how long it takes this specific unit to clear the room of those contaminants when running at its highest fan speed.
Here's what we found out about the Core 200S:
As you can see from the graph, it took 61 minutes for the Core 200S to clean the air in our testing room.
Air Cleaning Performance Compared to Other Air Purifiers
Because of the size of the 200S, we were never expecting it to outperform our top-tested units like Levoits powerhouse 600S or Blueair's Blue Pure 211+ as they're in completely different leagues. So we would need to compare it to similar-sized units.
Looking at the 200S side by side with similar air purifiers shows that this isn't a bad-performing little unit, especially for the price.
Noise Levels Test Results
As for noise, Levoit is pretty good at keeping their purifiers to a reasonable level. The Core 200S at its highest level hits 48 dB and 24 dB at its lowest. This means noise levels are pretty average, which is not a bad thing in itself.
The Cost to Run the Levoit Core 200S: $82.46 per year
1. Electricity costs = $30.48
When buying an air purifier, you have to consider the extra costs that come with it. One is how much it costs to plug it in and use it daily. With rising energy prices hitting households, it's paramount that clean air in your home isn't going to make a dent in your wallet.
Luckily, most air purifiers on the market are specially built to be energy efficient. Energy Star is a company that tests each unit for efficiency and offers a seal of approval to appliances that pass their tests which the 200S wears with pride.
We used the Department of Energy's appliance energy calculator to calculate the annual cost of using the Core 200S daily. On full power, this unit pulls 28.82 watts which will cost you around $30.48 annually.
This is okay for a unit of this size but not amazing. You are unlikely to have your air purifier on 24 hours a day, all year round, so it shouldn't cost you that much.
2. Filter costs = $51.98
Another running cost to consider is replacing the filters in the unit.
Air purifier filters work best when they are brand new. Over time they begin to get blocked with all the particles they're trapping and become less efficient. To counter this, you need to replace the old filters with new ones to keep efficiency high.
Different units use filters with different life spans, so it's good practice to check how often you'll need to replace them when looking to purchase an air purifier.
The filter life for the 200S is 6-8 months, depending on how often you use it. Don't worry about checking the filter every day, there's a light indicator on the unit which will tell you when yours needs replacing.
A new filter will set you back around $25.99, which is average for purifiers of this size. You can purchase filters for this model made by different brands, but we can't vouch for their performance.
Technology
3-in-1 True HEPA, High-Efficiency Activated Carbon, Core 200S-RF
True HEPA Filters Compatible with Levoit Core 200S
Technology
3-in-1 True HEPA, High-Efficiency Activated Carbon, Core 200S-RF
Technology
True HEPA Filters Compatible with Levoit Core 200S
---
Bottom Line
At the end of the day, Levoit are a great brand to invest in when it comes to air purifiers. They have the technology, the performance power and, to top it off, a great price point.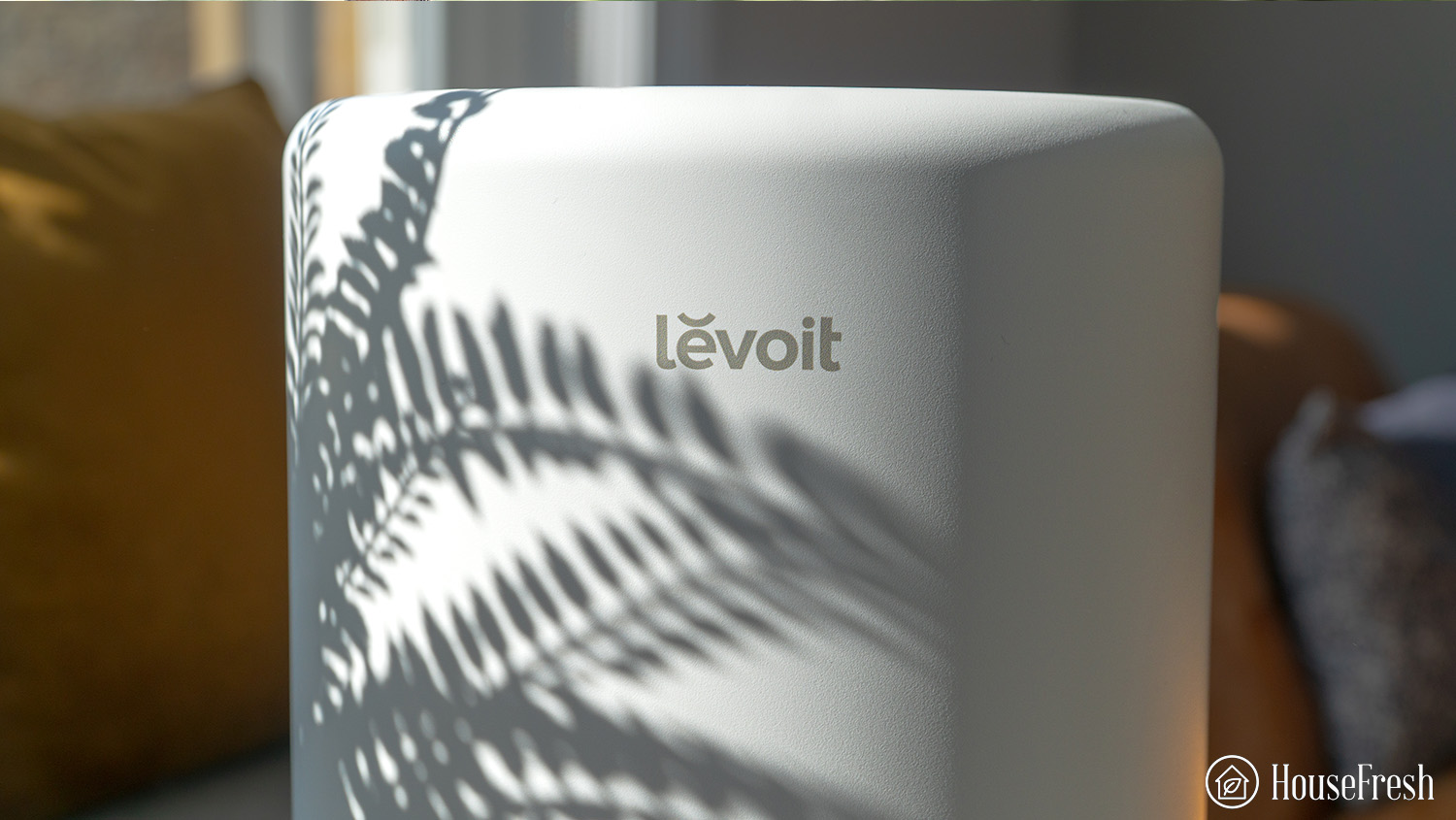 While the 200S showcases many things that make Levoit units great, it's hard to see why you would choose this air purifier over other Levoit Core models. I get that they want a unit in their line-up to reflect the "mini purifier" trend, but looking at the performance levels, you could get so much more out of the Core 300S for a little extra cost.
This unit would fit your home if you have a small bedroom or office with little room to place a larger unit. It connects to the Levoit app so can be controlled from anywhere and doesn't cause a nuisance with noise levels.
Any air purifier with these features and the reliability of the Levoit brand name at under $100 should never be sniffed at.
---
SOURCES
We used the Department of Energy's appliance energy calculator to calculate yearly costs associated with running the Levoit Core 200S for 24hs a day for 365 days. We chose to run this calculation utilizing the US average utility rate, which is $0.12/kWh as of February 10th, 2023.
Last update on 2023-11-30 / Affiliate links / Images from Amazon Product Advertising API