The Medify MA-40 could be your new go-to unit for air quality control in rooms up to 840 sq. ft.
[verdict]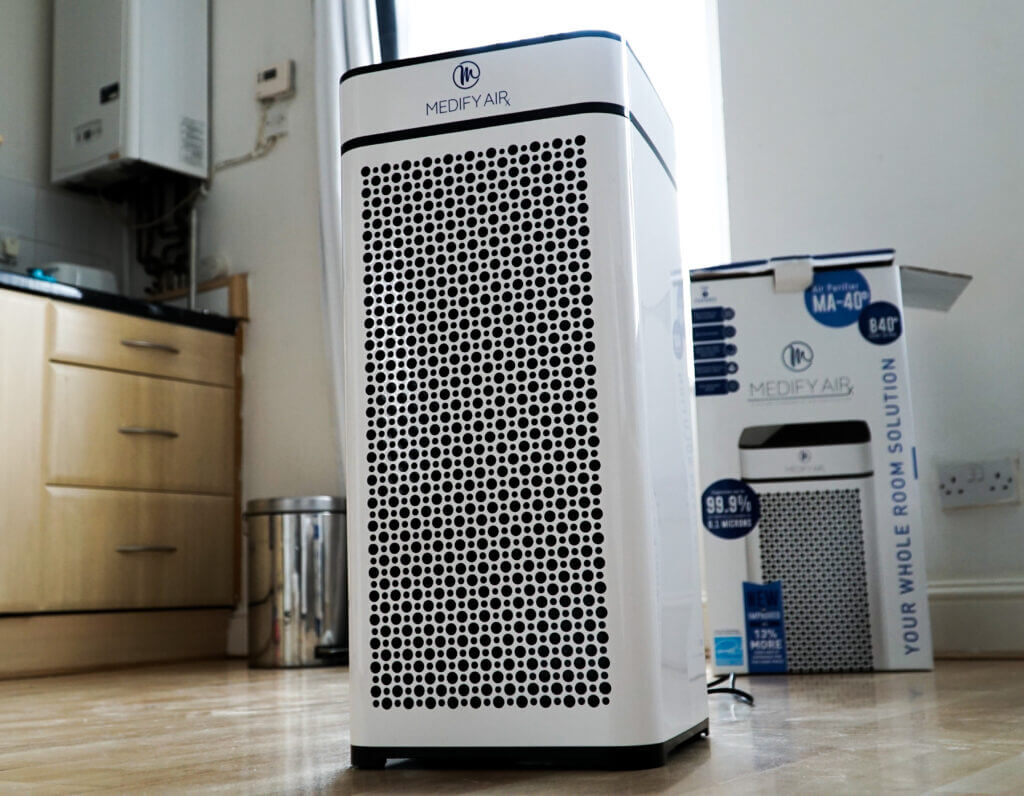 Specifications: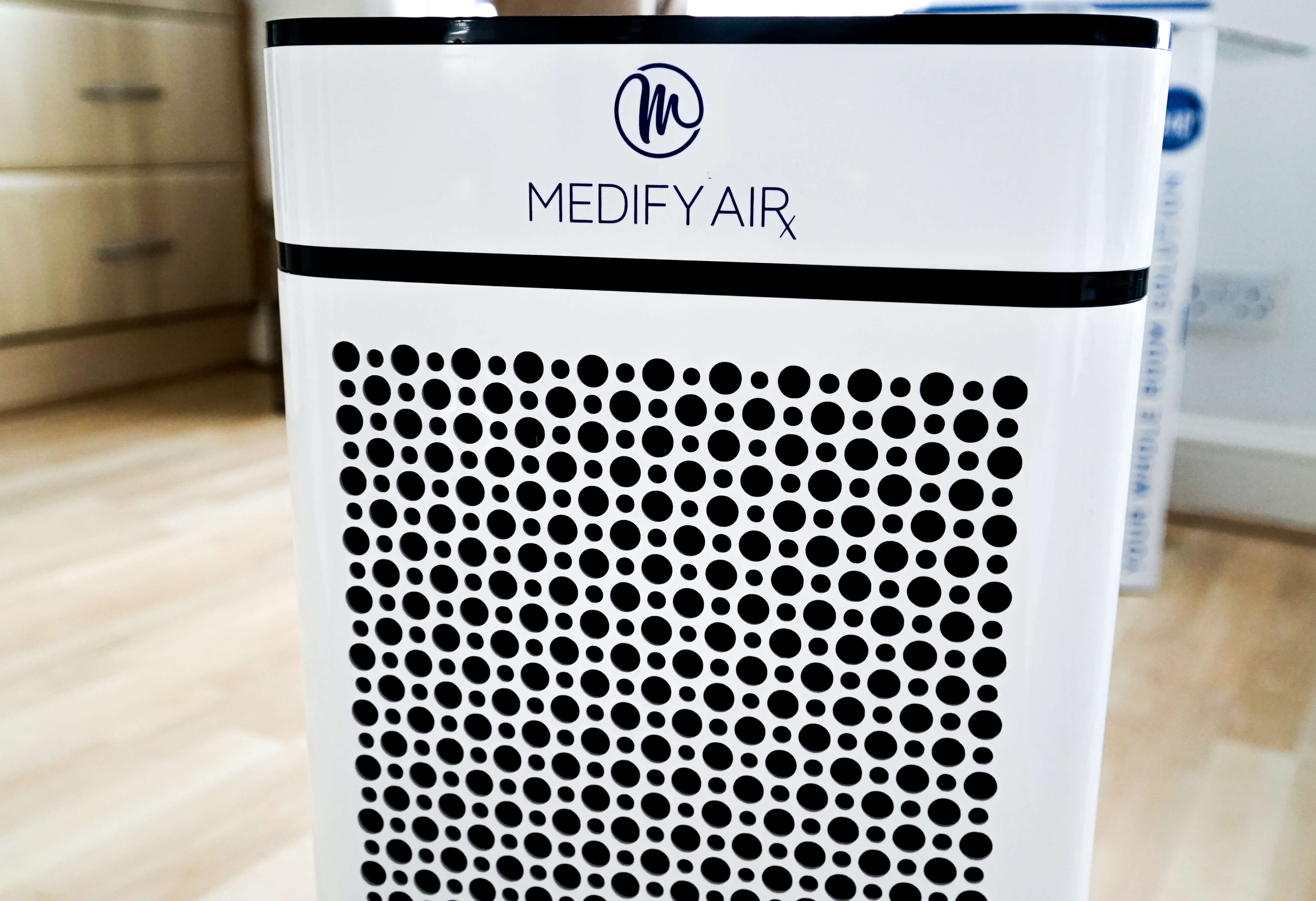 CADR
380 Dust/380 Smoke/380 Pollen
Technology
H-13 True HEPA + Activated Carbon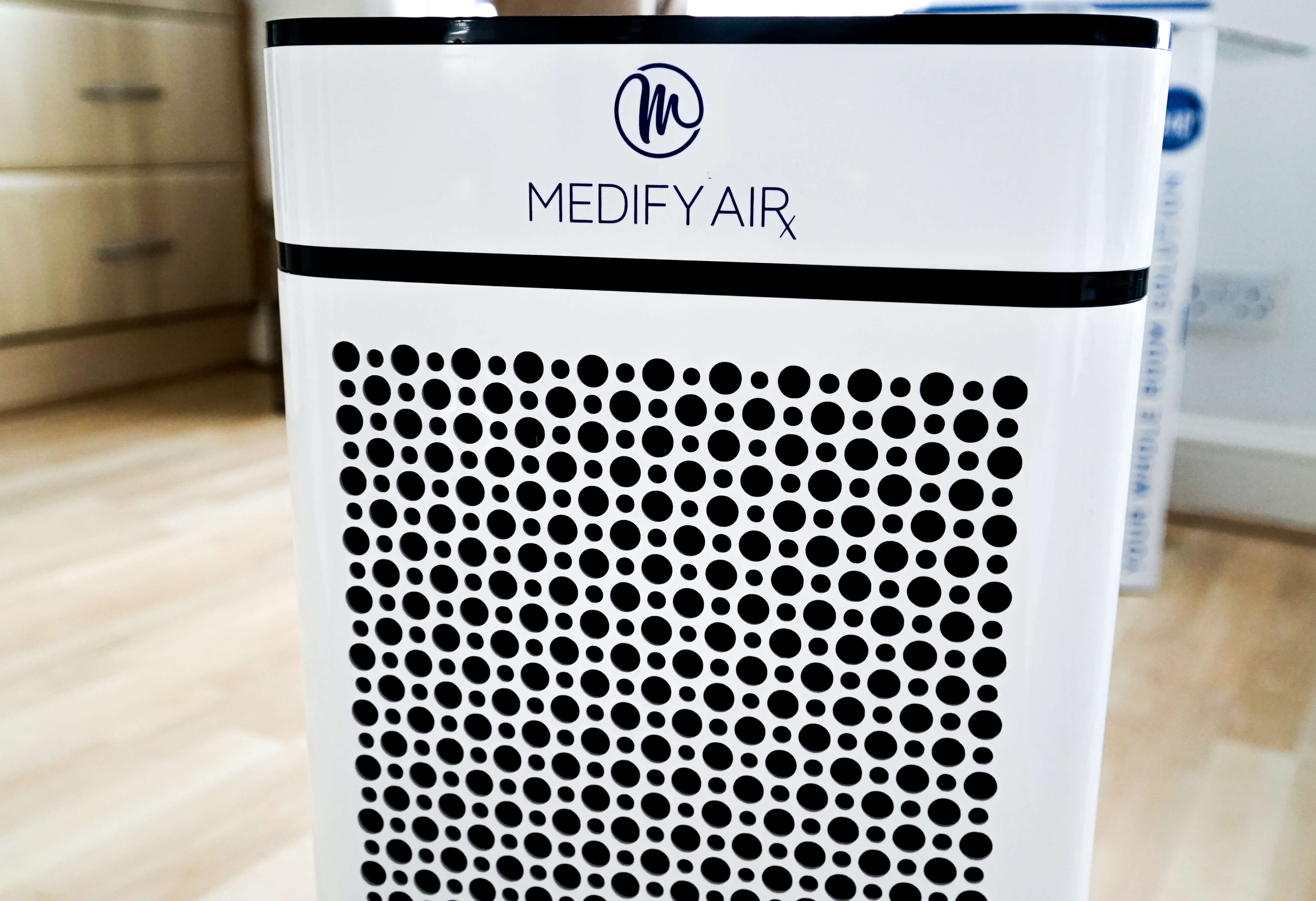 CADR
380 Dust/380 Smoke/380 Pollen
Technology
H-13 True HEPA + Activated Carbon
The Look
The body sports a glossy premium-feeling finish, and it won't look out of place in a modern apartment or house.
On the front, you have the larger air outlet, and on the back, there is a large air inlet and a handle, which comes in handy when moving the unit around. It was super easy to install the composite 3-in-1 filter, and the back cover has magnets for easy locking. So far so convenient.
The top is very handsome indeed, with classy minimal looking tempered glass and an easy-to-navigate display panel.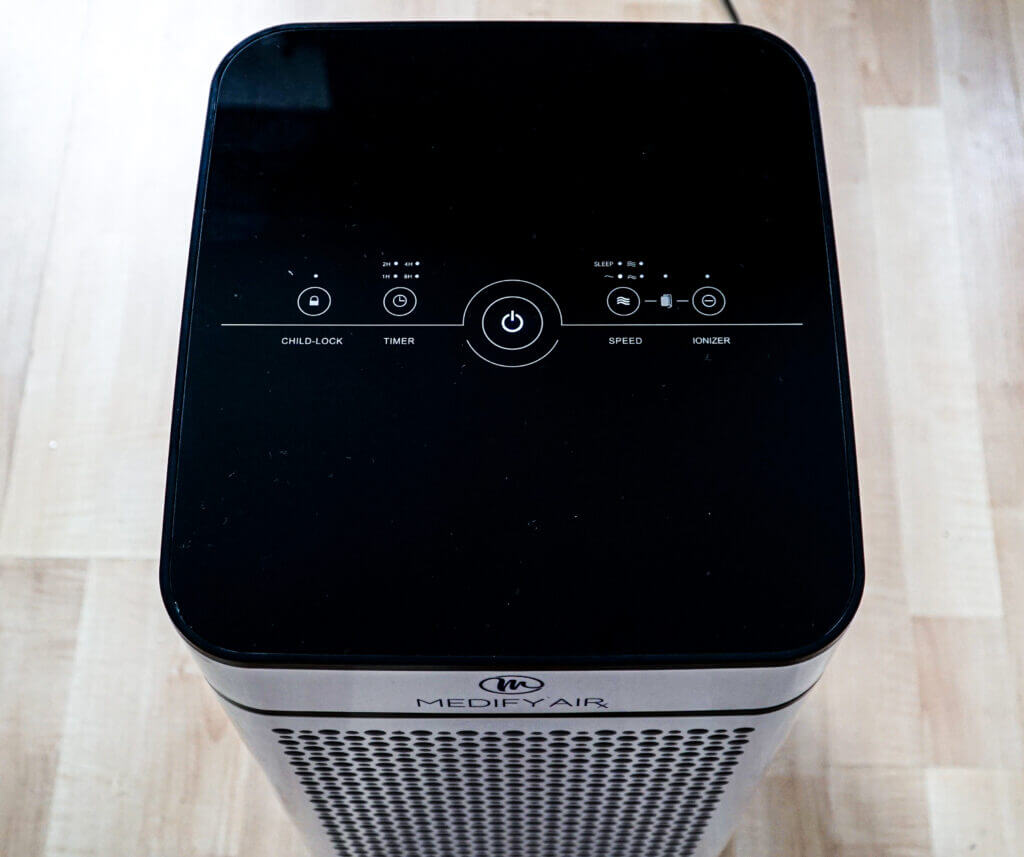 The controls feature the latest capacitive touch technology, but if you don't know what that means don't worry, just press the power switch, timer, fan speed, and ionizer switches and you're good to go. Oh, and there's a child lock too to stop the little ones meddling with the settings and giving the whole family a cold (the Medify MA-40 pumps out cool air, which is awesome in summer, but leave it on too long and you'll end up with a freezer for a living room).
There are 3 manual fan speeds settings and a sleep mode. It's nice to see a filter replacement indicator on the top panel too, meaning you shouldn't forget to replace the filter when the time comes.
All in all, it's a slick-looking unit with a solid feel.
Filtration
Now for the technical bits — the filtration system on any air purifier is basically the single most important thing to look at if you want to know how well it's going to work. The Medify MA-40 comes with a pre-filter, an H13-grade True HEPA filter, and an activated carbon filter.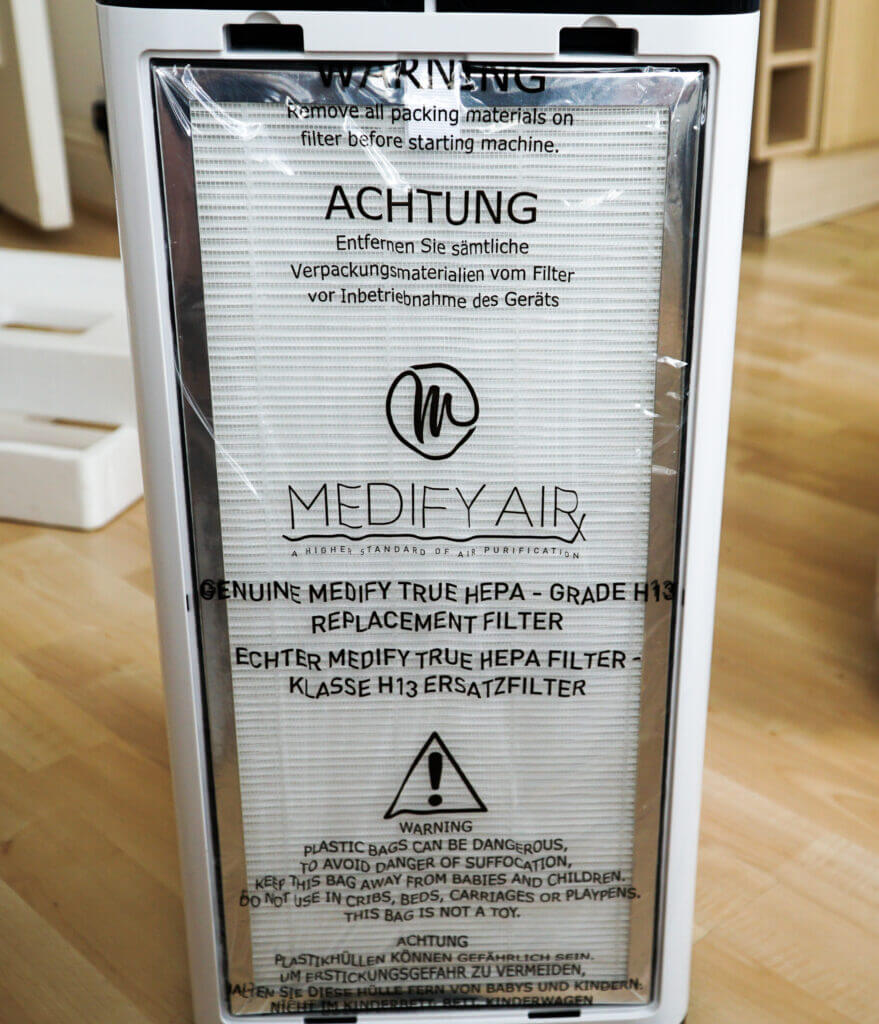 Let's take a closer look at the numbers: the removal efficiency of this filter is 99.9% at 0.1microns (MPPS). That means it can capture tiny airborne pollutants such as fine dust, smoke particles, and microorganisms like bacteria, fungi, archaea, or protists. The first line of defense is a pre-filter net, which traps larger pollutants such as lint, pet dander, mold spores, and dust. It also stops the core HEPA filter from getting clogged up.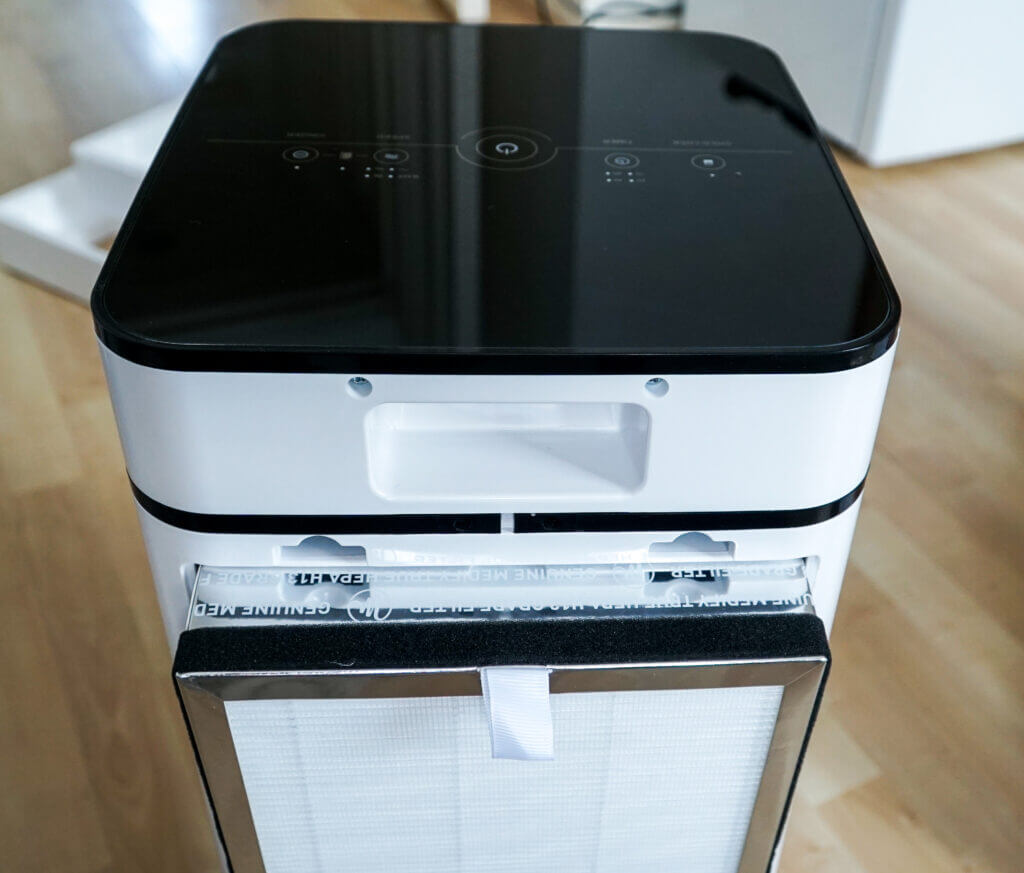 Next, we have the pellet-based Activated carbon filter, which takes care of all your odor and gas filtration needs. The honeycomb-shaped filter is filled with activated carbon pellets, which adsorb odors and VOCs from the air including smoke, pet smells, and all those odors that come from cooking.
This filter needs to be replaced every six months or after 3000 hours of usage. These are easy to come by online and do cost a little more than some smaller units. Medify does offer a service they call Filter Club. If you sign up, they will send replacement filters to your door every six months and you save 10% on the list price plus free shipping. This isn't only a money-saving tip but will make sure you're never left without a new filter.
Medify Air MA-40 Genuine Replacement Filter | for Allergens, Wildfire Smoke, Dust, Odors, Pollen, Pet Dander | 3 in 1 with Pre-filter, H13 HEPA, and Activated Carbon for 99.7% Removal | 1-Pack
MAINTAIN YOUR UNIT: Use ONLY genuine MA-40 replacement filters (B07MTQFFNT) to ensure your MA-40 air purifier operates as it should, keeping the air inside your home, apartment, school, or office clean
EASY TO CHANGE: The lightweight design makes the process of replacing filters a breeze, so you and your family can maintain healthy and pure air in every room. A fresh filter will help remove irritants and neutralize odors
HEPA H13 FILTRATION: Trusted to remove 99.7% of harmful particles including allergens, odors, VOCs, smoke, pollen, pet dander, dust, smog, contaminants, and more down to 0 1 microns in size. Captures finer particles than HEPA H11 (0 3 microns)
3 STAGES: Multi-stage filtration; pre-filter traps large pollutants, HEPA H13 for fine particles, and active carbon to remove odors. Perfect for smokers, pet owners, allergies, volatile organic compounds (VOCs), and cooking smells
LONGER LIFETIME: Each easy-to-replace filter set lasts 4-5 months or 3,000 hours, whichever comes first. Only 2-3 filter changes per year means lower maintenance and more cost savings
The Medify MA-40 has an optional ionizer — when it's turned on, it releases charged particles that attach to any dust floating in the air. Then the heavy particles fall to the ground, just like magic! Beware though, you shouldn't use this feature if someone has asthma or breathing difficulties at home.
Noise
Aside from the filter, noise is probably the next most important thing to consider if you're in the market for an air purifier. Clean air is essential, but noise pollution is a thing too, especially in a small flat.
The Medify MA-40's noise level is 46 decibels on the lowest fan speed and 66 decibels on the top fan speed. 70 decibels is the level of noise generated by a vacuum cleaner, so, this thing can seem pretty loud on its highest setting, but will only take around 30 minutes to completely clean the air then you can knock it down a speed or two.
Cost of running
Another worry I had was with energy consumption. Clean, pollution-free air must come at a price, right?
Wrong. Running the Medify MA-40 eight hours a day can cost as little as $24 a year. This sets top models like the MA-40 apart from the cheaper units on the market.
Combine that with the initial cost of the unit and replacement filters and you've got a great deal for clean, fresh air in your home keeping you and your family healthy and allergen-free.
What I love:
Easy to navigate, responsive touch panel controls
Replacement filters are easy to come by, especially with Filter Club
It's lightweight and super easy to move between rooms
What I don't like as much:
Its flat top does collect surface dust
I would prefer a longer power cable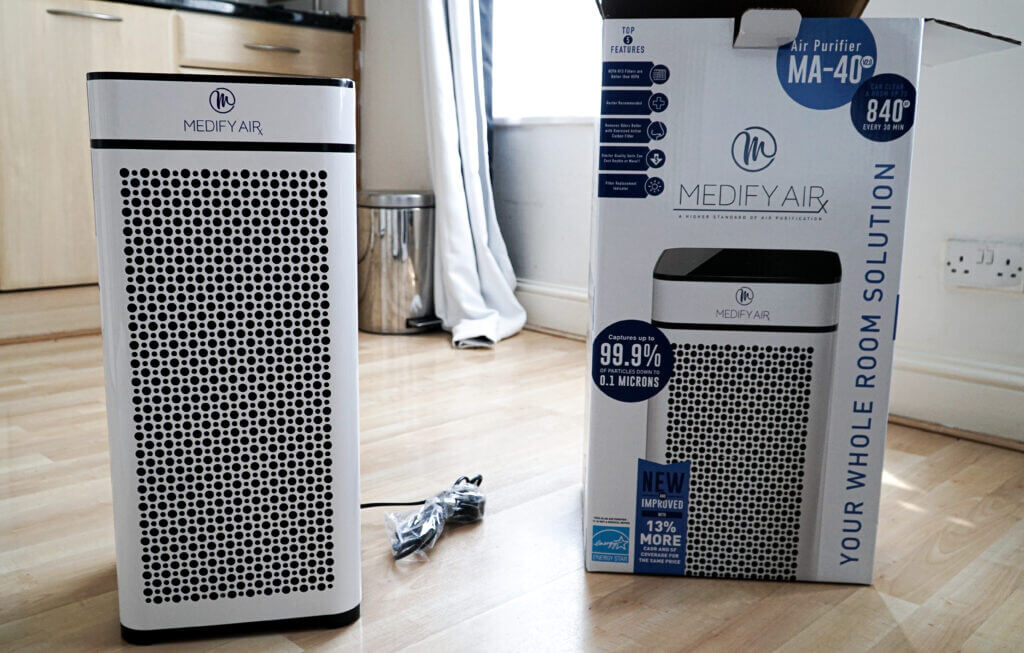 Bottom Line
When purchasing an air purifier, a little research is required. With so many on the market right now, it's paramount that you find one for your needs.
I chose the Medify MA-40 because it fit the size of my apartment perfectly. I was concerned with both pollution and VOCs coming in from the busy traffic outside and with my open plan kitchen/living room, I didn't want to be smelling of my cooking whilst I chill on the sofa.
The filters in this unit promised to address these issues and they didn't fail to deliver.
I can now cook the most fragrant of dishes without worry of stinking out the place and whilst I can still hear the hustle and bustle of the city streets, I no longer fear what it might be doing to my health.
To be honest, I'm sure how I ever lived without it.
Medify Air MA-40 Air Purifier with H13 True HEPA Filter | 840 sq ft Coverage | for Allergens, Wildfire Smoke, Dust, Odors, Pollen, Pet Dander | Quiet 99.9% Removal to 0.1 Microns | White, 1-Pack
MAXIMUM COVERAGE: Cleans large spaces up to 1,600 sq ft in one hour, 840 sq ft in 30 minutes (CADR 380). Ideal for homes, apartments, bedrooms, living rooms, offices, schools, universities, classrooms, hospitals, restaurants, and other businesses.
QUALITY TESTED & BACKED: CARB, ETL, and Energy Star certified. Backed by a USA registered Lifetime Warranty when genuine Medify replacement filters are used. The replacement filter (B07MTQFFNT) lasts 3,000 hours or about 6 months.
Last update on 2023-12-02 / Affiliate links / Images from Amazon Product Advertising API