Smart Air isn't one of the big-name air purifier brands yet. But it has been making waves in the industry recently with its low-cost yet powerful air purifiers.
Born out of a desire to solve the air pollution problem, Smart Air's founder, Thomas Talhelm, entered the arena with a mission; to create easy-to-use, high-performing air purifiers at a fraction of the price of the top-tier models.
By strapping a HEPA filter to a fan, Thomas successfully created a simple air purifier that created a buzz online and laid the foundation for Smart Air. Since its inception in 2013, Smart Air has been shipping affordable, no-nonsense air purifiers worldwide and providing free education on air pollution.
Today, the company has a wide range of air purifiers, including the Smart Air QT3, the popular Sqair Air Purifier and the high-performance Blast MK 11 Air Purifier. The Smart Air QT3 is a compact air purifier designed to provide clean air on the go.
Why You Should Trust This Review

At HouseFresh, we take pride in our review process, aiming to bring clarity to the world of air purifiers. We purchase every product we review out of our own pockets, allowing us to poke holes and bring to light what manufacturers will not tell you about the product.

Here's how we tested the Smart Air QT3:

Stage 1: Air Cleaning
We tested its cleaning performance by running the unit at its maximum speed in our test room, filled with thick incense smoke. We then used our sensor from Purpleair to track the levels of PM10.0 ug/m3, PM2.5ug/m3 and PM1.0ug/m3 with the air purifier running at its maximum speed.

Stage 2: Energy Consumption
We plugged the QT3 through an electricity usage monitor to record the energy consumption in watts when the unit ran at its lowest and highest speeds.

Stage 3: Noise Levels
Lastly, we used a sound level monitor to track the noise the Smart Air QT3 produced at its lowest and highest fan speeds. We then used Flourish to help visualize how long it took the QT3 to remove all the pollutants from our test room and how it compares against other units we've tested.
In this review, I will walk you through what we found when testing the QT3. But let's start with a tl;dr for those of you who just can't sit through a full in-depth review (no judging!)
TL;DR The Lowdown on the Smart Air QT3
---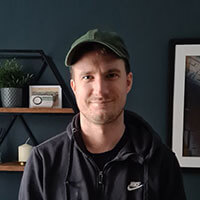 "The QT3 is a solid portable air purifier from the team at Smart Air that is not yet perfect but is one of the more capable air purifiers you can use on the go."

— Danny Ashton, Founder & Senior Writer
---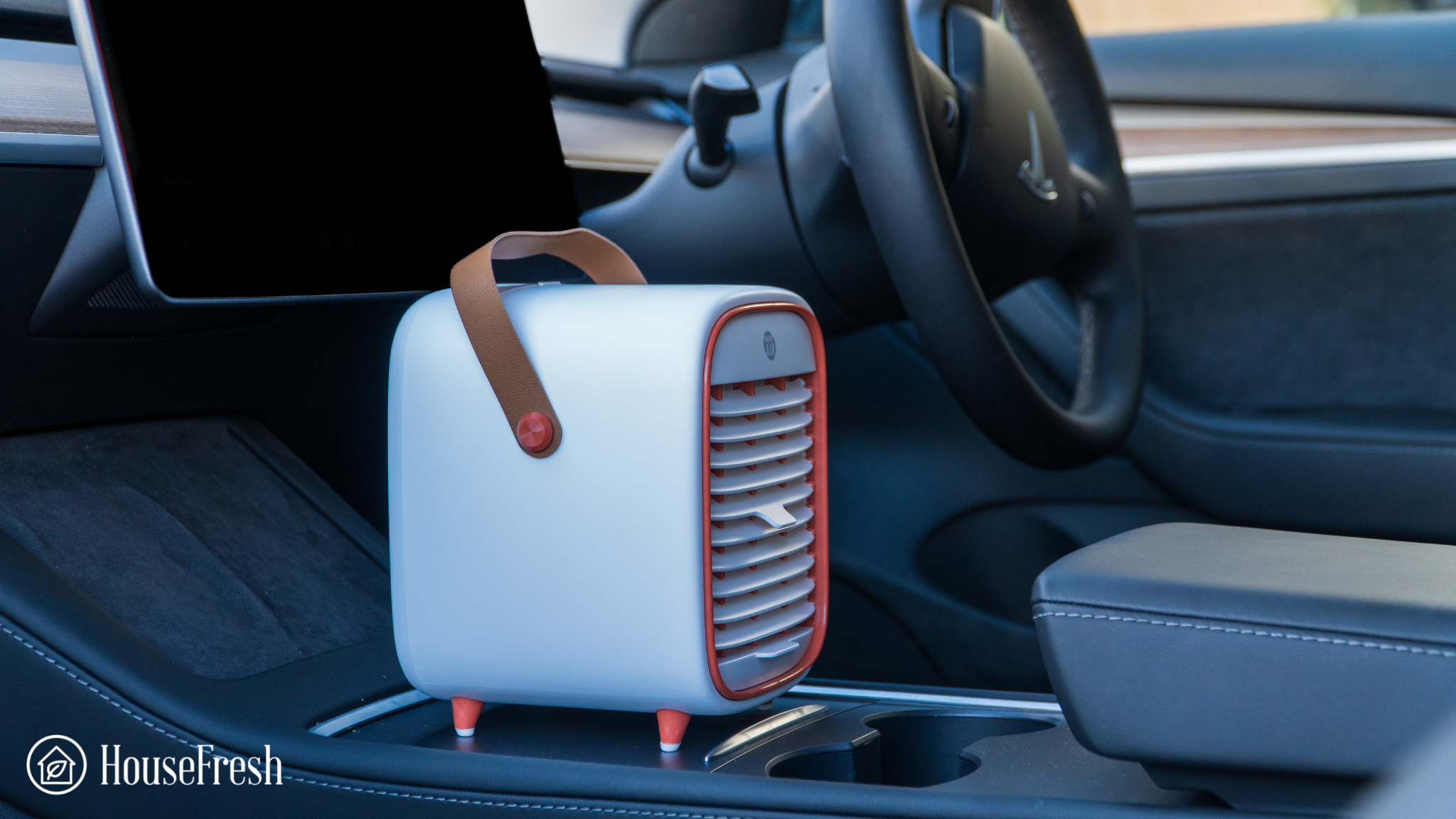 What We Really Like:
👍 Portable and lightweight at only 610g
👍 Perfectly safe, ozone-free technology as only uses HEPA technology
👍 Quiet air purifier (as low as 32 dB)
👍 Can make clean air accessible no matter where you go, thanks to the 2,000mAh battery
👍 Movable louvers that allow you to adjust the direction of the airflow
What We Think Could Be Better:
👎 No activated carbon to deal with VOCs and odors
👎 Not yet available on Amazon
👎 Only ideal for small spaces not to be used as a replacement for a full-size air purifier like the Smart Air S
The Specifications
This model is the only portable that Smart Air makes and has become a significant favorite with travelers looking to reduce the risk of Covid-19. It costs $44 with a CADR of 24 CFM and has a recommended room size of up to 54 ft².
Below are the full product specs:
| | |
| --- | --- |
| HouseFresh Rating: | ★★★☆☆ |
| Time to clean our test room: | 4 hours and 27 minutes |
| Time to clean our Tesla Model 3: | 47 minutes |
| Air purifier technology: | 95% efficiency HEPA filter made with polypropylene (PP) and polyester (PET) with an 800-hour lifespan |
| Recommended room size: | 12.9 sq. ft. |
| Clean air delivery rate (CADR): | 24 CFM |
| Dimensions (in inches / in cm): | 5.9L x 5.7W x 7.1H inches (15cm L x 14.5cm W x 18cm H) |
| Weight (in pounds / in kg): | 1.375 lbs (0.624 kg) |
| Noise level (low – high): | 32dB – 49dB |
| Filter life: | 6 months |
| Manufacturer's warranty | 1 year |
| Estimated energy consumption: | $8.41 per year (but it can also be used with an in-built battery) |
The QT3 Looks Great
This portable air purifier features a super-sleek design, as expected from a company like Smart Air.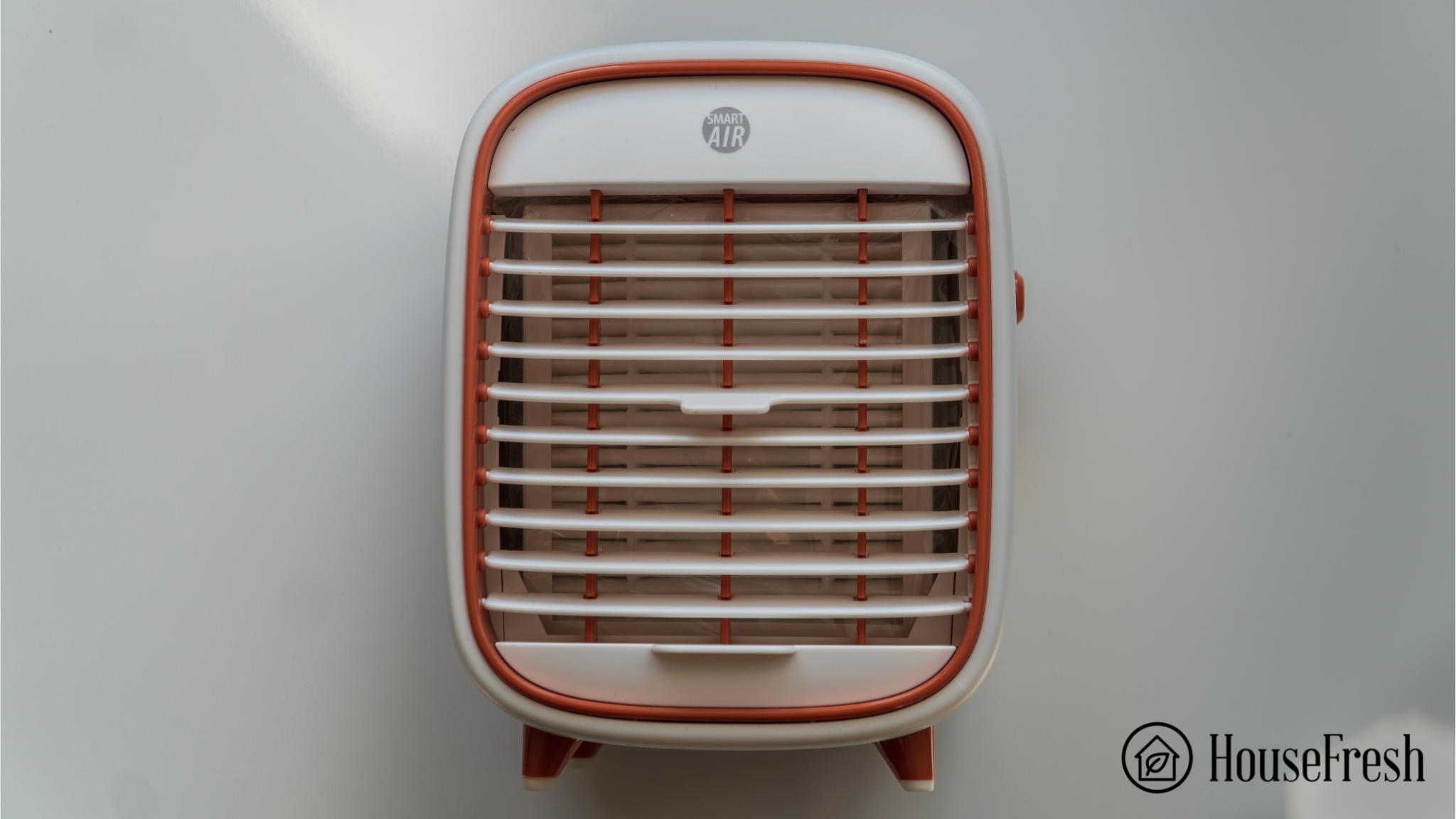 The Smart Air QT3 is a lightweight, aesthetically pleasing air purifier ideal for cleaning the air in a small room. It is made from high-grade plastic in fresh white and summer pink finishes. A cable tray at the top lets you keep your USB-C cable.
At the front of the device are fins that you can adjust manually. Unlike other air purifiers we've tested, the QT3 has a plastic handle that makes it easier to carry around.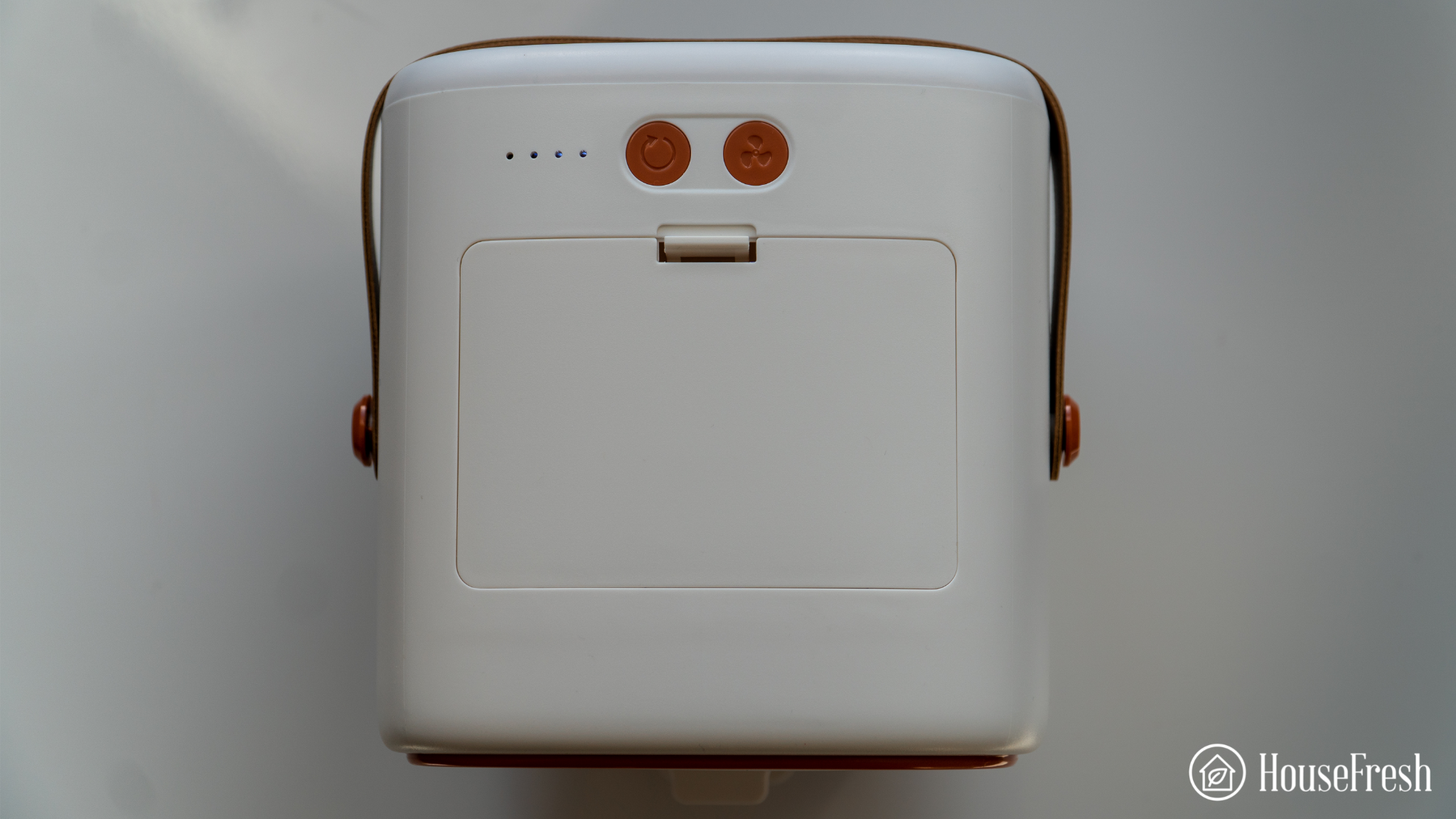 Two versions are available for the Smart Air QT3: The Home Edition, which has no battery and the travel edition we received for this review. It comes with a 2,000mAh battery that lasts four hours, making it ideal for use when driving or on public transport.
Measuring 150 x 145 x 180mm, the QT3 has a small form factor compared to other air purifiers we've tested. In comparison, it's much bigger than the Levoit Core 300 but similar in size to Levoit Core Mini.
Below there's a photo comparing it with another contender in the portable air purifier space: the Pure Enrichment PureZone Mini.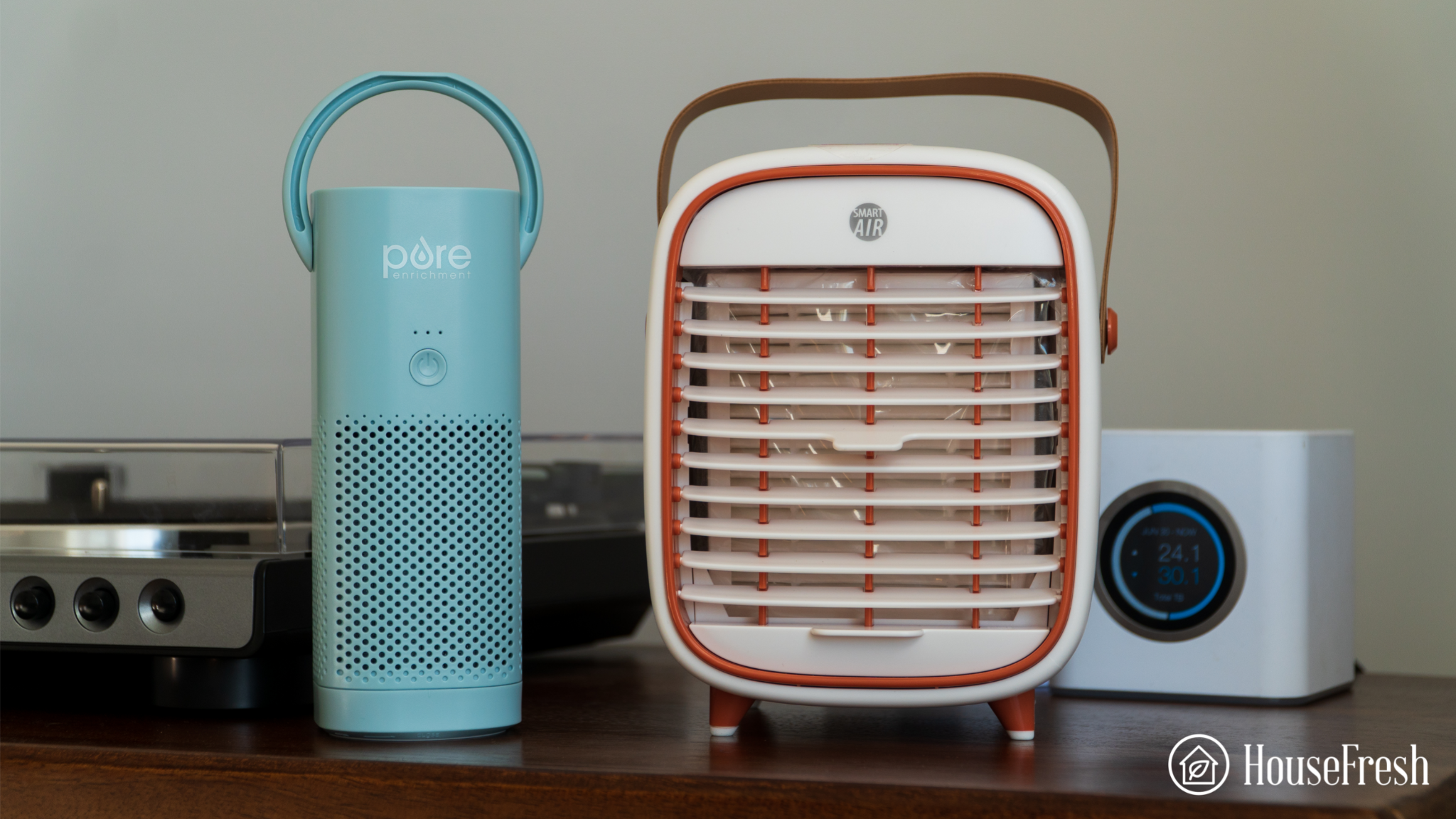 You can see the QT3 is much bigger in comparison but they both still stay true to their portable nature.
Won't Filter Odors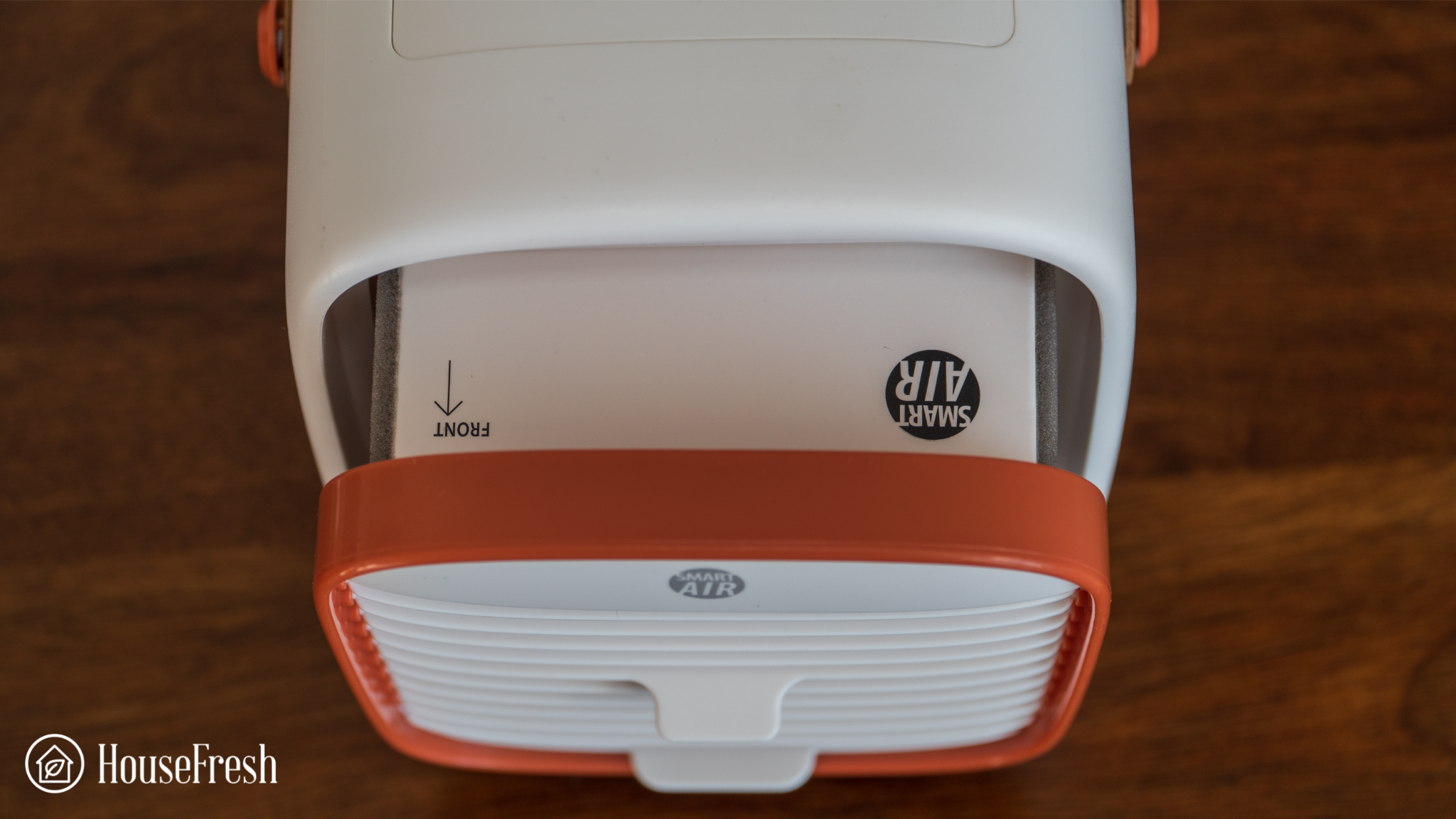 The Smart Air QT3 comes with high-density H11 HEPA filters, which can remove 95% of pollutants, like PM2.5, allergens, pollen, fur and bacteria.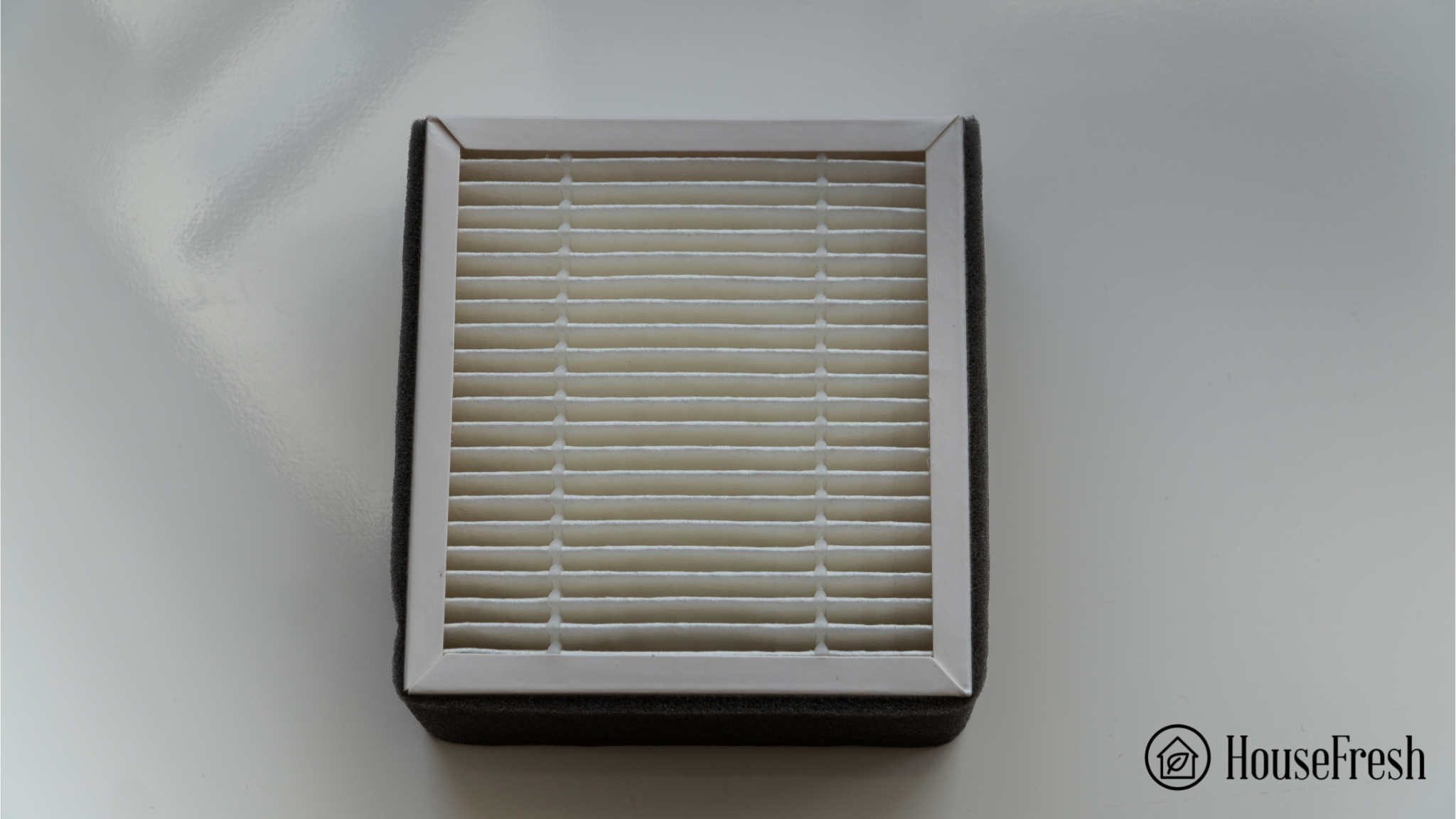 The QT3 purifier contains no ionizers and doesn't emit dangerous chemicals like ozone. However, it lacks Activated Carbon filters, so it cannot remove odors and volatile organic compounds (VOCs) from indoor air. I understand this would likely have to be such a small charcoal filter that it's unlikely to perform well, but I would love to see it in version two.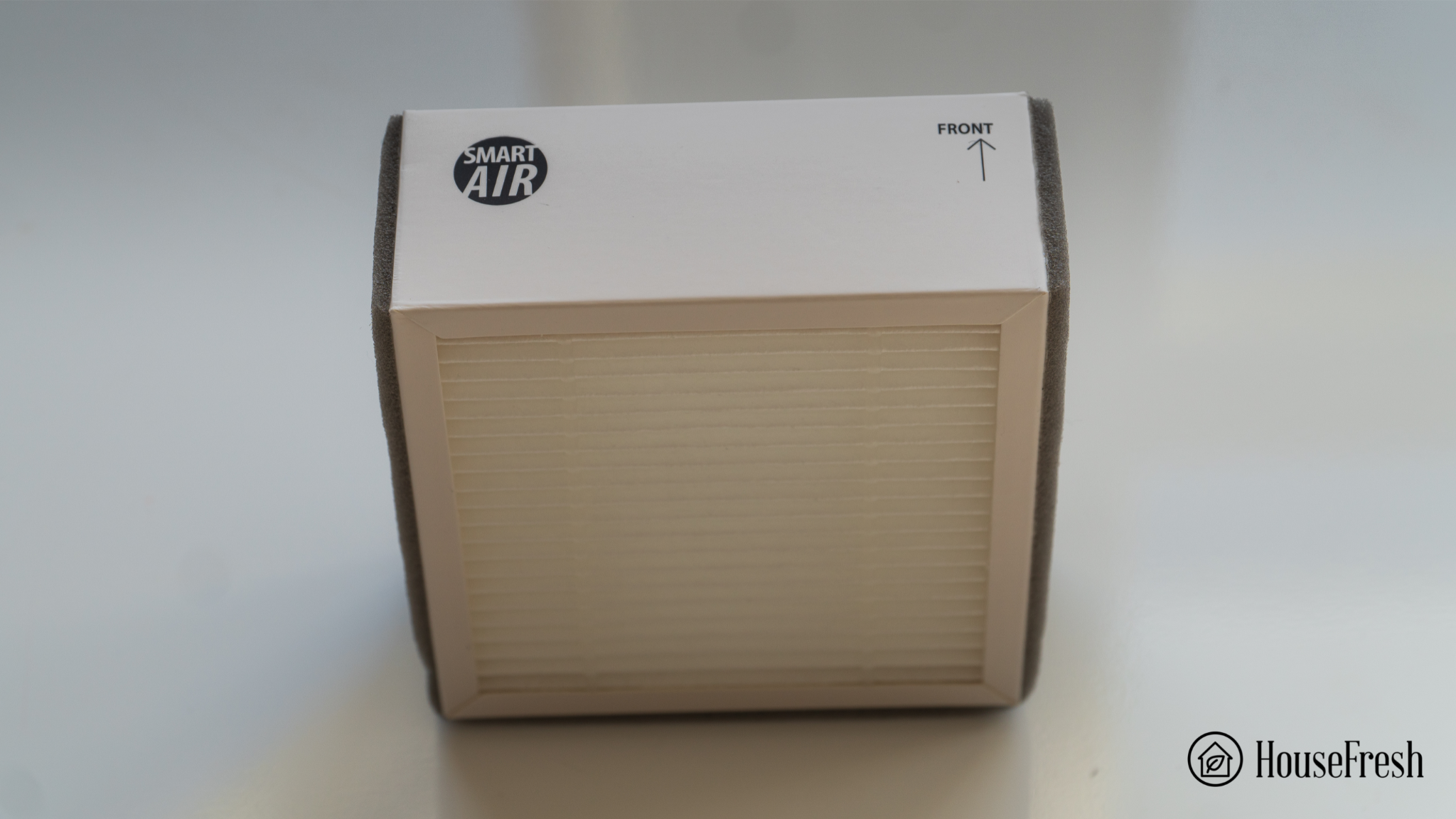 In comparison, Levoit Core 300 and Levoit Core Mini are equipped with HEPA and Activated Carbon filters, effectively removing odors, VOCs and particles. However, they both need a plug to operate.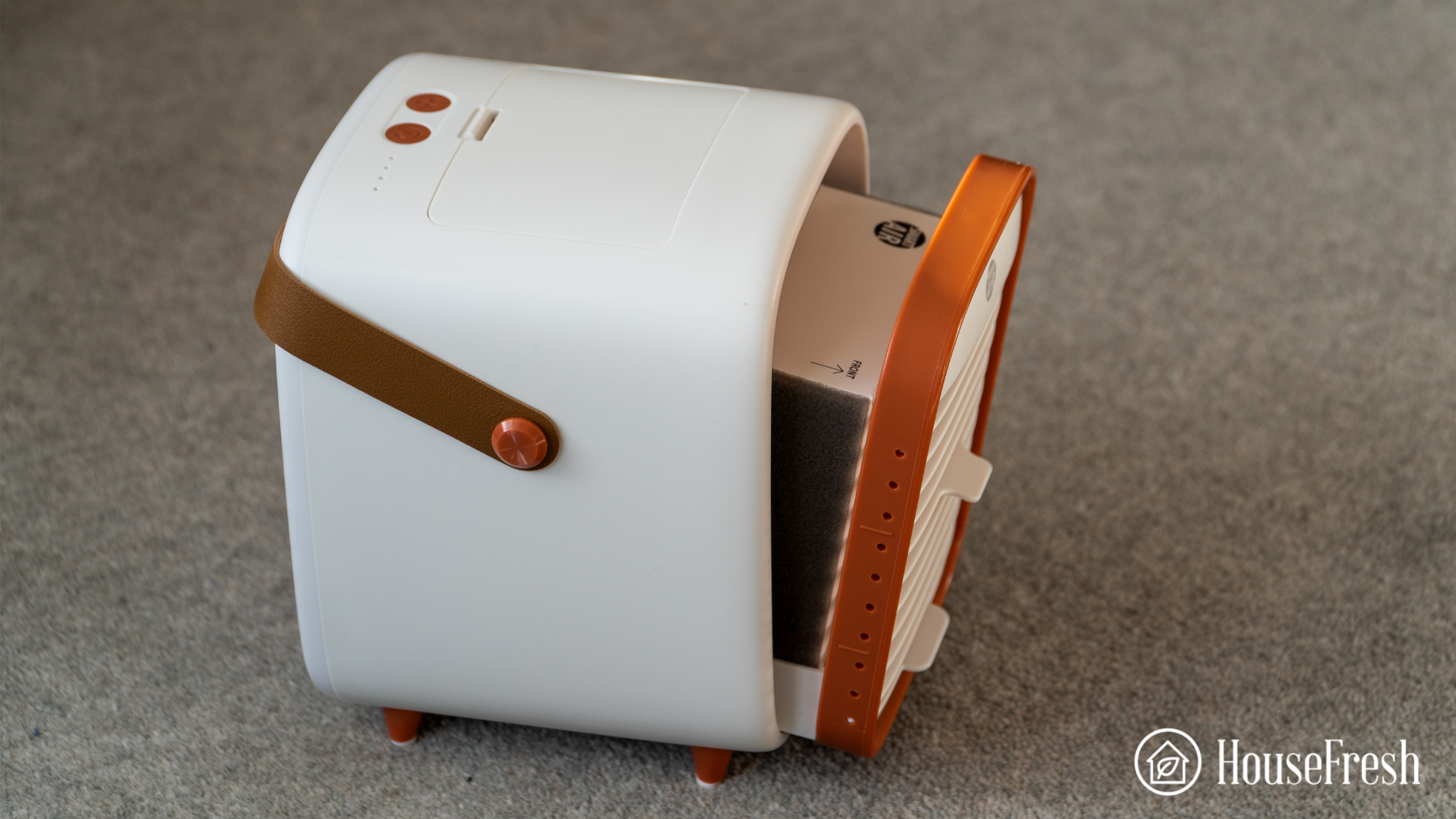 The other portable unit we like is the Pure Enrichment PureZone Mini. The PureZone Mini has activated charcoal, but it's so tiny that we didn't see any difference in odor when we tested it.
Stylish Portable Design and Two-Button Control
At 1.3lbs, it's very portable, and while it's a tad more prominent than the other mobile units available, it's still very light for an air purifier. Like other Smart Air units, the QT3 is simple to use with just two buttons.
One is for powering the device, and the other is for adjusting the fan speed. Alongside the buttons are four LED lights, three for indicating the speed and the fourth one for the filter. The filter indicator will light up when the HEPA filter needs a replacement.
⚠️ When you first open the Smart Air QT3, the filter will be in a plastic wrapping, so be sure to remove this before you switch the unit on, or it will not be able to remove particles from your air.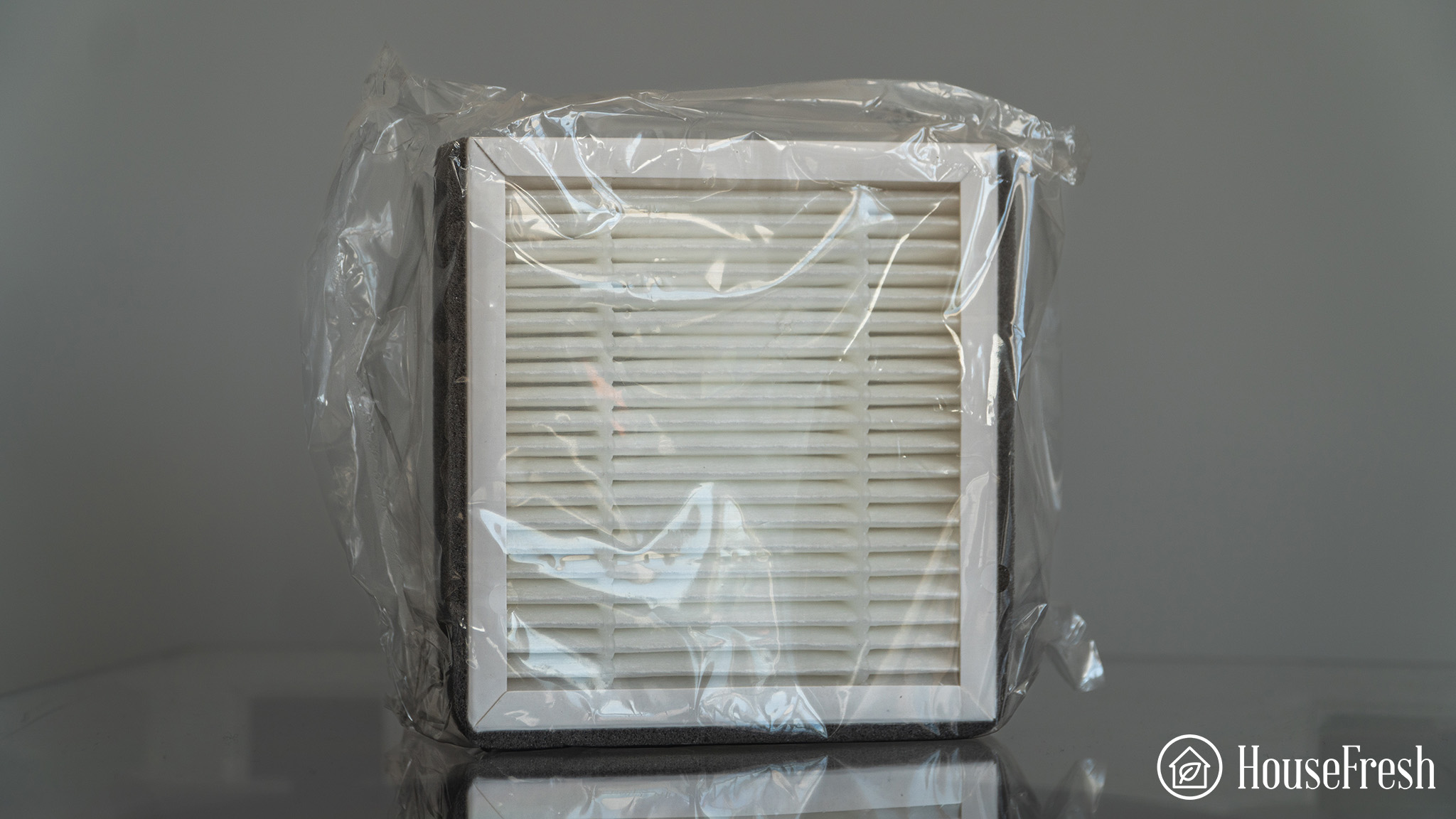 Changing the filter in your Smart Air QT3 is not difficult at all. One slight issue was that the filter would often slip if I knocked on the device, so I had to remove and reseat the case. It would be good to see a more secure filter in the next design.
The Smart Air QT3 Cleared Our Tesla Model 3 in 47 Minutes
We conducted two tests on the Smart Air QT3: one inside our Tesla Model 3 and one inside the same 705 cubic ft test room where we test the air cleaning performance of all our air purifiers.
In both cases, we simulated indoor particle pollution by burning an incense stick and tracking how long it took the QT3 to reduce the levels of PM1.0ug/m3, PM2.5ug/m3 and PM10.0 ug/m3 in the air with the help of our trusted PurpleAir sensor.
Air Cleaning Performance Compared to Other Air Purifiers
I was impressed by the performance of the Smart Air QT3 when comparing its air cleaning speed with other portable air purifiers.
Things changed, however, when I compared the performance of the QT3 against non-portable air purifiers. Yes, the results look poor, but this is to be expected as portable air purifiers have a far lower air cleaning power (CADR).
That said, the QT3 performed better than its small portable competitors. Just to give you an idea, it took the Pure Enrichment PureZone Mini 5 hours and 39 minutes to clean the air in our test room – that's one whole hour longer than the QT3.
Noise Levels Test Results
The Smart Air QT3 produced 40 dB at the highest fan speed, ideal for home or office use. The unit can go as low as 32 dB at the lowest speed, putting it on par with the best ultra-quiet air purifiers we've tested.
As you can hear from the video, the noise generated by the QT3 is very quiet:
---
The Cost to Run a Smart Air QT3: $34.40 Per Year
1. Electricity costs = $8.41
Many consumers think about the initial cost of an air purifier but often forget to think about its costs. The Smart Air QT3 isn't a cleaner that will cost a lot in bills as it's a small unit with a low power draw of only 9 watts at full power.
While the electricity costs associated with a unit like the Core Mini are a little cheaper ($7.36 per year), the QT3 will cost way less in terms of power consumption than a standard home air purifier like the Levoit Core 300, which costs $47.30 annually.
2. Filter costs = $25.99
As HEPA works by trapping pollutants, these filters become full of particles and eventually restrict airflow to reduce performance. Smart Air has manufactured filters that cost less and last longer. The Smart AIR QT3 has filters available for just $25.99.
In comparison, filters for Core Mini will set you back $49.98, while Pure Enrichment Pure Zone Mini is slightly cheaper at only $20 for one set of filters.
QT3 2-Pack HEPA Replacement Filters
BREATHE CLEAN AIR: Take a breath of fresh air! Our HEPA filters 0.3-micron as well as 0.07-micron airborne particles
LIFE SPAN: Each filter has an 800 hour life span
HIGH-QUALITY: Our high-quality HEPA filter pairs with the Smart Air QT3 Portable Air Purifier and Fan
---
Bottom Line
The Smart Air QT3 is not a great air purifier when compared to those you can plug in as it can only clean a tiny area. It had issues cleaning even our small test room, but it did remove particles from the air. Its stand-out feature is the ability to be used for travel with its battery, so it's one of the top portable air purifiers on the market.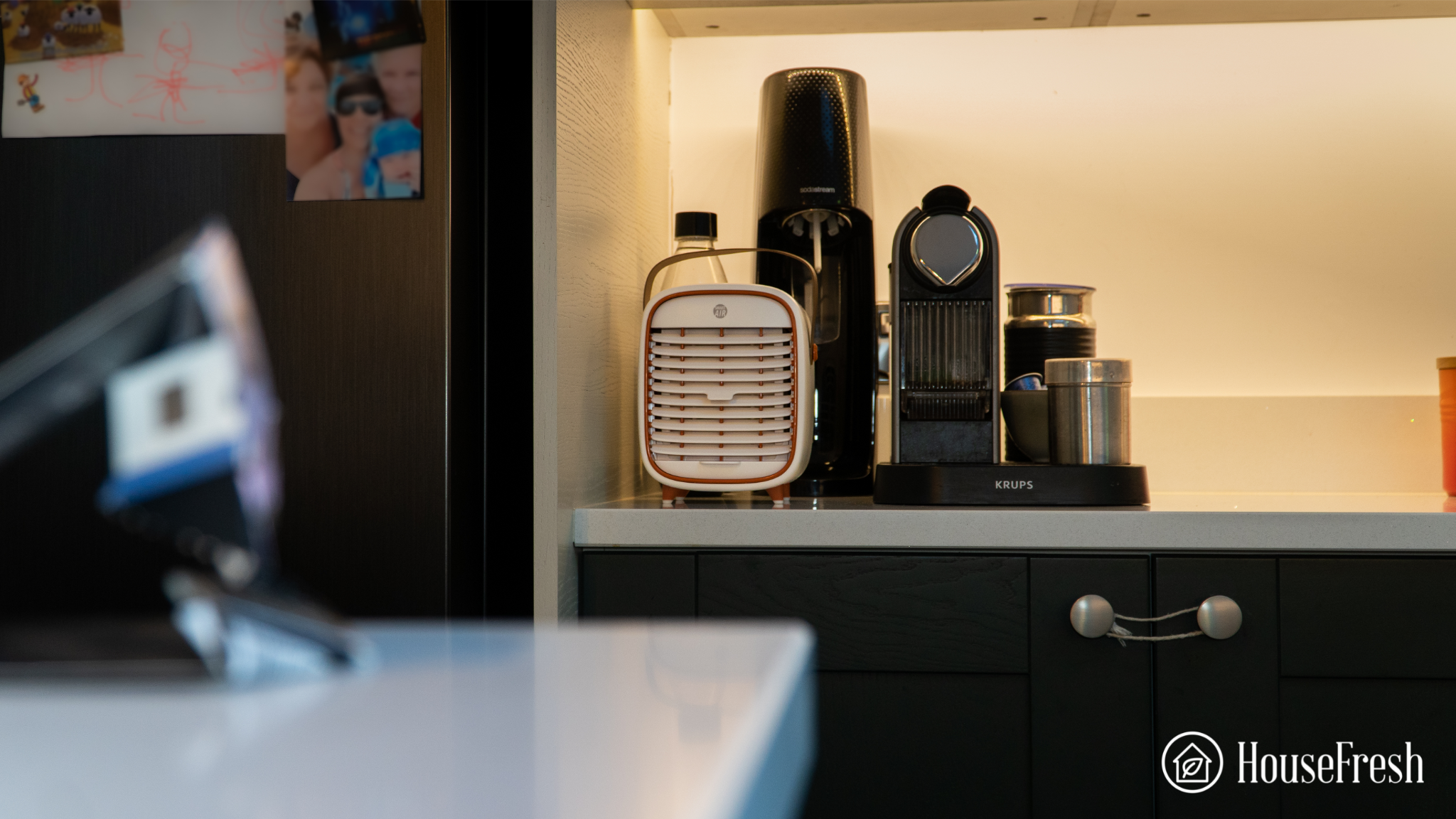 Filter prices are fair, as is the cost of the unit. If you have concerns with flying, the Smart Air QT3 is a great option. You should also look at the Pure Enrichment PureZone Mini.
The QT3 is an air purifier designed explicitly for one type of job so it is not the most versatile of units. But you can rest assured that if portability is at the core of what you're looking for, then the QT3 is one of the best options on the market.
---
SOURCES
We calculated the monthly energy consumption costs with the help of the Department of Energy's appliance energy calculator. We calculated yearly costs associated with running Smart Air QT3 for 24hs a day for 365 days. We chose to run this calculation utilizing the US average utility rate of $0.12/kWh as of 10th of March, 2023.
Last update on 2023-12-01 / Affiliate links / Images from Amazon Product Advertising API