You've most likely heard of the other SharkNinja products — the parent company for this air purifier. They've had $3.7 billion in sales across their products, including vacuum cleaners, air fryers and blenders.
Their air purifier range is relatively new, first hitting the market in June 2021 but, as a company, they have been making other electronic products since 1994.
The main focus of the Shark air purifier range is the Nanoseal HEPA that blocks 99.98% of particles as small as 0.1-0.2 microns, which is similar to the U.S. standard HEPA H13 filter (99.5% of 0.3 microns).
The onboard sensor shows you the current level of air quality and can be switched into auto mode, which adjusts the fan speed based on current indoor air quality issues.
Its main competitor is the smart Levoit Core 300S, also suitable for a similar-sized room. The 300S has a little more CADR but doesn't have the high-end screen you get with the Shark HP102. 
In our home lab of 728 cubic ft, we light an incense stick to generate particle pollution and VOCs.

We set up our trusted Purpleair Indoor Sensor with the latest Bosch gas sensor to track levels of PM1ug/m3, PM2.5ug/m3 and PM10ug/m3 and VOCs in the air.

We switch the air purifier to its highest speed and measure how long it takes to get our room air quality down to PM1 level to 0.

We use an energy meter to measure precisely how much electricity is used when running the unit at the lowest and highest fan speed settings.

We track sound levels emitted by the air purifier at different fan speeds with the help of a commercial sound meter.

TL;DR The lowdown on the HP102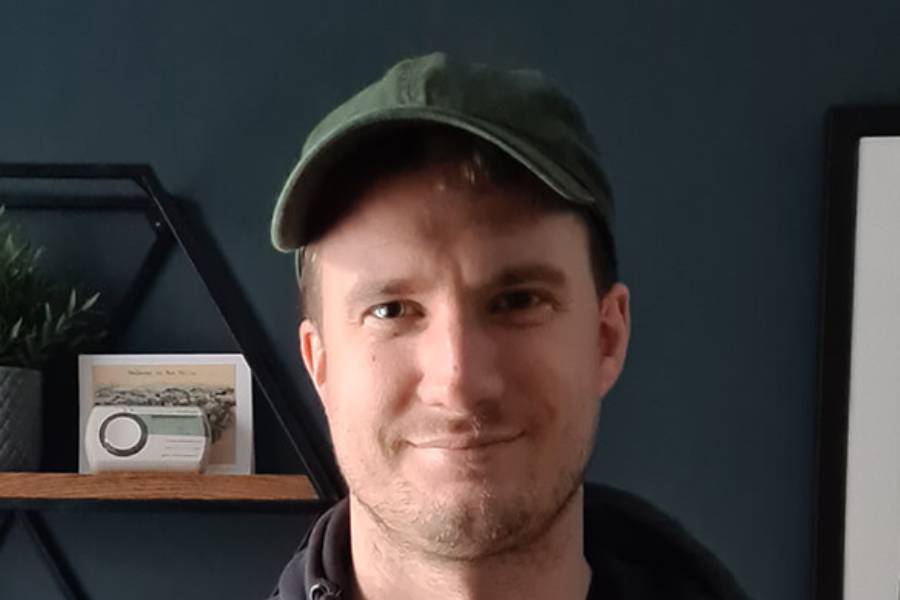 "SharkNinja has entered the air purifier market with the HP102, clearly targeting the Levoit Core 300S.
With comparable CADR, auto-mode and just a 10-gram difference in weight from the Core 300S, we expected less performance due to lower CADR. Despite its low CADR, its air-cleaning performance was impressive. It completed our pollutant test quicker than the Core 300S, completing our incense test a minute faster.
The Shark HP102 screen offers a clear, constant view of indoor air quality, which I prefer over the Core 300S. If you're seeking a compact room air purifier, the HP102 deserves your consideration."
— Danny Ashton, HouseFresh Founder & Senior Writer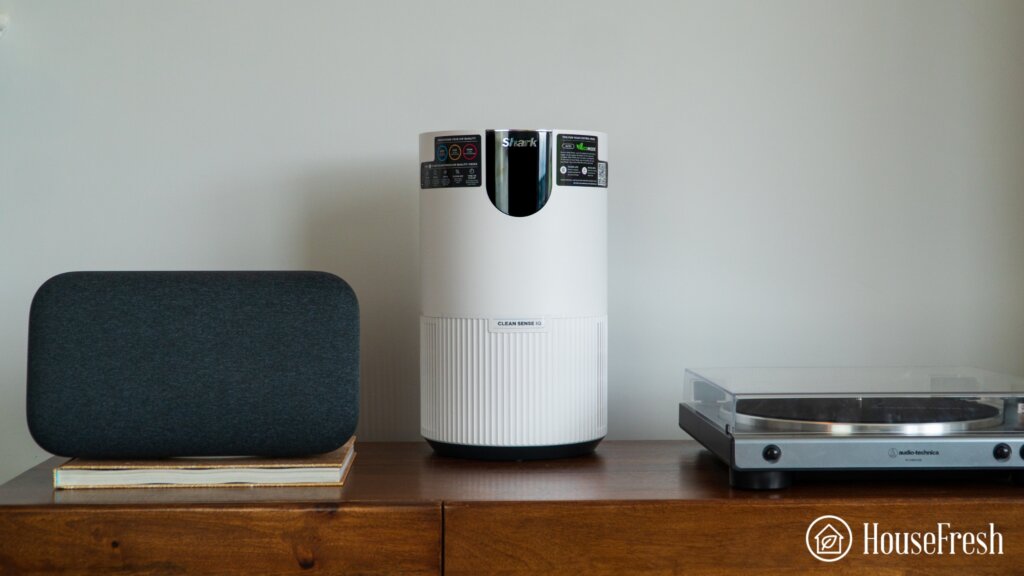 If you're on a rush or just like to read the summary more than the whole thing, then this section is for you.
What we really like
One minute faster than the Levoit Core 300S to clear our test room
High-quality screens for both the display and the control panel
The air quality sensor adjusts very quickly to detect pollutants
High-end build quality — similar to other products by the company
Lots of cheaper generic filters available
It would provide a good level of air changes per hour for spaces less than 219 sq. ft.
Very impressed with their manual — it's packed with lots of great tips to get the best out of your HP102
What we think could be better
The advertising of 500 sq. ft. is too big a space, at least half this
No Android or Apple App support
The specifications
This is a small air purifier for small rooms
SharkNinja is new to the world of air purifiers. They also produce two bigger units — the HP202 and HP303. But the HP102 is the smallest unit they sell, making it a competitor to the Levoit Core 300S and Blueair 411i Max.
It has no smart features but does feature an auto mode and a very high-quality screen.
| | |
| --- | --- |
| HouseFresh Rating: | ★★★★★ |
| Time to clean our test room: | 38 minutes |
| Air purifier technology: | NanoSeal™ Filter (True HEPA Multi-Filter with Microban® antimicrobial coating) |
| Recommended room size: | 500 sq. ft. (but it can only do 1.38 ACH so we recommend a minimum of 200 sq. ft.) |
| Clean air delivery rate (CADR): | 92 CFM |
| Dimensions (in inches / in cm): | 8.66D x 8.66W x 14.56H inches (22D x 22W x 27H cm) |
| Weight (in pounds / in kg): | 5.85 lbs (2.7 kg) |
| Noise level (low – high): | 41.7 – 56.5 dB |
| Filter life: | 6-12 months |
| Warranty: | 2 year limited warranty |
| Estimated energy consumption: | $25.23 per year |
Compact design with simple touchscreen control
I love the look for the Shark HP102. That said, it is still not as good-looking as the $500+ Dyson air purifiers.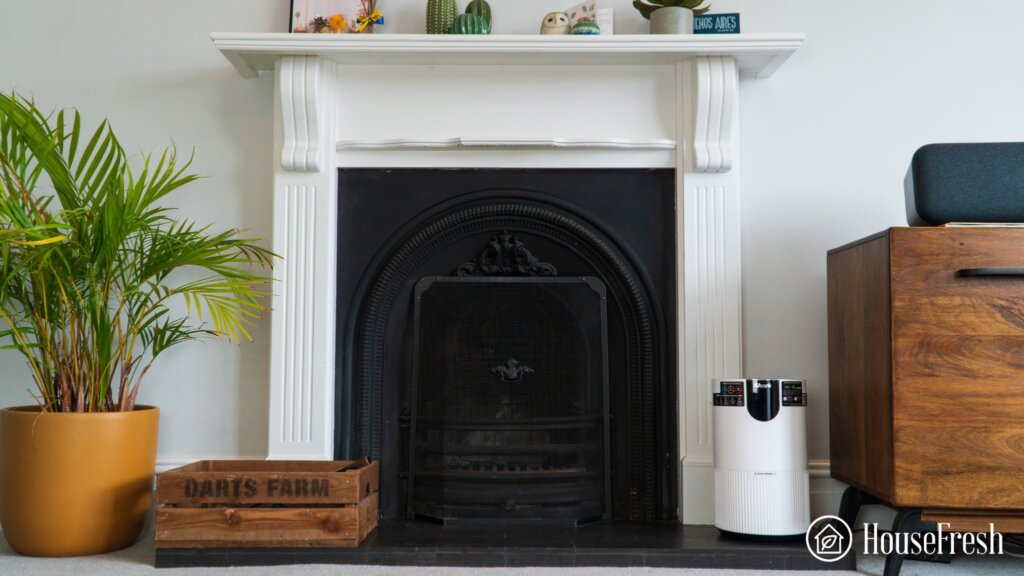 One of my favorite things about this air purifier is how small it is, considering its air cleaning power. It weighs under 3 kg (5.85 lbs), making it easy to carry from room to room.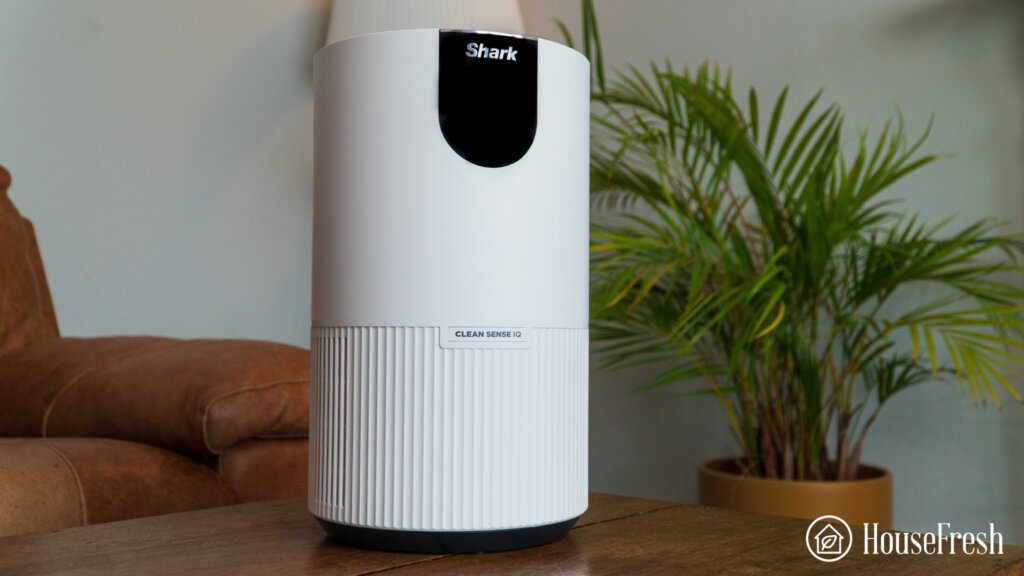 I prefer the overall look of the Shark HP102 to its main competitor, the Levoit Core 300S, mainly because of the excellent display screen: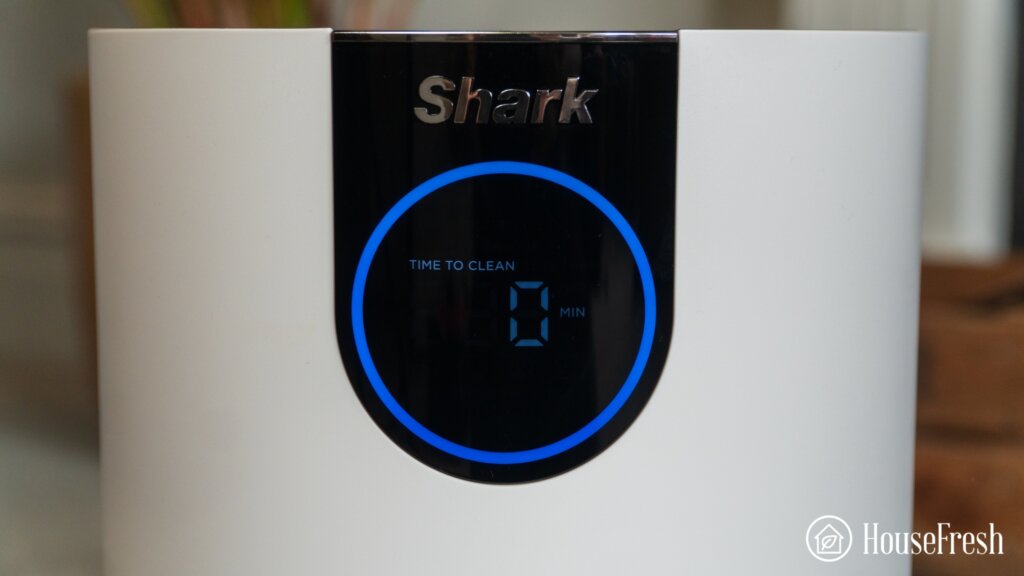 I will go into it in more detail further down the review but in the photo below you can see how the two units look when compared side to side: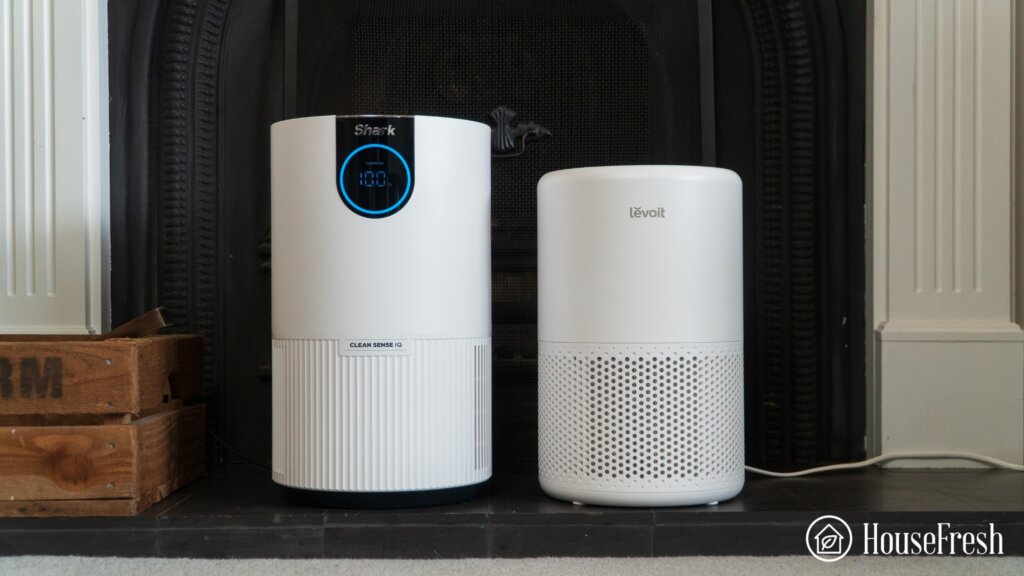 You can see the difference the display screen makes to the overall look when you place it next to the Core 300S. The HP102 looks a lot more modern, making it a better fit for those with smart appliances around the home.
Between the display screen and the touchscreen in the control panel at the top, the Shark HP102 is a great air purifier for techy households: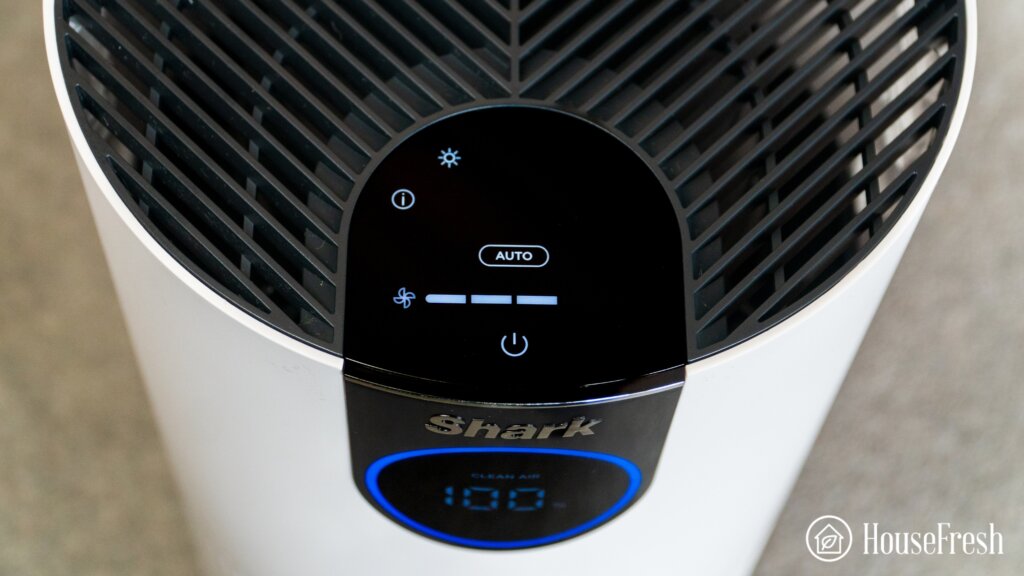 Let's move on to the top control panel, which you can see in the photo below right on the edge of the air output vents: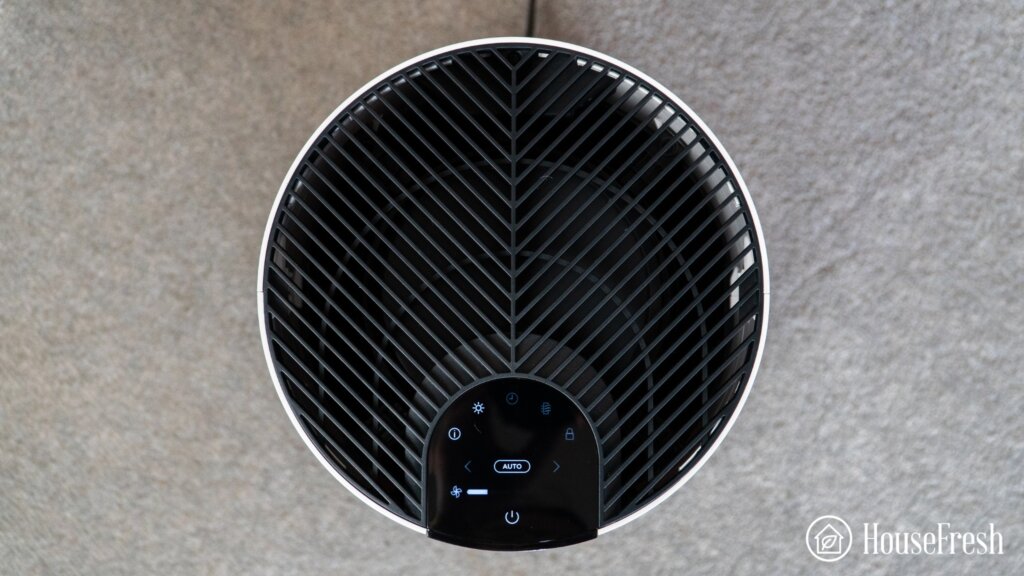 The buttons are pretty straightforward – from right to left:
1. Child Lock: Press and hold for two seconds to lock (and unlock) the top control panel buttons.
2. Filter Life: Press to show the remaining filter life. This button will flash to indicate when the filter needs changing.
3. Shut-Off Timer: Press to set the number of hours for the HP102 to run before it automatically shuts off.
4. Brightness: Press to dim the brightness of both the top control panel and the front display screen.
5. Air Info: Press to switch between air quality display options: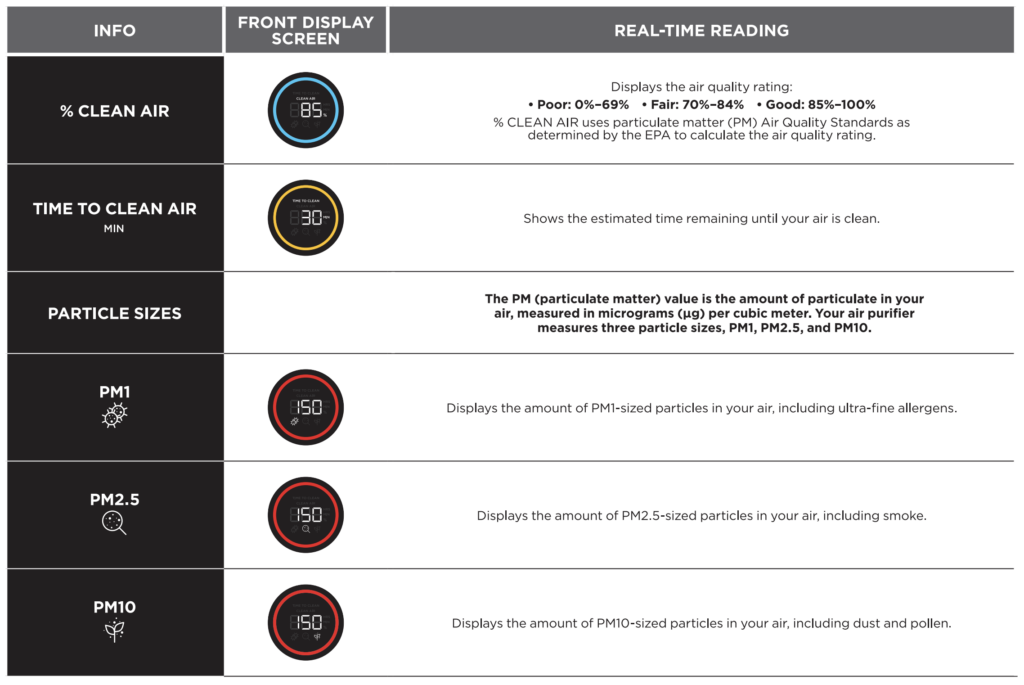 6. Auto Mode: When you press Auto Mode, the fan speed will automatically increase or decrease based on real time air quality readings.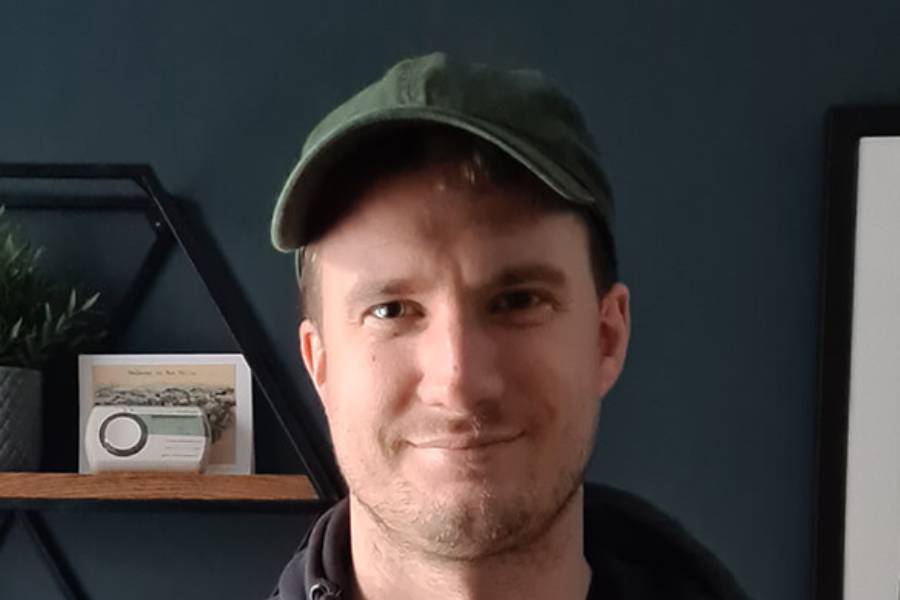 "Auto Mode is easy to engage and you can control the fans via the screen. The timer is a one-time choice. You can adjust the lights to be on or off, which is excellent for those wanting to keep it running at night,
which I highly recommend
." 
— Danny Ashton, HouseFresh Founder & Senior Writer
7. Fan Speed: Press to adjust the speed of the fan, moving from 1 Low, 2 Medium, 3 High and 4 Maximum. Keep in mind that once you press the Fan Speed button, you will deactivate Auto Mode.
Understanding the air quality rings 
The circular air quality indicator on the display screen is the main highlight of the Shark HP102.
When you turn on the HP102, its sensor will automatically analyze the air quality in the room. Once it's done, you will be able to see the current air quality with a colored ring on the display:
🔵
GOOD
A blue ring means your air quality has a low level of particle concentration (0-25 particles per cubic meter)
🟠
FAIR
An amber ring means your air quality shows a moderate level of particle concentration (26-80 particles per cubic meter)
🔴
POOR
A red ring means there is a high level of particle concentration in the air (81-430+ particles per cubic meter)
The screen is easily understood and adjusted quickly when we conducted the incense smoke test in our test room: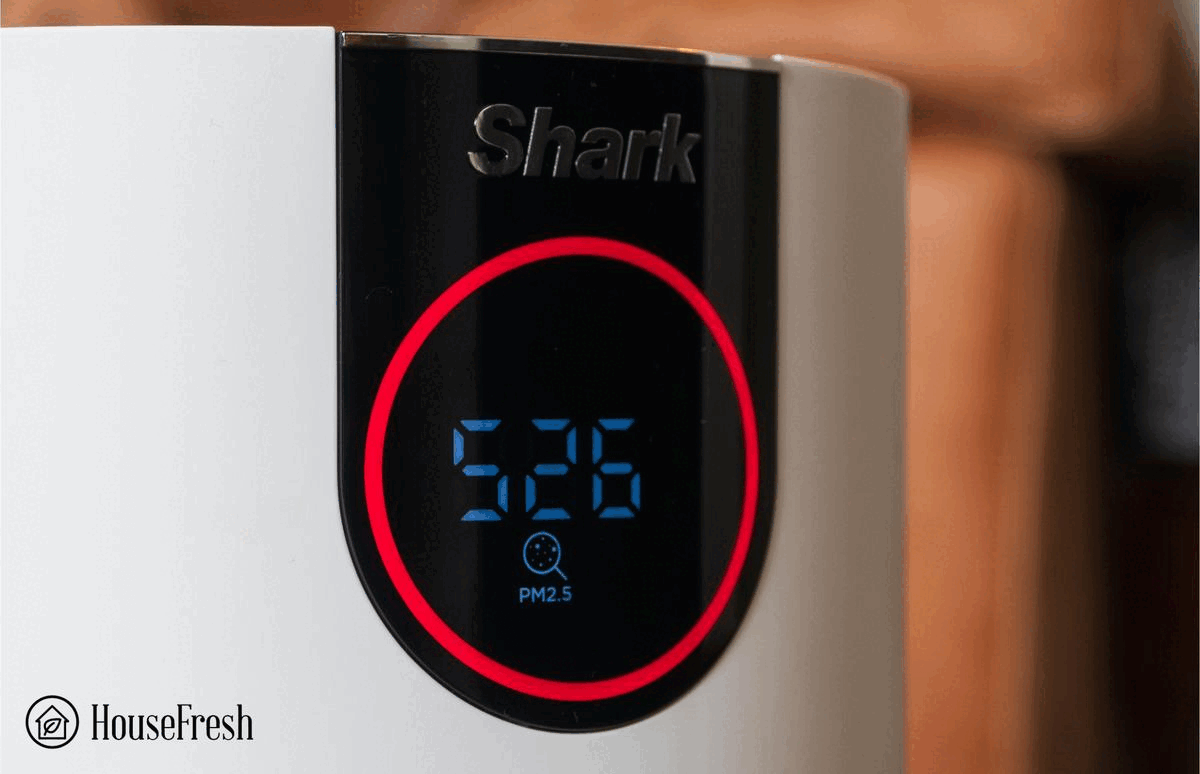 An unexpected great: The air quality sensor on board the HP102 measures PM1, PM2.5 and PM10. All the figures matched what we saw with our PurpleAir Indoor sensor, which uses laboratory-quality air sensors.
🌿 Once your HP102 reaches the 100% clean air status (when running on Auto Mode), the air purifier will enter Eco Mode to optimize the filter's life.
NanoSeal™ technology that supercharges the HEPA filter
The filters are tested to IEST-RP-CC007.3, 0.1-0.2 microns, which makes them unique. But they do seem very similar to the popular HEPA H13, which we see used by Levoit and other brands.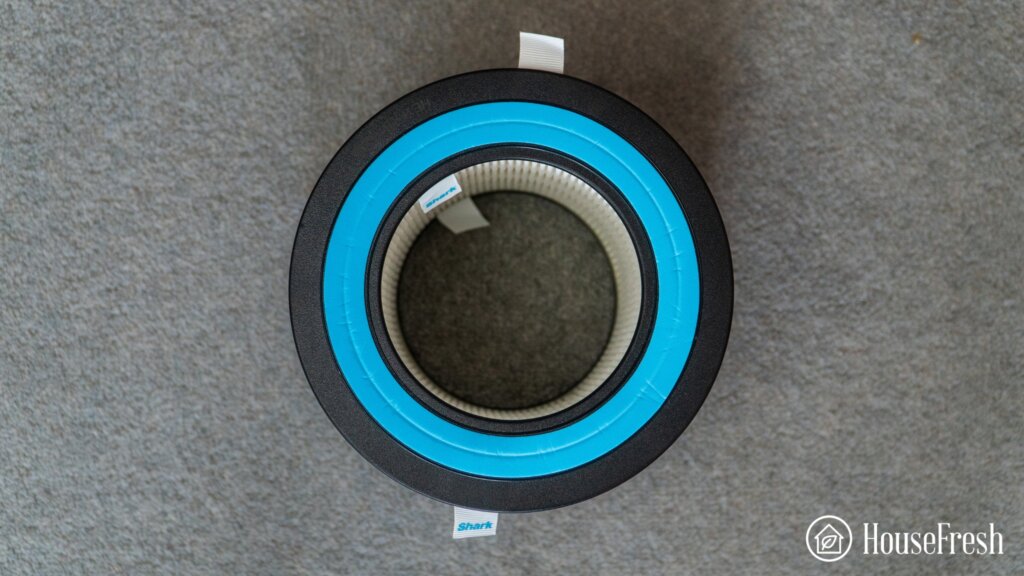 When you pick up the filter, you can tell it's well-made — it feels like it will last longer than the cheaper feeling filters from Blueair (below a photo of the filter inside the Blue Pure 411+ to make my point better: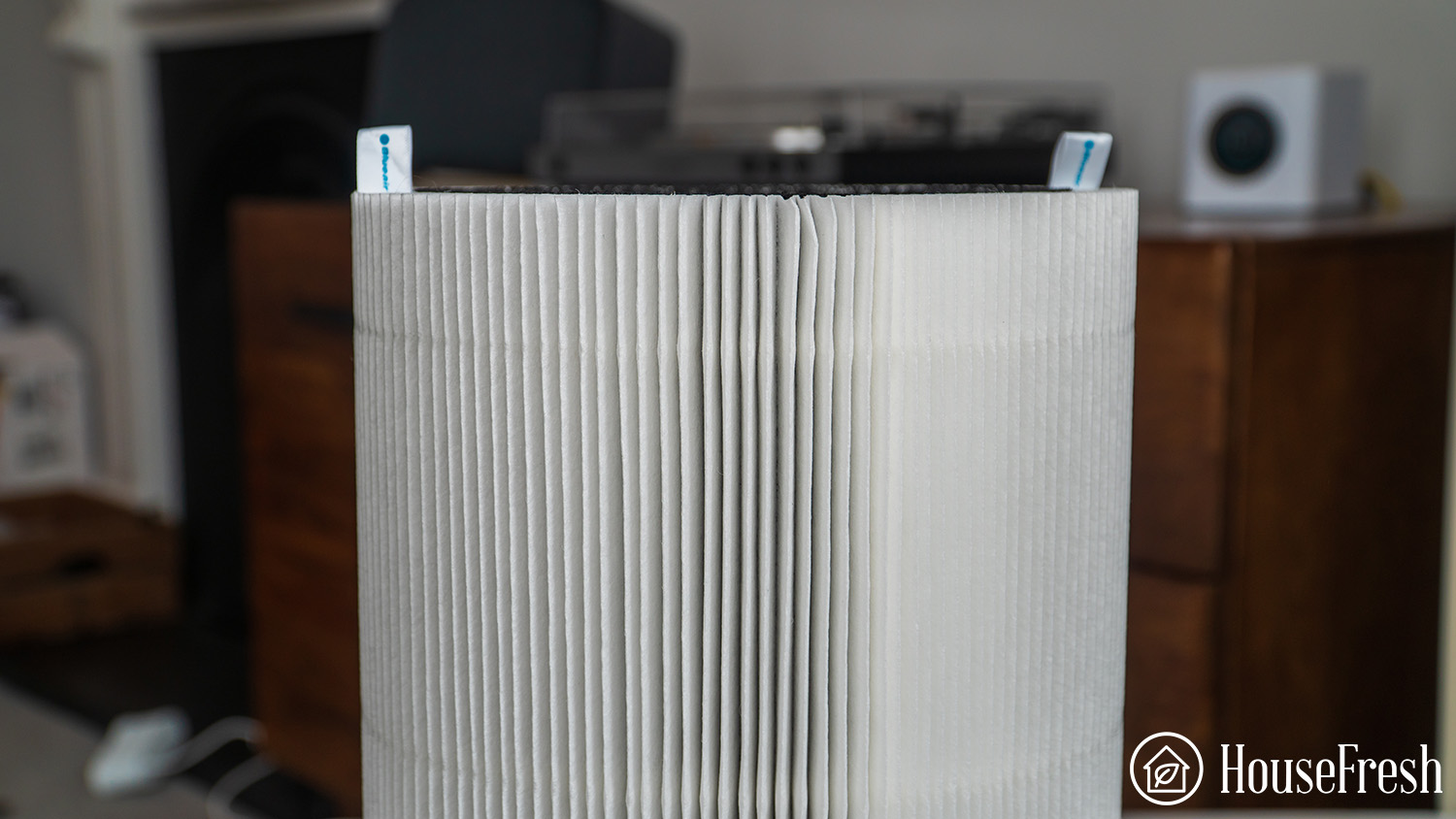 Now, the photo I used at the top is a bit misleading as when you look at the filter in the HP102 from above, it looks like any other cylindrical air filter. But everything changes when you look at the filter from the front: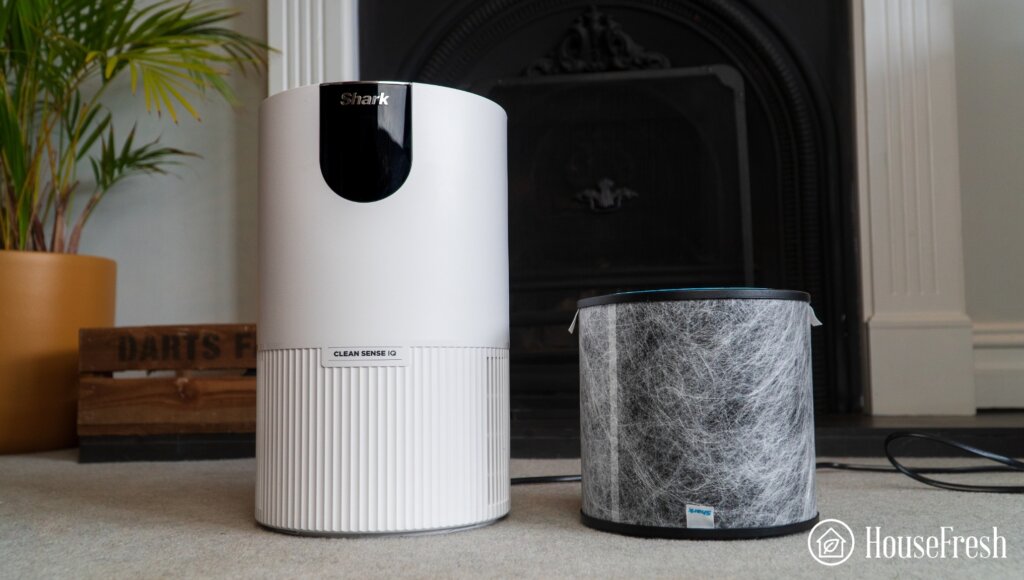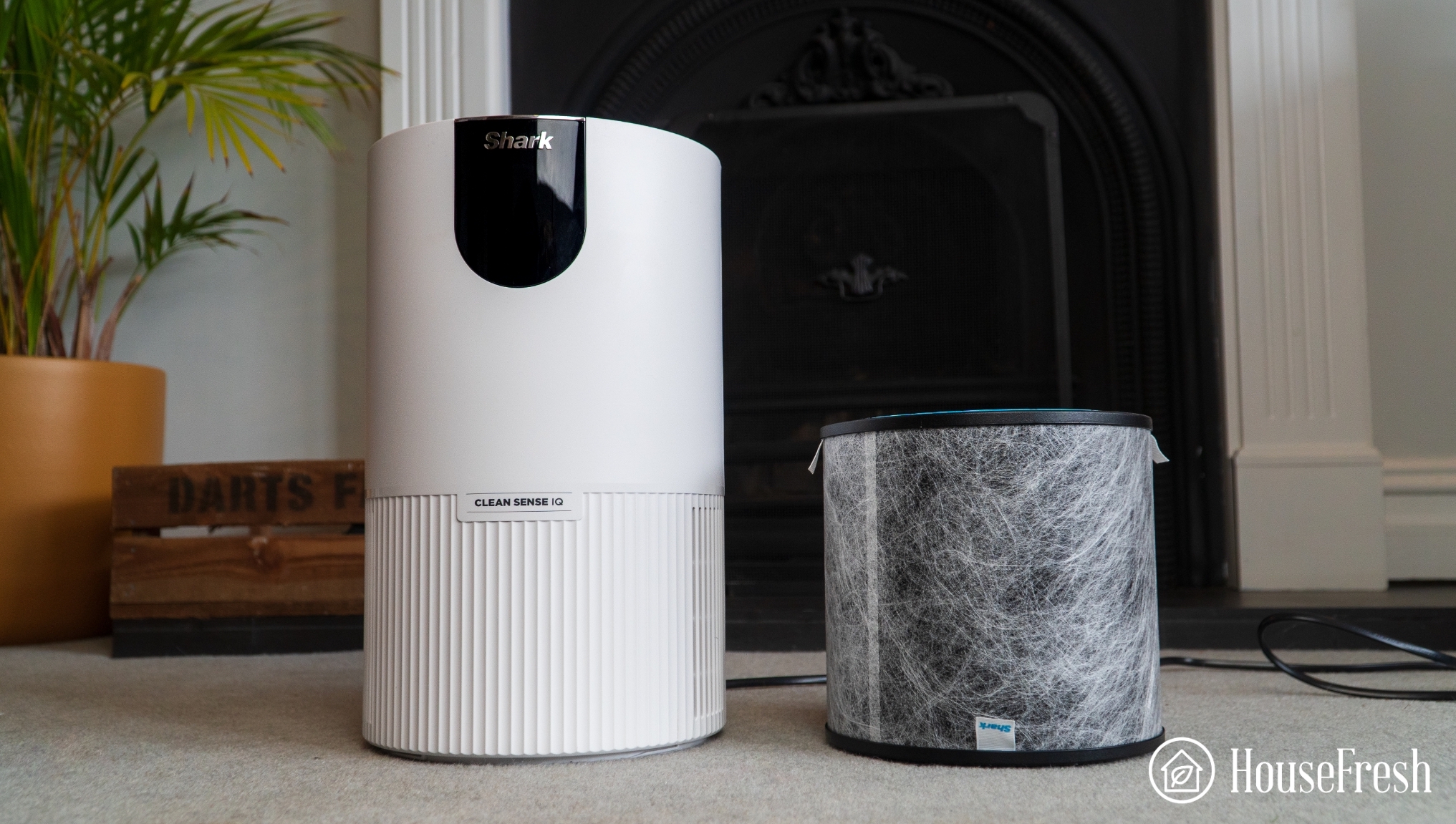 This is not your typical HEPA filter. The Shark HP102 comes with a unique type of air filtration technology: the Shark NanoSeal™ filter.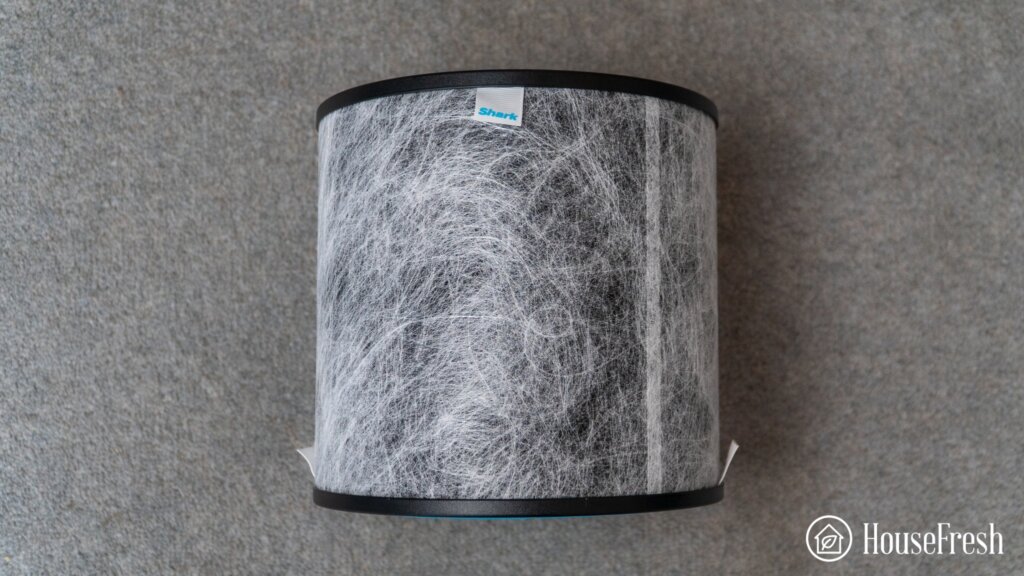 Upon reading about this filter, I learned that it is a True HEPA multi-filter with a Microban® coating that inhibits the growth of bacteria on the surface of the filter.
The activated charcoal space is more significant than what you get with the Levoit Core 300S and it looks like pelletized activated carbon VS integrated charcoal fabric. For severe odors, though, you should look at air purifiers that use more activated charcoal, like the ones on our list of the best air purifiers for VOCs.
Tip
The filter in the HP102 is not washable, so keep it away from water. Something you can clean is the exterior and the interior of the unit itself. SharkNinja recommends that you do so every two months, using a microfiber cloth or a vacuum cleaner to remove dust and debris.
Replacing the filter in the Shark HP102 is a simple process. Something to remember is that as soon as you have installed the new filter, you need to press and hold the Filter Life button for 3 seconds in order to reset the filter life percentage.
I found a great tip inside the HP102 manual that I think is worth sharing:
---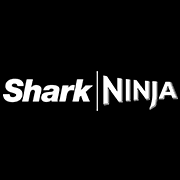 "To maximize the life of the filter, reorient it every three months: remove the filter, turn it upside down, then reinsert it, making sure that the side that was previously on top is now on the bottom.
This will help equalize the distribution of captured particles throughout the filter, helping to extend its useful life."
– SharkNinja team
---
Remember that all new HEPA-based air purifiers will come with filters in plastic bags, so make sure to remove them before you turn on the air purifier. 
The Shark HP102 cleared our test room in 38 minutes
Based on the stated CADR, we expected less but were very happy to see this air purifier perform well in our home lab test.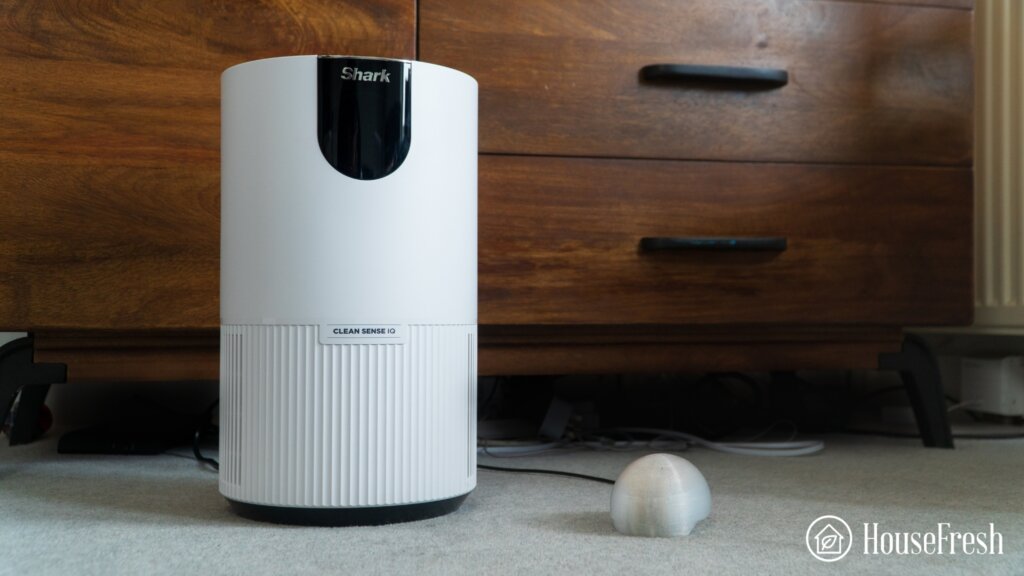 As part of this review, we filled a 705 cubic ft office with tiny particle pollutants caused by burning incense and tracked how fast our air purifier can clean the air. Our tests mean we can look beyond manufacturer data and identify which air purifiers are worth your consideration.
Air cleaning performance test results
It took the Shark HP102 38 minutes until our air quality sensor showed 0PM1. This is just above the Levoit Core 300S but longer than the Alen BreatheSmart Flex.
This is a good level of cleaning power for the price — the fact it also includes an air quality sensor provides additional value.
Noise levels test results
It has higher sound levels than the Core 300S 48dB VS 56dB. A little louder but not so much that it will be a problem for most people.
But you can listen for yourself to the different sound levels in our YouTube video below:
The cost to run a Shark HP102: $55.23 per year
1. Electricity costs = $25.23
This unit only showed 24 watts at the highest speed, so it won't hurt the energy bill too much — it would only cost $25.23 to use all the time, 24/7, for a year.
2. Filter costs = $30.00
SharkNinja says you can go up to 12 months without replacing the filter, but genuine filters are currently hard to find on Amazon.
Luckily, there are many generic filters for sale, so you can run this air purifier for less than $30 per year for new filters. The Levoit Core 300S has similar generic filters that cost $34 yearly for two filters every six months.
Overall, energy and filter costs are lower than other budget air purifier brands.
2 Pack 𝐇𝐏𝟏𝟎𝟐 𝐑𝐞𝐩𝐥𝐚𝐜𝐞𝐦𝐞𝐧𝐭 𝐅𝐢𝐥𝐭𝐞𝐫, Compatible with Shark 𝐇𝐏𝟏𝟎𝟐, 𝐇𝐂𝟒𝟓𝟐 Air Pur ifier, 3-in-1 H13 True HEPA Filter Works for 99.98% of Particles(Not fit for HP502)
【𝐂𝐎𝐌𝐏𝐀𝐓𝐈𝐁𝐈𝐋𝐈𝐓𝐘】The premium HP102 replacement filter is specially designed for Shark HC452 & HP100 Series Models HP102 Air Purifier, Compare to Part #HE1FKBAS,#HE1FKPET.(Note: Not fit for HP502)
【𝐇𝐈𝐆𝐇-𝐄𝐅𝐅𝐈𝐂𝐈𝐄𝐍𝐂𝐘 𝐇𝐄𝐏𝐀 𝐅𝐈𝐋𝐓𝐄𝐑】The Pre-Filter, Activated Carbon Filter filled with carbon particles and True HEPA Filter work together to reduce 99.98% of airborne particles(based on IEST-RP-CC007.3, 0.1–0.2 microns) and unwanted odors in your living space for improved air quality.
【𝐕𝐀𝐋𝐔𝐀𝐁𝐋𝐄 𝐏𝐀𝐂𝐊𝐒】Package includes 2 Pack high-efficiency HP102 Replacement Filter. Our HP102 replacement filter has been tested before sale, please don't worry to buy.
【𝐄𝐀𝐒𝐘 𝐓𝐎 𝐈𝐍𝐒𝐓𝐀𝐋𝐋】HP102 True HEPA filter size: 7.5"(Diameter) x 7.2"(Height), fully compatible with shark HP102&HC452 Purifier. Easy to replace, no tools required. Simply remove the older and dirty filter and replace the new in your air clean. To ensure your HP102 Air Purifier running at high performance, recommend replacing the HP102 filter every 6-12 months, also depending on your frequency of use.
【𝐁𝐔𝐘 𝐖𝐈𝐓𝐇 𝐂𝐎𝐍𝐅𝐈𝐃𝐄𝐍𝐂𝐄】iSingo has been committed to providing all customers with high-quality and cost-effective air purifier filters, and helping customers build a better living environment. If you have any questions about the HP102 replacement filter, please feel free to contact us, and our after-sales team will provide each customer with satisfactory service.
Bottom line
This is a great smart air purifier that is perfect for kitchens, bedrooms or other small rooms.
SharkNinja shows us they can make more than blenders and air fryers with this high-quality air purifier for small spaces. The build quality is higher than the Levoit Core 300S, so we expect the Shark HP102 to be long-lasting.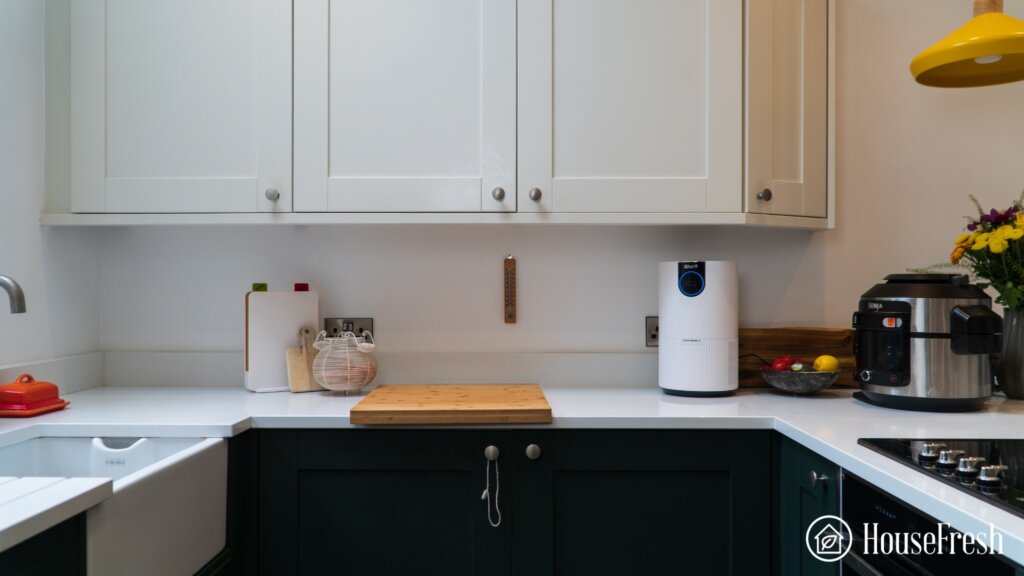 The stand-out feature is the air quality sensor and screen, which helps you see your current indoor air quality.  Overall, I  am impressed with this air purifier and look forward to testing and reviewing the rest of the range. 
SOURCES
We used the Department of Energy's appliance energy calculator to calculate yearly costs associated with running the Shark HP102 24 hours a day for 365 days. We ran this calculation utilizing the U.S. average utility rate of $0.12/kWh as of September 19th, 2023.
At HouseFresh, we have been reviewing air quality products since 2010. In all these years, we learned not to rely on manufacturers' claims and the ever-so-glowing marketing materials. That is why we buy products with our own money, so we can write unbiased reviews after we've had enough time to evaluate air quality products in our home lab. Every unit we recommend has been thoroughly tested to assess its performance, energy consumption, and noise levels emitted in real-life environments. If you have any questions about our testing process for different types of air quality products, just drop us an email at
hello@housefresh.com
.
Last update on 2023-11-30 / Affiliate links / Images from Amazon Product Advertising API