If you've decided you need an air purifier and researched the units available, you're most likely to have come across the Levoit brand. Levoit changed the game when they started engineering units in 2017 and have grown to be one of the biggest air purifier manufacturers on the planet.
Levoit has built a vast of air purifiers to suit an array of different needs and wants, from room size to technology to extra features and with their latest offerings like the EverestAir, they design units to suit modern homes.
The 300S is an upgrade on Levoit's hugely successful 300 to fit in with their Core S (Smart) range (check out our reviews of the Core 200S, 400S and 600S). These units come with a built-in sensor that monitors the air quality in your home in real-time. This data is not only displayed on their control panel but can also be viewed on Levoit's VeSync smartphone app.
But it begs the question, is it worth paying the extra money for the Core 300S over the 300? How does it compare to other air purifiers on the market? Read on to find out.
In our home lab of 728 cubic ft, we light an incense stick to generate particle pollution and VOCs.

We set up our trusted Purpleair Indoor Sensor with the latest Bosch gas sensor to track levels of PM1ug/m3, PM2.5ug/m3 and PM10ug/m3 and VOCs in the air.

We switch the air purifier to its highest speed and measure how long it takes to get our room air quality down to PM1 level to 0.

We use an energy meter to measure precisely how much electricity is used when running the unit at the lowest and highest fan speed settings.

We track sound levels emitted by the air purifier at different fan speeds with the help of a commercial sound meter.

The Core 300S is the unit that sits at my bedside, cleaning the air in my bedroom each night, so let's delve right in to see why I choose this air purifier over the plethora of other units we have at the HouseFresh offices.
The lowdown on the Levoit Core 300S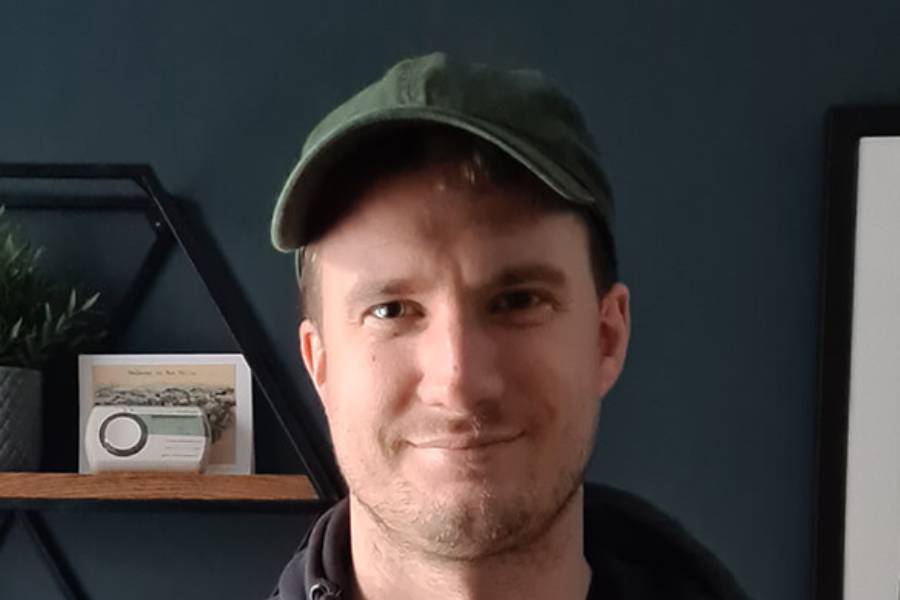 "The Levoit 300S improves on nearly every aspect of the successful Core 300 with its quicker air cleaning, lower energy usage and even new smart features. Whilst still only an air purifier for a small room, this is one of the best small room air purifiers out there."
— Danny Ashton, HouseFresh Founder & Senior Writer
---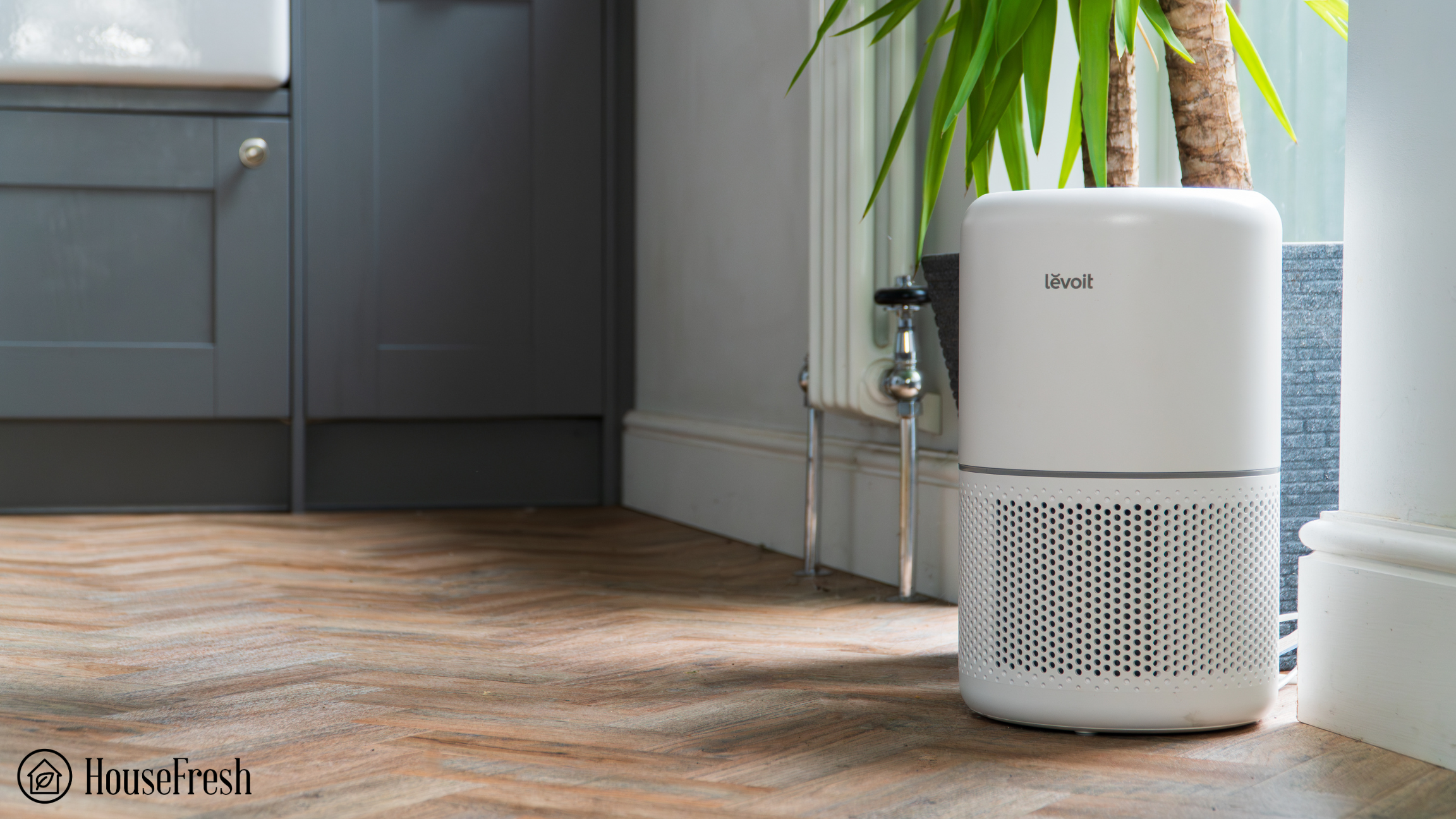 If you don't have time to read the full review, check out what I liked and what I think Levoit could have done better for the 300S.
What we really like
It can be controlled through Levoit's VeSync app
It comes with an auto mode
The bright color wheel air quality display
Levoit's patented 3-stage filtration technology
It is a budget unit with a great CADR
What we think could be better
It would be better if the filter contained more activated carbon
Wish you could remove the pre-filter to clean it
The specifications
For a unit of this size and price, the 300S boasts impressive specifications with a CADR (Clean Air Delivery Rate) of 141 CFM which is a vast improvement when compared to Levoit's older units like the LV-PUR131 (135 CFM) or Vital 100 (130 CFM).
When you compare the Core 300S on paper with the Core 300 (145 CFM), it looks like Levoit has taken away some of its power. But, as this upgrade cleaned the air in our home lab faster than the older version, I can see that they've made the fan and motor more efficient.
| | |
| --- | --- |
| HouseFresh Rating: | ★★★★★ |
| Time to clean our test room: | 39 minutes |
| Air purifier technology: | 3-Stage Filtration (Pre-filter for large particles, main filter for airborne particles, high-efficiency activated carbon filter for odors and gasses) |
| Recommended room size: | 219 sq. ft. |
| Clean air delivery rate (CADR): | 141 CFM (240 m³) |
| Dimensions (in inches / in cm): | 8.7L x 8.7W x 14.2H inches (22L x 22W x 36H cm) |
| Weight (in pounds / in kg): | 5.95 lbs (2.7 kg) |
| Noise level (low – high): | 24 – 48dB |
| Filter life: | 6 – 8 months |
| Manufacturer's warranty | 2 years |
| Estimated energy consumption: | $52.56 |
Basic design, intuitive functionality
Speaking for myself, air purifiers don't just need to perform well; they need to look good in my home, and I don't want to have to read a War and Peace-sized manual to be able to use it.
Luckily, Levoit has engineered the Core 300S to be extremely user-friendly without compromising on design.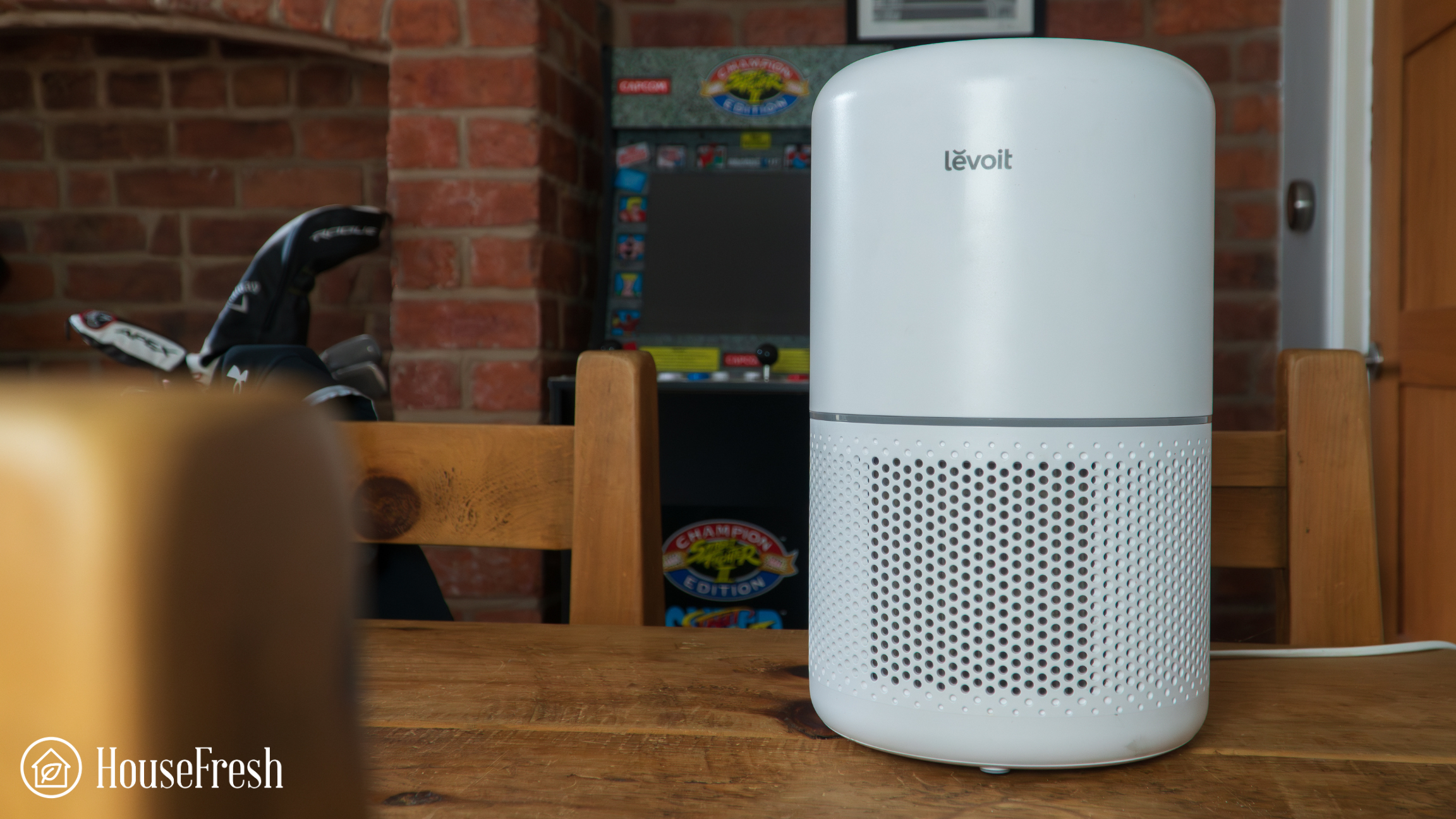 Levoit isn't most well known for their innovative designs like Blueair, but that doesn't mean the 300S looks bad. It's not as basic as the white box units of yesteryear with its cylindrical body and waistband, but it's not going to win any beauty pageants in my eyes.
Weighing in at under 6 lbs, the 300S is light and easy to move between rooms. It's also a great size as it doesn't take up much floor space and could also fit on a tabletop, desk or kitchen side.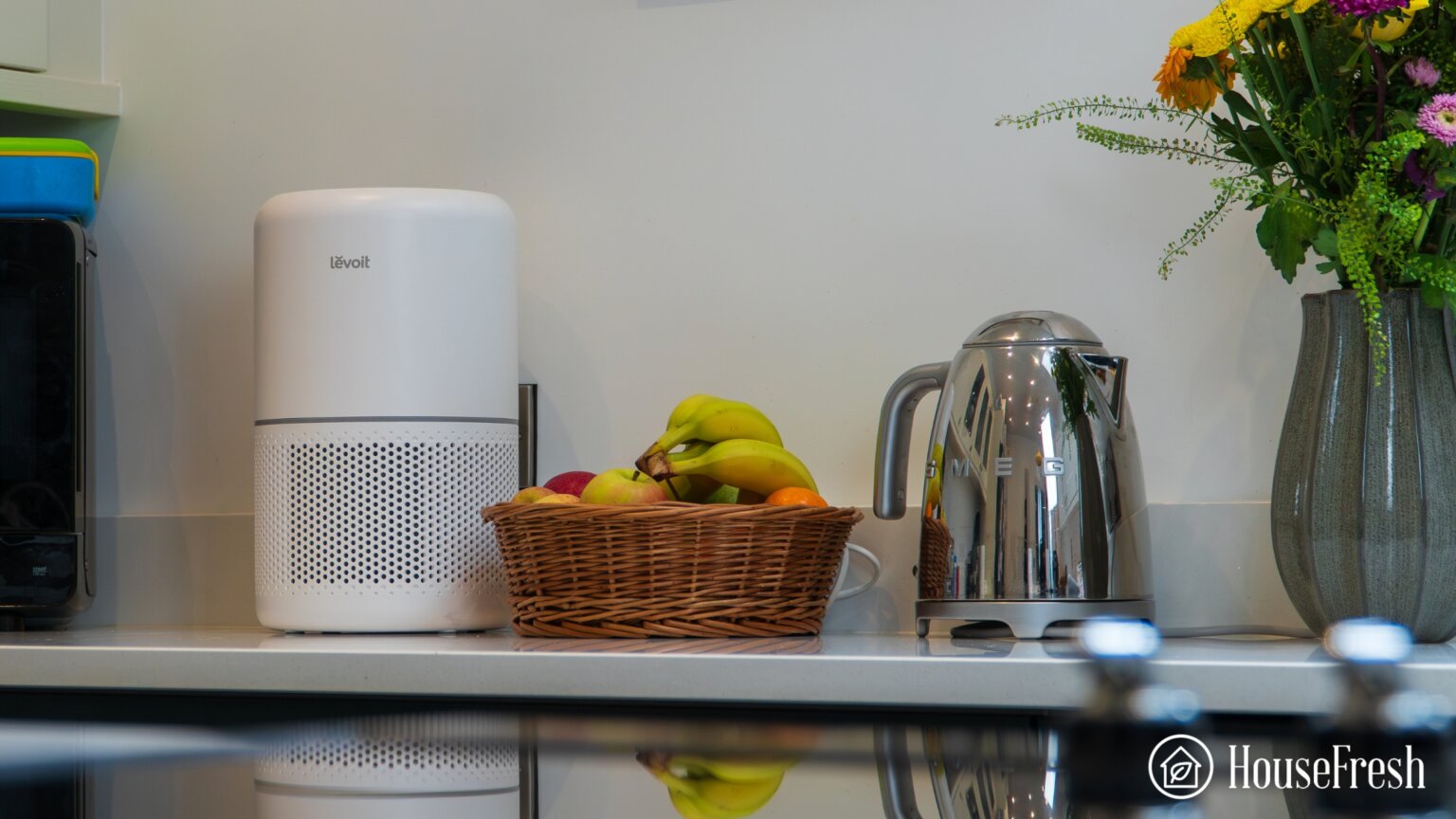 On the back of the unit is where the magic happens. Here, you will find Levoit's AirSight™ Plus air quality sensor. This feature scans the surroundings, detecting how many pollutants are in the air, in real time.
The 300S sends this data to a few different locations so that you receive instant updates on the state of your air. It displays this information on the control panel using an LED color-coded wheel, uses the data to determine fan speed when in auto mode and also sends the data to the VeSync app (I'll get into that in a minute).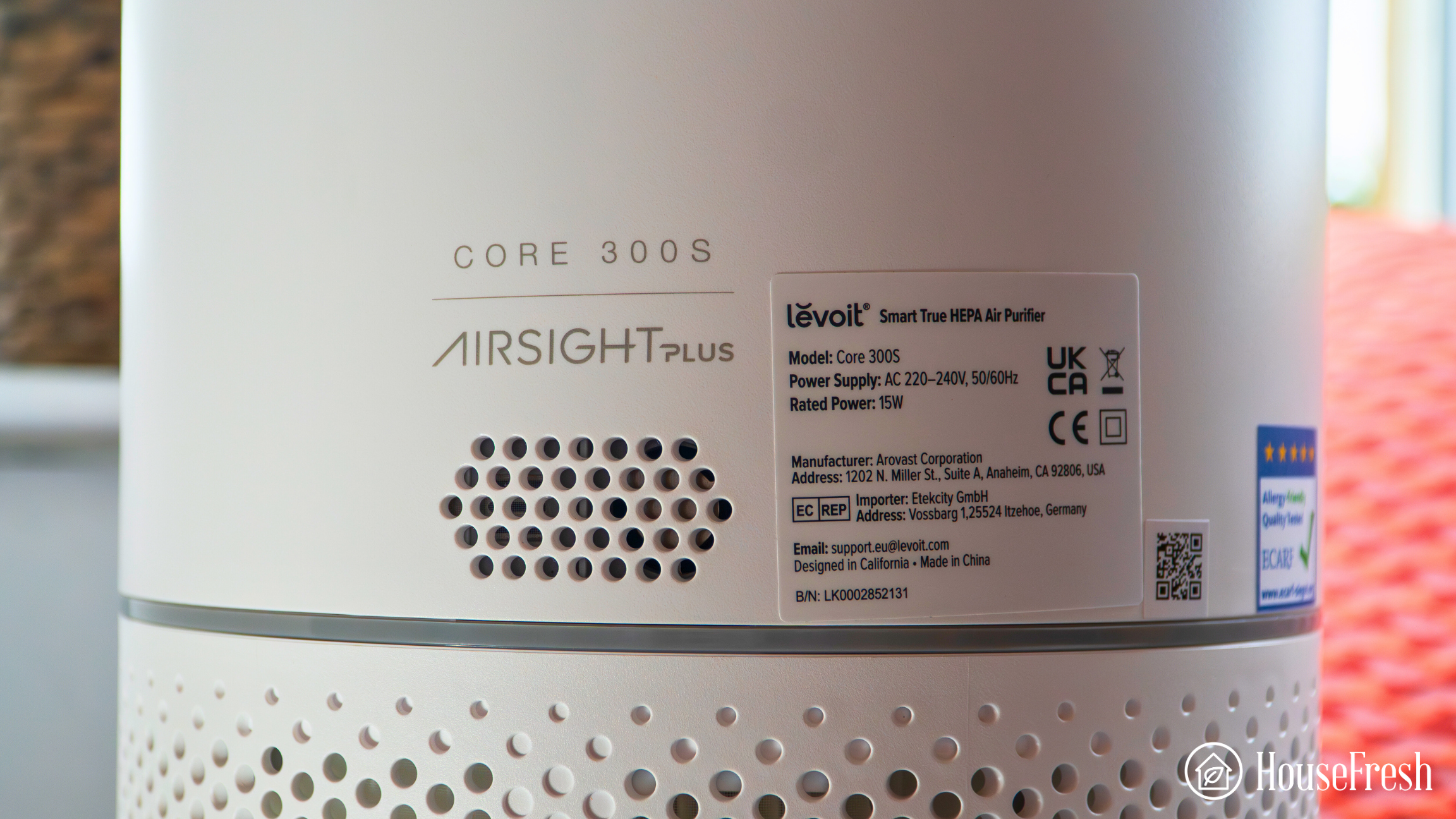 The 300S sits firmly in the "mid-size" category when you put it next to some of the other Levoit units we've tested. As expected, it falls between the 400S and 200S in size, stature and performance.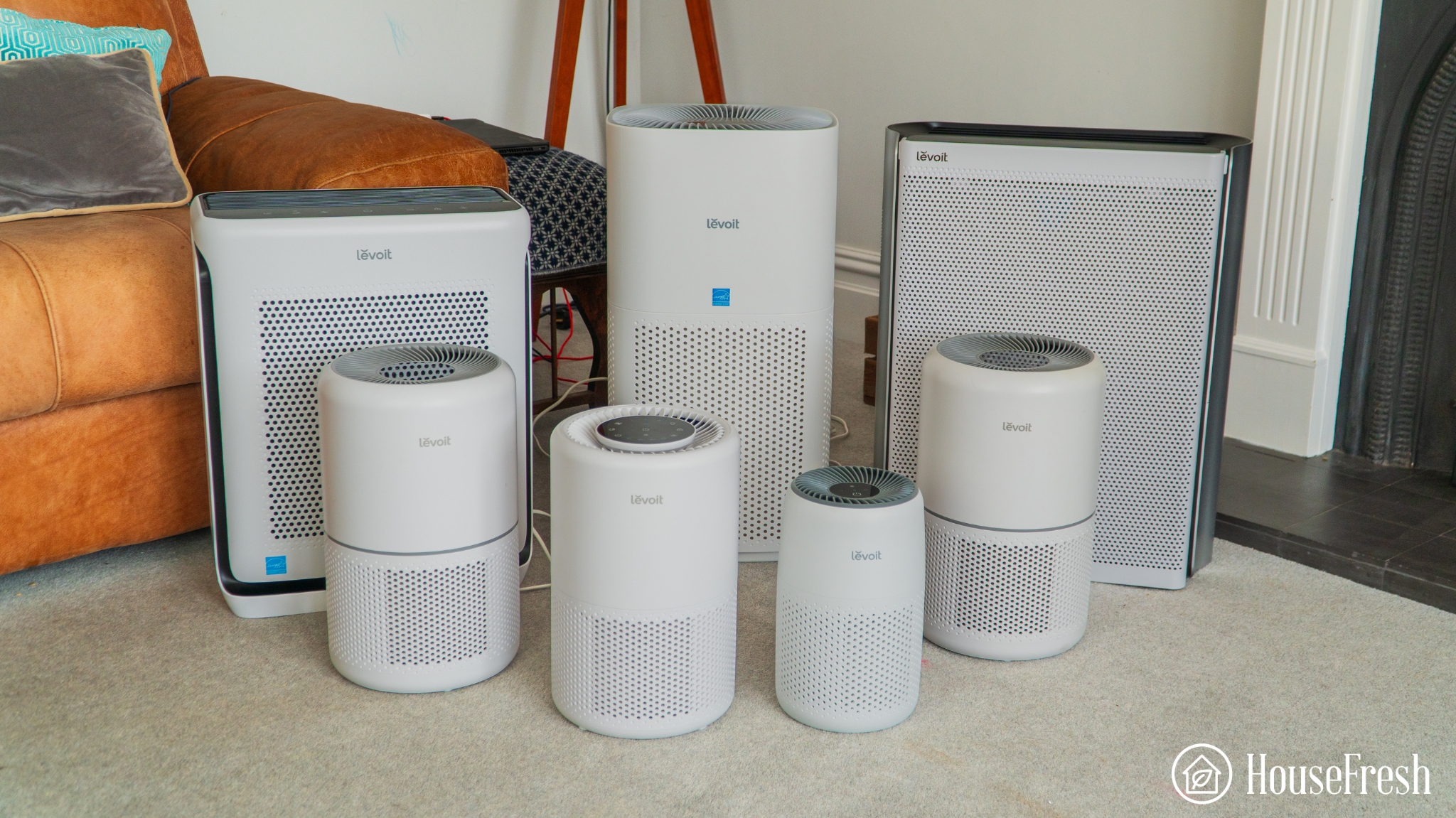 When comparing the 300S side-by-side with the 300, you will see that there is nearly zero difference between them. The only visible difference is on the controls and the addition of the AirSight™ Plus air quality sensor on the back of the 300S.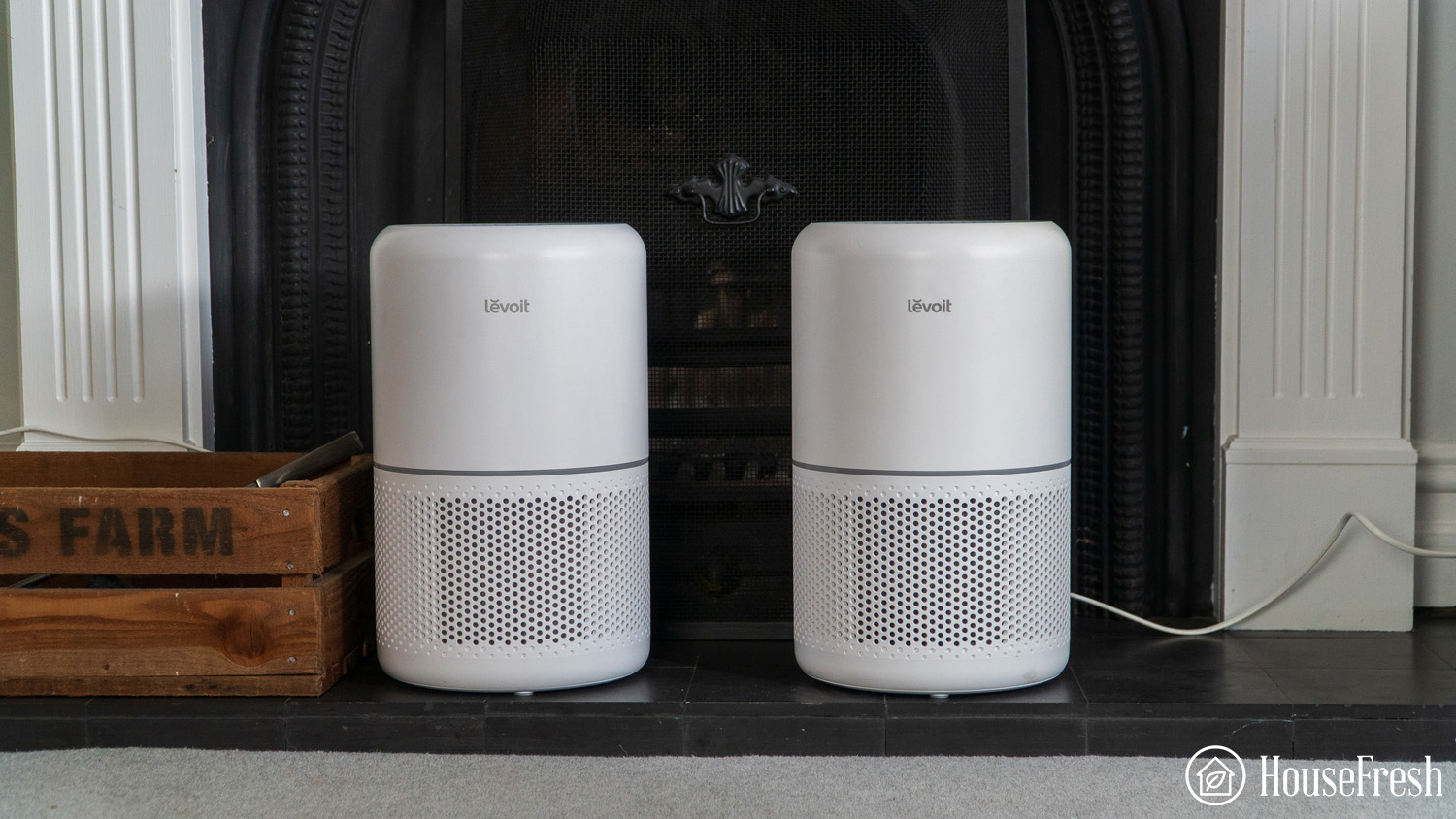 Even if the design of the 300S isn't exactly groundbreaking, the controls make up for it with its easy-to-use and intuitive console.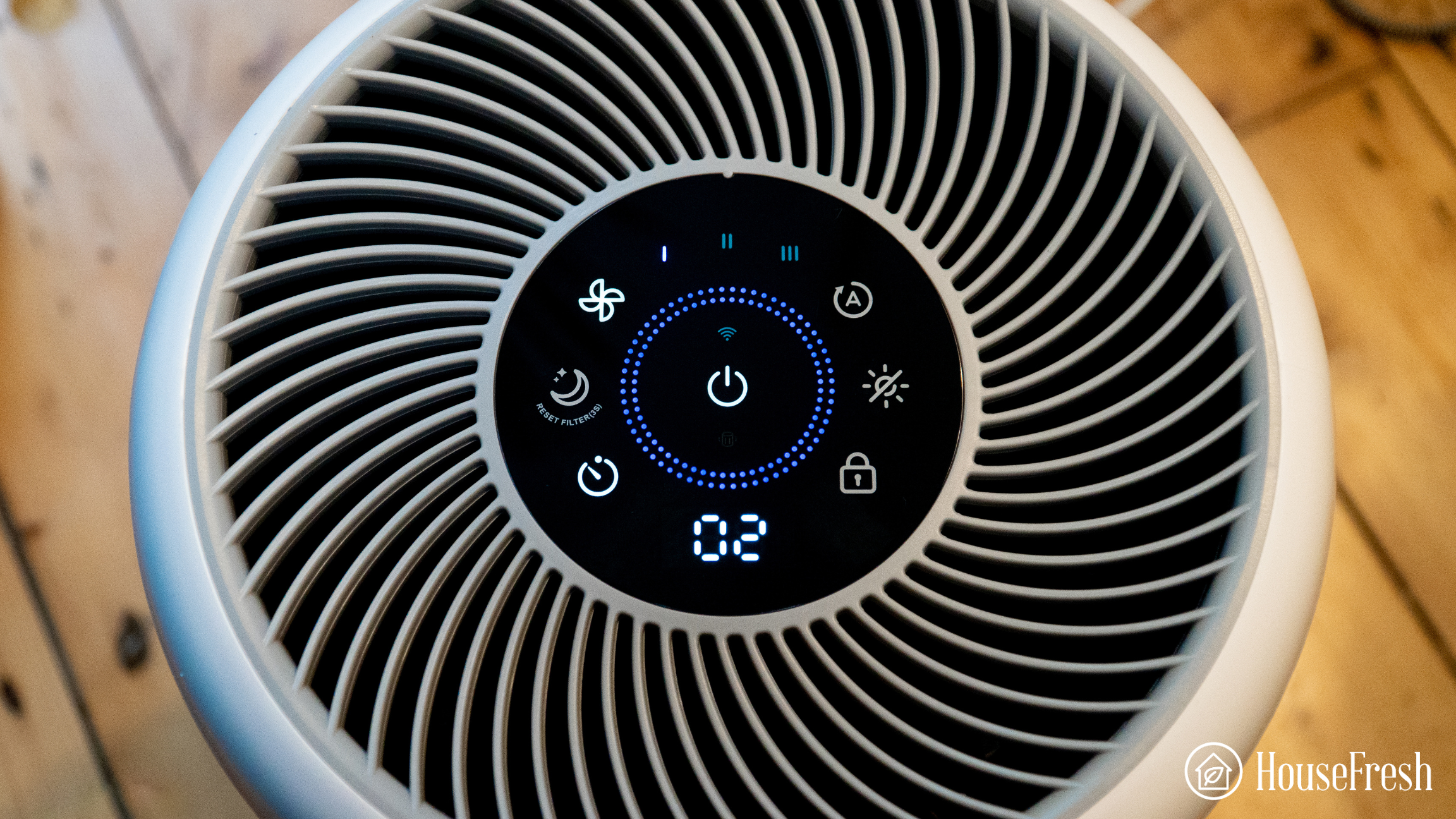 The more features air purifiers have, the more room they need for the buttons to control them. Levoit has an elegant solution to this on the 300S by placing them in a circle on the top center of the unit.
There are minimal button descriptions, but the icons used are pretty self-explanatory. Here are which functions each button controls:
Power
Press once to turn the power on/off.
Press and hold to configure the air purifier and connect to the VeSync app.
Auto Mode
When engaged, this allows the 300S to automatically adjust its fan speed to neutralize the amount of pollutants in the air (perfect for when my cat farts).
Display Lights
You can turn off the display lights if you don't want them distracting you. Ideal for when I'm using auto mode at night.
Display Lock
Pressing the button once locks the display so no settings can be altered. Press and hold for 3 seconds to unlock. Perfect if you have curious kids and/or pets.
Timer
You can set a timer to turn off your 300S for anything from 1-24 hours.
Night Mode/Filter Reset
Pressing the night mode button reduces the fan to its lowest speed and turns off the display lights for undisturbed sleep.
To reset the filter indicator light, press and hold for 3 seconds.
Fan Speed
Cycle through three of the unit's fan speeds.
There are a few more lights you will come across, all packed onto the control panel. On top are the fan speed indicators and the Wi-Fi signal to show that the unit is connected to your app. Below is the filter indicator light, which prompts you to replace the filter with a new one and an LED display to show the timer.
Units in Levoit's 'S' (Smart) range include the ability to connect to their VeSync smartphone app. This allows you to have complete control of your 300S and the capacity to monitor the quality of the air in your home from anywhere in the world.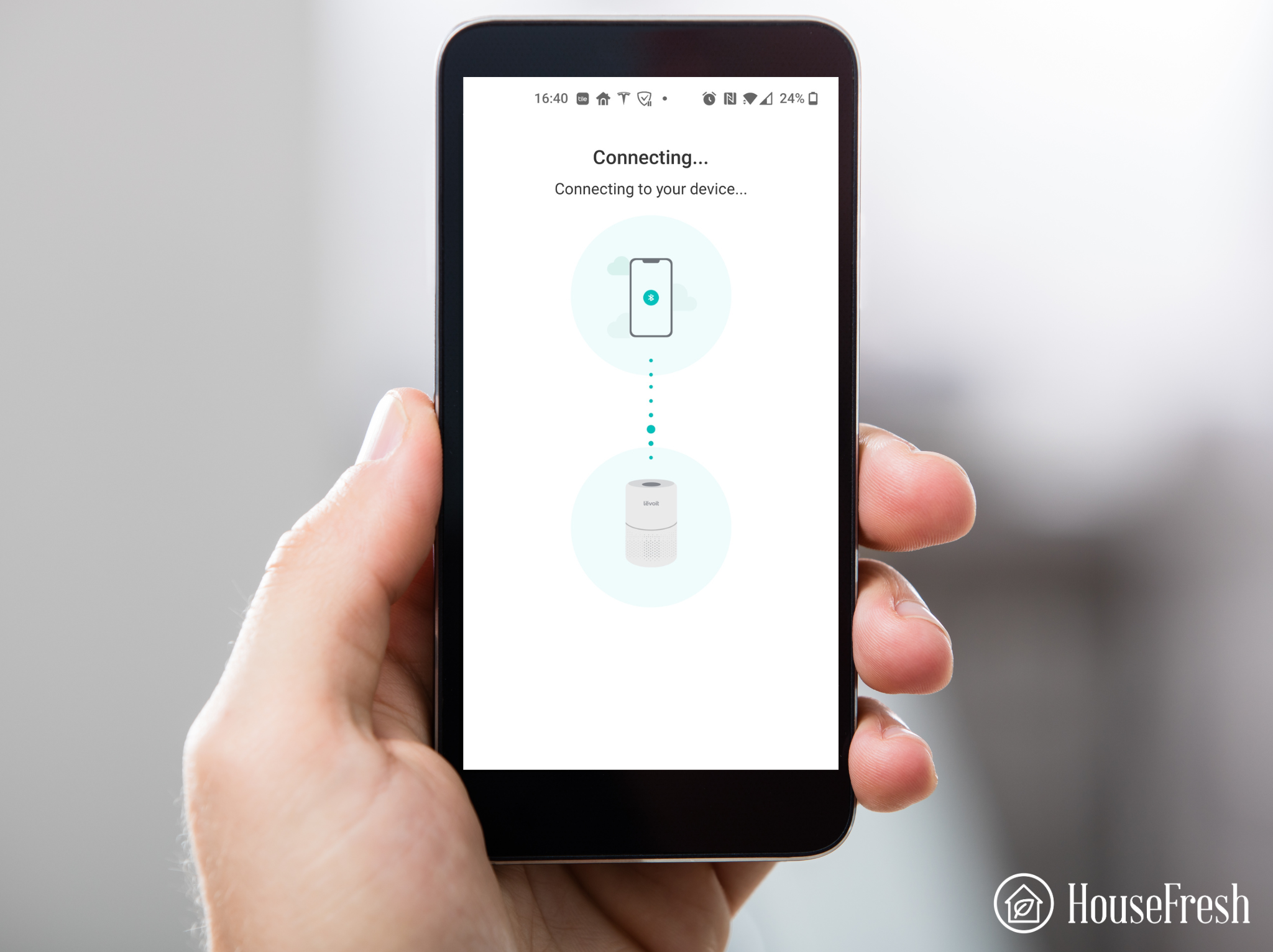 Connecting your device is a straightforward task and doesn't take long. All you need is to have the app downloaded, have a good wifi connection and be next to your air purifier. You can even connect multiple units to control and monitor the air quality in each room.
I use the app all the time to boost the fan speed an hour before I go to bed to make sure the air is clean before my head hits the pillow.
It's very intuitive and easy to navigate. The air quality is displayed on the screen with buttons to control fan speeds, engage Auto or Sleep modes, and set a timer or schedule when you want the air purifier to power on and off.
When you delve deeper into the app, you will discover more settings to adjust, see the percentage left of your filter's lifespan and even set up voice commands if you have an Alexa or Google device.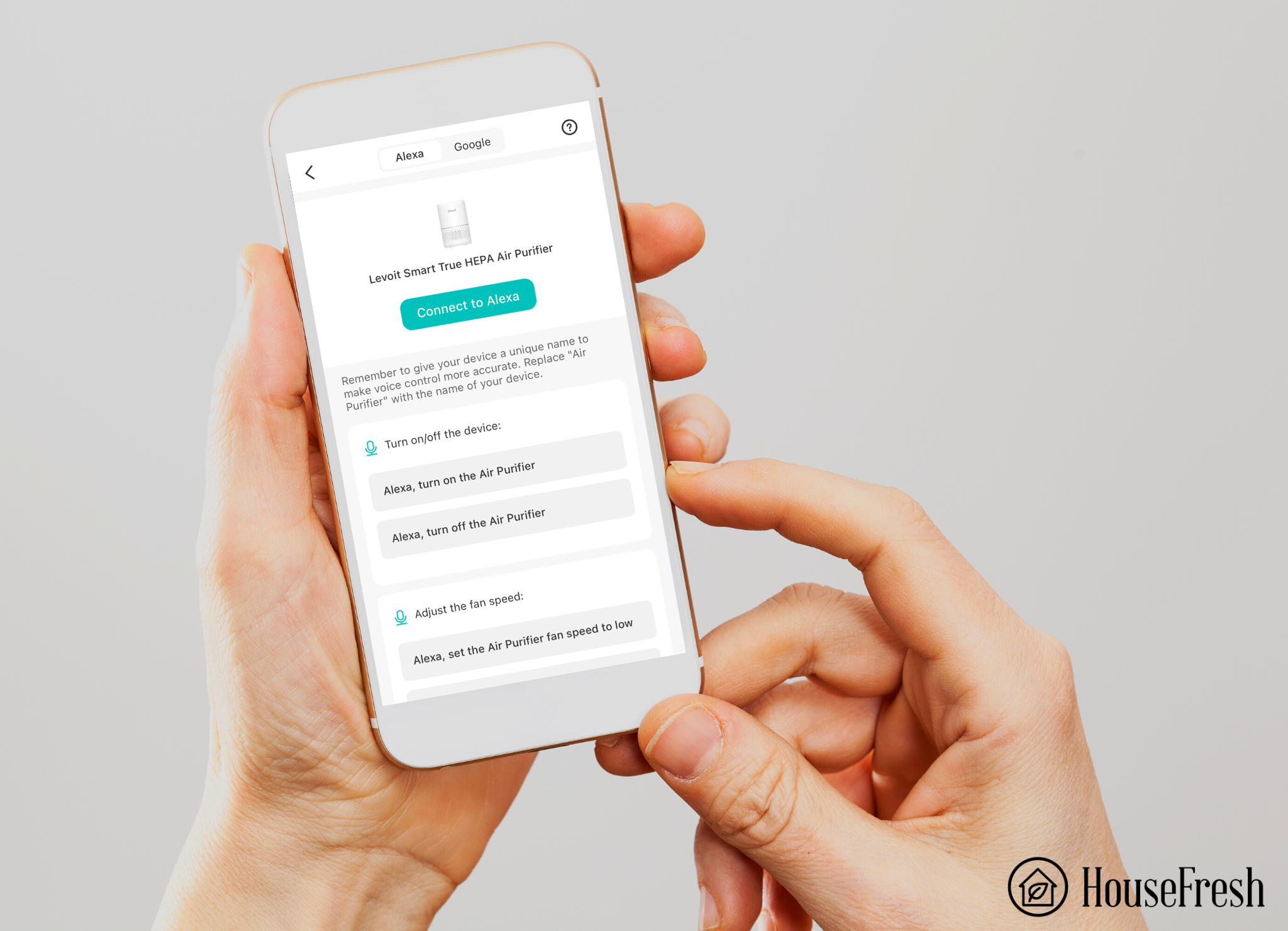 Here's what happened when I subjected my 300S to a burst of airborne pollutants at close range.
3-stage air filtration with activated carbon
Levoit prides itself on the quality of its filters, and so it should, as we've never had any issues with them and found them to be extremely effective at removing harmful particles from the air. But a certain disruption has meant Levoit has had to make a few changes to their marketing materials.
Before I get into all that, let's talk about the filter itself.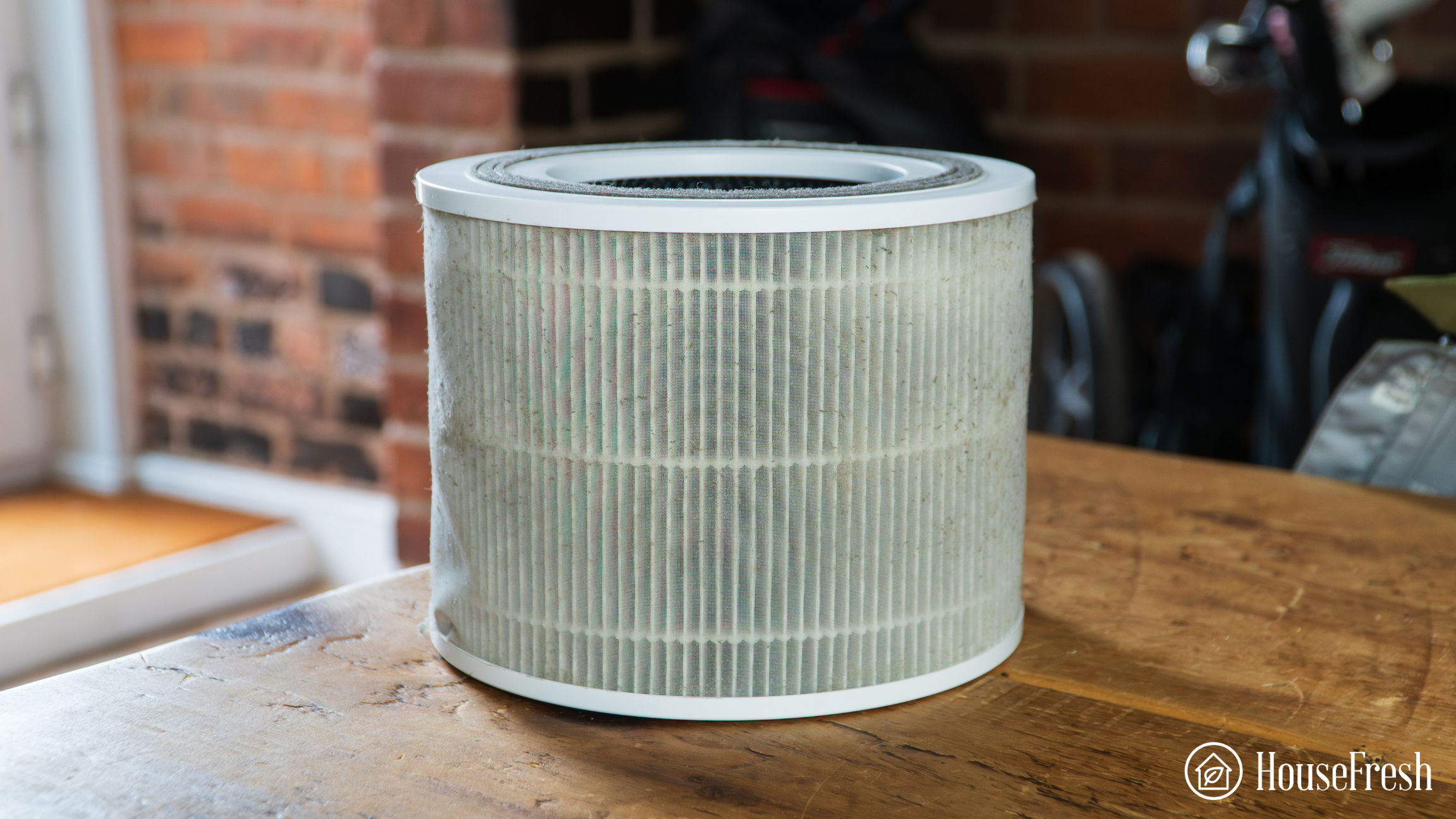 Inside the Core 300S, you'll find Levoit's trademark 3-stage filtration system:
🌪️ Pre Filter – This is the first line of defense by trapping larger particles like dust and dander from the air by capturing them in its fabric material. By removing these contaminants here, it prolongs the life of the main filter.
As this stage is on the exterior of the filter, you can remove the pollutants using a cloth or vacuum.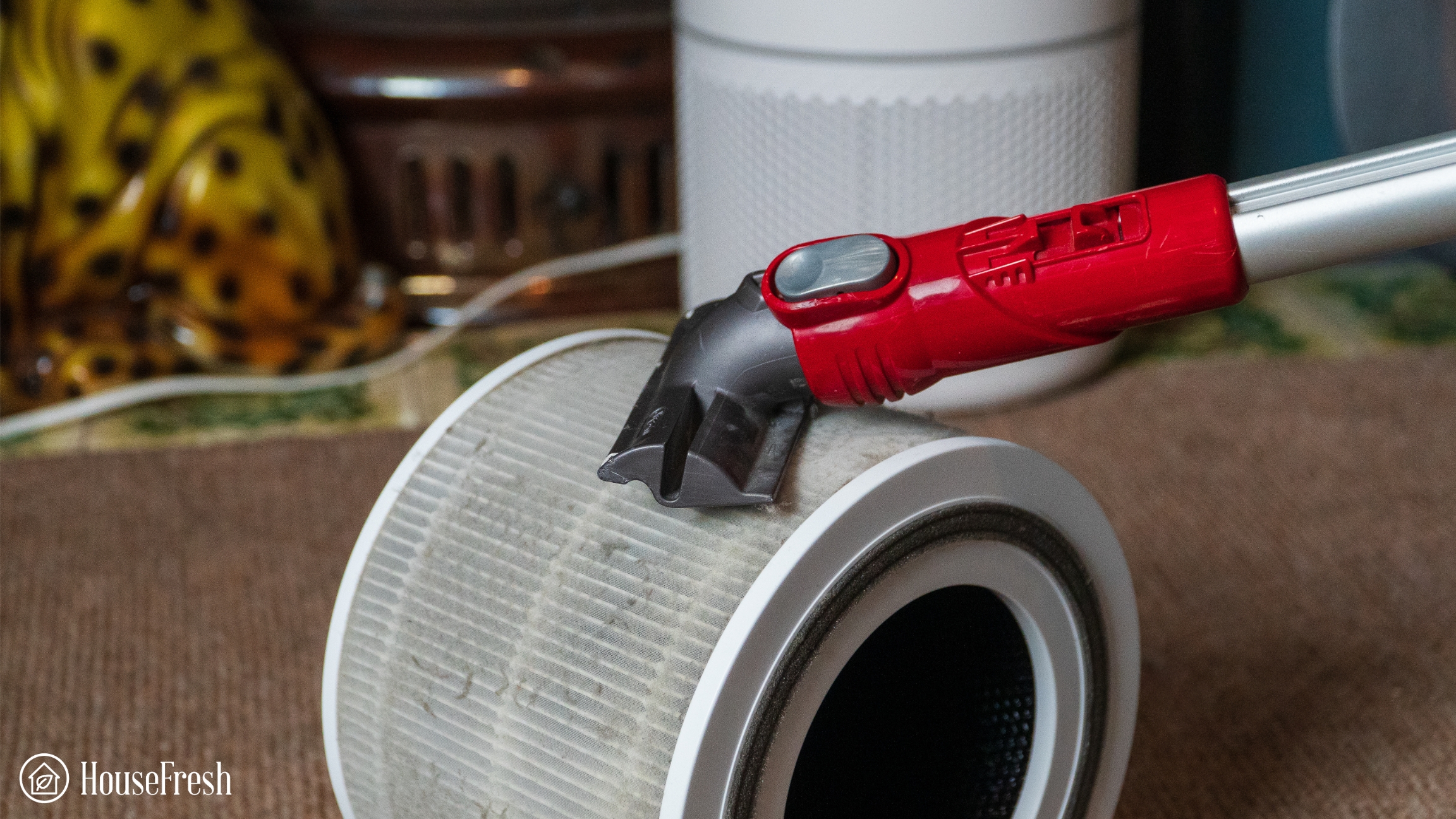 👃 ARC Formula™ Activated Carbon Filter – This is made up of lots of small pieces of activated carbon that remove VOCs (Volatile Organic Compounds) and odors from the air using a process called adsorption. When these harmful pollutants hit the activated carbon they become stuck to it, unable to pass through.
🦠 Main Filter – This is where the magic happens. The main filter comprises of a tightly woven maze of fibers that trap microscopic particles (I always think of a fly trapped in a spider's web), removing them from the air.
😲 Don't mention the 'H' word – In August 15, 2023, Dyson contacted the National Advertising Division, stating that the branding of Levoit's filters was misleading by classifying them as HEPA.

In response to this challenge, VeSync (Levoit's parent company) "asserted its belief in the efficiency of its products" and promised to update its testing data.

In the meantime, Levoit has removed all traces of the word HEPA from their branding, packaging and promotional material.
Even with this new information coming to light, through our own performance testing, I found the filter in the 300S to be highly efficient for its size…the numbers speak for themselves.
Keep reading to see our cleaning performance results.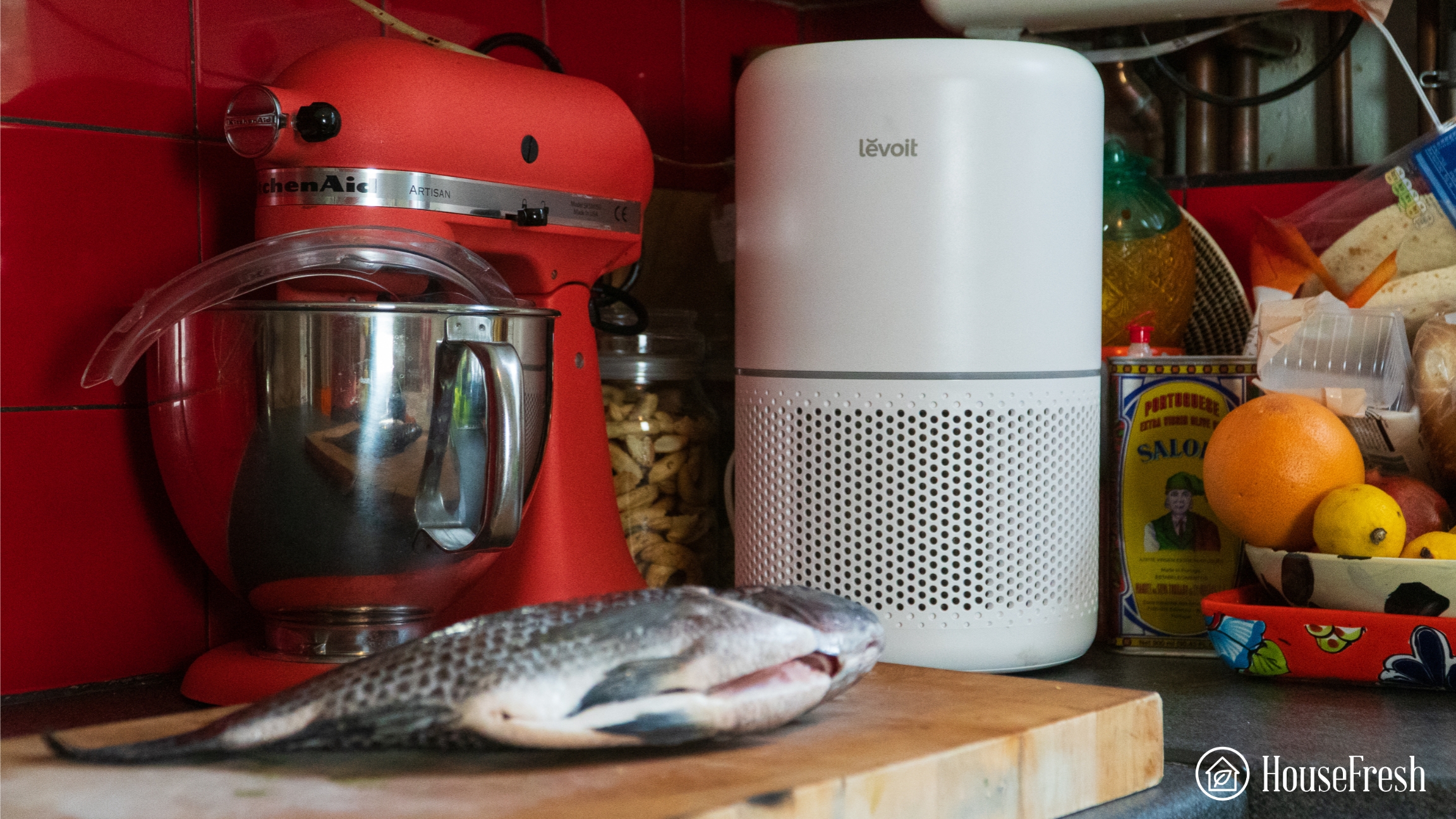 When the time comes, it's extremely simple to replace the filter in the 300S with a new one.
As I mentioned, you can check the remaining lifespan of your filter in the VeSync app but don't worry if you don't have access to that, as a red warning light will appear on your control panel when the filter needs to be replaced.
Follow this painless process to replace the filter on your 300S:
Unplug your Core 300S
Turn the unit upside down and twist off the cap anti-clockwise
Pull out the filter and replace it with the new one
Twist the cap back on clockwise
Check out the process in my instructional video.
Tip
Levoit filters will arrive wrapped in plastic packaging, so it's paramount that you remove all of this before inserting the new filter into your 300S. If you don't, the filter simply won't work, and you'll probably start to notice an unpleasant burning smell coming from your air purifier.
The Core 300S cleared our home lab in 39 minutes
Now comes the fun part. Putting the 300S through its paces to see how well it performs in our HouseFresh home lab.
Our home lab is a 705 cubic ft office where we light an incense stick to fill with simulated contaminants. Once the room is thick with smoke, we turn on the Core 300S at its highest fan speed and wait for it to clear all the pollution from the room.
We test all the air purifiers in the same lab not only to see how each unit performs individually, but so that we can compare the data against other air purifiers we review.
Using our indoor sensor from Purpleair, we monitor the whole process and collect air quality data in real-time. Once the room is clear, we put all the data we've collected in a graph to visualize the cleaning performance of the 300S.
Here are the results:
Air cleaning performance test results
The 300S cleared our room of contaminants in 39 minutes, making it one minute faster than the original Core 300 (40 minutes). This may not be much, but one minute can make all the difference.
The Core 300S is a small air purifier so I wasn't expecting results to match units like Levoit's EverestAir (13 minutes) or the Blast Mini from Smart Air (17 minutes) but as it's an air purifier from Levoit, I was expecting it to be more powerful than other air purifiers similar in size.
It didn't let me down, boasting a faster time than the Blueair Blue Pure 411+ (43 minutes), Medify MA-25 (43 minutes) and the Okaysou AirMax 10L (44 minutes).
Noise levels test results
All air purifiers make noise; whether it be the fan spinning or the motor running it, the sound is unavoidable. But some are noisier than others. As we don't rely on manufacturer data, Danny (Founder & Senior Writer) and I measure the decibel level of every unit we review at their highest and lowest fan speeds.

The 300S emits 24 dB at its lowest fan speed (quieter than a whisper) to 48 dB at its highest (noticeable but quieter than a conversation).
When you compare it to other similar size units, you'll see that it's on par. While it may not be able to match the Blueair Blue Pure 411+ (17-46 dB) with its HEPASilent™ technology, it's over 10 dB quieter than the Medify MA-25 (35-52 dB) on its lowest fan speed.
Noise is subjective, so we video each unit we test to give you a good idea of how much sound it makes. Here's the noise the 300S makes at each fan speed.
The cost to run a Core 300S: $104.54 per year
1. Electricity costs = $52.56 per year
Air purifiers need electricity to run, so the amount of energy it uses should be high on your list of considerations when looking to buy one. As the cost of energy continues to rise, finding an energy-efficient air purifier is more important than ever, especially as it's recommended you run your unit 24 hours a day.
Is the 300S is highly energy-efficient as it pulls only 26 watts at its highest fan speed. Unless you're living in a consistently highly polluted area, you won't need to have it at this level all the time, so the cost will most likely be lower.
2. Filter costs = $51.98 per year
As filters trap particles from the air, they become full over time because those particles have nowhere to go. Most air purifiers use filters that need replacing when full, so it's important to factor the cost of replacing them into your budget.
Genuine Levoit filter replacements cost around $25.99 for the original and $35.99 for the higher-spec filters (which we highly recommend over the original filter). As each filter lasts from 6-8 months (depending on usage), you should budget for two a year.
Technology
H13 (Medical) Grade HEPA and Activated Charcoal
3-in-1 HEPA, High-Efficiency Activated Carbon
3-in-1 HEPA, High-Efficiency Activated Carbon
4-in-1 HEPA, High-Efficiency Activated Carbon
3-in-1 HEPA, High-Efficiency Activated Carbon
---
Bottom Line
The Core 300S is a worthwhile upgrade on the Core 300 and an ideal unit for mid-sized rooms that can be used in your bedroom, kitchen, bathroom or home office.
As I mentioned above, the 300S is currently sitting at my bedside, cleaning the air, ready for me to get a great night's sleep. I use the 300S over the mountain of other units we have at HouseFresh HQ for several reasons.
📏 Size – It doesn't take up much of my precious floor space.
📱 VeSync app – I can monitor my air quality and control the fan so the air is free of dust, dander and other pollutants in my bedroom.
🎷 Noise – It's so quiet at low fan speeds, so it doesn't disturb my sleep.
🐱 Auto Mode – My 300S stays on auto mode the majority of the time and it really does work. The sensor detects pollutants as soon as they come (like my cat farting) and reacts instantly by changing the fan speed to counteract them.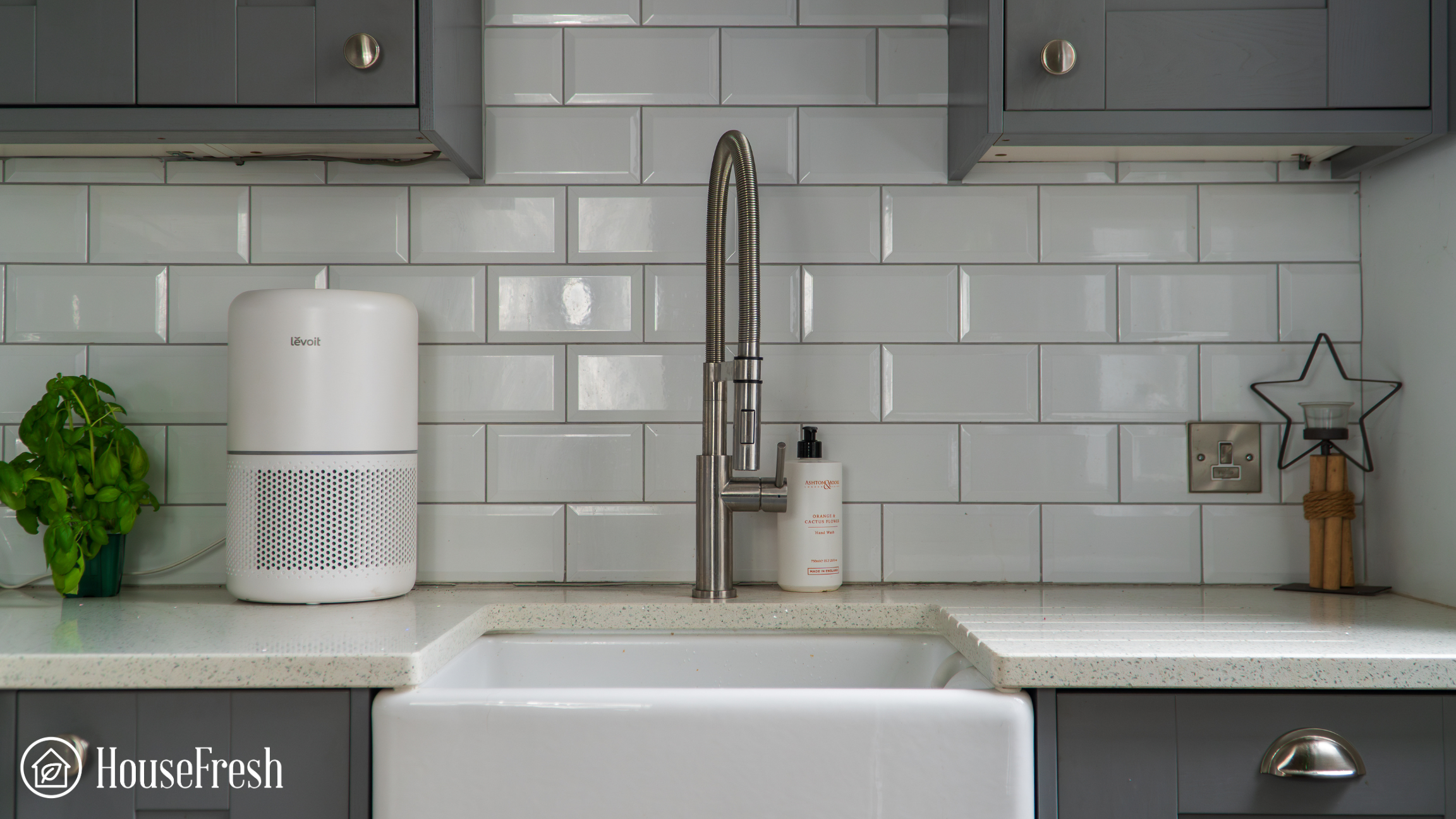 The Core 300S is small, smart and highly efficient at removing harmful pollutants from your home. There's a reason we include it in many of our 'Best Air purifier' guides.
If you can stretch your budget or have a larger room to clean, Levoit have more units in their range. I would look at the 400S, 600S or the EverestAir that all performed impressively in our performance tests.
If you're looking for a similar-sized unit but a little more…stylish, I recommend the Smart Air S or Shark's HP102.
SOURCES
We calculated energy consumption costs with the help of the Department of Energy's appliance energy calculator. We calculated yearly costs associated with running Levoit Core 300S for 24hs a day for 365 days. We ran this calculation utilizing the U.S. average utility rate of $0.12/kWh as of October 31st, 2023.
At HouseFresh, we have been reviewing air quality products since 2010. In all these years, we learned not to rely on manufacturers' claims and the ever-so-glowing marketing materials. That is why we buy products with our own money, so we can write unbiased reviews after we've had enough time to evaluate air quality products in our home lab. Every unit we recommend has been thoroughly tested to assess its performance, energy consumption, and noise levels emitted in real-life environments. If you have any questions about our testing process for different types of air quality products, just drop us an email at
hello@housefresh.com
.
Last update on 2023-11-30 / Affiliate links / Images from Amazon Product Advertising API