Our verdict:
The guys at Smart Air promise a lot with the Smart Air S, and they really deliver. We believe this is one of the best budget air purifiers available in 2023. 
It provides significant CADR power per $ and with its efficiency and fairly priced filters, it will save you a ton of money after just a few years of usage. 
Starting in 2013, they may not have the marketing polish that you see with Alen, IQAir, or Blueair, but they have what matters when it comes to cleaning the air in your home. 
It's got no smart or auto mode and only 3 power options but it can clean air much more economically than any of its rivals thanks to its use of an H12 filter and efficient fan.
Smart Air, the creators of the Smart Air S (or The Sqair Air Purifier, as it's known in the UK), has an interesting backstory. Back in 2013, the founder Thomas was working on his PhD in Beijing and affected by the terrible outdoor pollution, he looked into the air purifier market to see what was available. He was shocked by the price of air purifiers, so he decided to create his own DIY purifier that could clean the air using just a fan and a filter.
Realizing the potential, Thomas got together with some friends to start his own company which focuses on no-nonsense, affordable air purifiers. Since then they have developed a number of units that aim to perform well without the high price that most competitive air purifiers come with.
This Smart Air S air purifier is fairly new to the market and was made available to buy in the US in 2020 but has recently become available on Amazon.
Why You Can Trust This Review

As with every air purifier we test here at HouseFresh, we bought it with our own money to avoid any potential biases that could occur when accepting products to review.

Our ultimate goal is to show you exactly what is good and what is bad about this air purifier so you can choose the right one for your specific needs. That is why we also make a point of comparing each unit we test against its competitors, but we couldn't do it without testing each product in our own home performing the same job.

Here's how we tested the Smart Air S:

1️⃣ First, we tested its air cleaning performance by running the Smart Air S at its top speed inside of our 705 cubic ft. test room, which was previously filled with thick incense smoke. With the help of an air quality monitor, we tracked the perfomance of the Smart Air S in real time as PM1.0ug/m3, PM2.5ug/m3 and PM10.0 ug/m3 levels decreased.

2️⃣ Next stop is the energy consumption test, where we recorded energy usage in watts when running the Smart Air S at its lowest and at its highest speeds.

3️⃣ Lastly, we performed a noise levels test, using a sound level monitor to track noise levels in decibels emitted by the Smart Air S when working at its top and bottom speeds.

This review was written AFTER we conducted all these tests. You can rest assured we didn't just grab some numbers off an Amazon listing or the Smart Air's website like most other review sites would.
Right, enough with the intro.
TL;DR The Low Down on the Smart Air S
---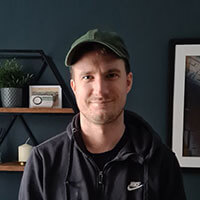 "For those wanting to clean the air in their home on a budget, the Smart Air S is up there with the Levoit 400S and the TaoTronics AP003."

— Danny Ashton, Founder & Senior Writer
---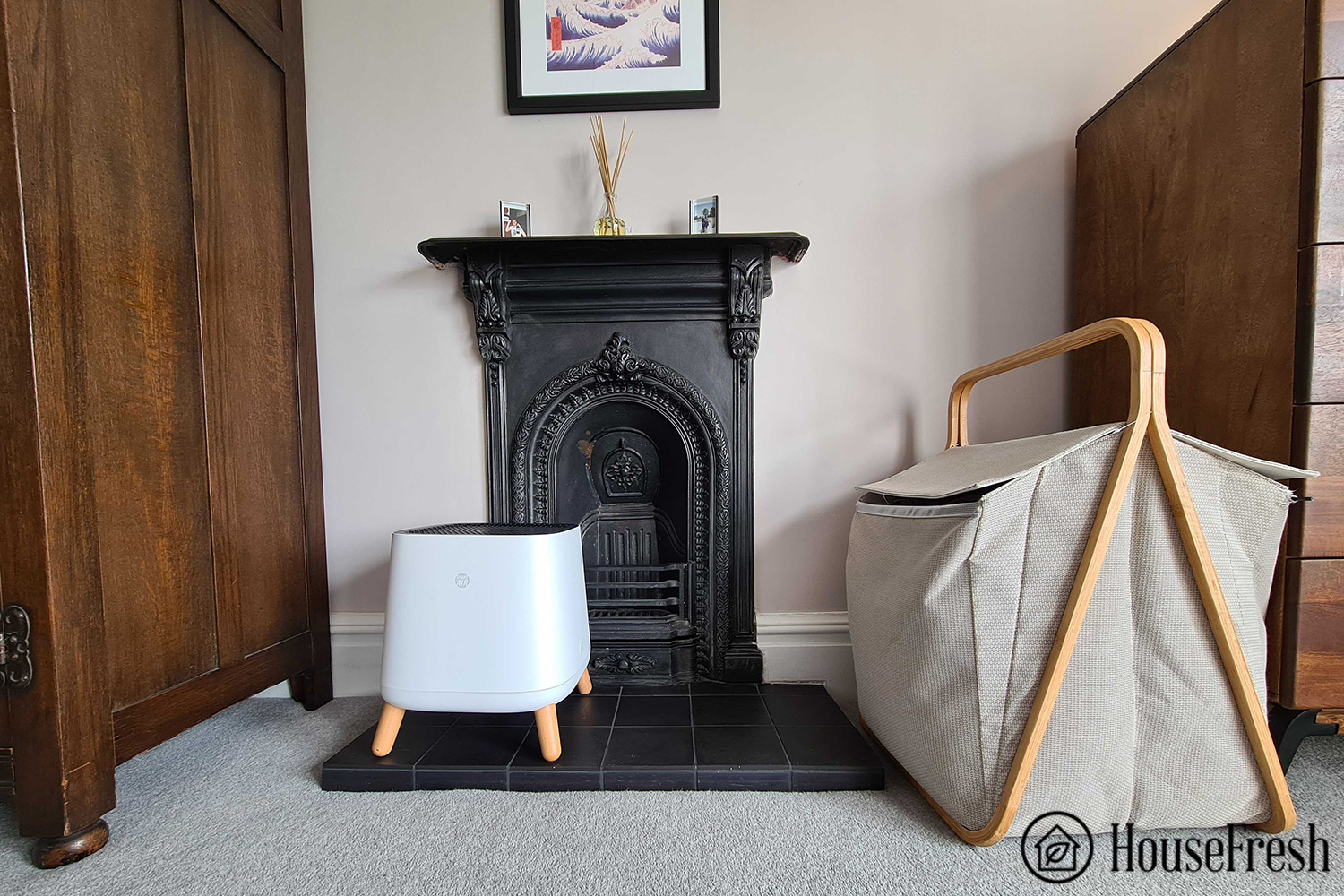 So you're a skimmer. Who needs to read the whole thing when we've made a nice light pros and cons section for you to peruse, right? Right.
What We Really Like:
👍 The position they take: other air purifier manufacturers have been selling overpriced machines for years
👍 A CADR of 185 CFM for a very fair price that competes well with other good budget brands like the Levoit Core series
👍 I like that it's pure HEPA and doesn't have an ionizer
👍 The long-term cost savings are great for both electricity usage and filter replacements
👍 Looks good from an interior design perspective
What We Think Could Be Better:
👎 No auto function, which is common in similarly priced units like the Levoit 400S
👎 No timer function
👎 I have read that they used to have some issues with customer support in the U.S. but that should now be less of an issue as they now sell through Amazon.com
The Specifications
This particular model is their mid-range unit costing $179* but with a CADR of 315 m3/h or 185 CFM which is similar to that of the Honeywell HPA200 (200 CFM) and Levoit Core 400S (250CFM.)
| | |
| --- | --- |
| HouseFresh Rating: | ★★★★☆ |
| Time to clean our test room: | 29 minutes |
| Air purifier technology: | H12 HEPA and optional activated charcoal filter (option for H13 but has reduced airflow) |
| Recommended room size: | 430 sq. ft. |
| Clean air delivery rate (CADR): | 185 CFM (315 m³/h) |
| Dimensions (in inches / in cm): | 13H x 13W x 14.3D inches (33.02H x 33.02W x 36.32D cm) |
| Weight (in pounds / in kg): | 10.1 lbs (4.58 kg) |
| Noise level (low – high): | 23dB – 52dB |
| Filter life: | 6 months (Bejing) but 9-12 months (USA) |
| Manufacturer's warranty | 1 year |
| Estimated energy consumption: | $45.20 per year |
Elegant Design That Adds Style to Your Space
"Oh wow… This one is cute!"
That was the first thing my wife said when I showed her this unit.
She is not normally so positive about the many air purifiers I bring to our home, so this was a good sign.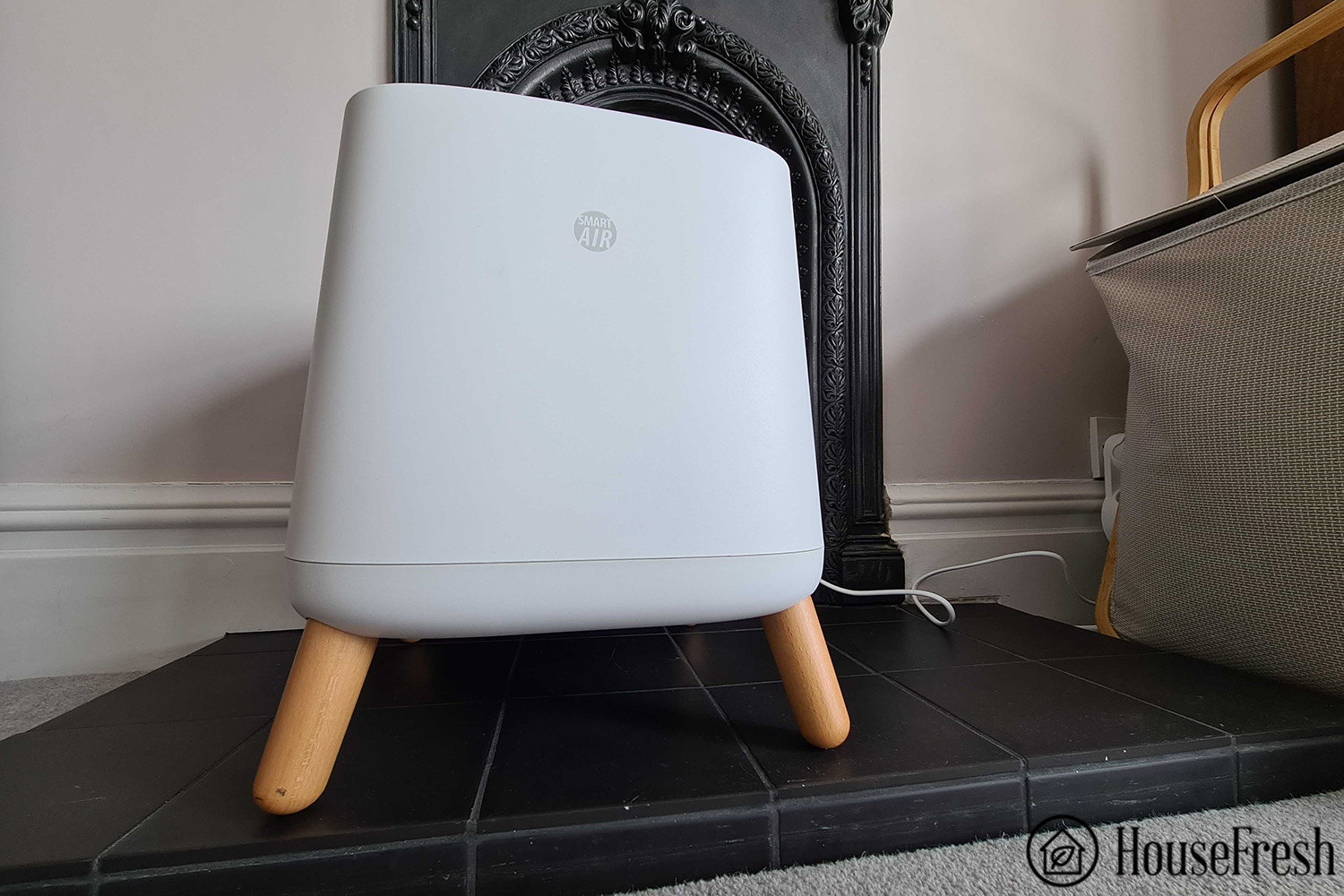 And I must say, it's one of the better-looking units on the market as it doesn't look too industrial. Due to its fairly small size, it doesn't take up too much space and could easily fit in with a well-designed trendy living room.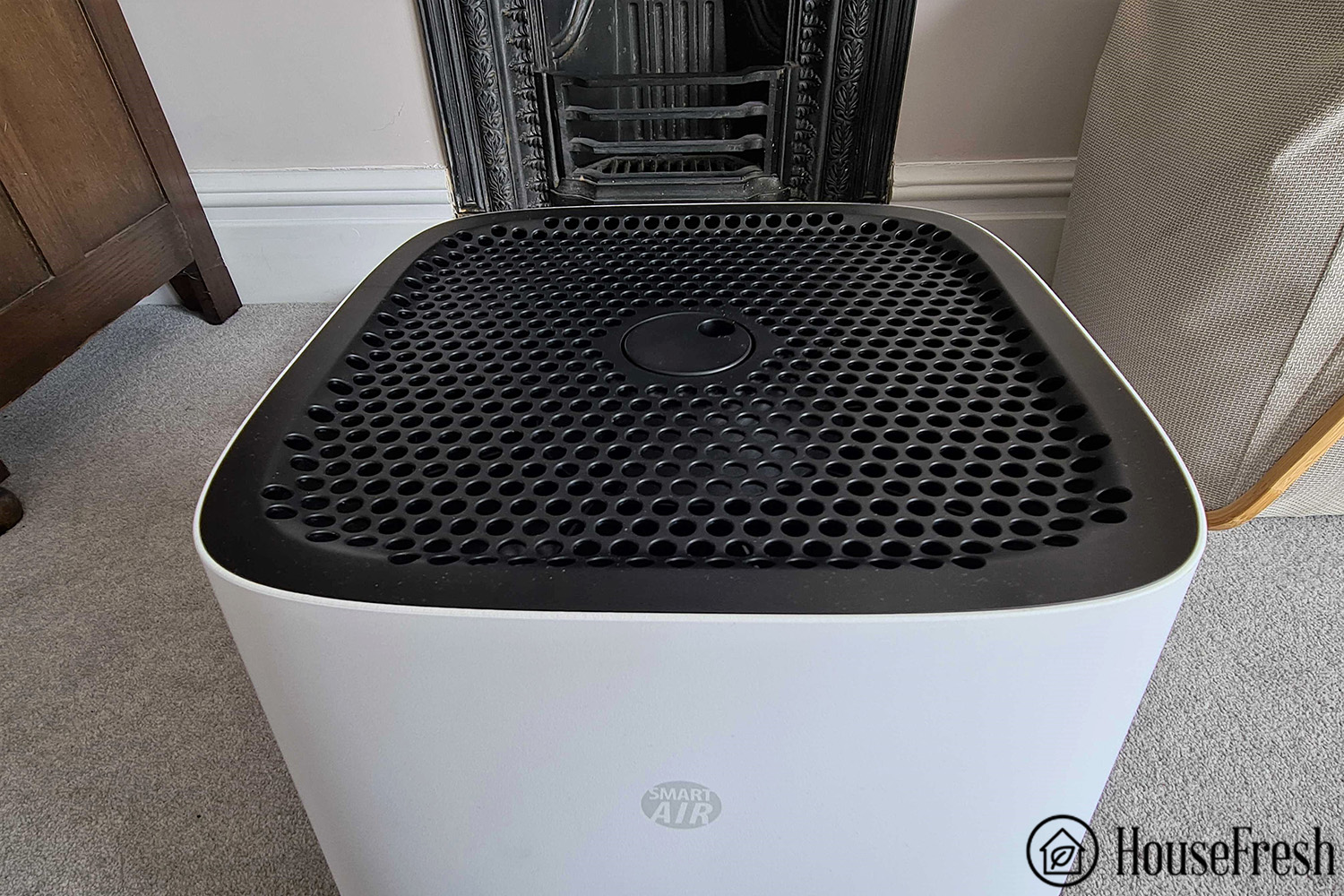 I placed it next to a very popular model we have with a similar spec sheet to the Smart Air S, the Levoit LV-PUR131 to take in the difference in design.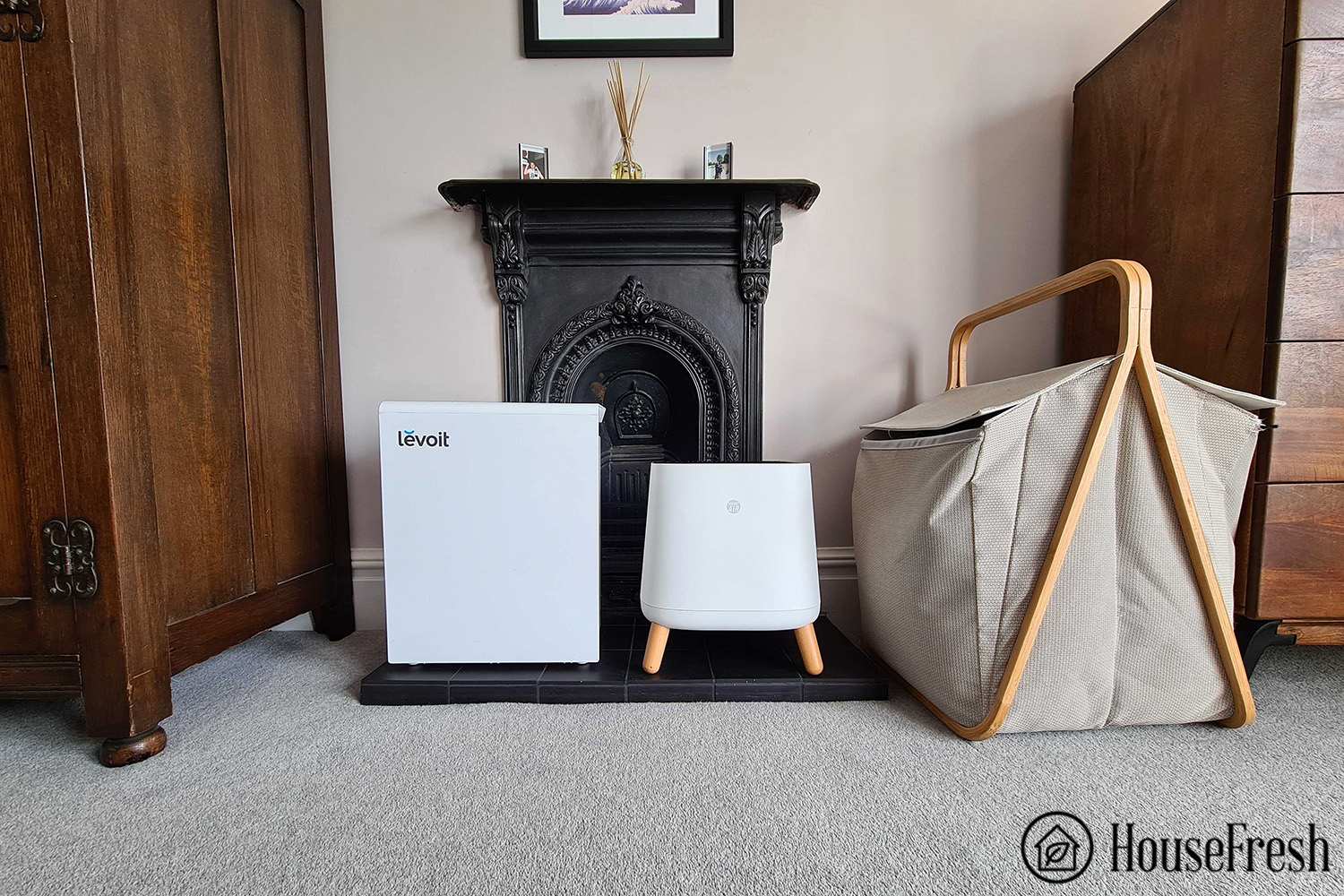 Undoubtedly, this little unit looks a hell of a lot better than your "normal" air purifier. Its cute, fat body and Beachwood legs blend into the room instead of looking like something you would find in a science lab.
Simple Unboxing
The Smart Air S air purifier comes in a fairly small box and is well-packaged with the power supply unit sitting on top.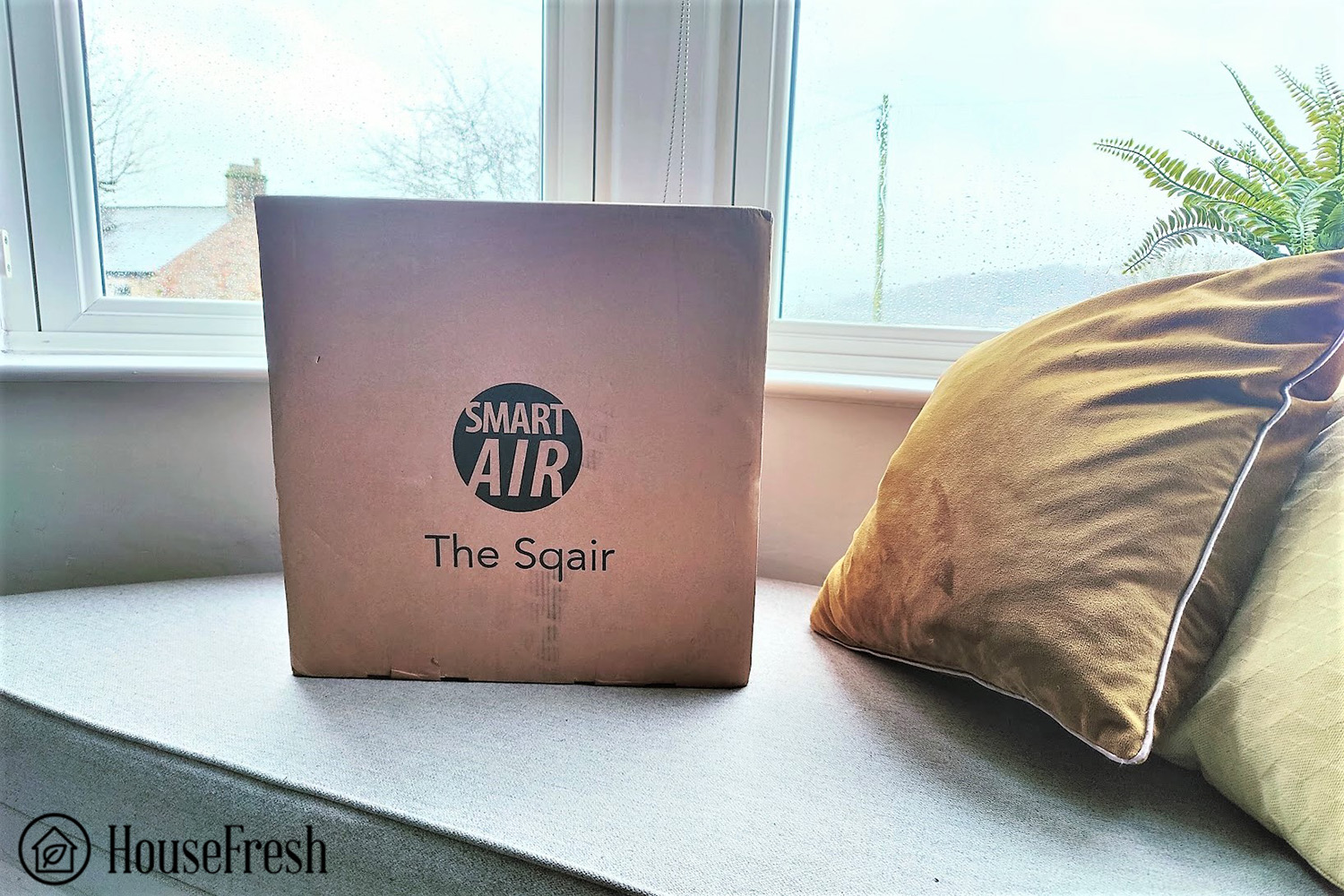 The feet are neatly packed separately and must be screwed on before switching the unit on.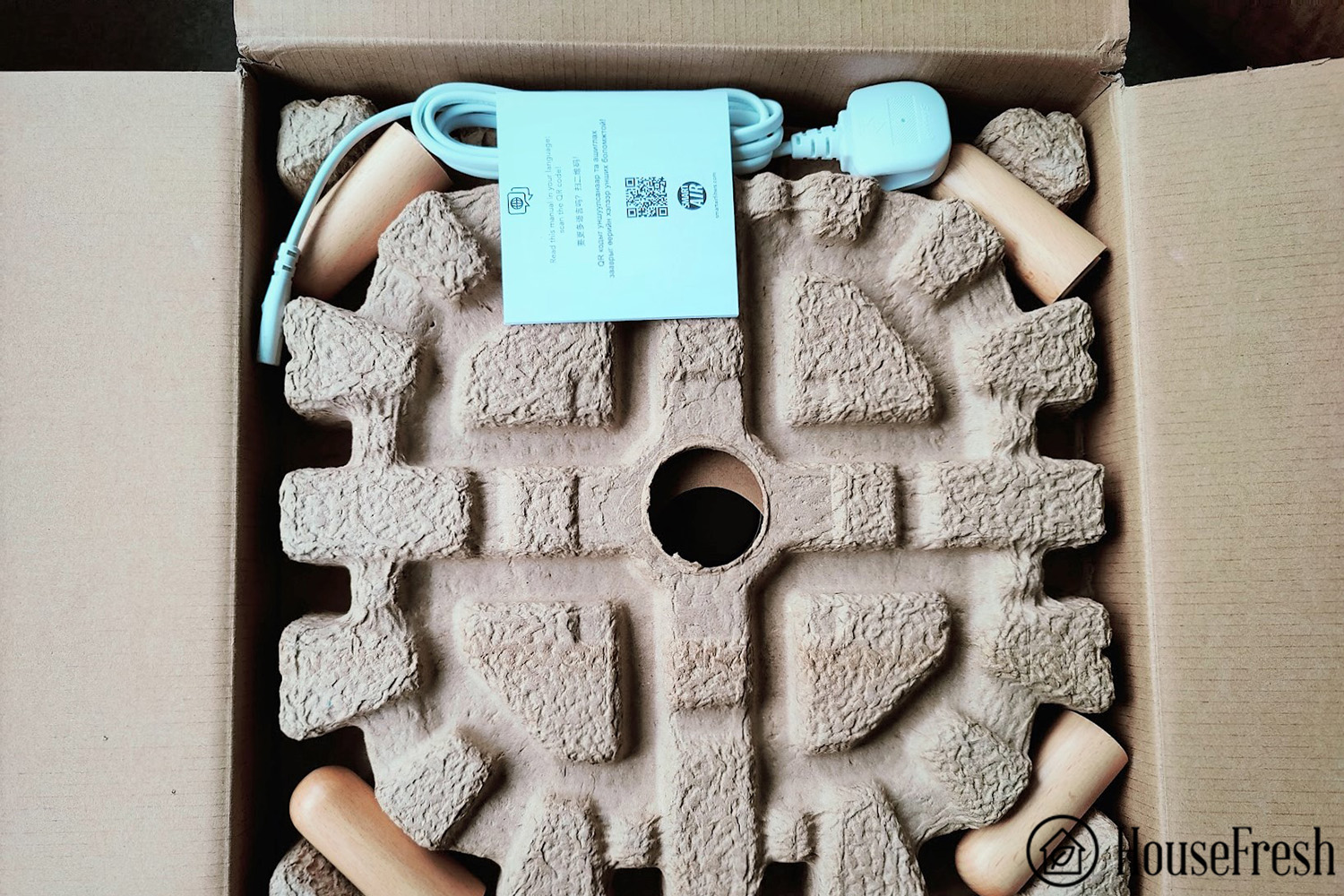 I did have one minor build quality issue. One of the screws had become loose, and I needed to re-screw it before securing the final leg. It's minor, but something I would want to make the team at Smart Air aware of.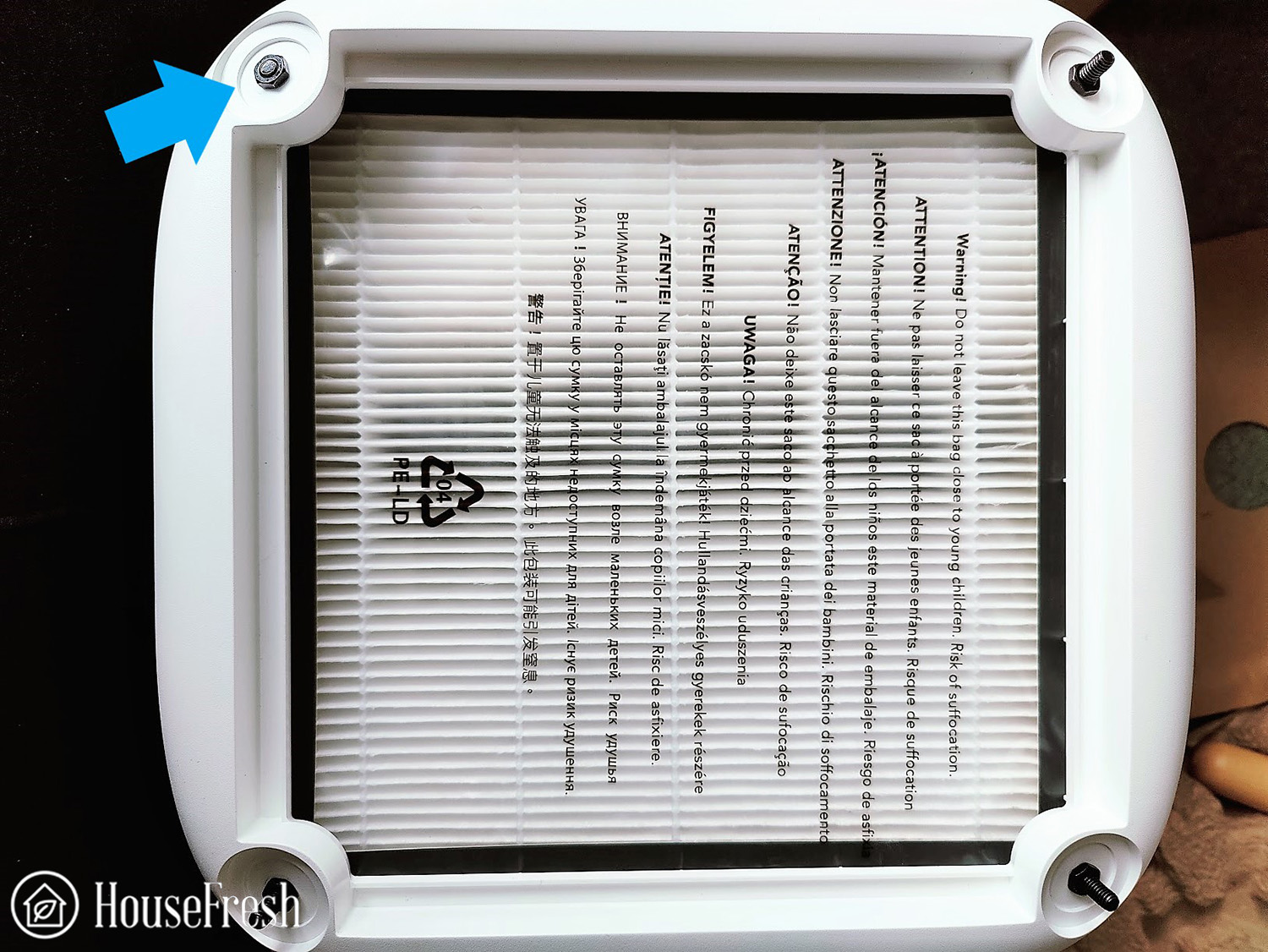 Energy Saving Filtration
This air purifier is one of the simplest units I have come across. As you can see in the video below, it's simply a large fan combined with a HEPA filter housed in plastic.
An interesting factor of this unit is that it uses an H12-type HEPA rather than the trendier medical grade H13 HEPA (although you can now choose a H13 for the Smart Air S but it will reduce airflow.)
The team at SmartFilters makes the point that H12 allows more air to pass through, allowing it to clean the air – without requiring the amount of electricity needed for a stronger grade HEPA filter.
As with many new HEPA filters, it arrived wrapped in plastic packaging, so needed to be removed before switching it on. Whilst this is clear in the manual, it would be good to see a more prominent warning.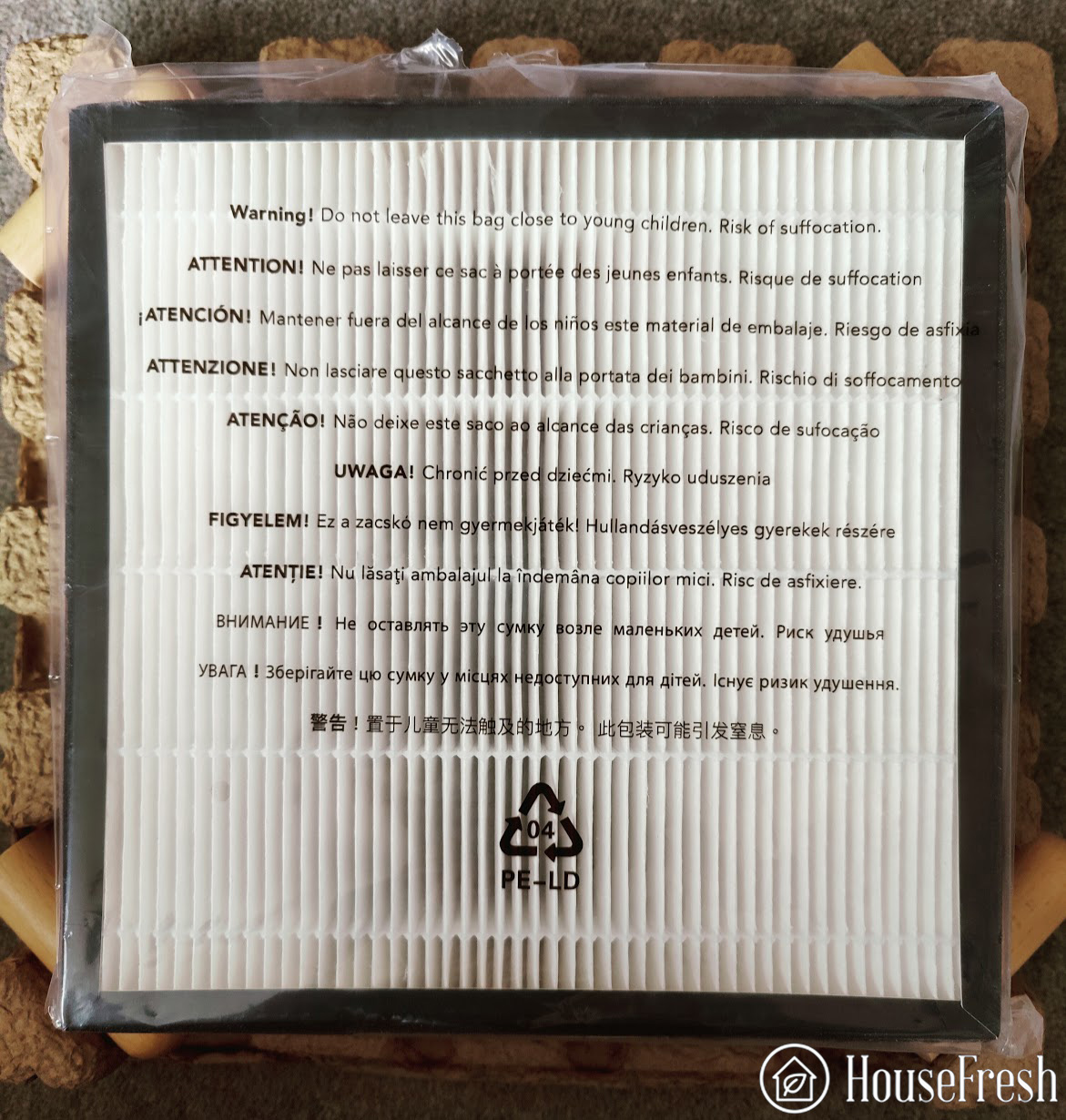 Dyson uses a yellow and black one to make sure no one uses the unit with the filter in the plastic wrap (it happens more often than you would expect!)
Supercharging Your Smart Air S With an Activated Carbon Filter
There is an option of getting an activated carbon filter that works with the H12 HEPA for an extra $29.99. You can purchase the filter after you've bought the unit like I did.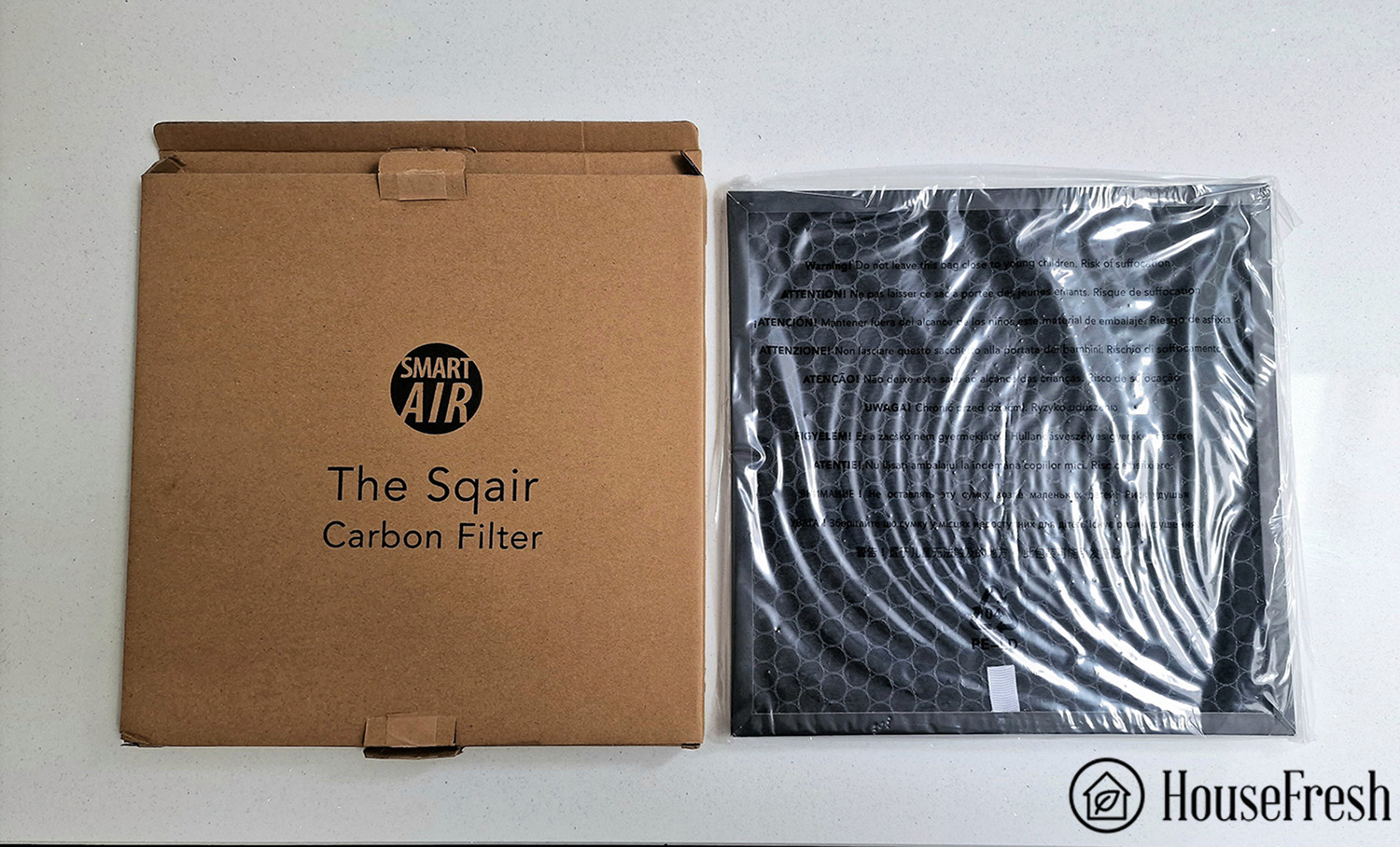 You've probably heard the term Activated Carbon or Activated Charcoal Filter before. This is where a filter is packed with either loose or bonded carbon which absorbs VOCs (a.k.a. Volatile Organic Compounds – a.k.a. "bad stuff") in the air, trapping them so clean, odor-free air can be released back into your room.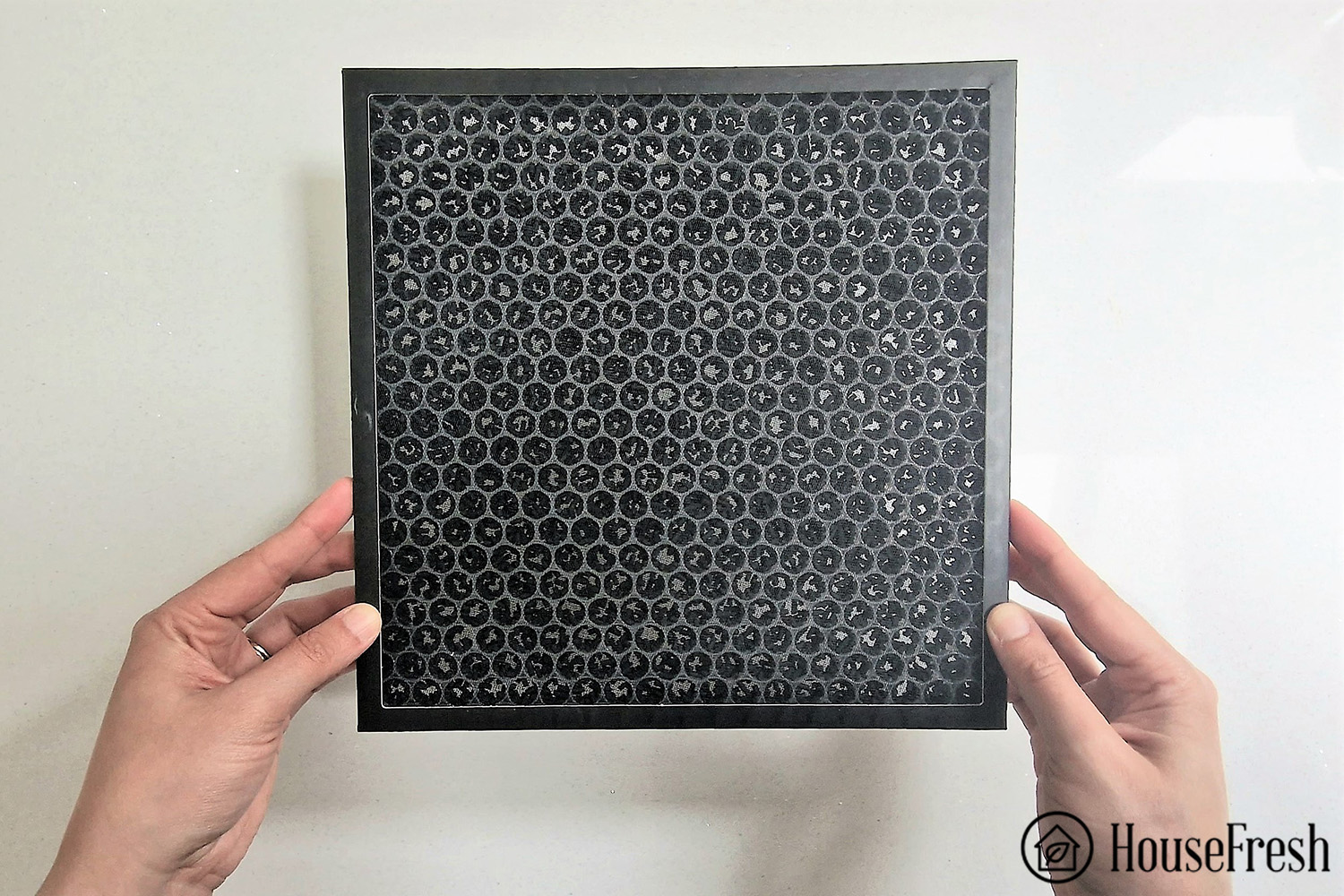 Installing the Activated Carbon Filter to your unit is so easy. There are no fiddly, twisty mechanics or screws to find the right tool for. Just 3 easy steps:
STEP 1: Turn upside down and remove the bottom of the unit by pressing in the sides and lifting.
STEP 2: Place the filter into the unit (don't force it, it will sit comfortably)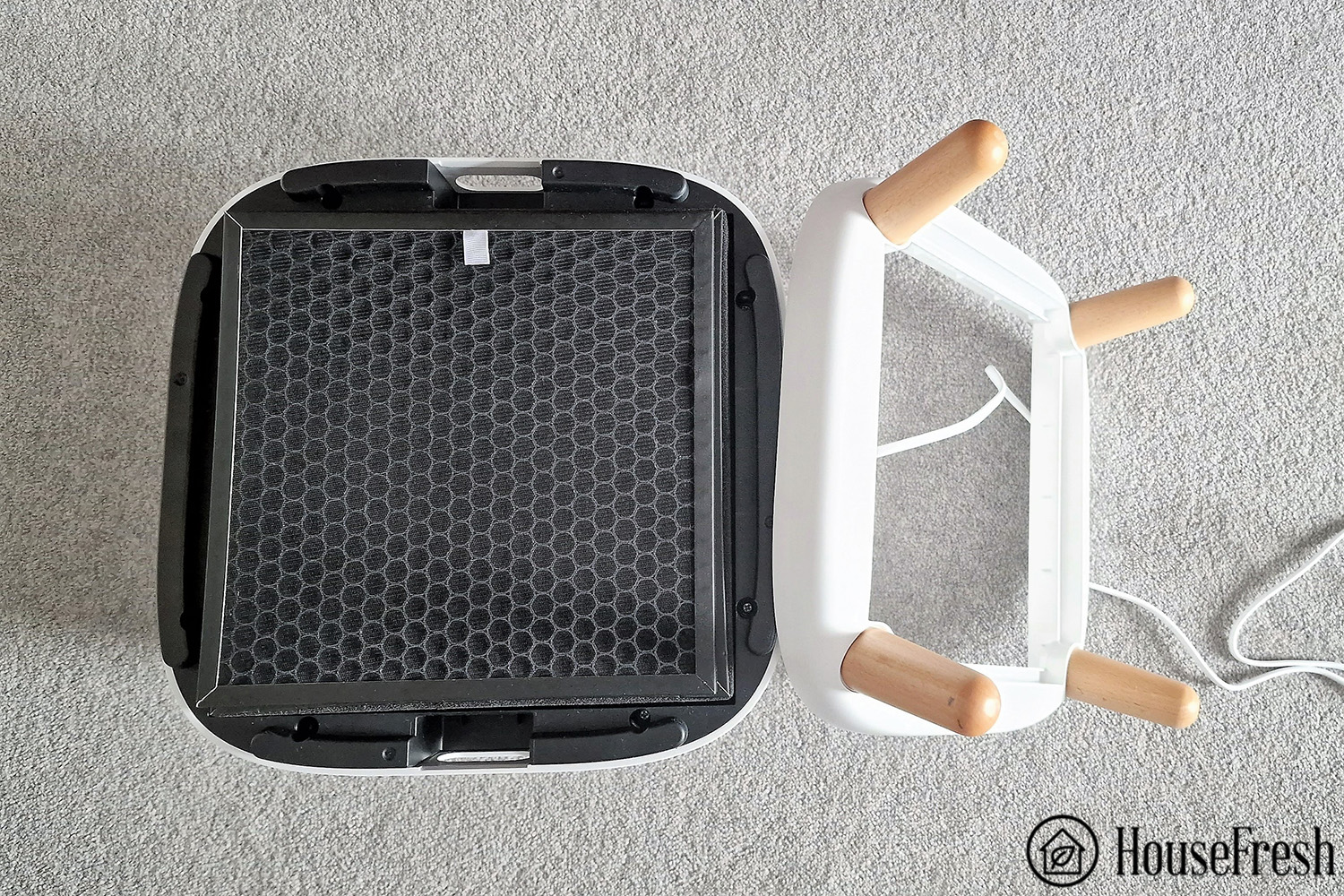 STEP 3: Put the bottom back on and turn the right way round.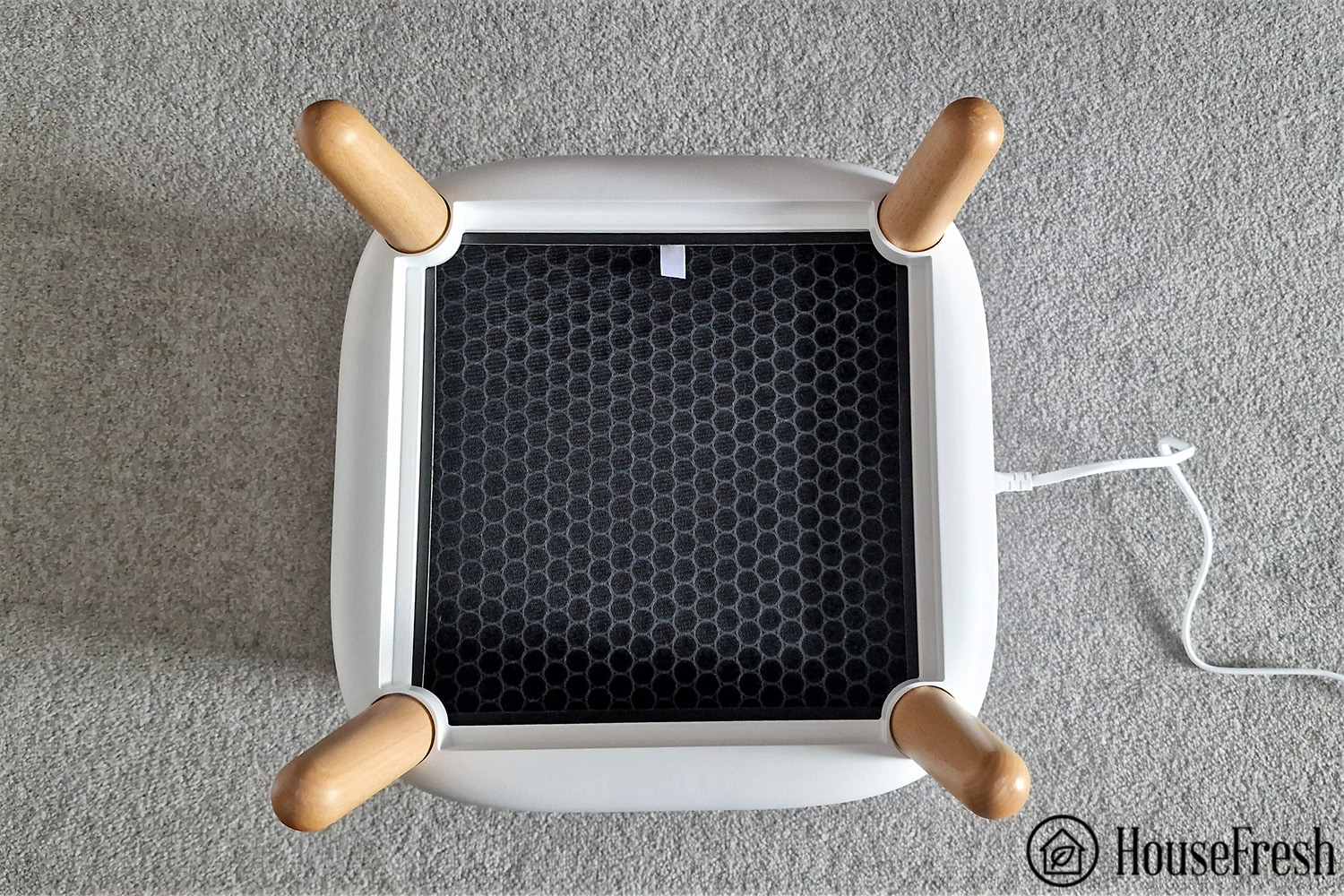 Told you it was easy. Want to get one for your Smart Air S too? Here you go:
Simple But Not Smart
You don't get much simpler than this for an air purifier, with 3-speed settings controlled by one circular rotating switch in the middle. That's it.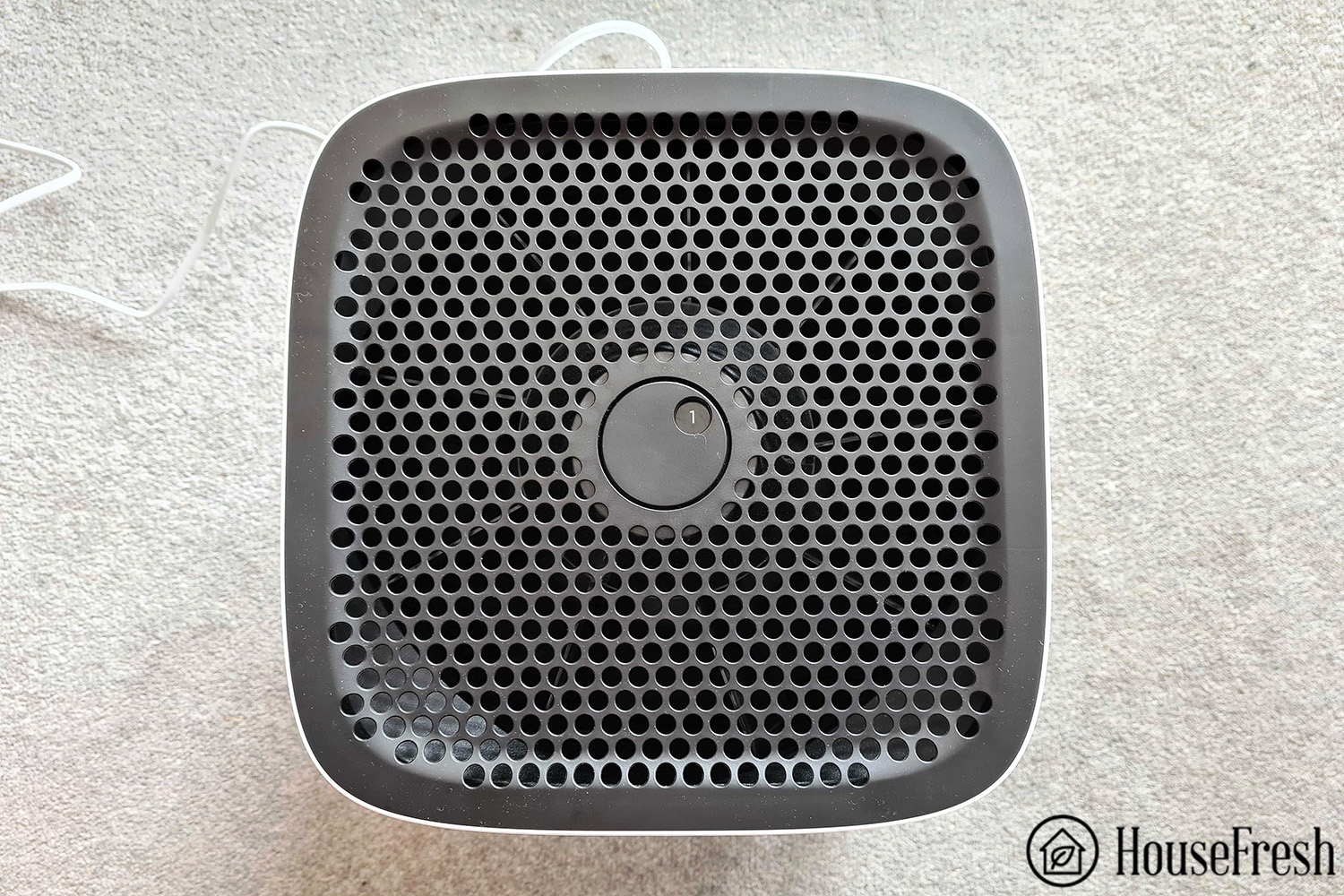 If you are looking for smart features, this is not your unit. I personally like the simplicity, and there was also no remote for one of my toddlers to steal!
The team at Smart Air thinks auto-features are a waste of time for the most part, and while I agree to some extent, I know some people do like the option of using a timer or auto mode for minor pollutant issues.
The Smart Air S Cleared Our Test Room in 29 Minutes
I tested this unit in the test room (705 cubic ft), which is a fairly small home office. I used incense to create airborne pollutants and then used a Purple Air indoor sensor to track how these pollutants reduce over time.
The Smart Air S was able to remove all the pollutants from the air in less than half an hour. This has placed the Smart Air S among the top 15 best-performing units we have ever tested here at HouseFresh.
Air Cleaning Performance Compared to Other Air Purifiers
Let's put these results into perspective by comparing the Smart Air S to other units that clear similar-sized rooms, as well as the top 3 best-performing air purifiers we have tested:
This performance was very impressive, especially as it got close to the IQAir Healthpro Plus in sheer cleaning performance! Let's keep in mind that the IQAir Healthpro Plus is a $1000 unit that comes with a large activated charcoal filter, so it would deal with VOCs and chemicals more effectively than the Smart Air S, but it's still impressive.
Noise Levels Test Results
As you can hear from the video, the sound the Smart Air S emits is not overwhelming, but also not the quietest unit we've tested.
In fact, when you compare it to other units, it's perfectly average. Yes, you're going to hear it when it's on full power, but it's not going to command the whole room.
The Cost to Run a Smart Air S: $105.20 Per Year
1. Electricity costs = $45.20
The costs of running air purifiers are something that gets overlooked but it's an important factor to consider, especially if you'll be using this unit regularly.
As always, I tested the Smart Air S with my trusty power meter.
Power 1 – 6.4 Watts
Power 2 – 18.9 Watts
Power 3 – 42.6 Watts
| | | |
| --- | --- | --- |
| | Smart Air S | IQAir Healthpro |
| Cost per year* | $54 | $208 |
| Energy used per year (CADR) | 141 | 290 |
*If you ran the unit for 24hrs a day.
The team at Smart Air has created something very special with the Smart Air S – a powerful air purifier with a decent CADR that also manages to use less energy than the entry model of a popular competitor.
The energy savings might be down to the fact that the Smart Air S uses a H12 filter instead of a H13, no-pre filter, and (what I assume to be) a more efficient fan.
2. Filter costs = $60
Another long-term cost to consider is filter replacement. With mechanical filter technology like HEPA, the filters get full of pollutants and need to be replaced regularly.
The Smart Air S has filters available for $29.99, and they suggest replacing them every 6 months. Running a Smart Air S will cost you $60 per year on HEPA filters alone. In comparison, the Levoit 300 has filters available for $50 that also need replacing every 6 months, so costs $100 per year.
Technology
Smart Health S HEPA Filter
Smart Health S Activated Carbon Filter
Technology
Smart Health S HEPA Filter
Technology
Smart Health S Activated Carbon Filter
---
The Bottom Line
Smart Air is a brand on a mission and with the Smart Air S, they're showing us they mean business.
By taking a simplistic approach to air purification, they have managed to achieve amazing air cleaning performance without the energy and filter replacement costs you find with competitors.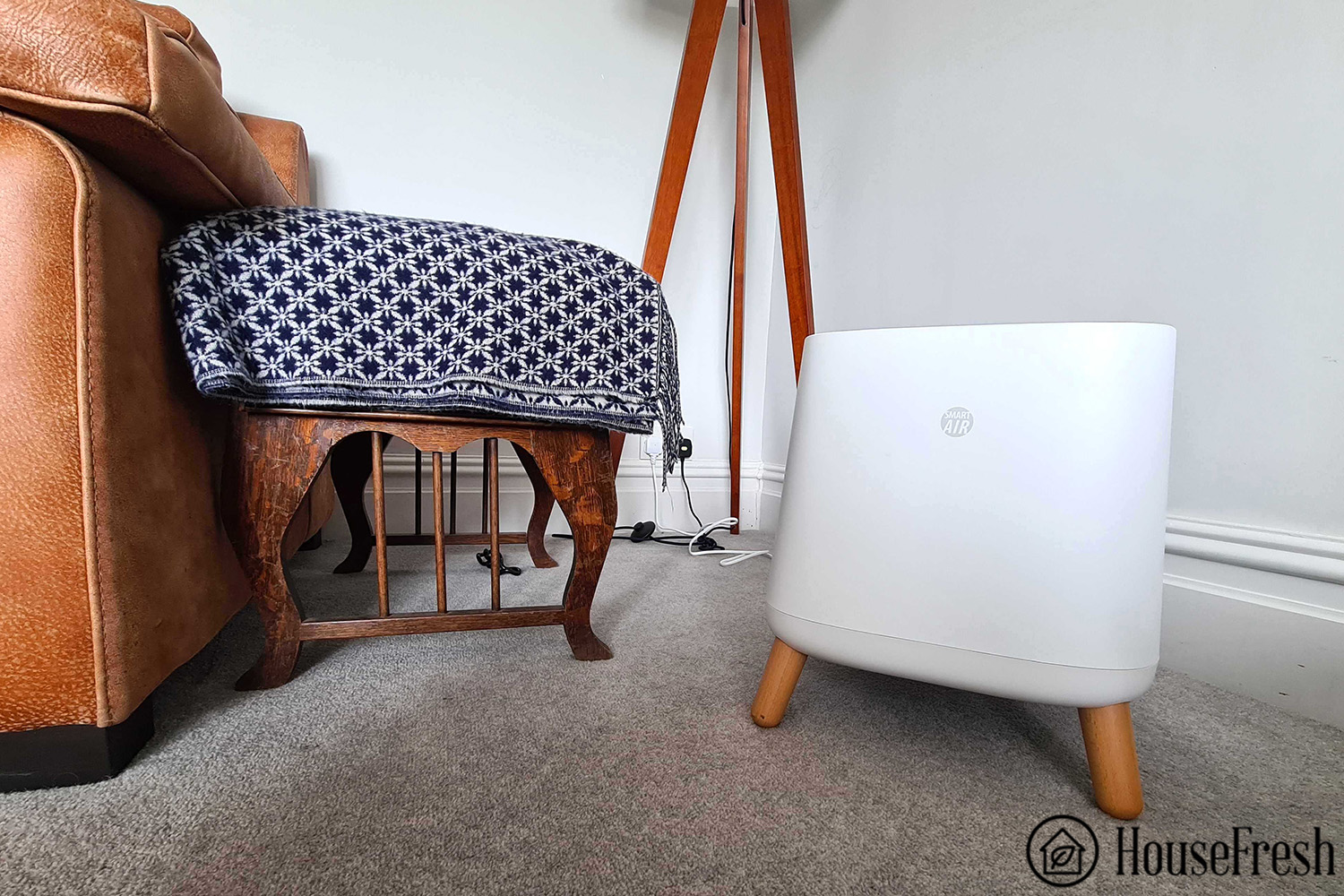 For those wanting to clean the air in their home on a budget, the Smart Air S is up there with the Levoit 400S for units that I would recommend in 2023.
I patiently await the release on Amazon.com for the larger Smart Air units, such as the Blast Mini and Blast Mk 2 to see if they provide the same superb level of air purification performance, which would make them a perfect alternative to the IQAir Healthpro plus as a pure HEPA whole house air purifier.
---
SOURCES
We used the Department of Energy's appliance energy calculator to calculate yearly costs associated with running the Smart Air S for 24hs a day for 365 days. We chose to run this calculation utilizing the US average utility rate, which is $0.12/kWh as of February 7th, 2023.
Last update on 2023-06-08 / Affiliate links / Images from Amazon Product Advertising API