Levoit is probably the best-selling air purifier brand in the United States. That fact will not surprise you if you, like me, have used Levoit air purifiers in your home.
Their product range includes top-end devices like the Levoit EverestAir, which is currently the fastest air purifier we have tested, bar none, after achieving zero levels of PM1 particles in a snappy 13 minutes. Levoit also produces budget-friendly air purifiers like the trusted Core 300, which managed to clean our room in 40 minutes (that's 44 minutes faster than the much more expensive Dyson HP04 Pure Hot + Cool).
So, we were excited to finally get a chance to test and review the Levoit Vital 200S. It has a more traditional look than the EverestAir or the Core series, and is aimed at medium-sized rooms up to 400 square feet.
Before I jump into the review, I need to address the elephant in the room:
In August this year, Dyson officially challenged Levoit's marketing and advertising through the BBB National Programs National Advertising Division (NAD), stating that Levoit wasn't in fact using True HEPA H13 filters that have been lab-tested to remove 99.97% of particles measuring 0.3 microns. As a result, Levoit removed all mentions of "HEPA H13" in their marketing materials for the Core series and the EverestAir, so we can assume that a lab does not approve filters for these units.
Now, it's worth mentioning that a higher grade HEPA is not required to clean the air of even the tiniest particles, as lower grade filters still pick up these small particles in multiple passes. Still, we don't appreciate manufacturers not being open about technical specifications.
At the time of writing this review, Levoit still mentions H13 True HEPA in their marketing for the Vital 200S. So I'm assuming these filters still make the medical-grade certification.
The Vital Series looks like a modern upgrade to the Levoit LV-PUR131 series and claims to have a much higher air-cleaning power.
At $189.99, this still feels like a budget pick, but it comes with a huge improvement in power, seen in its Clean Air Delivery Rate (CADR) of 245 CFM — that's 100 extra CFM over the budget king, the Levoit Core 300.
On paper, this could be a great air purifier for the money, so I am excited to get into the performance test and hands-on review.
In our home lab of 728 cubic ft, we light an incense stick to generate particle pollution and VOCs.

We set up our trusted Purpleair Indoor Sensor with the latest Bosch gas sensor to track levels of PM1ug/m3, PM2.5ug/m3 and PM10ug/m3 and VOCs in the air.

We switch the air purifier to its highest speed and measure how long it takes to get our room air quality down to PM1 level to 0.

We use an energy meter to measure precisely how much electricity is used when running the unit at the lowest and highest fan speed settings.

We track sound levels emitted by the air purifier at different fan speeds with the help of a commercial sound meter.

The lowdown on the Levoit Vital 200S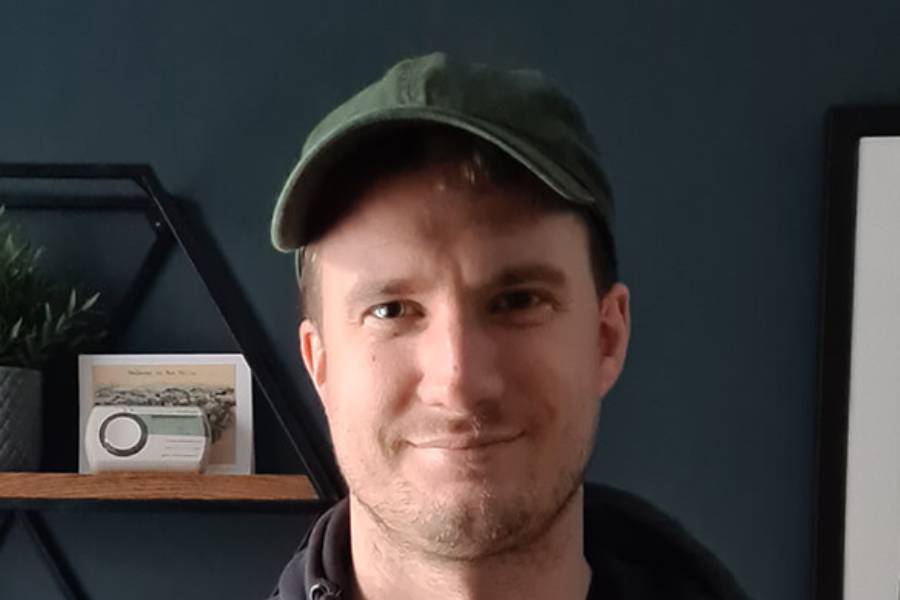 "A super efficient fan combined with a HEPA H13 and activated charcoal filter means the Levoit Vital 200S gives you plenty of bang for your buck"
— Danny Ashton, HouseFresh Founder & Senior Writer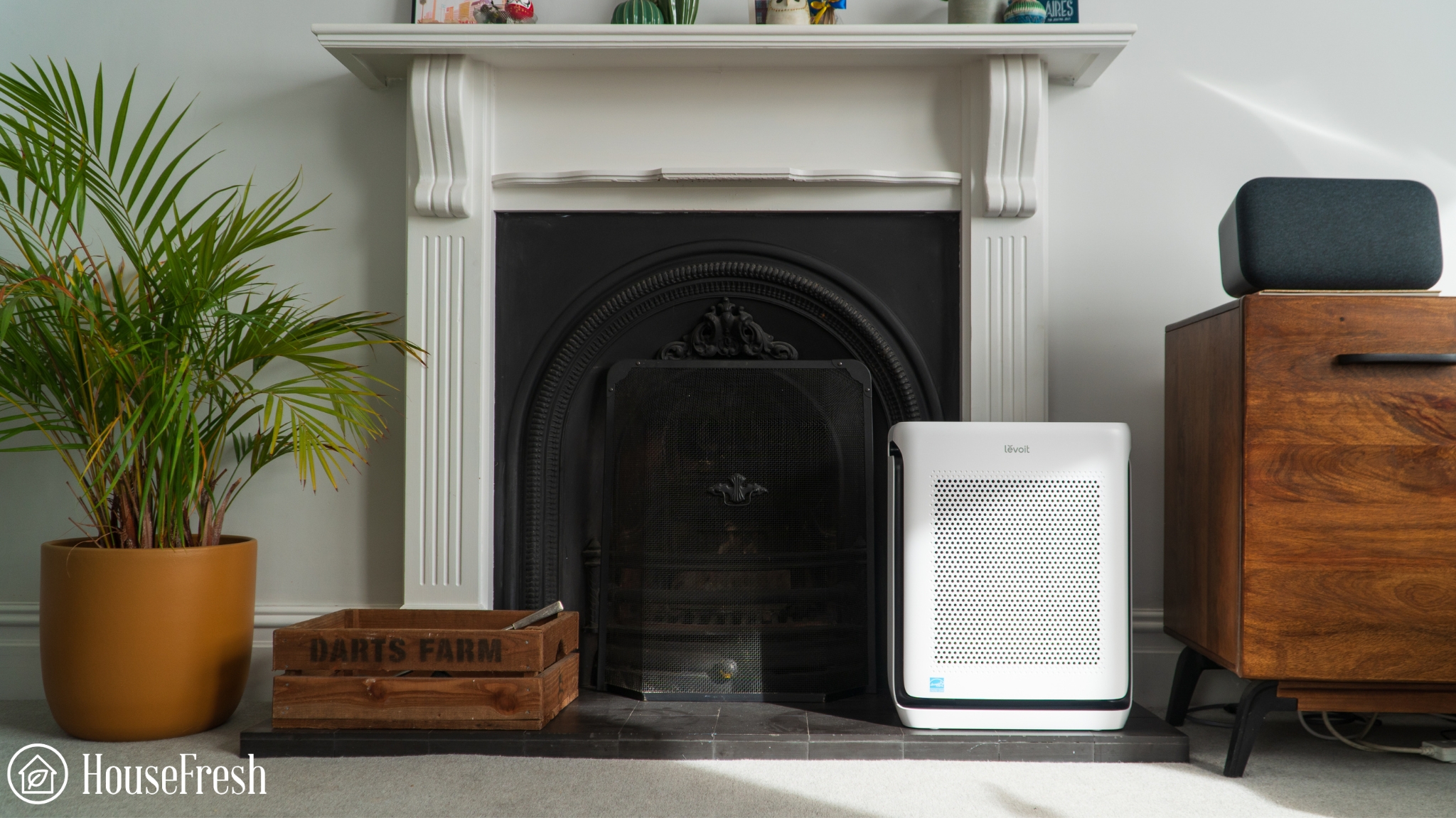 What we really like
High level of air cleaning performance to $ ratio
High CADR, which makes it suitable for spaces up to 400 square feet
All the smart features we see with more premium-priced Levoit models, such as auto-mode and app support
It remembers settings and modes, so if you unplug it and plug it back in, the Vital 200S will still remember what it was last doing
There are a ton of generic filters available that keep long-term costs low
What we think could be better
I would like to see an independent test for the HEPA rating
The air quality sensor needs cleaning every few months
The specifications
High-ended spec without the high-end cost
For less than $190, you get a smart air purifier powerful enough for use in bigger rooms up to 400 square feet.
HouseFresh Rating:
★★★★★
Time to clean our test room:
21 minutes
Air purifier technology:
H13 TrueHEPA and activated charcoal filter
Recommended room size:
375 sq. ft. (5 ACH)
Clean air delivery rate (CADR):
245 CFM
– Smoke: 242 CFM
– Dust: 263 CFM
– Pollen: 240 CFM
Dimensions (in inches / in cm):
15.6D x 8.5W x 19.8H inches (39.3D x 21.5W x 50.2H cm)
Weight (in pounds / in kg):
13.2 lbs (5.9 kg)
Noise level (low – high):
24 – 54dB
Filter life:
12 months
Manufacturer's warranty;
2 years
Estimated energy consumption:
$37.84 per year
Modern sleek design with simple controls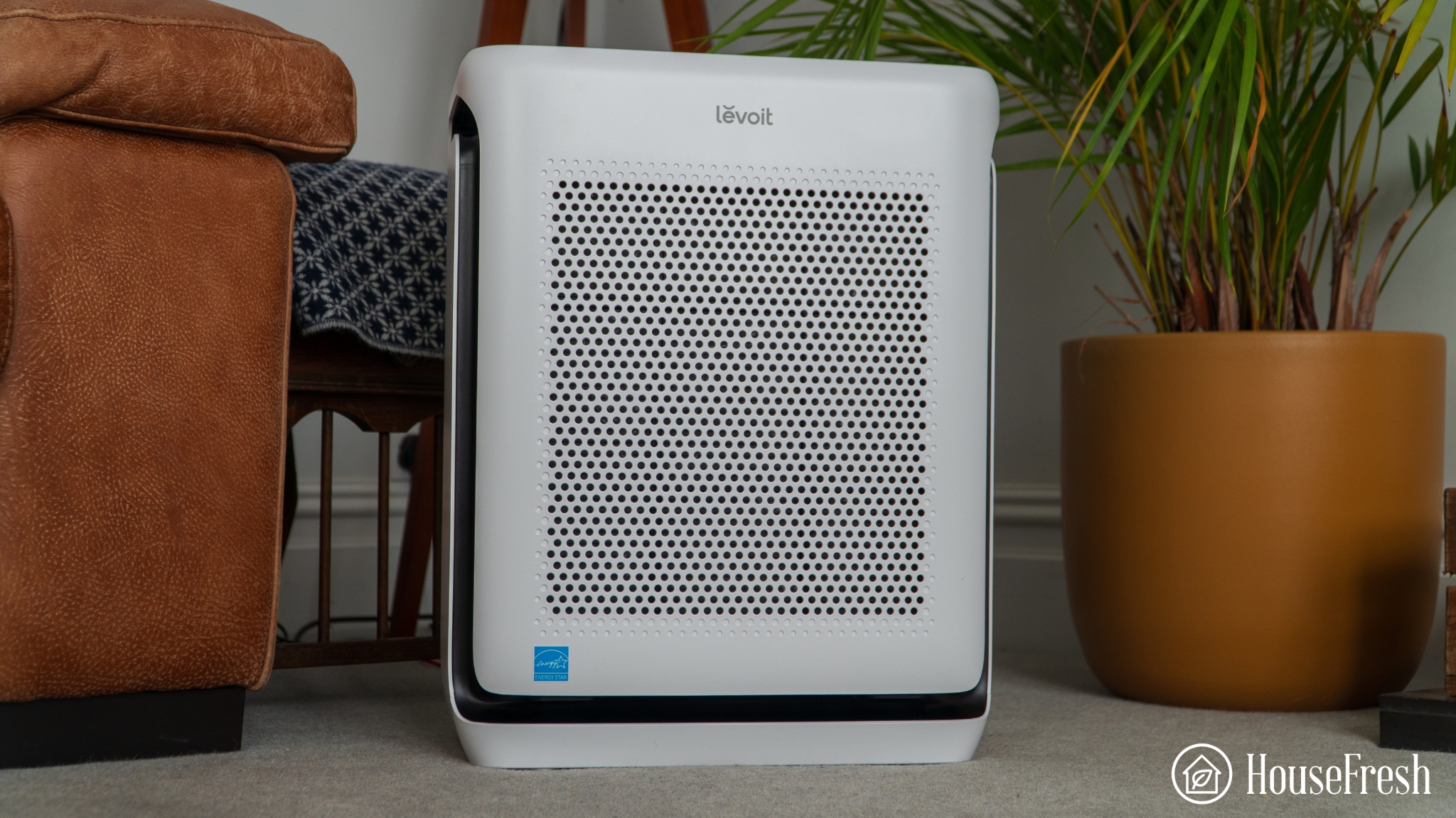 Rather than use the cylindrical design we see with the Levoit Core series, the Vital 200S is a standard rectangle that pulls air from the front and pushes it out of the top.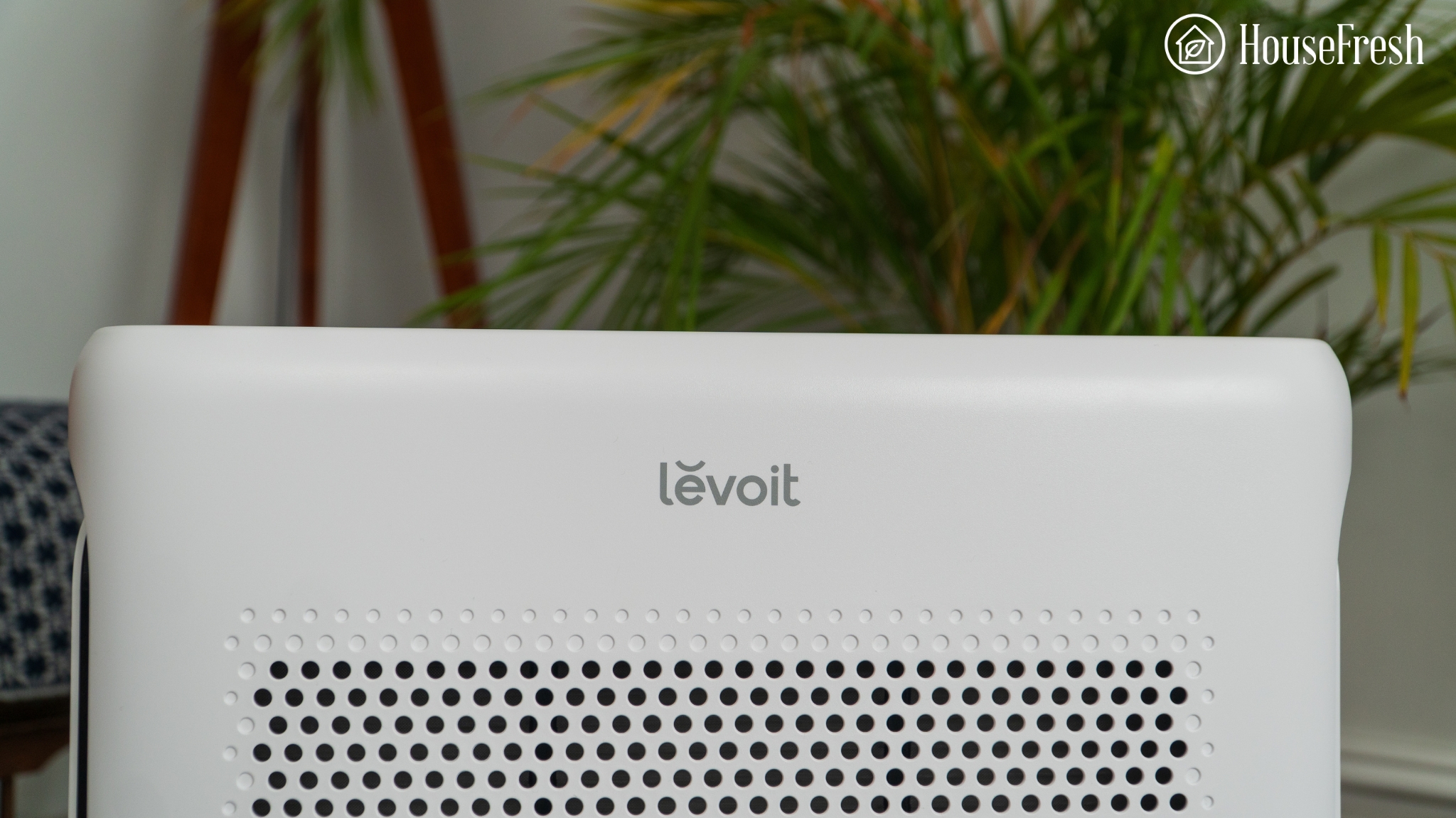 Compared to the Levoit air purifier range, it shares a closer resemblance to the premium Levoit EverestAir, although I have to say I prefer the look of the pricier EverestAir — do you blame me? Have a look at it: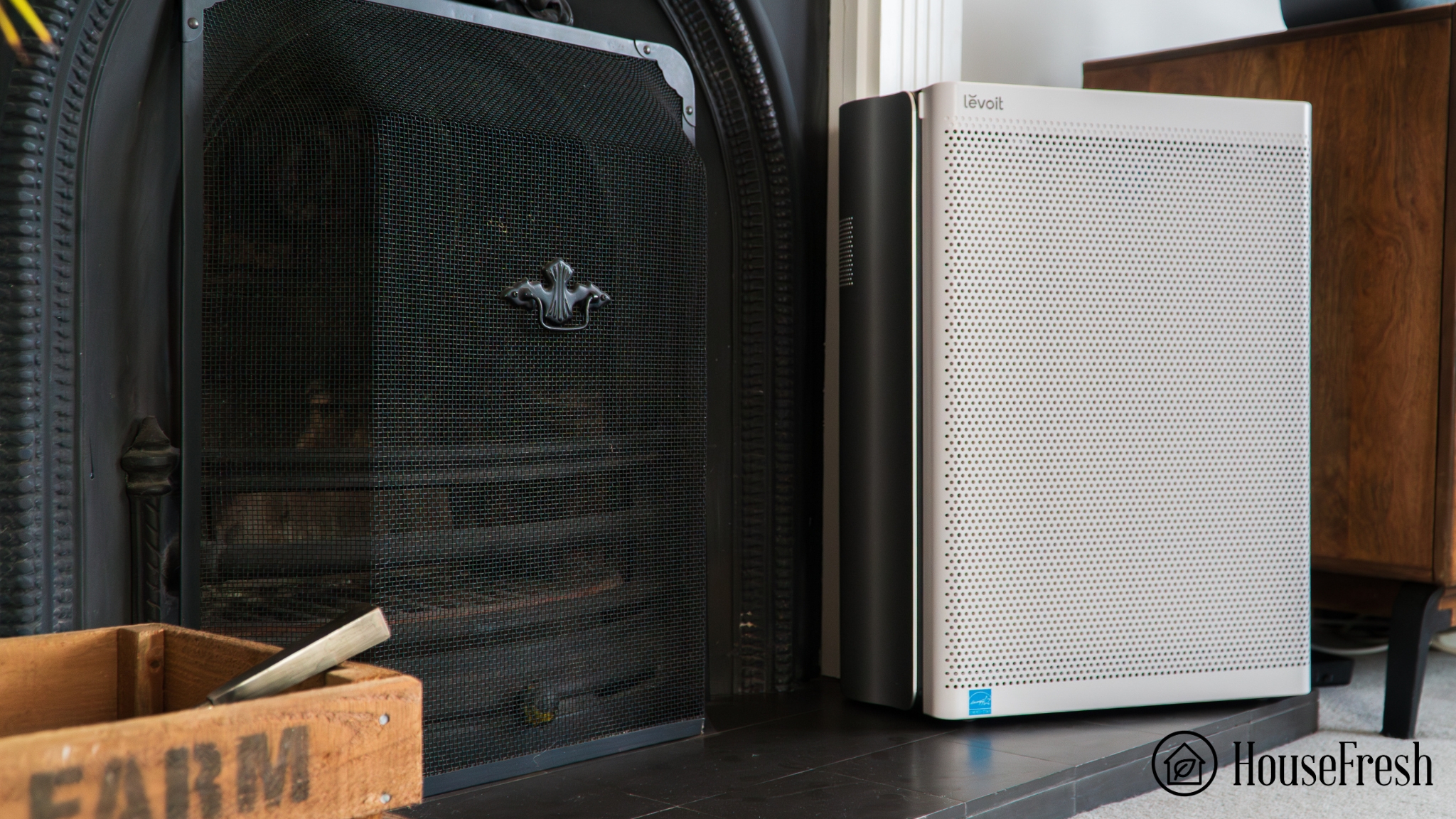 Something I'm not a huge fan of is the fact that you will need to clean the dust sensor on the Levoit Vital 200S every two months to ensure it is performing to its top efficiency. This seems to me like a design flaw, perhaps the positioning of the sensor is not the best.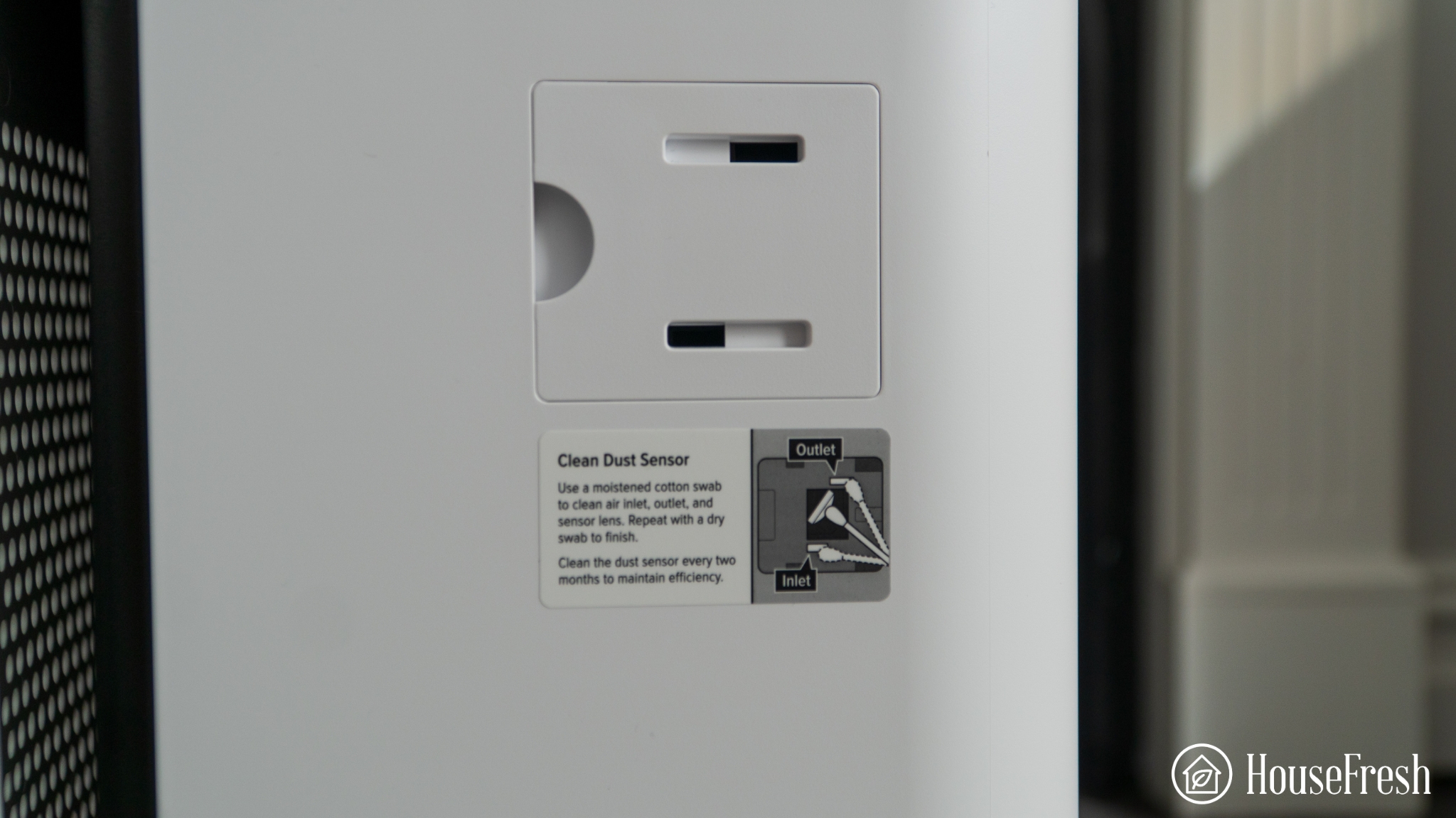 When it comes down to using the Vital 200S, you will notice that the control panel is similar to other Levoit models and uses the same icons for each feature and button.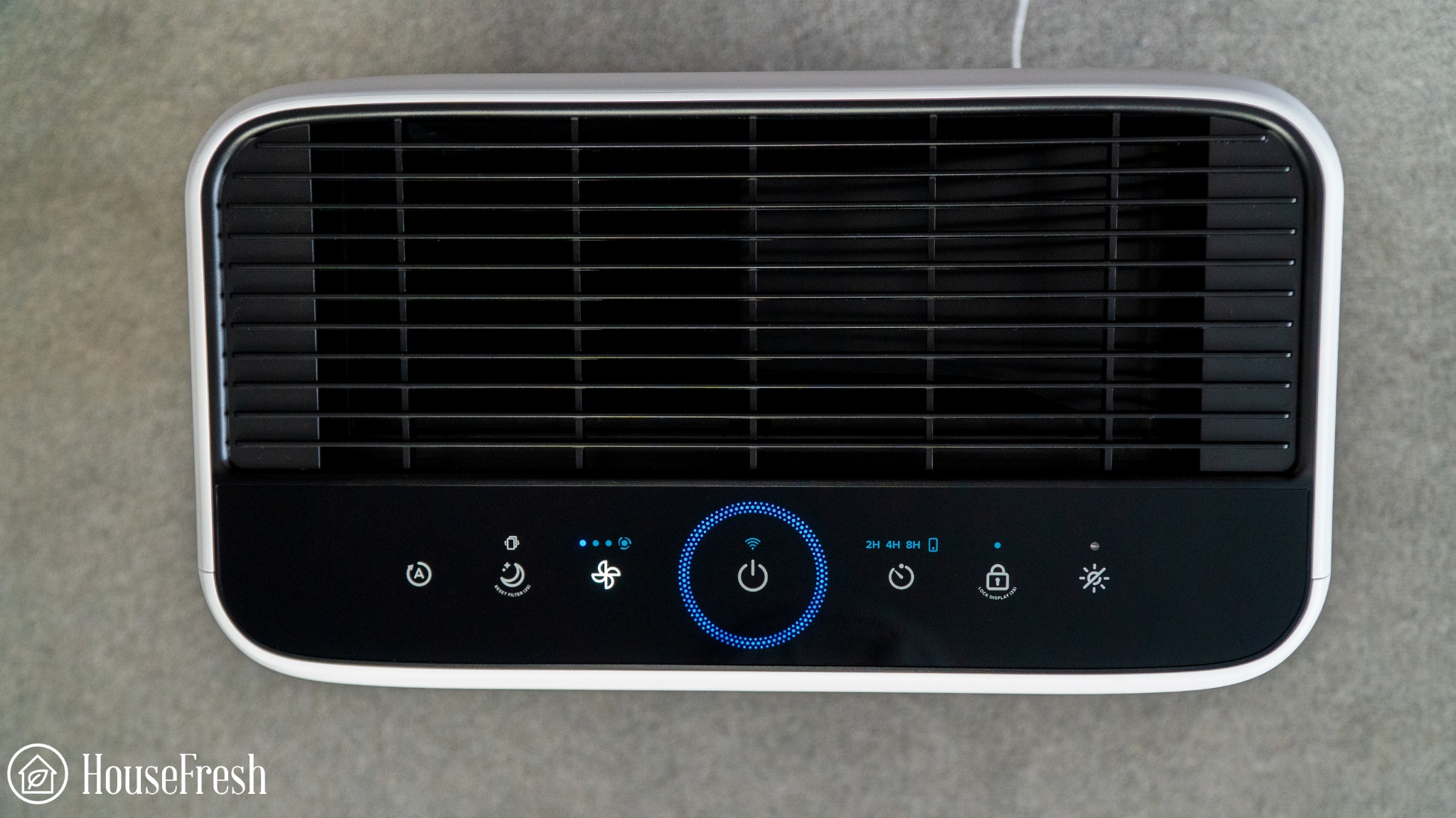 From right to left: The first button is to engage the auto-mode, then a night mode, followed by the button with 4 different fan speed options. The main power button is right in the middle of the control panel, surrounded by lights that change color depending on indoor air quality.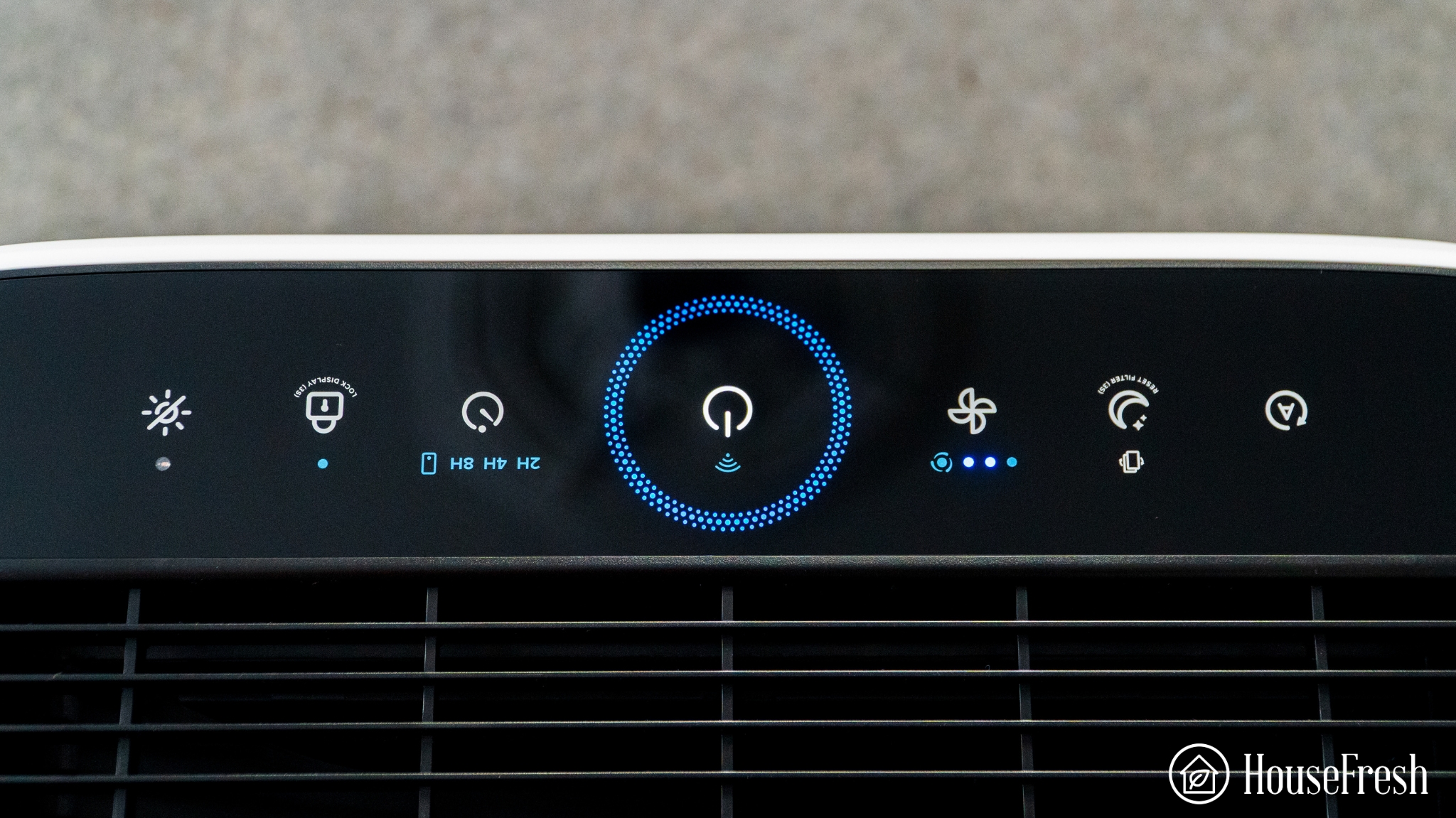 From left to right: The Vital 200S comes with a button to switch the lights on the control panel on and off, a handy child lock and a timer.
One nice feature is that when you set up the air purifier to work how you want, it automatically switches to this mode even when you unplug the air purifier.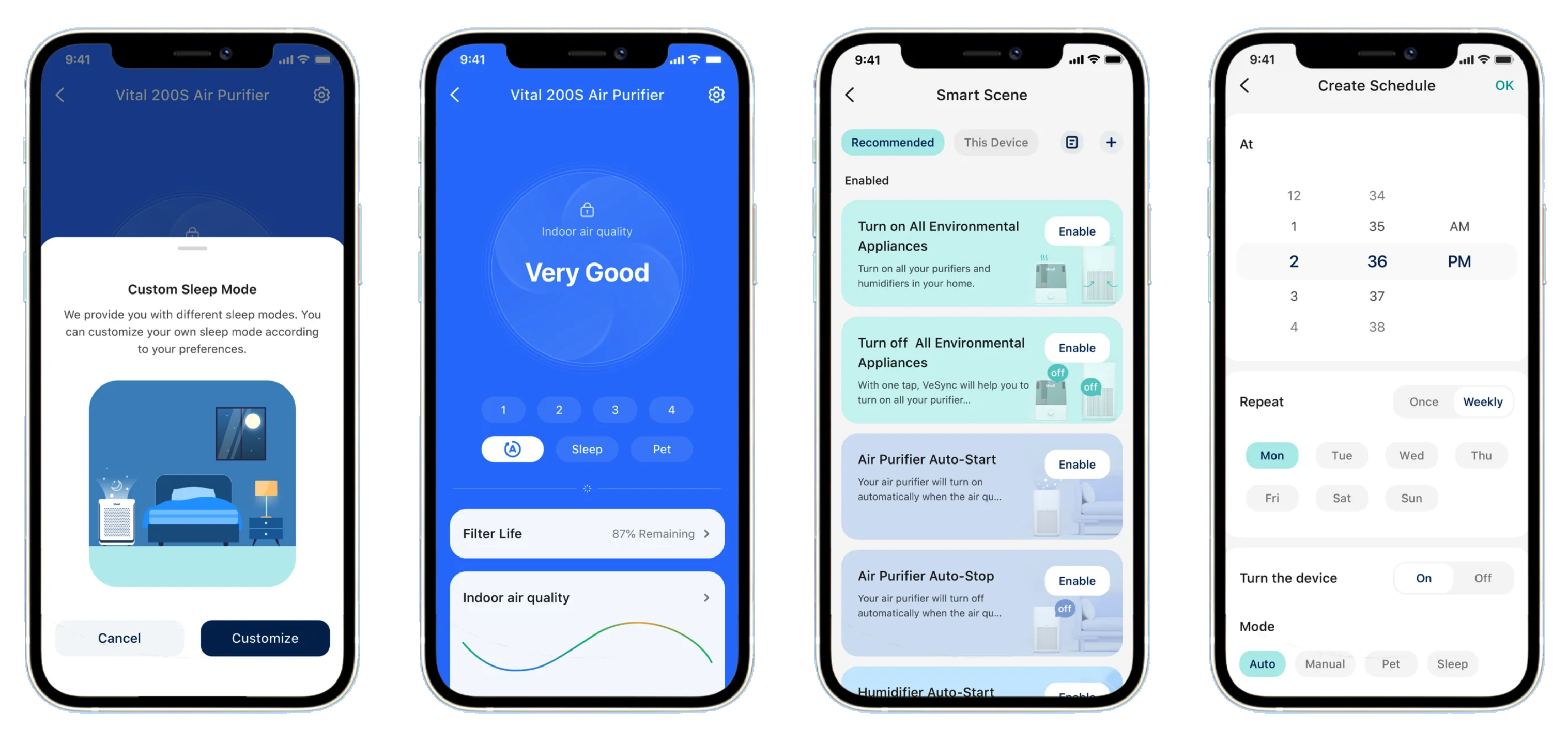 The app uses Vesync, which is the app used by a range of Levoit gadgets and is well-rated across Android and Apple ecosystems.
I tested the Apple app, and it was easy to install and add the Vital 200S quickly. You can adjust the air purifier's settings via the app and also see what the current indoor air quality rating is in the room where it's set.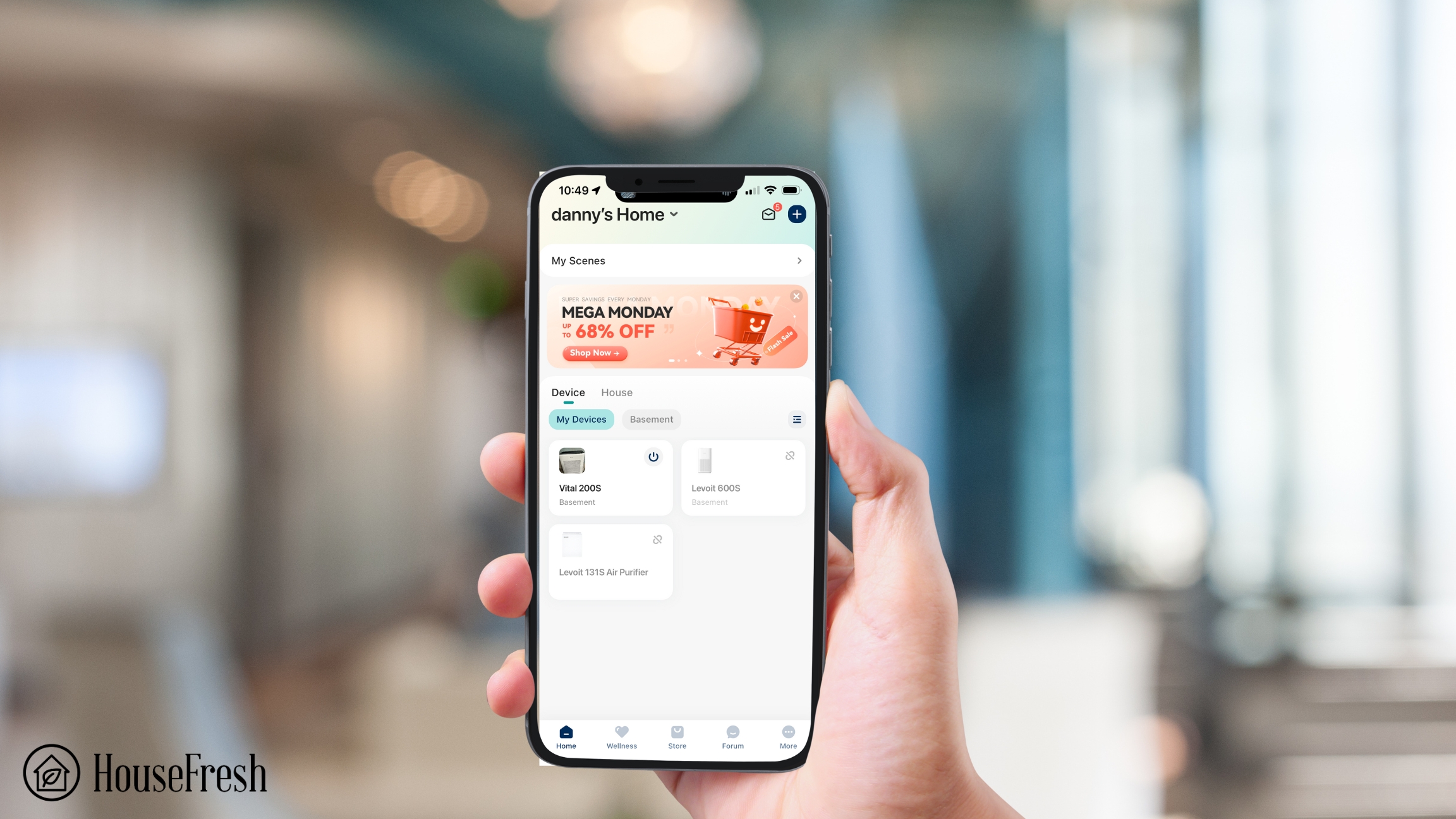 The main app screen has internal ads for different Levoit products, which I would prefer it didn't, but once you go into the air purifier, there are no ads shown.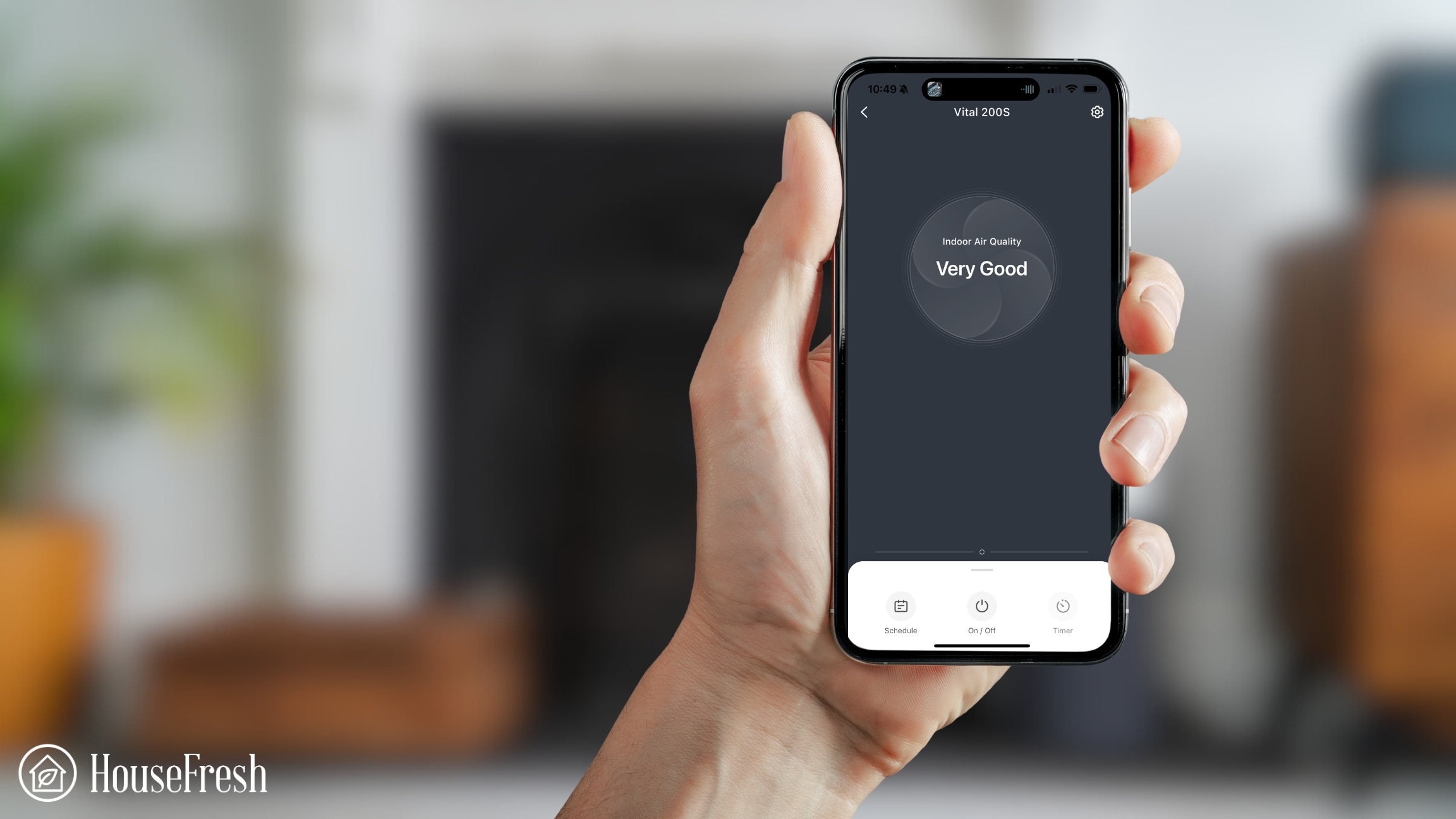 One feature that I haven't seen in other Levoit air purifiers is a light detection mode that allows the device to switch off the display and run extra quiet when low light is detected. This is a great feature for those wanting to use it in a bedroom.
True HEPA H13 filters with activated carbon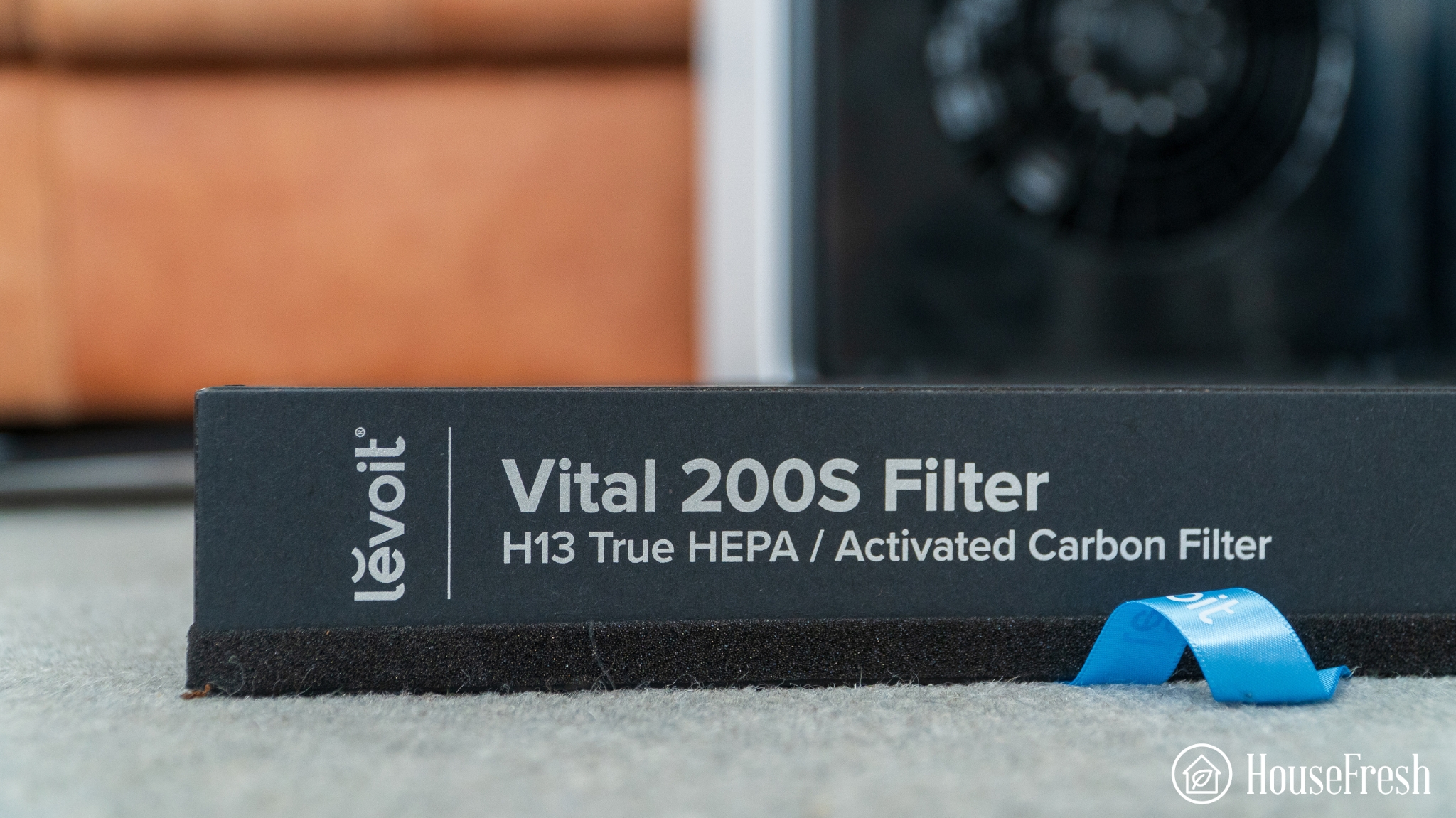 Levoit says the Levoit Vital 200S uses HEPA H13, which is medical grade and can remove 99.97% of particles measuring 0.3 microns. But as you know, we are not 100% confident we can trust this information after what happened with Dyson's challenge through the BBB National Programs National Advertising Division (NAD).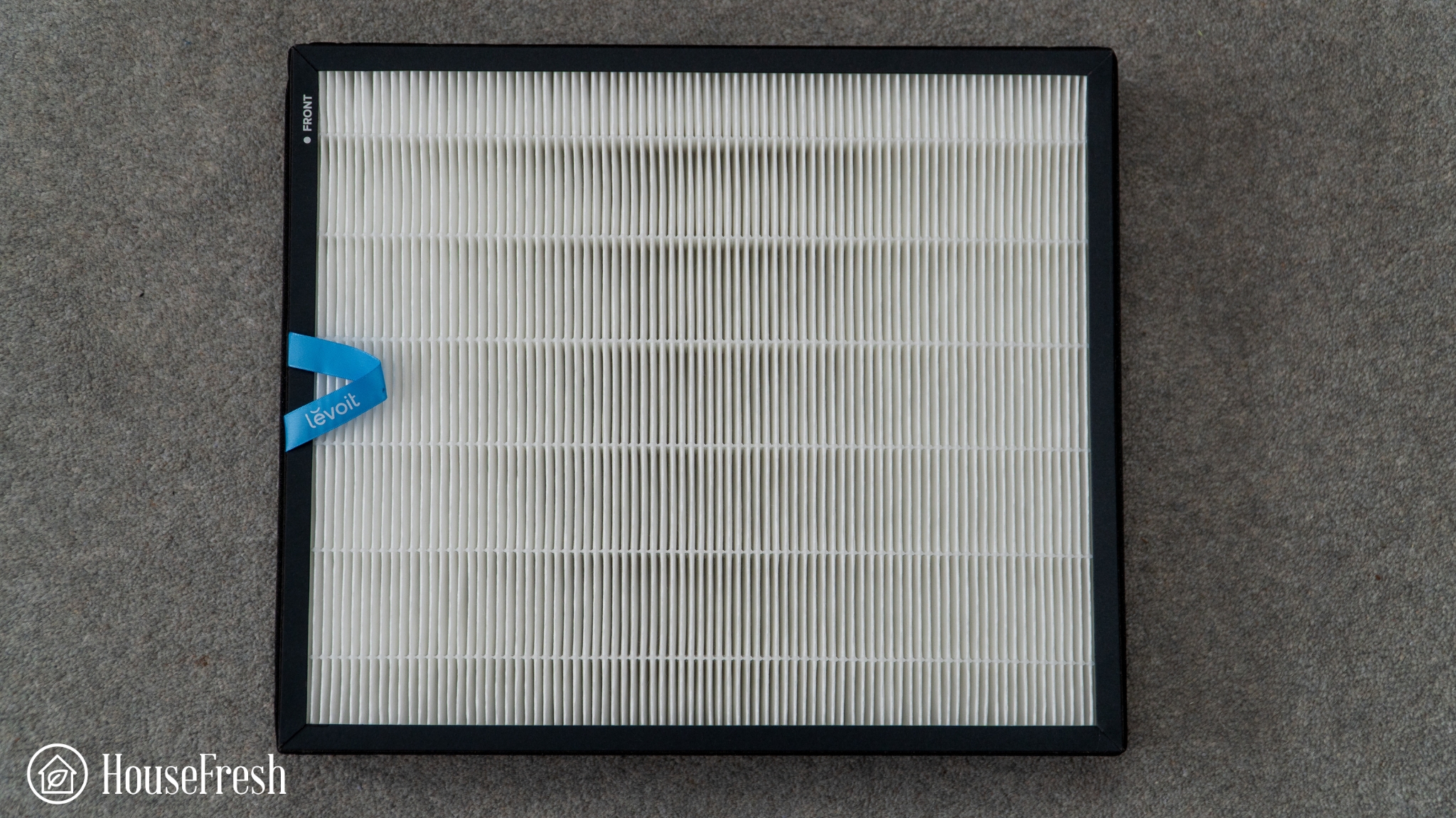 It also included an activated carbon filter, which uses pellet-style charcoal that is much better than the impregnated fabric we see with some manufacturers.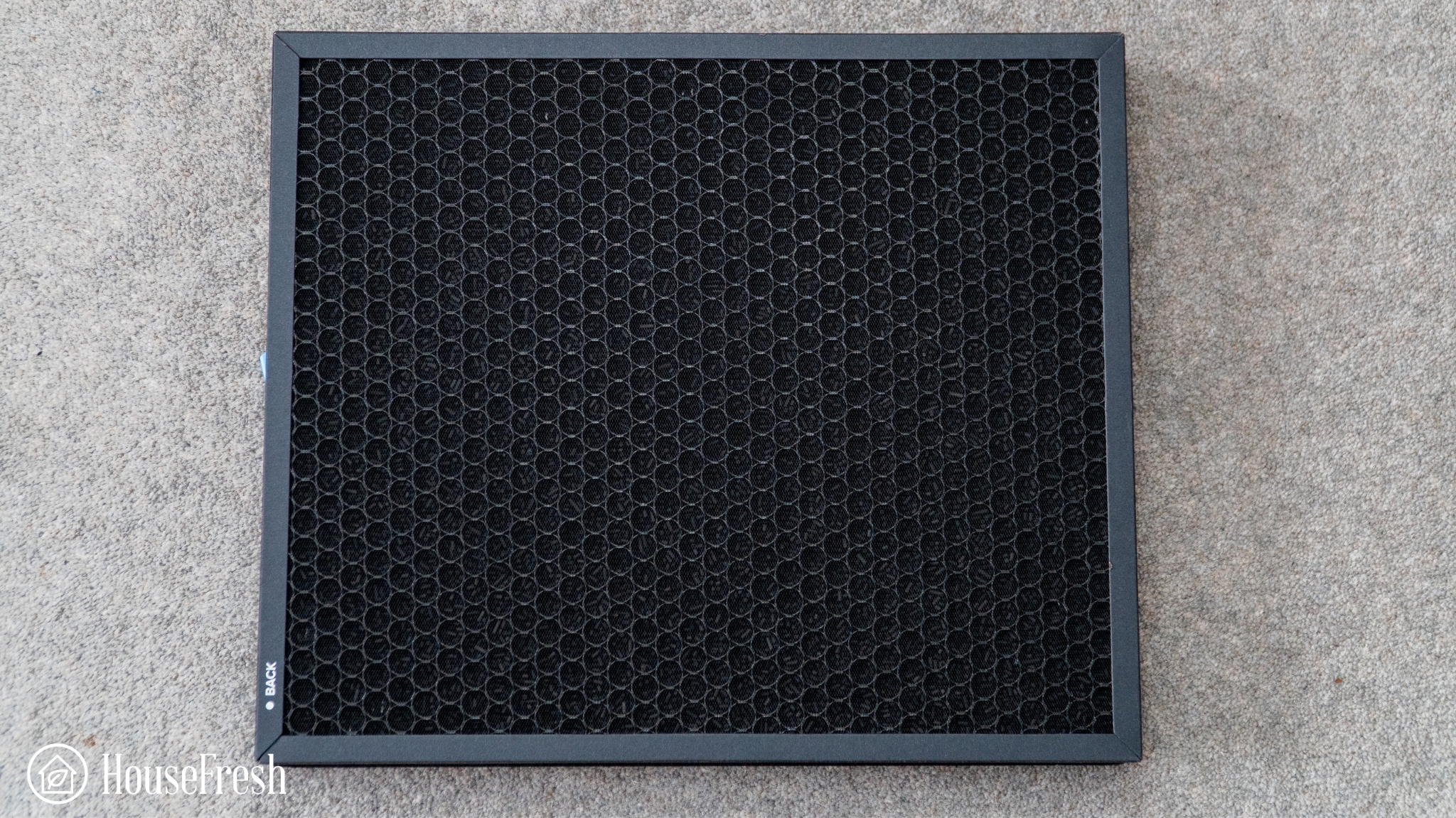 The pre-filter can be removed and washed separately. This is much better than the pre-filter in the Levoit Core 300/300S, which requires you to vacuum the surface without allowing you to remove it.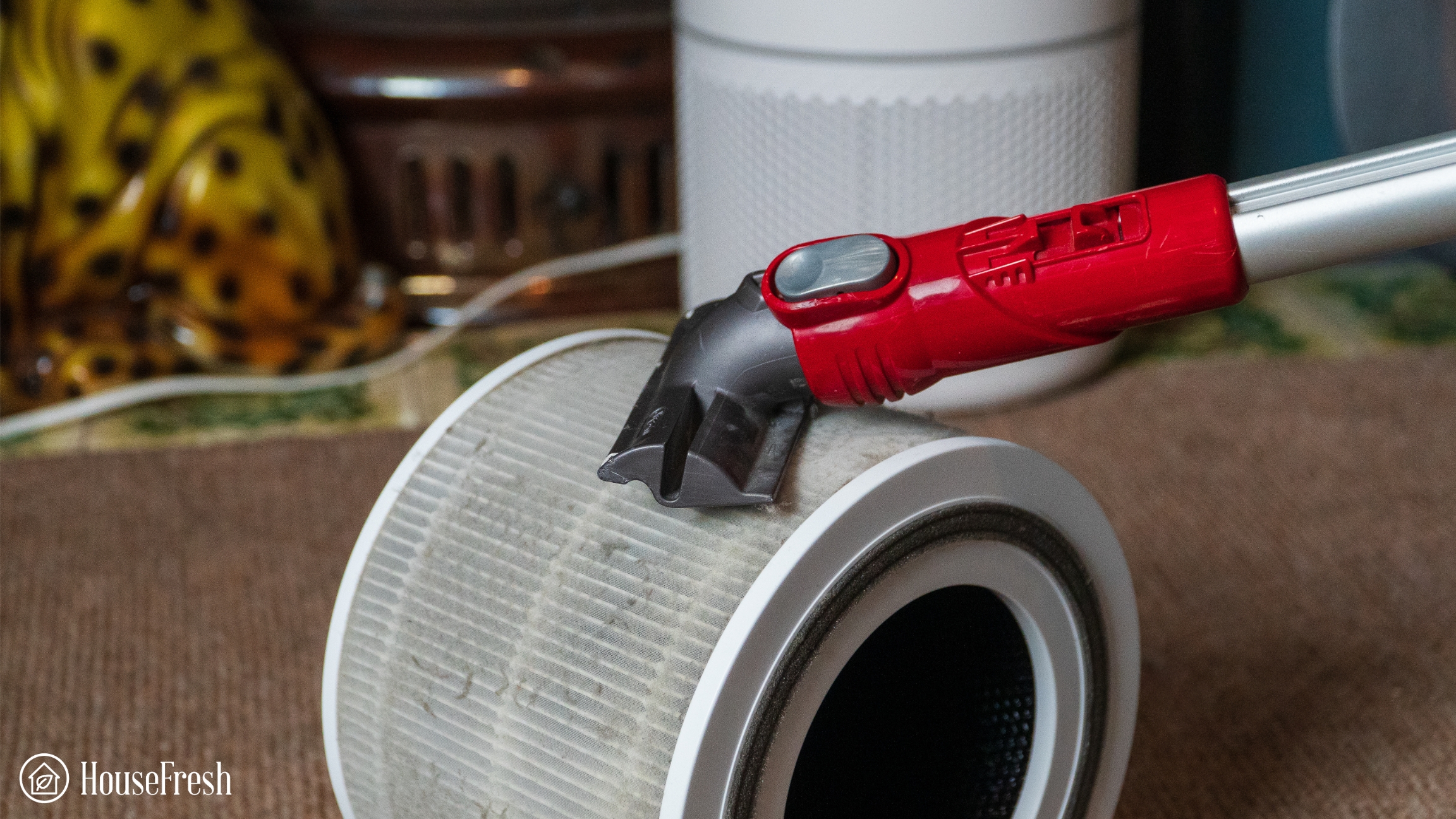 While you do get a good amount of activated carbon in the Vital 200S, if you have serious issues with VOCs and gasses, you should look for an air purifier with a much bigger filter with lbs of activated carbon such as the Alen BreatheSmart 75i or the Mila.
Remember that most HEPA-based air purifier filters will arrive in a plastic bag, so be sure to remove the filter from the bag before you switch it on; otherwise, it will make your air quality worse!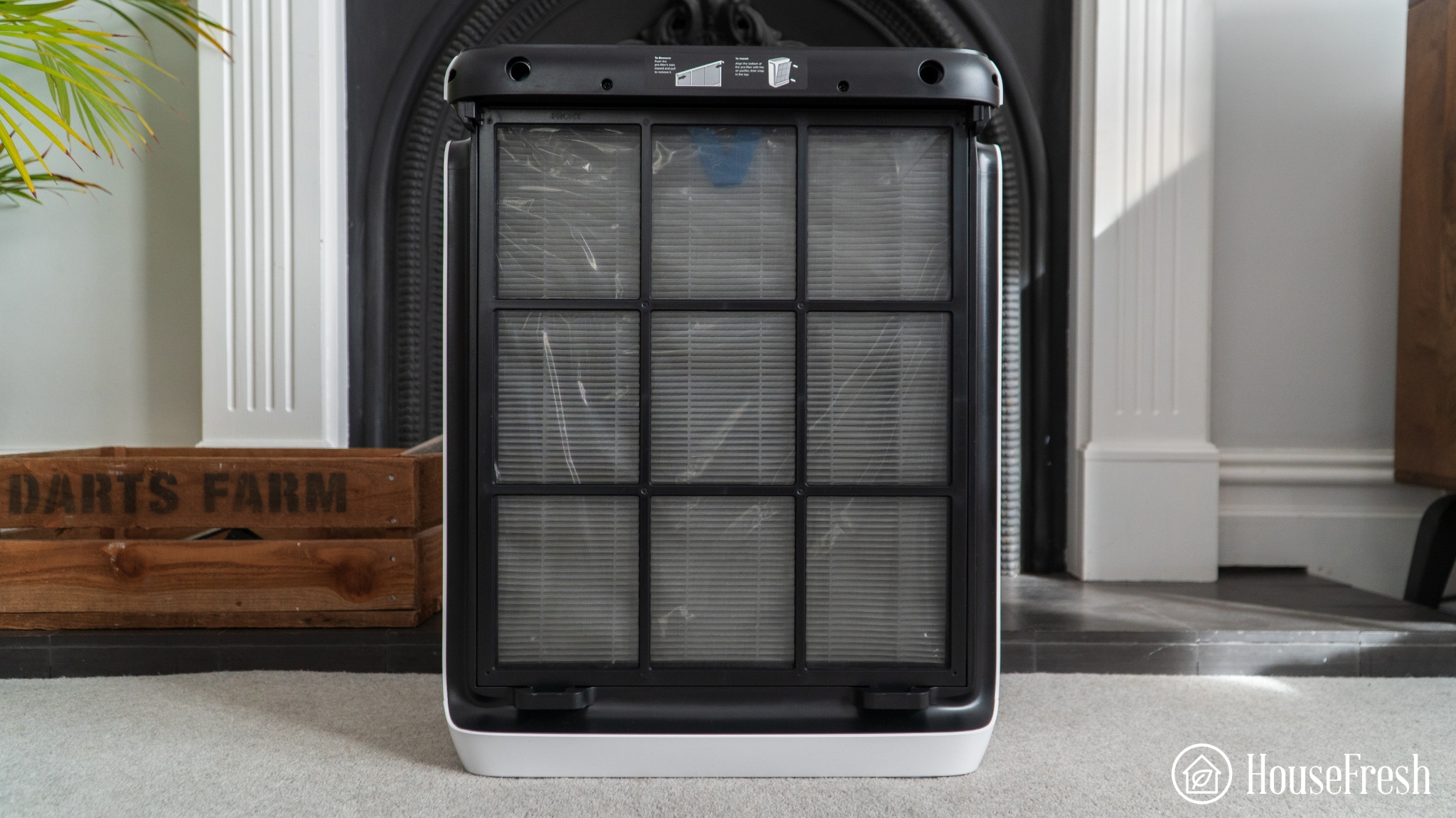 When the time comes to change the filter in your Levoit Vital 200S, you'll find that the process is simple and straightforward.
The Vital 200S cleared our test room in 21 minutes
The real-world performance of the Levoit Vital 200S matches reported CADR scores.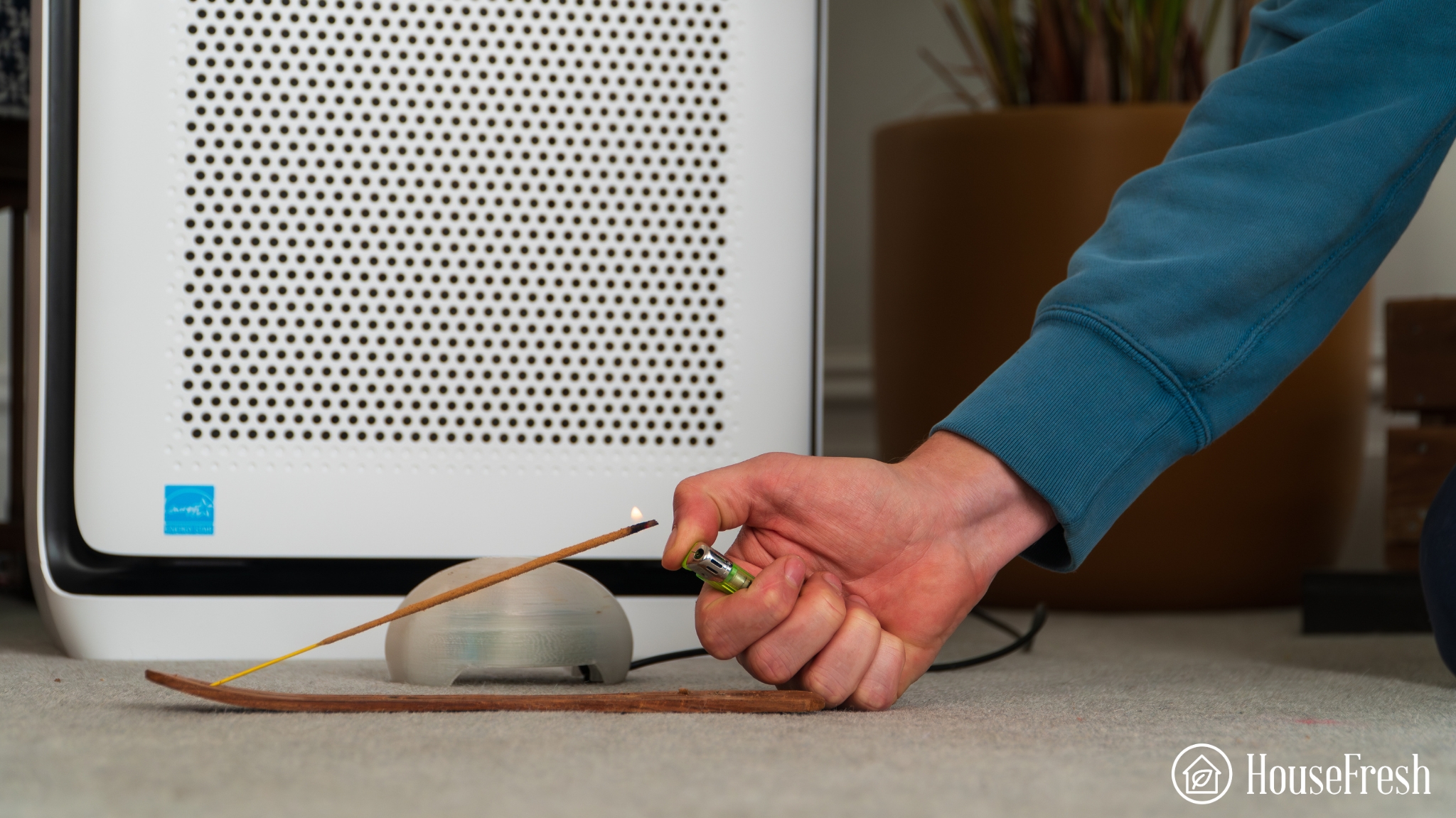 Most air purifier reviews just republish CADR scores and don't test how well the device can clean the air in a home environment.
Here at HouseFresh, we have tested 53 different air purifier models since 2020, recording how long each device takes to remove PM1 particles from our 728 cubic ft test room.
We use the indoor sensor from Purpleair to track data in real time on particulate levels (PM1.0ug/m3, PM2.5ug/m3 and PM10.0 ug/m3) and VOC levels (thanks to the additional BM680 upgrade).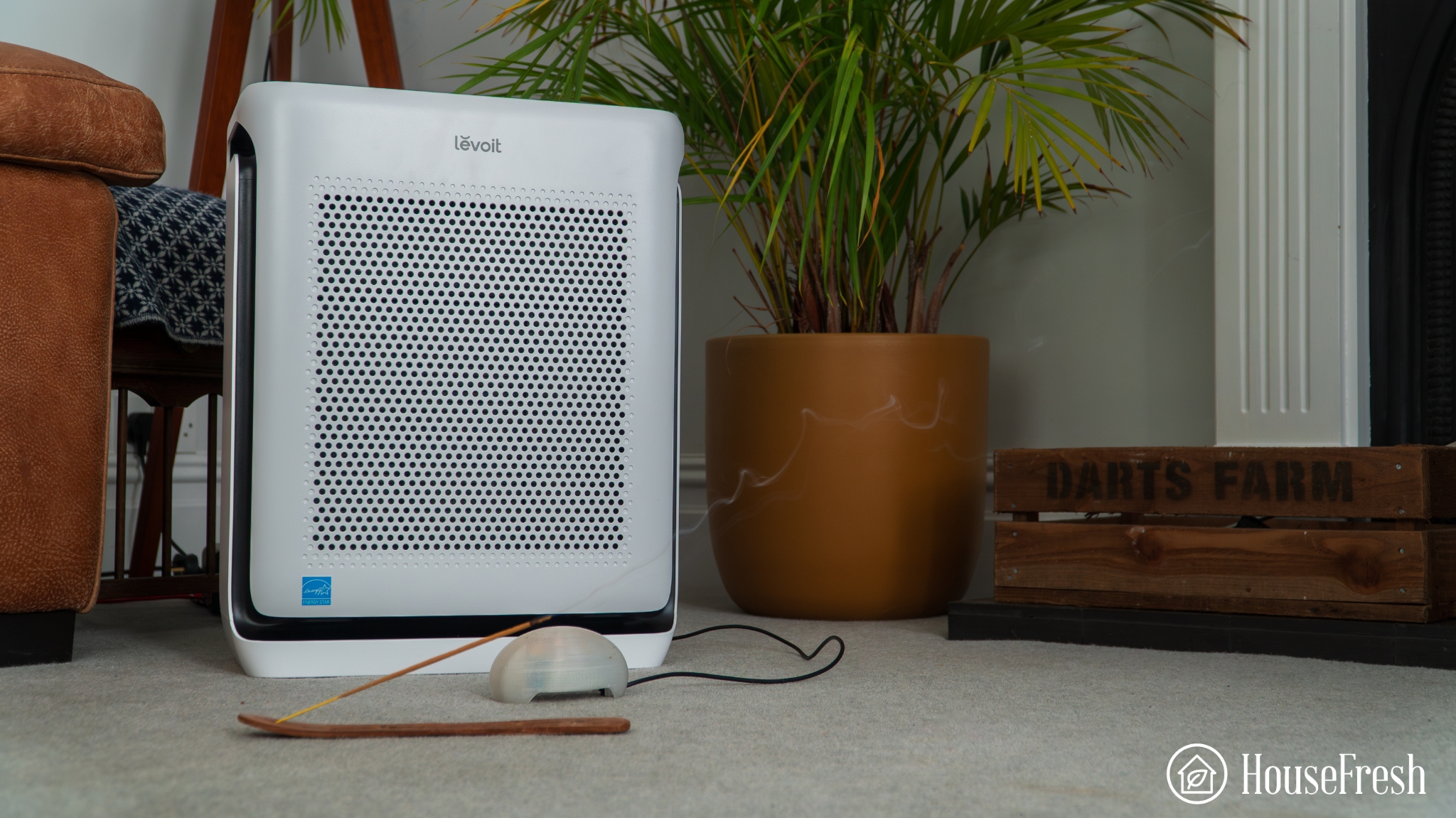 The Levoit Vital 200S brought the levels of PM1ug/m3 to zero in 21 minutes. That makes the Levoit Vital 200S the 6th fastest unit we have tested, including many devices that cost over $500.
Air cleaning performance test results
The Levoit Vital 200S was able to perform the same task as well as the Blueair 311+ but without any use of an ionizer function. It was also two minutes quicker than the Wirecutter favorite, the Coway Mighty AP-1512hh, which also uses a potentially problematic ionizer.
For an RRP of $189.99, this device has a great performance-to-$ ratio and is the best-performing device we have tested that costs less than $200.
Noise levels test results
Our last test involved recording the noise levels in decibels emitted by the Levoit Vital 200S with the help of a sound monitor.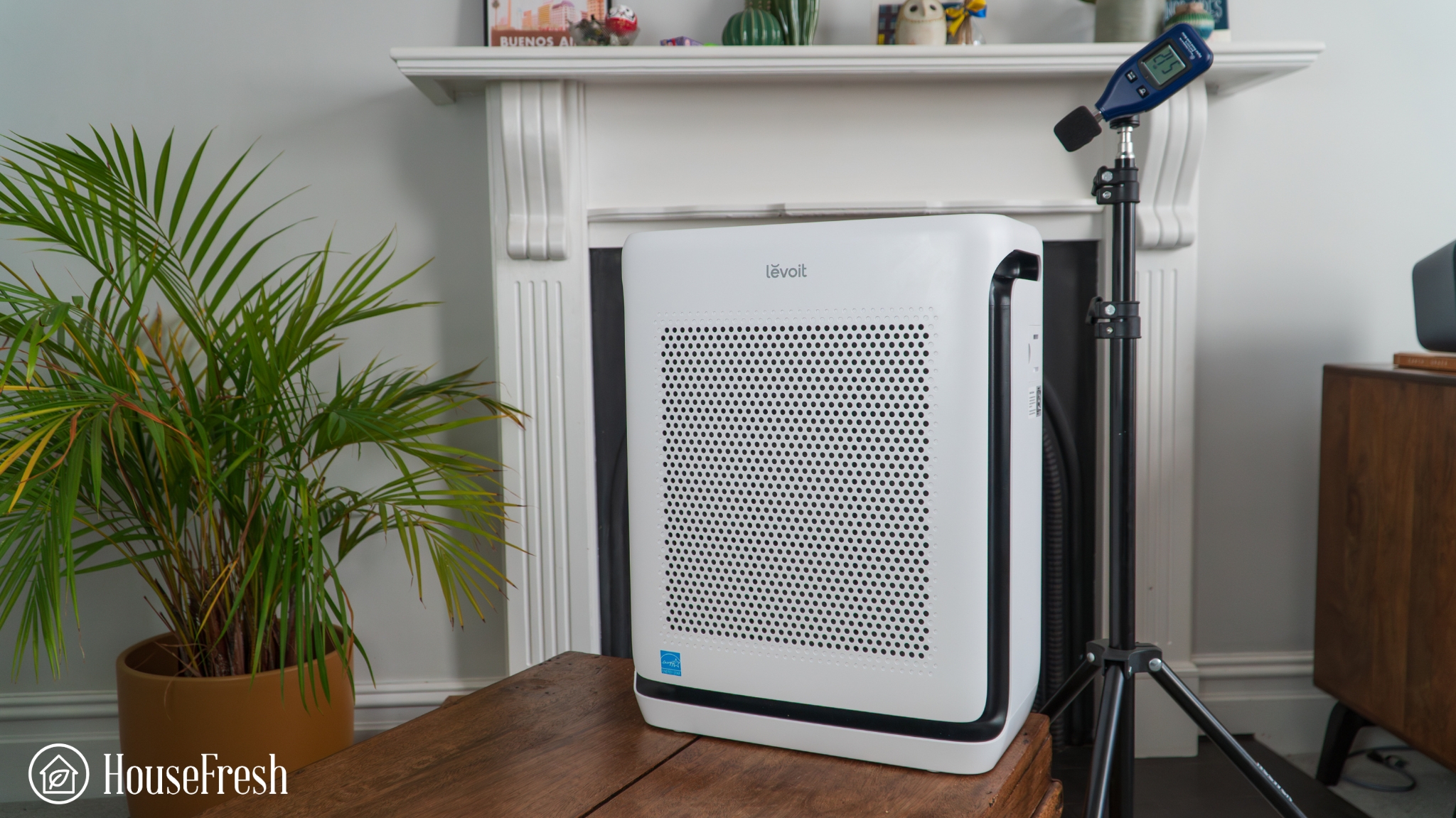 Whilst it does run louder than those devices that utilize ionizer functions, it still only hits 54dB at its highest speed which is in line with what we see with modern air purifiers.
The Vital 200S hits a maximum 54dB and goes as low as 24dB, but we know that sound can be very subjective, so we recorded a video of the air purifier running at different fan speeds:
The cost to run a Vital 200S: $97.83 per year
1. Electricity costs = $37.84
Using our energy meter, we recorded a maximum of 36 watts consumed by the Vital 200S when running at full speed. This equates to $37.84 per year if you were to keep it running 24 hours per day at its highest speed.
This tells me that the Levoit Vital 200S has a very efficient fan that can move a lot of air without excessive energy usage. It's great to see that newer models of air purifiers can perform well AND be energy efficient at the same time.
2. Filter costs = $59.99
All HEPA-based filters will eventually need to be replaced because all the particles they remove are trapped in their fibers, turning the filter into a particle-riddled mess.
In the case of the Vital 200S, Levoit recommended that you change the air purifiers every 12 months — bear in mind that most air purifiers require filters to be replaced every 6 months, so 12 months is a great improvement.
Regarding the filters themselves, you have four options: the original filter, one aimed at those looking to deal with pet allergies, a smoke remover filter and one that includes toxin absorbers. The price of these filters ranges from $49 to $65 dollars, so they are not cheap but they are also not super expensive.
The good news is that similar to other Levoit units, there are also many generic filters available with the standard style for half the price of the genuine filters from Levoit:
Technology
H13 HEPA and Activated Carbon Filter
H13 HEPA and Activated Carbon Filter
Technology
H13 HEPA and Activated Carbon Filter
Technology
H13 HEPA and Activated Carbon Filter
---
Bottom line
The Vital 200S is a great value air purifier with air cleaning performance stats that matched our own home lab testing
If you want to get the best air cleaning for $ ratio and want to avoid ionizer technology, the Levoit Vital 200S is worthy of consideration.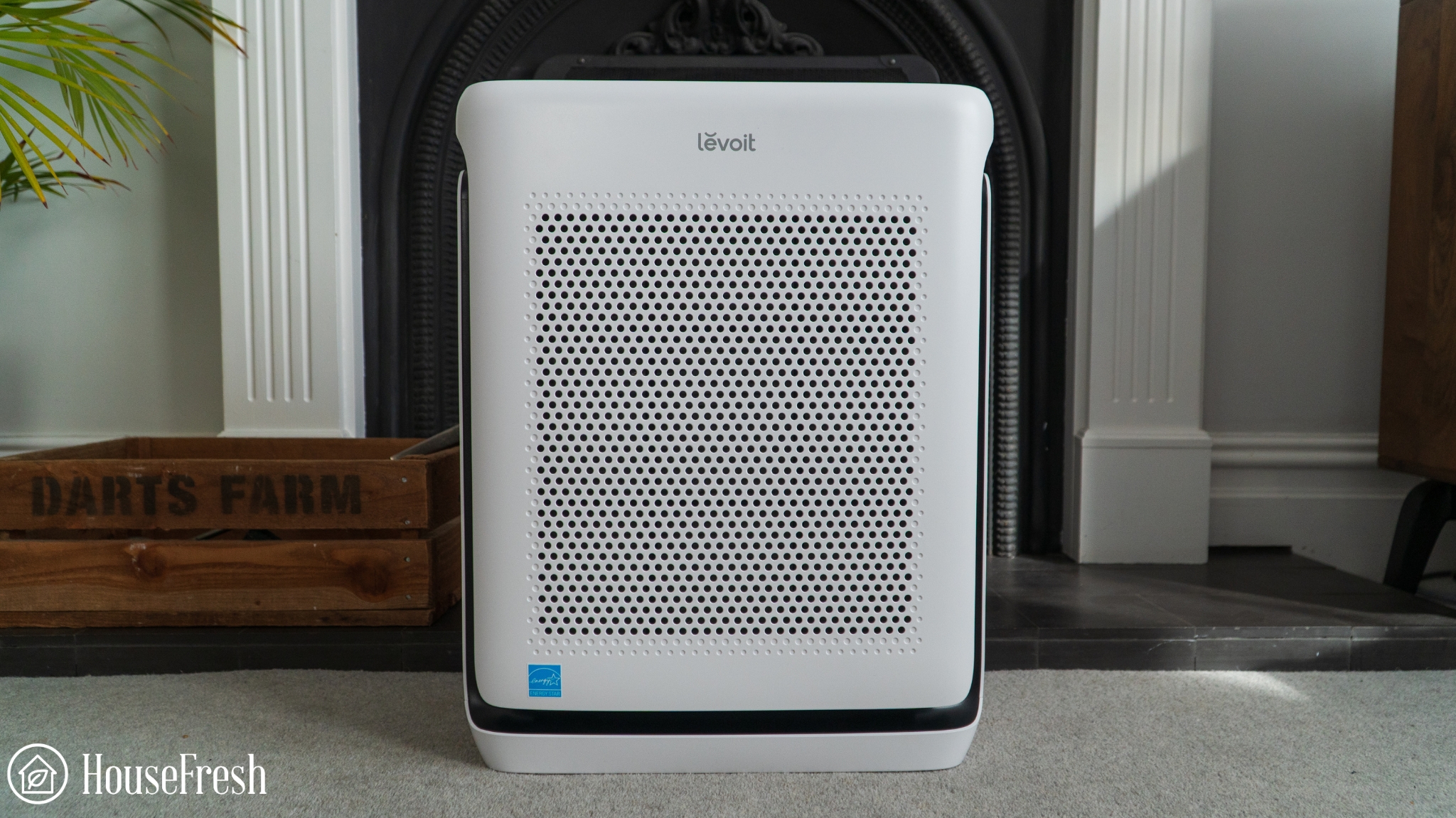 It includes many smart features that are normally only found on pricier models but still manages to clean enough air to be useful in larger spaces.
Those with larger spaces will want to look at bigger units like the Levoit Core 600S ($299.99), but for those with a space between 400-500 square feet, the Vital 200S is a great choice as it will be able to keep your air clean for an affordable price.
Noise levels associated to the Vital 200S are lower than the average and it comes with a bedtime mode and the possibility of turning off the lights of the display (not to disturb your sleep), making it a very attractive and portable unit for a medium-sized bedroom.
I am still concerned about whether or not Levoit units come with True HEPA H13 filtration and would wait till they share an independent lab report before recommending this device for medical settings. Still, as our in-house test showed, the Vital 200S can clean all tiny particles of 1 micron in under 21 minutes. Air cleaning performance nearly twice as fast as the Levoit Core 300 ($99) and is only 6 minutes less than the larger Levoit Core 600S ($300)
For those who want to keep a medium-sized room clean of tiny particles and don't want to spend more than they need, the Levoit Vital 200S is well worth checking out.
---
About HouseFresh
HouseFresh is independent, ad-free and focused on helping as many people as possible improve their home's indoor air quality. We have evaluated over 500 air purifiers to identify those that look good enough on paper to warrant in-house performance testing and hands-on review. To date, we have tested and published reviews for over 50 different air purifiers.
Our performance testing is all done in the same 728 cubic feet room, with all units doing the same job of removing tiny particles generated from incense stick smoke. Using our Purpleair Indoor sensor, we can track how quickly each air purifier can remove particles measuring 1 micron.
We don't take free units in exchange for reviews, nor do we take any payments , so we can be free to say when an air purifier is best avoided and are happy to sing the praises of cheap units that defy expectations.
A ton of time is invested in every air purifier test and review, and we are continually looking for new devices to test. If you find our reviews useful, share them with friends and family, as we are not part of a large publisher network and rely on word of mouth to grow.
At HouseFresh, we have been reviewing air quality products since 2010. In all these years, we learned not to rely on manufacturers' claims and the ever-so-glowing marketing materials. That is why we buy products with our own money, so we can write unbiased reviews after we've had enough time to evaluate air quality products in our home lab. Every unit we recommend has been thoroughly tested to assess its performance, energy consumption, and noise levels emitted in real-life environments. If you have any questions about our testing process for different types of air quality products, just drop us an email at
hello@housefresh.com
.
SOURCES
We calculated the monthly energy consumption costs with the help of the Department of Energy's appliance energy calculator. We calculated yearly costs associated with running Levoit Vital 200S for 24hs a day for 365 days. We chose to run this calculation utilizing the US average utility rate, which is $0.12/kWh as of November 10th, 2023
Last update on 2023-12-01 / Affiliate links / Images from Amazon Product Advertising API