Levoit has been making waves in the air purifier market since it first arrived in 2017.
The company is well recommended online thanks to the quality of their air purifying technology at an accessible price, with units that perform at the level of older, more well-known brands.
Levoit changed my view on "cheap" air purifiers with their Core 300 unit, so I was VERY excited to try a larger machine: the LV-PUR131.
At $179.99, the Levoit LV-PUR131 offers an excellent deal for those looking to clean a medium-sized room with a unit that includes features like automatic mode, which are normally only found on units that will cost you well over $200.
Seeing glowing reviews for this unit, we ordered the LV-PUR131 for ourselves and put it through its paces in real-world tests.
Why You Can Trust This Review

As with all our reviews here at HouseFresh, we bought the Levoit LV-PUR131 with our own money to make sure we would be free to give our unbiased opinion.

We also bought the unit so we could test it in our own home. That's right, unlike the vast majority of air purifier reviews you will read from 'reputable' lifestyle magazines or even tech sites, we actually tested the LV-PUR131 as opposed to just describe it based on the marketing materials from Levoit.

We put the Levoit PUR131 through these tests:

1️⃣ Air cleaning performance test: We used an air quality monitor to see how fast the Levoit LV-PUR131 cleaned the air in our 705 cubic ft. home test room from incense smoke by recording as PM1.0ug/m3, PM2.5ug/m3 and PM10.0 ug/m3 pollution levels decreased.

2️⃣ Energy consumption test: Next, we used an electricity monitor to track energy consumption in watts when running the LV-PUR131 at its lowest and highest fan speeds.

3️⃣ Noise levels test: Lastly, we used a sound level monitor to record noise levels in decibels present in the Levoit LV-PUR131 when working at its top and bottom fan speeds.

All this to say, you can rest assured this review is impartial and you will read an accurate account of the unit's pros and cons.
TL;DR The Lowdown on the Levoit LV-PUR131
---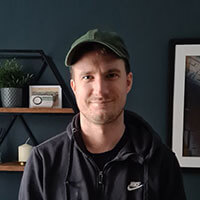 "At $30 over $100, the Levoit PUR131 is a bit of a steal for those looking to clean a medium-sized room with features like auto-mode that are normally only on units for $200+"

— Danny Ashton, Founder & Senior Writer
---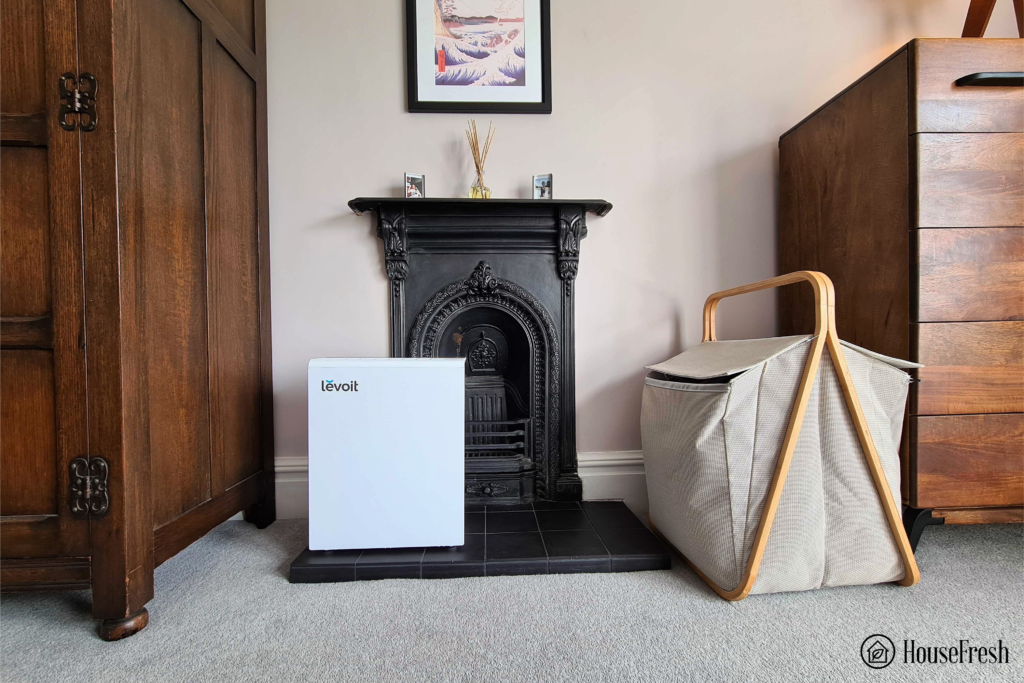 Don't want to read the full review? If you can find the Levoit PUR131 in stock and have a room size of 500 sq. ft, this is the best performance air purifier you can get without spending more than $180.
What We Really Like:
👍 It's less than $180.
👍 I like the simple touchscreen to use it.
👍 The onboard sensor is super accurate
👍 Comes with a standard sleep mode and three (3) power modes.
👍 Filters contain both H13 HEPA and activated charcoal
👍 Timer mode so you can leave it on for 2, 4, 6 and 8 hours
What We Think Could Be Better:
👎 Still underpowered for serious air quality issues.
👎 Does include an app but requires signup and asks for many permissions.
👎 No child lock — and kids will be drawn to the lights!
The Specifications
Levoit's LV-PUR131 is currently on the market for $179.99, an excellent price for a unit capable of two air changes an hour in a 516 sq. ft space.
To find an alternative purifier with a similar spec, you'd be looking at units such as the COWAY AP-1512, which costs upwards of $200 or the Dyson HP04 which is closer to $500.
| | |
| --- | --- |
| HouseFresh Rating: | ★★★☆☆ |
| Time to clean our test room: | 60 minutes |
| Air purifier technology: | H13 HEPA and Activated Carbon Filter |
| Recommended room size: | 360 to 516 sq. ft. |
| Clean air delivery rate (CADR): | 135 CFM |
| Dimensions (in inches / in cm): | 18.5H x 14.6W x 7.2D inches (47H x 37.1W x 18.3D cm) |
| Weight (in pounds / in kg): | 11.22 lbs (5.1 kg) |
| Noise level (low – high): | 25dB – 44 dB |
| Filter life: | 6 months |
| Manufacturer's warranty: | 2 years |
| Estimated energy consumption: | $32.59 per year |
Room for Improvement Looks-wise
The LV-PUR131 is more of a plain Jane than a showstopper.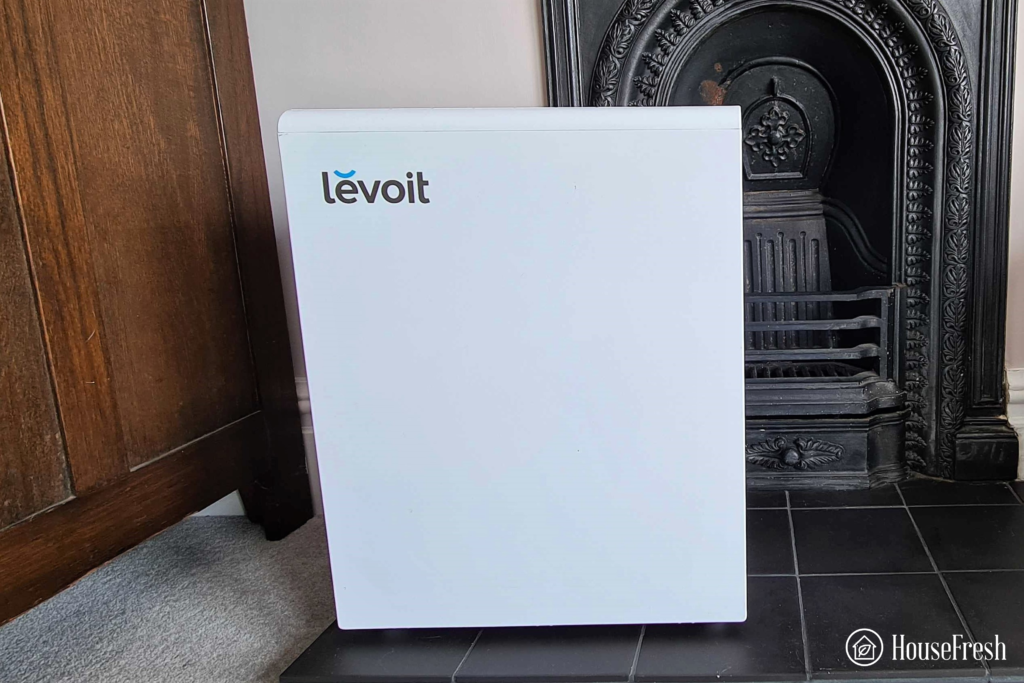 As a simple white rectangular unit that stands at just under half a meter tall, with oversized branding across the top corner, it certainly isn't trying to break the mold regarding modern appliance design.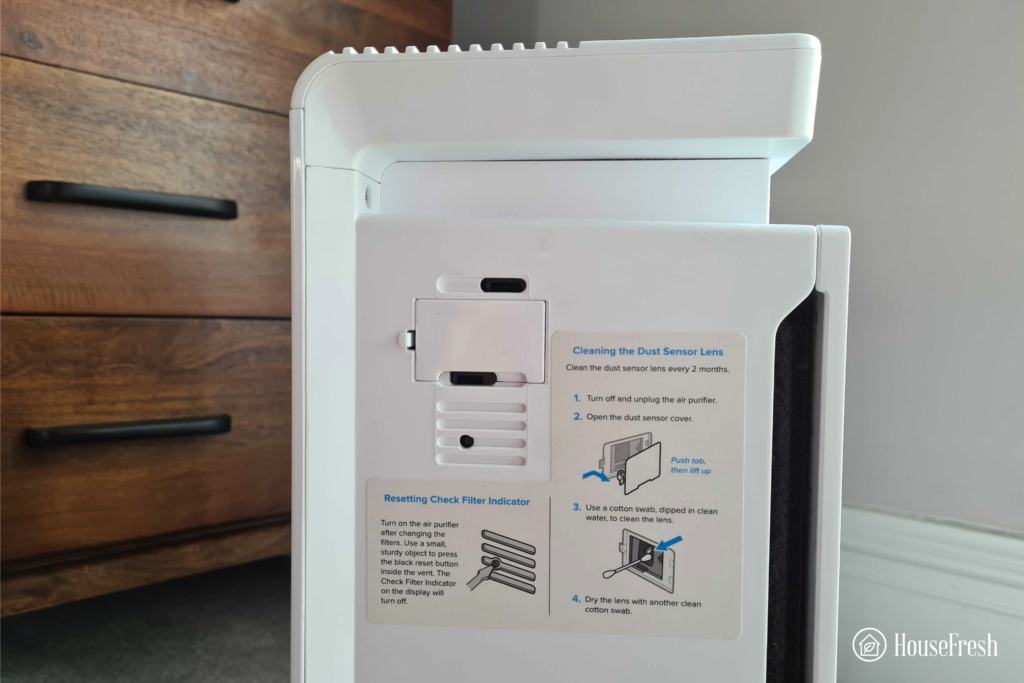 Of course, this isn't the worst-looking unit we've seen, not by a long stretch.
But compared to the Smart Air S, which combines different materials and textures, challenging the shapes we expect an air purifier to take.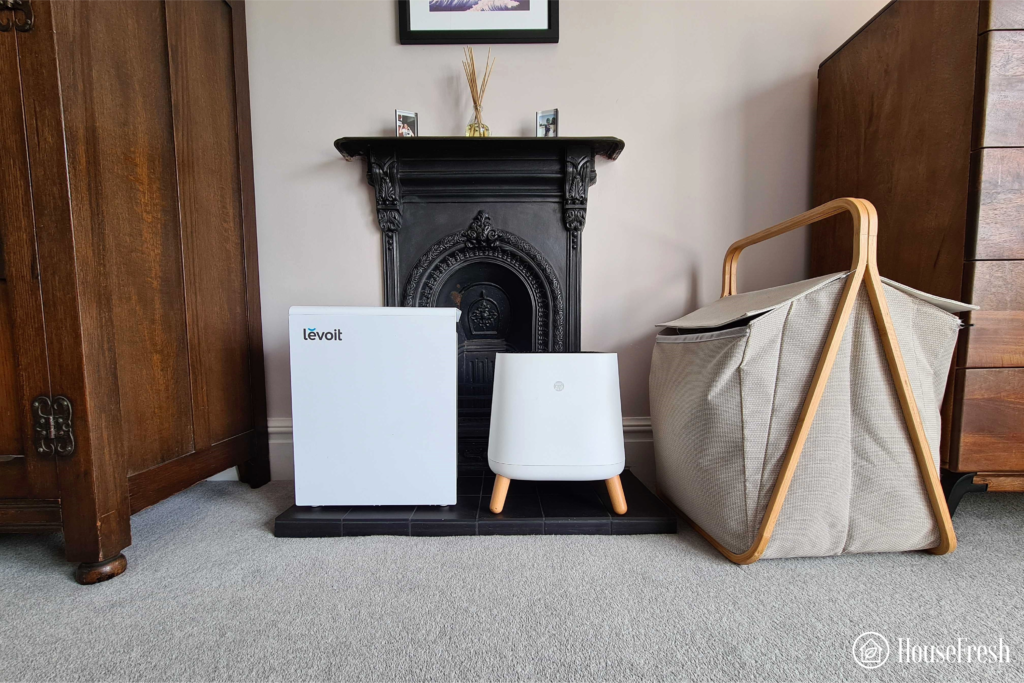 The LV-PUR131 most definitely leaves room for aesthetic improvement.
Three Stages of Filtration
Before purchasing an air purifier, the first thing to know is what filters the unit uses and what effect they will have.
The LV-PUR131 has a three-stage filtration system, with a fine mesh pre-filter, an H13 True HEPA filter, and an Activated Carbon filter.
To access or change the filters, remove the back panel, where the filters are neatly slotted inside the machine, along with handy instructions on installing them correctly.
The primary filter used here is the H13 True HEPA filter for those unfamiliar with some of the more technical jargon. This will capture ultra-fine particles commonly found indoors, such as dust, pollen or mold spores.
HEPA filters are now considered the industry standard amongst leading purifier manufacturers, as they are certified to remove at least 99.97% of airborne particles as small as 0.3 microns. While the HEPA stamp of approval is key, it's also good to know that the H13 rating tells us this filter is up to medical-grade standards.
You will also find the fine mesh pre-filter attached to the outer side of your HEPA filter. This is used to capture larger particles, such as hair, fur, or lint, before reaching the HEPA filter.
💡 Pro Tip: You can quickly clean the pre-filter using either a brush or vacuum to remove any buildup of particles, which will help increase the HEPA filter's performance and lifespan.
The final filtration layer comes from the Activated Carbon filter, which will tackle volatile organic compounds (VOCs) such as chemical fumes, smoke, and household odors. If smoke and odor is a major issue then be sure to look at what we think is the best cigar smoke air purifier or air purifier for tobacco smoke.
Levoit has designed a unique Activated Carbon filter, which not only adsorbs odors but decomposes these gaseous pollutants using their patented Air ReComposition Formula, which is said to improve its deodorizing ability by 60%.
⚠️ At the risk of stating the obvious, we always like to remind readers that the filters will come in plastic wrapping that needs to be removed before using the air purifier. As the filters usually come delivered pre-fitted, this often trips users up as they think they are ready to use.

Simply remove the filters, remove any packaging and re-fit, then you're good to go.
Intuitive Touchscreen Control
Levoit's LV-PUR131 has a super intuitive touchscreen control panel, easily accessed on top of the unit.
Each control comes with a text label and icon to figure out how to operate this unit straight out of the box, with little instruction.
You can turn the machine on/off through the control panel and cycle through its three fan speed settings: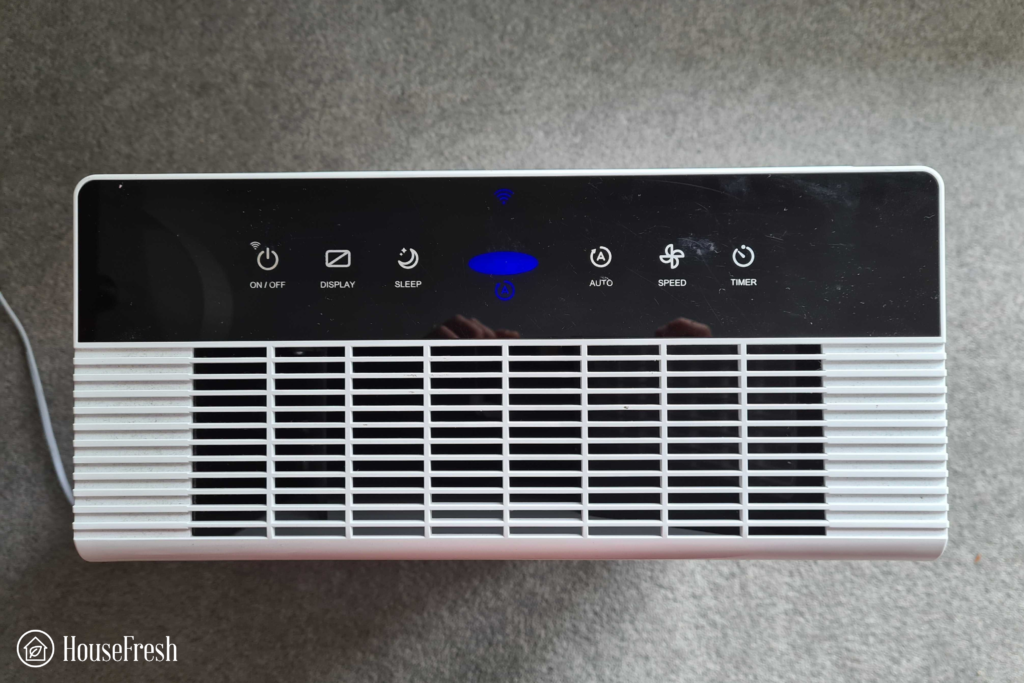 For use during the night, you can hit the Display button to turn off the LED lights and press Sleep to switch the fan speed to its lowest fan speed, which only emits a whisper-like sound at 27dB.
The unit also comes with a programmable 12-hour timer so you can leave the unit to run without worrying about switching it off again.
While the Auto setting utilizes the inbuilt air quality sensor to monitor for pollutants and automatically adjust the fan speeds for minimal fuss and maximum peace of mind.
The Levoit LV-PUR131 Cleared Our Test Room in 60 Minutes
To put an air purifier through its paces, we utilize our home office, which measures up to 705 cubic ft, so it is roughly the same as a small to medium-sized bedroom.
We burn incense sticks to fill the room with airborne pollutants and measure how quickly the purifier can remove all PM1.0ug/m3, PM2.5ug/m3, and PM10.0 ug/m3 particles using our indoor sensor from Purpleair.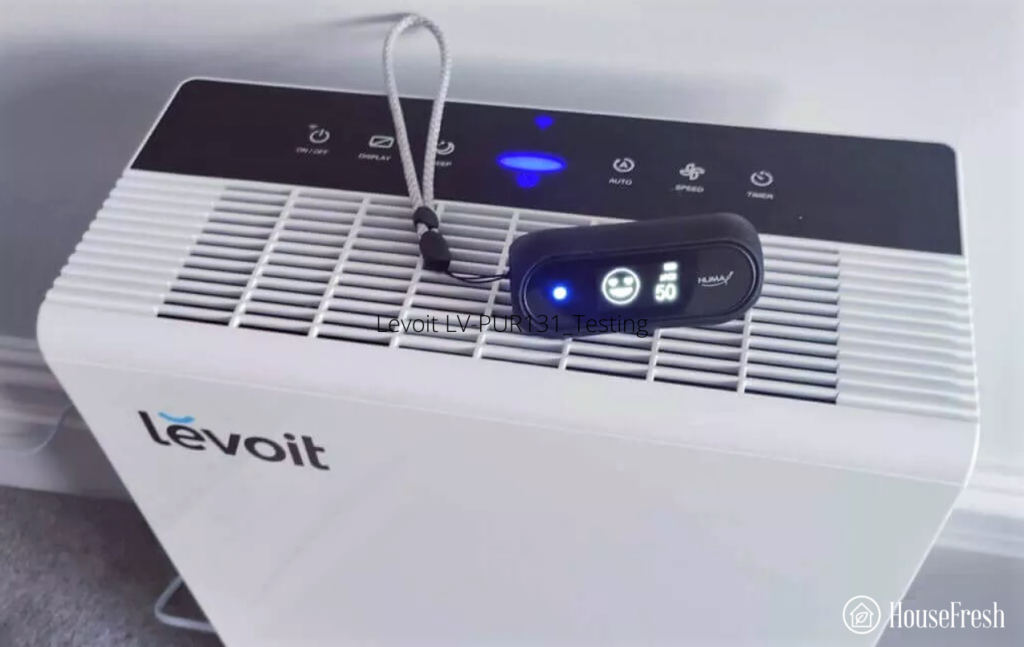 We keep these conditions the same for each test, allowing us to compare and contrast different purifiers and see which unit performs the best in a home setting against common pollutants.
Let's see how the LV-PUR131 did:
Once the incense had finished burning at 12:15pm, we recorded the number of pollutants in the room, with levels reaching:
PM10.0 – 1847.99 ug/m3
PM2.5 – 1577.53 ug/m3
PM1.0 – 581.41 ug/m3
We then fired up the LV-PUR131 on its highest speed setting, allowing it to tackle the airborne pollutants head-on.
Within 60 minutes, each particle reading had reached 0.0, showing that within one hour, the unit had performed three air cycles and removed all traces of pollutants.
Air Cleaning Performance Compared to Other Air Purifiers
When comparing these results to alternative purifiers within a similar price range, we found the Levoit eradicated all pollutants faster than the Blueair Blue Pure 411, which took 1 hour and 8 minutes and the GermGuardian AC4825 which took 1 hour and 44 minutes.
Interestingly, the Levoit Core 300 completed the same test in just 40 minutes, proving that this is still an excellent option for eradicating pollutants in a smaller space.
Noise Levels Test Results
Alongside purifying performance, it's essential to gauge how loud this unit is when operating on its various fan speeds.
When cycling between the three standard fan speeds, this unit runs between 52.2 – 65.6 dB, which is louder than most of the other air purifiers we have tested. However, when set to the Sleep setting, this comes down to a much more tolerable 27 dB.
Check out our sound guide below to hear the LV-PUR131 for yourself.
The Cost to Run a Levoit LV-PUR131: $108.58 per Year
1. Electricity costs = $32.59 per year
Many of us are feeling the pinch as soaring energy prices affect the cost of living. So it's a good idea to figure out what you're likely to pay across the lifetime of your air purifier.
We used the Department of Energy's appliance energy calculator to estimate how this unit might impact your electricity bill to save you the headache of doing the math.
This unit uses 30.5 watts of power on its highest speed setting, which is pretty efficient. If we imagine you run the air purifier on this setting 24 hours a day, 365 days a year, the LV-PUR131 will set you back $32.59 a year.
Bearing in mind as you're more likely to run the unit on its lowest speed for around 8 hours a day, it won't cost much at all to operate this air purifier.
2. Filter costs = $75.99 per year
Over time, as your HEPA and Activated Carbon filters work their magic, they will become clogged with pollutant particles and eventually lose efficiency.
To keep your purifier performing at its peak, you must replace the filters, adding another additional cost to consider before you purchase.
The LV-PUR131 has two filters that need replacement every 6 months (both the Activated Charcoal and the HEPA filter). They are both available in replacement packs for $45.99 but the 2-pack will set you back $75.99 per year.
However, several filters available from third-party manufacturers on Amazon are cheaper than the official Levoit filters (which are often out of stock across the U.S.) These alternative filters come with great reviews from fellow users who claim there is no difference in performance when used.
Technology
H13 HEPA and Activated Carbon Filter
2-Pack Replacement H13 HEPA and Activated Carbon Filter
Technology
H13 HEPA and Activated Carbon Filter
Technology
2-Pack Replacement H13 HEPA and Activated Carbon Filter
Comparing the Levoit LV-PUR131 to the LV-PUR131S
Shortly after releasing the LV-PUR131, Levoit launched the LV-PUR131S to offer users a purifier with enhanced smart features.
In addition to the Auto mode found on the original model, the S includes the option to connect your purifier to your phone or smart device such as Alexa.
This enables the user to operate the purifier remotely using voice activation or at your fingertips through your phone.
The app also allows you to remotely set timers and create schedules, providing updates on the current air quality in your space.
| | | |
| --- | --- | --- |
| Features | Levoit LV-PUR131 | Levoit LV-PUR131S |
| Purifier technology: | H13 HEPA and Activated Carbon Filter | H13 HEPA and Activated Carbon Filter |
| Recommended room size: | 360 sq. ft. | 360 sq. ft. |
| Filter life: | 6 months | 6 months |
| Weight (in pounds / in kg): | 11.22 lbs / 5.1 kg | 11.22 lbs / 5.1 kg |
| Energy consumption: | $66.26 per year | $66.26 per year |
| Auto Mode | ✅ | ✅ |
| Smartphone Functionality | ❌ | ✅ |
| User reviews | | |
| List Price | $179.99 | $189.99 |
So, should you pay more for the S?
In reality, these two units are identical. The only difference is that the S is compatible with Levoit's smartphone app and can be connected to smart devices such as Alexa for voice control.
At only $10.00 more, it seems reasonable to pay the extra if you feel these additional features will be of use. However, if you can't see yourself utilizing such features, then why not save yourself 10 bucks?
---
Bottom Line
Is the Levoit LV-PUR131 the right air purifier for you?
Your particular use case will depend on your situation. The team at Levoit managed to produce a unit with top performance at an affordable price compared to most other air purifiers on the market.
If you are looking for air purifiers under $200, then the LV-PUR131 is the best unit at this price point. If you want to spend more, there are better units out there, but they come at a fairly significant jump in price.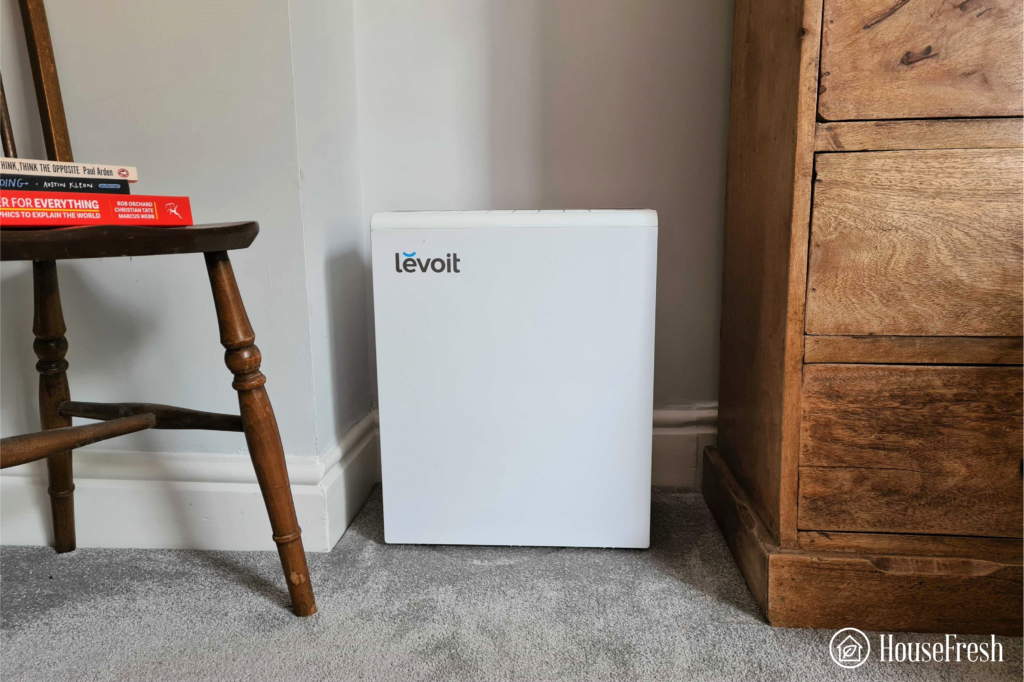 This air purifier is a great first unit for those just venturing into the world of air purifiers or looking for an air purifier to help with air pollutants from vaping or smells from cooking. Unfortunately, the Levoit LV-PUR131 doesn't have the power to deal with more complex air pollutants like those from smoking cigarettes or cigars indoors.
---
SOURCES
We used the Department of Energy's appliance energy calculator to calculate yearly costs associated with running the Levoit LV-PUR131 for 24hs a day for 365 days. We ran this calculation utilizing the U.S. average utility rate of $0.12/kWh as of May 9th, 2023.
Last update on 2023-12-04 / Affiliate links / Images from Amazon Product Advertising API