Our verdict:

Finding the right spot for your air purifier can be tricky. In essence, you need to place your purifier somewhere convenient without limiting its airflow. Although popping it in the corner or closet may keep it out of the way, this greatly reduces the purifier's efficiency. While allowing it enough space to intake and distribute air freely will reap the best rewards. 
You'll also notice the best results if you place your unit as close to known pollutants, such as where someone smokes or where odors are rife. This way, the purifier can target polluting particles before they become a nuisance.
Congratulations! You've taken the first step in transforming your air quality and purchased an air purifier. Now, like countless others in your position, you're stumped on where to put it.
After buying an air purifier, it's understandable that you may want to place it somewhere out of sight and out of mind, knowing that it is working away in the background. After all, they aren't the most decorative appliances and often take up a lot of space.
But this is where people commonly go astray. By plonking a new purifier in a cupboard or behind a sofa, you can't expect to experience a raft of changes in your air quality.
You'll need to think carefully about where to put your purifier to see a noticeable difference:
1. Consider airflow
Air purifiers work by drawing in vast amounts of air into the unit before filtering out airborne pollutants and redistributing clean air back into the room. This means they need to be placed where they can easily draw in air from all corners of the room. Perhaps the biggest mistake people make is placing their purifier in the corner of a room, pressed against the wall. This results in ineffective airflow and ultimately limited results.
💡 Pro Tip: We recommend you give your unit at least 2 inches (5 cm) of clearance.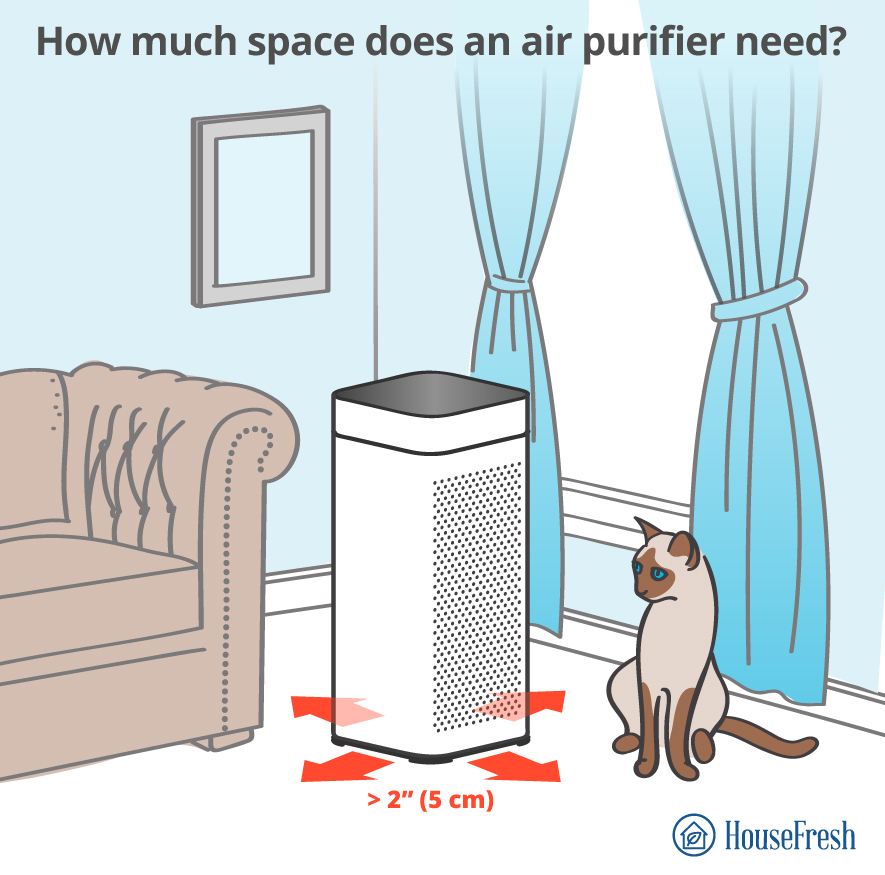 2. Consider proximity to pollutants
Many people utilize air purifiers to target specific issues, such as pet allergies or adverse odors. If this is the case, you'll want to identify the issue and place your purifier as close as possible to the offending source to minimize its effects and maximize clean air.
💡 Pro Tip: The closer you can place the purifier to the pollutant, the faster it can remove it from your air, reducing triggers and nuisances.
Tips for Air Purifier Placement Around the Home
Various pollutants can affect different spaces, from moldy bathrooms to dusty bedrooms. We've covered a few of the most common rooms and pollutants to give you tailored advice.
Room
Air Purifier Placement Tips
Further Reading
🍳 Kitchen
Position your purifier close to the air pollution source, such as the stove or garbage.

If you have a small air purifier, elevate the unit off the ground by placing it on a countertop or shelf. This will allow you to capitalize on changing air currents.
Still looking for a unit for your kitchen? Check out our ranking of the best air purifiers for cooking and kitchen odors.
🛋️ Living Room
To help your unit blend into the background without compromising performance, place your purifier near a door or window to benefit from air movement and capture incoming particles without being the centerpiece of a room.
If design aesthetics are important to you, then have a look at our list of the seven most stylish purifiers.
🚽 Bathroom
Although space is often tight in a bathroom, try to place your air purifier near the source of mold to help capture harmful spores.

It's advisable to keep the unit off the ground so it can target the warm, humid air that rises.
Not sure which unit would be the best choice? We're highlighted our top air purifiers for bathrooms based on our own home-testing data.
🛏️ Bedroom
For a peaceful night's sleep, you'll want to place it as far away from the bed as possible to minimize chances of the sound waking you up.

Smaller quieter units can ideally be placed on top of a nightstand or drawers to filter air directly within your breathing space.
Still shopping for an air purifier for your bedroom? Make sure to choose a quiet air purifier from our latest shortlist.
The Do's and Don'ts of Air Purifier Placement
For a quick-fire guide to finding the right home for your purifier, follow these 10 Do's and Don'ts that will have you breathing clean and fresh air in no time.
| | |
| --- | --- |
| ✅ DO: Know where the air inlet and outlet vents are located. | ❌ DON'T: Block either air vents with furniture or bulky belongings. |
| ✅ DO: Place your purifier near known pollutant sources such as mold, dust or odors. | ❌ DON'T: Place your purifier near other large electricals that run on similar wavelengths. |
| ✅ DO: Place smaller purifiers around 3 ft off the ground. | ❌ DON'T: Elevate larger or tower purifiers. |
| ✅ DO: Position the air purifier near doorways, vents or passages to maximize airflow. | ❌ DON'T: Obstruct pathways through a room or block an exit. |
| ✅ DO: Keep your purifier somewhere convenient. | ❌ DON'T: Push your unit right into the corner or against a wall. |
---
What Size Air Purifier Should You Get?
Bigger doesn't necessarily mean better when it comes to air purifiers; you'll want to ensure that the unit you choose is well-suited to the size of the room in which it will be used.
Most purifiers will come with a recommended room size rating published by the manufacturer. This measurement allows you to understand a purifier's capabilities and what air volume it can effectively purify.
You'll need a unit with powerful fans and large filters for bigger spaces. Smaller rooms, on the other hand, won't require as much oomph, as there is less air in the area to clean.
To ensure your purifier is the optimum size for your space, follow this three-step process.
1. Measure the room in which you plan to use the purifier
As purifiers provide their figures in cubic feet per minute (CFM) you will have to find out the volume of the room.
Volume = room area (length x width) x ceiling height

i.e 20ft length x 15ft width x 10ft height = 3000 cubic feet
2. Determine the minimum Clean Air Delivery Rate (CADR) required for your space
It is recommended that an air purifier should be able to complete four air changes per hour within its designated space. So, by taking the volume of the room and multiplying it by four, you will have the total value required. As CADR is measured in CFM, you can divide your room's total value by 60 (minutes in an hour) to discover your minimum CADR rating.
Minimum CADR = room volume x four air changes ÷ 60 minutes

i.e 3000 cubic feet x 4 air changes ÷ 60 minutes = 200 CFM
3. Assess what purifier is right for your needs
Remember that the CADR rating should be at least two-thirds of the room's square footage, but you will also need to consider the unit's physical size and the space available in your room.
To give you an idea of the range of 'ideal rooms' and CADR scores for different air purifiers in the market:
If you buy a purifier suited to a larger space than required, this won't adversely affect your air quality. You'll see results quickly as it can process the volume of air in the space more efficiently. However, you may be paying more for energy bills and initial costs. In contrast, a larger unit will likely take up more of your living space too.
Also, consider whether you need protection against specific pollutants or require specialized features such as Auto Mode, whisper-quiet fan speeds or a unit that draws little energy before selecting a purifier for your home.
---
Final Thoughts
It may seem like there are lots of rules and regulations stipulating where to place your purifier, especially if you weren't expecting placement to impact your unit's efficiency.
However, these pointers needn't cause any concern as most follow common sense. As a rule of thumb, you'll want to ensure the purifier can circulate air effectively, placing it strategically in a room to maximize air intake without furniture or walls blocking its air inlet or outlet vents. Next, highlight the pollutants that affect you most and place the purifier nearby to target them directly.