Coway has been at this game since 1989, developing products closely with their team of engineers and designers, which have won them many awards over 30 years. Coway has always been at the forefront of innovation, mixing the core needs of an air purifier with luxury features built-in.
"Combining efficiency and modern design, we're helping the world breathe clean air, drink pure water, and elevate their hygiene."
Along with Levoit and Honeywell, Coway is one of the biggest brands on the market, and with new models like the Airmega IconS alongside favorites like the Airmega 300, you know you're getting a high-performing, durable unit.
In our home lab of 728 cubic ft, we light an incense stick to generate particle pollution and VOCs.

We set up our trusted Purpleair Indoor Sensor with the latest Bosch gas sensor to track levels of PM1ug/m3, PM2.5ug/m3 and PM10ug/m3 and VOCs in the air.

We switch the air purifier to its highest speed and measure how long it takes to get our room air quality down to PM1 level to 0.

We use an energy meter to measure precisely how much electricity is used when running the unit at the lowest and highest fan speed settings.

We track sound levels emitted by the air purifier at different fan speeds with the help of a commercial sound meter.

The Lowdown on the Airmega AP-1512HH Mighty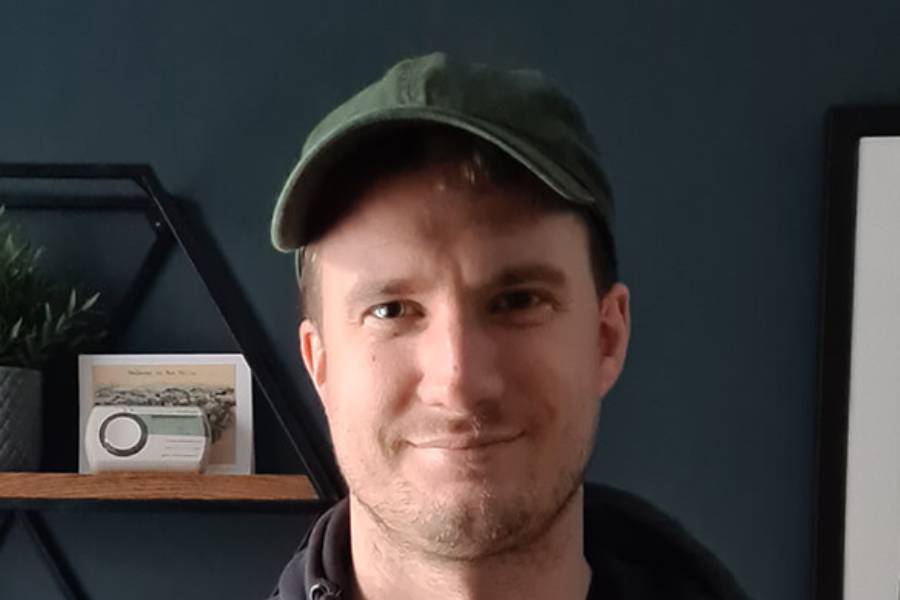 "I'll be honest; this isn't the best unit we've reviewed, but it's far from the worst — cleaning the air in our home lab a full 10 minutes faster than the Levoit Core 400S and the Alen BreatheSmart 45i.

This unit is hard-working and does its job well, but I must clarify that its reported CADR is based on it using an ionizer combined with a HEPA filter."
— Danny Ashton, HouseFresh Founder & Senior Writer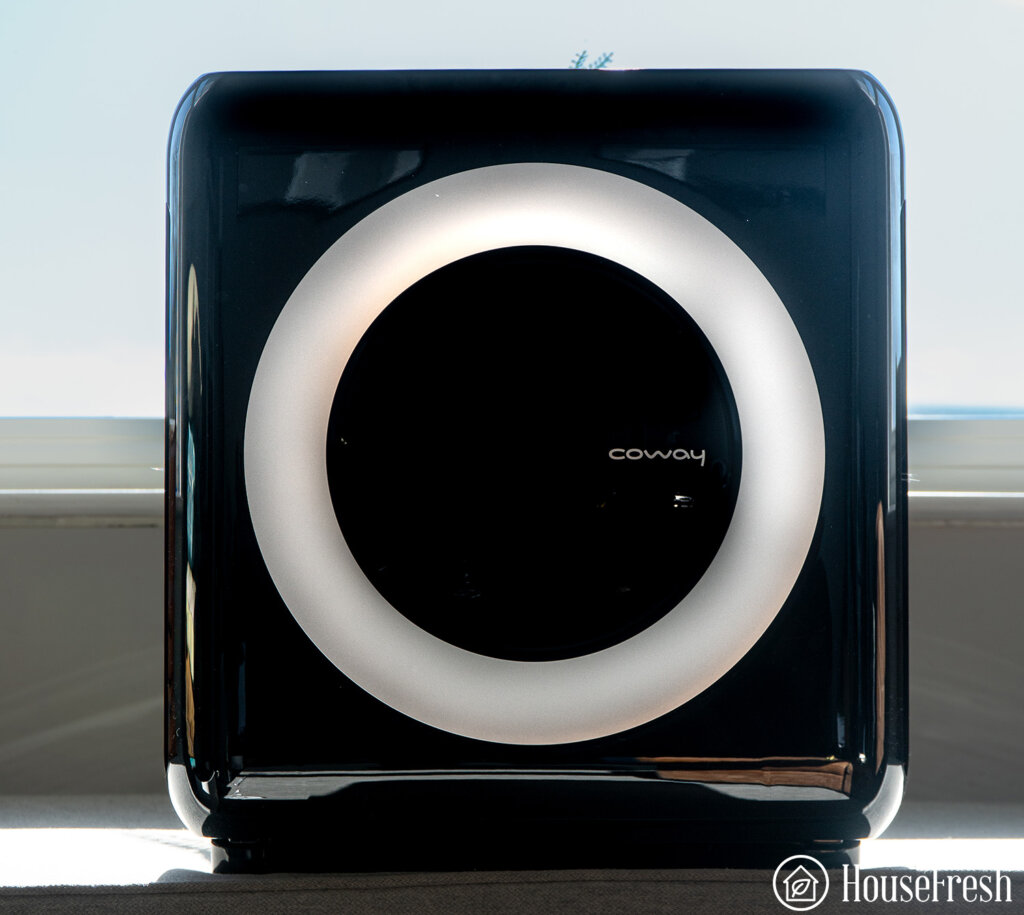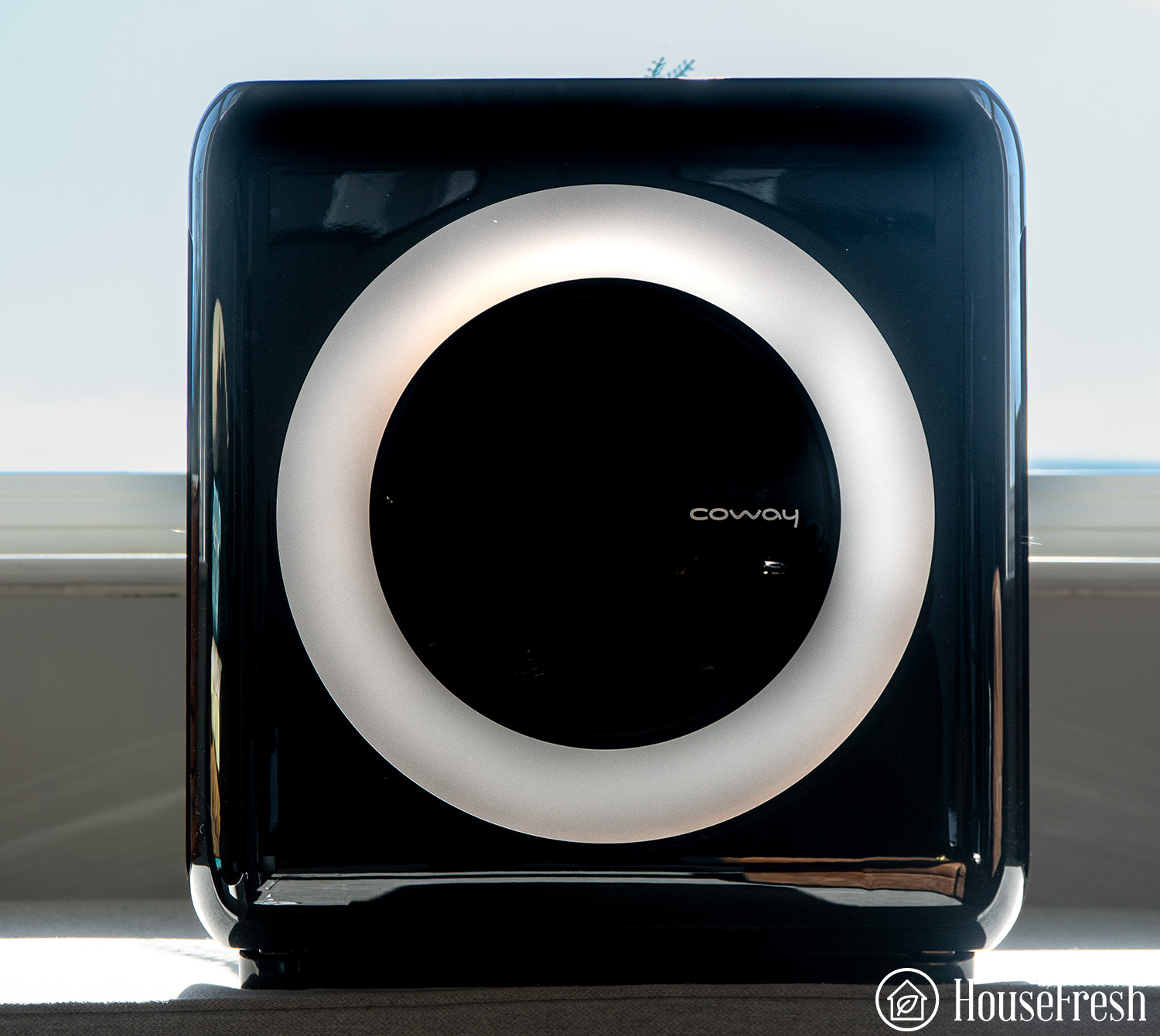 We know that your time is precious so here's our Too Long; Didn't Read pros and cons about the AP-1512HH Mighty air purifier.
What we really like
Good cost per CADR – 62 cents per CFM
It has an onboard air quality sensor
It has a carry handle for easy transportation
Its design is unique and it stands out from the usual white boxes
It's quiet both at low fan speeds and high fan speeds
What we think could be better
At HouseFresh, we are not big fans of ionizers, but I appreciate you can switch it on and off
There are cheaper units that will give you nearly as good performance, such as the Taotronics AP-003 (but it's worth mentioning that the AP-003 is always out of stock)
I'd like to see a numerical display instead of just color ratings
The specifications
At $229.99 the AP-1512HH Mighty is at the lower end of the budget spectrum which is pretty standard for a unit with a CADR of 240 CFM, unless you look at the Levoit 600S which has a 400 CFM for an extra $70. It is designed to tackle contaminants in rooms around 361 sq. ft which aren't huge but with that CFM it should clear rooms pretty fast (keep reading to see our performance test results).
| | |
| --- | --- |
| HouseFresh Rating: | ★★★★☆ |
| Time to clean our test room: | 23 minutes |
| Air purifier technology: | Pre-filter, True HEPA, Activated Carbon, and Bipolar Ionizer |
| Recommended room size: | 361 sq. ft. |
| Clean air delivery rate (CADR): | 240 CFM |
| Dimensions (in inches / in cm): | 18.3H x 16.8W x 9.6D inches (46.5H x 42.7W x 24.4D cm) |
| Weight (in pounds / in kg): | 12.3 lbs (5.58 kg) |
| Noise level (low – high): | 24 – 53dB |
| Filter life: | 6 months |
| Warranty | 3 years |
| Estimated energy consumption: | $168.58 per year |
Alexa, play the Imperial March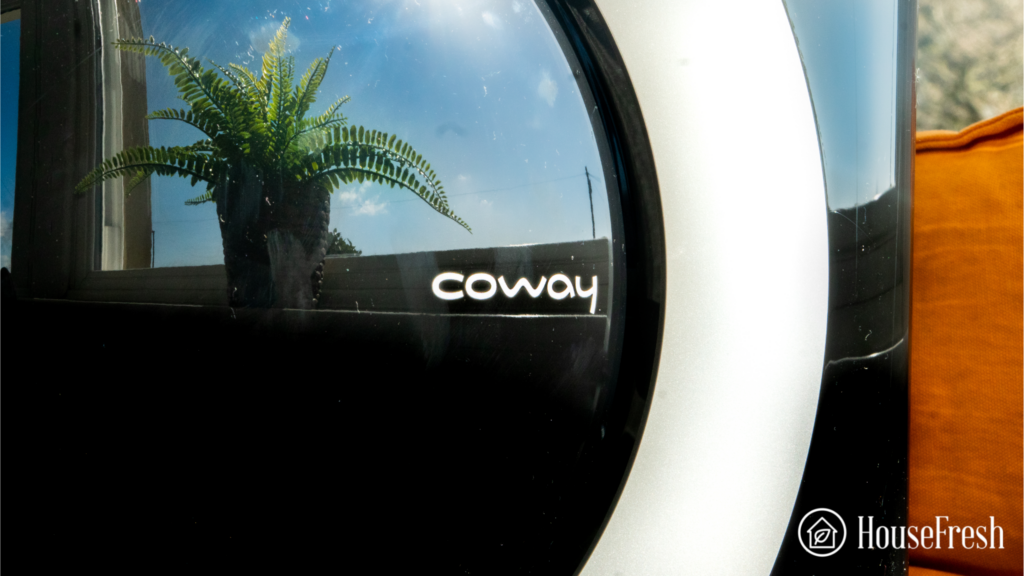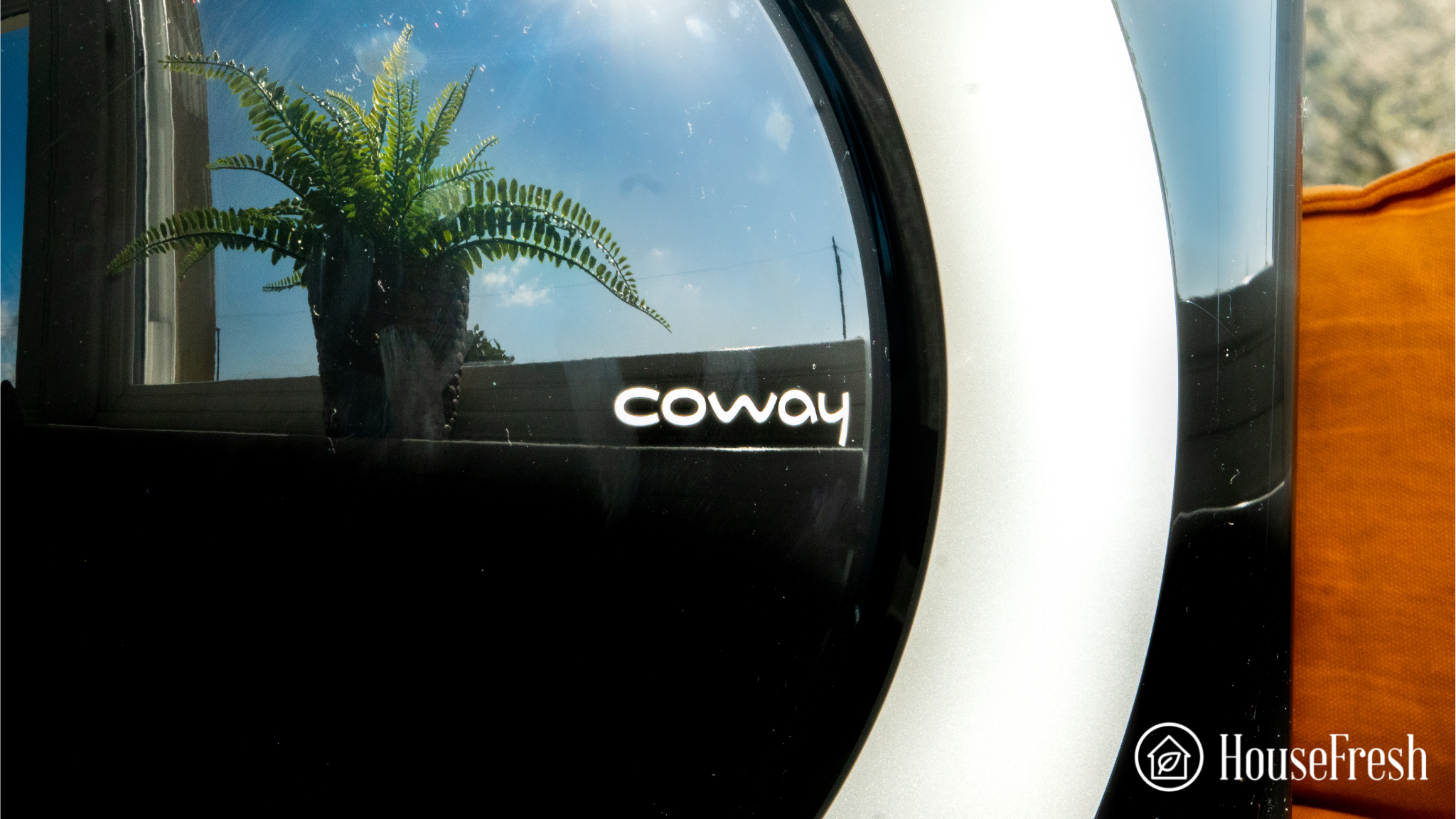 This unit looks cool from the front. Coway has never been scared to think outside the box when it comes to design, and this is no different.
Maybe it's because I like black units or because I'm a fan of the dark side of the force, but the gloss finish and round styling make this air purifier look appealing to me.
There's no visible grill on the front like you see with other air purifiers. Instead, there's a glossy sphere, which is like looking into the bottom of a spoon when you look into it. The control panel sits on top for easy access with the grill, meaning you can put this unit back against the wall, and it won't affect the airflow.
If I ruled the world, the round white circle surrounding the bubble gives the front of this unit a sleek look, but I'd love it if it were used as the color air quality indicator.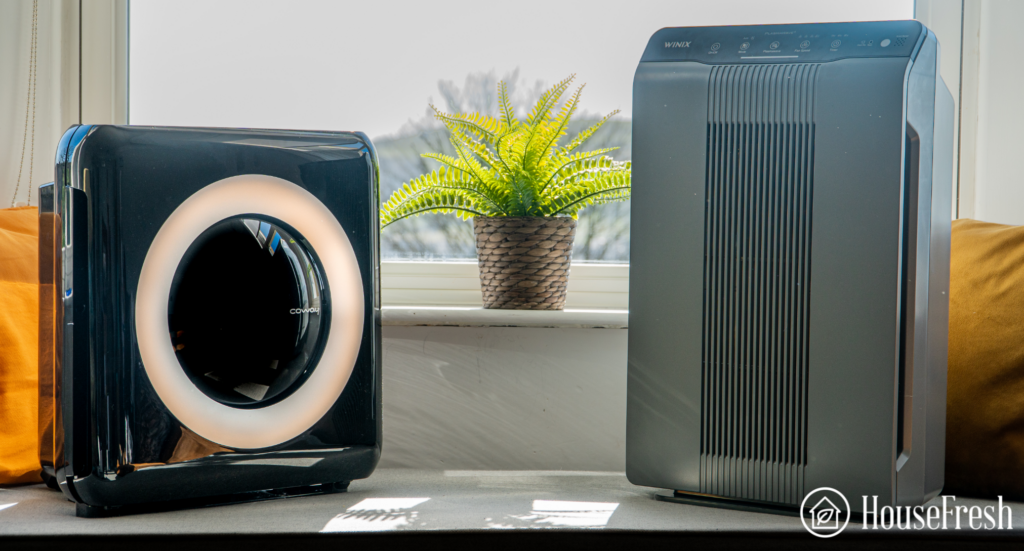 I sat the AP-1512HH next to our Winix 5300-2 to see how it looked compared to a unit with similar specifications. In my opinion, the Coway would fit better into a modern home with its glossy finish and rounded corners. It doesn't look like a conventional air purifier, which is one of the things I love about this unit.
Straightforward control panel
There's nothing worse than getting a new product and having no clue how to work it. Luckily, Coway has always had the customers in mind when operating their air purifiers, and the AP-1512HH is no different.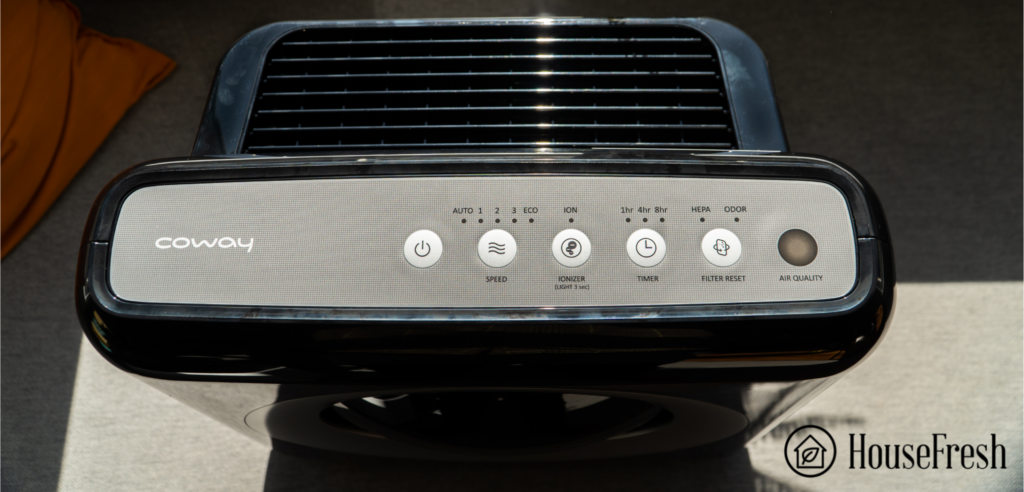 Its simple five-button operation is nicely spaced apart, so you're not pressing the wrong one accidentally. They are physical buttons (not touch sensitive, which is subjective to what you personally like), they don't stick, and they have symbols on, so there's no confusion.
On/Off – Pretty self-explanatory
Fan Speed – This will allow you to change through the three fan speeds and also select eco and auto modes. Eco Mode turns the fan speed to its lowest to save energy. If your environment is clean after 30 mins, it will turn the fan off.
Auto Mode – It uses the unit's in-built air quality monitor and adjusts the fan speed according to its readings. If the air is bad, it will turn the fan up without you needing to press any buttons.
Ionizer – This button engages the ionizer function if you wish to use it. To turn it off, simply press the button again.
Timer – Select from 1hr, 4hr, and 8hr countdowns. After the time selected has depleted the air purifier will automatically turn off.
Filter Reset – (The least exciting button on the unit). When your filters need replacing, an indicator light will show up on the control panel. Once you've replaced the filter(s) hit this button, so the unit knows it has fresh ones installed.
At the end of the control panel is the air quality indicator. This shows you how clean the air in your room is in real time. It will show you one of three colors; red indicates that your air is heavily polluted, purple shows the room is medium polluted, and blue indicates your air is currently clean. Very intuitive.
Powerful 4-stage filtration
When looking for an air purifier for your home, we recommend you only look at units that use HEPA filters as they are scientifically proven to be the most efficient method of removing airborne contaminants from your home. The AP-1512HH houses a True HEPA filter that traps 99.97% of tiny harmful particles like dust, pollen, mold, and smoke.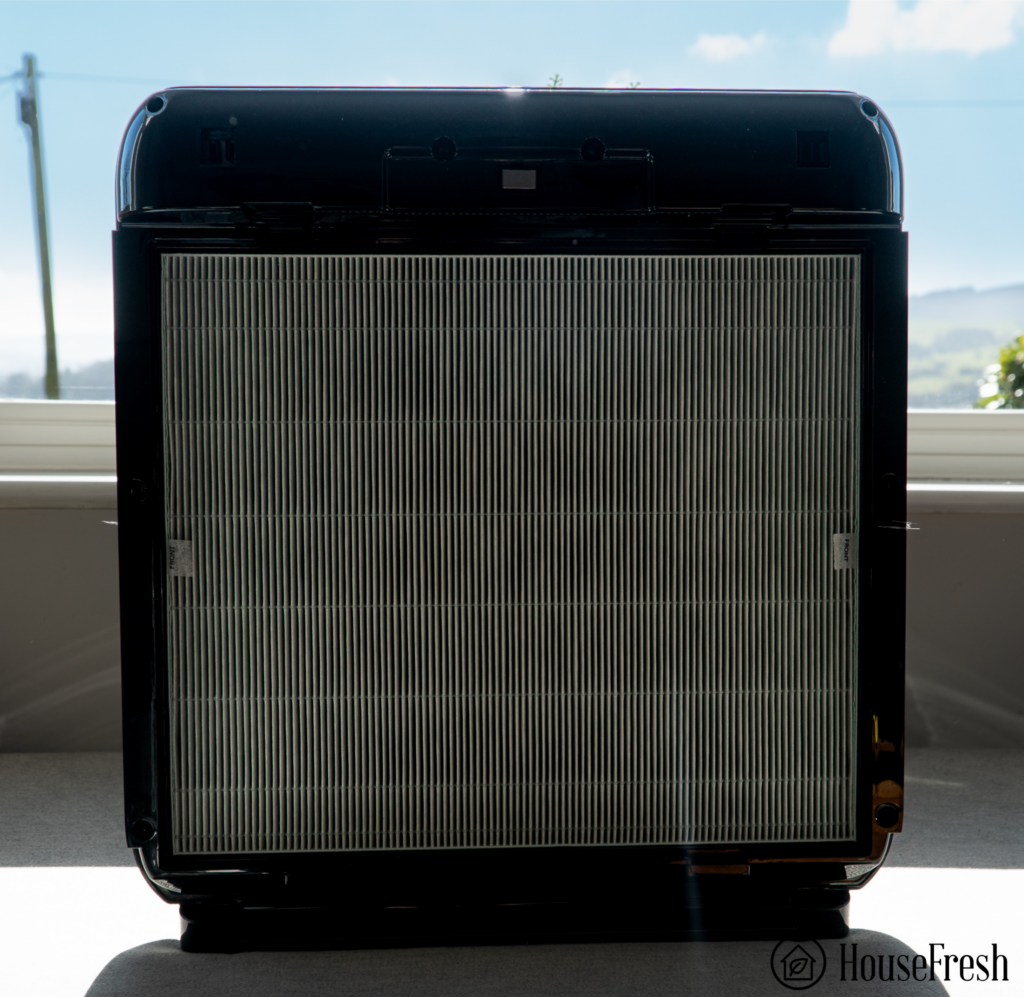 The HEPA filter may be the most important of the four stages, but it wouldn't be able to work as efficiently without the other pre-filter and activated carbon filters.
Pre-filter – This acts as the first line of defense against airborne contaminants. It works by trapping larger pollutants in its material, thus, prolonging the life of your HEPA. This pre-filter can also be cleaned, so you won't need to replace it when dirty.
Activated carbon – Coway refer to this as their Deodorization filter which is basically what it does. This sheet of bonded carbon uses a process called adsorbtion to trap odors and other VOCs removing them from the air in your room.
You may have noticed it says "4-stage filtration" in the title, and I've only mentioned three. This is because the fourth is an Ionizer. For those unfamiliar with this technology, it means the air purifier creates an electrochemical reaction in the air which attracts additional airborne pollutants. The reason I didn't initially include the ionizer is that I'm not convinced how effective the technology is, but it's there if you want it.
As with most air purifiers, when the filters become full of pollutants, they become less effective. That's why you need to change them after some time. The HEPA and activated carbon filters need changing around every six months but don't worry about adding it to your calendar; the Airmega will indicate when they need replacing.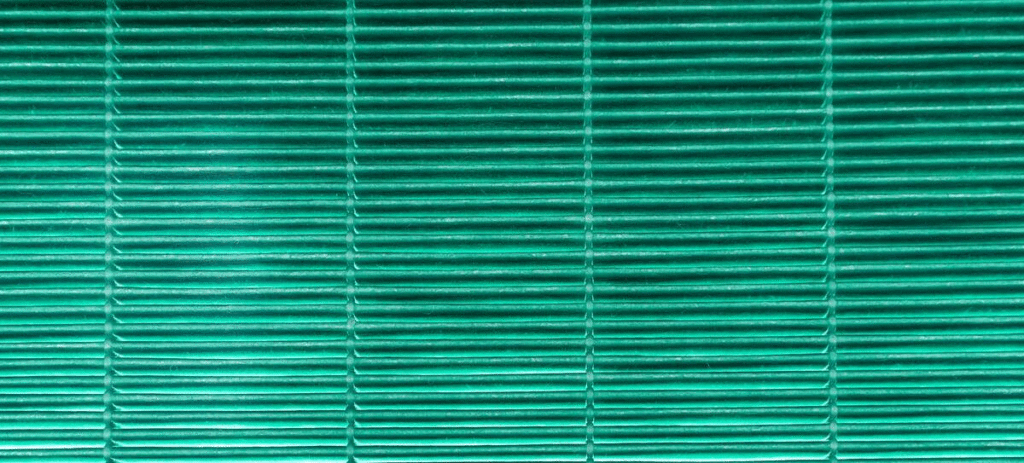 Replacing the filters is essential and easy to do.
Step 1: Remove the front panel by pulling it away from the body
Step 2: Unclip the pre-filter from the top and put to one side
Step 3: Take out the activated carbon filter
Step 4: Pull on the tabs to remove the HEPA filter
Step 5: Replace the filters and reassemble your unit
Do me one favor: remove all the plastic packaging from the replacement filters before installing them into your air purifier. If you don't then the filters won't work, and you'll probably smell a plastic burning smell after a while. Not what you want, I assure you. 
Tip
The manual of the Coway AP-1512HH, I recommend you keep the manual around as it has a very handy section with a table with troubleshooting tips: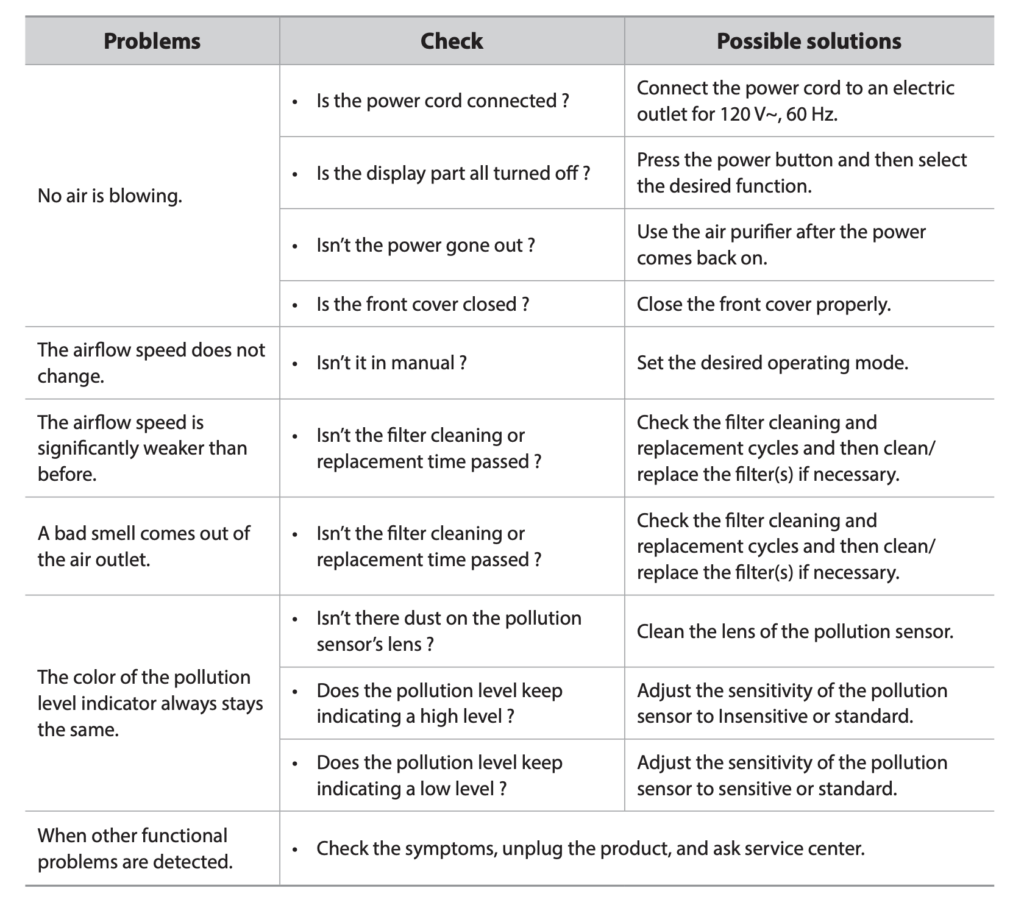 The Airmega AP-1512HH Mighty cleared our room in 23 minutes
Okay, here's the science and probably why you're looking into this air purifier: its performance.
Unlike some other air purifier review sites, we don't rely on the manufacturer's performance testing results because they most likely conducted those tests in a lab environment. You probably don't have a lab, and neither do we, so we do our own tests in our 705 cubic ft office.
Here comes the fun part… We first fill our room full of pollution to simulate the worst-case scenario using a concentration of incense smoke. Once the room is fully contaminated, we switched the Coway onto its highest fan speed and measured how long it took for the unit to clear the room of the pollutants.
We measured our results using an indoor sensor from Purpleair, which provides us with constant updates on PM1.0ug/m3, PM2.5ug/m3, and PM10.0ug/m3 (pollution).
Here is what we found:
As you can see from the results graph, the AP-1512HH cleared our room of contaminants in 23 minutes. This shows that its high-performance fan makes light work of heavy pollution. This goes to show that the years Coway has been making units has provided them with the technology and know-how to manufacture highly efficient air purifiers.
Air cleaning performance test results
If we compare this to other units we've tested, you'll see just how well the AP-1512HH performed.
Noise levels test results
Another pro of this air purifier is the sound it makes. It can go from 24 dB (lowest fan speed) to 53 dB (high fan speed), which is right down the middle average for air purifiers.
But noise can be subjective to have a listen for yourself to see what you think d-.-b
The cost to run the Coway AP-1512HH: $162.93 per year
1. Electricity costs = $81.99 per year
When you buy an air purifier, as with any electrical product, the cost doesn't end with the initial purchase, you need to power it and that costs money. With the ever-growing energy prices, this is something that you can't take lightly. Luckily, many air purifier manufacturers are doing their best to make their units as energy efficient as possible.
We clocked the AP-1512HH taking 77.6 watts of electricity on full power which is on the higher side for a unit of this side but not crazy high. When we compare that to similar air purifiers; we measured the Winix 5300-2 at 63.4 watts, the Conway Airmega 300 at 52.5 watts, and the Honeywell's HPA300 at 87 watts.
To work out how much the AP-1512HH could cost you per year we used the Department of Energy's appliance energy calculator. This uses the average cost of energy across America, and calculates how much it will cost you to run your unit based on the wattage it pulls.
If you ran this unit at full speed (77.6 watts), it would cost you a total of $81.99 a year.
But, as you've seen from the performance test, you shouldn't need to run the Airmega on full for that long so this calculation is at the top end.
2. Filter costs = $80.94 per year
As I mentioned earlier, filters don't last forever. As they fill up with all the contaminants they've trapped from the air in your room, they become less and less effective. Different filters have different life spans, for the AP-1512HH, that life span is 6 months.
This is an important cost to factor in, if you don't replace filters when they need to be replaced, you might as well not turn your air purifier on in the first place. At least you know that it's very simple to do when the time comes.
Coway offers a pack where you can buy both HEPA and two activated carbon filters together, saving you time and money in making several purchases. This pack retails at $57.49 from their site, but there are always deals on Amazon.
Sale
Bottom line
Although Coway's Airmega line has advanced quite a bit since the release of the AP-1512HH (check out the Airmega IconS) but this unit still holds up when it comes to the most important job for an air purifier… how efficiently it cleans the air.
It's a cool design that comes in both black and white. It doesn't look like an air purifier, but it looks like something from outta space! Not only does it look great, but it's easy to use. The control panel is well-labeled, and the buttons are well-laid out and clearly labelled.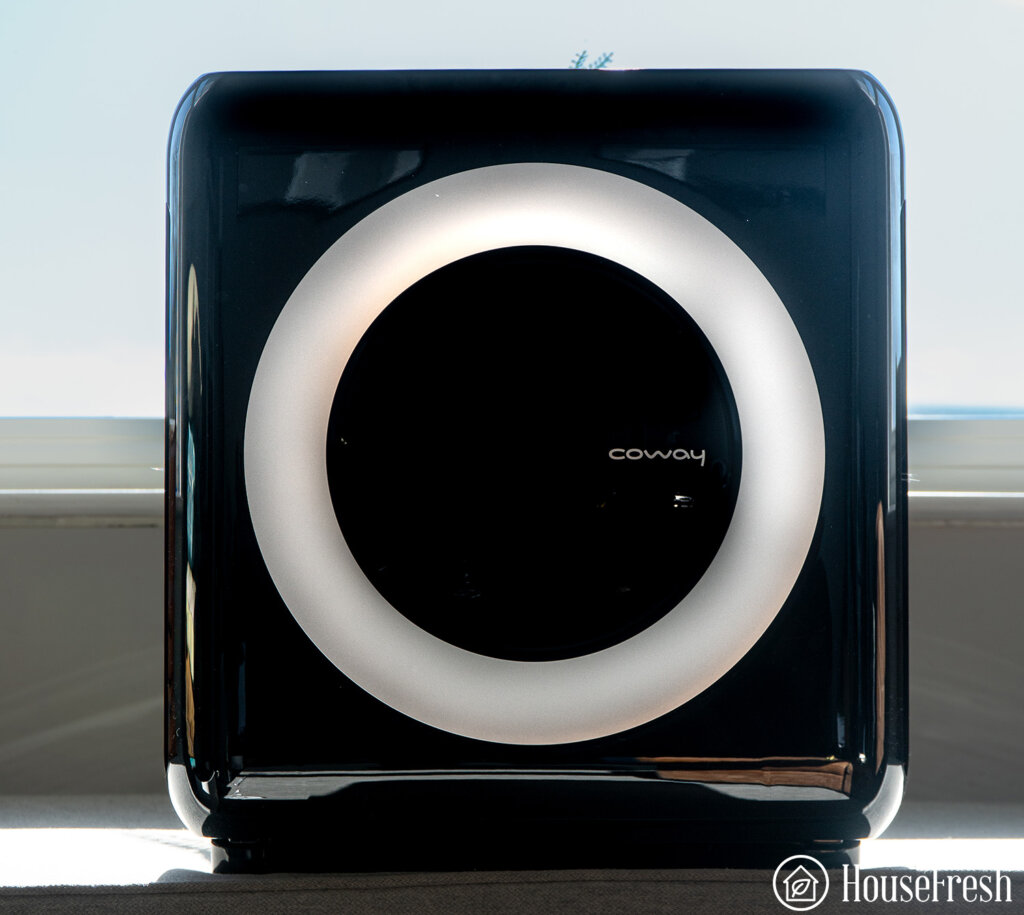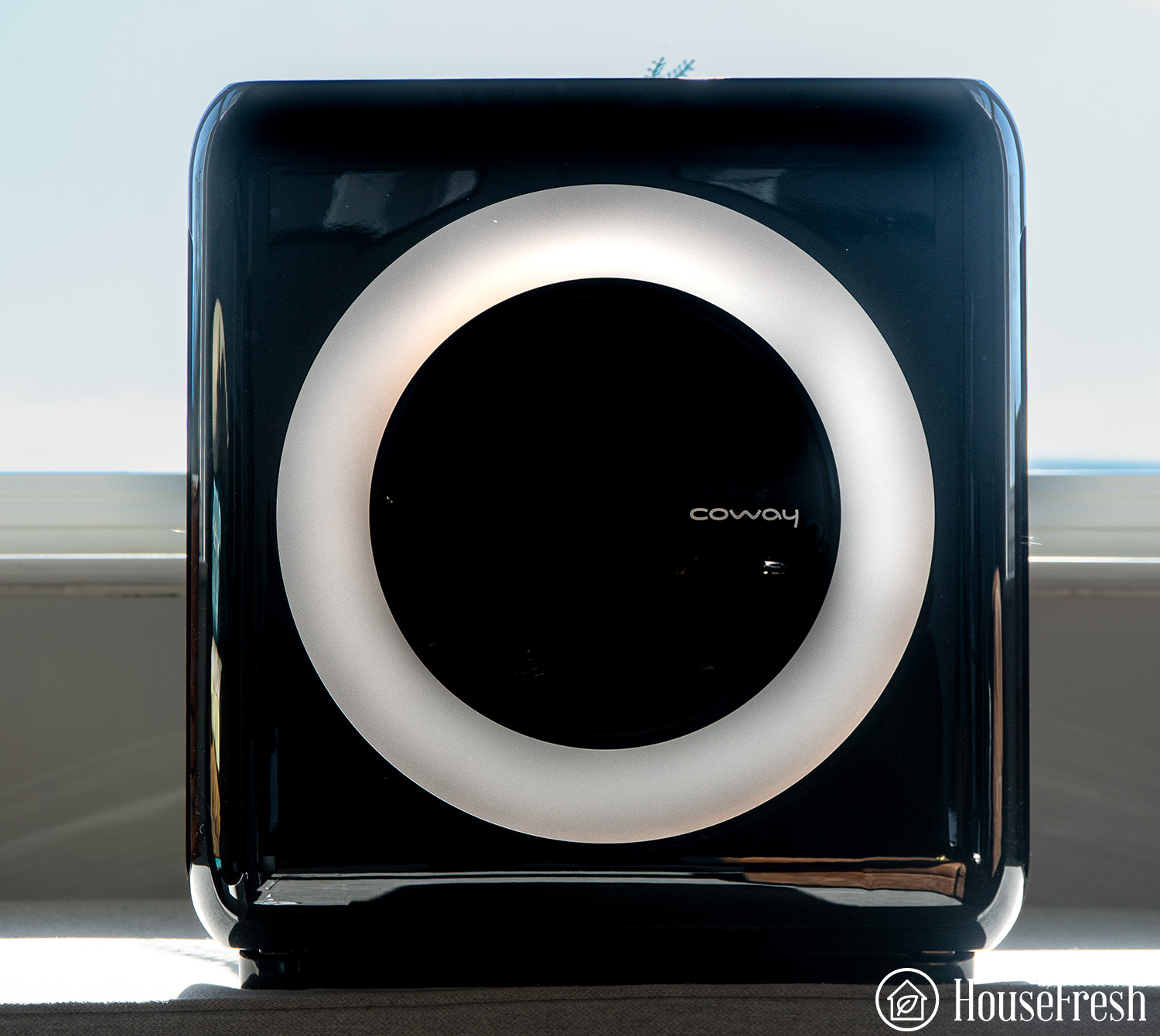 The issue with this unit is that technology dates so fast. As this is now a few years old, it doesn't contain all the smart features the new units offer, like smartphone app control or numerical air quality indicator. I'm also not a big fan of the bonded activated carbon sheets, I believe the loose fill filters do a much better job and last a whole lot longer.
Compared to similar units the AP-1512HH is a great performer. It cleared our testing room rapidly and hasn't stopped giving us great results since we bought it. If you're looking for a workhorse of a unit that looks different from the rest, then this would make a great addition to your home.
SOURCES
We used the Department of Energy's appliance energy calculator to calculate yearly costs associated with running the Coway Airmega AP-1512HH Mighty for 24hs a day for 365 days. We ran this calculation utilizing the US average utility rate of $0.12/kWh as of June 1st, 2023.
At HouseFresh, we have been reviewing air quality products since 2010. In all these years, we learned not to rely on manufacturers' claims and the ever-so-glowing marketing materials. That is why we buy products with our own money, so we can write unbiased reviews after we've had enough time to evaluate air quality products in our home lab. Every unit we recommend has been thoroughly tested to assess its performance, energy consumption, and noise levels emitted in real-life environments. If you have any questions about our testing process for different types of air quality products, just drop us an email at
hello@housefresh.com
.
Last update on 2023-12-01 / Affiliate links / Images from Amazon Product Advertising API