Our verdict:
Winix have been in the air purifier game for a while now, nearly 50 years in fact, so they have a good idea what they're doing. With a few new models in their arsenal, the 5300-2 could almost be classed as an old unit. But it's not ready for retirement yet, and priced at $200*, this Winix is still in the race.
The CADR for the 5300-2 may not match other budget units like the Levoit Core 600S but it still held its own in our performance tests. It's easy to operate, has enough smart features to keep up with the market, and looks great in the home.
The bonded activated carbon filter is not the best we've seen but the True HEPA and removable pre-filter make a big impact on clearing airborne contaminants from your home.
Starting their journey in 1973, this South Korean company made it their mission to "deliver perfect products which are superior in Innovation, Performance, and Style". By making sure each of their products meets the high standards of testing companies like AHAM and Energy Star, it's no wonder they're a major player in the market.
Alongside HEPA and Activated Carbon filters, they use their signature technology, PlasmaWave®. PlasmaWave® claims to reduce bacteria and viruses from the air in your home without producing harmful ozone.
As a disclaimer, we're still not 100% convinced with ionization technology, so it will be interesting to see if PlasmaWave® persuades us otherwise.
Why You Can Trust This Review

As with all our product reviews, we don't just do a little reading and look at pictures, we actually BUY the thing and conduct our own performance tests. This lets us play around with each product so we can tell you exactly what it's like in a real-world setting highlighting both pros and cons.

Here's how we tested the Winix 5300-2:

1️⃣ Air cleaning performance test: We recorded how fast the Winix 5300-2 cleared the air from incense smoke in our 705 cubic ft. testing room.

2️⃣ Energy consumption test: We measured how much electricity in watts is needed to run the Winix 5300-2 at its lowest and highest speeds.

3️⃣ Noise levels test: We uncovered real sound levels in decibels emitted by the Winix 5300-2 working at its top and bottom fan speeds.

We're not scared of delivering the truth. If it sucks, we'll tell you, trust us.
TL;DR The Lowdown on the Winix 5300-2
---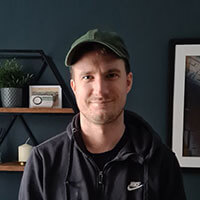 "The CADR for the 5300-2 may not match other budget units like the Levoit Core 600S but it still held its own in our performance tests. It's easy to operate, has enough smart features to keep up with the market, and looks great in the home."

— Danny Ashton, Founder & Senior Writer
---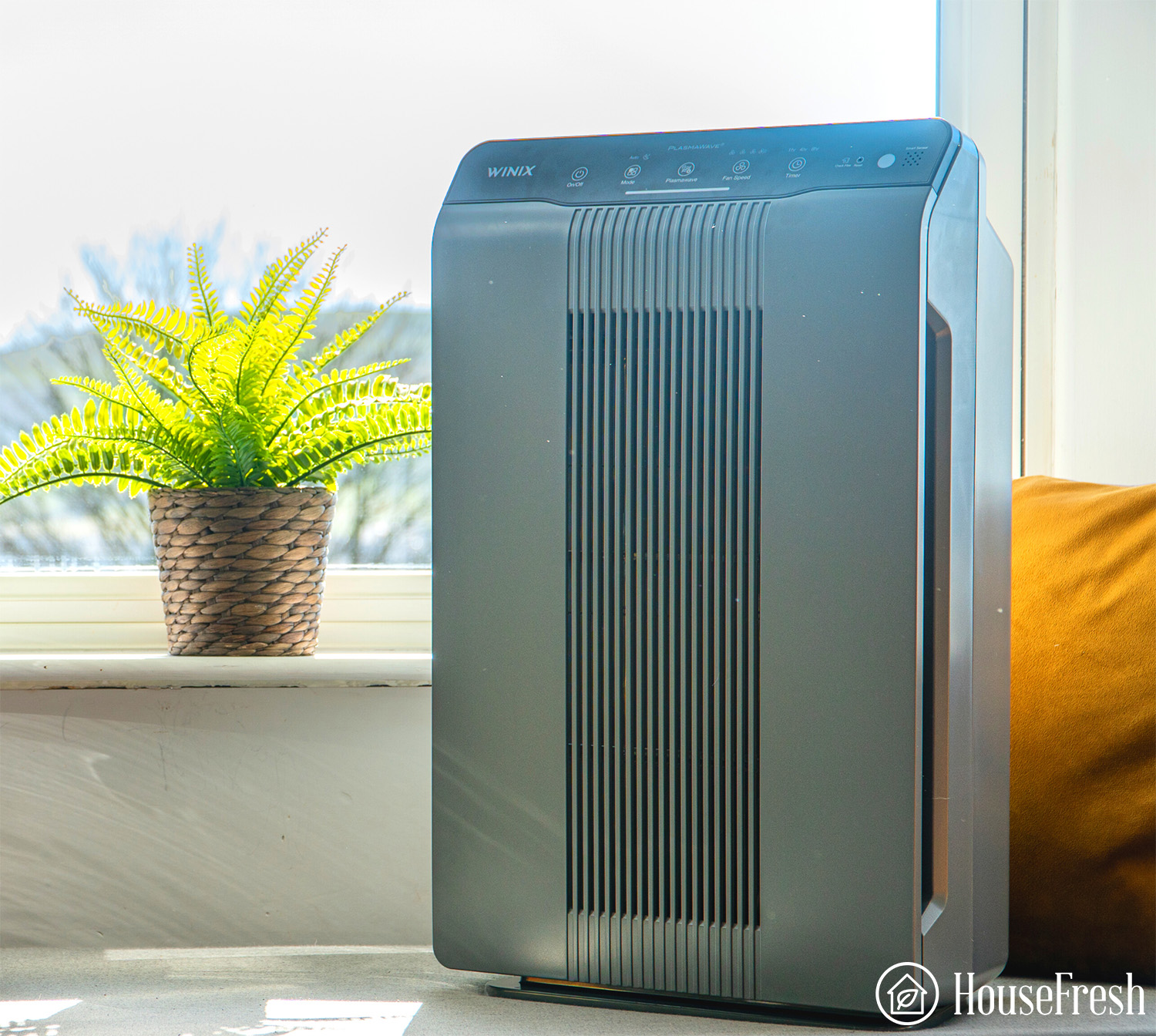 The Winix 5300-2 may be older but isn't dated. This hard-working air purifier proves that Winix builds efficient units to last, and at a price we can get along with. Here are some of the things we really like about the 5300-2, and some of the things we think could be improved.
What We Really Like:
👍 It looks modern with its matte finish
👍 Controls are easy to navigate and operate
👍 Has a high CADR rating for the price
👍 It has an air quality smart sensor
👍 Comes with extra replacement carbon filters in the box
What We Think Could Be Better:
👎 If it had loose-fill activated carbon instead of bonded
👎 If it was a little quieter on full speed
Great Performance But At A Cost
Although Winix can boast a good CADR (Clean Air Delivery Rate), it comes at a cost. When you have a high-efficiency fan, you need to be able to afford the cost of powering it (we'll get into that further down). The other thing that comes with a big fan is noise. On its highest fan speed, you can expect the 5300-2 to make more noise than other units out there like the SmartAir Blast Mini or Blueairs' Blue Pure 211+.
| | |
| --- | --- |
| HouseFresh Rating: | ★★★★☆ |
| Time to clean our test room: | 27 minutes |
| Air purifier technology: | Washable Fine Mesh Pre-filter, Activated Carbon Filter, True HEPA Filter, Plasmawave Air Cleaning Technology |
| Recommended room size: | 435 sq. ft. |
| Clean air delivery rate (CADR): | 246 CFM |
| Dimensions (in inches / in cm): | 15W x 8.2D x 23.6H inches (38.1W x 20.8D x 59.9H cm) |
| Weight (in pounds / in kg): | 14.8 lbs (6.7 kg) |
| Noise level (low – high): | 27 dB – 60 dB |
| Filter life: | HEPA filter: every 6 months // Carbon filter: every 3 months |
| Warranty | 2 years |
| Estimated energy consumption: | $66.23 per year |
Slender, Modern, Matte Finish
As soon as you pull the 5300-2 out of the box, you notice how different it looks to other models. Unlike the SpongeBobiness of the Coway Airmega 300 or the flat glossy Alen BreatheSmart 45i, this Winix is slender with a matte gray finish and a black control panel.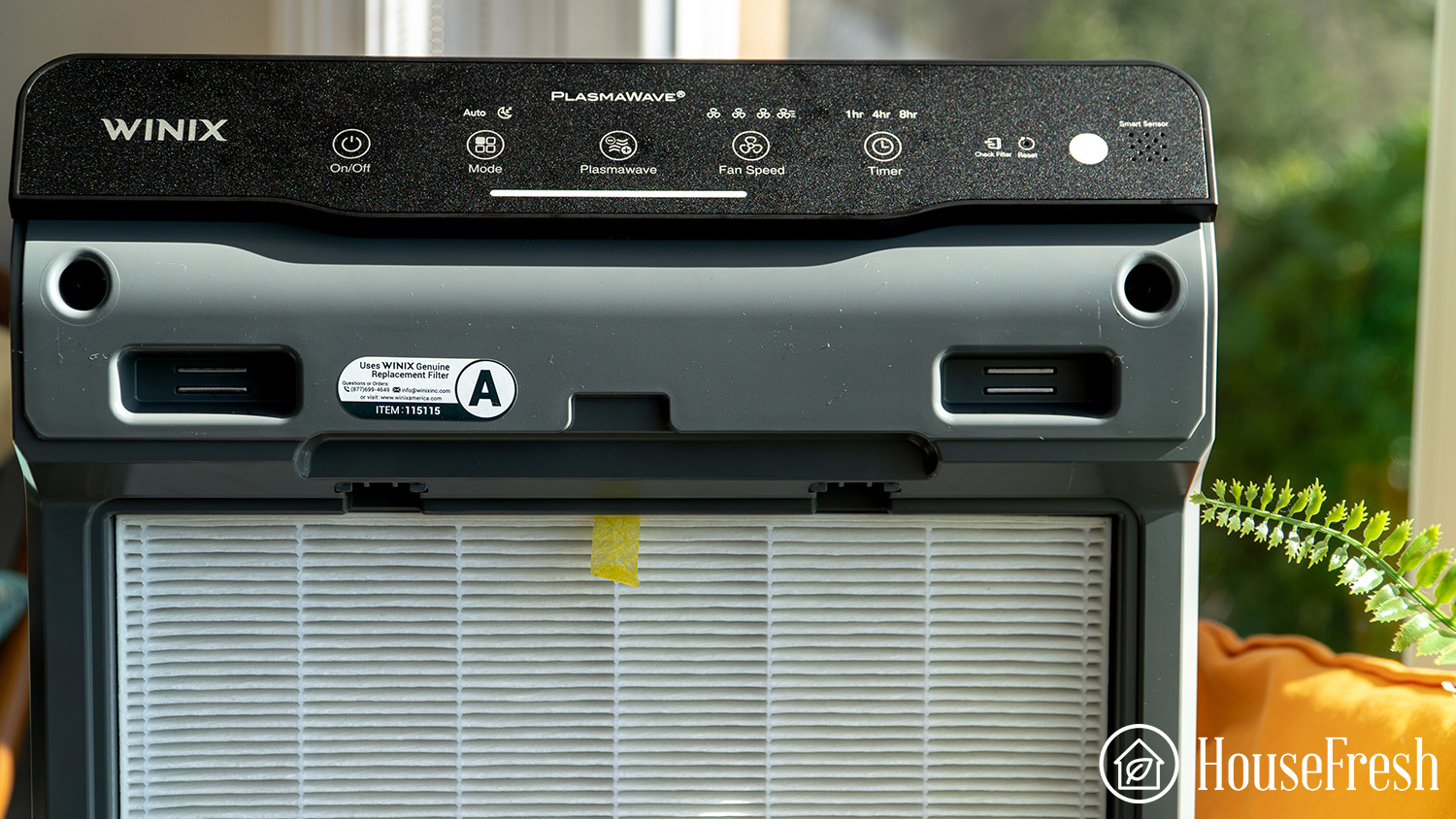 It has a flat base, so no need to worry about it wobbling over and it stands 23.6 inches tall. There's a nice-looking grill on the front panel and side inlets, so plenty of air can enter the filters.
The front panel is magnetized rather than having a clip, so you know it won't be falling off in the middle of the night. A great safety feature on the 5300-2 is the fact the unit automatically shuts off when you remove the front panel to clean or change the filters. This way there's no chance of you trapping your fingers in a moving fan.
We stood the 5300-2 next to the Honeywell HPA300 so we could compare the two units side by side. The HPA300 cleared pollution from our testing room only 1 minute faster than the Winix, but is heavier, more expensive, and uses a lot more energy.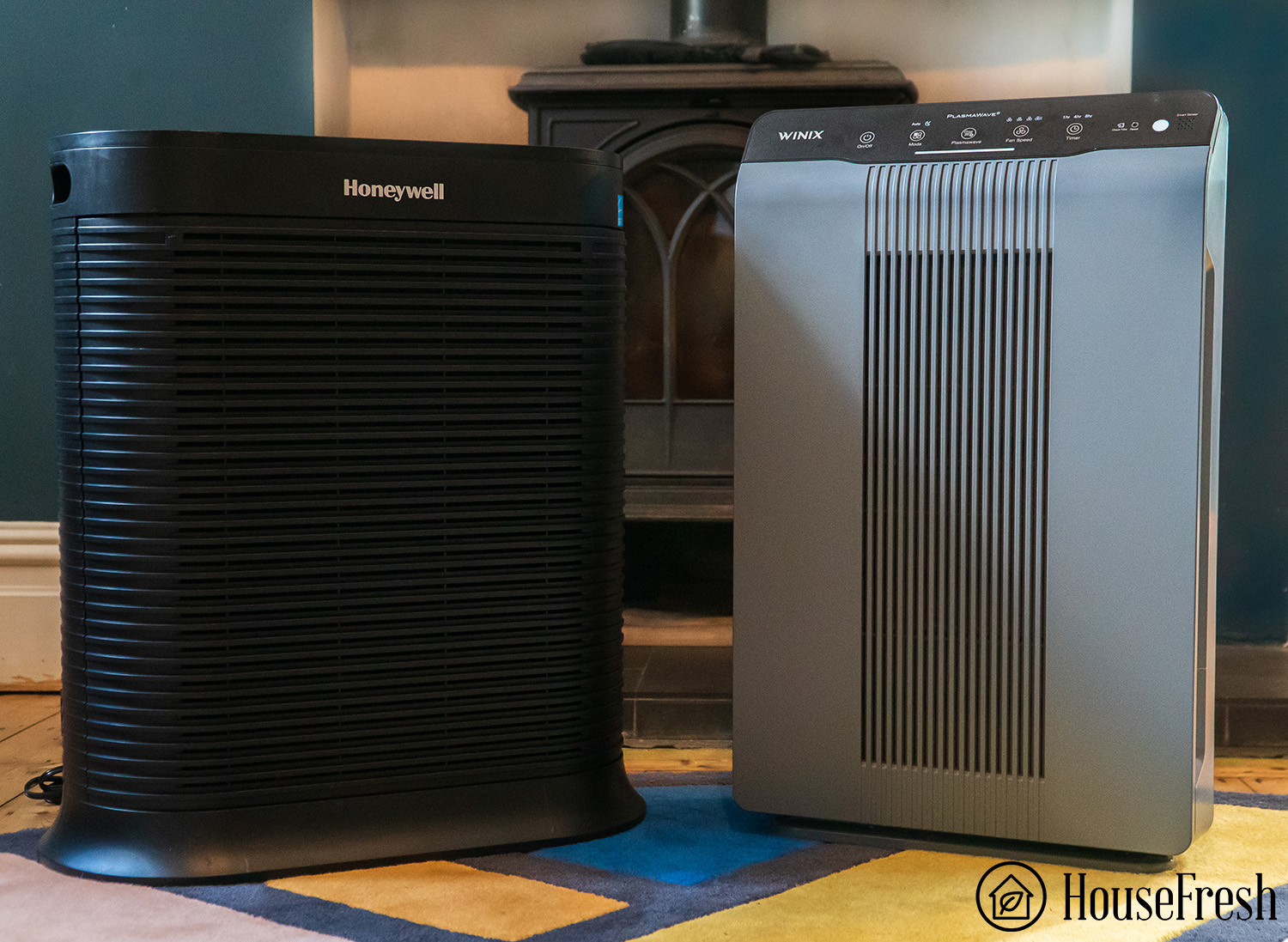 I don't know about you, but I personally prefer the look of the Winix in comparison. I think it complements a room more and has a few more features like its smart sensor and air quality indicator light.
Keepin' it Simple and User Friendly
The controls on the 5300-2 are easy to navigate, easy to operate, and easy to understand.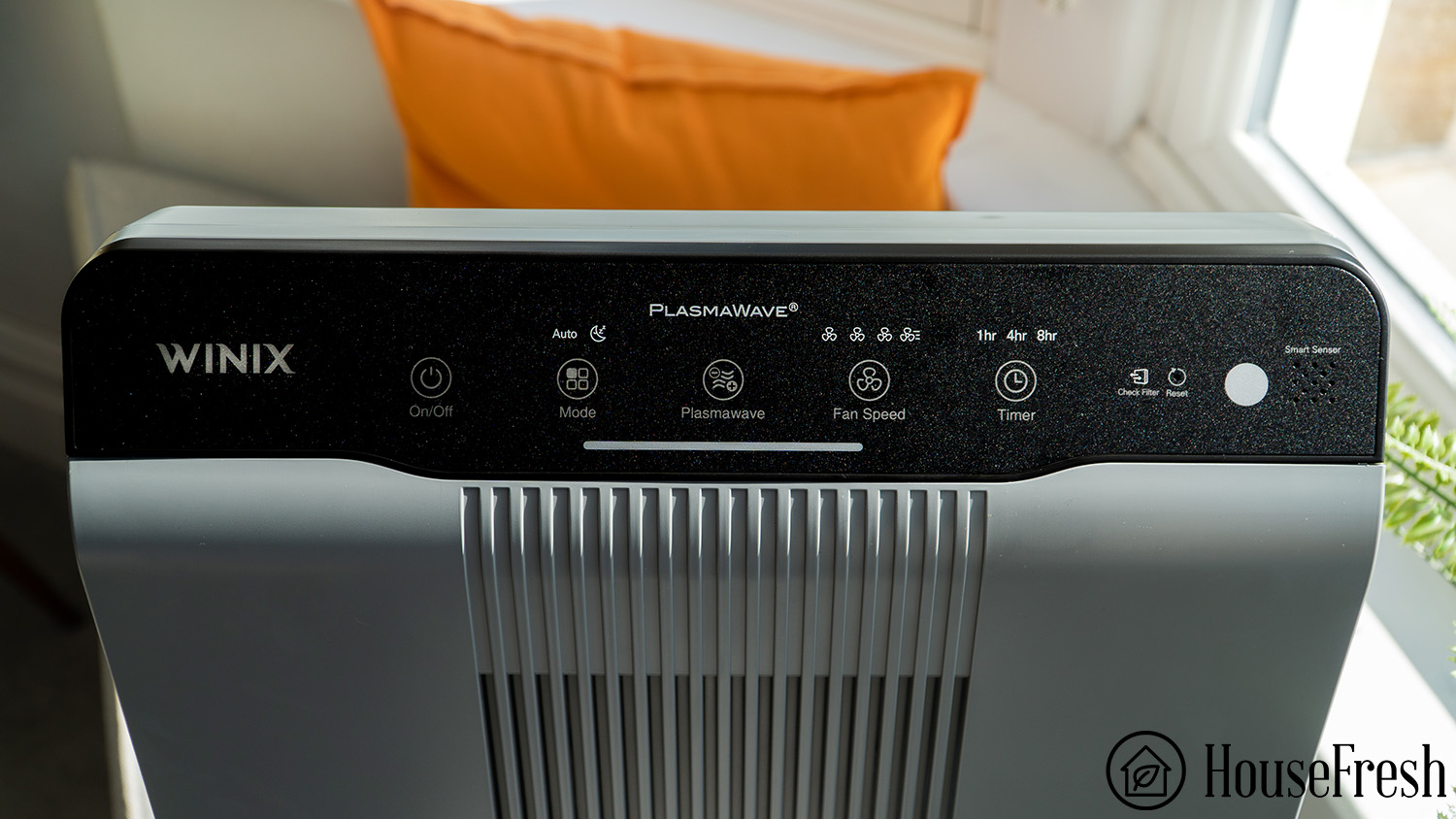 There are five buttons across the top of the unit to turn it on/off, select mode, engage PlasmaWave®, change fan speed, and set the timer. Each button is responsive and the icons above light up to show what setting the unity is on.
You have four different fan speeds to choose from, press the fan speed button to scroll through the speeds. The timer allows you to select from three countdowns, 1hr, 4hr, and 8hr. Once the countdown hits zero, the unit will automatically shut itself off.
The mode function selects between sleep Mode and auto Mode. Sleep mode sets the fan to its lowest (quietest) speed and dims all the lights on the unit so you can get a good night's rest without any distractions.
The auto mode takes over the controls, so you don't have to change the fan speed. Once engaged, the Smart Sensor measures air quality in the room and adjusts fan speed accordingly.
It also lets you know the quality of your air with its indicator light:
🔵 Blue: Good
🏀 Orange: Fair
🔴 Red: Poor
Three-Stage Filtration
When you open up the front panel, you'll first see the pre-filter. This is here to stop any of the larger airborne particles from getting to the HEPA filter, thus removing them from your environment and prolonging the life of your HEPA.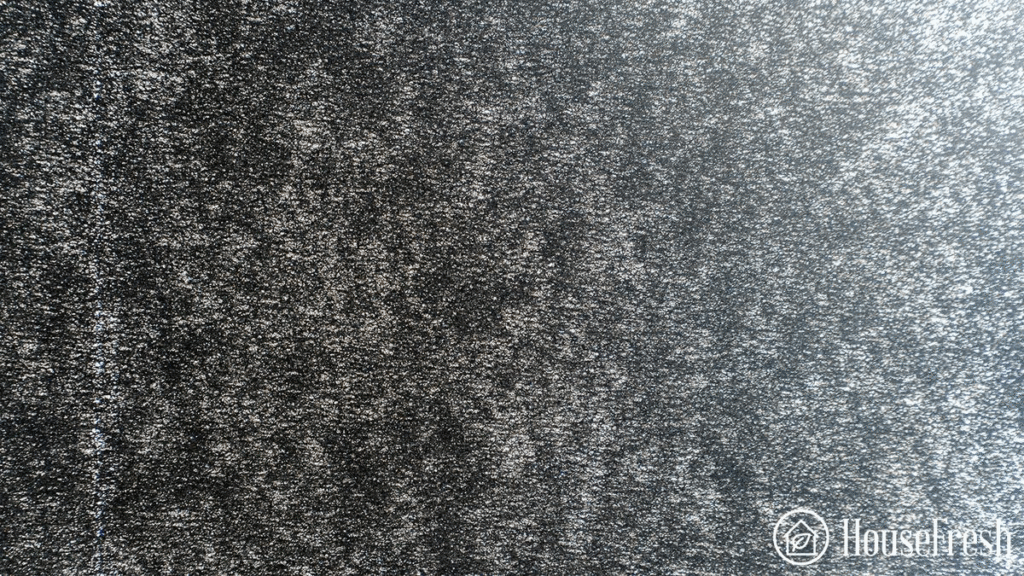 You can unclip and remove the pre-filter, enabling you to clean it when needed. After prolonged use, the pre-filter will get clogged with dust particles.
You can wipe the filter down or vacuum it clean.
When you unclip the pre-filter, you'll reveal the bonded Activated Carbon filter. This is what takes care of VOCs (Volatile Organic Compounds) and odors from your room. Here, activated carbon is pressed into a sheet so when VOCs try to pass through, they get caught on the carbon through a process called adsorption.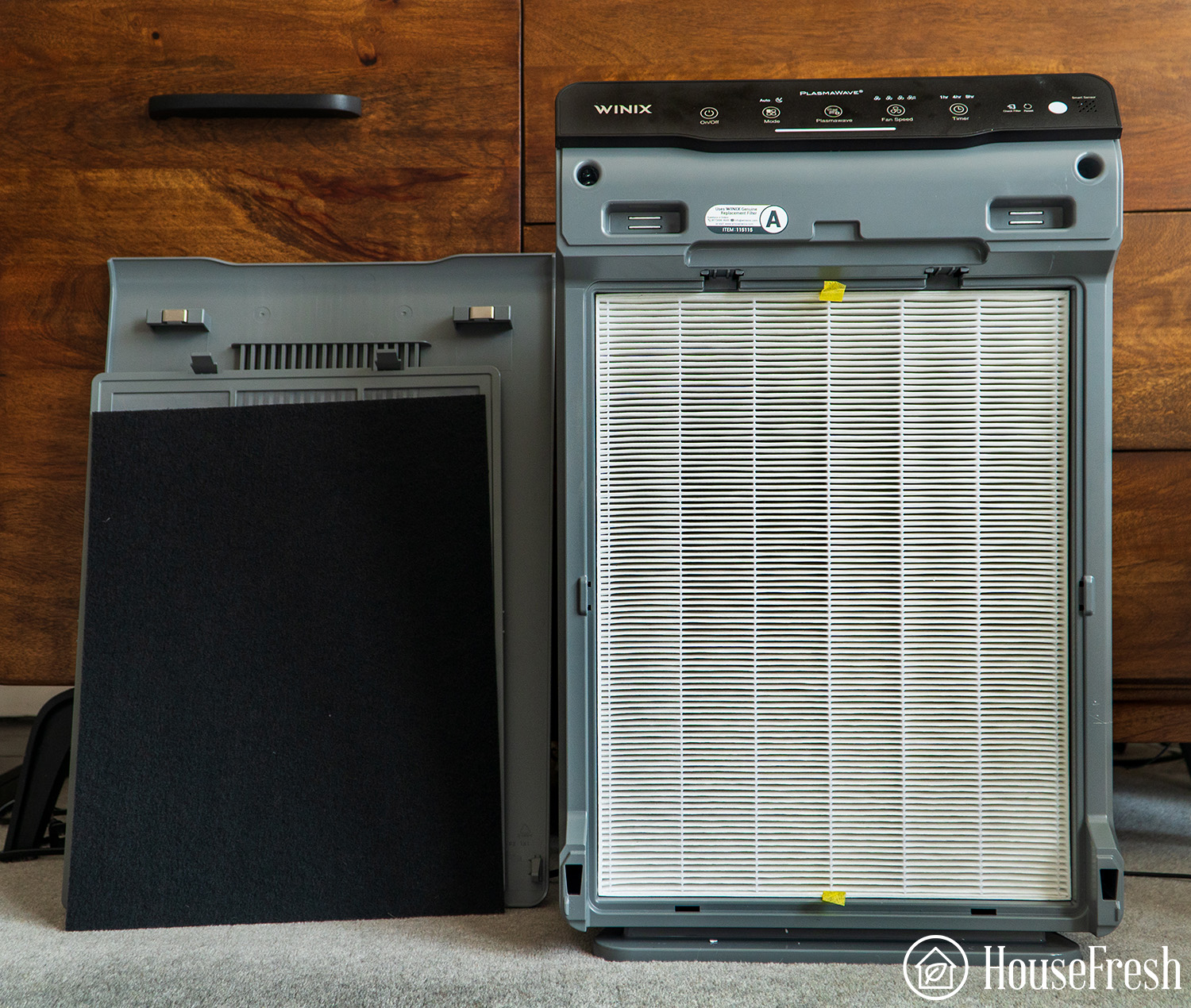 The basic rule for an activated carbon filter is; the more carbon it contains, the more effective it is. Unfortunately, the 5300-2 doesn't contain much of this, so it's less effective than some (like the Coway Airmega 300) at removing VOCs and odors from your home.
Once you've removed the activated carbon filter, you expose the True HEPA filter. This is the main part of the filtration process. Made from tightly woven fibers, the HEPA catches tiny airborne particles, trapping them so they don't get released back into your room.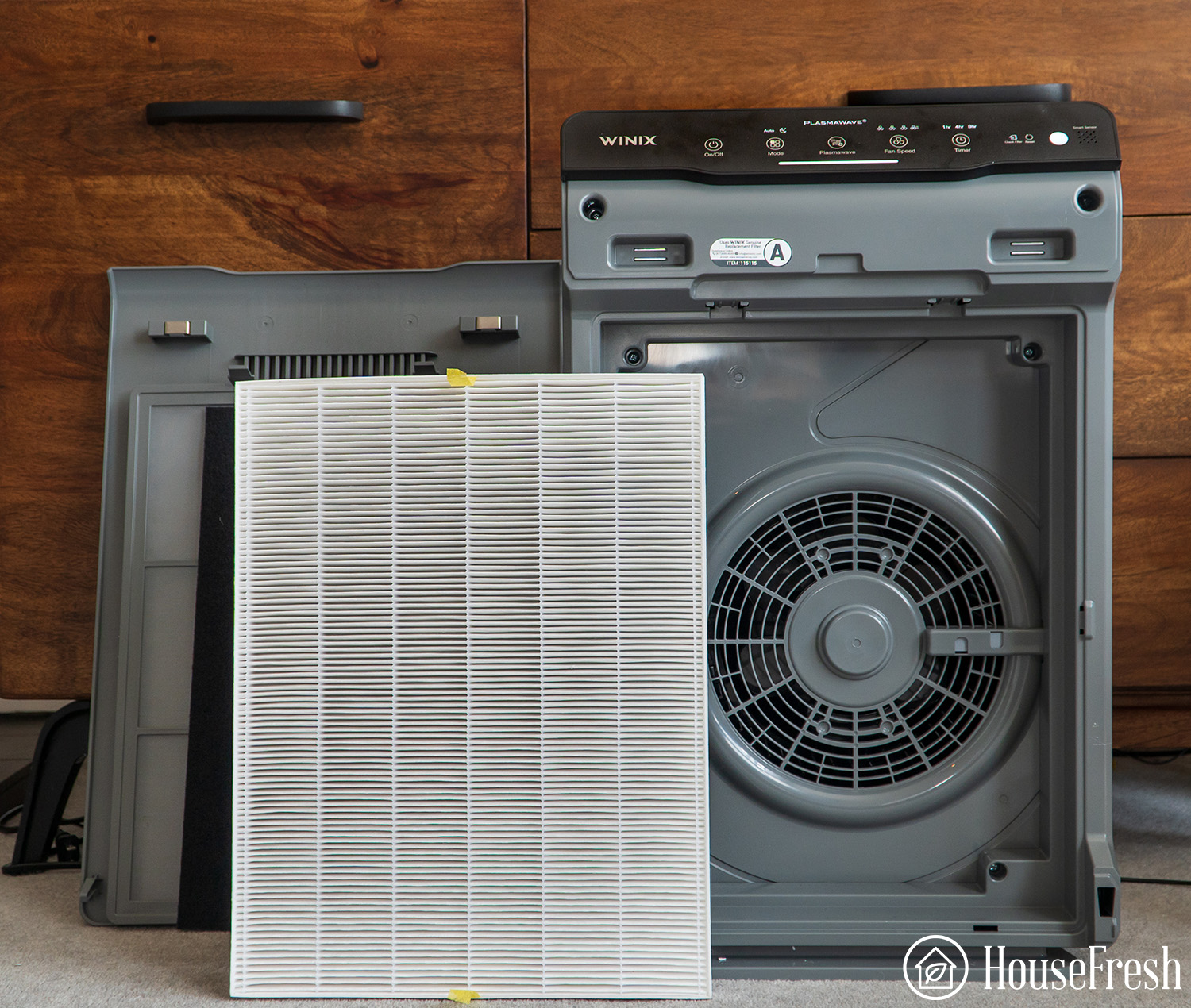 True HEPA filters are designed to remove up to 99.97% of particles down to 0.3 microns in size (that's SMALL). These are things like:
Pet dander
Pollen
Mold
Smoke
Fine dust
Having a HEPA filter is the most efficient way of removing these harmful pollutants from the air in your home. If an air purifier doesn't contain a HEPA filter, I wouldn't look twice at it.
Replacing the filter is a pretty simple process on the 5300-2. It's as easy as 1, 2, 3.
Remove the front panel and unclip the pre-filter
Pull the tab removing the filter
Slide in the new filter and re-attach the pre-filter and front panel
Here is a video just in case that seems a little complicated.
Remember, when you purchase this unit new, or buy a replacement, the filter will come with plastic packaging. You have to remove this packaging before turning your air purifier on. If you don't, the filter will be rendered useless and you'll probably start to smell burning after a while as the plastic erodes.
What is PlasmaWave®?
Most brands these days use their own signature technology in their air purifiers. This not only sounds fancy, but it shows that they have their own engineers developing technology to make your home cleaner, aka, more trustworthy.
For Winix, it's PlasmaWave®.
PlasmaWave® Technology creates Hydroxyls to reduce bacteria and viruses without producing harmful ozone. Our technology creates a safe & short electrical discharge to create dual polarity ions (positive and negative) and disperses them into the air.

– Winix Team
This basically means the unit has an ionizer. An ionizer sends out electrically charged particles into the air which attract airborne pollutants and pull them to the ground. Pretty much like when clothes stick together fresh out of the dryer from static.
I've never been too keen on ionizers for two reasons:
We tested one and it didn't seem to make any difference to the pollution in my room.
The ions pull pollutants to the ground, they don't actually remove them from the environment.
Because of these, I won't be using the PlasmaWave® technology in my home.
If you want to read all about ionizers and how they work, check out our article Air Purifiers Vs Ionizers: What's the Difference?
The Winix 5300-2 Cleared Our Test Room in 27 Minutes
So, how does the 5300-2 actually perform? With every air purifier we review, we put it in our performance testing room where we see how well it does at removing airborne pollutants. We test each product in the same room under the same conditions in order to get a fair result that we can compare against other units.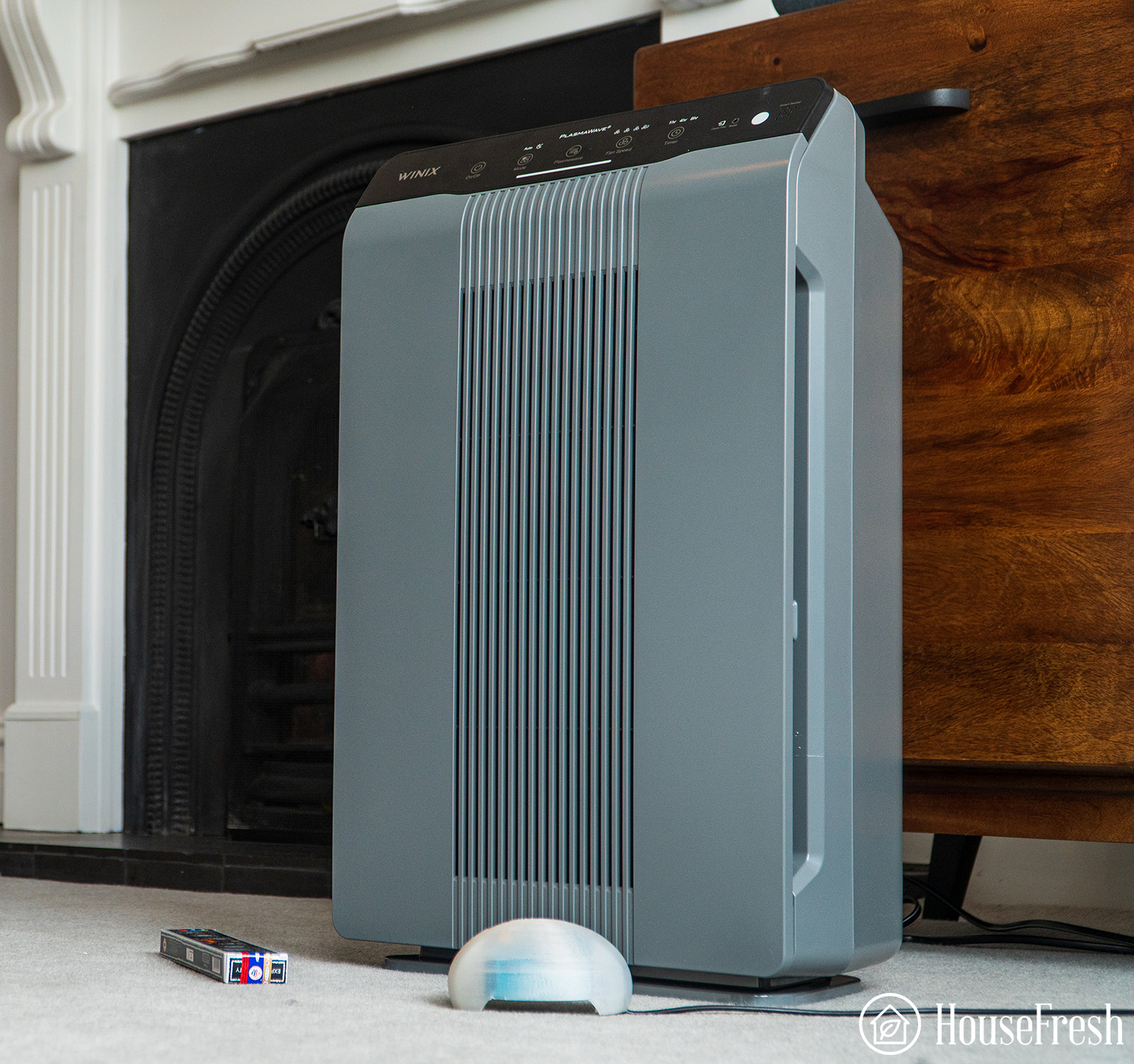 Because we want to give you real-world results, we don't test our air purifiers in a lab or manufactured environment. We use an actual room in our actual home.
To get these results, we placed the 5300-2 in our 705 cubic ft performance room and contaminated the air using incense. We then turned the unit onto its highest fan speed and waited until the room was clear of pollution.
We monitored each stage of our test using our indoor sensor from Purpleair to provide us updates on PM1.0ug/m3, PM2.5ug/m3, and PM10.0 ug/m3.
Here are the results:
As you can see from the graph, the Winix managed to clear the room of contaminants in 27 minutes which, for the size of the unit, was a good performance.
Air Cleaning Performance Compared to Other Air Purifiers
When compared to other units, it was only 1 minute more than the powerhouse which is Honeywell's HPA300, and Coway's Airmega 300. Quite surprising as both of those units have a higher CADR.
Noise Levels Test Results
As I mentioned before, because of its powerful fan, the 5300-2 can get quite loud when running on its higher fan speeds. At its lowest speed, it clocks in at 27 dB, but on high, it can reach 60+ dB. This is loud enough to disturb your movie or gaming.
Fortunately though, as you can see from our performance tests, you should never need to have it at full speed for long periods of time. Here's a video to demonstrate the sound levels.
The Cost to Run a Winix 5300-2 : $150.99 Per Year
When purchasing an air purifier, most of us will factor in how much a unit costs before buying. Unfortunately, that's not the only expense you need to consider.
1. Electricity costs = $66.23
With rising energy costs worldwide, you'll need to consider how much an air purifier costs to run. Especially as it is recommended that you have it on for eight hrs every day.
We clocked the 5300-2 at using 63.4 watts on full power, which isn't the most efficient we've tested, but it also is not the worst. It looks good when you compare it to Honeywell's HPA300, as it uses 87 watts at full speed. But put it next to the Levoit Core 600S, which cleared our performance room 12 minutes faster using 47 watts. It doesn't look so great.
We worked out that if you had the 5300-2 on full fan speed 24 hrs a day, it would cost $66.23 per year according to data from the Department of Energy's appliance energy calculator.
2. Filter costs = $84.76
Air purifier filters don't last forever. Periodically, you must replace each filter so your unit can run efficiently. If you don't, you're running a big useless fan wasting energy.
Over time HEPA and activated carbon filters become full of all the contaminants they've pulled out of the air. As they get fuller, they become less effective therefore, they need to be swapped out for new ones, which costs money.
As the activated carbon filters don't last as long as the HEPA filters, Winix has included some replacements in the box. Nice touch Winix; thank you!
When it's time for a full replacement, the pack comes with one HEPA filter and four activated carbon filters, so you only have to make one purchase each time. This is well thought out and much appreciated, as some brands like to leave you to purchase separate filters.
Unfortunately, the filters cost around $80, so replacing them every 6 months can get a little expensive.
Technology
True HEPA Filter + 4 Activated Carbon Filters
2 True HEPA Filters + 8 Activated Carbon Filters
Technology
True HEPA Filter + 4 Activated Carbon Filters
Technology
2 True HEPA Filters + 8 Activated Carbon Filters
---
Bottom Line
Although Winix has released an updated model of the 5300-2, that doesn't mean it's out of the race completely. This air purifier has enough features to keep you happy and its design would look great in your home.
It's let down by the noise its fan can generate and that fact they use an ionizer as their signature technology. The activated carbon filter isn't the best by far and the matt control panel is susceptible to fingerprint marks.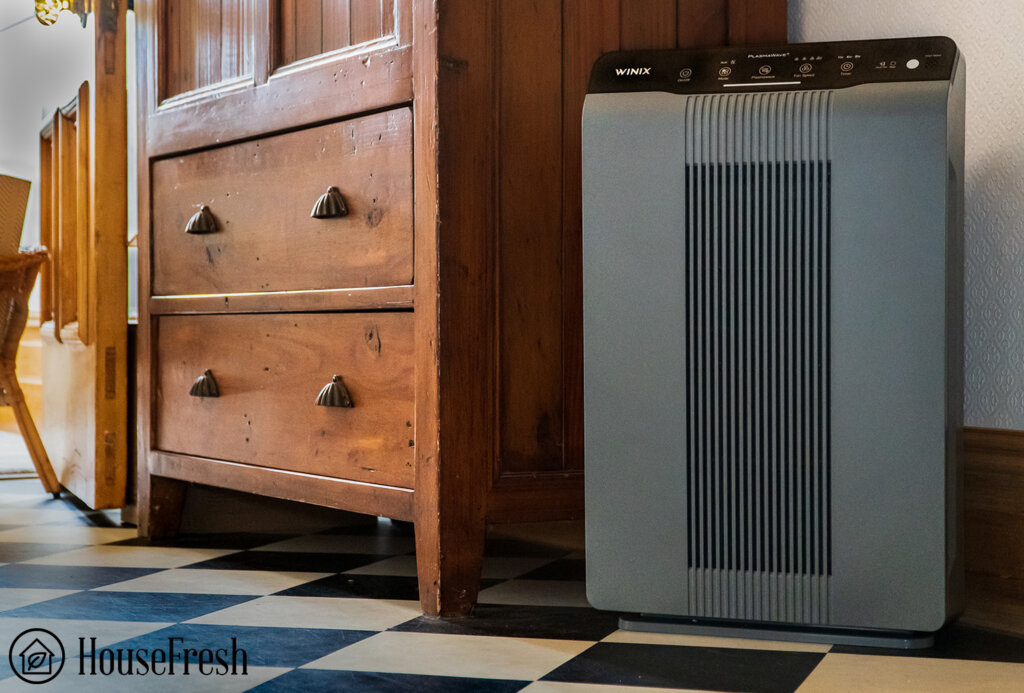 You can't deny its performance though. The 5300-2 sits comfortably alongside the "Doctors' favorite" Honeywell's HPA300 and Coway's Airmega 300, making this unit a strong contender in an ever-growing market.
---
SOURCES
We calculated the monthly energy consumption costs with the help of our air purifier electricity usage calculator. We calculated daily and yearly costs associated with running an air purifier for 24hs a day in California. You can customize the result by air purifier wattage and by state.
Last update on 2023-09-21 / Affiliate links / Images from Amazon Product Advertising API