Our verdict:
The first true "smart home" air purifier has many missing features compared to competitors, even though it comes at a higher initial cost. The Mila air purifier is for those who want smart home features and are happy to pay for them.
I became aware of Mila air purifiers in 2020, but the company was founded in 2015 in San Francisco. They certainly have top-end marketing skills, but their air purifier was only available directly through their website for many years. So I got excited when I discovered it was available on Amazon a few months ago.
They use the simple filter technologies we care about here at HouseFresh with HEPA and activated charcoal, both of which have decades of science to back up their air-cleaning capabilities. Mila also allows you to customize your filter choice for specific situations like allergies, baby diapers and even VOCs from a home move.
Most air purifiers are simple devices, with smarter models allowing the device to turn on if it detects problems. The Mila takes this further, using its onboard computer to analyze your home air in real time. You can then enable the air purifier to work harder when you are not in the room to avoid higher speeds when you are close to it.
It even tracks your bedtime! You can enable a "turn down" that switches the air purifier on one hour before so the air is cleaned just before you go to sleep.
The downside is that they don't come cheap, with the most affordable package costing upwards of $400 – for half the price, you will get better air cleaning performance with something like a Levoit Core 400S or even three Taotronics AP003, but I do think that the Mila comes with many quality of life upgrades and that some customers will prefer to pay a little more initially.
What's refreshing about Mila is that they only have one model and recommend that customers buy extra units for more rooms or bigger spaces. Mila suggests one unit for any room you spend a lot of time in.
Why You Can Trust This Review

As with all the reviews we do here at HouseFresh, we bought the Mila with our own money to avoid biases. We do that because we want to be confident in our ability to say a product sucks if it does, without feeling we need to be positive due to our relationship with the manufacturer.

I put the Mila air purifier to the test following the same 3-stage process we follow when testing all air purifiers we review:

1. I lit a powerful incense stick inside our small testing room to release pollutants in the air and used a Purple Air Indoor air quality sensor to record how fast the Mila cleaned the air when running at its highest speed.

2. I then plugged in the Mila through an electricity usage monitor, which allowed me to record actual energy consumption levels at the air purifier's lowest and highest speeds.

3. Lastly, I used a sound level meter to record noise levels emitted by the Mila when running at its top and bottom speeds.

Our goal is to give you the information you need to choose an air purifier that is right for your specific needs. That is why in addition to all the data we collect manually during our tests, we also do research into manufacturer's warranties, filter quality and size, costs of usage over time, smart features, app reviews, and design flaws to give you as much insight as possible.
TL;DR The Low Down on the Mila
---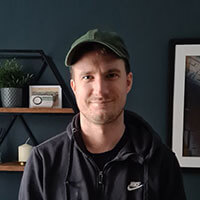 "The Mila air purifier is for those who want smart home features and are happy to pay for them."

— Danny Ashton, Founder & Senior Writer
---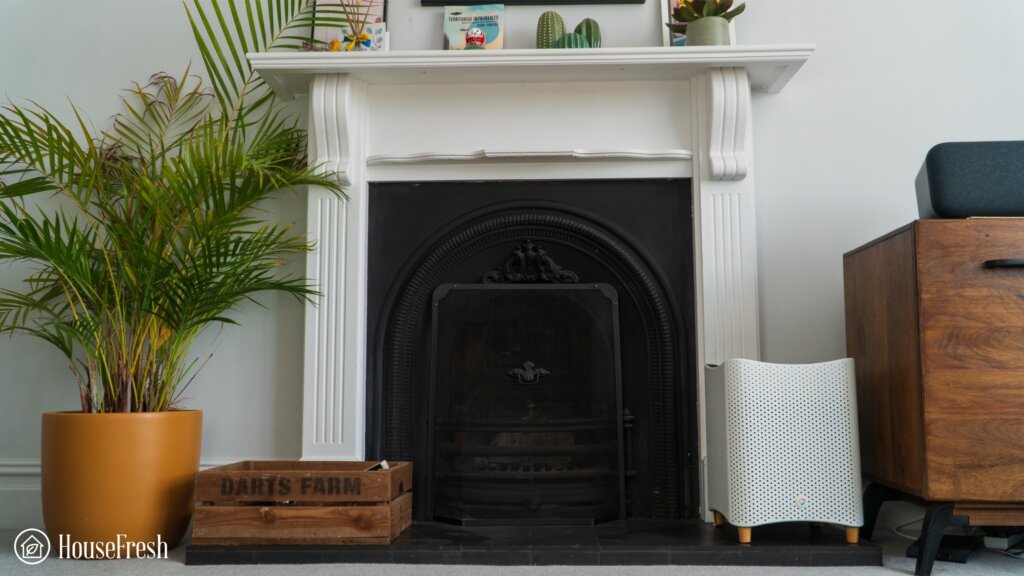 If you only want the choice cuts and don't want to read my full review (how dare you), then here are the key things from this review:
What We Really Like:
👍 Smart home features that do make it easier to use and keep your home free of pollutants.
👍 On-board sensor can detect PM1, PM2.5, PM10, VOCs, CO2, CO1 and temperature continuously.
👍 Simple user experience with auto mode defaulted, requiring no techy skills to start cleaning home air.
👍 Single unit that has options for different filters for specific use cases.
👍 Great looking unit that doesn't take up to much space.
What We Think Could Be Better:
👎 Air cleaning performance to $ ratio is higher than a non-smart air purifier, so you do pay extra for all the smart features.
👎 Filter costs are on the high side compared to similar-performing purifiers.
👎 The names of the filters are a little too much!
The Specifications
This unit has the same cleaning power as the Levoit Core 400S and can run nearly silently at 24dB at its very lowest. Electricity costs are fair for a unit with this performance, but filter costs are slightly higher.
| | |
| --- | --- |
| HouseFresh Rating: | ★★★★☆ |
| Time to clean our test room: | 35 minutes |
| Air purifier technology: | HEPA (ranges from H12-H14) + Activated charcoal (granular carbon) |
| Recommended room size: | 1000 sq. ft. |
| Clean air delivery rate (CADR): | 263 CFM (447 m³/hr) |
| Dimensions (in inches / in cm): | 12L x 12W x 15H inches (30.48L x 30.48W x 38.1H cm) |
| Weight (in pounds / in kg): | 18 lbs (8 kg) |
| Filter life: | 6 months |
| Noise level (low – high): | 24dB – 74dB |
| Estimated energy consumption: | $52.56 per year |
Stylish Air Purifier With Google Nest Thermostat Vibes
The Mila is a good-sized air purifier that looks stylish.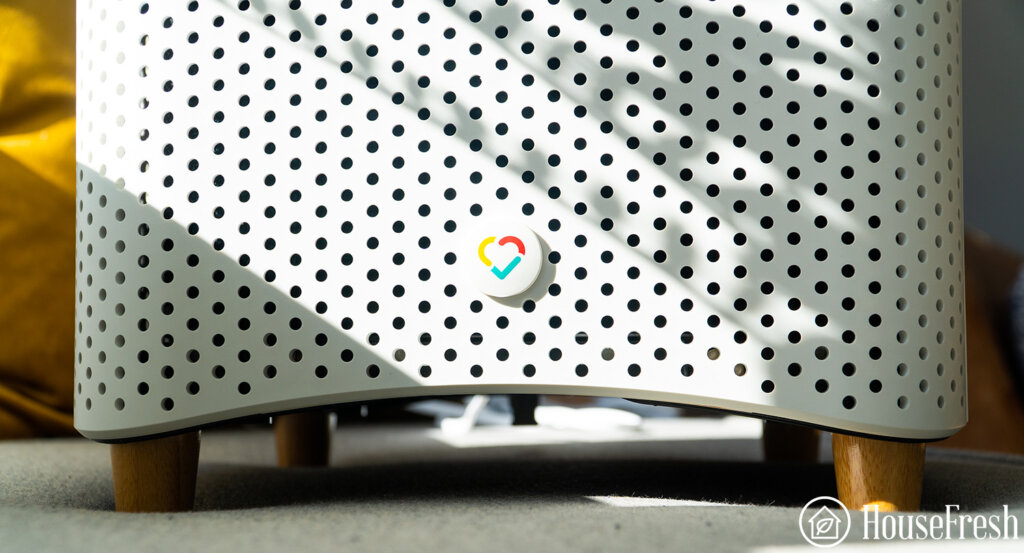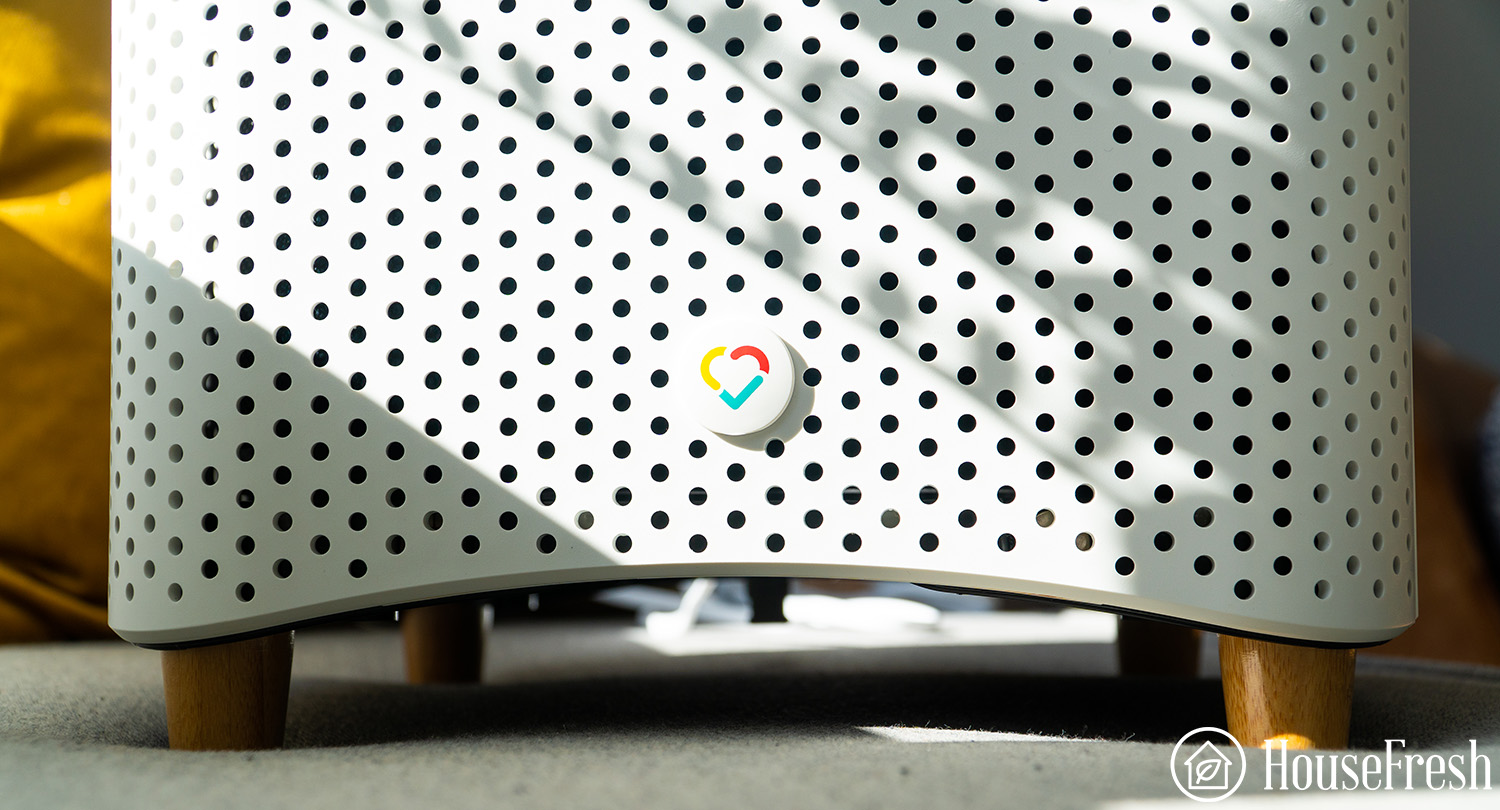 Many top-performing air purifiers are large and hard to live with, with most of them needing wheels to be moved around the house due to how heavy they are.
No, that is not the case with Mila. We're talking here about an air purifier with a low-height profile designed to be looked at.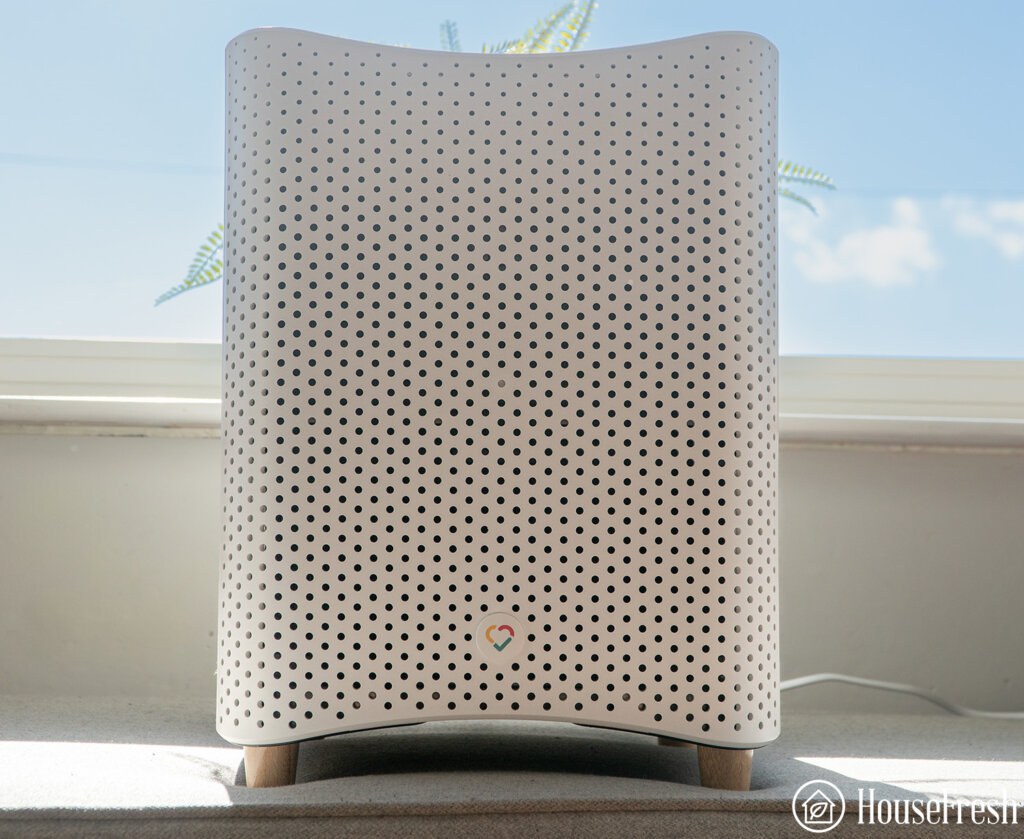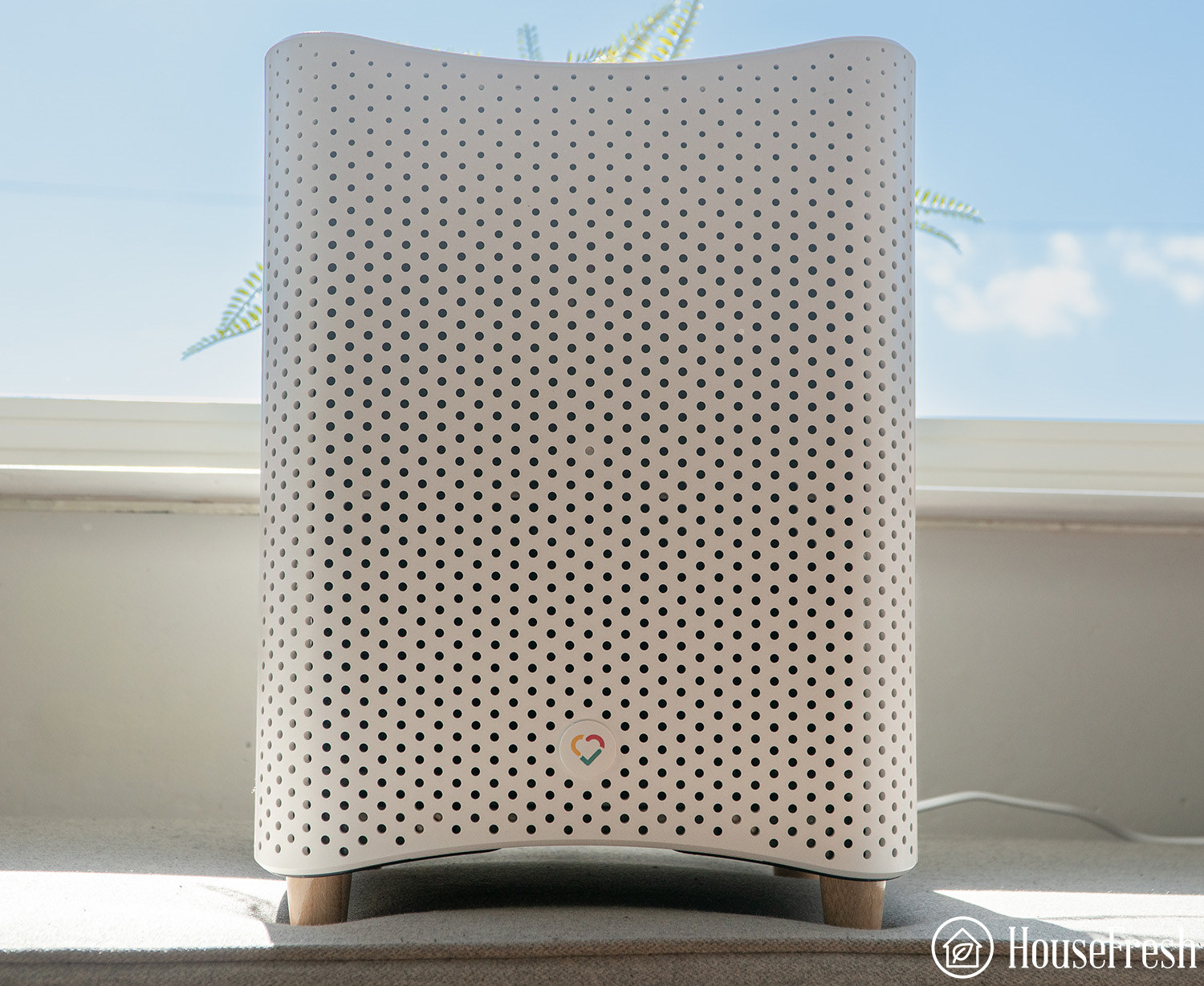 Similarly to the Smart Air S, the Mila was one of the very few air purifiers I brought home that my wife liked the look of. With its wooden legs and its dotted body, this air purifier blends into our home décor in a way that most units don't. You won't mind keeping this air purifier on show like a smart thermostat or smart speaker.
The control panel sits nicely at the top of the unit, making it easy to control the different functions without the need to move the unit around. The touch screen is easy to use, with just three buttons: a Mode button in the center (o) and the fan speed controls on each side (- and +).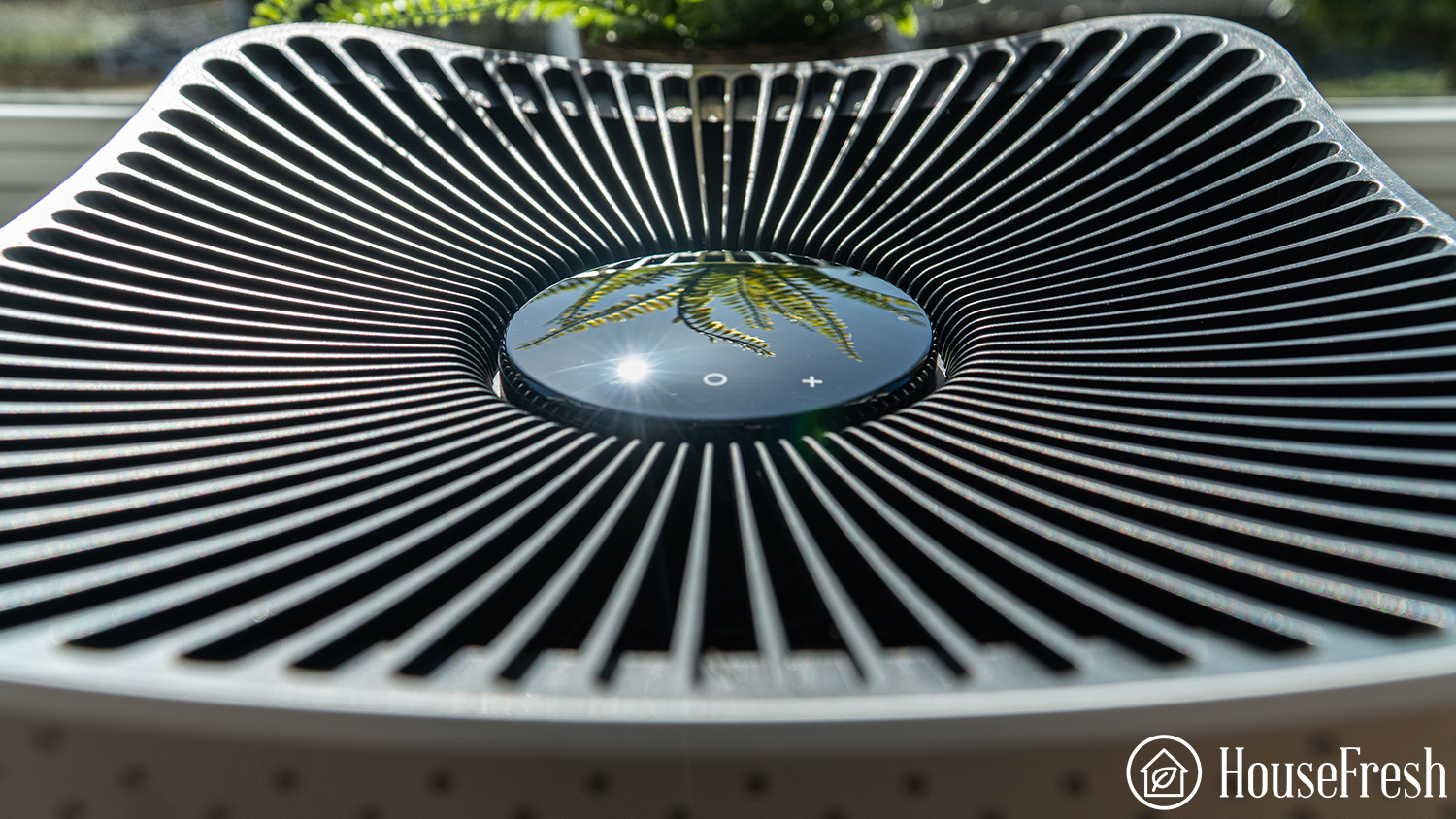 Even though you can select a Manual mode when tapping the Mode button (o), the Mila is a smart air purifier designed to get to work automatically without the need to make adjustments on the control panel or the app.
The moment you turn on the unit, the Mila will go into Calibration Mode before switching to Automagic Mode automatically. When in Automagic Mode, the air purifier will choose the fan speed automatically based on the air quality level detected inside the room: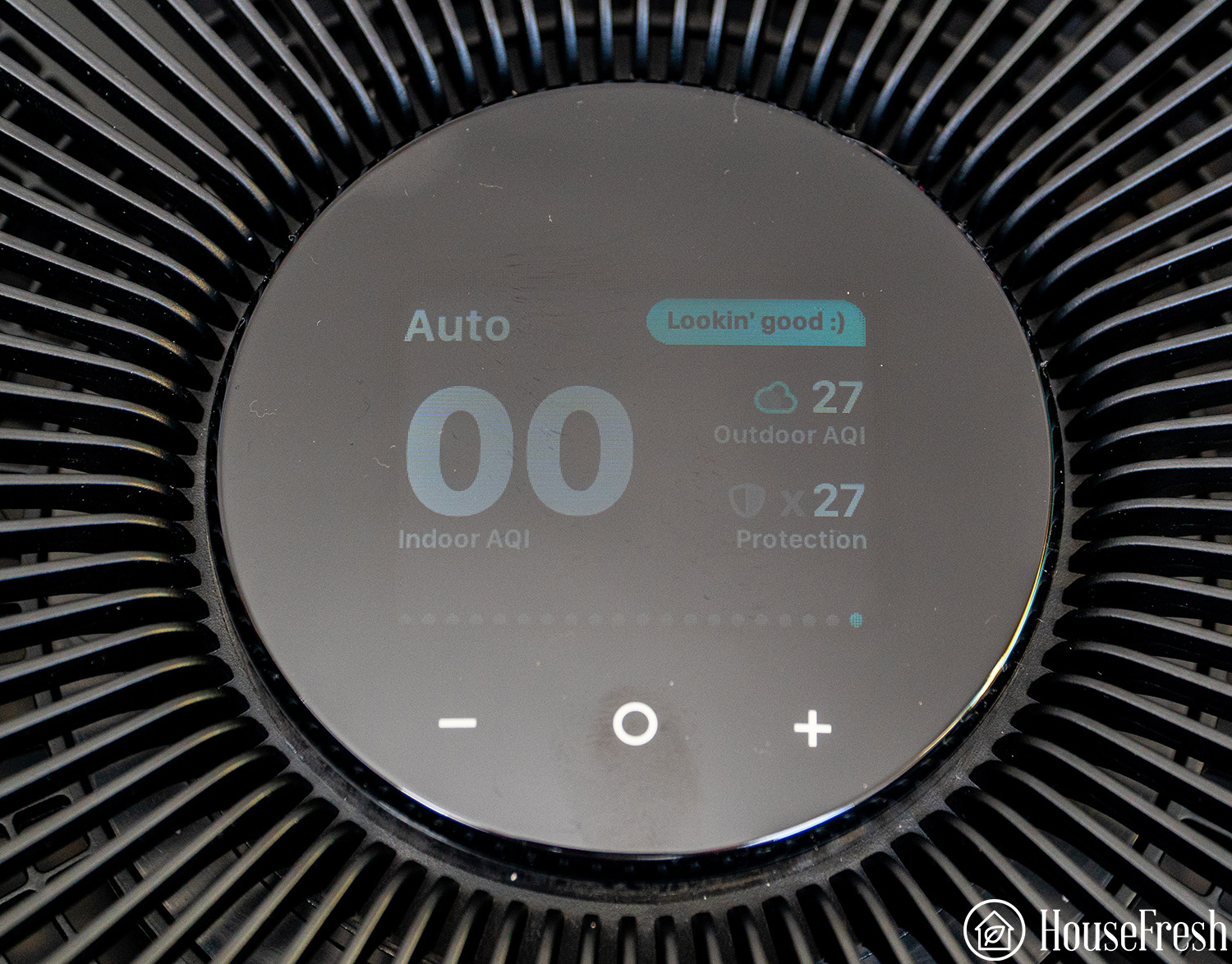 But that doesn't mean you can't make further adjustments inside Automagic mode. There are seven unique settings housed under Mila's Automagic mode: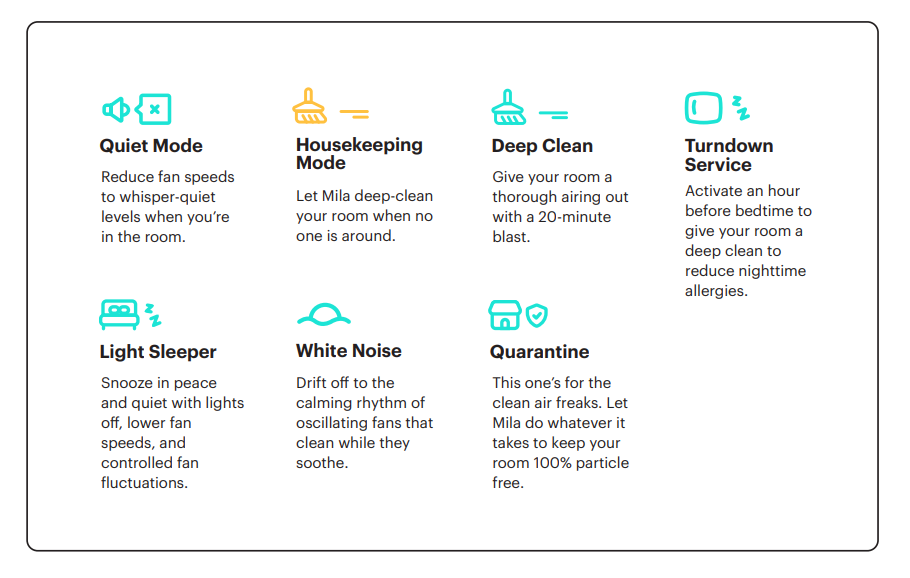 As I mentioned above, there is also a Manual Mode available, which you will be able to choose by tapping the Mode (o) button and then tapping the (+) button to change from Automagic Mode (the default mode) to Manual Mode. You will need to tap the Mode (o) button one last time in order to confirm your selection.
When running your Mila in Manual Mode, you will be able to adjust the fan speeds manually by touching the (-) and (+) buttons. You will notice that each time you change the fan speed, the timer will also change according to the new calculations your Mila has made to figure out the estimated time it will take to clean the air based on fan speed and room size. Another thing that will change is the value for the "Target AQI" (the projected air quality index score under the new conditions you have set).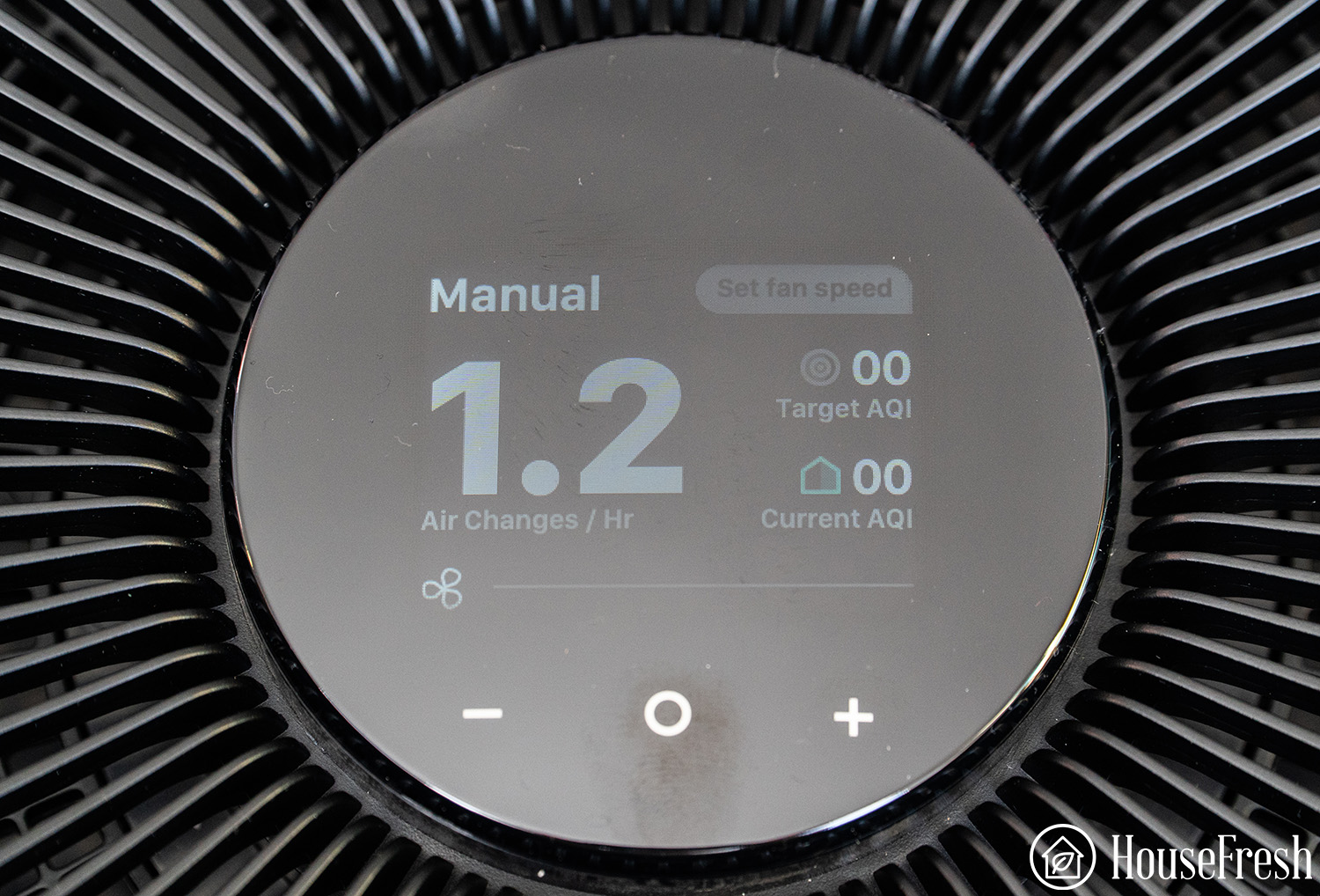 Personally, I would recommend you let the Mila decide what to do, as it is more than capable of figuring out what is needed based on its calculations. Plus, this smart brain comes at a hefty price tag, so you will want to use it if you have paid extra.
You will also be able to pair your Mila to your phone by using the Mila app. The process is simple and painless: you tap and hold the Mode (o) button for 5 seconds, open the app on your phone and connect to the network called "Mila Air Purifier" so you can follow further instructions.
This is where I feel in love with the Mila: I got the app to connect to my Android smartphone straight away, which is a rarity for other air purifier brands: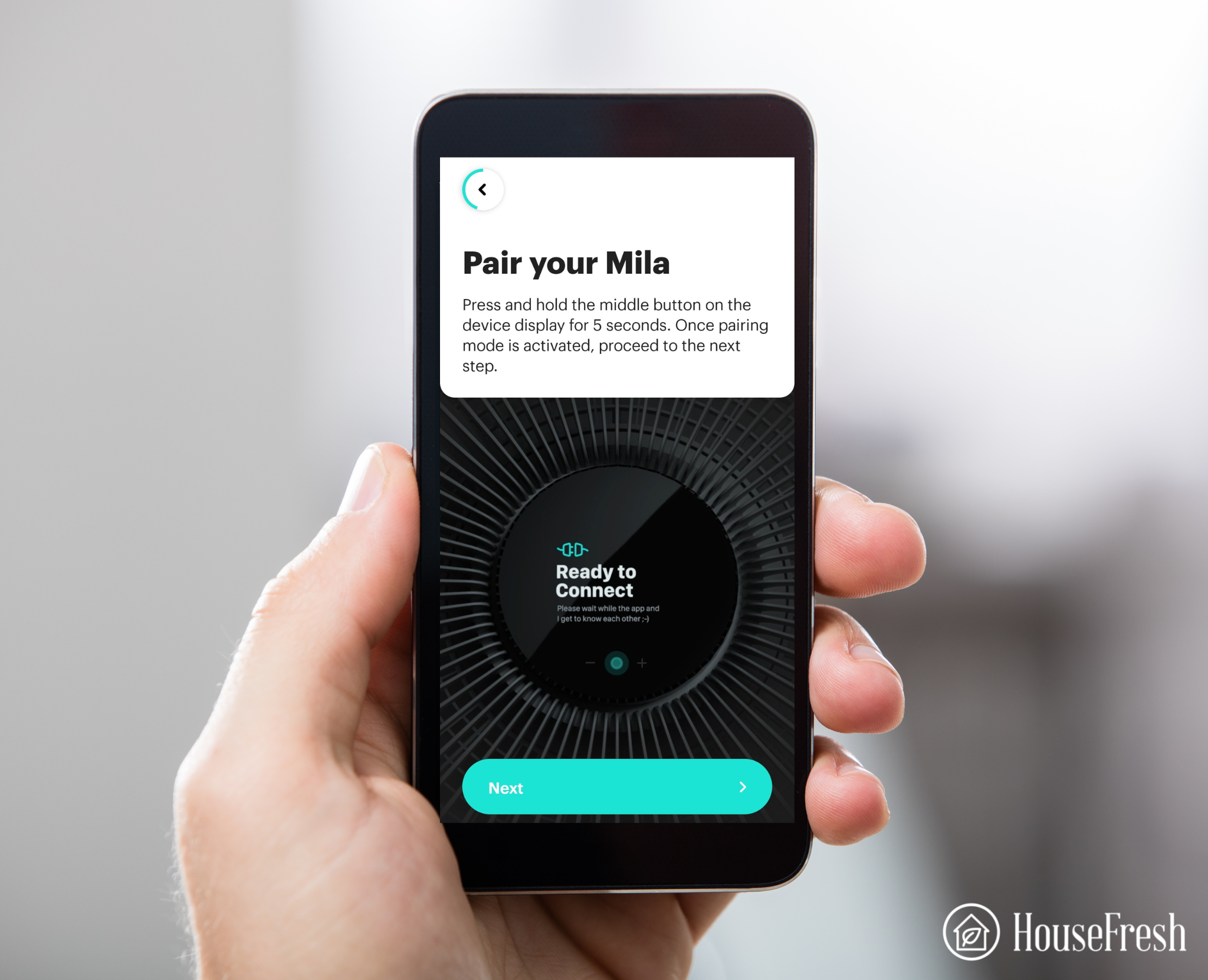 You can enable eight modes, each focusing on things like energy efficiency or sound levels and specific usage routines.
My favorite was a mode called "Bubble Boy Mode", which is just a mode that instructs your Mila to keep the air as clean as possible at all times. Another mode I found myself using regularly was the "Housekeeping Mode", which turns on the Mila automatically one hour before your bedtime to keep the air as clean as possible before sleep.
💡 I liked that Mila shared the functionality issues of their device and app, from device pairing issues to device connections. They regularly update these issues at status.milacares.com. The fact that they share this publicly makes me feel confident that this is a core focus for them as a company.
Seven HEPA Filter Choices
When you buy a Mila air purifier, you will have seven filter options that use different HEPA types, from H12-H13.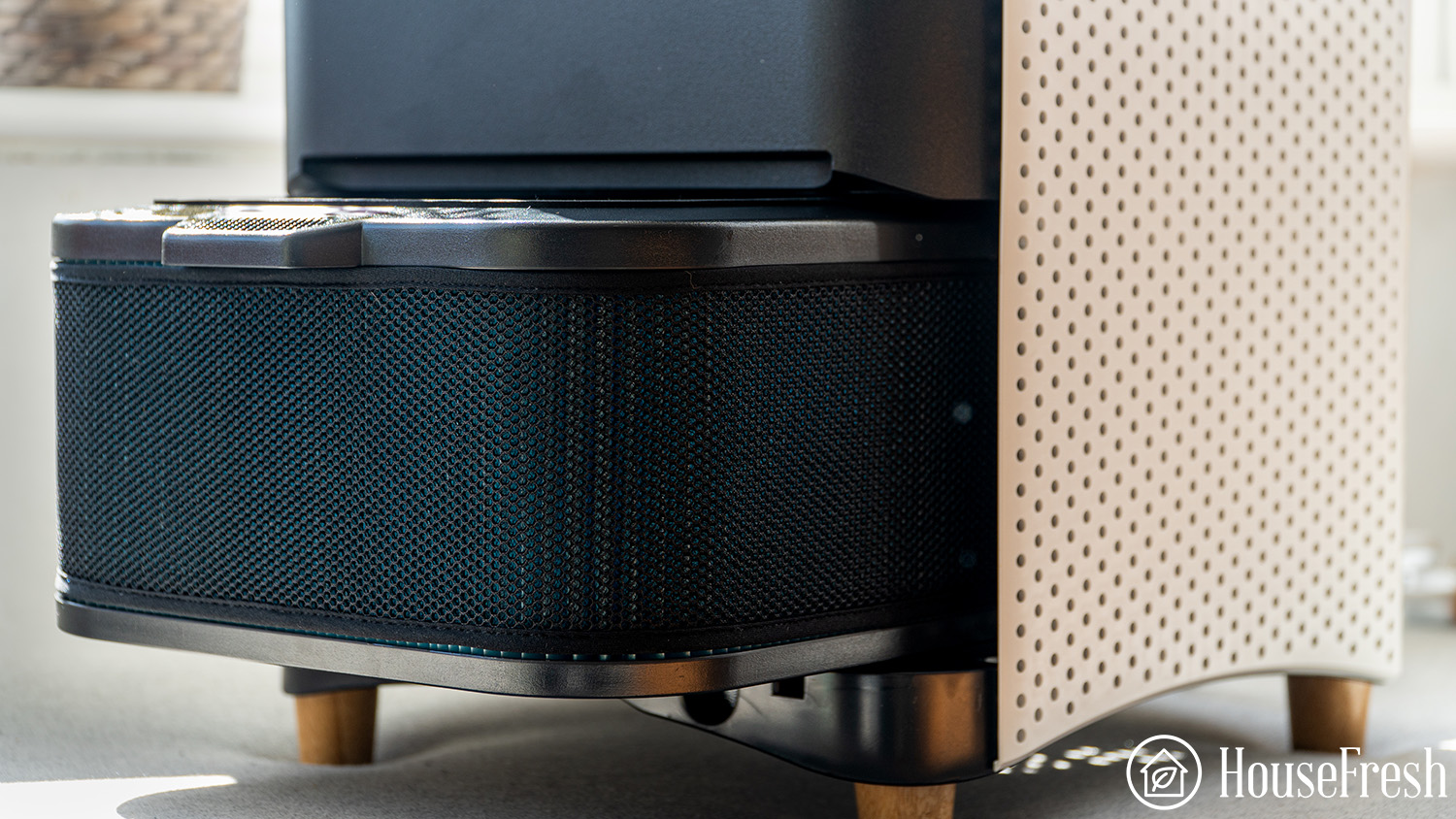 Something I appreciated is that you can also choose the amount of activated carbon you want so you can tailor it based on the gasses and odors you need to tackle.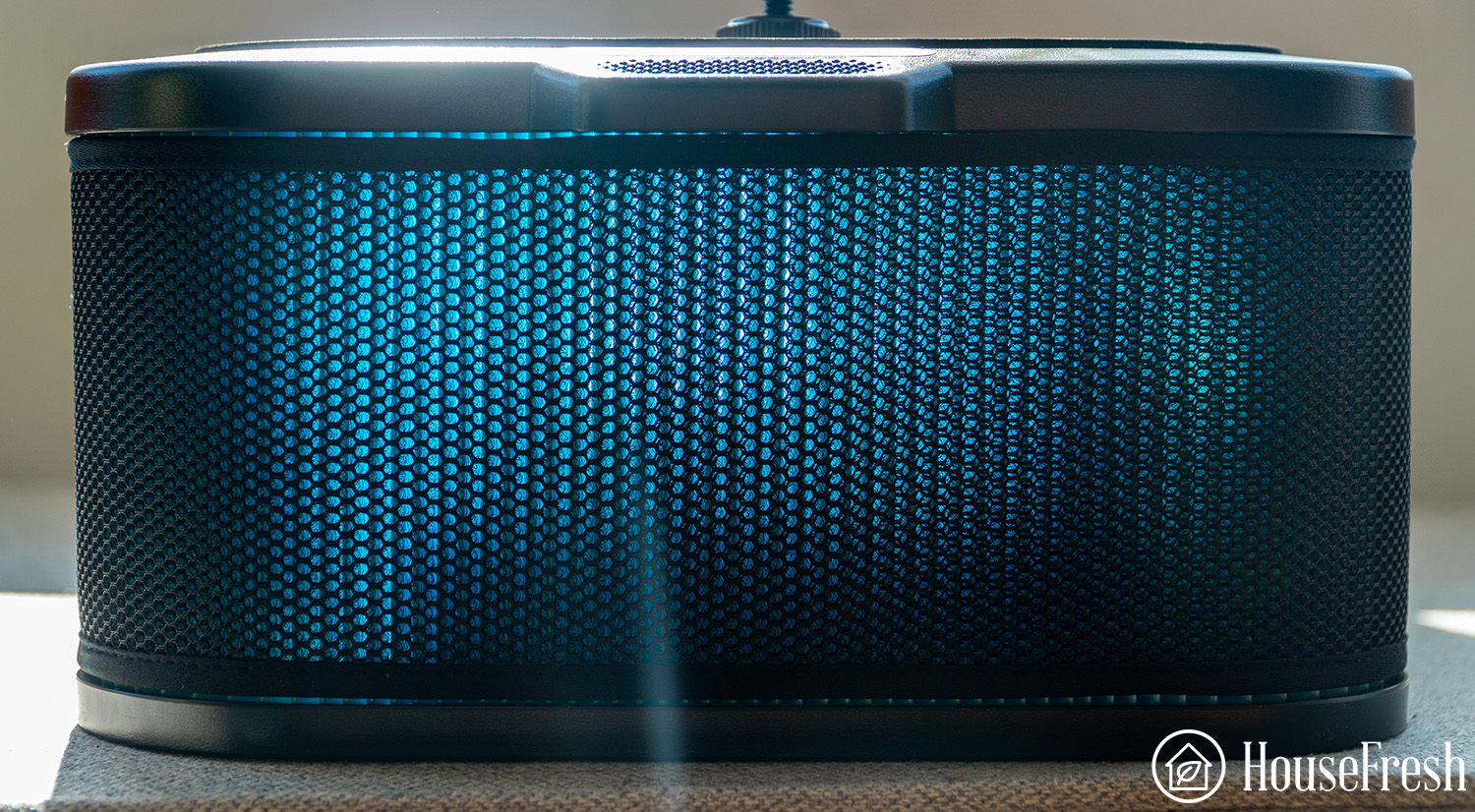 This way of using filters aligns with how we see the science of air cleaning with mechanical filters. Far too many brands like to make it sound like rocket science, but keeping the air clean is as simple as pushing it through two filters.
Here is a breakdown of the characteristics, use cases and prices for all seven Mila filters:
Mila Filter
CADR
Filter Type
Good For
Filter Cost
The Basic Breather
447
H12 HEPA
🚕 Pollution
🧹 Dust
🚬 Smoke
$74.00
The Big Sneeze
416
H13 HEPA
🌻 Pollen
🐈 Dander
🤧 Dust allergies
$84.00
The Rookie Parent
365
H12 HEPA + 0.70 lb Activated Carbon
🚕 Pollution
🧹 Dust
🚬 Smoke
👃 Odors
🧪 VOCs
$84.00
The Critter Cuddler
350
H13 HEPA + 0.84 lb Activated Carbon
🌻 Pollen
🐈 Dander
🤧 Dust allergies
👃 Odors
🧪 VOCs
$94.00
The Home Wrecker
300
H12 HEPA + 1.96 Activated Carbon
🚕 Pollution
🧹 Dust
🚬 Smoke
🐈 Dander
👃 Odors
🧪 VOCs
☠ Formaldehyde
$94.00
The Mama-to-Be
254
H14 HEPA + 0.70 lb Activated Carbon
🚕 Pollution
🐈 Dander
🌻 Pollen
🧹 Dust
🚬 Smoke
👃 Odors
🧪 VOCs
🔬 Ultrafine particulate (PM2.5)
🦠 Viruses and bacteria
$94.00
The Overreactor
254
H14 HEPA + 1.25 lb Activated Carbon
🚕 Pollution
🐈 Dander
🌻 Pollen
🧹 Dust
🚬 Smoke
👃 Odors
🧪 VOCs
☠ Formaldehyde
🔬 Ultrafine particulate (PM2.5)
🦠 Viruses and bacteria
$104.00
You can get filters that don't have any activated charcoal. Still, I recommend that most people get at least some; otherwise, you cannot remove odors or gasses from the air.
The activated charcoal filter costs a little more, but I recommend it if you choose to use a Mila as your air purifier.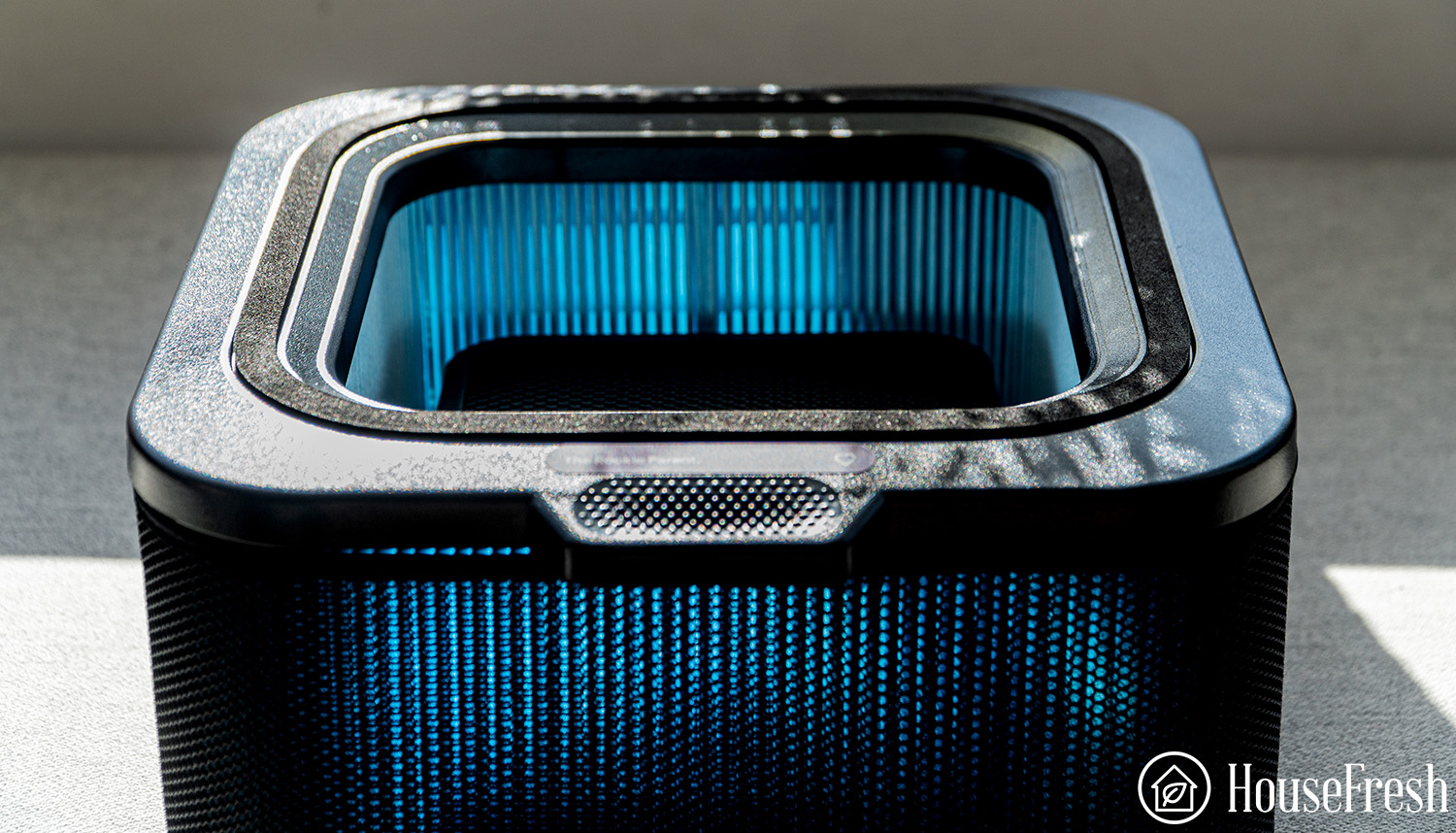 When it comes to replacing the filter in your Mila air purifier, the process is super simple and straightforward. Check out the video below to see how to do it:
⚠️ As with all good HEPA-based filters, the filter is supplied in a sealed plastic bag, so you need to make sure that you remove these before you start the unit. Mila does an excellent job of explaining this common error that people make by making it clear with stickers on the outside.
---
The Mila Cleared Our Test Room in 35 Minutes
We tested the ability of the Mila air purifier to remove particles from the air in the same room (our 705 cubic ft office) where we test all our air purifiers. Our indoor sensor from Purpleair updates on PM1.0ug/m3, PM2.5ug/m3 and PM10.0 ug/m3.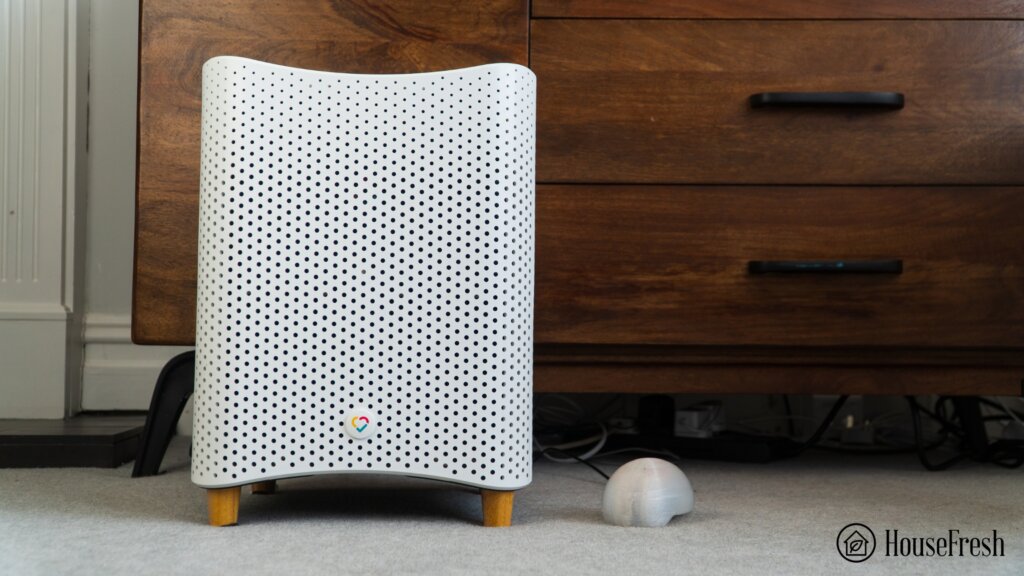 We visualized the data from the Purpleair sensor so you can see how smoke pollutants were cleaned from the air from the moment we turned on the Mila inside our test room:
Air Cleaning Performance Test Results
With a CADR score of 263 CFM (447 m³/hr), we expected similar results to the Levoit Core 400S, which cleaned our test room in 33 minutes. The final time for the Mila air purifier was 35 minutes, matching our expectations of the lab CADR scores.
The Mila can clean much quicker than a unit like the Levoit Core 200S, which has a CADR of 118 CFM (200.6 m³/h), and it took 60 minutes to clean our test room. So overall, even though it wasn't the fastest unit to clear the incense smoke out of the air of our testing room, it performed better than the average across all units we tested.
Noise Levels Test Results
On higher speeds, the Mila will go up to 74dB, which is higher than what most people will find comfortable, but in everyday usage, we found it rarely used this high power unless we were out of the room in automatic mode.
That said, we know that what we consider a comfortable noise level might be uncomfortable so someone else. Have a listen for yourself in the video below, where we show the different level of noise associated with running the Mila air puriifer across each of its fan speed levels (when on Manual Mode):
---
The Cost to Run the Mila Air Purifier: $202.56 per year
1. Electricity costs = $52.56
Energy costs are rising worldwide and are certainly something to consider as many older units used to be 100W or more. Thankfully, the Mila air purifier has a 50W max of around $109 a year, assuming it runs at full speed, which would be pretty unlikely unless you lived in a location with terrible outdoor air pollution. So, efficiency-wise, the Mila is good.
2. Filter costs = $150
The filters are replaced every six months and can be around $150-$200 a year, depending on your chosen filter. This is higher than average but not in the same realms as the IQAir Healthpro Plus, which has filters that cost $250 for just the HEPA element.
---
Bottom Line
Overall, this is the first true "Smart Home" air purifier that does a great job of cleaning the air in your home. You have to know that it will mean paying more both in the long and short term, but it does come with many more features than your average air purifier.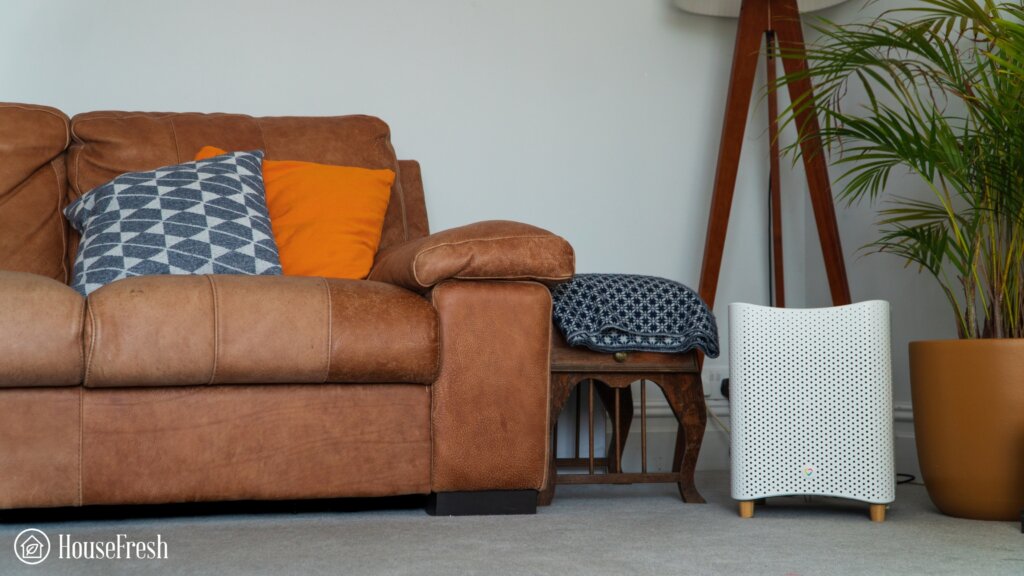 At this price point, you could get a Coway Airmega 300S with higher air-cleaning performance, but it lacks many of the smart features you find with the Mila. Suppose you want smart features and a decent air purifier. In that case, the Mila is currently the top unit I recommend.
---
SOURCES
We used the Department of Energy's appliance energy calculator to calculate yearly costs associated with running the Mila for 24hs a day for 365 days. We chose to run this calculation utilizing the US average utility rate, which is $0.12/kWh as of February 7th, 2023.