Our verdict:
If you notice unpleasant smells when you get home, it's likely that dirty laundry, leftover food, pets, stinky shoes, and bad ventilation are the most probable suspects. Luckily, there are lots of natural ways to eliminate odors. 
You could boil up some lemons, leave coffee grounds around, and mist rooms with white vinegar. All of these remedies will do a good job of making your home stink-free. But for the most effective solution, using an air purifier with an activated carbon filter will help to ensure that those annoying whiffs are a thing of the past.
Your home is your sanctuary, so when you walk through the door, it's super important that it smells good. But what if there are mysterious, unpleasant odors, and you just can't put your finger on where they're coming from?
Stinky shoes, dirty laundry, pets, and last night's takeaway are some of the most common culprits, as well as poor air circulation. However, as long as you can get to the root of the problem and figure out why your house smells bad, then you can do something about it.
This guide will help you uncover the source and provide top tips on how to get rid of the stench.
While there are many natural ways to remove nasty odors from your home, using an air purifier is the best way to eradicate pongs. So we'll also give you the lowdown on what to look for when buying a system that'll tackle smells effectively.
Uncovering the Source of Unwanted Smells
It would be amazing if our homes smelled like freshly baked bread and cookies all the time, but unfortunately that's not always the case. Whether it's old shoes, leftover food, or your adorable furry friend, there are many possible reasons for those unwanted smells.
So it's time to channel your inner Sherlock and find out what might be causing the pong, and how you can combat it.
🕵️ Is It Coming From the Hallway?
Let's start the investigation at the front of the house. Hallways tend to be narrow, enclosed spaces, making them ideal for smells to permeate. And if there aren't any windows for natural ventilation, it's even more likely you'll encounter an unpleasant pong.
🔎Prime Suspects🔍
👟 Stinky shoes
Sweat inside shoes causes bacteria to thrive, causing a horrible smell. Do you have many pairs of shoes lying around? Then you may well have a fairly pungent hallway.
🧥 Damp coats
The combo of bacteria, sweat, and bodily oils results in stinky coats. Stinky coats = stinky hallway.
3 Ways To Rid Your Hallway of Odor Issues
1. Sprinkle baking soda into shoes. Leave them overnight, then shake them out the next morning and the stench should be gone, as if by magic!
2. Clean hallway carpets. Wash carpets at least twice a year to remove any insidious odors.
3. Avoid damp air. Leave a hair dryer nearby and put a hanger near the door. This way you can leave your wet coat outside and dry yourself before heading further into the house.
💡 Pro Tip: Wash and dry coats thoroughly. Do not head back out into the rain in a damp coat — it will stink even more by the time you get home. 
🕵️ Could It Be Coming From the Kitchen?
If it's not the hallway causing the stink, could it be your kitchen? With all those herbs and spices, fresh cooking often smells divine. The problem arises after you've finished prepping and eating that tasty curry or warming chili. This is when the smells can switch from being flavorsome to fetid.
🔎Prime Suspects🔍
🍲 Leftover food
Leftovers are a great way of saving money as they mean you're not wasting food, but they can also make your kitchen pong.
🚮 Trash
Alongside leftover food, funky stinks can also come from your refrigerator and trash can.
🍽️ Cooking
A delicious meal can result in a pong that lives on throughout your household for days, if not dealt with correctly.
🥒 Garbage disposal
Bacteria (and terrible smells) can thrive in your kitchen sink or drain if you don't clean them regularly.
3 Ways To Rid Your Kitchen of Lingering Odors
1. Close doors. This one is really simple — closing your kitchen, dining, and living room doors will trap the odors inside the kitchen and prevent them from circulating around your home.
💡 Pro Tip: Place a towel down at the bottom of the kitchen door to fully block in the smells.
2. Simmer lemons in a pot. Lemons contain natural cleaning and odor-neutralizing properties due to the citric acid. Simply add half a lemon to a pot of boiling water and simmer on a low heat.

3. Bake yourself a dessert. The smell of baked bread or cocoa powder cooking releases a malty or caramelized aroma, as opposed to an allicin odor that is released in some savory dishes.
🕵️ Is It the Living Room?
So, it's not the hallway or the kitchen – time to investigate the living room. Whether it's watching your favorite boxset, playing games, or entertaining guests, your living room should feel welcoming and relaxing. Yet it'll be the opposite of this if unappealing scents are wafting around the room.
🔎Prime Suspects🔍
🐕Pets
When cats and dogs perspire, their scent is released through their fur. When they shed fur, much of it ends up in their pet bed, hence the sweaty stink.
☕ Spillages
Any spillages or dirt on your living room carpet can cause unpleasant aromas.
💨Bad Ventilation
Humidity, carbon dioxide (caused by people breathing), and microbial volatile organic compounds (MVOCs) that result from bacteria and fungi, are the main reasons why your indoor air might be stale. 
3 Ways To Rid Your Living Room of Troublesome Odors

1. Regularly clean your pet's toys. Like with your pet's bed, regularly cleaning their toys will help prevent the smell from spreading, and eliminate any bacteria or dirt that's creating smells. Be sure to wash any toys regularly using hot water and a detergent designed to remove pet odors. Our guide to getting rid of dog odors is here if you need more info on that topic.
💡 Pro Tip: Place some activated charcoal beside their bed, as charcoal is fantastic at absorbing odors. Unlike regular charcoal, the activated kind has been chemically treated to increase the amount of oxygen it contains. The rise in oxygen makes the charcoal more porous and thus fantastic for absorbing and neutralizing odors. 

You can easily buy packets of loose granules to make your own bags.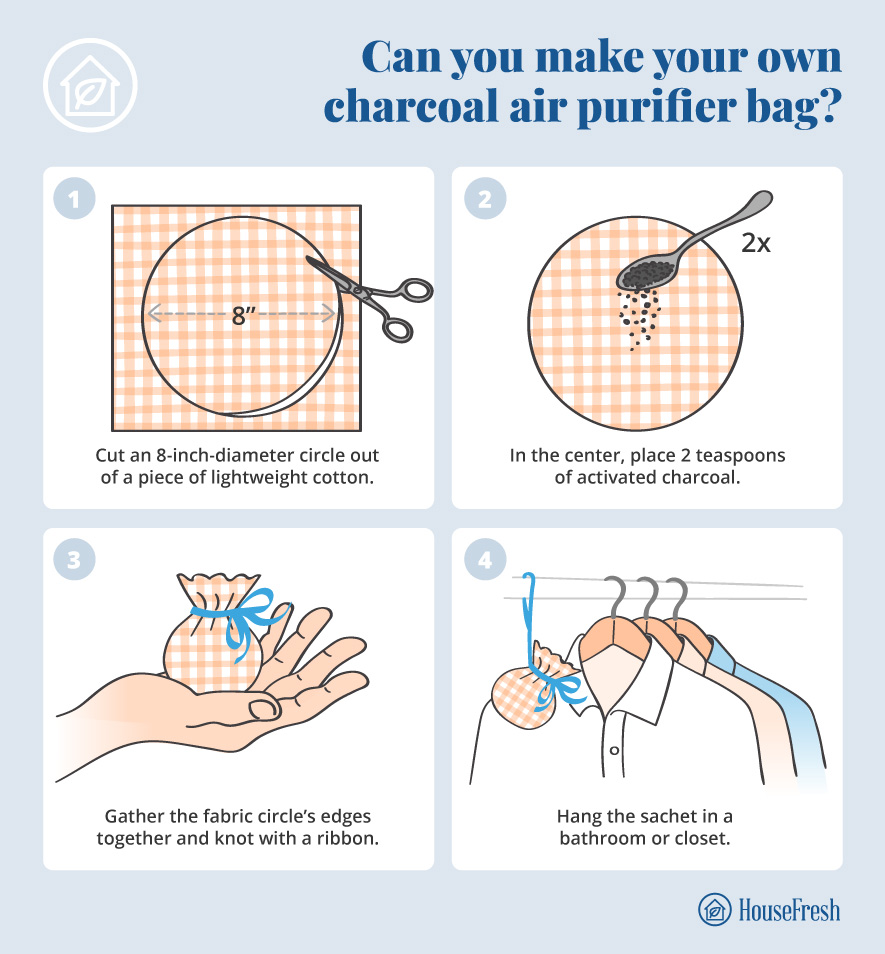 2. Use enzymatic cleaners on furniture and fabrics. Enzymatic cleaners use enzymes to break down the molecules that create smells, which means they can effectively eliminate dog smells without leaving any harsh chemicals or fragrances behind.

3. Vacuum regularly with a HEPA cleaner. Whilst regular vacuum cleaners recirculate dog dander and odor particles back into the air, HEPA filters trap them, leaving your air cleaner and fresher.
💡 Pro Tip: Don't forget to open windows as often as you can to improve ventilation. 
🕵️ Is It the Bedroom That Stinks?
If the smell isn't coming from downstairs, maybe it's the bedroom? It's supposed to be the room for ultimate relaxation, yet it can be difficult to truly unwind when you smell something unpleasant. Many of us keep windows and doors shut while sleeping, so waking up to a strong stench is likely when the air can't circulate properly.
🔎Prime Suspects🔍
🧦Dirty laundry
Whether they're stuffed inside a hamper or left on the floor, the build-up of sweat on dirt clothes will result in a seriously musty odor.
🛏️ Bed linen
We sweat a lot in bed, and this can result in an accumulation of odors.
🍪Crumbs
Crumbs on the carpet or rugs can cause bad smells that hang around, especially if you enjoy a snack in bed from time to time.
3 Ways To Rid Your Bedroom of Unwanted Odors
1. Wash and dry your laundry regularly. This one might seem obvious but we have to mention it, as dirty laundry is an extremely likely suspect.
💡 Pro Tip: Don't leave dirty laundry on the floor. Invest in a hamper or a dirty laundry basket, ideally one with a firm lid.
2. Clean the rugs. If you have rugs inside your bedroom, take them outside and beat them the old-fashioned way or wash them on a high-temperature cycle if possible.
💡Pro Tip: If you like to eat or drink in bed, double-check there for any leftover morsels or spillages.
3. Get some air-purifying houseplants. Plants not only provide the fresh oxygen we breathe, but also help remove harmful toxins from the air too. Head to your local garden center or plant store and pick up some purifying plants to help cleanse the air of unpleasant smells.
3 More Natural Ways to Rid Your Home of Unpleasant Odors
If none of the tips above do the trick, here are three bonus tips for any room.
1. Sprinkle coffee grounds
Caffeine within the grounds contains nitrogen, which is particularly effective at soaking up nasty smells from the air. Place an open container of used grounds in the fridge, or simply add a tablespoon to a bowl and place it in any stink-prone areas.
2. Make a spray bottle using white vinegar
White vinegar contains acetic acid that helps to neutralize alkaline odors. It will also help to remove other household smells, such as pets and smoking. For an effective, yet natural air freshener, dilute the vinegar (always use white) with water in a spray bottle and mist around troublesome spots.
💡 Pro Tip: To get rid of very bad odors you can also boil the vinegar as the steam helps to spread it around the kitchen and the rest of your home. 
3. Refresh fabrics with essential oils
Simply mix 1/2 cup of white vinegar, 1/2 cup of rubbing alcohol, and 1 teaspoon of cornstarch. Then add drops of your favorite essential oil, such as lavender, in a small spray bottle. Be sure to shake the bottle well before spraying over upholstery and clothes.
How Air Purifiers Get Rid of Odors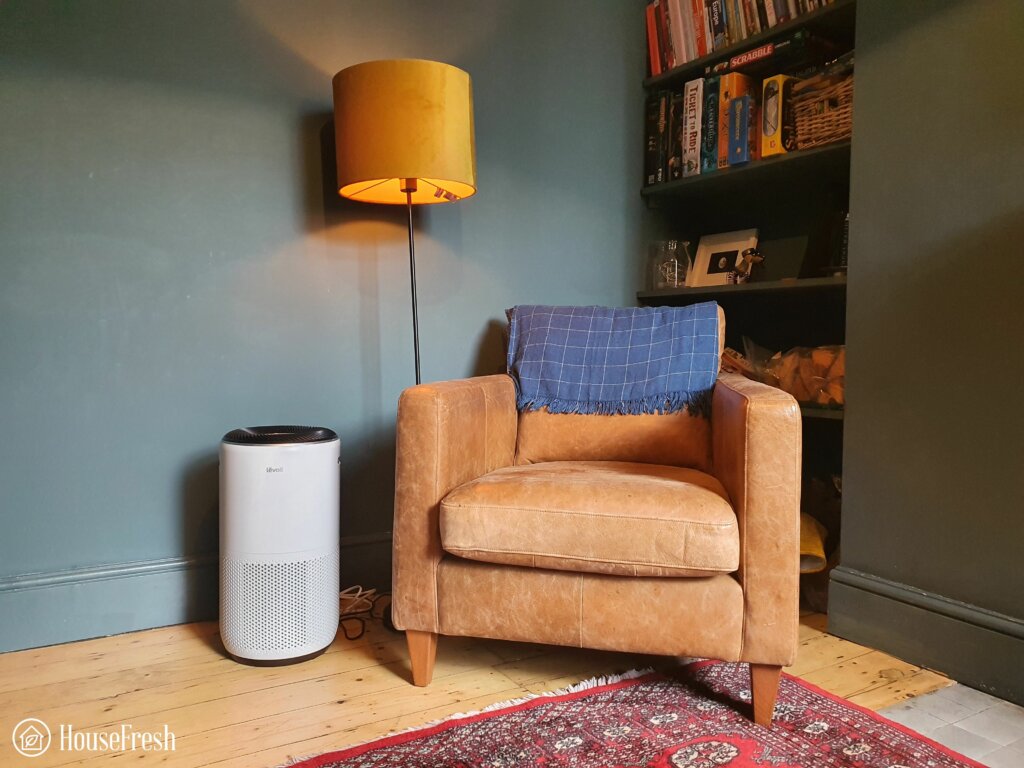 Air purifiers are fantastic for removing allergens, pollutants, toxins, and VOCs from your home.
But, can they also be used for eliminating odors? In short, absolutely!
However, not all purifiers will get rid of smells effectively. Let's delve a bit deeper into why this is the case, and what factors you should consider when buying a purifier for odor control.
HEPA
All air purifiers contain filters in order to work, and the gold standard for removing airborne particles and pollutants is HEPA. According to the Environmental Protection Agency "high efficiency particulate air" filters can theoretically capture at least 99.97% of particles.
However, HEPA isn't cut out for tackling odors. To do this, you need a purifier that contains activated carbon.
Activated Carbon
Like with those DIY charcoal bags we mentioned earlier, activated carbon filters do a similar job at neutralizing and eliminating smells, but on a much bigger, more efficient scale. This is because they trap gas molecules thanks to a process called adsorption.
Not to be confused with absorption, in which molecules get soaked up like a sponge, adsorption means that gaseous, smelly molecules stick to the outside of the carbon – end result: those unwanted, noxious aromas are successfully eradicated, and can no longer waft around your home.
So all you need to do is look for a purifier with an activated carbon filter (plus HEPA for those toxins and pollutants) and problem solved? Well, not quite. You see, it also depends on how much carbon the system contains.
Some purifiers might state they use activated carbon filters, but in reality, there's only a smidgen of carbon. This defeats the purpose because the filter will become saturated almost immediately.
As a general guide, look for a purifier that uses at least five pounds of activated carbon. Basically, the more activated carbon it contains, the better!
Style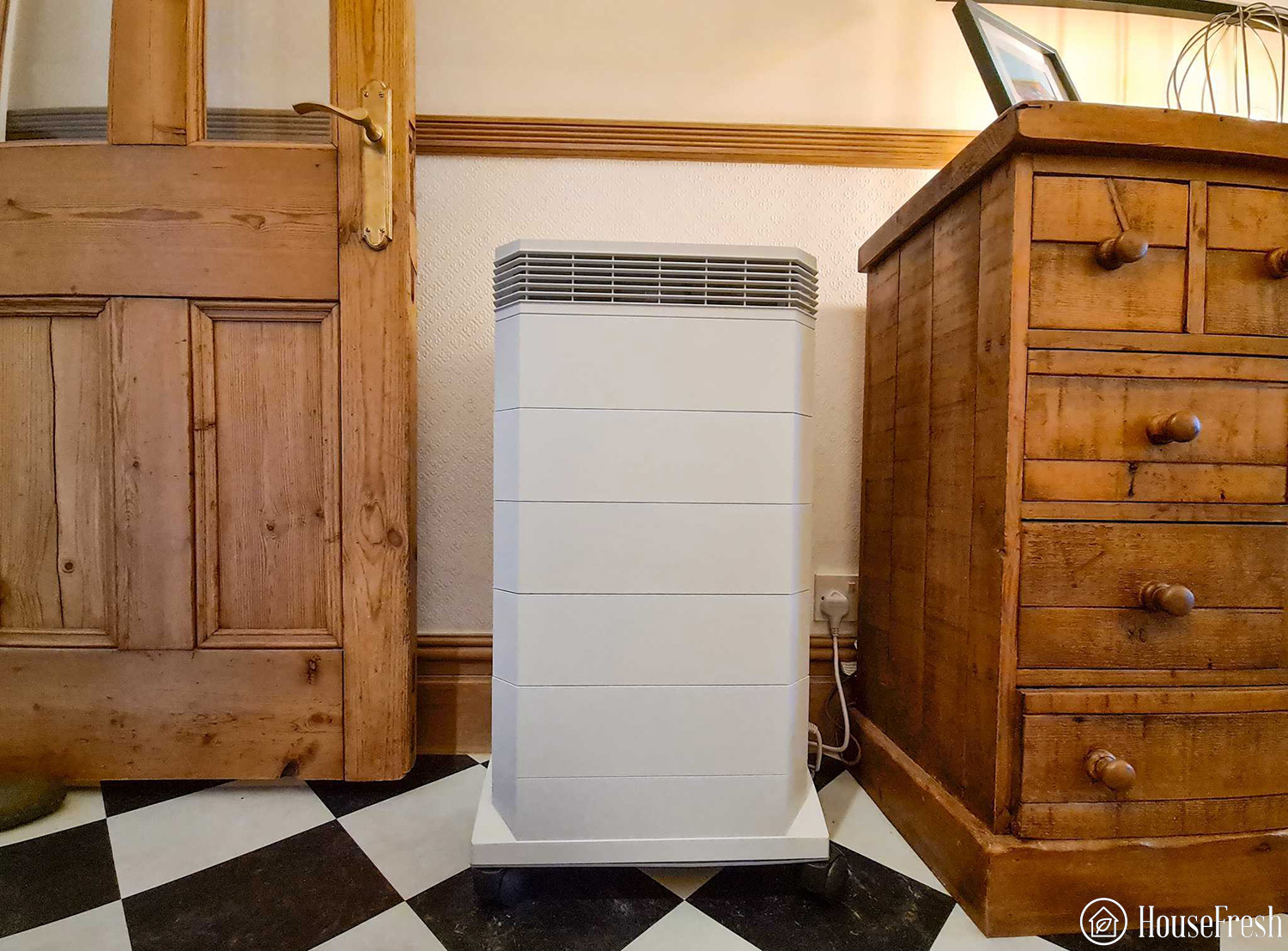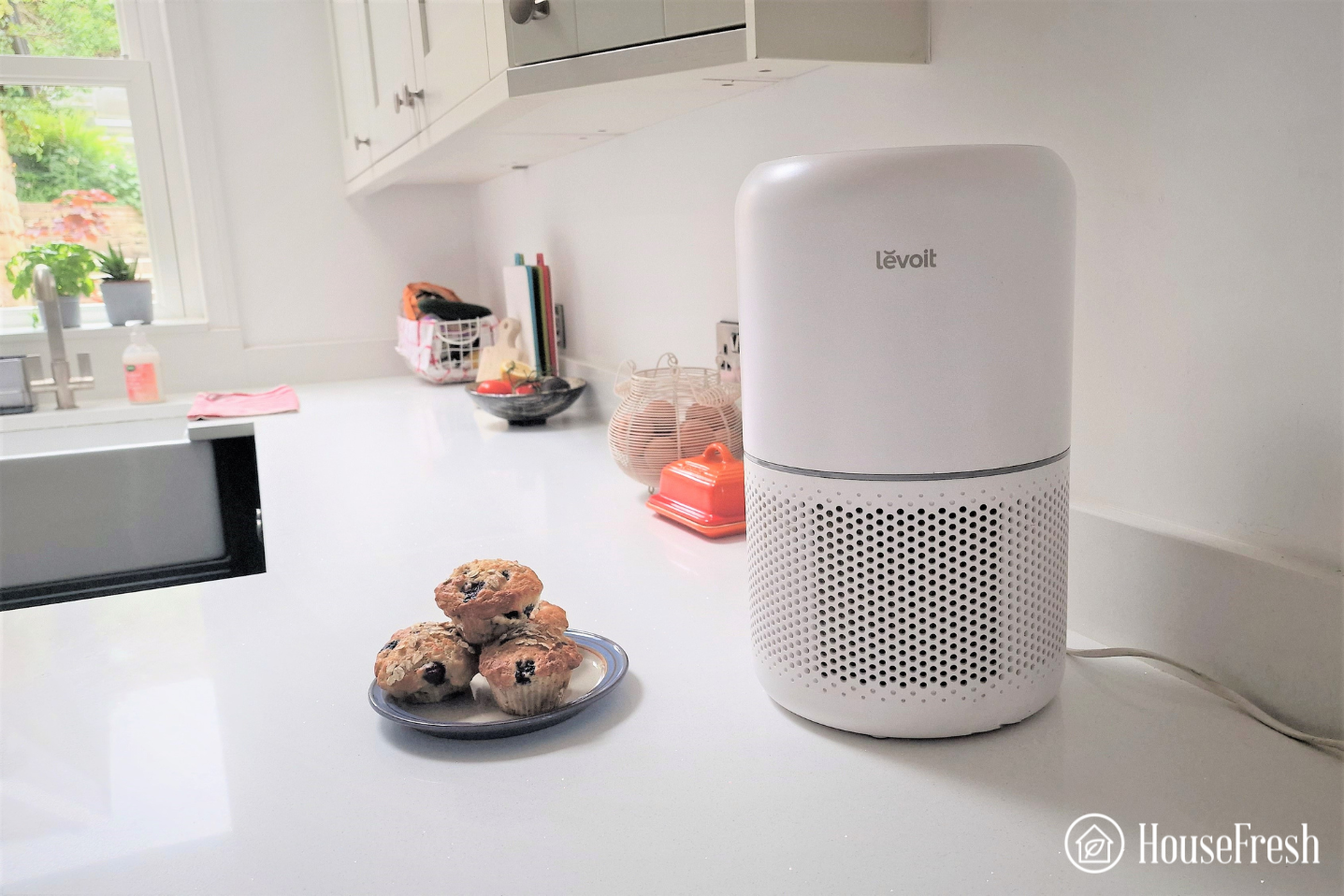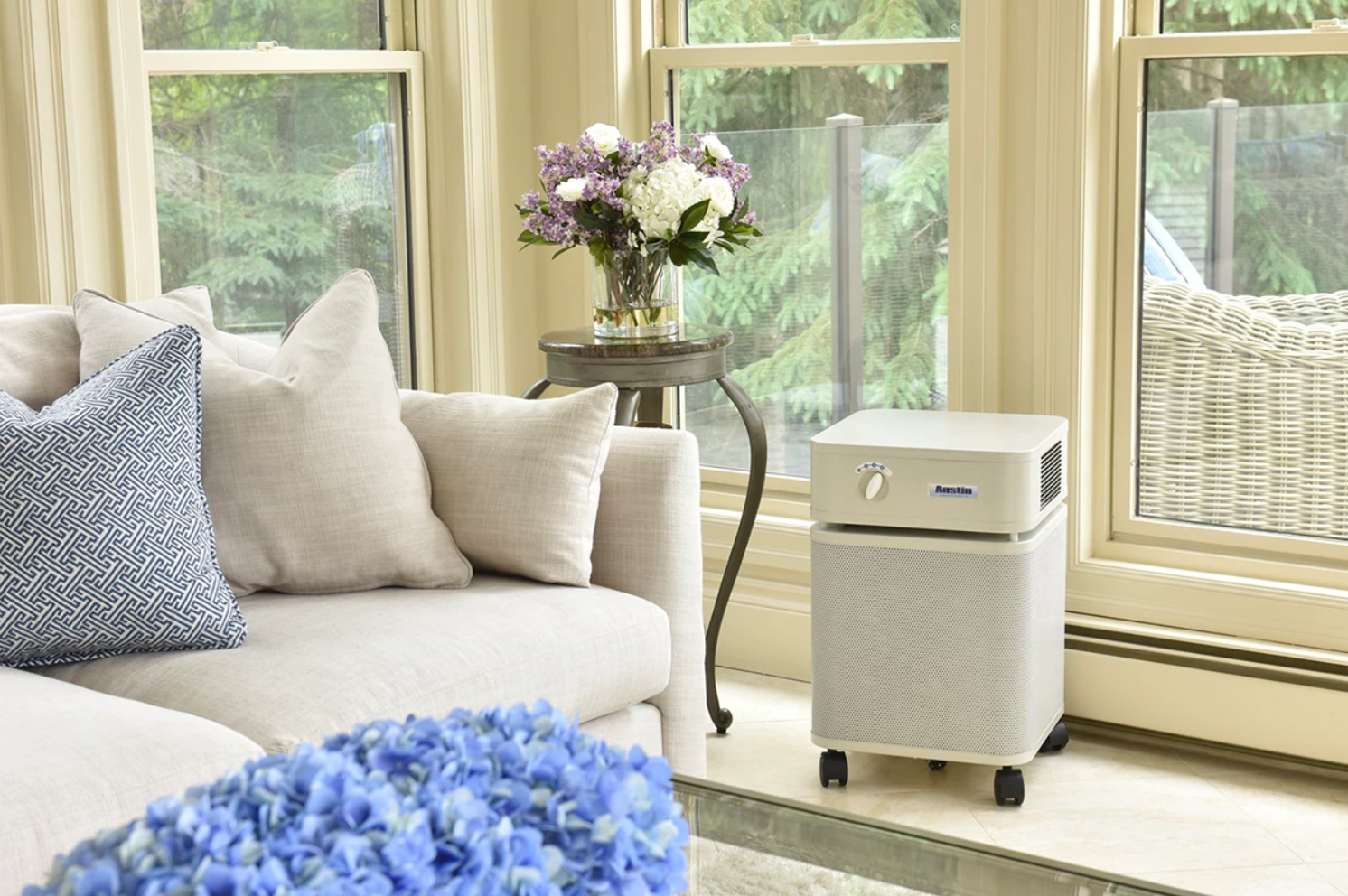 Pros
HyperHEPA is best in class for any air purifier
Timer mode so you can leave it on for 2, 4, 6 and 8 hours and it will automatically switch off
15 lbs of activated carbon for VOC's and Odors
Cons
Lacks onboard air sensor so can't automatically switch on if it detects allergens
Old fashioned design and no auto features
Filter Technology
Pre-max filter, V5-Cell Filter, HyperHEPA filter
Pre-Filter, H13 True HEPA Filter, High-Efficiency Activated Carbon Filter
Pre-filter, medium filter, Carbon blend and HEPA
Best Overall
Style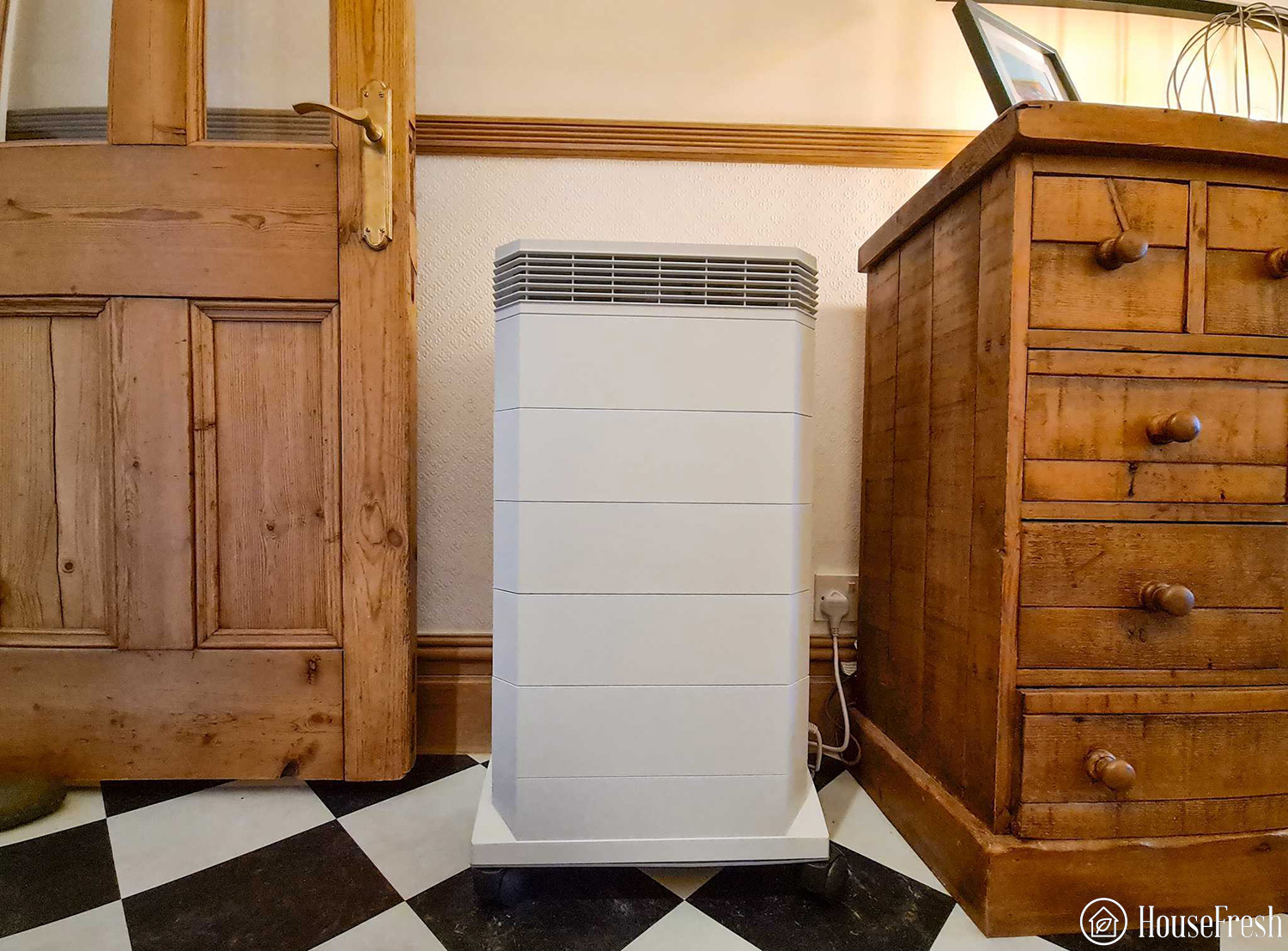 Pros
HyperHEPA is best in class for any air purifier
Filter Technology
Pre-max filter, V5-Cell Filter, HyperHEPA filter
Best Budget Option
Style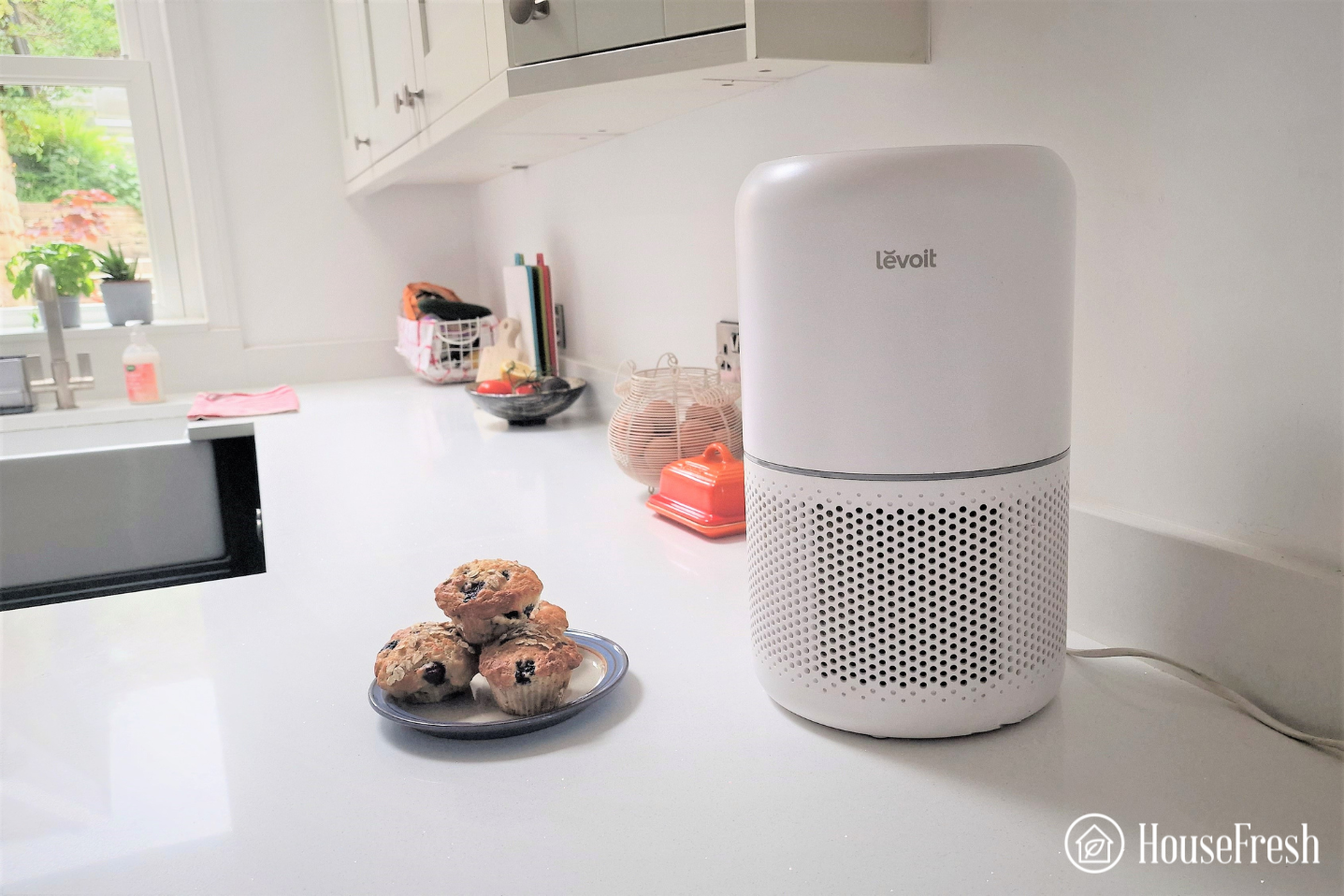 Pros
Timer mode so you can leave it on for 2, 4, 6 and 8 hours and it will automatically switch off
Cons
Lacks onboard air sensor so can't automatically switch on if it detects allergens
Filter Technology
Pre-Filter, H13 True HEPA Filter, High-Efficiency Activated Carbon Filter
Best for Large Spaces
Style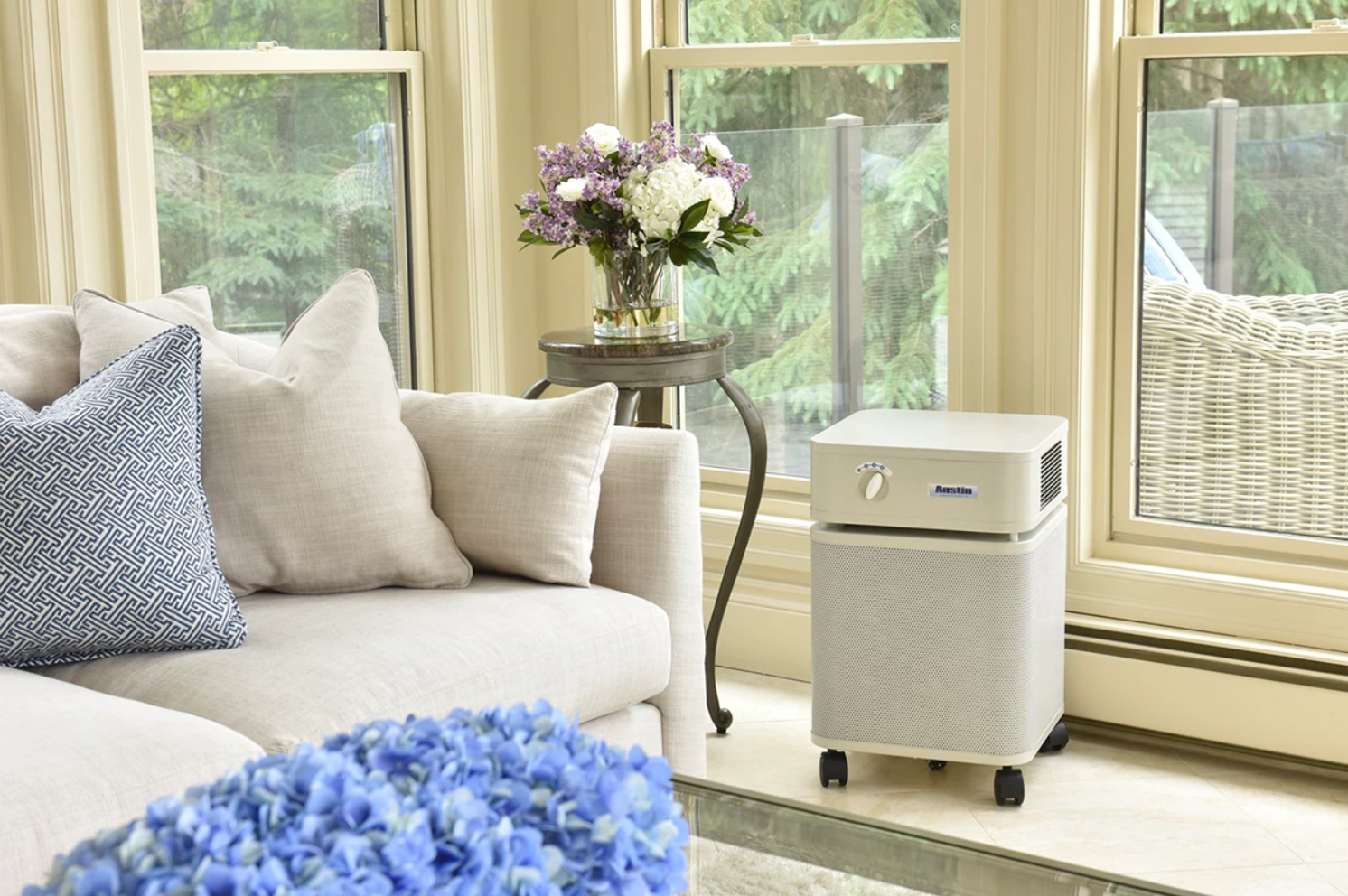 Pros
15 lbs of activated carbon for VOC's and Odors
Cons
Old fashioned design and no auto features
Filter Technology
Pre-filter, medium filter, Carbon blend and HEPA
---
Final Thoughts 
There can be many reasons why your house smells when you walk in. But the good news is that the issue is probably nothing major. Once you've located the source, you can tackle the problem head-on. The most common suspects to be aware of are stinky shoes, leftover food, dirty laundry, pets, and bad ventilation.
There are lots of homemade remedies you can use to get rid of unpleasant smells. Hanging charcoal bags, sprinkling coffee grounds, boiling lemons, and misting your rooms with white vinegar can all help to neutralize odors.
But while natural solutions can work wonders, an air purifier is your best bet for successful pong removal. Be sure to look for one with an activated carbon filter, and keep in mind that the more carbon it contains, the more effective it'll be at eliminating smells. Within no time, you'll be able to breathe easily when you walk in.
SOURCES

Allen, P. (2022). House Fresh. 4 Mysterious Odors and How to Get Rid of Them. housefresh.com
Ashton, D. (2022). HouseFresh. Do Air Purifiers Help With Bad Smells? housefresh.com
Ashton, D. (2022) HouseFresh. How to Get Rid of Dog Smells in The House. housefresh.com
Ashton, D. (2022). HouseFresh. 16 Houseplants You Can Use as Air Purifiers. housefresh.com
Bhargava, H.D. (2020). WebMD. Reasons Your House Stinks. webmd.com
Claire Interior Designs. (2022). How to Get Rid of Apartment Hallway Smells? – Tips & Tricks. claireoliviawayman.com
Cleanipedia. How to get rid of cooking smells: 13 foolproof methods. cleanipedia.com
Combiths, S. (2021). Kitchn. You Should Keep a Bowl of Vinegar Next to Your Stove — Here's Why. thekitchn.com
Conklin, L.M. (2022) Reader's Digest. The 10 Easiest Ways to Get Rid of Pet Odor. rd.com
Del Russo, M. (2022). Real Simple. How to Make Your House Smell Good—Experts Share 8 Secrets. realsimple.com
Garrity, A. (2020). Good Housekeeping. How to Properly Clean Smelly Shoes to Get Rid of Their (Inevitable) Stank. goodhousekeeping.com
Mackenzie, C. M. Hunker. How to Use Activated Charcoal Odor Neutralizers. hunker.com
Searle, L. (2019). Real Homes. Household smells: 41 hacks to get rid of them. realhomes.com
Taylor-Biggs, T. (2022). HouseFresh. How To Make Your Room Smell Good? housefresh.com
Taylor-Biggs, T. (2022). HouseFresh. Why Does My Bedroom Smell? housefresh.com
Taylor-Biggs, T (2022). HouseFresh. 21 Ways to Get Rid of Cooking Odor. housefresh.com
Walbert, M. M. (2020) Lifehacker. Use Coffee Grounds to Eliminate Household Odors. lifehacker.com
Last update on 2023-09-04 / Affiliate links / Images from Amazon Product Advertising API