A dog isn't just a pet. Our four-legged friends are part of the family, but there's no doubt that some of their smells can be a nuisance in a house, and getting rid of them can be a real chore. It's essential to get rid of dog smells as quickly and efficiently as possible to maintain a pleasant living environment for everyone in the house.
So here is a list of effective ways to get rid of dog smells without having to resort to expensive chemicals or procedures.
1. Use enzymatic cleaners on furniture and fabrics
Where To Use: These cleaners can be used on carpets, furniture, curtains, and other fabrics. They're also safe to use around pets and children.
Enzymatic cleaners use enzymes to break down the molecules that create smells, which means they can effectively eliminate dog smells without leaving any harsh chemicals or fragrances behind. You can find them at most major retailers, and they come in both spray and liquid forms. Not sure which one to get? This is our favorite one: BUBBAS Super Strength (available on Amazon.com).
How To Use: Spray or pour the cleaner onto the affected area and let it sit for a few minutes. Then, wipe the area clean with a damp cloth.
2. Deodorize carpets with baking soda
Where To Use: Any surfaces that dogs tend to touch – such as carpets, rugs, floors, walls, cushions, and even furniture.
Baking soda can be used to remove all sorts of odors as it absorbs and neutralizes smells. It's an amphoteric compound, which means it reacts with acidic and alkaline molecules turning them into sodium salts which, in turn, reduces their odor.
How To Use: Spread baking soda all over the carpets and let it sit for a few hours before vacuuming it off.
3. Mop the floors with vinegar
Where To Use: You can apply vinegar to most hard surfaces like tiles, laminate, and countertops.
Vinegar contains acetic acid which neutralizes alkaline odors. It breaks down the odor particles and adsorbs them, removing smells from the air. But remember, you'll need to mop every week to keep the dog smells at bay.
How To Use: Add one part vinegar to three parts water and add a cleaning solution. You can also mix vinegar and baking soda together in a spritz bottle to remove odors from soft funishings.
4. Regularly clean your dog's bedding and toys
Regularly cleaning your dog's bedding and toys will help prevent the smell from spreading, and eliminate any bacteria or dirt that's creating smells. Be sure to wash your dog's bedding and toys regularly using hot water and a detergent designed to remove pet odors.
How To Use:

Step 1: Start by removing as much hair as possible. You can do this by shaking the bedding outdoors or using a vacuum cleaner with a pet-hair attachment.

Step 2: Soak the bedding in hot water with laundry detergent.

Step 3: Rinse it thoroughly.

Step 4: Hang the bedding to dry.
Pro Tip: Let the bedding soak for at least 15 minutes for better results.
5. Invest in an air purifier with HEPA and Activated Carbon filters
Not only will this tip help you rid your home of dog smells, but it will also remove all the other nasty bits dogs can leave behind like hair and dander from your environment. This tip will only work if you invest in an air purifier with both a HEPA and a packed Activated Carbon filter.
Here's why:
HEPA – High-Efficiency Particulate Absorbing filters are the top standard when it comes to air filtration. To put it simply, this high-density filter acts as a net to capture minuscule airborne particles like dust, pet dander, mold, and pollen removing them from your home.
If you want to know more, check out our full article on HEPA filters explaining the science behind them.
Activated Carbon – Activated Carbon works in a similar way to baking soda, just a lot more effective. Instead of absorbing odors, it adsorbs them. This means the particles stick to the carbon instead of consuming them. The more activated carbon packed into a filter, the more effective it will be at removing odors.
Still curious? Check out our article on Activated Carbon to learn more.
Our Favorite Air Purifiers for Dog Smells
Best Overall
Best For Most People
Best Budget Option
Best Budget Option
Best for Large Spaces
Best for Large Spaces
Style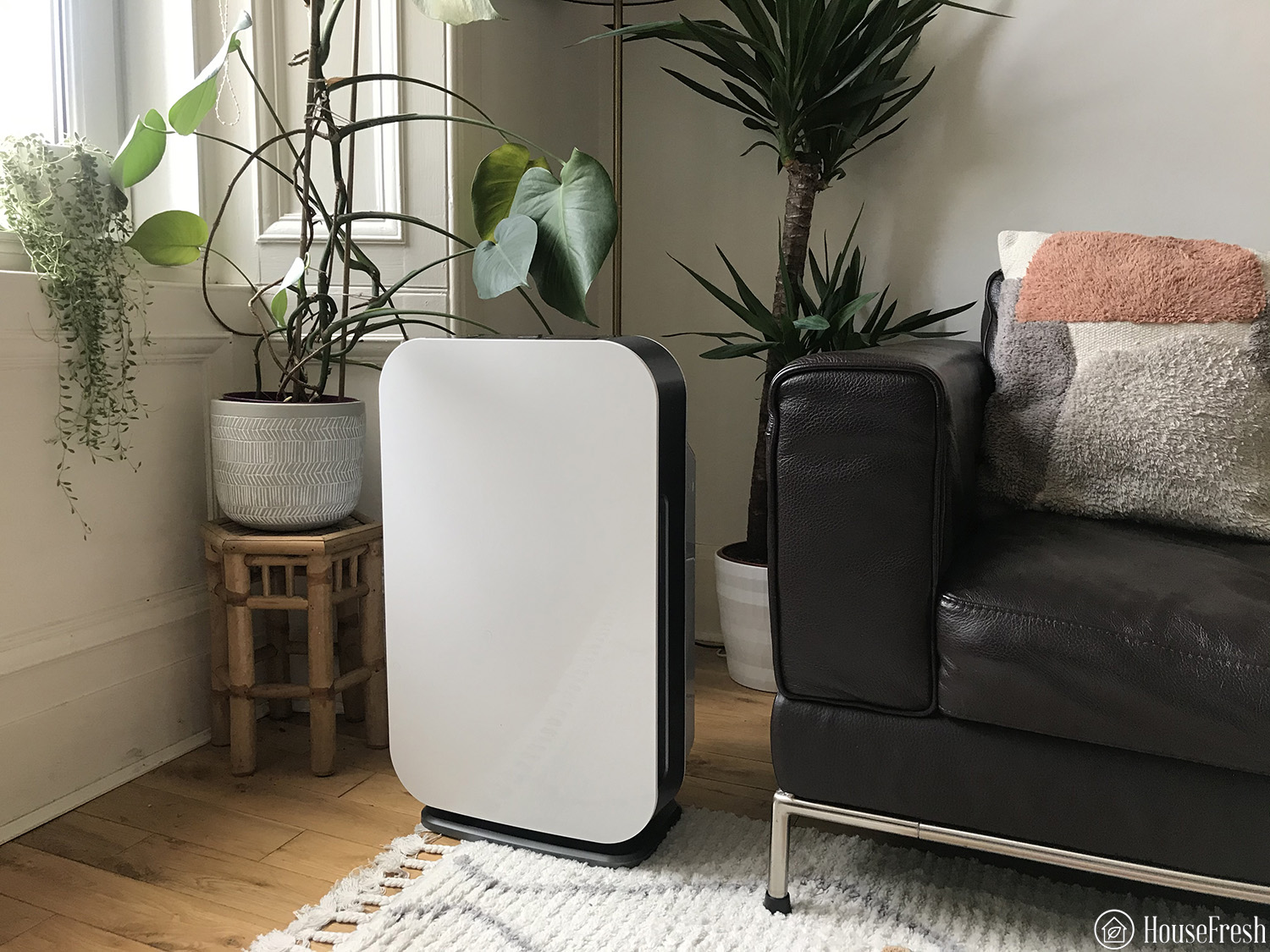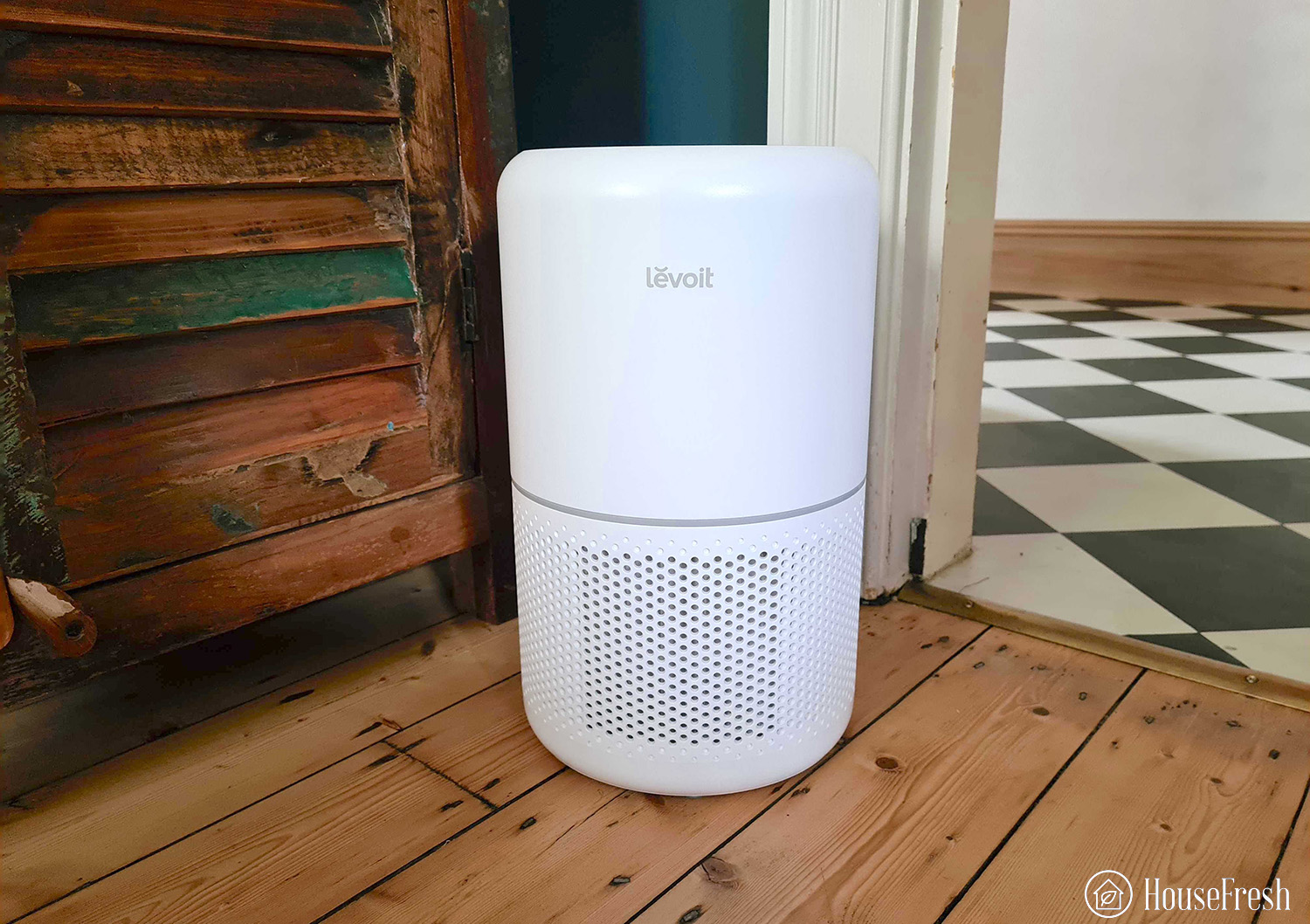 Pros
There are four different filters to choose from including OdorPlus
Can be placed on a countertop out of the way of dogs
Uses AIRSIGHT™ Plus technology to detect contaminants in real-time
Cons
It uses a lot of power on max speed
It won't be effective in larger rooms
The Levoit app could be improved
Best Overall
Style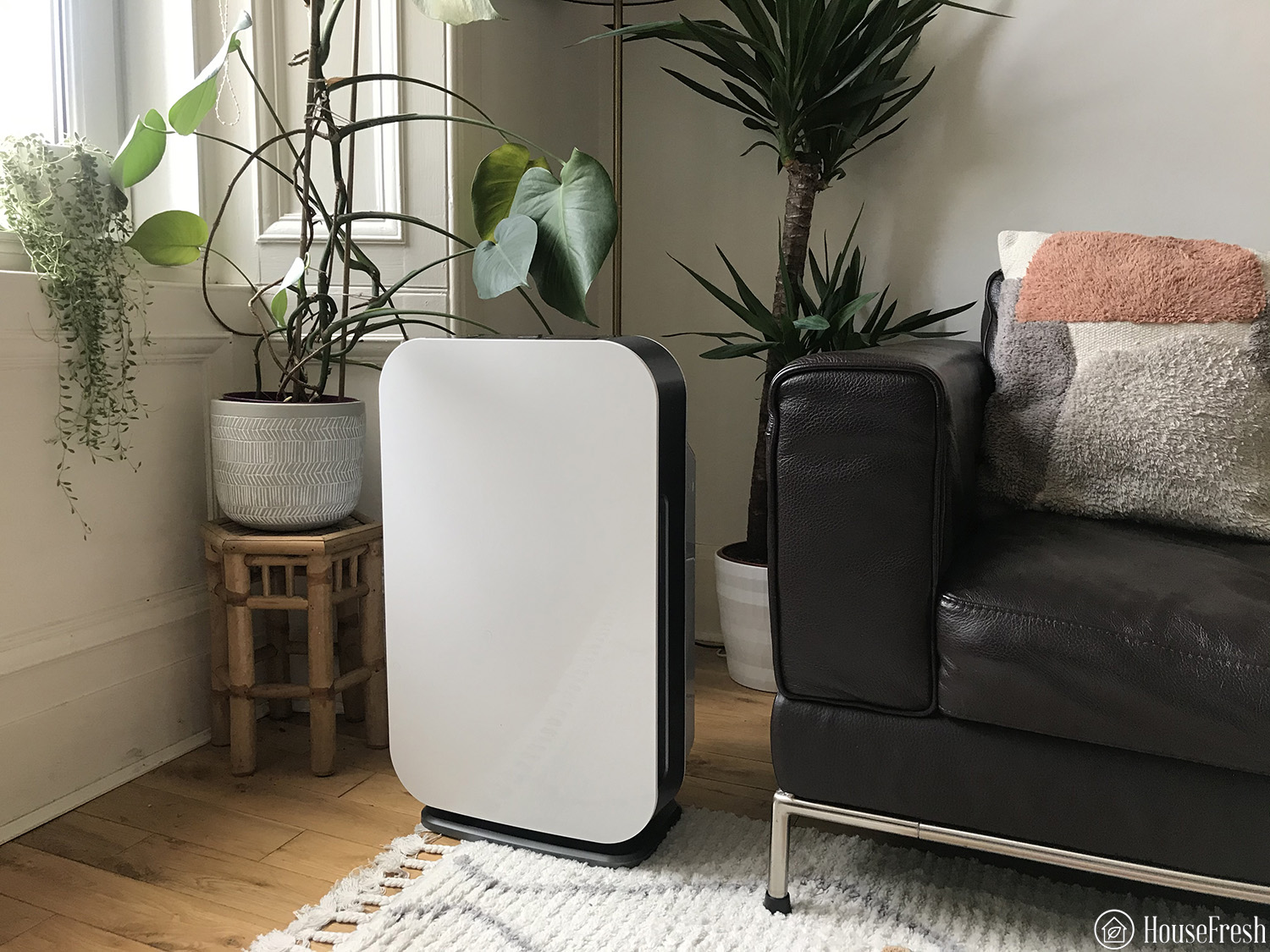 Pros
There are four different filters to choose from including OdorPlus
Cons
It uses a lot of power on max speed
Best Budget Option
Style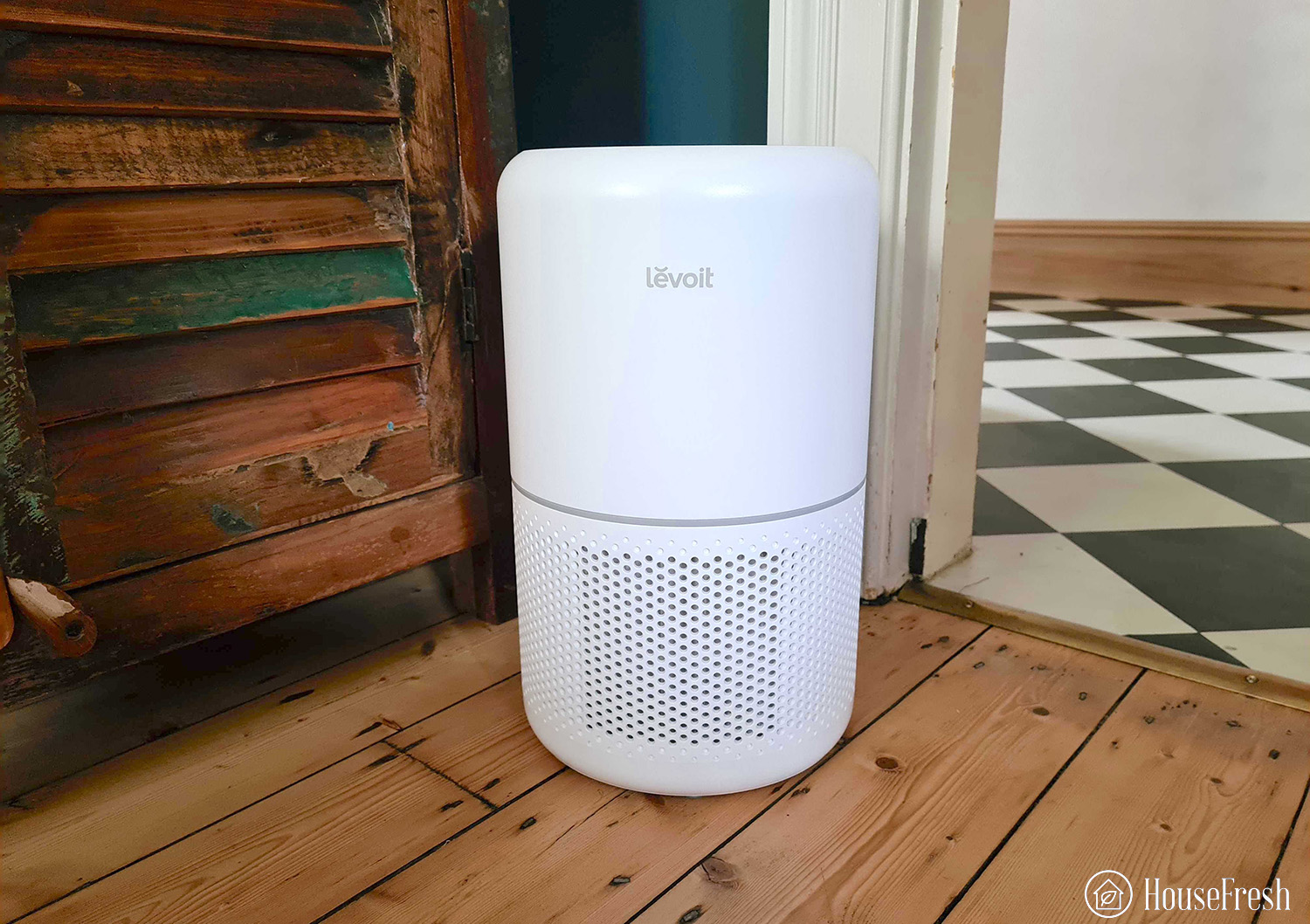 Pros
Can be placed on a countertop out of the way of dogs
Cons
It won't be effective in larger rooms
Best for Large Spaces
Style
Pros
Uses AIRSIGHT™ Plus technology to detect contaminants in real-time
Cons
The Levoit app could be improved
6. Use a HEPA vacuum cleaner on a regular basis
Where To Use: Use your HEPA vacuum cleaner on carpets, soft furnishings, curtains, and dog beds.
A testament to how effective HEPA filters are, you can now find them in vacuum cleaners. Whilst regular vacuum cleaners recirculate dog dander and odor particles back into the air, HEPA filters trap them leaving your air cleaner.
Vacuuming on a regular basis is always advisable to keep a cleaner home, especially for those with a dog or other pets, but vacuuming with a HEPA filter will ensure that there's no chance of what you've cleaned recirculating back into the air.
4 Reasons Why Your Dog Smells So Bad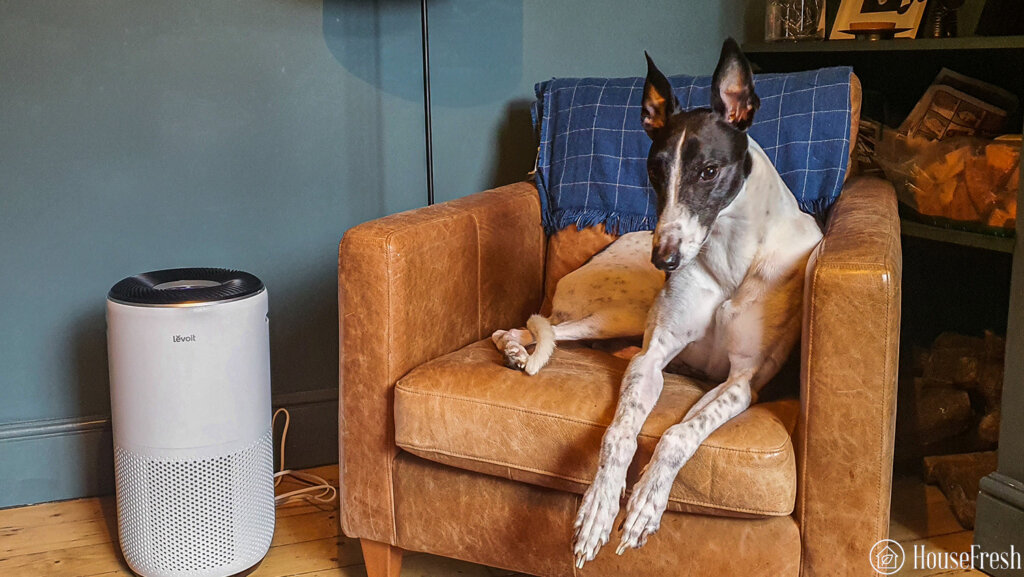 Your dog may smell bad because of a variety of reasons — some are due to poor diet and biological factors like sweating, and some can be caused by health issues like skin infections and kidney failure.
There's probably a good reason that your dog is giving off an unpleasant odor. So it's always a good idea to speak to your veterinarian about the best way to care for your dog's health and keep them smelling great.
Here are the reasons why your dog might be causing a stink:
1. Poor hygiene
Poor hygiene may cause a dog to smell bad because the dog's fur becomes matted with dirt and bacteria, which produces an unpleasant odor. The accumulation of moisture on the dog's skin will also create an ideal environment for bacteria to thrive, which will lead to an even worse smell.
Skin infections resulting from poor hygiene can also cause a bad smell. Dogs that are not bathed regularly may accumulate dirt and sebum (oily secretion from the sebaceous glands) on their skin, leading to the growth of bacteria and yeast. These organisms can produce bad-smelling compounds called skatoles and mercaptans.
Good To Know: Most dogs only need a bath every month or two, but some may need one more often than that, depending on their lifestyle and coat type.

Dogs with short, smooth coats don't need frequent baths because they don't get as dirty as dogs with long hair or thick fur. Dogs that spend a lot of time outdoors in the mud or water may need to be bathed more often.
2. Poor diet
Dogs that consume a poor diet may smell bad because their bodies cannot properly break down and digest the food. This food accumulates ducts in the dog's intestines and gets excreted through breath and skin.
Certain foods like onions, garlic, and chocolate, can worsen your dog's breath and body odor. They contain compounds metabolized in the body to create sulfur-containing molecules. These molecules can also be excreted in the urine and feces, resulting in an unpleasant odor.
Pro Tip: Fresh herbs will help to neutralize your dog's smell. Try adding some chopped parsley to your dog's dinner.

For an added health boost, use curly parsley instead of flat-leaved.
3. Health problems
Dogs with skin infections can exude an unpleasant odor. In some cases, the foul smell may be caused by a specific type of bacteria or fungus. It could also be due to a metabolic disorder or an underlying medical condition. Skin problems like hot spots can also produce an unpleasant smell.
Important: If your dog is constantly scratching or licking himself, it could signify that he is experiencing discomfort due to an infection — time for a trip to the vet.
4. Parasites
When your dog is attacked by parasites, they can cause their fur and skin to produce a bad smell. These parasites can be found in various places – from the soil to the water – and can cause problems for your dog, including bad breath, skin irritation, and an offensive odor.
The most common parasite responsible for foul smells in dogs is the roundworm. Roundworms live in your dog's intestines and produce large amounts of gas that create that unpleasant smell.
Pro Tip: Deworm puppies every two weeks up to 12 weeks of age to avoid roundworm. For older dogs, a fecal test is recommended once a year to screen for intestinal parasites.
Common Questions About Dog Smells in the House
🤔 How to tell if your house smells of dog?
One way is to check for pet hairs around the house. If you see a lot of pet hair, especially in high-traffic areas, then it's likely that your house smells of dog.
You can also check for an odor — if your house smells like a wet dog, then it probably means that your dog has been getting into mischief and needs to be taken for more walks.
Finally, you can ask your family and friends if they smell dogs around the house. If they do, too, then it's time to take action!
🤔 Is It Okay to Spray Febreze on Your Dog's Bed?
Febreze is a fabric refresher that is designed to get rid of odors. It is not harmful to dogs, but it is not meant to be sprayed on them directly. You can stream it on your dog's bed to get rid of any smells.
Final Thoughts
Dogs have been part of human families for centuries, and for a good reason. They are loyal and loving and provide us with hours of companionship. However, living with a dog can be challenging because of the odors they can create.
We've outlined some of the most effective ways to keep your house smelling good by eliminating these odors. Follow these tips, and you will be able to enjoy a fresh, clean home without the hassle of dog smells.
Last update on 2023-01-28 / Affiliate links / Images from Amazon Product Advertising API