Mold can present various problems, from damaging walls and upholstery to causing serious health issues. But if reducing humidity can help stop the spread of mold, will a dehumidifier be able to eradicate it? That's what we'll be exploring throughout this article.
You'll find our definitive answer to that question and more insight into how mold grows and the specific health problems it can cause. We'll also give top tips on actionable and easy ways to help prevent mold in your home, plus how to choose the best dehumidifier for your needs.
What Is a Dehumidifier?
Before we get into that, here's a quick explanation of humidity. Simply put, humidity refers to the amount of water vapor in the air. If there's a lot of vapor, the humidity will be high. You may live somewhere or have visited a city with high humidity and know all too well how uncomfortable being so hot and sticky can feel.
Yet a dehumidifier is a super effective and safe way to reduce or remove humidity levels. These portable devices pull moisture from the air, decreasing the dampness in a room. They're especially useful for helping to alleviate health conditions like asthma, but how do they work?
The most common type of dehumidifier is called a refrigerant or compressor model. A bit like in an actual refrigerator, this draws in warm currents of air via a fan which then moves through refrigerated coils in the machine. The warm air contracts, and condensation is left inside the dehumidifier as it's fed through the coils.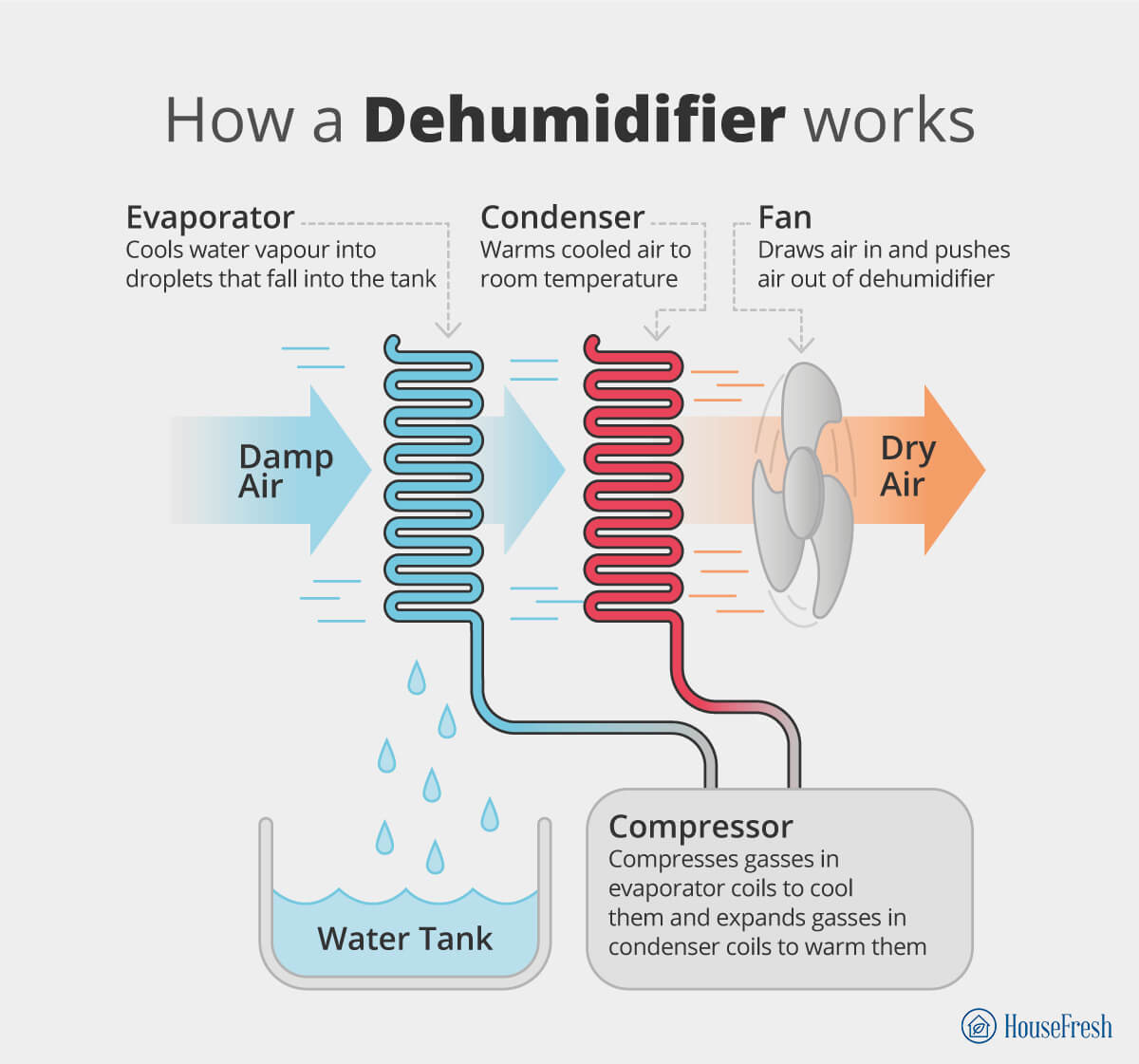 This condensation is collected, one droplet of water at a time and falls into a storage tank attached to the dehumidifier. Cooler, drier air is released back into your home through the other side of the machine while condensation is maintained inside the unit.
Most dehumidifiers are designed to remove between 10-25L of moisture per day. Ideally, and to work effectively, the temperature in your room must be above the temperature of the dehumidifier's coils.
Do Dehumidifiers Kill Mold?
Unfortunately, no, dehumidifiers do NOT kill mold. It's virtually impossible to get rid of all mold spores in your home is virtually impossible. However, the good news is that dehumidifiers can significantly help PREVENT it by reducing humidity.
A dehumidifier makes the external conditions in your home less hospitable to mold, which means that the chances of it thriving are slight.
You might also be wondering whether air purifiers can kill mold.
Again, no, because their main function, unlike dehumidifiers, is to clean the air. However, a good cleaner can eliminate airborne pollutants such as mold spores, which will, in turn, make it harder for mold to flourish.
Why Does Mold Grow?
Good question, and the main reason is that all mold needs to grow is a water source. As the Environmental Protection Agency states, "Mold can grow on virtually any organic material as long as moisture and oxygen are present."
There may not even be any excess moisture or wetness in your home, but mold can still be there. This is because it effectively remains hidden or dormant in the air or on surfaces. Then, if the humidity increases, the mold will become active and start growing in patches on areas like walls, your upholstery and clothes.
Warmer environments tend to encourage its growth. Some other explanations for the spread of mold include:
Leaks in roofs, windows, or pipes or where there has been flooding increasing moisture levels.
Mold can be found outside and can enter your home through open doorways, windows, vents and heating and air conditioning systems.
When you're outside, it can attach to your clothing and shoes and be carried inside your home (pets may also bring it inside).
Mold can grow on most materials but will spread faster through certain ones than others. Anything porous is more likely to absorb water, making it an excellent spot for mold to grow.
Such porous materials include
Wood, cardboard, drywall, paper, fabrics, carpets, paints and wallpapers.
As much as we all love taking a nice, hot shower, this can also lead to mold growth. Equally, cooking and using hair dryers and other appliances that generate moisture will cause humidity levels in your home to rise.
If you have an issue with mold, it can usually be detected by its pungent smell or by regularly checking areas in your home.
Is Mold Bad for My Health?
While mold is unsightly and a nuisance if it's in your home, it can also cause many health problems. Mold spores are minuscule and lightweight so they can move effortlessly through the air. When present in large numbers, they can cause allergic reactions similar to those triggered by plant pollen.
This is because mold produces allergens (something that can cause an allergic reaction), irritants and even toxic substances.
Exposure, particularly inhaling or touching mold spores, can lead to:
🤧 Coughing and sneezing
👃 Runny nose and congestion
👁️ Red or itchy eyes
🔴 Skin rash
🤦 Headaches and fatigue
Unfortunately, repeated exposure can increase sensitivity which may lead to high severity of allergic reactions. However, some people are more sensitive to mold than others. For example, mold can present more risk for young children, babies and elderly people.
As we mentioned earlier, other people at risk include those with asthma because it can trigger an attack. Individuals with underlying lung disease or chronic respiratory disease are also vulnerable. People with compromised immune systems may also be more susceptible to its harmful effects, including cancer patients undergoing chemotherapy treatment.
Equally, if you live or work in a building exposed to moisture and inadequately ventilated building, you may be more at risk of health issues caused by mold.
Fortunately, mold exposure isn't a serious risk for most people. Yet if you do have an underlying health condition or are experiencing symptoms that you suspect are related to mold, be sure to speak to your doctor.
How Do I Prevent and Rid My Home of Mold?
As prevention is often better than cure, here are five ways to prevent mold growth in your home:
Method 1: Use a dehumidifier
For optimum health and comfort, it's recommended that relative humidity (or RH) levels are between 30-50%. Fortunately, many dehumidifiers come with a humidistat that measures the relative humidity in your home. You can set your preferred humidity, and once the room reaches that level, the dehumidifier will cycle on and off to maintain it.
Method 2: Ventilate with fresh air
Be sure to open windows and doors whenever possible during the day so excess moisture can escape outside. If the weather is bad, keep all internal doors open, as this will still help increase ventilation.
Pro tip – Move furniture away from wall corners so that moisture doesn't get trapped and use mold resistant paint once all the mold has been removed to avoid future breakouts.
Method 3: Check for leaks and seepage
Aim to fix and repair any leaks, such as in a faucet or pipe, as soon as you notice them. Even if you can't see a drip coming from a pipe you should be able to sense that the air feels damper. If you're worried about fixing leaks or seepage, don't hesitate to call a professional.
Method 4: Utilize baking soda
Baking soda is highly effective at absorbing moisture. It's super simple to use, and all you have to do is put some in a bowl or open container and place it in a particularly damp area. Another plus of baking soda is that it removes odors, including musty smells caused by dampness.
Pro tip – You may want to stir it occasionally as the powder can form clumps when absorbing moisture. If you have a large space to dehumidify, you'll want to place multiple bowls or containers around.
Method 5: Take shorter and cooler showers
Showering for a maximum of 10-15 minutes is a good idea, but if you find it takes longer, simply using cooler water will help. Also, keep the bathroom window and door open to increase ventilation. All this being said, if your bathroom is at risk of black mold, using a dehumidifier that can effectively target this space will help enormously.
If you're currently dealing with mold, check out our guide for more helpful tips about getting rid of it.
How Do I Choose a Dehumidifier?
The range of options can seem bewildering, but don't worry; we're here to help. Firstly, you may want to install the dehumidifier in an area such as the bathroom (as mentioned above) or kitchen, as these tend to be where humidity levels are higher.
Yet while you can choose a dehumidifier made for smallish rooms such as these, some models will cover a whole house. The smallest dehumidifiers can absorb 30 pints of water daily, while the largest can take in 90 pints.
Dehumidifiers come in all sorts of different sizes. To avoid confusion, this doesn't mean the physical size of the unit but the amount of moisture it can remove from the air in 24 hours.
The capacity size you need depends on factors like:
The size of the space you need to place the unit
The relative humidity of the area
The temperature of the environment
For domestic dehumidifiers, sizes can range from as little as 250 ml to around 20 liters. Yet if you have a small space, like a single room, boat or caravan, you can find units with a capacity of around 0.25 — 1.5 liters. Keep in mind that using the right dehumidifier for the space is important. If the unit is too small for the area, it will get overworked, whereas if it's too big, there may be inadequate ventilation.
Another thing to consider is the size of the water tank, which collects the moisture it extracts from the air. The size lets you know how quickly it will fill up and how frequently you need to empty it. The good news is that refrigerant models tend to be made with continuous drainage hoses, so you shouldn't need to worry about the tank getting full.
As a general guide, the larger the water tank, the better.
The Top 3 Dehumidifiers
Here are our favorite three dehumidifiers to get you started.
Style
Pros
Sleek clean look, convenient built-in wheels and handles, and a quiet fan that won't drown out your TV
It has a washable air filter You can monitor moisture capacity through its tank window
Cons
Some have reported problems with the pump
Some have reported overheating problems
There's no drain hose included
Moisture Removed (over 24hrs)
Style
Pros
Sleek clean look, convenient built-in wheels and handles, and a quiet fan that won't drown out your TV
Cons
Some have reported problems with the pump
Moisture Removed (over 24hrs)
Style
Cons
Some have reported overheating problems
Moisture Removed (over 24hrs)
Style
Pros
It has a washable air filter You can monitor moisture capacity through its tank window
Cons
There's no drain hose included
Moisture Removed (over 24hrs)
Final Thoughts
If you're hoping that a dehumidifier will utterly destroy mold, then, unfortunately, you're being a little too optimistic. But what a dehumidifier absolutely can do is help to prevent mold from growing.
This is good news for both your home and your health. It's important to find the right device for your space, however. And don't forget that there are many other things you can do that will help stop mold from thriving. These include increasing ventilation, taking shorter, cooler showers and even placing bowls of baking soda in areas around your home susceptible to mold.
SOURCES
Ashton, D. (2022). HouseFresh. Are Dehumidifiers Safe? housefresh.com
Ashton, D. (2022). HouseFresh. The Most Humid Cities in the World. housefresh.com
Ashton, D. (2022). HouseFresh. Natural Ways to Dehumidify a Room Without a Dehumidifier. housefresh.com
Ashton, D. (2022). HouseFresh. 6 Best Bathroom Dehumidifiers (And One to Avoid). housefresh.com
Centers for Disease Control and Prevention. (2022). Basic Facts about Mold and Dampness.cdc.gov
Dunkin, M. A. (2021). Web MD. Moisture and Mold Problems: Preventing and Solving Them in Your Home. webmd.com
Energy Star. (2022). Dehumidifier Basics. energystar.gov
Environmental Protection Agency. (2022). Why and Where Mold Grows. epa.gov
Firman, T. and Norris, R. (2022). Well + Good. How To Dehumidify a Room Naturally—And Keep It That Way. wellandgood.com
National Geographic. (2022). Humidity. nationalgeographic.org
Oransi. (2022). Dehumidifiers and Mold. oransi.com
Pietrangelo, A. (2021). Healthline. Mold: Symptoms of Exposure, Risks, and More. healthline.com
Pro Breeze. (2022). 13 Step Guide to Buying a Dehumidifier in 2020. probreeze.com
PuroClean (2018). Does a Dehumidifier Kill Mold? puroclean.com
Sullivan, M. (2022). Oh So Spotless. How to Dehumidify a Room. ohsospotless.com
Watson, K. (2020). Healthline. What Does a Dehumidifier Do? healthline.comYacoubou, J. (2022). HouseFresh. Do Dehumidifiers Clean the Air? housefresh.com
Last update on 2023-11-30 / Affiliate links / Images from Amazon Product Advertising API