Our verdict:
The Levoit EverestAir is now the fastest air purifier we have tested — removing particle pollutants from the air in our test room in only 13 minutes. That's two minutes faster than the previous winner, the Levoit Core 600S. Pretty impressive. 
This air purifier isn't cheap, but you get a great-looking unit that works extremely well. 
If you have the budget, the Levoit EverestAir is our top pick for the best air purifier for 2023.
Levoit is one of the leading names in the air purifier space due to the popularity of its Core Series of air purifiers (the 200S, 300S, 400S and 600S). We have tested all of these air purifiers in our test lab, and they scored very nicely – especially considering they are often much cheaper than competitors. 
I first got an email from a reader asking about the Levoit EverestAir in October last year. We had many units scheduled for testing and review at the time, but the idea of a premium model from Levoit interested me, so I added the EverestAir to our list of upcoming reviews. 
While the Levoit Core series is all about performance, the EverestAir has the same level of performance in a much more unique and better-looking design. 
The EverestAir is currently the only model in this new category from Levoit. It comes with a high CADR of 360 CFM, meaning it can clean the air 4.5 times in a room sized up to 600 sq. ft. 
CADR isn't the only way to evaluate an air purifier, though — our testing showed that the EverestAir performed better than units with a bigger CADR (more on that below).
Why You Should Trust This Review

Most air purifier reviews are produced by overworked freelance journalists who have as much clue as the average consumer. Don't be fooled by the big media logos: the vast majority of the reviews you'll find on Google right now are no better than reading what people say on Amazon.

We have been reviewing air purifiers since 2010, and in the last 12 months, we tested and reviewed nearly 50 air purifier models. 

Our testing process:

1️⃣ In our home lab of 705 cubic ft, we light an incense stick to generate particle pollution and VOCs.

2️⃣ We set up our trusted Purpleair Indoor Sensor with the latest Bosch gas sensor to track levels of PM1ug/m3, PM2.5ug/m3 and PM10ug/m3 and VOCs in the air.

3️⃣ We switch the air purifier to its highest speed and measure how long it takes to get our room air quality down to PM1 level to 0

4️⃣ We use an energy meter to measure precisely how much electricity is used when running the unit at the lowest and highest fan speed settings.

5️⃣ We track sound levels emitted by the air purifier at different fan speeds with the help of a commercial sound meter.

All this to say, here at HouseFresh, we do not rely solely on manufacturers' claims or suggest any air purifiers until we thoroughly evaluate them. 
Using our own testing data allows us to compare units like for like, so we can tell you whether you should go for it or just consider a better/cheaper alternative instead.
TL;DR The Lowdown on the Levoit EverestAir
---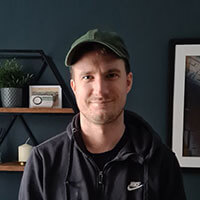 "I love the look of the Levoit EverestAir and was pleasantly surprised at how well it did in our performance tests. It's official: this is the fastest air purifier we have tested. The EverestAir removed tiny smoke particle pollutants and odors from the air in our test room in just 13 minutes. And it looked great doing it, making it worth the higher price."

— Danny Ashton, Founder & Senior Writer
---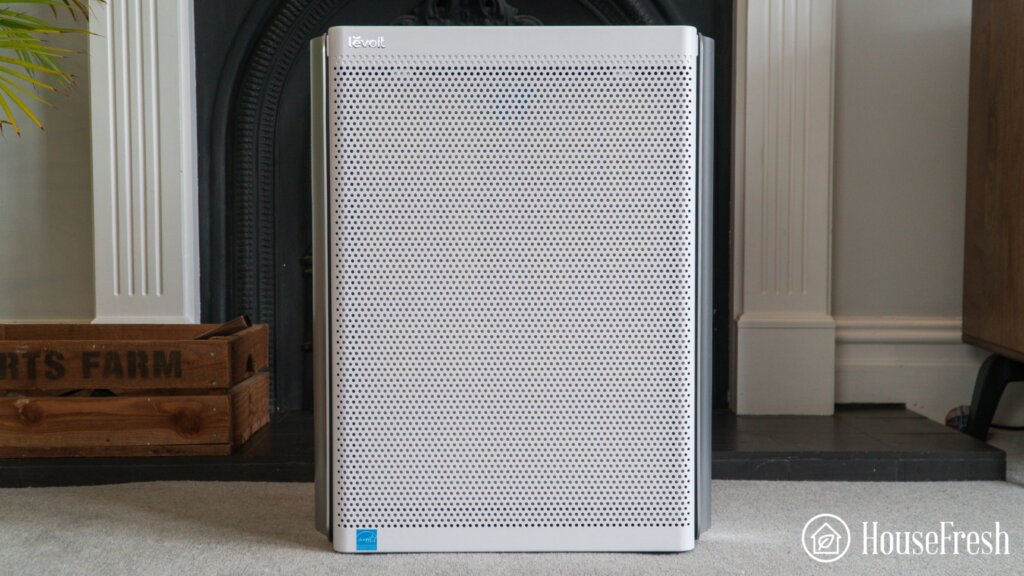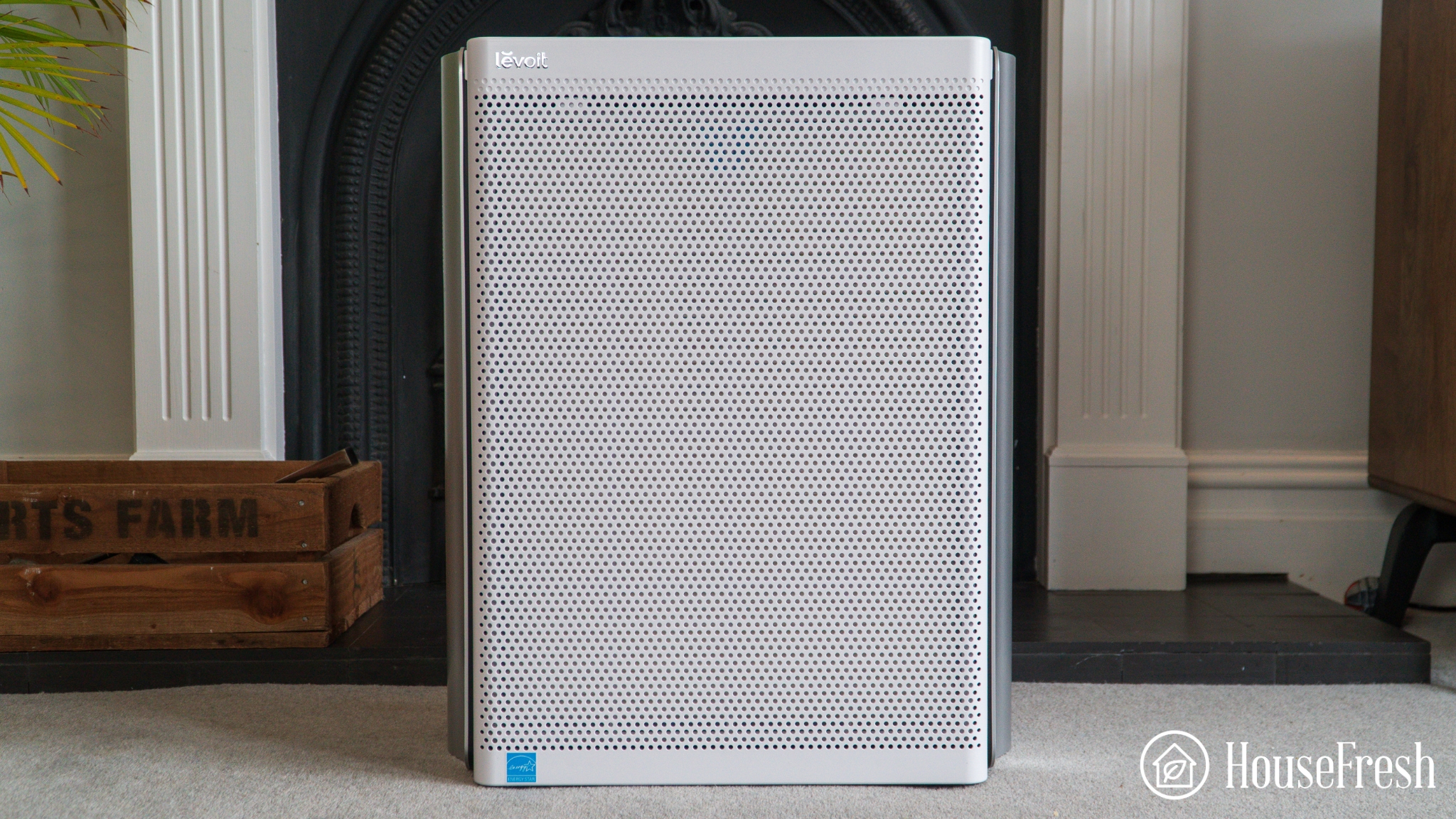 What We Really Like:
👍 Design is more like the Dyson units we have tested. Looks like an air purifier if Apple made it.
👍 Same app support as with the other high-end Levoit units
👍 Ability to adjust the vent angles, something unique to this model
👍 Amazing performance — cleaned our test room in 13 minutes; it took the Core 300 40 minutes
👍 Great clear screen onboard sensor
👍 Nearly silent on the lowest fan speed and still able to clean our test room in 25 minutes
What We Think Could Be Better:
👎 Initial price is much higher than the Core 600S
👎 Filter costs are higher but do last longer than cheaper Core series units — up to 15 months
The Specifications
Cost per CADR in Line With Smart Air Blast Mini — $1.39 per CFM
On paper, the EverestAir is a high-performing device, so we expected it to perform well in our home lab tests. It is one of Levoit's most expensive units at $499.99, but we predicted it would fall short of the Levoit Core 600S in terms of performance.
This is the full breakdown: 
| | |
| --- | --- |
| HouseFresh Rating: | ★★★★★ |
| Time to clean our test room: | 13 minutes |
| Air purifier technology: | 3-Stage Filtration (Pre-filter, H13 HEPA and activated carbon) |
| Recommended room size: | 558 sq. ft. |
| Clean air delivery rate (CADR): | 360 CFM (612 m3/h) |
| Dimensions (in inches / in cm): | 18.9L x 8.5W x 23.2H inches (48L x 21.6W x 58.9H cm) |
| Weight (in pounds / in kg): | 20.7 lbs (9.38 kg) |
| Noise level (low – high): | 24 – 56dB |
| Filter life: | 12-15 months |
| Warranty: | 2 years |
| Estimated energy consumption: | $87.25 per year |
A Levoit Designed Like an Apple Product
The Levoit EverestAir broke the mold Levoit has gotten us used to, taking some inspiration from modern consumer electronics.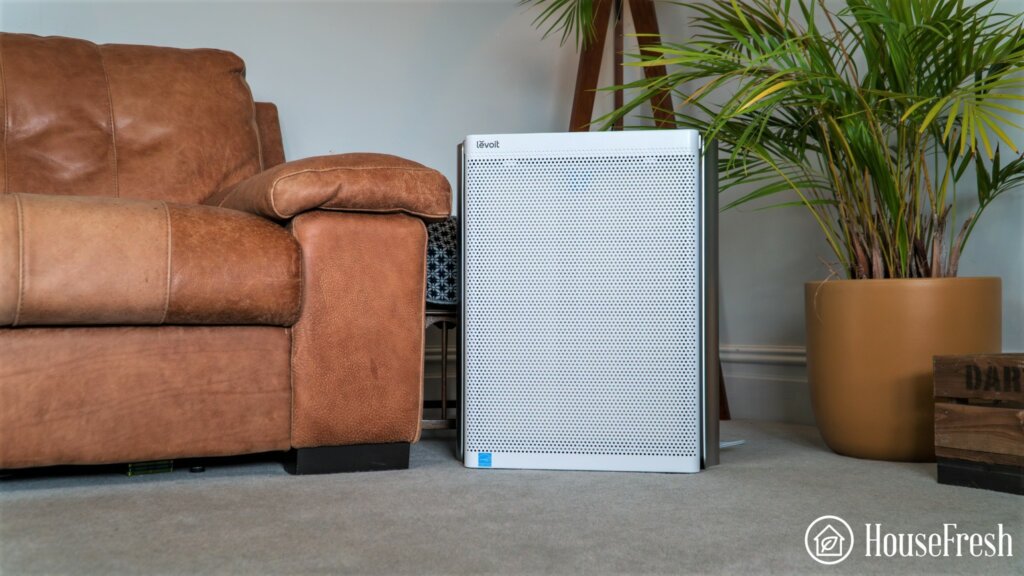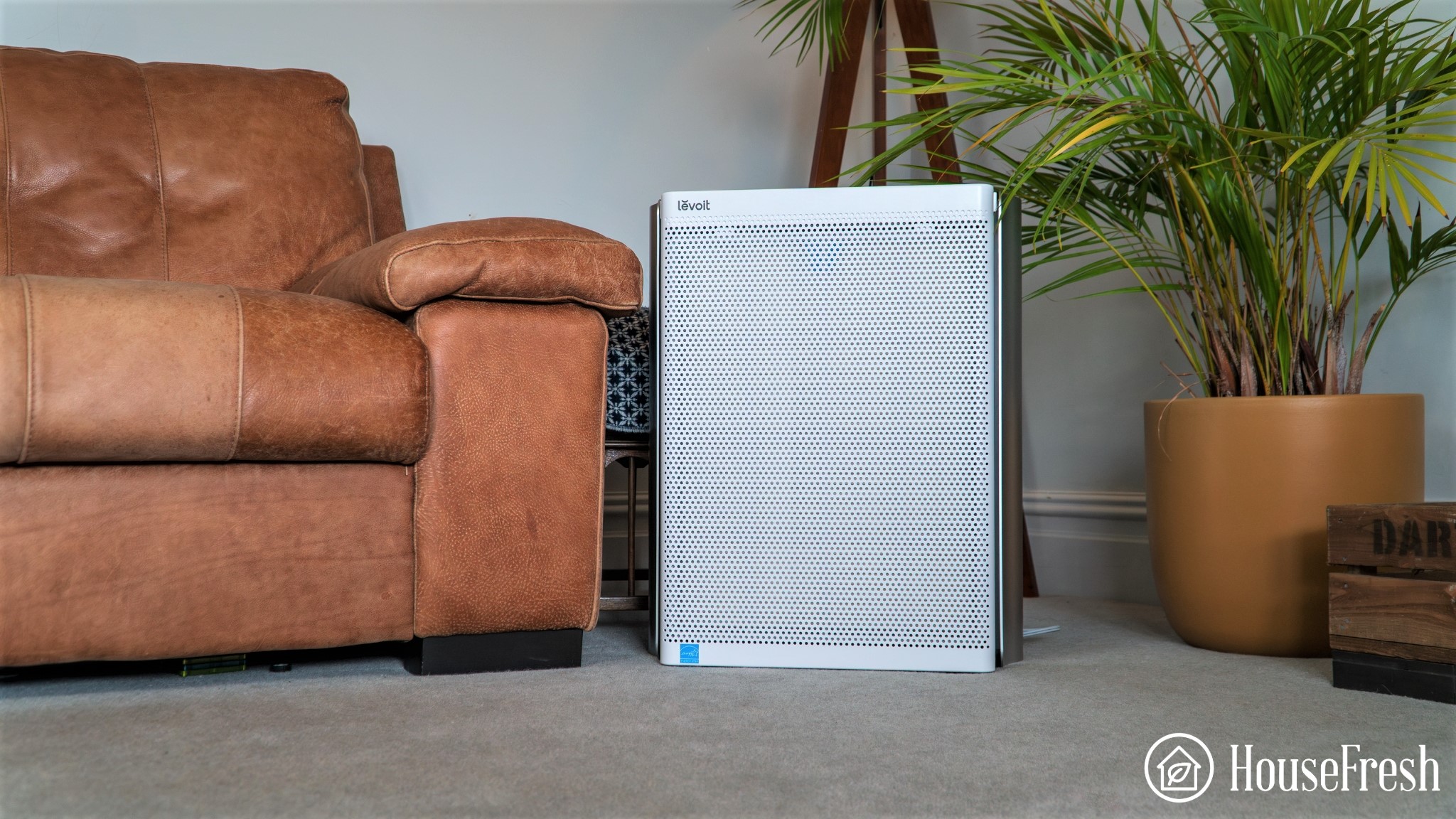 The design of most Levoit air purifiers is pretty standard and generally heavily inspired by existing lines. Looking at the Core series, you'll quickly grow bored of the same white, boxy look with rounded edges. 
But that's not what the EverestAir is all about…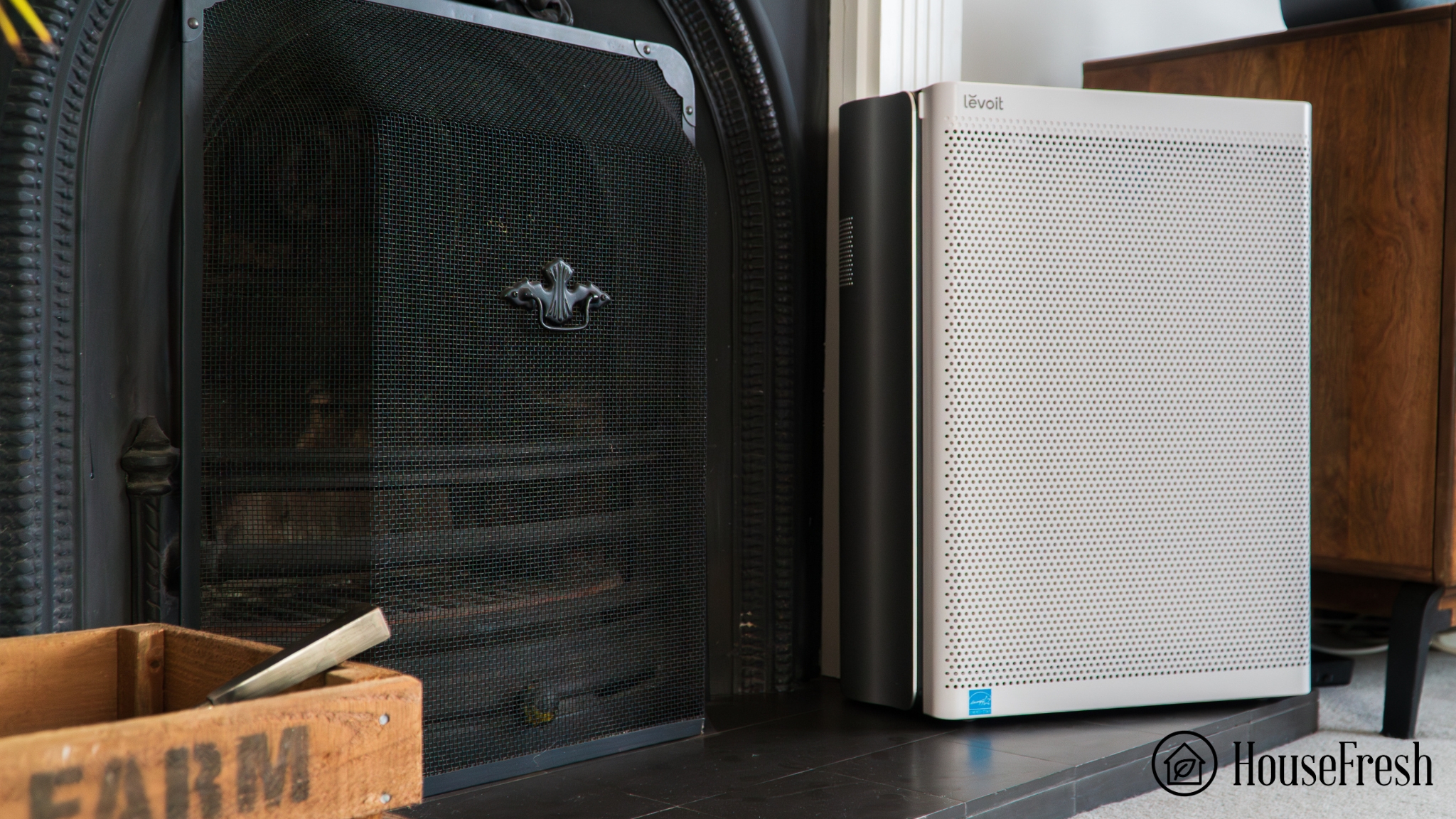 When looking at the unit from the front, I immediately got Blast Mini vibes: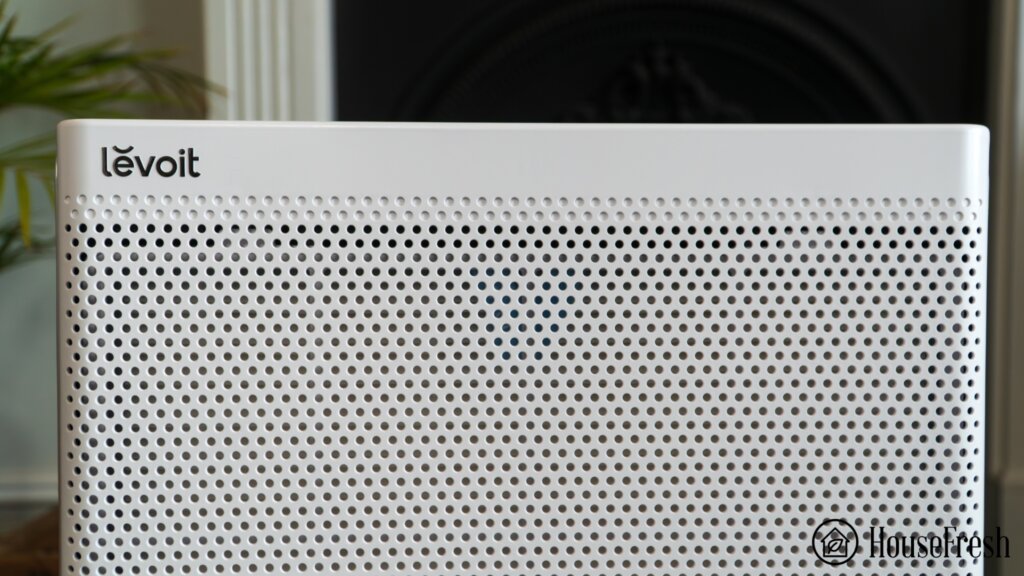 But all that changes the moment you turn the unit around and find a sleek silver back panel: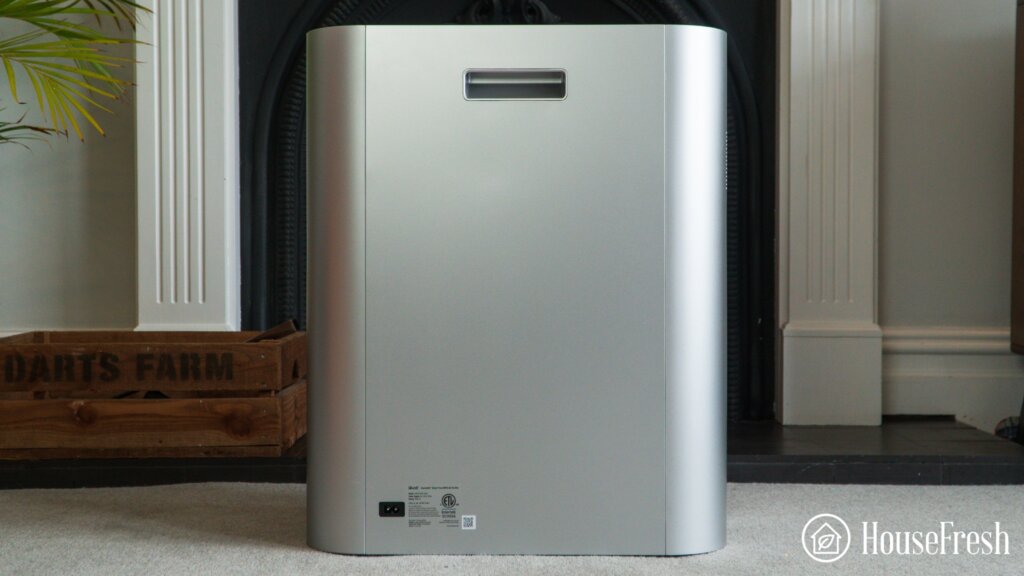 The design lines are reminiscent of what we like in the Dyson air purifier combo: a touch of futurism. The key difference here is that the EverestAir not only looks good, but it also does a fantastic job at cleaning the air. Point for Levoit.
Most high CADR air purifiers have to be big so that they can house the enormous fan. But the engineers at Levoit have managed to provide large CADR in a smaller body. Just to give you an idea of size, we took a photo comparing the EverestAir against the powerful IQAir Healthpro Plus: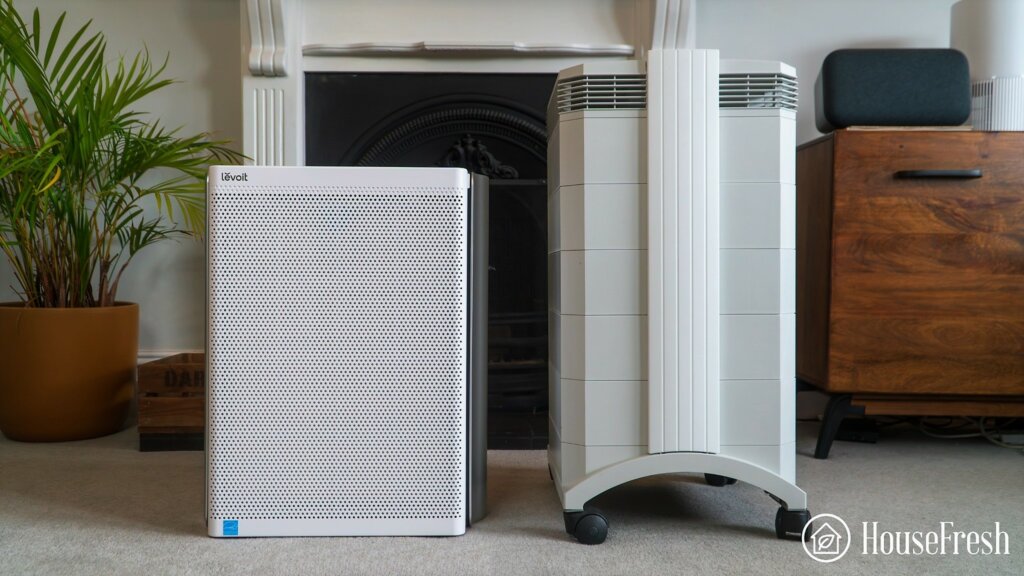 The Levoit EverestAir has a much more manageable size, yet it performs at a high level. But I have to say that this is not a small unit. The good news is that Levoit gave it wheels to make it easier to move from room to room: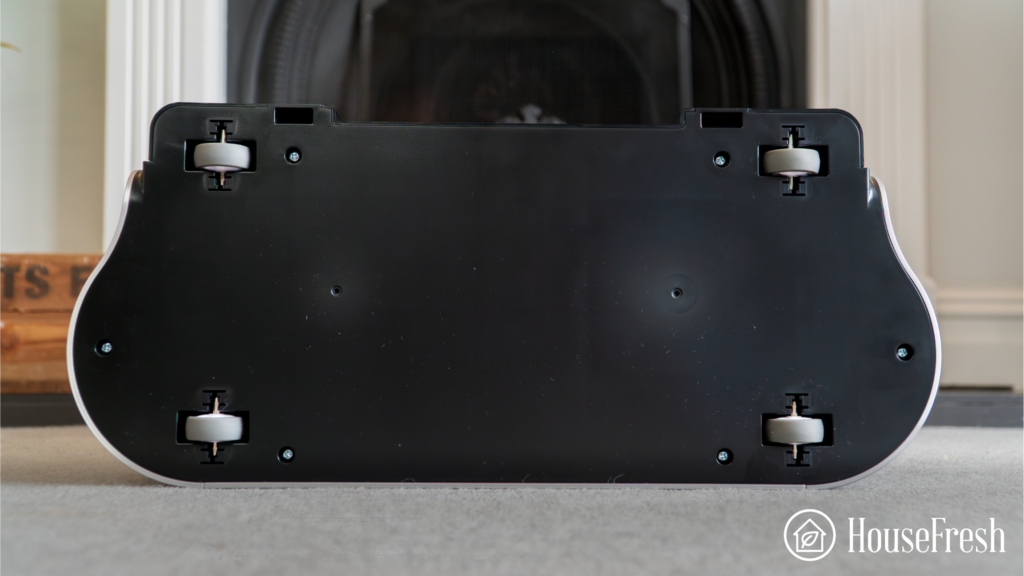 With the EverestAir, Levoit has brought the Apple design aesthetic everyone knows and loves to the world of air purifiers. 
I particularly like the combination of a white front panel with silver for the main body and the black glass-effect plastic used for the control panel: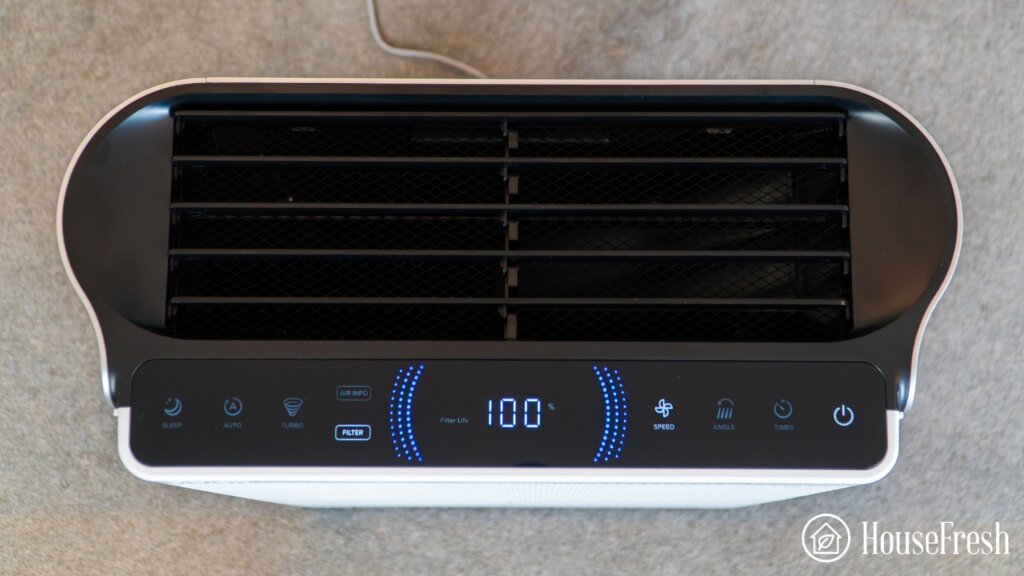 In terms of the controls available in the EverestAir, from left to right, you get touchscreen buttons for sleep mode, auto mode, turbo, fan speed, fan angle, timer and on/off button. 
In the middle of the panel, you will see a screen where you can display filter info (filter life % so you know when it's time to replace the filter) and also air quality information (PM1, PM2.5 and PM10 particles in the air).
That's right. Air quality info on your display.
The EverestAir comes with a three-channel laser sensor that detects dust particles of PM1.0, PM2.5 and PM10.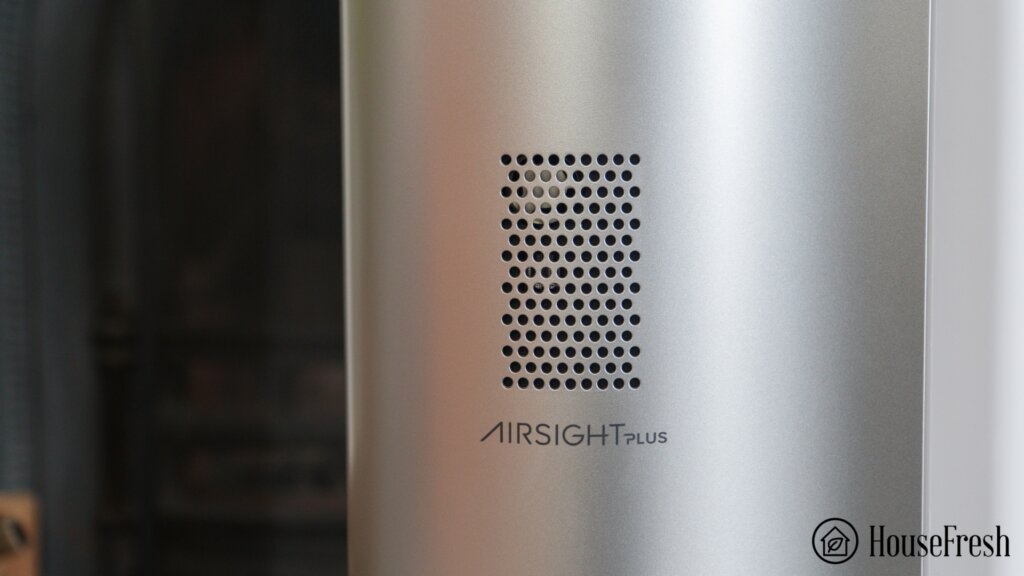 We were impressed by how quickly the screen changed when we started burning incense next to it to release pollutants into the air. When we turned on the unit, we could quickly track the speed at which the EverestAir was cleaning the air: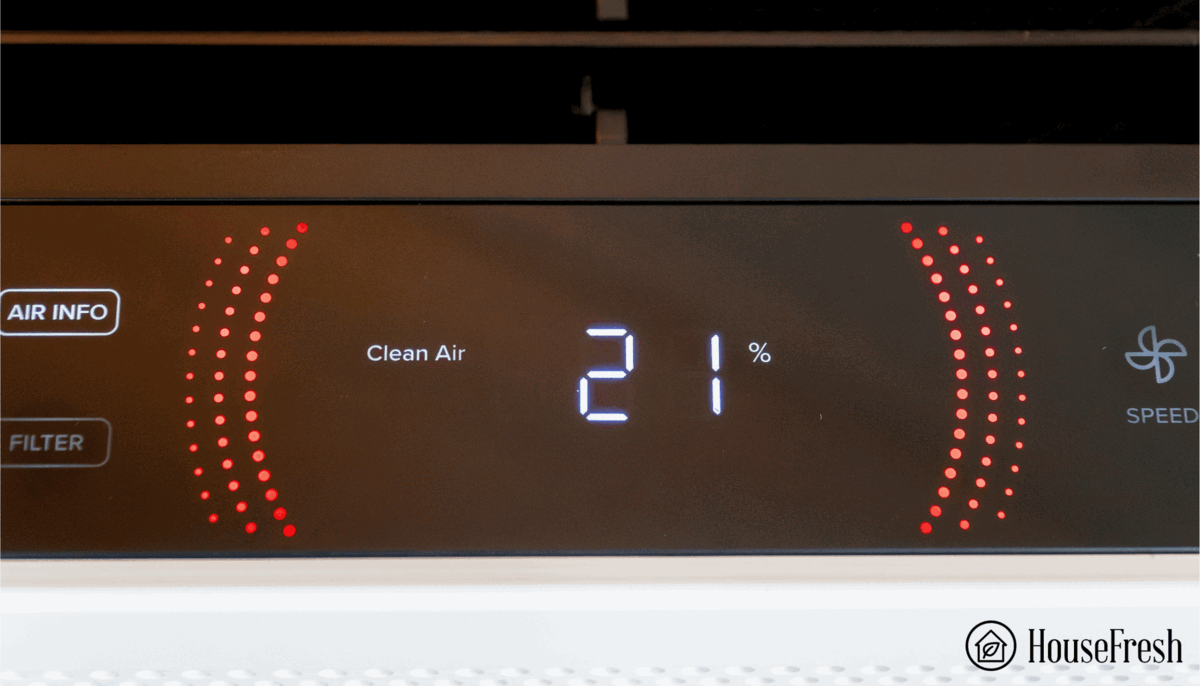 The best part? The air quality sensor in the Levoit EverestAir matched what we could see in our trusted PurpleAir Indoor Sensor, which uses an industrial-grade particle sensor. 👏👏👏
Before I move on to discussing air filtration technology, I have to mention the Levoit VeSync mobile app. It is super handy to be able to add my new EverestAir to my already existing account, allowing me to control the settings of this unit in addition to all the other Levoits I've got placed in different rooms around my house: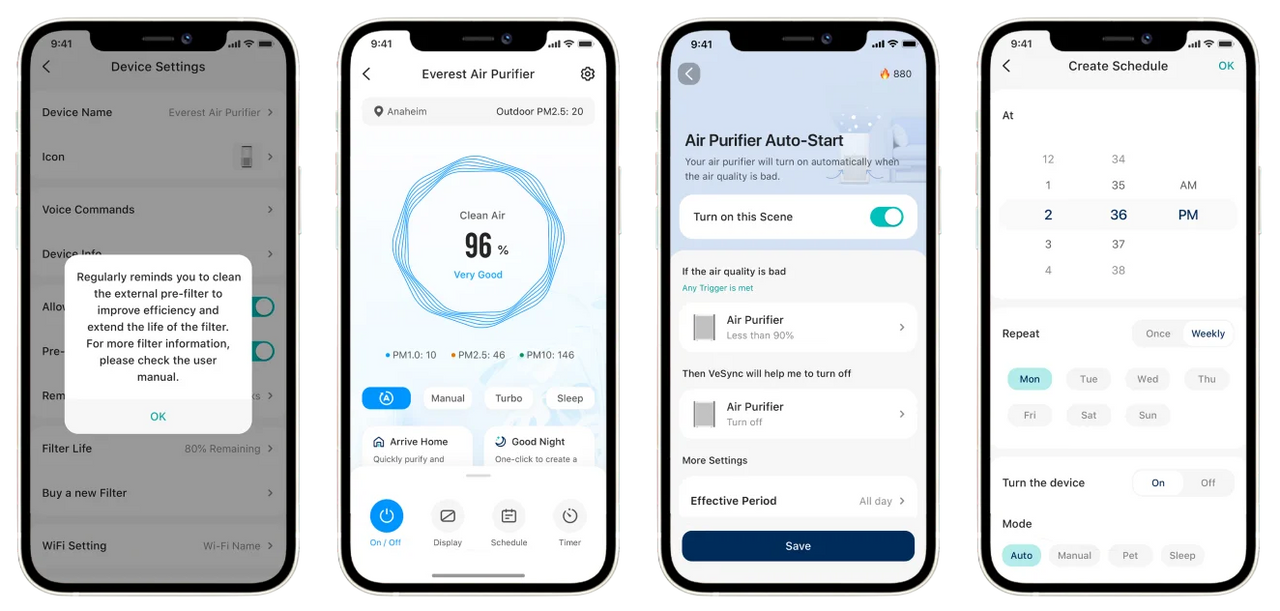 Filters That Can Deal With Anything
Like other filters from Levoit, the 3-stage filtration technology in the EverestAir combines a washable pre-filter with H13 HEPA filtration and pelleted activated carbon.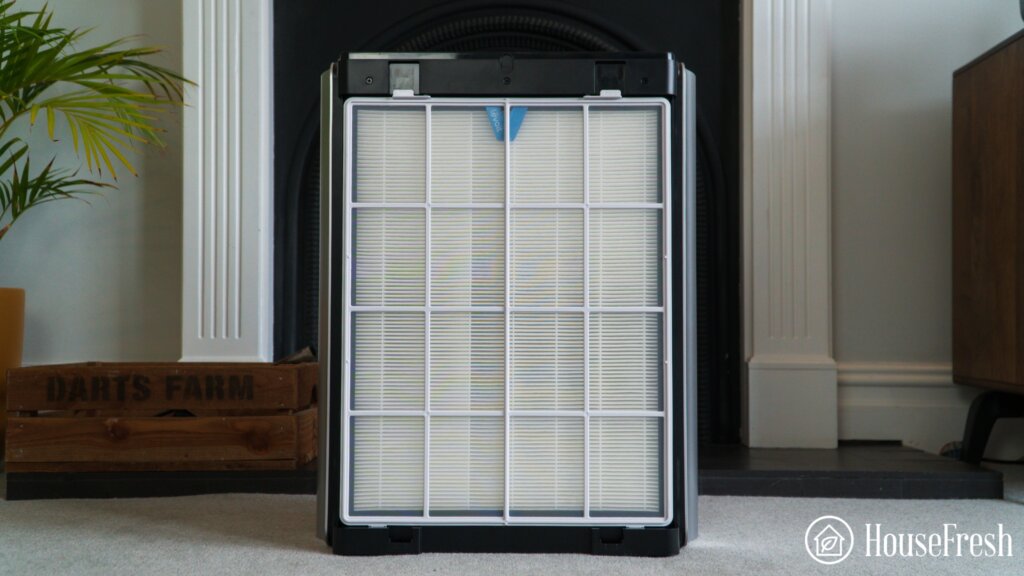 This large filter can deal with both pollutants and smells: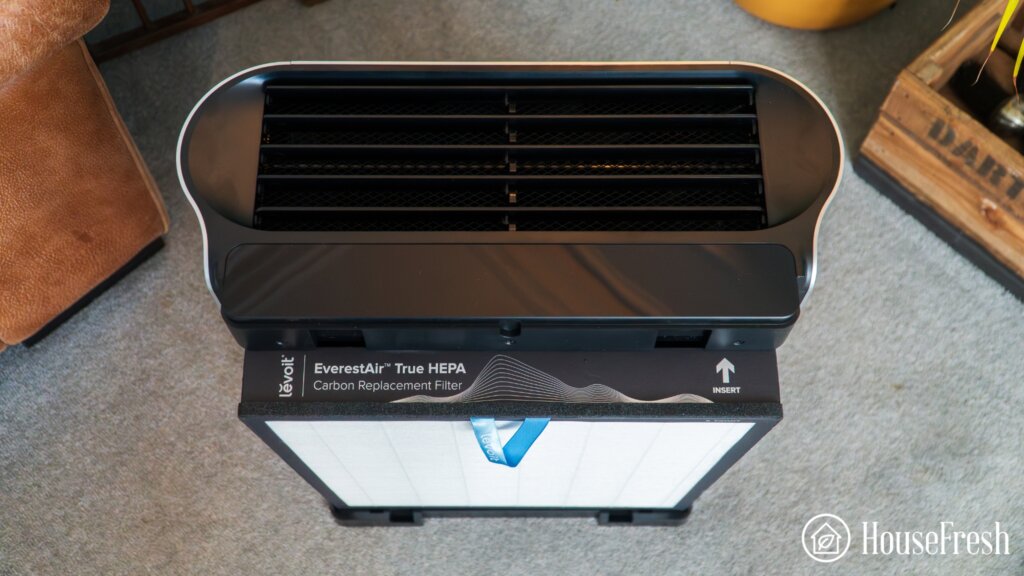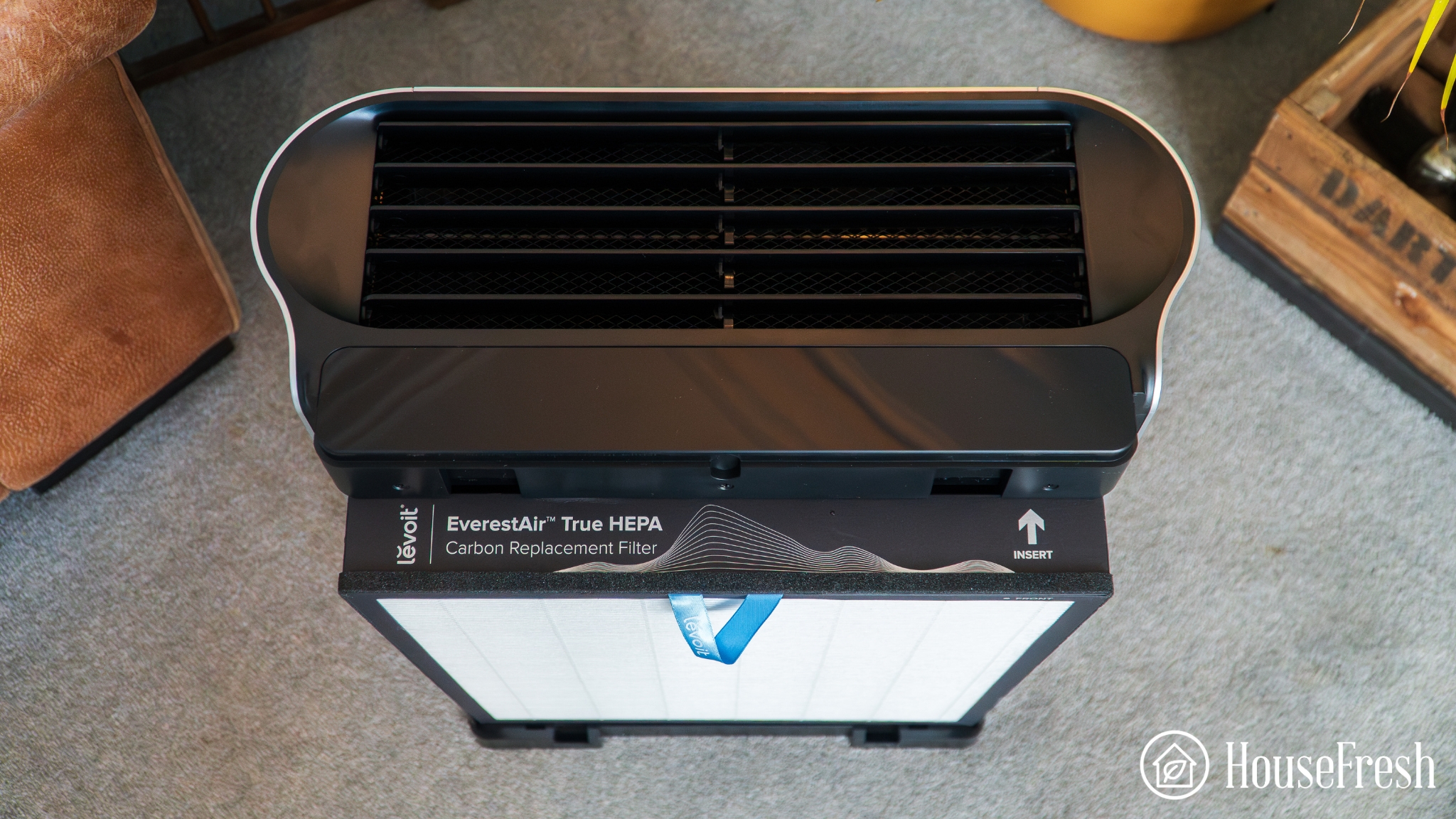 One side of this filter features a high-quality H13 True HEPA filter: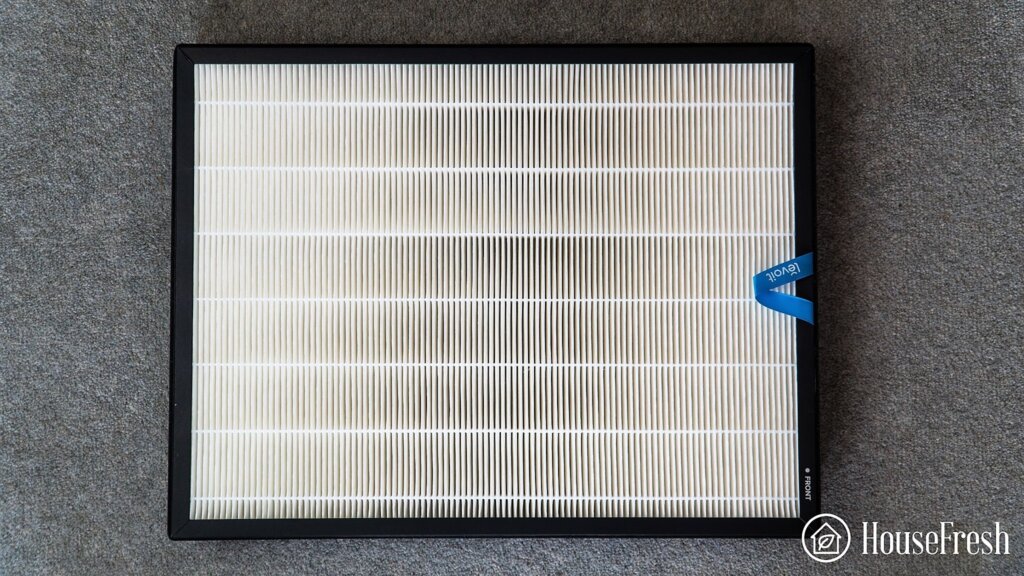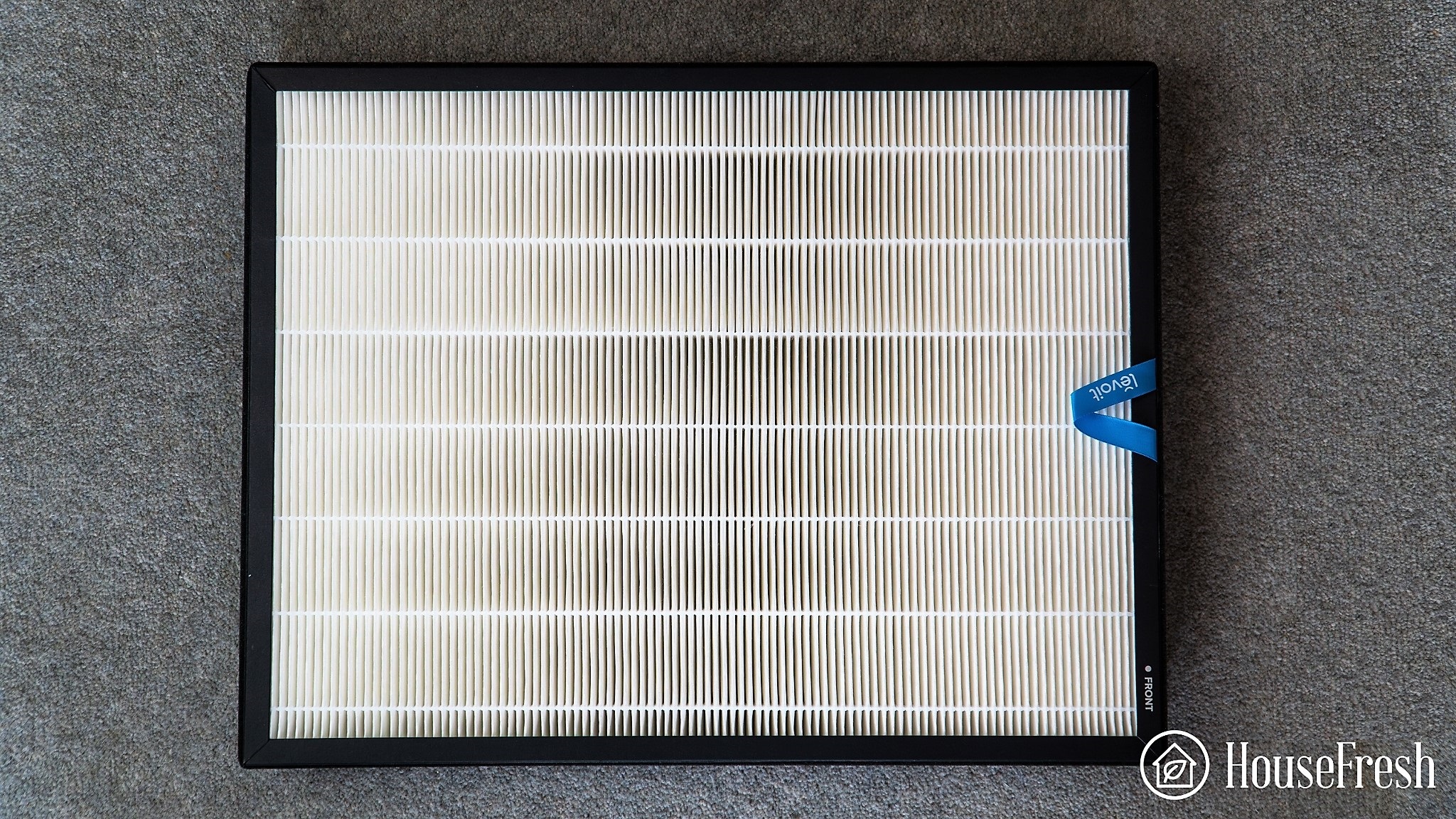 The other side features a honeycomb activated carbon filter: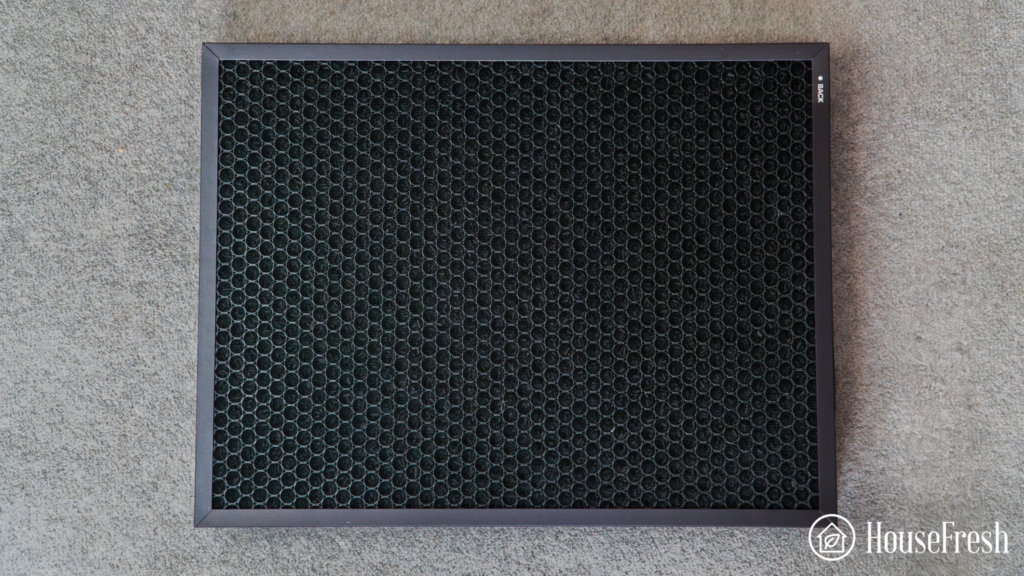 I was very impressed by the filter's size, quality and amount of activated carbon. 
For tackling odors or chemicals, you need a good amount of carbon in your air purifier's filter, so it is great to see such a large quantity of activated carbon pellets included in the EverestAir's filter.
Just to show how big the filter is, I took a comparison photo showing the size difference between the EverestAir and the IQAir HealthPro Plus: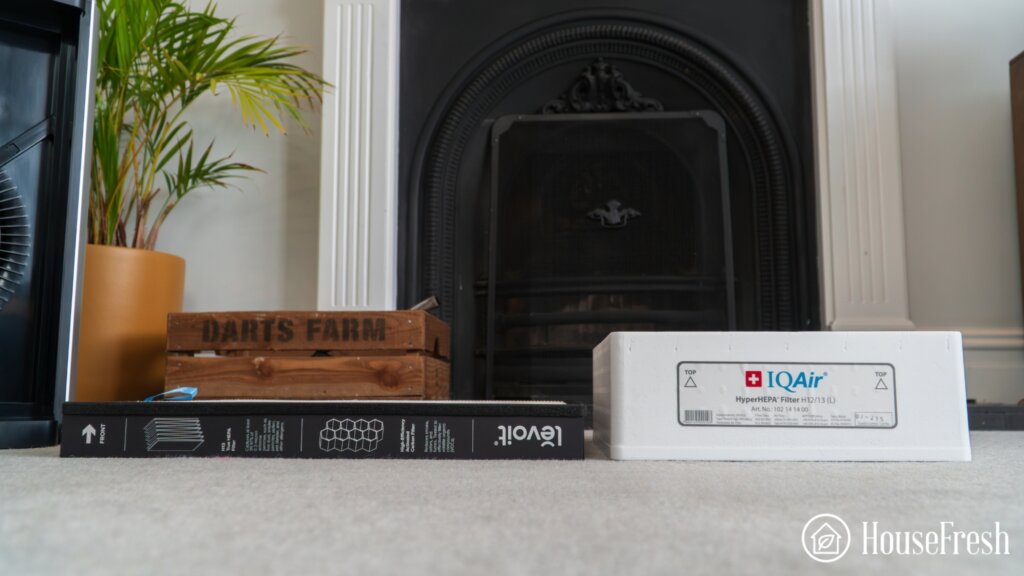 During our performance test, we saw that the VOC levels were reduced much quicker than units with smaller levels of carbon: the EverestAir brought VOC levels back to baseline in 160 minutes — it takes many other air purifiers most of the day to achieve this. 
Changing the filters on the Levoit Everest is easy as they are accessible from the front. You can see how easy it is in our video below:
⚠️ As with all brand-new air purifiers, the filters for the EverestAir will come in plastic bags. Make sure to remove them before you switch them on, or they won't be able to do anything to remove pollutants from your air. 
The EverestAir Cleared Our Test Room in 13 Minutes
As with all the air purifiers we review here at HouseFresh, we timed how fast the Levoit EverestAir could remove incense smoke particles from the air: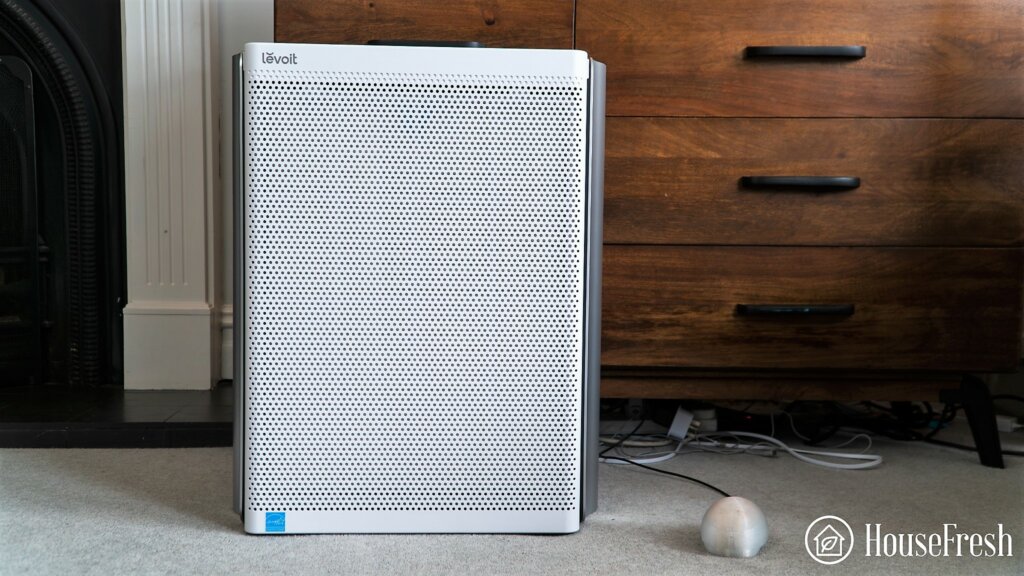 In our 705 cubic ft home lab, we simulate particle pollution and VOCs with an incense stick and use a Purpleair Indoor Sensor to monitor particulate levels. We then activate the air purifier at its maximum speed and measure the duration required to reduce the room's air quality to a PM1 level of zero.
This is what happened when we performed this air cleaning test on the Levoit EverestAir:
The results we saw with the Levoit EverestAir blew us away. We repeated the test three (3) times because we couldn't believe what we were seeing.
Air Cleaning Performance Test Results
We expected good results with a CADR of 360 CFM but assumed it would be the same as the Alen BreatheSmart 75i at 25 minutes and certainly not faster than the Levoit Core 600S. 
But we were delighted to see even better air cleaning performance results than the CADR we expected:
We also compared the EverestAir against all of the other Levoit air purifiers we have tested, and it defeats all of them when it comes to air cleaning speed:
For those with larger rooms or large ceilings, the EverestAir will be more than capable of keeping the air clean. However, I would still push for a specialist air purifier for significant issues like VOC or chemicals like the AustinAir Healthmate, as they have much larger carbon filters,
Noise Levels Test Results
It hits up to 56dB using the Turbo mode but is much quieter at the lower fan speeds, going as low as 24dB, which sounds like no noise to my ear.
Don't just take our word for it, have a listen for yourself as we go through the different fan speeds in the video below:
---
The Cost to Run EverestAir: $186.25 Per Year
The cost to run the Levoit EverestAir is similar to other large air purifiers like the Blue Pure 211+ and Alen 75i
1. Electricity costs = $87.25 per year
Energy costs always seem to go up, so it's essential to be aware of the long-term costs as the air purifiers, in most cases, will be run continuously to keep the air always clean. The Everest hit 82.7 watts using its turbo at the highest speed and went down to 23.1 watts at the lowest fan speed. 
The energy usage is higher than other smaller units, but it makes sense when you see the performance and compares well with similar big units like the IQAir Healthpro Plus that pull 214 watts. 
When looking at wattage usage for performance, the EverestAir is one of the most efficient air purifiers on the market. 
2. Filter costs = $99.90 per year
Many smaller air purifiers need their filters replaced every six months, so they can quickly add up to nearly $100 per year. While the filters for the EverestAir are not cheap, considering you can replace them every 12-15 months, the cost is very much in line with even the budget air purifiers we recommend. 
This chart shows how the costs stack up against other Levoit air purifier filter replacement costs:
As of writing this review, you can get two filters for under $80 if you don't get the genuine ones from Levoit, bringing costs down to nearly $40 per year.
Filter
LEVOIT EverestAir Air Purifier Replacement Filter
2 Pack EverestAir-RF Replacement Filter, 3-in-1 H13 Grade True HEPA Filter
Technology
3-Stage Filtration (Pre-filter, H13 HEPA and activated carbon)
2-Pack Replacement True HEPA and Activated Carbon Filter
Filter
LEVOIT EverestAir Air Purifier Replacement Filter
Technology
3-Stage Filtration (Pre-filter, H13 HEPA and activated carbon)
Filter
2 Pack EverestAir-RF Replacement Filter, 3-in-1 H13 Grade True HEPA Filter
Technology
2-Pack Replacement True HEPA and Activated Carbon Filter
---
Bottom Line
As of August 2023, we have a new HouseFresh Best Air Purifier award winner.
Levoit has been creating very efficient air purifiers that perform well for a reasonable price, and it makes sense that they would create something for the premium market.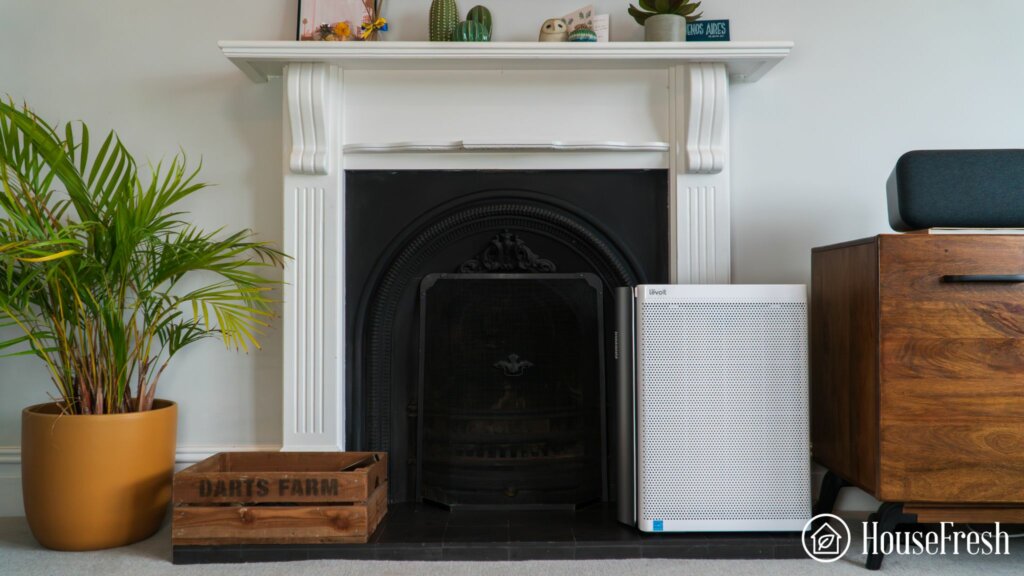 You will get more power for your money with the Levoit Core Series, but the EverestAir beats them hands down for looks. We tested running this air purifier at the lowest fan speed, and it still cleaned our room in 25 minutes at 24dB — which was silent to my ear. 
It's an easy air purifier to live with, but it doesn't come cheap.
SOURCES

We calculated the monthly energy consumption costs with the help of the Department of Energy's appliance energy calculator. We calculated yearly costs associated with running the Levoit EverestAir for 24hs a day for 365 days. We ran this calculation utilizing the U.S. average utility rate of $0.12/kWh as of August 4th, 2023.
Last update on 2023-09-19 / Affiliate links / Images from Amazon Product Advertising API