Our verdict:
Smart Air is fairly unknown to the air purifier market compared to the bigger brands, but they've entered the arena with a mission; to make easy-to-use, high-performing, no-nonsense air purifiers at a fair price.
Their mid-range unit the Blast Mini is extremely well built. Smart Air has gone in a different direction by making the Blast Mini out of metal over the usual plastic making it more durable.
We're not sure why they've chosen to call it "Mini" as it's actually quite big for an air purifier but this means they can include a large H13 HEPA filter, although it doesn't come with an Activated Carbon filter as standard.
The Blast Mini outperformed nearly all the units we've tested so far. It's not loud and although it's heavy, it has wheels to move it around. It will stand the test of time.
I am impressed.  
Smart Air's story is one with humble beginnings when founder Thomas Talhelm was a student in Beijing working on his Ph.D. Shocked by the cost of air purifiers, he decided to take matters into his own hands.
By simply strapping a HEPA filter to a fan, he had solved his problem at a fraction of the cost. When he posted his results online, he started to receive positive feedback and questions from folk wanting to do the same. This is when Thomas and his friends decided to start Smart Air.
Bringing no-nonsense air purifiers to their simplest concept and saving us consumers money along the way.
Why You Can Trust This Review
Here at HouseFresh, we pride ourselves on our approach to reviewing products. Open, honest, and unbiased. We can do this as we buy every product we review and put it through real-world tests in our own homes.
This time we borrowed the Blast Mini from Smart Air under the caveat that we were going to review it with the same guidelines we always do. Open, honest, and unbiased.
We have designed a test that allows us to probe the capabilities and outputs of every air purifier we review under the exact same conditions, performing the exact same task. Our test is broken down into three stages:
Stage 1: The air cleaning performance test
We fill up our 705 cubic ft testing room with thick incense smoke.
We plug in our air quality monitor (PurpleAir Touch Indoor Air Quality Monitor).
We turn on the air purifier and set it at its top speed.
We track PM1.0ug/m3, PM2.5ug/m3 and PM10.0 ug/m3 levels every few minutes until the incense smoke has been completely cleaned from the air.
Stage 2: The energy consumption test
We plug in the air purifier using an electricity usage monitor.
We turn on the air purifier and set it at its lowest speed and record energy consumption in watts.
We then crank up the speed to the top level and record energy consumption in watts.
Stage 3: The noise level test
We turn the air purifier on at its lowest speed and we use a sound level meter to record the sound level in decibels.
We repeat step one, but this time around, we set the air purifier at its highest speed.
Lastly, we use a data visualization tool called Flourish to visualize all this data so we can clearly compare the performance of the air purifier across these three metrics against other units in the same category and price point.
TL;DR The Low Down on the Blast Mini
---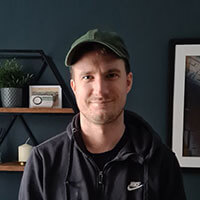 The Blast Mini outperformed nearly all the units we've tested so far. It's not loud and although it's heavy due to its metal body, it has wheels to move it around. I am confident this air purifier will stand the test of time.

— Danny Ashton, Founder & Senior Writer
---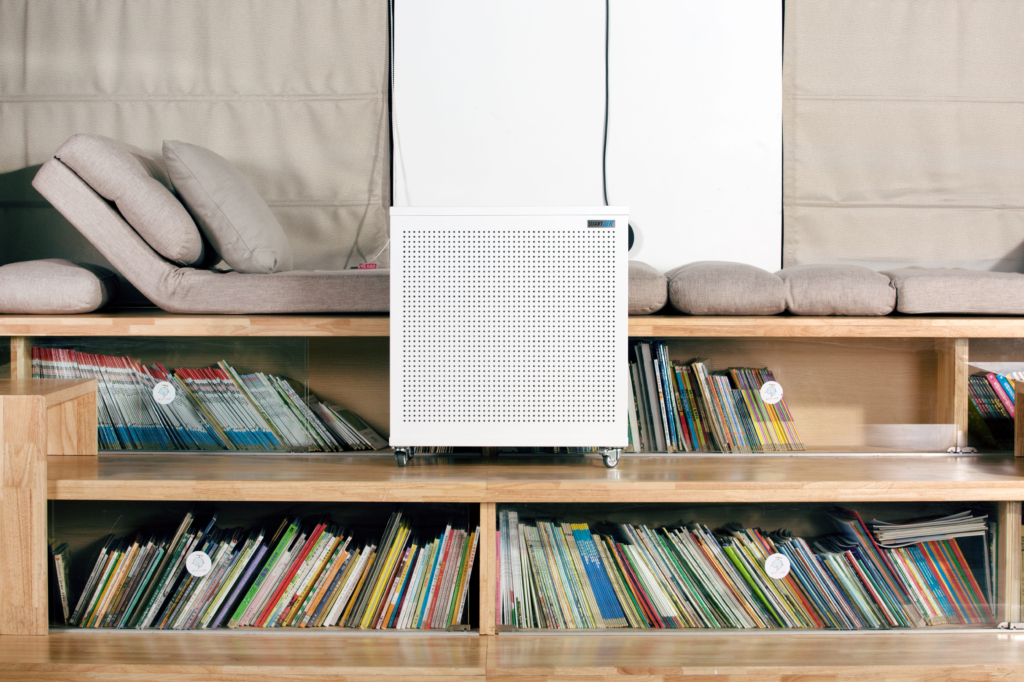 Before we delve into it, I will give you a quick summary in case you're in a rush.
What We Really Like:
👍 It's made from metal instead of plastic, making it more durable and better for our planet
👍 It has a high CADR rating at 435 CFM
👍 The filter boasts a longer life than most other brands
👍 I like the design of the front panel
👍 Easy to use, one-dial operation
What We Think Could Be Better:
👎 At 59 lbs, it ain't easy to move from room to room
👎 Wish they had styled it more like the Smart Air S
👎 The control dial is too hidden
High CADR But High Energy Consumption
Smart Air have really stepped up the game when it comes to CADR (Clean Air Delivery Rate). The Smart Air Blast Mini shows us what's possible when you use a high-performance motor in your unit. It outperformed units like the Alen BreatheSmart 75i and the IQAir Healthpro Plus, saving you a couple of hundred dollars on the price.
Unfortunately, the high-performance motor does come with its own cost: the cost of electricity to run it. But we'll get into that further down.
| | |
| --- | --- |
| HouseFresh Rating: | ★★★★☆ |
| Time to clean our test room: | 17 minutes |
| Air purifier technology: | H13 HEPA Filter |
| Recommended room size: | 915 sq. ft. |
| Clean air delivery rate (CADR): | 435 CFM (740 m³/h) |
| Dimensions (in inches / in cm): | 22.6L x 13W x 24.8H inches (57.5L × 33W × 63H cm) |
| Weight (in pounds / in kg): | 59 lbs (26.8 kg) |
| Noise level (low – high): | 36 – 49 dB |
| Filter life: | 33 months |
| Manufacturer's warranty: | 1 year |
| Estimated energy consumption: | $277.70 per year |
The "Mini" That's Not So Mini
The Smart Air Blast Mini is a departure from the stylings of the Smart Air S (which I loved). As you can see from the pictures, the Blast Mini looks a lot more clinical and robust than its smaller counterpart.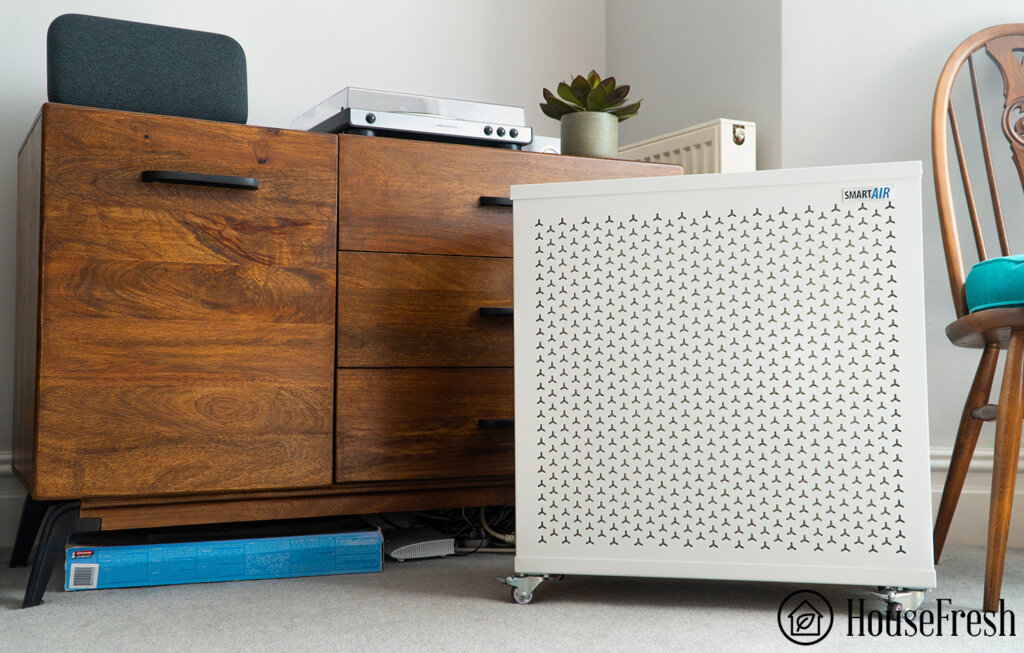 I really like the design of the front grill. Smart Air has put some effort into the aesthetics making this unit more noticeable compared to others. You can almost tell by the look of it that there's a big fan hiding beneath the exterior.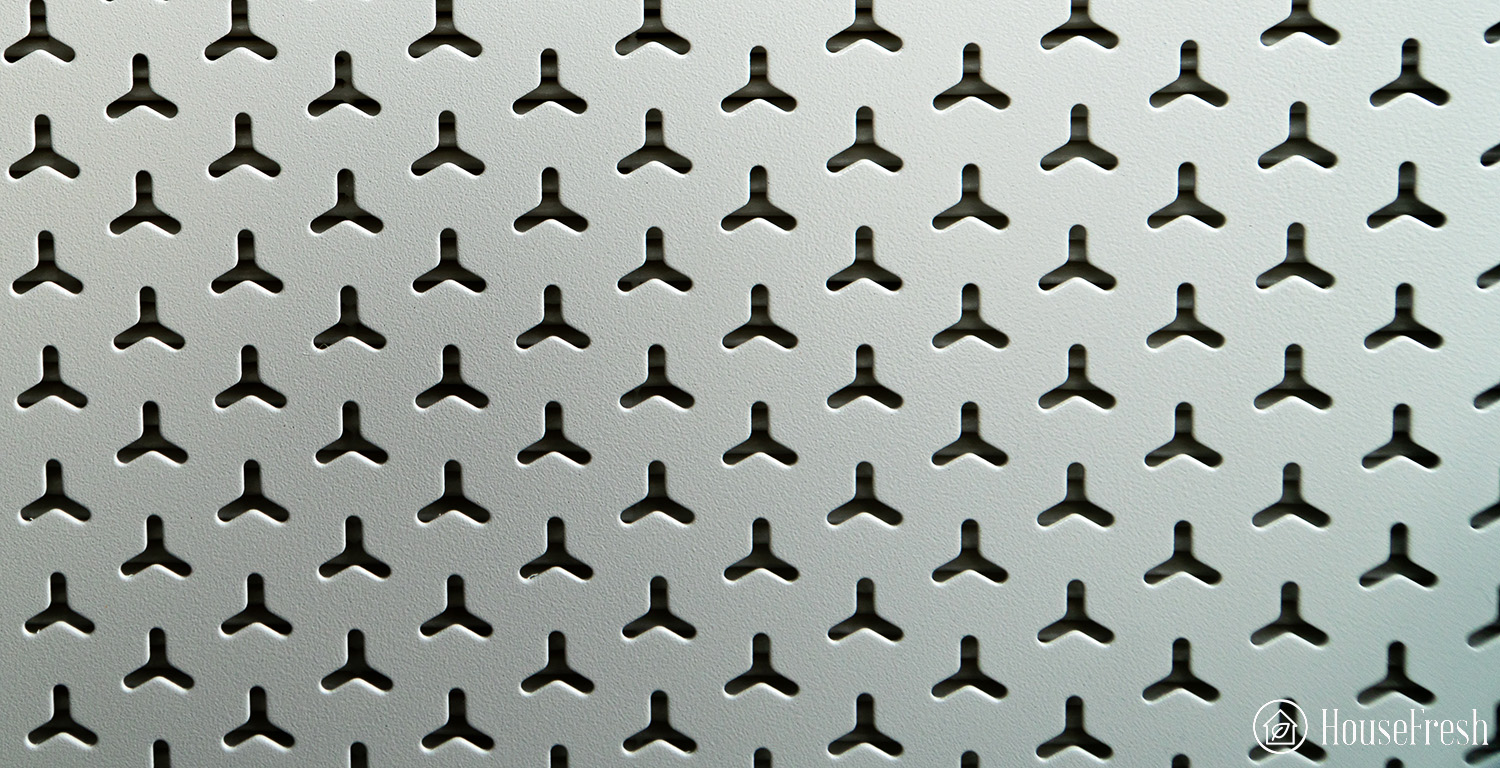 My only real issue is that this unit isn't mini at all. Personally, I wouldn't have enough space to use it in my bedroom, and it would also look pretty out of place. And that's if I could lift it up the stairs as this thing is heavy.
I suspect the market they're going for is offices, clinics, waiting rooms, and commercial spaces. But don't let that stop you, if you have the space in your home, you'll soon discover that the performance of this unit far outweighs the look.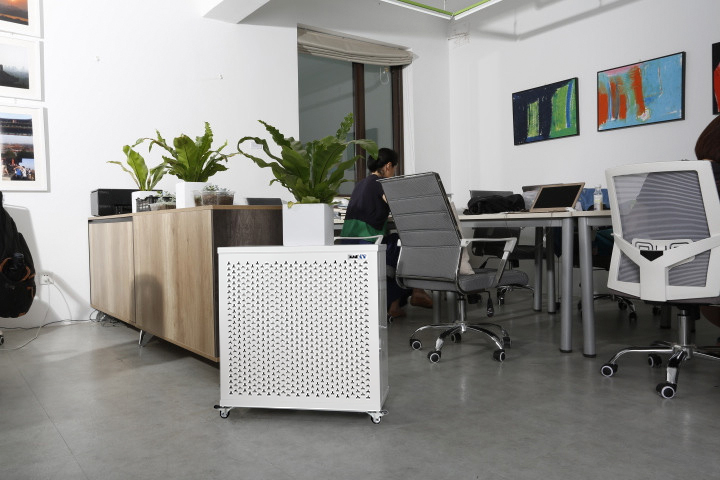 Large, Long Life H13 HEPA Filter
By far the most important part of any air purifier is the filter. The size and strength of the filter will determine how effective the unit is at removing airborne contaminants from your home.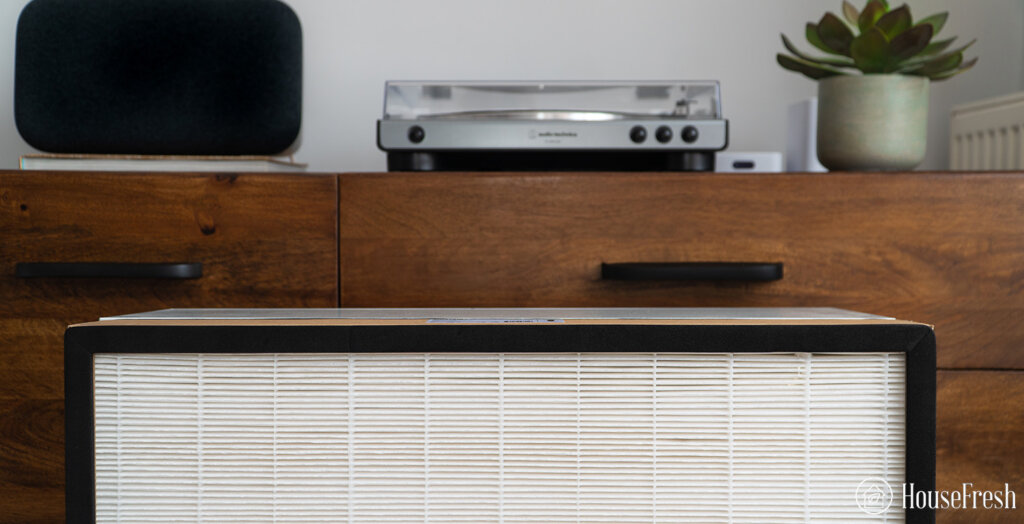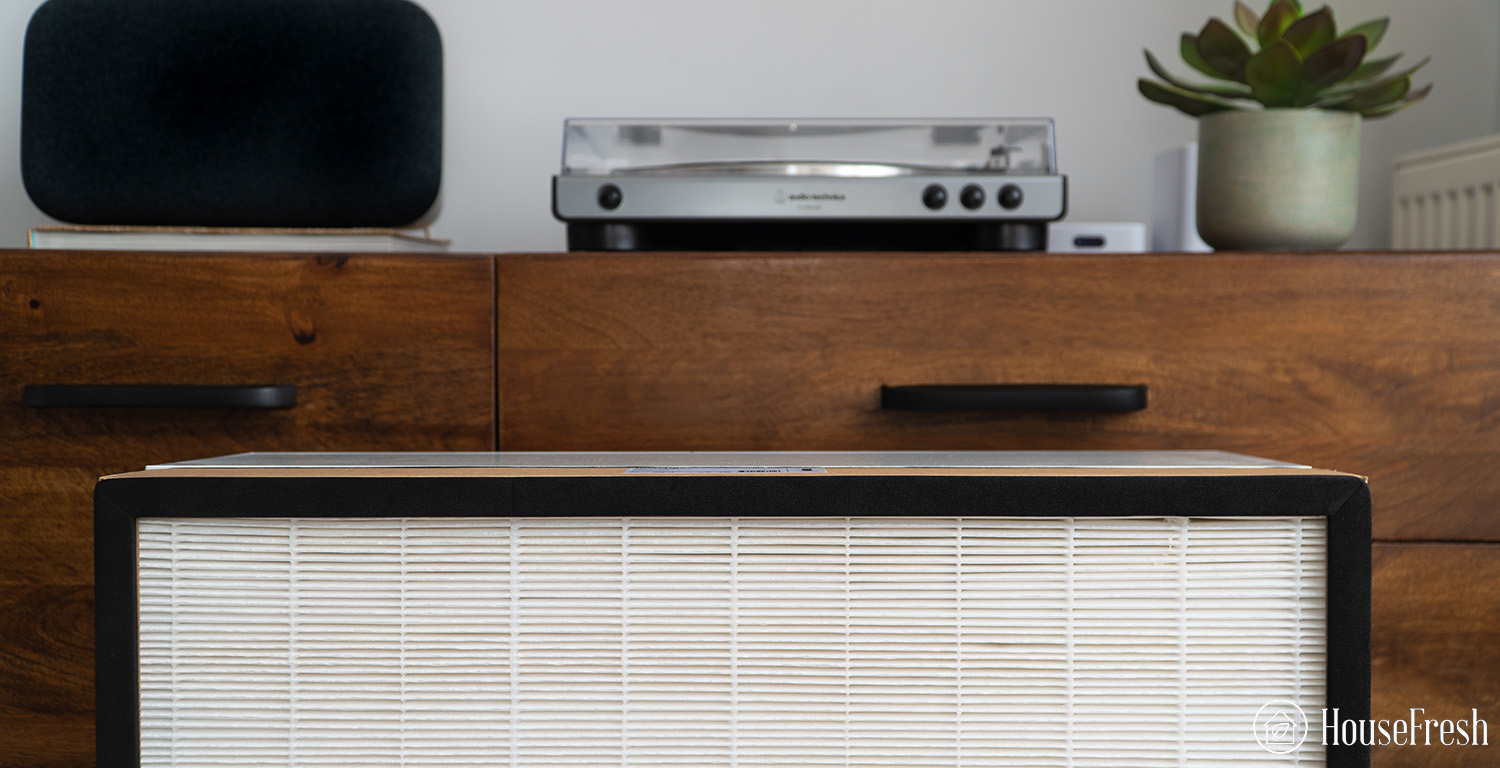 This is where the Blast Mini shows off. Smart Air made it their mission to have the best by testing different filters first, finding the highest performing to match their powerful fan. They decided on a H13 (medical grade) HEPA filter which removes 99.95% of particles like dust, pollen, pet dander, and bacteria to name a few.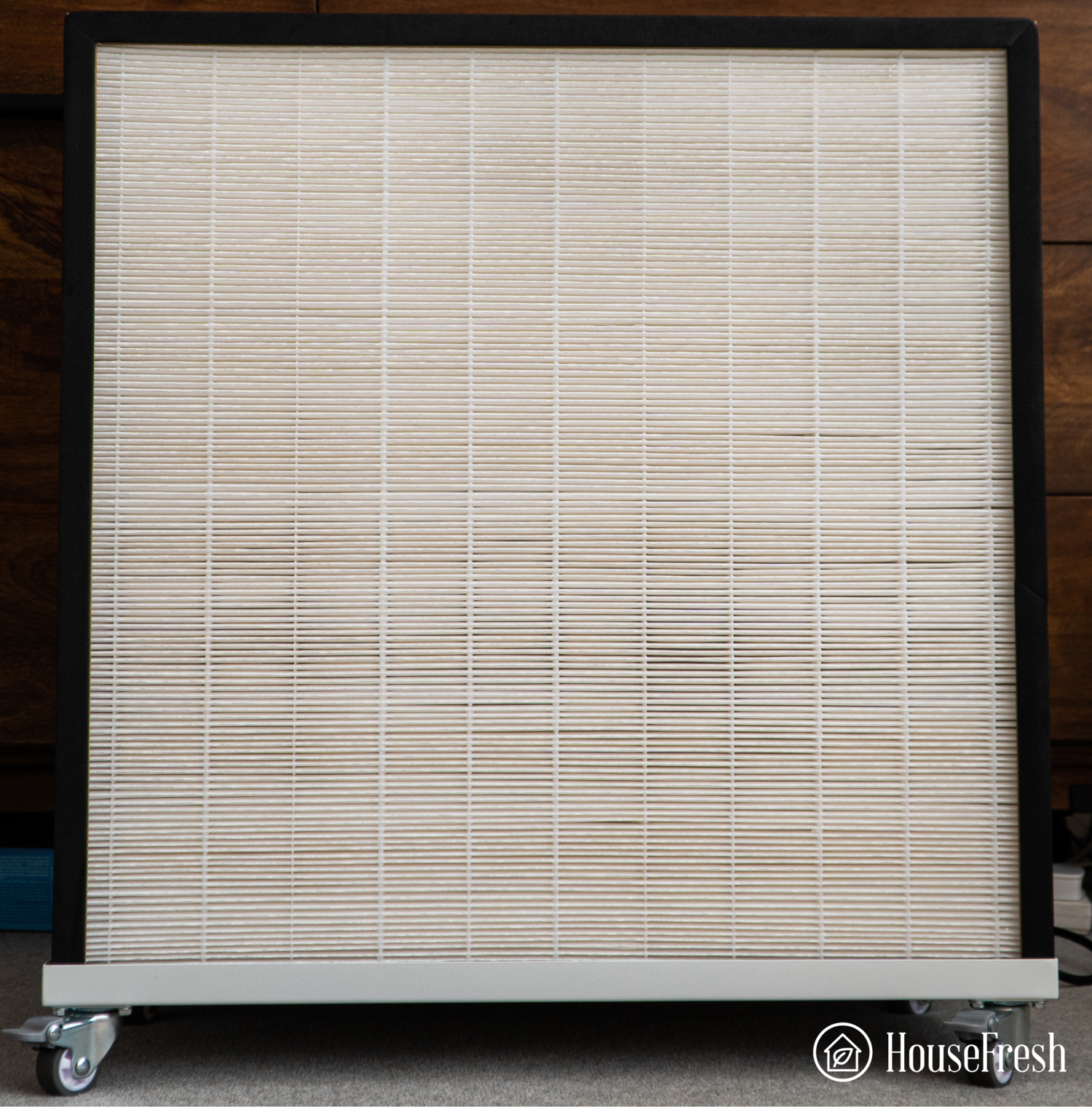 Unlike other air purifiers out there which need their HEPA filters replaced every 6 months, the Blast Mini filter can last you up to 33 months (if you run it for 8 hrs a day) saving you money each year.
Replacing the HEPA filter is pretty easy when the time comes:
Remove the top panel
Remove the front panel
Remove the old filter and replace it with a new one
Place the front panel
Place the top panel
On the back of the unit, there's a pre-filter attached to capture larger particles like dust and hair. This ensures the HEPA can concentrate on smaller particles, prolonging its lifespan. You can remove the pre-filter with a screwdriver allowing you to clean it with a damp cloth or vacuum cleaner.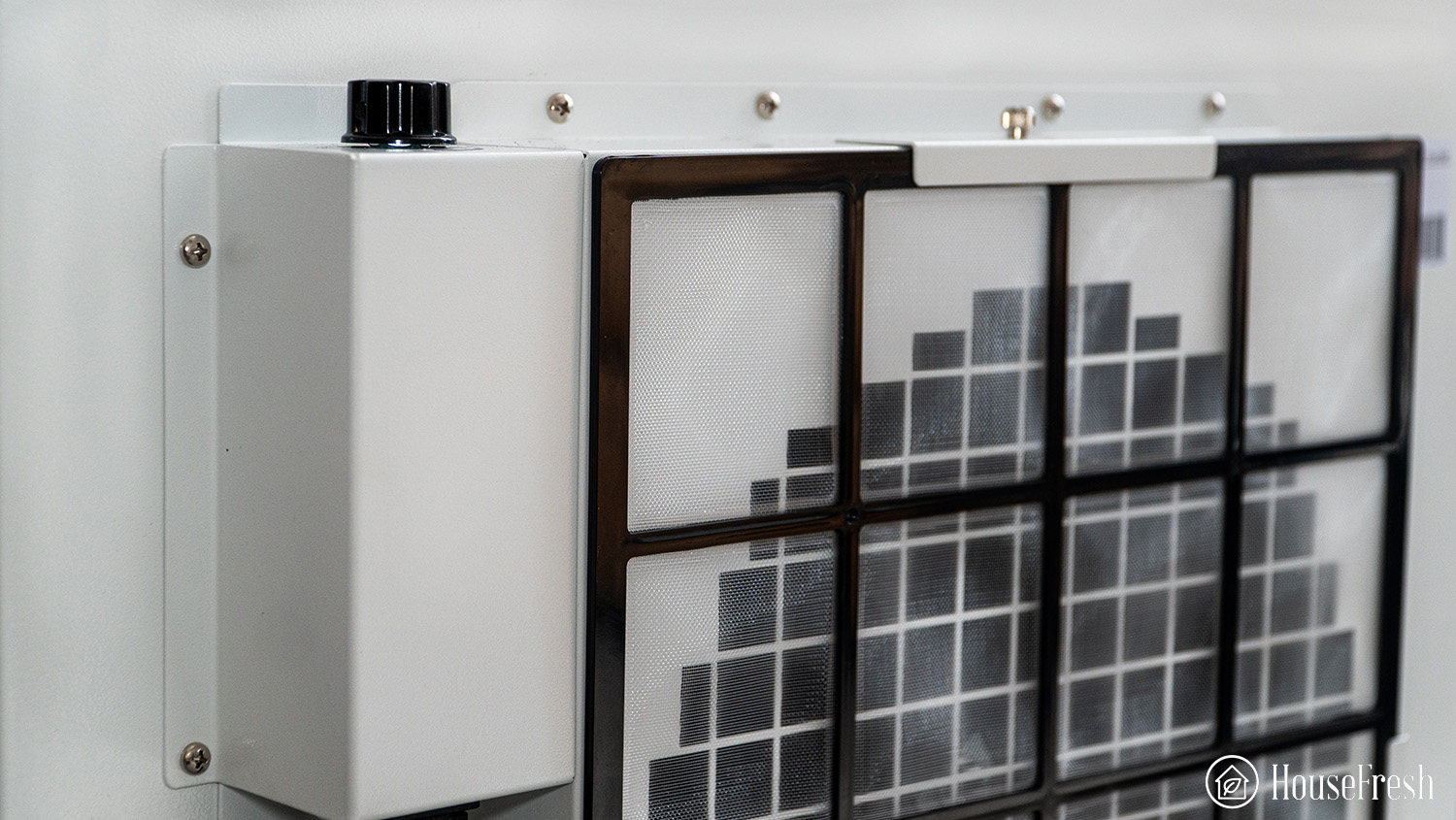 For some reason, Smart Air doesn't provide an Activated Carbon filter as standard, you have to purchase one as an optional extra. It's pretty standard for air purifiers to include an Activated Carbon filter as they rid your air of VOCs (Volatile Organic Compounds) and odors.
Smart Air's VOC filter is packed full of activated carbon which works tirelessly to remove odors and other VOCs from your room. They say that they don't include one because some people don't need it. I'm not convinced. As a consumer, I would rather pay a little extra and have it as standard.
Always remember to remove any packaging from the filters before switching the Blast Mini on. If you don't, the filter won't work and you'll probably start to smell burning plastic. Which is the opposite effect you want in an air purifier.
One Dial…Yup, Just One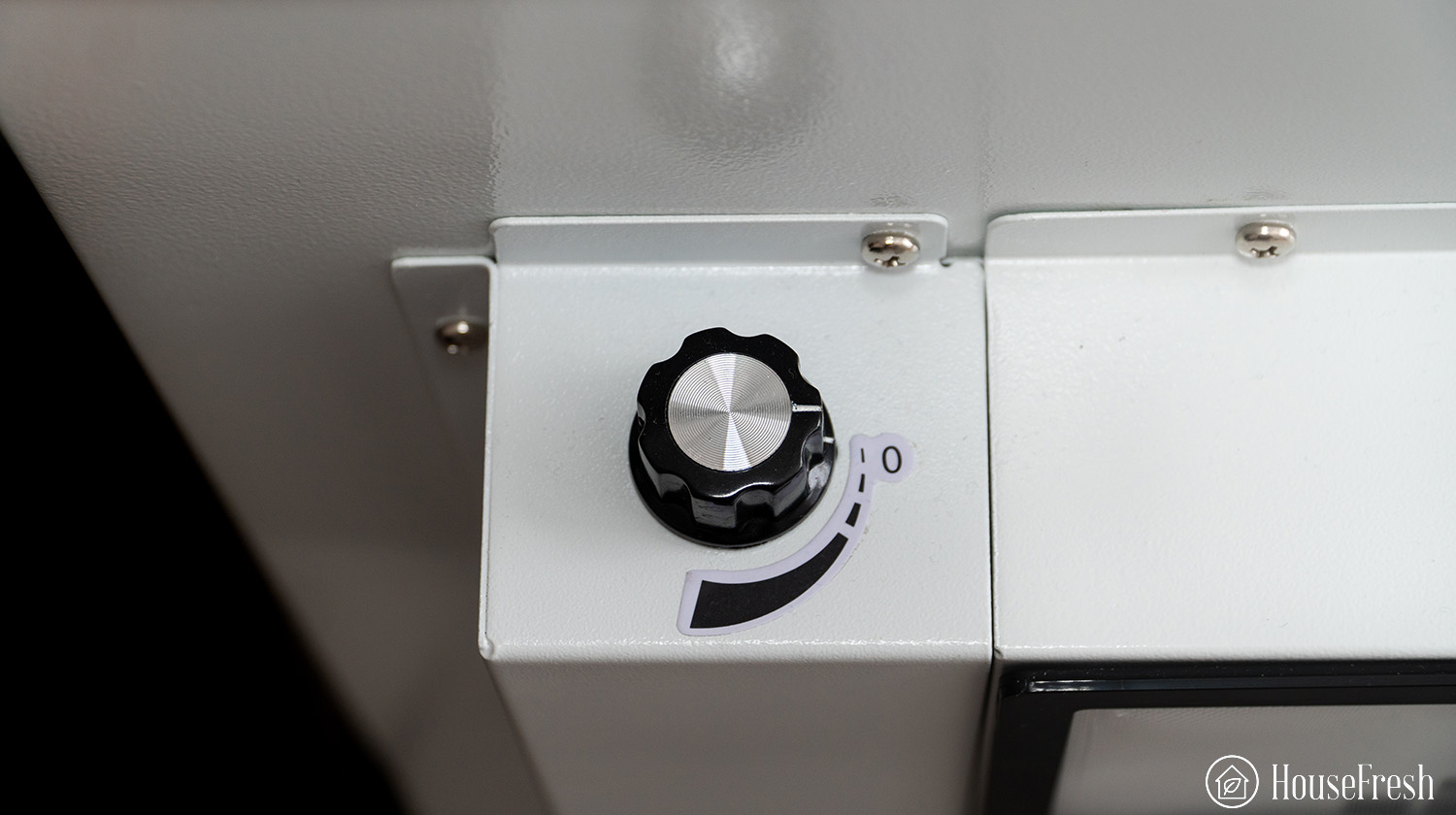 We have reached the section of our reviews where we take you through the controls, features and smart technology options (or lack thereof) of the unit we are reviewing. But in this case, this section is going to be pretty short.
You see that dial in the picture? That's it… Oh, there are 3 speeds to choose from. Simply turn the dial to choose which speed you want. Even a child could operate the Blast Mini, as shown by baby Dylan here 😉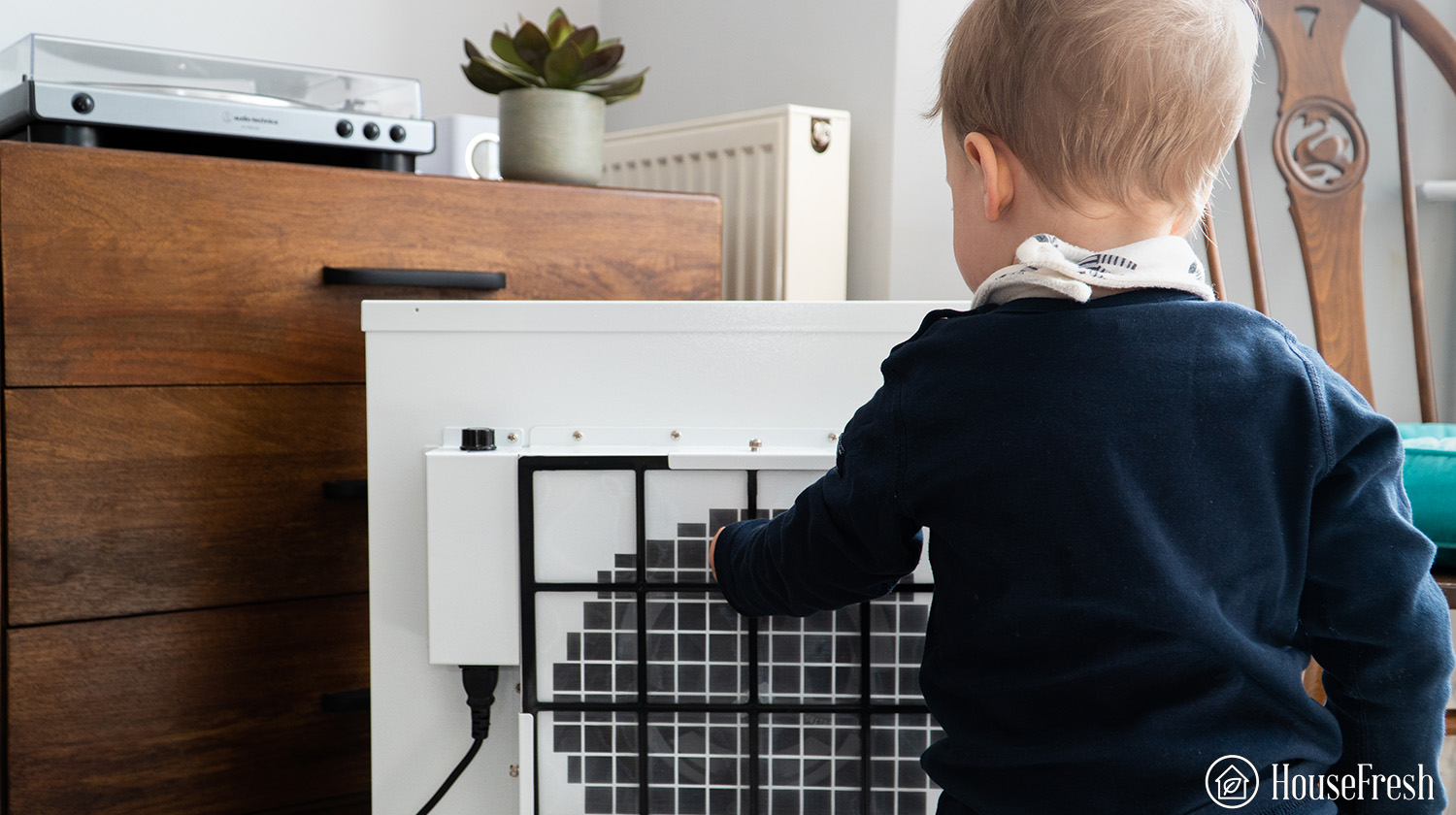 All jokes aside, we loved the added protection at the back of the unit to ensure little hands can't easily access the filters and fan system.
The Smart Air Blast Mini Cleared Our Room in 17 Minutes!
Now we've come to the good part, how this unit actually performs in a real-world setting. If you go onto Smart Air's YouTube channel, you'll see videos of them testing performance in translucent domes. We don't have translucent domes and we guess you don't either.
So we tested the Blast Mini in an actual room to see how fast it can clear our space of airborne pollutants. The space in question is our 705 cubic ft office which we contaminated with incense smoke before turning the Blast Air on full speed.
We monitored each stage of our test using our indoor sensor from Purpleair to provide us updates on PM1.0ug/m3, PM2.5ug/m3, and PM10.0 ug/m3.
Here's what we found:
As you can see from the graph, the Blast Mini took an amazing 17 minutes to clear our room. That is a fantastic result and one of the best we've tested coming in only 2 minutes behind the Levoit Core 600S.
Let's put that into perspective by comparing it to the top 10 best-performing units in our tests:
Because of the size and power of the fan in this unit, you can't expect it to be "whisper" quiet, but it's by no means loud. At its lowest speed, you will hear the hum of the motor at 36 dB then as you crank it up, it will reach 49 dB which is about the sound of a conversation – pretty outstanding considering the average decibels at the highest speed across all the units we've tested sits at 64 dB.
Here is how the Blast Mini compares against units with a similar air cleaning performance:
The Cost to Run a Smart Air Blast Mini: $277.70 Per Year
1. Electricity costs = $137.71
When choosing the right air purifier for your home, there are a few more things to consider past the size of your space and your taste in design. You need to think about how much it will cost to run, especially with ever-rising electricity prices worldwide.
The Blast Mini isn't the most efficient air purifier on the market. We clocked its highest usage as 130.9 watts which is quite substantial. But, that's on its highest fan speed, which as we've seen, doesn't need to be on for long periods of time.
It's recommended that you keep an air purifier on for eight hours per day. It would be pointless and wasteful to keep the Blast Mini on full for that long. On its lowest setting, this unit will use around 64 watts, which is still a lot compared to the Levoit Core 600S (6.2 watts).
We used the Department of Energy's appliance energy calculator to work out the running costs of the Blast Mini in the United States, and the figure came up to $137.71 per year, that's 37 cents a day.
2. Filter costs = $139.99
Another cost to consider is replacing the filters. The filter is the most important part of your air purifier, without it you've just got a fan in a box circulating polluted air. As HEPA filters work by trapping these pollutants, over time they become full and less effective. That's why they need replacing.
Smart Air has manufactured HEPA filters that last longer than most. Most filters in air purifiers last for around 6 months, but the Blast Mini's filters can last up to 33 months. This saves big time on the overall running costs.
The downside is the fact that, if you need it (we recommend that you do), you'll have to purchase an Activated Carbon filter separately. This is where the costs start to add up.
Our calculation is based on running the Blast Mini at full speed all day, every day with only the HEPA filter, having to change it every year.
---
Bottom Line
I really like what Smart Air is trying to achieve with the Blast Mini. It's easy to operate and performed incredibly well in our performance test. It's built to last and the wheels do make it easier to move around, even if it's on the heavy side.
I can see this unit placed in an office or commercial space, but I can't see it sitting in a home (at least not my home). Compared to other units it's expensive to run and the fact that an Activated Carbon filter costs extra bugs me.
But, you just can't argue with its performance.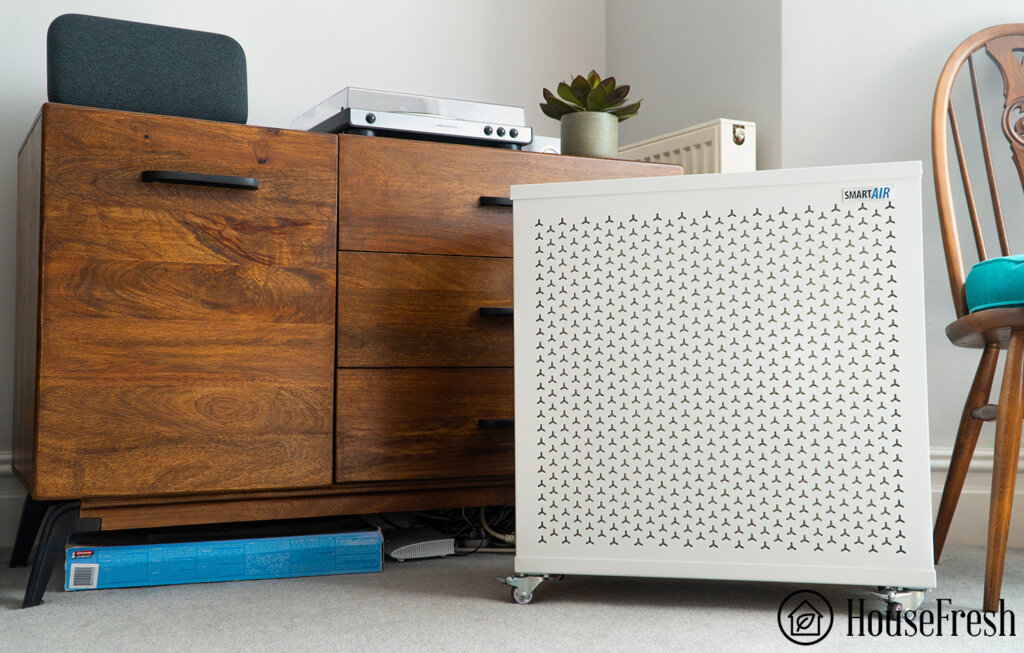 If you want a hardworking unit and aren't hung up on smart features, the Blast Mini might just be the right unit for you. Before you click that button, check out some of our other reviews, you might find something else that suits you better.
---
SOURCES
We calculated the monthly energy consumption costs with the help of the Department of Energy's appliance energy calculator. We calculated yearly costs associated with running Smart Air's Blast Mini for 24hs a day for 365 days. We chose to run this calculation utilizing the US average utility rate, which is $0.12/kWh.
Last update on 2023-04-02 / Affiliate links / Images from Amazon Product Advertising API