Hitting the open road in your RV is guaranteed to be a fun-filled adventure. But as well as collecting memories on your travels, you'll also bring some pretty polluted air on board.
This may sound at odds with the pristine air you often find in nature. However, inside your RV, you will commonly find particulate matter from traffic fumes and road dust, harmful VOCs emitted by gas stoves and may even face nature's nastier side in wildfire smoke and allergies. Not to mention the stale smells that can occur if you have the whole family along for the ride.
Remember that all of these harmful pollutants will be exemplified in the confined space of your RV. The EPA has conducted numerous studies that show indoor air pollution is 2-5 times worse than what we find outdoors, as pollutants become trapped and concentrated inside.
It's simple to remove these pollutants by using an air purifier to capture the most minuscule particles and allow you to enjoy your vacation without the threat of toxic air.
You'll also benefit from being able to invest in a more compact (and cheaper) unit, as cleaning the air in an RV is much easier than in a traditional home.
With our test data in hand, I was then able to select seven of the best air purifiers on the market that will help transform the air in your RV.
Staff Picks: The top 3 air purifiers for RVs
If you're in a hurry to hit the road, here are our three top picks, allowing you to find a speedy solution to your air quality concerns.
Whether you travel in a Tiny Home campervan or a house-on-wheels RV, your space can quickly turn from sanctuary to cesspit if you ignore your air quality. With all recreational vehicles being different, assessing your options to find the right purifier is essential.
Check out the complete list below to see various options suited to varying-sized spaces, styles and budgets.
The IQAir Atem is our top pick, having completed our in-car clean air speed test in 37 minutes – the fastest portable air purifier we've tested.
The IQAir Atem eclipsed other portable units during our tests, clearing all traces of PM1 particles 10 minutes faster than the next best unit. Powered by a decent fan that achieves an airflow of 39 CFM and IQAir's outstanding HyperHEPA Plus filter technology.
These filters can remove 99% of the smallest PM and gas particles. This means everything from exhaust fumes to road dust will be removed from your RV. Despite being a portable unit, the filter also comes with a 1-year lifespan — the longest-lasting filter on this list.
This option looks sleek, and IQAir has clearly thought about how this unit will be used in a vehicle. You can simply sit it atop a surface inside your RV's living quarters or attach it to the cabin's headrest for targeted protection while you drive. Even the way you power this unit is geared toward RVs, connecting to the 12V DC adapter in your vehicle while drawing a minimal 3.4 watts at its highest speed.
The downside is that you have to pay a lot more for this performance than elsewhere on the market. At $400, this is undoubtedly a premium option that may not appeal to all RV users.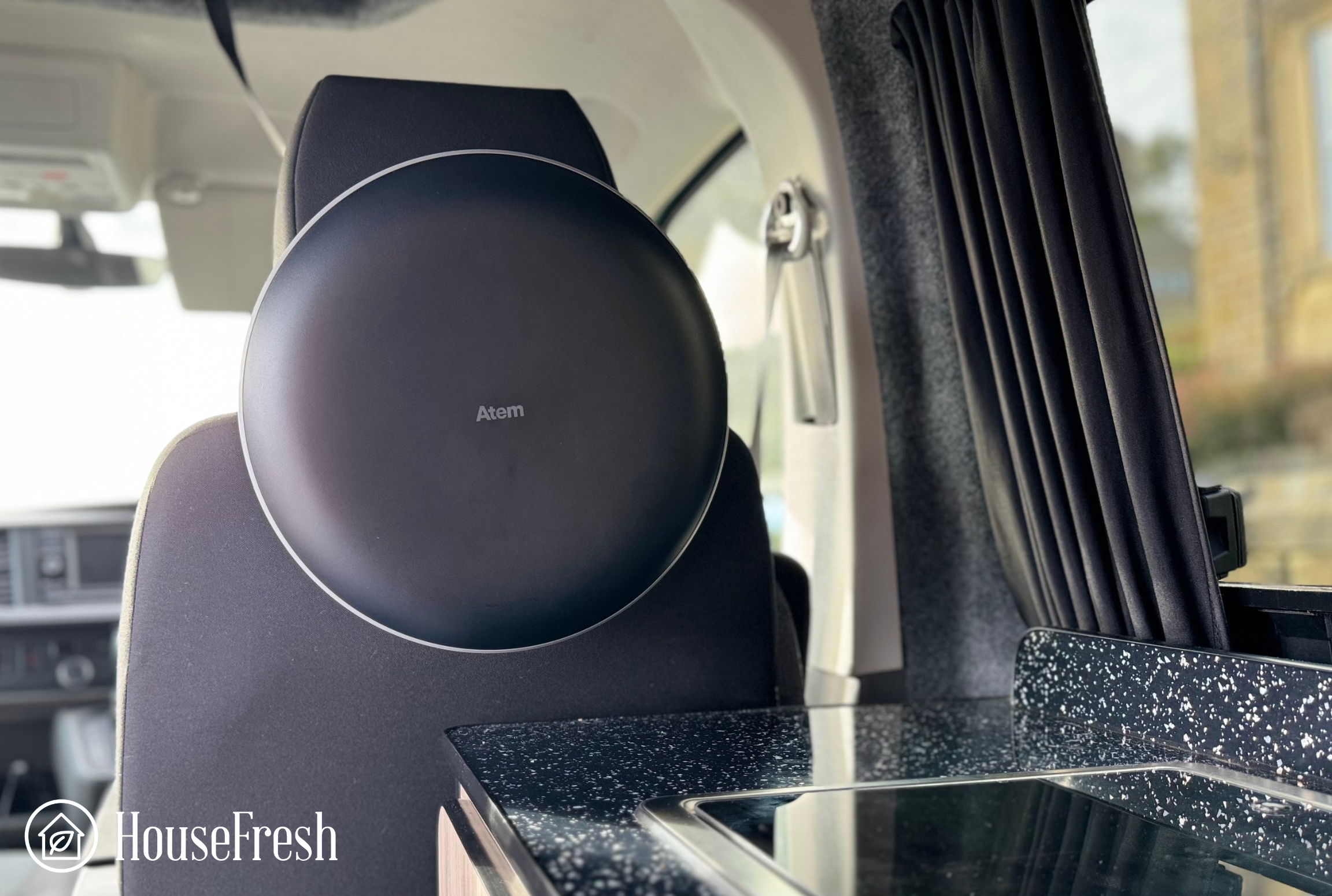 SPECS & FEATURES
2. Best performance per $ spent: Smart Air QT3
If you're looking for a cost-effective solution to your RV's air pollution, then the Smart Air QT3 is the unit for you.
At $54.99, this option offers an excellent CADR to $ ratio, achieving 24 CFM in a campervan or trailer. During our in-vehicle tests, we saw impressive results in removing the smallest particles as the QT3 cleared the Tesla in 47 minutes, which is not bad at all considering the price.
Equipped with a HEPA filter, this purifier is tailor-made to tackle dust, dander and road debris, capturing PM2.5 particles in a single pass. The QT3 also gets bonus marks for having an in-built fan, which will help to regulate the RV temperature on hotter days.
The Smart Air QT3 is ideal for use on the road thanks to its rechargeable battery. From a single charge, the QT3 provides four hours of cool, clean air delivered throughout your RV. Thanks to the USB-C charging port, you can even top up the battery while it's in use.
I'm also a huge fan of this unit's lightweight and ultra-modern design, making it easy to take with you on your travels and slot effortlessly into place inside your RV.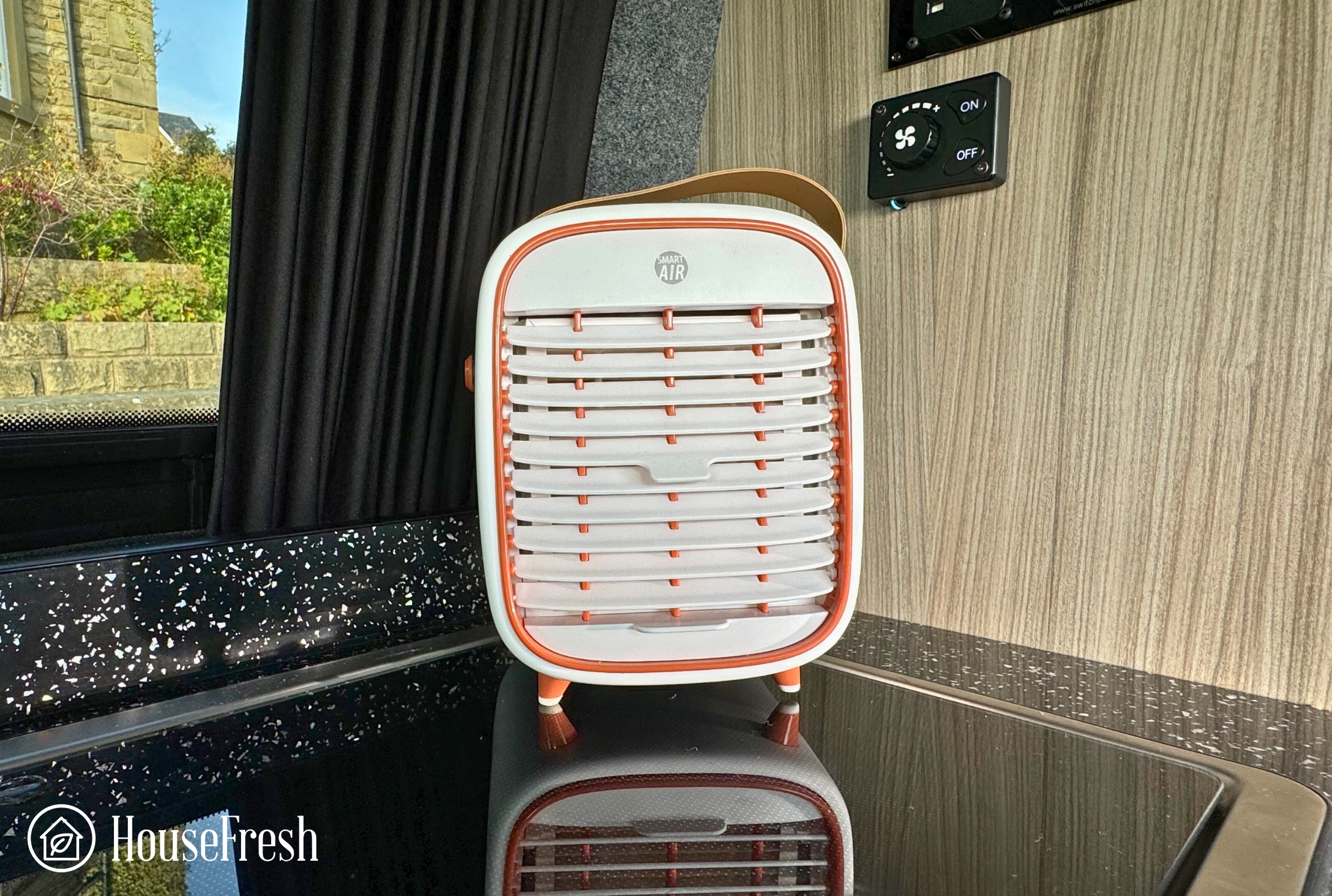 SPECS & FEATURES
The Core 300S is the most powerful air purifier on this list, boasting a Clean Air Delivery Rate (CADR) of 141 CFM, making it excellent for large RVs.
This unit uses Levoit's three-stage filter to combat a wide range of pollutants. Its pre and primary filters cover particulate matter such as road dust, mold spores and allergens that are rife when roadtripping. While the activated carbon filter takes care of VOCs found in traffic fumes, nitrous oxide emitted from gas cookers and unpleasant odors can take hold when living in a confined space.
Being an S model, you can expect to find some pretty handy smart features that will make cleaning the air in your RV even easier. One of the stand-out smart features is the 300S' ability to connect wirelessly to Levoit's VeSync app.
Here, you can check the air quality in your RV, adjust fan speeds, engage auto mode and set the timer function. You can even use its voice-activated controls to change any settings while driving.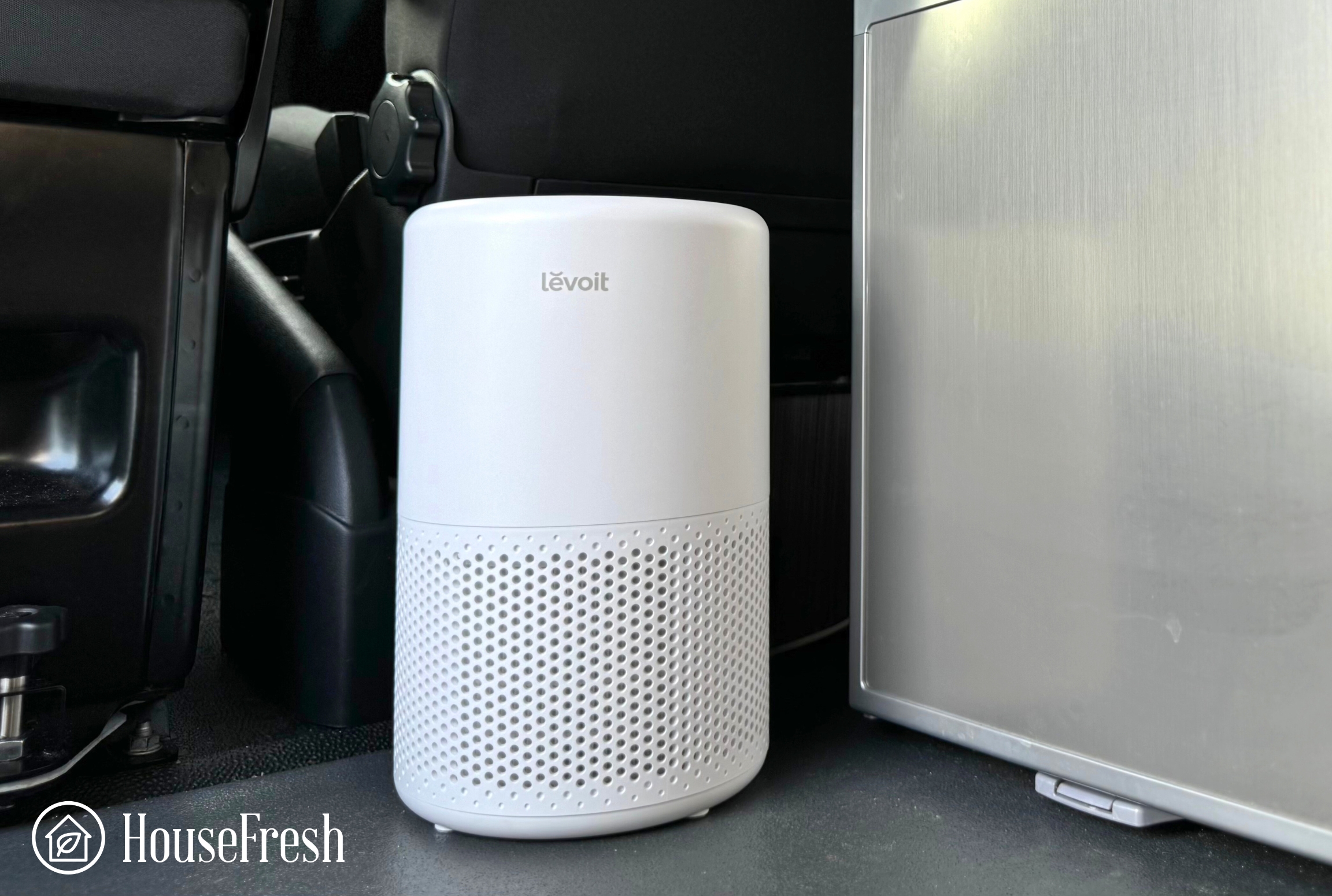 SPECS & FEATURES
4. Best option for mid-sized RVs: Levoit Core 200S
The 200S is tailored for spaces as large as 183 sq. ft, being able to perform 4.8 air changes in a space this size.
With a higher rate of airflow, you can expect to eradicate harmful particulates and gasses found when traveling in an RV in record speed. Using Levoit's hallmark 3-stage filtration, you can breathe easy knowing that all the common RV pollutants will be taken care of. From road dust to exhaust fumes and even the stinky odors that accumulate when vacationing with the whole family.
When we assess the CADR to $ ratio on offer from the 200S, it is seriously a shrewd investment. Add this to the fact you can also connect the purifier to a smartspeaker or the VeSync app and it really feels like a bargain.
You won't find an in-built air sensor nor see the same speedy results as the more powerful 300S. However, you will notice a lower power draw, which is preferable when running on limited electricity and enjoy a more compact design that will slot into a medium-sized RV without stealing too much living space.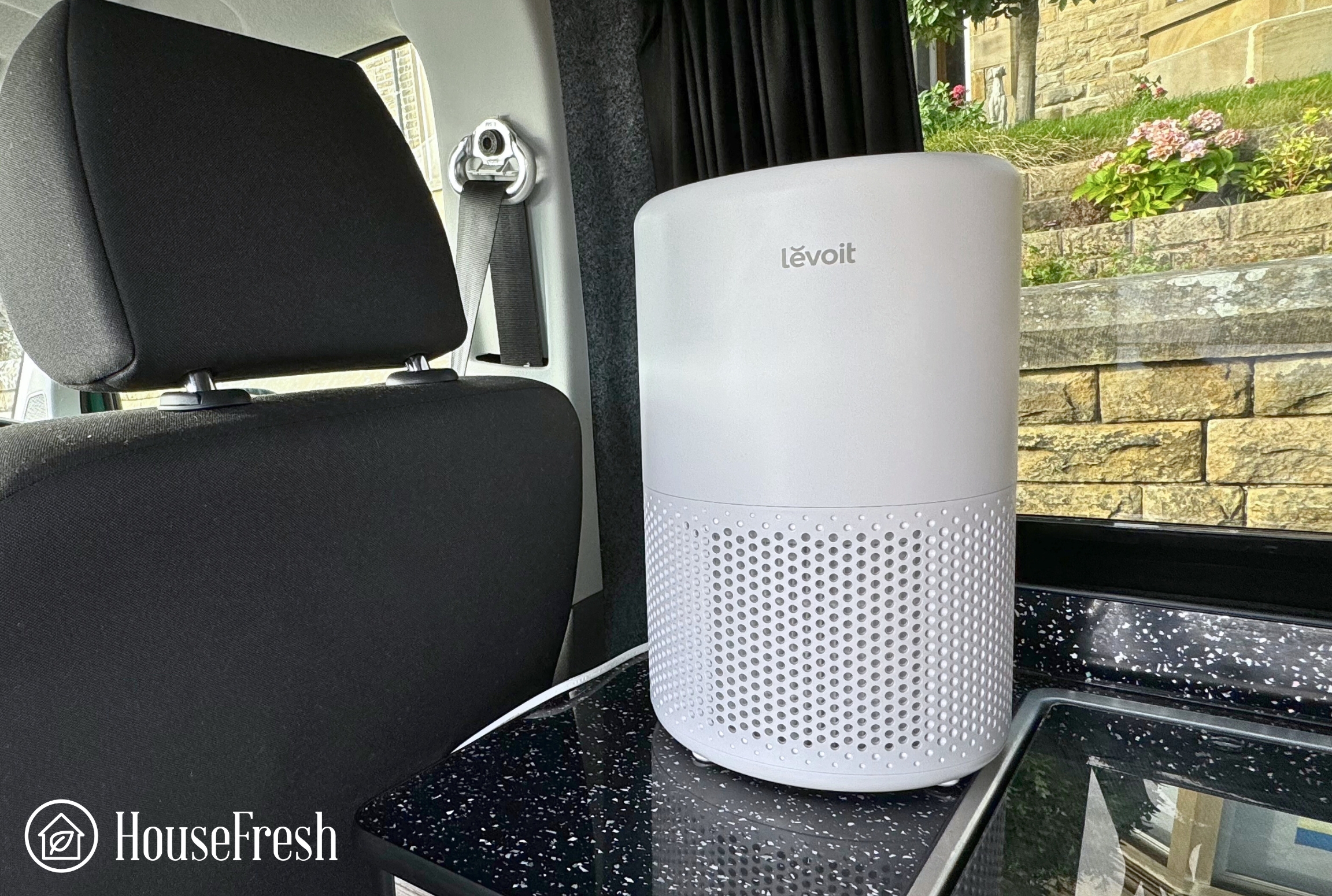 SPECS & FEATURES
The Westinghouse 1804 utilizes ionizer technology for quicker removal of pollutants at lower operating volumes, all while being CARB-certified.
This increase in performance is evident when comparing test data with the ionizer-free Smart Air QT3. Despite the QT3 being a more powerful unit, they both cleared our Tesla of all pollutants in 47 minutes. An excellent time for both units.
Inside the 1804 is a HEPA filter to remove particulates and their patented NCCO (Nano Confined Catalytic Oxidation) reactor, which (much like activated carbon) removes VOCs and odors from the air in your RV.
There's no denying that the 1804 is an excellently designed air purifier. It comes with a modern aesthetic, a carry handle and a choice of four colors. Plus, its compact size means it will sit comfortably on a tabletop, nightstand, or even beside you in the cockpit as you go on your next adventure.
Another key feature that makes the Westinghouse excellent for use in an RV is its in-built battery. Providing enough juice for up to eight hours of pollutant-free air on a single charge.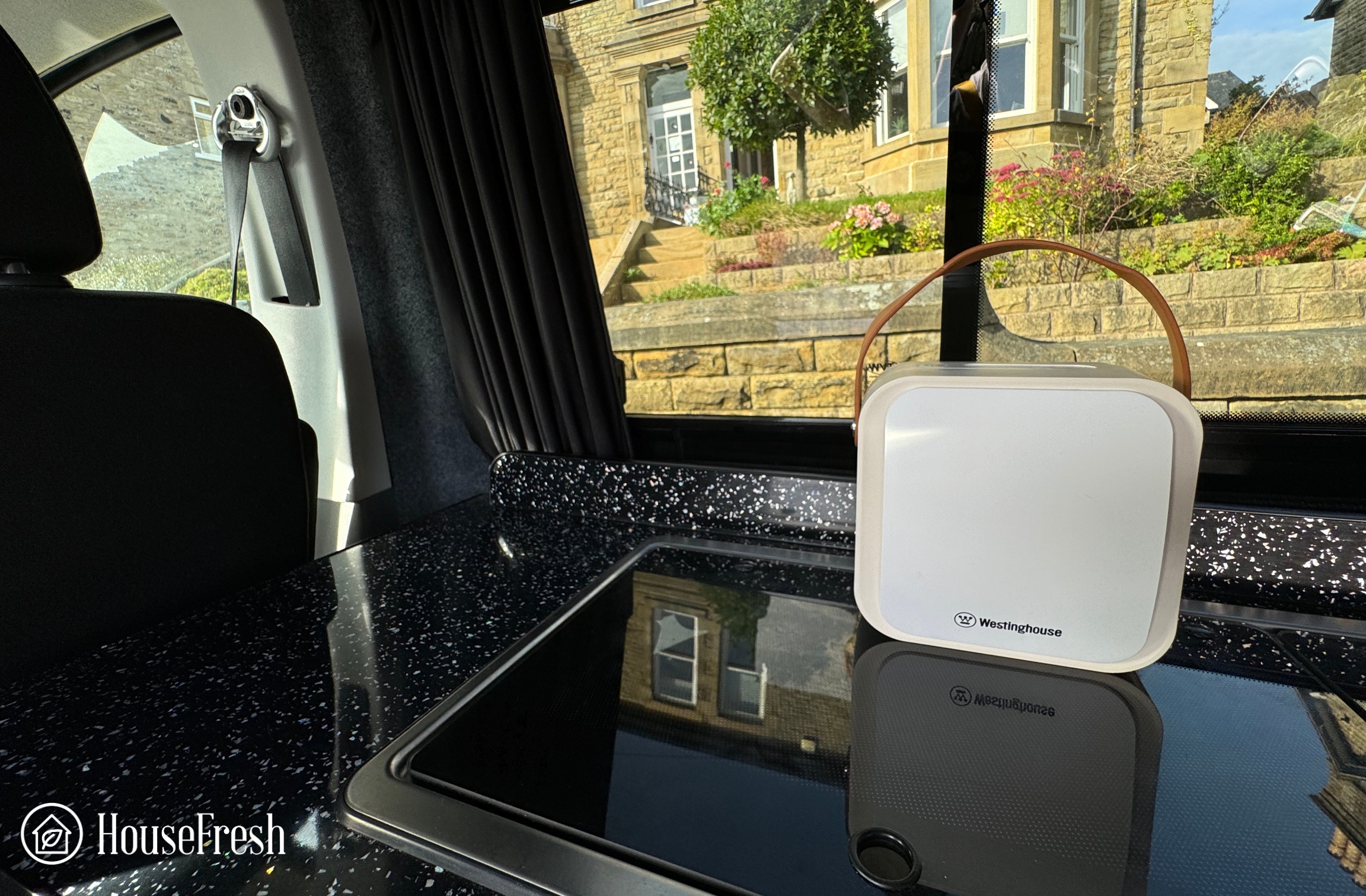 SPECS & FEATURES
For a bargain-basement price of $39.99, the Pure Enrichment PureZone Mini is a highly portable purifier that utilizes True HEPA filters.
For an air purifier that costs less than $40, I'm not going to tell you this option will change your life. But for car campers, campervans or targeted use in small areas like the driver's cabin, you will benefit from much cleaner air with this unit by your side.
That's because this unit uses HEPA filters that are guaranteed to remove particles like road dust. What's more, it comes with an activated carbon-impregnated pre-filter that will even take the edge off those unpleasant smells that all too often arise in an RV.
The PureZone mini is also a doddle to use. It has a simple one-button control panel to select from its three fan speed options. It weighs less than 1 lb and will fit right into your luggage. There's a nifty carry handle and its lithium-ion battery can last up to 12 hours before you need to put it back on charge.
You'll also notice that this is the quietest option on the list, meaning it won't distract you when sleeping, working or listening to your favorite road trip playlist.
SPECS & FEATURES
7. An option including essential oils diffuser: Levoit Core Mini
The smallest Levoit air purifier in the Core line, the Mini is perfectly sized to fit into your RV without eating up precious floor space.
The Levoit Core Mini proves that good things can come in small packages. Despite being the cheapest air purifier from the brand, it still shares the same technology as their high-end units.
You'll find VortexAir™ technology, which pulls in air from 360 degrees, leaving no corner of your RV safe for pollutants to lurk in. As well as Levoit's 3-stage filter that tackles the smallest dust, pollen and smoke particles, along with combatting odor and VOCs.
Levoit decided to forego smart features and stick to a simple one-touch operation with three fan speeds on this unit. This makes operation simple and helps keep costs below $50, which is ideal for a unit used in an RV.
The Core Mini also has a secret weapon up its sleeve that will help with the stale and stinky smells that can overwhelm an RV. An essential oil tray on the side of the unit allows you to add your favorite fragrance and banish bad odor from your home on wheels.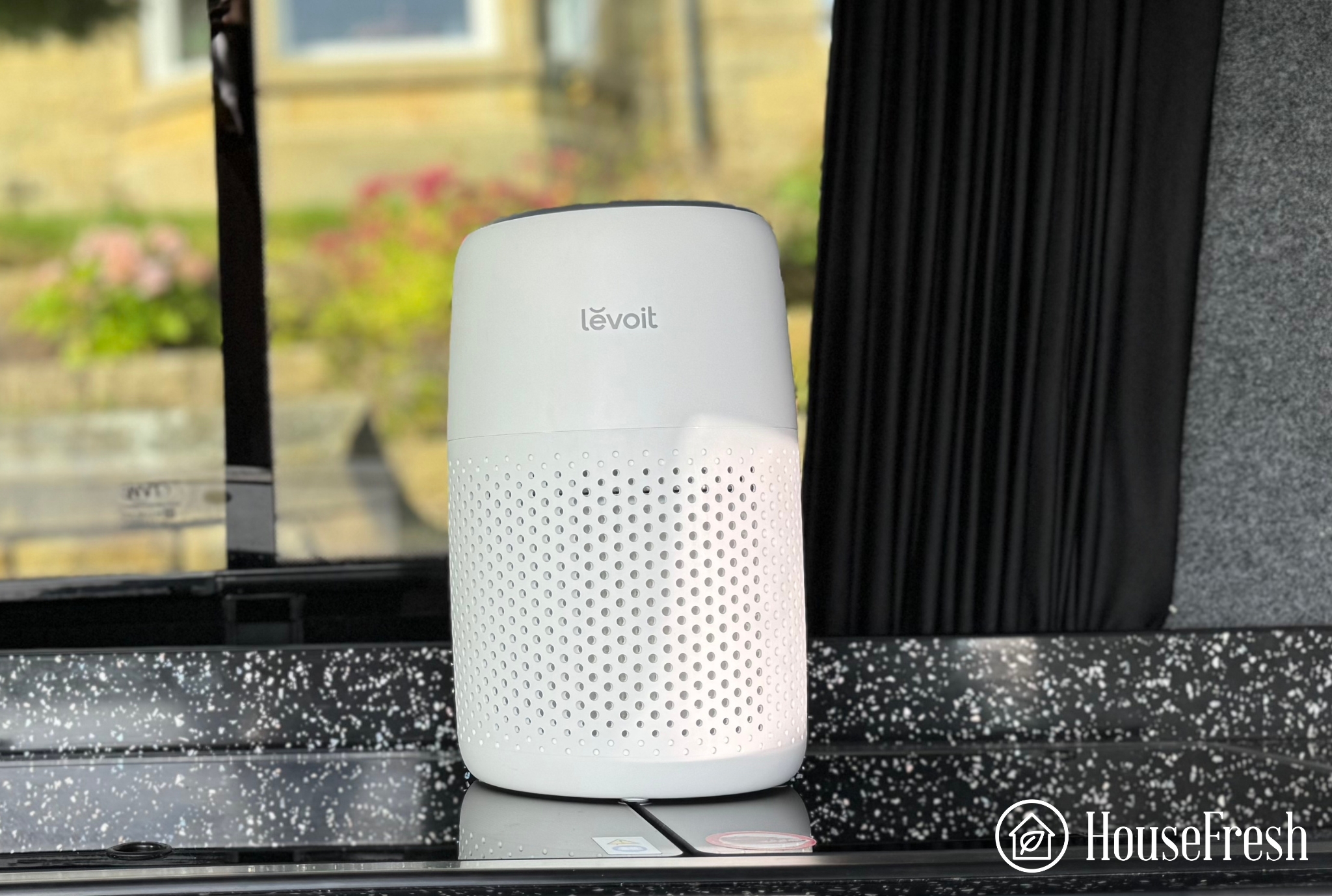 SPECS & FEATURES
What to look for when buying an air purifier for your RV
RVs are homes on wheels and with that come all the pollutants we find daily in our properties. With everyone sharing the same space, cooking dinner, sleeping and using the bathroom, pollutants can quickly build up. Not to mention the added exposure to traffic fumes, road dust and allergies you experience when traveling in a vehicle.
To find the right air purifier for your RV, consider these five key features that will help protect you when out on the road.
1. Does the air purifier utilize quality filters?
An air purifier is only as good as its filter technology. While varying forms are cropping up in newer appliances, the best (and safest) bet is to opt for mechanical filters that capture particles as they pass through the unit.
HEPA and Activated Carbon filters are peer-reviewed and proven to work. The HEPA stamp of approval indicates that a purifier can capture at least 99.97% of polluting particles as small as 0.3 microns, making it the ideal choice for the range of particles you'll encounter inside your RV.
It's worth noting that Levoit recently changed the terminology of their filters from H13 HEPA to simply a primary filter. While this would usually set off alarm bells, we are confident that Levoit air purifiers can still capture the tiniest particles, as we've experienced it firsthand during our hands-on reviews.
2. Can the purifier clean the air effectively inside your RV?
Each purifier is designed to work in a specific sized room, so you'll need to measure your space and compare it to different unit's suggested room sizes.
You'll want to find a unit capable of completing at least four air changes per hour (ACH). This means intaking, cleaning and redistributing the air from your whole RV four times over to ensure it is free from pollutants.
Having recently spent my vacation in a classic VW Campervan, I know that to achieve 4.8 air changes per hour, the minimum power an air purifier needs is 19.55 CFM.
Those of you with larger vehicles will need more powerful units, so be sure to measure up and use our CFM Calculator below.
3. How much energy does the purifier use?
You may be relying on a limited power supply when on the road. So the last thing you'll want to do is drain your solar or leisure battery or only be able to utilize the purifier when connected to an electrical hookup.
By opting for an air purifier that draws minimal energy, you can preserve your power supply while keeping your air fresh for longer.
Alternatively, looking for rechargeable options with internal power sources will pay dividends for those seeking a more off-grid RV experience.
Such units include the Smart Air QT3, Westinghouse 1804 and Pure Enrichment PureZone Mini, while the IQAir Atem utilizes the in-cabin 12V power supply. Bear in mind that the Levoit Core Mini, 200S and 300S require a traditional power supply as these units are more powerful than their portable alternatives.
4. Will the air purifier get in the way?
Space is always in short supply when spending time in an RV.
Assess where the air purifier would work best in your RV. You'll want to keep it near to where you spend the most time (i.e., the bed or driving cabin) or as close as possible to any known pollutant sources. This will give you a good idea of how much space you have to spare and what size purifier you can purchase.
Opting for a smaller air purifier that can fit neatly on the worktop or shelf is a logical choice, but remember not to purchase an underpowered unit.
Each purifier will also make varying sound levels, so if you're a light sleeper, will be working while traveling or simply enjoy the sound of silence, it's best to know what you're letting yourself in for before you take the plunge. Many manufacturers are now developing quieter and quieter appliances, with technology such as Levoits QuietKEAP keeping volumes as minimal as possible.
5. Will you benefit from any additional features?
Air purifiers are increasingly offering new and innovative ways to make cleaning the air simpler. Smart features such as Auto or Eco modes monitor the air and adjust the fan speeds to respond to the current air quality levels, while Smartspearker or App connectivity allows you greater control, even when you're away from the appliance.
Some units also combine technologies, offering two devices in one, such as fans, heaters and humidity control. This can be particularly beneficial in an RV, with interchangeable weather conditions and often issues surrounding excess moisture.
Common questions about air purifiers for RVs
Wrapping up
Whether you love getting away for the weekend or are a full-time van lifer, paying close attention to the air you breathe on the road is essential. Remember that when residing in a vehicle, you'll face all the same pollutants in the home but with added traffic, dust and allergen concerns.
Opt for a quality purifier with quality filters to combat harmful particles. Combining HEPA and Activated Carbon filters will provide you with the best protection. To see a real difference in your air quality, measure your RV and find a suitably powerful option. Otherwise, you'll lose precious RV space and energy without seeing the benefit.
Last update on 2023-11-30 / Affiliate links / Images from Amazon Product Advertising API