Living with a pet means coexisting with their smells. Some of those scents can be loved by pet parents and transmit a sense of reassurance and joy.
Yet, when it comes to other funks produced by litter boxes, urine, wet dogs or bad breath, that's a whole different story.
But when it comes to pets at home, it's not just odors that get in the way of our air being clean and fresh. The tiny bits of skin (dander) and fur shed by our pets tend to build up around the house, contributing to smells but also to allergies.
The thing is pet odors can linger, even with regular brushing and grooming, swiftly cleaning up after an eventual mishap or proper litter care. That's when an air purifier can become a valuable investment.
Air purifiers are excellent odor removers and a great ally when it comes to keeping dander and fur at bay. However, there are a few things to consider when choosing the right one. Based on our test data, we have selected the best air purifiers suited for the job.
We made sure to include units packed with enough activated carbon to remove even those stubborn odors, robust filters capable of dealing with large (fur) and small (dander and allergens) particles and a variety of smart features and cleaning power to suit different needs and room sizes.  
Staff picks: Top 3 air purifiers for pet odor
If you don't have time to read our full report, here are the top three units we recommend for pet odors.
Read on to find out more about the complete selection; deep dive into the units' specifications and strengths that make them ideal for tackling pet smells in your home. 
The EverestAir boosts power and smart features in a sleek white and silver design that makes it stand out from the crowd.
Levoit certainly stepped up their game with this air purifier. It is far from an inexpensive unit but a premier choice for savvy pet parents looking for a comprehensive solution to deal with pet-related pollutants in style.
The high CADR on this air purifier can recircle clean air 4.5 times per hour in a room as large as 558 sq. ft. at the utmost speed. It's the fastest air purifier we tested so far; it only took 13 minutes to clean our home lab. So, there is no need to worry about pet allergens with this one.
And yet, the EverestAir also has its fair share of smart features. The auto mode is powered by Levoit's AirSight Plus technology and three built-in air sensors that will adjust the fan speed according to the pollution levels in the room. Plus, the air quality readings can be displayed on the unit's screen and the Vesync mobile app.
The EverestAir comes with Levoit's three-stage filtration, including a prefilter, the main filter for airborne particles and a honeycomb-activated carbon filter to remove smells. I love the fact that the prefilter is washable and so easy to remove to clean. It helps a lot with pet hair.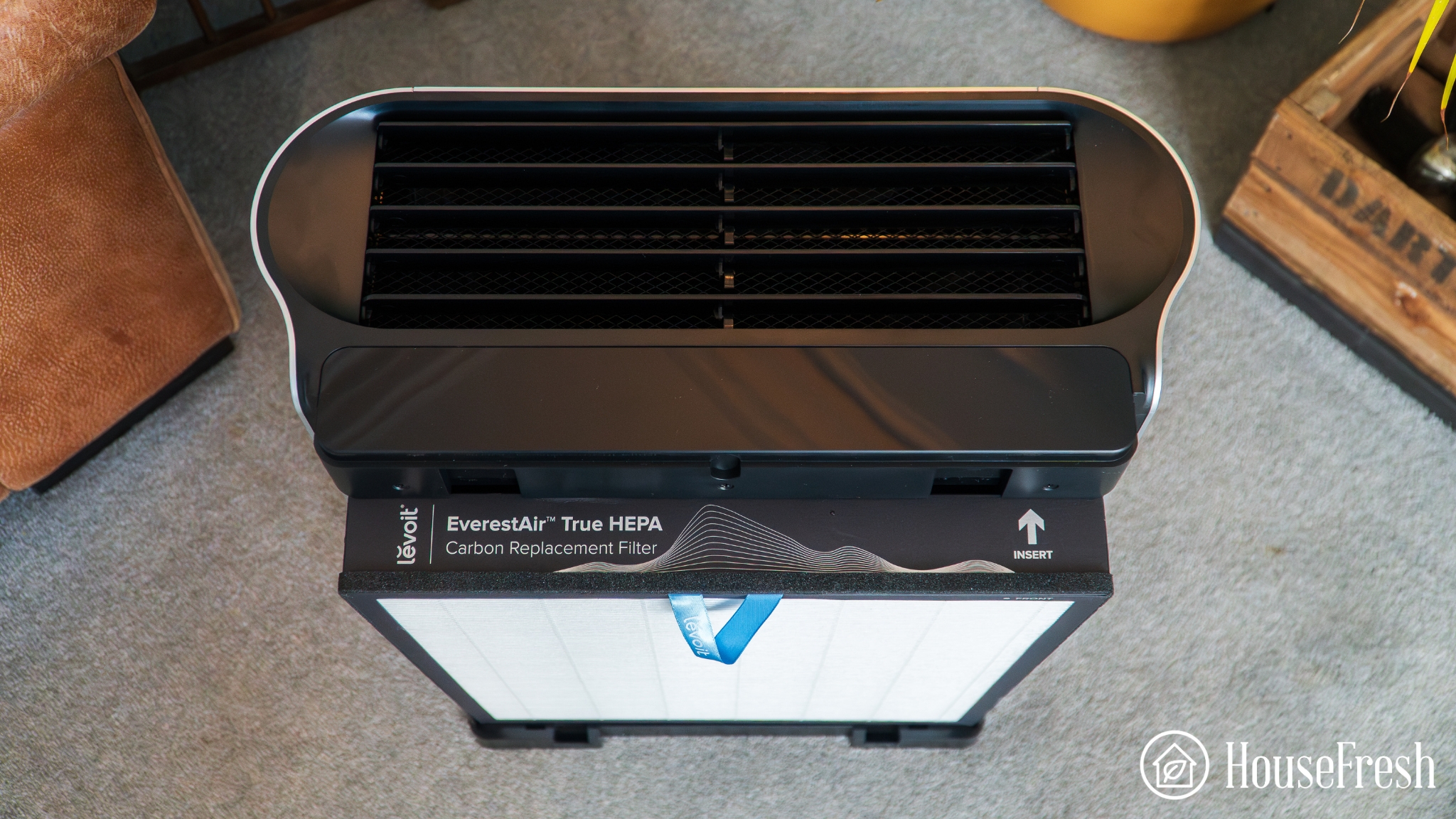 SPECS & FEATURES
A powerful and reliable option with an H13 HEPA filter and enough activated carbon to remove pet odors and pollutants from rooms as big as 1,300 sq. ft.
The 75i is Alen's most premium unit, with a high CADR of 347 CFM. It's an excellent choice for large rooms or open-concept spaces. The Austin-based company makes air purifiers to last a lifetime, and to ensure that is the case, they offer a lifetime warranty for anyone who registers for a filter subscription.
The 75i filters are robust, featuring a washable, easy-to-remove pre-filter (which is particularly useful to extend the life of the actual filter when it comes to filtering lots of pet hair), a H13 HEPA filter (to capture 99.9% particles as small as 0.1 microns, including pet allergens) and an activated carbon filter.

I must point out, though, that choosing the right Alen filter is key to removing pet smells. Alen's Fresh filter uses a large amount (3.6 lbs) of activated carbon to adsorb odors, while the Odor filter uses Alen's OdorCell technology to neutralize smells. Either of the two will perform nicely odors-wise, and there's just a $10 difference between them. You get to choose which one you prefer when purchasing the 75i.
The 75i also has built-in ionizing technology, which releases ions into the air capable of forcing airborne particles to fall to the ground. It does seem like a useful feature for airborne dander and pet hair. But it can actually be harmful to pets (and humans). The good news is the ionizer can be switched off in this unit.
Design-wise, the BreatheSmart 75i is sophisticated and low-key, so it can effortlessly blend into your home. An unexpected great: the air intakes of this unit are located along the sides, so you can place it close to a wall and it won't affect its performance — quite handy if you have a large pet as having it against the wall will reduce the chances of the unit getting knocked over.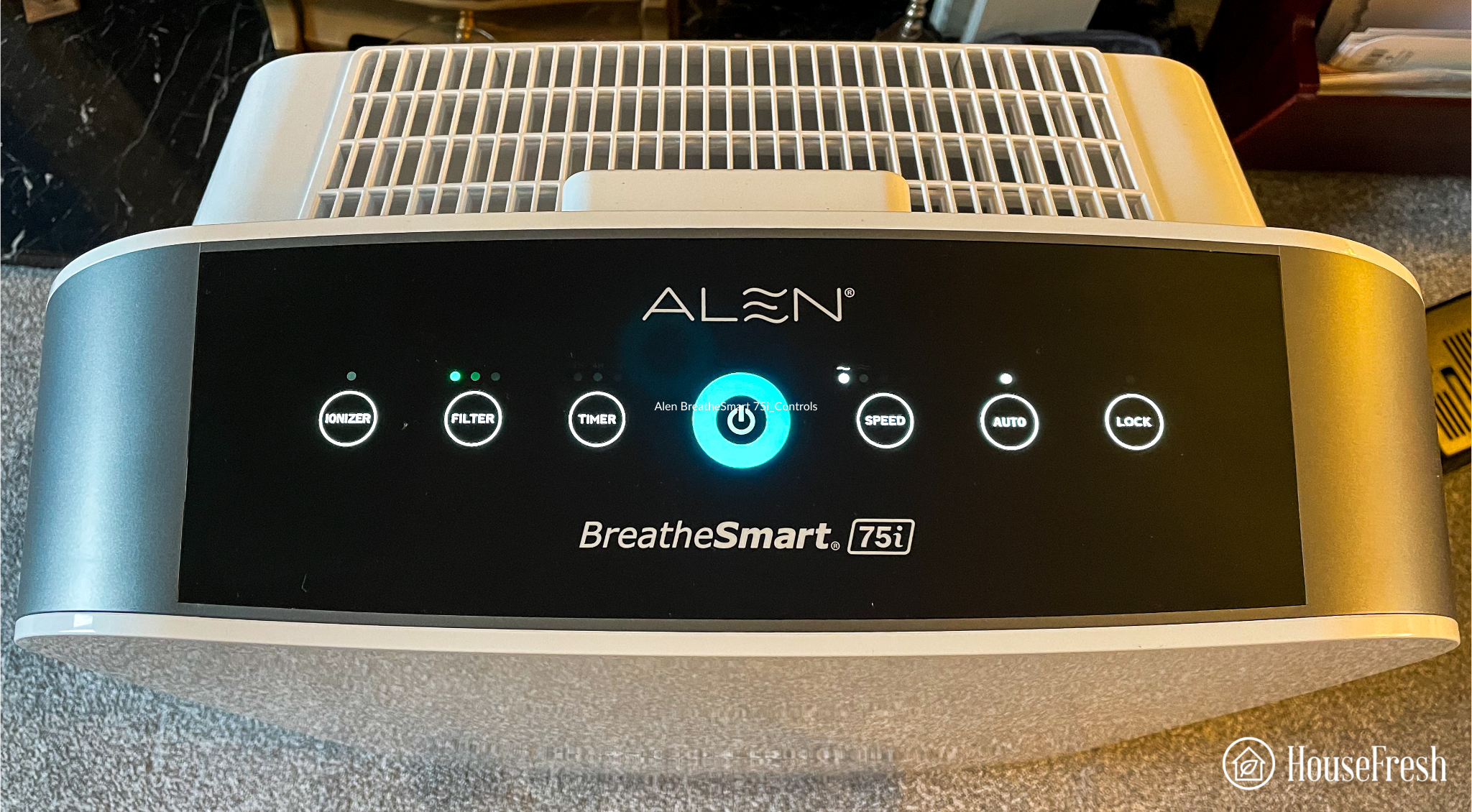 SPECS & FEATURES
The air purifier with the most comprehensive suite of smart functionalities to keep your home air clean and odor-free with no effort on your end.
When it comes to dealing with the large amount of shed fur flying around, dander triggering your allergies and stubborn pet smells, Mila's smart features have you covered.
Equipped with eight air quality sensors and an onboard computer, Mila will scan the air in your home and get to work with the power and fan speed your environment needs the moment it needs it. That also means energy efficiency at its best. 
Another remarkable feature of this air purifier is that you can choose from seven different filters to customize the unit to your needs. For pet-friendly homes, I'd go for the thorough Critter Cuddle because of the H13 HEPA filter, its 0.84 lb of activated carbon and the included Mila Sock, a washable soft mesh that will prevent large particles and fur from reaching the main filter.

However, if stubborn odors are your main concern, then the Home Wrecker may be a more suited choice. The 1.96 lbs of activated carbon on this unit will take care of any pet-related smells.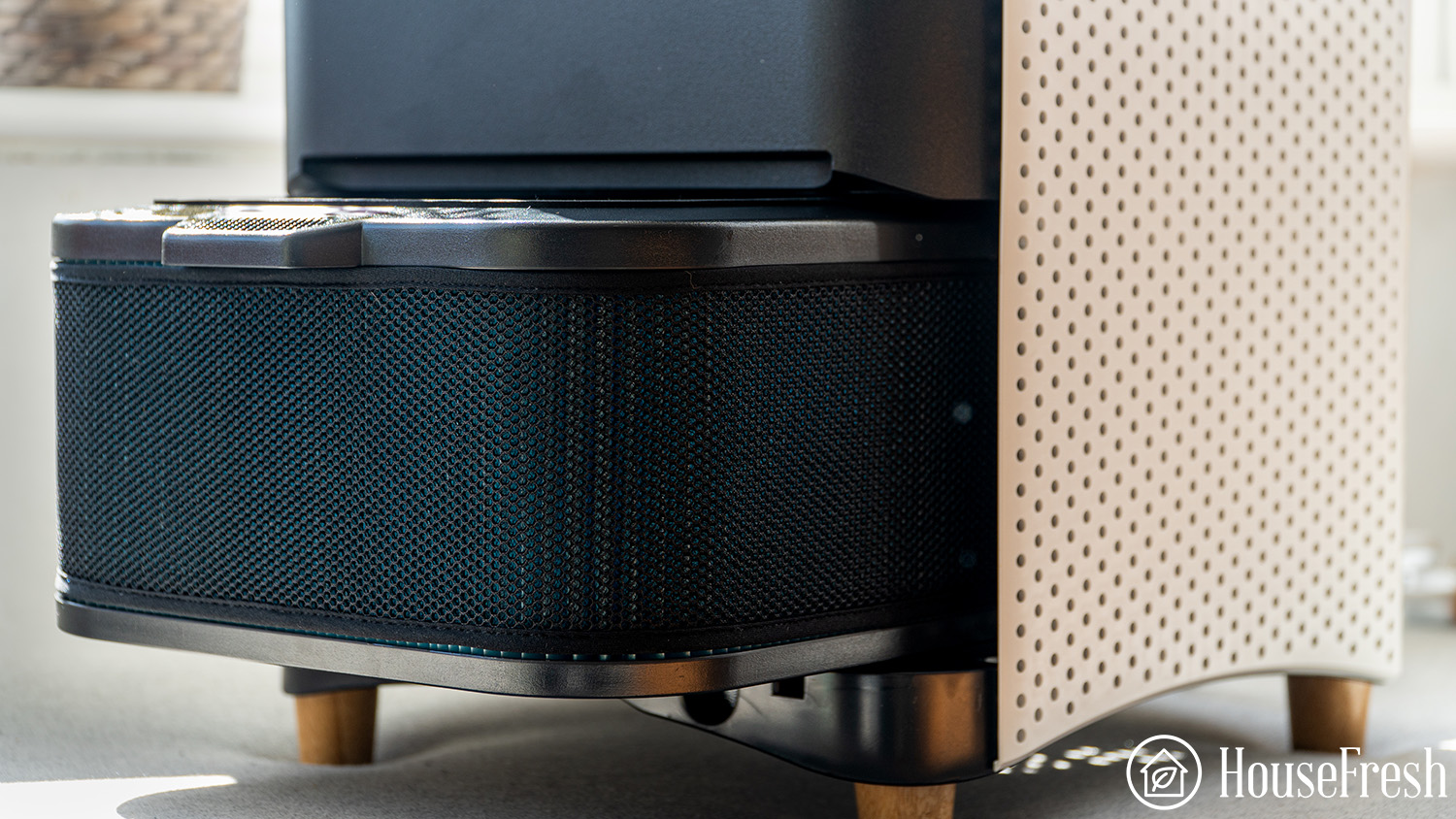 SPECS & FEATURES
Low initial price, accessible replacement filters and Levoit's comprehensive three-stage filtration to remove particles and odors.
Levoit's Core 300 is a straightforward and cost-effective option if you are looking for an affordable yet reliable air purifier capable of removing pet odors and dander in smaller rooms of up to 219 sq. ft.
At its price point, it doesn't have fancy features such as auto mode or app support, but it boosts a solid performance. It was able to clean our test room in 40 minutes from all airborne pollutants – only a minute slower than the smart 300S.
It also has a robust filtration system, including a nylon pre-filter, a main pleated filter to capture airborne pollutants (including allergens) and the activated carbon filter with Levoit's air recomposition formula that chemically decomposes foul odors and VOCs. When you look to replace the filter for your Core 300, be sure to choose the Core 300-RF-PA, which has been designed specifically for pet odors.
The cylindrical design allows for a comprehensive air intake, drawing particles and smells from a 360º radius. So, if your pet is curious about the new gadget in the house and likes to sit close to it, the purifier will still do its magic, suctioning air from a broad area.
The Core 300 is also very easy to use and set up. The simple one-touch control panel is intuitive and uncomplicated. It has three fan speeds and a lock button to prevent mischievous pets from changing the setting. Plus, even with a low price tag, this unit runs silently at 24dB at the lower fan speed to avoid disturbing your furry friends.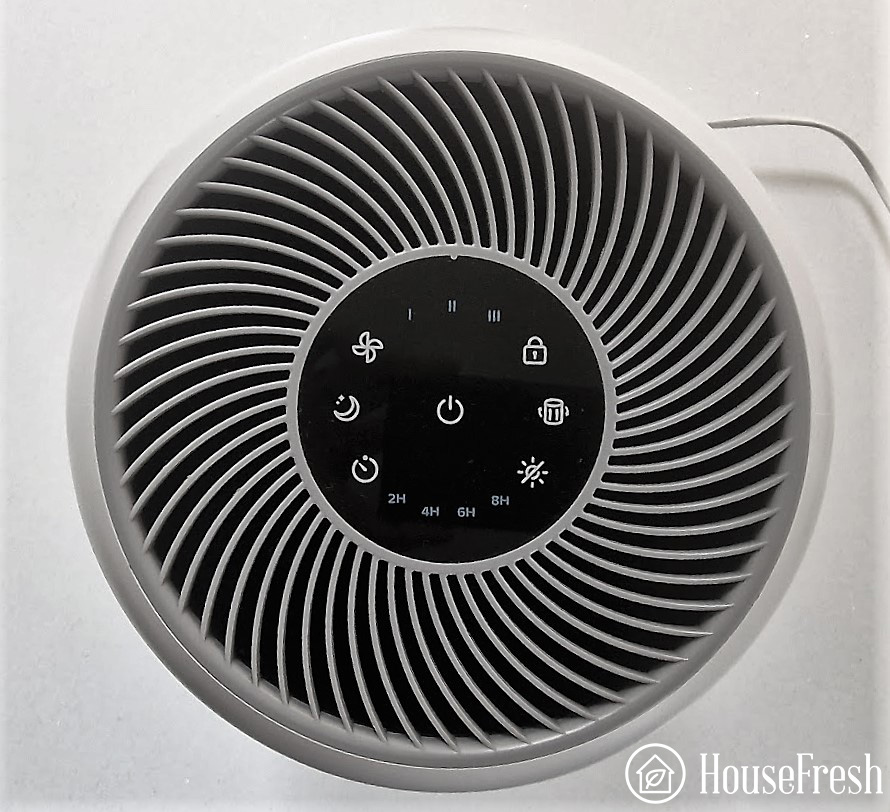 SPECS & FEATURES
A straightforward (and hefty) powerhouse with a 15 lb activated carbon and zeolite filter that excels at removing stubborn, pungent odors and VOCs.
The HealthMate is an air purifier to deal with severe smells that no regular air filter can tackle — say, old cat urine on the carpet or an unvented area in a home with several pets. It's a large and heavy unit; it's expensive and definitely not the quietest air purifier (it reaches 40dB at the lowest fan speed, while the average, based on our tests, is 29dB).
But when it comes to removing VOCs and odors, no unit matches the massive amount of activated carbon in the HealthMate. The complete filtration system also includes a True HEPA filter and two prefilters for large and medium-sized particles. The comprehensive four-staged filter is also long-lasting; it only needs replacement every five years.  
The Austin Air is an efficiency-oriented unit. There's no complicated control panel but just one dial to choose from three fan speeds. However, this also means there are no built-in sensors or auto mode. Instead, the HealthMate is a straightforward, powerful option for users looking for uncomplicated, practical solutions.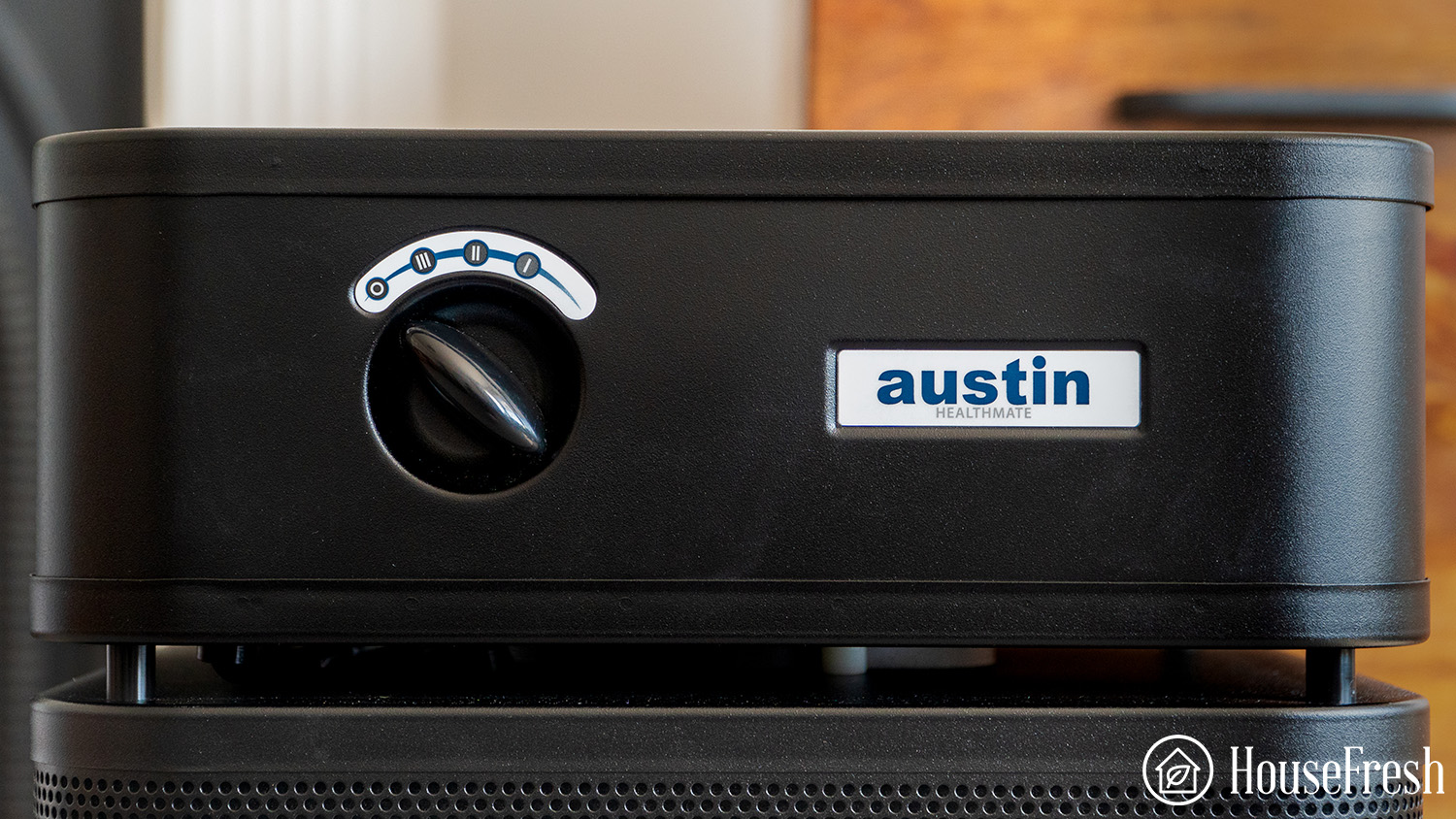 SPECS & FEATURES
---
Other units we tested but don't recommend for pet odors:
Pure Enrichment PureZone Mini: As a portable air purifier, the PureZone Mini lacks the power to make meaningful air changes in your living spaces. This tiny and lightweight purifier has a limited CADR of 10 CFM; it's better suited for places like a car.
Blueair Blue Pure 411: Blueair purifiers combine mechanical filtration (that's the prefilter, HEPA and activated carbon filters) with ionizer technology that can't be switched off. While ionization makes an air purifier more efficient at removing small air pollutants, it's not as efficient for larger particles such as dust and pet hair. Besides, the process releases chemical by-products that can cause health issues to humans and pets.
Levoit Core Mini:  This is a reasonably powerful unit for its mini size. But its CADR of 32 CFM and room coverage of up to 178 sq. ft. are not tailored for the average room, even in small apartments. Besides, with smaller filters than the bigger brothers (Levoit Core 200S or 300), you'll need to replace them more often. Yet, with similar filter costs, it results in higher overall expenses.
---
What to look for when buying an air purifier for pet odors
On top of ensuring a healthy, happy life for your pet, good pet-parent practices make a significant difference in the air quality of your environment. But that's not always enough to achieve the odor-free home you probably want if you landed on this page.
With the right purifier, you could turn the tables and remove once and for all those lingering unwanted pet smells. To find out if the unit you are considering is the right one for the job, these are a few questions that will guide you in your search:
1. Does the air purifier have the right filters?
When it comes to pets, a three-stage filtration system is the most comprehensive option, as it includes a prefilter, a HEPA filter and activated carbon. Let´s double-click on each one:
Stage 1: Prefilters
These are designed to pick up larger particles (such as pet hair) before they reach the main filter. Their key function is to prevent fur from clogging the HEPA, thus extending its lifespan. Removable prefilters are more straightforward to clean; some are even washable to rinse out the shed fur effortlessly.
Stage 2: Main HEPA filter
High-efficiency particulate air filters are made of pleated sheets that create a maze of randomly assorted fibers capable of capturing at least 99.97% of airborne particles, including dust, pollen and pet dander. Besides, a robust filter is vital in removing allergens from your indoor air. 
Stage 3: Activated carbon filter
This is the layer that will remove unwanted pet smells—the carbon works by absorbing odors (and VOCs) that pass through the filter.
2. Is the air purifier capable of dealing with your room size?
This is a key issue when choosing the right air purifier for you. A unit suited for smaller rooms won't be able to make the air changes per hour (ACH) needed to clean the air in large spaces. Therefore, it won't be efficient at removing the odors and lack the power to remove all airborne pollutants.
On the other hand, a more powerful air purifier suited to clean ample spaces usually has a higher energy consumption rate, resulting in unnecessary and monthly extra costs if used in smaller rooms.
This is where the unit's CADR (Clean Air Delivery Rate) comes in, indicating its cleaning performance in CFM (Cubic Feet Per Minute). We've included each unit's CADR and room size recommendation in our spec tables. But those are standard measurements. Find the exact CADR you need with our CFM Calculator; it bases the results on the EPA airflow recommendations to improve indoor air quality: an ACH of 4.8. 
3. Does the unit produce any chemical by-products?
Ozone-generating and ionizer features are often found in air purifiers to enhance their performance. While these promise to remove odors and particles more efficiently, the fact is that both technologies are proven to be harmful to pets and people.
Ozone is a dangerous gas that reacts with chemicals in the air, creating further toxic VOCs. In fact, it can temper the sense of smell, masking existing odors but not actually removing them.
Ionizers emit ions (electrically charged particles) that attach to airborne particles, forcing them to stick onto surfaces such as walls, floors and furniture and settle out of the air. However, while this may work for small air pollutants (such as the ones in tobacco smoke), it's not effective against larger particles like pollen or pet hair, nor gases or smells. Yet, the ionization process releases toxic VOCs into the air, including ozone and hazardous ultra-fine particles.
So, it's much safer to rely on mechanical air filtration such as the one provided by the three-stage filtration system of ozone-free, non-ionizing air purifiers.
---
Frequently asked questions about air purifiers and pets
Final thoughts
As much as we love the four-footed members of our family, there's no denying that they produce smells (some more unpleasant than others). Taking good care of them, with frequent grooming, healthy food and periodic visits to the vet, is a solid step forward in reducing their odor. Regular home cleaning makes for another important element in the equation. But that's not always enough.
If that's the case, a top-quality air purifier is, without a doubt, the thing you are missing to achieve the fresh-smelling home you want. Just ensure the purifier you decide to invest in has an activated carbon filter and can manage the room size you'll place it in. 
Last update on 2023-11-30 / Affiliate links / Images from Amazon Product Advertising API