Our verdict:

Our winner is the Levoit Core 300S. The Core 300S outweighed the Core 200S significantly in our air cleaning performance tests and is less than two inches bigger.
They both have similar controls and the same noise output, but the 300S beats the 200S with its higher CADR.
If you've researched air purifiers, you're likely to have come across the brand Levoit. Since 2017, this company has been producing innovative air purifiers at price points that suit every consumer.
One of the latest innovations from Levoit comes in the form of their 'S' (aka smart) range. Levoit realizes that modern household devices are frequently becoming more reliant on app-based controls; I mean, who wants to get up to adjust settings these days?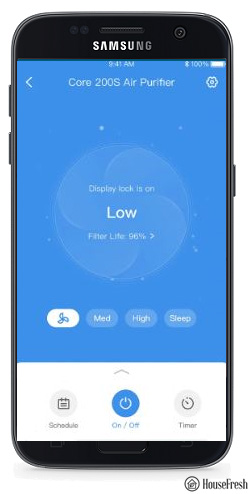 Therefore Levoit has developed, what they call, the VeSync app that allows you to monitor and control your air purifier from anywhere in the world with a WiFi connection. Available on both Apple and Android devices, you can:
Adjust modes and fan speeds
Monitor your current air quality
Receive important notifications about your device
💡 Pro Tip: Also if you have more than one Levoit S device in your home, you can control each one through the same app.
Both the units we're pitting against each other have this capability and many other similarities, but when it comes down to it, which air purifier do you want to spend your hard-earned dollars on?
We will evaluate each unit in sections to show you the similarities and differences between the Core 300S and the Core 200S, choosing a winner for each category. Then we'll put it all under consideration and choose an overall winner.
TL;DR Which Unit Wins Overall?
---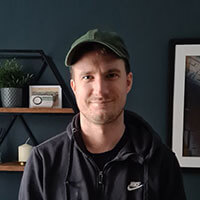 "It's more powerful and a little bigger, but the Levoit Core 300S is the perfect ratio of power to cost. In comparison, the 200S will cost the same long term but will always be struggling unless you use it in a tiny room."
— Danny Ashton, Founder & Senior Writer
---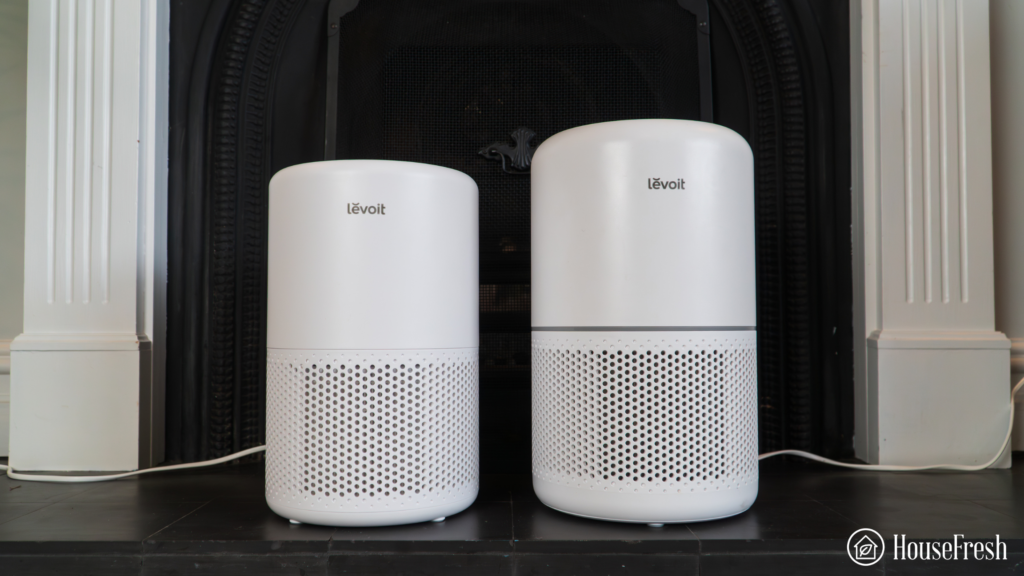 Need that clean air faster than it takes to read this article? Don't worry; let me summarize it into bullet points for you.
The overall winner…The Levoit Core 300S!
The Pros and Cons Compared
Levoit Core 200S
Levoit Core 300S
What We Really Like
What We Really Like
👍 Not an intrusive size
👍 Controls are easy to navigate
👍 The fan is barely noticeable in sleep mode
👍 Easily connects to app
👍 Great CADR for price
👍 Contains H13 HEPA filters
👍 Has a timer and auto mode
👍 Color-coded wheel to monitor air quality
What We Think Could Be Better
What We Think Could Be Better
👎 Doesn't have an air quality indicator
👎 Only comes in white
👎 Can't remove the pre-filter to clean
👎 You can't remove the pre-filter to clean
👎 Design is a little lacking in creativity
👎 Wish it contained more activated carbon
The Specifications Compared Side-by-Side
🥇TL;DR: When it comes to specifications, the Core 300S is a clear winner with it's higher CADR, larger room coverage and it cleaned the air in our performance testing room 22 minutes faster than the 200S…oh, it's also three grams lighter.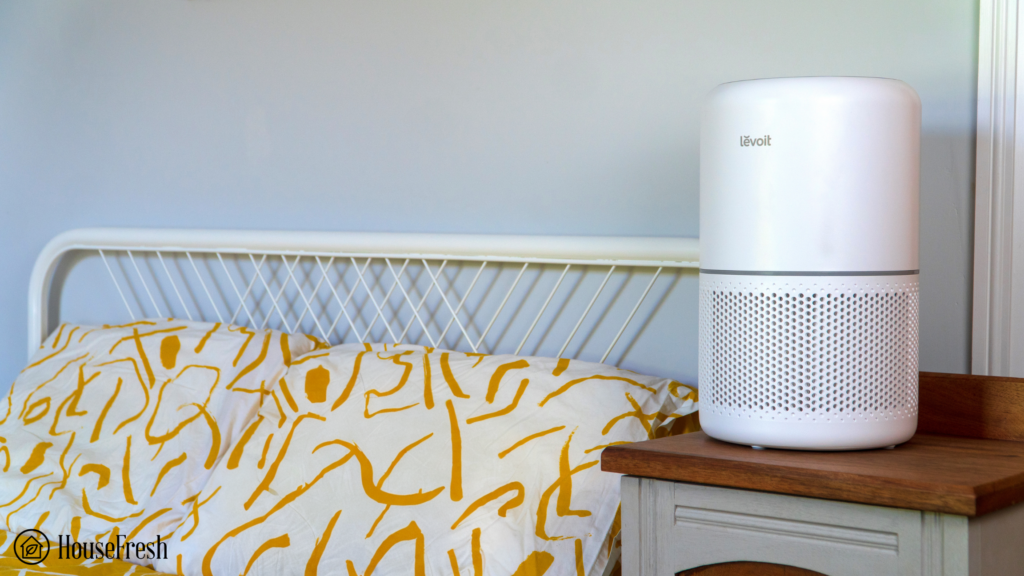 When you put the specifications of these two units side-by-side (which we have…scroll down), the data from both Levoit and our performance tests show us that the 300S wins hands down.
Even though these two are similar in size, the 300S boasts a CADR (Clean Air Delivery Rate) of 141 CFM (Cubic Feet per Minute), while the 200S hangs behind with 118 CFM.
| | | |
| --- | --- | --- |
| | Levoit Core 200S | Levoit Core 300S |
| HouseFresh Rating: | ★★★☆☆ | ★★★★★ |
| Time to clean our test room: | 61 Minutes | 39 Minutes |
| Air purifier technology: | Nylon Pre-Filter, H13 True HEPA Filter, High-Efficiency Activated Carbon Filter | 3-Stage H13 True HEPA Filtration with Activated Carbon |
| Recommended room size: | 183 sq. ft. | 219 sq. ft. |
| Clean air delivery rate (CADR): | 118 CFM | 141 CFM |
| Dimensions (in inches / in cm): | 12.6H x 8.07W x 8.07D inches (32H x 20.5W x 20.5D cm) | 14.2H x 8.7W x 8.7D inches (36H x 22W x 22D cm) |
| Weight (in pounds / in kg): | 6.6 lbs (3 kg) | 5.95 lbs (2.7 kg) |
| Filter life: | 6 – 8 months | 6 – 8 months |
| Noise level (low – high): | 24 – 48dB | 24 – 48dB |
| Estimated energy consumption: | $30.48 per year | $52.56 per year |
---
The Look & Design Elements
🥇TL;DR: When it comes to the design aesthetics, we've chosen the Core 200S as our winner. This was a close call as they both look so similar, but I think the 200S looks slightly more modern and ergonomic.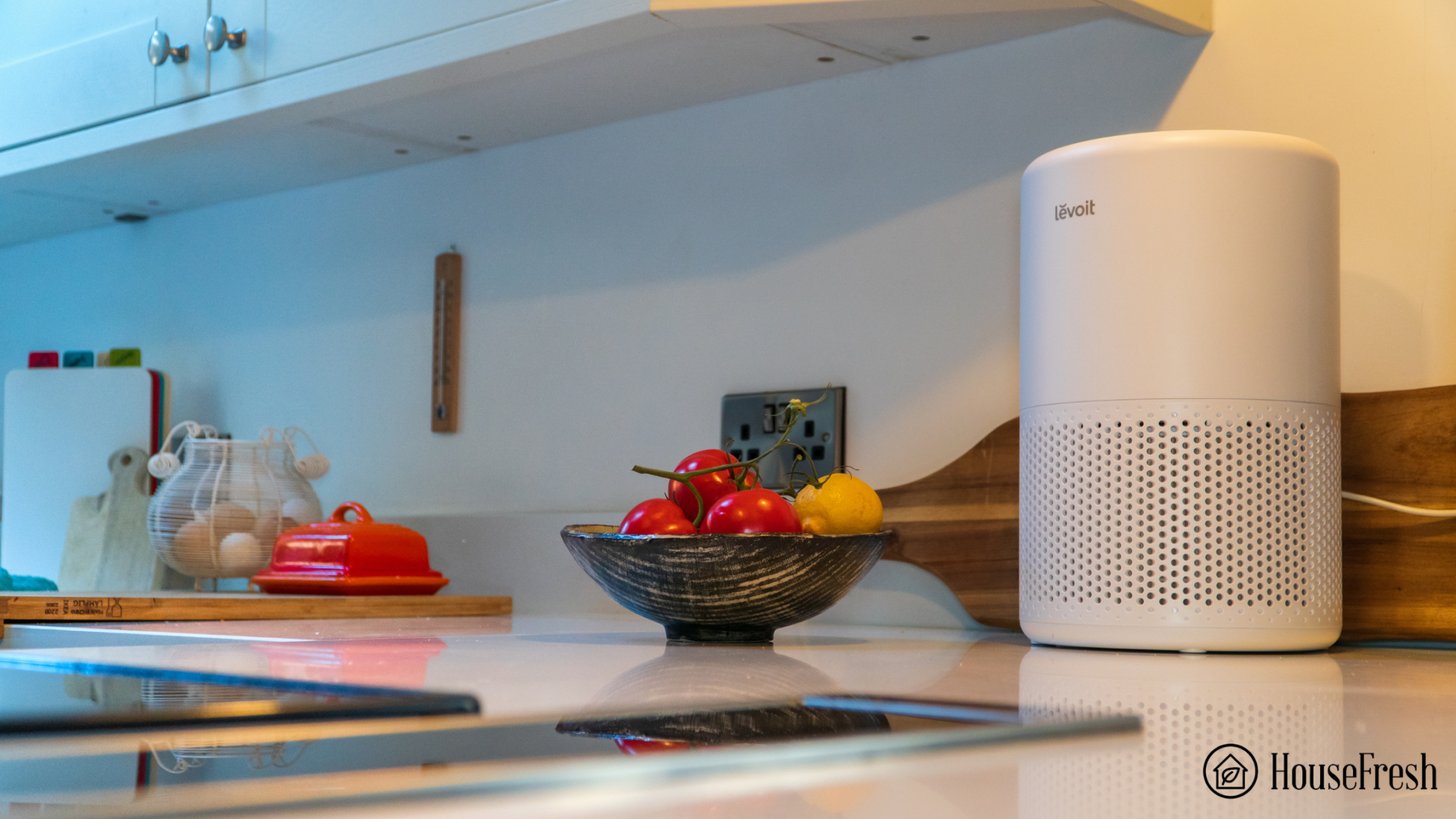 When you compare them to designs from Blueair or Coway, Levoit's Core range aren't the best-looking air purifiers out there, but they're also not the worst. These air purifiers look incredibly similar, with the 300S having a band around its middle and a fraction bigger, but that's about it.
I chose the 200S as a winner merely because it looks a little sleeker than the 300S.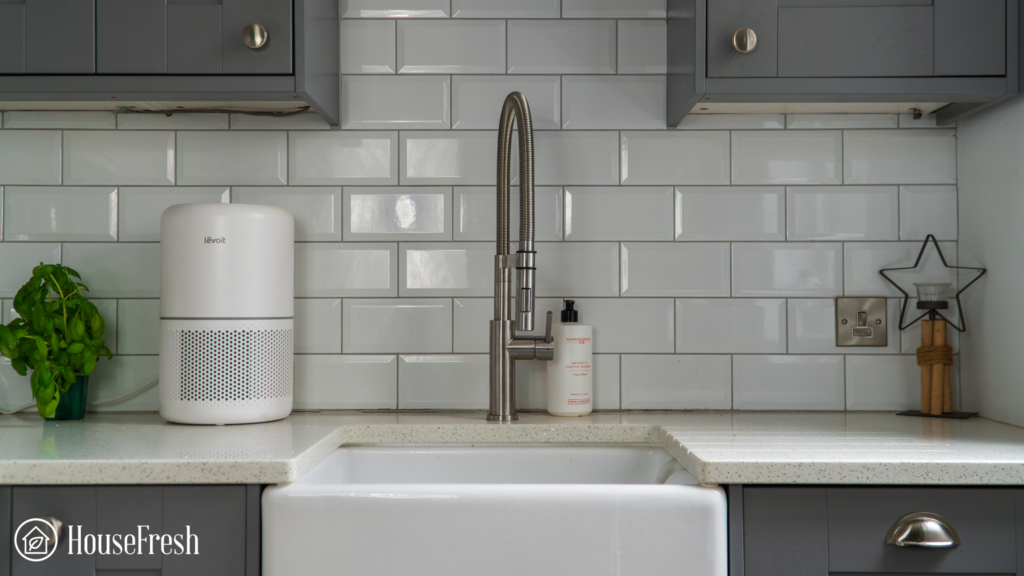 A great design point that both air purifiers possess is that they're so easy to move between rooms. The 200S weighing 6.6 lbs, and the slightly larger 300S, weighing 5.95 lbs, easily fit underneath your arm when transferring them to a different space.
As you can see, the differences are few and far between. Apart from the slight size difference, the recessed top grill and the gray band around the middle of the unit, you couldn't tell them apart.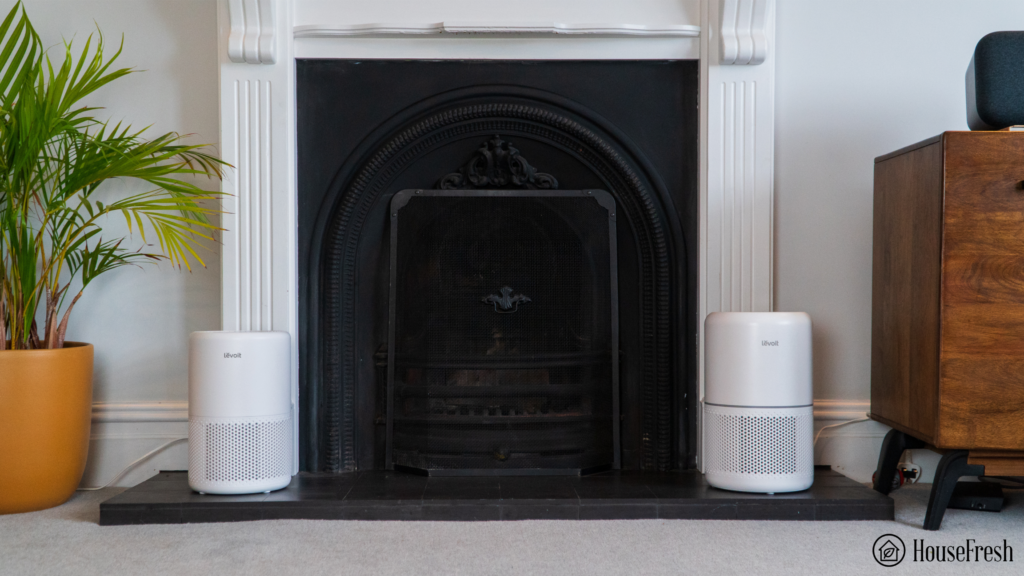 ---
Ease of Use and Control Panel Design
🥇TL;DR: When it comes to the control panel, the winner has to be the Core 300S. This is a tricky one because both controls have different pros, but what made the difference in my eyes was that the 300S has a color-coded air quality monitor ring and an LED display to show how long your timer is set for.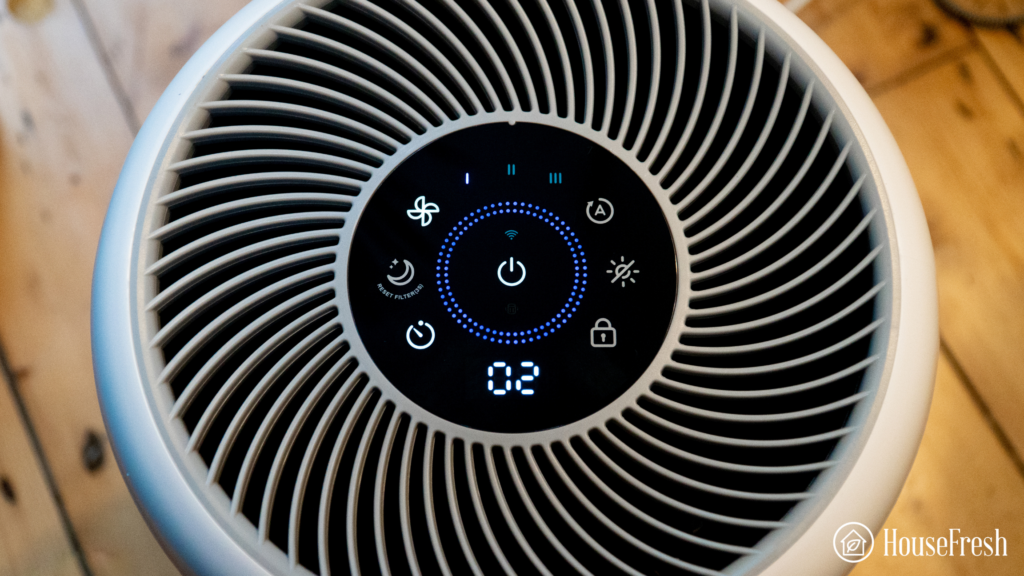 First, let's look at the 300S. The design and layout are similar to Levoit's Core 300, with a few subtle differences. The 300S comes with the addition of AirSight Plus™ technology that monitors the air quality in your room in real-time. The information is then displayed on the control panel as a color-coded light ring.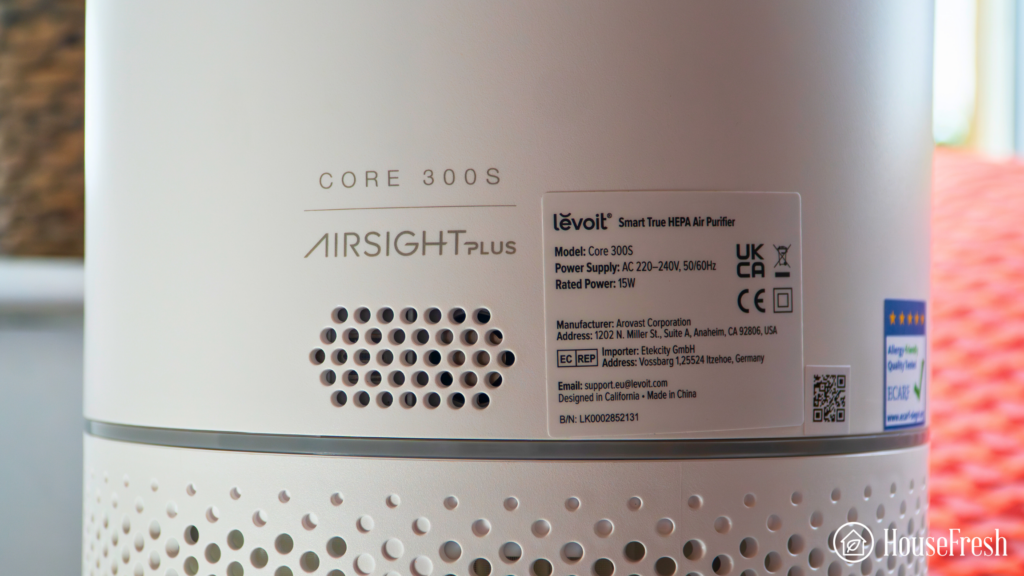 The 300S also has an auto mode controlled by the information from the air quality sensor.
When in auto mode, the 300S will change its fan speed in accordance with the PM2.5 in the air. A low PM2.5 (good air quality) will set the fan to its lowest speed, and a high PM2.5 (bad air quality) will increase the unit's fan speed.
Along with auto mode, the 300S also features four fan speeds, including sleep mode, display lock, display light control and a timer that can be set to any countdown from 1-12 hours and uses its LED screen to display.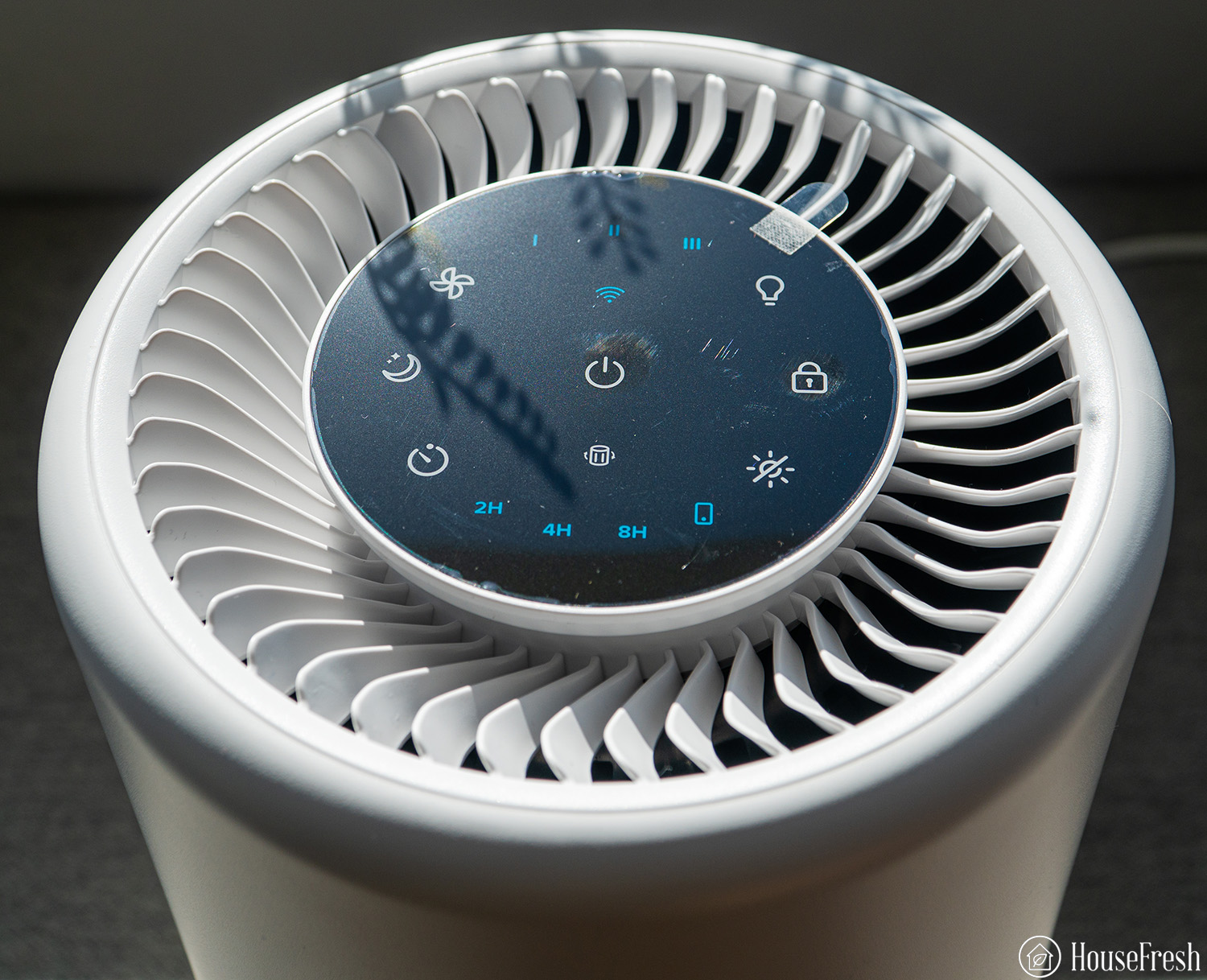 The 200S also comes with sleep mode, display lock, display light control and a timer, but can only be set to 2, 4 or 8-hour countdown. Unfortunately, the 200S doesn't include Levoit's AirSight Plus™ technology which, in turn, means there is no auto mode, and you can't monitor the air quality in your home.
The controls on the 200S also has a filter indicator light that illuminates when the filters are ready to be replaced and a button that turns its night light on and off, which doesn't appear on the 300S.
---
Air Filtration Technology
🥇TL;DR: When it comes to filtration technology, the Levoit Core 300S wins in our view due as you can customize the filter to your needs with four different replacements to choose from.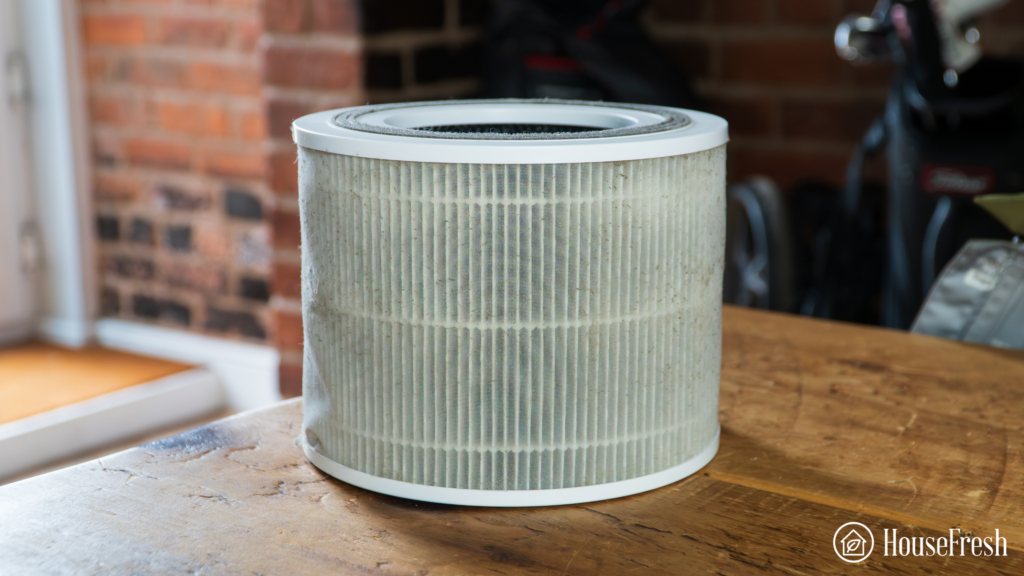 Levoit's 'original' filter that's included with your 300S has three stages made up of
A pre-filter – This is the first line of defense against harmful airborne contaminants. Its fine mesh traps larger particles like dust, removing them from the air. This layer also (if properly maintained) prolongs the life of the HEPA filter.
H13 True HEPA – Also known as 'medical grade,' an H13 HEPA filter can remove up to 99.97% of microscopic pollutants from your air by capturing them in its tiny woven maze of fibers.
You can replace the original filter with three other types of filters. If you have pets, the Pet Allergy Filter is engineered to tackle removing pet odors and alleviating allergies. If you live in an area with high levels of smoke, fog and VOCs, go for the Toxin Absorber. For ultimate protection, there's the four-stage Smoke Remover Filter that includes Custom High-Efficiency Activated Carbon.
Technology
H13 (Medical) Grade HEPA and Activated Charcoal
3-in-1 HEPA, High-Efficiency Activated Carbon
3-in-1 HEPA, High-Efficiency Activated Carbon
4-in-1 HEPA, High-Efficiency Activated Carbon
3-in-1 HEPA, High-Efficiency Activated Carbon
With the 200S, there is only one filter option available, but that doesn't mean that it's bad. Levoit includes a three-stage circular filter comprising a nylon pre-filter for larger particles, an H13 True HEPA filter and an activated carbon filter.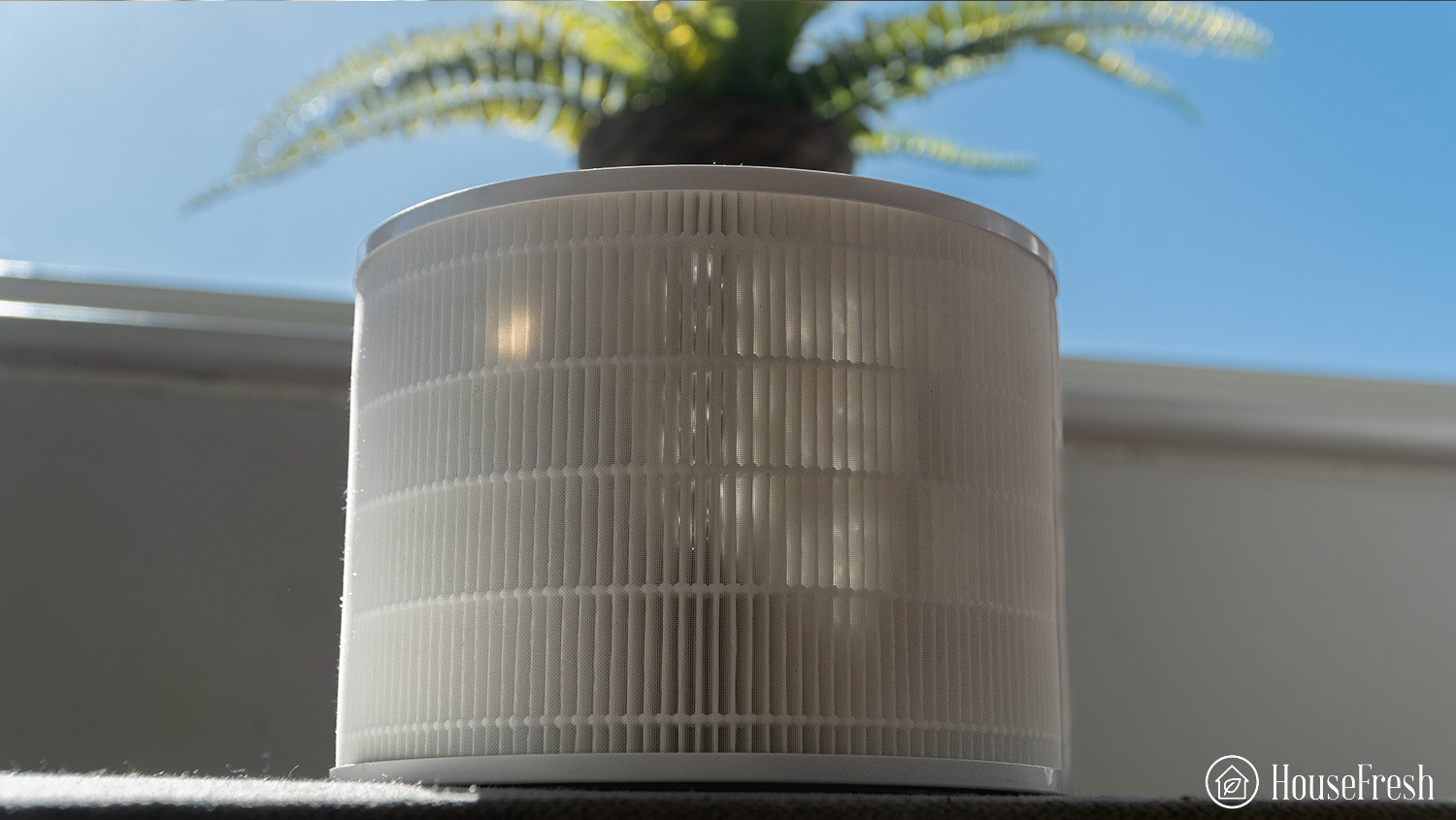 ⚠️ When you receive your new unit, along with all of the exterior packaging, remember to open up your air purifier before you turn it on. You will most likely find that the filter is also packaged in a plastic bag.

If you don't remove this bag before operating the unit, a. the filter won't work and b. It will probably start to smell like burning plastic.
---
Air Cleaning Performance Test Results Compared
🥇TL;DR: When it comes to air cleaning performance, the Core 300S triumphs again. In our own performance tests, we discovered that the 300S cleared our room of contaminants 22 minutes faster than the 200S.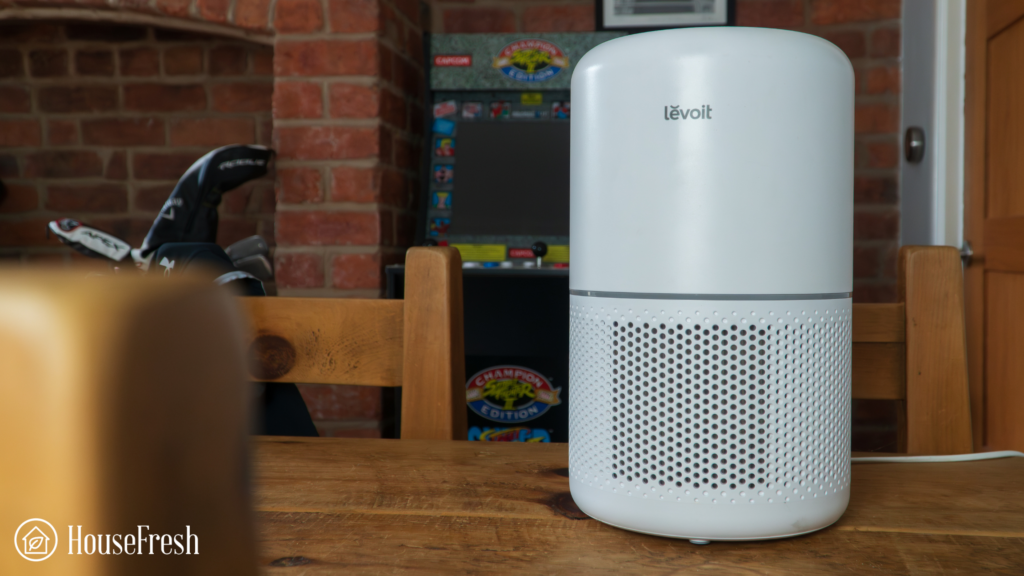 We've found that so many air purifier review sites rely on data given by the manufacturers. These results are usually collected from tests conducted in clean rooms or lab-type conditions, which isn't at all like the rooms in our homes.
That's why we conduct our own performance tests in a real room, in a real home.
For every unit we review on HouseFresh, we use a 705 cubic foot office to conduct our tests.
This consists of:
Filling the room with simulated pollution. We don't want to fill our room with exhaust fumes or smoke from a fire, so we light an incense stick and wait for it to occupy the whole room.
We then turn on the air purifier at its highest speed and measure how long it takes to remove all the contaminants from the room.
To collect accurate data, we use an indoor sensor from Purpleair that provides us with real-time updates on the amount of PM1.0ug/m3, PM2.5ug/m3 and PM10.0 ug/m3 in the air.
Once the unit eliminates all of the simulated pollutants, we can calculate how long the process took and put the information into a graph to evaluate.
Even though many of the features of the 300S and the 200S are extremely similar, our performance tests showed a big difference in the effectiveness of their air-cleaning abilities.
When you look at the CADR of each unit, 300S = 141 CFM, 200S = 118 CFM, you know that there will always be a difference in performance…and it shows.
The 300S outperformed the 200S hands down with a whopping 22 minutes difference in the time it took them to clear the pollutants from our room.
The 300S Cleared Our Test Room in 39 Minutes
The 200S Cleared Our Test Room in 61 Minutes
When you look at their performances side-by-side it's easy to see how they compare to each other and similar air purifiers on the market.
---
Noise Levels Test Results Compared
🥇 TL;DR: There can be no clear winner when it comes to noise levels as both units emit the same amount of noise… this one is a draw.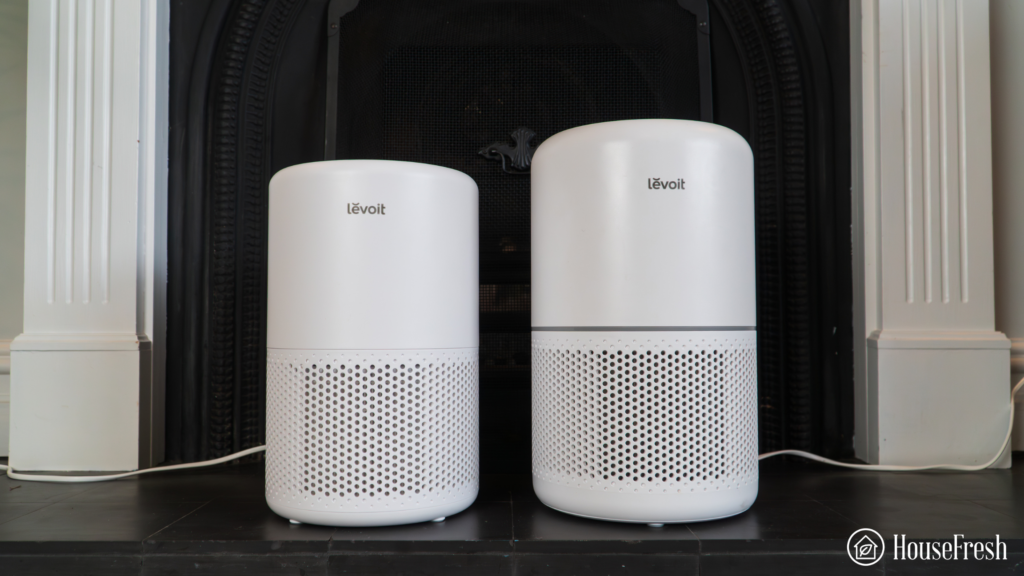 A lot of brands like to label their air purifiers with buzz words like 'Whisper quiet' and even Levoit class the 300S as "quiet as a gentle breeze," but no unit can be completely silent.
Air purifiers contain a fan and motor to run it that both make noise when they're active, so it becomes a matter of how big the fan and motor are, how hard they're working and how well made they are that dictate how loud or quiet an air purifier is.
Both the 300S and the 200S produce the same amount of noise at each fan speed. On their quietest setting, Sleep Mode, they emit 24 dB (equivalent to a whisper or a watch ticking).
At their highest fan speed, they emit 48 dB (equivalent to a normal household noise or a fan whirling).
This means at Sleep Mode, they are unnoticeable unless you put your ear next to it and you can hear them at full speed, but they won't make you put earplugs in.
When you compare them to the noise levels of other air purifiers of the same size, you see that they are quieter than most.
---
Cost Associated With Running Each Air Purifier
🥇 TL;DR: When it comes to costs associated with energy consumption and filter replacements, the winner is the Core 200S due to its energy efficiency and lower cost filter replacements.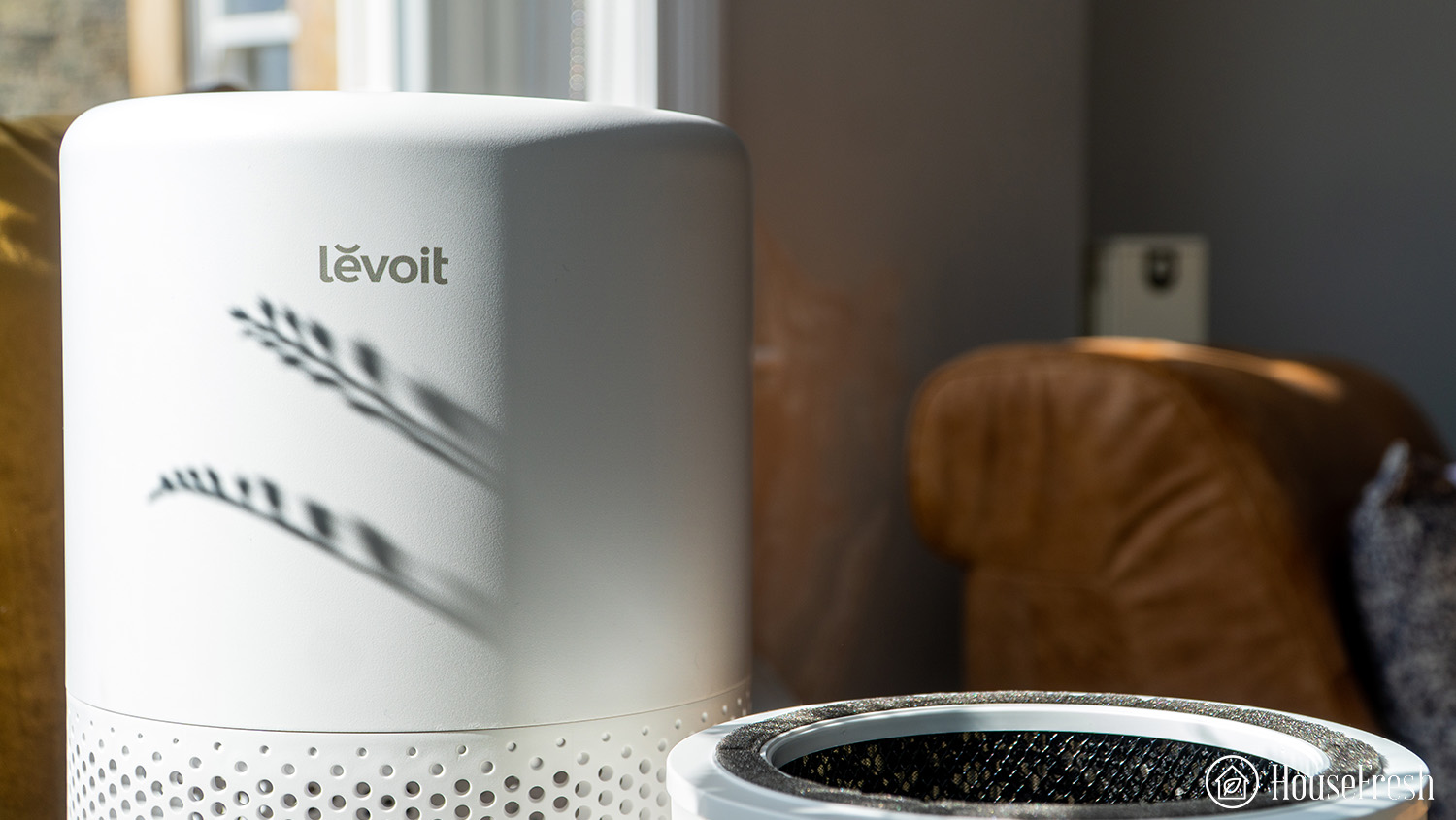 1. Yearly electricity costs = $30.48 (200S) versus $52.56 (300S)
When you buy an air purifier, it's not only the initial cost of the unit you need to consider; you need to think about how much it costs to run…it is an electrical device after all. Not all air purifiers are created the same and the running costs will differ depending on which one you get.
Both these units are highly energy efficient, earning themselves certifications from the California Air Resources Board, Energy Star and the FCC. The Core 200S will cost you, on average, $30.48 a year if you run the unit for 24 hrs a day, 365 days a year. The Core 300S will cost you an average of $52.56 per year. This is due to its higher CADR, as the 300S is working harder than the 200S.
2. Yearly filter costs = $51.98 (200S) versus $59.98 (300S Original Filter)
Another running cost to be considered when choosing the right air purifier for your home is the cost of replacement filters. If you don't replace them when prompted, your air purifier will become less and less effective.
With the 200S, there are only two filter options, an official Levoit replacement or an unofficial version. We've only tested out the official Levoit filters, so we can't testament to the effectiveness of the unofficial version.
The official filters will set you back $25.99 each and the unofficial is significantly cheaper at $23.39 for two. The filter in the 200S has to be replaced every 6-8 months:
Technology
3-in-1 True HEPA, High-Efficiency Activated Carbon, Core 200S-RF
True HEPA Filters Compatible with Levoit Core 200S
Technology
3-in-1 True HEPA, High-Efficiency Activated Carbon, Core 200S-RF
Technology
True HEPA Filters Compatible with Levoit Core 200S
With the 300S, four official filters are available and unofficial versions to match. This time, we only tested the official 'Original' filter, but we're confident the other official filters will be highly efficient. Prices start at £29.99 up to $39.99 for the highest spec replacement. Levoit recommends you replace the filter in the 300S every 6-8 months:
Technology
H13 (Medical) Grade HEPA and Activated Charcoal
3-in-1 HEPA, High-Efficiency Activated Carbon
3-in-1 HEPA, High-Efficiency Activated Carbon
4-in-1 HEPA, High-Efficiency Activated Carbon
3-in-1 HEPA, High-Efficiency Activated Carbon
🤔 Why do you need to change the filter in your air purifier?

HEPA filters are the most efficient way of removing harmful contaminants from the air in your home. They work by trapping microscopic particles in a tightly woven maze of fibers, removing them from the air.

Over time, the maze becomes full of all the particles it has collected, therefore becoming less effective. You need to replace them periodically to ensure your air purifier remains effective.
---
Bottom Line: Should You Get a 300S or a 200S?
Both of these units are high-performing air purifiers with smart features at a budget price.
✅ If you want air quality updates, app control and a great CADR — go for the 300S.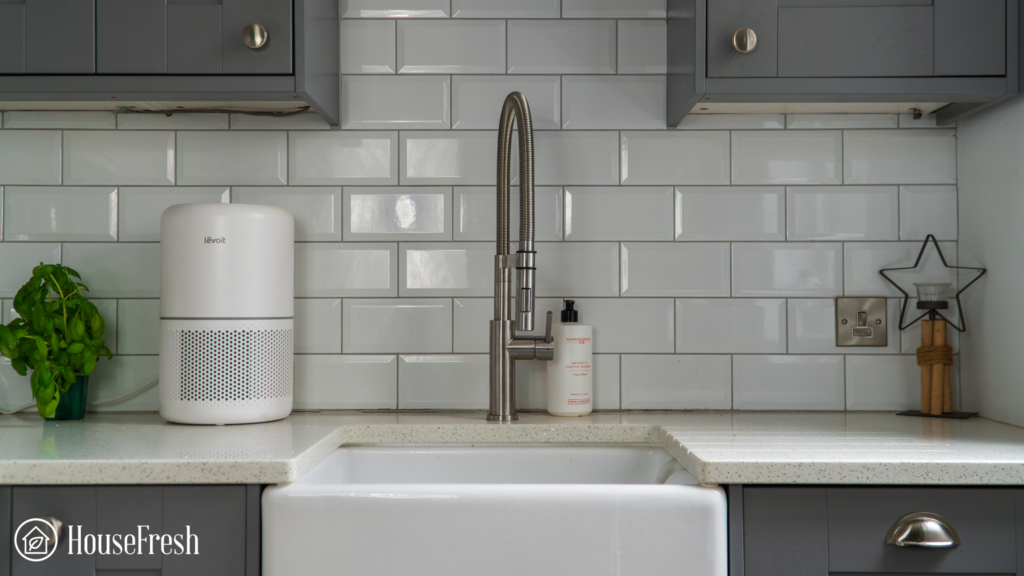 ✅ If you want a slightly smaller unit with lower running costs — go for the 200S.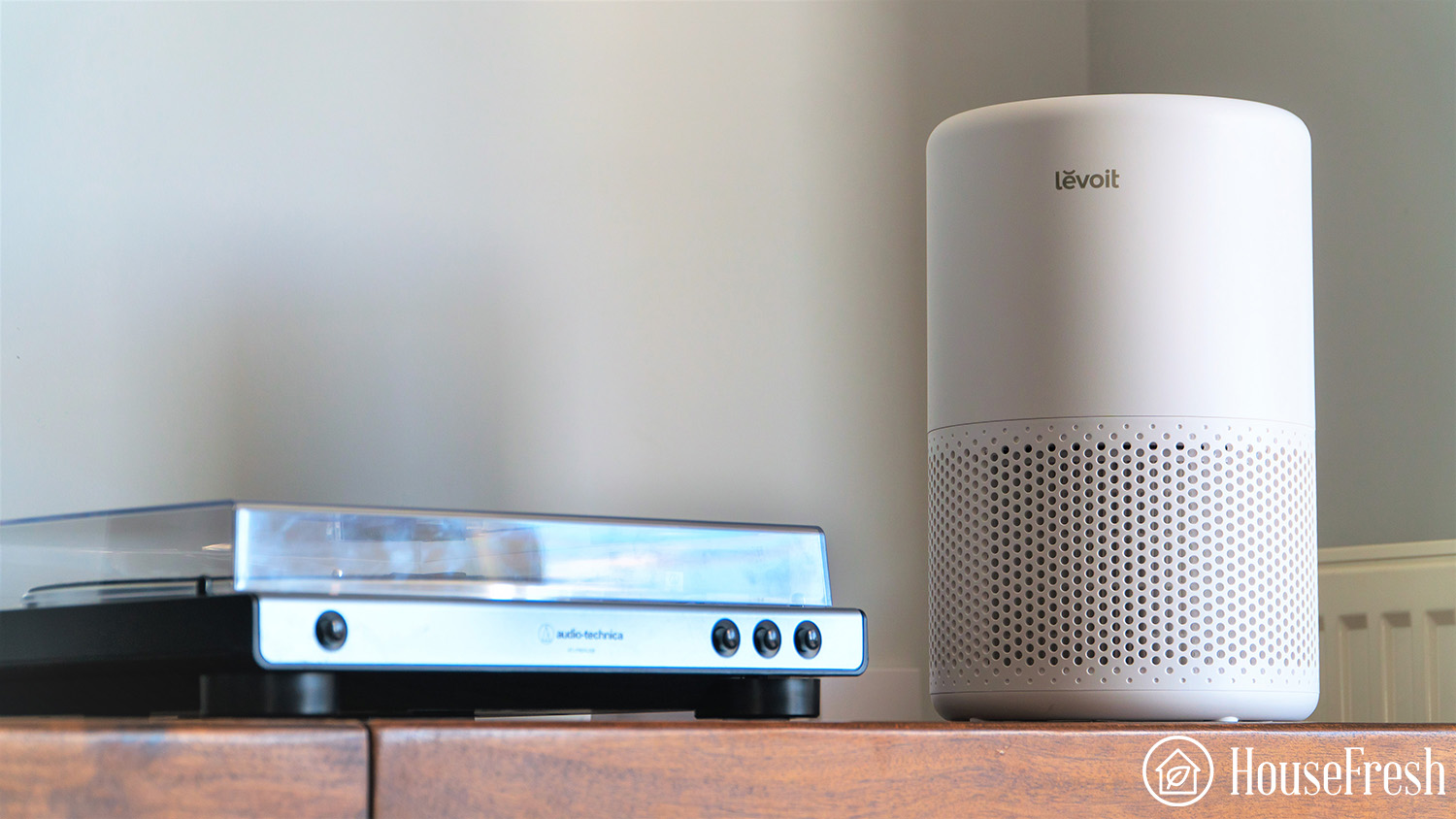 By introducing the Core 300S, Levoit have pretty much omitted the need for the 200S. Yes, it's slightly smaller and doesn't cost as much to run. Still, when it comes down to performance and efficiency, the 300S surpasses the 200S…all for an extra $50.
---
SOURCES
We calculated the monthly energy consumption costs with the help of the Department of Energy's appliance energy calculator. We calculated yearly costs associated with running the Core 300S & 200S for 24hs a day for 365 days. We ran this calculation utilizing the U.S. average utility rate of $0.12/kWh as of 08/03/23.
Why You Should Trust This Product Comparison Spotlight

Here at HouseFresh, we don't want just to throw data and information about air purifiers that we find on the internet; that's why we buy every unit we review with our own money. This gives us the freedom to give open, accurate and, most of all, honest, unbiased reviews.

Having the opportunity to operate and test each unit in real-world scenarios allows us to give you the information that matters. It also allows us to find those niggly little problems that don't usually come up on other review sites.

How We Tested Each of These Two Units

Buying and handling each unit ourselves gives us the opportunity to test their performance in an actual room, in an actual home, not under lab conditions where manufacturers usually collect their data.

We conduct all our performance tests under the same conditions to give you reliable, accurate data so that you can compare products side-by-side to decide on which air purifier best suits your needs.

Here's what we do:

1️⃣ We test each unit's cleaning performance by lighting an incense stick inside our testing room (sized 705 cubic ft). We close the door and window to create as much thick smoke as possible.
2️⃣ We then turn on the unit at its top fan speed and wait.
3️⃣ We track its performance using a PurpleAir Touch Indoor Air Quality Monitor. This device shows us the exact amount of PM1.0ug/m3, PM2.5ug/m3 and PM10.0 ug/m3 in the air every few minutes.
4️⃣ When the incense smoke has been cleared from the air, we collect all the data and put it into a graph.
5️⃣ To identify each unit's energy consumption levels, we plug them into an electricity usage monitor at its highest and lowest fan speeds.
6️⃣ To determine how much noise each unit makes, we activate a sound level meter at the air purifier's highest and lowest speeds.
7️⃣ To make informed comparisons, we visualize all this data in charts so that it's easier to understand in an easy-to-read format.
Last update on 2023-09-16 / Affiliate links / Images from Amazon Product Advertising API