Our verdict:
The Levoit Core 400S has excellent performance to $$ rate and even comes with features usually only found in high-priced air purifiers.
This makes the Core 400S our top recommendation for those looking to clean medium-sized rooms and want to get good cleaning power for $ spent. The only downside is the price of filters, at $50 that soon adds up but the good news is that there are cheaper generic filters already available for around $30. It is also a worthy upgrade to the mighty Levoit Core 300.
Levoit is a respected brand in the world of low-priced air purifiers and the Core 400S is their latest model that is aimed at medium-large sized rooms with a CADR of 247 Dust/ 244 Smoke/ 269 Pollen (cfm) which can clean the room five times in one hour for rooms sized 403 sq. ft. (perfect for allergy sufferers) or clean a 1005 sq. ft space twice in an hour (general usage).
Why You Can Trust This Review
As with all the air purifier reviews we do here at HouseFresh, we bought the Levoit Core 400S with our own money and have no existing relationship with Levoit or any air purifier manufacturer. This allows us to be free to tell you if an air purifier we have tested is not worth your money because there is nothing in it for us if you were to avoid buying a specific unit.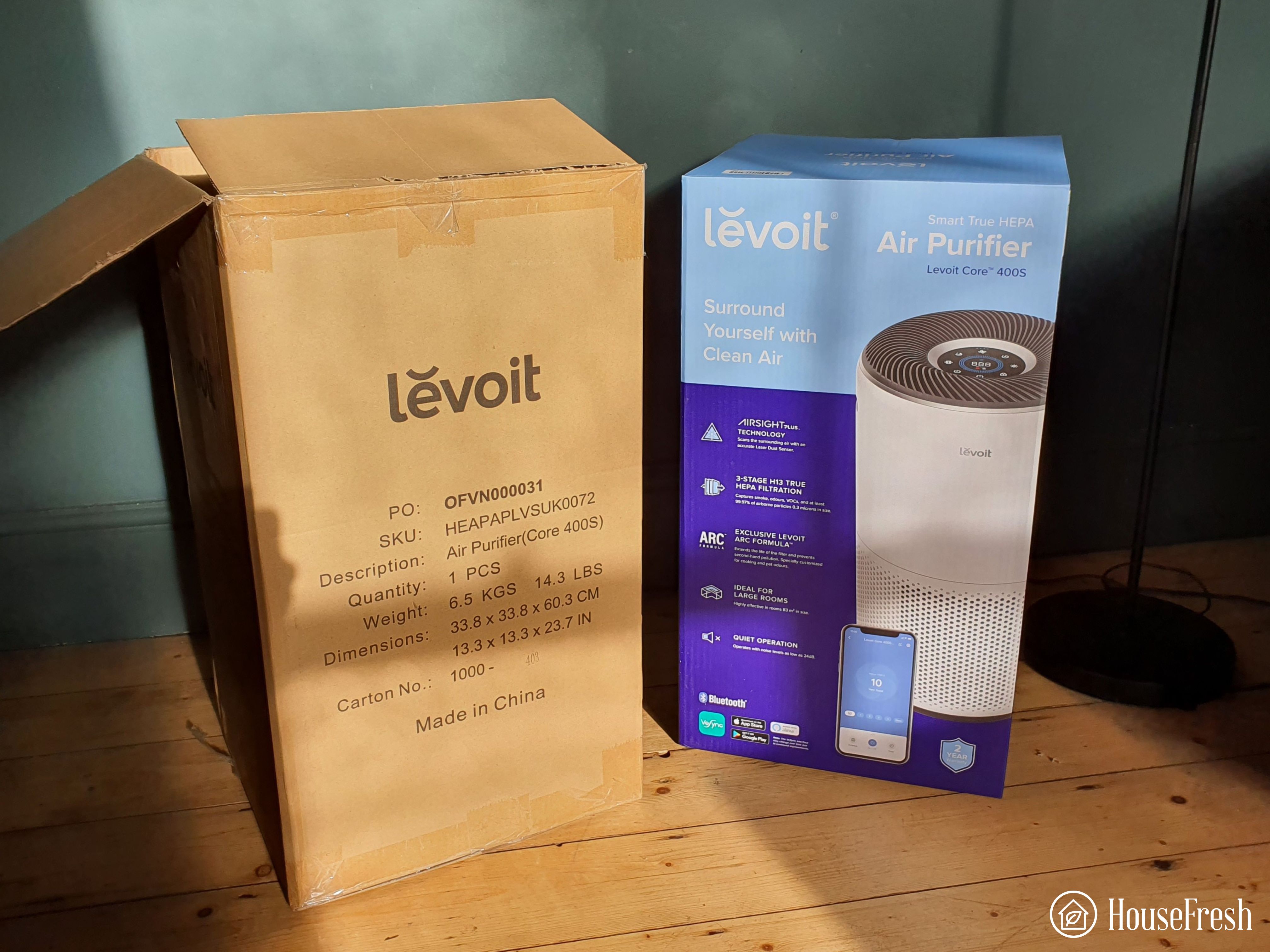 But that is not the only reason why you should trust us. In addition to buying the Levoit Core 400S with our own money, we also put this air purifier through the same 3-stage test we use for assessing the real-life performance of every air purifier we review:
| | |
| --- | --- |
| STAGE 1️⃣ – Air cleaning performance test | We lit a powerful incense stick inside our 705 cubit ft. test room, turned on the Core 400S at top speed and used an air quality monitor to track how long it took for the incense smoke to disappear completely. |
| STAGE 2️⃣ – Energy consumption test | We plugged in the Core 400S through an electricity usage monitor to record energy consumption in watts when running the unit at its lowest and highest speed levels. |
| STAGE 3️⃣ – Noise levels test | We used a sound level monitor to help us assess the sound level in decibels coming out of the Core 400S when working at its top and bottom speed levels. |
We do all this to help you move past the marketing jargon and all the amazing metrics highlighted by manufacturers to ensure you buy their product. Plus, by testing all units performing the exact same tasks in the same space, we can compare them against one another based on their real-world performance. That way, we can say, 'don't buy this one; buy that one instead' if it comes down to it.
All in all, you can trust me when I say that if the Core 400S sucks, we will be the first ones to tell you.
Without further ado, here is our review of the Levoit Core 400S…
TL;DR The Lowdown on the Levoit Core 400S
---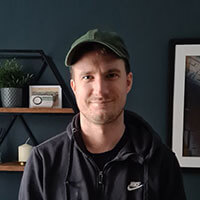 "The Levoit Core 400S is currently my number one recommendation for those looking to clean medium-sized rooms and want to get good cleaning power for $ spent."

— Danny Ashton, Founder & Senior Writer
---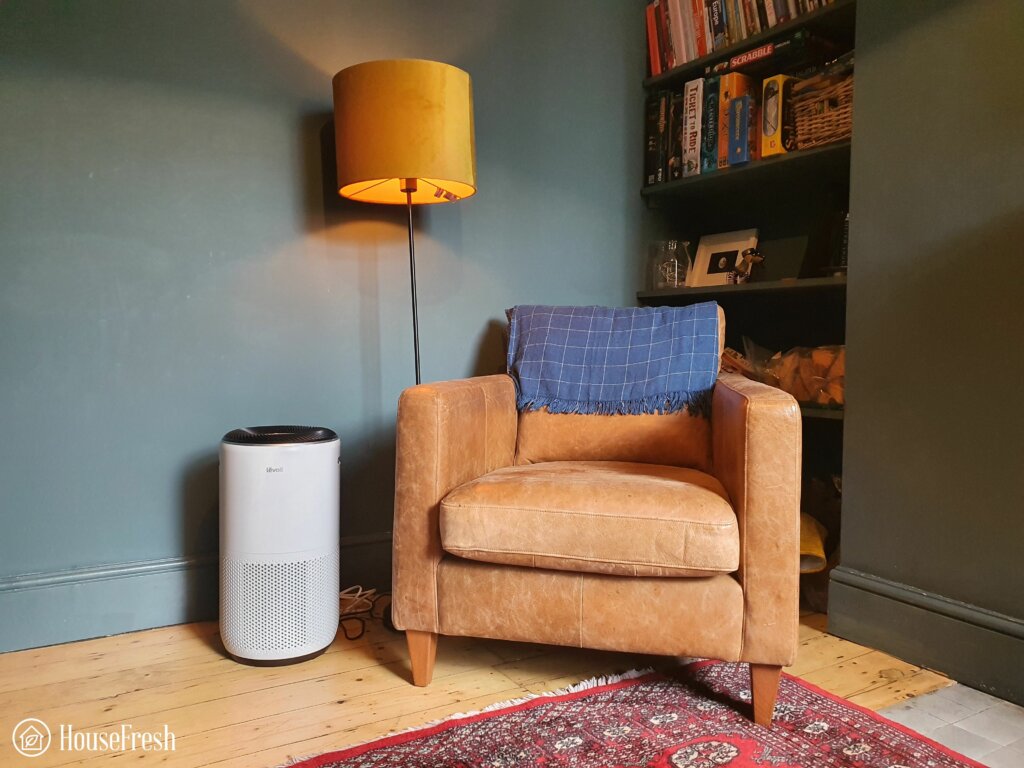 Skimming through? Do you want to know the facts? Well, here's the lowdown without the scroll down:
What We Really Like:
👍 CADR and our real-world performance tests were impressive for a unit that costs just over $200. 
👍 The app and smart features are something we don't expect at this budget and could be perfect for specific use cases. 
👍 Electricity costs are lower than most units at this level of performance, so we like how energy efficient it is, considering electricity costs are always on the rise.
👍 Simple design for usage and filter changing — all easily done without checking the manual.
What We Think Could Be Better:
👎 It's big. This cannot be easily hidden and might be overkill for very small rooms.
👎 Genuine filters are not cheap compared to the Smart Health S and are often unavailable to purchase.
👎 It's not the best-looking unit and might take over a living room as it doesn't blend in.
Clean Up To 403 sq. ft. with 260 CFM 
You can usually find the Levoit Core 400S for less than $220*, which for the CADR of 247 Dust/ 244 Smoke/ 269 Pollen (cfm) is an impressive $ to CADR rate. 
For this reason, the Levoit Core 400S is at the top of the list for many people looking for the performance of a high-end unit like the IQAir Healthpro Plus without the $999 price tag.
| | |
| --- | --- |
| HouseFresh Rating: | ★★★★☆ |
| Time to clean our test room: | 33 minutes |
| Air purifier technology: | H13 True HEPA filter |
| Recommended room size: | 403 sq. ft. |
| Clean air delivery rate (CADR): | 260 CFM (442 m³/h) |
| Dimensions (in inches / in cm): | 10.8L x 10.8W x 20.5H inches (27.4L x 27.4W x 52H cm) |
| Weight (in pounds / in kg): | 14.1 lbs (6.4 kg) |
| Noise level (low – high): | 24dB – 52dB |
| Filter life: | 6 months |
| Manufacturer's warranty: | 2 years |
| Estimated energy consumption: | $39.95 per year |
Minimal Doesn't Mean Dull
The Core 400S has a modern, minimalist style. Its tall cylindrical design has sleek curves and a simple two-tone black and white palette. It could be mistaken for a large speaker as it resembles smart devices such as Amazon Alexa or Apple Homepod.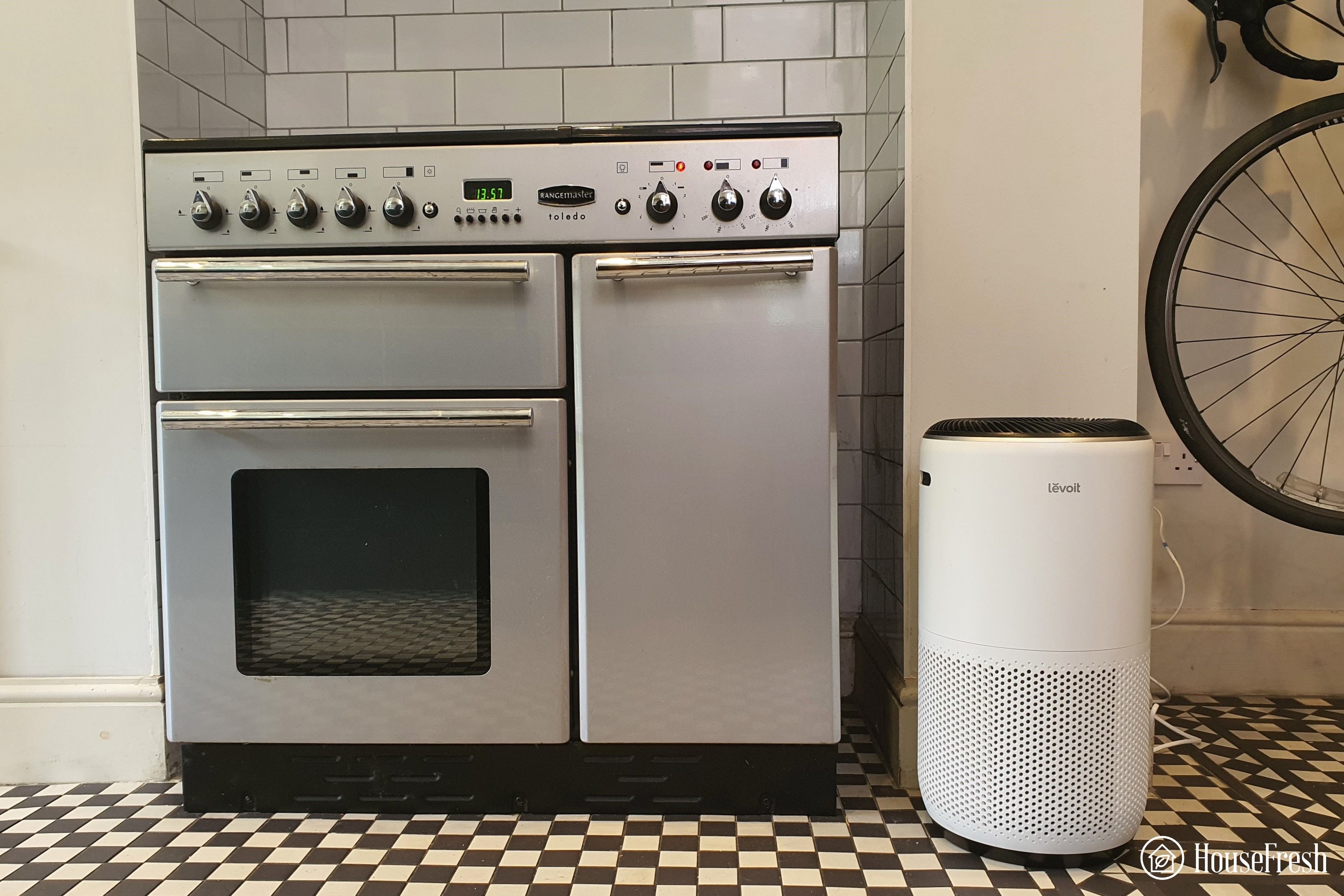 The display is a basic touchscreen that integrates well with the unit. The ring LEDs have a simple color system ranging from blue to green to red (depending on your air quality) that are informative and attractive. 

One thing I really liked was that the sensor system kicked in very quickly, so you got an understanding of your current air quality as soon as you switched on the unit.
Although a visually pleasing unit, it is quite large. In the photo below, I compared it to the diminutive Medify MA-25, and it does feel oversized. This is not something that can simply be hidden away in most rooms, so something to be aware of.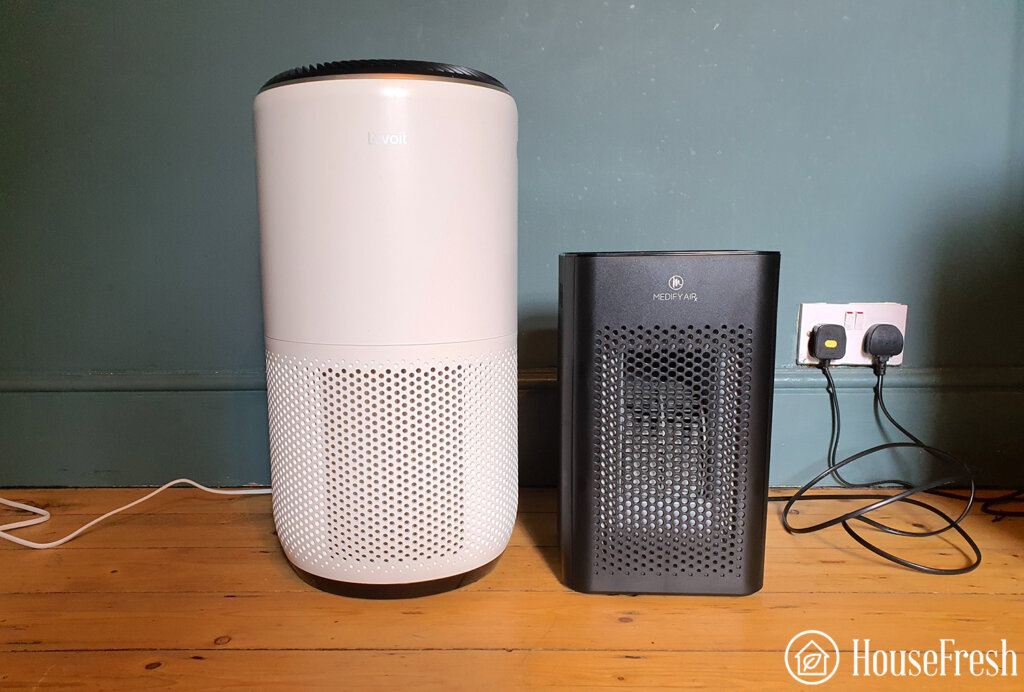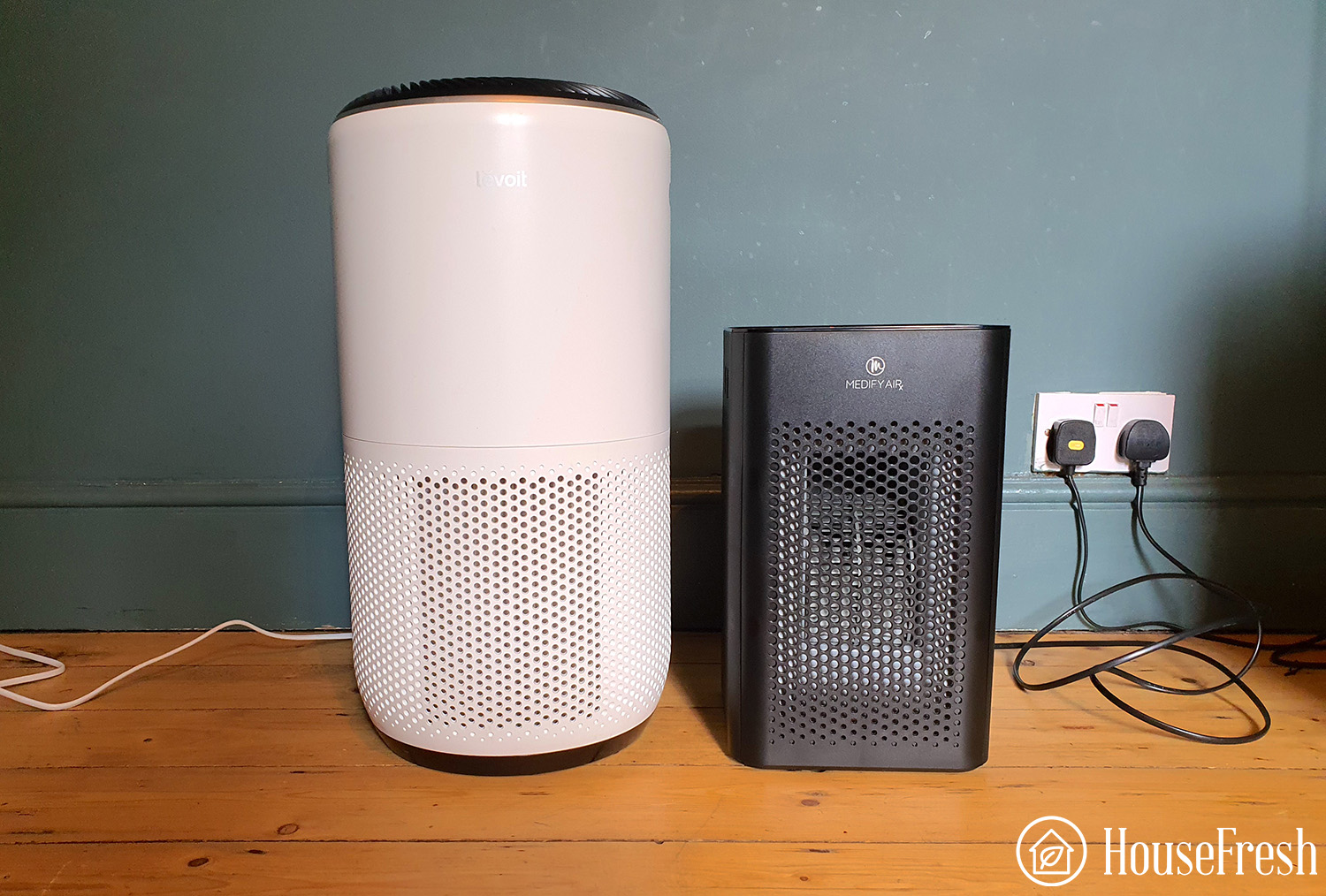 The S Stands for Smart
The real fun with the Core 400S comes with the operation. For the 'technologically disinclined,' the unit can simply be turned on and off via the power button, and the fan's speed can be adjusted from 1 to 4 with the fan button. For most casual users this is all you will need to operate the unit effectively.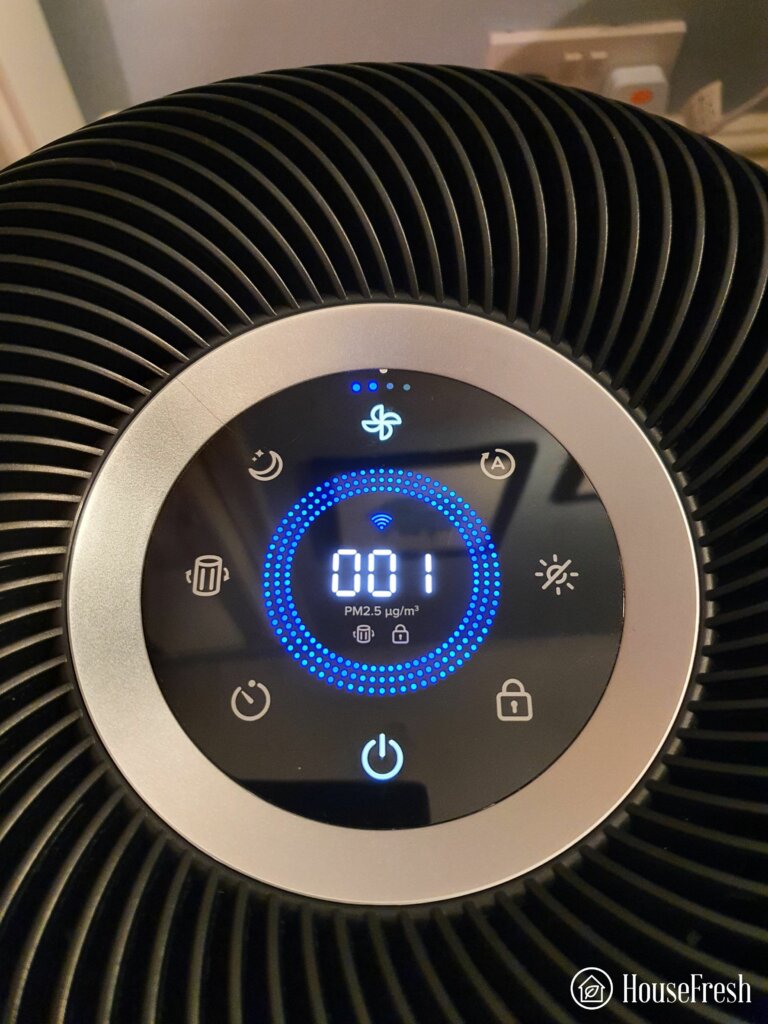 For more advanced users, sleep, timers, locks, auto, and display settings can also be accessed from the touchscreen. Sleep mode offers a fan power setting lower than the number 1 fan speed and turns off the display, perfect for keeping your air clean while you sleep.
The auto mode adjusts the fan's speed to match the air quality level of your room; the poorer it is, the faster the fan will go.
| Indicator Color | Air Quality | Auto Mode Fan Speed | PM 2.5 Range |
| --- | --- | --- | --- |
| Blue | Very Good | Sleep Mode | 0–35 ug/m3 |
| Green | Good | Low (1) | 36–75 ug/m3 |
| Orange | Moderate | Medium (2-3) | 76–115 ug/m3 |
| Red | Bad | High (4) | > 115 ug/m3 |
One of the best features of the Core 400S is the accompanying app that allows you to monitor your air quality and adjust settings over a wi-fi connection. Setup is incredibly simple and takes about a minute once you've put your wi-fi details in. 
It can also connect with a few taps with your Alexa, Apple, or Google apps. From downloading the app to controlling the unit through my Amazon Echo took less than five minutes.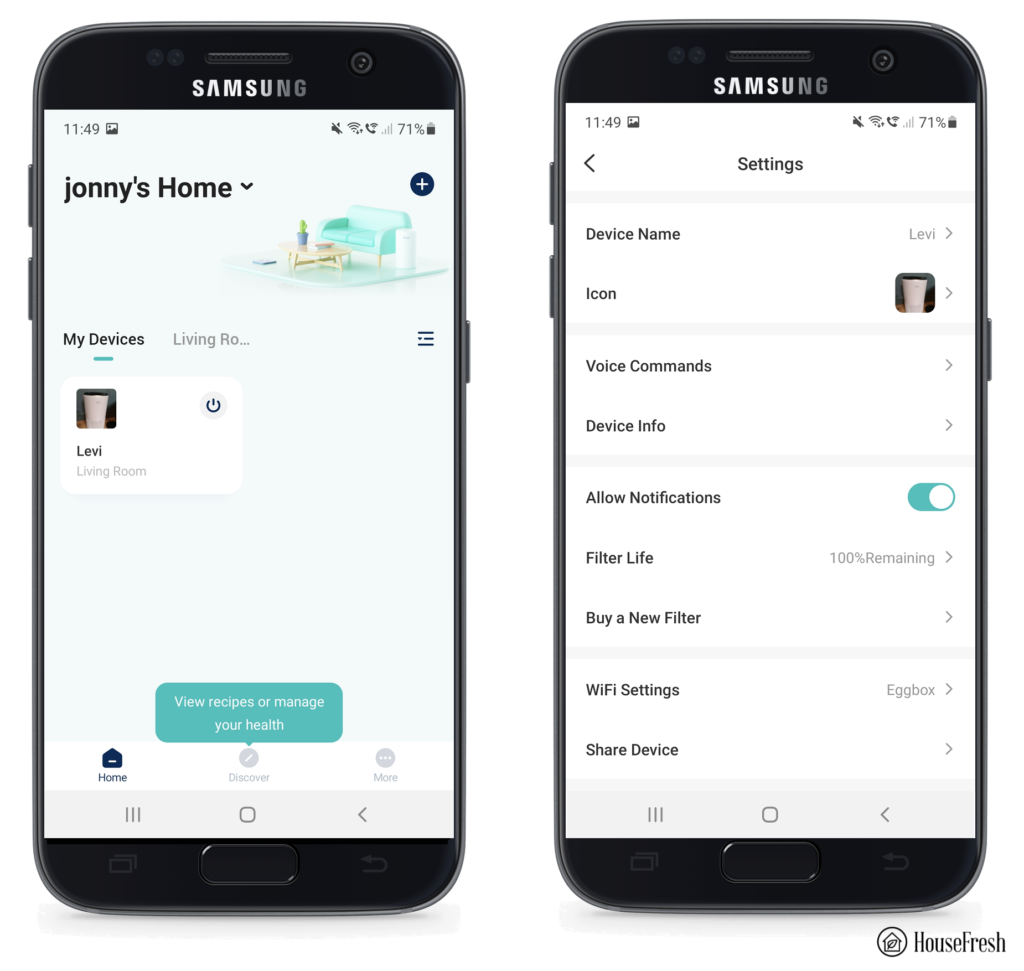 Once the app is installed, you can monitor your air quality and adjust any settings on the device from your app. The interface is simple and intuitive and works instantaneously. I found this helpful when controlling the unit from around my home. 
If I'd left the room and the unit was on manual, I could switch it over to automatic or put it into sleep mode without getting up from my chair. 
The most exciting thing about the app is that you can see how different things in your home affect air quality. I'd always been aware that my wood burner reduced the room's air quality. 
But the app showed me that when I'm using the wood burner, the number of PM2.5 particles in the air increased drastically (from 1 PM2.5 to 130 PM2.5 in less than 10 minutes) and that the air quality in my living room was similar to that of the most polluted city in the world!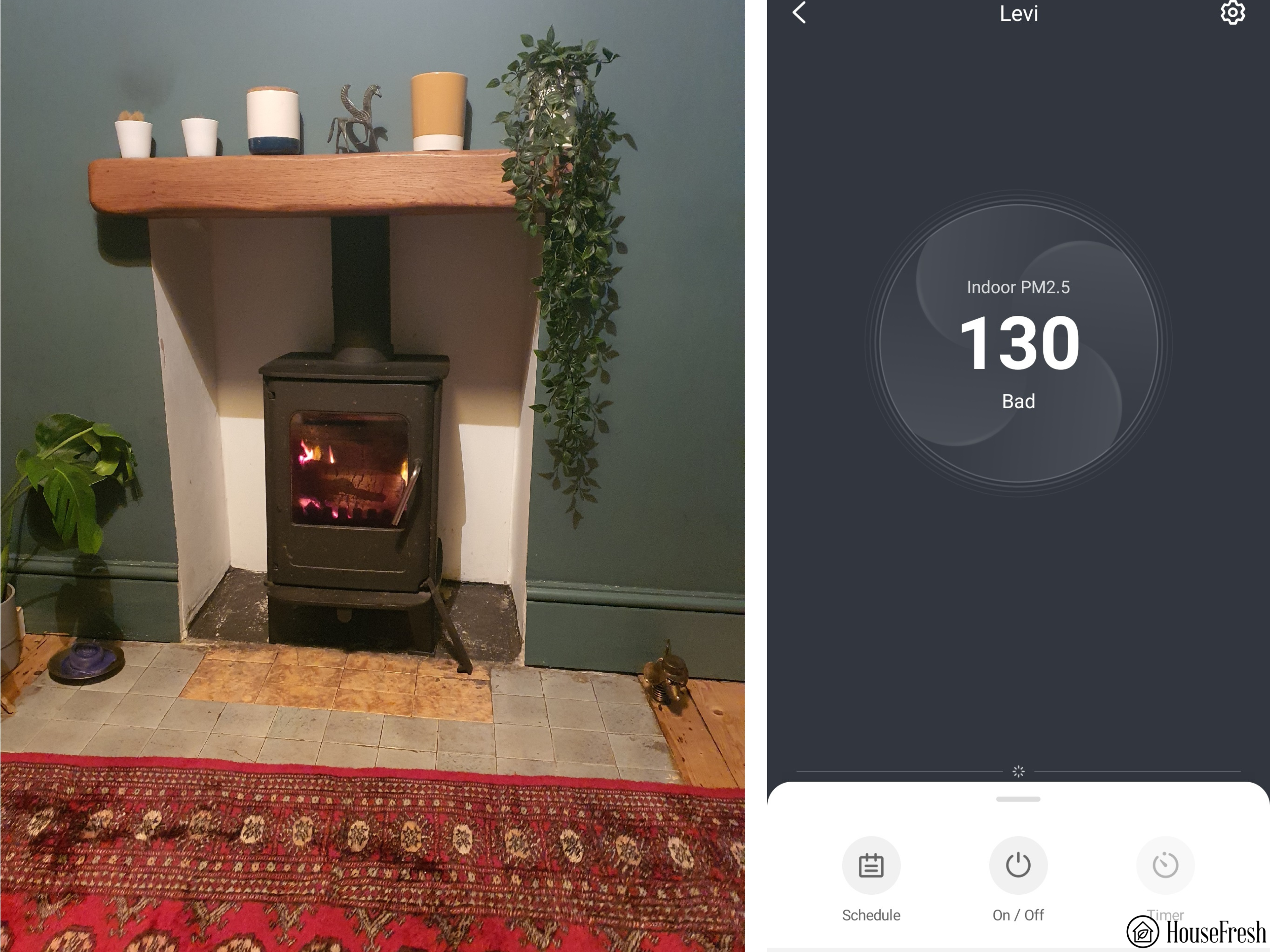 99.97% of Particles Trapped with a Medical-Grade True HEPA Filter
The Core 400S features a three-stage filtration system; a pre-filter (A) captures larger particles like dust and hair, then an H13 True HEPA filter (B) traps small particles such as smoke and pollen, and finally, a Custom High-Efficiency Activated Carbon Filter (C) absorbs odors and fumes. 
These three layers allow the Core 400S to trap at least 99.97% of airborne particles 0.3 microns (µm) in size.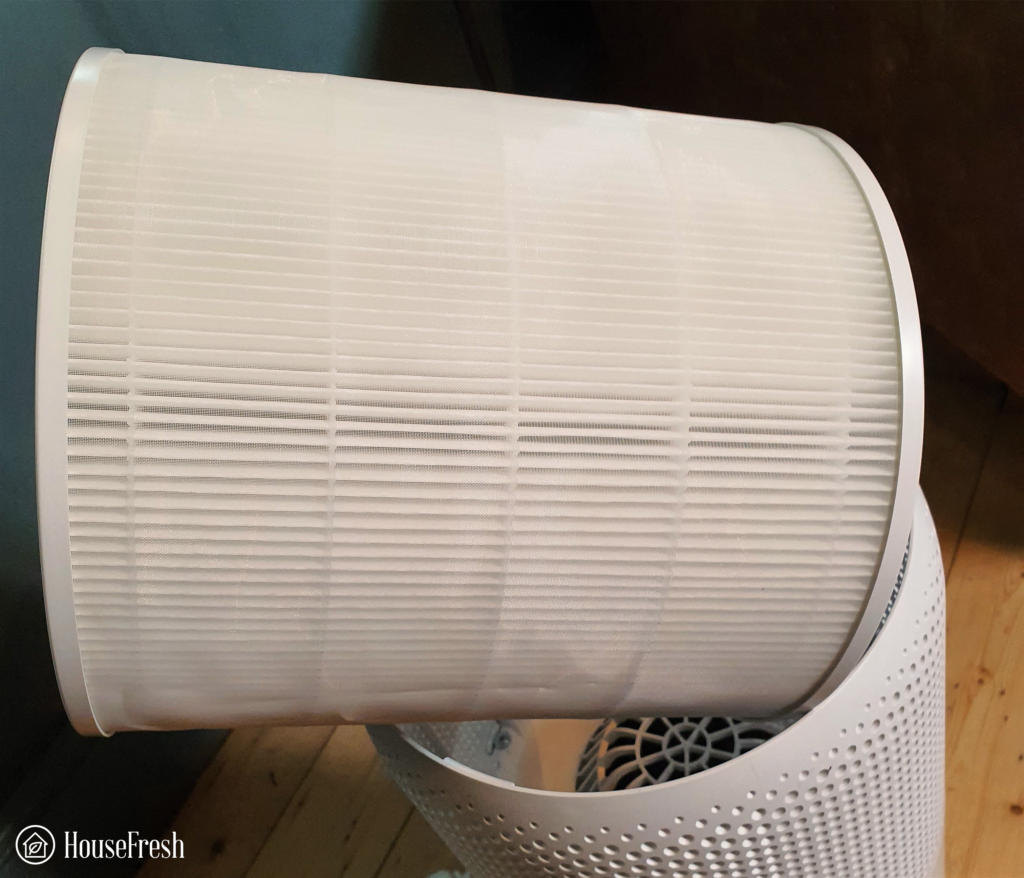 The second layer is the filter that will be doing the majority of the work in most instances. If you're buying an air purifier due to allergies, the HEPA filter will remove allergens and small dust particles from the air. 
The third layer carbon filter is also useful, however, as this will absorb strong odors, fumes and VOCs, so if you intend to use this in the kitchen, this will be the layer putting the work in. 
One thing I like about the design is that the activated charcoal pellets are kept inside the filter to protect it from larger particles that could interfere with how effective the activated charcoal filter will perform.
Removing the filter is fairly simple; you turn the bottom unit to one side, and the case opens up so you can remove the filter and replace it easily. See my short video to see this in action:
I always like to 'look under the hood' when getting an air purifier, and the filter provided with the Core 400S appears to be made of high-quality materials. After a few weeks of use, a filter can become bent or chafed, especially if you like to move your air purifier around your home. 
However, after three weeks of constant use, I found the filter appeared to be as good as new. The only change was that now it was accompanied by pet hair in the outside pre-filter as it had collected from around my home.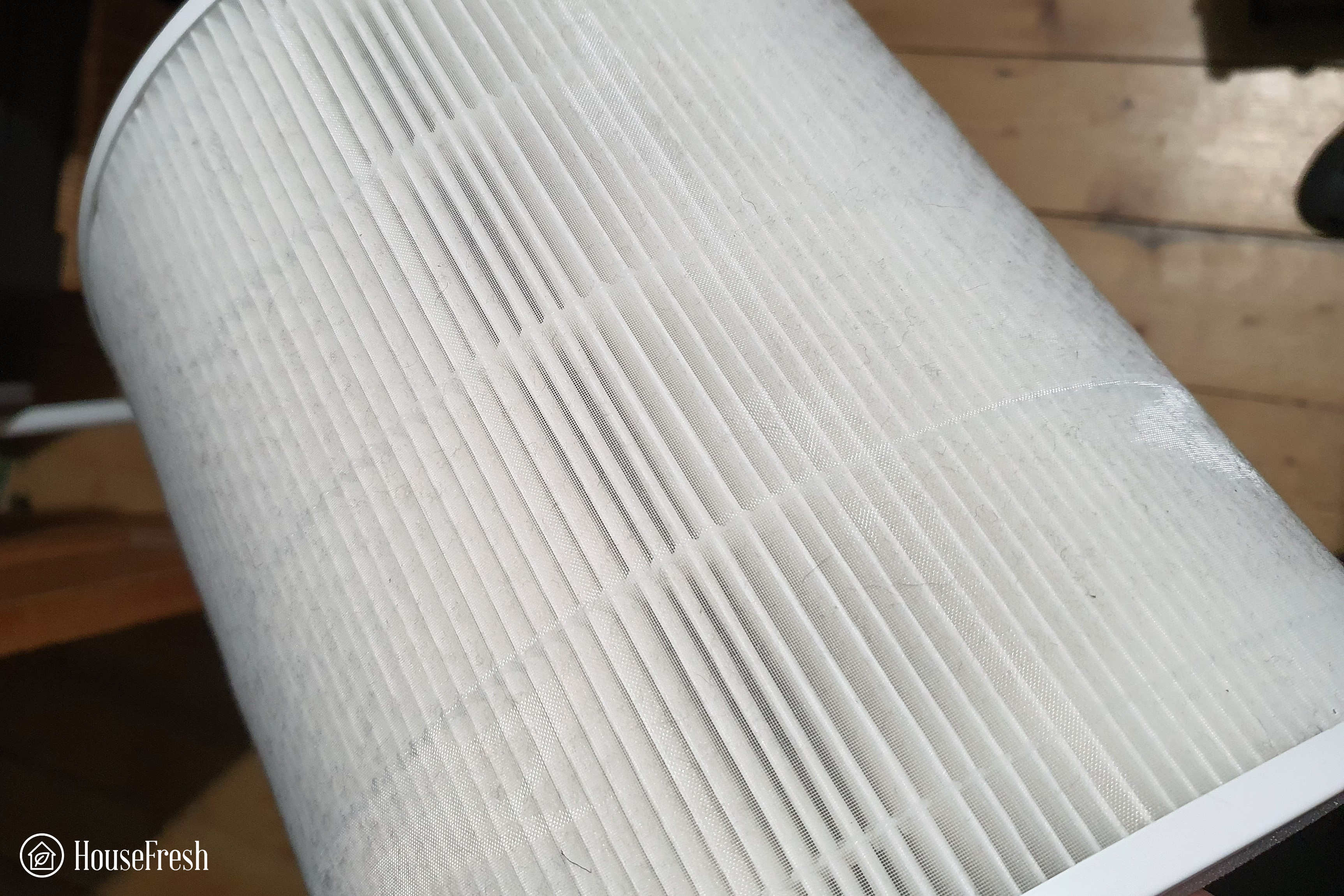 💭 A replacement filter from Levoit will cost you around $50, which can seem quite expensive when considering the unit is only $220. However, the great advantage of choosing an air purifier from the Levoit range is that their popularity means several good quality 3rd-party filters are available on Amazon for around $35.
The Levoit Core 400S Cleared Our Test Room in 33 Minutes
I tested the Levoit Core 400S in the same room where we test all our units here at HouseFresh. The room is 705 cubic ft and is the size of a small bedroom with large ceilings.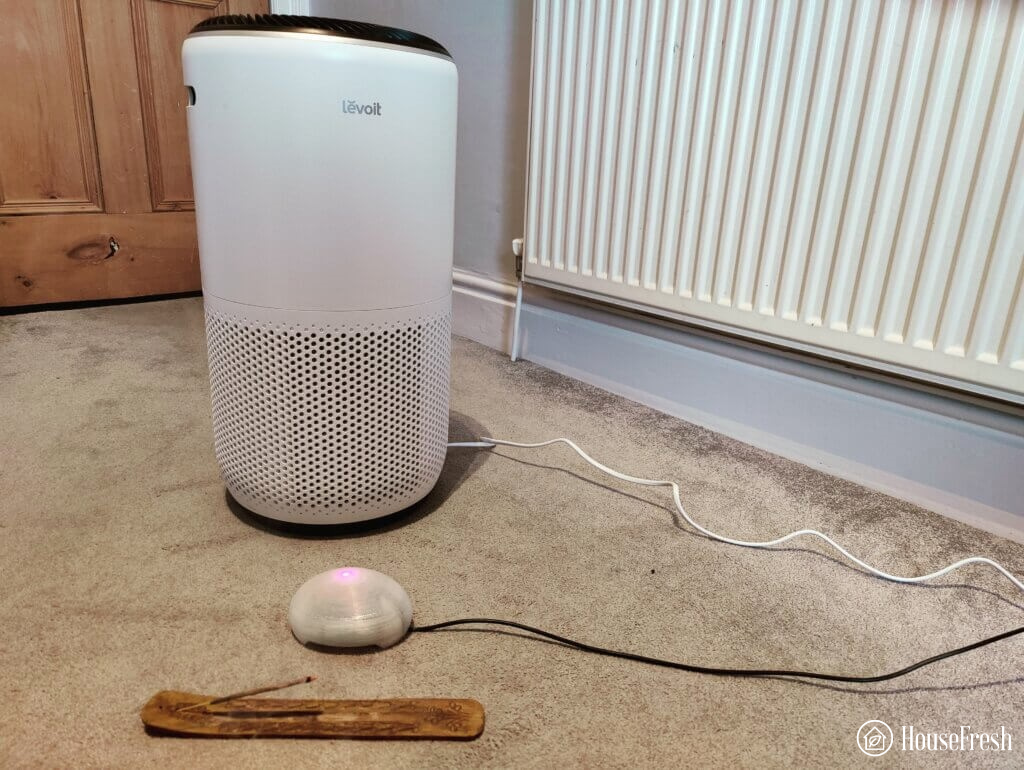 To track performance, I use the Purple Air Indoor sensor as it can track particles as small as 1ug and can track this over time so we can have data on its performance over time. To create pollutants, we use incense sticks to create a large number of pollutants in the air and then test how long it takes the air purifier to remove these from the room.
You can see the data from our test below:
Air Cleaning Performance Compared to Other Air Purifiers
Here is how the Core 400S compares to other units in a similar range as well as the top three performers in the history of HouseFresh:
Considering this unit costs less than $200, the performance is impressive. Although, it's worth noting that we don't test specifically for VOCs with this test, and I would expect units like the IQAir Healthpro Plus which have far larger amounts of carbon, to perform better for VOCs and formaldehyde.
Noise Levels Test Results
The Core 400's noise ranges from 24—52 dB in terms of noise levels. A normal conversation usually happens at around 60db, so in general, the Core 400S shouldn't make too much of an impact even when on its highest settings.
I ran the Core 400S on its first setting while watching a 'popular TV show,' and even when sitting right next to it, the noise is barely noticeable:
It was somewhat distracting when the fan was turned to its highest level. But it's rare for the fan to reach that speed in regular daily use. Also, I struggled to hear the fan in sleep mode, which is (quite obviously) ideal for sleeping which is why this unit is one of the best air purifiers for the bedroom.
The Cost to Run a Levoit Core 400S: $153.23 Per Year
1. Electricity costs = $26.28
The maximum power of this unit is 38W, but here at HouseFresh, we don't want to rely on just what we are told by manufacturers, so we tested the power draw on each power setting:
Auto: 4.2 watts
Speed 1: 6 watts
Speed 2: 9.1 watts
Speed 3: 16.6 watts
Full power: 24.5 watts
In this case, it seems like the 400S draws less power than the maximum stated, which is good news regarding your electricity bill.
At full power 24 hours per day, the Levoit Core 400S will cost 0.7 cents a day or $53.23 per year, according to data from the Department of Energy's appliance energy calculator.
This is impressive considering the CADR of the Levoit core 400S; in comparison, the Core 300 draws 45 watts for a CADR of 141 vs. 250. The engineers at Levoit have managed to do something special with the 400S and got more performance for less electricity!
2. Filter costs
One area that many people don't think about when buying an air purifier is replacement filter costs. HEPA and activated charcoal filters will require to be replaced now and again to clean the air in your home. The HEPA filter, over time, will have pollutants stuck to the fibers inside the filter, and at a certain point, there will be so many pollutants that performance will be reduced unless you change the filter.
The Levoit Core 400S recommended filters are not cheap at $50. Still, they do include both the activated charcoal and H13 HEPA, so you will only need to make one replacement compared to other units with 2 or even 3 filters.
We would expect to replace these filters every six months, so that is an added cost of $100 per year that you need to be aware of. 
The one good thing with a popular unit like the 400S is that many generic filters are already available for less money, although they may not perform as well as the filters from Levoit.
Technology
H13 True HEPA filter with activated carbon
H13 True HEPA filter with activated carbon
Technology
H13 True HEPA filter with activated carbon
Technology
H13 True HEPA filter with activated carbon
---
Bottom Line
So, should you get the Levoit Core 400S?
For most people on a budget, this is likely going to be their top choice as it has a great CADR for the price and this matches up with our real-world performance test.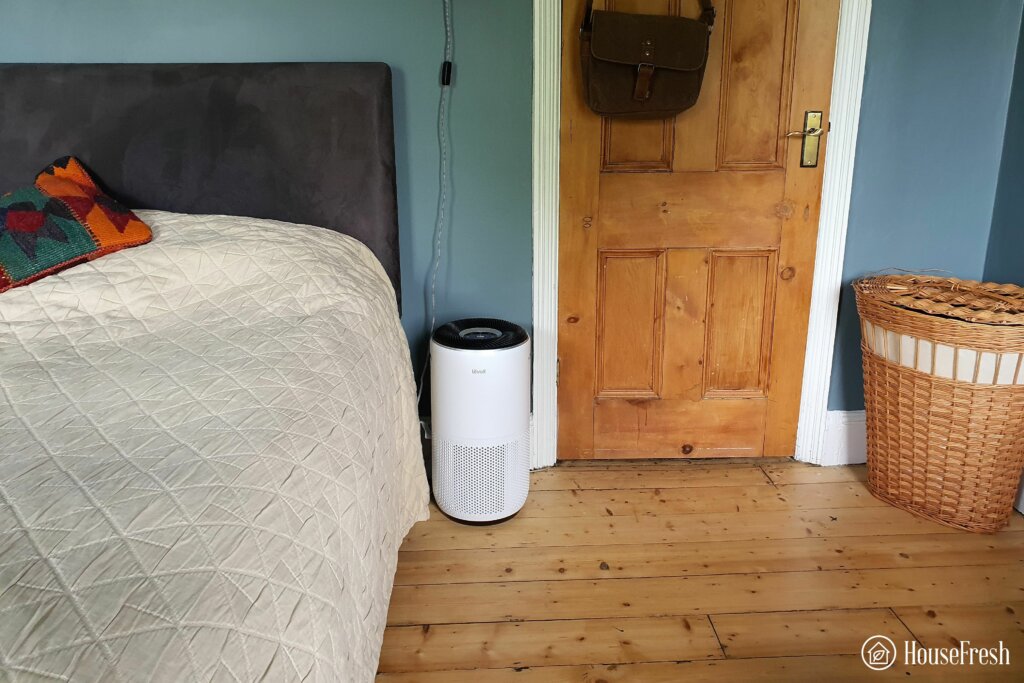 The only other contender that I would look at is the Smart Health S air purifier, as it has similar performance for a low price and far lower filter costs. The Smart Health S lacks any of the smart features or the custom app, so if these are important for your specific use case, then the Levoit Core 400S is the better option to go for.
If you are looking for a more affordable option, you should definitely check out our review of the new kid on the block: the TaoTronics AP003. If you have any questions about the Levoit Core 400S, just drop us a message and we'll get back to you.
---
SOURCES
We used the Department of Energy's appliance energy calculator to calculate yearly costs associated with running the Core 400S for 24hs a day for 365 days. We chose to run this calculation utilizing the US average utility rate, which is $0.12/kWh as of February 15th, 2023.
Last update on 2023-09-22 / Affiliate links / Images from Amazon Product Advertising API