If you're in the market for a quality air purifier, you may have encountered the Levoit brand. The company is based in the U.S. though its products are manufactured in China.
With over ten years of experience in air purification, Levoit has become one of the best-selling air purifier brands in the U.S. and Canada, with over 3 million happy customers worldwide.
Currently, they offer Core, LV-H, Vital, LV-PUR and Vista models, with Core and LV-H being the most popular. The Levoit LV-H128 is a budget-friendly option designed for small rooms. Like the Levoit Core Mini, the LV-H128 also has an aromatherapy function, so you can use essential oils while cleaning the air in your room. It's also in the same price range as the Core Mini, so it will be interesting to see how the LV-H128's performance compares.
Why You Can Trust Our Recommendations

We bought the Levoit LV-H132 with our own money (as with all the products we review). That means we can tell you what we really think of the product — if there are downsides, we'll let you know.

Before writing this review, we performed the following tests:

1️⃣ We lit a big incense stick inside our test room of 705 cubic ft and used the PurpleAir Indoor air quality monitor to see how fast the Levoit LV-H132 cleaned the air from PM1.0ug/m3, PM2.5ug/m3 and PM10.0 ug/m3 particles, when running at top speed.

2️⃣ Using an electricity usage meter, we tracked how much energy the Levoit LV-H132 consumed when running at its lowest and highest speeds.

3️⃣ We then used a sound meter to record how loud the LV-H132 is when setting it to its lowest and highest fan speeds.

4️⃣ Using Flourish, we visualized the data to see how the Levoit LV-H132 compared to other air purifiers at the same budget and room size.

This lets us know how effectively the unit does its primary job — cleaning the air.
TL; DR The Lowdown on the Levoit LV H128
Short on time? Here's my summary of the Levoit LV-H128:
What We Really Like:
👍 Very low initial price to buy the unit
👍 The compact design makes it easy to use in any type of room
👍 Dual H13 True HEPA filter for maximum efficiency
👍 Quiet sleep mode — produces only 28 dB
👍 Aromatherapy function allows you to use essential oils to create scent in your home
What Could Be Improved:
👎 Air cleaning performance is weak compared to other units at this price point
👎 The carbon filter is small and not as efficient as expected
The Specifications
The Levoit LV-H128 is designed for small rooms of up to 161 sq. ft with two standard air changes per hour. Air cleaning power-wise, it's very similar to the Core Mini, which has a recommended room size of 178 ft2.
Here are the complete product specs.
| | |
| --- | --- |
| HouseFresh Rating: | ★★☆☆☆ |
| Time to clean our test room: | 2 hours and 42 minutes |
| Air purifier technology: | Preliminary Fine Filter, H13 True HEPA Filter, and Activated Carbon Filter (not pellets) |
| Recommended room size: | 161 sq. ft. |
| Clean air delivery rate (CADR): | 41 CFM |
| Dimensions (in inches / in cm): | 10.4H x 6.7L x 6.7W inches (26.5H x 17L x 17W cm) |
| Weight (in pounds / in kg): | 3.3 lbs (1.5 kg) |
| Noise level (low – high): | 24 dB – 59 dB |
| Filter life: | 6 months |
| Manufacturer's warranty: | 2 years |
| Estimated energy consumption: | $9.46 per year |
Small Design and One-Button Control
The Levoit LV-H128 is one of the smallest air purifiers made by Levoit but is still much bigger than the smallest — the Core Mini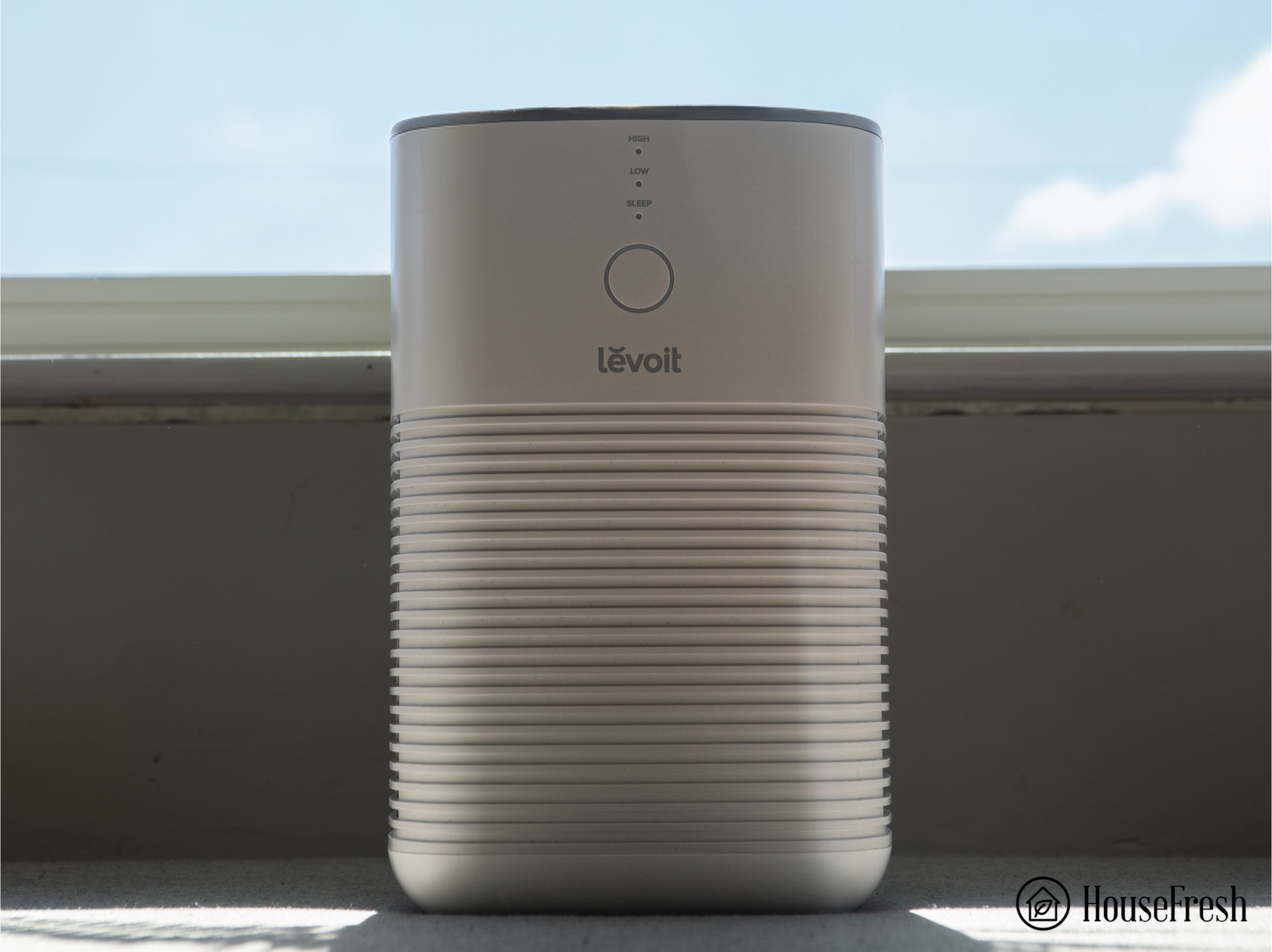 As you can see below, compared to the Core 300 and 200S, the LV-H128 is much smaller in height and floor space required.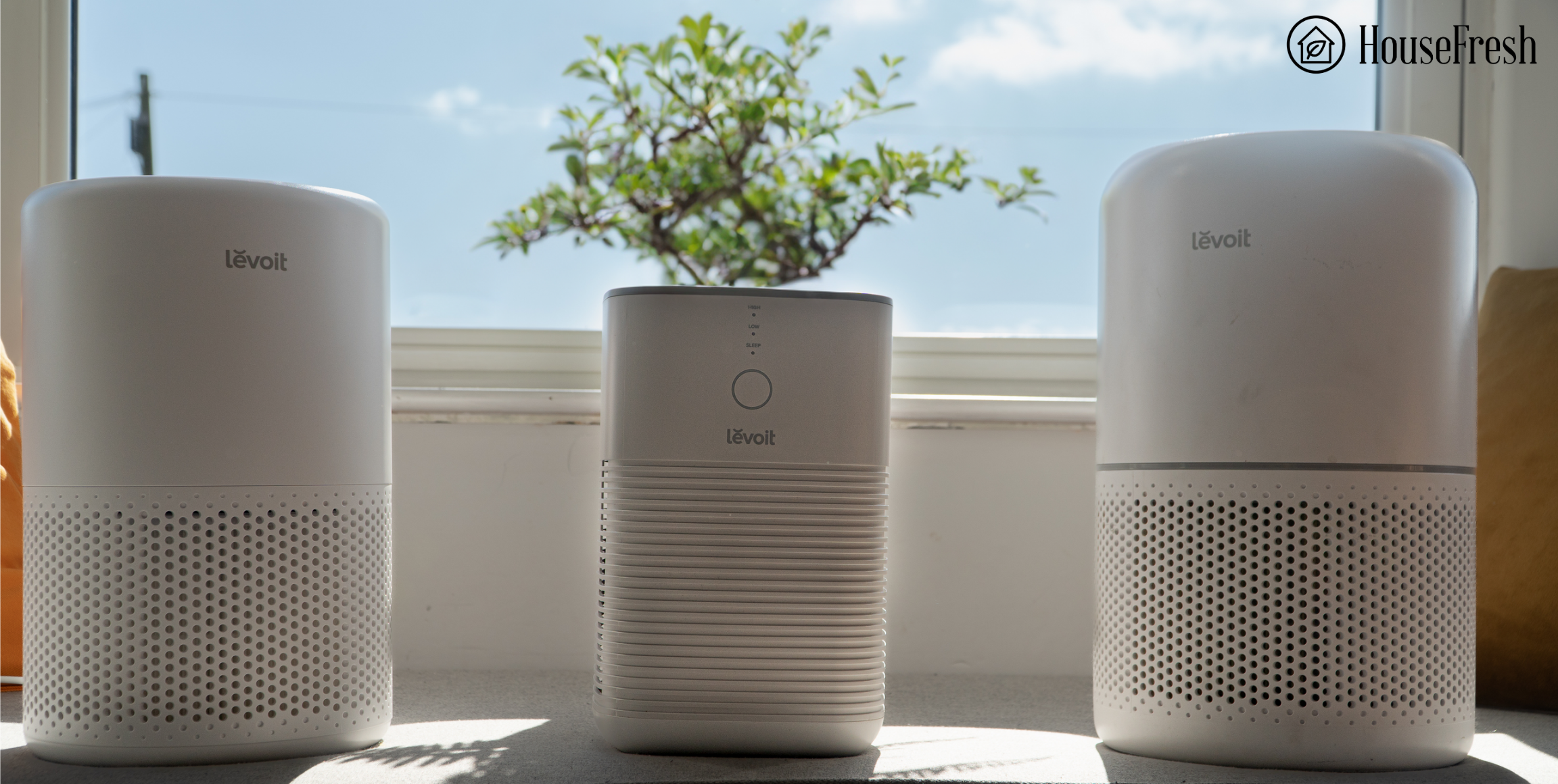 Additionally, the unit has a dedicated aromatherapy slot on the top covern which has a sponge that soaks up essential oils.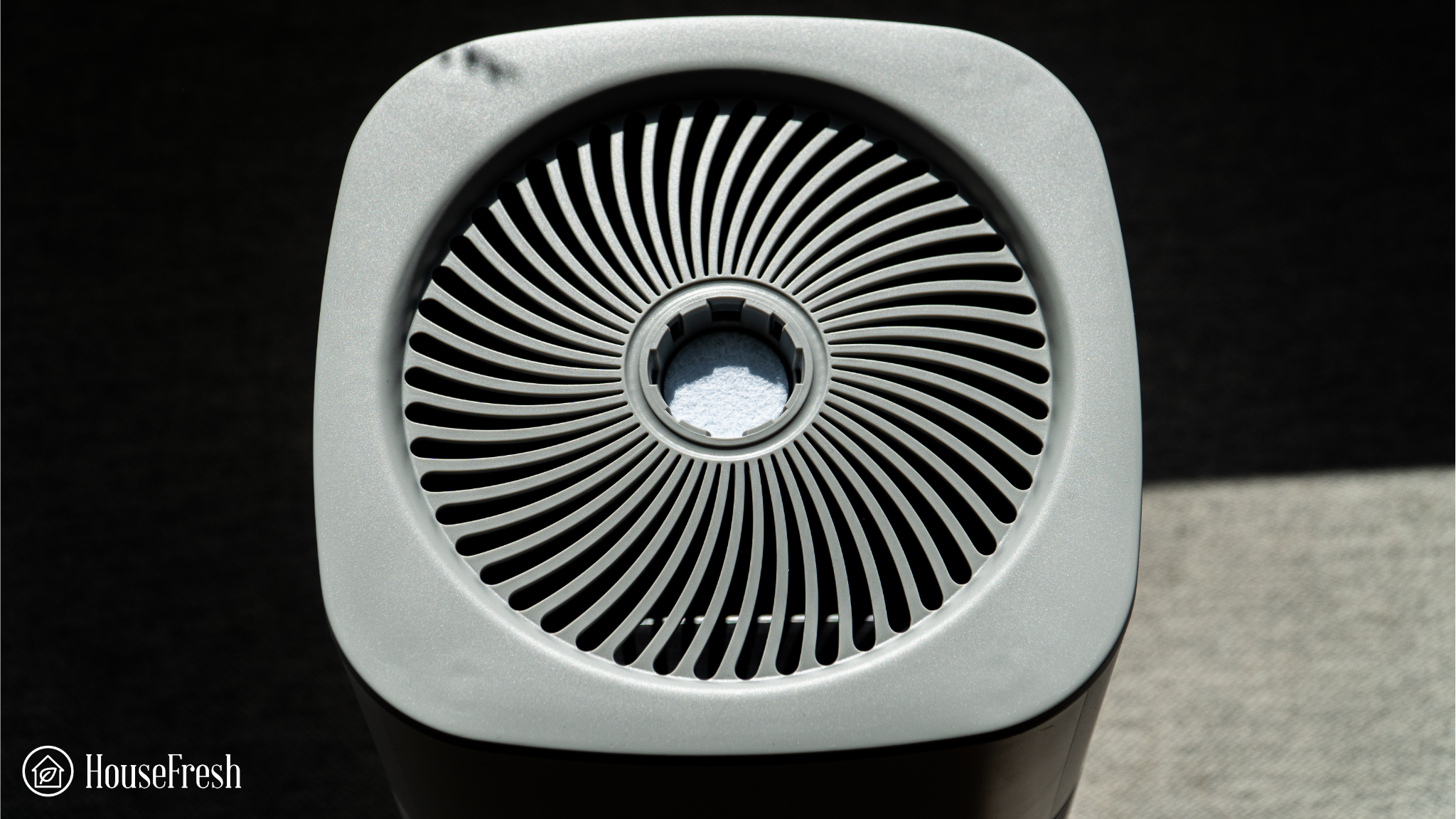 As clean air flows out of the air purifier, it passes through the oil-soaked sponge and diffuses the scent into the room.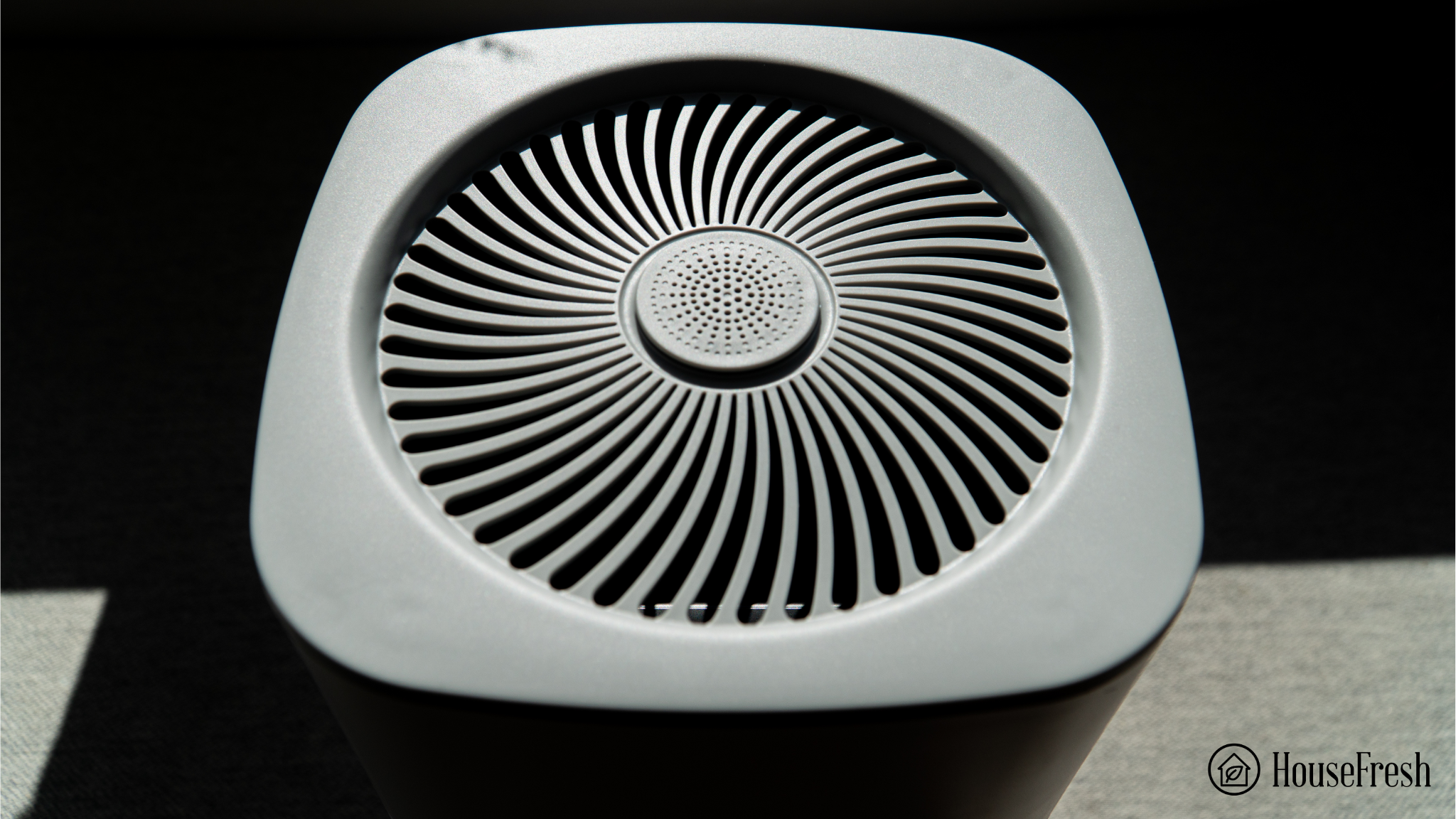 The LV-H128 has straightforward controls consisting of a single button. This button doubles as the power button and cycles through the air purifier's various fan speeds. The three-speed modes are high, low and sleep.
Not Enough Carbon To Kill Odors
Filtration technology is the most crucial factor for you to consider when buying an air purifier. Some filters can remove up to 99.99% of pollutants, while others emit chemical byproducts.
Some can remove VOCs and odors, while others aren't effective in this area.
So, how does the Levoit LV-H128 fair in this department?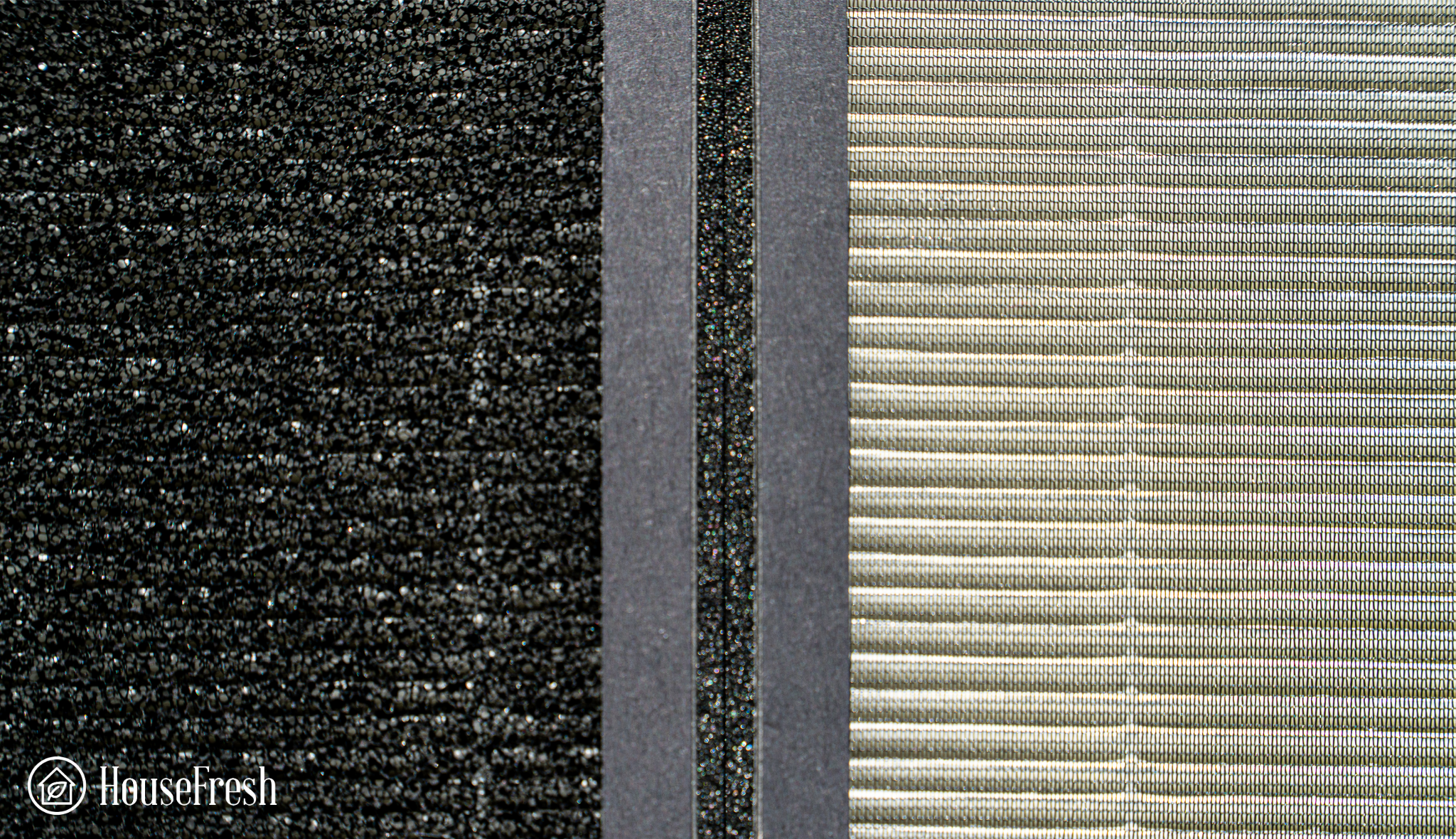 The LV-H128 features Levoit's popular three-stage filtration system.
Pre-filter — Traps large particles, like hair, fur and lint, from going further into the purifier
H13 True HEPA filter — Traps 99.97% of particles down to 0.3 microns, like dust, pollen, mold, bacteria and pet dander.
Activated Carbon filter — Absorbs odors. I was disappointed to see this was made from a cheaper impregnated fabric instead of the pellets you get in the Levoit Core series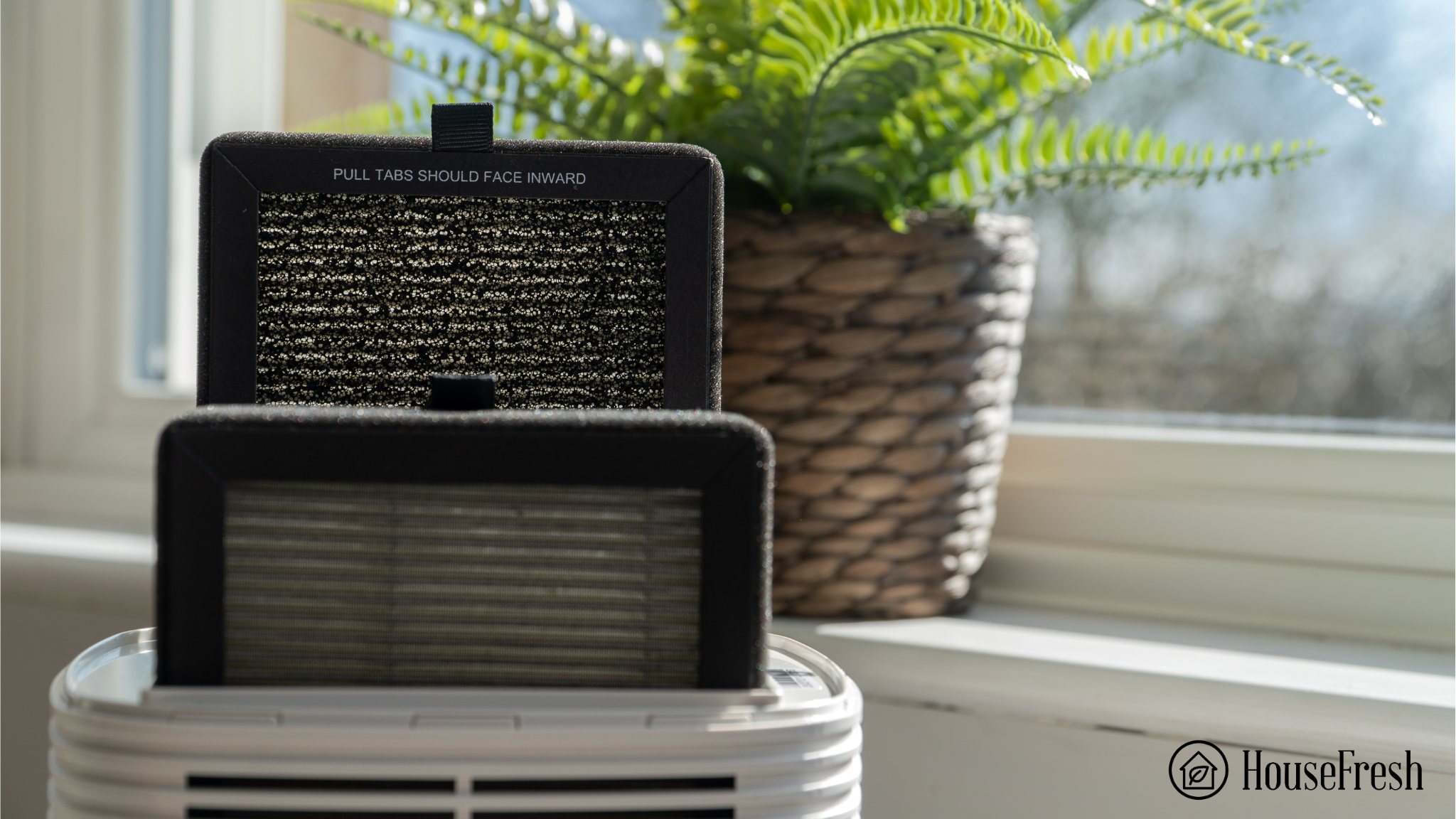 It's worth mentioning that the third layer doesn't contain enough carbon to remove odors, so the LV-H128 isn't a unit I would recommend for those with issues with odors or gasses.
⚠️ Most new air purifiers come with the HEPA filter covered in plastic. Remove it before you start the unit; otherwise, it won't work.
The Levoit LV-H128 Cleared Our Test Room in 162 Minutes
At HouseFresh we aim to provide an unbiased opinion about the performance of the air purifiers we review. To achieve this, we check the CADR ratings and metrics the manufacturer lists, but we take each figure with a grain of salt.
We know that some manufacturers are notorious for including misleading information to increase the popularity of their products. For this reason, we buy each unit so we can test their performance in our own home lab, which measures 705 cubic feet.
We burn incense sticks to fill the room with smoke pollutants and use our indoor air sensor from Purpleair to see how fast their purifier can eliminate PM10.0 ug/m3, PM2.5ug/m3 and PM1.0ug/m3 particles from the indoor air.
You can see the results of this test in the chart below:
Air Cleaning Performance Compared to Other Air Purifiers
The LV-H128 through took 2 hours and 42 minutes to remove all pollutants of PM1.0ug/m3, PM2.5ug/m3 and PM10.0 ug/m3 from the indoor air. The $59 Levoit Core Mini took 1 hour and 53 minutes, making it A LOT faster than the LV-H128.
It's worth mentioning that while the LV-H128 is not the fastest unit we've tested, it did manage to remove these pollutants from the air.
Noise Levels Test Results
In terms of sound levels, the Levoit LV-H128 is a quiet unit. At maximum fan speed, it produces 59 dB — higher than the Core Mini, which operates at 44 dB. However, this unit can go extremely quiet at the lowest fan speed, producing a mere 24 dB of noise.
The Costs to Run a Levoit LV-H128: $57.52 per year
Another vital factor to consider when buying an air purifier is the overall cost of running the unit in the long term as you will need to pay for electricity and filter replacements.
1. Electricity Costs = $9.46
This unit has a minimal power consumption of just 10w on average, which makes sense considering its size and coverage. However, the HV-128 isn't Energy Star certified like its sibling, the Levoit Core Mini.
At the highest speed, we saw that it pulled 9.3 watts, which equates to $9.46 per year at 24/7 usage every day. The newer Levoit Core Mini cleaned quicker and only pulled 6.4 watts at the highest speed.
2. Filter Costs = $47.96
Filter costs are another essential factor when buying an air purifier. The LV-128's HEPA filters should be replaced every six months.
The genuine Levoit LV-H128 filters cost $23.99, which is $47.96 per year, but you can find generic filters for $11.34 per year with two changes. That's a much better choice for most people.
In comparison, genuine filters for the Core Mini cost $49.98 per year.
Technology
3-in-1 Pre-Filter, H13 True HEPA, Activated Carbo
4-Pack Replacement High-efficiency HEPA Filters Compatible with LEVOIT LV-H128
Technology
3-in-1 Pre-Filter, H13 True HEPA, Activated Carbo
Technology
4-Pack Replacement High-efficiency HEPA Filters Compatible with LEVOIT LV-H128
---
The Bottom Line
The Levoit LV-H128 is an underpowered air purifier. Out of all the units we have tested, this one took one of the longest times to remove all the pollutants in our test — needing a whopping two hours and 42 minutes.
The aromatherapy function might be a nice touch for some users, but it doesn't change the fact that this air purifier will be too underpowered for most scenarios.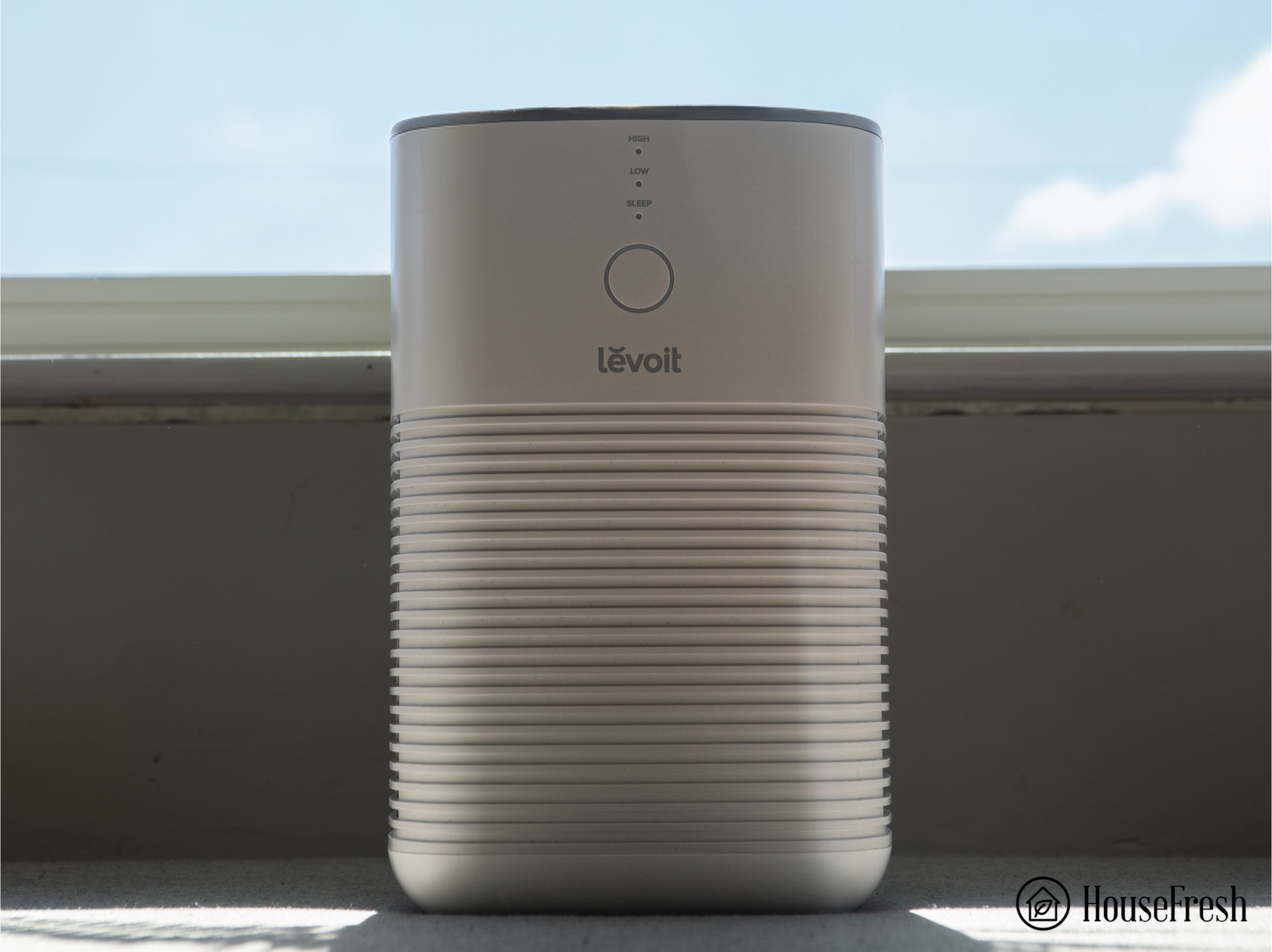 Genuine filter costs are high when considering the cleaning power, but you can get very cheap generic ones at just over $5.
For smaller spaces, we'd recommend the Levoit Core Mini, which has better cleaning capabilities, is quieter and uses less electricity.
Most people will be much better off with the Levoit Core 300. It's more expensive to buy, but will be far more effective at cleaning the air and has similar long-term costs to the LV-H128
---
SOURCES
We used the Department of Energy's appliance energy calculator to calculate yearly costs associated with running the Levoit LV–H128 for 24hs a day for 365 days. We ran this calculation utilizing the U.S. average utility rate of $0.12/kWh as of 3rd April 2023.
Last update on 2023-12-01 / Affiliate links / Images from Amazon Product Advertising API