Our verdict:
The Levoit Vital 100 is a good-looking air purifier that cleaned our test room in 49 minutes — which is good for its low price. 
We would still recommend choosing the Levoit Core 300 as it can clean more air for the same price. But if you prefer the design of the Levoit Vital 100, you will still get a powerful air purifier for an affordable price.
Levoit has earned quite a reputation in the air purifier space. Launched in 2016 by Vesync Co. — a publicly traded Smart appliance company, Levoit has changed people's perception of "cheap air purifiers," offering features you'd expect in premium models at a fraction of the price.
At only $96, the Vital 100 is an excellent choice for those looking to clean small-medium-sized rooms, with a unit that packs powerful True H13 HEPA and Activated Carbon pellet filters.
It is designed for rooms of up to 300 ft² and based on its reported CADR and our tests, it is more suited to smaller spaces.
Its main competitors for your dollars are the Levoit Core 300 and PUR 131, which we reviewed last year.
Why You Should Trust This Review

Here at HouseFresh, we don't accept free products or write sponsored reviews that are suspiciously positive all the time. That means you can rest assured this review is impartial and that all the information is based on our real-world test results.

Before writing this review, we performed the following tests:

💨 Air Purification Test:
We lit an incense stick inside our test room of 705 cubic ft and used a PurpleAir Indoor air quality monitor to record how fast the Levoit Vital 100 removed PM1.0ug/m3, PM2.5ug/m3 and PM10.0 ug/m3 particles from the air.

⚡ Power Usage Test:
Using an electricity usage meter, we tracked how much energy was used by the Levoit Vital 100 when running at its top and bottom speeds.

🔊 Sound Test:
We then used a sound meter to record how loud the Levoit Vital 100 can get to when running at the lowest and highest fan speed.

📈 Data-Viz:
Using Flourish, we visualized the data to see how the Levoit LV-H132 compares to other air purifiers at the same budget and room size.
TL;DR The Lowdown on the Levoit Vital 100
---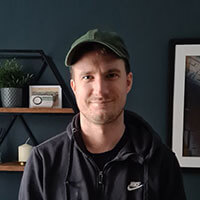 "The Vital 100 is good choice for those looking to clean small to medium-sized rooms. However, we still recommend choosing the Levoit Core 300 as it can clean more air for the same price."

— Danny Ashton, Founder & Senior Writer
---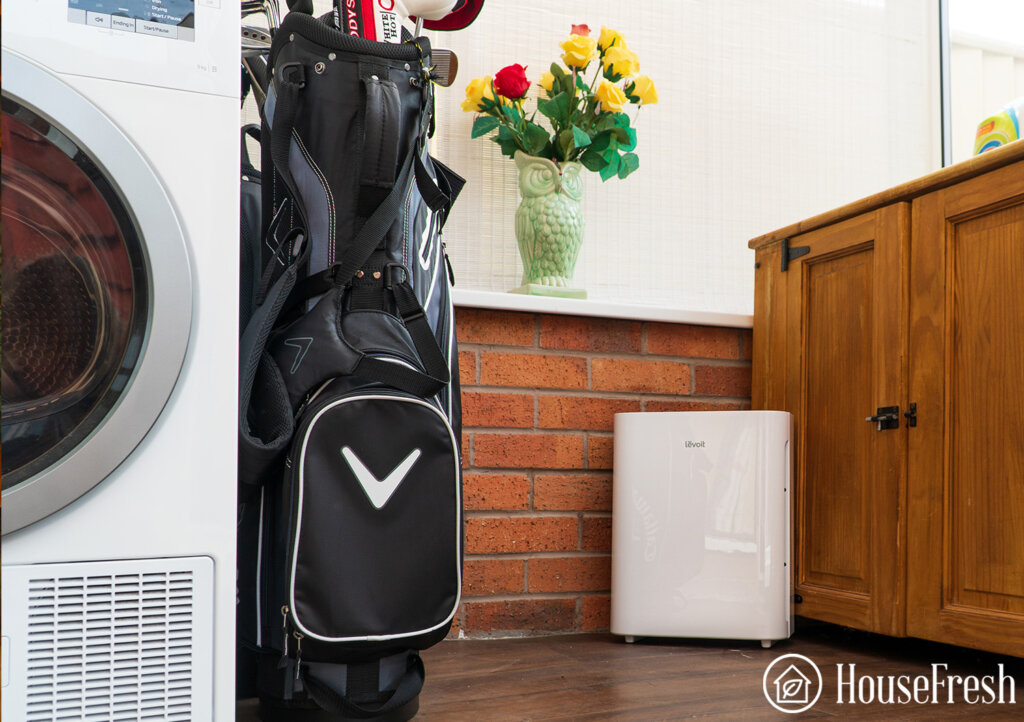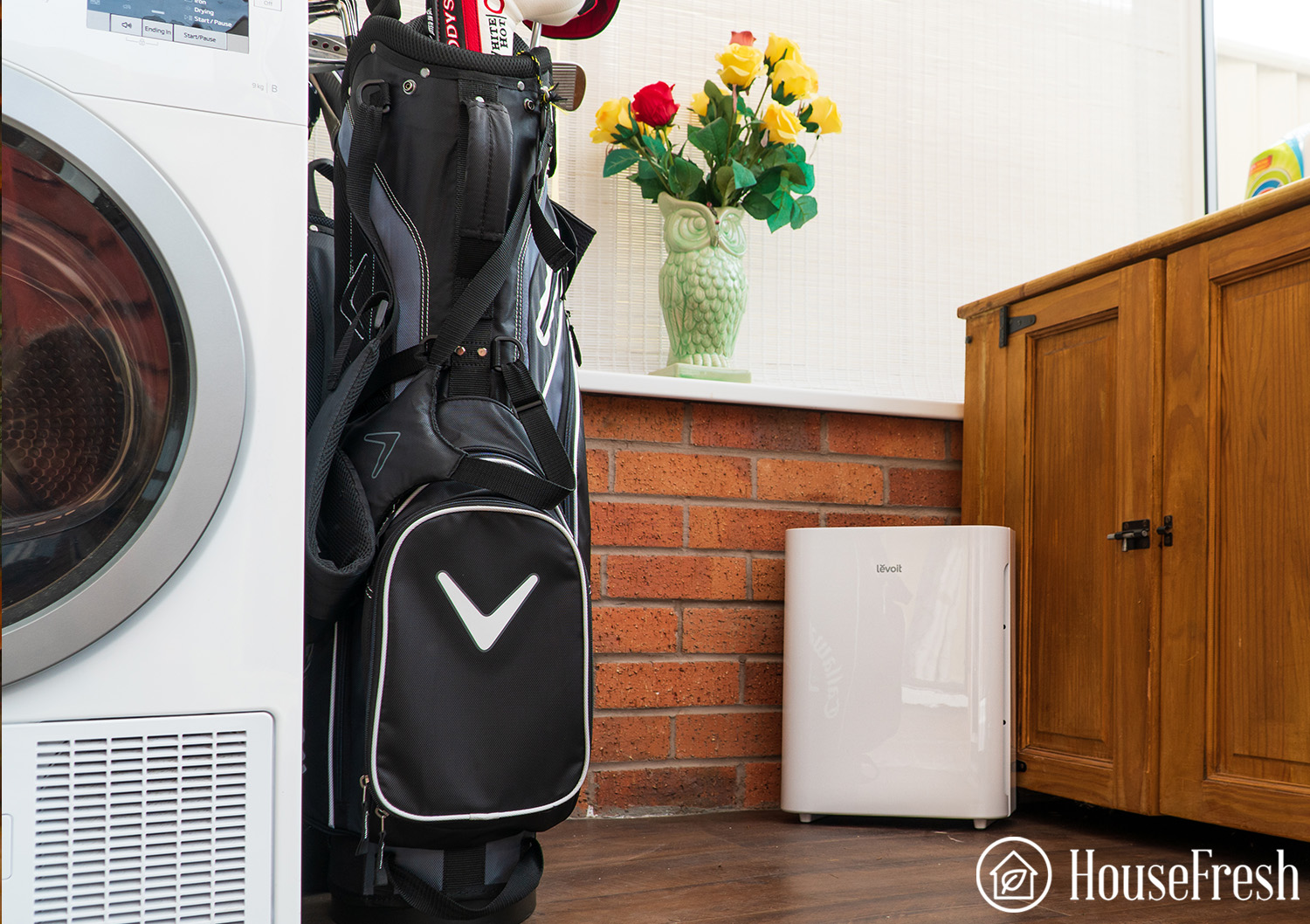 Short on time? Here's our summary of the Levoit Vital 100.
What We Really Like:
👍 It costs less than $100, sitting in the budget category
👍 3-stage filtration that has a pre-filter, activated carbon pellets and H13 True HEPA Filter
👍 No use of ionizer, so zero byproducts created, such as ozone
👍 Modern-looking design that won't look out of place in a modern home
👍 Easy to use with handy features like preset timers and filter replacement indicator
What We Think Could Be Better:
👎 Lacks a smart air quality sensor to support autonomous mode
👎 Filters must be changed every 6-8 months and cost the same to those of more powerful air purifiers
👎 No app support or ability to turn on the unit when not in the room
The Specifications
The Levoit Vital 100 is a high-performance HEPA air purifier ideal for rooms with a maximum size of 300 ft².
At only $96, the unit competes with budget-friendly air purifiers like Levoit Core 300, Taotronics AP003 and IKEA FÖRNUFTIG. All these units also feature HEPA and Activated Carbon filters and are ideal for small to medium-sized rooms.
Here are the complete product specs:
| | |
| --- | --- |
| HouseFresh Rating: | ★★★☆☆ |
| Time to clean our test room: | 49 minutes |
| Air purifier technology: | Washable pre-filter, Activated Carbon filter, H13 True HEPA filter |
| Recommended room size: | Up to 300 sq. ft. |
| Clean air delivery rate (CADR): | 130 CFM |
| Dimensions (in inches / in cm): | 12.8 x 6.4 x 16.1 inches (32.4 x 16.2 x 41 cm) |
| Weight (in pounds / in kg): | 9.3 lbs (4.2 kg) |
| Noise level (low – high): | 23 dB – 50dB |
| Filter life: | 6 – 8 months |
| Manufacturer's warranty | 2 years |
| Estimated energy consumption: | $48.36 per year |
A Good Looking Unit With Simple Controls
The Vital 100 feels premium with a stylish look that complements home décor.
Its design is closer to that of the Levoit LV-PUR131 than the Levoit Core series, but I kind of like that – we've got enough cylindrical air purifiers at home.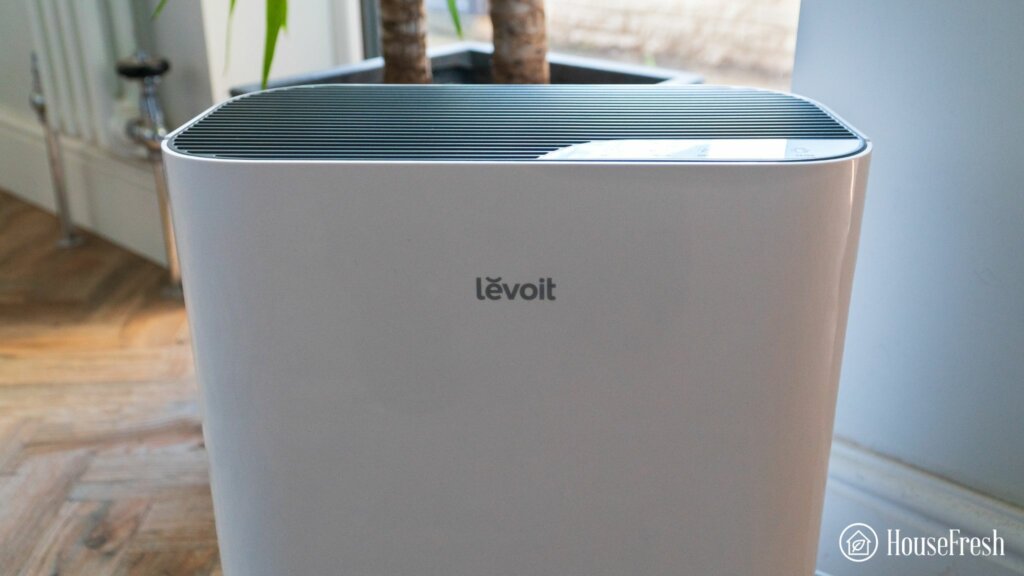 The Levoit Vital 100 is a good-looking air purifier and is an easy unit to live with. It is compact, with a simple, glossy shell and rounded corners. Levoit offers this unit in two finishes — white and gray.
The Vital 100 only weighs 9.8 pounds, so you can easily carry it from room to room as needed. Even though the Vital 100 has a small footprint, it is less compact than the Levoit Core 300:
The control panel is at the top of the unit, similar to every other Levoit air purifier, so that is where you will find the different touch-LED buttons and indicators.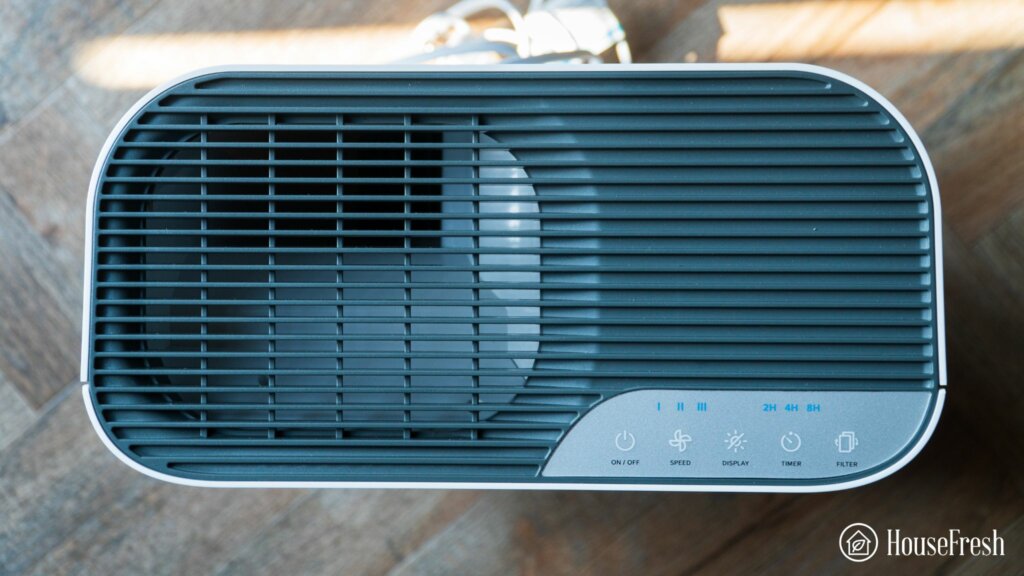 Levoit has included the following controls with this unit.
Power ON / OFF
Speed (for adjusting the fan speed)
Display (for adjusting the display light)
Timer (2, 4, or 8 hours)
Filter (for filter change notifications)
Each control comes with an icon and text label, making it even easier for a first-timer to operate the device. Blue LED lights are above the "Timer" and "Speed" buttons, so you can easily see your current setting.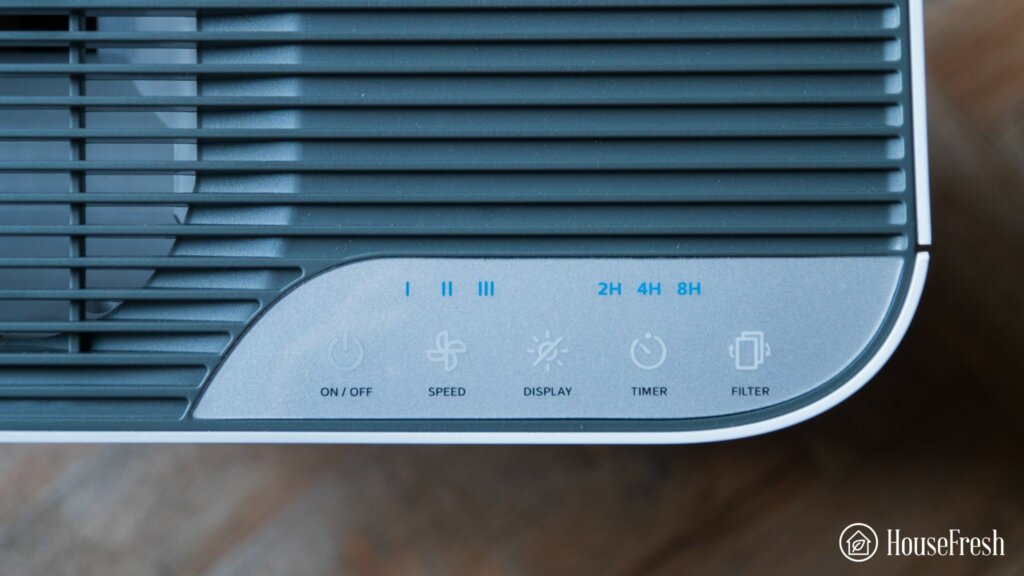 The Levoit Vital 100 can't be controlled via a smartphone. If these features are important to you, check the newer model, the Levoit LV 100S, which offers advanced features like Wi-Fi connectivity and smartphone support.
💸 Keep in mind that smart functions will come at a higher price premium of $139.99 for the same level of cleaning power.
Powerful Levoit Filters
Before purchasing any air purifier, it's essential to know what filters the unit uses and how effective they are in cleaning specific contaminants in your home.
The Levoit Vital 100 has a three-stage filtration system that tackles particulate at all levels.
Fine washable pre-filter — a washable filter that traps hair, pet fur and lint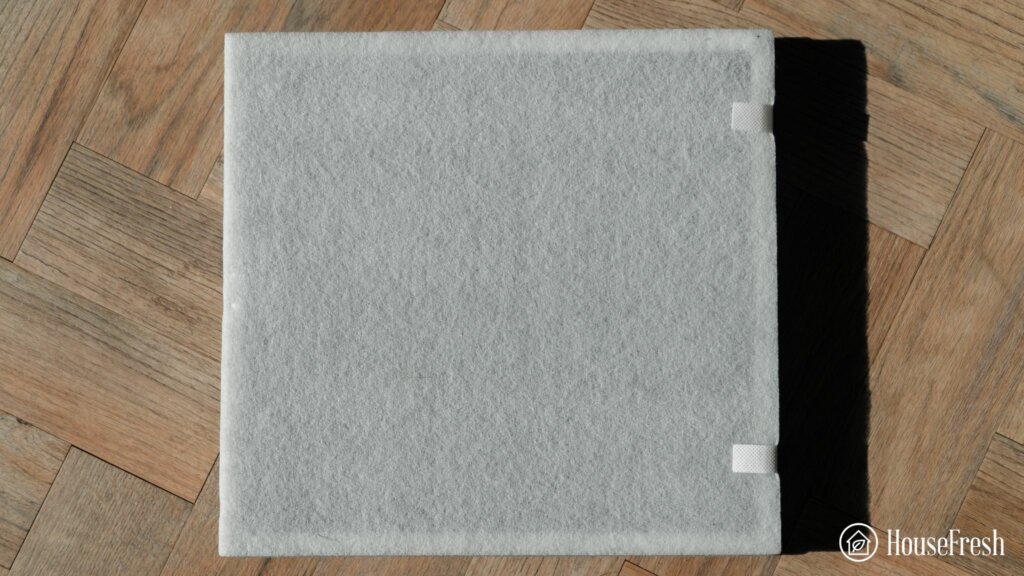 True HEPA H13 filter — filters 99.97% of particles down to 0.3 microns, like dust, mold, pollen, dander and airborne germs but also does a great job of removing smaller particles than 0.3 microns, like viruses.
Activated Carbon filter that uses pellets — Absorbs VOCs and odors. I was pleased to see Levoit use pellet carbon versus the impregnated fabric you see with other brands use in activated carbon filters.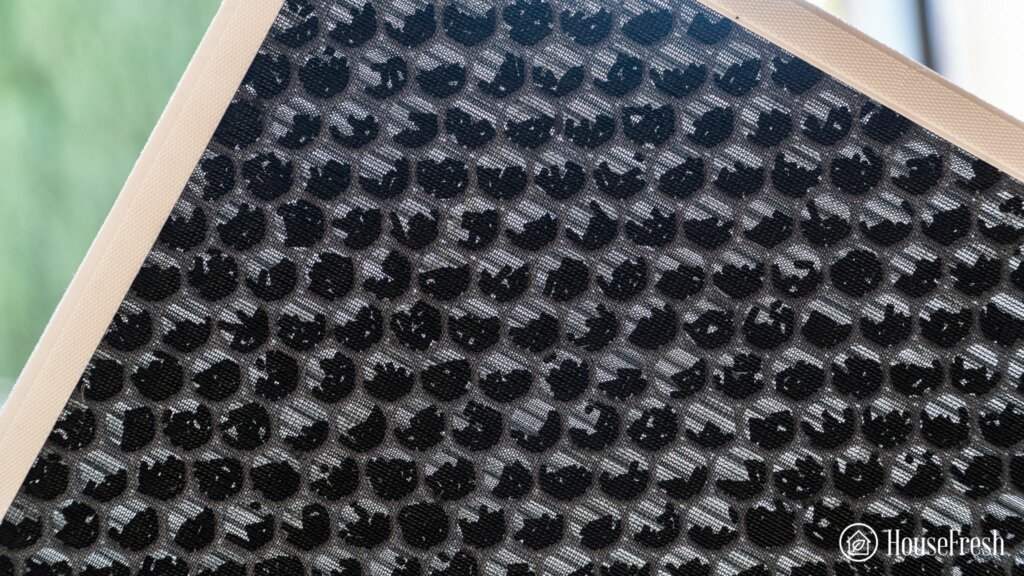 The three-stage filtration system ensures that the system traps virtually all particles. You can quickly clean the pre-filter using a brush to remove any particle build-up, which helps increase the HEPA filter's performance and lifespan.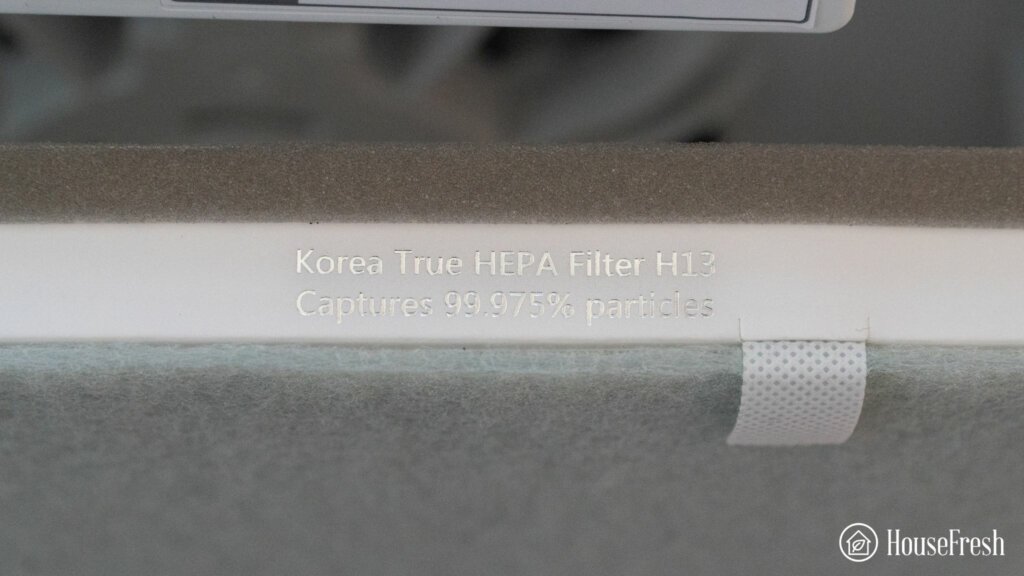 Levoit recommends you replace the filters on the Vital 100 every 6 – 8 months. You don't have to watch the calendar; the filter icon will illuminate when it's time for a replacement.
Replacing the filter is simple. Just follow these easy steps:
Unplug the unit
Remove the front panel by pulling it (it's magnetized, so you don't need to unclip anything)
Pull out the old filter using the tabs and remove the pre-filter, which is attached by velcro (this is the perfect time to give that a clean)
Attach the pre-filter to the new filter and insert it the same way you removed it.
Re-attach the front panel.
⚠️ When you first receive your new air purifier, the filter will be in a plastic bag that needs to be removed before you start the machine. Otherwise, the air purifier will move air around the room, potentially worsening the air.
The Levoit Vital 100 Cleared Our Test Room in 49 Minutes
At HouseFresh, we research CADR ratings and other metrics the manufacturer provides but don't leave it at that. We perform our own thorough tests to see whether the unit performs as advertised.
To test air purifiers in the real world, we utilize our home office, which measures 705 cubic feet—roughly the size of a medium-sized bedroom. We burn incense sticks to fill the room with pollutants and use our indoor air sensor from Purpleair to see how quickly each unit can eliminate PM1.0ug/m3, PM2.5ug/m3 and PM10.0 ug/m3 particles from the indoor air.
We keep these conditions constant for all tests, allowing us to compare different air purifiers and see which performs best in removing indoor pollutants.
So, how did the Levoit Vital 100 perform?
We were impressed by the performance of this unit, considering its price tag. It took the Levoit Vital 100 just 49 minutes to clean the air in our test room.
Air Cleaning Performance Compared to Other Air Purifiers
To put the test into context, check out how the performance of the Levoit Vital 100 compares to other units we've tested:
Additionally, the Levoit Vital 100 is an incredibly quiet device.
Noise Levels Test Results
In our test, the unit produced 50 decibels of noise at maximum fan speed — considered ultra-quiet by industry standards. The IQAir Healthpro Plus hits 69dB at its highest speed.
The Cost to Run a Levoit Vital 100: $112.34 Per Year
1. Electricity costs = $30.48 per year
The long-term costs of using an air purifier are essential, especially with the rising cost of electricity worldwide. The Levoit Vital 100 is not the most power-efficient unit we've tested, but it's pretty efficient by industry standards.
At the maximum speed, the unit pulled 46.3 watts which equates to $48.36 per year at 24/7 usage every day.
In comparison, the newer Levoit Core 300S cleaned quicker at 14.2 watts and even the older Core 300 was 45 watts at its highest speed.
2. Filter costs = $63.98 per year
Another important factor to consider when buying an air purifier is filter costs. HEPA filters are the most effective at trapping indoor pollutants. Generally, replaceable HEPA filters should be replaced every six to twelve months.
Levoit Vital 100 filters cost $31.99 for genuine filters, which is $63.98 per year in filter costs and you can find generic filters for $35.80 per year with two changes, which is a much better choice for most people. In comparison, genuine filters for core 300 are $79.98 per year and $39.99 for generic filters.
---
Bottom Line
The Levoit Vital 100 is an affordable, high-performing air purifier that cleaned our test room of all pollutants in just 49 minutes. Its filter costs are reasonable due to the availability of generic filters, and it's certainly not worth upgrading if you have this air purifier, as it performed well in our particulate test.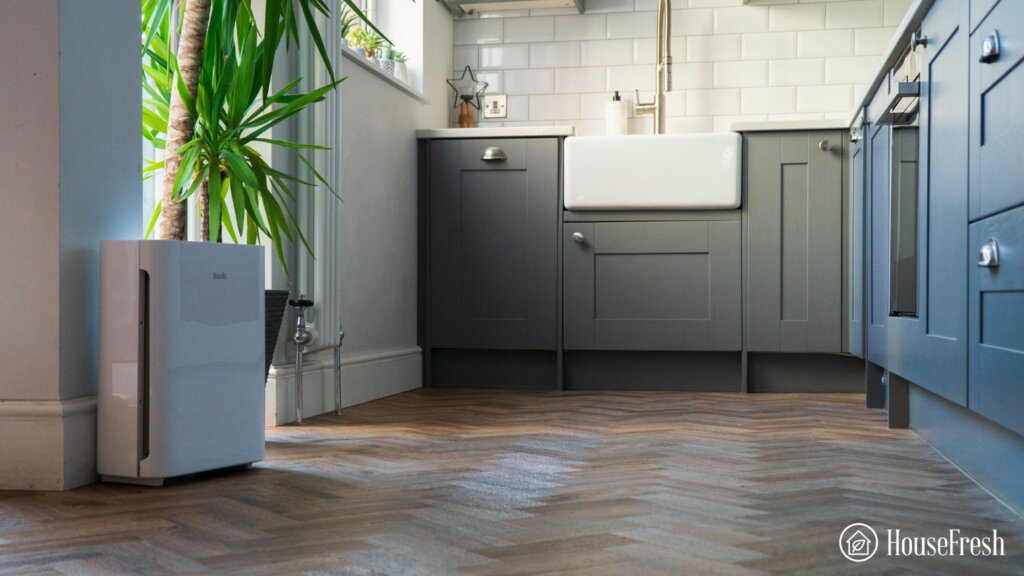 The Levoit Vital 100 is getting a bit old in air purifiers. While it delivered good results in our test, you will get better performance for your spend with something like the Levoit Core 300 for the same price or the upgraded Levoit Core 300S (for a little extra cost initially.)
---
SOURCES
We used the Department of Energy's appliance energy calculator to calculate yearly costs associated with running the Vital 100 for 24hs a day for 365 days. We ran this calculation utilizing the U.S. average utility rate of $0.12/kWh as of March 3rd, 2023.
Last update on 2023-09-18 / Affiliate links / Images from Amazon Product Advertising API