Our verdict:
IKEA has entered the arena with a budget air purifier for the modern home. It comes with a stand, or you can mount it straight onto the wall showcasing IKEA's famous versatile style from top designer David Wahl.
Don't be too fooled by its looks, and remember that this unit is made for smaller spaces, up to 105 sq ft., so it won't make much impact in larger rooms. There are no smart features, but it does have three fan speeds.
Because of its low price tag, the cost of cleaning power is excellent and replacement filters are cheap, so if you're looking for a budget purifier that looks good in your small room and won't cost you much to run, the FÖRNUFTIG is a worthy option. 
It's not just a pretty face.
Since its conception in 1943, IKEA has been furnishing homes worldwide with modern, affordable goods. What made IKEA stand out from the rest was a straightforward innovation…you have to build each piece yourself.
Even though this fact has been the course of much frustration over the years (if you haven't tried to make their furniture before, trust me, it's frustrating), they can post furniture straight to your door, which keeps costs low.
IKEA has 456 stores worldwide (54 in the U.S) and a huge marketing department, so any project they launch receives much attention from the media.
Although IKEA is pretty new to the air purification market, they have released a few models for the home, the FÖRNUFTIG, the UPPÅTVIND and the STARKVIND, both under $200 and the STARKVIND, which is a table with an air purifier built in.
If you've read any of our product reviews before, you'll know that we tell you exactly what we think and pull no punches. We test every unit in our home lab and compare it with other units so you know how well it performs in real-world conditions. We will tell you if we don't think it's worth your hard-earned money
TL;DR The Low Down on the Unit
We tend to go pretty in-depth into our product reviews; if you don't have time to read into all the details, check out our Too Long; Didn't Read pros and cons to get a sense of what we thought of the FÖRNUFTIG.
What We Really Like:
👍 Great CADR to $ cost
👍 Can be mounted on your wall
👍 Very easy to use
👍 Simple to replace filters
What We Think Could Be Better:
👎 No auto or sleep mode
👎 Activated carbon filter sold separately
👎 Noisey on high fan speed
Price To Cleaning Power Is 👌
As you can see from the table, the CADR (Clean Air Delivery Rate) on the FÖRNUFTIG can seem a little low when compared to other smaller units like the Blueair Blue Pure 411 (120 CFM) or the Medify MA-25 (135 CFM). Still, you have to remember that this unit is $75!
Any unit under $100 that gives you a CADR over 50 is good in my book.
Let's look at what's under the hood:
| | |
| --- | --- |
| Purifier technology: | Pre-Filter, HEPA Filter and Carbon Filter |
| CADR (CFM / m³/h): | 70 CFM / 119 m³/h |
| Recommended room size: | 85 — 105 sq. ft. |
| Filter life: | 6 months |
| Noise level (low – high): | 28 — 60dB |
| Dimensions (in inches / in cm): | 18H x 12W x 4D inches / 45.7H x 30.5W x 10.2D cm |
| Weight (in pounds / in kg): | 6.7 lbs / 3.04 kg |
| Energy consumption: | $31.94 per year |
| Time to clean the air in our room: | 61 minutes |
It's IKEA, What Do You Expect?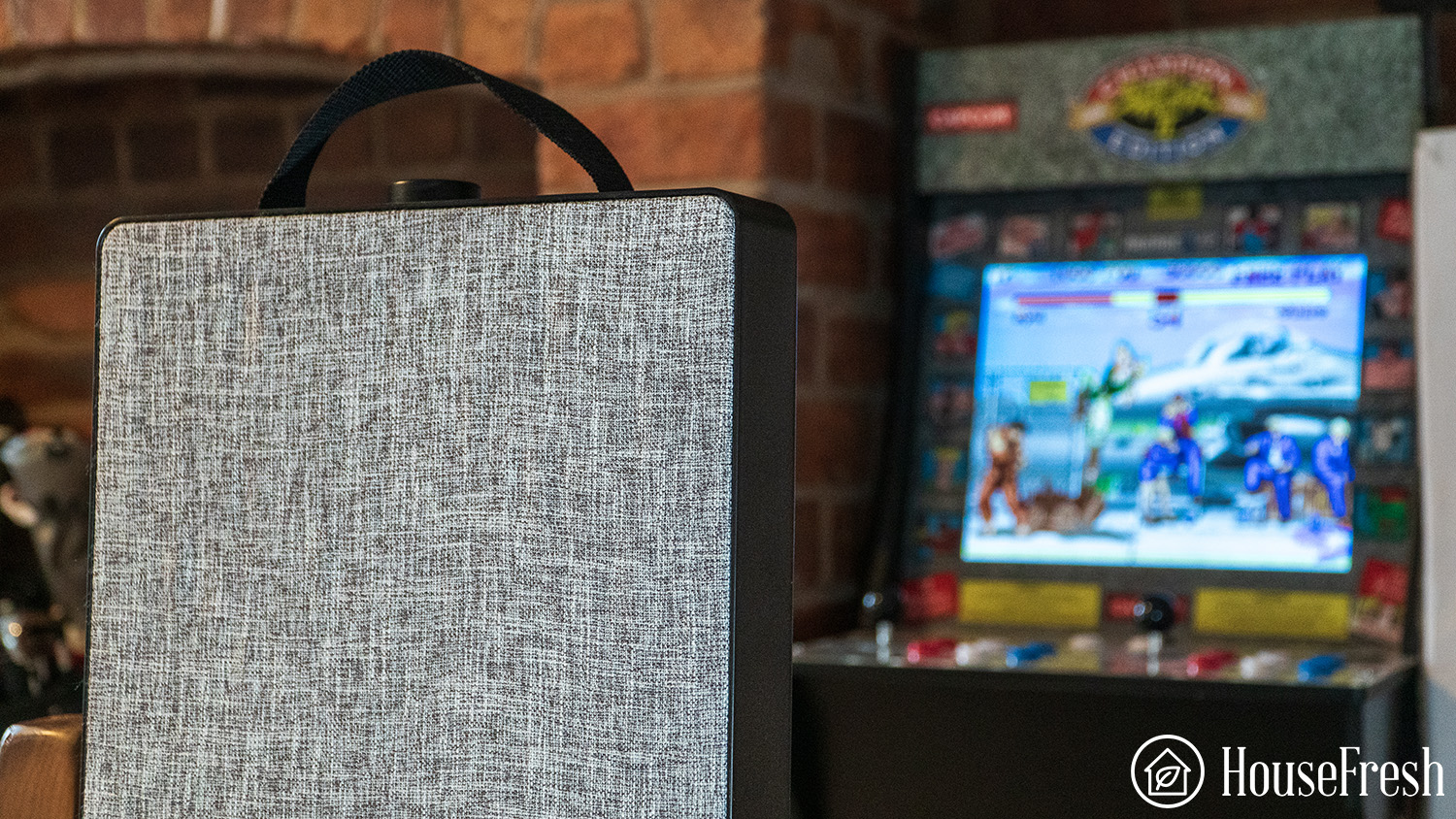 The FÖRNUFTIG sets itself apart from the usual boxy units we see day in and day out here at HouseFresh, and you can mount it on the wall, giving it that extra design edge over its competition.
If there's one thing that IKEA cares most about, it's the design of its products. For the FÖRNUFTIG, IKEA enlisted one of their top designers, Swedish-born David Wahl (the man behind the award-winning PS 2014 pendant lamp). And it has paid off.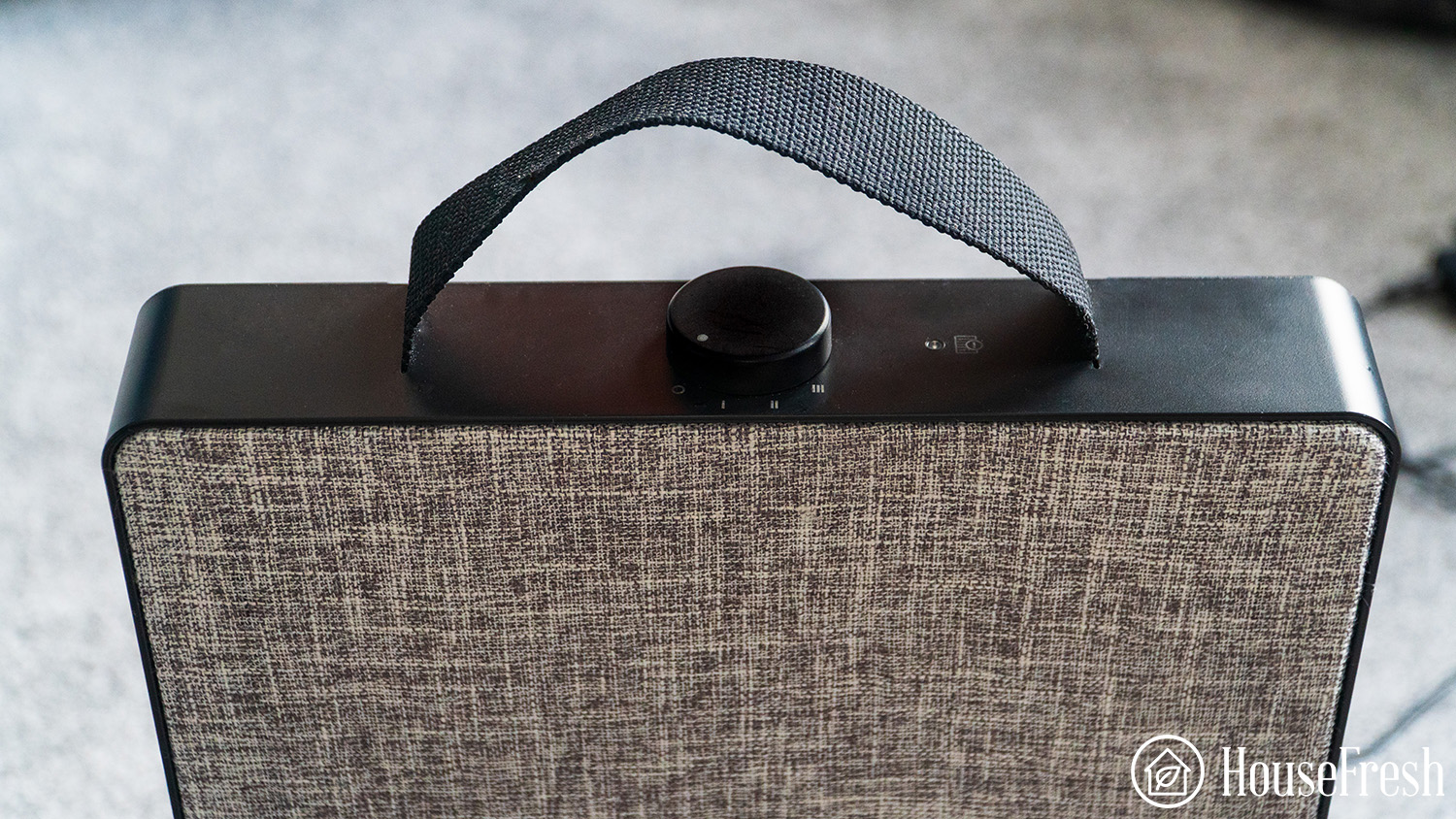 It has one solitary dial on the top to adjust the fan speed making it super simple to operate and an excellent alternative to buttons and touch screens. A heavy-duty fabric handle on the top makes it easy to transport between rooms and is also removable when wall-mounted.
If you don't decide to mount it on the wall, the FÖRNUFTIG comes with a powder-coated steel stand which only adds to the overall aesthetic.
The fabric grill on the front reminds me of an old-school speaker cover you might find in the basement hangout on That 70's Show (they probably should have checked out our top air purifiers for weed smoke article).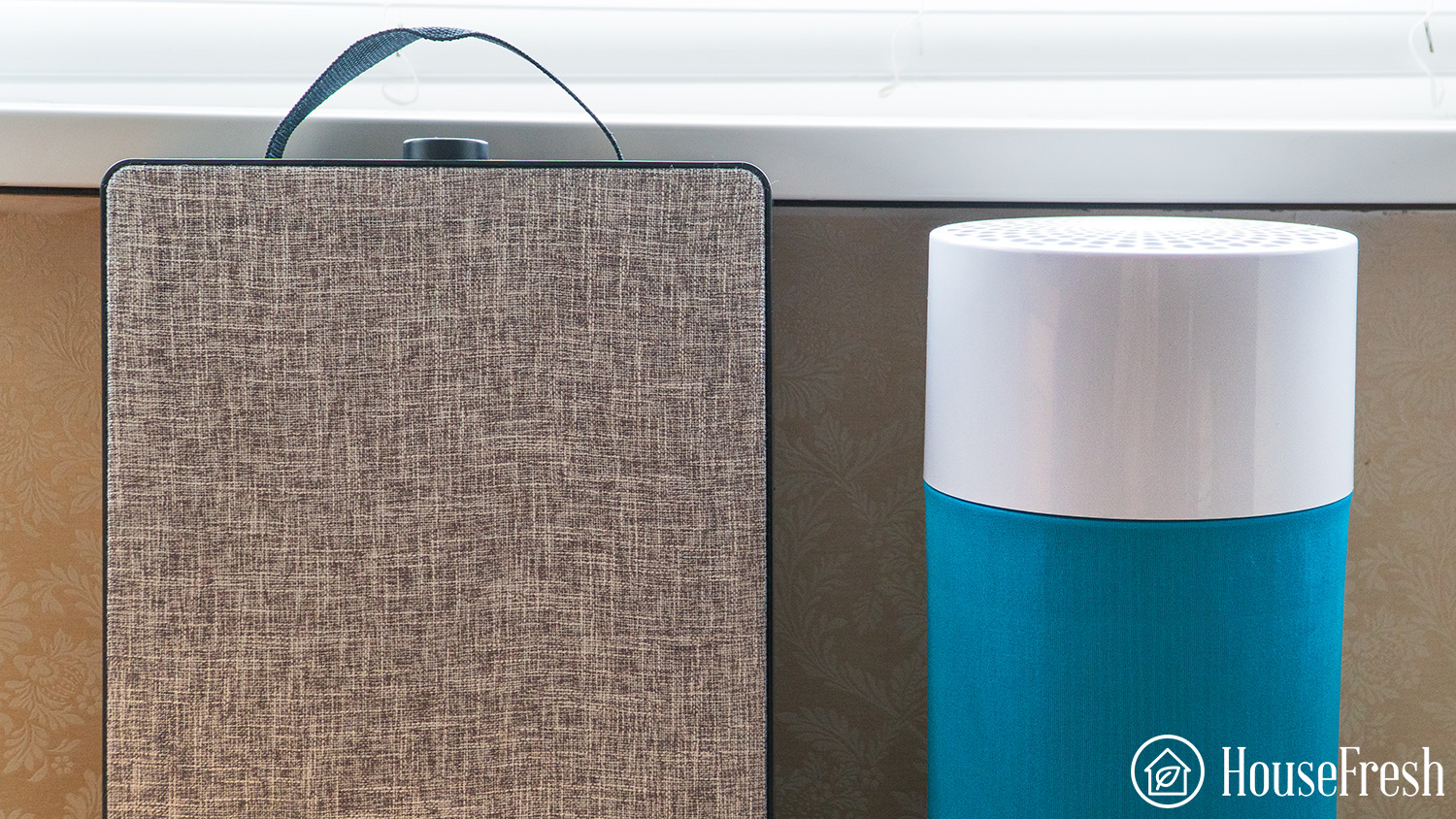 Strictly from a size and design standpoint, I would compare this unit to the Blueair Blue Pure 411. They're both doing something bold and different and keeping the features and controls to a minimum.
Pre-Filter and HEPA But No Activated Carbon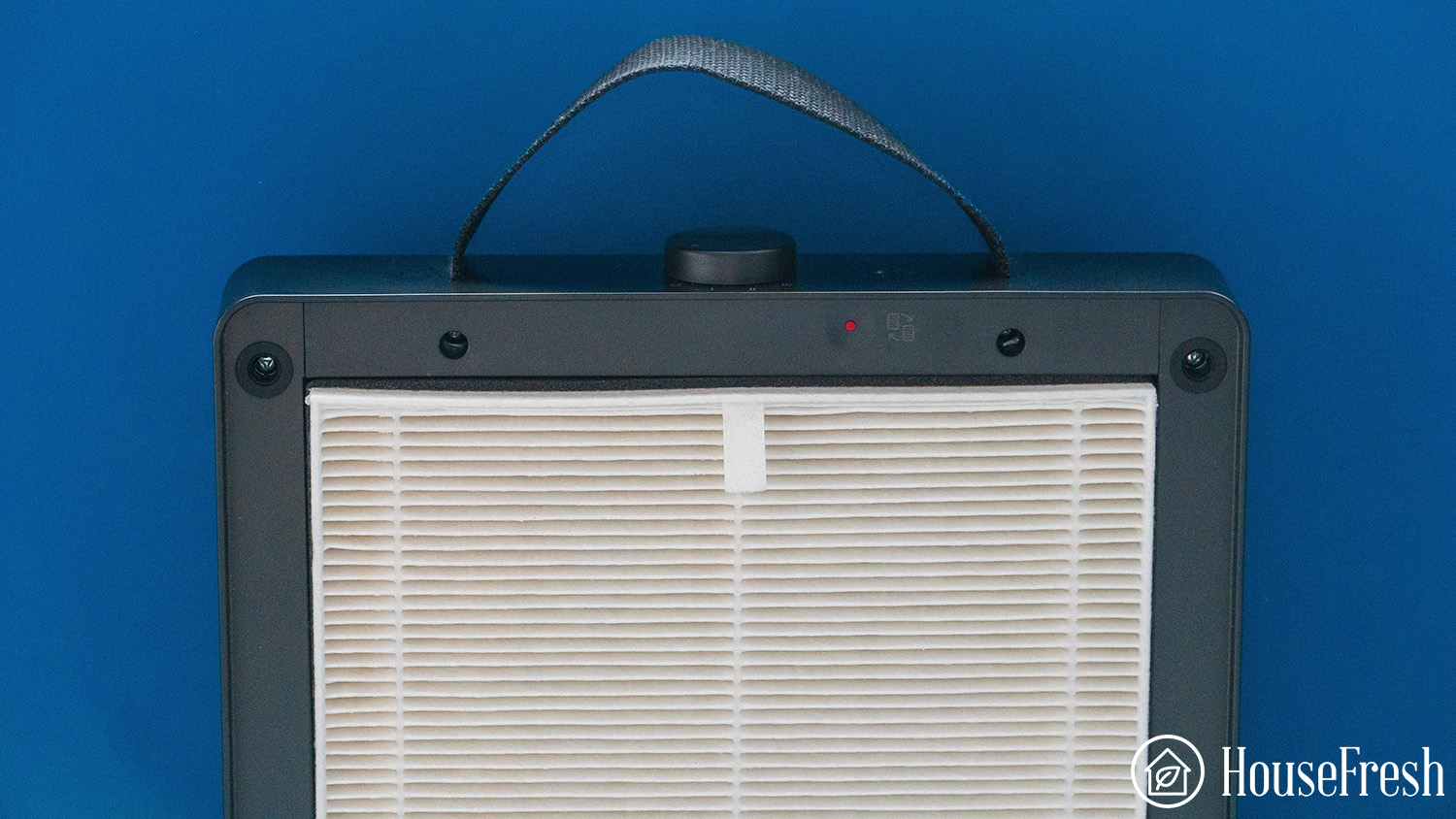 When you are looking for an air purifier, the filter is one of the essential parts. If the filter sucks, your air quality won't improve. At HouseFresh we only look at air purifiers that contain HEPA filters as we believe they are the best at capturing contaminants from the air in your home.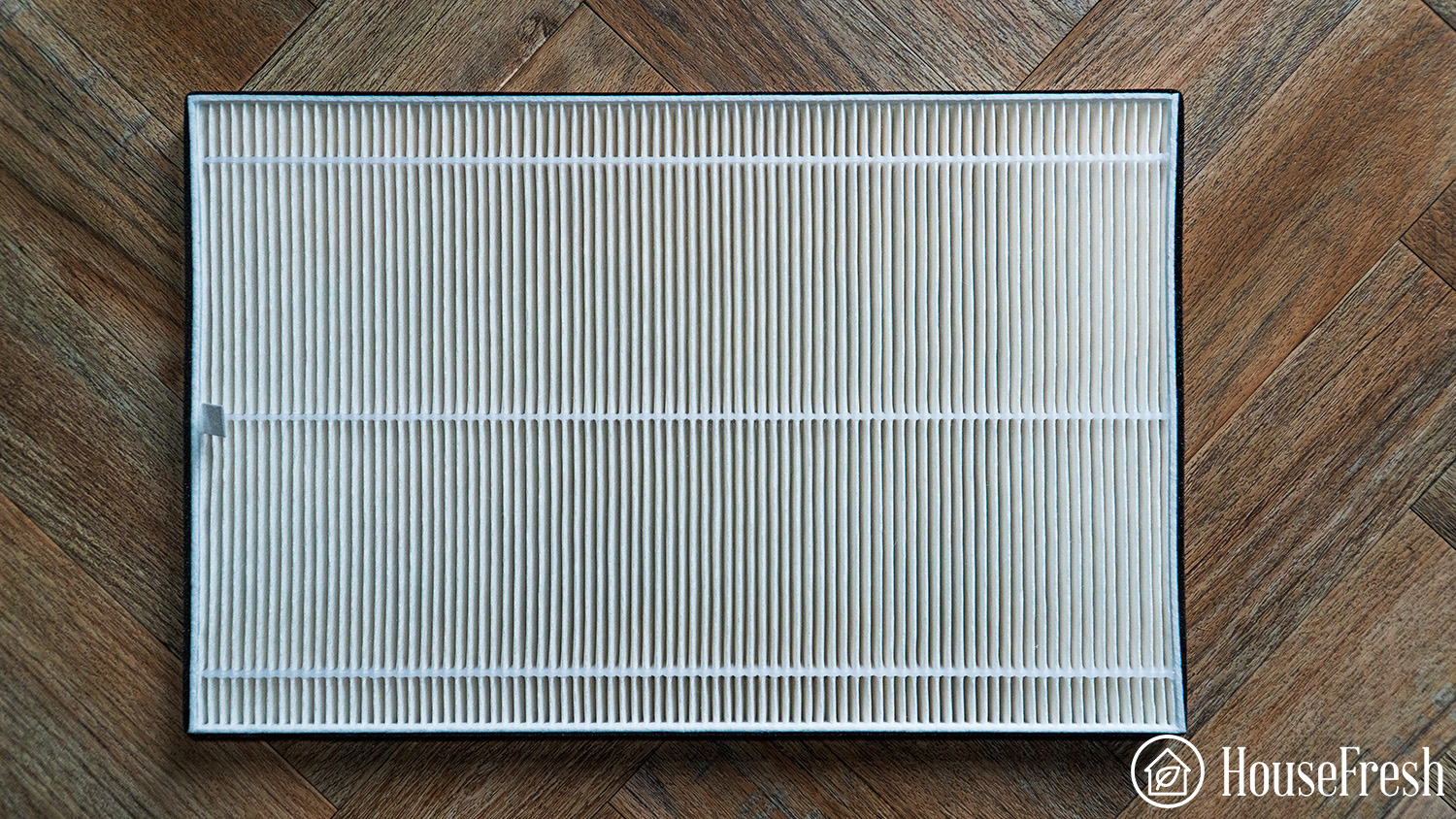 The HEPA filter in the FÖRNUFTIG isn't groundbreaking; in fact, it's quite thin compared to filters in other units, but for the size of the room this unit is intended for, it does the trick. It feels well-made and covers much of the unit's surface area (no wasted space).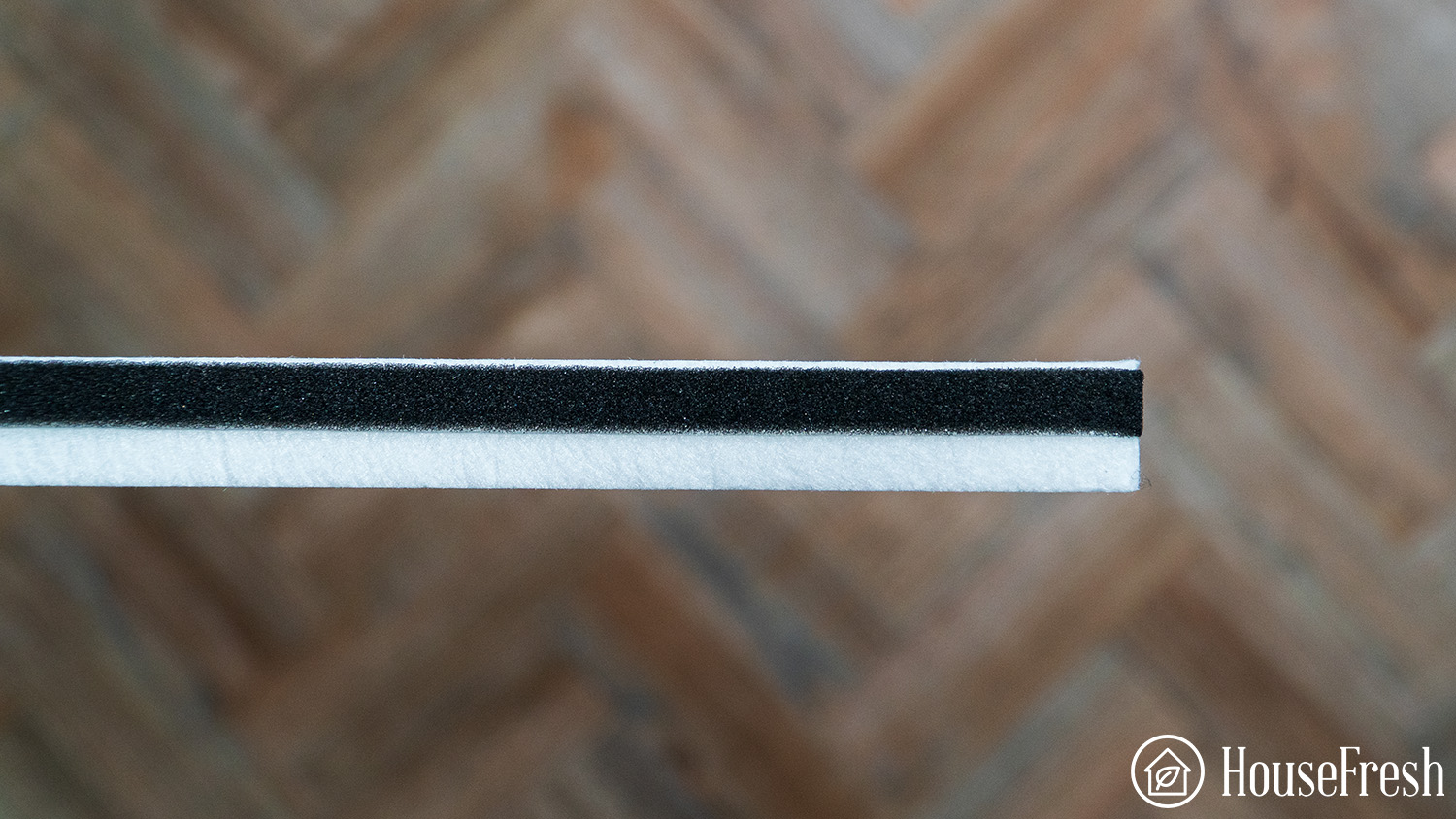 The FÖRNUFTIG has a fabric cover on the front, which acts as a pre-filter. Again, it's not the best we've seen, but it will stop larger particles like dust and hair, and you can remove it to vacuum, which prolongs the life of the HEPA.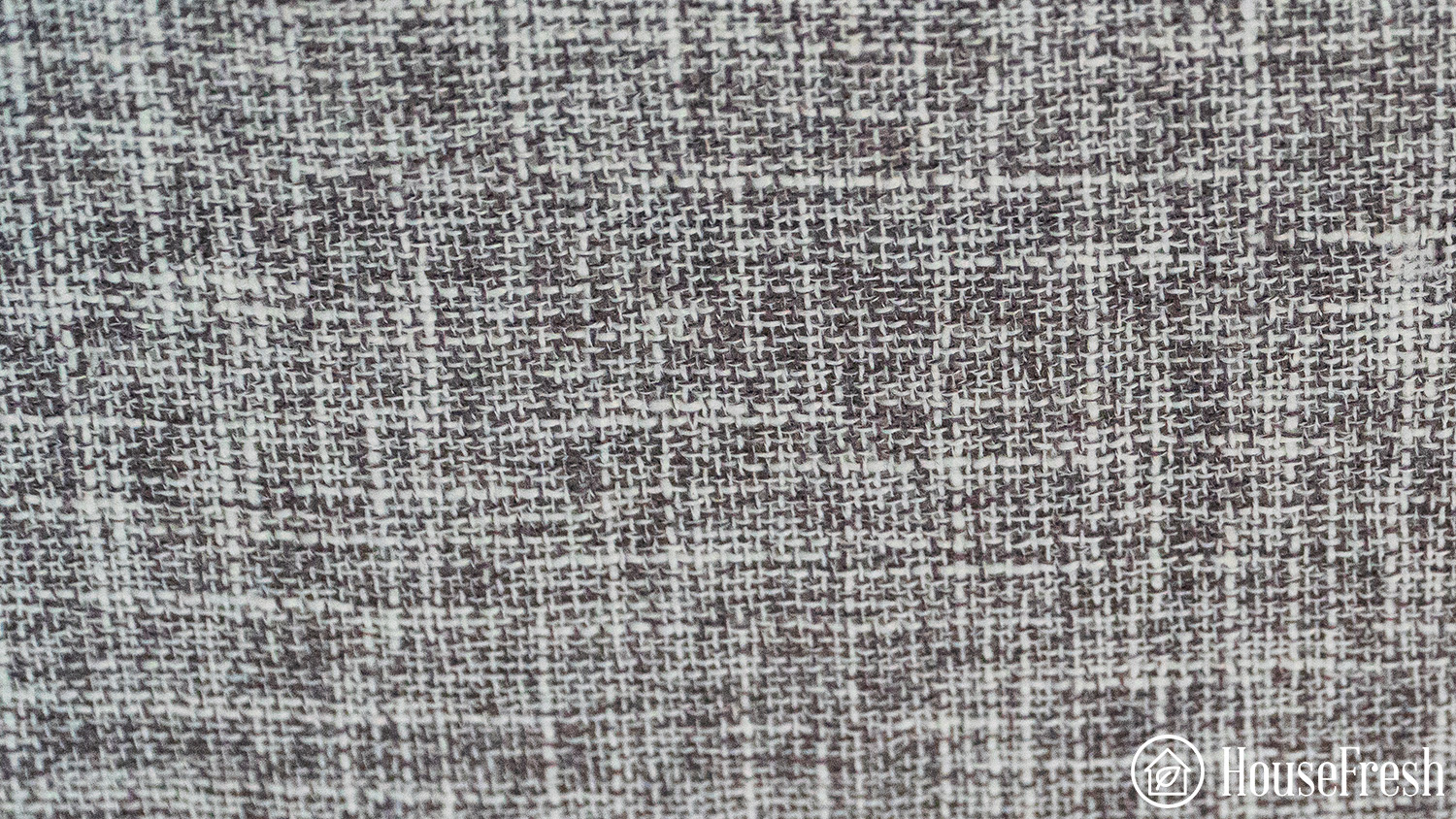 Unfortunately, IKEA doesn't provide an activated carbon filter (which they call a Gas Filter) as standard with the FÖRNUFTIG; you have to pay extra to have one included for an extra $17. I recommend getting this extra as activated carbon filters remove odor and other VOCs (Volitile Organic Compunds) from the air.
If you choose not to pay for an activated carbon filter initially, you can buy and install one later.
The FÖRNUFTIG's filters (HEPA and activated carbon) last around six months, depending on usage. You don't have to mark it in your calendar, as the unit will let you know when a replacement filter is needed with a red light.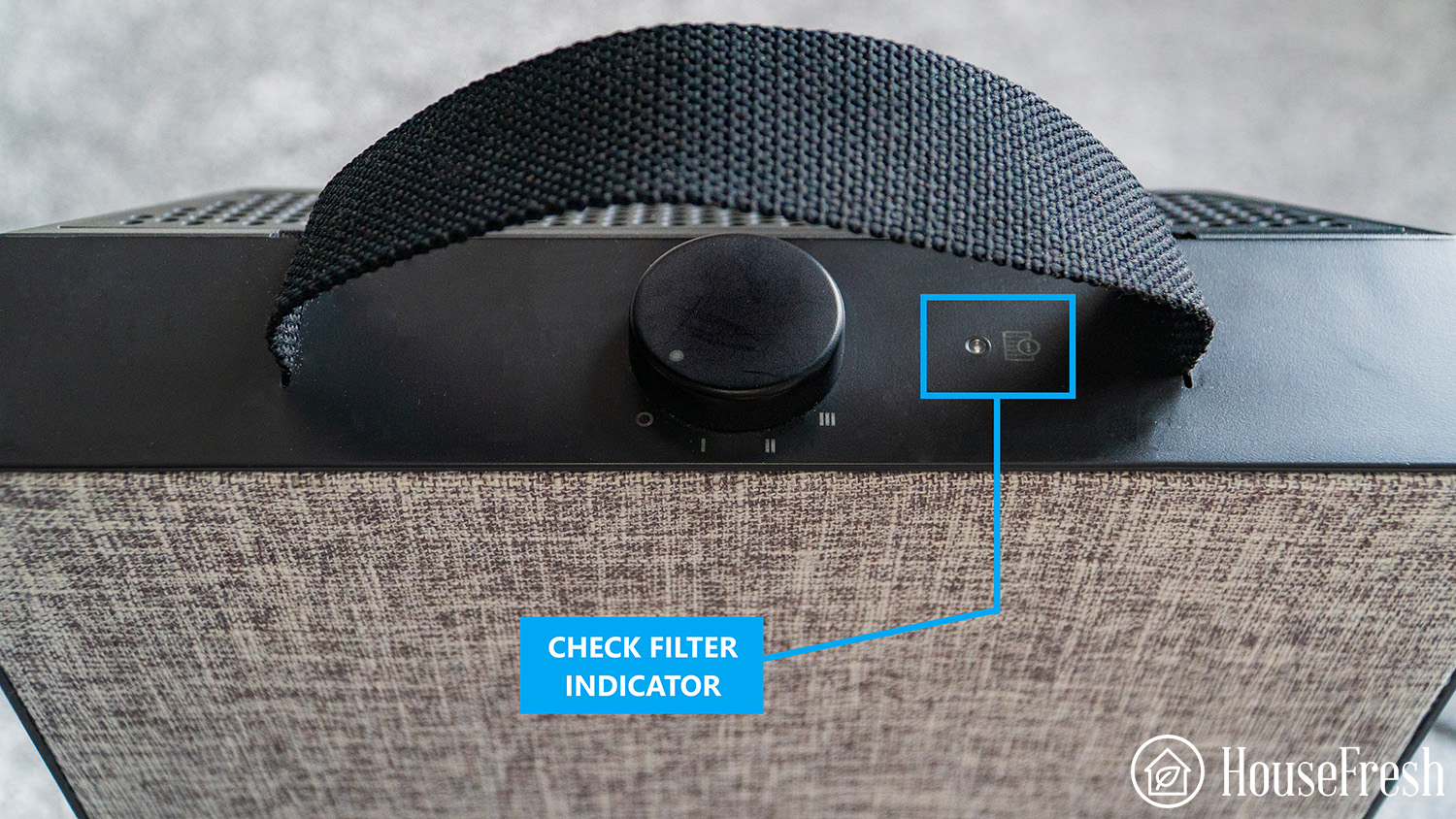 It's straightforward to replace the filter with a new one; just follow these easy steps:
Remove the fabric grill on the front of the unit
Pull the tab on the filters and pull them out
Remove all the packaging from the replacement filters and insert them into the unit
Replace the fabric grill
Reset the replacement filter indicator
If that sounds too complicated; I've made a video to show you how easy it is.
When replacing the filters, always remember to remove all packaging before installing the new filters into the unit. If you don't, the filters will a. Not work and be rendered useless, and b. It will start to cause a burning or plastic smell.
One Dial Operation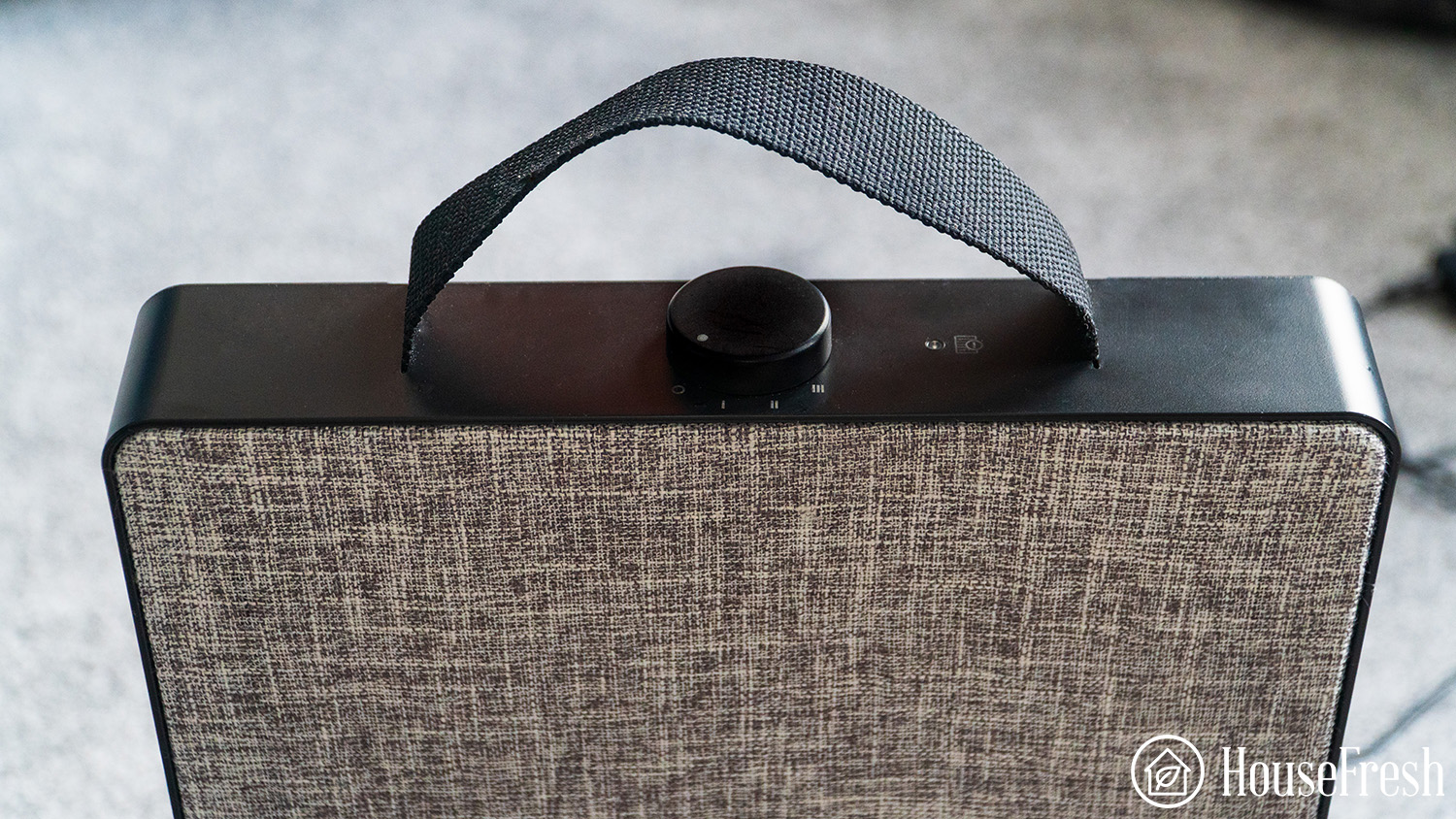 There are no fancy bells and whistles with the FÖRNUFTIG, which you may either love or hate. I like units with an air quality indicator like the one on the Taotronics AP-003 or an intuitive auto mode like the Coway Airmega 300. FÖRNUFTIG is as simple as they come.
On the top of the unit is one dial to operate the fan. Simply twist the dial to turn the unit on to its lowest fan speed, then twist again to toggle to the other two speeds (medium and high). That's it, no buttons, touchscreens, remote controls or smartphone apps to contend with.
Cleared Our Room In 61 Minutes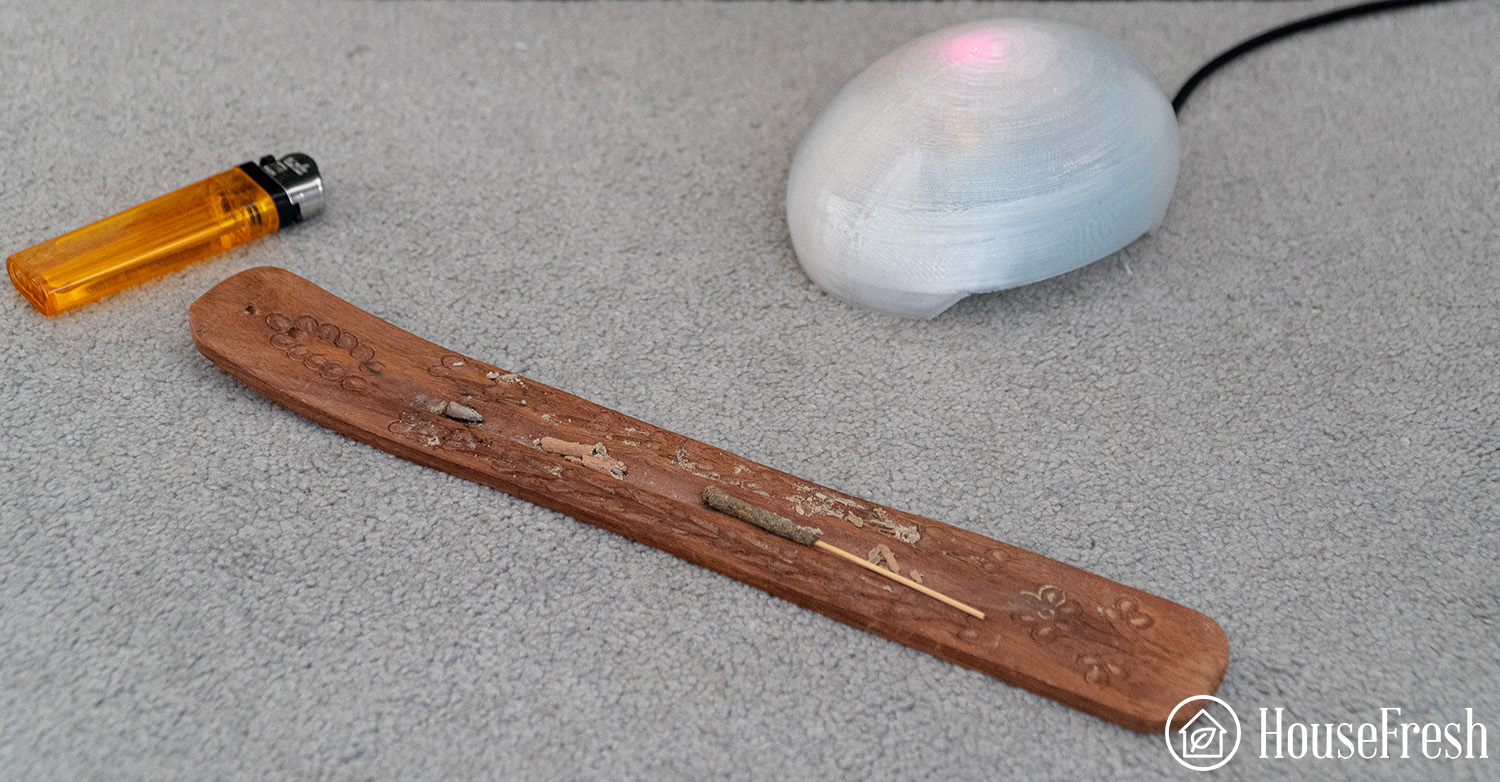 With any air purifier, it all comes down to how well it removes contaminants from the air in your home. There is no point in having a singing all-dancing unit that wins design awards if it doesn't do its intended job.
We don't test our units in a sterile laboratory because you don't live in one. We want accurate results in a real-world environment, so you know how well it will work in your home. That's why we test every unit we review in the same 705 cubic ft office under the same conditions. This also allows us to compare side-by-side with other units we've tested.
To test how each unit performs, we first contaminate our room with pollution by lighting an incense stick which fills the room with smoke. We then turn on the unit to its highest fan speed and track how long it takes to bring the particle matter down to zero.
To monitor this process, we use the Purple Air indoor sensor, which updates the PM1.0ug/m3, PM2.5ug/m3 and PM10.0ug/m3 levels in the room at regular intervals. These readings are then processed into a graph so we can visualize the results from each unit.
So, how did IKEA's FÖRNUFTIG perform in our testing room?
The CADR rating for the FÖRNUFTIG is 70 CFM, so we weren't expecting it to clear our room in under an hour, as we've tested other units with similar ratings like the Dyson HP04 (89 CFM — 84 minutes to clear room) and the MA-14 from Medify (70 CFM — cleared our room in 77 minutes).
As you can see from the graph, the FÖRNUFTIG cleared our room in 61 minutes with PM2.5ug/m3 and PM10.0ug/m3 levels dropping fast from when the unit was turned on PM1.0ug/m3 levels dropping steadily as these are the hardest pollutants to tackle for any air purifier.
For the size of the unit and its price tag, IKEA has managed to build an air purifier with an impressive price-to-cleaning power ratio. It's not just a pretty face, after all.
Turn Up The TV
The FÖRNUFTIG may look great, but the sound it creates isn't so hot. On its first fan speed setting, you'll be treated to a nice low fan whirling sound measuring around 28 dB, much louder than the Blueair Blue Pure 411 but a little lower than the Medify MA-25.
When you turn this unit up another couple of notches to its max speed, you start to hear the FÖRNUFTIG taking over the room. At 60 dB, you'll definitely notice this unit working away in the background, but you won't need to have it on high for long if you're using it in the recommended room size.
Have a listen to the sound it creates on each fan speed with our video below:
The Cost to Run A IKEA FÖRNUFTIG: $89.90 per Year
1. Electricity costs
When looking at a budget to buy an air purifier, you need to consider not only the cost of the unit. Air purifiers use electricity; unfortunately, electricity costs money (now more than ever with increasing energy prices).
These days, manufacturers usually do everything they can to make their appliances as energy efficient as possible. Still, if you have ongoing pollution problems, you may need to run your air purifiers for long periods.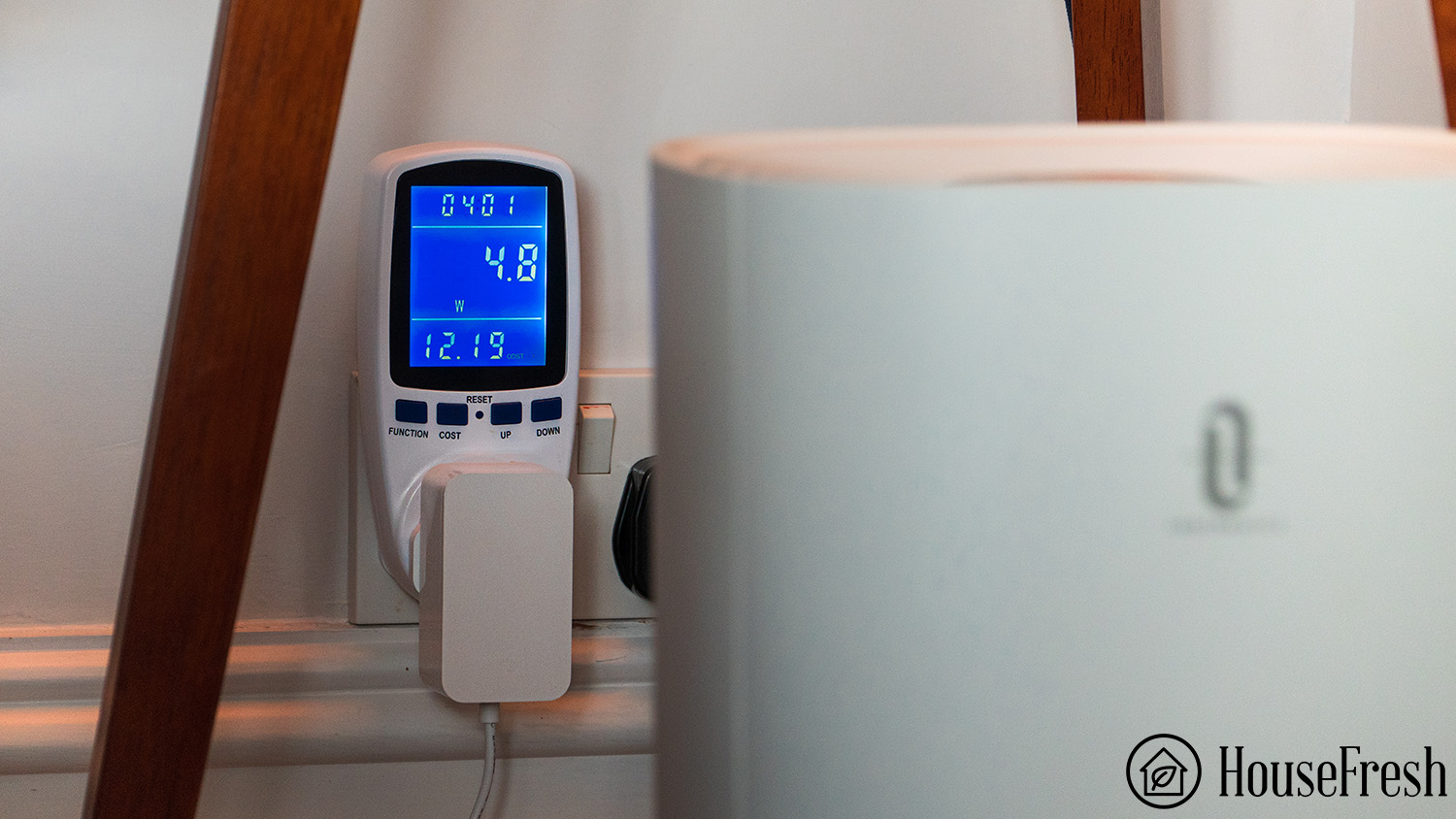 We've devised an Air Purifier Usage Calculator to determine how much your air purifier will cost you to run.
Using our calculator, we've gauged the annual cost of electricity per year to run the FÖRNUFTIG to be $31.94* as it only pulls 14.7 watts on its highest fan speed. This is more efficient than the GermGuardian AC4825e, which uses 56 watts, cleared our testing room in 104 minutes and will cost you $121.66 annually.
Try our calculator for yourself to see how much it will cost you to run the FÖRNUFTIG per year in your state.
2. Filter costs
Another cost to consider is replacing the filters in this unit.
Air purifier filters trap particles in their maze of fine fibers, so they don't re-enter your environment. As time goes on, these filters start to fill up with pollutants and become less efficient, so you need to replace them periodically.
The FÖRNUFTIG filters need to be replaced every six months (dependent on usage and air quality) and the unit will tell you when this needs to be done. Luckily, IKEA has made replacement filters inexpensive.
You can pick up their 2-piece filter set which includes one HEPA filter and one activated carbon filter (they call it the Gas filter) for $28.98. That's just $57.96 a year if you replace them every six months.
Bottom Line
For a company that isn't associated with air quality, IKEA has made a great effort with this introduction to the air purifier market with the FÖRNUFTIG.
With an award-winning designer like David Wahl style, this unit is a big selling point as it fits into any modern home. The controls are easy to use, with only one dial to turn the unit on/off and control the fan speed, and the filters are straightforward to replace.
I feel that the lack of smart features like an air quality monitor or auto mode will exclude consumers who want to keep an eye on the air quality in their home, but keeping things simple also keeps costs down.
The cleaning power is great for a unit of this size, and with a price tag of $74.99, it's perfect if you're on a budget. The fact that it can be wall mounted and stand on the floor gives it another edge over the competition.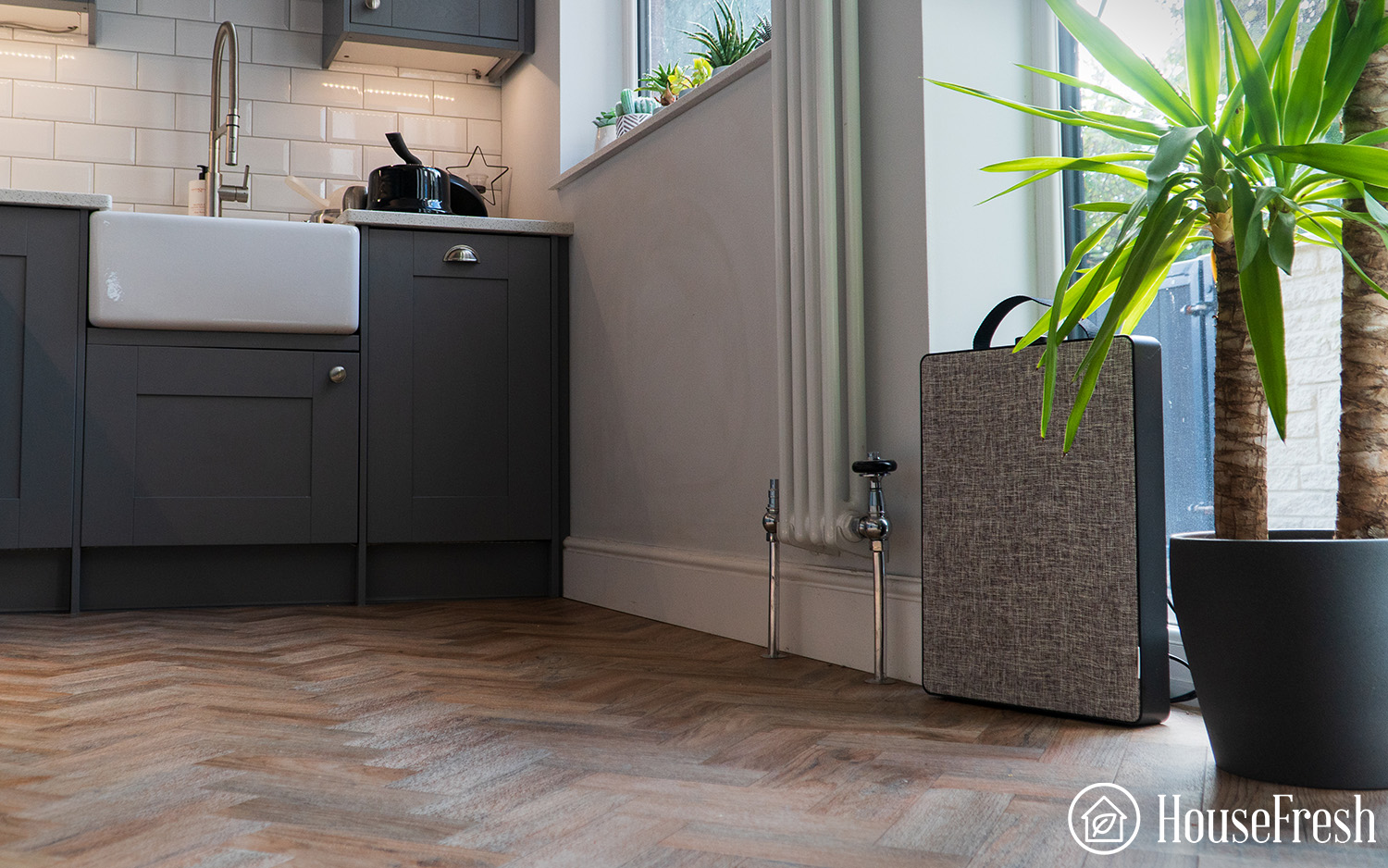 If you're looking for an air purifier for a smaller room on a budget that is easy to use and you're not bothered about smart features, the FÖRNUFTIG looks great and performs well even if it is a little noisy.
For everyone else who wants a little more bang for their buck and isn't too concerned with aesthetics, check out what the new wave of budget air purifiers looks like with the Taotronics AP-003.
---
The Rules We Followed When Reviewing the IKEA FÖRNUFTIG
Our goal is to help our readers have a clear understanding of which air purifiers are great and more importantly, uncover those you should avoid.
That's why:
1. As with all the reviews you will read from us at HouseFresh, we bought the IKEA FÖRNUFTIG with our own money and performed performance testing in our own home.
2. We didn't rely on manufacturers' feature lists and specification figures. We dug deep and tested the performance of this unit in real-world conditions with our testing tools.
3. We used data from our performance test to compare the IKEA FÖRNUFTIG with other similar air purifiers in the market.
4. We evaluated the long-term benefits and downsides of using the IKEA FÖRNUFTIG, putting the unit to the test for over 6 months.
Our Testing Process
Here at HouseFresh, we don't just want to talk about how it looks, what features it has or how well the manufacturer says it works; we want to test each unit in a real-world situation, so you know if it's right for your home.
As consumers, we always research CADR rankings and other performance metrics published by the manufacturers, but we don't like to leave it at that.
Without our real-life performance testing, we wouldn't be able to recommend a unit being 100% confident we are making the right call.
That's why we test all the models we review here at HouseFresh in the same room (sized 705 cubic ft) performing the same job (removing incense smoke). This allows us to compare units side by side.
We use the PurpleAir PA-I Indoor PM 2.5 Sensor that combines the ability to track PM1.0ug/m3, PM2.5ug/m3 and PM10.0 ug/m3 every few minutes.
We can then visualize this data using Flourish to help us determine how long it took this specific unit to remove all pollutants from the air.
SOURCES
We calculated the monthly energy consumption costs with the help of our air purifier electricity usage calculator. We calculated daily and yearly costs associated with running an air purifier for 24hs a day in California. You can customize the result by air purifier wattage and by state.