Our verdict:
Unless you really need a combo unit with a fan, heater, and air purifier, then we would suggest passing on the Dyson HP04 as the air cleaning performance doesn't match the large price tag.
Whilst the technology is interesting, it's just not there yet when compared to traditional fan-based air purifiers. It is a great fan and space heater but if you just want that, you can get a better-performing unit for a lot less without the air purifying feature.
Dyson was started in 1991 by James Dyson in the UK who originally brought the cyclonic vacuum technology or bagless vacuum cleaner to the mainstream. I personally have the Dyson Outsize Absolute and we are super happy with it.
Since then, Dyson has released several products, including the Dyson bladeless fan in 2009 and then their first air purifier in 2015. Air purifiers are just fans connected to filters. Hence, with indoor pollution becoming more and more of an issue around the world it makes total sense that Dyson would make the move into air purifier manufacturing.
This particular model that I am reviewing is the Dyson HP04 Hot + Cool, which is priced at $690*, not cheap when you compare it with other air purifiers on the market. But then again, no other devices offer fan cooling and heating. 
In general, the technological improvements in the air purifier world relate to the filter types. Still, Dyson is bringing something very new with its bladeless fan, and I'm excited to see how this unit compares with other air purifiers.
Why You Can Trust This Review

As with all the air purifiers we review here at HouseFresh.com, this was bought with our own money and we have spent the last month using it in our own home to see how it compares with the other units we have tested.

We've got real-life data from our own testing:

1️⃣ We tested the Dyson HP04 Pure Hot + Cool's air cleaning performance with an air quality monitor to see how fast this unit cleaned the air in our home lab (705 cubic ft.) from thick incense smoke.

2️⃣ We used an energy monitor to record electricity consumption in watts when running the Dyson HP04 Pure Hot + Cool at its bottom and top fan speeds.

3️⃣ We used a sound level monitor to record sound levels in decibels coming out of the Dyson HP04 Pure Hot + Cool running at its highest and lowest fan speeds.

Right, let's get into it.

TL;DR The Lowdown on the Dyson HP04 Pure Hot + Cool
---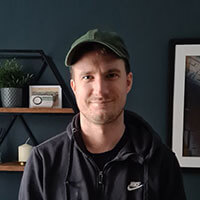 "Unless you really need a combo unit with a fan, heater, and air purifier, then we would suggest passing on the Dyson HP04 as the air cleaning performance doesn't match the large price tag."

— Danny Ashton, Founder & Senior Writer
---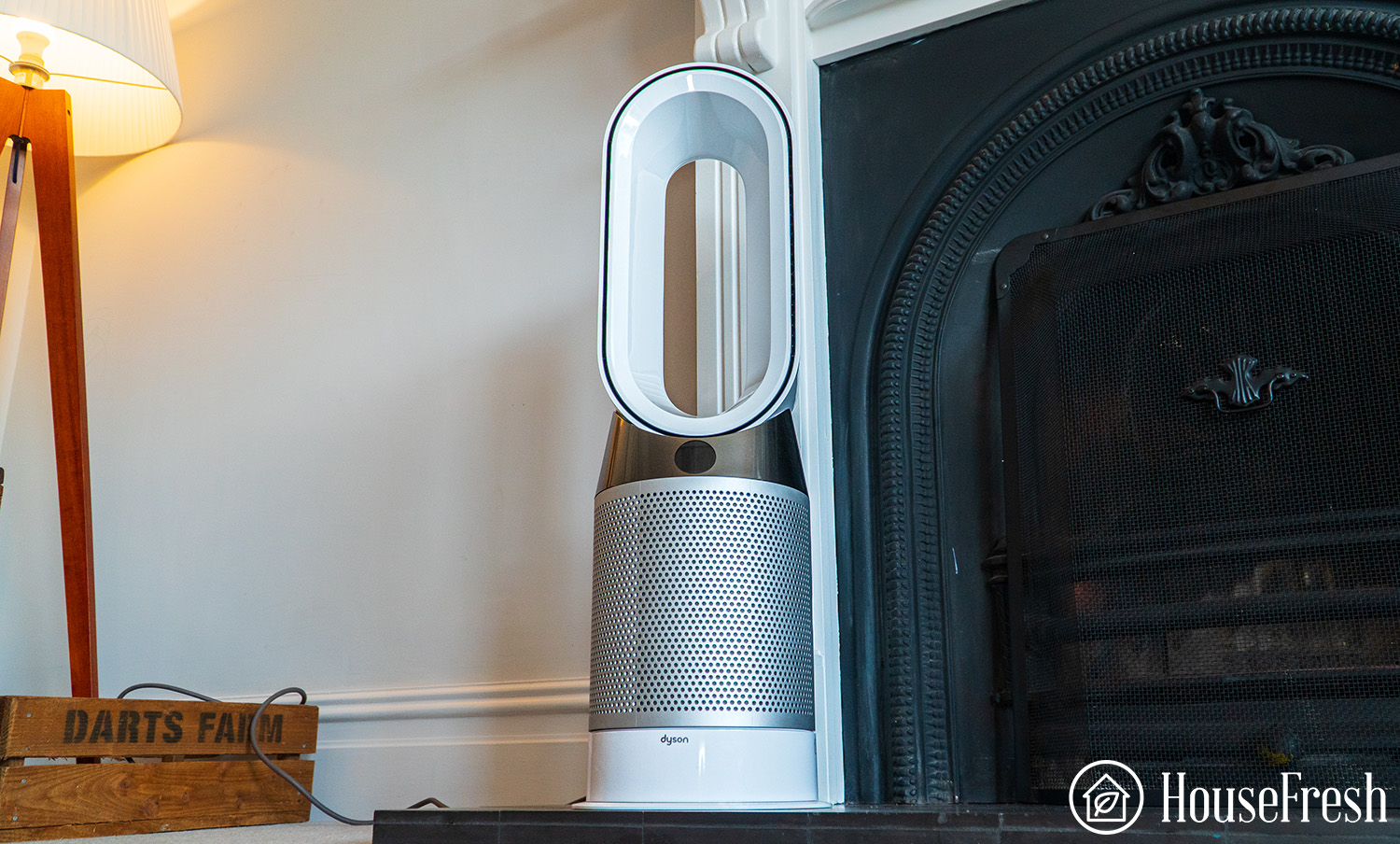 Let's get down to the nitty-gritty. Here are the key points we found when reviewing the Dyson HP04. 
What We Really Like:
👍 The design of the unit and app is excellent
👍 The fan mode is great, and I can see myself using this a lot as the temperature increases
👍 Auto mode works well and detects pollutants as quickly as my air quality sensor
👍 Dyson has good after-service support, based on my existing Dyson gadgets
👍 The ability to rotate and move air up to 350 degrees around the room
What We Think Could Be Better:
👎 The price is very high for a unit with this level of air-cleaning performance
👎 Genuine filters cost a lot for a fairly small surface area
👎 Unclear performance data for English-speaking countries
The Specifications
At $745, the Dyson HP04 doesn't come cheap. For around this price, you could look to buy the Alen BreathSmart 75i with a CADR rating of 347 ($636.65) or the Mila Air Purifier with a CADR score of 263 CFM ($408). As the Dyson only scores a lowly 89 CFM, it's fair to say that on paper, it doesn't cut the mustard. But let's see how it got on in our real-world review. 
| | |
| --- | --- |
| HouseFresh Rating: | ★★★☆☆ |
| Time to clean our test room: | 1 hour and 24 minutes |
| Air purifier technology: | HEPA and Activated Carbon filters |
| Recommended room size: | 400 sq. ft. |
| Clean air delivery rate (CADR): | 89 CFM |
| Dimensions (in inches / in cm): | 30.1H x 8.1W x 5.1D inches (76.5H x 20.7W x 13D cm) |
| Weight (in pounds / in kg): | 12.36 lbs (5.6 kg) |
| Noise level (low – high): | 24dB – 62 dB |
| Filter life: | 12 months |
| Warranty | 2 years |
| Estimated energy consumption: | $42.05 per year |
Futuristic Design Fit for Modern Homes
Air purifiers these days can come in all shapes and sizes, but for the most part, they are usually a box-type design that pulls in air from either the front and back or the sides. Dyson are known for their innovative designs and the HP04 is no different.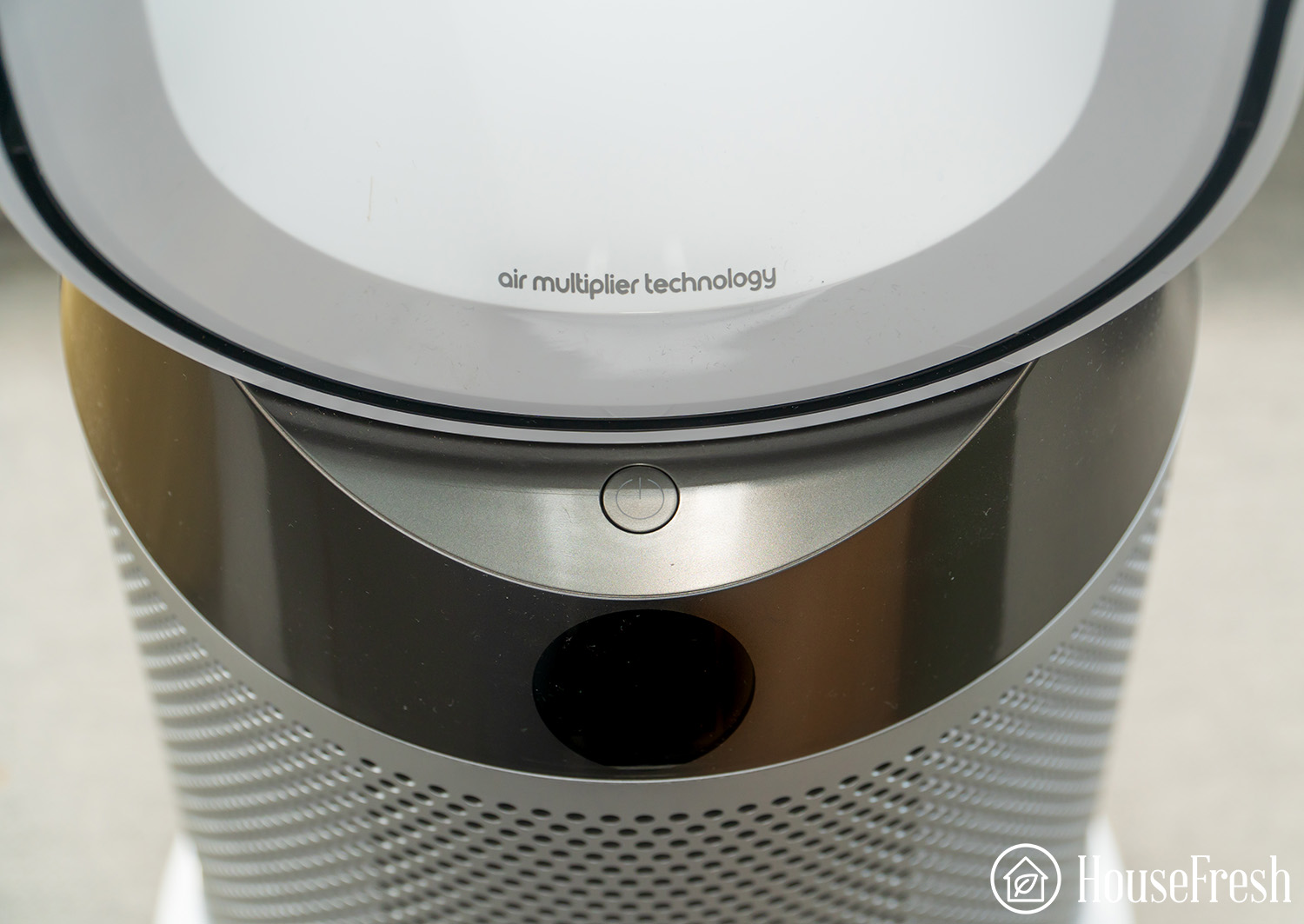 This has to be one of the best-looking air purifiers I have ever encountered. It would fit perfectly with the interior design of the modern home without taking up too much space as you would find with a box unit like the Coway Airmega 300.
The top half of this air purifier combo is the fan whilst the bottom section is where the filters sit. Simply put, it pulls air from the bottom through the two filters and then blows it out via the air outlets at the top. 
The bladeless fan is great for homes with curious kids who like to put their fingers into anything (as mine tend to do) and whilst it's tall, it doesn't feel intrusive to the room. 
When comparing the Dyson HP04 to the Smart Air S, you really notice the contrast in design styles.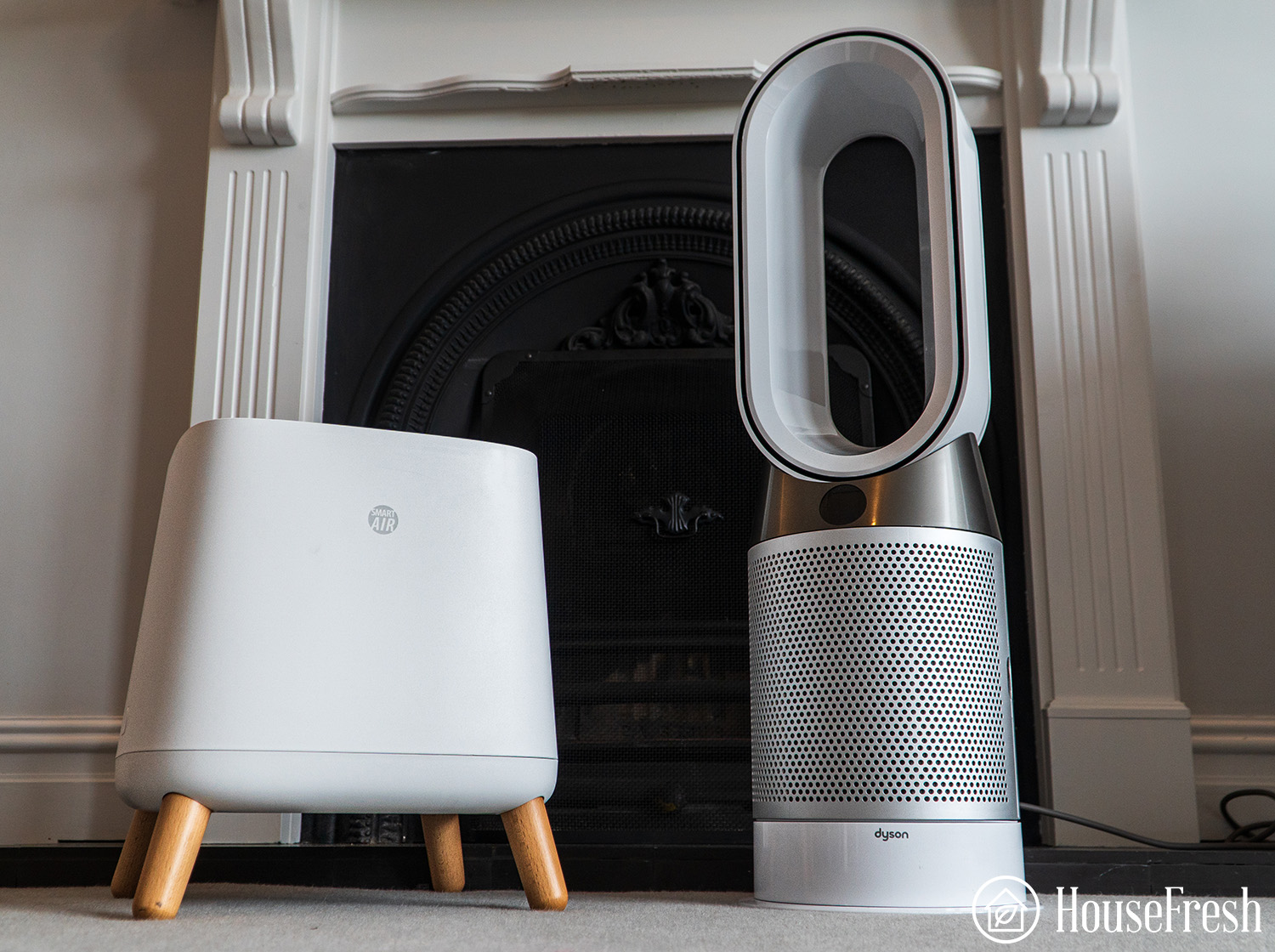 Although the Smart Air S is still a cute-looking unit with its own charming features, the HP04 takes on a futuristic aesthetic that challenges the everyday design of household appliances. 
Intuitive Controls Lead to Simple Setup
As we've come to expect from Dyson products, the HP04 comes well-packaged in a branded box. There's still a little too much plastic for my liking, but they're getting better at reducing their carbon footprint with their packaging. 
The remote comes in its own box with the function of each button printed on it, making it so much easier to learn what each one does without spending time surveying the manual. However, you still do receive a physical manual with the unit. Like a lot of people now, I instantly lose any manual because I know everything I need is online. With a progressive company like Dyson, I expected them to not waste paper.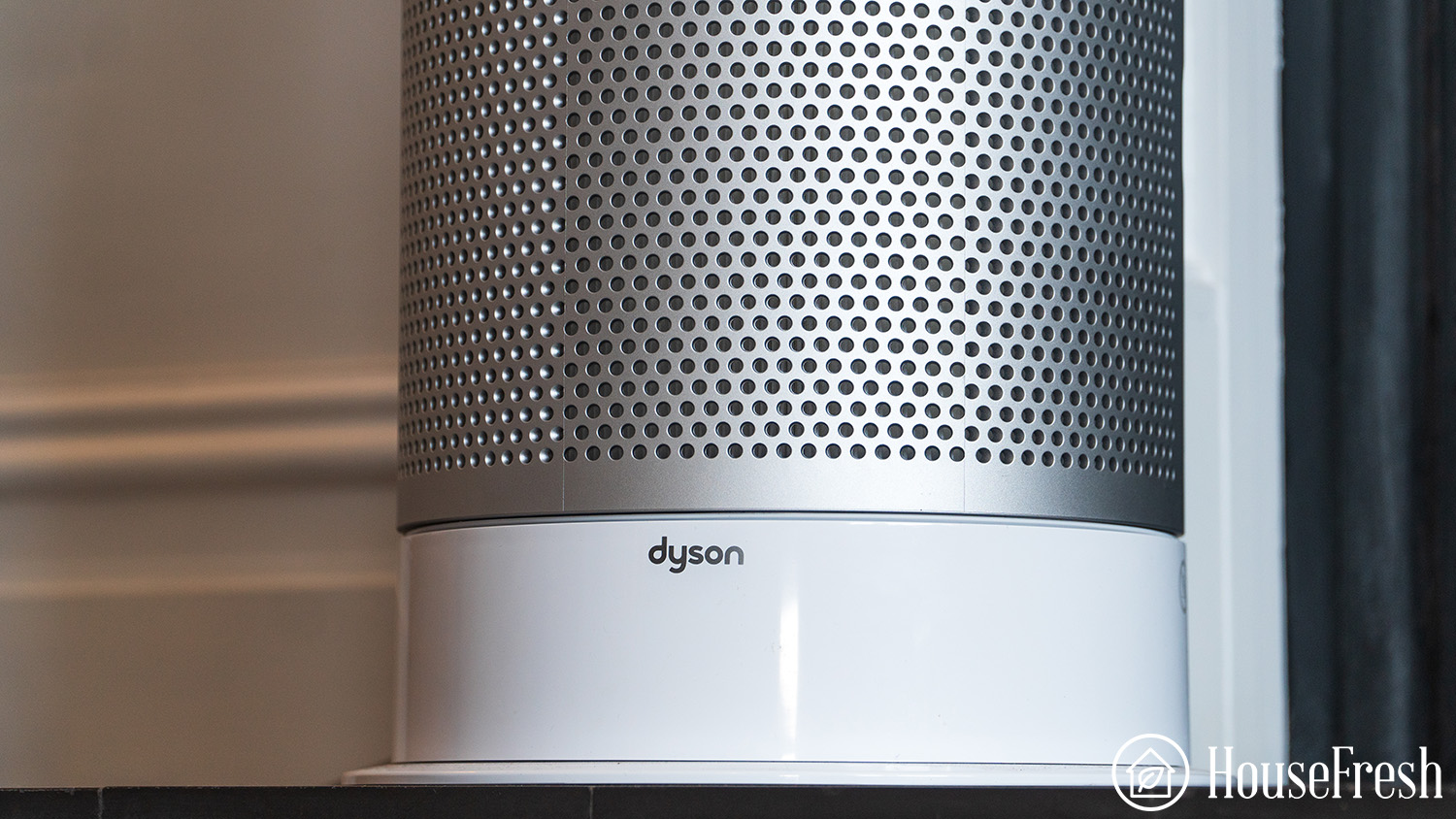 The remote is pretty small but very functional. You can control each function of the unit including fan speed, heating or cool mode, sleep timer, and the direction you want the air to flow. It even has a magnetic element so it can easily be stored on the top of the air purifier without it falling and being lost. 
Reviewing The Dyson Link App
The next step is to set up the app which is super simple once you've downloaded it from the Android or Apple app store.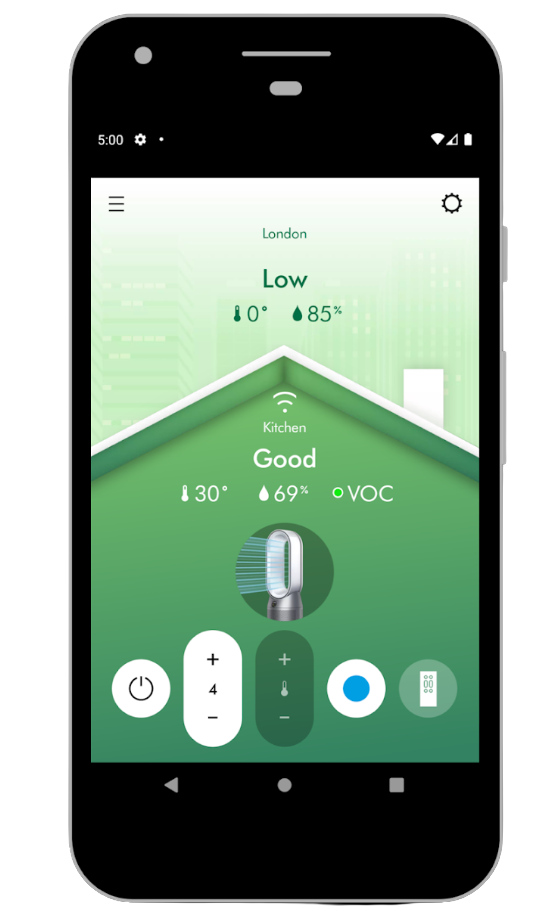 Not only can you control the unit's functions, but you can also monitor the air quality of your room, the air quality outside, see your unit's activity, and get reports on temperature, humidity, and filter life. 
Once it's set up you get a big tick and the air purifier is ready to work its magic.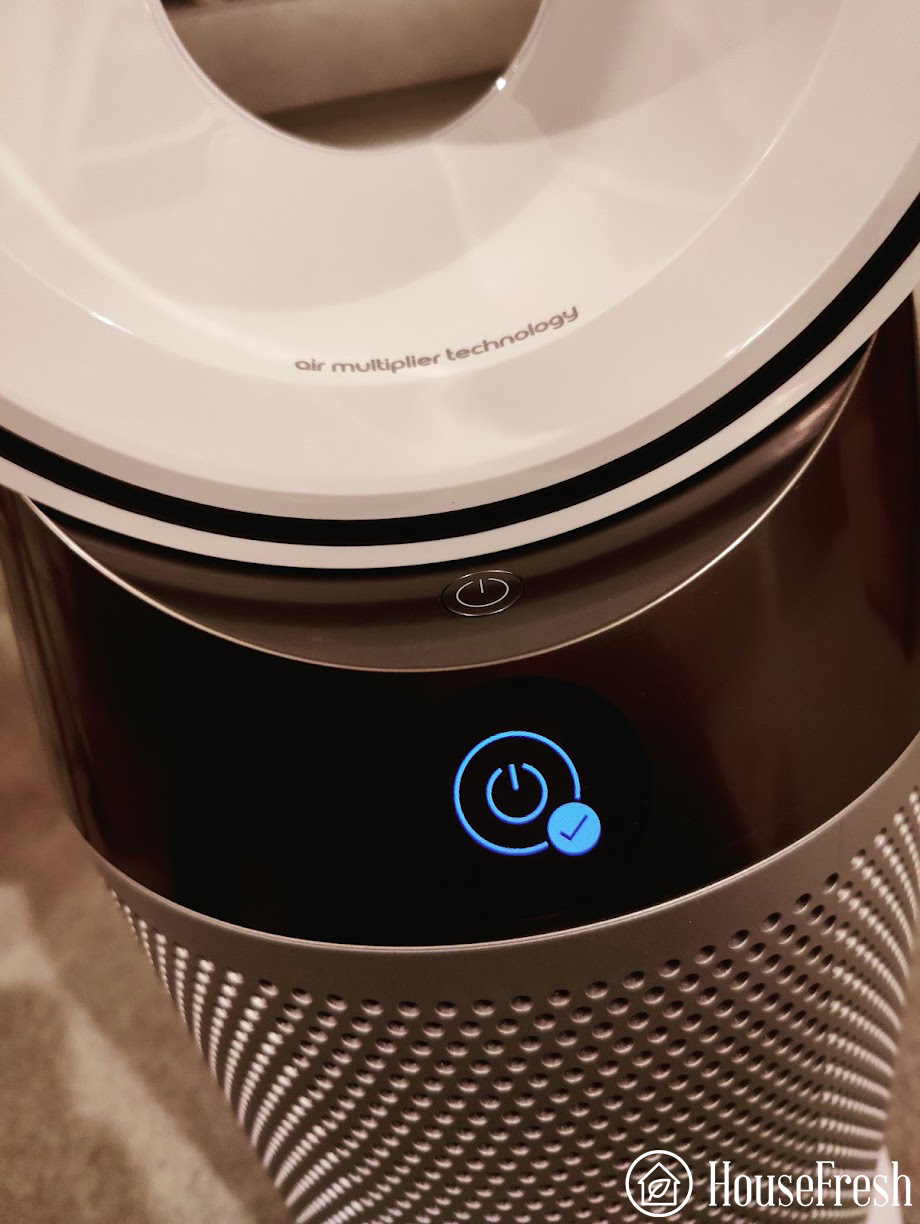 Small Filters Leave Question Marks Over Purifying Capability
The one thing I was surprised about was the size of the filters. They are a lot smaller than I expected for such a big machine. This probably goes to explain why the CADR scores are so low when compared to other smaller units with bigger filters.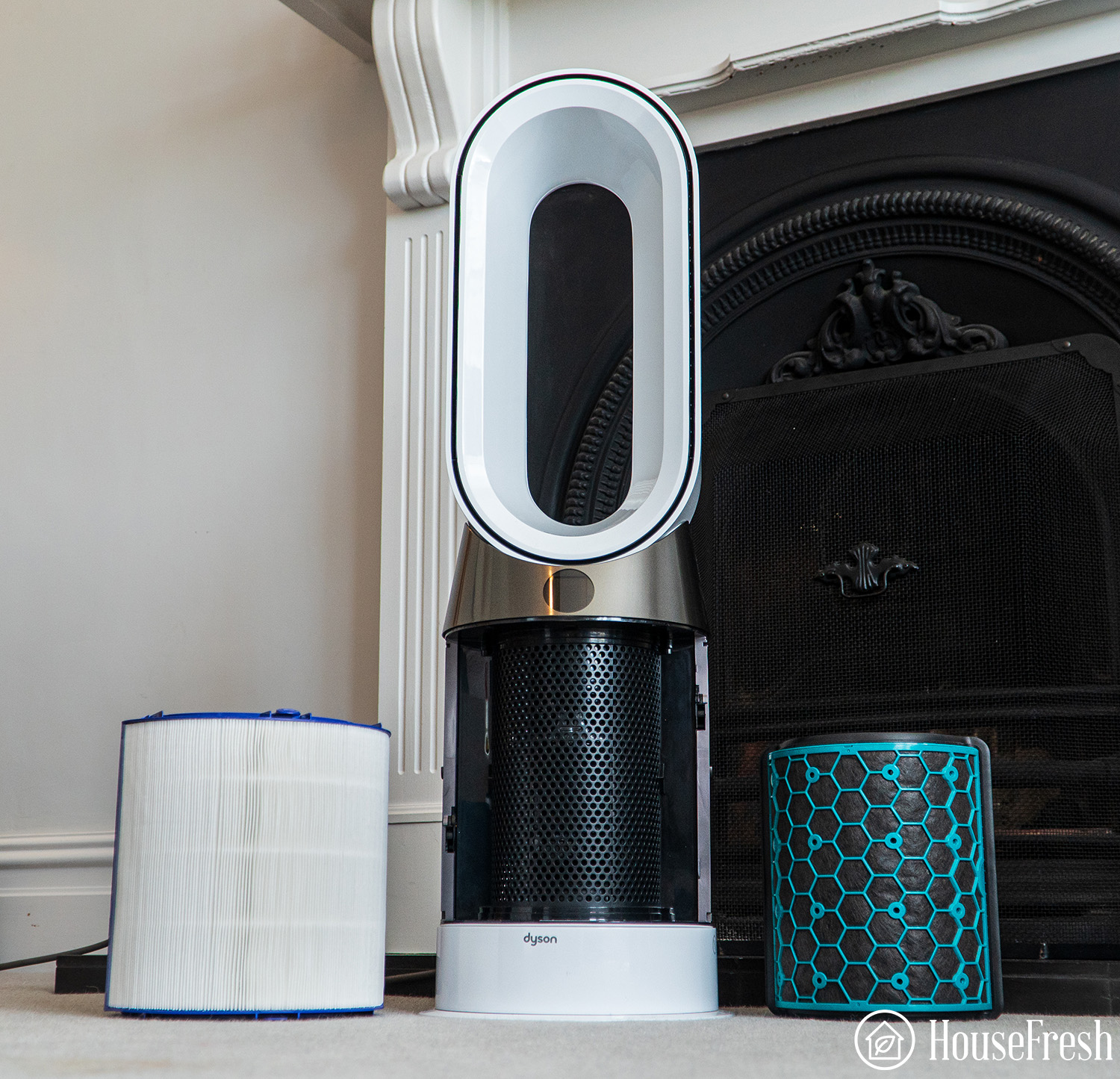 The activated carbon filters are fairly narrow, and I just can't imagine that this amount of activated charcoal is going to be able to remove much beyond minor odors in small rooms. In comparison, the Austin Air Healthmate pro comes with 15lbs of activated carbon – this unit weighs 12.36lbs in total.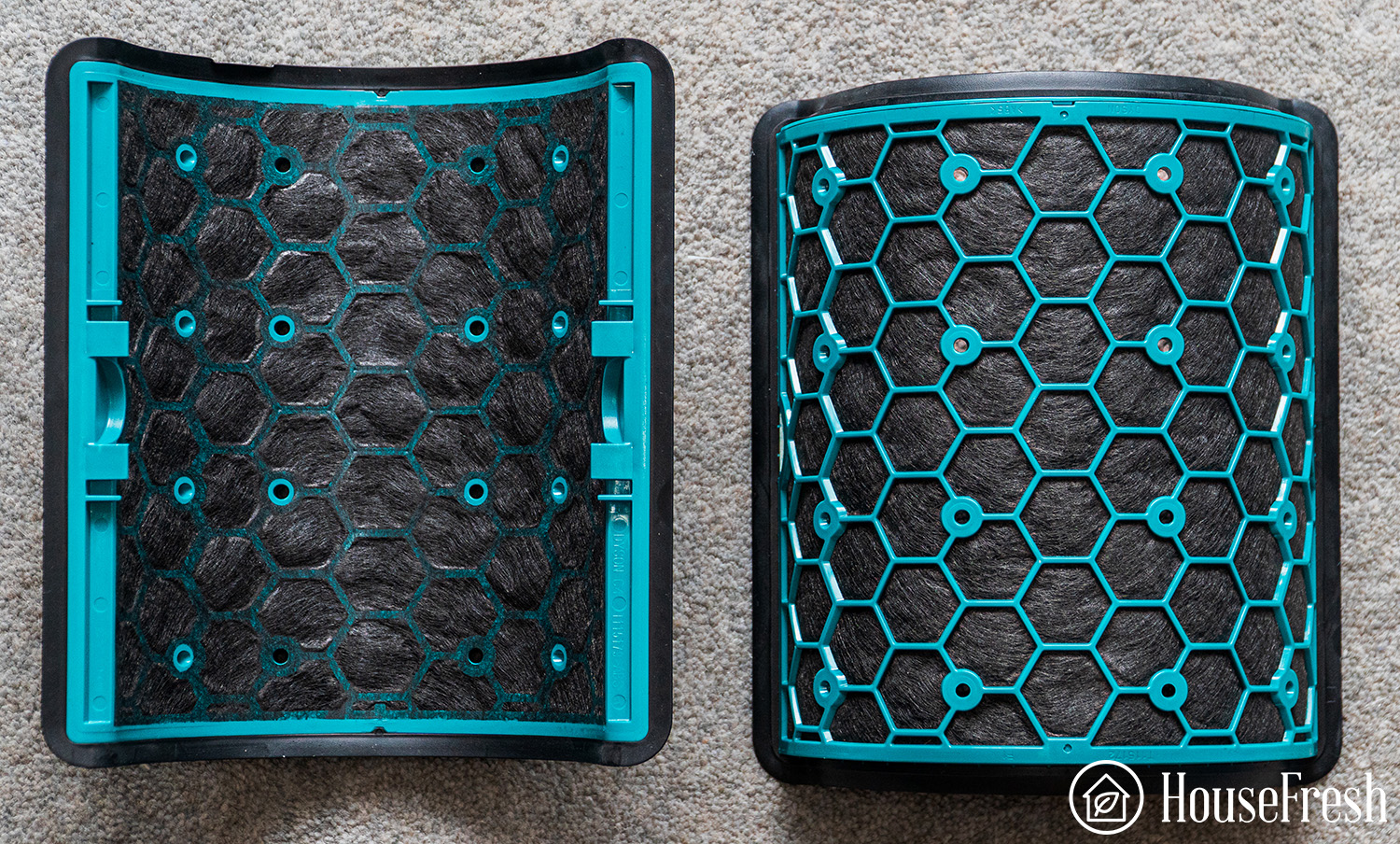 A lot of new units come with a washable pre-filter. These act as the first line of defense as they are able to stop bigger particles before they hit the HEPA filter. Being washable prolongs the life of the other filters, saving you from having to replace them more often.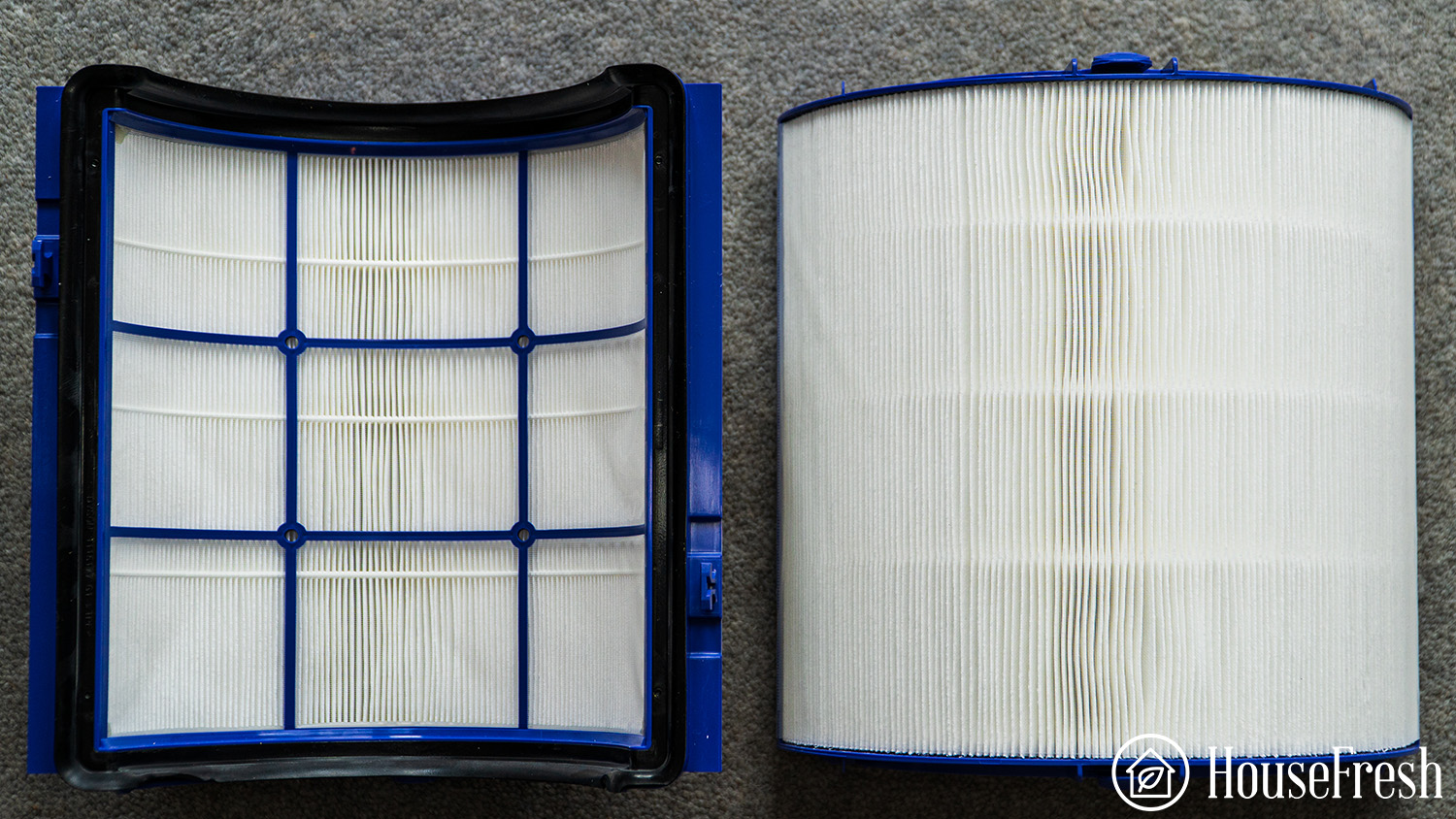 However, there is no pre-filter here, which is disappointing as you'll notice decreased performance relatively soon once hair, lint, and fur start to clog up your HEPA.

How To Replace The Filter In a Dyson HP04 Pure Hot + Cool
The first thing you need to do with this unit is take off the covers and attach the charcoal filters. There is a big warning sign on the unit so you're not going to forget. The activated charcoal filters clip in easily and you can see that the seal is airtight thanks to the rubber elements around both filters.
The filters then clip into the unit in two halves. Once you've removed the outer panels of the purifier section of the unit, they fit in as two semi-circles that make up the 360-degree air intake. 
High-Tech Features for Smart Control
If you have used a Dyson before, you'll know that they provide a great user experience; the same is true of the HP04. 
It has a digital display on the front that tells you the quality of the air in the room and which fan speed it's currently set to. Using the remote control, you have ten different speeds to use, allowing you to harmonize the unit with the air quality or temperature.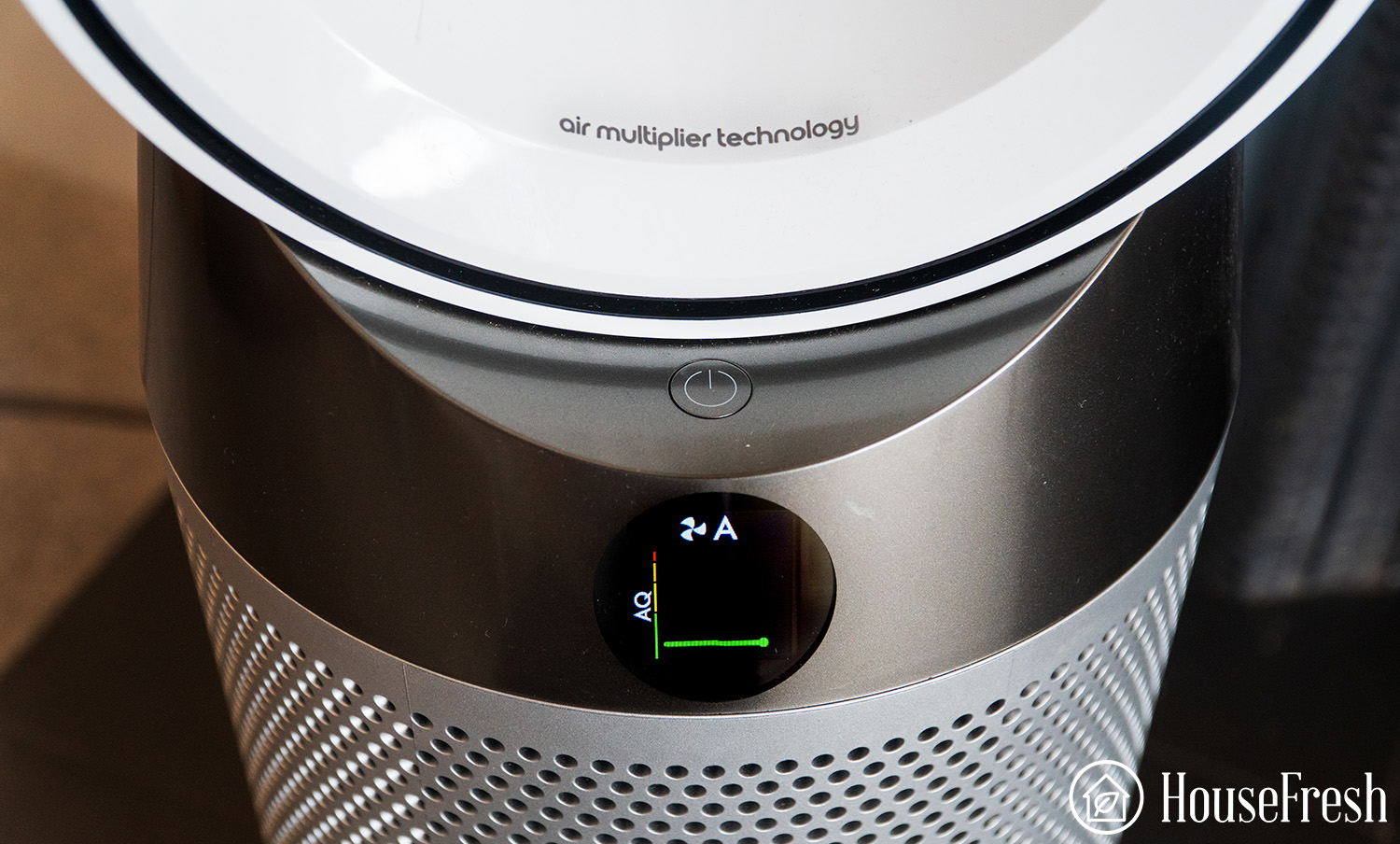 In older models, you could only use both functions simultaneously. If you wanted to clean the air, you would also have to put up with the fan cooling/heating the room. With the HP04 you can set the unit to purify the air and not use the fan, which is certainly useful for those living in colder climates. 
The fan can turn at varying degrees from 90 to a maximum of 350 which I would use during the summer to get as much cool air around me as possible. 
Auto mode allows the unit to only come on when it detects pollutants in the air and is a useful feature for those who have occasional issues with air pollutants like rush hour traffic on the adjacent road or dinner-time cooking odors.
The Dyson HP04 Cleared Our Test Room in 1 Hour and 24 Minutes
To test this unit I used our home office and generated smoke using an incense stick. I used the Purple Air Indoor Sensor to evaluate the change in air quality over time.
I wanted to know how quickly the Dyson HP04 could reduce the amount of PM2.5 and PM10 particles in the air. These tiny particles are the most important to remove as they can get deep into the lungs and cause long-term health issues.
The room was 705 cubic ft. I started the air purifier once 50% of the incense had burned, and my air quality sensor showed 500 PM10 and 500 PM2.5.
CADR vs CFM

Similar to the team at IQAir, but for different reasons, the Dyson team are not big fans of CADR methods.

They argue that their fan air purifier can move more air around the room than standard air purifiers, so they use their own POLAR test. 

Like any test, CADR has its limitations, but I still think it's a good benchmark to allow consumers to compare units. 

Unlike the US, China has strict rules around air purifiers, so Dyson does reveal the details for the slightly upgraded HP07 unit on their site in China.





A CADR of 151.m3/h equated to 88.9341 CFM for a unit costing $700 is not great, considering you can purchase a unit that is less than $100 that achieves a higher CADR of 140 with the Levoit Core 300.

Air Cleaning Performance Compared to Other Air Purifiers
While this unit does have way more features than the Levoit 300, such as a fan, heating element, and app – I still expected this unit to perform a lot better than the Levoit 300 during our tests.
Noise Levels Test Results
A concern for many with air purifiers is the amount of sound generated. On paper, it clocks up to 62 dB on its highest setting, which is certainly on the higher side when compared to other air purifiers.
But I know that sound can be very subjective, so I created a video to show the sound at each speed level from 1-10.
The Cost to Run a HP04 Pure Hot + Cool: $69.27 Per Year
1. Electricity costs = $26.28
The running costs of an air purifier are something you should always consider, both in the costs of electricity usage and the required amount of filter replacements. 
This unit has a recorded power consumption of 36-44 watts, but when I tested it using a power meter, I found that on the maximum setting, it only pulled 24.8 watts on the highest setting.
| | |
| --- | --- |
| Speed setting | Wattage used |
| 1 | 3.5 |
| 2 | 3.8 |
| 3 | 4.4 |
| 4 | 5.2 |
| 5 | 6.5 |
| 6 | 8.6 |
| 7 | 11.7 |
| 8 | 16.3 |
| 9 | 20.2 |
| 10 | 24.8 |
Using the Department of Energy's appliance energy calculator, we can see that at its highest setting, this air purifier will cost $26.28 a year if left to run 24/7, which is excellent efficiency for a larger unit. 
When I used the heating element – the power wattage jumped significantly, with an average of 2500 watts which shows how energy-intensive space heaters are, so ensure you are aware of the incurred costs ($2628 per year) if you're planning to use the heater feature regularly.
2. Filter costs = $42.99
Replacing filters is another cost that many don't think about. However, this can get costly, so it's best to know what you're committing yourself to. 
The genuine HEPA and activated carbon filters are $65, which is above average for a unit with this level of performance. There are also generic filters available on Amazon for $42.99 which may not perform as well as the original Dyson filters, but it's good to know that there are cheaper options out there. 
Dyson recommends you replace the filters every 12 months, but based on their size and lack of pre-filter, I would expect this to be more like 6 months. We will keep an eye on this as we use it over the long term and report back on how long they lasted. 
2-Pack TP04 Filter Replacement Compatible with Dyson TP04 / HP04 / DP04 Air Purifier, 360 Combi Glass HEPA Carbon Filter
【Save Money】 True HEPA filter which fits and works as good as the original but half the price.
【Breath Clean Air】 Great for pet owners or people sensitive to the air. Our filters are capable of filtering the smoke produced by wildfires, rendering the indoor air pure and delightful.
【Effortless Setup】 Just take the original filter out, and fit the new one in.
【Fit Perfectly】 Compatible with Dyson HP04, TP04 and DP04 Air Purifier and Tower Fan, TP05 and DP05 models. All manufacturers' names and part numbers are used for compatibility information only.
【Buy with Confidence】 6-months warranty guarantee! 100% satisfactory service.
---
Bottom Line
If you want an air purifier that works as a fan and a heater, then you don't have any other options apart from the Dyson HP04. 
I'm a big fan of the innovation that Dyson is bringing to the air purifier market. Still, its air cleaning performance has a long way to go before I would recommend this unit over getting a separate fan and a much cheaper air purifier.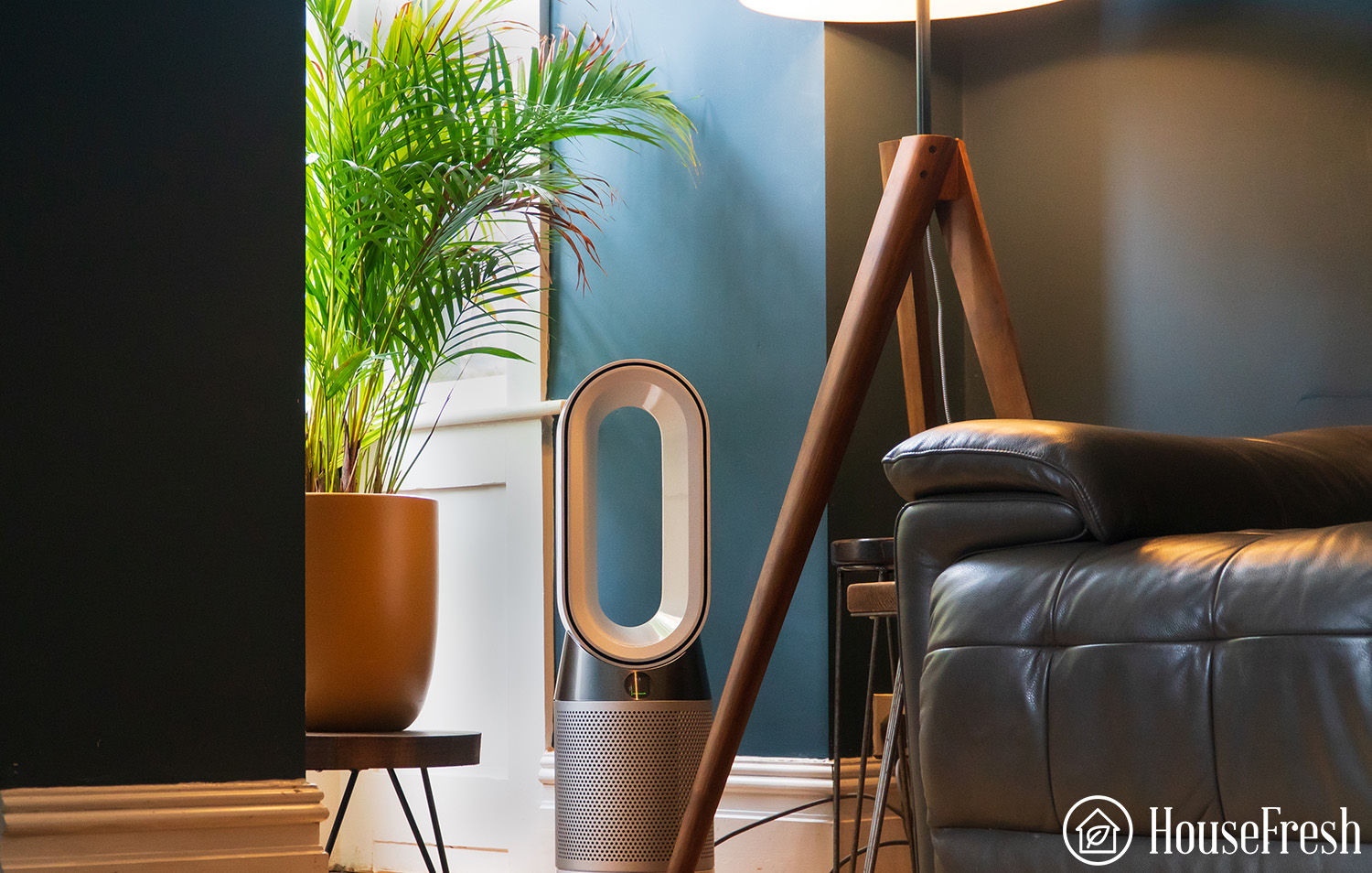 I dislike that they don't make the CADR clear for consumers and hope that they update their marketing material to align with what they have for China.
It's certainly a great-looking machine, and the auto-mode and app work as well as you would expect for a $700 unit. But, for those looking for the best bang for the buck for cleaning the air – there are far better options. 
If you're looking for a top-end unit, you'd be much better off going for the superior AlenBreathSmart 75i, the 'godfather' IQAir Healthpro Plus, or save yourself some cash and opt for the quickest purifier to undertake our real-world tests the Levoit Core 600S.
---
SOURCES
We used the Department of Energy's appliance energy calculator to calculate yearly costs associated with running the Dyson HP04 Pure Hot + Cool for 24hs a day for 365 days. We chose to run this calculation utilizing the U.S. average utility rate, which is $0.12/kWh as of March 12th, 2023.
Last update on 2023-09-17 / Affiliate links / Images from Amazon Product Advertising API