If you are not an owner of a water purification system or an aquarium, you might be surprised how activated carbon is used as an air purifier filter. The use of carbon filters for water purification is considered the oldest method of water purification.
People have used it for centuries to filter impurities from drinking water. In the aquarium industry, activated carbon is currently one of the most effective adsorbents and the largest-selling maintenance product. It removes dissolved organic molecules, chloramines, chlorine, and some heavy metals. It is also used to remove residual dyes and medications like antibiotics.
What is Activated Carbon?
Activated carbon, also known as activated charcoal, is derived from charcoal. It is a form of carbon that has a small charge of electro-positive added to it. The added charge makes it more attractive to impurities and chemicals that are negatively charged. Charcoals used in making activated carbon are made by burning coconut husks, nutshells, hardwood, and other carbon-based materials.
To make it available for chemical reactions and adsorption, carbon is also processed to have a huge surface area and make it very porous. Through the help of nitrogen gas adsorption, it is determined that only 1 gram of activated carbon usually has a surface area of 500 square meters or 1/10 the area of a football field, and 1 pound of activated carbon has 200 miles of fissures and pores with an area of 4 million square feet.
Activated carbon, especially the granulated one combined with the packed tower aeration method, is recognized by EPA (United States Environmental Protection Agency) to remove carbon tetrachloride from drinking water to below 0.005 milligrams per liter or 5 ppb. source
Activated Carbon Filter Used in Air Purifiers
Activated carbon is frequently combined with other minerals like zeolite in air purifiers. Zeolite can act as a chemical sieve and a filer for absorbing molecules and ions.
In several models of air purifiers, the carbon is impregnated with potassium iodide and mixed with impregnated active alumina for the absorbent qualities to increase. People with MCS (Multiple Chemical Sensitivity) will benefit from these air purifiers because they can absorb formaldehyde found in furniture upholstery, wood paneling, and carpet. These air purifiers can also remove perfumes and household cleaning chemicals, making your house fresher and breathable for the elderly, children, babies, asthma sufferers, and people in general.
Type of Air Contaminants Activated Carbon Air Filters Can Remove
Most fumes from household cleaners, cooking, and organic odors can be removed or reduced by activated carbon filters. It can also remove VOC (Volatile Organic Chemicals), solvents, radon, THM (trihalomethane), benzene, Nitrogen dioxide, chlorine, herbicides, pesticides, and many other manmade gasses.
Below is a chart that rates the activated carbon filter's performance on its ability to remove the following contaminants:

Choosing the Right Activated Carbon Air Purifier
When buying an activated carbon air purifier, you should choose a filter with a large amount of activated carbon; when we evaluate activated carbon air purifiers, we look at the size in lbs. Many low-quality air purifiers sold in the market contain only a tiny amount of activated carbon. These air purifiers will perform poorly compared to those with bigger volumes of activated carbon.
Another point to consider is whether the activated carbon media can be replaced without changing the whole containing cartridge. A complete cartridge unit is much more expensive compared to bulk media.
Why You Should Trust This List
Most lists of air purifiers are nothing more than a list of that year's bestselling purifiers. Here at HouseFresh, we review and test the performance of all the air purifiers in our home lab. We don't let manufacturers send us free units as our goal is to be unbiased so we can be free to say if an purifier is terrible. Our ultimate goal is to allow our readers to look beyond marketing hype and discover the right air purifier for their homes.
All the air purifiers we recommend here have a large amount of activated charcoal, either as a separate filter, as with the IQAir Healthpro Plus or as a combined filter, as with the Alen 75i. All the units on our list combine activated charcoal with a high-quality HEPA filter which has been proven to be the most effective technique for dealing with particulate pollutants. You will notice that none of the air purifiers on our list are low-priced, and this is to be expected as activated carbon isn't cheap and requires high airflow to be effective.
Now into the list of the two best-activated carbon air purifiers for 2022:
The first thing that stood out for me when we got a chance to review the IQAir Healthpro Plus was the size of the carbon filters that are included. IQAir calls it a V5-Cell which is 5.5 lbs and is made of activated carbon and KMnO4-impregnated alumina. As of 2022, this air purifier is our number 1 choice as the best-activated carbon air purifier.
When we got a chance to test the IQAir Healthpro Plus at removing PM1, PM2.5 and PM10 particulate pollutants, it was able to remove all pollutants in 25 minutes which is one of the better scores we had seen.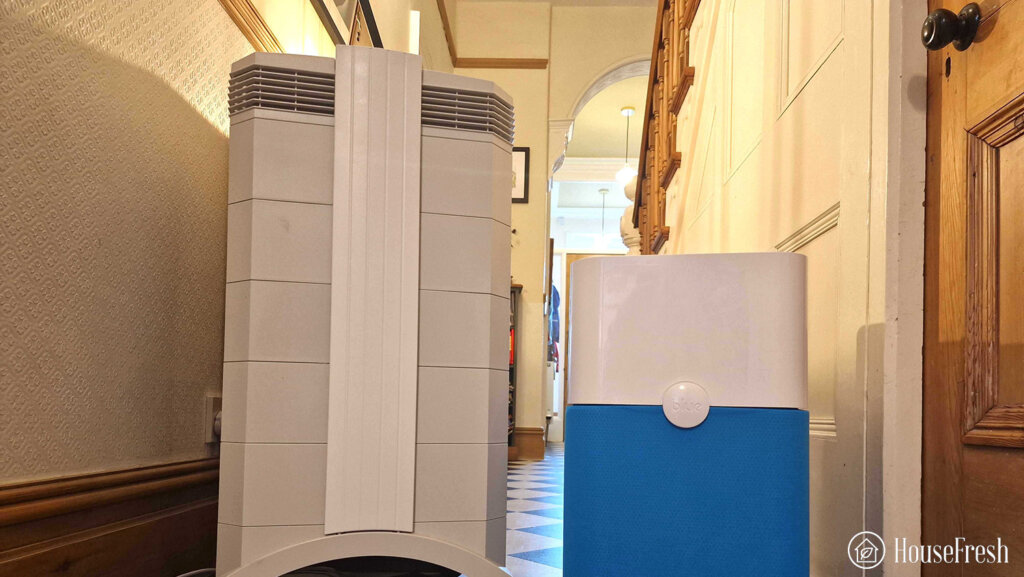 One thing to be aware of is that this air purifier is big, as you can see in our comparison photo with the Blueair 211+, which makes sense when considering the large amount of carbon used as part of the filter. Inside the IQAir Health Pro Plus, all the internal space is used to house a pre-filter, HyperHEPA, activated charcoal filter and fan.
SPECS & FEATURES
| | |
| --- | --- |
| Purifier technology: | Pre-max filter, V5-Cell Filter, HyperHEPA filter |
| CADR (CFM / m³/h): | 330 CFM / 560 m³/hr |
| Cost per CADR CFM: | $2.72 |
| Recommended room size: | 450 sq ft to 1125 sq ft |
| Filter life: | HyperHEPA – 4 years / V5 Cell – 2 years |
| Noise level (low – high): | 25dB – 69dB |
| Cost per month for filter: | HEPA: $4.1 Charcoal: $4.3 Pre-filter: $5 Total: $13.40 |
| Dimensions (in inches / in cm): | 28H x 18W x 16D inches / 71H x 38W x 41D cm |
| Weight (in pounds / in kg): | 16 kg / 35 lbs |
| Energy consumption: | $467.08 |
| Time to clean our test room: | 25 minutes |
What We Really Like:
👍 Largest activated charcoal filter we have evaluated with over 2.5kgs/5.5lbs of carbon used
👍 HyperHEPA is one the highest quality HEPA filters we have seen in a residential air purifier which goes beyond the standard H13 HEPA that is used in most air purifiers
👍Remote control is simple to use and can allow you to control without being in the same room
👍 Wheels make it easy to move into different positions in the house
What We Think Could Be Better:
👎 High initial costs and long-term costs for both electricity and filter replacements
👎 No smart features or app support
Another air purifier that stood out in our tests for having a huge activated carbon filter was 2.6 lbs/1.17kg. You need to make sure that you choose the right air filter that contains the largest amount of carbon, the B7-MP-Pet/Odor that costs $139.00 to replace every 6 months.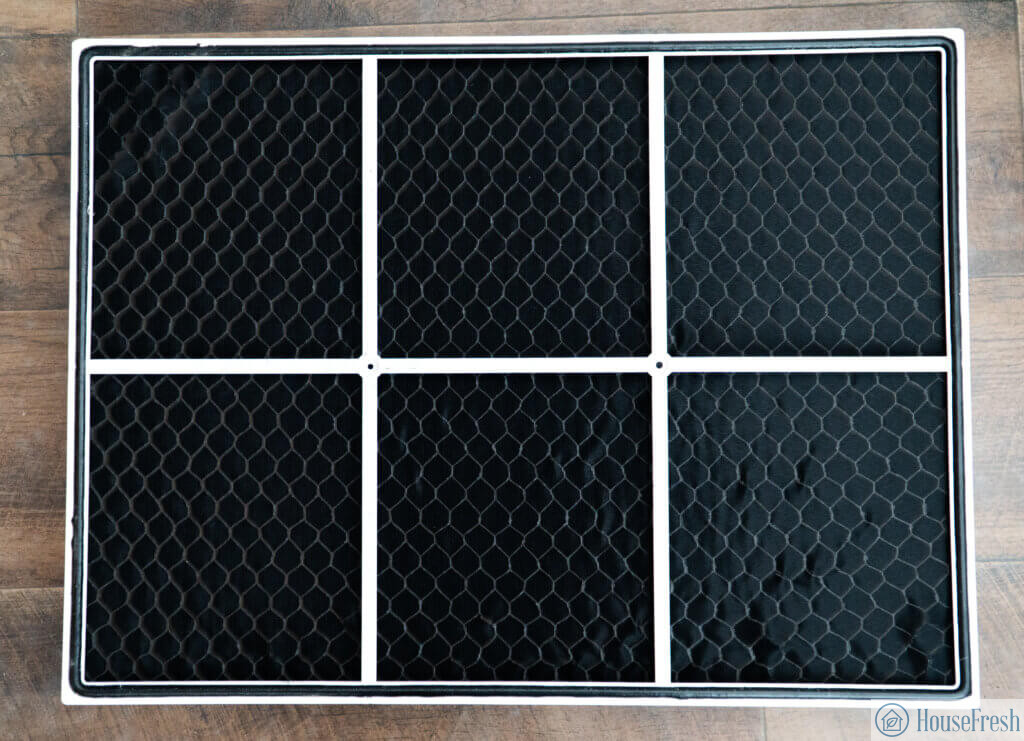 When we tested the Alen 75i at removing tiny particulate pollutants of PM1, PM2.5 and PM10, it removed everything in 24 minutes, one of the fastest units we have tested at removing particulate pollutants.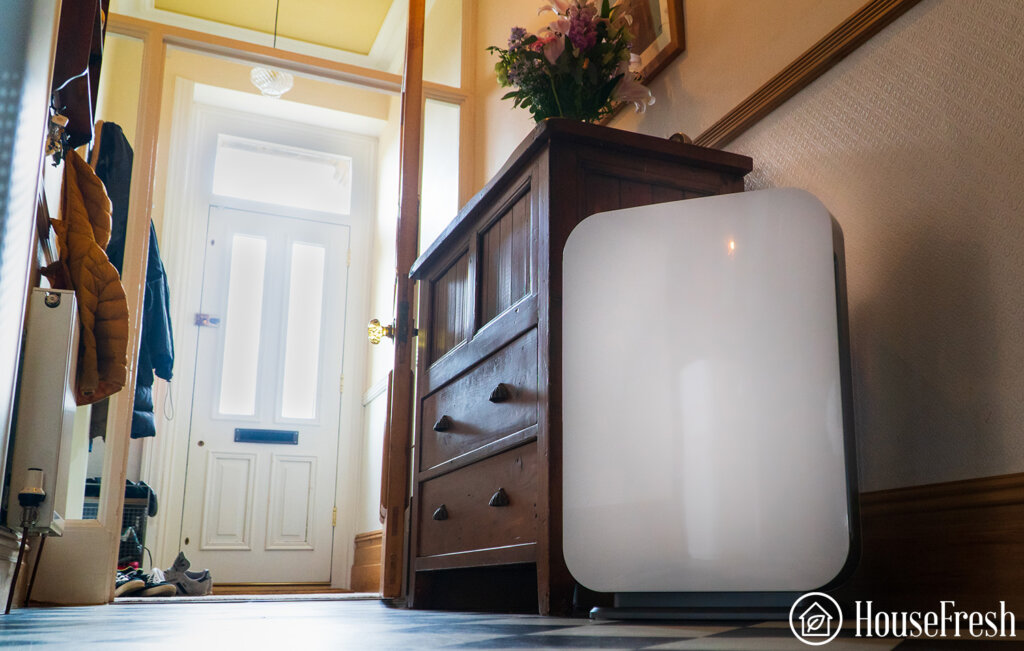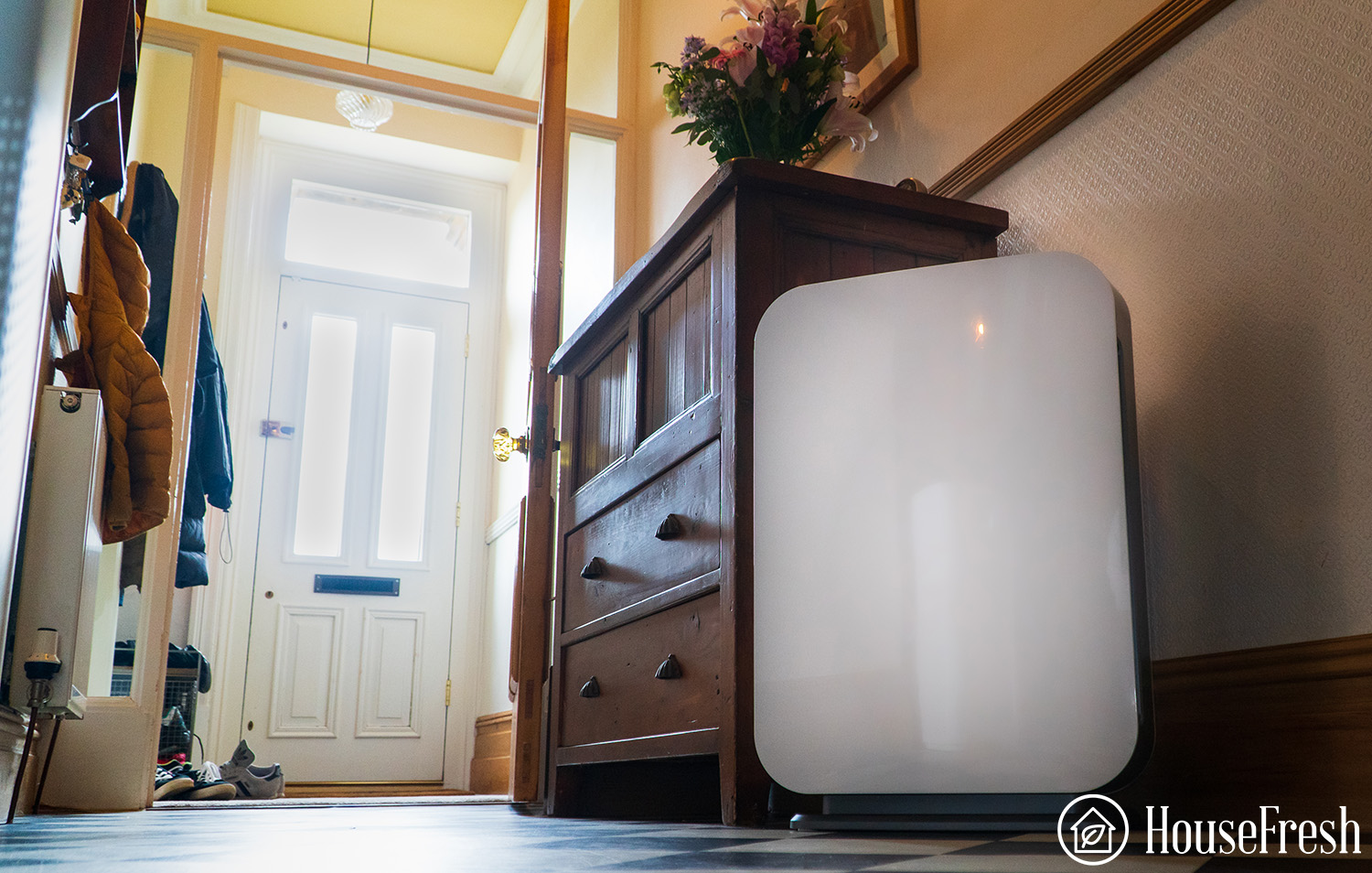 As with the IQAir unit, the Alen 75i doesn't come cheap at around $800 with the odor carbon filter option. It does come with a range of smart features with App support and auto-mode that switches the unit on as soon it detects pollutants. The stand-out feature with Alen is that they offer a lifetime warranty if you get the filter subscription which is not something that exists with other air purifier brands.
SPECS & FEATURES
| | |
| --- | --- |
| Purifier technology: | Filter Fresh with 2.6lbs of activated carbon and medical-grade HEPA |
| CADR (CFM / m³/h): | 347 CFM |
| Recommended room size: | 1,300 sq. ft. |
| Filter life: | 6-9 months |
| Noise level (low – high): | 25dB – 49dB |
| Dimensions (in inches / in cm): | H 27″ (68.58 cm) x W 18.5″ (46.99 cm) x D 11.5″ (29.21 cm) |
| Weight (in kg / in pounds): | 27 lbs (12.2 kg) |
| Energy consumption: | $97.76 per year |
| Time to clean our test room: | 24 minutes |
What We Really Like:
👍 Second largest carbon filter we have seen used in a consumer air purifier with 2.6lbs of activated carbon
👍 High performance for removing particulate pollutants, it has a CADR of 347 CFM and cleaned our test room in 24 minutes
👍 Smart features make this an easy air purifier to live with, thanks to the auto-mode and scheduling options using the App
👍 Pink noise and low sound level makes this a good option for those looking for a quiet air purifier with a large carbon filter
What We Think Could Be Better:
👎 A large unit that may be too big for rooms like a bedroom
👎 High initial cost
Conclusion
Many cheap air purifiers include carbon, such as the Levoit Core 300 and Taotronics AP-003. While these will be fine to deal with the odors created in a home, they will be unable to deal with major issues with VOCs and gasses such as Nitrogen dioxide. If you have an issue with gasses, you will need an air purifier with a large, activated carbon filter such as Alen 75i or IQAir Healthpro Plus. I hope the above guide is helpful and be sure to email me if you have any specific questions or issues that you need help with.