Our health is important, but when you bring a new life into this world, their health becomes paramount. You may have spent much time ensuring their environment is safe and comfortable, but have you considered what you can't see?
Infants spend most of their time indoors, away from the pollution that plagues the outdoors, but the pollution present in our homes can be just as harmful to new lungs. So, how do we protect them?
The most effective way of removing pollutants from the air in your home is by introducing an air purifier to the environment. These devices use specially engineered fans and filters to trap and remove airborne microscopic particles that could cause harm to your baby.
Unfortunately, it's not as easy as buying any old air purifier for a baby's room; you need to find the right unit to match the space, check it uses the right technology and ensure it's not too loud. The last thing you want is more sleepless nights due to a loud fan whirling in their ears.
Finding the right air purifiers matters, but don't panic; we're here to help. We've done all the hard work, so you don't have to.
Your baby's health is paramount, so you'll need to ensure the air purifier you purchase has all the features needed to protect them while not disturbing their routine.
When looking for the perfect air purifiers for babies' rooms, we had a few specifications in mind:
✅ HEPA Filters – HEPA filters are the most effective filter for removing harmful particles from the air. Using a tight maze of fibers, pollutants become trapped as the air passes through.
✅ Air Cleaning Performance – Air purifiers are not created equal; when finding the right one, consider its performance rating by checking the unit's CADR (Clean Air Delivery Rate; learn more here).
✅ Noise – When you have a baby, you know noise is everything, especially when you've just got them down after a long battle with tears. The sound from a unit's fan varies between air purifiers, so finding a quiet yet highly-efficient unit is essential.
The Top 3 Air Purifiers for a Baby's Nursery Room
Life is fast-paced and every second counts, even more so when you have a new addition to the family. If you don't have time to read every review, I got you. Here are my top three recommendations.
Still with me? Great. Let's go into a bit more detail on each recommended air purifier so that you can choose which will fit perfectly into your baby's nursery room.
When it comes to air purifiers, Levoit is the brand you will hear about time and again. Levoit has been producing highly effective units for over ten years. The Core S series shows you can combine cleaning technology and smart features into a budget air purifier for a baby's nursery.
The Core 600S blew us away with its cleaning power when we tested it in our home, clearing our simulated contaminants in just 15 minutes, making it one of the fastest units we've ever tested.
Inside the 600S is a high-powered fan and a three stages filter comprised of a pre-filter, an main HEPASmart™ filter and pieces of activated carbon with ARC Formula™. The pre-filter traps larger particles like dust, and the main filter traps harmful, microscopic particles like mold, bacteria and viruses, removing them from the air in your baby's nursery, and the activated carbon adsorbs odors and VOCs (Volatile Organic Compounds).
What makes the 600S ideal for nurseries is its AirSight Plus™ smart laser dust sensor that monitors the quality of the air in real time. When in Auto Mode, the fan will automatically adjust to the data from the sensor, meaning you can turn it on and have a sound mind that your little one is protected.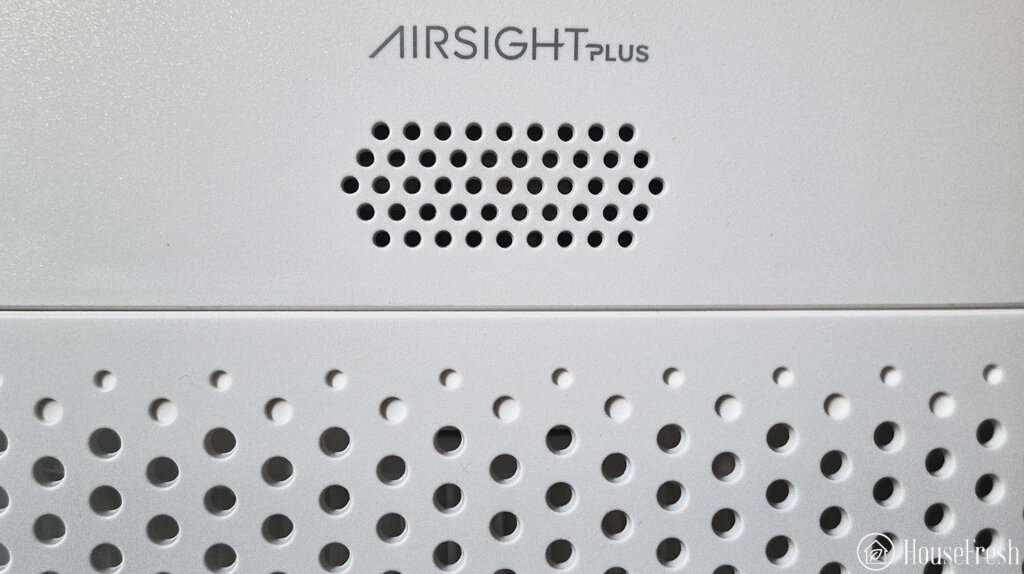 What We Really Like:
👍 The app allows you to control the unit and monitor air quality
👍 Energy efficient, low running costs
👍 Only emits 26 dB on the lowest fan speed
👍 Impressive CADR for the price of the unit
What We Think Could Be Better:
👎 Not very stylish
👎 You cannot remove the pre-filter to clean
SPECS & FEATURES
Smart Air aims to make no-nonsense, powerful air purifiers that don't cost the world. They focus on making units that perform to high standards in various sizes for different spaces, like the cute Smart Air S.
If you have the luxury of a larger nursery, you will need an air purifier that can tackle that amount of air to clean. That's why we recommend the Blast Mini (don't let the name fool you, it's pretty big).
This beast of a unit is made from metal, making it one of the hardest-wearing air purifiers on the market. It can clean spaces up to 915 sq. ft with its high-performance fan and thick H13 HEPA filter. The Blast Mini doesn't just talk the talk; it walks the walk, clearing our performance testing room in 17 minutes.
So, if you have the space and you're more focused on cleaning pollutants from your nursery fast and efficiently over gadgets and extra functions, the Blast Mini will keep any nasty contaminants out of the air your baby breathes every day. And something worth mentioning, the unit has been designed to be safe for kids.
What We Really Like:
👍 Super durable
👍 Has a high CADR of 435 CFM
👍 The filter can last up to 33 months
👍 Simple to use with only one dial to operate
What We Think Could Be Better:
👎 Weighing 59 lbs, it's a heavy unit
👎 I wish the control dial was on the front of the unit
SPECS & FEATURES
We all know that sacrifices have to be made when you have a new addition to the family, and budgets get a little tighter. Luckily Levoit is on hand with their Core S range. These high-performing air purifiers have the cleaning power and the technology to give you peace of mind when your baby is asleep in their nursery.
Like the Core 600S, the 300S has the same app connectivity that allows you to monitor the air quality in your baby's nursery, adjust the fan speed and control the settings like the built-in timer, Auto Mode, Sleep Mode and Child Lock in case you have an inquisitive infant on your hands.
Under the hood is Levoit's three-stage filter comprising a pre-filter, a main filter and an activated carbon filter. Levoit offers three different filter options to customize your unit to your situation. For nurseries, we recommend going for the most powerful of them all: the four-stage Smoke Remover Filter that includes a custom high-efficiency activated carbon.
What We Really Like:
👍 App connectivity
👍 Sleep mode turns off all the lights on the unit
👍 Lightweight at 5.95 lbs
👍 Choice of filter replacements
What We Think Could Be Better:
👎 Took 39 minutes to clear our performance testing room
👎 Wish it looked a little more…stylish
SPECS & FEATURES
Alen is another well-known brand in the world of air purification, proven by their 20+ years in the game. Along with its large variety of units to suit a plethora of different-sized rooms, Alen is known for their heavy-duty filters and a lifetime guarantee, which comes in handy when you've got curious little ones around.
We've reviewed a few models from Alen, like the 75i and the 45i, but we recommend the BreatheSmart Flex for nurseries. The flex is Alen's answer for those who want a powerful unit without all the bells and whistles that brands add to ramp up the price.
Let's talk filters as four to choose from fit the Flex: the B4-Pure Filter, B4-Fresh Filter, B4-Odor Filter and FL40-H Heavy Smoke Filter. Each uses H13 HEPA but adds more activated carbon as they get higher in price. Activated carbon uses adsorption to remove odors and VOCs from the air.
The basic rule is that if your nursery is susceptible to VOCs, you'll need more activated carbon in a filter. The Alen Flex won't disappoint:
What We Really Like:
👍 Similar CADR to the 45i at a lower cost
👍 Different filter options
👍 Energy efficient
👍 Comes with a lifetime warranty
What We Think Could Be Better:
👎 No smart features
👎 Replacement filters can cost more than other leading brands
SPECS & FEATURES
For those of you that like your electrical devices drenched in smart technology, let me introduce you to Mila. Founded in 2015, Mila is about making your life easier through tech. The Mila Air Purifier is a testament to this with its informative display, many settings and customizable filter choices.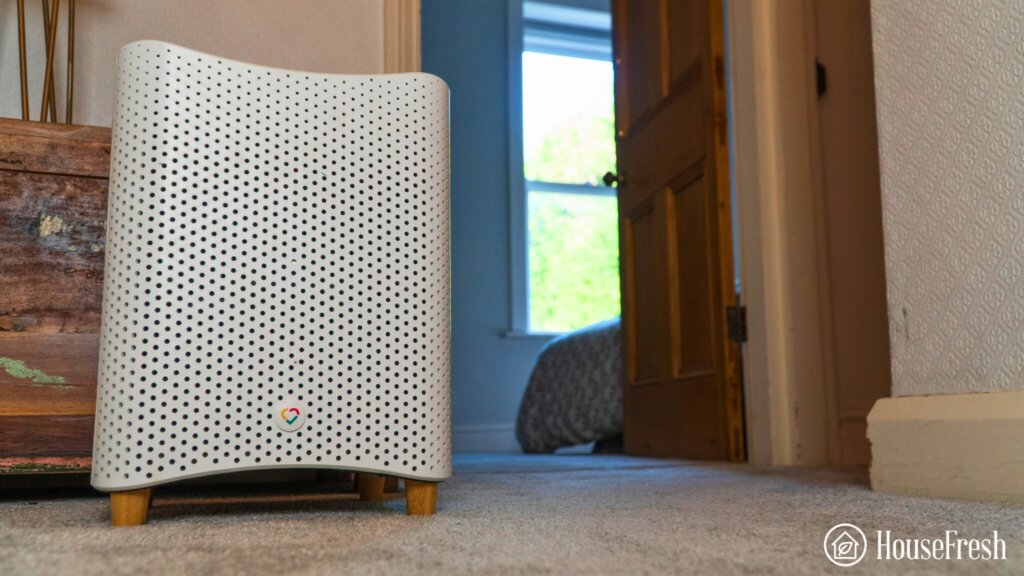 When you first turn on the Mila, the unit calibrates and tells you, "Jiu-jitsu, I'm going to learn Jiu-Jitsu?" a nerdy nod to The Matrix for all you tech heads. There are plenty of settings to manually tune the Mila to how you want it and eight modes to choose from, but we mainly stuck to the "automagik" (Auto) mode.
The Mila app (available on iPhone and Android) looks fantastic and is easy to navigate. It allows you to change settings, check indoor and outdoor air quality in real-time and gives daily and weekly insights into your Air Quality Index; if all that wasn't enough, Mila goes the extra mile by giving you data on VOCs, temperature, humidity and carbon monoxide levels in your home. When you have a new immune system to protect, all this information will give you peace of mind.
Another pro of the Mila is how quiet it is when running at its lowest speed: only 24 decibels, which is equivalent to a whisper or rustling leaves. But don't take my word for it, listen for yourself:
What We Really Like:
👍 Ideal for smart home connoisseurs
👍 Has an air quality monitor
👍 Auto Mode takes care of all settings
👍 Well designed, looks great
What We Think Could Be Better:
👎 Replacement filters are on the expensive side
👎 On its highest fan speed, it reaches 74 dB
SPECS & FEATURES
---
What to Look for When Buying an Air Purifier for Your Baby's Nursery Room
The EPA tells us that, on average, Americans spend approximately 90 percent of their time indoors, which may increase with the anxiety of taking a baby outdoors with their delicate immune systems, so the air in their nursery room (and the rest of the house) must be clear of pollutants.
Many different types of pollution can invade your baby's nursery room and affect their health. For example;
🦠 Mold
🦠 Allergens
🦠 Cooking odors
🦠 Dust
🦠 Pet dander
When protecting our children, only the best will do. In the case of air purification, the "best" air purifier means the "right" purifier. When buying an air purifier for your baby's nursery, there are some features an air purifier should have.
1. What filters does the air purifier use?
When it comes to removing microscopic pollutants from the air in your home, HEPA rules the game. That's why all the air purifiers we've recommended use HEPA filters, as they are hands down the most effective way of keeping the air in your nursery clear of contaminants.
2. How loud is this air purifier?
If you have a baby, you'll know that when they're asleep, silence is paramount. Infant sleep is so important but can be very sporadic, so you don't want to add any noise that may affect that. Unfortunately, you'll never find a silent air purifier, as they need a spinning fan to work, but you can find quieter units than others.
In this guide, we purposely chose air purifiers with quiet running noise on low levels. We gather this data when we rigorously test each unit, measuring the sound they emit on all fan levels.
Here's a comparison chart of each unit we've recommended:
📻 Sound is subjective; that's why we also record videos of all the air purifiers we review, scrolling through each fan speed so that you can make your own mind up.
3. How much energy does the air purifier use?
Babies aren't cheap; every penny counts. Air purifiers use electricity to run, but some use more than others. That's why we add running costs to every review we publish so that you can compare each unit to find the one that matches your budget.
---
Common Questions About Air Purifiers for a Nursery Room
🤔 Will an air purifier help with my baby's stuffy nose?
Congestion is very common in babies due to their small nasal passages. It's usually caused by breathing in pollutants like dust, bacteria, viruses, pollen and other allergens we can't see in the air. While a lot of the time, these won't cause any significant problems, it's still uncomfortable for the baby to breathe and may mean a sleepless night.
Introducing an air purifier to their nursery will eliminate those pollutants from the air by capturing them in its HEPA filter.
🤔 Where should you place an air purifier?
Air purifiers don't have to be in the center of the room but must be in a good position to capture airborne contaminants from your nursery. It comes down to the amount of space you have and the size of the unit you buy, but there are a few key do's and don'ts when it comes to placement.
✅ DO: Know where the air inlet and outlet vents are located.
❌ DON'T: Block either air vents with furniture or bulky belongings.
✅ DO: Place your purifier near known pollutant sources such as mold, dust or odors.
❌ DON'T: Place your purifier near other large electricals that run on similar wavelengths.
✅ DO: Position the air purifier near doorways, vents or passages to maximize airflow.
❌ DON'T: Obstruct pathways through a room or block an exit.
🤔 How long should I run an air purifier?
Pollution doesn't clock in and out daily, so air purifiers are designed to run 24/7. That's why it's important to consider the running costs of a unit before buying it. Our Specs & Features section includes the average cost to run each unit per year so you can match it to your budget.
---
Wrapping Up
As you've read, it's essential to have clean, fresh, pollution-free air for your baby to breathe in their nursery, as prolonged exposure to contaminants can harm their development and overall health. Introducing an air purifier will drastically reduce pollution by removing those microscopic particles from the air.
Finding the right air purifier for your baby's nursery doesn't need to be daunting or expensive. Simply follow our guide and choose a unit that fits your budget, the size of your space and the features you want from an air purifier. Easy.
Last update on 2023-11-30 / Affiliate links / Images from Amazon Product Advertising API