Most air purifiers are designed for small spaces from 100 to 300 square feet.
With large spaces, a standard air purifier can find it hard to keep the air clean fast enough so pollutants can still hang around and cause problems.
For large rooms, you need an air purifier with a higher CADR that can provide 4.8 air changes per hour, even for bigger spaces.
For example, a 600 sq ft room with a standard ceiling size would require at least 384 cfm to provide the recommended 4.8 air changes per hour.
Remember you can also combine air purifiers' CADR scores so, for example, 2 Smart Air Blast minis could still provide up to 4.8 changes for a space of up to 1300 square feet.
Before we recommend any air purifier, we test air cleaning performance in our home lab using incense stick smoke; then we track how long each air purifier model takes to remove all the PM1 particles from the air. Combined with long-term costs and our performance data these are the air purifier models we currently recommend for larger rooms.
Any space over 600 square feet will need either multiple smaller air purifiers or a very large device with bigger filters that last longer but do cost more than what you find for smaller air purifiers. 
In this guide, I will take you through my top recommendations for air purifiers for large rooms that we've tried and tested at HouseFresh HQ. We've put these units through their paces, collected the data and compared them side-by-side.
If you're only here for a quick scan, check out our top 3 recommendations that we think will fit perfectly into your home and suit all of your air quality needs.
Staff picks: Top 3 air purifiers for large rooms
Those are just the top three options, but there's more.
I've chosen air purifiers with individual strengths because we all have different needs. Whether it be performance, sound, size or budget, this guide has something for everyone.
Incredible performance matched with modern stylings and smart features – the ideal air purifier for large rooms.
Levoit is known worldwide for their high-performing air purifiers at affordable prices. Their vast range covers small rooms with the 200S to mid-sized spaces with the Core 400S to large rooms and for those, my favorite of the bunch is the EverestAir.
It's no secret that I'm a fan of Levoit air purifiers, so I was looking forward to receiving this new addition to the Levoit family. Let me explain why.
From the moment I opened the box, the EverestAir didn't disappoint. The EverestAir's control panel features touchscreen buttons for a quiet sleep mode, auto mode and a mighty turbo mode. It goes the extra mile by displaying particulate matter readings from the environment's air quality, thanks to the built-in three-channel sensor that detects PM1.0, PM2.5 and PM10.
This powerhouse of an air purifier is the fastest we have had in our performance testing home lab — it took a mere 13 minutes to clean all of our simulated contaminants from the air.
Adding to its outstanding performance, the EverestAir has smart features such as auto mode, an in-built air quality sensor and app connectivity so that you can monitor the air quality in your large room as well as the ability to change its setting from anywhere in the world (with an internet connection).
Its three-stage filter system includes a washable pre-filter, a high-performance main filter and an activated carbon filter that can effectively remove a wide variety of indoor pollutants. With a high CADR of 360 CFM and a powerful VortextAir fan, the EverestAir is designed can tackle pollutants in large spaces.
That's why it's my top recommendation if you have a large room that needs an air quality boost.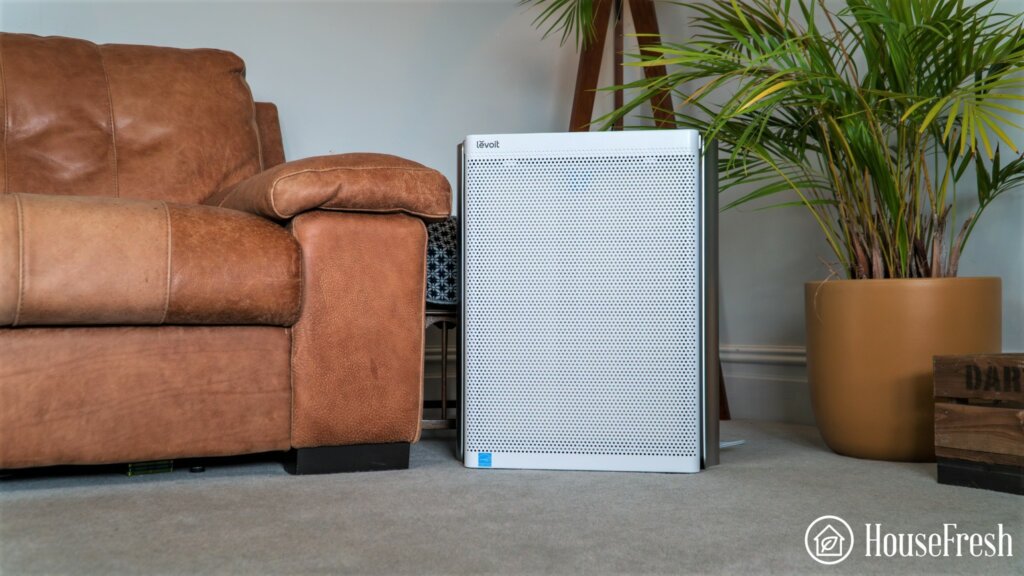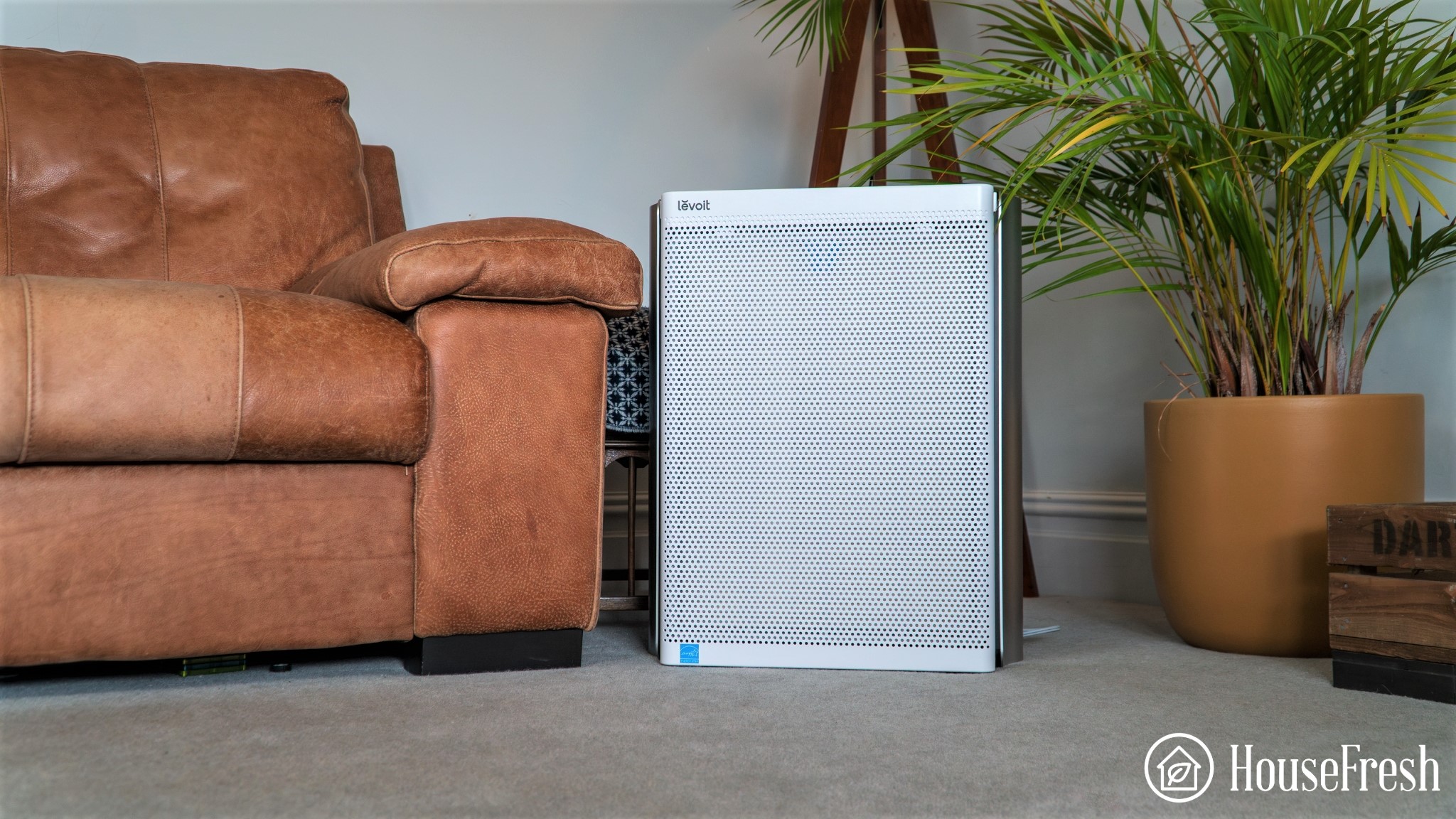 SPECS & FEATURES
A powerhouse of cleaning performance with a budget price tag – can tackle large rooms effectively and with energy efficiency.
I know what you're thinking. "Why should I consider another Levoit air purifier when you just told me how good the EverestAir is?" Yes, the EverestAir is amazing, but is it also expensive. So if budget is a big factor, then the Core 600S might be the way to go.
Inside the 600S is Levoits 3-in-1 pre-filter, signature main filter and Activated Carbon filter. As they come as an all-in-one spherical piece, it is easy to replace, as you can see from our instructional video. Replacements will set you back around $60 for a genuine Levoit filter, but you can get an unofficial replacement for around $45.
It may not be the prettiest large air purifier to look at, but when it comes down to cleaning the air in a large room, the 600S won us over with its high CADR of 410 CFM, clearing our performance testing room in just 15 minutes. The Core 600S is ideal if you're looking for high performance at a low cost.
When it comes to high-performing air purification at a low cost, the 600S is a clear winner and my number two recommendation to clean large rooms of pollutants. This air purifier has everything you'll need to achieve excellent air quality with smart features like auto mode, numerical and color air quality monitor, app connectivity and a timer. The controls are easy to use and intuitive, making the 600S extremely user-friendly.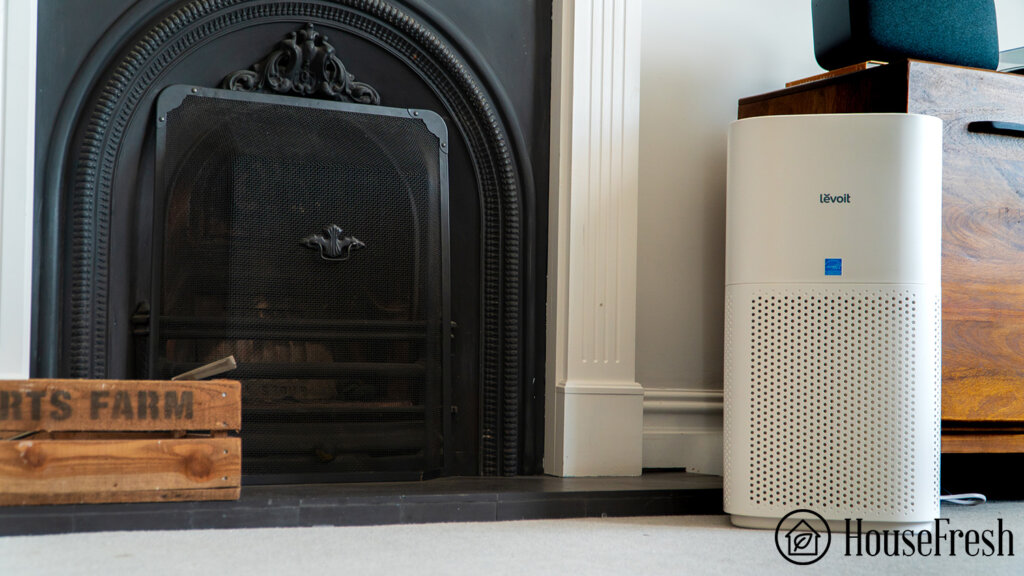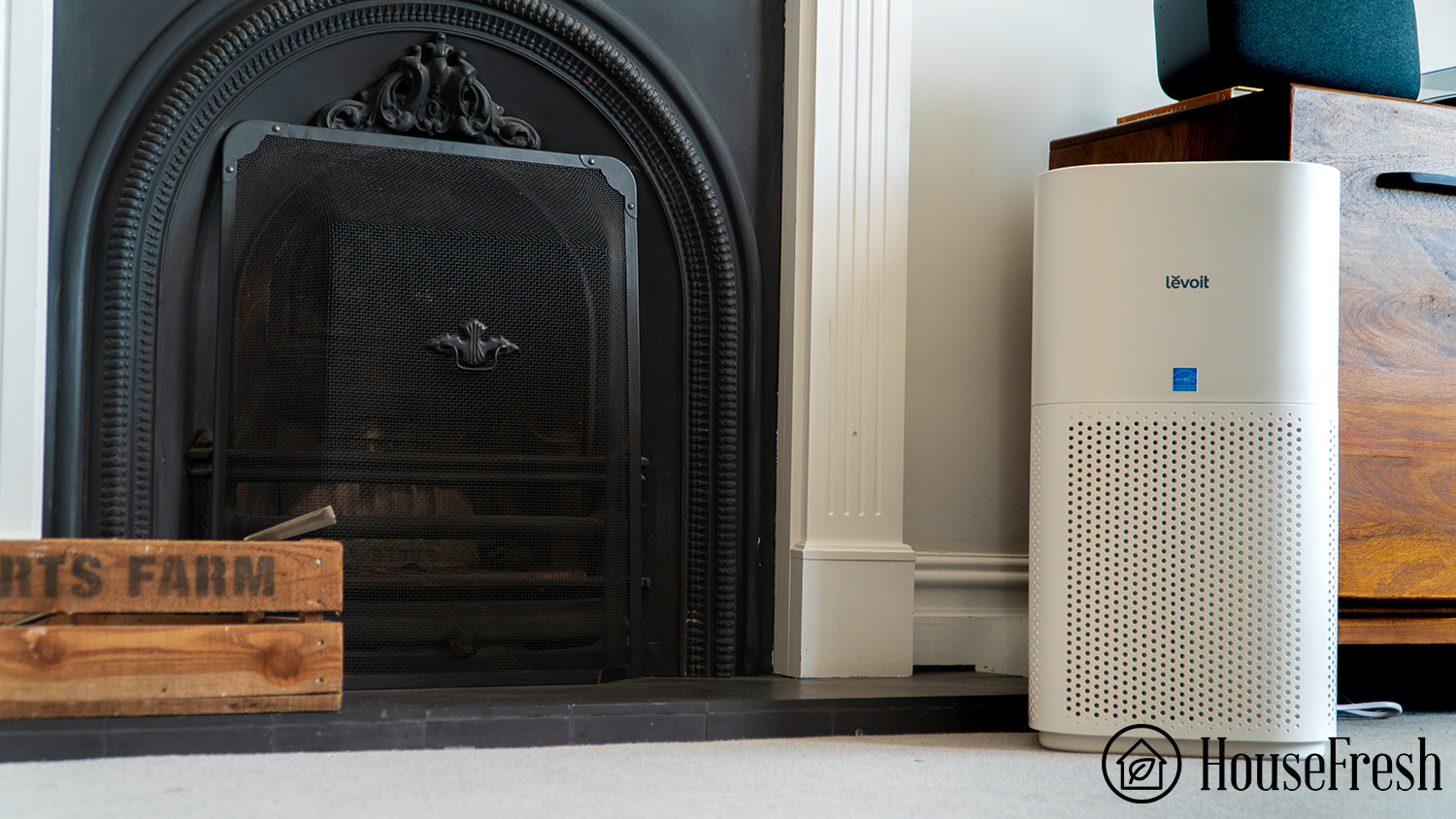 SPECS & FEATURES
This big air purifier with a huge fan and filter, still manages to keep the noise down – even when tackling pollutants in large rooms up to 915 sq. ft.

Smart Air is not your standard air purifier manufacturer. Set up by people who weren't happy with the cost of air purifiers or their air quality, they set out to make high-performing, low-cost, no-thrills units for the typical household. Smart Air's answer to cleaning the air in large rooms is the colossal Blast Mini.

Although the name 'Mini' confused me slightly (it weighs 59 lbs), there's no doubt that the Blast Mini is built to last as it is made from metal over the usual plastic body you find on most modern air purifiers.
Once we got it up the stairs (it took me and Danny to lift it up to take it to our HouseFresh home lab), this high-efficiency air purifier showed us how well it performs by clearing the air from incense smoke pollutants in our test room in 17 minutes.
When you lift off the front of the unit, you discover its powerful fan and a huge, long-life H13 HEPA filter. Unfortunately, the Blast Mini doesn't have an Activated Carbon filter as standard. We highly recommend you spend a little extra to have this included in your initial purchase, or you can purchase one separately here.
There are no special bells and whistles on the Blast Mini like auto mode, air quality monitor or touch screen control, but the Smart Air Blast Mini looks great, will last a long time and is highly effective at clearing contaminants from large rooms.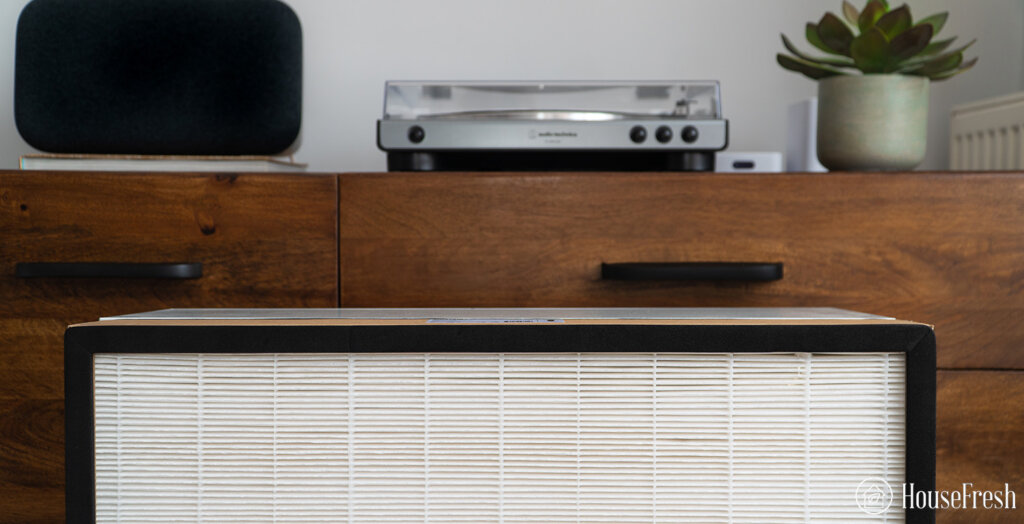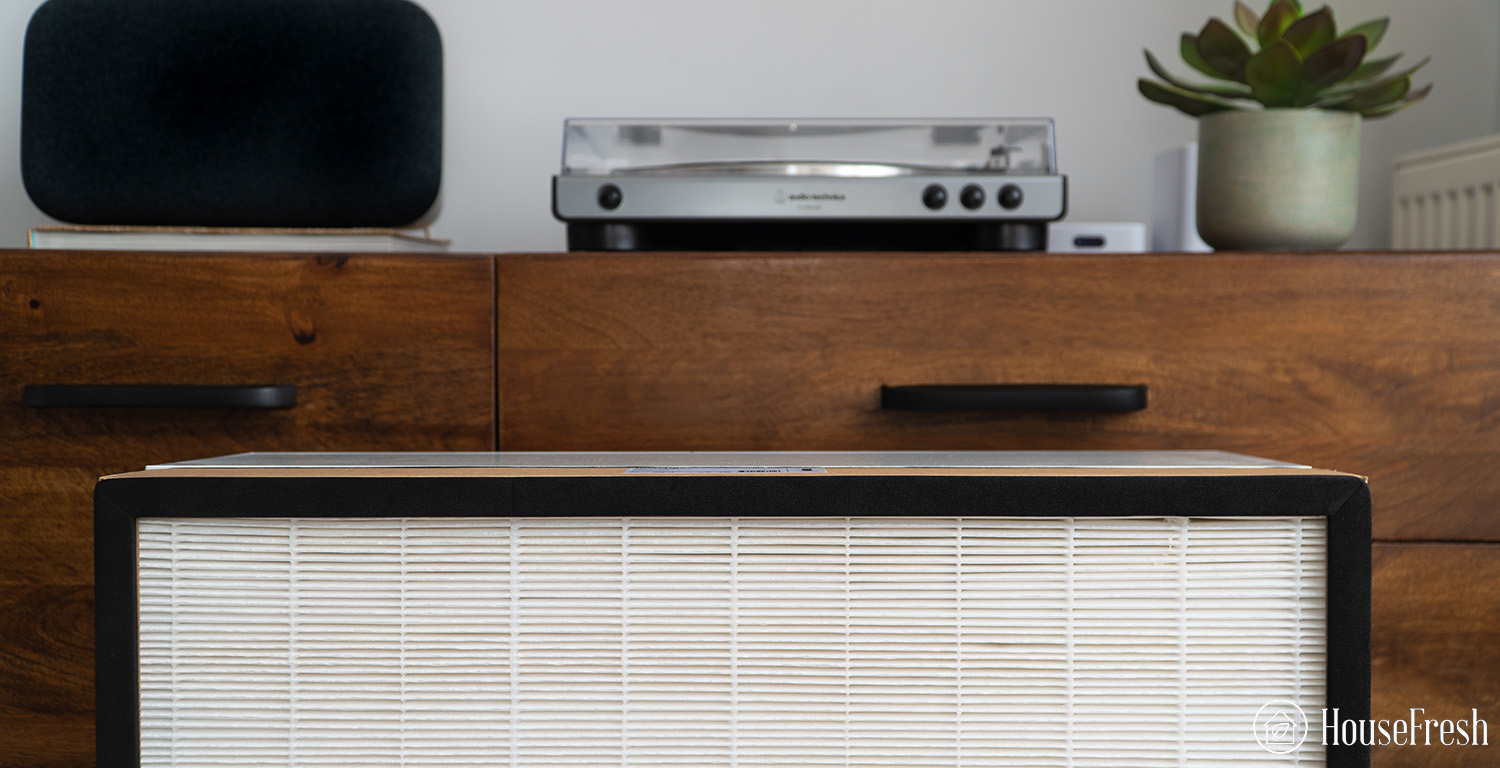 SPECS & FEATURES
The ultimate peace of mind with a lifetime warranty – contaminants don't stand a chance.
When you buy an air purifier (or any product for that matter), you need peace of mind that it's not going to crap out on you at any given point, and even if it does, you want to know that it can be fixed. If a lengthy warranty is high on your priority, check out units from Alen, as they offer a lifetime guarantee (with product registration and active filter subscription).
Alen's range of high-performance units suits a variety of budgets and room sizes. My choice for large rooms has to be the BreatheSmart 75i, as it's capable of cleaning pollutants in spaces up to 1,300 sq. ft., making it a great option for your large living room, open plan kitchen and/or basement.
What makes the BreatheSmart 75i ideal for large rooms is its powerful fan, thick H13 HEPA filter and Activated Carbon filter that contains pellets of carbon instead of the less effective bonded sheet you find in many units. This powerful mix created the conditions for the BreatheSmart 75i to perform very well in our home lab cleaning tests by clearing our simulated contaminants in just 24 minutes, which is why I've chosen it as a great option for use in large rooms.
The 75i we bought may look like a flat white box, but Alen does offer different color front panels to give it a more aesthetic look to match the decor of your room. You can choose from Oak, Weathered Gray, Brushed Stainless, Graphite and Espresso.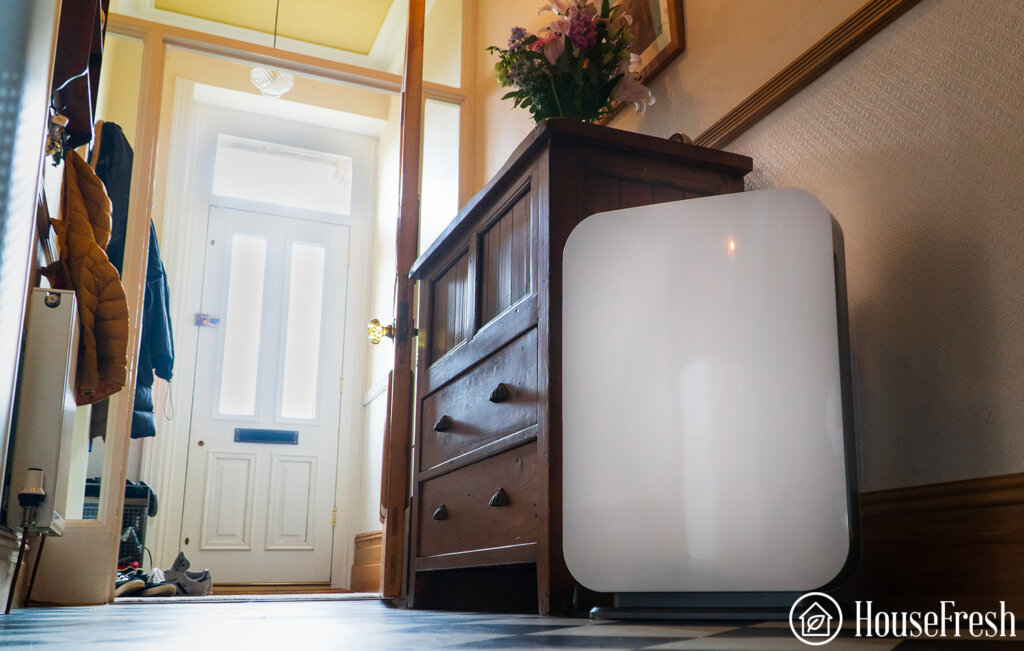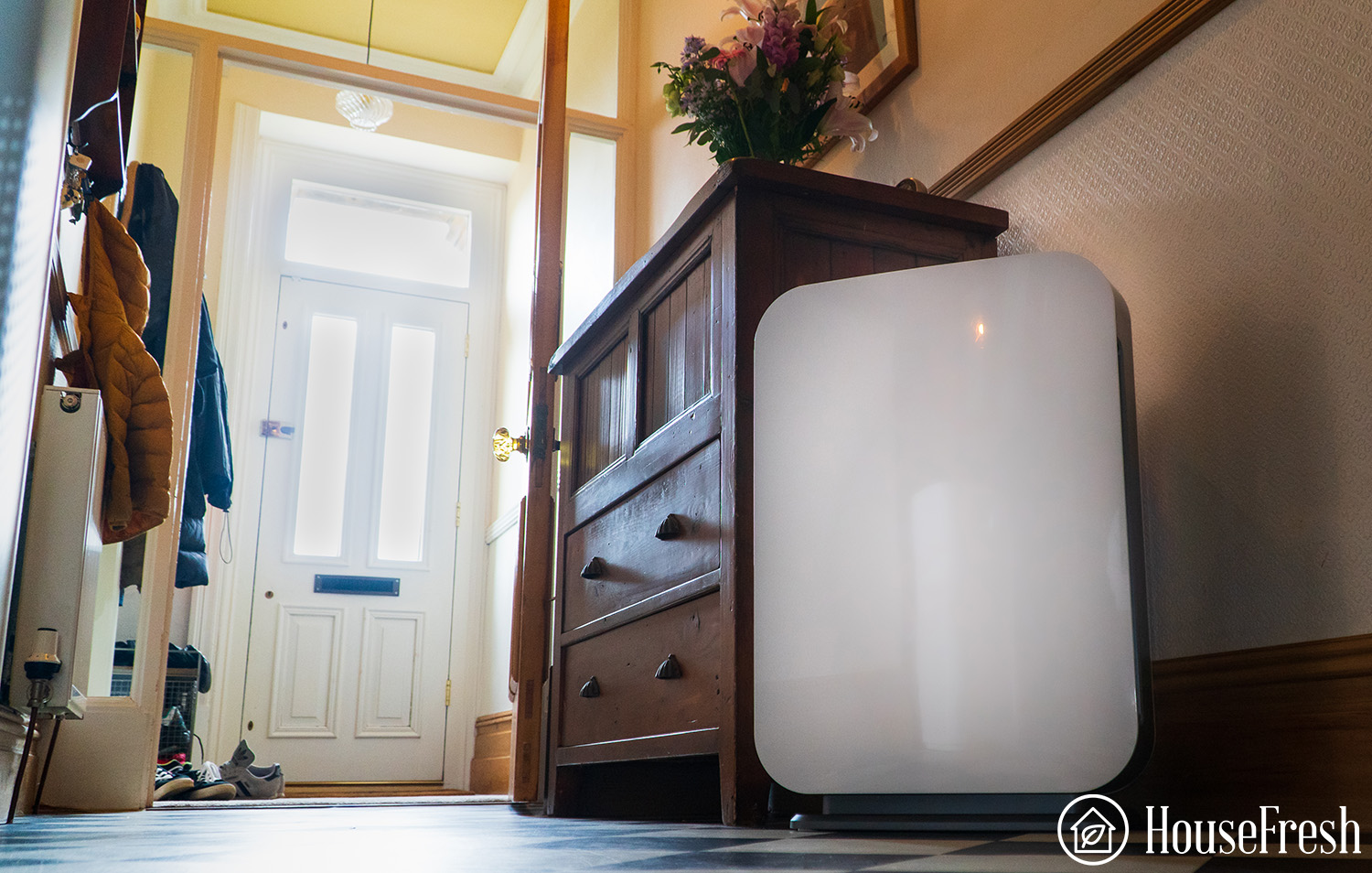 SPECS & FEATURES
It's branded "The Doctors Choice" for a reason – but this powerful air purifier doesn't come at a high price.
I'm realistic, I know that spending money on a device you can't necessarily see the effects of can seem like a waste of your hard-earned dollars. But with so much science to back up the health benefits of air purifiers, I believe they are a necessity for the home. Luckily, if you don't want to break the bank by buying an air purifier, there are budget units available — such as the Honeywell HPA 300.
Instead of the usual one large HEPA filter, the HPA300 uses three smaller ones that slot next to each other inside the unit. Honeywell has also included an activated carbon sheet to cover the fan, but from our tests, it doesn't contain enough carbon to remove many VOCs from the air successfully. This unit powerhouse cleared our performance testing room in just 26 minutes using its big 4-speed fan (including Turbo Mode) and True HEPA filters. Not bad for under $200.
Weighing in at only 17 lbs, with handles on each side, you can quickly move the HPA300 between rooms (perfect for those moments when you've accidentally burnt the toast… again). It's easy to use as the control panel is clearly labeled, but it gets quite loud at high fan speeds as it works hard like the little engine that could.
Honeywell champions the HPA300 for good reason. This powerful air purifier will make light work of removing pollutants from your large room from a trustworthy brand.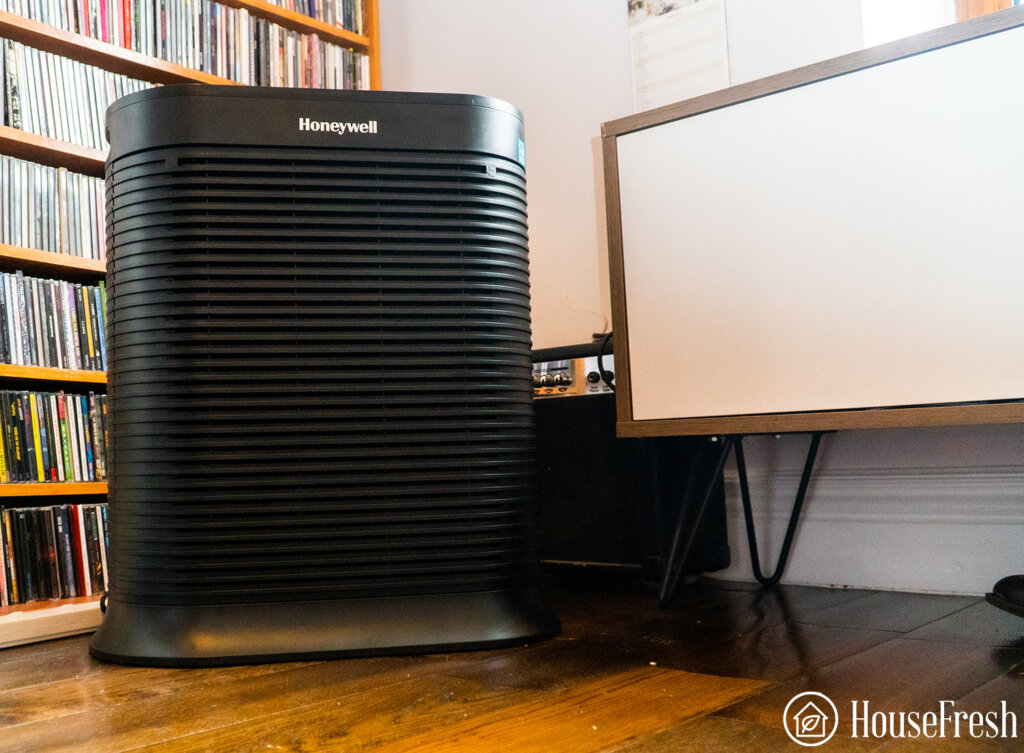 SPECS & FEATURES
If you want an air purifier with ionizer technology for your large room, this unit will take care of your ion needs.
Even though our views on ionizer technology are conflicted (mainly due to the dangers of the ozone that is created as a byproduct), we still want to give you the option of an air purifier for large rooms with this feature. I've chosen the Coway Airmega AP-1512HH Mighty for its cleaning prowess, cool design and an ionizer you can turn on/off.
As soon as I saw this air purifier in the flesh, I instantly thought it would be what Darth Vader would have in each room of the Death Star — let's face it, he sounds like he needs one. The gloss black body and circular white band finish will suit the modern home decor.
When you remove the sith lord front panel, it reveals Coway's "four-stage" filtration system that consists of a pre-filter to trap larger particles that try to pass through, the activated carbon sheet to remove odors and a True HEPA filter that removes those microscopic harmful particles in your air. The 4th stage is the ionizer.

Whether you're pro or against ionizer technology, the Airmega AP-1512HH Mighty wouldn't make it into our guide if it wasn't up to clearing contaminants in your large room. In our air cleaning performance test, we saw the Coway Airmega Mighty clear the air of smoke particles in just 23 minutes.
As well as the ionizer function that you can switch on/off when you need to, the Airmega AP-1512HH Mighty has four fan speeds, including Eco mode, a timer and an auto mode that uses a sensor to analyze the air quality in your room and automatically adjust the fan to coincide.
SPECS & FEATURES
---
For those serious about removing VOCs from your large room – this Swiss-made air purifier contains over 5 lbs of activated carbon.
The IQAir Healthpro Plus is easily the largest air purifier we have tested. This Swiss-made mammoth of a unit is ideal for those serious about air quality. Our founder, Danny, has the pleasure of running this air purifier in his main hallway (connecting the dining room with the TV room and the living room) every day and insists it is the perfect unit for those with a large open space.
But that's not the only reason why I included this air purifier on the list. IQAir has packed the Healthpro Plus' V5-Cell filter with over 5 lbs of activated carbon and KMn05 alumina, making it the most effective filter for clearing VOCs and odors when compared to every other unit in this guide.
The Healthpro Plus may be large, but it doesn't waste any of that space. Inside, you'll find a large, high-performance fan that pushes the air in your room through various filters. IQAir's PreMax pre-filter traps larger particles, the V5-Cell filter absorbs gas and odors, and the HyperHEPA filter captures harmful microscopic particles from the air.
This behemoth cleared our performance testing room of airborne contaminants (including VOCs) in only 25 minutes with its CADR of 300 CFM, proving it can handle cleaning the air in large rooms with ease.
With a remote control included and a digital display on the control panel, the Healthpro Plus is easy to use. It has five fan speeds to choose from, and you can program a schedule so you don't need to think about turning it on/off throughout the day.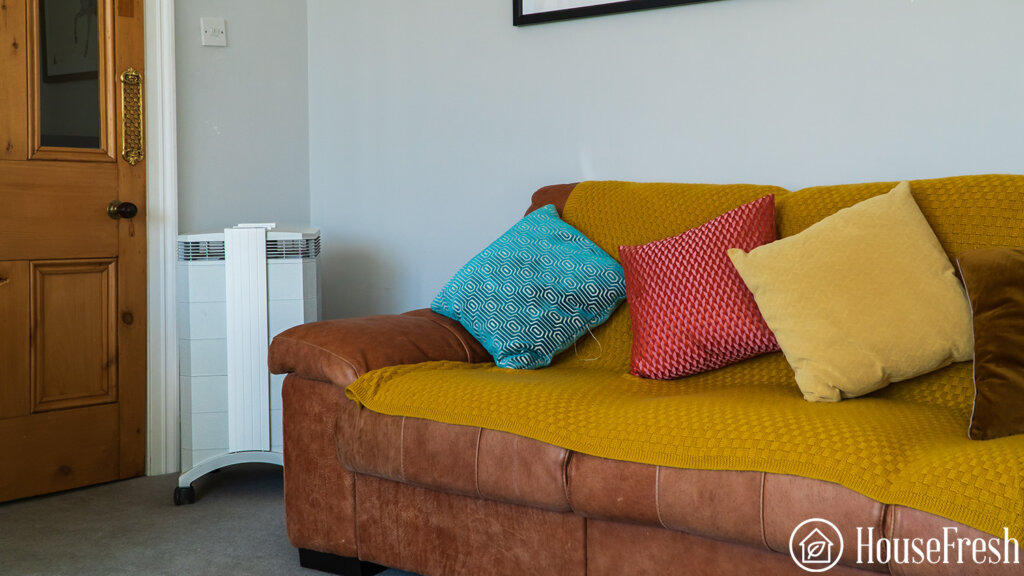 SPECS & FEATURES
Other units we tested but don't recommend for large rooms
Austin Air HealthMate – A large, robust, American-made air purifier containing a filter packed with 15 lbs of activated carbon for dealing with VOCs. But, it didn't have the cleaning power in our performance testing that we expected from a unit of this size. It only managed to clear the pollutants in our home lab in 37 minutes.
Blueair Blue Pure 211+ – This was a strong contender for our guide. It's powerful, contains effective filters, looks really cool and is extremely easy to use. It didn't make my list for one reason: you can't disable its ionizer — and you know how I feel about that particular technology.
Dyson HP04 Pure Hot + Cool – From first glance at the HP04 and its price tag, you think this unit would be ideal to use in a large room, but, unfortunately, its cleaning performance in our home lab tests did not reflect this. With a CADR of only 89 CFM, this unit will really struggle in a large room.


What to look for when buying an air purifier for a large space
Large rooms can be a blessing and a curse. All that space is great, but it can be a place for vast amounts of pollutants to thrive that can cause health issues for you and your family.
As well as information from the EPA and the WHO (see above), the NIEHS (National Institute of Environmental Health Services) gives us in-depth information about the types of indoor pollutants and the adverse effects on your health they can cause.
Of course, you want the air in your room to be clean and fresh, but with so many devices on offer, which air purifier will best suit your needs and wants? Not all air purifiers are created equal. Some are better than others in cleaning performance, filter technology and features. Some are made for small spaces, some are made for large rooms.
I know how much of a minefield it can be to choose the right air purifier for your large room. That's why I've carefully selected these particular units using a certain set of criteria:
1. Air cleaning performance
This was my top priority when choosing these air purifiers for large rooms. For a unit to be able to remove airborne pollutants in large areas effectively, it must have a powerful fan with a high CADR (Clean Air Delivery Rate).
We timed how long it took for each air purifier to remove contaminants from the air in our home lab so that we could determine how powerful their cleaning performance was. This also allowed us to compare our units to determine which are appropriate for large rooms.
To help you find the right air purifier for your room, we've knocked up a CFM calculator where you can enter the dimensions of your room to find what specifications you will require from your air purifier.
2. HEPA filtration
There are different types of filters that manufacturers use in their air purifiers. When we're looking for units to review, we always sway toward those that contain HEPA filters. From our research, we've seen that HEPA filters are the most effective way of removing harmful particles from the air. Using a tightly woven maze of fibers, HEPA filters trap microscopic pollutants from the air passing through them, leaving you with fresh, clean air to breathe.
3. Budget friendliness
When looking for an air purifier that fits your budget, it's not only the initial price of the unit you need to consider. Air purifiers are electrical devices that need energy to operate. The efficiency of the unit will dictate how much it will cost to run and as it's recommended to run your air purifier 24/7, this is an important factor.
Another cost to consider is the price of replacement filters. The filters used in these air purifiers need to be replaced periodically in order to keep the unit running efficiently and effectively. Different replacement filters have a wide range of costs and can last anywhere from 6 months to 4 years, so it's important to factor this into your budget.
4. Control panel and smart features
This part is completely up to you. Think about which features you need, which you want and which you can live without. For example, I use Auto mode most of the time, so I need an air purifier with this feature. I also like monitoring the air quality of my rooms using an app on my smartphone, but ultimately I would choose performance over app connectivity.
Frequently asked questions about air purifiers
Wrapping up
With so many large air purifiers on the market, it can be hard to choose which one will suit your air quality needs, look good in your home and won't cost too much to run each year. When selecting the suitable unit, think about the size of the unit itself, what filters it uses, the CADR, how much it will cost you to run and the price of replacement filters.
Take my word for it; size does matter when it comes to air purifiers.
About HouseFresh
Our team has been writing about air purifiers since the days of the Sharper Image Ionic Breeze, and we have tested and reviewed more than 50 of the best air purifiers on the market in the last three years.
The main way that we evaluate air cleaning performance is by testing how fast each model can remove PM1 pollutants from our home test room of 728 cubic feet. You can read more about our testing process and be sure to check out our air purifier reviews that show the level of detail and data we share with each device we evaluate.
We are an independent publication, refuse to run ads and don't have any deals with manufacturers behind closed doors. That means we are free to say when an air purifier sucks.
If you need more help or want to ask us a question, I look forward to your email: daniel@housefresh.com
Last update on 2023-12-02 / Affiliate links / Images from Amazon Product Advertising API