Our verdict:
Finally, a fan that can also clean the air.
Like the latest Blueair air purifiers, this doesn't use too much energy or create too much noise, making it perfect for a bedroom. The auto mode makes it easy to leave on without adjusting and it has one of the best designs we've seen yet. 
Be aware that the filter lacks activated charcoal, so there is no odor or gas removal. You also might be disappointed if you're just looking for fan performance, as it's a much better air purifier than a fan.
Blueair is one of the big names in the air purifier industry; it has been designing and manufacturing air purifiers since 2016.
Since 2016, the company has been owned by Unilever; as of this year, it is now a Certified B Corporation. Since the sale, Blueair has been rapidly bringing out new units, and this Pure Fan Auto is their first attempt at an air purifier and fan combo.
Previously the "fan + air purifier combo" market has been dominated by Dyson with their HP04 and HP03 that, bring air purifier functionality to heaters, fans and even humidifiers.
The Pure Fan Auto combines the features of an air purifier with a fan and is aimed at capturing some of the markets that Dyson has built.
We liked the Dyson fan + air purifier combos but felt that the air cleaning performance could be improved, so we were excited to see how the Blueair Pure Fan Auto performed.
Why You Should Trust This Review

Most air purifier reviews you read involve a freelance writer who takes pictures and runs them a few times in their home. In reality, reviews like this are useless and many are biased to "sell" the unit so readers buy it and make money for their publication.

We have been reviewing air purifiers for over ten years. The reality is that there are way more air purifiers that oversell their performance. Most are a waste of money, or worse; they can worsen the air in your home.

We don't accept free air purifiers as we want to be free to give our honest opinion without worrying about keeping manufacturers happy.

Our testing process:

1. We test all the air purifiers in our home lab, measuring 705 cubic ft. We burn an incense stick to generate particulates and VOC pollution.

2. Using a Purpleair Indoor Sensor (our best air quality monitor), we track the levels of PM1ug/m3, PM2.5ug/m3 and PM10ug/m3 continuously.

3. We set our review air purifier to its highest fan setting and then time how long it takes to get the PM1 level to 0.

4. We evaluate the energy usage at the lowest and highest setting with an energy meter so we know exactly how much electricity is being used.

5. We use a professional sound meter to track the sound generated in dB at the lowest and highest speed.

Following this process for all the air purifiers we review allows us to compare different brands and models like for like.
TL;DR The Lowdown on the Blueair Pure Fan Auto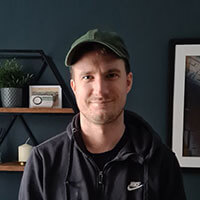 "A powerful air purifier that is perfect for problems with pollen or dust but is slightly let down by the fan performance and its lack of activated charcoal filter." — Danny Ashton, Founder & Senior Writer
---
What We Really Like:
👍 Powerful air cleaning performance — it cleaned our test room in 26 minutes, which was only one minute less than the IQAir Healthpro Plus
👍 Design is much better than what you usually see with air purifiers and could be a conversation piece
👍 Simple functionality with included Auto-mode
👍 Max sound level is much lower than similar devices like the Dyson combo units
👍 Much smaller and easy to live with compared to other air purifiers with this level of air cleaning power
What We Think Could Be Better:
👎 Lack of activated charcoal means it will not do anything for odors, gasses or VOCs
👎 Fan performance is much weaker than the Dyson combo units
👎 No app support or smart features beyond the auto-mode
The Specifications
The Blue Pure Fan Auto brings a high level of CADR without the usual high energy usage and sound generated that we see with units like the IQAir Healthpro Plus or Mila Air Purifier.
See the full specs for the Blue Pure Fan Auto below:
| | |
| --- | --- |
| HouseFresh Rating: | ★★★★☆ |
| Time to clean our test room: | 26 minutes |
| Air purifier technology: | HEPASilent™ filtration technology |
| Recommended room size: | 322 sq. ft. |
| Clean air delivery rate (CADR): | 250 CFM Pollen / 220 CFM Dust / 210 CFM Smoke |
| Dimensions (in inches / in cm): | 15.5 x 12.9 x 11.2 inches (39 x 33 x 29cm) |
| Weight (in pounds / in kg): | 10.38lbs (4.7kg) |
| Noise level (low – high): | 25dB – 54dB |
| Filter life: | 6 months |
| Manufacturer's warranty: | 2-year warranty when you register your air purifier |
| Estimated energy consumption: | $45.20 per year |
A Functional Art Piece with Simple Controls
Blueair knows that design is super important to their customers. They have been continually investing in this over the past few years. I'm just going to say it: the Pure Fan Auto is one of the best-looking air purifiers that I have had a chance to review.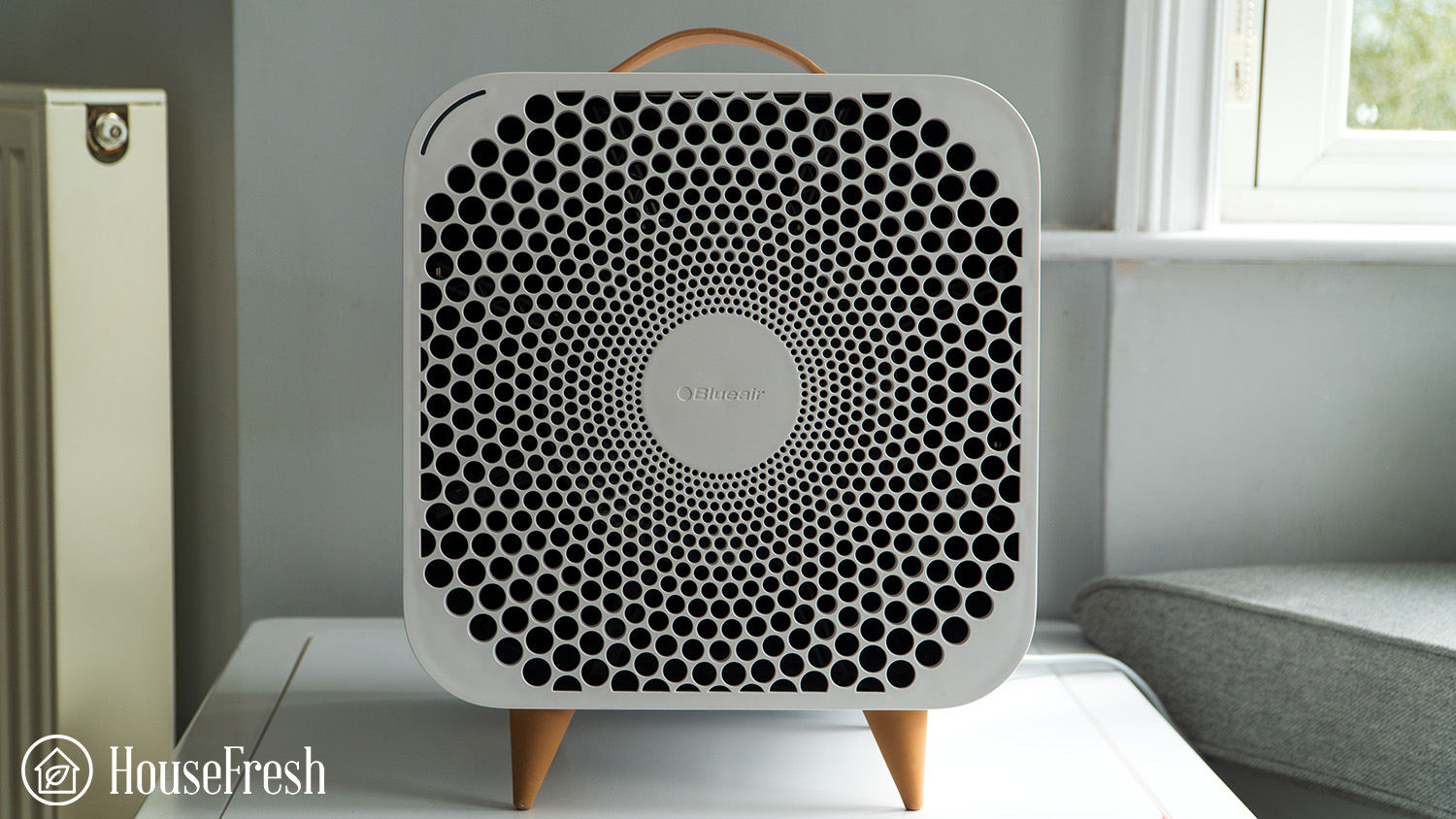 Its cube shape makes it easy to use in many places around the home, and doesn't even need to sit directly on the floor.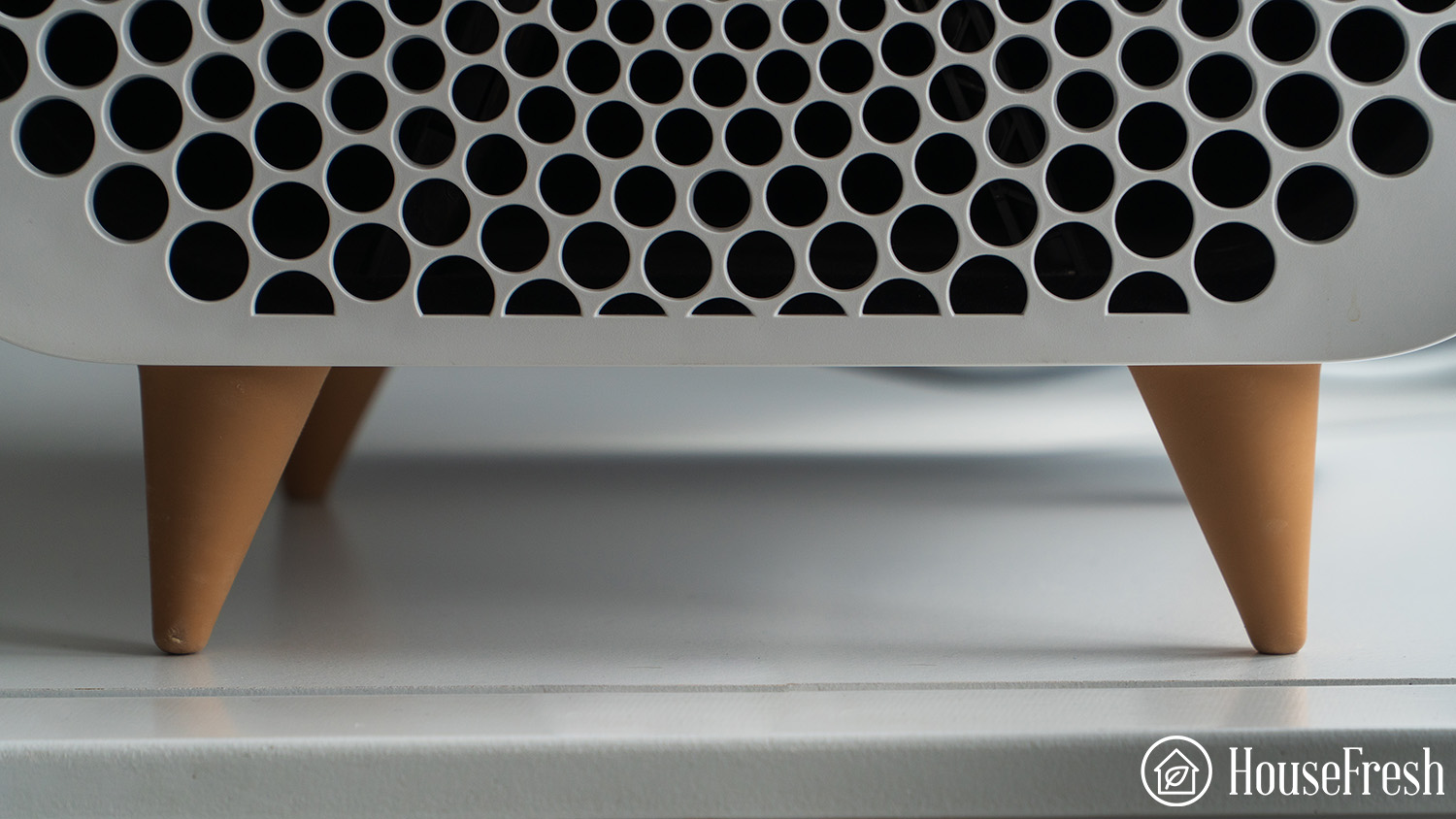 The legs look like something from a high-end piece of furniture and even the fan holes' design is aesthetically pleasing.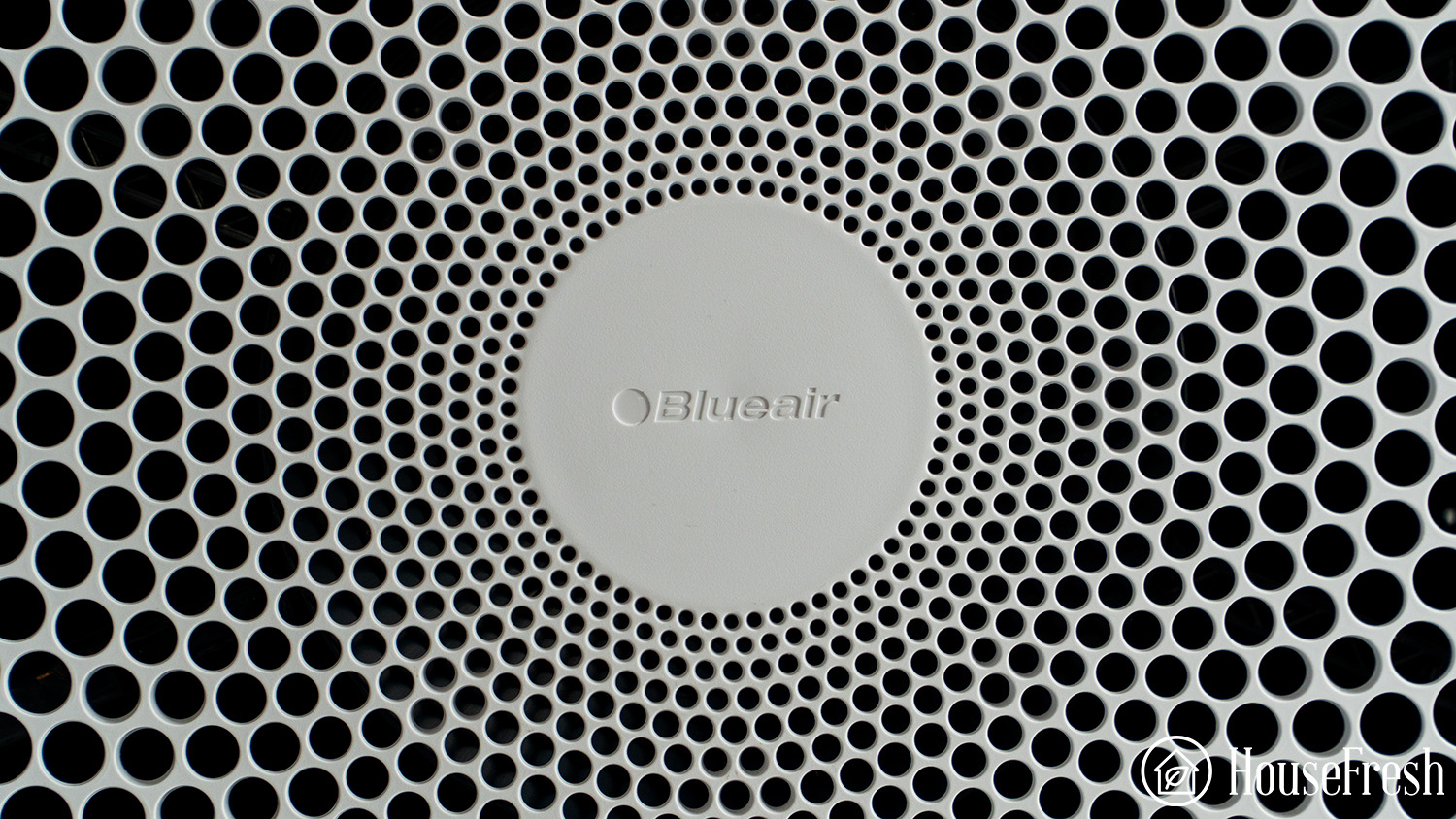 The auto mode includes a light in the top left-hand corner that adjusts depending on the level of particle pollution. The fan will also automatically adjust to provide more cleaning power depending on the level of air quality detected.
If I wanted to compare the design and aesthetics of Blue Fan Auto with a similar unit, then I would need to look at the Dyson range of fan-air purifier combos. Personally, I prefer the looks of the Blueair uni as it fits my home interiors better and blends into the furniture we already have BUT I know that's a personal preference.
Objectively, you can see in the image below how the Dyson combo units are considerably bigger (and heavier) and must be kept on the floor.
After living with all three of these combo units in my own home, I can say that the Pure Fan Auto is a much easier air purifier to live with. You can tuck it away and it doesn't take a lot of space.
Plus, it comes with a leather carry handle, making it way easier to move to different locations around the house when compared to the chunkier Dyson units.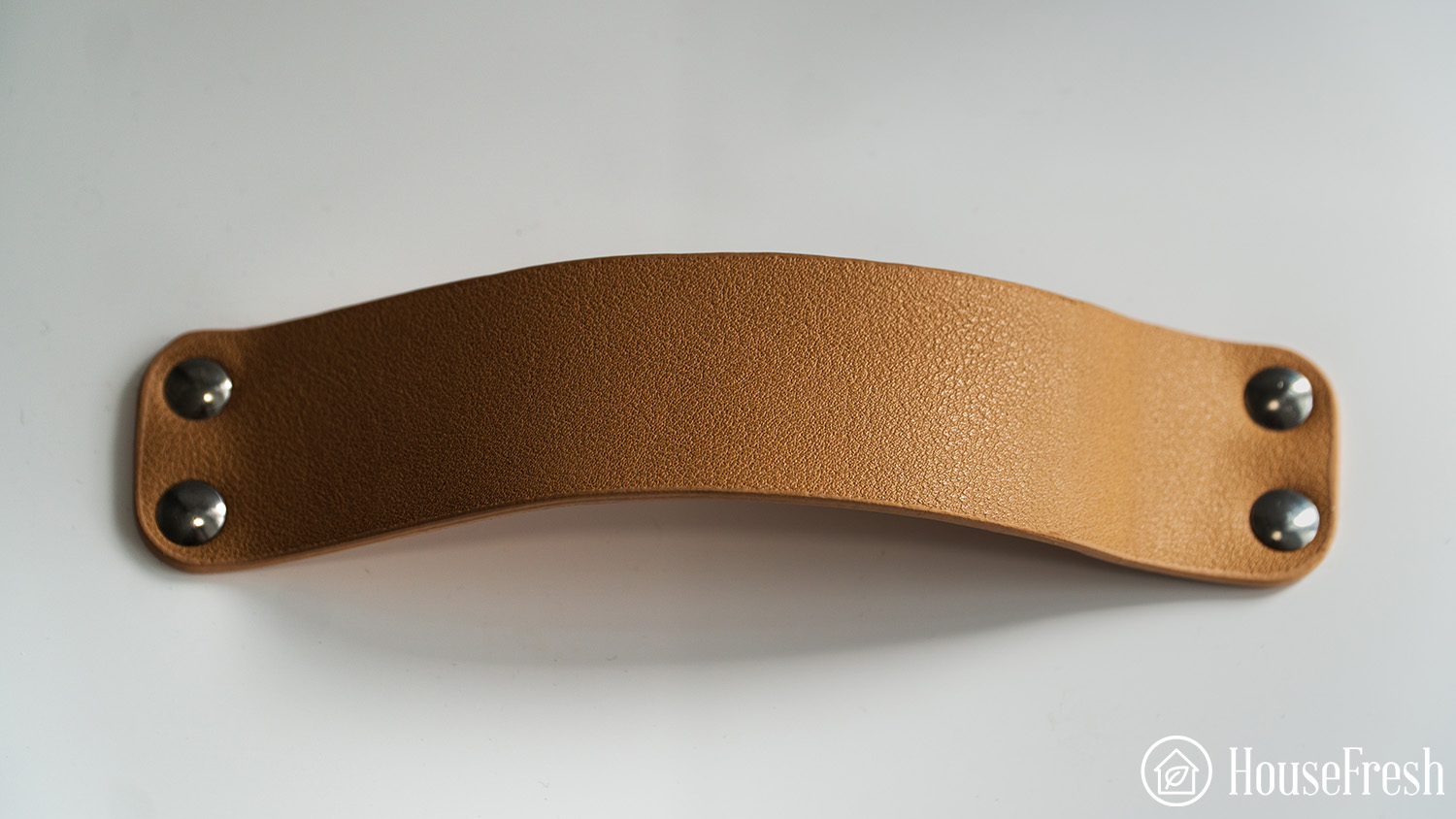 As with the other Blueair purifiers we have reviewed, the control panel is super simple, with one button to turn it on and a fan button to adjust the fan speed, enable auto-mode and switch it to sleep mode.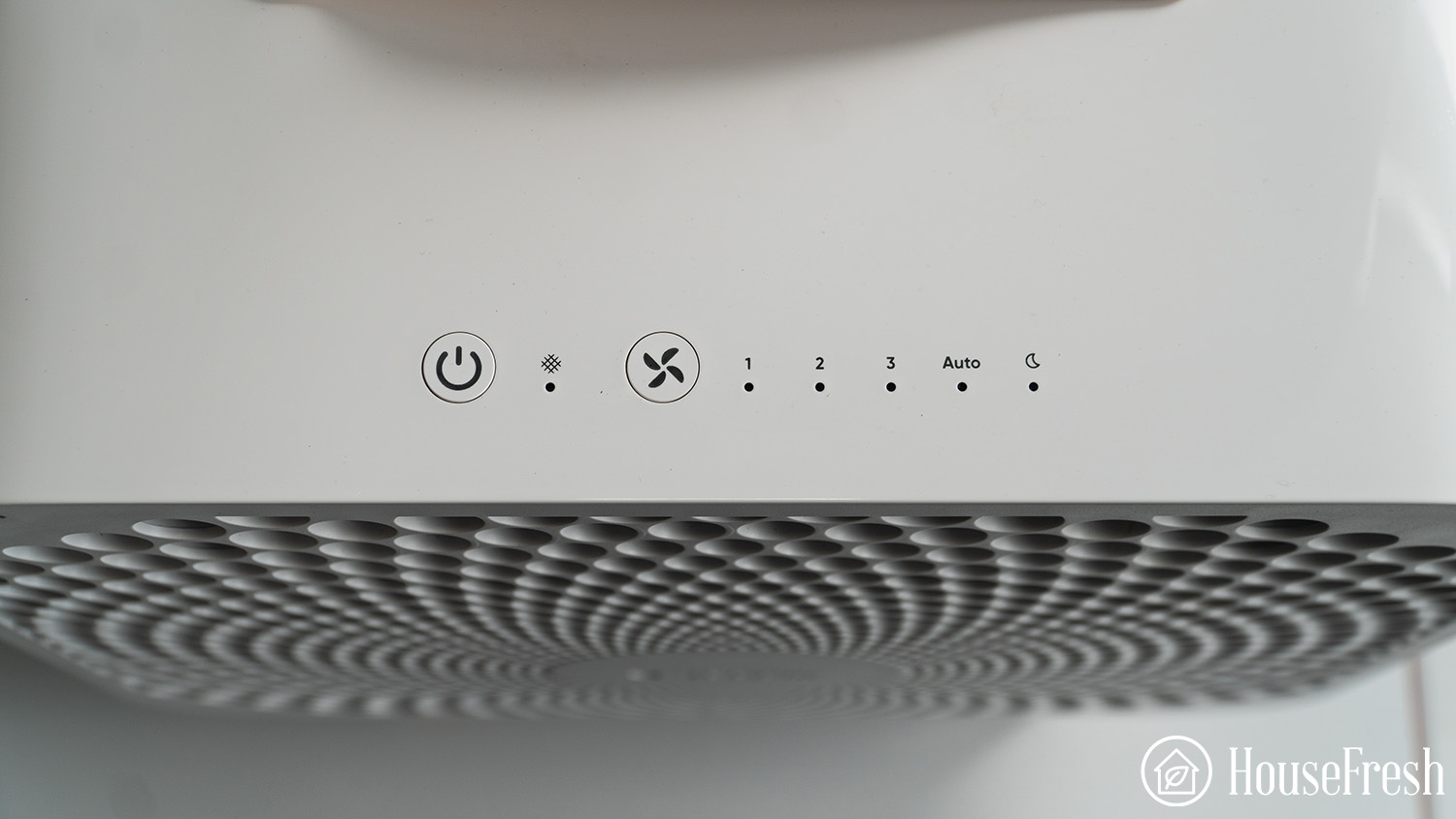 I would have liked to have seen the ability to enable a sleep mode (lights off) that still works with the higher fan speeds. The sleep mode switches all the lights off but is restricted to a low fan speed mode.
HEPASilent That Lives up to Its Name
The Blueair Pure Fan Auto uses a HEPASilent system that combines an electrostatic charge with a HEPA filter that allows it to hit a CADR of 250 CFM, which is impressive considering it only draws 43.3 watts at full speed.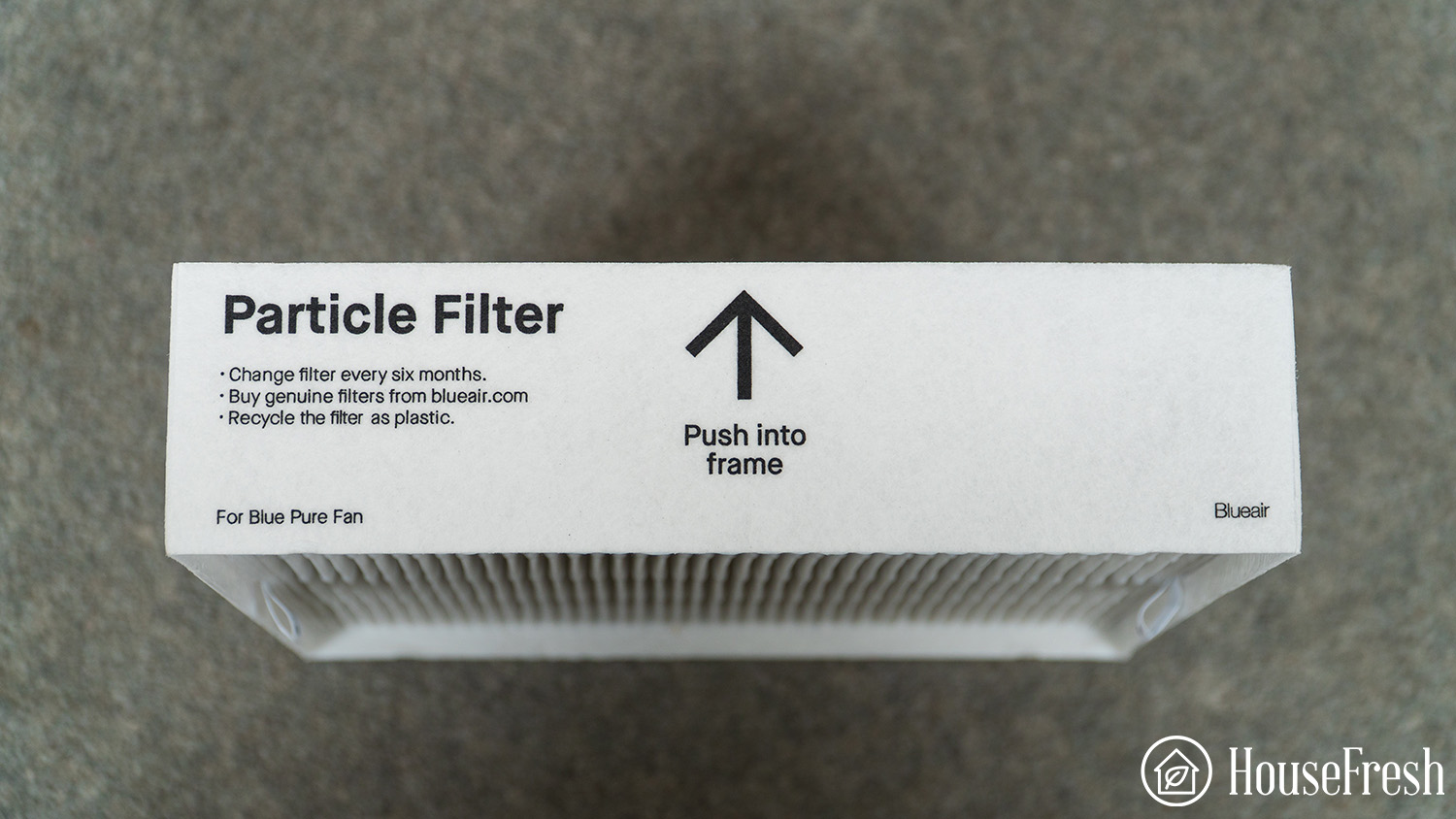 The main thing I noticed with the filter for the Blue Pure Fan Auto was the lack of activated charcoal. While HEPASilent will be super effective with dust or pollen, any issues with odors or VOCs will not be dealt with.
As with other Blue Air models of air purifiers, you can change the pre-filter color with five options.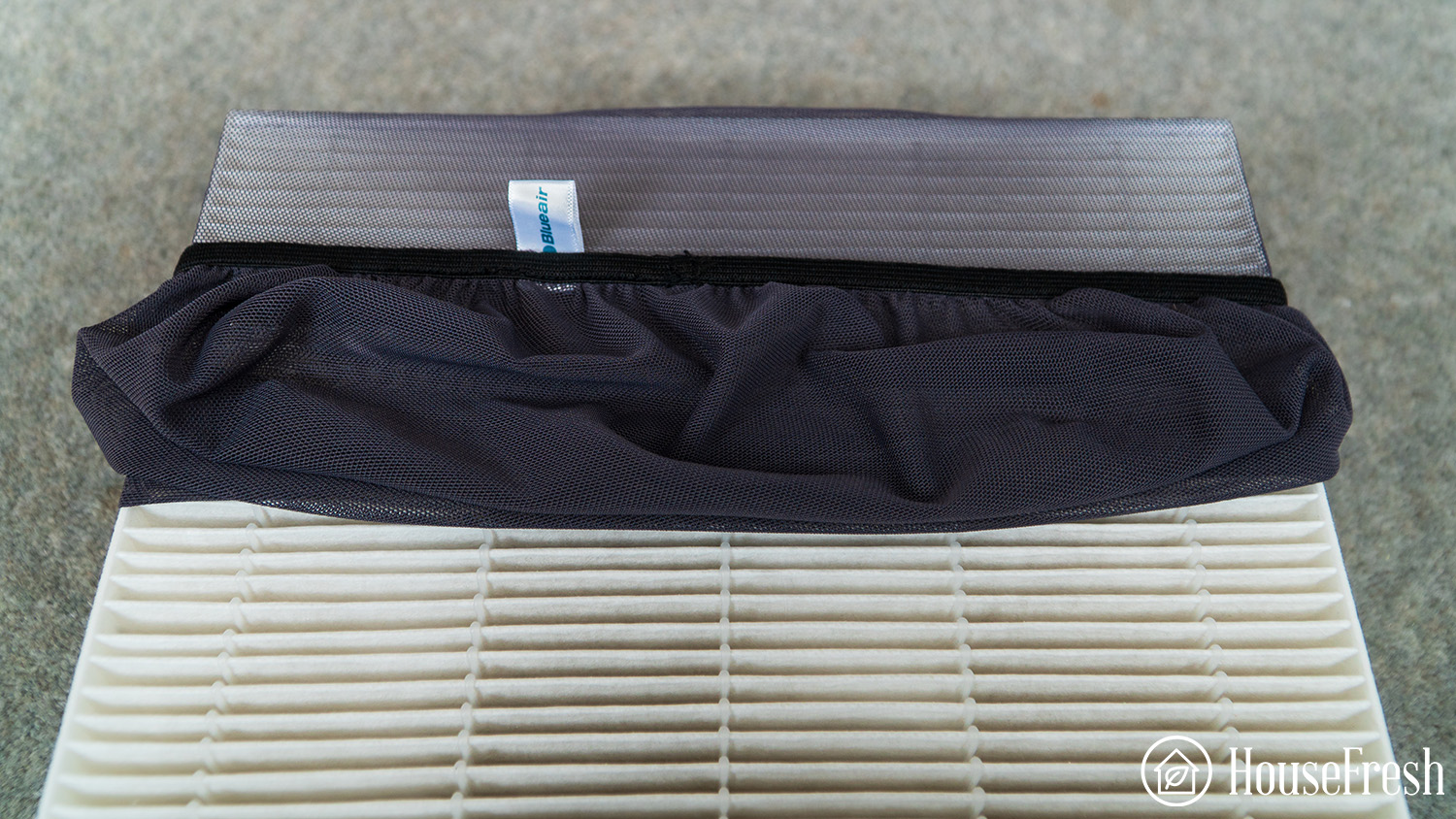 I would like a combined filter in future versions, as we saw with the Blue Pure 411+, including fabric impregnated with activated charcoal and HEPA.
As with all HEPA filters, Pure Fan Auto will need its filters replaced every 6 months as particles become trapped in the filter and eventually cause a reduction in the air cleaning performance.
⚠️ The filters for the Pure Fan Auto are delivered in a plastic bag, so be sure to remove this before you switch it on. Otherwise, the unit will do nothing to clean your air.
The Pure Fan Auto Cleared Our Test Room in 26 Minutes
The main thing to look for when buying an air purifier is how well it can remove particles from the air, so we don't just trust what manufacturers tell us; we test it for ourselves.
We simulate particle pollution by burning an incense stick in our 705 cubic ft test room and use our PurpleAir Indoor sensor to continuously track PM1.0ug/m3, PM2.5ug/m3 and PM10.0 ug/m3.
Air Cleaning Performance Test Results
The Pure Fan Auto managed to clean our test room in 26 minutes which compares very favorably with the Dyson Combo units like the HP04, which cleaned in 84 minutes and the PH03, which took 70 minutes.
The Pure Fan Auto took only one more minute than the $700 IQAir HealthPro Plus and was one minute quicker than the Winix 5300-2.
For pure cleaning power, the power the Pure Fan Auto compares favorably with many air purifiers that don't have any fan capabilities.
How Did the Fan Perform?
As the Blueair Pure Fan Auto is not just an air purifier, we wanted to see how its fan functionality performed compared to other combo units like the Dyson range of fan/air purifiers.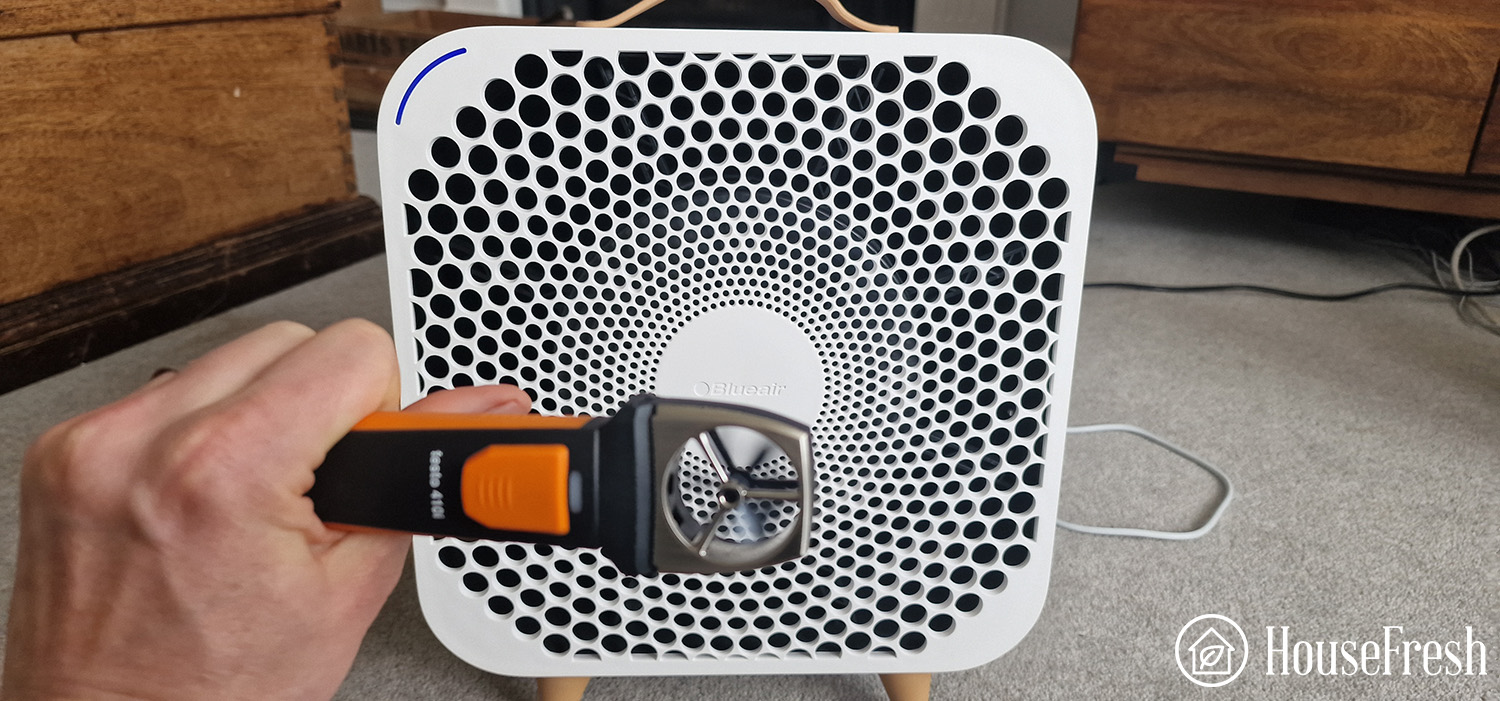 We tested flow velocity using the Testo 4101 Wireless Anemometer at 3ft from the fan. Over 30 seconds, we saw the following flow velocity measurements for the Pure Fan Auto compared with the Dyson HP04:
| | Blueair Pure Fan Auto | Dyson HP04 |
| --- | --- | --- |
| Overall average | 0.74 m/s | 2.61 m/s |
| Minimum total | 0.51 m/s | 2.26 m/s |
| Maximum total | 0.99 m/s | 2.91 m/s |
We can see that the Dyson provided over 3.5 times the airflow when 3ft away from the fan.
So while the Pure Fan Auto performs much better as an air purifier, the Dyson has much better fan performance.
Noise Levels Test Results
At its lowest speed, Pure Fan Auto only produced 25 dB – as quiet as a whisper. When turning the unit up to its highest fan speed, it hit 54 dB, which is the sound of a conversation or that of music playing in the background.
Sound is much lower than the IQAir Healthpro Plus, which hits 69dB. It's also much lower than the Dyson HP04, which hits 62dB.
The Cost to Run a Blueair Pure Fan Auto: $89.84 Per Year
1. Electricity costs = $45.20
Energy costs will not decrease anytime soon, so we feel it's essential to monitor how much energy is used, as air purifiers are often needed 24/7 to keep your air continuously clean.
The Pure Fan Auto compares very favorably with many units with a similar cleaning performance with only 43.4 watts at full power compared to 79.3 watts from the similar CADR of the Honeywell HPA300.
2. Filter costs = $44.64
HEPA is designed to be replaced, as the particles are held inside the fiber material and at a certain point become so full of particles that it will lead to reduced air cleaning performance.
The cost of authentic filters is lower than that of other air purifiers with similar air cleaning performance. You can even reduce this further with generic filters that cost $29.49 for one year with two filter changes.
---
Bottom Line
The Pure Fan Auto finally brings a high air cleaning performance with fan functionality. As with many modern Blueair air purifiers, it uses a low level of electricity to clean a lot of air without leading to lots of noise generated.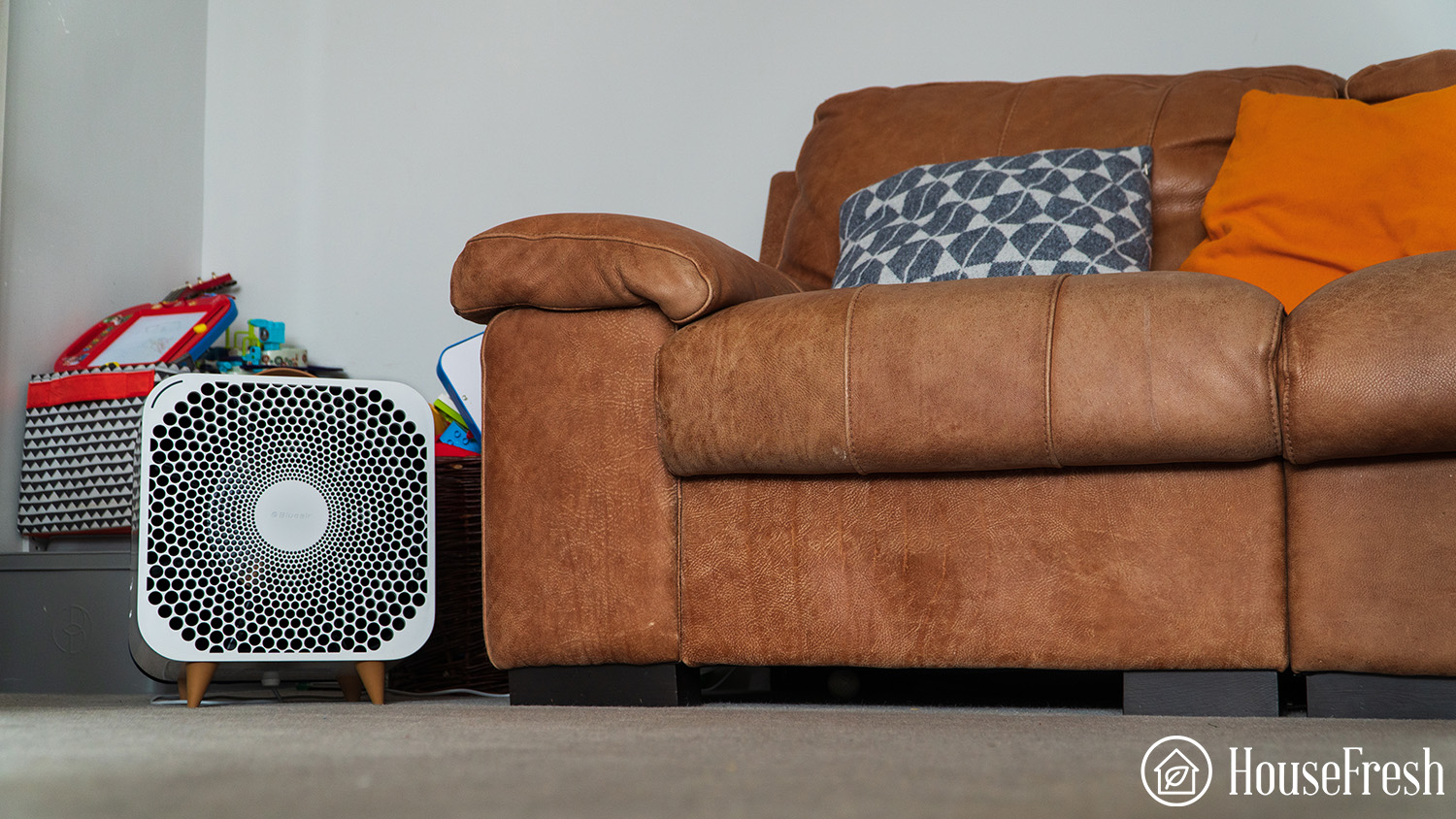 If you're looking to replace a fan used in the bedroom, the Pure Fan Auto should be at the top of your list. The only downside is the lack of activated charcoal and the fan speed, which is much less than what you see with the Dyson units, which are great fans but poor air purifiers.
---
SOURCES
We calculated the monthly energy consumption costs with the help of the Department of Energy's appliance energy calculator. We calculated yearly costs associated with running Blue Pure Fan Auto for 24hs a day for 365 days. We ran this calculation utilizing the U.S. average utility rate of $0.12/kWh as of 15/05/2023.
Last update on 2023-09-16 / Affiliate links / Images from Amazon Product Advertising API