Dyson was founded in England in 1991, and it has quickly grown to become a powerful brand with over $6.63 billion in revenue and 14,000 employees around the world. They are famous for their bagless cyclonic vacuum cleaner, conceived by founder and inventor James Dyson after he became frustrated with his Hoover vacuum continuously clogging.
Since then, Dyson has been regularly introducing their latest inventions to many different categories of household appliances – and the Dyson PH03 is no exception. The "Air Multiplier" was Dyson's approach to a fan with no blades. Since then, there have been multiple upgrades to this bladeless fan, such as the Dyson HP04 that included a fan, an air purifier and a heater. The Dyson PH03 is a combination of a bladeless fan, humidifier and air purifier.
In the current market, there is nothing quite like this unit. Whilst there are a handful of humidifiers with air purifiers, there are no units that can also work as a bladeless fan. This new technology doesn't come cheap, however, as this particular unit is sold on average for $819.99, which is the same price range as the IQAir Healthpro Plus.
One thing I really dislike about Dyson is that they don't reveal the CADR score for their air purifiers. They suggest that it's unfair to their units, which have a different way of cleaning the air, but I think they want to keep consumers in the dark.
When I reviewed the Dyson HP04, I was able to find the CADR score (88 CFM) on the Chinese website, as they have strict rules when selling in PRC. Thanks to Google Translate, I could get both the gaseous and particulate scores for the Dyson PH03:
When we convert this to CFM we have a particulate CADR score of 99.8 CFM, which is higher than the HP04 but is the same level of cleaning performance as the Blueair Blue Pure 411 which has 120 CFM but costs $110.
Manufacturers have been known to fib about CADR scores and while I don't think Dyson would lie to the Chinese government, we want to know how well this air purifier can clean air in a real-world situation. That is why we tested this unit in our own home test lab.
In our home lab of 728 cubic ft, we light an incense stick to generate particle pollution and VOCs.

We set up our trusted Purpleair Indoor Sensor with the latest Bosch gas sensor to track levels of PM1ug/m3, PM2.5ug/m3 and PM10ug/m3 and VOCs in the air.

We switch the air purifier to its highest speed and measure how long it takes to get our room air quality down to PM1 level to 0.

We use an energy meter to measure precisely how much electricity is used when running the unit at the lowest and highest fan speed settings.

We track sound levels emitted by the air purifier at different fan speeds with the help of a commercial sound meter.

Hopefully, the findings of our testing and our insight will come in handy to help you decide if this unit is right for you.
TL;DR The Lowdown on the Dyson PH03 Air Purifier and Humidifier Combo Unit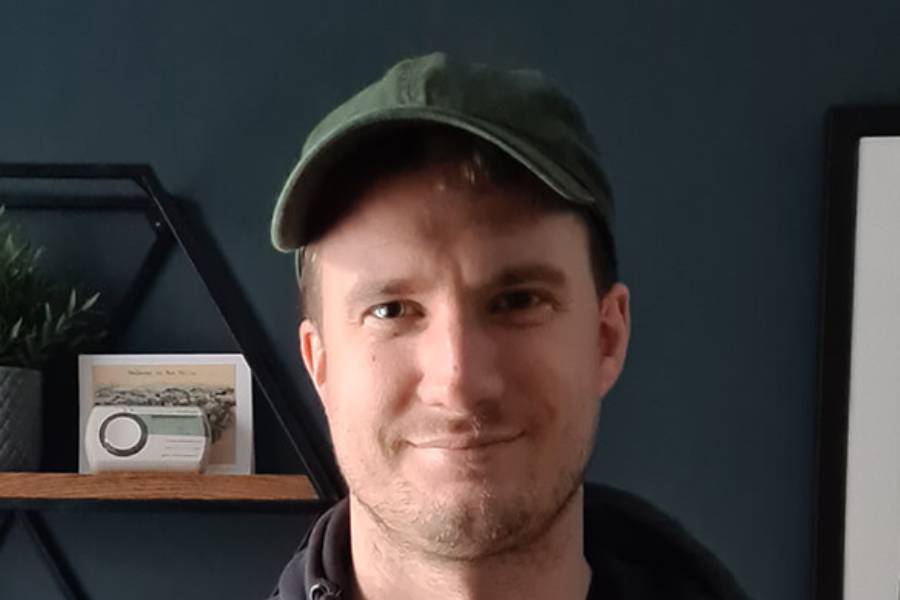 "A premium combination unit that includes a humidifier, fan and air purifier. The design, intelligent features and app are world-class but the Dyson PH03 has the same cleaning power of a $100 air purifier with a much higher price tag."
— Danny Ashton, HouseFresh Founder & Senior Writer
---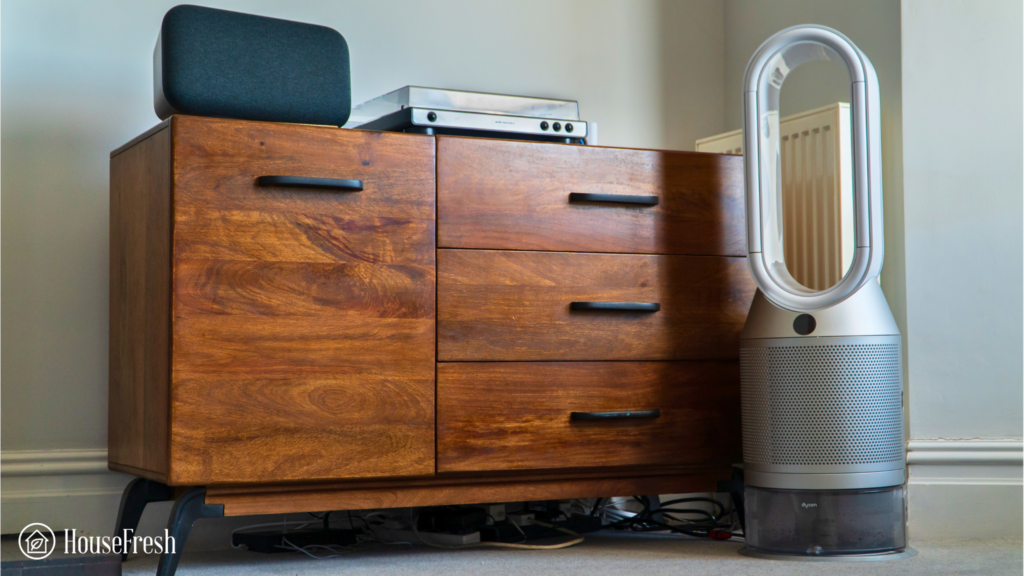 If you don't fancy reading my 3000+ word review (how dare you!) then here are my key findings:
This is a fairly low-powered air purifier that can operate as a humidifier and provide cooling through an oscillating fan. It is currently the only appliance available in the world that can do this.
What we really like
Best air cleaning performance for a combo unit we have tested
Impressive to get humidifier, fan and air purifier in one unit
Pure HEPA, activated charcoal, and no ionizer, which means zero ozone is created
Design is off the charts in product design and the remote control. The Apple of the air purifier market
The app is a real game changer in this industry with a great UX
What we think could be better
High initial price and you can't control the unit from the onboard buttons – need remote or app
Pure air cleaning performance is better with the $99 Levoit Core 300
The latest filter uses impregnated filters rather than separate charcoal pellets, which feels like a step down in performance
Mediocre Air Cleaning Power
At nearly $900 the amount of cleaning power is similar to an air purifier in the $100 range, but this unit does have the functionality of a humidifier and a fan, so it's not a totally fair comparison.
It is, however, something to consider if you are primarily looking for a gadget to clean your home air.
| | |
| --- | --- |
| HouseFresh Rating: | ★★★★☆ |
| Time to clean our test room: | 1 hour and 12 minutes |
| Air purifier technology: | H13 HEPA with impregnated activated charcoal fabric |
| Recommended room size: | Up to 2,860 sq. ft. |
| Clean air delivery rate (CADR): | 99.8 CFM (169.6 m³/h) |
| Dimensions (in inches / in cm): | 36.33H x 11.02W x 12.22D inches (92H x 28W x 31D cm) |
| Weight (in pounds / in kg): | 18 lbs (8.16 kg) |
| Noise level (low – high): | 36dB – 61dB |
| Filter life: | 3 – 6 months |
| Warranty | 2 years |
| Estimated energy consumption: | $44.15 per year |
The Dyson PH03 Looks Like $900!
If we were hosting a beauty competition, the Dyson PH03 would win hands down. When we finish testing our units, I have no problems finding a home for these Dyson units and I don't think this is just because my family wants to sell them on eBay.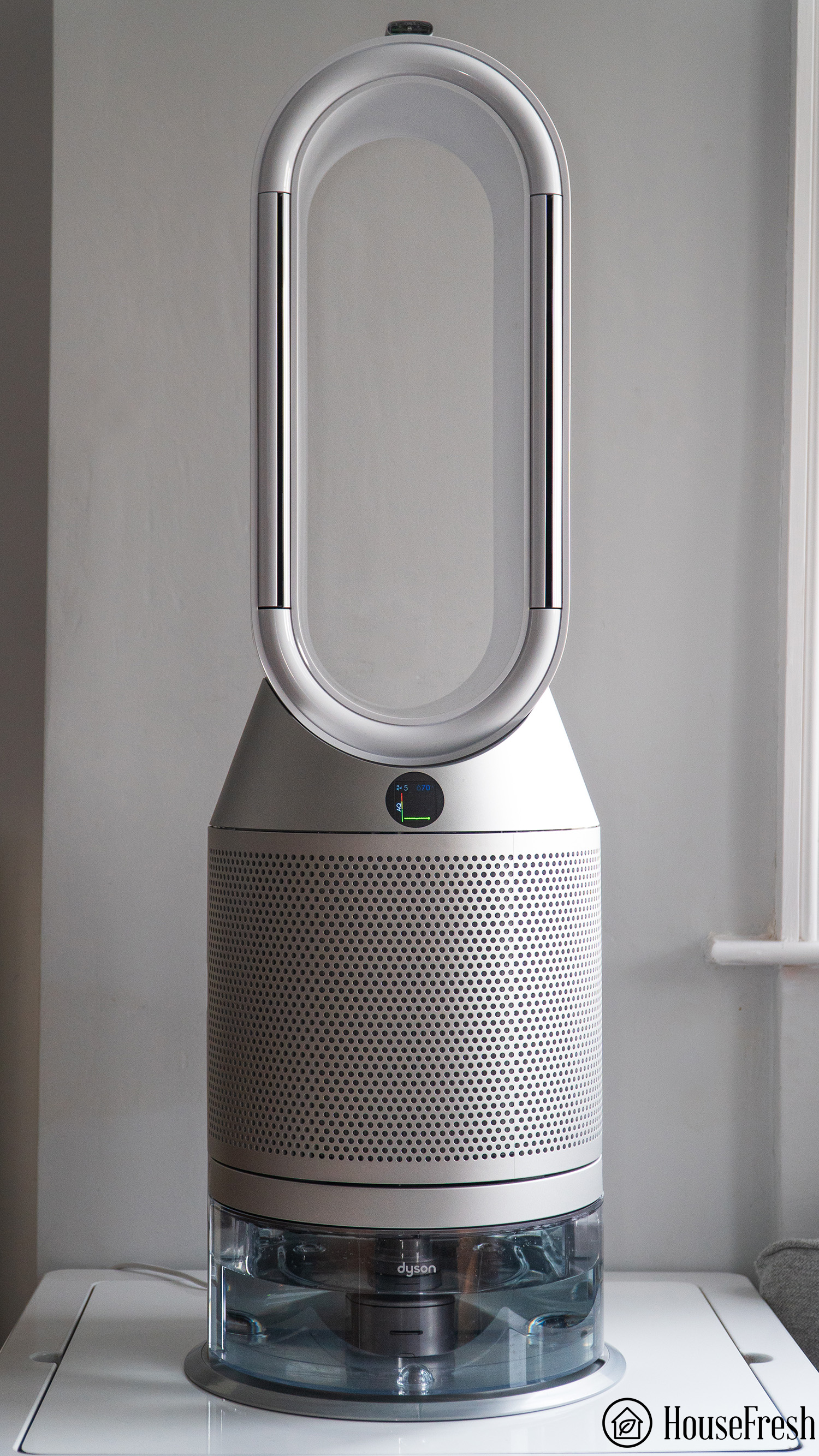 They look great, and you can easily see them adding to your home decor – air purifiers used to be beige units that looked more like photocopier machines than something you would want in your living room.
If you have a Dyson vacuum cleaner and you're honest with yourself, you like it for its design as much as its ability to clean – and you're happy to pay a premium for this.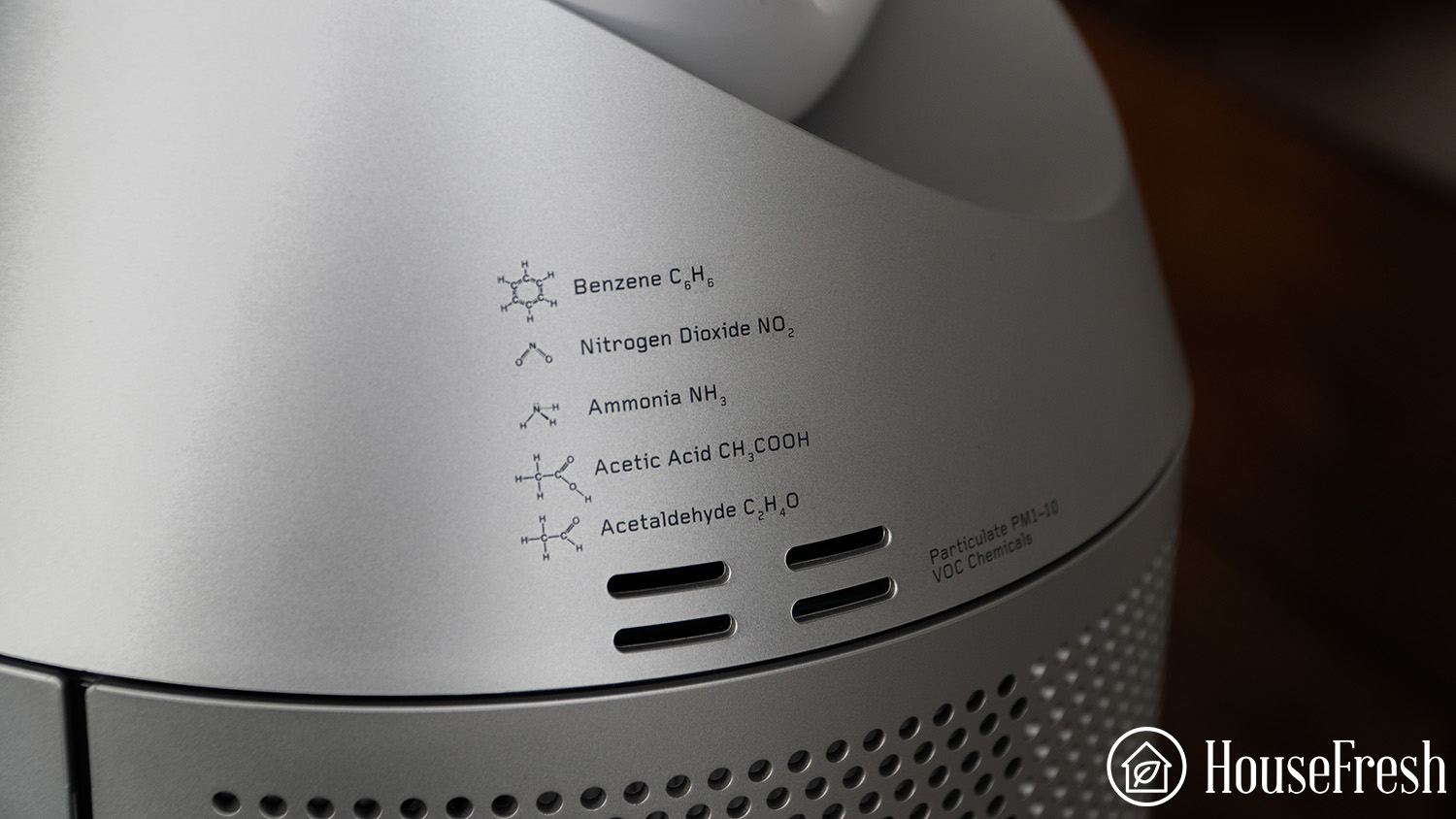 The first thing I noticed that was different with the Dyson PH03 compared to the HP04 that we had tested previously, was the quality of the screen. It's like a miniature monitor that has full color and can show little animations on how to remove filters or fix something rather than just showing an error code.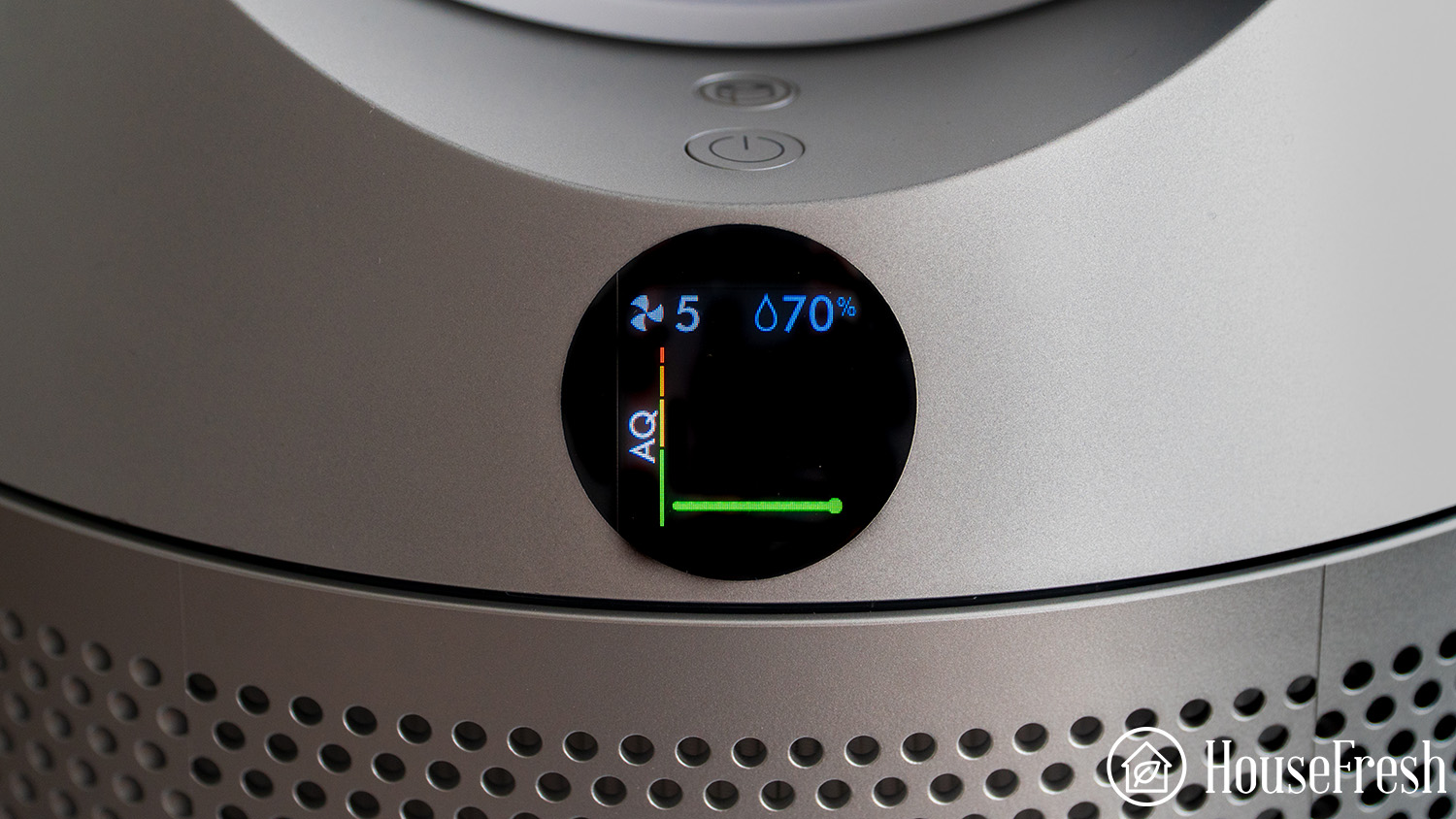 This screen also shows the exact level of pollutants to the nearest ug/m3, as well as a color code from green to purple. The additional VOC sensor is something you never see on an air purifier and whilst it takes a little longer to give a reading, it's good to see that in the future this might roll out to more affordable units.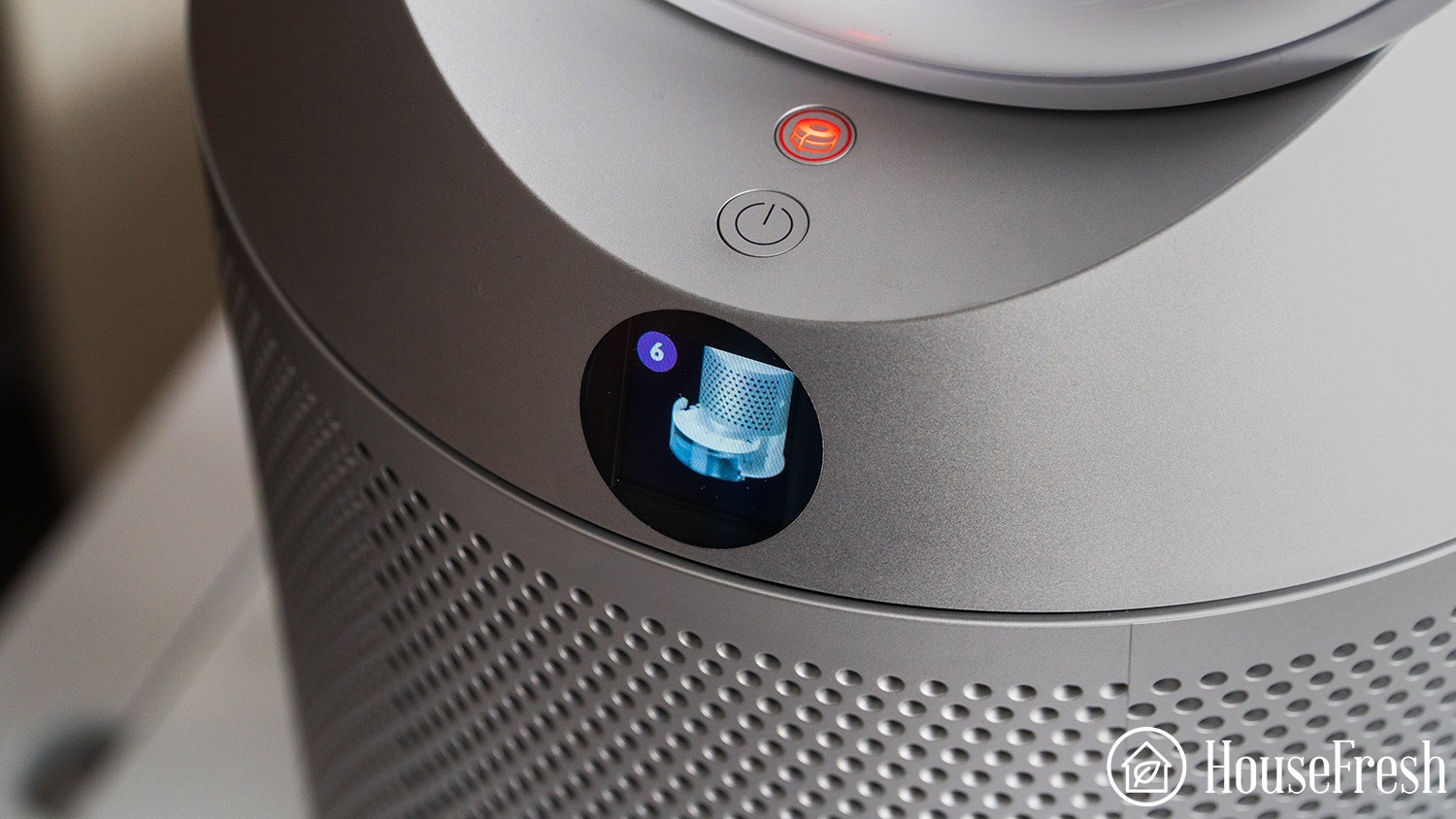 As soon as I took this air purifier/humidifier combo out of the box, I noticed how much chunkier it was than the HP04.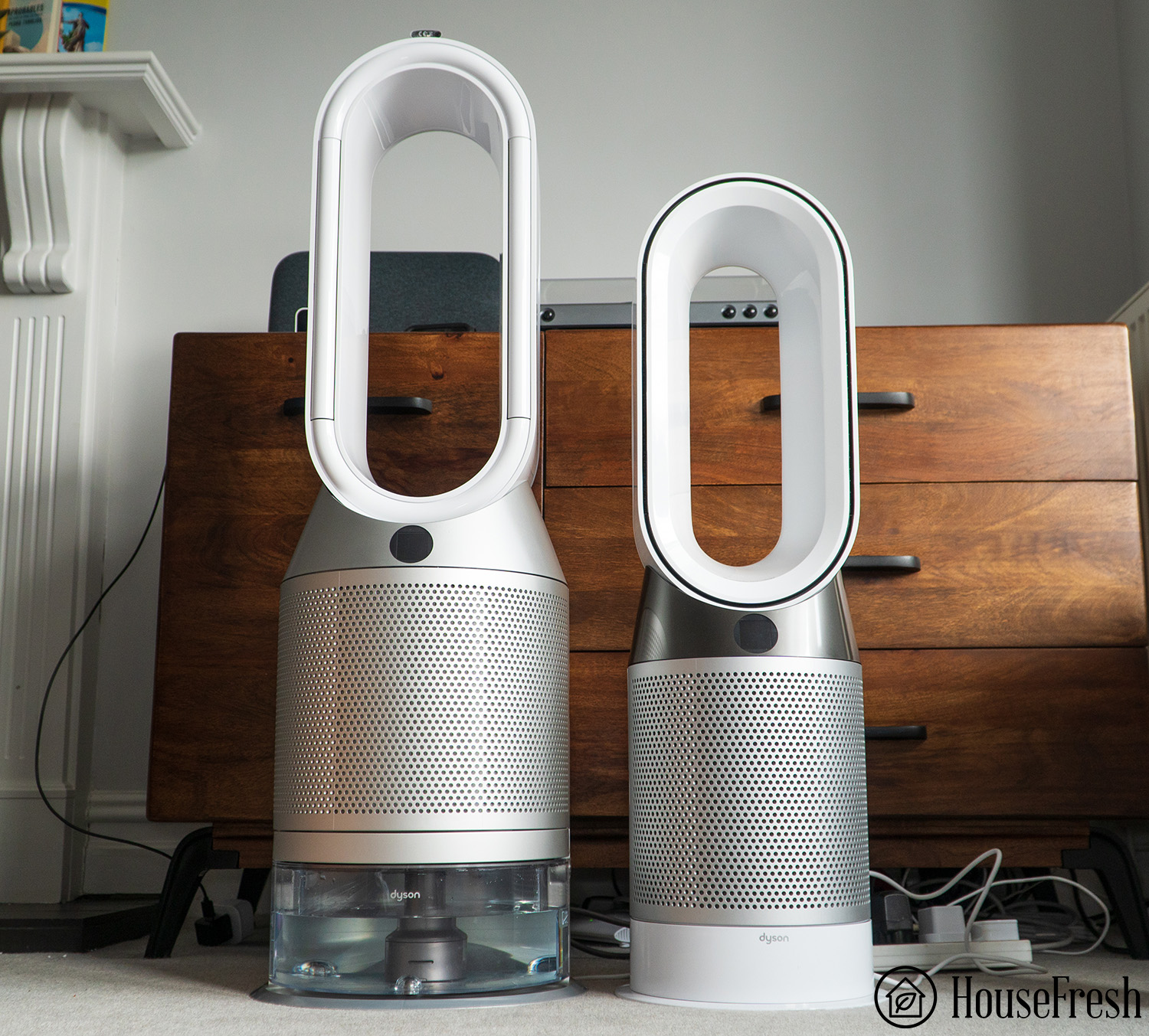 This makes sense considering it has a water reservoir with a cleaning function. Unlike the HP04, the whole unit doesn't move to provide oscillation. Instead, small slits on each side adjust the fan flow.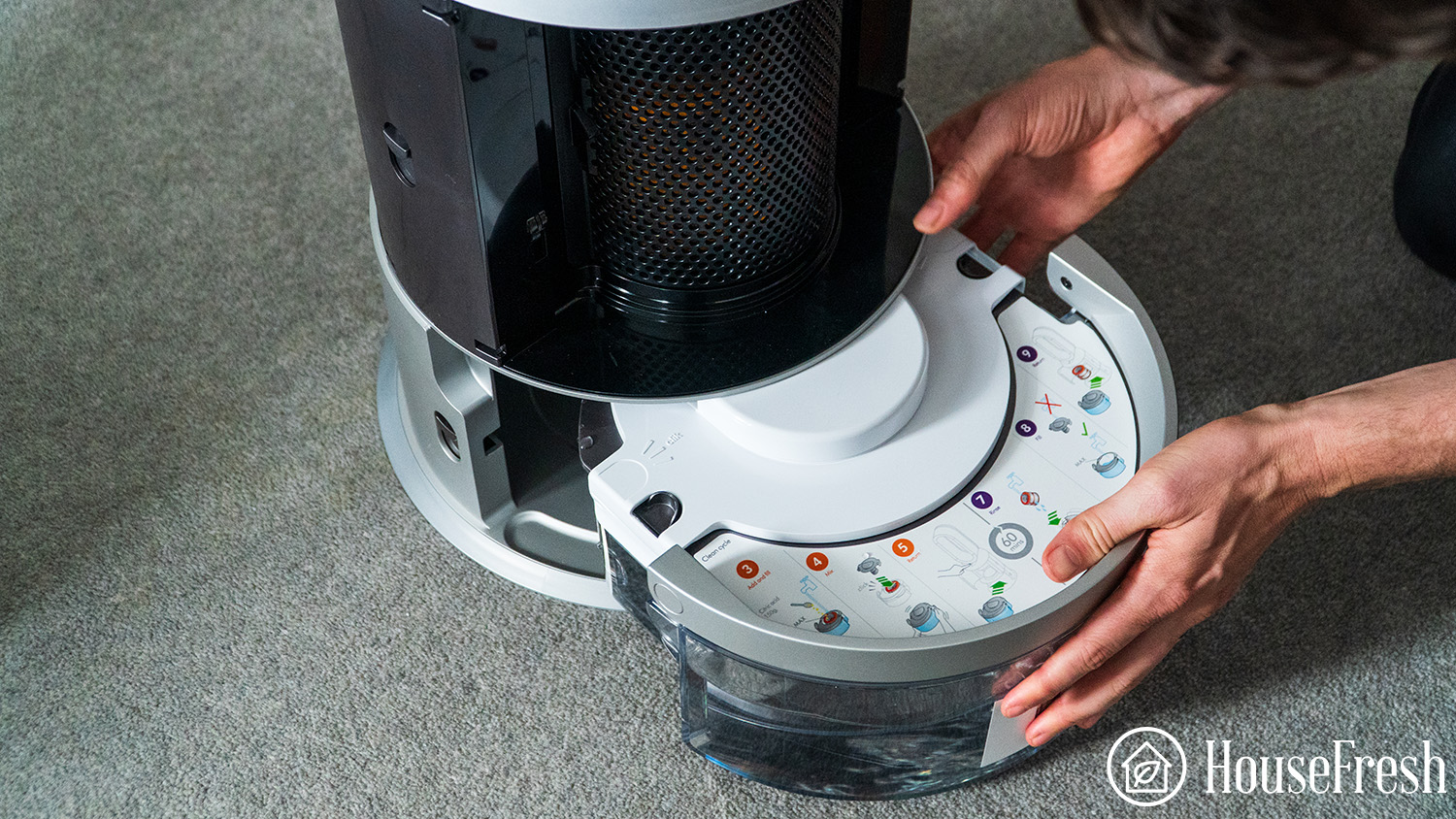 Adding a water reservoir could be problematic if the whole base unit rotated, so it makes sense that they have adjusted this feature. However, it does mean that the unit has a maxim oscillation of 90 degrees versus the 350 degrees you get with the Dyson HP04.
The Same Filter As Other Dyson Combo Units
The HEPA filter used with this unit is rated as HEPA H13, and it also contains activated charcoal. When looking at the filter, you can see that the activated charcoal is impregnated into the HEPA filter, so this unit doesn't come with a separate filter filled with activated charcoal pellets you often see in other air purifiers.
Impregnated charcoal will still work, but it is not as effective as using large pellets, which you often see in higher-end units or even the budget Taotronics AP-003 we tested recently.
When comparing the filter size with the HP04, it seems that Dyson has decided to make a few changes. While the HP04 has a separate activated charcoal filter with pellets, the newer model has an integrated system with the charcoal filter being a part of the HEPA.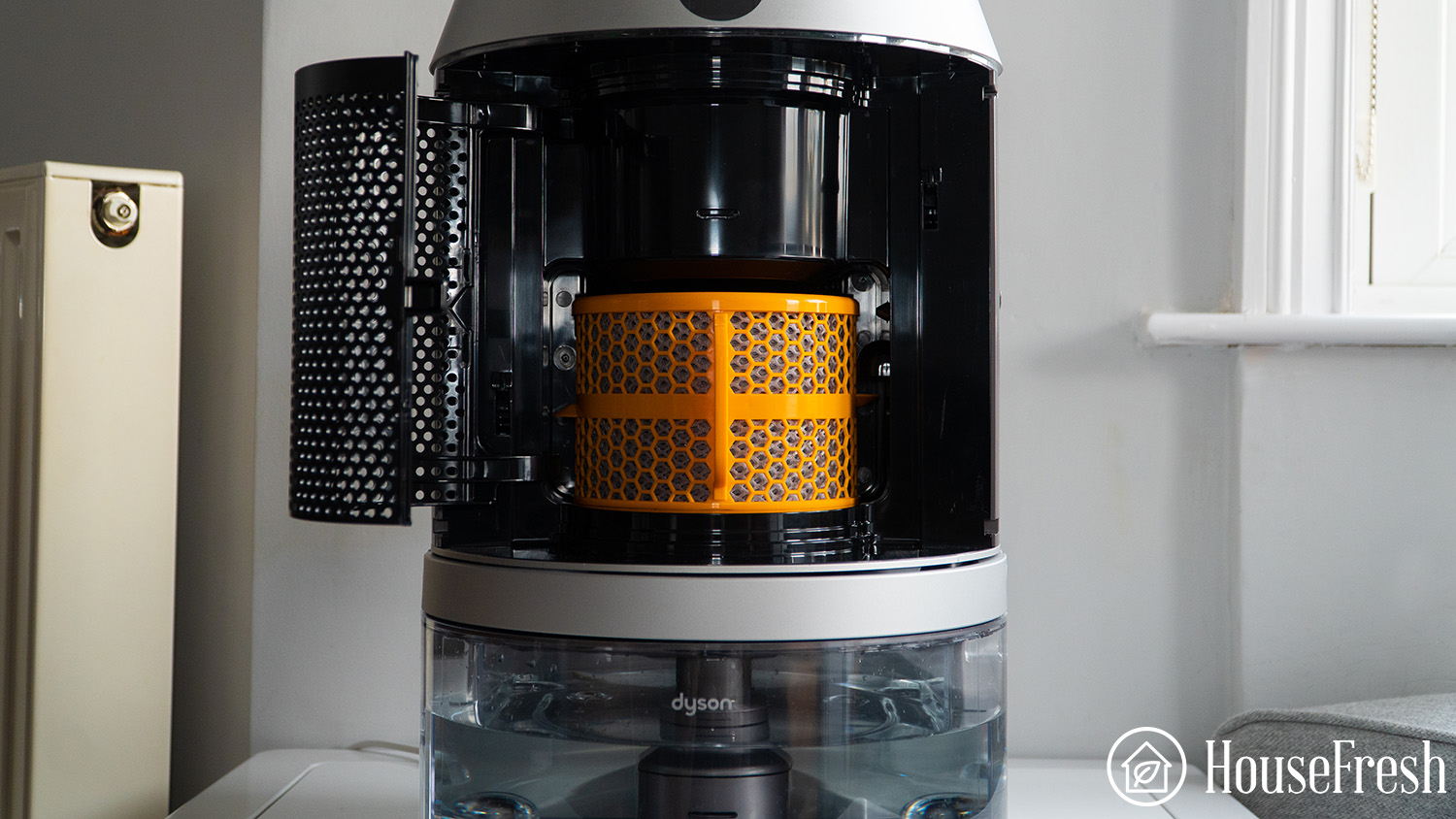 With activated charcoal, more surface area means more cleaning power for odors and VOCs, so this update to the filter seems like a step back for those looking for odor-cleaning power. I would prefer a separate charcoal filter vs a combination like we see with the PH03.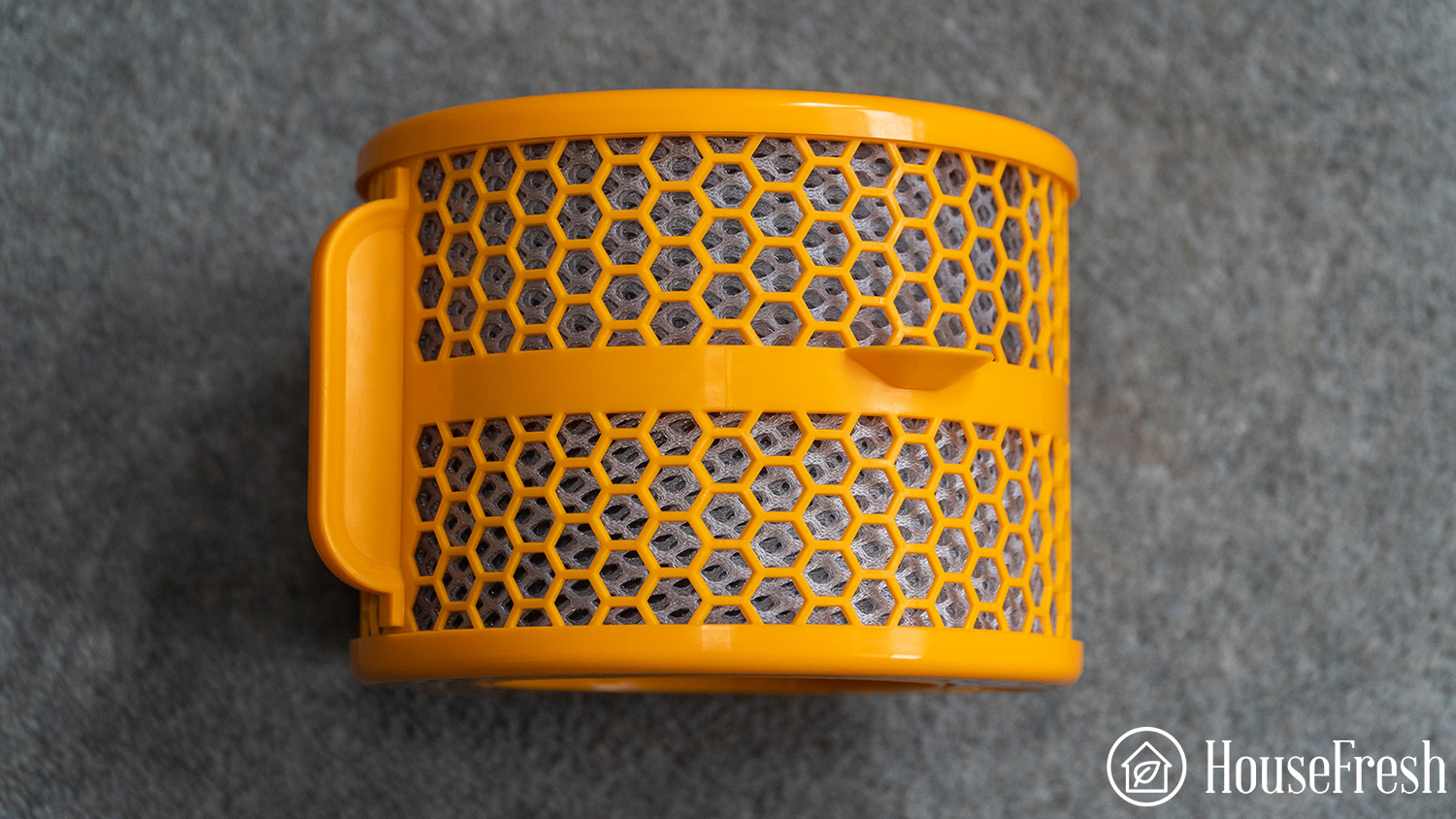 As with the HP04, the PH03 filter looks well-made, and the seals do a good job of ensuring no air can bypass the filter. The prefilters make removing the lint and dust that will build up over time easy.
The Dyson approach to customer information is top-notch, with very clear labels that no one could miss, informing them to remove the plastic from the filter before using the unit.
The Dyson Best In Class App
The Dyson PH03 has only 2 buttons on the unit itself – a power-on button and a cleaning mode to clean the humidifier unit.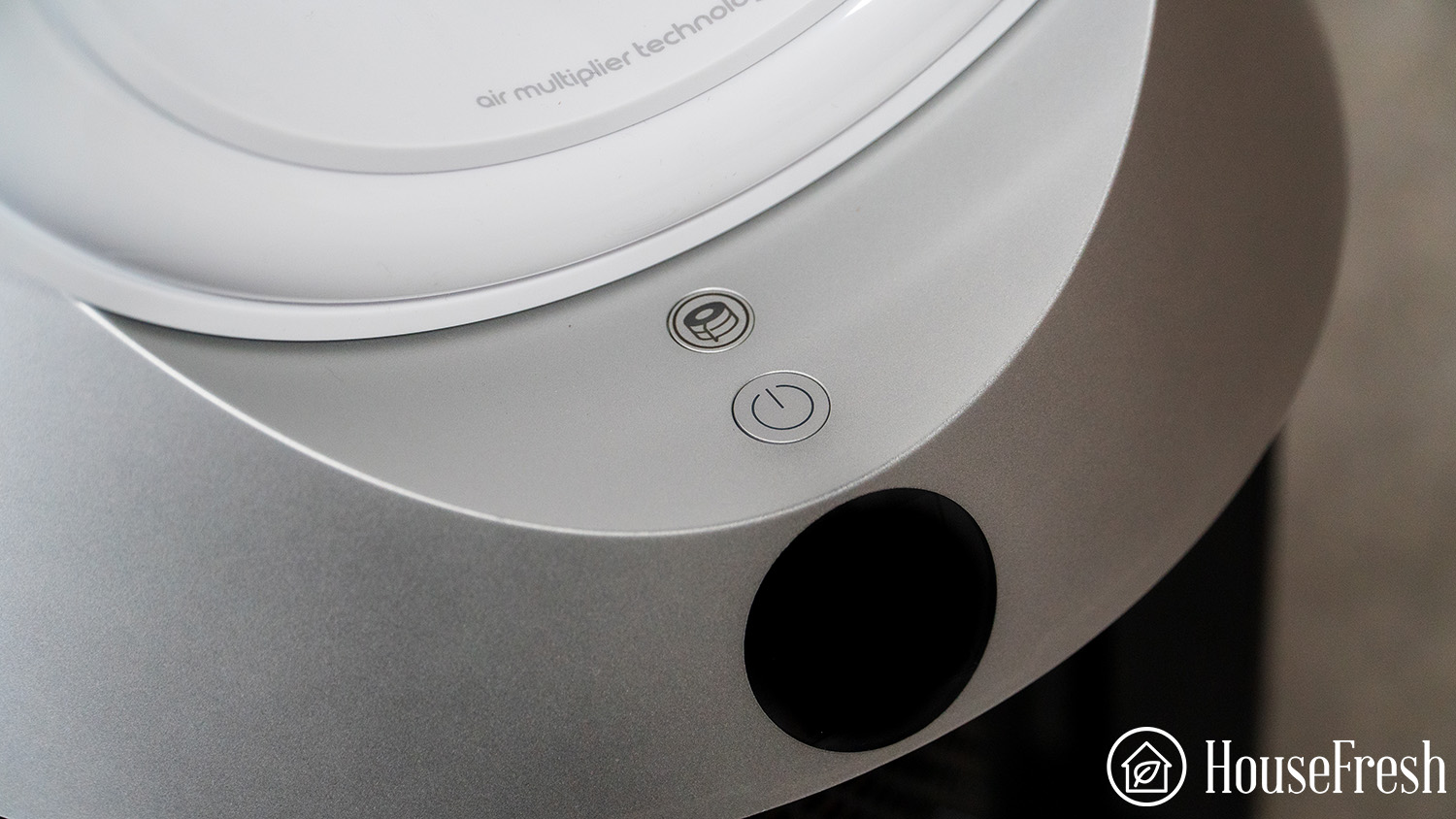 Handily, you also receive a remote control that is highly intuitive. As I first saw with the HP04, it sticks to the top of the unit magnetically – very cool.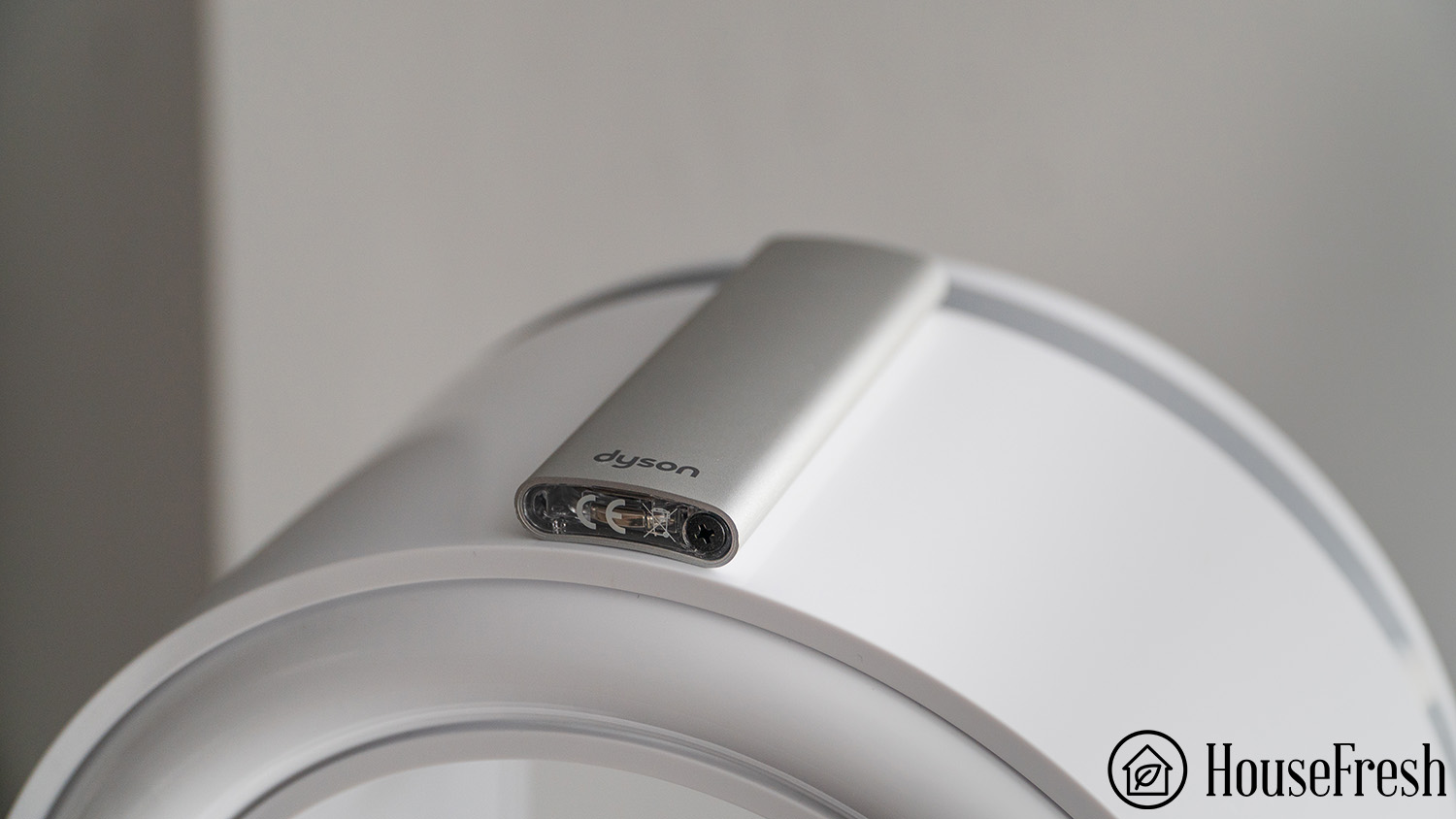 The remote is small, light, and simple to use without referencing the manual. You can adjust the humidification, fan speed, and oscillation – and even request current pollutant levels from the onboard screen!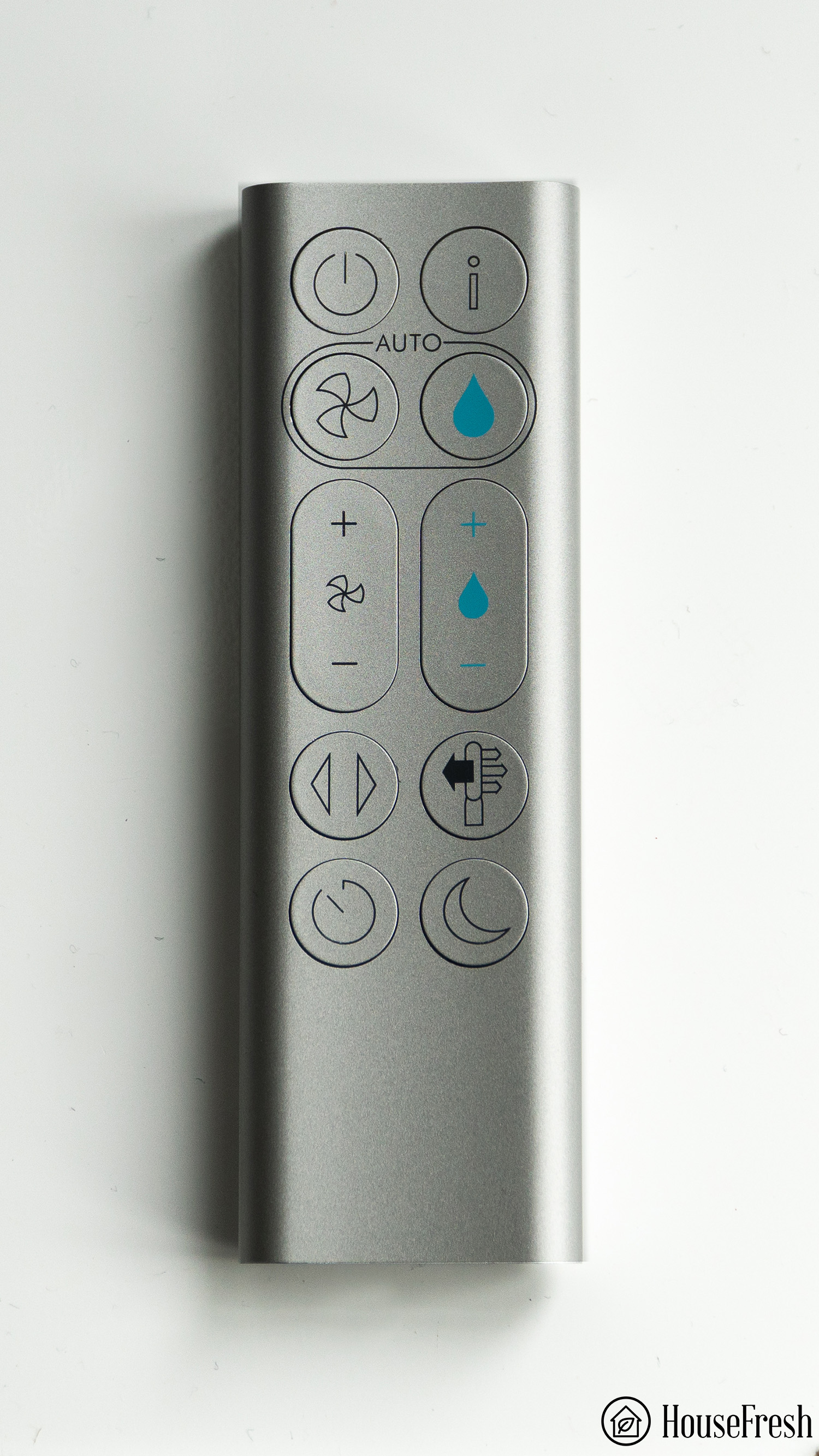 Similar to Apple TV, the Dyson remote control nearly makes you forget that you're paying $900 for $100 air cleaning power as it just feels good to use.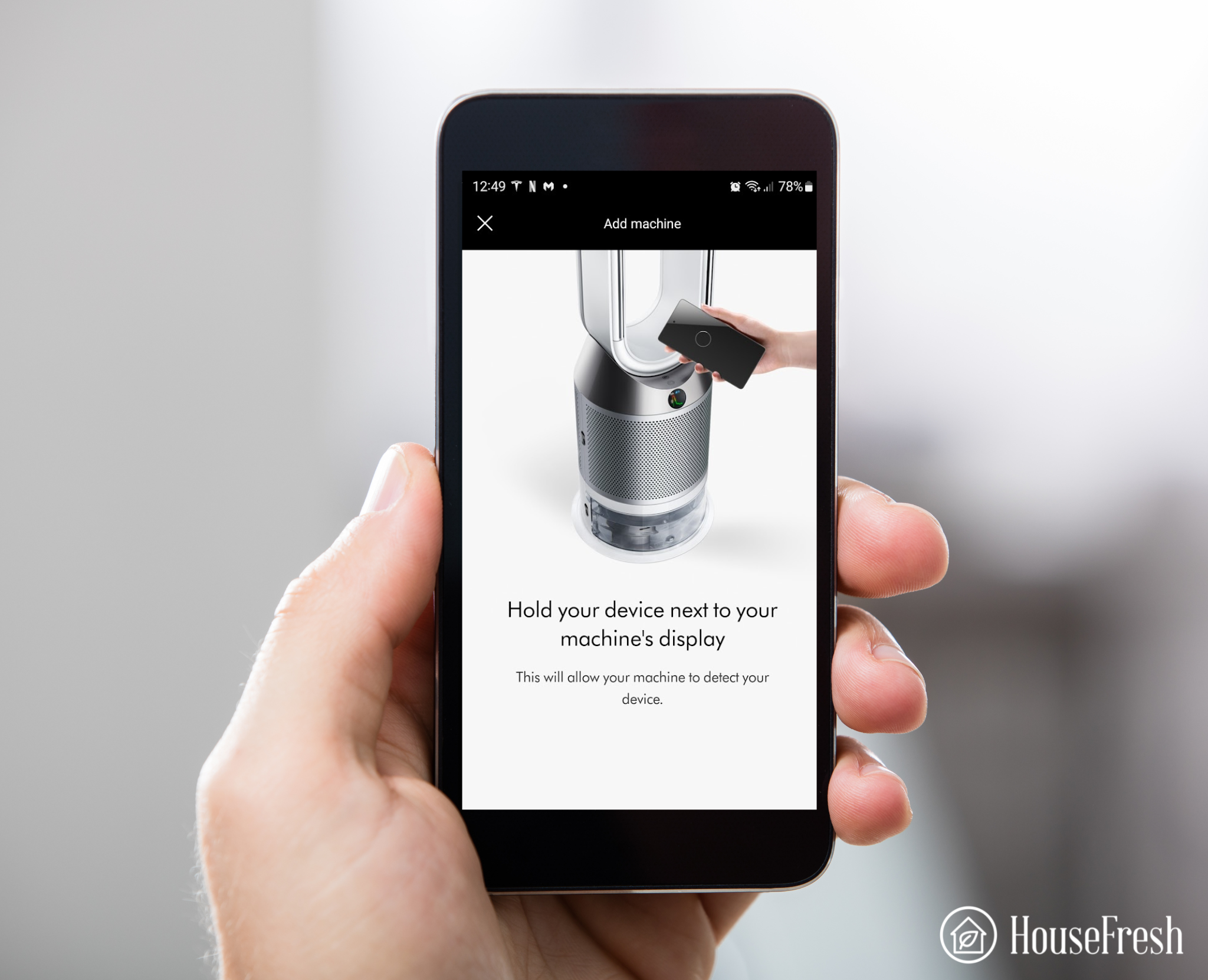 I got to test the Android App and similar to my experience with the Dyson PH03, the experience was sublime.If you have read any of my other air purifier reviews, you will know I am not normally a fan of apps, as most are usually poorly made and don't have any real value.
If only all air purifiers had an App like MyDyson, then it would be worth paying more for app-supported features. Pairing my unit took less than 10 seconds and only required me to enter my home Wi-Fi password.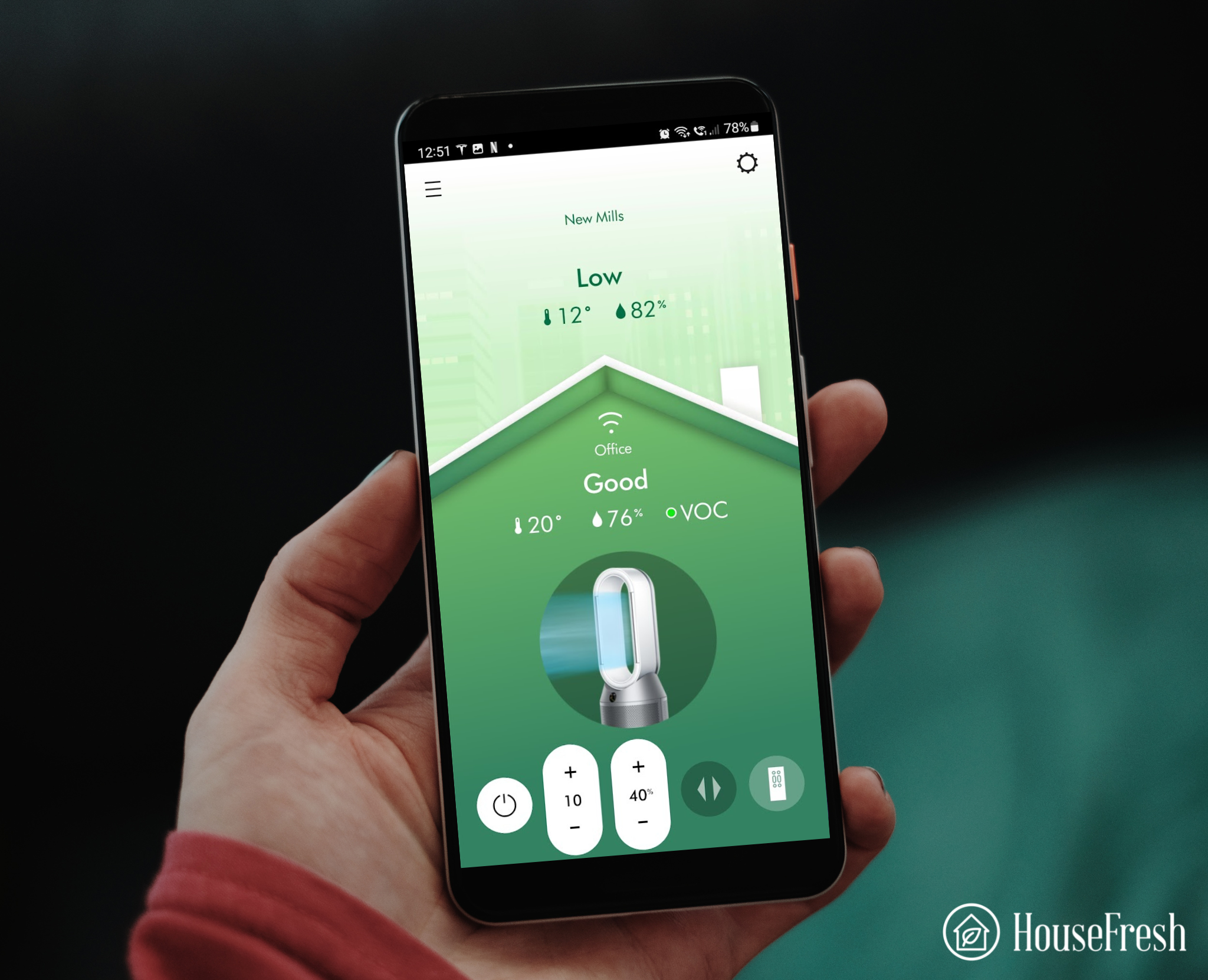 The app was ready to go within one minute. What I like the most is that the app gives me all the abilities of the remote as well as continuous updates on air quality for both particulates and VOCs. I could even receive air quality details for my local area.
Using the app, I could also easily switch between both machines I have in the house – if you love technology, then you will also love the MyDyson app. Don't just take my word for it; the app has 4.1 stars on Google Play (over 1M downloads) and 4.5 stars on Apple across 7.6K ratings.
The Dyson PH03 Cleared Our Test Room in 1 Hour and 24 Minutes
I love the look and smart features of the Dyson PH03, but let's get to the core issue: how well it cleans the air in our home.
Many air purifier reviews you will read won't put effort into finding out how well an air purifier cleans the air in the room, so we have made this our main focus here at HouseFresh. Painting the real picture is especially important with brands like Dyson, who don't share their CADR scores outside of China. We hope our reviews will inform consumers who are about to get caught up in jargon and marketing speak without knowing how well the unit they are about to buy does the job it was designed to do.
Our testing process at HouseFresh is simple. We use the same room with all the air purifiers we test (705 cubic feet), the same size as an average small bedroom or office. We then create indoor pollution using an incense stick before putting the air purifier on full power and tracking how quickly it can bring the particulate matter down to zero.
For testing, we use the Purple Air indoor sensor, which provides regular updates of the level of PM1.0ug/m3, PM2.5ug/m3, and PM10.0ug/m3 at regular intervals. With this information, we can visualize the room cleaning and reach a number we can compare with other air purifiers from different brands.
Based on the CADR data from the Chinese store, we would expect this unit to be on par with the Blueair Blue Pure 411 or Levoit Core 200S – and it should be slightly quicker than the Dyson HP04.
So, enough about our process… How did the Dyson PH03 do? Have a look below at the results:
Here's how it did:
It took 70 minutes to remove all particulate pollutants from the air in our test room lab.
This matched up with the CADR scores we saw in China: quicker than the Dyson HP04 which managed 84 minutes.
The Blue Pure 411 was quicker at 68 minutes which makes sense considering its CADR was 120 CFM vs 99.8 CFM.
Compared to the air purifiers we tested, the PH03 is at the lower end but is still much better than the Germguardian AC4825e (104 minutes) and the Molekule Air Mini (141 minutes).
Air Cleaning Performance Compared to Other Air Purifiers
When you compare the cost to CADR score, it's one of the most expensive units, although it is still better than the Molekule Mini.
ℹ️ Fact: While it's not the most powerful air cleaning, the Dyson PH03 is currently the best combo unit we have tested.
Noise Levels Test Results
Sound-wise, the Dyson PH03 is not overly quiet, but at its highest, it doesn't hit more than 61dB. This is less than the IQAir Healthpro Plus (69 dB), but higher than what we saw from the Smart Air S (52 dB.) Some of this will be because this unit also works as a fan, naturally louder than just a pure air purifier.
But sounds can be super subjective, so feel free to listen to the different speeds in our video below:
The Cost to Run a Dyson PH03: $74.15 Per Year
1. Electricity costs = $44.15
A cost that many consumers forget when looking at air purifiers is the amount of electricity required to run it in the long term. If you have a continuous issue with outdoor pollution, you will likely use your air purifier 24 hours per day – electricity costs can add up with power-hungry units.
Luckily, the Dyson PH03 is efficient, especially considering it does three jobs in one. When we tested it at its highest speed, it only pulled 41.7 watts which is much better than units with less cleaning power, such as the GermGuardian AC4825e that pulled 56 watts on full power.
This level of energy consumption would cost you around $44.15 per year, according to Department of Energy's appliance energy calculator.
2. Filter costs = $30
Filter costs are another thing that air purifier customers can forget, and they can add up over time. HEPA and activated charcoal are mechanical filtration technology, which means that they will need to be replaced over time as pollutants get lodged in the filter.
Dyson says that the filters will need replacing every 12 months, which is better than many smaller units that need to be replaced every 6 months. For reference, the genuine filters cost $79.99 each. This is on the higher end, as the filters for most units with this cleaning power cost less than $50 on average.
However, this won't be too bad if they only need replacing every 12 months. I will update this review to see how long we can get with our current filters.
You should also be aware that non-genuine filters exist for this air purifier, with a pack of 2 available for $59.99. A cost of $30 per filter is a lot more palatable. While genuine filters are priced higher than the competition, the availability of generic filters means long-term costs should align with other units with this cleaning power.
Fette Filter - Premium Air Purifier Filter Replacement Compatible with Dyson HP06, HP09, TP06, TP09, PH01, PH02, PH03, PH04, HP07, TP07 (Part No.970341-01 & 965432-01) - Pack of 2
Enhanced Air Quality: Keep your Dyson HP06 TP06 HP07 TP07 TP7A HP09 TP09 HP09 TP09 PH01 PH02 PH03 PH04 systems performing at their best with this premium 2 pack of filter replacements. Enjoy cleaner and fresher air in your home.
Compatibility: Designed to be fully compatible with Dyson models HP06 TP06 HP07 TP07 TP7A HP09 TP09 HP09 TP09 PH01 PH02 PH03 PH04 these replacement filters are a perfect fit for your system. Part numbers 970341-01 or 965432-01.
True HEPA Filtration: Our replacement filter uses high-quality True HEPA technology to capture and remove particles as small as 0.3 microns, including dust, pet dander, and even fine smoke particles, providing you with the purest air.
Long-Lasting Performance: With a long filter lifespan, you won't have to worry about frequent replacements. These filters are built to last, ensuring cost-effective and reliable air purification for your home.
Easy Installation: Replacing your air purifier filter is a breeze with our user-friendly design. Enjoy hassle-free installation and continue to breathe easier with our premium replacement filter. Improve the air quality in your home today!
---
Bottom Line
This is normally an easy section to write up, with most air purifiers falling into the 'good' or 'bad' camps. However, it's much trickier with the Dyson PH03 humidifier, fan and air purifier combo.
Just looking at pure value for air cleaning power, it could seem that you are seriously overpaying with the Dyson PH03. But, this unit has a ton of extra features, its design is attractive, and it comes with top-end smart features that are unique across the whole air purifier industry.
Like Apple, Dyson has made design a key focus with these gadgets. For those people happy to pay the "Dyson tax" you will be pleased with a great fan humidifier combo that can also keep your bedroom air clean of particles, VOCs and gasses. It truly feels like an Apple device with the tech.
If you want to get the best bang for your cleaning buck, you are much better off investing in the reigning best budget air purifier in our rankings, which is less than $100 and has twice the cleaning power of this Dyson fan and humidifier combo. Be sure to check out the latest air purifier prime day deals and Black Friday air purifier deals, as often, the Dyson units have some of the biggest discounts during these sales.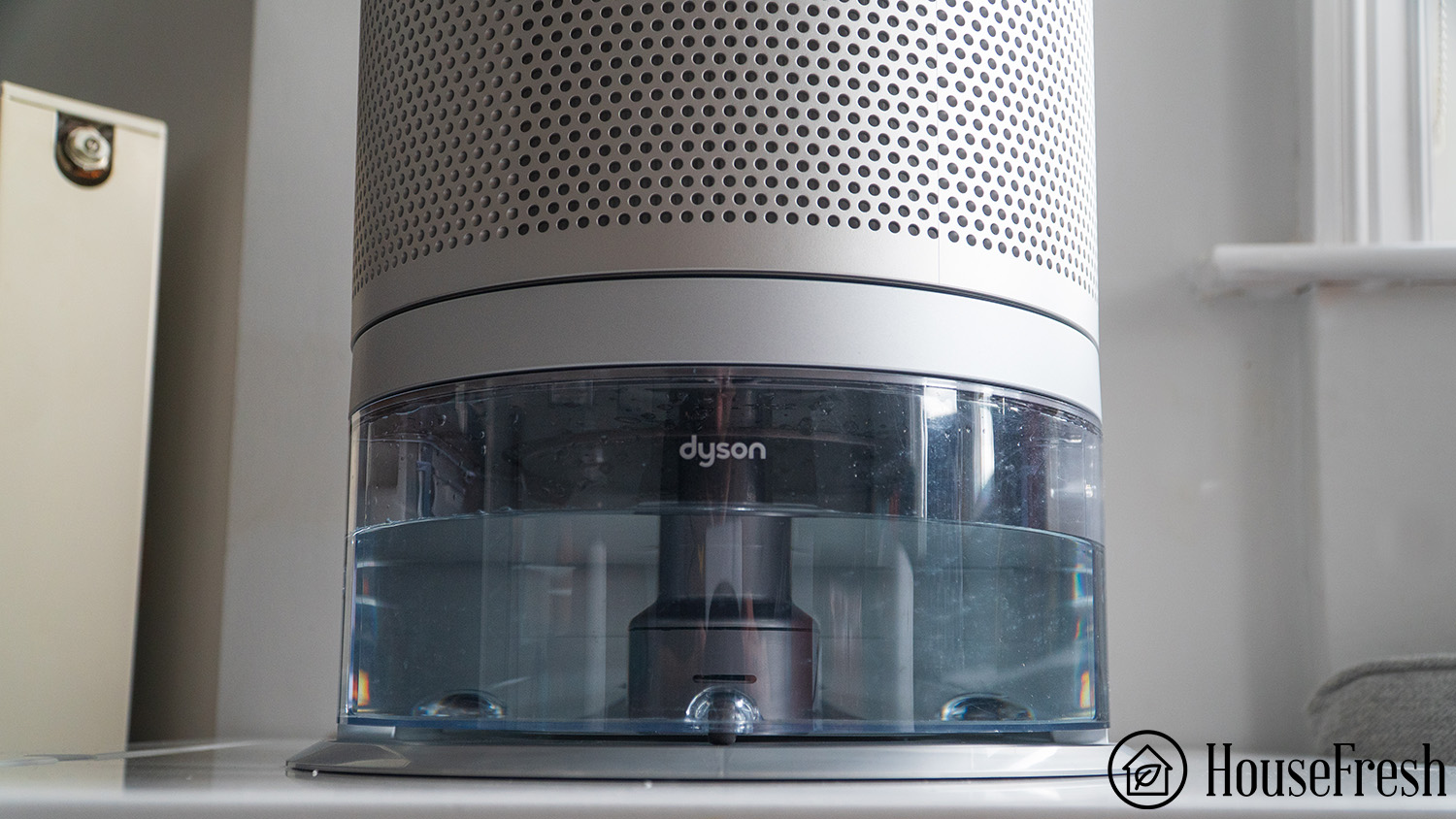 I don't think this unit is aimed at these customers. Dyson, as it does with all its appliances, is promoting high-end units that are 100% focused on the customer experience – from the design of the unit, the use of the remote, the weight of the remote, and all the smart app-supported features.
They offer a two-year warranty and if you have ever had other Dyson gadgets, you will know they do everything in their power to keep you happy if anything goes wrong.
The reality is that there is no other gadget on the market that does everything the Dyson PH03 can do, so it makes sense that the team at Dyson is charging a premium for it.
If you are happy to pay a premium for a "Dyson" and need a unit capable of humidification with an oscillating fan and an air purifier suitable for a small to medium-sized bedroom, this is the unit you should go for.
If it's just the air cleaning power you are after, there are much better air purifiers that perform just as well, but you will give up the technology and design that the Dyson unit brings.
Most people should pass on this unit, but I am pleased to see the improvements in cleaning power and features as Dyson keeps innovating in this sector. I hope they stick around to develop more units like this.
But which Dyson model is the best?

I find it strange that Dyson has many air purifier combo unit variations. For example, for the humidifier, fan, and air purifier range, you have:

– Dyson Pure PH04
– Dyson Pure PH03
– Dyson Pure PH3A
– Dyson PH02
– Dyson PH01

The first thing to note is that all the above units use the same filter system, so the HEPA filter and activated charcoal setup is the same for all models. There is also an additional Cryptomic layer featured in the Dyson PH04 and PH02 aimed at removing Formaldehyde.

The PH3A is similar to the PH03 but doesn't come with any app support or Cryptomic layer and is slightly cheaper. The app support is my favorite part of this unit, so I don't think it's a good trade.

To buy direct from Dyson, you must buy the latest model number. However, if you shop elsewhere, you might find older models with essentially the same features but for a much better price. Keep an eye out for that if you want to save a little money.

---
SOURCES
We used the Department of Energy's appliance energy calculator to calculate yearly costs associated with running the Dyson Pure PH03 for 24hs a day for 365 days. We ran this calculation utilizing the US average utility rate of $0.12/kWh as of March 12th, 2023.
At HouseFresh, we have been reviewing air quality products since 2010. In all these years, we learned not to rely on manufacturers' claims and the ever-so-glowing marketing materials. That is why we buy products with our own money, so we can write unbiased reviews after we've had enough time to evaluate air quality products in our home lab. Every unit we recommend has been thoroughly tested to assess its performance, energy consumption, and noise levels emitted in real-life environments. If you have any questions about our testing process for different types of air quality products, just drop us an email at
hello@housefresh.com
.
Last update on 2023-12-01 / Affiliate links / Images from Amazon Product Advertising API