Every ride in your car includes various decisions that protect your health. Putting on your seatbelt, watching your speed and ensuring the vehicle is well-maintained are all prerequisites for a safe journey. But the air you breathe when driving is often overlooked despite roads being a hotspot for air pollution.
It may come as no surprise to hear that burning gas and diesel generates a ton of harmful pollutants. Whether carbon monoxide, ultrafine PM2.5 and PM10 particulates, or even VOCs like benzene and formaldehyde, many nasty particles are emitted by vehicles and make their way into our cars, posing a threat to both drivers and passengers.
And it's not just direct respiratory health issues that you should be worried about; a study by Lung showed that adults living close to a high-traffic road have increased risks of dementia.
Although some newer models of cars, such as Teslas, come with a HEPA filter as part of the system to keep your air clean, most cars only use a pollen filter that will be unable to protect against smaller particles. That's why we suggest adding an air purifier, equipped with HEPA filters to your car's arsenal.
To combat VOCs such as Formaldehyde and Benzene, you will want to also invest in a purifier that contains Activated Carbon. This adsorbs gaseous pollutants while also removing any odors as a secondary benefit.
Why You Can Trust Our Recommendations

With a wide range of car purifiers on the market, separating the wheat from the chaff can be tricky. To present the best purifiers for the job, we ensured each unit on this list had the following features:

HEPA and Activated Carbon filters – When out on the road, you will face threats from particulate matter and VOC pollutants, so you'll want to protect yourself with the best filters available.

Battery life – When it comes to portable purifiers, you ideally want a unit that is easy to charge and will go the distance.

Full car coverage – Many purifiers aimed at the automobile industry lack the fan power to circulate the air in your vehicle. That's why we paid close attention to each unit's square foot coverage.

While most air purifier review sites simply regurgitate the manufacturer's marketing materials, here at HouseFresh, we prefer to buy and test each unit for ourselves to provide you with an impartial review that focuses on the matter at hand. To do this, we carry out the following tests:

1️⃣ Air Cleaning Test — we fill a 705 cubic foot room with smoke and track how long it takes for the unit to remove all traces of PM1.0, PM2.5 and PM10.0 particles.

2️⃣ Energy Usage Test — To provide a clear view of the long-term costs of running your purifier, we connect each unit to an energy meter and calculate how much you're likely to pay before your bill arrives.

3️⃣ Sound Test — The volume an air purifier creates can vary a great deal from unit to unit; that is why we record the sound decibels on each of the purifier's speed settings, so you know what to expect before you take the plunge.
Having run our tests and placed each air purifier under the microscope, we were able to select six great options that will help to keep you safe when out on the road, along with one that is best avoided if you want to see real improvements to your air quality.
For those keen to clean the air in your car as quickly as possible, look at our top three choices that will provide a quick getaway.
The Top 3 Air Purifiers For Cars
Last update on 2023-09-30 / Affiliate links / Images from Amazon Product Advertising API
With a wide range of air purifiers on the market, finding the ideal unit for your car isn't always easy. In this article, we've highlighted six excellent options across a range of budgets, styles and filtration methods, so be sure to check out the rest of our recommended purifiers below.
The Westinghouse 1804 uses a combination of a HEPA H13 filter with their version of an ionizer called an NCCO reactor. This means that the purifier will work to capture the harmful particulate matter rife in traffic-filled roads while also eliminating VOC and odor pollutants rather than storing them inside.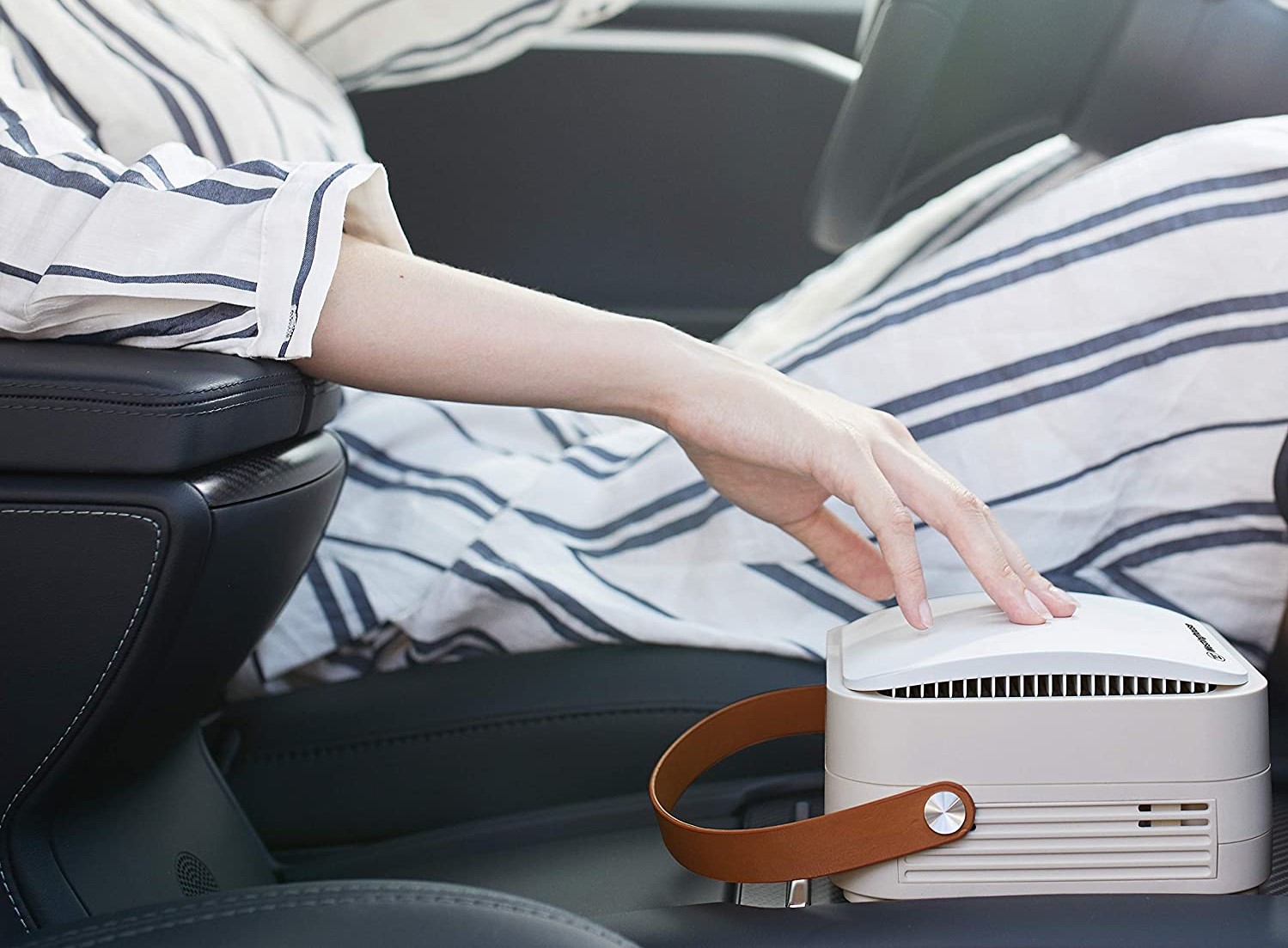 In the old days, these ionizers generated a lot of ozone and could lead to further air quality issues. As used by Blueair and other leading manufacturers, this new type removes any ozone before it leaves the unit, certified by CARB.
Although this isn't the smallest option on our list, this extra size allows more powerful fans to circulate your car's air more effectively. It is also one of the more stylish portable air purifiers on the market, coming in a range of colors and with a nice finish to the exterior.
The Westinghouse 1804 comes with a 3,000 mAh lithium-ion battery, providing up to eight hours of use on a single charge, which is good enough for even the longest of drives. Filter replacement costs also offer bang for your buck, with a set of 4 HEPA filters costing $31.99, making each filter cost just $8.
What We Really Like:
👍 Portable with up to eight hours of use
👍 Powerful cleaning power with the NCCO and HEPA used in combination
👍 Design comes in a variety of colors
👍 Easy to move around with the handle
What We Think Could Be Better:
👎 NCCO reactor may put off some users who prefer to avoid Ionizers
👎 Charging port is awkward to access
SPECS & FEATURES
| | |
| --- | --- |
| Air purifier technology: | HEPA and NCCO reactor |
| Recommended room size: | 100 ft² |
| Clean air delivery rate (CADR): | 13 CFM (22 m3/h) |
| Dimensions (in inches / in cm): | 6.3L x 6.3W x 3.5H inches / 16L x 16W x 8.9H cm |
| Weight (in pounds / in kg): | 0.96 kg / 2.12 lbs |
| Noise level (low – high): | 34 – 38 dB |
| Filter life: | 3 months |
| Manufacturer's warranty: | 3 years |
| Estimated energy consumption: | $5.43 per year |
At $39.99, the Pure Enrichment PreZone Mini Air provides HEPA and Activated Carbon filtration for those on a shoestring budget. A CADR score of 10 CFM will not break any records for air cleaning, but it will provide ample protection for those in smaller cars.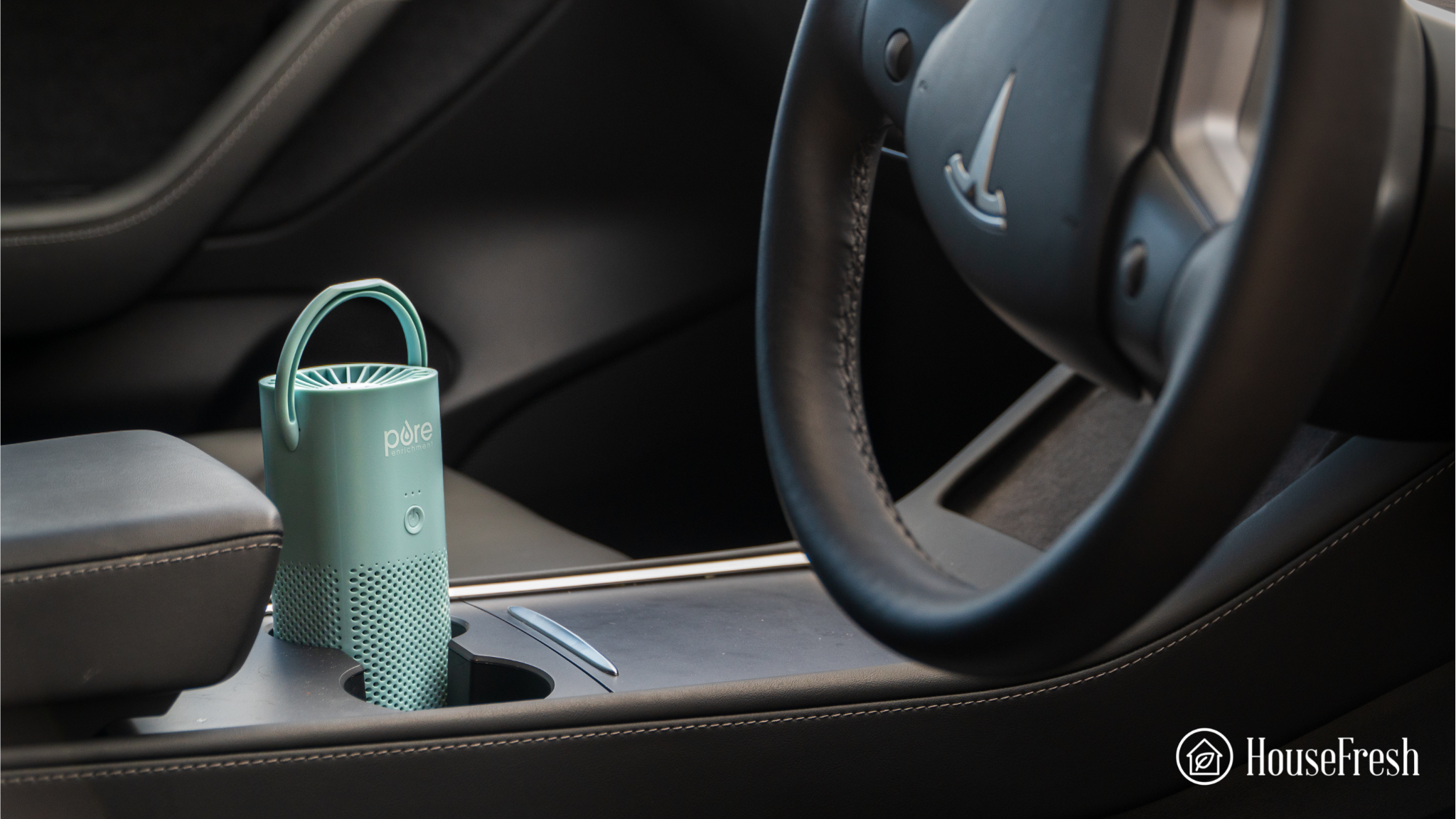 Thanks to its lightweight and compact design, this unit is undoubtedly an excellent option for air purification on-the-go. The battery on this air purifier lasts up to 12 hours, depending on the speed you use, so there is plenty of juice for longer commutes. The USB cable also makes charging the battery more convenient, but it's worth noting this option isn't compatible with USB-C charging.
The PureZone Mini provides clean air in smaller cars. Still, I recommend getting a bigger unit if you want added versatility for public transport, hotel rooms, or home use.
What We Really Like:
👍 Battery allows you to use this air purifier anywhere
👍 No ionization technology – just pure HEPA and Activated Carbon, so zero ozone
👍 Easy handle at the top will enable you to move it around quickly
👍 Filter replacements are cheap, with genuine filters costing just $9.99
What We Think Could Be Better:
👎 Underpowered for any space larger than a normal-sized car – might struggle with large SUV
👎 Not as quiet as the manufacturer suggests, as you will need to run this unit on higher (and louder) speeds to see results
SPECS & FEATURES
| | |
| --- | --- |
| HouseFresh Rating: | ★★★☆☆ |
| Time to clean our test room: | 3 hours and 46 minutes |
| Air purifier technology: | HEPA and Activated Carbon Pre Filter |
| Recommended room size: | 54 ft² |
| Clean air delivery rate (CADR): | 10 CFM (17 m3/h) |
| Dimensions (in inches / in cm): | 8.5H x 2.7D x 3.3W inches / 21.5H x 6.8D x 8.8W cm |
| Weight (in pounds / in kg): | 0.27 kg / 0.58 lbs |
| Noise level (low – high): | 15 – 46 dB |
| Filter life: | 6 months |
| Manufacturer's warranty: | 5 years |
| Estimated energy consumption: | $8.41 per year |
3. Best Option for Large Vehicles: IQAir Atem
Let's get the downside of this unit out of the way – it costs $399.99. Yes, this falls in the same price range as many whole-house air purifiers, so it isn't a budget option. But it is made by Swiss-based IQAir, one of the world's most well-respected air purifier manufacturers and the Atem takes the mantle as the most powerful unit on this list, with a CADR score of 39 CFM.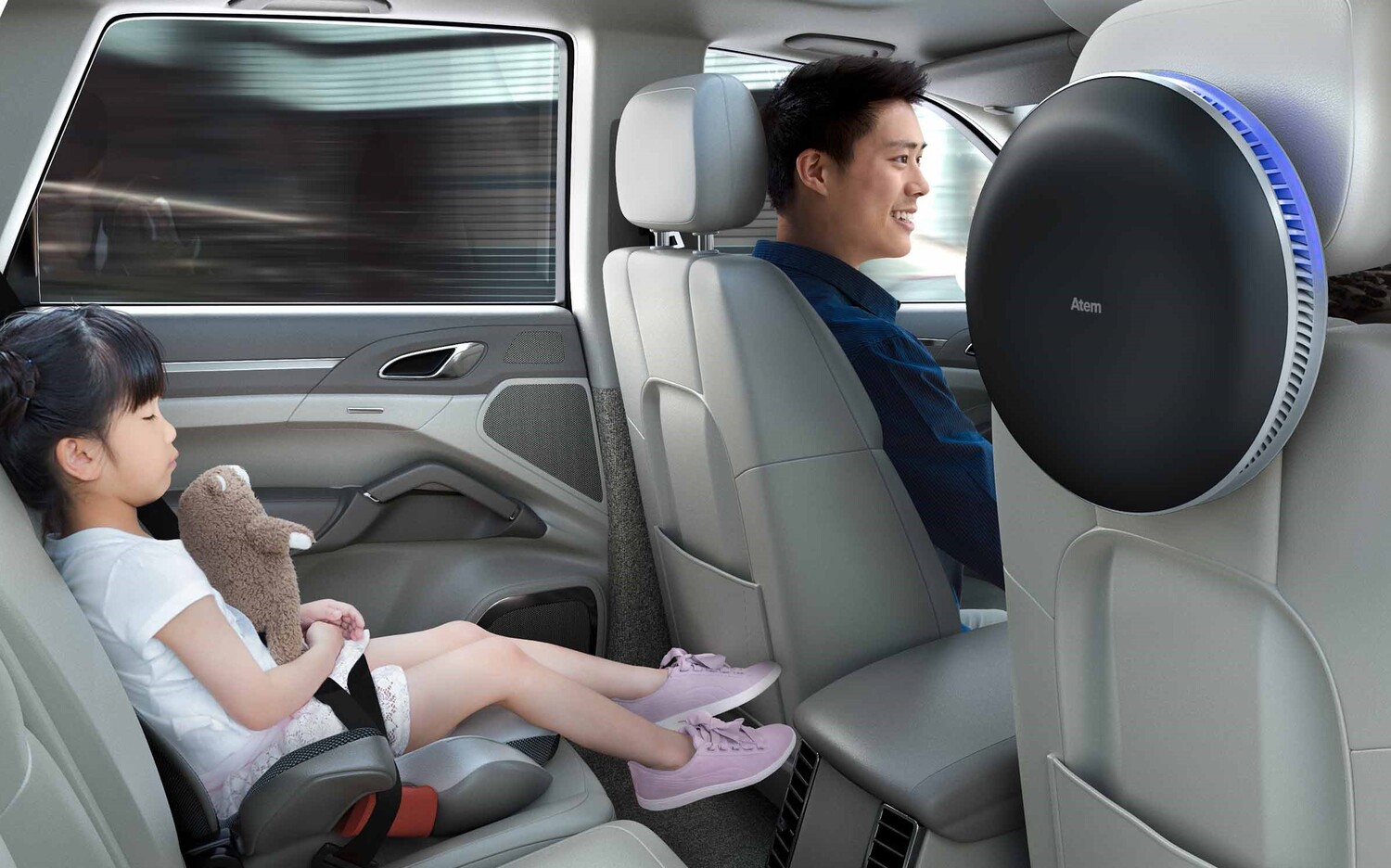 Here at HouseFresh, we are major fans of IQAir's flagship purifier, the Healthpro Plus, (which is the primary unit we use at home). This is because their HyperHEPA filters offer the most comprehensive protection on the market; this is what you'll find inside The Atem. This filter blows competitors out of the water, removing 99% of particles as small as 0.003 microns (100x smaller than a standard HEPA).
You'll also find that the IQAir Atem has a packed Activated Carbon filter, ideal for removing VOC and odors in your car. It also boasts other unique features that make it an excellent option for use on the road, with Bluetooth connectivity and a power adapter to operate the unit using the car's battery, so you'll never run out of juice.
What We Really Like:
👍 The largest Activated Charcoal and HEPA filters, with no ozone production at all
👍 Can be attached to the back of the driver's seat to target the breathing zone directly
👍 Swiss-made design – we expect this unit to last for many years
👍 Powerful unit considering its portability
What We Think Could Be Better:
👎 No rechargeable battery pack – so can't be used outside the car
👎 Power switches off to save car battery after 30 minutes, there should be an option to disable this
SPECS & FEATURES
| | |
| --- | --- |
| Air purifier technology: | HyperHEPA and Activated Carbon |
| Recommended room size: | 150 ft² |
| Clean air delivery rate (CADR): | 39 CFM (66 m3/h) |
| Dimensions (in inches / in cm): | 11.77H x 11.77W x 4.05D inches / 29.9H x 29.9W x 10.3D cm |
| Weight (in pounds / in kg): | 3.74 kg / 8.25 lbs |
| Noise level (low – high): | 35 – 55 dB |
| Filter life: | 1 year |
| Manufacturer's warranty: | 3 years |
| Estimated energy consumption: | $7.39 per year |
With a CADR score of 24 CFM (40m3h), this air purifier from Smart Air provides high-end performance at a budget price. The travel version has a battery that lasts up to four hours, perfect for road trips or commuting. It also comes with a USB-C cable, so you can use an existing portable charger to keep it running longer when on the go.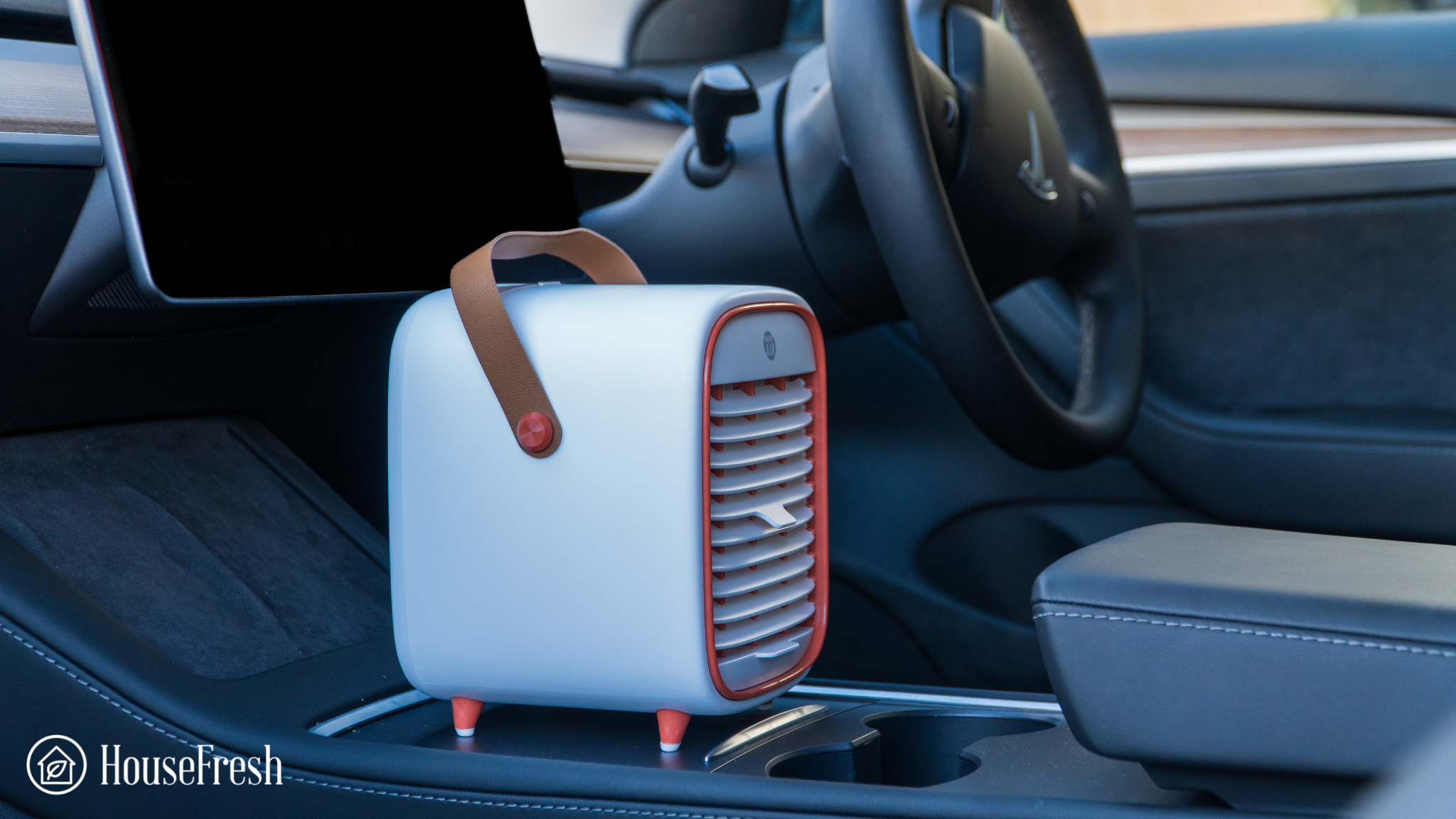 The QT3 is an excellently designed purifier, being both highly portable and easy on the eye. Running costs won't rack up too much either, with economical airflow keeping energy use down and filter replacements primarying $12.50 per unit when you buy in packs of two. If you have read any of my other reviews of Smart Air purifiers like the Blast Mini or the Smart Health S, you will know I'm a big fan of their devices and what they bring to the industry.
The only major downside is that the Smar Air QT3 uses HEPA filtration so it won't protect against odors or VOCs. However, the benefit of this is that you don't have to worry about any ozone production with just a tried and tested mechanical filter at work.
What We Really Like:
👍 Pure HEPA cleaning for less than $50
👍 No ozone production at all
👍 Great design for use on the move
👍 Battery lasts for up to four hours, plus the USB-C cable can be used to power it on the go
What We Think Could Be Better:
👎 No way to deal with VOCs and odors as only uses HEPA
👎 Needs more places to purchase, currently missing from Amazon.com
SPECS & FEATURES
| | |
| --- | --- |
| HouseFresh Rating: | ★★★☆☆ |
| Time to clean our test room: | 4 hours and 46 minutes |
| Air purifier technology: | HEPA |
| Recommended room size: | 12.9 ft² |
| Clean air delivery rate (CADR): | 24 CFM (41 m3/h) |
| Dimensions (in inches / in cm): | 5.9L x 5.7W x 7.1H inches / 17.7L x 17.3W x 24.5H cm |
| Weight (in pounds / in kg): | 0.624 kg / 1.375 lbs |
| Noise level (low – high): | 32 – 40 dB |
| Filter life: | 6 months |
| Manufacturer's warranty: | 1 year |
| Estimated energy consumption: | $8.41 per year |
Another gem from Medify's range of affordable air purifiers, is the MA-10. This highly portable purifier is as light as a feather and well-designed to sit in your car's cup holders conveniently. Moreover, you also receive a lifetime guarantee with the MA-10, easing any concerns over reliability.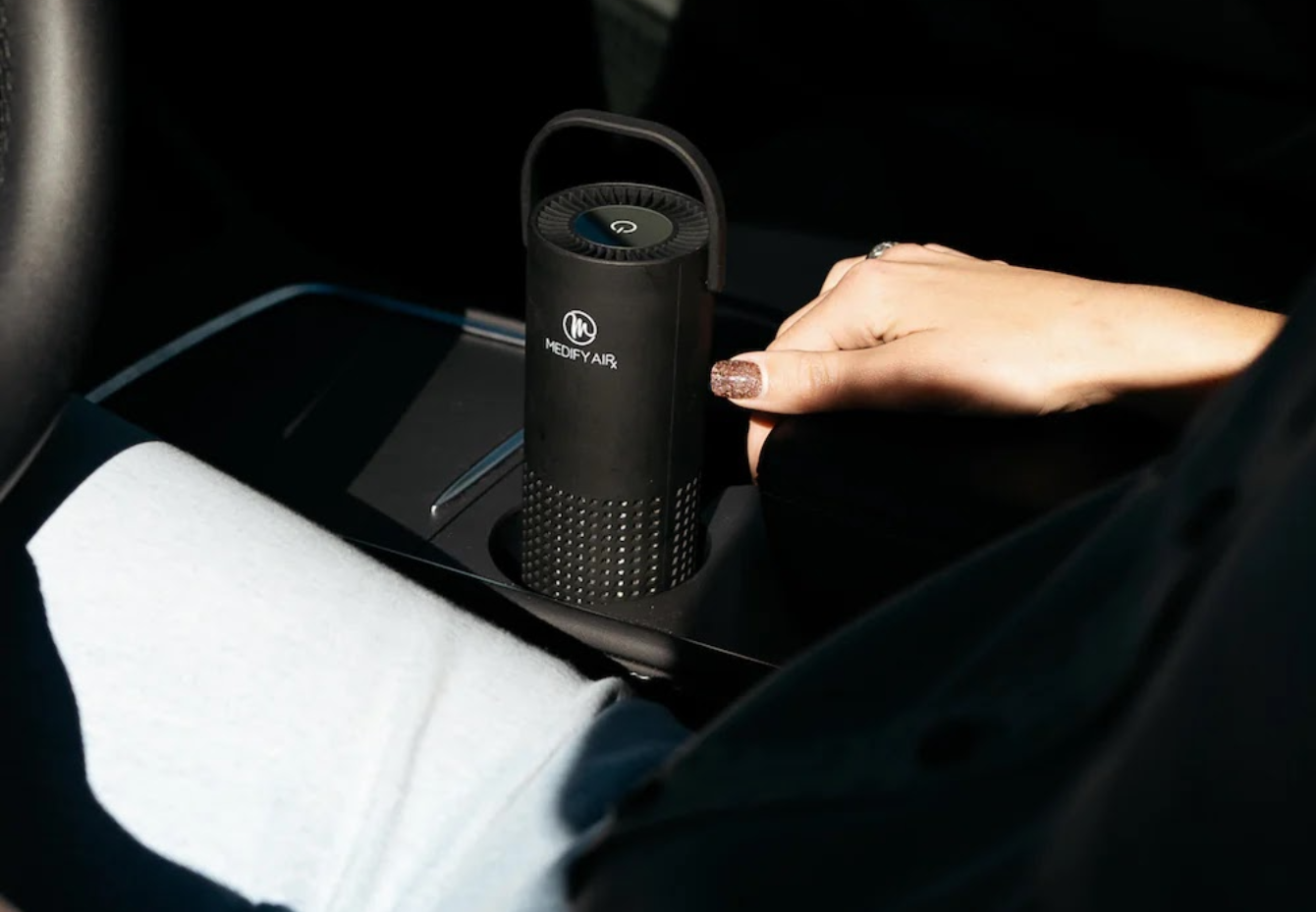 Convenience isn't the only thing we love about the Medify MA-10, however. This option utilizes medical grade H13 HEPA filters capable of removing 99.9% of pollutants as small as 0.1 microns. You'll also find an Activated Carbon filter for capturing VOC and odor pollutants alongside a Pre-Filter to keep your purifier working at its peak for longer.
The MA-10 has a remarkable 12-hour battery life, recharging using a USB cable, simplifying life. Thanks to the unit's 360-degree air intake, you'll also find that this purifier offers excellent air circulation, cycling the air in a 20-square-foot space every 15 minutes, making it an ideal option for medium-sized vehicles.
What We Really Like:
👍 Super easy to transport and is well designed for use in a car
👍 Great battery life
👍 High-end filters
👍 Made by a well-respected air purifier brand
What We Think Could Be Better:
👎 CADR score is fairly low
👎 Runs on the loud side for such a small unit
SPECS & FEATURES
| | |
| --- | --- |
| Air purifier technology: | H13 HEPA and Activated Carbon composite |
| Recommended room size: | 40 ft² |
| Clean air delivery rate (CADR): | 5 CFM (8 m3/h) |
| Dimensions (in inches / in cm): | 8.1H x 2.7W x 2.7D inches / 20.57H x 6.9W x 6.9D cm |
| Weight (in pounds / in kg): | 0.58 lbs / 0.26 kg |
| Noise level (low – high): | 34 – 46 dB |
| Filter life: | 3 – 4 months |
| Manufacturer's warranty: | Lifetime (if Medify filters are used) |
| Estimated energy consumption: | $4.34 per year |
Our final recommendation is the Munchkin Portable Air Purifier. Although this brand is relatively new to us here at HouseFresh, this unit shows a solid purifier's hallmarks. Providing four stages of protection from a wide range of pollutants, all for under $70.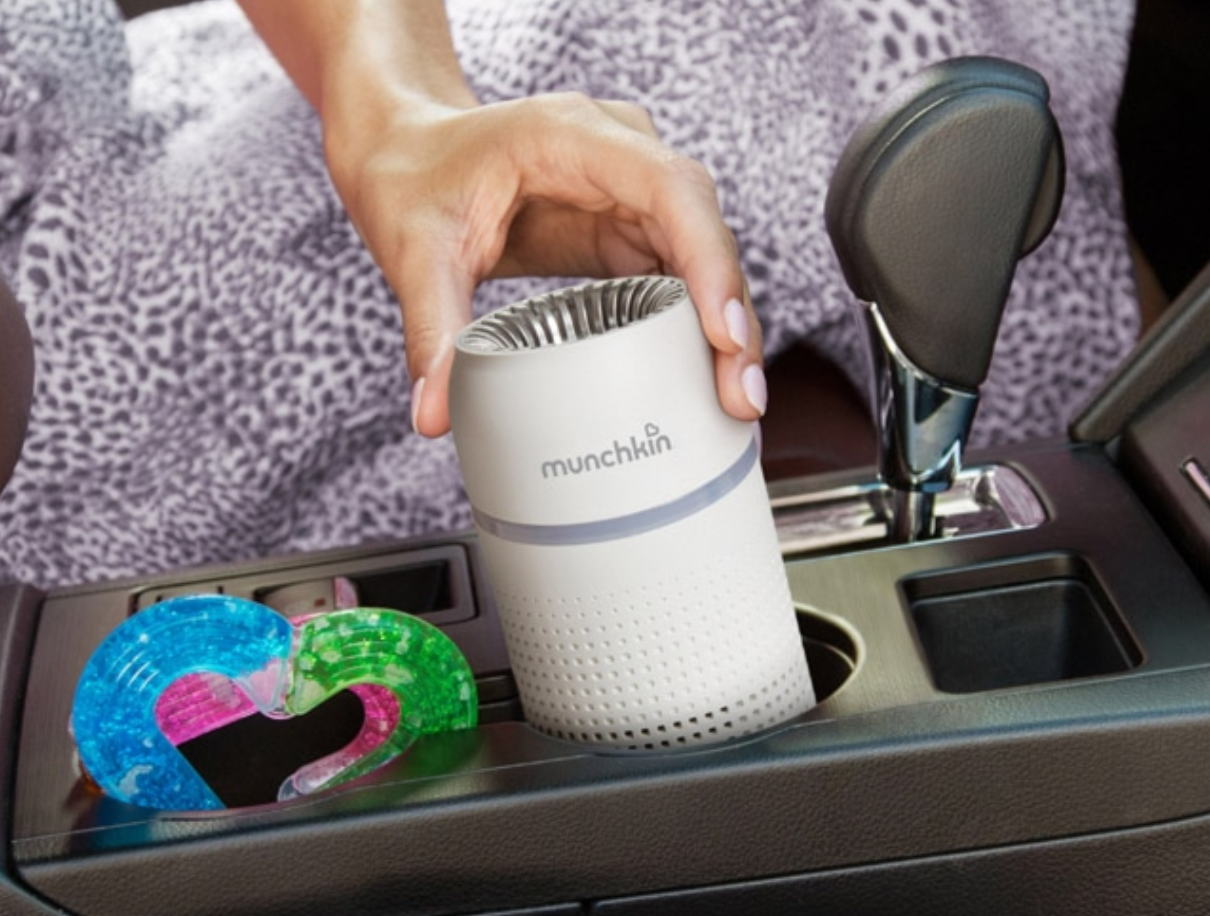 Underneath the hood, you'll find that all-important HEPA filter, capable of capturing the smallest of particles, while the Activated Carbon filter works away at removing VOC and odors. This option also boasts an in-built air sensor, monitoring the air quality inside your car and adjusting the fan speeds accordingly.
You can expect up to 10 hours of battery from a single charge, making it ideal for long journeys or a week's average driving. The Portable Air Purifier certainly lives up to its name, with a lightweight design that cycles the air in a seven cubic foot space every minute.
What We Really Like:
👍 Four stages of protection from a myriad of pollutants
👍 Highly portable
👍 Filter replacements offer good value for money
👍 10-hour battery life
What We Think Could Be Better:
👎 Must be placed in an upright position
👎 No published CADR score from the manufacturer
SPECS & FEATURES
| | |
| --- | --- |
| Air purifier technology: | True HEPA and Activated Carbon |
| Recommended room size: | 70 ft² |
| Clean air delivery rate (CADR): | Not available |
| Dimensions (in inches / in cm): | 7.2H x 2.75W x 2.75D inches / 18.3 x 7W x7D cm |
| Weight (in pounds / in kg): | 0.66 lbs / 0.3 kg |
| Noise level (low – high): | 32 – 42 dB |
| Filter life: | 3 months |
| Manufacturer's warranty: | 1 year |
| Estimated energy consumption: | $10.86 per year |
---
You might have seen devices like this that directly connect to the car's cigarette lighter and use ionization to clean the air inside the car. They were super popular in the early 2000s and are still widely available today.
The problem is that Ionization technology is either too weak to have any significant effect, or it does clean the air but releases dangerous ozone levels. A study also showed that an ionizer could make the air dirtier by generating particulate pollution. Many car ionizers sold in the U.S. will not cause too much ozone but will be useless at cleaning the air in your car.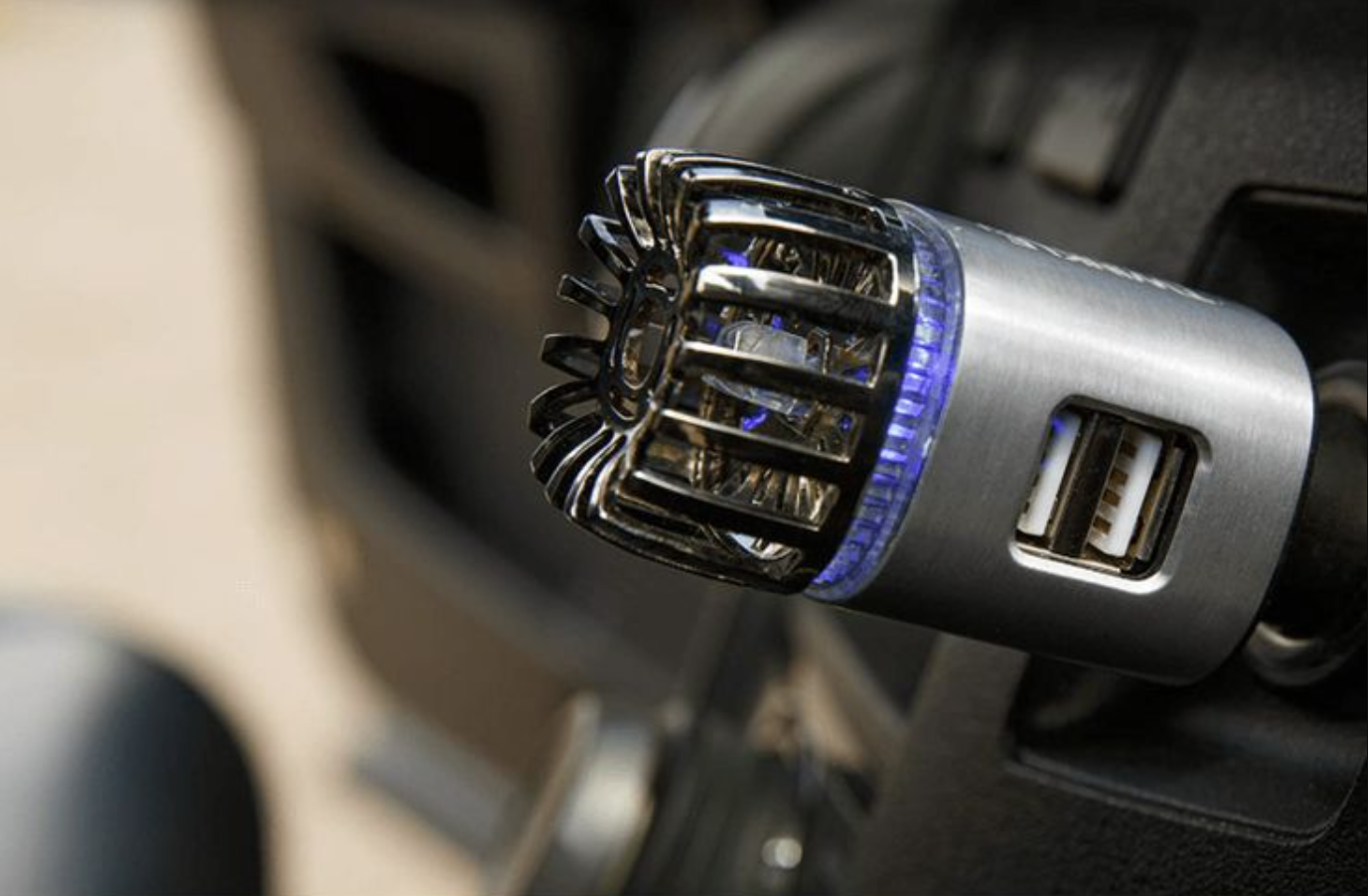 These ionizers are super cheap, which explains why so many people buy them, but as of 2023, there are many HEPA options for a little more money that will clean the air. With so many cheap car air purifiers on the market, you are best well avoiding this ionizer air purifier.
Why We Suggest You Avoid This Unit:

👎 Ionization technology has been proven to be ineffective and can even cause problems with extra pollutants and ozone generation.

👎 Cheap price makes it seem like an easy fix. Still, we would recommend the PureZone Mini Air for an additional $20 that will actually clean the air
---
Buying Guide: Air Purifiers for Cars
Having an air purifier in your car will reap huge rewards, removing both harmful particulate matter and VOCs. This will help keep your vehicle a clean air sanctuary amongst the buildup of pollution on the roads, which the University of California recently discovered are home to the highest concentrations you're likely to encounter throughout the day.


🤔 Why should you deal with air quality in your car sooner rather than later?

While most of us know that cars contribute to air pollution, few fully understand the dangers these emissions dangers to our health.

With little to no protection installed by car manufacturers, drivers and passengers are exposed to a range of toxic pollutants each time they go for a drive. These pollutants can vary greatly.

The emissions created when burning fuel include particulate matter, carbon monoxide and nitrogen dioxide. All of these are fine enough to enter the lungs and play a role in severe respiratory issues and heart conditions.

To that 'new car smell,' which despite being deemed as desirable, comprises a VOC concoction, including formaldehyde, benzene, toluene, xylene and acetaldehyde, all at levels dangerous to our health.

A recent study published in the Cell Reports Physical Science found that exposure to this range of pollutants can increase our cancer risk.
Protecting yourself in the car is important, with many harmful pollutants surrounding our roads and vehicles. The right air purifier can remove most pollutants, leaving the air in your car clean and healthy to breathe as you travel from A to B.
---
What to Look for When Buying an Air Purifier for Your Car
1. Does the air purifier you're looking at utilize HEPA filters and Activated Carbon?
When it comes to the pollution in your vehicle and around roads, you'll want the highest level of protection to eradicate ultrafine particulate matter and nasty VOCs such as carbon monoxide. To do this, you'll want a purifier that utilizes two stages of filtration.
Thanks to their tried and tested technology, HEPA filters are now considered the industry standard among air purifiers certified to remove 99.97% of particulate matter as small as 0.3 microns. You'll also want to look for a purifier with Activated Carbon filters.
This filter removes gaseous pollutants known as VOCs, such as formaldehyde and benzene, through a process known as adsorption.
2. Do you spend time in lots of traffic?
Battling the daily commute or juggling the school run means traveling when the roads are at their busiest. This means you will be exposed to higher concentrations of pollutants, with plenty of other cars slowly making their way around town, emitting harmful toxins and fumes.
To combat this buildup in traffic pollution, you will want to look for an air purifier that can effectively circulate the air in your vehicle. A great place to start is by finding out the dimensions of your car and comparing it to the manufacturer's recommended room coverage.
3. How much time do you spend in the car each week?
How much time you spend in the car may influence your decision on which air purifier to purchase. Casual drivers may get away with spending less on an air purifier, although those of you who spend a long time in the car should consider investing in a more powerful unit.
Other factors to consider include each purifier's battery life and filter life. Suppose you spend lots of time in the car. In that case, you will want one with ample power to last the day, with convenient charging ports or connectivity to your car's auxiliary power outlet (also known as a car cigarette lighter).
Remember that the more you use your purifier, the more pollutants it will remove, resulting in your filter filling up faster. This shouldn't deter you from using your purifier when driving, but instead, consider options with long-lasting filters or look for a purifier with affordable filter replacements.
4. Does anyone smoke, eat or produce a strong odor in your car?
If you provide transport for others, whether clients or simply providing a taxi service for the kids, having more than one person in the car can bring about new challenges to air quality.
Smoking or vaping creates denser airborne pollutants that are much trickier for an air purifier to remove. As many people enjoy smoking in their vehicles, this is a key thing to consider, with the particulate matter and VOC byproducts found in smoke being particularly harmful to health.
For those that spend a lot of time in the car or transport others, the air in your car will be affected by germs, bacteria and maybe even odors that you probably would rather do without.
This means that the air purifier you choose must be capable of covering the whole space inside your vehicle quickly and efficiently. The best way to ensure your purifier is up to the task at hand is to look for its Clean Air Delivery Rate (CADR). This score tells you how many cubic feet of air the purifier can process each minute. Meaning the higher the number, the faster you'll see results.
---
Common Questions About Air Purifiers for Your Car
🤔 How can I improve the air quality in my car?
The first step to improving air quality within the home is cutting pollutants off at the source. This means avoiding smoking, eating or traveling at peak times when roads are congested.
Ventilation will help to circulate air and reduce pollutants, but avoid unwinding your windows when using busy roads or highways.
If time is not a concern, avoid the highway altogether and use smaller roads that have less traffic and thus less air pollution. Be sure to check your air filter regularly, too, as a dirty filter can lead to problems even when the outside air quality isn't an issue.
For more information, check out advice from the American Lung Association.
🤔 Do you really need a car air purifier?
Cars are small, enclosed spaces that allow air from outside inside the cabin. This results in toxins, fumes and other pollutant particles beginning to fill the space, affecting all passengers and drivers inside.
So much so, medical scientists advising the UK government have warned that air pollution is worse for children and the vulnerable inside a car than if they were to walk along the street.
If you're still not convinced or unsure whether your car is already filtering pollutants (as some newer Teslas do), you can always test your car's air quality to determine if you need an air purifier. However, an accurate air quality monitor can cost as much as a small portable air purifier.
Another good reason for getting an air purifier is to handle tobacco, vaping, or cannabis smoke. This helps if you're a smoker or you ride with smokers and non-smokers alike. Even getting rid of the odor of fast food can make air purifiers worth it in the long run but do look for a unit that can deal with odors using an Activated Carbon filter.
🤔 Are car air purifiers safe?
Some of the early air purifiers that plugged into the car's cigarette lighter gave the industry a bad name as they generated ozone to clean the air, which can lead to health problems. Nowadays, car air purifiers are as safe as those used in the home, but you will still want to avoid those using ozone-emitting ionizers.
With most modern portable units using a lithium-ion battery, this also brings about new cautions to consider. As with any battery, read the manual on how to care for and prolong the battery's lifespan while reducing exposure to too much heat, which may cause the battery to expand.
---
Wrapping Up
The average American drives just under an hour daily, so it makes sense that we want to keep the air inside our cars clean of any pollutants.
With many outdoor pollutants capable of entering the car's cabin, from poisonous carbon monoxide to irreparable pollen allergens, it's wise to invest in an air purifier to keep you and your passengers breathing easily.
To reap the best results, remember to ensure the purifier you choose comes equipped with HEPA and Activated Carbon filters while also being able to cover the space inside your vehicle.
Last update on 2023-09-30 / Affiliate links / Images from Amazon Product Advertising API