Since Colorado and Washington passed legislation for recreational cannabis use in 2012, many more states have followed suit, opening the door for people nationwide to enjoy smoking weed in their homes.
Whether you use marijuana for health, to relax, or to socialize, it can't be denied that the smell lingers and is a real downside to enjoying cannabis in the home. Smoking cannabis is only permitted for use inside private property, resulting in odors sticking to clothes, hair and furniture and will be noticeable to visitors to your home.
As well as leaving a lingering odor, smoking cannabis indoors has been found to dramatically increase the level of PM2.5 particulate matter, including carcinogens and toxic chemicals, which can result in serious health effects for smokers and second-hand smokers alike. Some tests found that air quality levels worsened 100-fold, even when no tobacco was used.
Recent surveys from Gallup have shown that as many as 16% of Americans smoke marijuana regularly. With that figure more than doubling in the last ten years, indicating that weed smoke is set to become a greater issue for air quality.
Fortunately, there is a simple solution to nip weed smoke and odors in the bud. Investing in an air purifier with activated carbon and HEPA filters will tackle the issues raised by smoking marijuana head-on. Leaving your home feeling fresh and healthy.
With all this data, we shortlisted air purifiers that will be a good fit to deal quickly with particles and gasses generated from weed smoke.
Each unit on this list features the following:
Odor-busting activated carbon filters – A purifier with plenty of Activated Carbon will get rid of odors through a process known as adsorption, these are usually VOCs and are not removed by HEPA alone
Fast air cleaning performance – The longer smoke is in the atmosphere, the more it will stick to furnishings and belongings so we want to remove particles as quickly as possible.
High caliber CADR – Powerful pollutants like weed smoke are difficult to clean, so we looked for powerful purifiers with a high clean air delivery rate – the lowest CADR on our list is 145 CFM
Staff picks: Top 3 air purifiers for weed smoke
Are you short on time? These are our top three picks:
To help you in your quest for a smoke and smell-free home, we've handpicked seven of the best purifiers on the market for tackling weed smoke. So be sure to check out the complete list below. 
Designed for medium-sized spaces of less than 400 sq. ft., the Core 400S has an impressive CADR rating of 260 cubic feet per minute, making it a powerful (and smart!) choice for weed smoke.
The Levoit Core 400S boasts many of the same features and functions as the $600 EverestAir. It includes a pre-filter, main filter and activated carbon filters for triple protection against marijuana smoke. Yet, this unit is much more affordable, just under $300. In our performance test, the Levoit Core 400S managed to clean all pollutants of 1 micron or less in 33 minutes.
To make life easier, you can put the air purifier in Auto mode, which adjusts fan speeds based on readings from its air quality sensor. You can also connect the 400S to the Levoit VeSync app, which lets you control it — and any other Levoit purifiers you own — through your phone, Alexa, or Google Assistant, even when you're not home.
The HEPA was sold as True HEPA (so grade H13), but there has been a court case around this topic, which suggests it might be a lower grade than H13. Since the case brought by Dyson, Levoit has voluntarily removed claims about their HEPA air purifiers.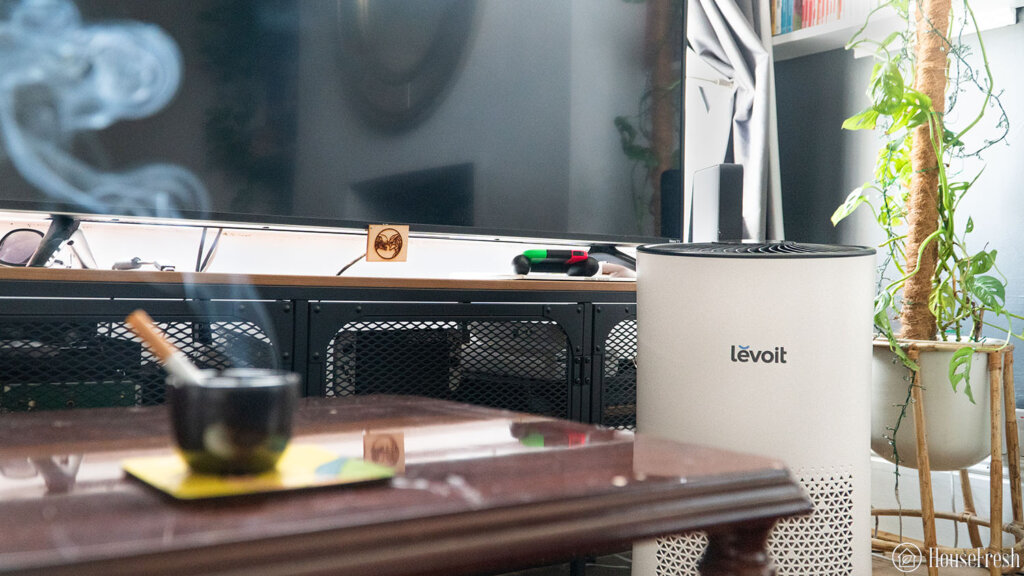 SPECS & FEATURES
The Core 400S is designed for medium-sized spaces of less than 400 sq. ft. It has an impressive CADR rating of 260 cubic feet per minute, which is a great amount considering its initial price.
If you can get over the price of $500, this is our top recommendation for dealing with weed smoke pollutants.
Yes, it's nearly $500 for a Levoit air purifier, but it was the fastest we tested at removing pollutants measuring 1 micron or less. It managed to get our 728 cubic feet room clean in 13 minutes!
We even tested it again at its lowest speed, which was close to silent and still cleaned the room in an effective 33 minutes with very little sound created. Be sure to check out the results data from both performance tests on our review page for EverestAir.
It includes using the Levoit smartphone app, an auto-mode that quickly adjusts the screen and switches the fan speed higher when it detects particles in the air. From the auto-modes we have tested, the EversestAir was very responsive and kicked in as soon as the incense stick was lit in our test room.
A unique feature to the Everstair is that you can adjust the angle of the air output at the top, which could give some fan-like features to blow air in a particular direction.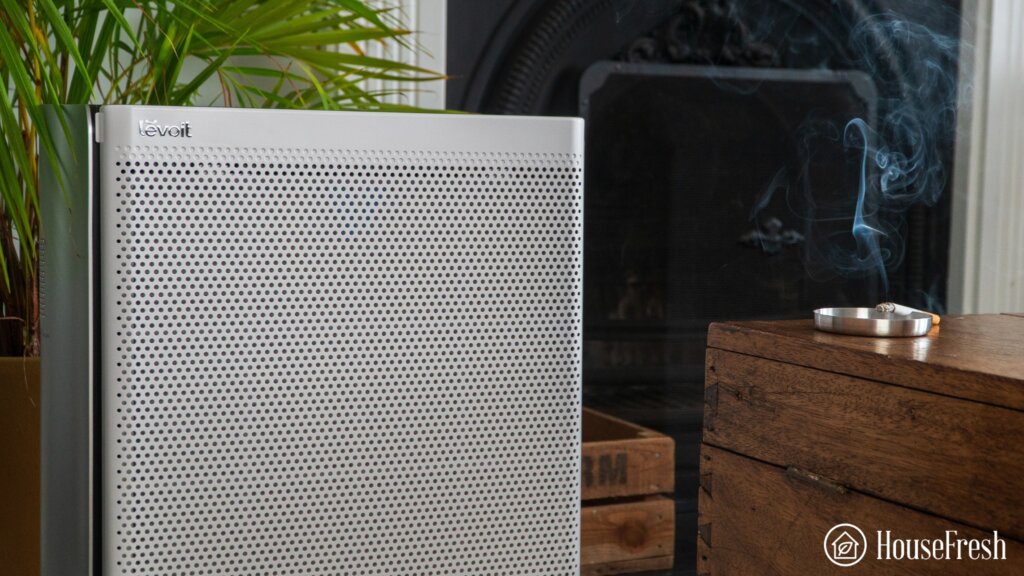 SPECS & FEATURES
The best performing air purifier we have tested to date, offering FAST air cleaning speed and a beautiful design for those who are looking for a stylish unit to use at home.
While lacking some modern smart features in other premium models, the IQAir HealthPro Plus is the best unit on the list for removing persistent weed smoke and smell.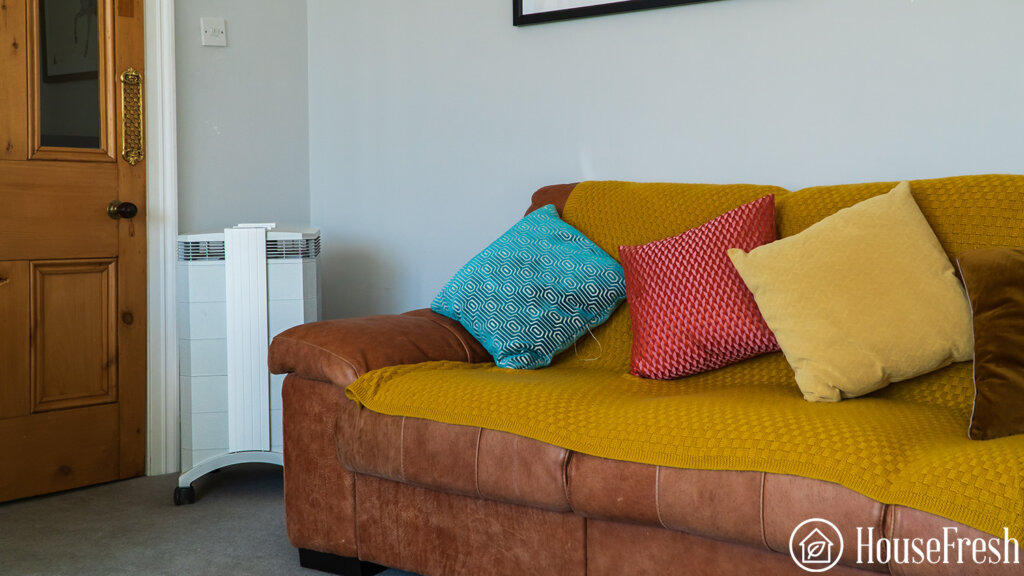 IQAir stands as an undisputed leader in the air purification industry, dating back to 1963. The IQAir HealthPro Plus is a prime example of their expertise, though it does come at a high cost. Rest assured, though, this purifier is a true wizard for eradicating weed smoke and its distinctive smell. In our performance experiment, it removed all 1 micron or smaller particles in only 25 minutes.
Under the hood, the HealthPro Plus boasts a robust filtration system. It houses a powerful V5 Cell filter with over 5 lbs of activated carbon, super effective at handling odors (including weed smell) and VOCs. The IQAir HealthporPlus is a formidable contender against unwanted smells in large spaces. This unit has the largest amount of carbon, and whilst replacement costs are much higher, the amount of carbon is more than enough to deal with most odors around the home.
The unit also features IQAir's HyperHEPA filtration technology, tested and certified by an independent third-party lab. This tech can filter out 99.5% of ultrafine particles as tiny as 0.003 microns. It also includes a very large activated carbon filter that contains a high amount of carbon and zeolite, which is perfect for picking up the VOCs that cause the odor in weed smoke.
While lacking some modern smart features in other premium models, the IQAir HealthPro Plus doesn't compromise performance. This air purifier is an effective solution for quickly removing persistent weed smoke and smell.
SPECS & FEATURES
High-end build quality, lifetime warranty and outstanding air cleaning power supercharged with a BIG activated carbon filter that will take care of weed odors as well as smoke.
Our following recommendation comes from an air purifier manufacturing veteran. Alen set out to "provide safe, healthy and worry-free breathing for all" in 2005. The Texas-based company is well-known and well-trusted worldwide, with the Alen BreatheSmart 75i being one of the brightest jewels in the brand's crown.
When buying your Alen 75i, you will have a few filter options. The one you should go for if you want to tackle weed smoke (and the associated smells) is the B7 Fresh filter. The H13 HEPA captures 99.99% of particles and a generous Activated Carbon filter will make light work of VOCs and smokey odors although not as much as you saw with the IQAir Healthpro.
When we put the 75i through its paces in our real-world tests, it was clear that this purifier meant business. Not only did it eliminate all traces of pollutants in just 24 minutes, but it also ranked amongst the quietest purifiers we've tested while drawing minimal power — making it incredibly energy efficient for its size, only pulling 45 watts at the turbo fan speed.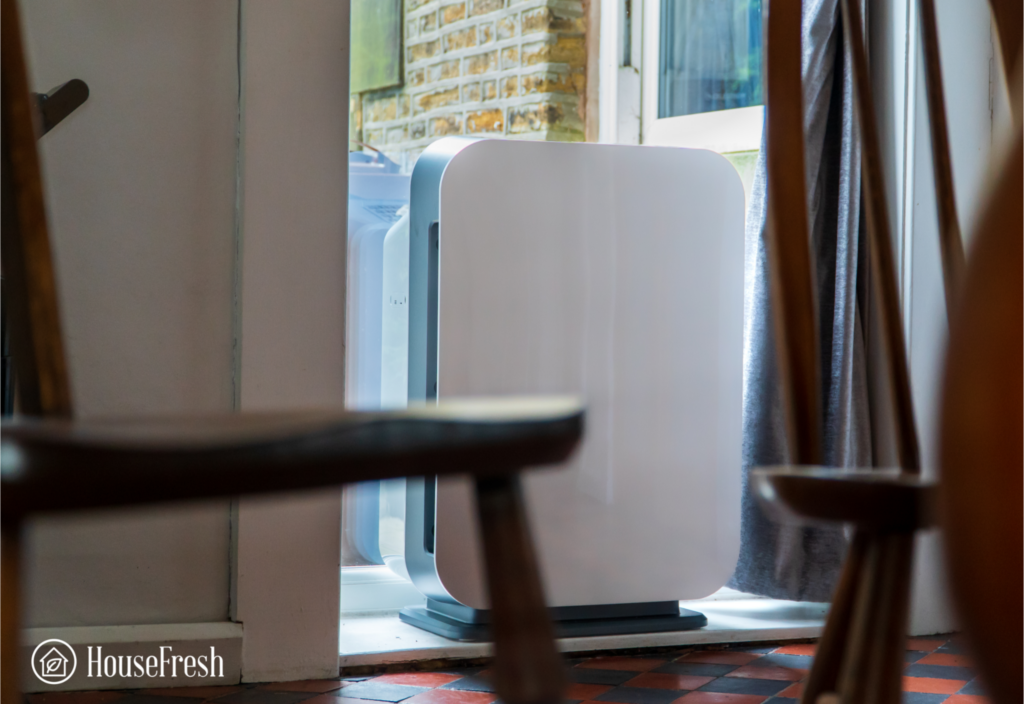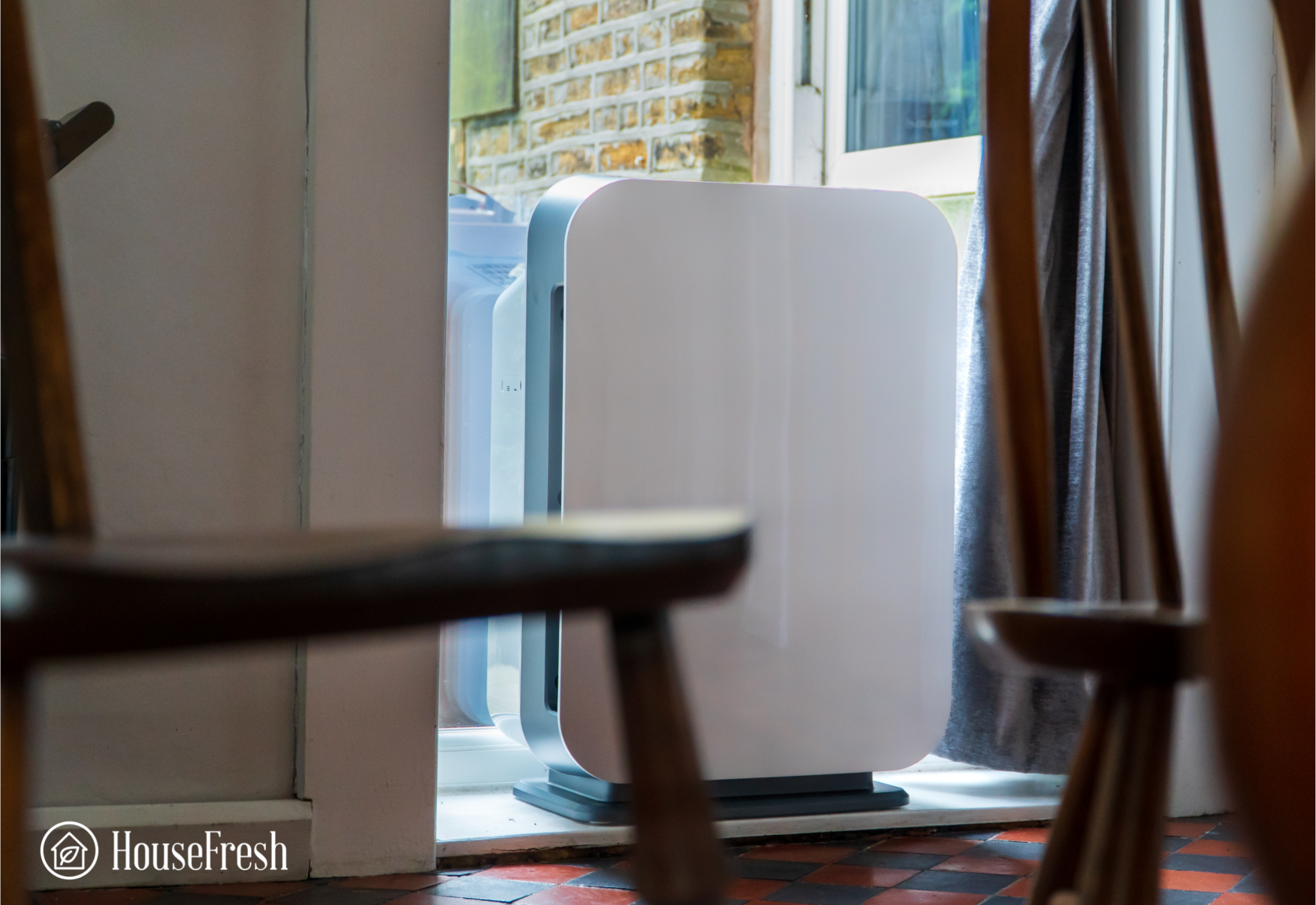 SPECS & FEATURES
5. Best for small rooms and tight budgets: Levoit Core 300S
Despite its fairly unassuming appearance, this air purifier can revolutionize air quality in a small to medium-sized space, thanks to its VortexAir technology that draws in air from every corner of your room.
Three stages of filtration then kick into action, capable of filtering particulate matter and marijuana smoke odors. All while sitting nicely on top of a shelf, countertop or bedside table, allowing you to place it in your favorite smoking spots whenever required. It has an onboard auto-sensor that means it will switch on as soon as it detects the particles from weed smoke.
If you opt for the Core 300S, you'll get a workhorse of a purifier that cleared our test space in just 40 minutes, all for less than 150 bucks. If smart functions are not necessary, then you should try the Levoit Core 300.
SPECS & FEATURES
6. Best budget option for large rooms: Levoit Core 600S
If you're looking for a powerful air purifier to use when smoking weed in an open-plan space or a large room but don't want to spend north of $300, then the Core 600S is the unit you're looking for.
The Core 600S has a high-performing fan and Levoit's signature three-stage filtration technology: pre-filter, main filter for airborne particles and a high-efficiency Activated Carbon filter with ARC Formula™ to handle marijuana odors. All of this for a super reasonable price.
The Levoit Core 600S is one of the best-performing units we've tested at HouseFresh within its price range — clearing our test room of thick incense smoke in an incredible 15 minutes! With such a speedy performance, it means that this air purifier can be used even in rooms up to 600 sq. ft and still provide regular amount of air changes.
We all know that once you've settled into a spliff, you won't want to get up and down to change the settings on your air purifier. Luckily, the 600S can be monitored and controlled from your smartphone. Using the Levoit app, you can check the room's air quality, adjust fan speed, change auto mode settings and even schedule it to turn on/off whenever you want.
SPECS & FEATURES
The best air purifier for those who love to have every single appliance in their (smart) home automated and connected.
The modern-day home needs a modern-day appliance and Mila seriously understood the assignment when they created their flagship air purifier. The sleek and stylish unit looks great and comes stacked with Smart features and powerful performance that is bound to impress gadget fanatics. 
When purchasing the Mila you will have a choice of seven distinct filters, with different options depending on your needs. For eradicating weed smoke, you should go for 'The Home Wrecker' (yup, that's the name) as it comes with a colossal 1.96 lbs of Activated Carbon in a 3-inch bed, making odors and VOCs a thing of the past.
It's worth mentioning that the Mila comes with eight in-built sensors that can detect everything from micro-particles (as small as 0.01 microns) to volatile organic compounds (VOCs). It can also automatically gauge the room size and operate at optimum power, saving you energy without compromising performance.
With this air quality data, your Mila will then utilize its Automagik mode to figure out the best plan of attack and combat pollutants without you having to lift a finger. If you prefer a more hands-on approach, the Mila app offers highly nuanced control over the settings — allowing you to control everything from your phone.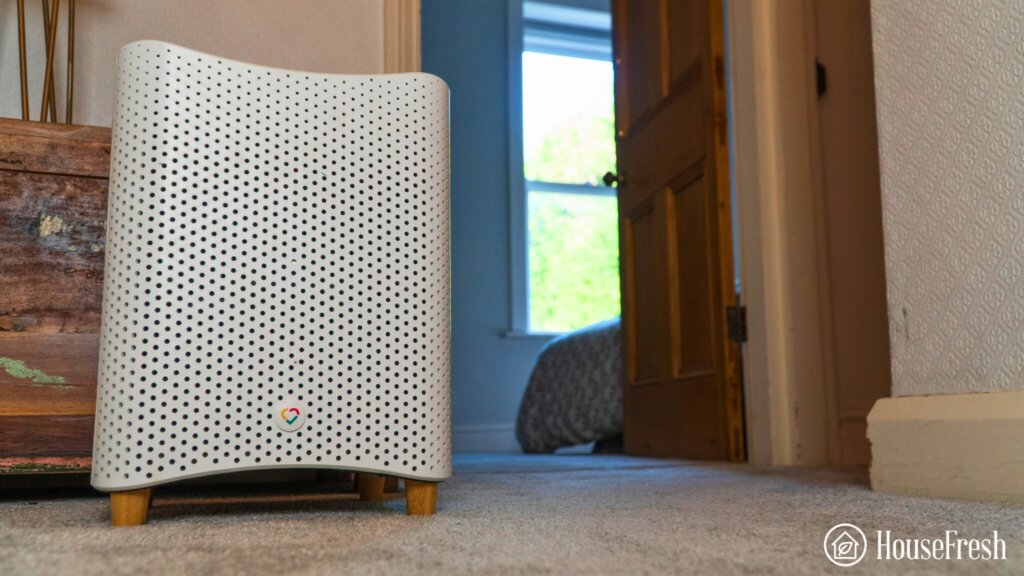 SPECS & FEATURES
What to look for when buying an air purifier for weed smoke
Marijuana is now legal to buy and smoke in 38 states across the US for recreational or medicinal use, with the tide increasingly turning on broader deregulation.
This means air quality is negatively affected due to more users and unprecedented demand. On an individual level, this can result in your home becoming a stale and smelly environment, while the side effects of inhaling or being around smoke can result in grave consequences for your health.
But the good news is that an air purifier can easily rectify this.
These are the four key features you need to look for when buying an air purifier to help with weed smoke and its associated smell:
1. Ensure filtration is up to scratch: HEPA + Activated Carbon is a must
Without quality filters, you've essentially got a useless fan. Ensure that you are protecting yourself from weed smoke's harmful toxins and odors by looking for a unit that utilizes HEPA and Activated Carbon filters.
HEPA (High-Efficiency Particulate Air Delivery) filters are the most effective way of removing particle contaminants from the air. Weed smoke comprises small particles such as PM 2.5 and PM1.0, which is why HEPA filters are so helpful, as they are guaranteed to capture at least 99.97% of particles as small as 0.3 microns.
Regarding Activated Carbon filters, look for options with as much Carbon as possible. This ensures plenty of substrates to capture gaseous pollutants. Filters using carbon pellets are more effective than pleated carbon filters.
2. Measure the space in which you smoke (and consider how much weed smoke your home is exposed to)
Air purifiers are designed to work at their best in many different-sized spaces. Larger units can usually clean the air in a much larger room than a smaller, budget unit. Manufacturers will often provide a recommended room size for each of their cleaners which is a great starting point for consumers. Be sure to measure your space accurately and research appropriate purifiers.
Bear in mind that keeping windows and doors shut when using your purifier plays a huge role in ensuring that the purifier isn't working overtime trying to clean the air from outside or adjacent rooms.
You'll need much more protection for those who smoke every day than those who only occasionally smoke. This means you should look for larger, more powerful units. Smaller units are a more viable option for casual smokers or those affected by a neighbor. This will allow you to maneuver the air purifier to target different spots around the home whenever required, while the smaller filters inside won't become saturated too soon.
3. Choose an air purifier powerful enough to handle weed smoke
Smoke in any form is a nightmare to combat. It's thick and full of particulate matter and VOC toxins and stinks. This means you need a powerful unit to draw in dirty air and filter pollutants effectively, and redistribute clean, fresh air quickly.
The best way to determine if an air purifier has the necessary power is to look for its Clean Air Delivery Rate (CADR). This figure tells you how much air (measured in cubic feet) a purifier can clean in a minute (CFM).
4. Do you need smart features?
Modern air purifiers come with many handy Smart features that can make cleaning the air easy to fix with the help of technology. From Auto modes to smartphone apps or even Alexa smart speaker compatibility for voice-activated controls, there is plenty to streamline how you control your unit or even trust it to work by itself.
This can all make life much easier and result in you having to do less after settling in after a smoke. However, these units can also come with a premium price tag, so if your budget is tight, prioritize cleaning capability over fancy features. 
Common questions about air purifiers and weed smoke
Wrapping up 
Whether you are a full-blown blunt lover or just partake in the occasional bong hit with friends, having an air purifier to help you rid the air in your home of lingering weed smells and harmful smoke toxins will be a worthwhile investment.
But knowing which air purifier is the best option for you will vary from person to person.
Overall, you should ensure that whatever air purifier you choose utilizes HEPA and Activated Carbon filtration for the best level of protection. On top of this, you can look into Smart features, operating volumes and power consumption — all of which are easy to find in our handy Specs charts — to find the best unit for your needs.
Last update on 2023-11-30 / Affiliate links / Images from Amazon Product Advertising API