Our verdict:
The GermGuardian AC4825e needs a big refresh if it's going to be a competitive option for consumers in 2023. The unit lacks air cleaning power and uses too much electricity for this level of performance. If you have $100 for an air purifier, you are much better off buying the Taotronics AP003 for much better performance for $80 or $100 for the Levoit 300 which is shorter yet able to clean much quicker.
The GermGuardian AC4825e is the top-selling unit for Guardian Technologies – a US company based in Ohio that was founded in 2002 and creates air purifiers, humidifiers, and essential oil diffusers. Guardian Technologies was bought by Lasko Products, a manufacturing company that has been operating for around 100 years. Lasko Products makes humidifiers, portable heaters, and fans with 376 employees based in Philadelphia.
The AC4825e has been around since 2013, and whilst demand for this unit has waned over the last few years, it has regularly been on a major top-selling air purifier list. The main area that the AC4825 stands out is that it is Aham verified, and it's available for less than $100.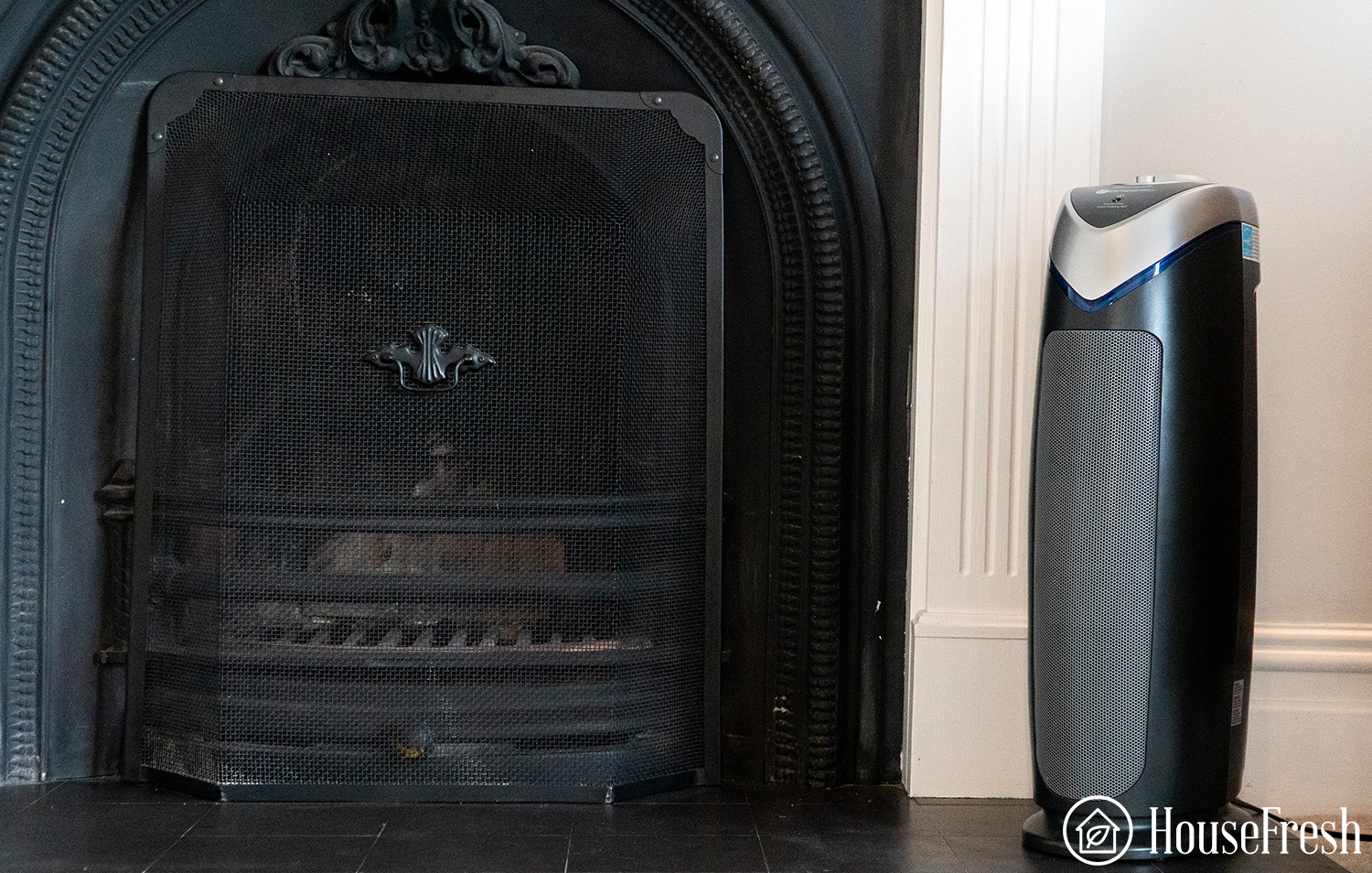 Here at HouseFresh, we buy all our test units with our own money to make sure we can provide as unbiased a review as possible. If it sucks, we want to tell you which is harder to do when you accept free products.
TL;DR The Low Down on the Unit
Not in the mood to read the full review? We know that feeling. Save yourself some time and check out our pros and cons. You never know; you just might wanna read on.
What We Really Like:
👍 55dB at the most powerful speed is similar to other units at this price level
👍 Initial setup cost is cheap as it's often found for $100 or less
👍 You can find generic filters for a good price – $17 for 4 carbon and 1 HEPA
What We Think Could Be Better:
👎 Performance scores were poorer than we expected, with the CADR od only rating of 125 CFM
👎 It's a power-hungry unit – 56 watts to clean our test room in 104 minutes
👎 UV-C is useless – we didn't see any difference when switching it on or off and would recommend choosing the non-UV-C version as it uses less electricity
The Specifications
The GermGuardian AC4825e is aimed at the budget range of air purifiers, with its top competitor being the Levoit 300.
| | |
| --- | --- |
| Purifier technology: | HEPA true and UV-C |
| CADR (CFM / m³/h): | 125 CFM / 212m³/h |
| Recommended room size: | 167 sq. ft. |
| Filter life: | Every 6 – 8 months |
| Noise level (low – high): | 40 – 55dB |
| Dimensions (in inches / in cm): | 10.25L x 6.75W x 21.5H inches |
| Weight (in pounds / in kg): | 3.9 kg / 8.6 lbs |
| Energy consumption: | $121.66 per year |
Old-Fashioned Design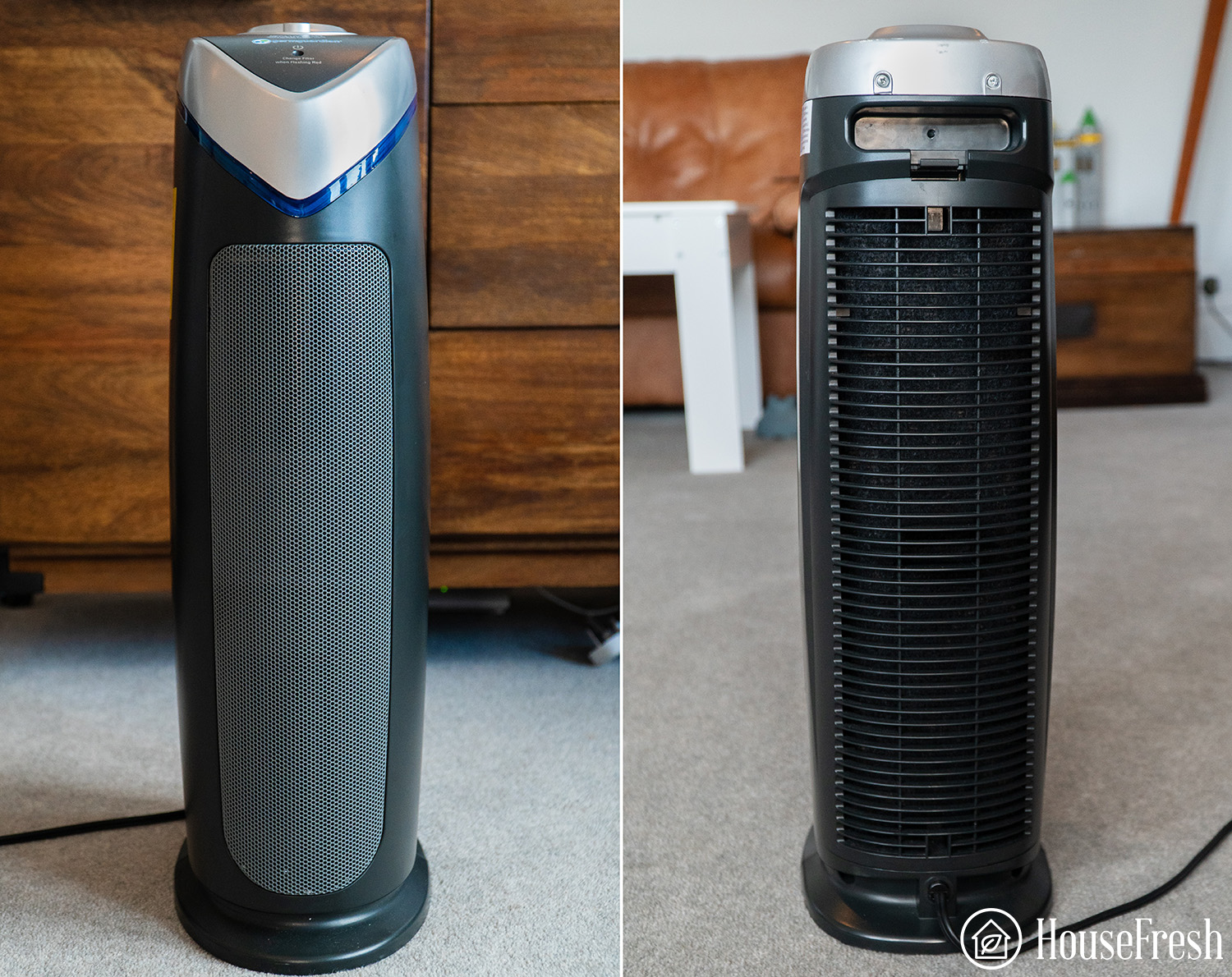 1990's called and they want their design back.
But in all seriousness, the design does feel a little old-fashioned, but it does have a small floor space required as it's so tall. It looks more like a fan than an air purifier which might be a good thing, depending on how you want to use it.
It has a super simple menu system with a circular wheel to control power and a one-click button to switch the UV mode on or off.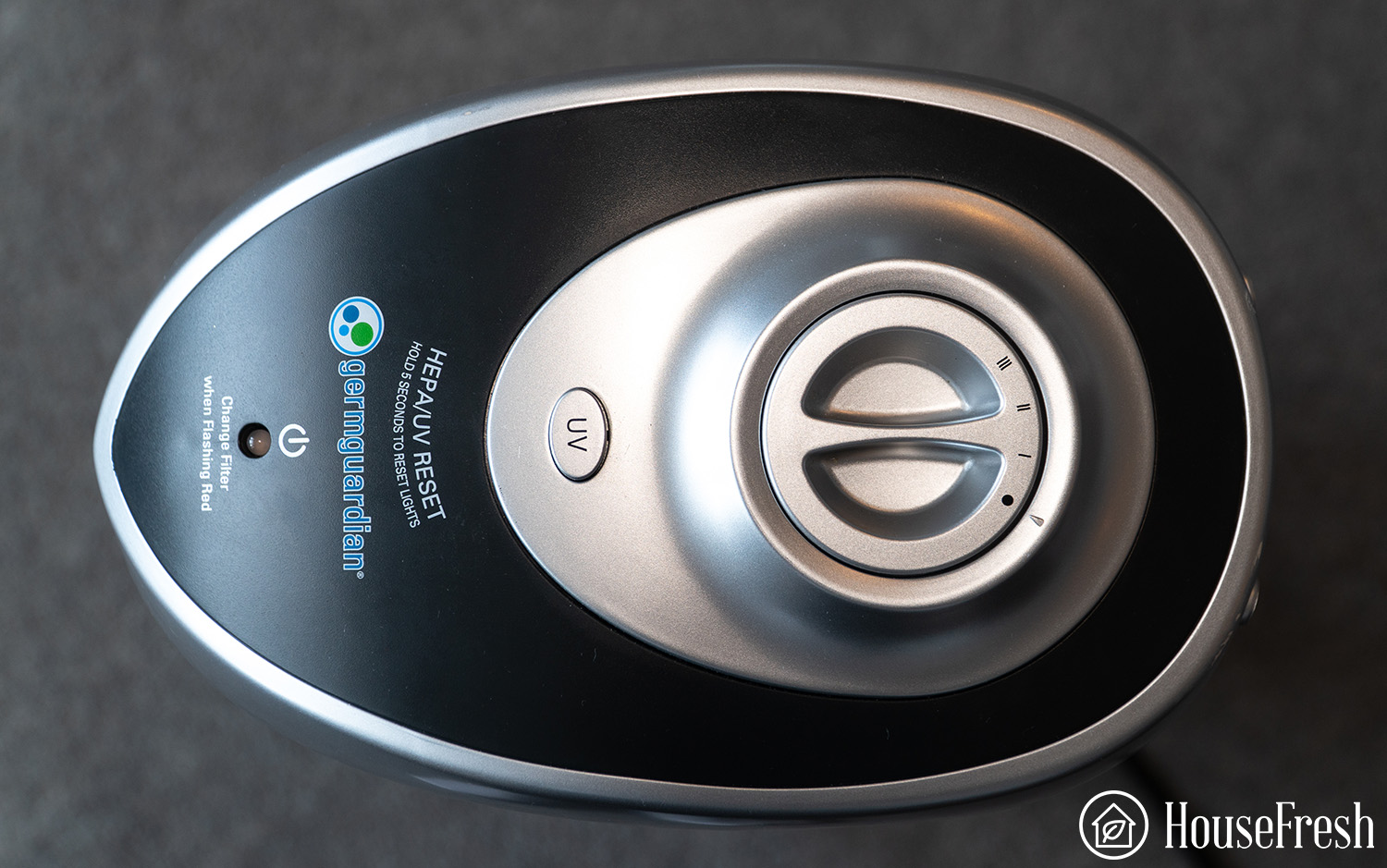 At the $99 price point, the best comparison to make is with the Levoit Core 300. I prefer Levoit's design, but maybe you might like the GermGuardian AC4825e – beauty, after all is in the eye of the beholder.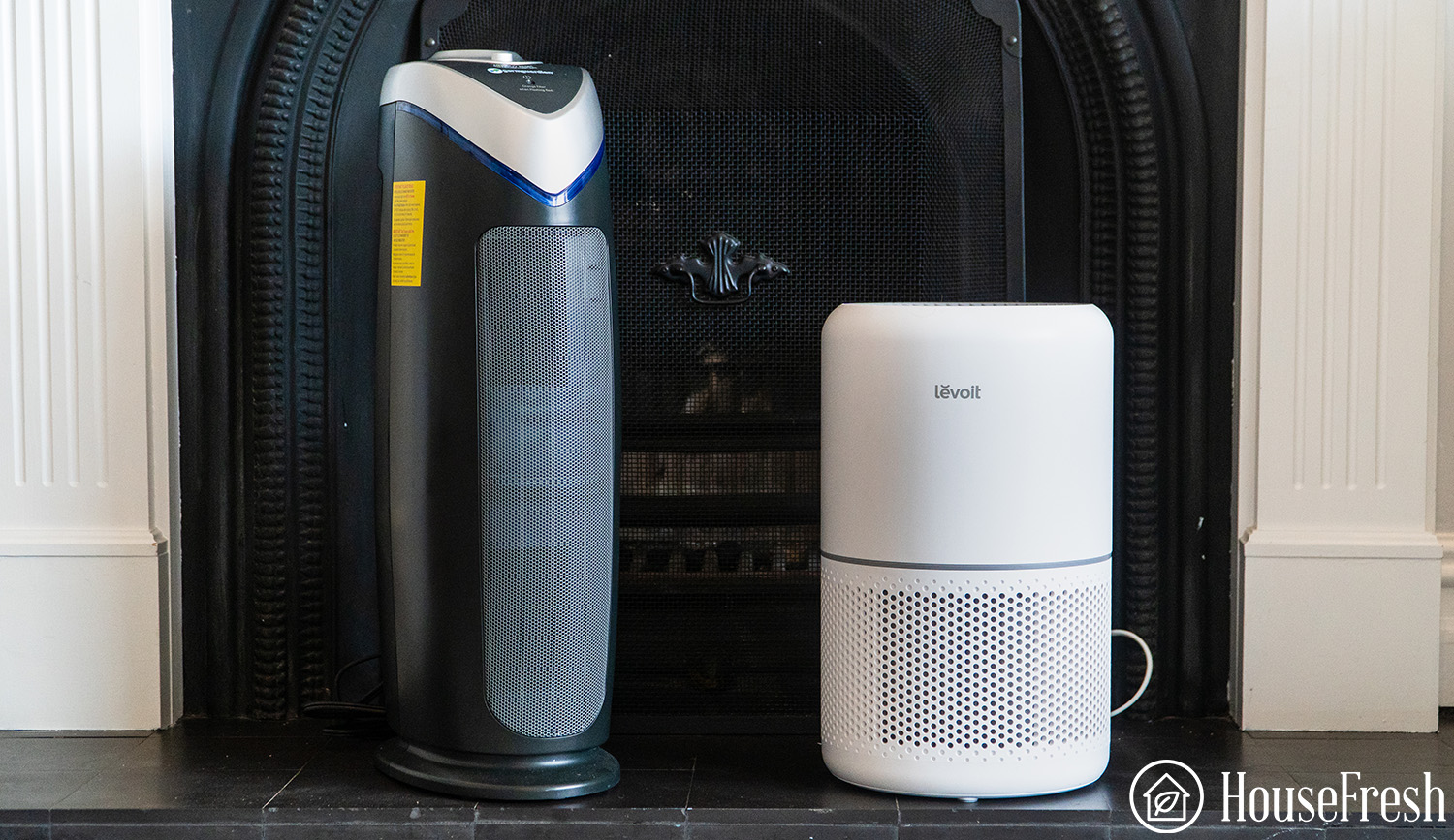 HEPA Filters Below Par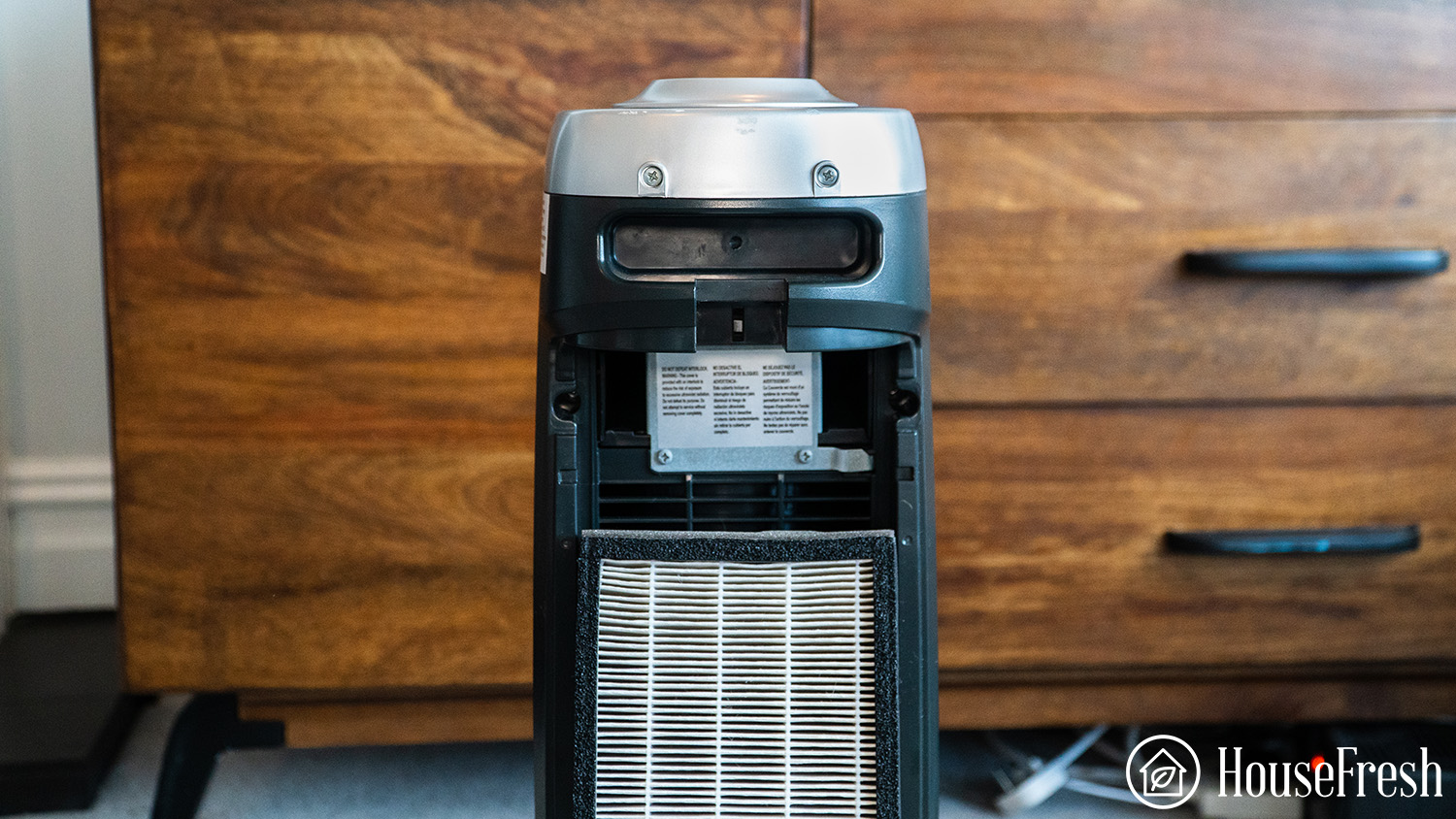 It's a relatively simple unit with 2 filters. The primary filter is true-HEPA, and then an activated charcoal filter. Quality of filter was fair and did cover the entire flow space of the air purifier.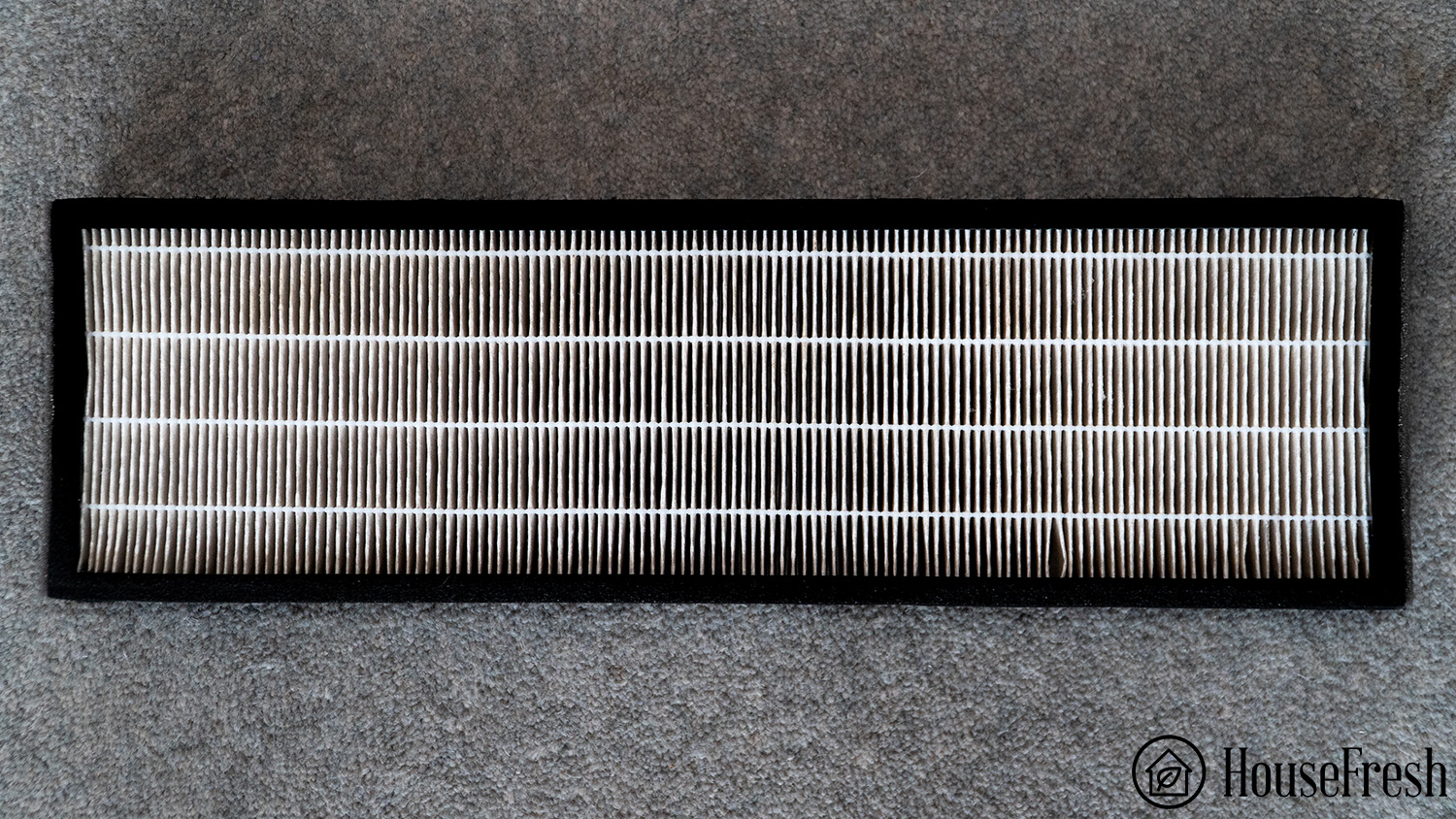 It's worth noting that the activated charcoal filter is relatively cheap with as it is made of fabric that is covered in charcoal vs the higher-end units that use pellets of charcoal and even at the cheaper end with Levoit Core 300 and Taotronics AP003 using pellet-based charcoal.
This is a major downside to this air purifier in 2023.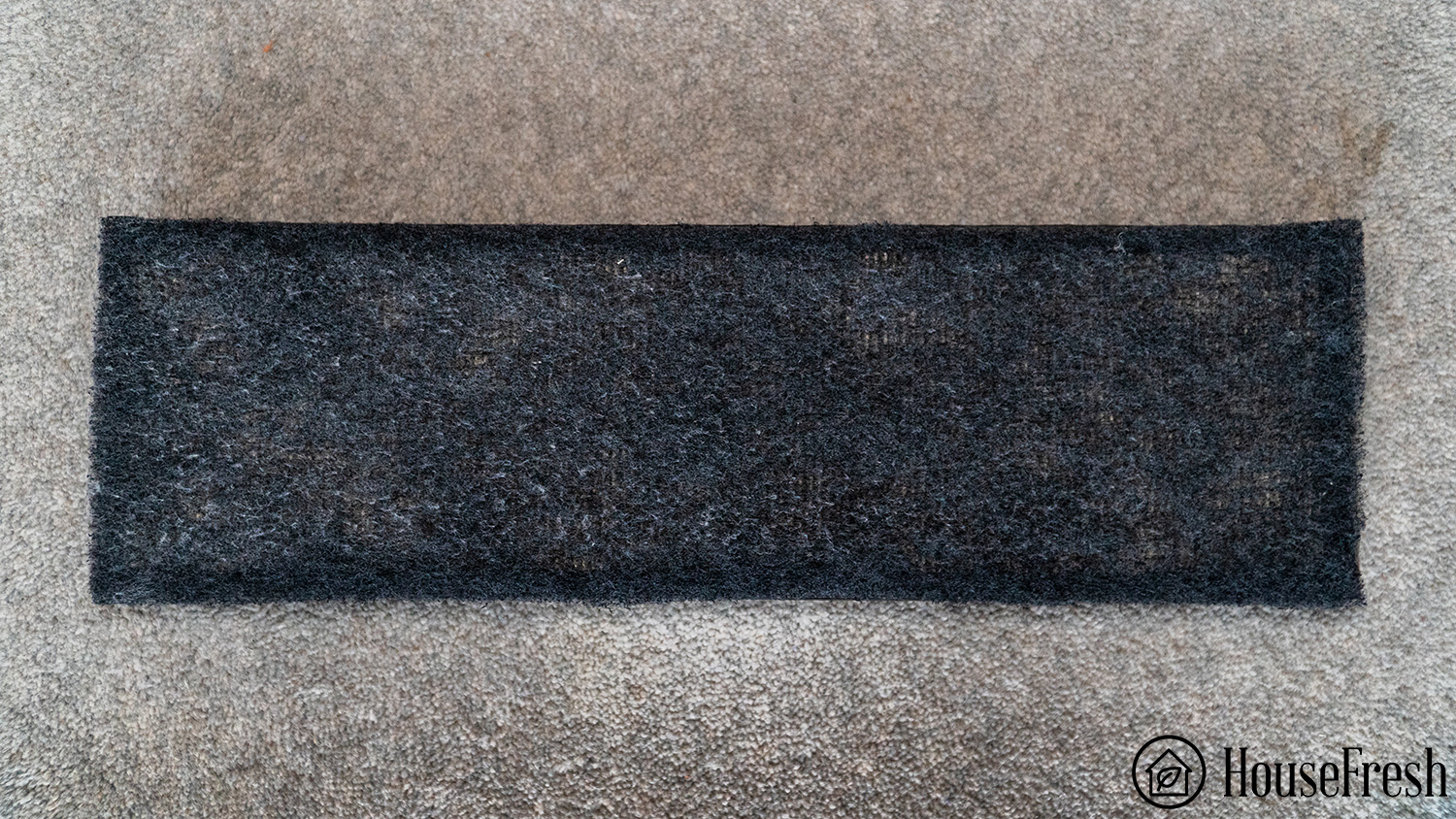 If you are serious about removing odors, I would always look away from this Germgardian air purifier and at look for air purifiers that do use the pellets of activated charcoal and look for at least 1lb of carbon and if you have money to burn then go for something like the IQAir Healthpro plus that uses a combination of zeolite and other chemicals within a filter with 5lbs of activated charcoal with will do quick work of any odors in the home.
The filter is rated at H13 and reading the reviews for replacements, there does seem to be a change in manufacturer as some customers found that the latest filters don't seem to have the same quality as filters bought previously.
The GermGuardian team did say that a new manufacturer had been found for the HEPA and activated charcoal filters and that the newer filters perform better than the older ones.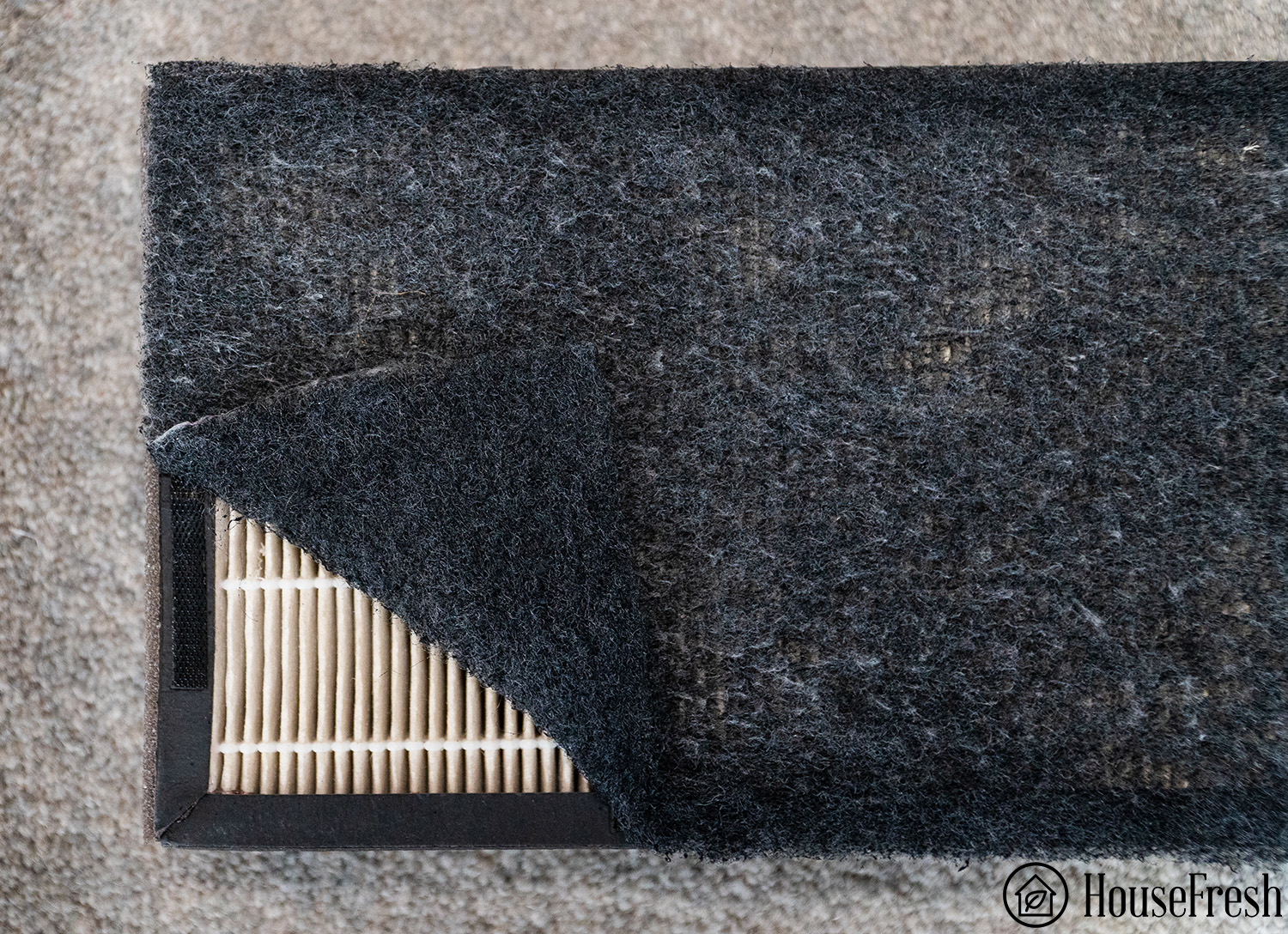 I think UV-C lights are useless on portable air purifiers, especially at this low price point, and this air purifier is yet to change my mind on that.
104 Minutes to Clear A Room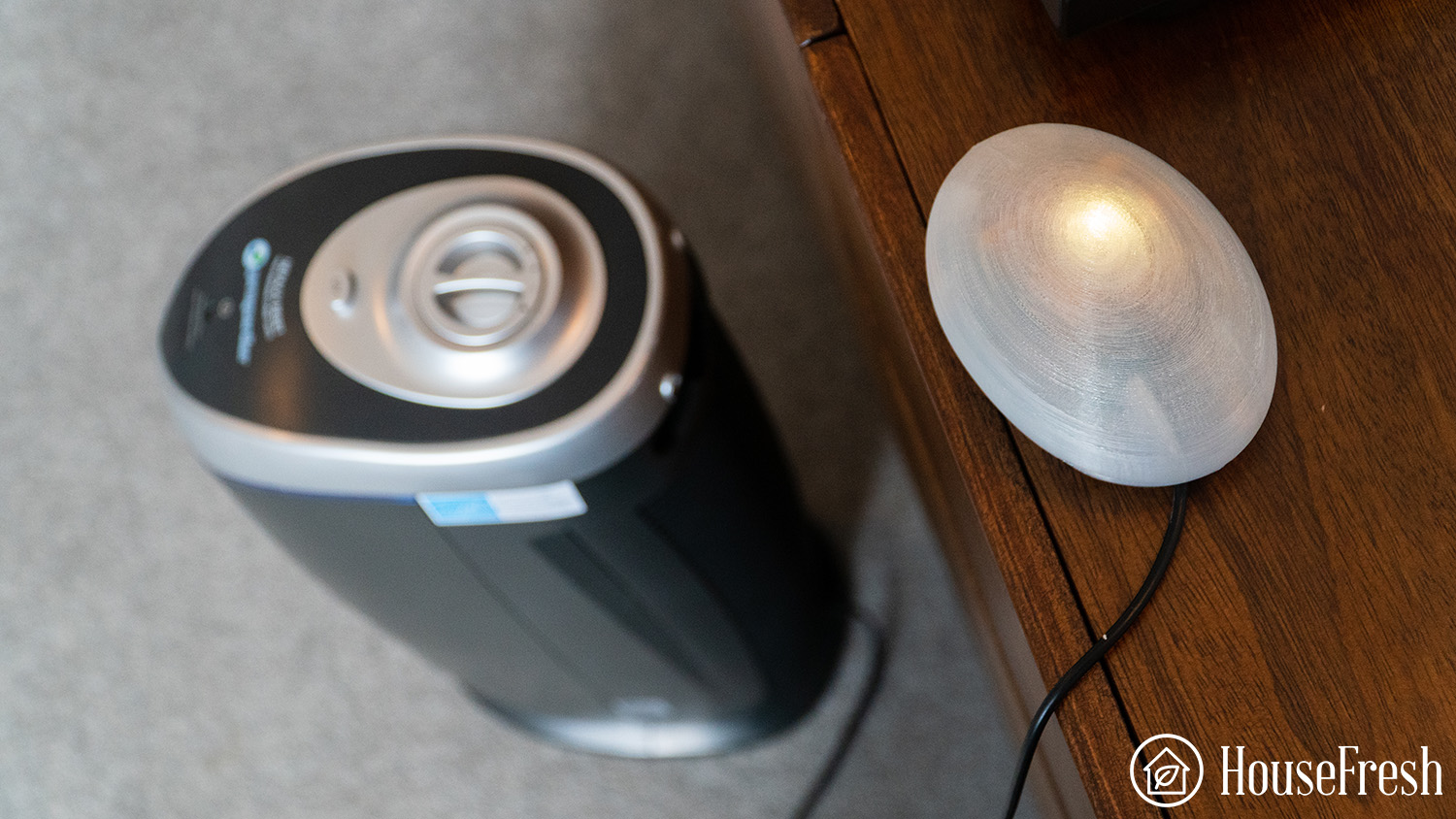 The big question with any air purifier is how well it cleans the air.
For all the air purifier tests we conduct at HouseFresh, we test them all in the same sized room. This allows us to be then able to compare units with one metric – how long did it take to altogether remove pollutants from the air?
We use incense to create pollutants of different sizes and use a Purpleair indoor monitor to track how quickly these are removed over time. The sensors on the Purpleair device can track the number of pollutants of size 1.0ug/m3, 2.5ug/m3, and 10.0 ug/m3 every few minutes.
The room we test is the size of a small bedroom with a total capacity of 705 cubic ft – this allows us to test units designed for all types of spaces.
Based on the CADR score of 125, we expect this unit to perform at the same level as the Levoit PUR131, which managed to clear our room of all pollutants in 60 minutes.
Sadly, the GermGuardian AC4825e took 104 minutes to remove all pollutants from our test room. This is a lot more time than we would expect based on the pure CADR score and is one of the big reasons we like to do our own testing.
This score is not too far from the much cheaper Levoit Mini that cleaned the room in 113 minutes for far less money and electricity.
| | | |
| --- | --- | --- |
| Air purifier | How long it took to clean the air | Price range |
| Levoit Core 300 | 40 minutes | $80+ |
| Medify MA-15 | 58 minutes | $90+ |
| Blueair Blue Pure 411 | 68 minutes | $130+ |
| GermGuardian AC4825e | 104 minutes | $80+ |
These numbers make it hard to recommend this unit on a pure performance to $ ratio.
One area that the GermGuardian AC4825e fared OK was with sound: it reached a maximum of 55dB, which is in the same range as other units at this price level.
The Cost to Run a GermGuardian AC4825: $171.66 per year
1. Electricity costs
One of the costs that many people ignore when looking to buy an air purifier is the cost of running it. If you have an issue with an allergen in your outdoor environment, you will need to ensure your unit is running 24/7 and costs can quickly add up.

When we review air purifiers at HouseFresh we use an electricity meter to see how much power is being used at the highest speed.
At the maximum power setting with the UV-C mode on – the GermGuardian AC4825e pulled 56 watts which equates to $121.66 based on California electricity costs.
This compares very unfavorably to many of the newest air purifiers on the market. The Levoit Core 400S uses a maximum of 45 watts but can clean our room in 33 minutes. I have to assume that there have not been any changes to the fan efficiency since the first AC4825 came out in 2012 and it shows in the poor levels of efficiency.
2. Filter costs
Another cost often forgotten about when buying a new air purifier is replacement filters. The way that mechanical filters like HEPA and Activated Charcoal work are that, over time, they become full of pollutants and beyond a certain point, performance will drop unless you replace them.
It's recommended that for the AC4825e air purifier, you will need to replace the filters every 6-8 months, depending on usage. Assuming that you will have to change them every 6 months, the annual cost of filters for the original filters would be just under $50. This compares fairly well with other units, with the Levoit Core 300 costing $80. Still, it's also worth noting that the activated charcoal filter used by the AC4825e is much cheaper and less effective than the Levoit's, which uses charcoal pellets vs. impregnated fibers.
Sale
Germ Guardian FLT4825 HEPA GENUINE Air Purifier Replacement Filter B for GermGuardian AC4300BPTCA, AC4900CA, AC4825, AC4825DLX, AC4850PT, CDAP4500BCA, CDAP4500WCA and More, 1-Pack , Gray
Why buy genuine: genuine germguardian replacement parts are essential for maintaining product performance, as your purifier is only as powerful and effective as the filter you put inside
Hassle free fit: genuine germ guardian replACement parts fit like a glove and are designed for a particular unit style
Breathe fresh and cleaner air: a true HEPA filter, ACtivated charcoal layer, and pre filter work to help improve indoor air quality
True HEPA filter: reduces up to 99. 97% of dust, pollen, pet dander, mold spores, and allergens as small as . 3 microns from the air
Bottom Line
The AC4825e is an old air purifier, and it's starting to show when you compare it with newer units from brands like Levoit and Medify. The Levoit Core 300 and Medify MA-14 are found for less than $100 and perform much better in our performance test than the AC4825e.
Combined with its high electricity costs, even the fairly cheap replacement filters for the AC4825e can't make us recommend the GermGuardian AC4825e over many other budget units on the market.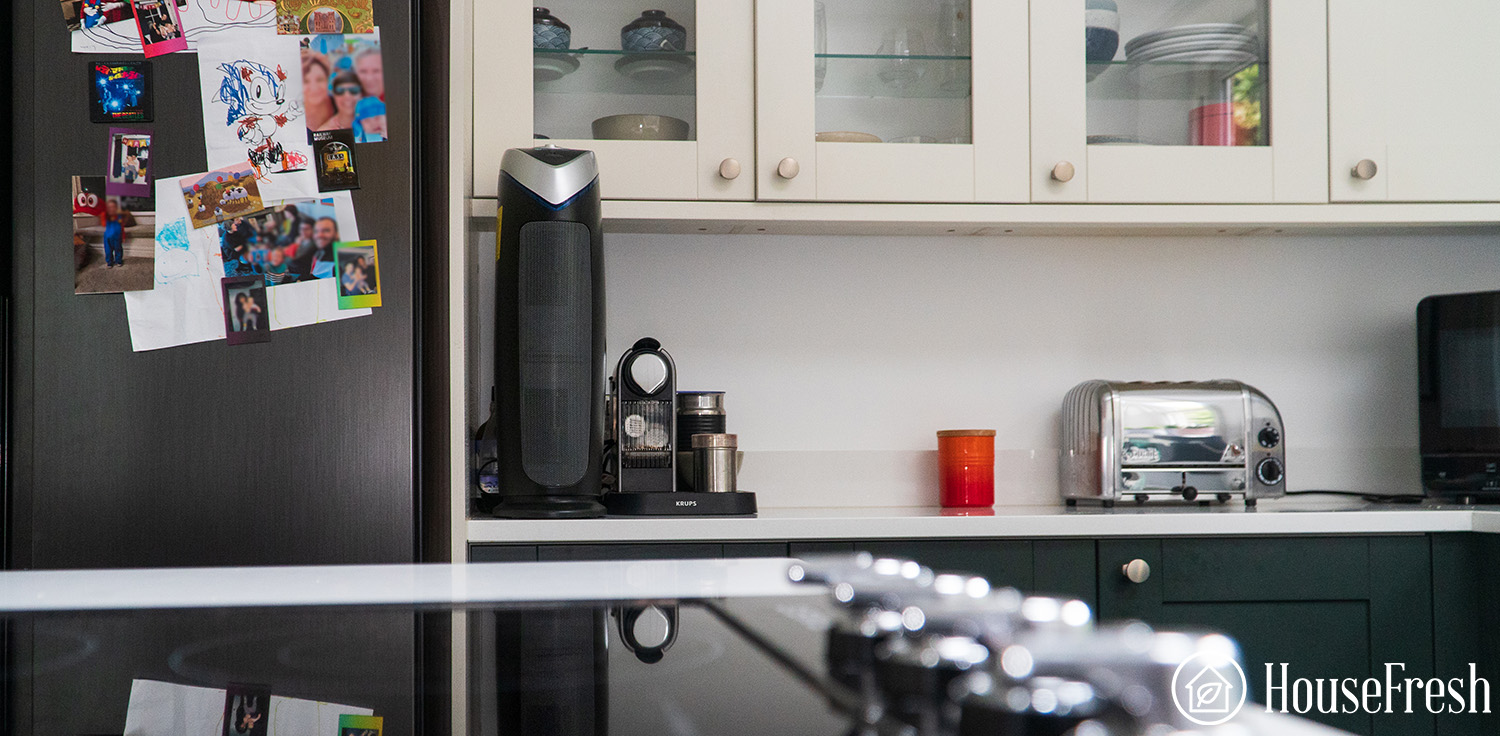 If you are looking to buy the AC4825e, be sure to check out our reviews first for the Levoit Core 300 and Medify-14 as you will get much more for your money both in the short term and long term.
---
The Rules We Followed When Reviewing the GermGuardian AC4825e
Ever wonder why every "air purifier review" is full of glowing praise and you can't tell if they have used the air purifier or not? Most sites, including the big media outlets, pull the Amazon top sellers and have never touched the unit, never mind putting it through any testing.
That's why:
1. We buy each air purifier with our own money and perform performance testing in our own homes.
2. We don't rely on manufacturers' feature lists and specification figures. We tested our GermGuardian AC4825e in real-world conditions with our testing tools.
3. We compared our GermGuardian AC4825e3 like for like with other similar air purifiers on the market using data collected from our tests.
4. We don't just test them once. Evaluate the long-term benefits and downsides of using the GermGuardian AC4825e by putting it to the test for over several months.
The result is air purifier recommendations you can trust because we have done the work behind the scenes to uncover true performance beyond the marketing jargon and fake reviews that are now sadly becoming a common occurrence on some of the largest shopping websites.
Our Testing Process
In the HouseFresh offices, we're unashamed air purifier nerds, so we constantly research CADR rankings and all the other science bits published by the manufacturers. We put them to one side to perform our tests.
I wouldn't be 100% confident recommending a unit without playing with all its settings and putting it through our real-life performance testing first.
This is why we test all the air purifiers we review in the same room (sized 705 cubic ft), removing the same type of contaminants (incense smoke). This allows us to compare units side by side.
We use the PurpleAir PA-I Indoor PM 2.5 Sensor to track PM1.0ug/m3, PM2.5ug/m3, and PM10.0 ug/m3 every few minutes.
This allows us to visualize the data using Flourish to determine how long it took this specific unit to remove all pollutants from the air.
SOURCES
We calculated the monthly energy consumption costs with the help of our air purifier electricity usage calculator. We calculated daily and yearly costs associated with running an air purifier for 24hs a day in California. You can customize the result by air purifier wattage and by state.
Last update on 2023-02-04 / Affiliate links / Images from Amazon Product Advertising API