Our verdict:
A complex mix of gases and particles means that wildfire smoke can be a major hazard for your health. If exposed, you might experience a runny nose and itchy eyes. This is annoying enough, but if you already have a lung or heart problem, the smoke can seriously aggravate the condition. Yet even if you don't suffer any unpleasant health effects, your home and belongings can become damaged as well.
The good news is that simple things like keeping all windows and doors closed, protecting yourself from ash, and using an air purifier can all help to alleviate the issues.
Intense and rapidly-spreading wildfires are a massive concern for many people throughout the United States. But the smoke can be just as worrying and problematic as the flames. Microscopic particles found in the smoke, together with ash and other debris, can wreak havoc on both your health and your home.
Thankfully, there are lots of ways you can lessen the impact of wildfire smoke before, during, and after the wildfire has subsided. Check out this article for lots of top tips to help you manage wildfire smoke and protect yourself and your property from its dangers.
What is Wildfire Smoke?
Wildfire smoke is a potent mixture of gases and fine particles. You may already have a carbon monoxide (CO) detector in your home as it's one of the most harmful gases. Unfortunately, CO is fairly prominent in wildfire smoke. Nitrogen dioxide, sulfur dioxide, and ozone may also be found in wildfire smoke, as well as volatile organic compounds (VOCs). You know that familiar burning wood smell you experience sometimes? VOCs are responsible for this. They disperse quickly and the nearer you are to a fire, the higher the levels of VOCs.
But the mixture of gases and particles doesn't remain stagnant; the combo can change very quickly depending on all sorts of factors. The weather conditions, plus the type of material that's burning, such as trees, plants, and buildings can all affect the smoke. Equally, the temperature of the fire, and how far the smoke has traveled means that its composition can fluctuate in no time.
Why is Wildfire Smoke a Problem?
It's the very fine particles present in wildfire smoke that pose the biggest threat to health. Because they're so tiny, they can get deep into your lungs and cause a range of health problems. These include a runny nose, and itchy, burning eyes. But on the more serious end of the scale, wildfire smoke can seriously aggravate existing heart and lung disease.
Smoke is especially problematic for older people because of their increased risk of lung disease, and it can also adversely affect pregnant women and children. In California, studies have discovered that the particle pollution found in wildfire smoke may trigger asthma attacks in children.
However, it isn't just your health that's impacted; the smoke can also infiltrate your home and ruin your belongings. Whether it's through natural ventilation like open windows or devices like air conditioners that have a fresh-air intake, wildfire smoke can damage computers as well as your clothes.
Where Do Wildfires Happen Most?
It may be known as the "Golden State," but California is also the most wildfire-prone state in the US. While more wildfires actually occur in the eastern and central states, wildfires in the west are larger and burn more acreage—including California. In 2021 alone, over 9,000 individual wildfires burned there, destroying nearly 2.23 million acres. Experts believe that there is a range of reasons for this including drought and heat as a result of climate change, overgrown forests, and population growth.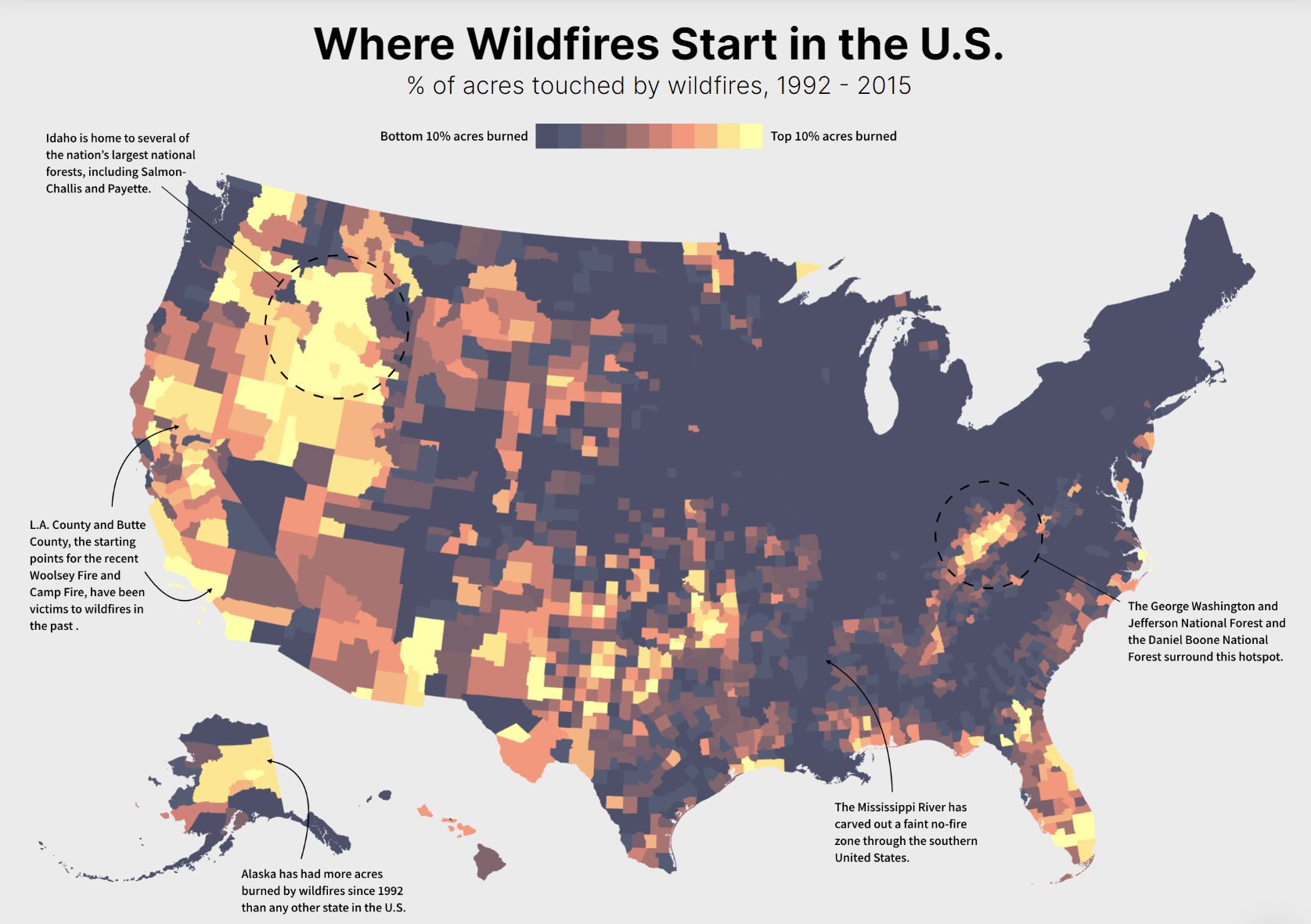 Other states that unfortunately suffer a considerable loss of acreage include Alaska, Arizona, Colorado, New Mexico, Nevada, Oregon, Utah, Washington, and Wyoming. A 2017 study found that Montana aka "Big Sky Country" has one of the highest percentages of households at high or extreme risk of wildfire. While in 2016, Oklahoma lost 767,800 acres due to wildfires ⁠— this was the greatest number in the whole of the United States.
Before Wildfire Season: How to Smoke Proof Your Home
If you live in an area that's prone to wildfires, there are many things you can do to safeguard your home. Follow our top tips:
1. Designate a smoke-free room
Designating a room where the smoke levels are as low as possible will reduce the chances of breathing in all those fine particles. Whenever you're in this room, you shouldn't take part in any activities that can create more particles (like cooking or smoking). Plus, all doors and windows should be closed during the wildfire season.
Pro Tip: Ensure that the room is big enough to fit everyone in your household. Close all windows and doors (making sure you can still get out), and use an air purifier to filter the air.
2. Set up a portable air purifier
Having an air purifier with you in the room can further minimize smoke inhalation. Choosing an air purification unit fitted with HEPA filters can reduce particle concentrations by as much as 85 percent, according to the United States Environmental Protection Agency. Check out our buying guide where we shortlisted the best air purifiers for wildfire smoke, based on firsthand testing.
Pro Tip: If you can't afford an air purifier, an effective temporary alternative is a DIY cleaner. You can make one following this video, which shows you how to correctly attach a furnace filter to a box fan using either tape, brackets, or bungee cord. Remember that the filter may need to be changed every few days when it's very smoky.
3. Clean roofs and gutters of dead leaves, debris, and pine needles
Embers can be very dangerous, and, along with flames, are the main reason why the majority of homes ignite. After cleaning your roofs and gutters, keep an eye out for new dead leaves, debris, and pine needles so you can remove them quickly before they catch embers.
Pro Tip: Use a strong blower or roof rake. Be sure not to use a leaf blower during or after a wildfire, however. This will spread ash and blow it back up into the air, resulting in more harmful particles being released.
4. Repair or replace damaged or loose window screens and broken windows
Ensure that the minimum amount of smoke enters your home. Fixing broken windows will also prevent embers from entering your property and igniting fabric or other flammable materials inside your home.
Pro Tip: Make sure to install dual-pane windows, where the outer pane serves as a thermal shield and protects the inner pane. Also, be aware that tempered glass is stronger than annealed glass, and will provide additional protection during a wildfire.
5. Cover exterior attic vents and under-eave vents
Using metal wire mesh prevents wind-blown embers from entering your home. Embers are extremely dangerous as they can ignite fires inside your house.
Pro Tip: To keep sparks and flames from getting underneath, use wire mesh no larger than 1/8 inch.
6. Screen or box-in areas below patios and decks
Screening patio and deck areas with wire mesh helps prevent debris and combustible materials from accumulating.
7. Stock up on household items and necessities
Having enough food, water, and medications means you won't need to go outdoors. Buy groceries that don't need to be cooked because cooking will add to indoor air pollution.
During Wildfire Season: How to Protect Your Home From Wildfire Smoke
When a wildfire is raging, you can minimize the effects of smoke by using these helpful hints.
1. Keep windows and doors closed
It may be warm outside, but closing all windows and doors is essential for reducing your exposure to smoke. And if you need to drive, don't forget to keep all windows closed in your vehicle.
Pro Tip: Use fans and air conditioning to stay cool (remember to close the fresh-air intake). If this isn't possible and you can't stay cool, seek shelter elsewhere.
2. Tuck towels along the bottom of doors and windows
Smoke can infiltrate your home through the smallest of openings so towels can be a great way of blocking it out. Damp towels rather than dry ones are the most effective.
3. Avoid anything that can add to indoor air pollution
Burning candles, using fireplaces, and gas, or aerosol sprays can all increase indoor pollution. Also steer clear of activities such as cooking, smoking, and vacuuming.
4. Pay attention to air quality reports and health warnings
Smoke levels can vary throughout the day so you may be able to run errands and open windows when the air is better. Public service announcements give important information about changing conditions or evacuation notices.
5. Check with local authorities about public shelters and open locations
As we already said, you might need to go to a shelter if the smoke is really affecting your health, or you need to evacuate your home.
After Wildfire Season: How to Clean Up Your Home Safely After a Wildfire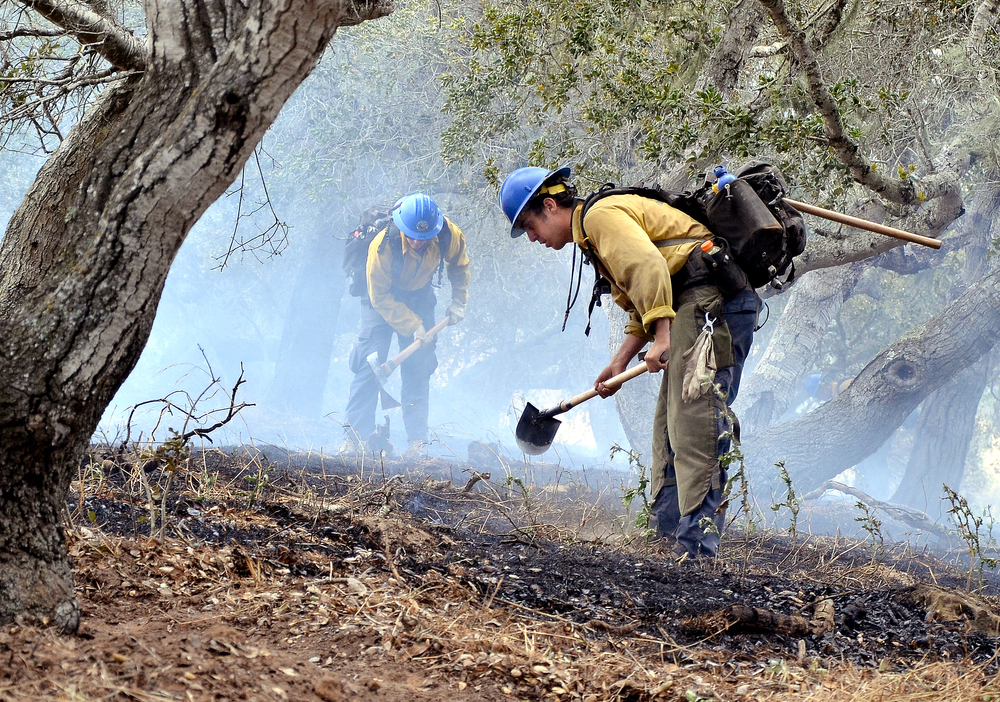 After a wildfire has passed, the clean-up begins. Follow our guide to getting it spot on while ensuring your own safety.
1. Protect yourself from ash by covering up head to toe
Be sure to wear long-sleeved shirts, long pants, gloves, shoes, and socks. And don't forget about using goggles to protect your eyes.
Pro Tip: Before you leave the clean-up site, change your shoes and clothing to avoid trailing ash into your car, or other places. Use doormats and remove shoes indoors where possible.
2. Wash off ash immediately if it gets onto your skin or in your eyes
Even if you've covered up, you may still get some ash onto your body. It's crucial that you wash it off as soon as possible with warm, soapy water.
3. Wet all areas thoroughly prior to cleanup
Wetting and dampening down areas will reduce the chance of particles becoming airborne. Mist hard surfaces with water before sweeping.
4. Use cleaning products containing trisodium phosphate (TSP)
Wildfire smoke can be smelly and products containing TSP help to reduce those unwanted odors. TSP is corrosive so be careful, and make sure to read the label for directions.
5. Wipe down all surfaces that had gotten wet with a bleach-to-water solution
A solution of one cup of liquid household bleach to a gallon of water will help to prevent mold and mildew from developing.
Pro Tip: Test a small area of the surfaces and allow to dry for 24 hours to ensure bleach will not discolor them.
The Best Air Purifiers For Clearing Wildfire Smoke
Below is just a sample of what we think are the best air purifiers for wildfire smoke based on our own internal testing and evaluations:
Style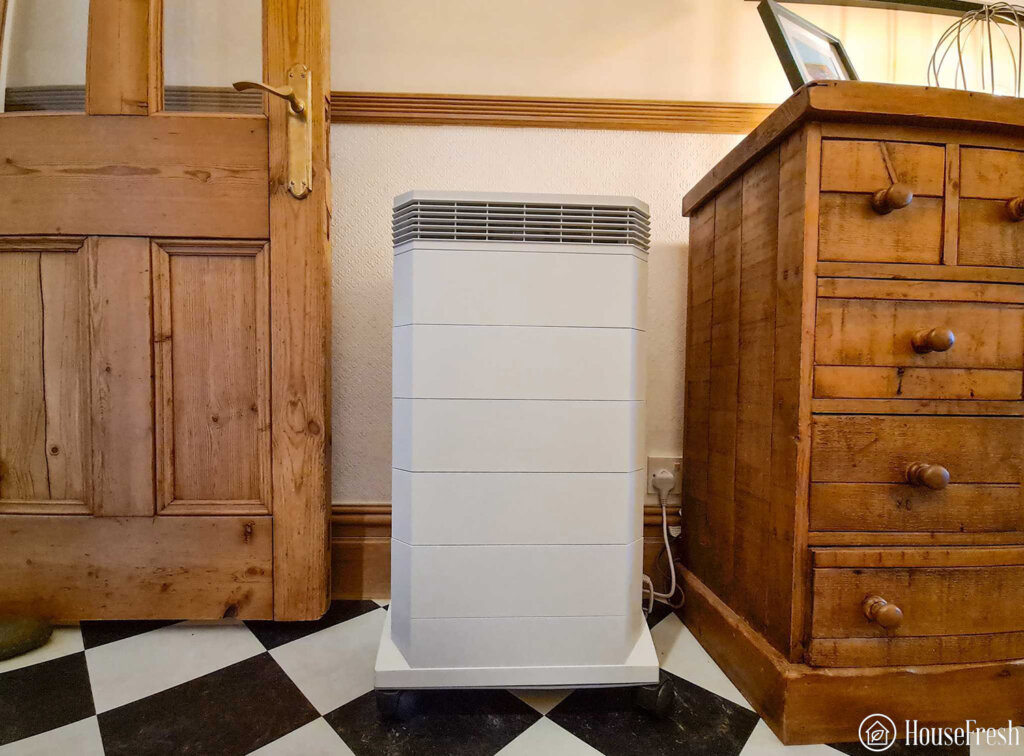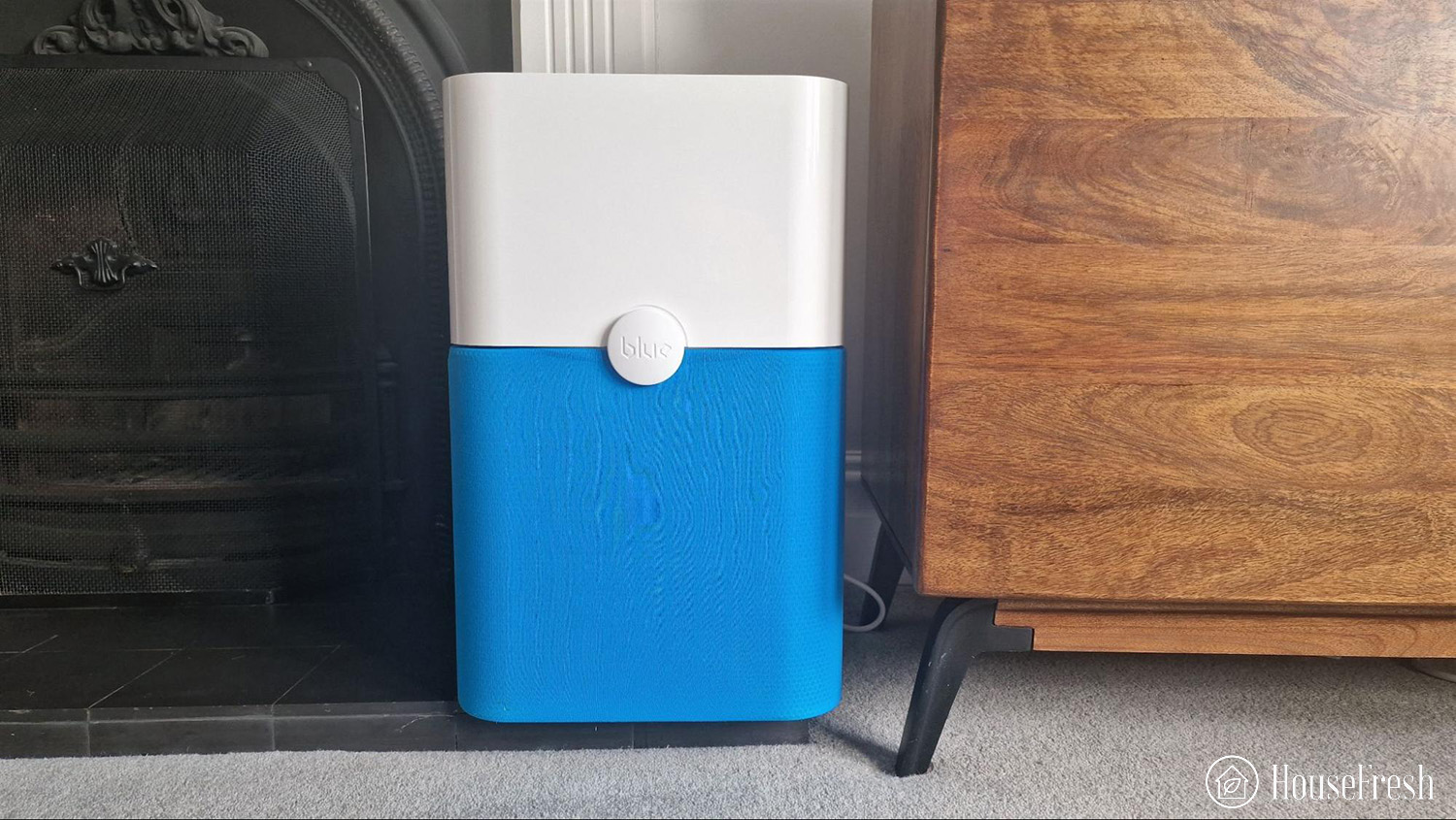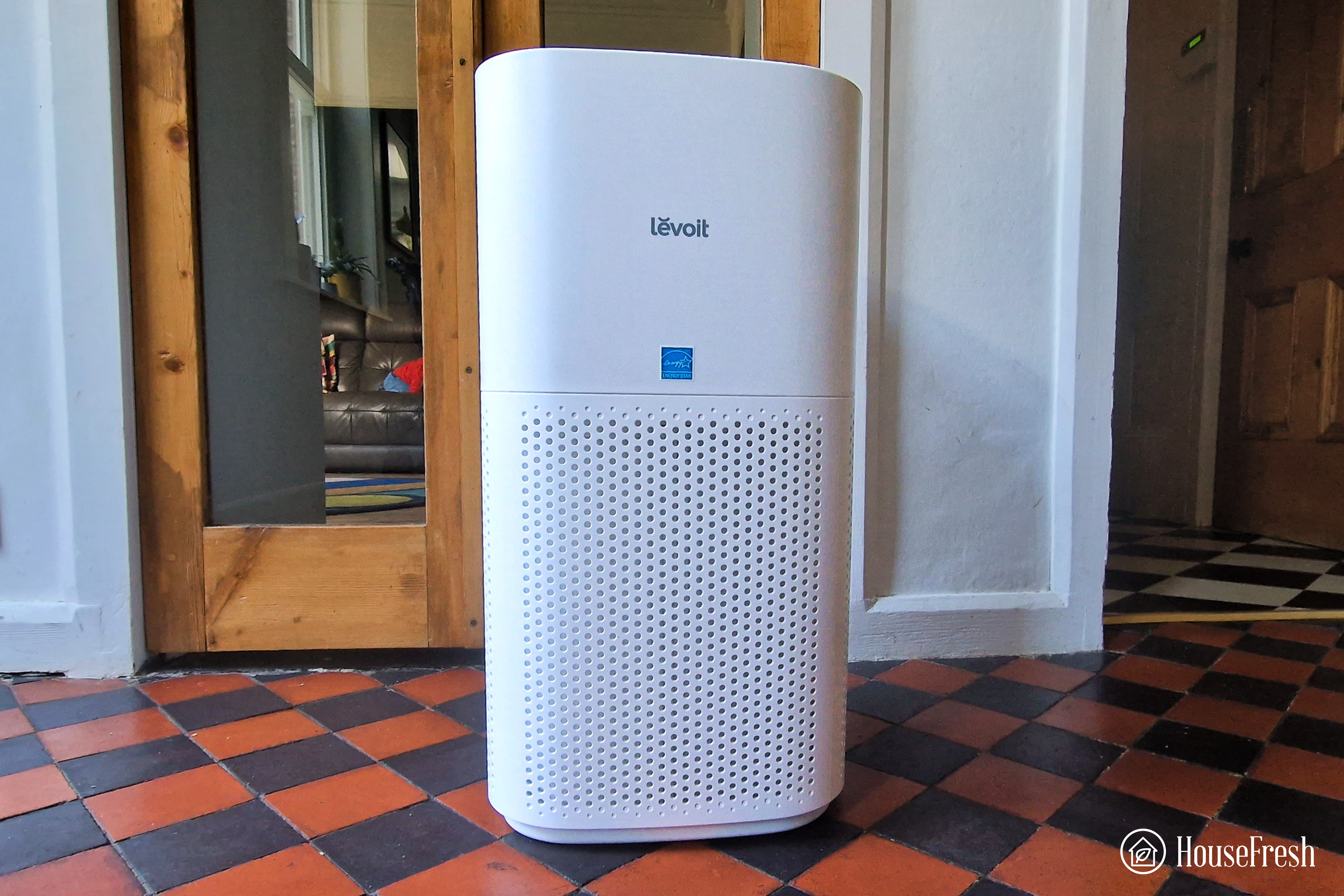 Pros
Contains a series of packed activated carbon filters
You can remove and wash its pre-filter easily
Amazing performance for the price tag
Cons
There isn't an air quality sensor
Filter Technology
Pre-max filter, V5-Cell Filter, HyperHEPA filter
Recommended Room Size
450 sq. ft. to 1125 sq. ft.
Best Overall
Style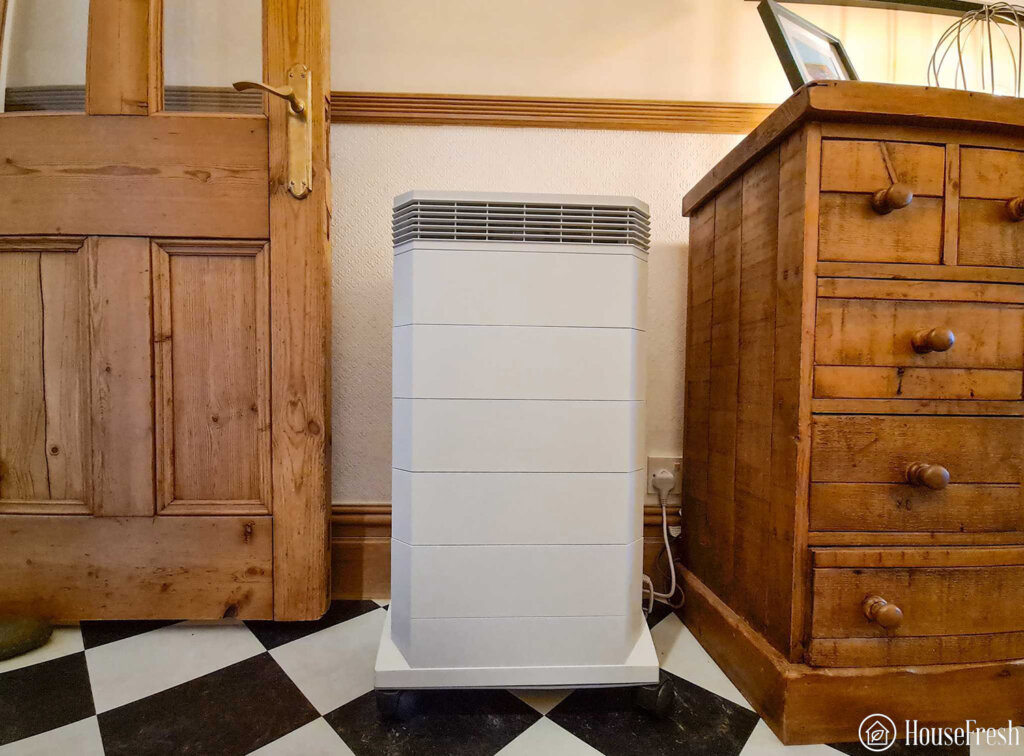 Pros
Contains a series of packed activated carbon filters
Filter Technology
Pre-max filter, V5-Cell Filter, HyperHEPA filter
Recommended Room Size
450 sq. ft. to 1125 sq. ft.
Best Budget Option
Style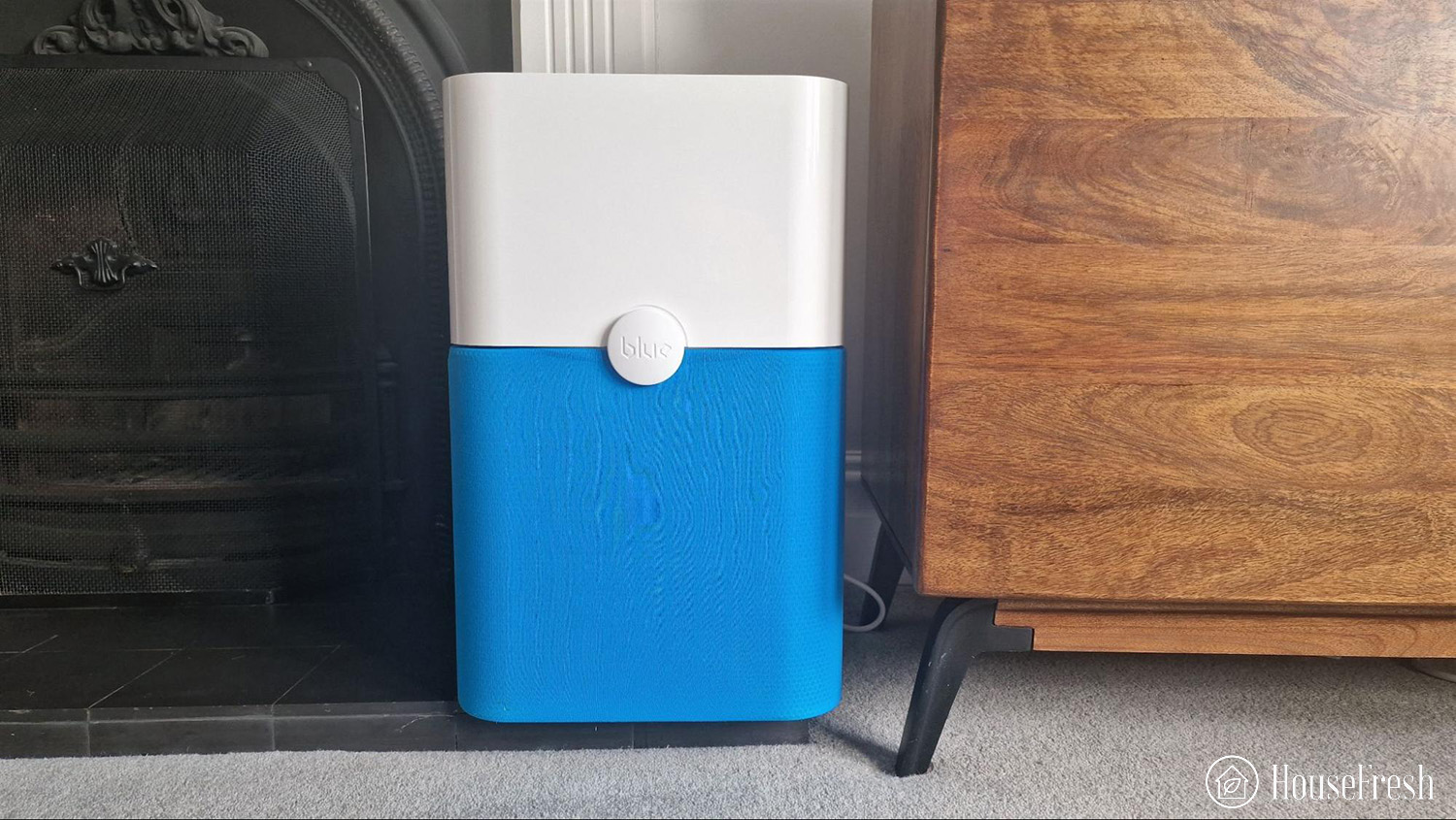 Pros
You can remove and wash its pre-filter easily
Cons
There isn't an air quality sensor
Best for Large Spaces
Style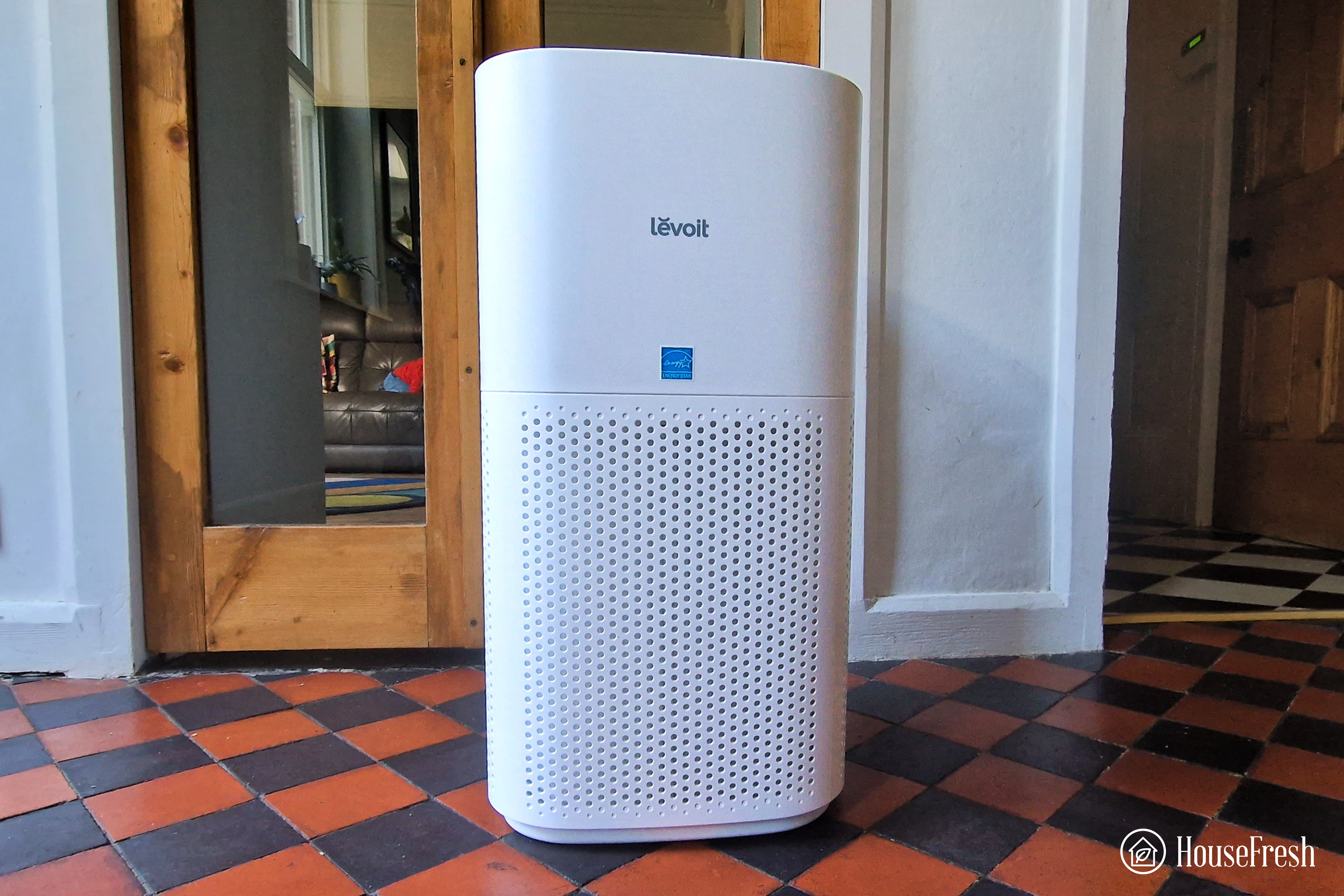 Pros
Amazing performance for the price tag
Before buying an air purifier that will help to eliminate wildfire smoke particles, there are a few things to look out for:
Bear in mind the size of your home and the rooms themselves. It'll be counterproductive to use a huge system in a tiny room and vice versa. Factor in the size of your space and find a purifier that'll be best suited to the area it will be working in.

HEPA filters are quite simply the gold standard when it comes to air purifier filters. They're able to remove at least 99.97% of airborne particles. But as wildfire smoke is especially pungent, it's essential that you find a purifier with an activated carbon filter to eradicate the very strong odor. Pay close attention to this in the description and note that the more carbon it contains, the more effective it will be.

Think carefully about your budget. As mentioned above, it's unwise to spend hundreds of dollars on a huge unit if you've only got a small apartment. Equally, a purifier that's less than 100 dollars probably won't be suitable for a big room as it'll be less effective in cleaning the air properly.

A word of warning: don't buy an air purifier that produces ozone. These emit harmful chemicals and can cause and aggravate breathing difficulties; the very thing that wildfire smoke may also trigger.
Frequently Asked Questions About Wildfire Smoke
🤔 Should I wear a particulate respirator mask to protect my lungs from wildfire smoke?
Yes, this can definitely help to protect your lungs. You can also benefit from wearing one if you're inside and have any kind of health effects from being in smoky environments. Be aware that common dust masks found at hardware stores aren't suitable for trapping small particles and won't protect your lungs. Using a tight-fitting N95 or P100 mask is a better option.
🤔 How well do air purifiers work for wildfire smoke?
Very well. Using an air purifier is definitely a smart choice for helping to combat the effects of wildfire smoke. The best ones will help to remove harmful particles from the air and eliminate airborne ash. They can also work wonders for reducing those smoky odors.
🤔 What features and considerations are important when buying an air purifier for wildfire smoke?
As mentioned earlier, HEPA filters are the star players at reducing particle concentration, and an activated carbon filter will help to reduce odors. Another thing to consider is the clean air delivery rate (CADR) of the purifier. A high CADR means that more particles will be removed and it will be able to work in larger spaces.
🤔 Do air conditioners filter wildfire smoke?
Afraid not. While air conditioners are a great idea for helping you to keep cool, they're not designed to filter out wildfire smoke like air purifiers. And if it's worth saying once, it's worth saying again: when you do use a conditioner, make sure the fresh-air intake is closed to prevent outdoor air from entering your home.
Final Thoughts
There's no doubt that wildfire smoke is a serious issue. If you live in California or any other wildfire-prone state then it can be a massive cause for concern. But you don't have to let the thought of wildfire smoke give you sleepless nights because you're worrying about how to overcome it. By using this article as your guide, you can effectively smoke-proof your home before the fire reaches your property and be totally smoke-ready. Equally, following our top tips about what to do both during and after the wildfire has eased will help to ensure that you and your home stay protected.
Wildfire Resources
American Lung Association. (2016). How Wildfires Affect Our Health. lung.org
American Red Cross. (2022). Cleaning Up After a Fire. redcross.org
Ashton, D. (2022).What is the Difference Between Medical Grade HEPA vs. True HEPA vs. HEPA? housefresh.com
BC Center for Disease Control. (2022). Wildfire Smoke and Your Health. bccdc.ca
Centers for Disease Control and Prevention. (2022). Protect Yourself from Wildfire Smoke. cdc.gov
Division of Agriculture and Natural Resources, University of California. (2022) Homeowner's Wildfire Mitigation Guide. ucanr.edu
NASA's Earth Observatory. (2021). What's Behind California's Surge of Large Fires? earth observatory.nasa.gov
National Fire Protection Association. (2022). Preparing Homes for Wildfire. nfpa.org
Oregon Department of Environmental Quality. (2022). Advice for Returning to a Home that Survived a Wildfire. oregon.gov
Samanta, A. (2017). Key findings from the 2017 Verisk wildfire risk analysis. verisk.com
Sönnichsen, N. (2022). Acres burned by wildfires in the United States in 2021, by state. statista.com
U.S. Department of Homeland Security. (2022). Wildfires. Ready.gov
U.S. Environmental Protection Agency. (2020). Prepare for Fire Season. airnow.gov
U.S. Environmental Protection Agency. (2021). Protect Your Lungs from Wildfire Smoke or Ash. airnow.gov
U.S. Environmental Protection Agency. (2021). Why Wildfire Smoke is a Health Concern. epa.gov
U.S. Environmental Protection Agency. (2022). Wildfires and Indoor Air Quality (IAQ). epa.gov
U.S. Environmental Protection Agency. (2021). Create a Clean Room to Protect Indoor Air Quality During a Wildfire. epa.gov
U.S. Environmental Protection Agency. (2022). What is a HEPA Filter? epa.gov
Last update on 2023-06-06 / Affiliate links / Images from Amazon Product Advertising API