We all have that one room in our homes that is a sanctuary away from everything (or everyone). A place we can slow down, relax and enjoy our time. For me and many others, this is the bedroom. Not only a temple to sleep in but also a place to think, read, watch your favorite show and recharge.
According to the CDC, adults over 18 should be getting at least 7 hours of sleep a night, but it can be hard to relax and drift into slumberland if the air around you is full of dust, pet hair, odors and pollution from traffic outside the window.
Introducing an air purifier into your bedroom will remove all those contaminants that build up over time, even those that regular cleaning can't eliminate, leaving you with fresh air to breathe throughout the night. Especially if you suffer from allergies, live close to a source of pollution (city, highway etc.), wake up with a blocked nose or cough and have a pet with you.
The difference in the morning could be life-changing.
Why You Can Trust Our Recommendations

There's no shortage of air purifier reviews online, but here at HouseFresh, we do it differently. We don't look for bestsellers; we recommend units with specific features that suit the subject. That's why we only recommend units that:

1. Use HEPA filters — We've done a lot of research on filtration systems and concluded that HEPA is the most effective way of removing harmful contaminants from the air.

2. Have a low sound output — You'll never get shuteye if a loud fan and motor are whirling away.

3. Are easy to use — There's nothing more frustrating than trying to operate complicated controls when you're tired.

We're 100% confident in our recommendations because we buy every single unit we review. This way, we can put air purifiers through their paces and collect our own data to compare against other units and to ensure what the manufacturers are saying is true.

We gather data by putting each unit through a series of performance tests.

Here's what we do:

1️⃣ We fill our performance testing room with simulated pollution.

2️⃣ We use a Purple Air Indoor sensor to record how long the air purifier takes to reduce PM1ug/m3, PM2.5ug/m3 and PM10ug/m3 particles.

3️⃣ We measure how much electricity each unit uses by tracking its energy consumption.

4️⃣ We measure noise levels in decibels across all the fan speeds to know how loud it really gets.

We've come up with a guide to help you choose the right air purifier for your bedroom by recommending units that deal with allergens, are ideal for those with pets and purifiers that remove odors and VOCs from your air. We also chose units for various budgets as we know not everyone has much money to spend.
Before you delve into our complete guide, check out our top three recommendations for the best air purifiers for your bedroom.
The Top 3 Air Purifiers For Your Bedroom
Last update on 2023-06-02 / Affiliate links / Images from Amazon Product Advertising API
Of course, we each have our individual needs when it comes to devices in the home, but whether you're looking for cleaning power, smart features, design, or energy efficiency, we've got something for everyone here.
Some amazing units are coming from the engineers at Smart Air, like the Blast Mini Mk II, but we've chosen the Smart Health S as our best overall air purifier for your bedroom. Not only does this unit look fantastic with its unconventional shape and beechwood legs, but it also has a great CADR for its price.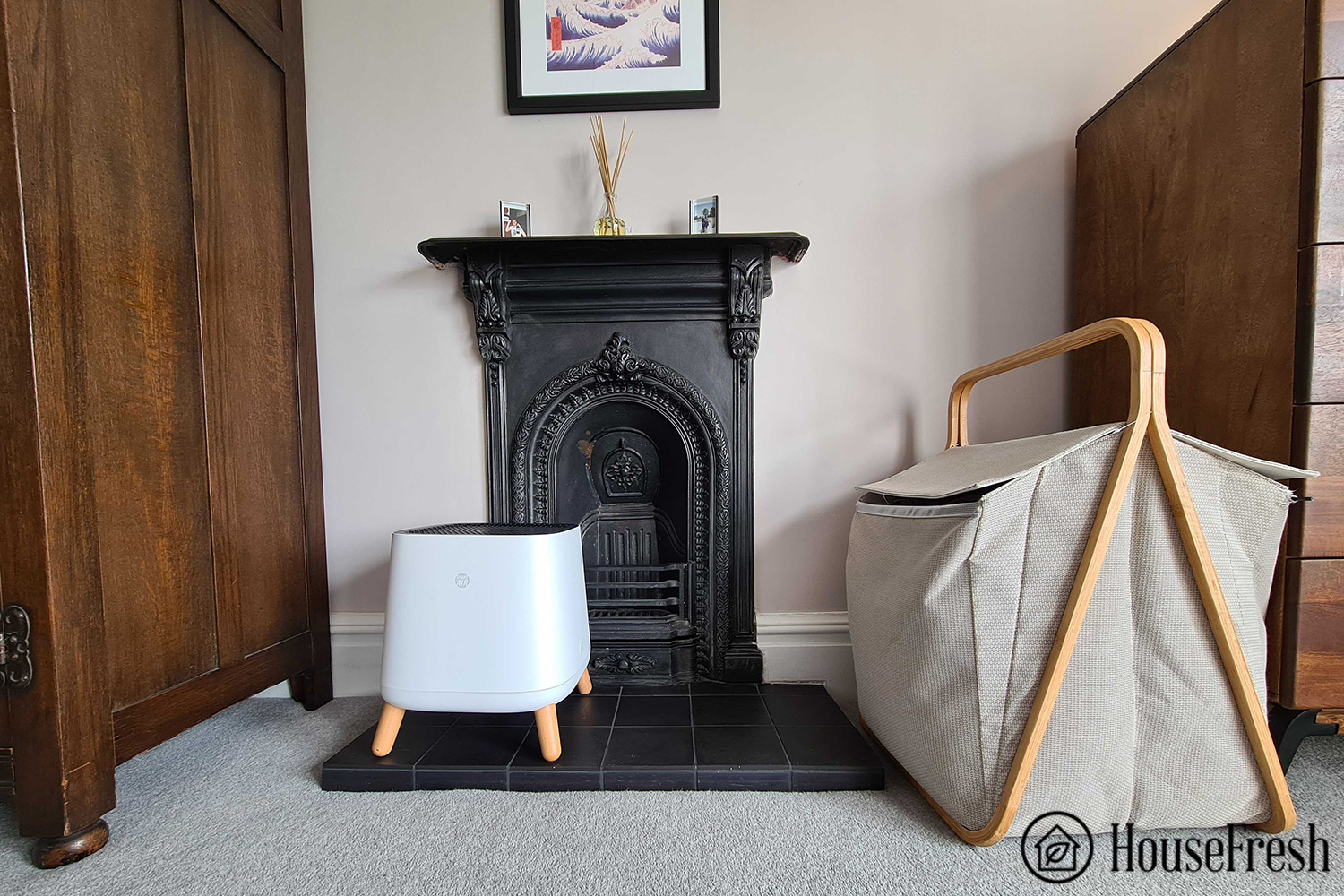 This quirky little air purifier looks great in the bedroom, doesn't take up much space and is extremely easy to operate. There is no control panel or confusing buttons; you change between its three fan speeds by turning the dial on top of the unit.
Under the hood is an H11 HEPA filter that will trap 95% of above and below 0.3 microns, PM10 and even 0.005-micron particles. Smart Air's mission is for their filters to cover as much surface area as possible to capture as many contaminants as possible, so this large filter has an expanded scope of 1.55 m².
Smart Air believes that extra features on air purifiers are a waste of time, so you won't find any on the Smart Health S. There is no Sleep Mode, no Auto Mode and no air quality monitor, which (for some) could be a downside, but it does mean less can go wrong and it's easier to use.
We tested the Smart Health S in our performance room to see how fast it could clear incense stick smoke from the air. It removed all the contamination in 29 minutes, an outstanding result for an air purifier of this size.
Check out how quiet it is in our noise video below.
What We Really Like:
👍 Smart Air do continual research and testing to make sure they produce the best results
👍 It's really quiet on low fan speed measuring just 23dB
👍 Replacement filters are inexpensive compared to other brands
👍 A stylish design
What We Think Could Be Better:
👎 The lack of smart features
👎 An Activated Carbon filter is an extra cost
SPECS & FEATURES
| | |
| --- | --- |
| HouseFresh Rating: | ★★★★☆ |
| Time to clean our test room: | 29 minutes |
| Air purifier technology: | H11 HEPA and optional activated charcoal filter |
| Recommended room size: | 430 sq. ft. |
| Clean air delivery rate (CADR): | 185 CFM (315 m³/h) |
| Dimensions (in inches / in cm): | 13H x 13W x 14.3D inches (33.02H x 33.02W x 36.32D cm) |
| Weight (in pounds / in kg): | 10.1 lbs (4.58 kg) |
| Noise level (low – high): | 23dB – 52dB |
| Filter life: | 6 months |
| Manufacturer's warranty: | 1 year |
| Estimated energy consumption: | $45.20 per year |
Taotronics is a relatively new addition to the air purifier scene. This huge Chinese brand (profiled by The New York Times in 2007) manufactures a range of electrical goods from speakers to heaters, air fryers to massage guns and more. When we took their AP003 for a spin, we were amazed by its performance and the features it offers for such a low price.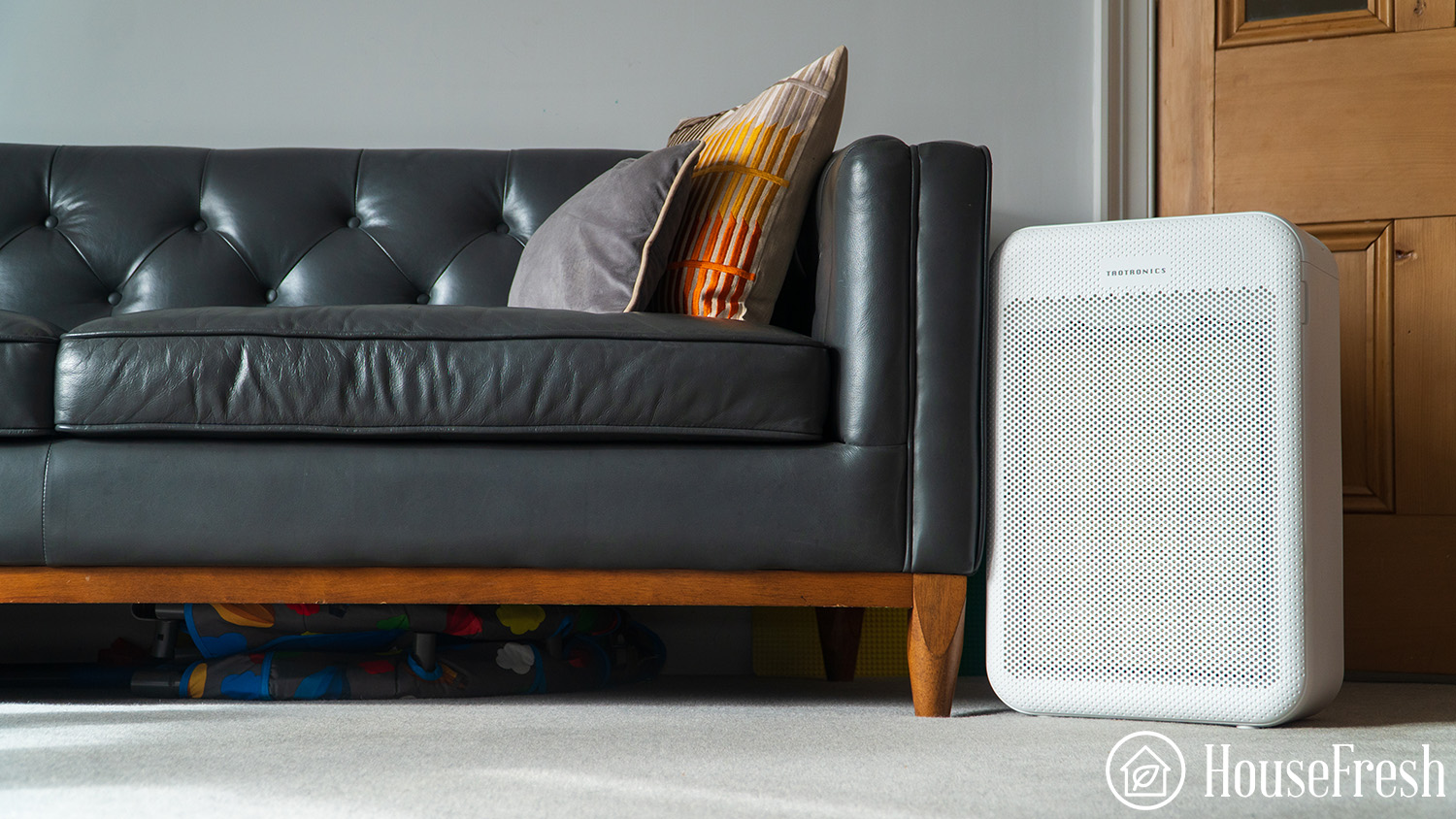 There are no fancy design features on the AP003; it looks like an air purifier, but it does not feel cheap. The control panel sits on top with six touch buttons and an LED display that gives numerical and color-coded air quality information (unusual for a unit under $100).
The AP003 has ample space dedicated to its filters to trap more particles over its surface area. The filter included is an H13 HEPA and an Activated Charcoal filter which contains actual charcoal pellets rather than the (not as effective) bonded sheet.
When we put this unit in our testing room, it cleared the contaminants from the air in just 29 minutes, a fantastic performance for an air purifier that costs less than $80. The high CADR and low running costs make the AP003 an ideal air purifier for midsized bedrooms.
What We Really Like:
👍 It performs on a par with units in the $200 and above price range
👍 There's no ionizer to create ozone
👍 The activated carbon filter contains charcoal pellets
👍 The controls are easy to navigate
What We Think Could Be Better:
👎 No app support
👎 Prices can fluctuate if you buy on Amazon
SPECS & FEATURES
| | |
| --- | --- |
| HouseFresh Rating: | ★★★★★ |
| Time to clean our test room: | 29 minutes |
| Air purifier technology: | H13 HEPA with activated carbon pellets |
| Recommended room size: | 322 sq ft (30 m²) |
| Clean air delivery rate (CADR): | 226 CFM (384 m³/h ) |
| Dimensions (in inches / in cm): | 21.8 x 14.1 x 7.9 inches (55.4 x 35.8 x 20cm) |
| Weight (in pounds / in kg): | 18 lbs (8.16 kg) |
| Noise level (low – high): | 32dB – 52dB |
| Filter life: | 3 – 6 months |
| Manufacturer's warranty: | 1 year |
| Estimated energy consumption: | $30.48 per year |
If you're looking for a bit of style in the bedroom, you can't go wrong with Blueairs' Blue Pure 211+. This colorful box-like air purifier is our top choice for more oversized bedrooms, as it's ideal for rooms up to 540 sq. ft. The 211+ has the highest CADR of all the units in this list and aced our performance tests by cleaning our room in 18 minutes.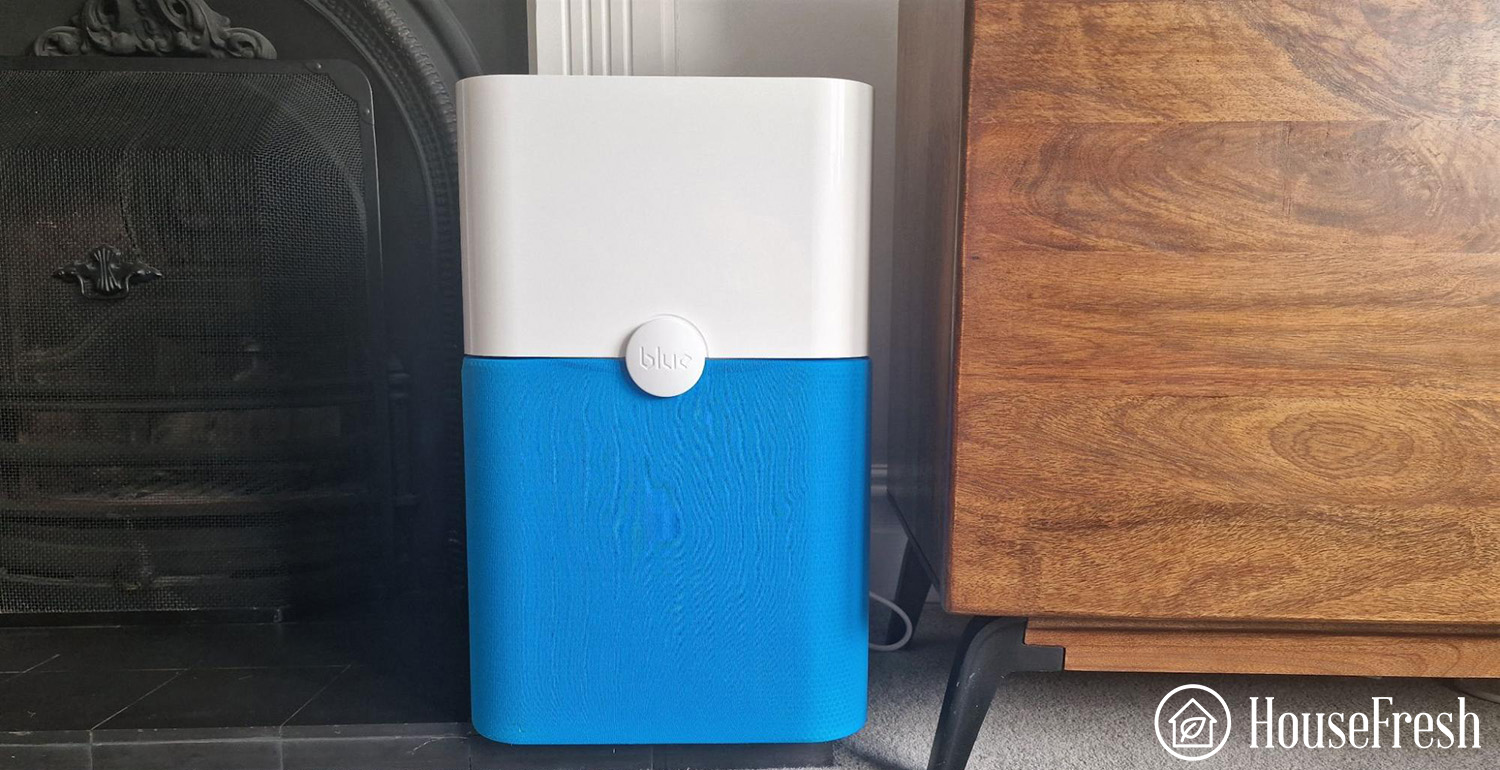 The cool blue portion of the 211+ isn't only there to add to the design; it's a pre-filter that can be removed and washed when it gets full of contaminants. If blue doesn't match the aesthetic of your bedroom, you can always swap it out for grey, purple, green or for the more adventurous Archipelago Sand (fancy).
The controls couldn't be easier to operate; even someone half asleep could change the fan speed. All you need to do is press lightly on the big button on the front of the unit to scroll through its three fan speeds and turn it on/off.
When you twist off the top of the 211+, you'll see the large square filter hidden inside. Instead of using a standard HEPA filter, Blueair has developed its version, which they call HEPASilent™. The Blue Pure 211+ is in our top three for your bedroom for a good reason; check out our sound video.
What We Really Like:
👍 High CADR considering the price
👍 Really easy to set up and operate
👍 You can customize the unit with interchangeable pre-filters
👍 It only costs around $36 in energy to run per year
What We Think Could Be Better:
👎 I wish it had an air quality monitor
👎 Replacement filters aren't the cheapest
SPECS & FEATURES
| | |
| --- | --- |
| HouseFresh Rating: | ★★★★☆ |
| Time to clean our test room: | 18 minutes |
| Air purifier technology: | HEPASilent™ Technology (electrostatic filtration with HEPA) and Activated Charcoal Filter + Ionizer technology |
| Recommended room size: | 540 sq. ft. |
| Clean air delivery rate (CADR): | 350 CFM |
| Dimensions (in inches / in cm): | 20H x 13W x 13D inches (51H x 33W x 33D cm) |
| Weight (in pounds / in kg): | 12.5 lbs (5.67 kg) |
| Noise level (low – high): | 31 – 56 dB |
| Filter life: | 6 – 8 months |
| Manufacturer's warranty: | 1 year (can be extended to 2 years by creating a Blueair account and registering the unit within 60 days of purchase) |
| Estimated energy consumption: | $64.12 per year |
We've reviewed quite a few Levoit air purifiers here at the HouseFresh offices, so when it comes to which unit is best for each room, we have plenty of experience. They're reliable and cost-efficient, so we've chosen the Levoit Core 300 for its small size, good CADR and low noise levels for your bedroom.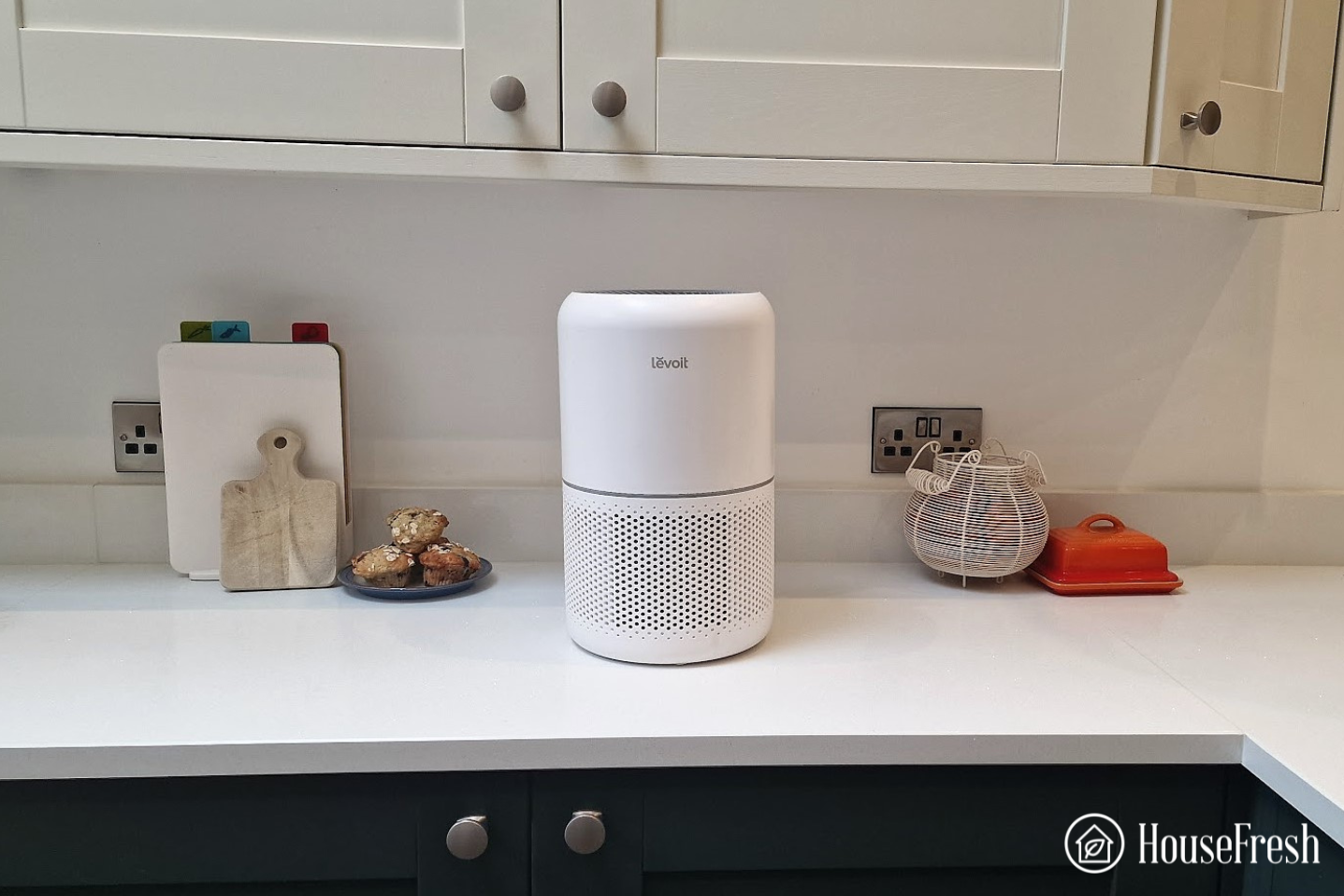 This budget air purifier costs less than $100, and you get plenty of features for your money. This little unit comes with Sleep Mode, and you can turn off the display lights when you're ready to drift off to your dream town. There is no Auto Mode on this version, but you can go for the Core 300S version if you want it.
The core of the 300 contains a round H13 (Medical) Grade HEPA and Activated Charcoal filter, which makes this unit so effective at removing contaminants from the air in your bedroom. The combined filter means you don't have to buy two separate replacements when the time comes. The filters usually last six-eight months and replacements will set you back around $30.
With the lowest CADR on our list, we recommend you use this unit in smaller bedrooms as it will take longer to clean the air in a bigger room. Our performance room is 705 cubic feet, so it took the Core 300 a little longer to clear all pollutants from the air in 40 minutes.
Check out our noise video below to hear its range from a low 24dB.
What We Really Like:
👍 Has a 360-degree air intake
👍 Great CADR for a budget price
👍 Replacement filters are easy to come by
👍 Sleep mode is extremely quiet and turns off all the display lights
What We Think Could Be Better:
👎 It cannot be connected to the Levoit app
👎 I wish you could remove the pre-filter to clean
SPECS & FEATURES
| | |
| --- | --- |
| HouseFresh Rating: | ★★★★★ |
| Time to clean our test room: | 40 Minutes |
| Air purifier technology: | H13 (Medical) Grade HEPA and Activated Charcoal |
| Recommended room size: | 219 ft² |
| Clean air delivery rate (CADR): | 145 CFM (246 m3/h) |
| Dimensions (in inches / in cm): | 8.7L x 8.7W x 14.2H inches (22L x 22W x 36H cm) |
| Weight (in pounds / in kg): | 7.5 lbs (3.4 kg) |
| Noise level (low – high): | 24dB – 50dB |
| Filter life: | 6 – 8 months |
| Manufacturer's warranty | 2 years |
| Estimated energy consumption: | $47.30 |
---
The Air Purifier We Don't Recommend: Molekule Air Mini
You may have heard of the Molekule Air Mini from when it won a design award from Fast Company and made some bold claims of its cleaning power in the press. But after some very poor reviews from Consumer Reports, The Wirecutter, HouseFresh and a big complaint from Dyson, those claims have since been retracted.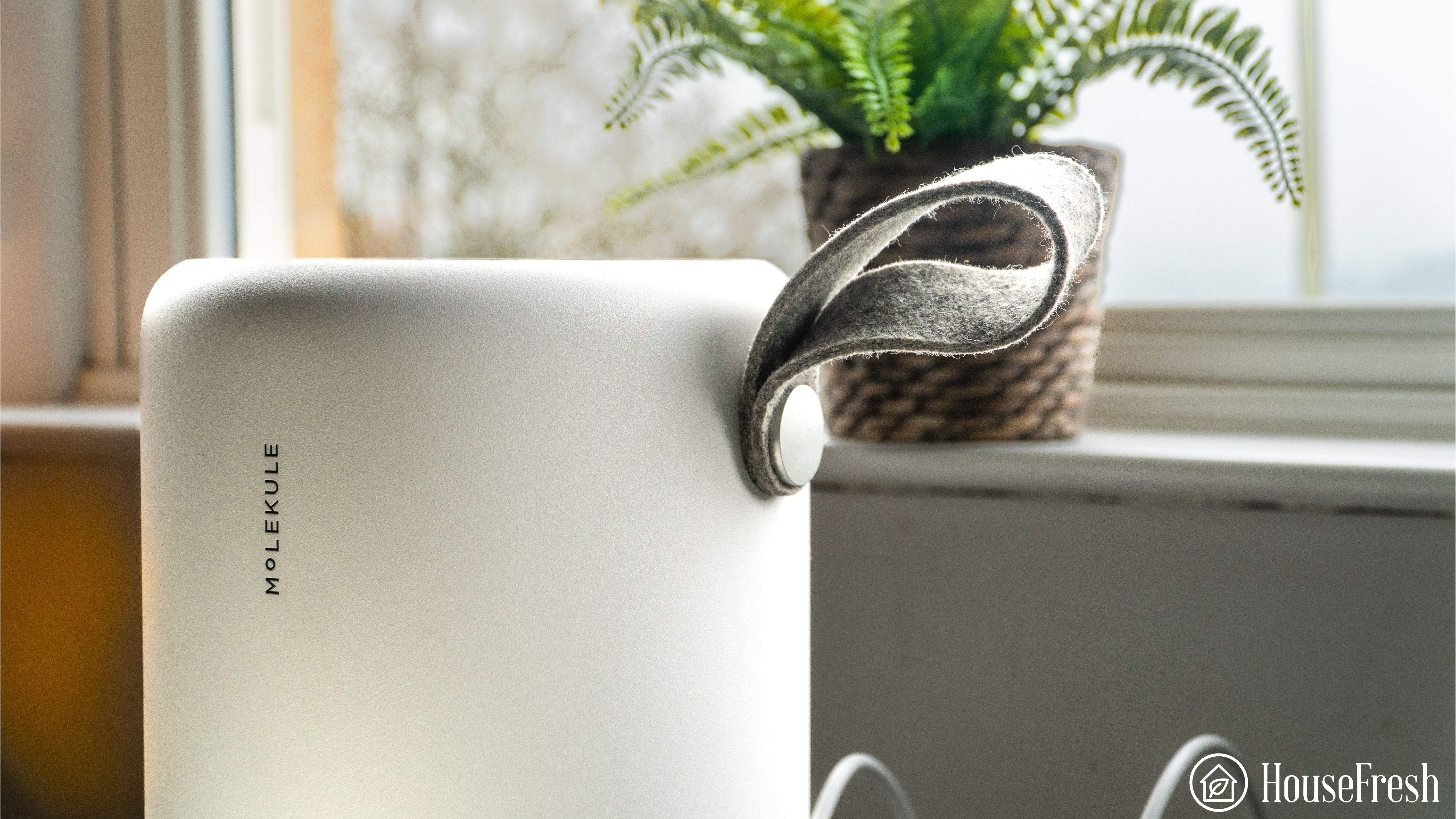 There's no denying this unit looks fantastic and would fit perfectly into your bedroom. The issue is it does a terrible job of cleaning the air. The Molekule uses a PECO filter which is less effective than the preferred HEPA. Its high energy consumption (especially for a unit this size) makes it costly to run, replacement filters are expensive and the app is useless.
And it costs $599.99!
Do yourself a big favor and avoid this unit at all costs.
Why We Suggest You Avoid This Unit:

👎 The app didn't connect
👎 It's energy consumption is so high
👎 Replacements filters are costly
👎 The sound this unit makes is unbelievable
SPECS & FEATURES
| | |
| --- | --- |
| HouseFresh Rating: | ★☆☆☆☆ |
| Time to clean our test room: | 2 hours and 21 minutes |
| Air purifier technology: | PECO Air Purification Filter Technology |
| Recommended room size: | Up to 250 sq. ft. |
| Clean air delivery rate (CADR): | Not available |
| Dimensions (in inches / in cm): | 12H x 8.26W x 8.26D inches (30.48H x 21W x 21D cm) |
| Weight (in pounds / in kg): | 11.8 lbs (5.35 kg) |
| Noise level (low – high): | 39 dB – 88 dB |
| Filter life: | 6 months |
| Warranty | 2 years |
| Estimated energy consumption: | $64.12 per year |
---
Buying Guide: Air Purifiers for Your Bedroom
Unfortunately, no matter how well or often you clean your bedroom, airborne pollutants can still exist. They find their way into your room by any means, waiting to get inhaled unless they are removed.
If left unchecked, these pollutants can cause adverse health effects like;
Irritation in your eyes, nose and throat
Fatigue, dizziness and headaches
Cause respiratory diseases, heart diseases and even cancer.
Luckily, the right air purifier with HEPA filters will remove those contaminants, leaving your airways clear of those microscopic nasties.
🤔 Why should you deal with airborne pollutants in your bedroom sooner rather than later?
We all know that getting a bad night's sleep can impact our day negatively as we'll be tired, but did you know what benefits can come from a good-quality slumber? Studies have shown that seven plus hours of undisturbed sleep can help you:

😴 Stay at a healthy weight

💤 Lower the risk of getting sick

🛌 Increase productivity and concentration

🥱 Reduce stress and improve your overall mood

If you can't get this much-needed sleep because of contaminants such as allergens, dust or dander, it can start to take its toll on your health.
Not all air purifiers are created equal, each is designed to operate in different-sized rooms, and some are better at specific tasks than others. It's important to consider what you want from a unit and where you'll use it before purchasing.
What to Look for When Buying an Air Purifier for Your Bedroom
When looking for an air purifier for your bedroom, there are a few considerations to think about:
1. Cleaning power of the unit
Not all air purifiers are created equal; some are much more efficient than others. This is why we look at the CADR (Clean Air Delivery Rate) and test each unit individually to ensure the manufacturer's specifications are correct.
2. The size of your bedroom
If you buy an air purifier that is too small, it won't clean the air efficiently; also, if you buy one that is too big, you'll be wasting energy and space. Air purifiers are designed to clear rooms of specific sizes. So, you must measure your space first and use this data to find the right unit for your home.
Here's a simple formula you can use to measure the square footage of your room correctly.
Volume = room area (length x width) x ceiling height
3. Filters
Here at HouseFresh, we only review air purifiers that use HEPA filters, as science shows they are the most efficient way of removing contaminants from the air. You're wasting your time if you buy a unit that doesn't contain a HEPA filter.
4. Noise
When you finally rest your head on your pillow and close your eyes, the last thing you want to hear is the whirling noise of the motor from your air purifier. Luckily, manufacturers usually specify the noise levels of their units make on low and high fan speeds.
5. Smart
Not a top priority, but still a consideration, are the smart features of a unit. Many units have a Sleep Mode that sets the air purifier to its lowest fan speed and turns off any lights on the display, ensuring you're undisturbed from your precious sleep.
Common Questions About Air Purifiers for Your Bedroom
🤔 Why Do I Need An Air Purifier In My Bedroom?
Your bedroom is a sanctuary where you sleep, dream, play and recharge, so your air must be clean and clear of harmful pollutants. Even if you clean regularly, microscopic particles can still linger in the air, like dust, hair and odors, which can cause irritation and trigger allergies.
The most effective way to remove these contaminants from the air in your bedroom is by introducing an air purifier that traps those nasty pollutants in its filters and leaves you with clean, fresh, breathable air to help you get a good night of healthy sleep.
🤔 Where is The Best Place To Put My Air Purifier?
Where in your bedroom to place your air purifier depends on how much room you have. Some of you may be lucky enough to have a large bedroom with lots of floor space, while others may be lacking. Whatever size you're working with, there are a few basic rules.
✅ Place the air purifier as far away from your bed as possible: The fans in air purifiers still make noise no matter how quiet, increasing your chances of not hearing it running.

❌ Don't block the vents: If the air cannot get into the filters, it cannot be cleaned. Be sure to check where the vents are on your unit; for example, if they're on the back, don't place them up against the wall.

✅ Place your air purifier near the cause of pollutants: If there is a mold, dust or odor source, your air purifier will work better close to the source.

❌ Don't obstruct pathways: The last thing you want to do is wake up half asleep, get out of bed just to trip over an air purifier and hurt yourself. That's a pretty lousy morning in my book.
For a full list of tips on air purifier placement, check out our handy guide, Where Should I Place My Air Purifier?
Wrapping Up
We've highlighted the importance of breathing clean air and getting a good night's sleep, not only for your health but also for your all round well-being and mood. Choosing the right air purifier for your bedroom may seem daunting as there are so many units with different features, data and new ways to draw your attention.
But it doesn't need to be as daunting as you think. Simply follow our guide, make the right considerations and have the perfect air purifier for your bedroom in no time.
Annnnnnnnnd RELAX.
Last update on 2023-06-02 / Affiliate links / Images from Amazon Product Advertising API