There's nothing quite like the inviting aroma of a homemade meal filling the air, stirring up appetites. Yet, we've all had those moments when a little mishap occurs—maybe something got a bit too crispy, or the scent of onions decided to take over the entire house. It's in these instances that things become a bit problematic.
And yet, undesirable, stubborn smells are only half of the problem. Preparing meals and using kitchen appliances can quietly produce indoor air pollutants. Smoke can disperse, gas stoves may emit substances like carbon monoxide and formaldehyde, and the cooking process itself can release a mix of odorous volatile organic compounds (VOCs), nitrogen dioxide and particles into the air.
To avoid unwanted exposure to these harmful pollutants, finding the right air purifier tailored to your needs is a vital step toward a healthier kitchen atmosphere.
With all this data in hand, we have analyzed all the air purifiers we have tested, looking for the most important features required from an air purifier to tackle cooking smells successfully.
We chose air purifiers that have the following:
Activated carbon filters. Activated carbon will get rid of cooking odors and gases through a process known as adsorption.
True HEPA filters. A True HEPA filter or higher grade like H13 can easily remove the small particles from smoke generated by cooking, roasting, baking and frying.
Fast air cleaning performance. The longer cooking smoke is in the atmosphere, the more it will stick to your clothes while you're cooking and any soft furnishings in the kitchen.
Good CADR for the price. Pollutants like kitchen smoke from frying or roasting meals can be difficult to clean, so we looked for powerful air purifiers with a high clean air delivery rate.

Fair long-term running costs. We research the price of genuine and generic filters to get a clear idea of the cost of filter replacements and the increase in your electricity bill.
Staff picks: Top 3 air purifiers for kitchens
Time is a precious commodity, indeed. Here are our top three air purifiers to tackle kitchen odors, tried and true.
Now that you've explored our top recommendations let's dive into the full list of air purifiers crafted specifically for combatting cooking odors.
In this detailed guide, we've gathered a range of units, each designed to cater to different needs and budgets. From advanced models to more budget-friendly options, there's a perfect cleaner for every kitchen.
Could this be the Levoit Core 300S killer? The HP102 offers excellent air cleaning performance, an accurate onboard air quality sensor and must-have smart features.
The HP102 is the first air purifier produced by SharkNinja, the creators of the famous Ninja air fryers and blenders — it is not a surprise to see another excellent kitchen appliance coming from these guys!
With a CADR score on par with the Core 300, an effective auto-mode and just a lightweight body, the Shark HP102 is a new force to reckon with in the world of air purifiers. I instantly liked the look of it when I unboxed it but what really got me was its air cleaning performance.
In terms of filtration, the HP102 features a Shark NanoSeal™ filter. This True HEPA filter has a Microban® coating against bacterial growth, which is particularly beneficial in the kitchen. With its pelletized high-efficiency activated carbon, it's also well-equipped to tackle kitchen odors.
As you know, we test all the air purifiers we recommend by measuring how fast they can clear the air from thick incense smoke inside our home lab of 728 cubic ft. In that test, the HP102 performed a lot better than I had envisioned based on its CADR rating — the HP102 cleaned the air one full minute faster than our previous top pick for kitchens, the Core 300S.
In addition to excellent air cleaning speed, the Shark HP102 comes with an accurate onboard air quality sensor and two jazzy screens: a display where you can see the air quality status in the kitchen at all times and another screen where you can control the different functions of the unit.
The HP102 may not boast app integration, but it compensates with two practical modes: Auto and Eco. When in Auto Mode, the HP102 transitions seamlessly to Eco Mode once it senses the air is clean. This thoughtful feature becomes particularly handy after a cooking session. The HP102 diligently purifies the air, then shifts to Eco Mode, ensuring the filter's longevity and allowing you to dive right into your meal without a second thought about the purifier.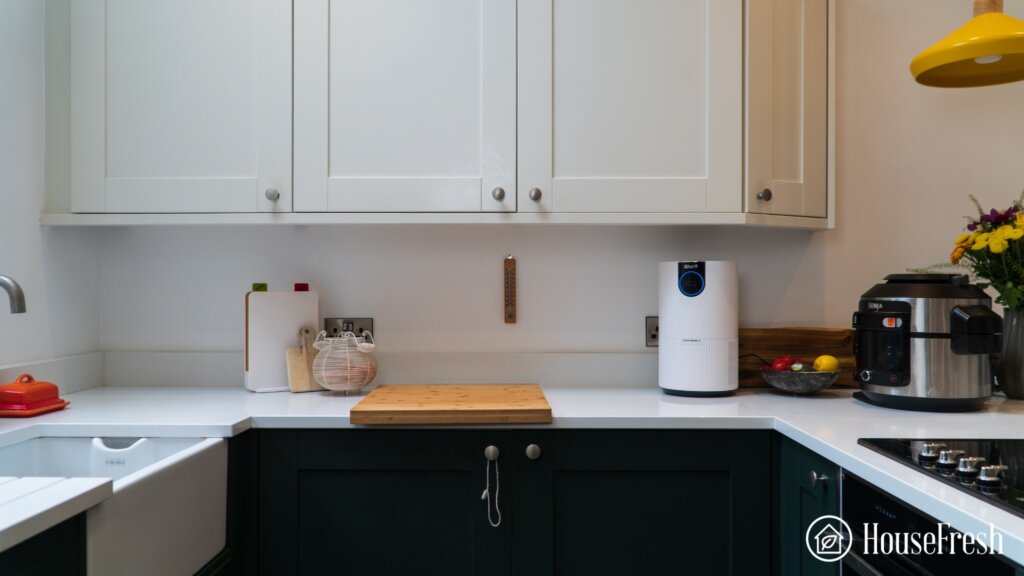 SPECS & FEATURES
The Levoit Core 300S is like a trusty sidekick in the kitchen. Compact yet powerful, it offers a cost-effective solution for improving the air quality in your cooking space.
During our hands-on test, the Core 300S cleaned the room of airborne particles and pollutants in just under 39 minutes. This feat owes much to the high CADR (Clean Air Delivery Rate) and its powerful fan, especially considering the unit's size and price.
It can purify the air in an average-sized kitchen, covering areas of up to 219 square feet.
The Core 300S features the familiar three-stage filtration system, a hallmark of the Levoit Core series. It starts with a nylon pre-filter, followed by the main airborne particle filter. This duo diligently can capture cooking-related smoke particles and other small particles like fine dust and pollen. Additionally, it employs a high-performance activated carbon filter to combat persistent cooking odors and VOCs.
Besides, the 300S features Levoit's AirSight Plus™ technology, displaying your kitchen's air quality in an intuitive, color-coded light ring on the control panel. ​The built-in air sensor also allows you to set the auto mode so you can focus on your cooking while the Core 300S automatically adjusts its fan speed to match your kitchen's needs. When using it long-term in my kitchen, I found that the sensor was very quick to adjust and that you didn't need to leave it on all the time to deal quickly with issues.
Likewise, the app support also makes interaction straightforward. You can connect it to Amazon Alexa and Google Assistant and command it even with your hands on dough.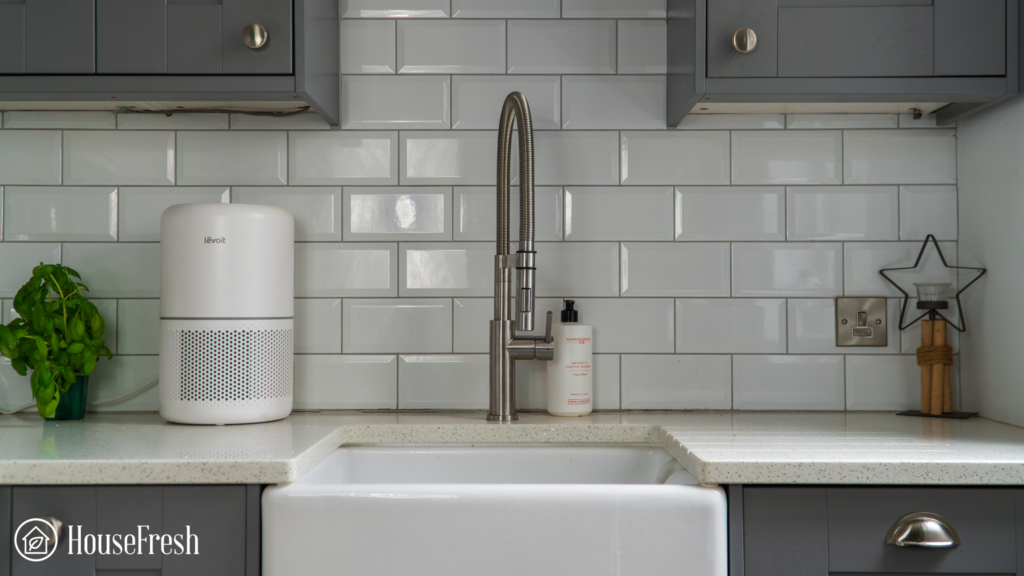 SPECS & FEATURES
The little brother of the Core 300S that costs less than $100 and can perform really well inside of small kitchens no larger than 183 sq. ft.
The Levoit Core 200S is like the younger sibling of the Core 300S, sharing many of the same features but with a few differences in size, power, initial costs and electricity usage. It still surprises me how this compact purifier, priced under $100, manages to pack in smart functions usually seen in larger, pricier models.
Despite its smaller size, the 200S doesn't compromise on performance. Like the Core 300S, this air purifier also features Levoit's three-stage filtration system, with a nylon pre-filter, a main airborne particle filter and a pellet-based carbon filter — an excellent combination to deal with the cooking pollutants and smells you can expect in a small kitchen.
With a slightly lower CADR of 118 CFM compared to the 300S's 141 CFM, the 200S is tailor-made for cozier kitchens. Its compact frame allows it to find a snug spot on countertops or nearby cooking stations, blending seamlessly with your kitchen setup.
Unfortunately, unlike the 300S, the 200S doesn't come with an auto mode or air quality sensor. However, when it comes to costs associated to filter replacements and energy consumption, the 200S takes the lead. It's notably more budget-friendly, averaging around $30.48 per year compared to the $52.56 you will spending annually to run a 300S.
The Core 200S also offers app support and compatibility with Amazon Alexa and Google Assistant, much like the 300S. This means you can give voice commands without stepping away from your cooking. It's a practical touch and quite convenient while you whip up your dishes.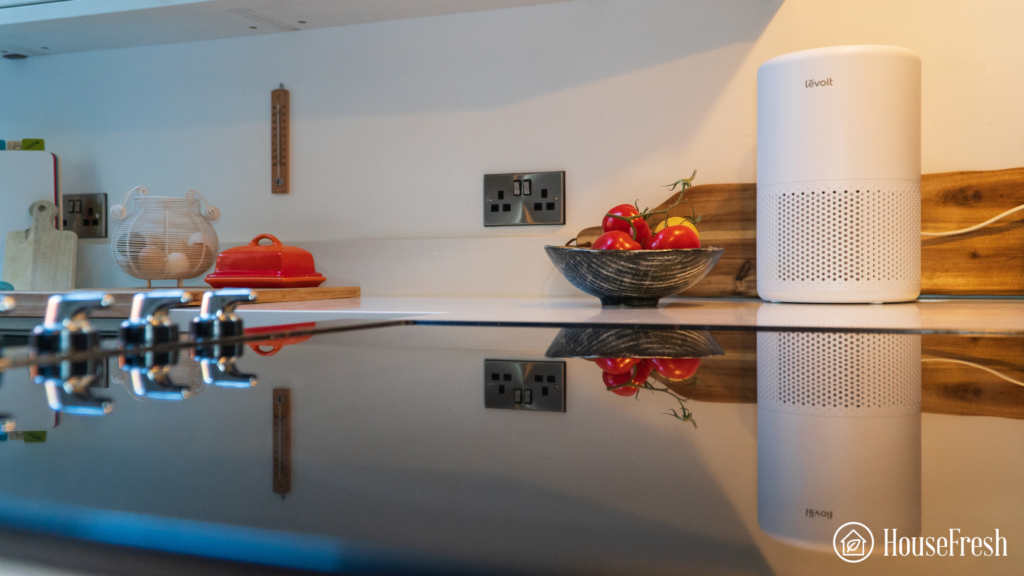 SPECS & FEATURES
This air purifier has a powerful fan that can pull air from kitchens up to 800 sq. ft. and clean it effectively thanks to its True HEPA filter with activated carbon.
If your kitchen is big and spacious, or if you have an open plan kitchen and the smells can spread through the house easily, then the Alen 45i would be my go-to choice. This unit has a powerful fan that can pull air from rooms up to 800 sq. ft.
But despite being powerful, it doesn't take up too much space. The air intakes are conveniently located along the sides, allowing you to place this unit close to the wall. This is especially handy when you're bustling around the kitchen; it will spare you the hassle of navigating around a bulky object in the middle of the room.
For those new to Alen air purifiers, they have various filter options to choose from: Pure, Fresh, OdorCell and Smoke filters. The Pure filter is the only one without activated carbon, while the Smoke variant may be overkill for everyday kitchen odors. Opting for Fresh or OdorCell filters should suffice. My recommendation, though, would be to go for the OdorCell filter to tackle even the most stubborn kitchen smells.
The 45i also has built-in ionizing technology, which can further enhance its performance. In our tests, employing the ionizer with HEPA and activated charcoal filters allowed the 45i to clear our test room in just 33 minutes. However, I prefer to trust the 45i's capabilities without the ionizer, which is more than sufficient on its own.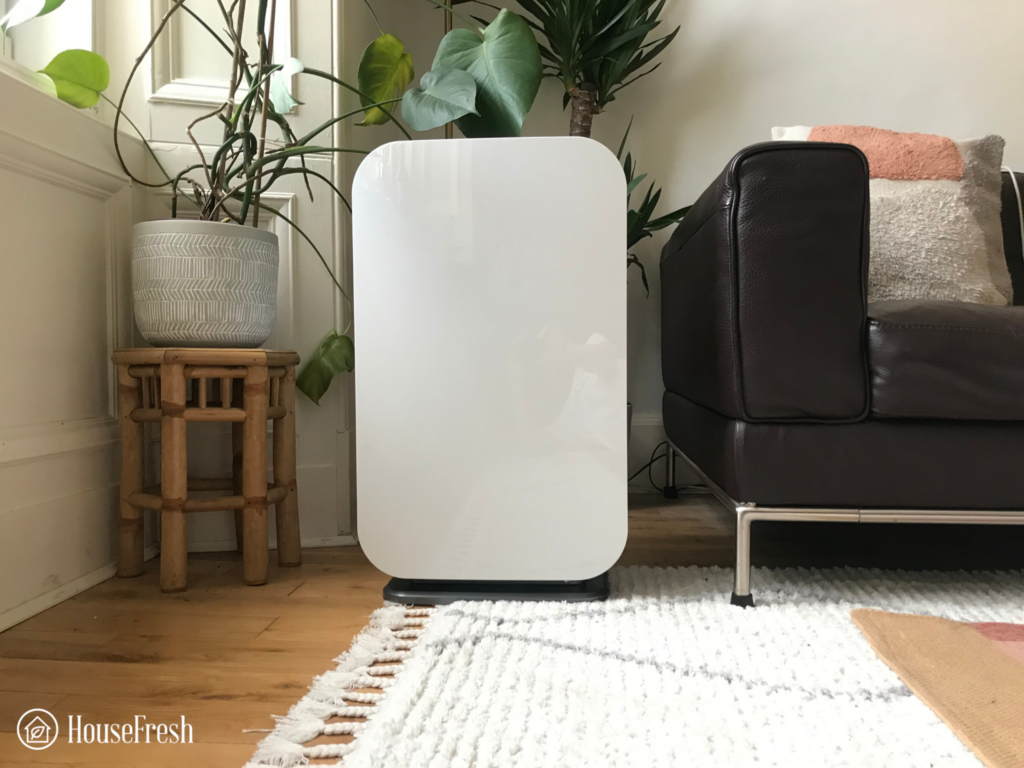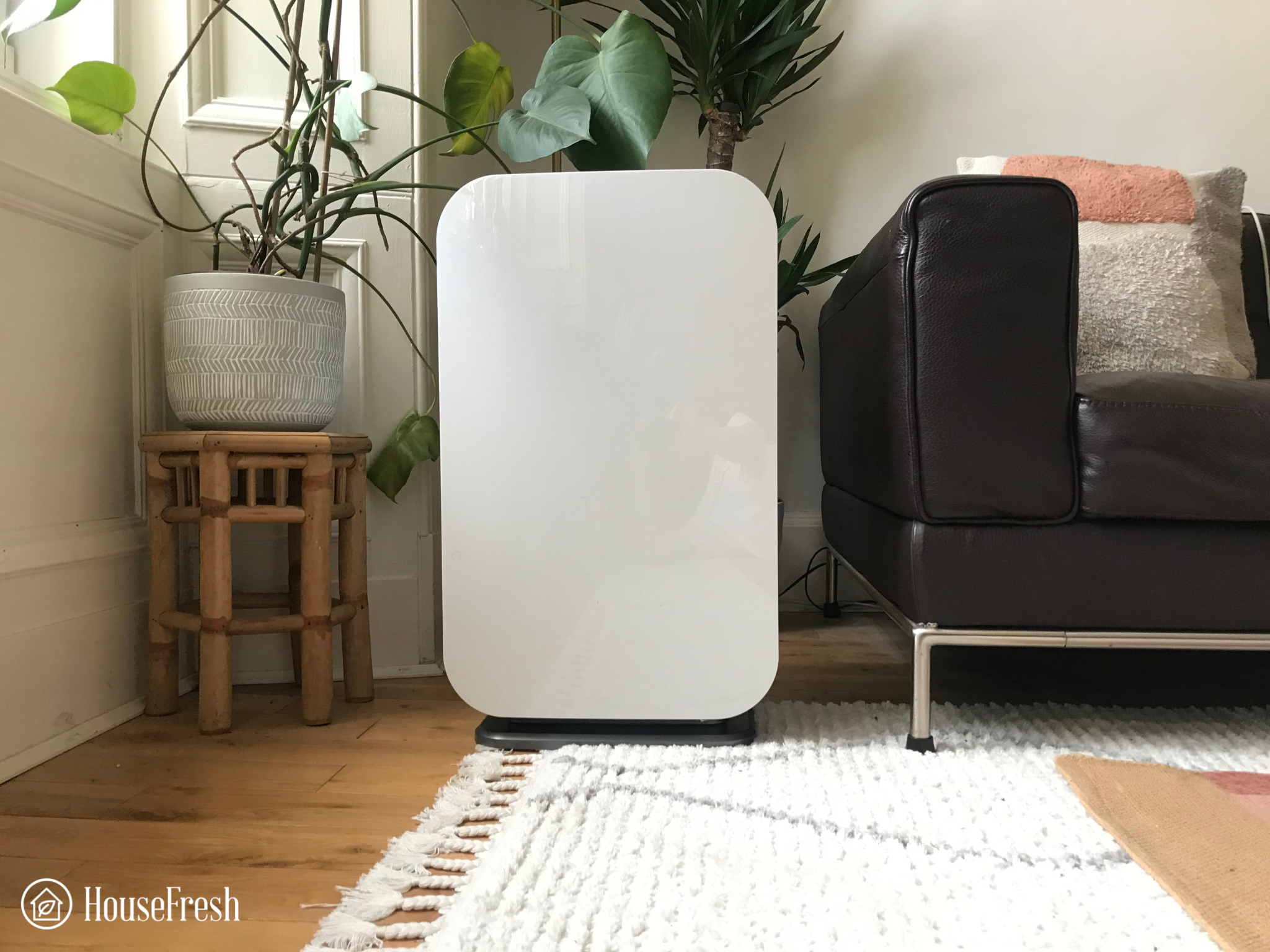 SPECS & FEATURES
Mila is more than just an air purifier for your kitchen; this is an intuitive, accessible, user-friendly smart device with excellent air cleaning capabilities.
This unit stands out with its wooden legs and organic lines, a unique set of smart fexatures and straightforward language (plus a sprinkle of emojis) free of industry jargon.
Though it comes at a slightly higher price point, this smart air purifier mexans you're investing in both performance and convenient automatic features. If you value an effortless, hands-free solution, then the Mila is a definite asset for your kitchen.
Filter-wise, when it comes to tackling kitchen odors, I've found that an option with a minimum of 0.5 lb of activated carbon is a must. Mila understands this and offers a diverse range of filters to choose from. Whether you're leaning towards the Rookie Parent filter with its H12 HEPA filter and 0.70 lb of activated carbon or the Critter Cuddler, featuring an H13 HEPA filter and 0.84 lb of activated carbon, you can count on Mila to keep your kitchen air consistently fresh.
The Mila's automatic mode is simply remarkable. It offers eight specialized settings, each fine-tuned for different uses with custom fan speeds, noise levels and energy efficiency ratio. What's impressive is that it comes equipped with eight built-in air quality sensors — more than your average purifier. This means Mila will adapt, picking up on changes in the air around it and, for instance, kick into high gear when you're in the midst of cooking.
But the Mila doesn't stop there. While many units focus on standard particle measurements like PM1.0, PM2.5 and PM10, this unit steps it up by detecting VOCs, too. This feature is a game-changer, particularly in kitchens where cooking fumes tend to linger.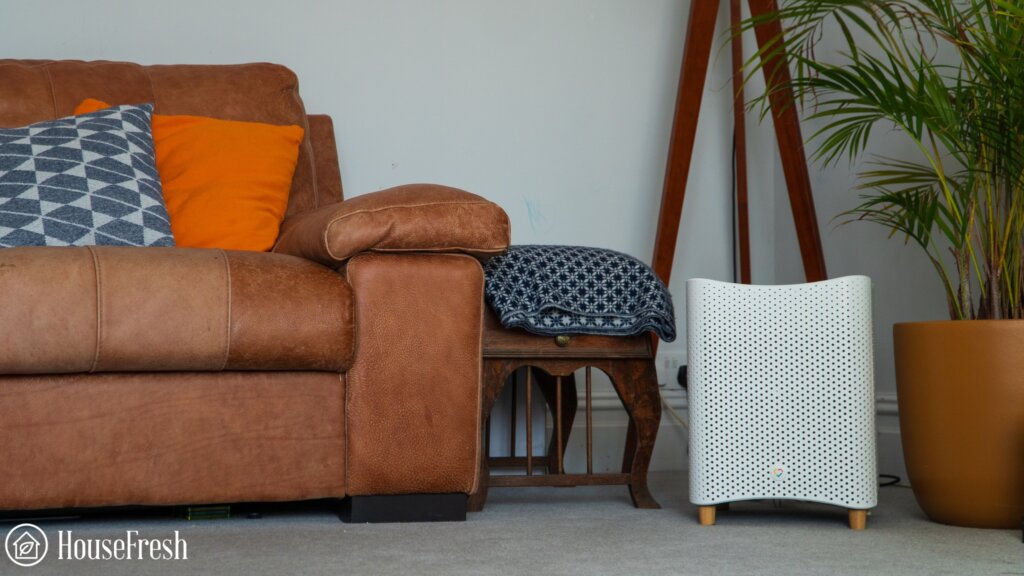 SPECS & FEATURES
Other units we tested but don't recommend for cooking odors
Levoit Core 300: We are a big fan of the older Core 300, but its lack of auto-mode means it's not good for occasional pollutants in the kitchen.

AROEVE MK01: This is one of the most popular air purifiers on the market, but in our testing, it was nearly useless at removing pollutants from our fairly small test lab.

Molekule Mini: It has a great design, but it failed to perform well in our home lab performance test, and it ran as high as 86dB, so far too loud for use in a kitchen setting.

Okaysou AirMax 10L Pro: Another best-seller thanks to its influence on TikTok campaigns, but in our testing, it fell short as it was much slower than we would expect based on its stated CADR. Their marketing for their 5-in-1 filter system is incorrect, making us trust the brand far less than others we have featured.

Blueair Blue Pure 411+: This small air purifier was fairly quick at removing pollutants, but we don't like that you are forced to use an ionizer as part of its HEPASilent technology. We also don't like that they have created a totally new version that doesn't use the old filters.
What to look for in an air purifier for your kitchen
Many studies show that kitchens are a significant source of indoor pollution, including smoke, VOCs, nitrogen dioxide and particulate matter. It's worth taking the time to ensure that the air purifier you choose will do an excellent job of keeping your air clean whenever you cook.
Health experts warn that long-term exposure to poor-quality air can negatively impact your health, so you must prioritize air purification.
To find the right air purifier for your kitchen, you need to consider the size of your cooking space, the type of filter and any features you can't live without.
1. Go for high-quality HEPA and activated carbon filters
High-efficiency particulate air (HEPA) filters are the gold standard in ultrafine particle filtration. They have been shown to remove 99.97% of air particles within a given area.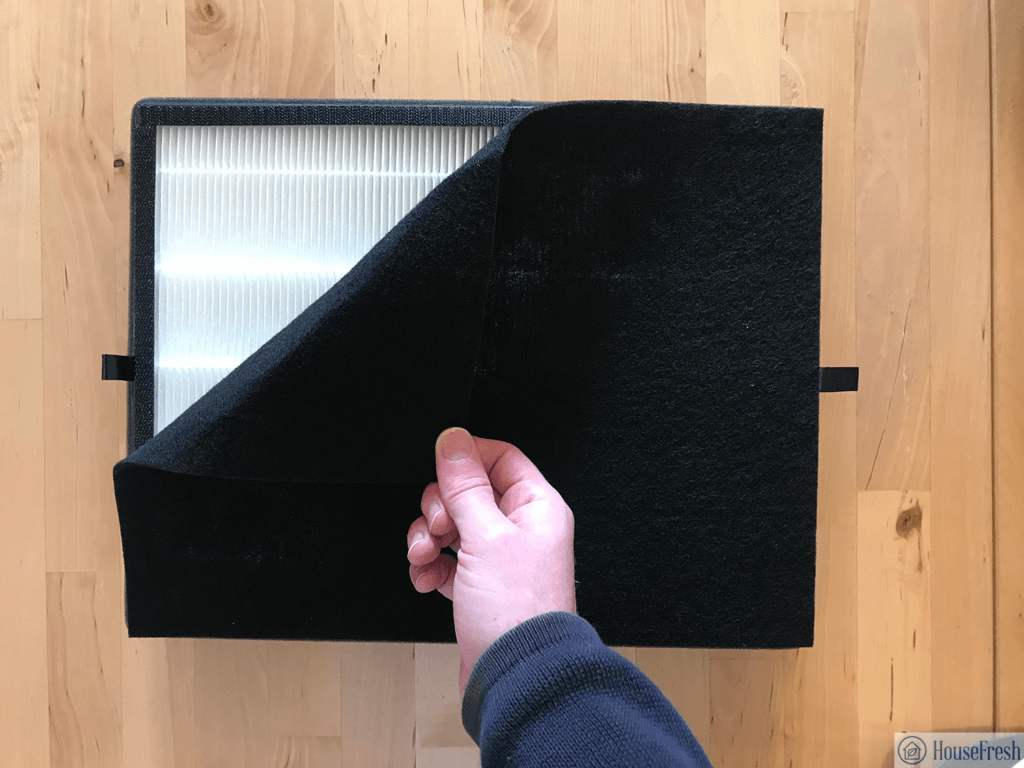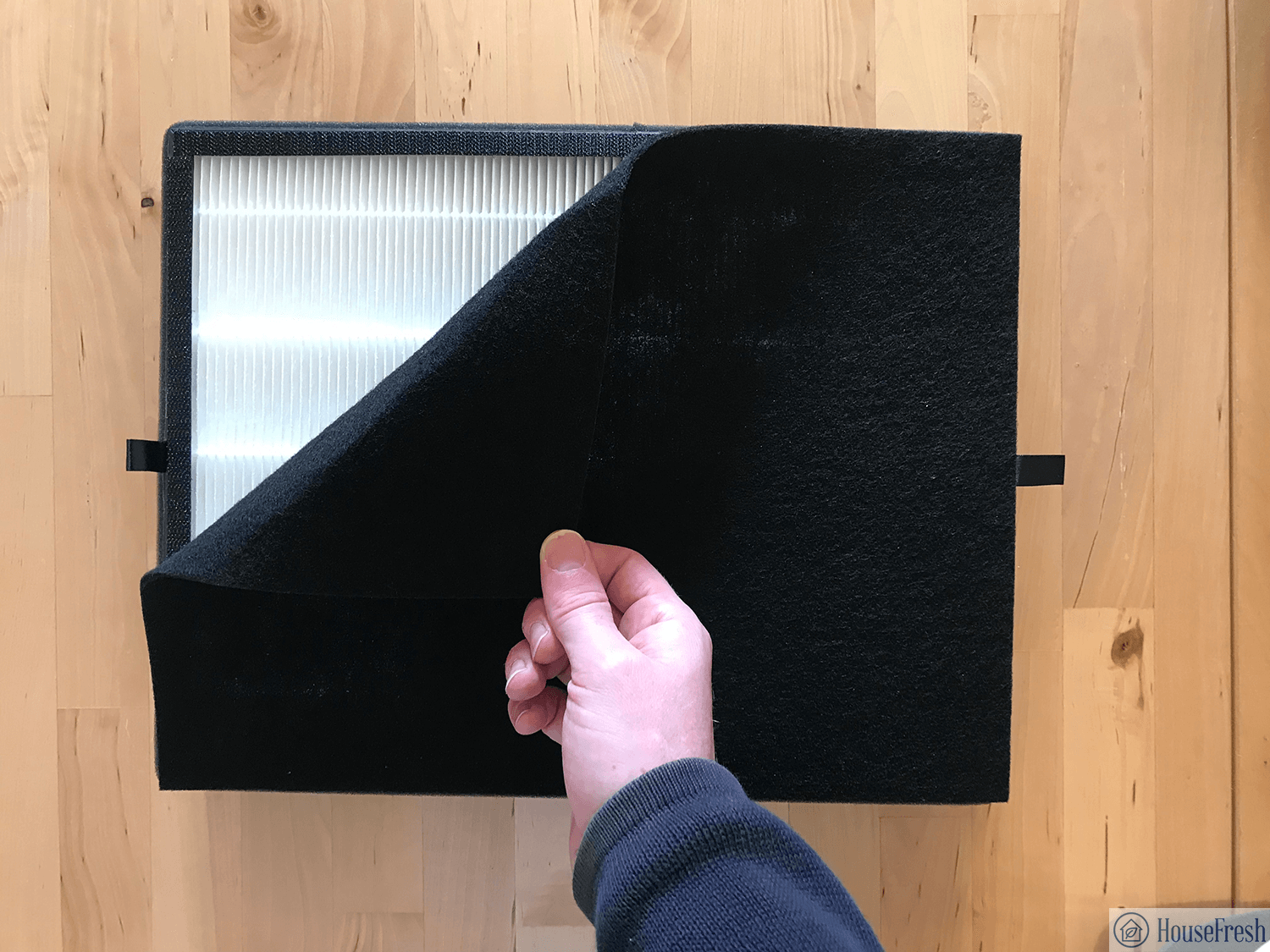 However, HEPA technology won't filter odors, which are chemicals or gasses in nature. That's what activated carbon deals with, through a process called adsorption.
As such, going for a device that has both filters installed will guarantee maximum efficiency.
2. Consider the size of your kitchen
One of the most overlooked factors when buying an air purifier is the size of the room where the device will be used. You want to invest in a product that will operate at optimum efficiency, notwithstanding how much energy the device will consume.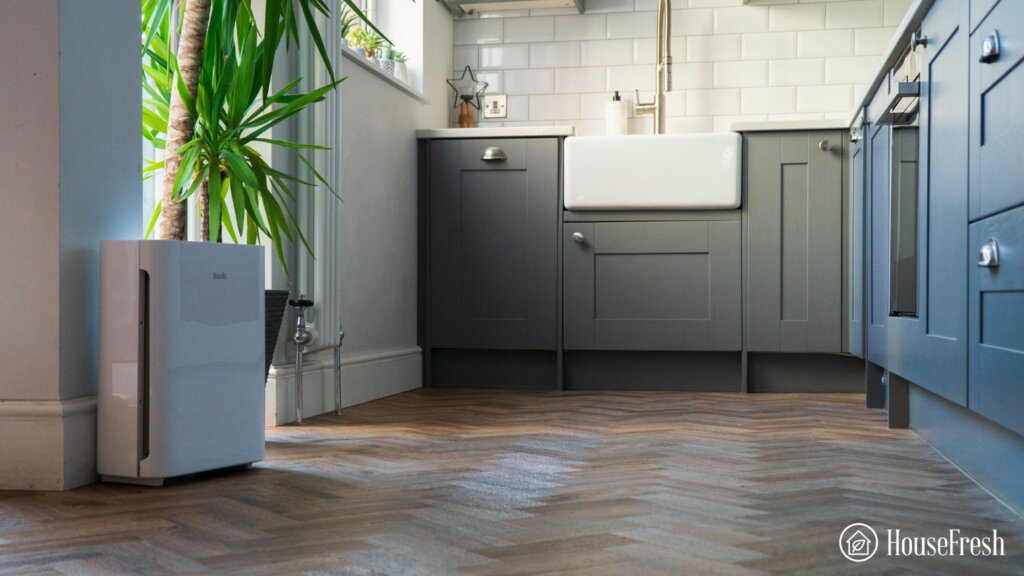 A common mistake is opting for an undersized air purifier for a given space. If the unit is not big or powerful enough, it will consume filters more than necessary, and the area won't be thoroughly cleaned.
You should consider the air purifier's Clean Air Delivery Rate (CADR) rating. The CADR rating measures how much clean air the unit can produce within a given time. It's worth mentioning that CADR is an industry measurement, but some manufacturers don't share this data, so it's worth looking at independent tests like those we do here at HouseFresh.
The standard practice is an air purifier with a CADR rating that matches at least two-thirds of the kitchen space. So, for example, if your kitchen has an area of 240 square feet, you can go for a device with a CADR rating of at least 160.
Alternatively, every big brand in the air purifier space will give you a suggested room size for every unit based on two air changes per hour, so ensure it matches your specific needs.
Feel free to input your kitchen size into our calculator below and it will output the CADR you should aim for if you want to achieve 4.8 air changes per hour:
3. Think about smart features
If you're cooking, you are unlikely to be able to move away from the stove to turn on your air purifier or change the fan settings.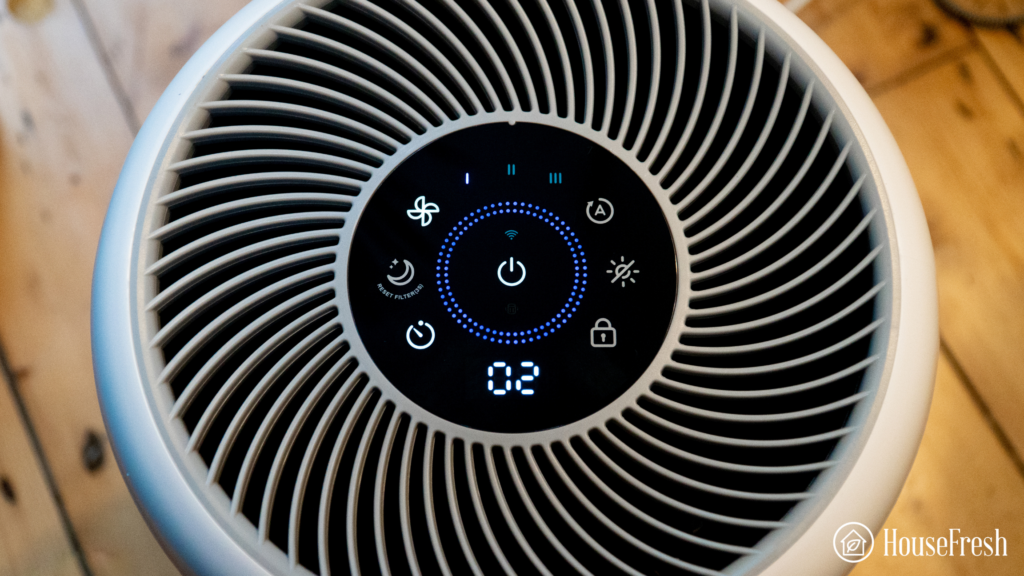 The chief advantage of smart features is that you can control the air purifier from a mobile app, which offers much-needed convenience. In addition, you can perform functions such as monitoring your AQI (Air Quality Index). Smart air purifiers allow you better to understand your kitchen's air quality at any time.
4. Consider the initial unit cost but factor in replacement filter and running costs
Air purifiers can be a significant investment. So, don't just focus on the device's initial price; consider all associated costs. This includes ongoing expenses for replacement filters and the energy required for operation.
Our specifications table details each unit's recommended filter replacement frequencies and operational expenses.
Common questions about air purifiers for cooking odors
About HouseFresh
I have personally tested over 50 air purifiers since 2020, and our team uses our recommended air purifiers in their homes so we can provide updates for long-term usage. Unlike most other people writing about air purifiers, we share all our performance data via our in-depth reviews for every single air purifier we include in our best guides for specific issues. In this case, it's all about what air purifier is the best for the kitchen to remove occasional odors.
We don't have a problem saying if a unit fails to live up to the hype or even when a low-priced generic device blows us away with its performance. Our ultimate mission is always to help more people improve their home indoor air quality.
If ever any specific issue we haven't answered or want to report how one of our recommended units performed in your home, email me directly: danny@neomam.com
Last update on 2023-12-02 / Affiliate links / Images from Amazon Product Advertising API