The last thing you want to do is go to work smelling like the amazing meal you cooked the night before. Opening a window will not always do the job when it comes to managing harsh odors and fumes. This is especially true when you cook strong-smelling foods like fish, onions, or smoked meats in a small space, such as a compact apartment
The main thing to remember when looking for an air purifier for the kitchen and with odors, in particular, is that HEPA filters are not enough on their own. You need to invest in a unit that uses adsorption technology which in simple terms is activated charcoal as this has been proven to deal effectively with the gases odors generated from cooking.
The Top Kitchen Air Purifiers in 2022
Style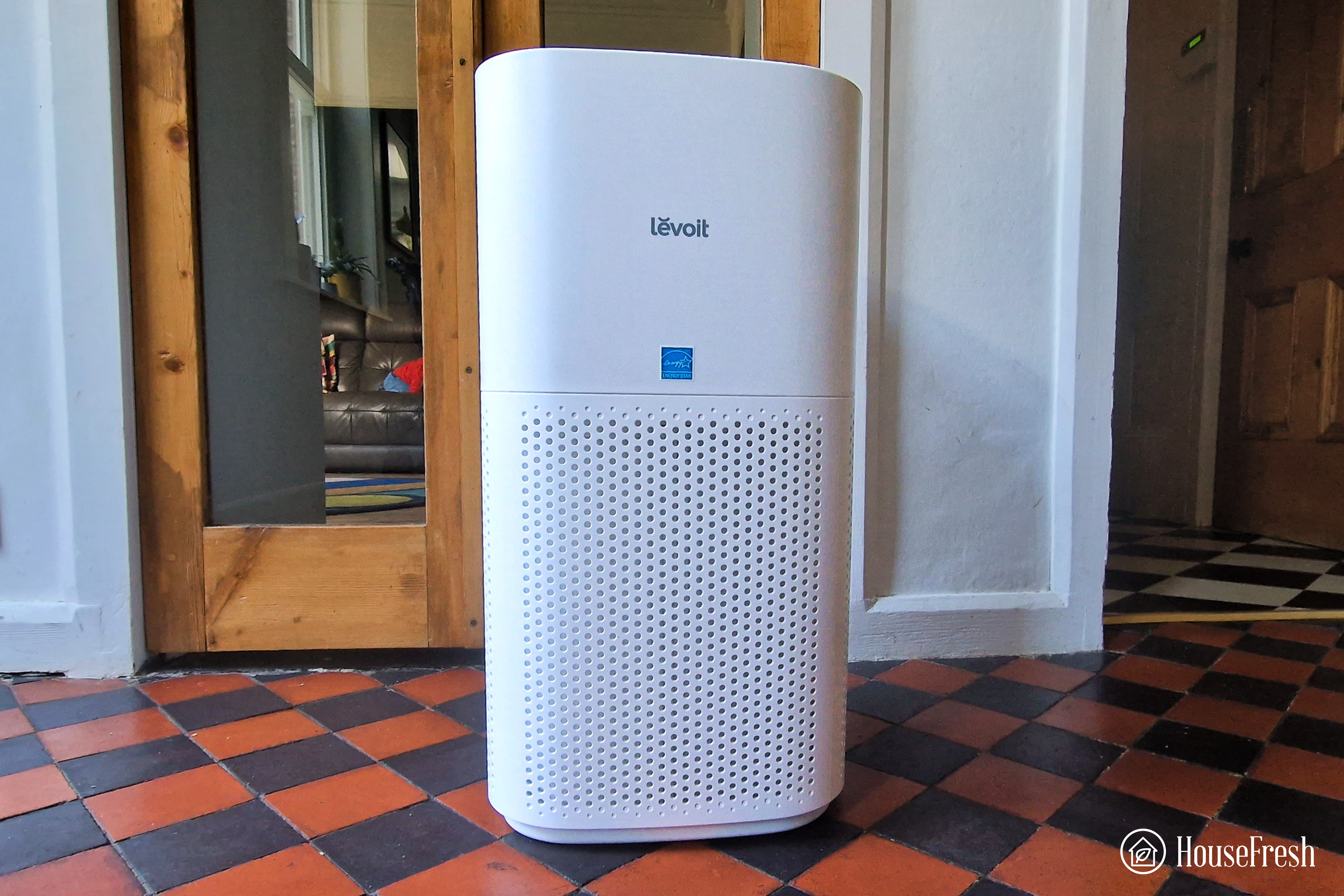 Pros
Functions in a whisper-quiet noise level
Small enough to fit on your kitchen countertop
High CADR and app connectivity
Cons
No Smart Sensor or air quality sensor
You can't remove the pre-filter to clean
The air quality sensor doesn't work as effectively when the unit is against a wall
Filter Technology
"HEPASilent™ technology" which is an electrostatic filtration with HEPA and Activated Charcoal
Pre-Filter, H13 True HEPA Filter, High-Efficiency Activated Carbon Filter
Recommended Room Size
635 sq. ft - 1,588 sq. ft
Best Overall
Style
Pros
Functions in a whisper-quiet noise level
Cons
No Smart Sensor or air quality sensor
Filter Technology
"HEPASilent™ technology" which is an electrostatic filtration with HEPA and Activated Charcoal
Best Budget Option
Style
Pros
Small enough to fit on your kitchen countertop
Cons
You can't remove the pre-filter to clean
Filter Technology
Pre-Filter, H13 True HEPA Filter, High-Efficiency Activated Carbon Filter
Best for Large Kitchens
Style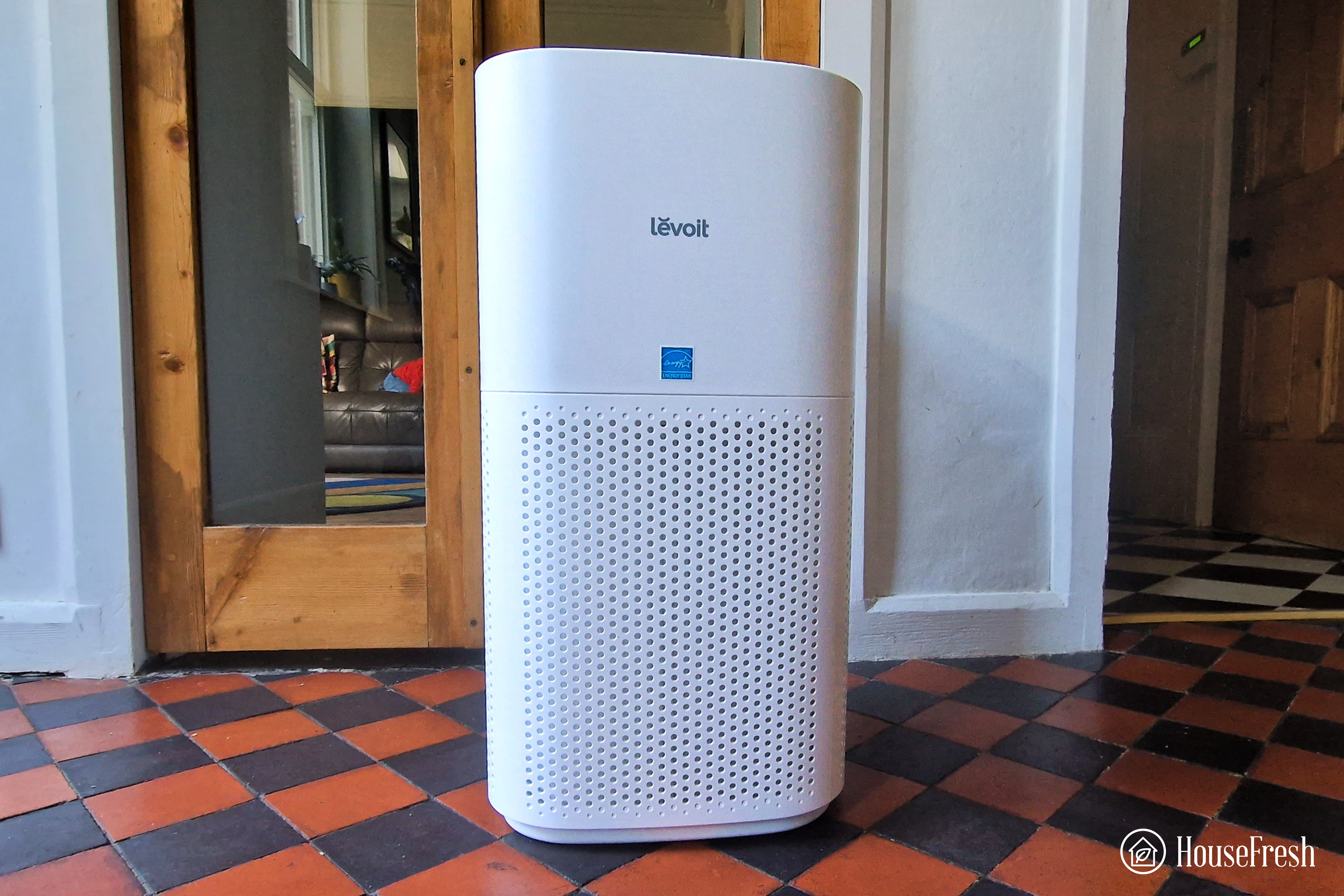 Pros
High CADR and app connectivity
Cons
The air quality sensor doesn't work as effectively when the unit is against a wall
Recommended Room Size
635 sq. ft - 1,588 sq. ft
We have used our in-house performance data and analysis to show you what are the 8 best air purifiers for the kitchen and cooking odors in 2022.
Read on for the full list of units we've tested.
This is our top option for those with large kitchens as it has over 5 lbs of activated charcoal and KMn05 alumina, it will make short work of the smoke, odors, and pollutants generated in the kitchen.
Unlike other air purifiers, the IQAir HealthPro Plus Home HEPA Air Purifier uses a HyperHEPA filter that is designed to pick up particles that are even smaller than those that regular HEPA filters can trap, helping capture ultrafine particles that can be harmful. This model uses triple-seal technology that helps to perfectly seal the filter frame to the housing, ensuring that nothing is released from the filter. Other parts of the purifier have individual seals to ensure that all parts of the system are airtight.
This model uses a new edition fan that uses 27 and 215 watts, depending on the speed, and is classified as a maintenance-free motor which will contribute to the durability of the purifier. Due to IQAir's patented EvenFlow diffuser, this air purifier is capable of 320-degree air delivery and is designed to provide little to no noise as well as no form of draft generation. This air purifier comes with a sophisticated control system that allows you to program different operating levels, color-coded lights to indicate when filters need to be replaced, and a filter-life monitoring system to ensure that it always has a functional filter for optimal performance.
SPECS & FEATURES
What We Really Like:
👍 It helps to remove strong odors like chemicals and smells from the air
👍 It has casters to make it easier to move
👍 Depending on use, the filters can last up to a year or longer
👍 It is easy to set up
What We Think Could Be Better:
👎 It has a larger build which can make it difficult to position in smaller rooms
👎 The replacement filters are on the expensive side – up to $250 per year on full power usage
👎 Might be overkill for some kitchens
2. Best For Small Kitchens/Budget Option: Levoit Core 300S
The Levoit core 300s is the smart upgrade to the well-reviewed Levoit Core 300. It builds upon the Core 300's use of H13 HEPA with activated charcoal which is perfect for the odors and pollutants generated by cooking in the kitchen.
This unit was able to clean our test room in under 49 minutes of all pollutants bigger than 1ug/m3 and so is our recommended choice for those with small to medium-sized kitchens.
It can be usually be found for under $130 so is an air purifier that can work for those on a tighter budget but still have concerns over kitchen and cooking odors.
The Levoit core 300 was my favorite air purifier for 2021 and I expect that it will become one of the most popular units for 2022 and is a great option for the kitchen as it can easily fit on countertops.
SPECS & FEATURES
What We Really Like:
👍 It has a low energy consumption of 14.8 watts so low running costs
👍 Performance to $$ is one of the best in the market
👍 Decent amount of activated charcoal for dealing with odors/gasses generated by cooking
👍 It provides 360 degrees of airflow via its circular design
What We Think Could Be Better:
👎 Filters are not cheap at $50 but generics are available for less than $30
👎 App design could be better – we want to see Dyson link quality apps in the future for Levoit
👎You might want to look at the other Levoit air purifiers on the market if the Levoit Core 300S looks interesting.
The Levoit Core 400S is a great option for dealing with the cooking odors generated from a large kitchen.
In our in-house performance test, the Levoit Core 400S managed to eradicate all pollutants in 33 minutes which is on part with our top choice of the IQAir which costs nearly $1000.
Unlike the IQAir unit, the Core 400S comes with a range of smart options such as auto mode which is perfect for a kitchen air purifier as it will only come on when it detects burnt toast or any other pollutants generated by cooking. This means you will have to pay less for electricity as you won't need to have the air purifier running continuously.
Another feature that stands out for this unit is efficiency as it's able to clean rooms quickly but without the massive amounts of electricity that are required from other units we tested.
It's a large unit but in exchange for this bigger footprint, it will be able to clean rooms quicker than smaller units like the Core 300 series.
SPECS & FEATURES
What We Really Like:
👍 Smart modes that are normally only found on far more expensive units
👍 Energy efficient
👍 Generic filters are easily available for less money (around $20-$30)
👍 Auto mode is great for use in a kitchen
What We Think Could Be Better:
👎 It's quite large so might be overkill for small kitchens
👎 The app could have better UX
4. Smart Air Sqair (also known as Smart Health S)
This new unit from Smart Health blew us away in our in-house performance testing. It was able to clean our test room of pollutants in less than 29 minutes! The fact that these units are available for less than $200 is what we didn't expect.
It was able to perform so well due to the engineers at Smart Health keeping things simple with a powerful efficient fan combined with a lower grade HEPA than competitors which allows it to clean air quicker for less electricity.
The reason that this air purifier is not higher up on our list for those looking for an air purifier for their kitchen is that it lacks many smart features as it has only a very simple 3-speed mode with no timer options or any of the other bells and whistles that you see with the other units on this list.
Another big win for this unit is that it looks really good compared to the most generic designs you see in the world of air purifiers.
SPECS & FEATURES
What We Really Like:
👍 Amazing design that actually looks good in the home
👍 A CADR of 185 CFM which is very good for this price range
👍 Real-world performance-matched units are far higher in cost
👍 Nice to have an option for charcoal or not
What We Think Could Be Better:
👎 Lacks any smart features like timers or auto mode
👎 No App, all adjustments have to be made on the air purifier
The Rabbit Air MinusA2 SPA-780N was designed to be easy to use, with 6 different operational levels ranging from pre-filters that get rid of large allergens to charcoal-based activated carbon filters that filter out smaller particles.
Unlike other purifiers that only work to reduce allergens or odors, you can purchase different types of filters that target what you want to use them for. For instance, filters that are specifically designed as odor removers for kitchens.
This purifier also comes with a negative ion generator that is designed to help produce beneficial negative ions that will help to fortify the air in your kitchen, making it easier to breathe. It can connect to most Apple and Google smart devices, where you can get access to a customized panel that will allow you to pick and choose between different features to amplify and ensure it is working towards your air goals. Lastly, in the app provided, you can even schedule the purifier to run on a specific schedule so it will turn on and off when you need it the most.
SPECS & FEATURES
What We Really Like:
👍 It has a thin and sleek design that makes it easy to move around
👍 It can stand up on its own or be mounted to a wall
👍 It can connect to a WiFi network
👍 The filters are in an accessible place for quick and easy replacement
What We Think Could Be Better:
👎 The settings get reset when there is a power outage
👎 It can be difficult to set up the purifier's schedule
Consumer Reports loved this unit so much that it was their number 1 recommended air purifier, and it's hard to disagree based on our experience. This large unit was able to remove all the pollutants in our test environment in less than 24 minutes which is the second-best result we have ever seen.
The 75i is the flagship model for Austin-based Alen and comes with a fairly hefty price tag and isn't a unit that fits into any space as it has a fairly large footprint.
The Alen 75i is an air purifier that uses a combination of ionizer technology, HEPA, and activated charcoal to achieve better performance than a pure HEPA/activated charcoal-based system.
SPECS & FEATURES
What We Really Like:
👍 This can deal with really large rooms up to 1300sq. ft.
👍 Ionizer allows for better performance as they work in combination
👍 Smart modes include an LED that changes color depending on current air quality
👍 It uses an Odorcell filter that is designed for picking up odors like those generated in a kitchen
What We Think Could Be Better:
👎 It is large so not right for smaller kitchens
👎 It's a big investment at just under $800 and the replacement filters don't come cheap.
The Winix 5300-2 is a favorite of both Consumer Reports and Wirecutter and is a great example of a combination unit that uses ionizer technology to get more performance from its HEPA and Activated Charcoal filters.
In our inhouse tests, it was able to remove all the pollutants in 27 minutes which is a great time considering this unit is often found available for less than $150.
Another plus of the Winix is that it looks great in a dark color not normally seen with air purifiers. It has 2 chunky filters – HEPA and activated charcoal.
Their ionizer technology is called "Plasmawave" which allows the unit to break down odors and chemical vapors before they get picked up by the primary HEPA and activated charcoal filters.
SPECS & FEATURES
What We Really Like:
👍 Design is better than other units at this budget
👍 The smart mode automatically switches the unit on to remove pollutants
👍 Decently priced replacement filters
👍 Near silent operation at the lowest speed
What We Think Could Be Better:
👎 Long term electricity costs are higher than other units at the same performance
👎 Does get loud at the highest speed
The GermGuardian AC4825 was created by Guardian Technologies which has made it their mission to create a better home environment for anyone using their products. This air purifier is designed to help purify the air in your kitchen to help reduce many airborne germs that can be produced when cooking.
Unlike most other air purifiers, this one is designed to be able to remove up to 99.97% of different types of particles and allergens that are as small as 0.3 microns, which is perfect for eliminating odor-causing cooking particles.
One thing about this purifier that should be noted is that it does not use washable filters, which means that you will have to keep an eye on the filter from time to time and make sure that you have extras to replace the filter when required. The fans are designed to be quiet, while the overall design of the appliance is compact, making it easier to move around in the kitchen where it is most needed to help get rid of unwanted cooking odors.
If you are looking for cheaper units like the GermGuardian AC4825, then be sure to also check out our list of the best air purifiers for smoke under $100.
SPECS & FEATURES
What We Really Like:
👍 A super cheap initial investment
👍 Slim size means it has a low floor footprint
👍 Easily available generic filter
What We Think Could Be Better:
👎 Based on our own testing, I question the effectiveness of the UV-C filter
👎 Long term build quality is not as good as other units we have tested
How to Find the Best Kitchen Air Purifier
To find the right air purifier for your kitchen you need to consider the size of your kitchen, the number of pollutants, and any features that you can't live without.
There is a large number of studies that show that kitchens are a major source of indoor pollution so it's worth taking the time to make sure that the air purifier you choose will do a good job of keeping your air clean whenever you are cooking.
In super simple terms, an air purifier is just a fan combined with a filter.
When you are cooking in your kitchen, you will generate a lot of odors which are chemicals that are not caught by standard HEPA filters so when looking for an air purifier for a kitchen you want to make sure that it has a carbon filter.
Many modern air purifiers come with smart features like timers and auto-mode that allow you to manage when your air purifier runs and in the case of auto-mode the unit can come on automatically when it senses pollutants such as burnt toast which really helps to reduce running costs.
You can save money by going for non-smart air purifiers but in general, for use in the kitchen, we would recommend a unit with smart features as most people use their kitchen to cook occasionally versus an issue with outdoor pollution that would require 24/7 usage.
Many people forget that air purifiers do have ongoing costs from filter replacement and energy costs so be sure to consider the potential long-term costs for any air purifier you chose.
In most cases, air purifiers for larger spaces have a larger footprint than those designed for small rooms as there is a direct relationship between the size of the filter and how much air can be cleaned.
You want to make sure that your air purifier is big enough for your room but you also don't want to get a unit that is too big as you will end up paying more in both initial investment and running costs.
When looking at performance, be sure to look at CADR which is an industry measurement to show how quickly an air purifier can clean a room. Some manufacturers don't share this data so it's also worth looking at independent tests such as those we do here at HouseFresh.com
The big mistake that many consumers make with an air purifier is using a unit that is too small for the space as you end up using up filters quicker and may have a situation where the room is so large it never gets cleaned completely. Every big brand in the air purifier space will give you a suggested room size for every unit based on 2 air changes per hour so be sure to make sure it matches your specific needs.
Many people find that extractor fans in kitchens don't perform as well as they hope and this is where portable air purifiers can help to remove pollutants without the costly requirements to replace existing extractor fans.
🤔 Where should I put my air purifier in my kitchen?
There isn't a requirement to put your air purifier in a specific location in your kitchen but do be aware of making sure that the vents are not blocked so be sure to keep it at least 2 inches from the nearest wall.
For smaller units, we would recommend having them on a countertop but large units will have to sit on the floor.
🤔 What health issues can occur from kitchen air pollutants?
Undesirable, stubborn smells are only half of the problem. Using an air purifier is a great way to eradicate odors from the air, control the amount of smoke and volatile organic compounds (VOCs) that linger in your home. They also do a good job of eliminating them and purifying the air that you are breathing. It's also not the only way, the California Air Resource Board recommends opening doors and windows as well as using any fan to increase airflow and if possible using a range hood or extractor fan when cooking.
Being exposed to and consistently inhaling Volatile Organic Compound (VOC) cooking emissions can result in unwanted side effects, such as:
Dizziness
Fatigue
Lack of coordination
Chest tightness
Rashes
Shortness of breath
There have been numerous academic studies that have shown that chemicals from smoke and chemicals from cooking on gas can cause significant health issues, especially for those using gas stoves.
Odors and VOCs are best dealt with using adsorbent media filters according to an academic review of literature from 2011 so this is something we kept in mind when deciding on these final recommended units.
In consumer terms, this means activated charcoal and lots of it for large spaces. Although HEPA is still the primary way you should clean air in your home for all manner of tiny particles like PM10 and PM2.5 and bacteria and pollen. Odors will be ineffective with a HEPA-only system so we want to choose a hybrid system that uses a good amount of activated charcoal in combination with a high-quality HEPA filter.
🤔 Do air purifiers remove cooking odors?
As long as the air purifier you use has a filter made of activated charcoal it will be able to remove cooking odors like fried food or curry smell. There is a ton of empirical evidence on the effectiveness of activated charcoal at removing odors so as long as your unit uses that technology as part of its filter it will be able to remove cooking odors.
SOURCES
Monthly energy consumption costs have been calculated using our air purifier electricity usage calculator, which allows us to calculate daily and yearly costs associated to running an air purifier for 24hs a day. You can customize the result by air purifier wattage and by state. In the case of the calculations we shared on this page, we used California as our base state for energy prices.
Last update on 2022-08-10 / Affiliate links / Images from Amazon Product Advertising API