Our verdict:
A decent air purifier can vary between 100 and 1000 dollars, so its important to assess what level of protection you will require, the features you think you will benefit from, and even the power of each unit, ensuring it will be capable of cleaning the air within your space. 
You will also experience two key ongoing outlays when running an air purifier; energy costs and filter replacements. This will vary between purifiers, with the more powerful units often drawing more energy. However, you may find that premium purifiers provide better value for money when it comes to filter costs, as their lifespan can last far longer than the cheaper alternatives. 
Buying an air purifier isn't as simple as it may first seem. Before you take the plunge, there is a lot to consider, from the initial purchase to the ongoing operational costs. While some consumers are left wondering if an air purifier is worth it? 
What we know for sure, however, is that owning an air purifier can bring about a huge transformation to your air quality. Relieving asthma and allergy symptoms, eliminating harmful bacteria and viruses and even helping to rid your home of unpleasant odors, making them a worthy investment for millions of users.
To help you decide which air purifier is right for your home, we've delved into the true costs of an air purifier and what you can expect when looking into different price points.
How Much Does it Cost to Buy an Air Purifier?
With many machines on the market, from budget options for under $100 to whole home appliances that cost more than $1000, finding the right air purifier for your space takes some careful consideration.
By breaking down the market into three sections, we can provide a clearer picture of what each purifier can deliver: a budget, mid-range or top-of-the-line unit.

The Budget End of Air Purifiers: $99 – $200
For those looking for a cost-effective way to transform your air quality, you'll more than likely be looking at purifiers at the lower end of the market. Thanks to the continued development of air purifier technology, you can now find an excellent unit that won't break the bank, with plenty to choose from for less than $200 or even less than $100.
At this price range, you can find an air purifier with much of the same mechanical filter technology that you would find at the higher end of the market. In particular, looking for a purifier with three stages of protection, including a Pre-filter, HEPA and Activated Carbon filters, as found on the Taotronics AP003.
For an air purifier to be effective, having fans and motors powerful enough to circulate the air within your space is paramount. This is often where budget purifiers fall short, partly down to their smaller stature, which can't house large mechanics.
That's not to say they won't work; just that budget units may be best suited to smaller rooms with an average room size suitability of between 150 and 400 square feet. The Smart Air Sqair is an excellent example of a wallet-friendly yet powerful purifier that can work its magic in space as large as 430 ft².
You may also find that cheaper air purifiers lack some features in more expensive units, which offer increased functionality. This, of course, may appeal to many users who see Smart features or high-tech displays as overkill for an air purifier, with options such as the Blueair Pure 411, which offers fuss-free features for simple operation.
The anatomy of a typical budget air purifier:
Air Purifier:
Key Features:
Levoit Core 300

Current Price: $99.99

Three stages of filtration including a Pre-filter, H13 True HEPA and high-efficiency Activated Carbon filter.
VortexAir technology which draws air in from 360 degrees, allowing for increased circulation.
CADR score of 145 CFM, making this a great option for rooms up to 219 ft².
Features including a 2/4/6/8 hour timer and Sleep Mode.
The Middle Point of Air Purifier Budget: $200 – $500
When looking at the mid-range purifiers on the market, you'll see a noticeable step up in design, power and even more user-friendly functions and smart features. If your budget can stretch to between $200 and $500, you'll be able to purchase from some of the leading names in the industry.
This is clear when looking at more premium units from purifier manufacturers such as Levoit. While their Core 300 makes a great budget option, if you can afford to pay a bit more, then you quickly see the increase in performance.
The 400S and 600S, for example, still from the Core range, make excellent mid-range purifiers, boasting greater room coverage (as high as 1,588 ft²) and impressive CADR scores of 260 CFM and 410 CFM retrospectively.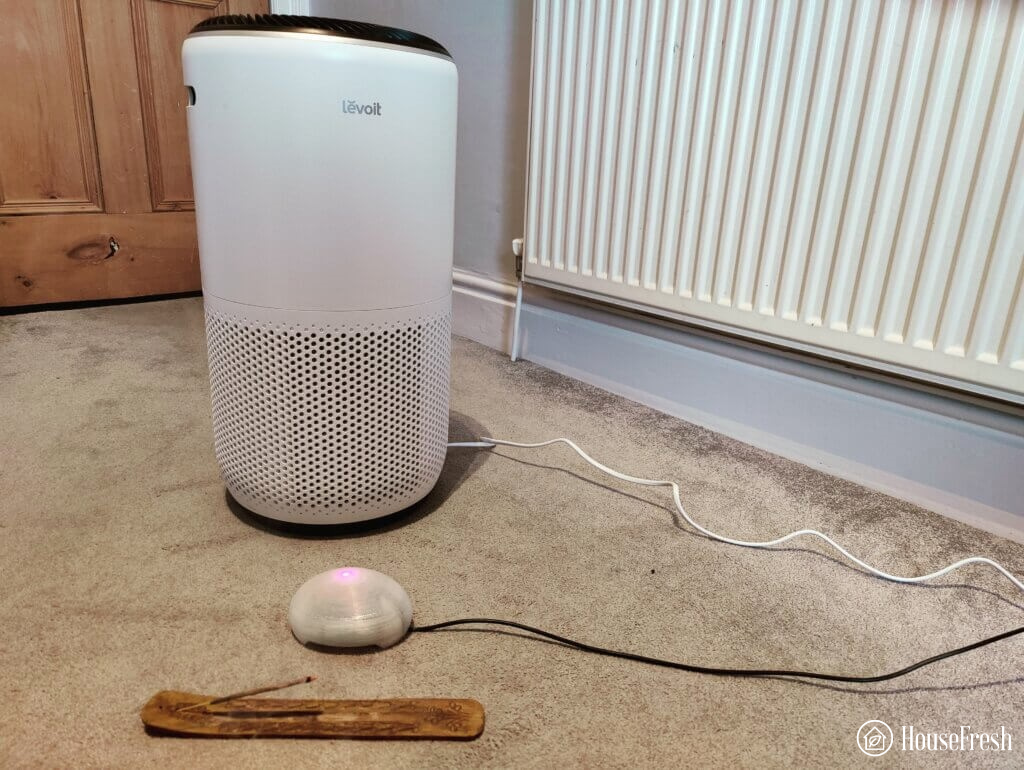 Another top air purifier in this price range is the Coway Airmega 300S. This impeccably designed unit introduces a host of features that will make cleaning your air super simple.
The anatomy of a mid-range air purifier:
Air Purifier:
Key Features:
Blueair 211+

Current Price: $299.99

HEPASilent Technology that removes up to 99.99% of particles as small as 0.1 micron.
Auto mode for reactive protection to changing pollutant levels.
Highly energy efficient and whisper quiet when on lowest fan speed.
Cleared our test space of all traces of pollutants in just 18 minutes.
The Top End of Air Purifier Budget: Over $500
Air purifiers that cost over $500 can be considered some of the top units on the market. Although not everyone can afford a purifier from the upper echelons of the market, if you are eager to effortlessly achieve an excellent level of air quality for your home or workplace, then opting for a top-range purifier is something you should consider. And for a good reason too.
At this price range, you will find the highest level of protection, with filters that go above and beyond what many people may expect of a home air purifier. Units such as the IQAir HealthPro Plus are trusted to transform air in the home and are utilized in hospitals to help handle the Covid-19 pandemic.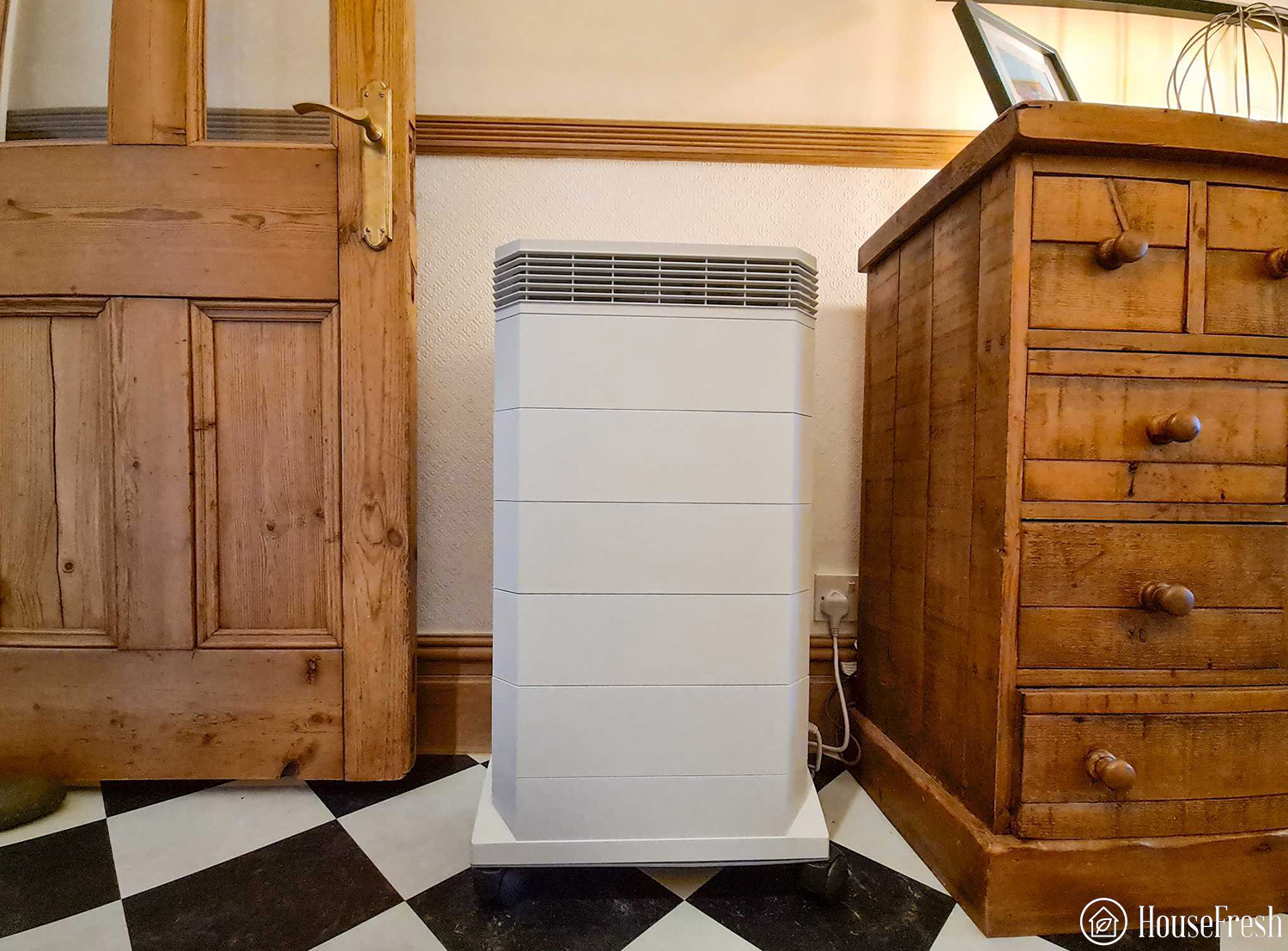 This is thanks to the medical grade filtration they employ, with IQAir combining a Pre Max Micro Filter, V5 Cell Activated Carbon and HyperHEPA filter that can tackle any pollutant you could throw at it. It is certified to eliminate 99.95% of all particles down to 0.003 microns – the smallest particles that exist.
IQAir doesn't just set this level of protection, however, with the Smart Air Blast Mini and Blueair Pro laying down the gauntlet with some of the highest CADR scores we've witnessed, reaching as high as a whopping 600 CFM (1020 m³/h), making them an excellent option for large, open plan homes.
For a premium price tag, you can even roll multiple appliances into one, as seen in Dyson's range of products that combine air purification with their trademark fan and heater technology, as seen in the HP04 and their range of air purifiers and fan combos.
The anatomy of a top-range air purifier:
Air Purifier:
Key Features:
Alen BreatheSmart 75i
Current Price: $741.99

High-quality and long-lasting filters, utilizing three stages of Pre-filter, HEPA and Activated Carbon to protect you from the smallest of particles.
Powerful performance with a CADR score of 350 CFM.
Capable of cleaning the air in a room as large as 1300 ft².
Removes 99.9% of particles greater than 0.1 microns.
Comes with a lifetime warranty.
How Much Does it Cost to Run an Air Purifier?
Once you've found the perfect purifier to suit your needs, you'll then need to assess how much it'll cost to run in the long term.
Not everyone will realize that there are ongoing costs to consider when purchasing an air purifier, so it's best to make yourself aware of what to expect to avoid any nasty surprises down the line.
The first key cost is how much replacing your filters will set you back. As mechanical filters, such as HEPA or Activated Carbon, capture polluting particles from the air, they have a finite lifespan that is reached when the filter becomes saturated. Once this happens, your unit will struggle to push air through effectively, and you will ultimately see a notable decrease in cleaning performance.
Each filter will come with a suggested lifespan from the manufacturer; this can range from a couple of months to a few years but essentially will come down to how often you use the purifier and how polluted your environment is.
We've included some examples below to understand better the varying levels and costs associated with filter replacements.
The second key cost that you will incur is energy usage. Again this will vary from purifier to purifier as each unit uses different amounts of power to operate on its different speed settings.
To obtain an estimate of energy costs, we've created a tool to calculate how much energy your unit will use and the average energy price in your local area. To use the tool, look for the rated power of a unit and enter this with your state. You can often find this information in the product description online or in the manual if you already own the device.
How to Choose an Air Purifier That Is Worth Your Budget
When selecting the right air purifier for you, much of the decision can be determined by the size of your space.
Beyond the immediate benefits of being able to filter between budget purifiers for small rooms or premium units for larger spaces, it will help you identify the minimum power requirements to effectively clean the air, allowing you to avoid purchasing an underpowered unit and save on energy costs too.
To do so, follow this simple three-step process or check out our in-depth guide for more information.
Step 1: Measure the volume of your room
A room with a square footage of 525 square feet and a ceiling height of 10 feet would have a volume of 5,250 cubic feet.
Volume = room area (length x width) x ceiling height
This will give you a clear indication of what range of purifiers you will need to look for based on the manufactures suggested room coverage.
Step 2: Calculate the minimum Clean Air Delivery Rate (CADR)
CADR is measured in cubic feet per minute, so we can now determine the minimum rating required for our space. To do this, we must remember to completely cycle the air four times an hour for best results.
Minimum CADR = room volume x four air changes ÷ 60 minutes
Meaning a room with a volume of 5,250 cubic feet x 4 air changes ÷ 60 minutes results in a minimum CADR score of 350 CFM.
Step 3: Identify the ideal unit for your space
With this invaluable data in hand, you can identify the perfect unit for your home.
Remember that if you opt for a unit that doesn't meet the minimum requirements, you will have to run it on the higher fan speeds for longer periods and go through more filters as they struggle to combat the volume of pollutants – costing you more in the long run.
Final Thoughts
Prices between air purifiers can vary for several reasons. Whether a purifier is powerful enough to clean the air in a large or small space, the range of features each unit boasts or how effective its filters are.
While the old proverb 'you get what you pay for' rings true regarding air purifiers, you needn't pay over the odds for an air purifier if your space doesn't require a large and powerful unit.
Remember to assess the needs of your space by measuring the room and calculating the minimum Clean Air Delivery Rate first, then work out the long-term costs of filter replacements and energy usage to determine which air purifier is right for you.