Our verdict:
Unlike other household or office gadgets, air purifiers are efficient by design. They don't use massive amounts of electricity, unlike a heater, washer/dryer, or refrigerator.
On average, most air purifiers use a maximum of between 40W and 100W, depending on the make and model. Even if you run the air purifier at the highest setting, you're still talking about 100W or slightly more. 
Most purifiers only need 30W or less for constant performance. It's best to leave the system running 24 hours per day as long as you live or work in the building. Some only require as little as 10W — comparable to an iPhone charger!
With energy prices soaring, it's only natural to think twice before adding another electrical device to your home. Still, an air purifier is energy-efficient compared to most other household appliances. The benefits they can bring in terms of improving the air quality in your home certainly outweigh any slight increase in your energy bills.
An air purifier can significantly impact the air quality inside your home. It will be more effective if you run it 24 hours a day rather than only when you notice a problem with the air (e.g., after cooking a meal in the kitchen).
Understandably, you might have concerns about how much energy a cleaner will use when it is always on, so the cost is an important consideration when deciding whether or not to buy one — and, indeed, which model to buy.
In this article, we're going to answer the question of how much an air purifier costs to run and help you work out the varying costs of each model with our Cost Calculator, helping you find the right cleaner for your home and budget.
Calculate the Cost of Any Air Purifier
We at HouseFresh.com have made it easy to calculate air purifier costs using our online tool.
Simply choose your state and enter your model's wattage.
Air Purifiers Are Extremely Cost Effective
We used the tool to calculate the cost of some popular air purifier models. As you can see, air purifiers are incredibly cost-effective, especially when you factor in the many benefits.
Most air purifiers have an energy usage of between five cents and 99 cents daily on their highest mode with 24-hour performance.
That's only a few dollars a week!
Calculating the (Real) Cost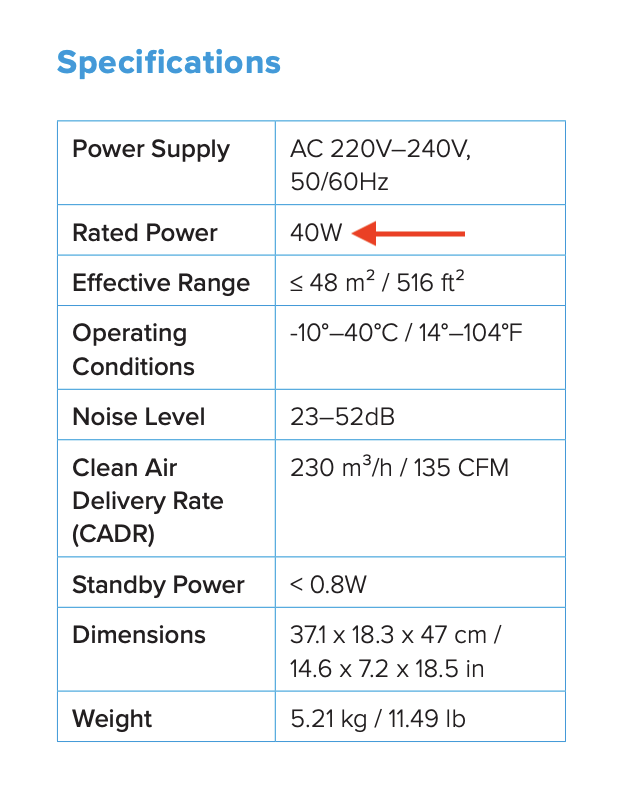 Using a power meter, we tested the PUR131's real-world wattage usage at all different settings.
The amount of wattage varied between modes and never came near the max stated in the LEVOIT PUR131 manual. In reality, we experienced the following meter readings for each mode:
| | |
| --- | --- |
| Mode | Power usage |
| Automatic mode (lowest) | 5.4 W |
| One fan | 10.2 W |
| Two fans | 16.4 W |
| Three fans | 24.5 W |
Assuming this unit provides 40W, it would cost 10 cents a day vs. the six cents a day that we saw in our experiments. That's a $10 difference to account for.
The additional auto-mode is one of the reasons I am a big fan of the LEVOIT 131, as it only draws two cents when in this mode yet can move to full speed anytime it detects an allergen/odor.
How an Air Purifier Works
In basic terms, an air purifier circulates the air and, when doing so, catches pollutants like pollen, dust mites and other particles inside the filters. The best air purifier systems depend on the fan's technology and the filter's quality.
Fun Fact: Most electricity goes towards powering the fan.
If you want to know more, our detailed guide explains thoroughly how an air purifier works.
Final Thoughts
Larger devices can cost more than smaller purifiers, but most can employ improved design for fan efficiency. Hence, their superior air cleaning performance more than supports their potential extra wattage.
Units with much older technology and design can also use more electricity than necessary. We recommend replacing a 10-year-old air purifier as they often have the same output but double the power cost.
If you are in the market for a new air purifier, we recommend first looking at our list of the best air purifiers we tested in 2022.
Why Trust Us?
We try and review every single air purifier we recommend in our home lab, so we can compare them using first-hand data that doesn't rely on manufacturers' specifications.
Here's what we do:
We create particulate pollutants in our home lab with the help of incense sticks.
We use a Purple Air Indoor sensor to record how long the air purifier takes to reduce the levels of PM1ug/m3, PM2.5ug/m3 and PM10ug/m3 particles in the air.
We track energy consumption with an electricity usage monitor.
We measure noise levels in decibels across all power levels available.
We can compare air purifiers across various use cases with all this data. On top of this, we also track initial costs and long-term costs associated with each unit.
SOURCES
All price data is pulled from the U.S. Bureau Of Labor Statistics.