Our verdict:
The Medify MA-25 ticks a lot of boxes. 
On the face of it, you've got a modern purifier with some nice design features, including a choice of 3 different colors to suit your taste. Under the hood, you'll find a powerful fan and top-quality filters that remove pollutant particles as small as 0.1 microns with ease. It even comes with a lifetime warranty for added peace of mind.
However, there are a couple of setbacks. First and foremost is the short lifespan of its filters, at only 3-4 months, be prepared to fork out more money on replacements in the long run. It also lacks some of the additional features we've come to know and love, such as an air quality monitor or auto mode that can be found on the Levoit Core 400S.
For those of you looking for a powerful unit that's simple to use, the MA-25 undoubtedly provides an excellent option (all for 150 bucks) and will work wonders in small to medium-sized rooms. 
The team behind Medify understands the issues we all face as air quality worsens year on year. To help combat this air quality crisis, they have created a range of products to foster healthier environments in order to prevent illnesses, allergies, and respiratory conditions for people around the globe.
From a personal unit specifically designed for use in your car to extra-large units designed for open-plan living spaces or offices, the Medify range sets out to cover all bases where indoor air quality could be affected. As a mid-range product, the Medify MA-25 is designed for use in medium-sized spaces between 250 and 1000 sq. ft., offering an affordable purifier for the average home.
Each of Medify's purifiers comes with a medical grade H13 HEPA filter, capable of capturing 99.9% of pollutants as small as 0.1 micron in size. They are also extremely confident in the build quality of their purifiers, so much so that they offer a lifetime warranty on all their units.
After reading Medify's glowing reviews and being impressed with the Medify MA-40 when we reviewed it last year, we decided to put the MA-25 to the test. As always, we purchased this purifier with our own money, so you can rest assured this review will remain editorially impartial and give you an unbiased account of its performance.
TL;DR The Lowdown on the Unit
No time to read the whole review? Here are the key takeaways we learned whilst putting this purifier through its paces.
What We Really Like:
👍 Superior H13 HEPA filter comes as standard
👍 Outperformed similarly priced purifiers during our real-world tests
👍 Available in different color options
👍 Comes with a lifetime guarantee
What We Think Could Be Better:
👎 The filters have a short lifespan and genuine replacements aren't cheap
👎 The unit is quite loud, even on the lowest setting
👎 There are no Smart features or an air quality sensor
The Specifications
The Medify MA-25 comes with 3-stage filtration and a powerful fan contributing to a CADR rating of 135. This unit is currently on the market for $157.38, which works out as slightly more expensive than the Blueair Blue Pure 411 at $130 with a CADR of 120 or the Levoit PUR-131 for $151.99, which also has a CADR of 135.
| | |
| --- | --- |
| Purifier technology: | Pre-Filter, H13 True HEPA, Active Carbon Composite |
| CADR (CFM / m³/h): | 135 CFM |
| Recommended room size: | 500 sq. ft. |
| Filter life: | 3-4 months |
| Noise level (low – high): | 35 – 52dB |
| Dimensions (in inches / in cm): | 13.5H x 8W x 8D inches / 34.3H x 20.3W x 20.3D cm |
| Weight (in pounds / in kg): | 3.9 kg / 8.6 lbs |
| Energy consumption: | $76.69 per year |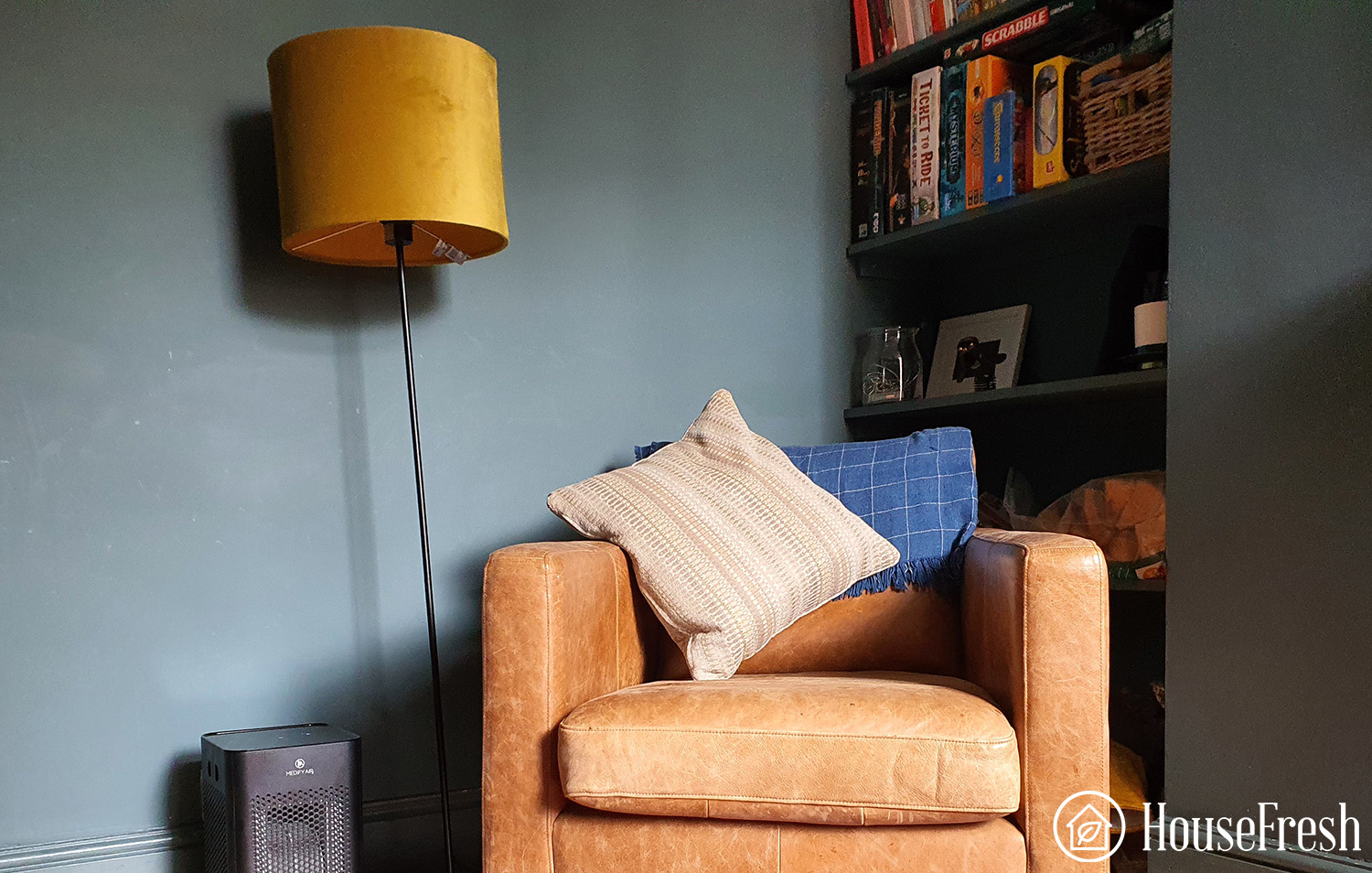 Average Appearance Enhanced by Fancy Flourishes
On receiving delivery of the purifier, I was surprised to find such a neatly packaged parcel. Thanks to the unit's compact size and 3-in-1 filter, there were only a couple of components inside the box, which led to a speedy setup. Once everything was unpacked, it was easy to set up the purifier with little need to consult the instruction manual. Simply remove the back panel and slot in the filter, ensuring the pull tab is facing outwards, then plug into the mains and the unit is ready to go.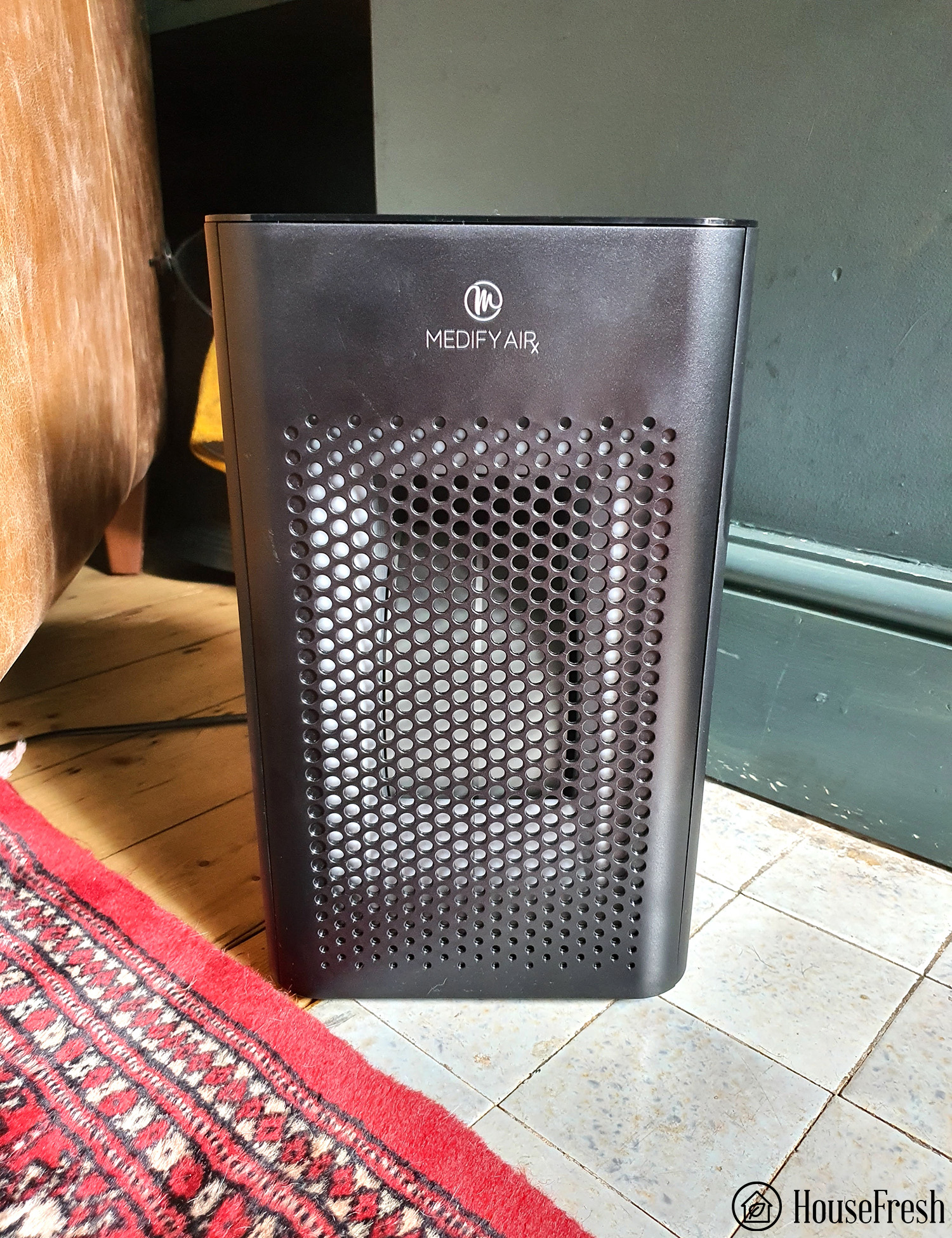 It's fair to describe the Medify MA-25 as an average, run-of-the-mill appliance. Its simple cuboid design doesn't exactly break the mold, however it does possess a couple of nice features that elevate its appearance. Its glossy touch screen control panel adds a quality flourish, whilst the choice of three colors, coming in black, silver, or white, allows you to choose a unit to best suit your home.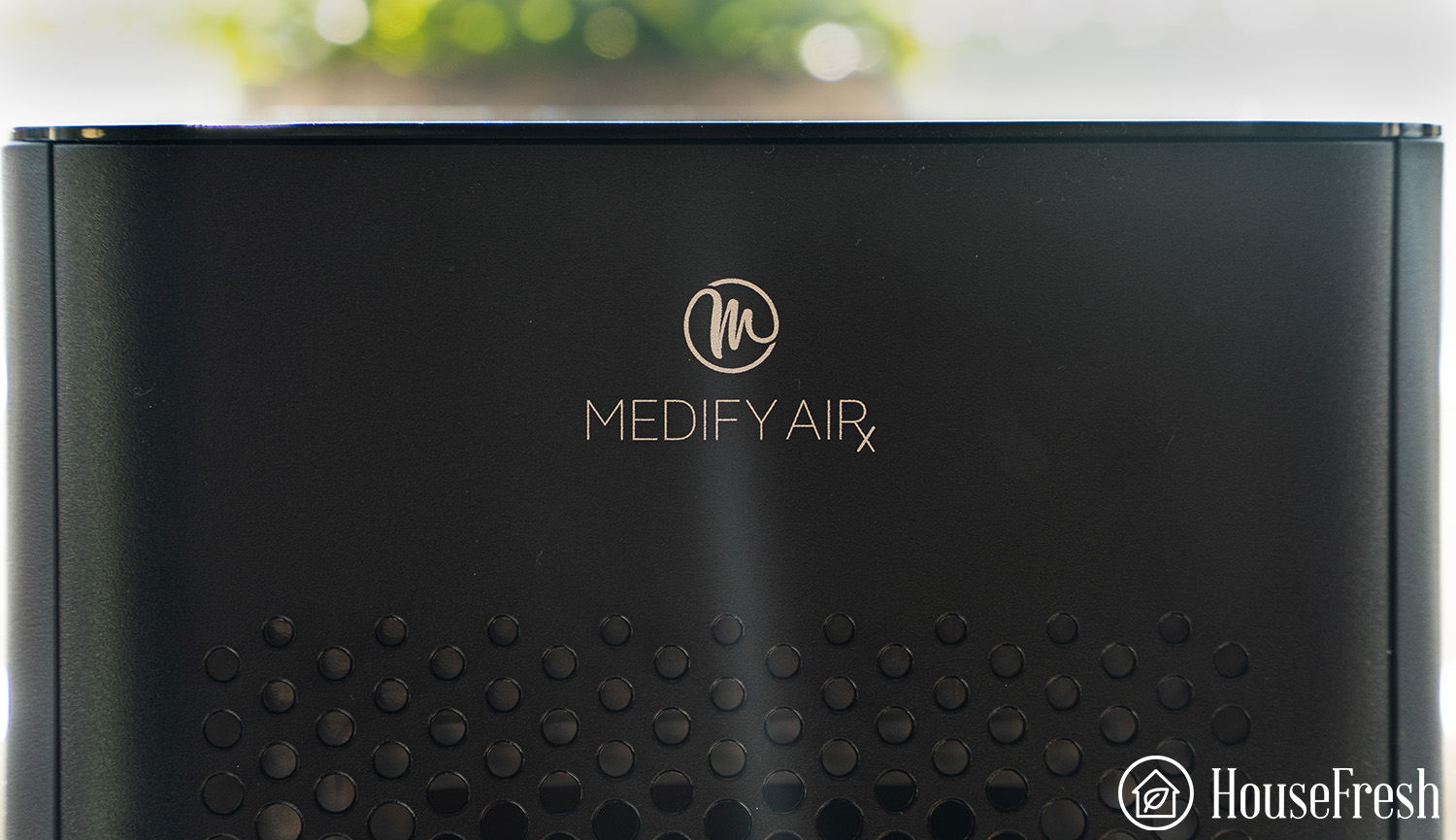 When comparing the unit to a similar purifier made by a rival manufacturer (such as the Levoit Core 400S), you really notice its compact size. Measuring up at 13.5 x 8 x 8 inches, this unit won't take up much living space and can even be placed on a table or sideboard without looking out of place.
Thanks to its different color options, the MA-25 also gives you the option to pick a colorway that will best match your home, whereas other manufacturers will often only produce more mundane white goods.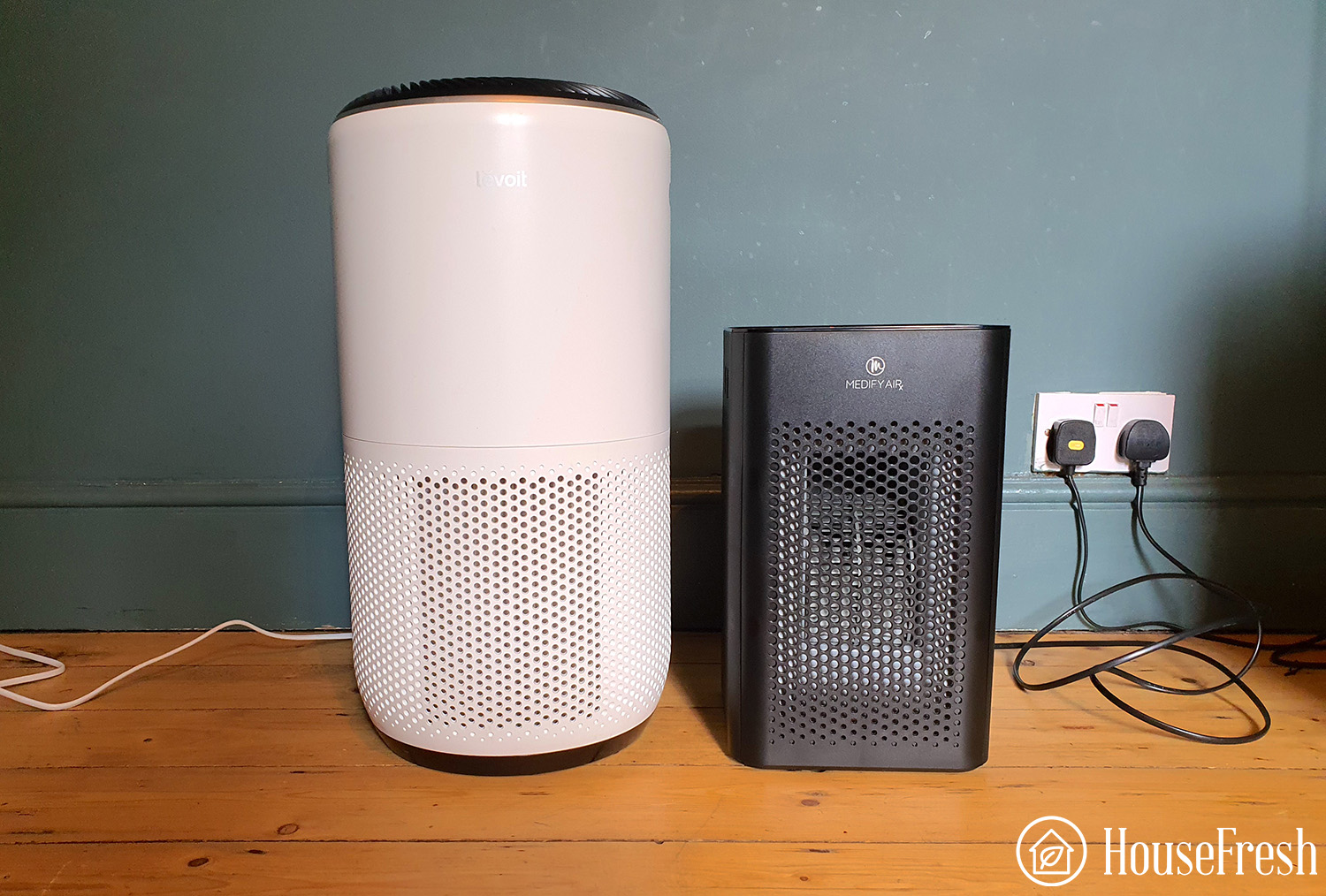 Superior Protection from Pollutants
When purchasing the MA-25, you receive a 3-in-1 filter consisting of a pre-Filter, H13 HEPA, and activated carbon composite filter. This conveniently packaged filter will protect you from a whole host of household pollutants, all you have to do is unclip the back panel and slot the filter inside. Here's a look at just how easy it is:
With the unit set up, you can expect this purifier to tackle a range of pollutants thanks to its advanced H13 HEPA filter. This type of HEPA filter is medical grade, meaning it can capture a higher percentage of smaller particles than its predecessors can. It is certified to remove 99.9% of airborne particles as small as 0.1 microns, including harmful toxins, bacteria, and viruses.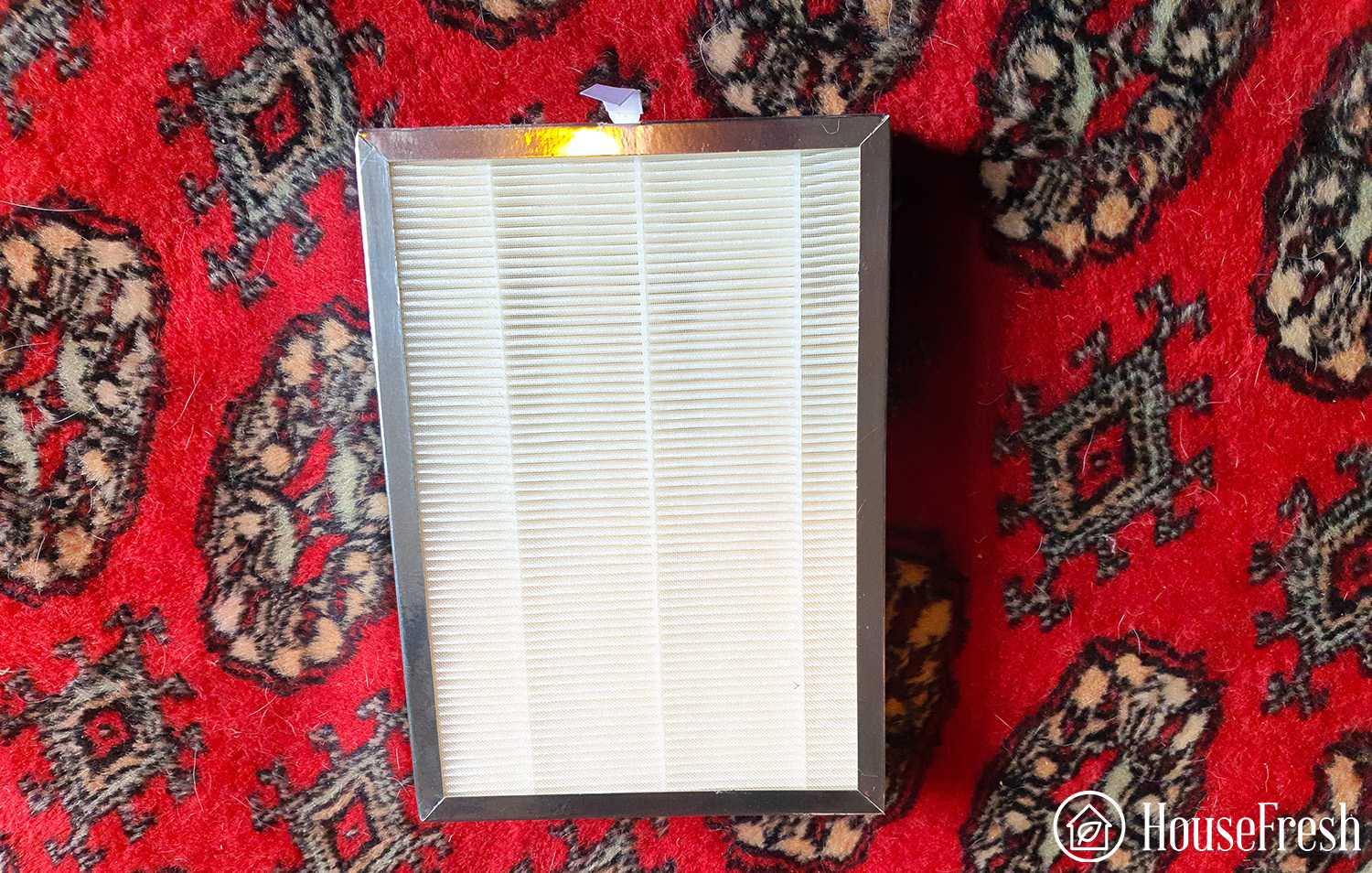 As well as a HEPA filter, you will also find the pre-filter and activated carbon filter for enhanced protection. The mesh pre-filter comes attached to the HEPA filter to capture any larger particles such as hair, fur, or lint on entry. This can be regularly vacuumed to prolong the lifespan of the HEPA filter and keep your purifier operating at its optimum.
The activated carbon filter is a composite layer made up of hundreds of charcoal pellets, providing the third stage of filtration. Thanks to these tightly packed, porous pellets, this filter will absorb VOCs and odors from your home as gaseous pollutants pass through and adhere to the carbon substrate.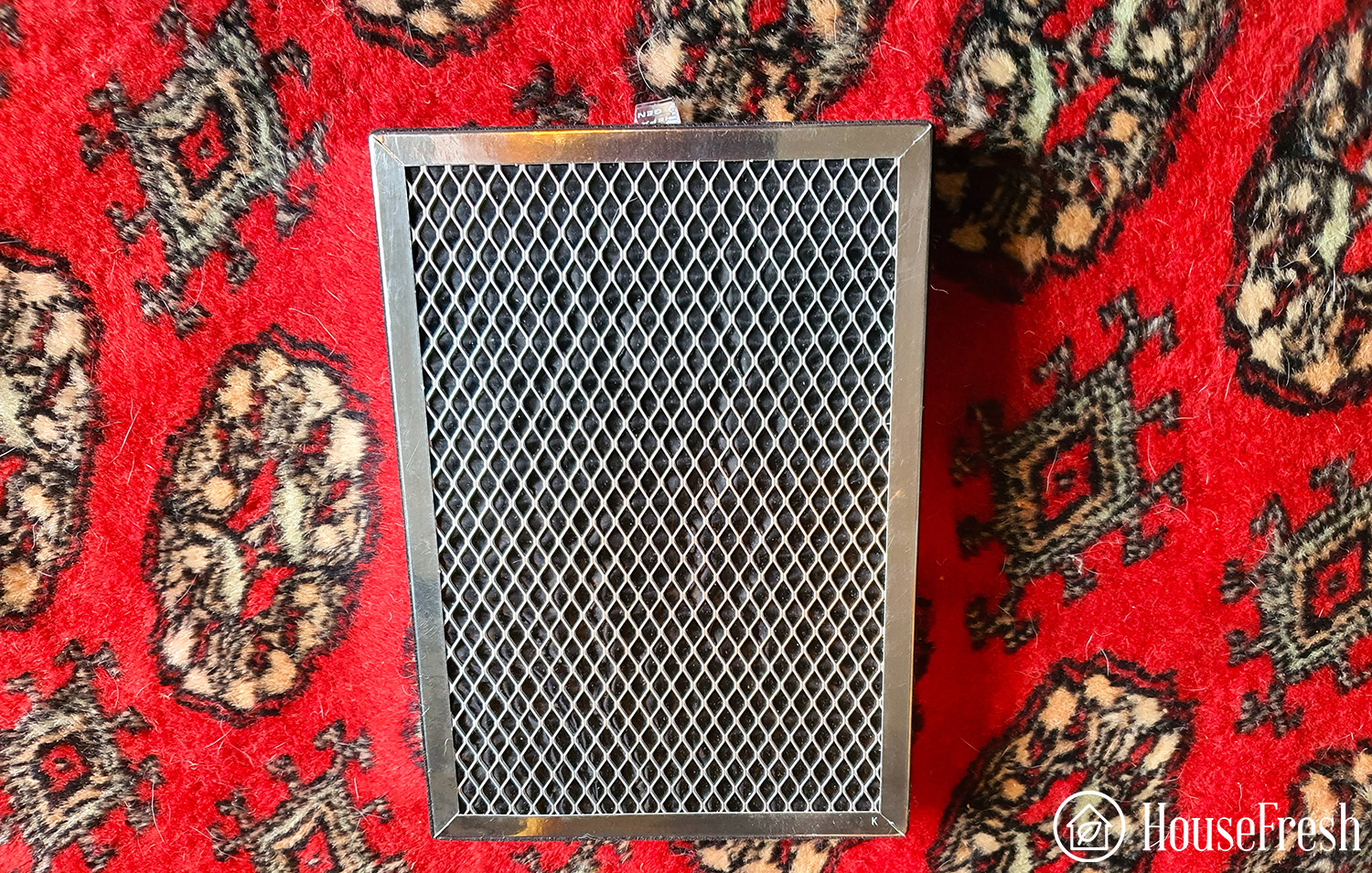 Although Medify has clearly opted for high-quality filters to enhance their purifiers' level of protection, it's hard to look past their disappointing lifespan. Where most other manufacturers offer filters that last 6 months (with others lasting even longer), Medify states their filters will need to be replaced every 3-4 months or after 2500 hours.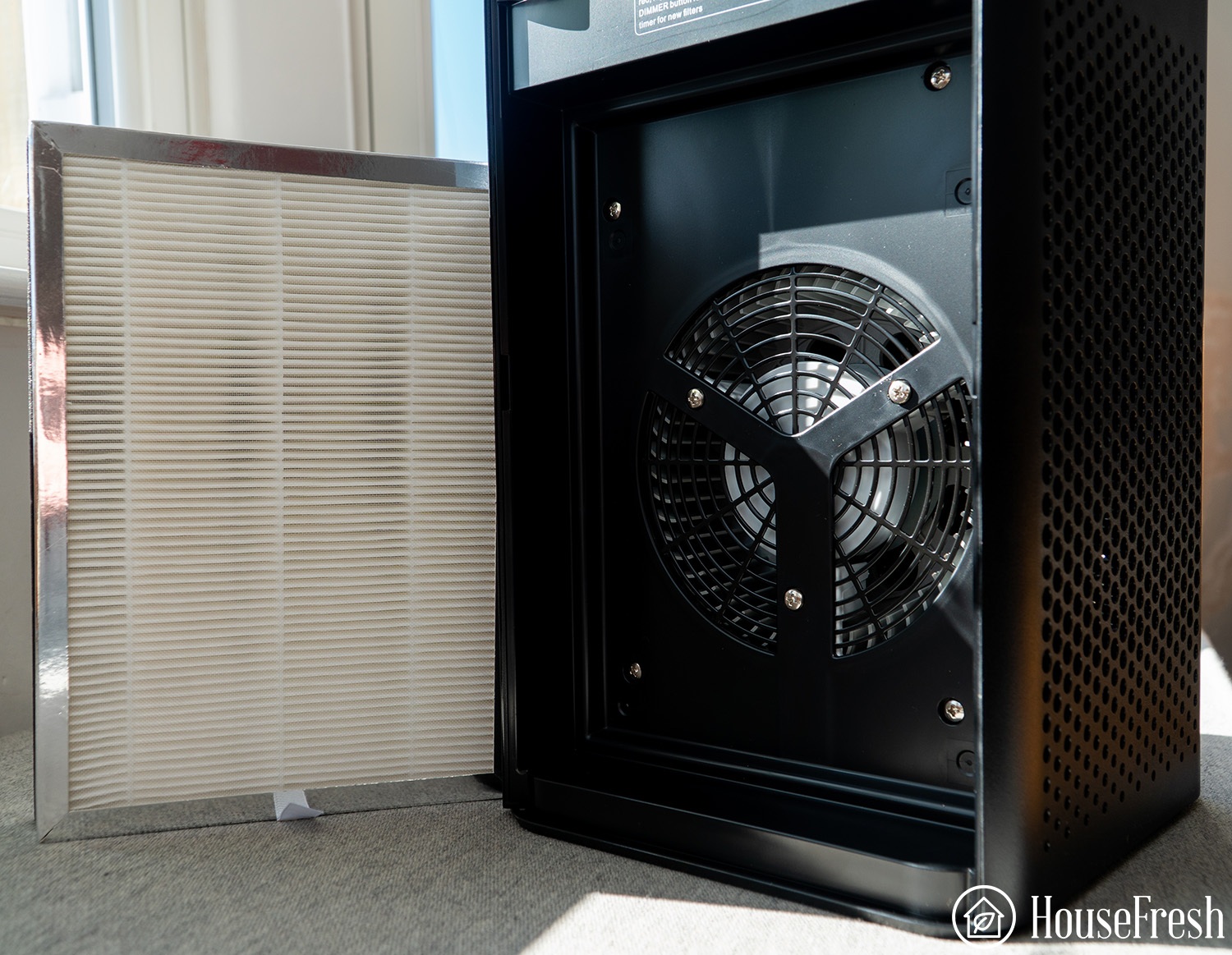 A quick word to the wise for any readers that are planning to buy this purifier is to be sure to remove the plastic wrapping before inserting your filter and switching on the machine, otherwise you won't purify much air and might add some unusual aromas to your space, trust us!
Foolproof Controls Everyone Will Understand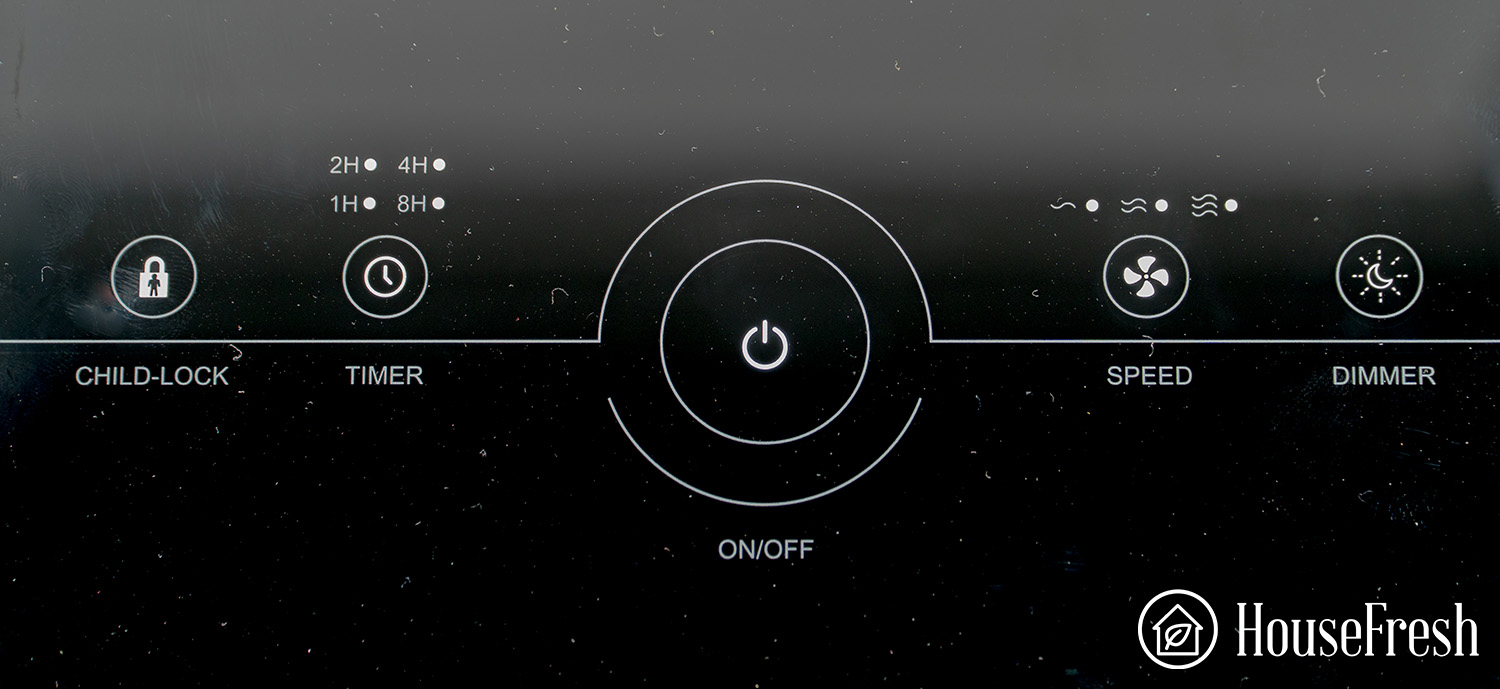 One of the best things about the MA-25 is its simplicity. By just taking one glance at the glossy touch screen control panel, even those with a serious aversion to technology will be able to operate this unit.
Each of the controls is clearly labeled and illuminated to indicate which setting the purifier is on. Simply cycle through the fan speeds to adjust the power of the unit when required or utilize the 4-stage timer setting so you never have to remember to switch it off again.
You can also operate the purifier in night mode, setting the purifier to its lowest fan speed along with cutting the LED lights so you can get a good night's sleep. While the handy child-lock feature will prevent wandering hands from playing with your new toy.
Although there is no doubting this is an easy purifier to get to grips with, some users may be left pining for more advanced features that are increasingly being found at this price point. Perhaps developing a compatible app for remote use or an air quality sensor for detailed feedback would take this purifier to the next level.
Pollutant Busting Performance in Under 45 Minutes
In order to see how the Medify MA-25 performed in the real world, we took the unit to our home office/testing lab to put it through its paces.In the interest of conducting a fair and controlled test, this is the same space we use for each of the purifiers we test, which measures up at 705 cubic feet, around the size of a medium-sized bedroom. We also use the same method for creating pollutant particles, by burning incense sticks and measuring the amount of PM1.0, PM2.5, and PM10.0 created by using our PurpleAir indoor air sensor.
With the stage set and room filled with an abundance of incense smoke, we fired up the Medify MA-25 to see how well it performs in our real-world tests. At the time of switching on the unit, we recorded the particulate matter levels in the room to be:
| | | |
| --- | --- | --- |
| PM1.0: 376.99ug/m3 | PM2.5: 646.06ug/m3 | PM10.0: 709.79ug/m3 |
Within 43 minutes, the room was cleared completely of all particulate matter, showing this is a great option for eradicating harmful pollutants in well under an hour.
To put this into context, the MA-25 outperformed two of its close competitors from within a similar price range, the Levoit PUR-131 and the Blueair Blue Pure 411, whilst giving other top-performing units a run for their money too.

During our tests, we also recorded the noise levels produced when cycling through its various fan speeds. With volumes ranging between 35 and 52dB this certainly isn't the quietest purifier we've tested, but to hear what that sounds like for yourself, check out our sound guide below.
The Cost to Run a Medify MA-25: $226.69 Per Year
1. Electricity costs
With energy prices rising around the world, affecting the day-to-day cost of living, it's more important than ever to know how much an appliance will cost you in the long run. With this in mind, we use our energy use calculator to estimate what you might expect to pay if using the Medify MA-25.
Whilst testing this purifier, we measured how much electricity the unit used when running on its highest speed setting. We found that it draws just 35.3 watts of power, making this unit pretty energy efficient. This would equate to $76.69 per year, if left to run 24/7 on the highest speed, which isn't bad at all for a worst-case scenario cost.
2. Filter costs
Similarly to energy costs, you need to factor in replacement filter costs before committing to buying an air purifier. For HEPA and carbon filters to work effectively and keep your unit running at its best, they need to be periodically replaced once they become saturated with pollutant particles.
Medify states that their filters will need to be replaced every 3-4 months. This is a relatively short lifespan, especially when you consider a genuine filter replacement will set you back $50. When comparing this cost to those of Winix or Levoit you realize this is indeed a high price to pay, with competitors' purifiers lasting 6 months and costing around $30-40. 
Medify MA-25 Genuine Replacement Filter | for Allergens, Smoke, Wildfires, Dust, Odors, Pollen, Pet Dander | 3 in 1 with Pre-filter, True HEPA H13, and Activated Carbon for 99.9% Removal | 1-Pack
GENUINE MEDIFY MA-25 FILTERS ONLY: Ensure optimal performance and longevity of your air purifier by using authentic Medify MA-25 replacement filters (ASIN: B084Q965BF). Non-genuine filters risk damaging your machine and compromised air quality.
EFFORTLESS FILTER REPLACEMENT: Our user-friendly design ensures a hassle-free filter change. Keep every room in your home, school, or office filled with fresh, irritant-free air. Regularly updated filters effectively neutralize lingering odors.
SUPERIOR TRUE HEPA H13 FILTRATION: Our advanced HEPA H13 filters capture 99.9% of airborne particles as small as 0.1 microns. Breathe easier with effective removal of dust, pollen, allergens, smoke, and pet dander—better than HEPA H11.
3-STAGE PURIFICATION PROCESS: The MA-25 boasts a three-layer filtration system—pre-filter for large particles, HEPA H13 for microscopic contaminants, and activated carbon for odor elimination. Ideal for pet owners, allergy sufferers, and smokers.
EXTENDED FILTER LIFE & COST-EFFICIENCY: Our long-lasting filter set delivers up to 2,500 hours or 3-4 months of continuous, high-quality air purification. With fewer filter changes needed, enjoy cost savings and a healthier, cleaner home environment.
It's worth noting that alternative filters that are compatible with the MA-25 are available on Amazon for a much more affordable price. However, you may wish to think carefully before purchasing these as Medify's lifetime warranty is only applicable if genuine filters have been used. 
H13 True HEPA Replacement Filter
H13 True HEPA Replacement Filter
H14 True HEPA Replacement Filter
H15 True HEPA Replacement Filter
H16 True HEPA Replacement Filter
H17 True HEPA Replacement Filter
Bottom Line
Medify have certainly got their priorities in order, creating a mid-range purifier that comes with superior H13 HEPA filters and build quality backed up by a lifetime guarantee. Giving consumers peace of mind they can breathe clean and healthy air for years to come.
We found that the MA-25 is, without doubt, a quality purifier that will work wonders in medium-sized spaces between 250 and 1000 sq. ft. This was proven during our real-world tests where all traces of polluting particles were eradicated in 43 minutes, beating many of the other units within a similar price range, such as the Levoit PUR-131 and Blueair Blue Pure 411.
That being said, there is still room for improvement. Despite having quality filters, their lifespan doesn't compare to rival manufacturers and replacements don't come cheap unless you source alternatives from Amazon. Also, while the simplicity of this unit makes life easier, the lack of advanced features does make it feel more basic.
---
The Rules We Followed When Reviewing the Medify MA-25
To cut through the jargon and high-tech specs we are often bombarded with when researching a new air purifier, we've set out to provide clear and concise advice on which units are ace and which should be avoided.
To do just that, we follow these 4 simple rules:
1. Each and every purifier we review has been bought with our own money, including the Medify MA-25. This allows us here at HouseFresh to remain impartial and unbiased.
2. We don't relay information provided by the manufacturer. We rely on our own hands-on testing of each purifier to see how it performs in real-world conditions with our own testing tools.
3. We compare and contrast each purifier based on how well they perform in our tests and aren't afraid to tell you which unit comes out on top.
4. We don't make snap judgments on a purifier. Instead, we use it in a real home for over 6 months to see the long-term benefits and downsides of using the Medify MA-25 day in and day out.
Our Testing Process
With independent performance ratings such as CADR and other performance metrics published by the manufacturers, there are plenty of stats for consumers to base an opinion on. But we don't like to leave it at that.
Without getting our hands on the unit and carrying out our real-world tests, we wouldn't be able to recommend a purifier with 100% confidence.
That's why we test all the models we review here at HouseFresh in the same room (sized 705 cubic ft) performing the same job (removing incense smoke). This allows us to compare a range of purifiers side by side, having faced the same conditions.
With our trusty PurpleAir PA-I Indoor PM 2.5 Sensor at hand, we have the ability to track PM1.0ug/m3, PM2.5ug/m3, and PM10.0 ug/m3 with accurate readings every few minutes.
This data can then be visualized using Flourish to help us show clearly how long it took a specific purifier to remove all pollutants from the air.
SOURCES
We calculated the monthly energy consumption costs with the help of our air purifier electricity usage calculator. We calculated daily and yearly costs associated with running an air purifier for 24hs a day in California. You can customize the result by air purifier wattage and by state.
Last update on 2023-09-14 / Affiliate links / Images from Amazon Product Advertising API