Medify hasn't been making air purifiers as long as some; founded in 2017 in Deerfield Beach, Florida, USA, by an engineer set on helping reduce indoor air pollution. They now have a large range of units suitable for various room sizes to match your needs.
With this range of units, Medify has given itself an advantage over the competition. But, the focus isn't on variety; it's on the high-quality filters inside them, as they only use H13 or H14 HEPA filters in each model.
The 'mini' air purifier market has grown significantly recently, with many brands offering units for smaller spaces. With so many models to choose from, like the Levoit Core Mini, the AROEVE MK01 and the notorious Molekule Air Mini, it's easy to see why finding the right one is essential.
We've previously reviewed the larger MA-40 with its high CADR (Clean Air Delivery Rate), H13 HEPA filter and ionizer, and the MA-25 that outperformed other similarly priced units, so it'll be interesting to see how the smaller MA-14 performs.
Why You Can Trust This Review

As with all the reviews we write at HouseFresh, we pay for every product with our own money and have no brand ties. We do this because we want to be trusted that we can give a fair, truthful review, siting both pros and cons with no caveat.

Every air purifier we buy is put through the same three-stage test so we can asses its air cleaning capabilities, the associated energy consumption and the noise level emitted when running at different fan speed levels.

If a unit doesn't perform, we'll tell you.

Here's how we tested the Medify MA-14:

1️⃣ We ran the Medify MA-14 at top speed inside our 705 cubic ft. home lab, previously filled with incense smoke. We used an air quality monitor to track the air cleaning perfomance of the Medify MA-14 as PM1.0ug/m3, PM2.5ug/m3 and PM10.0 ug/m3 levels decreased.

2️⃣ We recorded energy usage in watts when running the Medify MA-14 at its highest and lowest fan speed levels.

3️⃣ We used a sound level monitor to track noise levels in decibels emitted by the Medify MA-14 when working at its different fan speeds.

Without further ado, this is what I learned after testing the Medify MA-14.
TL;DR The Lowdown on the Medify MA-14
---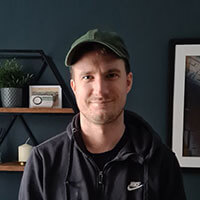 "The MA-14 is an okay unit when used in the right room. It would be ideal for taking on the road in your RV as it doesn't take up much space and it's quiet. But there are better air purifiers out there for the same price."

— Danny Ashton, Founder & Senior Writer
---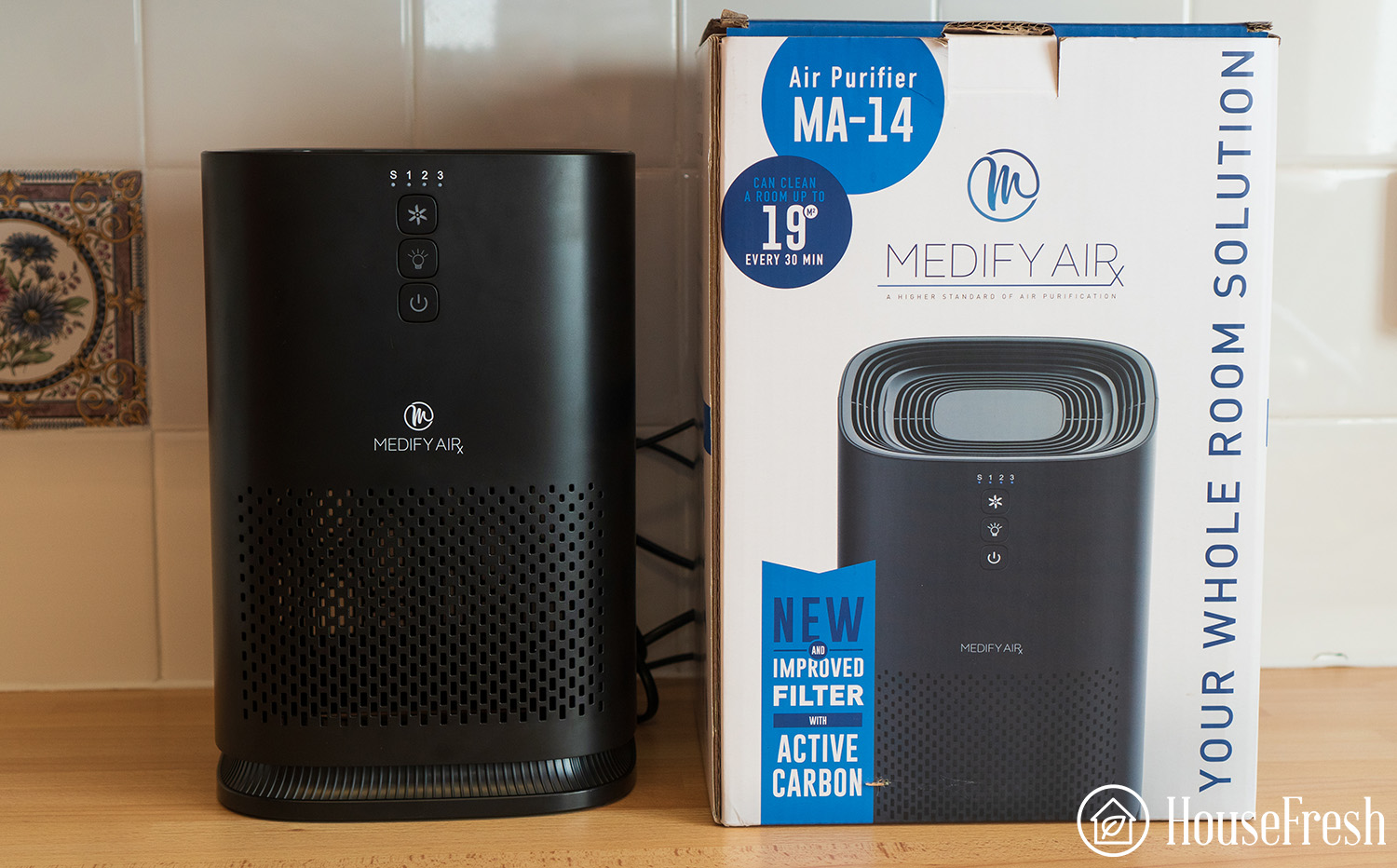 If you don't have time to read all the ins and outs of the MA-14, check out our 'Too Long; Didn't Read' list of the main pros and cons of the unit.
What We Really Like:
👍 It's nice and quiet
👍 Very easy to operate
👍 It's light and effortless to move between rooms
👍 Comes with an H13 HEPA filter
What We Think Could Be Better:
👎 I'd like to see them use activated carbon pellets in the filter
👎 Doesn't have an air quality monitor
Small, But Surprisingly Effective
For an air purifier of this size, you'd expect it to have a reasonably low CADR as we've seen in the Levoit Mini (32 CFM) or the Molekule Air Mini (estimated 25 CFM), but the MA-14 packs more of a punch with its CADR of 70 CFM which is closer to the $700 Dyson HP04 (89 CFM).
| | |
| --- | --- |
| HouseFresh Rating: | ★★★☆☆ |
| Time to clean our test room: | 77 minutes |
| Air purifier technology: | Pre-filter, H13 True HEPA, active carbon composite |
| Recommended room size: | 117 sq. ft |
| Clean air delivery rate (CADR): | 70 CFM (120 m³/h) |
| Dimensions (in inches / in cm): | 12.20H x 8.26W x 8.26D inches (30.99H x 20.99W x 20.99D cm) |
| Weight (in pounds / in kg): | 5.3 lbs /(2.4 kg) |
| Filter life: | 3 – 4 months |
| Warranty | Lifetime (for registered products as long as the filters are changed with genuine MEDIFY AIR filters) |
| Noise level (low – high): | 21dB – 48 dB |
| Estimated energy consumption: | $26.28 per year |
Looks…Like A Mini Air Purifier
Now that air purifiers have proved to be a "must-have" device in our homes, brands have to put a lot into the design of their units (see the FÖRNUFTIG by IKEA, for example) to get our attention as customers.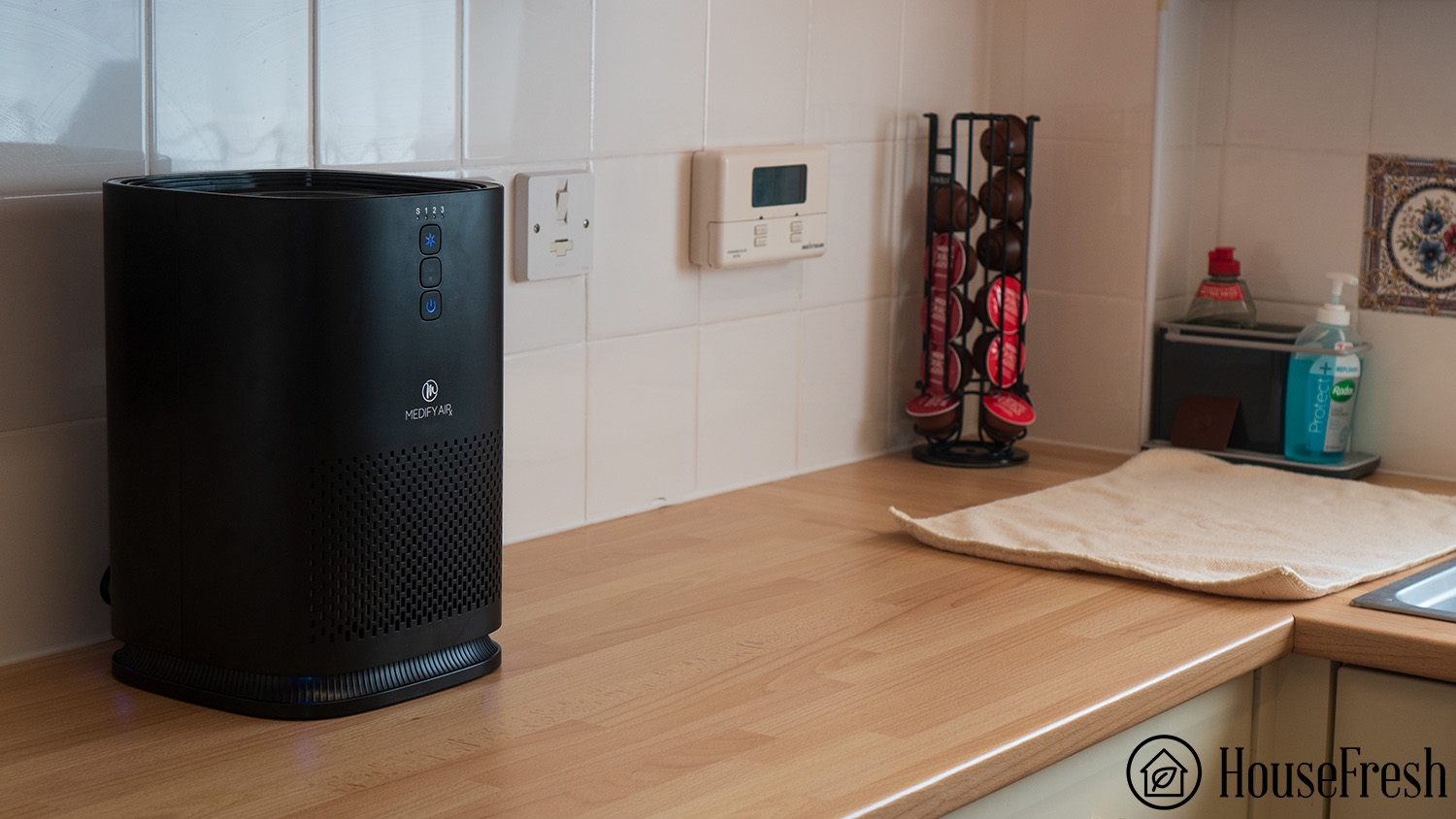 The MA-14 isn't breaking any molds with its design, but it still looks good (especially in black). My favorite feature is the stand attached to the bottom instead of the unit sitting flush to the floor, like MA-25.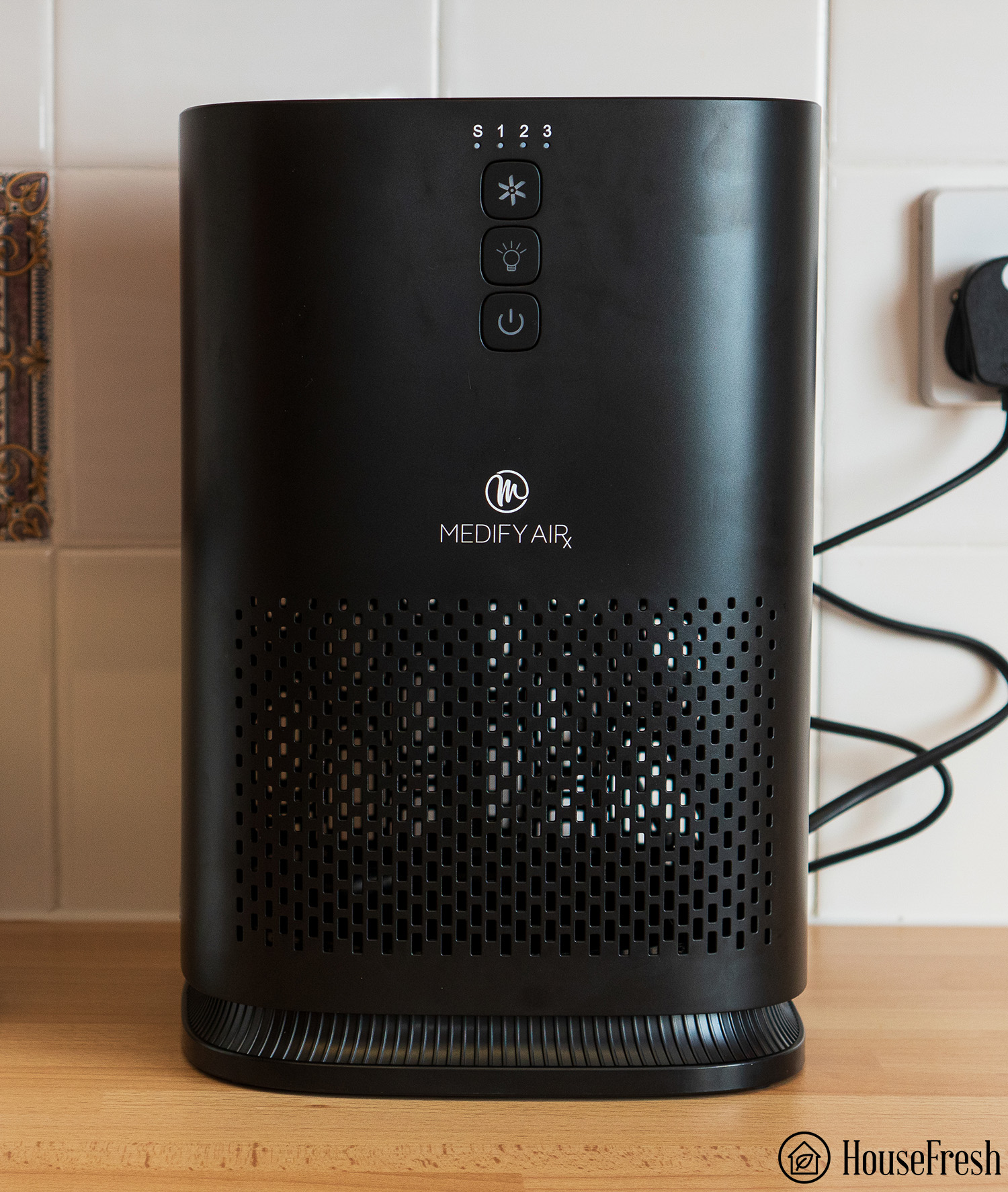 I like the look of the MA-14. Its curved lines and sunken grill give it a "modern" feel, and the controls are right in front of you, making it very easy to use.
Small True HEPA H13 Filter
The MA-14 has an ace up its sleeve by including a True HEPA H13 filter under the hood. It may be small, but we love seeing this grade filter used in home air purifiers. Also known as "medical grade," this type of HEPA can trap up to 99.9% of particles down to 0.1 microns.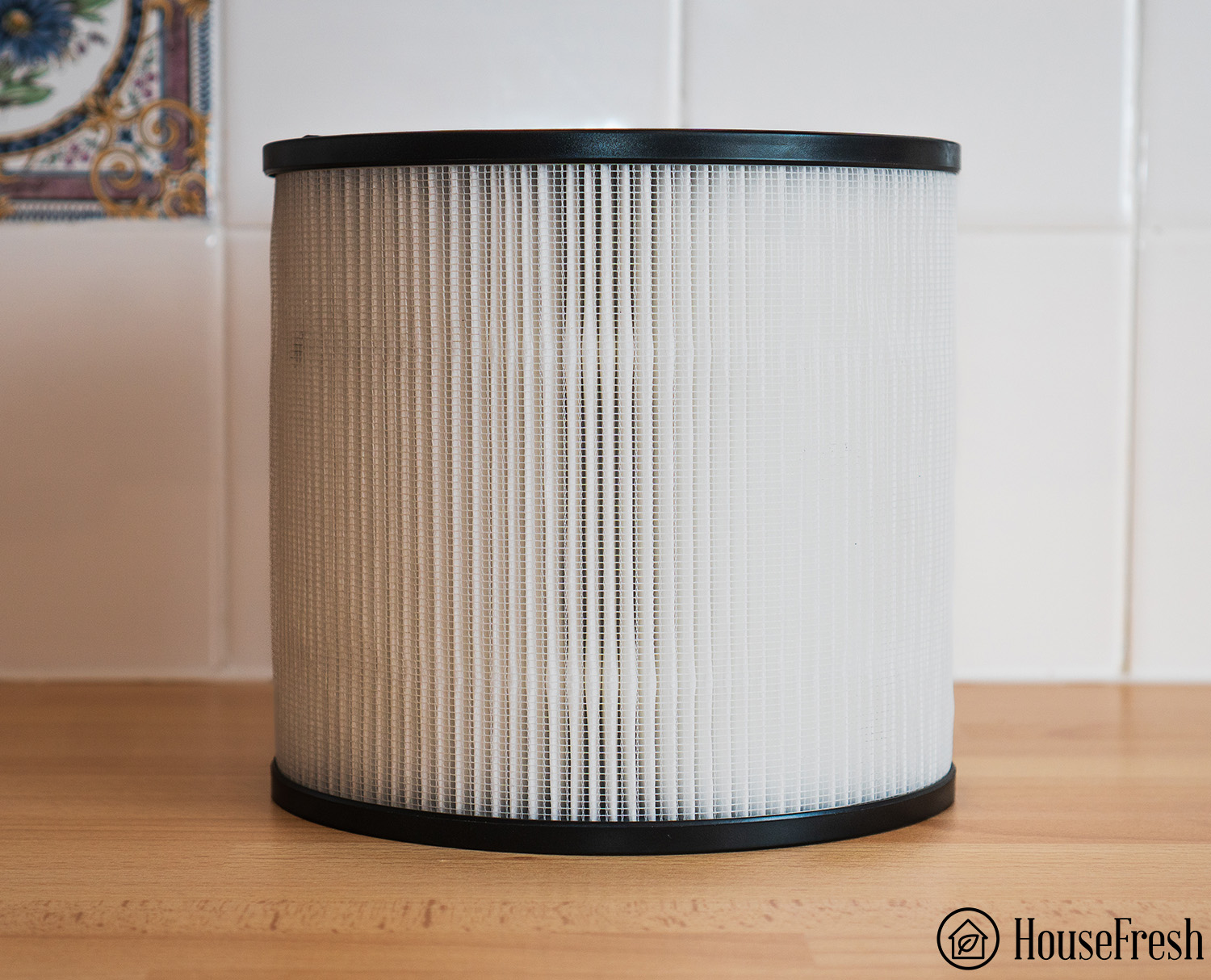 If you don't know the difference between HEPA grades (aka you have a life), check out our handy chart or read our full guide here.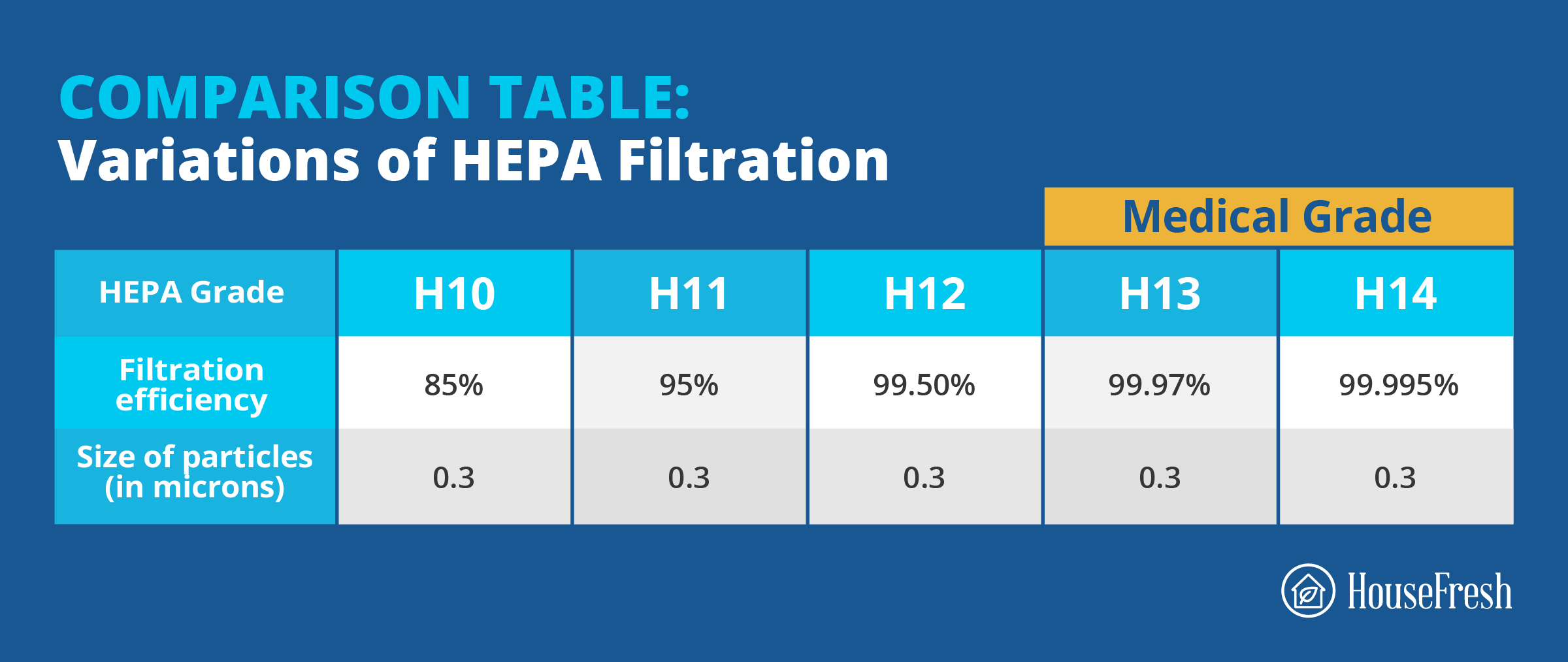 Along with the HEPA is an in-built pre-filter and a layer of active carbon composite. The pre-filter is there to trap larger particles like dust in the air. These particles will settle on the surface of the pre-filter, which can be wiped off, prolonging the life of the HEPA.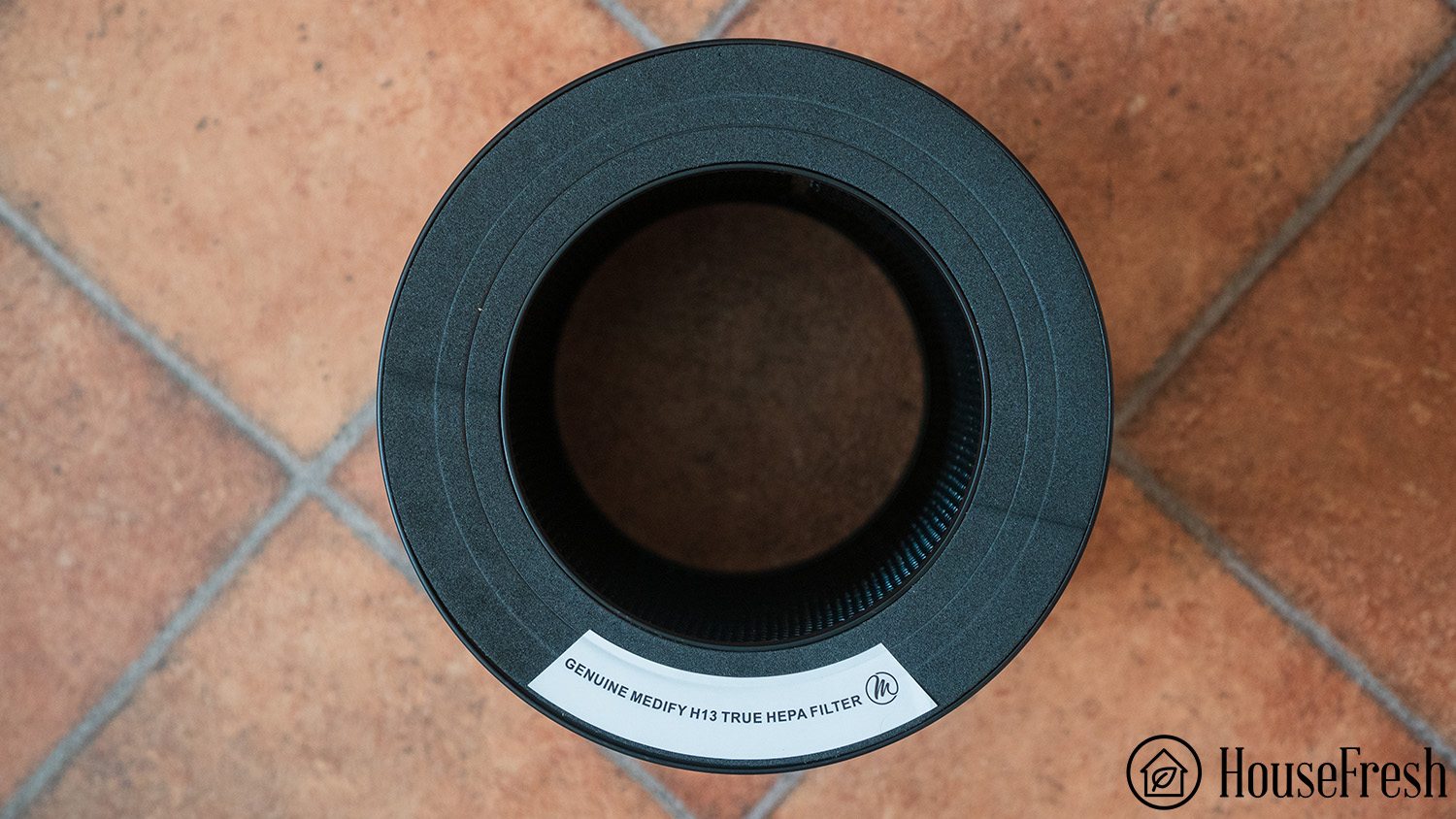 Activated Carbon is used in many air purifier filters as it removes odors and other harmful VOCs (Volatile Organic Compounds) through adsorption*. Unfortunately, for this to be effective, the filter has to be packed with a large amount of activated carbon, which the MA-14 filter is not, making it more of a gesture than a solution.
As with all HEPA filters, you must replace them periodically to keep them effective. Because the filter is small enough to fit inside the MA-14, it's recommended that you replace it every three-four months. Which, compared to other units, is fairly short.
Luckily, replacing the filter when the time comes is simple. All you need to do is follow these easy steps:
Unplug the unit
Turn it upside down and unscrew the cover clockwise to open
Pull out the old filter and insert the new replacement
Screw the cover counterclockwise to secure
Easy!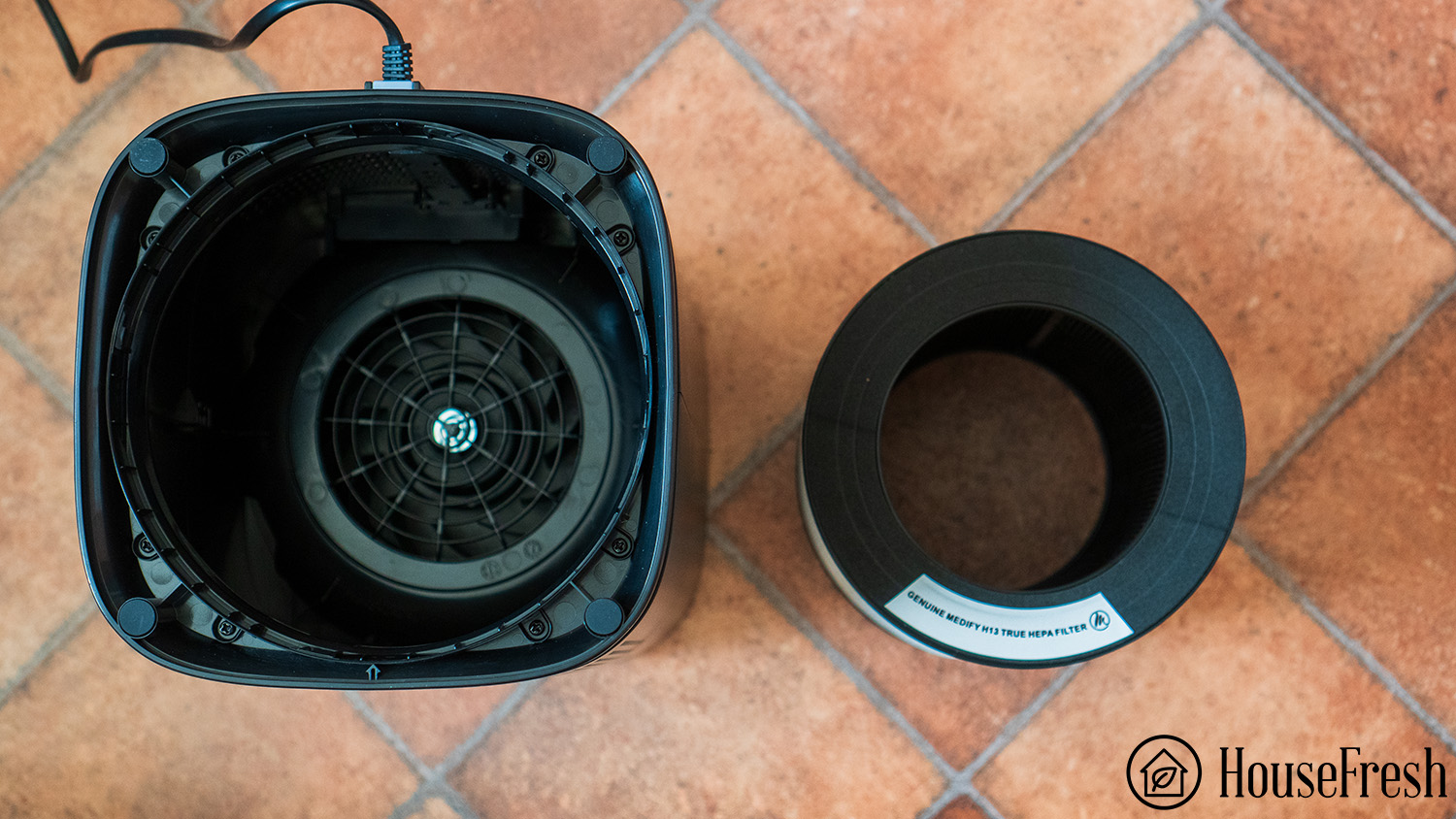 Always remember to remove all the plastic wrapping before you insert a replacement filter into the unit. If you don't, the filter won't be able to work and you'll probably cause a burning smell which, trust me, you don't want.
3 Button Control
Some of you out there will be searching for a unit with all the latest technology and gadgetry; well, sorry, keep looking. The MA-14 is a simple air purifier with a no-thrills approach. With only three buttons to operate, you can't get easier.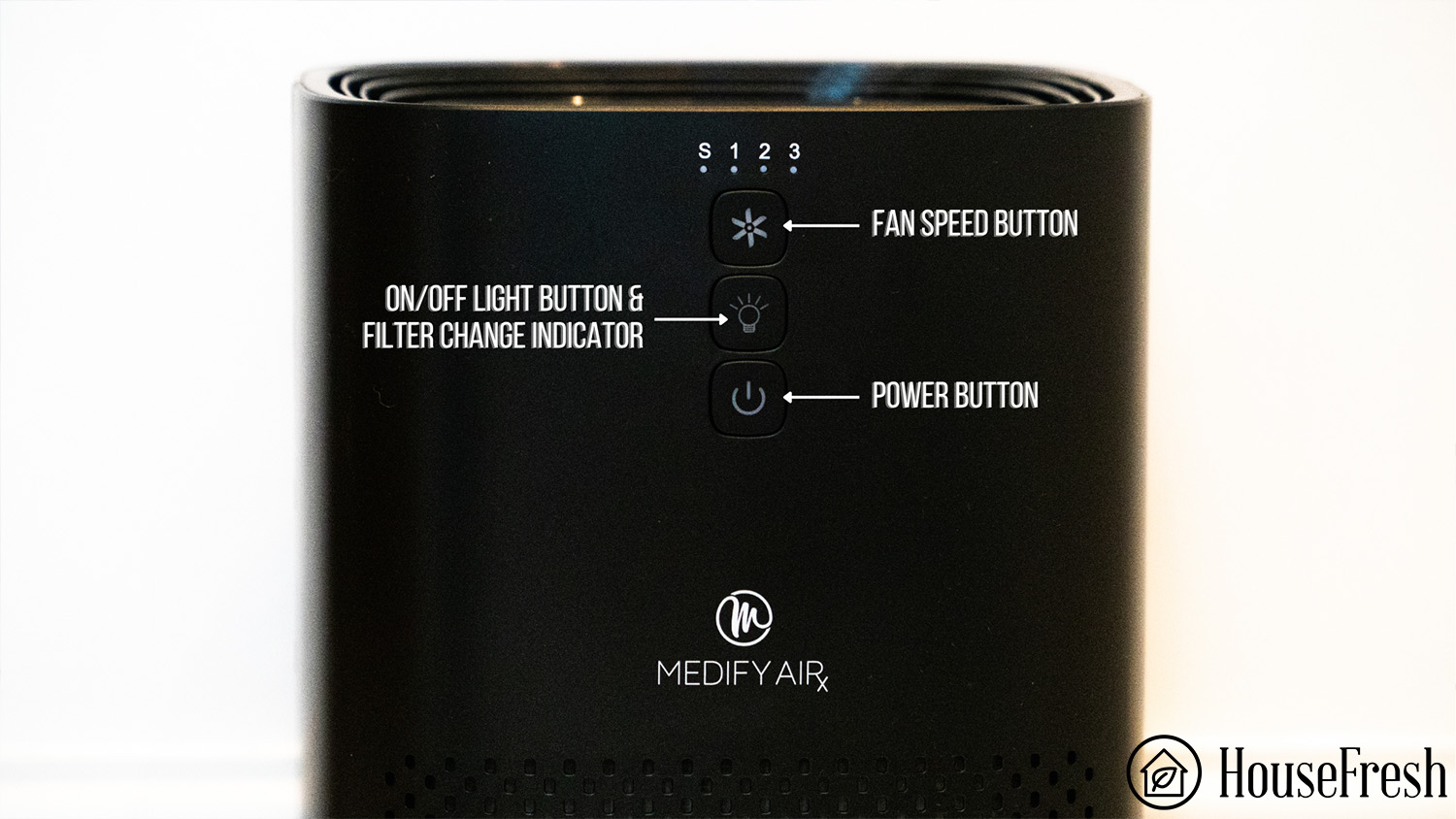 There are four fan speeds to choose from:
1. Slow
2. Medium
3. Fast
S. Sleep
When you select Sleep, the fan will set to a slower than Slow speed and all the lights will automatically turn off after five seconds, so there are no distractions to keep you awake. To wake the unit back up, you need to press any button.
The Medify MA-14 Cleared Our Test Room In 77 Minutes
When looking for the right air purifier for your space, you want to know how efficiently it removes pollutants from your room. That's why one of the most important factors to remember is to buy a unit that can handle the size of your room.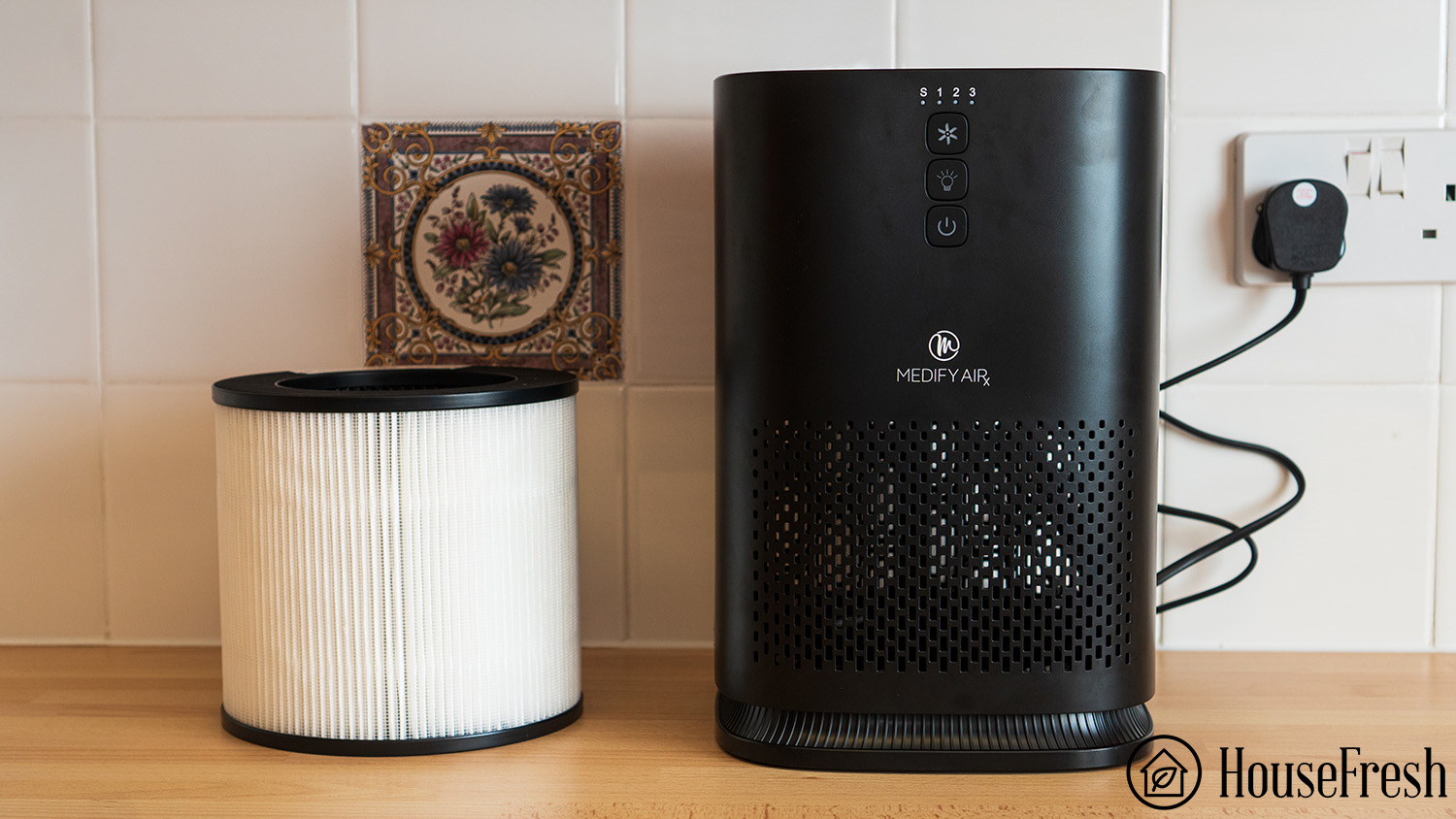 We recommend that the MA-14 be used in rooms around 117 sq ft to be effective, which may sound small for a living room or den but would be ideal in a small home office, bathroom or even in an RV.
We test each air purifier in the same conditions to compare the units we review like for like. We first fill our home lab (705 cubic ft) with incense smoke to see how fast each air purifier cleans the pollution generated by the smoke.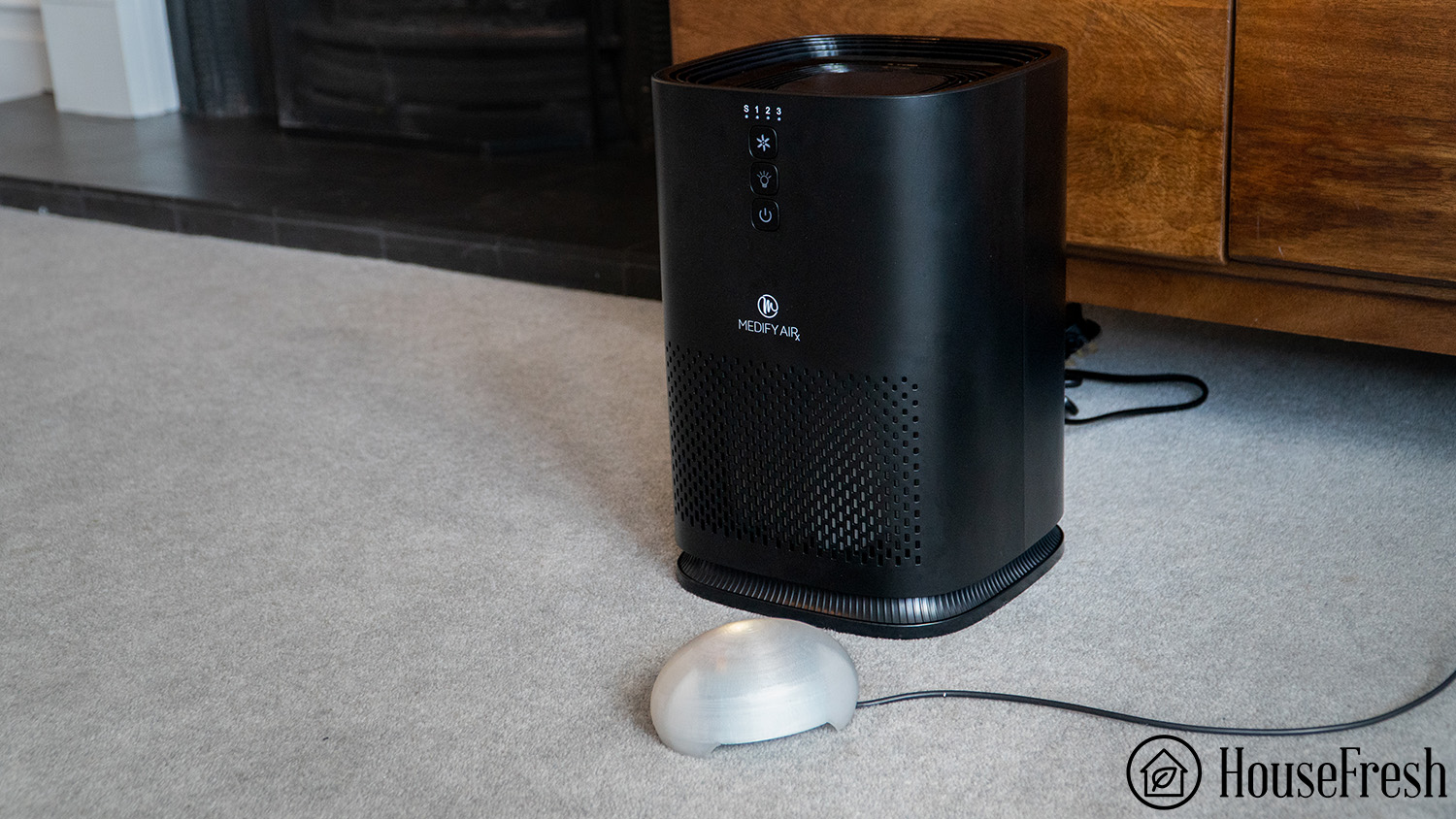 Once our room is thoroughly contaminated, we turn each unit on to its highest fan speed and measure how long it takes to remove all pollutants from the air. To monitor this process, we use the Purple Air indoor sensor, which updates the PM1.0ug/m3, PM2.5ug/m3 and PM10.0ug/m3 levels in the room at regular intervals.
Once the test is complete, we compile all the data onto a graph to see how it performed.
As the MA-14 has a CADR of 70 CFM, we expected it to have a comparable result to the FÖRNUFTIG from IKEA, which has the same CADR and we weren't expecting anything under 60 minutes as it was a big space for a small unit.
Here's what we found with the Medify MA-14.
Air Cleaning Performance Compared to Other Air Purifiers
The graph shows us that from the peak of contamination, it took the MA-14 77 minutes clear all that smokey pollution from our testing room. There was no swift decline in the graph like we see from more powerful units, but it cleared the air consistently.
The FÖRNUFTIG completed the same test in 61 minutes with the same CADR. It's also less expensive and looks better. What gives IKEA the cleaning power over this Medify is the size of its fan compared to the smaller one inside the MA-14.
Noise Levels Test Results
A great feature of the Medify MA-14 is the sound it produces. You wouldn't expect a unit of this size to produce a lot of noise, but sometimes these little units surprise you (like the Molekule Mini, for example). 
Luckily the MA-14 produces from 21dB on low to 48dB on high, which is about the same level as average room noise. Listen to this sound video, where I run through each fan speed.
The Cost to Run A Medify MA-14: $100.27 per year
1. Electricity costs = $26.28
Nothing can be said to be certain in this world except death, taxes and rising energy costs. Hence, it's important to look at how much energy an air purifier uses to determine how much it will cost you to run per year.
Luckily, brands are energy conscious and do their best to make their products as efficient as possible. Not only does this save your wallet, but it also saves the planet as more energy = more pollution, which = more air purifiers, which = more energy and so on.
We used the Department of Energy's appliance energy calculator to determine how much an air purifier will cost to run in your home. We estimate that the annual cost of running the MA-14 would be around $26.28 as we measured it to pull 24.8 watts of electricity from our socket. If we compare this again to the FÖRNUFTIG, which only pulls 14.7 watts when running at top speed ($15.77 per year). IKEA's unit not only clears our room faster and costs less to run each year.
2. Filter costs = $73.99
Another cost you need to consider when buying an air purifier is the price of replacement filters.
HEPA filters may be the most effective way to clear contaminants from your room, but it comes at a cost. HEPA filters work by trapping particles in their intricate maze of glass fibers, and over time, those fibers fill up and become less effective. Think of it like a spider web catching flies; there is no spider to clean up.
You should change the filters on the MA-14 every three to four months. The reason is that they are much smaller than most filters, so they fill up faster, meaning the cost to run is higher than other units with larger filters.
Once you've used the filter it comes with, you should (if used in the correct sized room) be able to get away with buying a 2-pack of filters each year. If you go for the official Medify filters, a twin pack will set you back $73.99 on Amazon. Unofficial filters are cheaper, but we can't vouch for them as we haven't tested them. 
Technology
3 in 1 with Pre-filter, H13 HEPA, and Activated Carbon Filter Set, 2-Pack
3-in-1 H13 Grade True HEPA and Activated Carbon Filter Set, 2-Pack
Technology
3 in 1 with Pre-filter, H13 HEPA, and Activated Carbon Filter Set, 2-Pack
Technology
3-in-1 H13 Grade True HEPA and Activated Carbon Filter Set, 2-Pack
---
Bottom Line
Medify is a big player in the air purification game, and with units like the MA-40 and the MA-25, it's easy to see why. But the MA-14 seems to fall short for me. I would be as brazen as to say that the whole of the "mini air purifier" market falls short.
As a mini-unit, the MA-14 is better than most; it has a much higher CADR than others and outperformed the Levoit Core Mini in our home performance tests. But, when you compare it to other units you could buy in the same price bracket, like the FÖRNUFTIG from IKEA or even the powerful AP003 from Taotronics, you could get so much more for your money.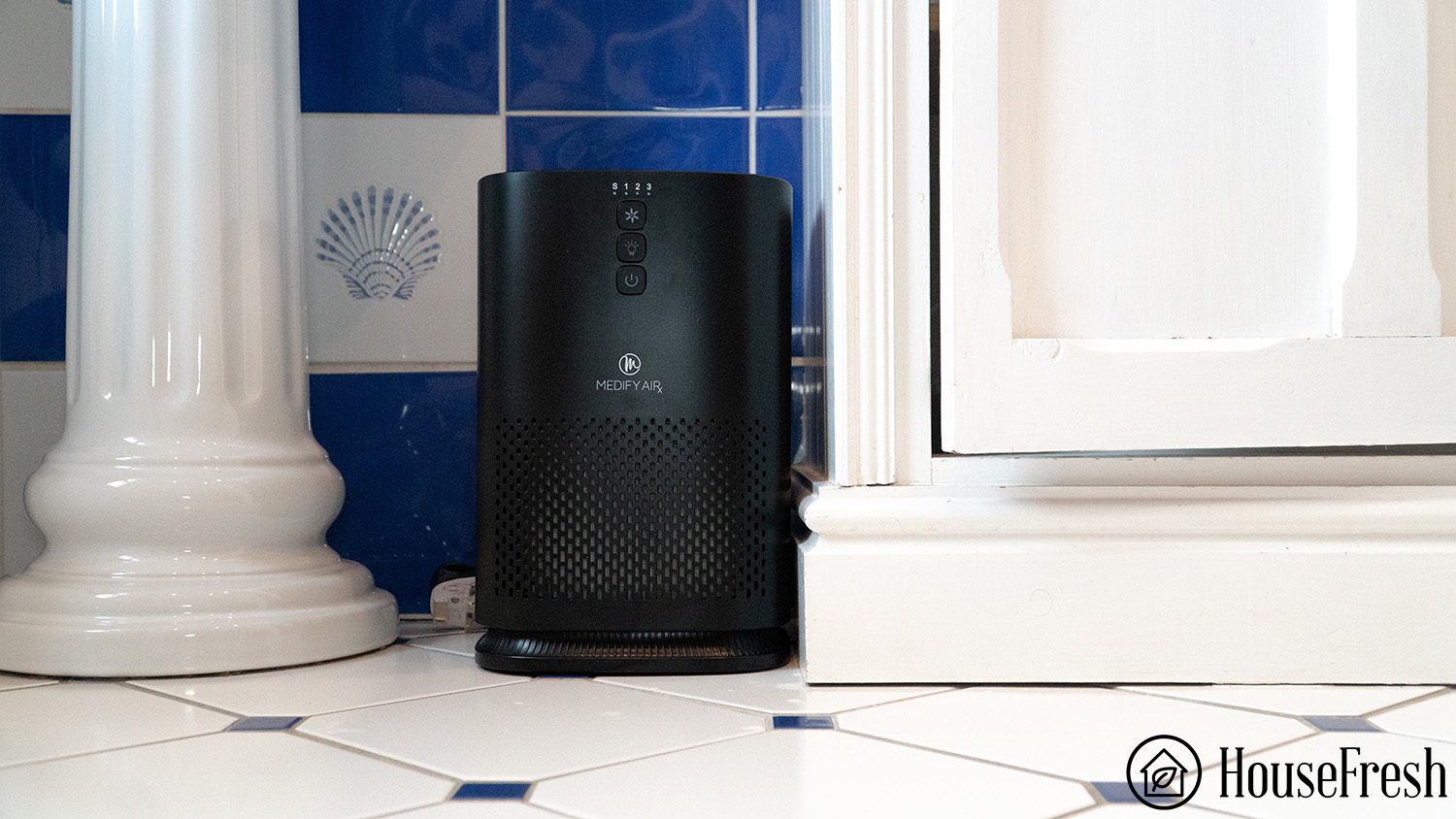 The Medify MA-14 does have strengths. If the size is a factor, for example, you're looking for an RV, bathroom, or small home office air purifier, the MA-14 will sit neatly on a desk or the floor in a corner and not take up too much room. It's also very quiet, so it won't distract you from whatever you're doing.
The best part of this unit is that Medify has equipped it with an H13 HEPA filter, which has given it the edge over the competition. But with the lack of smart features and a small fan, that's all the MA-14 has to offer.
---
SOURCES
We used the Department of Energy's appliance energy calculator to calculate yearly costs associated with running the Medify MA-14 for 24hs a day for 365 days. We chose to run this calculation utilizing the US average utility rate, which is $0.12/kWh as of March 6th, 2023.
Last update on 2023-12-06 / Affiliate links / Images from Amazon Product Advertising API