Our verdict:
If your budget isn't the highest, but you still want fresh, clean air for you and your family, you should seriously consider the Blue Pure 411 from Blueair. This funky little purifier contains a 3-stage filtration system that combats odors, VOCs, smoke, pollen, pet dander, and dust down to 0.1 microns in size, all while being incredibly energy efficient and operating at whisper-quiet volumes.
Born out of a desire to create a safer and healthier environment for his baby daughter, Blueair's founder, Bengt Rittri, has been on a mission to revolutionize the air we breathe. Now, with over 25 years under their belt, Blueair can claim to be one of the biggest and best air purifier manufacturers around.
Blueair have an array of purifiers on the market, from their Blue range of simple-to-use purifiers for everyday domestic use, to their Pro line, which provide unrivaled performance in large offices and industrial environments. What each Blueair purifier has in common, however, is they all utilize the same trademarked HEPASilent technology.
This technology combines electrostatic and mechanical filtration, which charges particles whilst airborne, making them easier for the HEPA and carbon filters to capture. Resulting in greater efficiency and the removal of 99.99% of pollutants.
If you've done any kind of research into buying an air purifier before, you may well recognize the Blueair Blue Pure 411. Here at HouseFresh, we've featured this unit as part of our top recommendations for such issues as the Best Air Purifiers For Traffic Pollution, Best Air Purifiers For Home Office, and Best Air Purifiers Under $200.
As it's clearly been on our radar for some time, I wanted to do a deep dive into the overall performance of this purifier and discover if it will live up to its impressive stats and specification.
Why You Can Trust This Review

As with all the products reviewed here at HouseFresh, we purchased the Blueair Blue Pure 411 with our own money, so you can rest assured this review will remain unbiased and objective throughout.

If the Blueair Blue Pure 411 sucks at cleaning the air in our test room or if it will be too costly in the long run, we will tell know.

We've got real-life data from our three-stage testing process:

1️⃣ We tested the 411's air cleaning performance with an air quality monitor to see how fast this unit cleaned the air in our home lab (705 cubic ft.) from thick incense smoke by recording as PM1.0ug/m3, PM2.5ug/m3 and PM10.0 ug/m3 pollution levels decreased.

2️⃣ We used an energy monitor to track electricity consumption in watts when running the Blue Pure 411 at its bottom and top fan speeds.

3️⃣ We used a sound level monitor to record sound levels in decibels coming out of the 411 when working at its highest and lowest fan speeds.

TL;DR The Lowdown on the Blueair Blue Pure 411 Review
---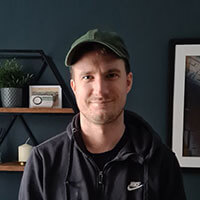 "The Blueair Blue Pure 411 doesn't need to boast about the latest technological bells and whistles like Wi-Fi connectivity or cell phone app control. It's got a job to do, and it does it well. If you are looking for an air purifier for a small to medium sized room that is super quiet, then the 411 might be it."

— Danny Ashton, Founder & Senior Writer
---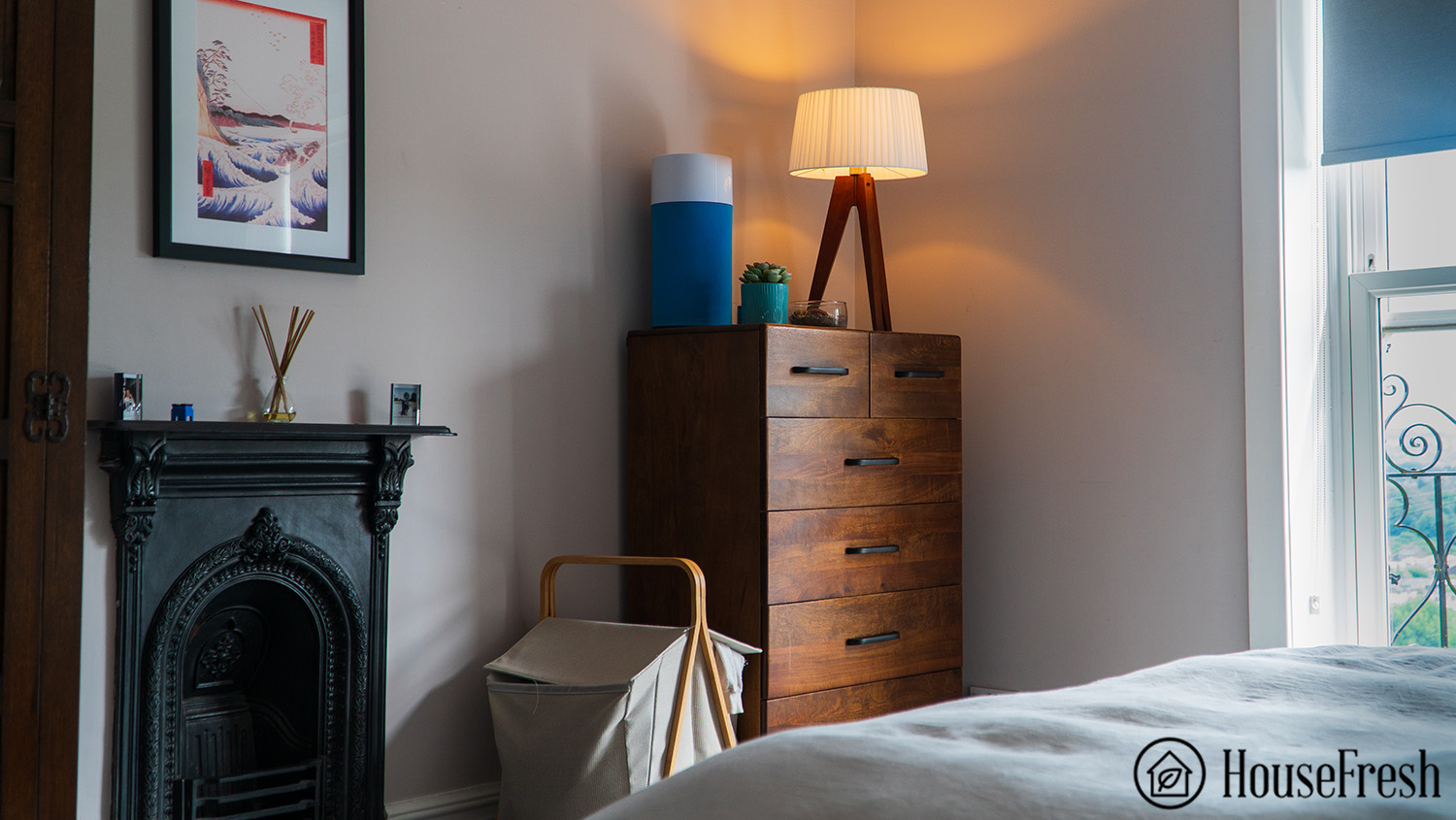 No time to read the whole review? Here are our top takeaways from putting the Blueair Blue Pure 411 through its paces. 
What We Really Like:
👍 In my opinion, it looks really cool. Not just a standard white box like many others
👍 The one-button control makes it so easy to operate
👍 The low annual cost means you can run it for longer periods of time if needed
👍 It has a 360-degree intake to capture particles from all directions
What We Think Could Be Better:
👎 As it's round, it doesn't slot into the corner flush
👎 I would have preferred it to have a timer, so I could leave it running without worry
The Specifications
Currently available for $119.99, this purifier offers good value for a unit with a CADR score of 120 CFM. 
When searching for similar products on the market, you may also find the Levoit Core 200S for $89.99 (with a CADR score of 118 CFM), or the Medify MA-25 (with a CADR score of 135 CFM), which costs a tad more at $159.99. With not much to separate the price and spec of each unit, it will be interesting to see how the Blue Pure 411 measures up.
| | |
| --- | --- |
| HouseFresh Rating: | ★★★☆☆ |
| Time to clean our test room: | 1 hour and 8 minutes |
| Air purifier technology: | Washable pre-filter, activated carbon filter, HEPASilent™ filter + Ionizer technology |
| Recommended room size: | 161 sq. ft. |
| Clean air delivery rate (CADR): | 120 CFM |
| Dimensions (in inches / in cm): | 16.7H x 8W x 8D inches (42H x 20W x 20D cm) |
| Weight (in pounds / in kg): | 5.3 lbs (2.4 kg) |
| Noise level (low – high): | 17dB – 46dB |
| Filter life: | 6 months |
| Manufacturer's warranty: | 1 year |
| Estimated energy consumption: | $10.51 per year |
Bold yet Brilliant Design
When you think about an air purifier, you probably picture a big white box with a fan. The Blue Pure 411, on the other hand, is so much more when it comes to design.
Its cylindrical body wouldn't look out of place in a futuristic sci-fi movie. Its external fabric pre-filter adds a bold splash of color, making it stand out from the crowd.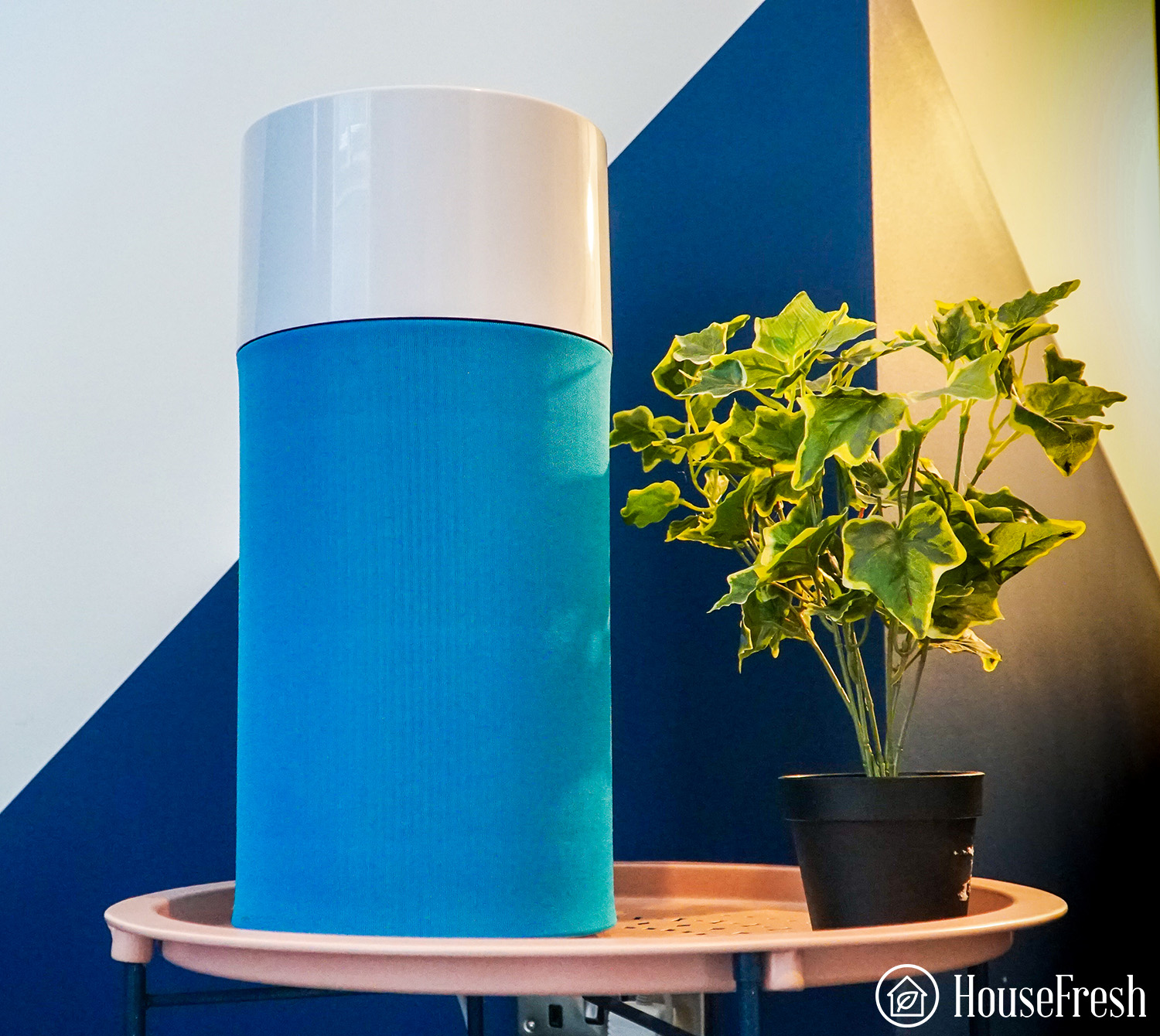 My 411 came with the original blue pre-filter, but a range of colors is available online. Allowing you to choose an option that best suits your home or even opt for a range of colors to switch up the appearance of your unit as often as you like.
The top section of the purifier is where you'll find the fan and one button control panel. Its glossy white appearance contrasts with the color and texture of the pre-filter below, and although simple, this design typifies Scandinavian attention to detail when it comes to form and function.
When placed alongside other purifiers, I think the Blue Pure 411 really comes into its own.
Granted, it may not be to everyone's taste, however its unique shape, bold color and simple design make it one of the best-looking units out there. 
Speedy Setup but Make Sure to Use a Light Touch
After ripping into the packaging, I found the purifier was well secured without using excessive plastic or waste material.
Once everything was unboxed, it was easy to figure out how to unscrew the top fan section from the body, then slot the combo filter in place and pull on the pre-filter before reassembling. All that was left to do was plug the unit into the mains power and hit the on the switch.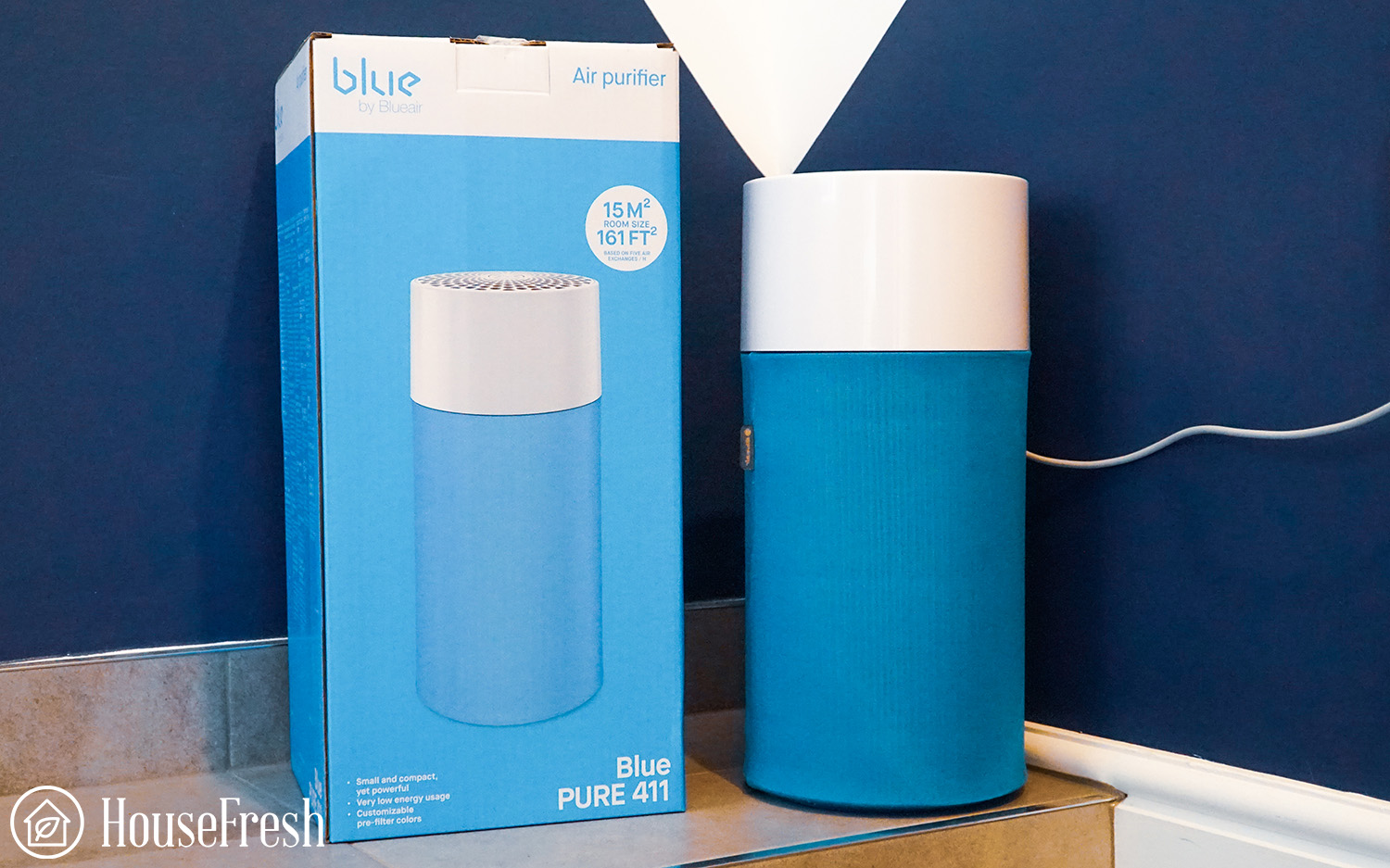 Blueair hasn't wasted any space with a large casing or grill, but this means you have to handle it with more caution once you've finished setting it up. Don't go squeezing or grabbing the unit by the filter section as it can damage easily.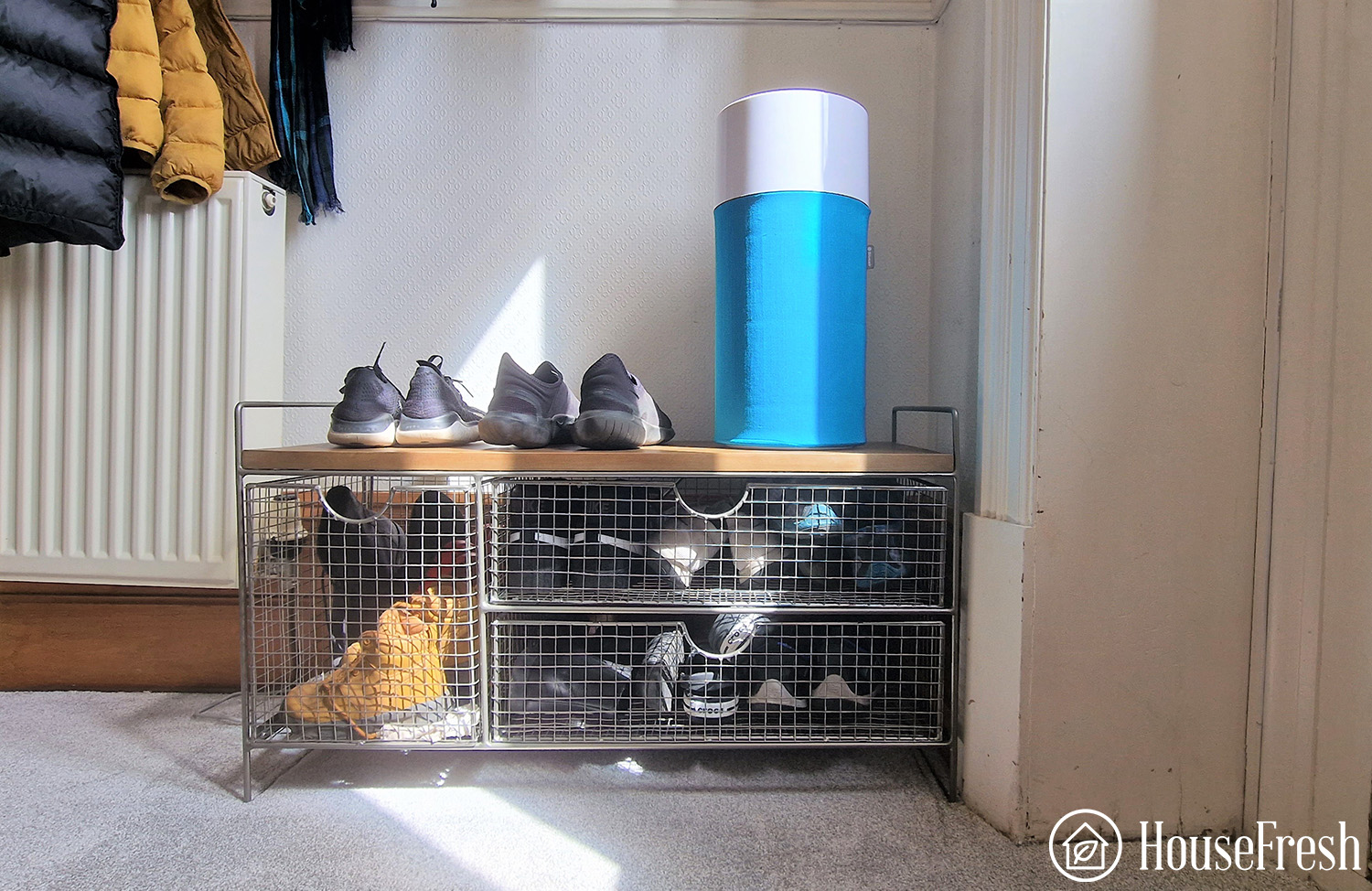 One Button to Rule them All
If you are a technophobe or simply like minimalism, the 411 couldn't be simpler.
Its one-button operation means you don't need to navigate a console or read the instructions before use. Simply press the big, central button once to turn the unit onto the first-speed setting.
Press again for speed setting two. And again, for the top speed.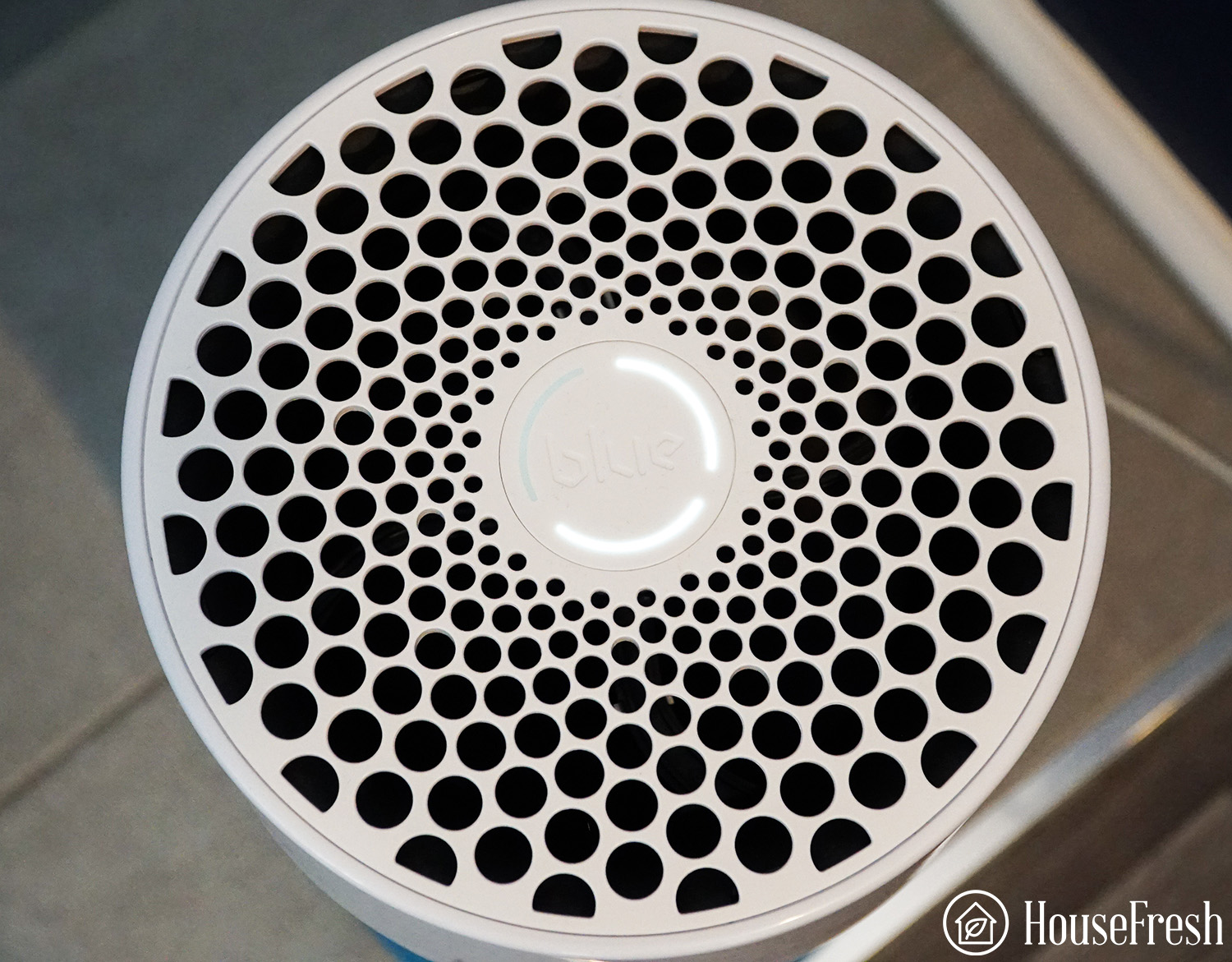 Three lights indicate which setting you're currently on and also tell you when to change your filter. These lights dim after a while, so they're not intrusive to sleep, although I think it would be better if you had the option to turn them off entirely.
While this control panel offers a simple plug-and-play operation, if you like gadgetry, you might be left longing for some additional features, as there is no timer, auto mode, or air quality sensor on this model.
High-Tech Filtration That Captures 99.99% Of Pollutants
The Blue Pure 411 comes with a three-part filtration system consisting of a washable fabric pre-filter and a HEPASilent filter, which combines a classic HEPA filter for particulate matter and an activated carbon filter that takes care of any unwanted household odors that occur from cooking, pets, or even smelly shoes or laundry.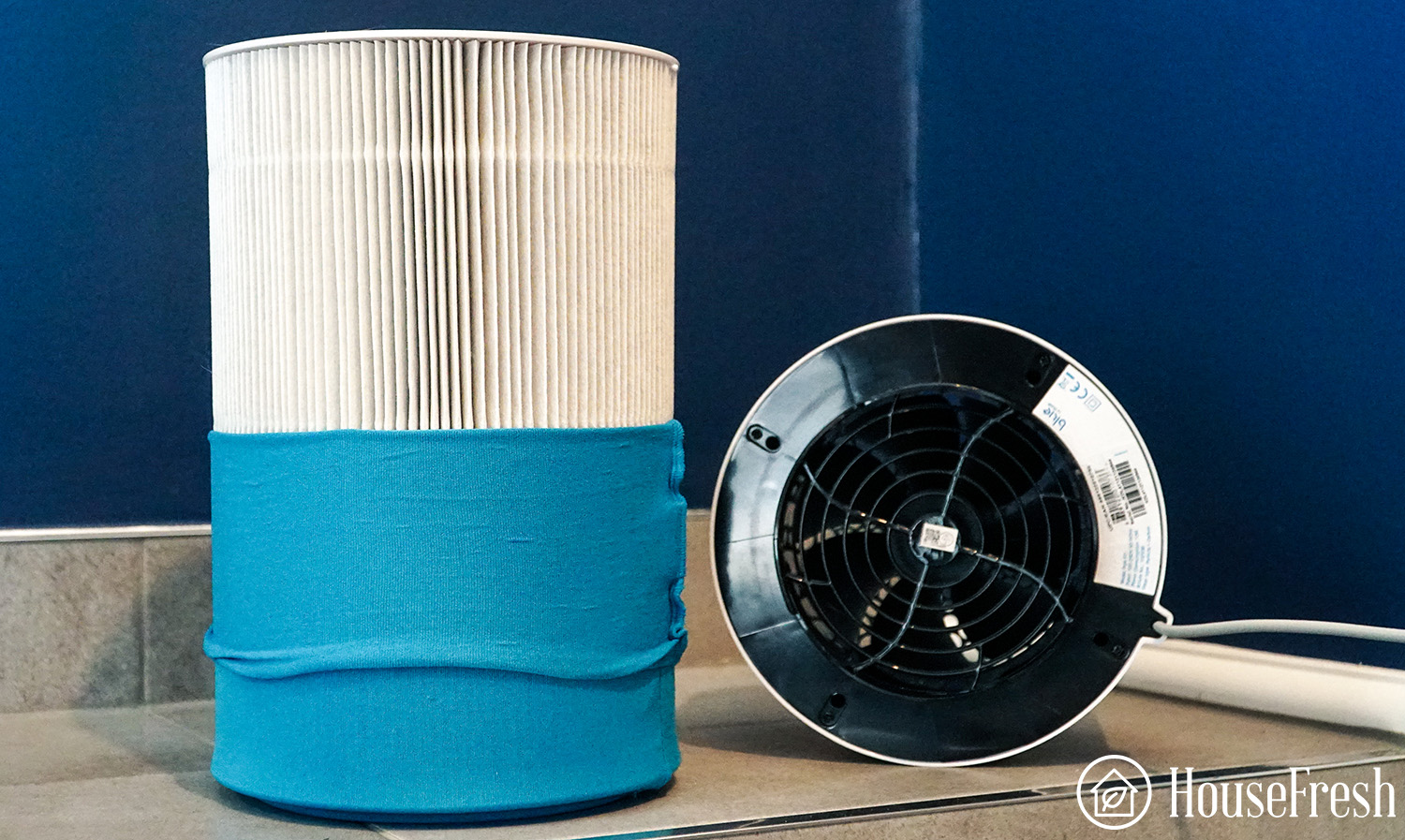 You may be familiar with HEPA filters, as they are the industry standard among air purifiers nowadays. Capable of capturing 99.97% of particles down to 0.3 microns (basically the size of dust), this filter will leave the air in your home feeling fresh and allergen-free. 
You'll also find a pre-filter to capture large particles, such as hair or lint, which you can wash and reuse, along with an activated carbon filter that tackles VOCs, such as odors and gasses, through a process known as adsorption. 
Blue Pure's filtration differs from other purifiers, though, due to Blueair's patented HEPASilent technology. This combines mechanical filtration (from the HEPA and carbon filters) with electrostatic filtration, which charges airborne particles, making them stickier. When they pass through the HEPA filter, they are easier to capture, thus making the unit more efficient. 
Changing the filter in the Blue Pure 411 is fairly straightforward:
⚠️ Before turning on this or any other air purifier, make sure you've removed all plastic covers from the filters before switching on your purifier. Otherwise, you may end up with more pollutants in the air than when you started. 
The Blueair Blue Pure 411 Cleared Our Test Room in 33 Minutes
Now let's get down to brass tacks. While this purifier may be easy on the eye and simple to operate, it must be able to effectively remove airborne pollutants to get the HouseFresh stamp of approval. 
So, to determine just how good this purifier is, I set the unit up in our trusty home office, which also happens to be the HouseFresh testing laboratory. This is a 705 cubic foot space, so around the size of the average bedroom, and is the same space where we carry out all of our real-world tests.
To compare each purifier equally, we use our Purpleair indoor air sensor (which provides real-time feedback on PM1.0ug/m3, PM2.5ug/m3, and PM10.0ug/m3 levels) to measure how fast each unit can clear the air from thick incense smoke.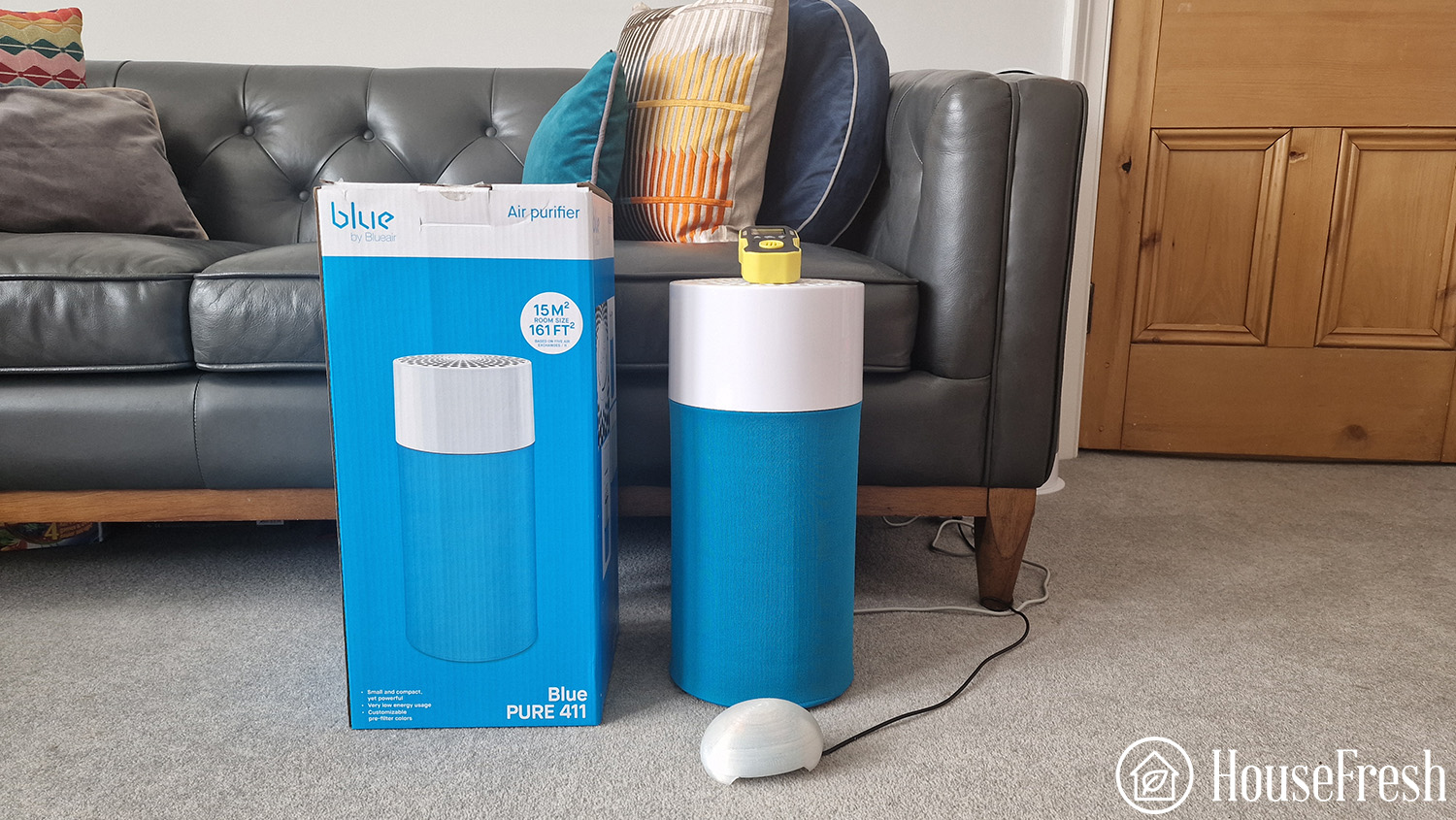 I then switched the purifier to its highest speed setting and started the stopwatch. 
From 18:58 when pollutants were just past their highest reading, the Blueair Blue Pure 411 made a speedy start, with levels of all particles reading below 5 ug/m3 within 44 minutes. 
Then, by 19:06 the levels of the smallest particle (PM1.0) had reached 0.0ug/m3. Taking 68 minutes to eradicate all traces of airborne particles, leaving only clean and healthy air in the room.  
Check out the data for yourself:
Air Cleaning Performance Compared to Other Air Purifiers
But how does this result compare to other units with similar specifications and price tags?
Well, it doesn't entirely take the gold medal (or silver or bronze, for that matter), but it's fair to say that it was a closely contested race, with only a few minutes separating the different units.   
Where the Blue Pure does come out on top, however, is when we tested how much sound it produces. Thanks to the HEPASilent technology, this unit is one of the quietest purifiers on the market. 
Noise Levels Test Results
On its lowest setting, you will barely notice it's running, emitting just 17 dB. At first, I didn't trust it was doing anything in this setting as it was so quiet. But after having it on for an hour, you can tell it is doing its job, just super sneakily. 
Hear just how quiet it is for yourself below:
The Cost to Run a Blueair Blue Pure 411: $58.51 Per Year
1. Electricity costs = $10.51
When energy prices move around as much as a motorized yo-yo, you want to know that the price of clean air isn't going to bankrupt you. Luckily, all of Blueair's purifiers are Energy Star certified, so won't impact your electricity usage too much.
Thanks to the highly efficient HEPASilent technology, Blueair's filters work excellently at lower speeds, resulting in much lower bills. If you were to leave the unit on full power, 24/7, you would only expect your electricity bill to go up by approximately $10.51 a year, which is peanuts for the results it gives.
2. Filter costs = $48
In addition to electricity use, it's important to consider how much you will pay for replacement filters in the long run. HEPA and activated carbon filters have a finite lifespan before becoming clogged up with particles, so you must replace them regularly. 
Blueair states that the 411 filters must be replaced after six months of continuous use. If like me, you only use your purifier at home, you can expect these filters to last as long as a year. But, of course, that will vary depending on how much pollution is in your immediate environment.  
Filter replacements are easy to come by. At the time of writing, they cost around $24 from Amazon. This proves to be cheaper than other manufacturers, with the average Levoit filter costing between $30-40.
Technology
Particle and Activated Carbon Filter
2-Pack Replacement Particle and Activated Carbon Filter
Technology
Particle and Activated Carbon Filter
Technology
2-Pack Replacement Particle and Activated Carbon Filter
---
Bottom Line
Blueair is one of the most popular brands of air purifiers on the market, and it's easy to see why. The 411 doesn't need to boast about the latest technological bells and whistles like Wi-Fi connectivity or cell phone app control. It's got a job to do, and it does it well. 
As I wanted this unit for the bedroom, I knew I needed a smaller unit that was ultra-quiet. And this is it.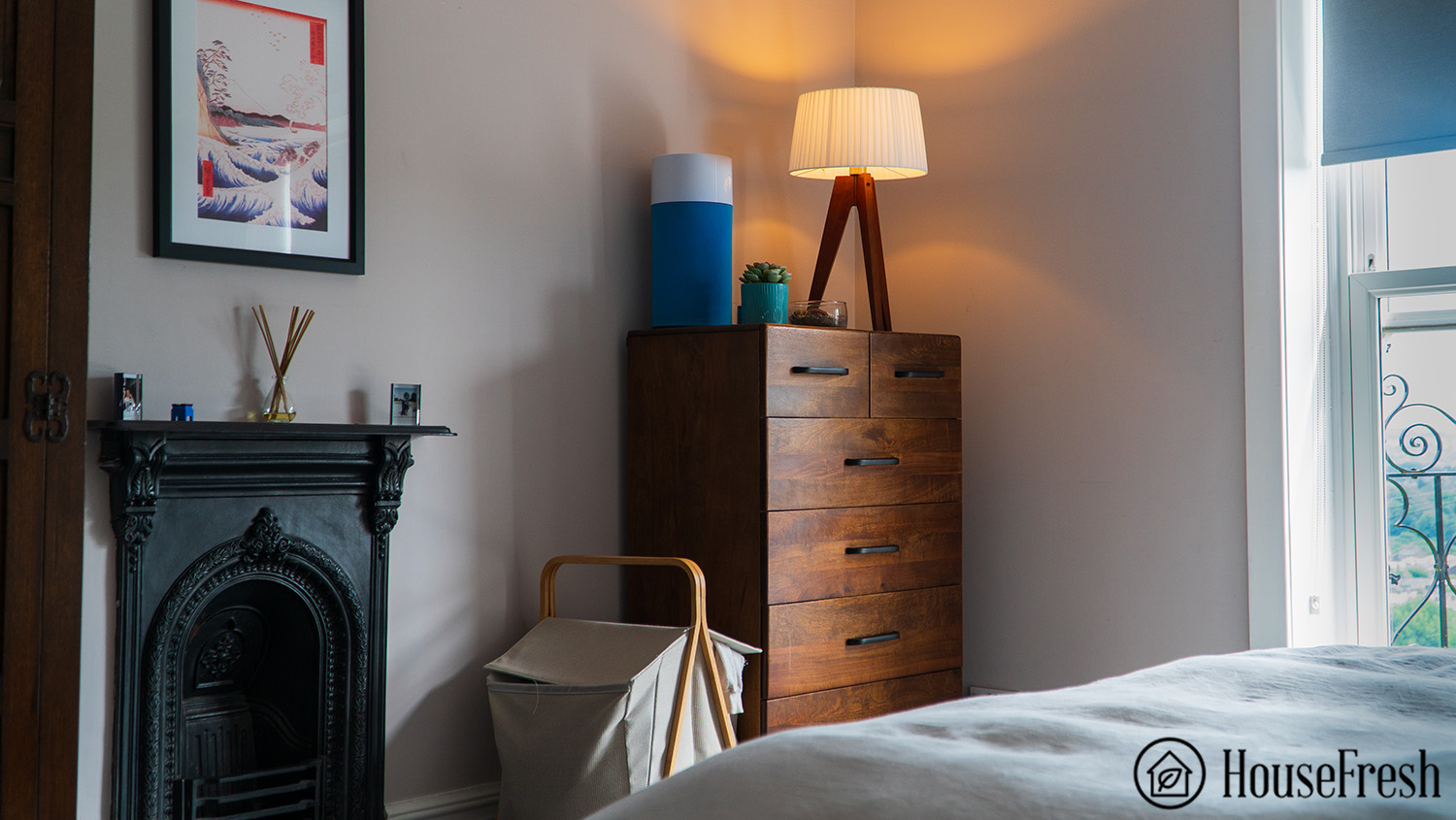 I don't have to mess around with different settings or features, just press one button, and you're away. It just so happens that my bedroom walls are blue, so it matches up, but having the option of different colors is a big plus. Not to mention the long-term savings that will be made through energy efficiency and cheap filter replacements. 
Although it may not be the fastest purifier on the market, I still believe it meets the needs of the average bedroom or small room. Of course, if you suffer from allergies or own a pet, you may opt for a different purifier with a bit more oomph, such as a Levoit Core 300 (if you're on a budget) or a Smart Air S (if you need some more power).
---
SOURCES
We used the Department of Energy's appliance energy calculator to calculate yearly costs associated with running the Blueair Blue Pure 411 for 24hs a day for 365 days. We chose to run this calculation utilizing the US average utility rate, which is $0.12/kWh as of March 10th, 2023.
Last update on 2023-09-15 / Affiliate links / Images from Amazon Product Advertising API