Having a cat as a pet is pretty awesome. Their unique personality and laid-back style often mean owners can enjoy their charm without much sacrifice to their daily lives – a winning combination for many animal lovers.
Yet despite being relatively low maintenance, there are a few cat caregiving duties we'd rather do without. And having to deal with their litter box often takes the top spot as the worst thing about owning a cat.
The litter box, however, does serve quite an essential purpose. Unless you don't mind feces scattered around your home, that is. So how can we make the best of a bad situation and live harmoniously alongside the litter box?
Inventions such as this novel poop-a-scoop certainly make clean-up duty much more accessible. But what about the odor that emanates throughout your home? For that particular funk, look no further than a trusted air purifier.
An air purifier with powerful fans and quality filters can bring fresh air to any home. But to make a real difference to air quality, including ridding unwanted litter box smells, you'll need to opt for a purifier stacked with Activated Carbon, which works wonders against nuisance gasses and odors that plague feline-friendly homes.
With our test data in hand, we can compare purifiers side by side to select the best tools for the job. For combatting litter box smells, these are the essential features we looked for:
Activated Carbon filters – To eliminate unwanted litter box smells, your air purifier must use specific carbon filters capable of capturing gaseous pollutants, such as odor.
Fast-acting fans – No one wants odor to linger within the home, so to rid cat litter smells fast, you'll need powerful fans that can circulate the air in your space effectively.  
Smart features – Being able to program your purifier to get to work before you return home will make suffering cat litter smells a thing of the past.
---
Staff picks: Top 3 air purifiers for litter box smell
Looking for a quick fix to kitty-litter odor? Here's the lowdown on our top three odor-eliminating air purifiers.
---
While each air purifier recommended on this list will help alleviate litter box issues, it's important to remember that each unit is designed to work its magic in a specific-sized space.
Check out all the options to find the ideal unit for your needs and budget below.
The EverestAir combines a powerful filter with a large amount of activated carbon, perfect for capturing odors caused by litter boxes.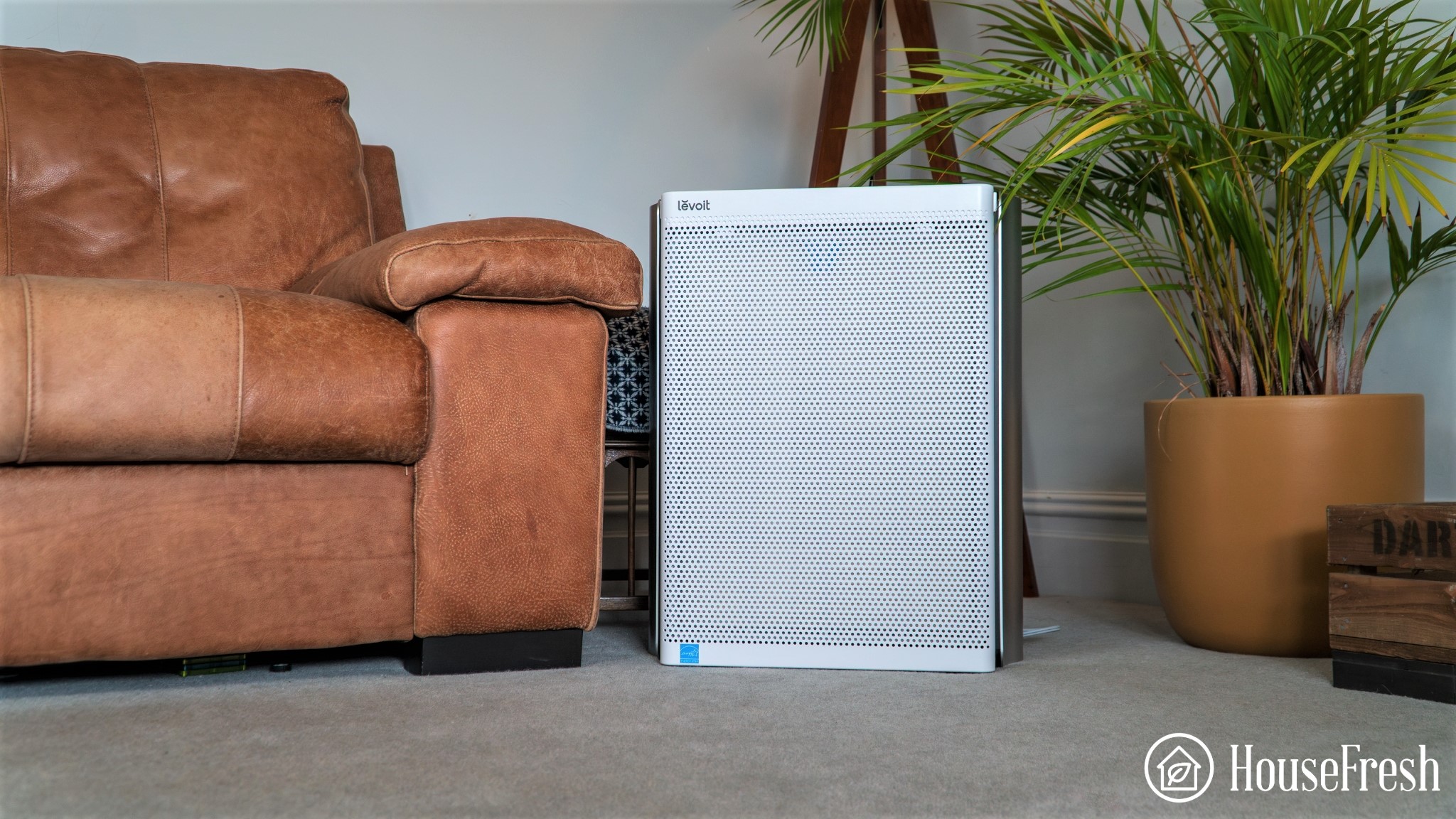 In our performance test, it was able to remove tiny pollutants measuring less than one micron in 13 minutes, which is currently the fastest air purifier we have tested.
For those with large spaces and the need to deal with cat litter odors quick, you can't get much better than the Levoit EverestAir. The only downside is the price. At $500, this unit isn't cheap and might be overkill for many pet owners. 
You do get a ton of tech for your half a grand of air purifier, with all the latest and greatest features from Levoit including AirSight Plus 2.0 and the Vesync app. When putting this unit through our air performance test, I was pleased to see that the readings from the EverestAir matched those I saw on our industrial-grade air quality sensor.
Features like app support and auto-mode mean you have more control over when your unit runs, so you can set up schedules to run when your pet uses the litter box.
Another feature that we don't see with any other Levoit air purifiers is the ability to adjust the fan angle. Whilst not particularly useful for cat litter odors, it does look cool and I love showing it off to visitors.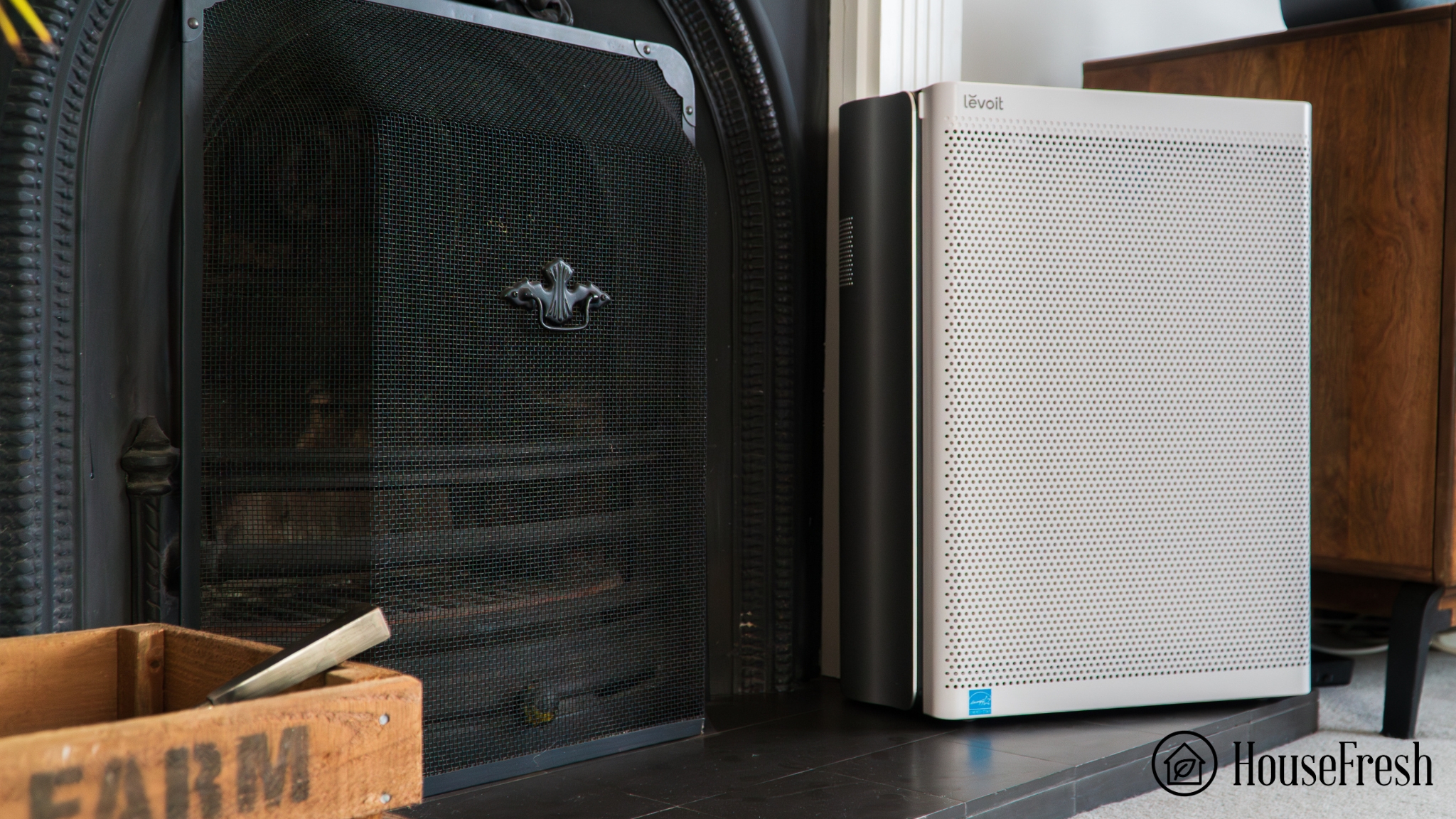 SPECS & FEATURES
For those on a tighter budget, you'll struggle to find a purifier that ticks as many boxes as the Levoit Core 300S.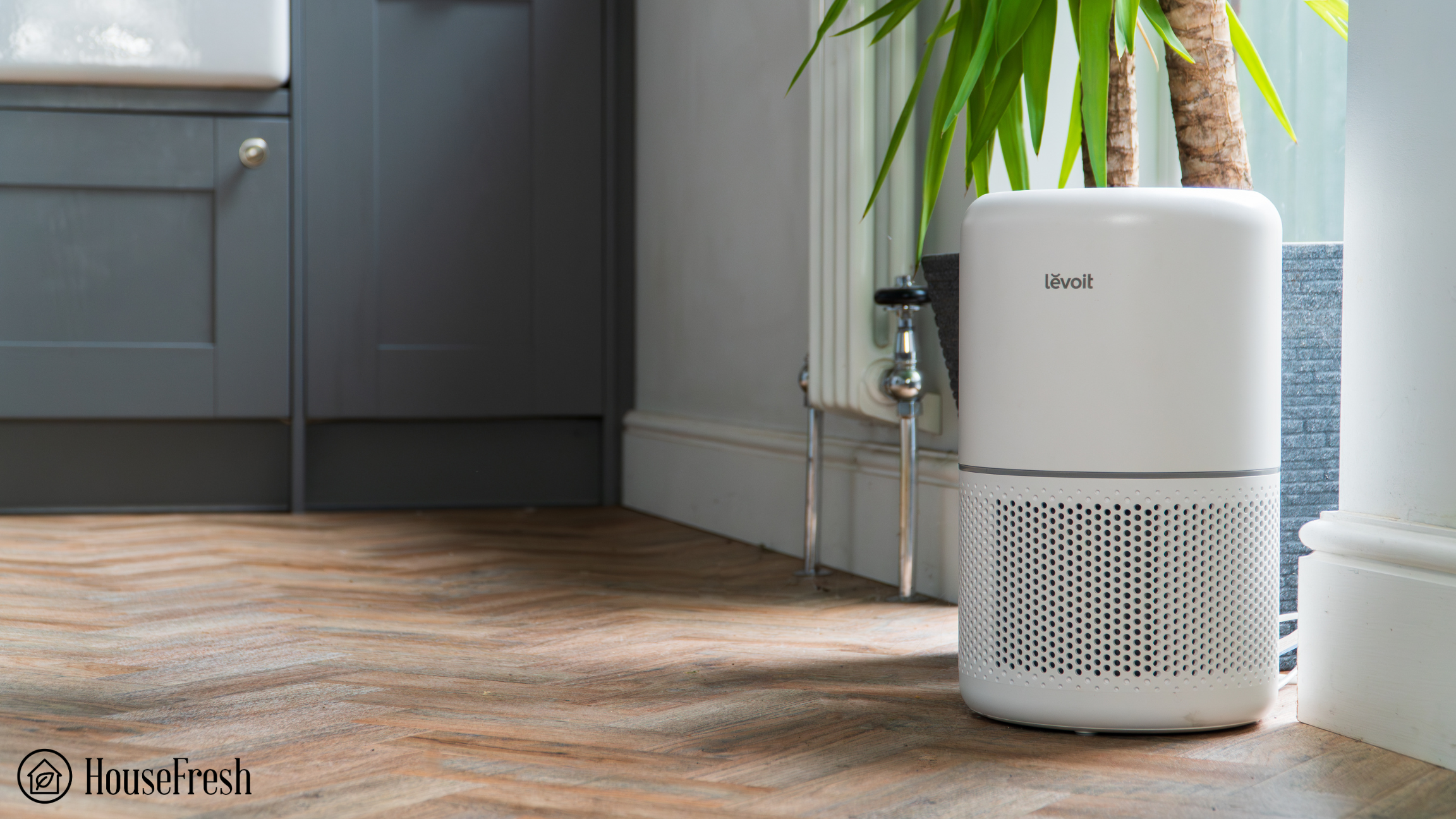 This purifier comes with quality filters and impressive fan speeds and is even small enough to fit on a shelf or table. Despite being one of Levoit's more wallet-friendly options, the 300S still shares many of the same qualities as its premium counterparts. 
For the best results against litter box smells, I'd recommend upgrading this unit's filters to Levoit's Pet Allergy or Smoke Remover. Both options include more decent quantities of Activated Carbon, as well as using Levoit's ARC Formula, which decomposes trapped odors once they've been captured inside the unit.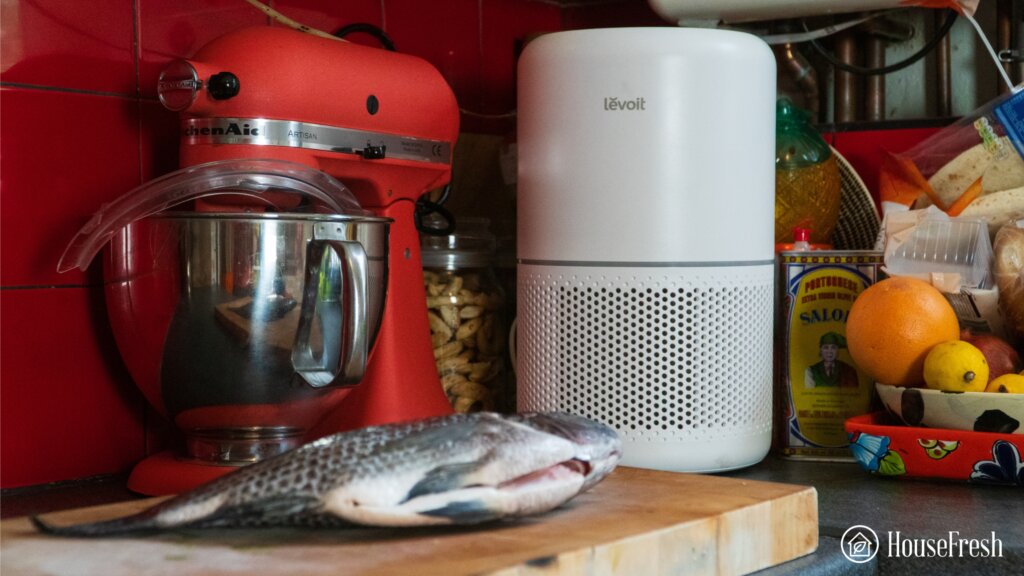 SPECS & FEATURES
With a colossal Activated Carbon filter containing 15 lbs of granular carbon and zeolite, the Austin Air HealthMate is one of the best air purifiers for tackling any type of odor, including litter box smells.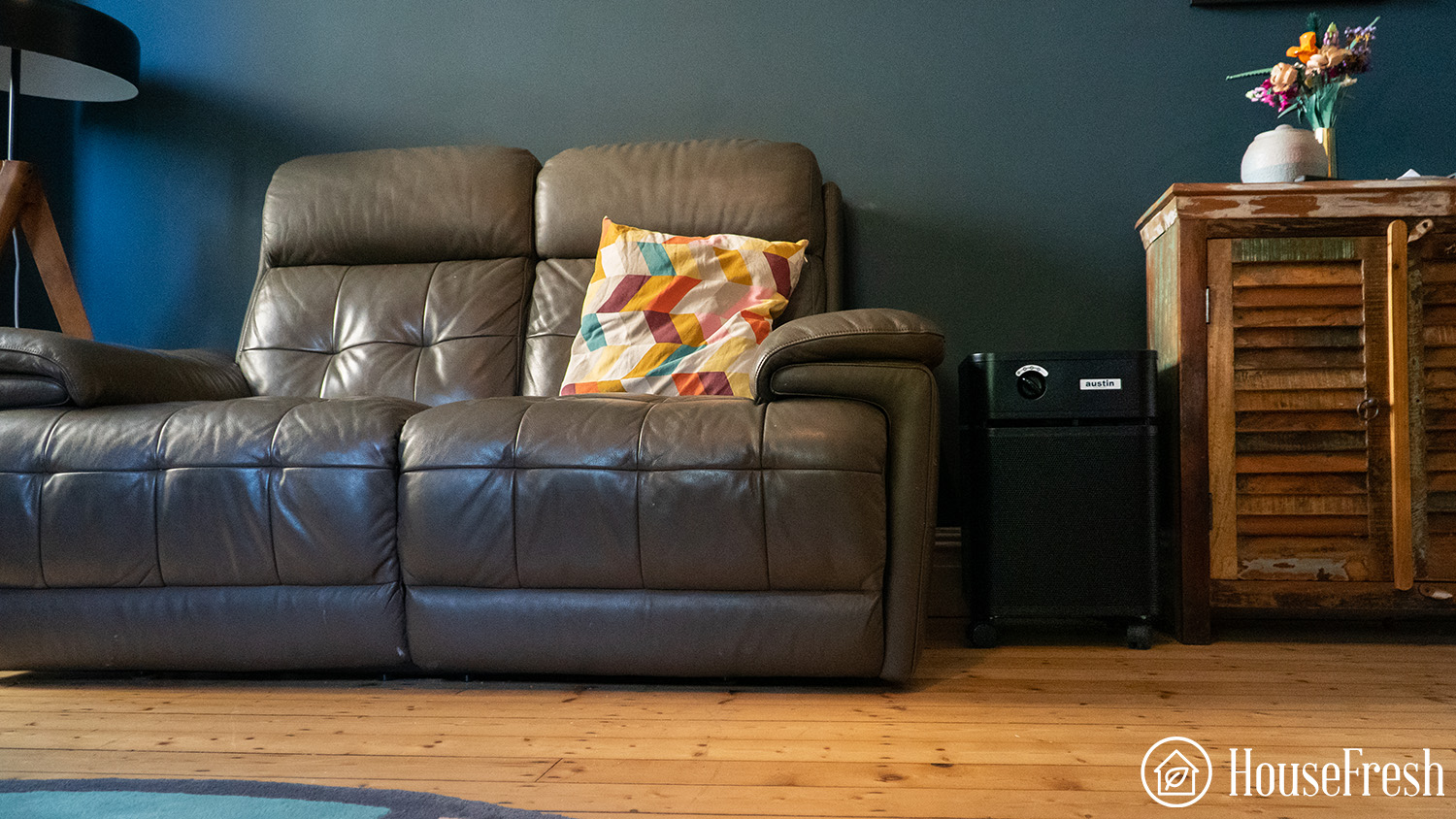 Alongside the wealth of odor-absorbing substrate, you'll also find two separate Pre-Filters and a True HEPA filter to keep any other intruding pollutants at bay, such as pet dander and fur.
Austin Air's fan and HEPA power is less powerful than its competitors, which is a shame considering they've developed a best-in-class carbon filter. Claims that this unit can work inside spaces as large as 1,500 square feet are certainly wide of the mark. I found this option would be better suited to a room half that size if it is to work effectively.  
Considering the Austin Air Healthmate's high price, I'd love to find more features such as an Auto mode or in-built air sensor. However, for those adverse to product manuals, it couldn't be simpler to set up and use. Just turn the one-button dial to your desired fan speed, and voila, you can wave litter box smells goodbye.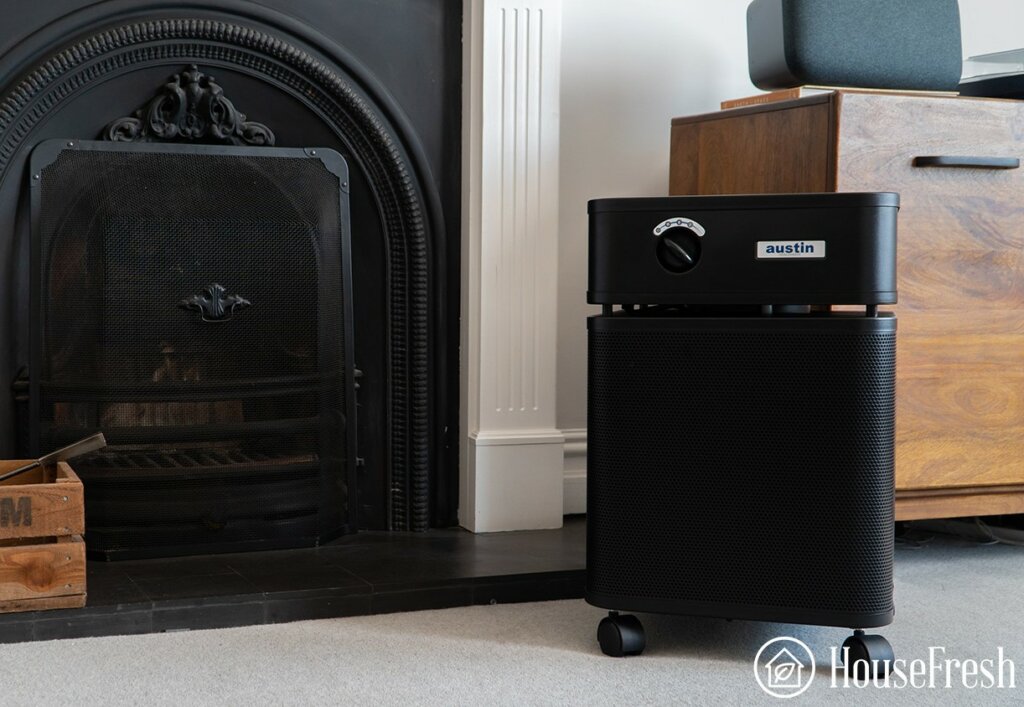 SPECS & FEATURES
The most affordable air purifier within the Alen BreatheSmart line, offering excellent air cleaning performance that includes particle pollution as well as smells and gasses.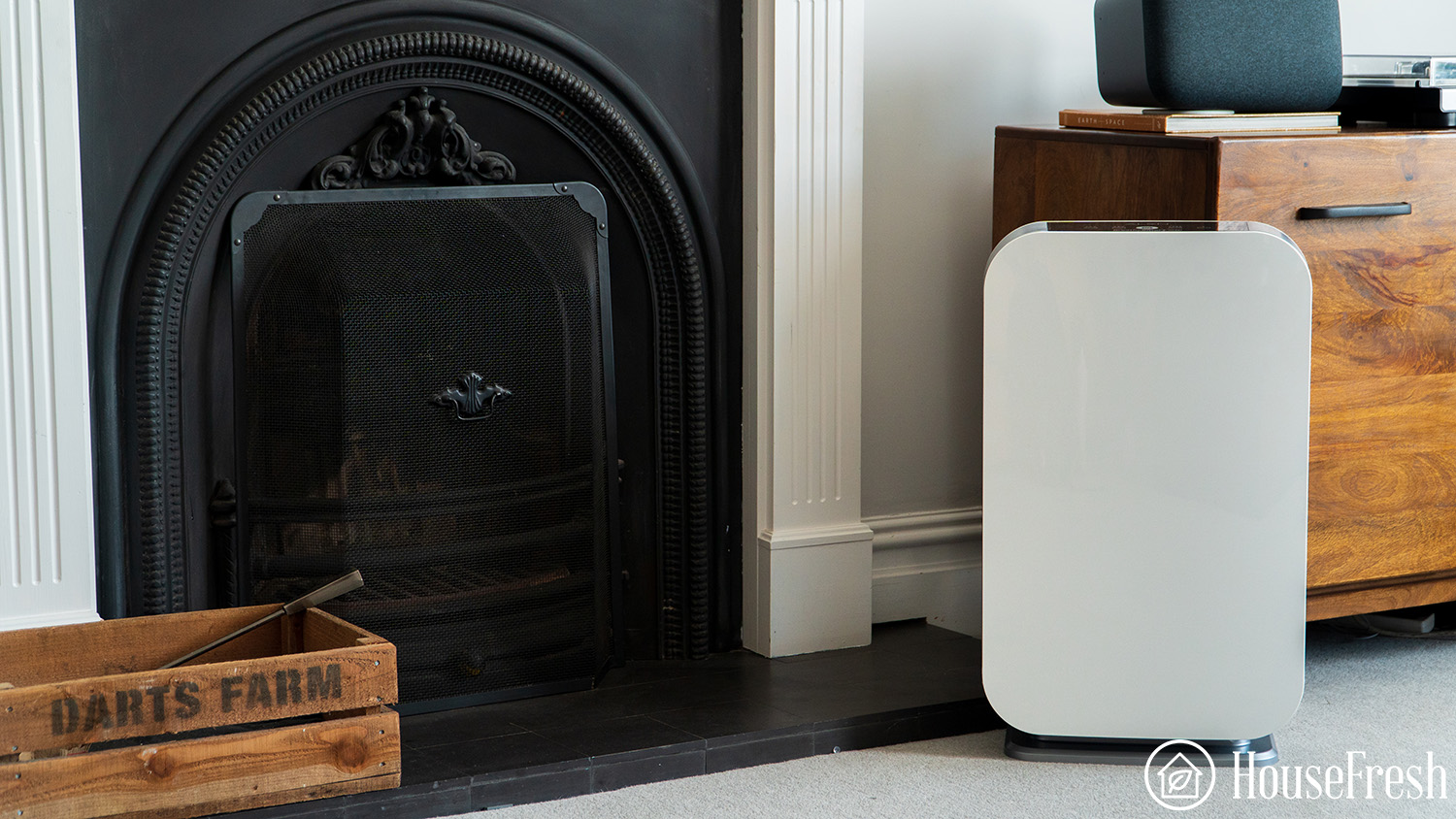 The BreatheSmart Flex is the latest offering from air purifier heavyweight Alen. Known for its premium products (as well as premium prices), this new model sees a change in Alen's approach, being more affordable and, as the name suggests, more flexible to the different needs of its users.
However, a cheaper price tag doesn't mean Alen has compromised on quality. I was pleased to see that you'll still find top-of-the-range filters and fans in this model. This BreatheSmart Flex is designed for medium-sized spaces but still enjoys a powerful CADR score of 225 CFM. All while being super energy-efficient and whisper-quiet, allowing you to keep cat litter smells at bay throughout the night.
Alen offers a range of long-lasting filters to combat specific issues such as litter box smells. All of these come with an H13 HEPA capable of capturing 99.9% of particles as small as 0.1 microns, alongside varying levels of protection from VOCs.
I recommend opting for the Odor Neutralizer, which utilizes high concentrations of carbon to eliminate pet odors like those from litter boxes quickly.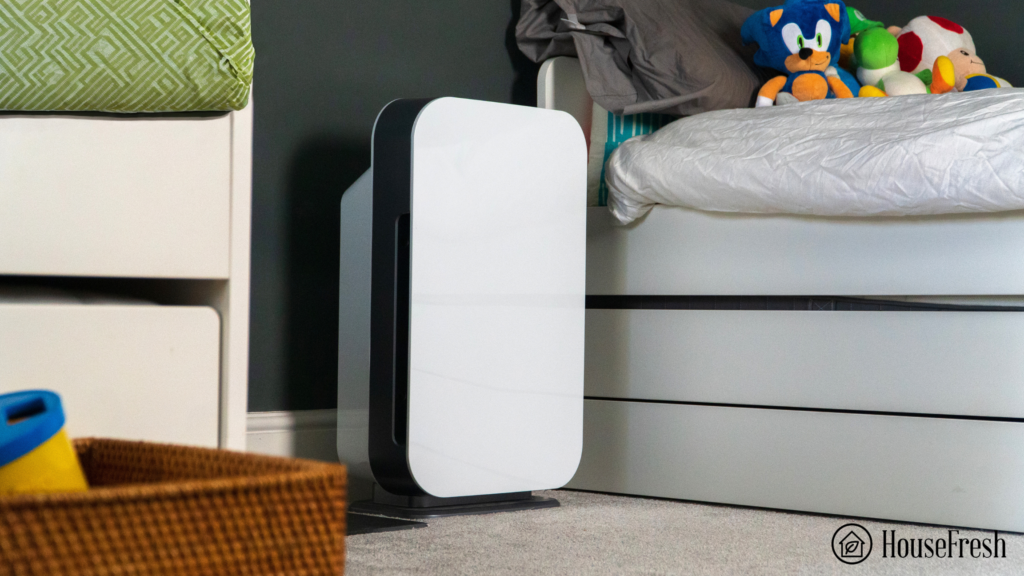 SPECS & FEATURES
For fans of gadgets and gizmos, Mila is the best option out there for you.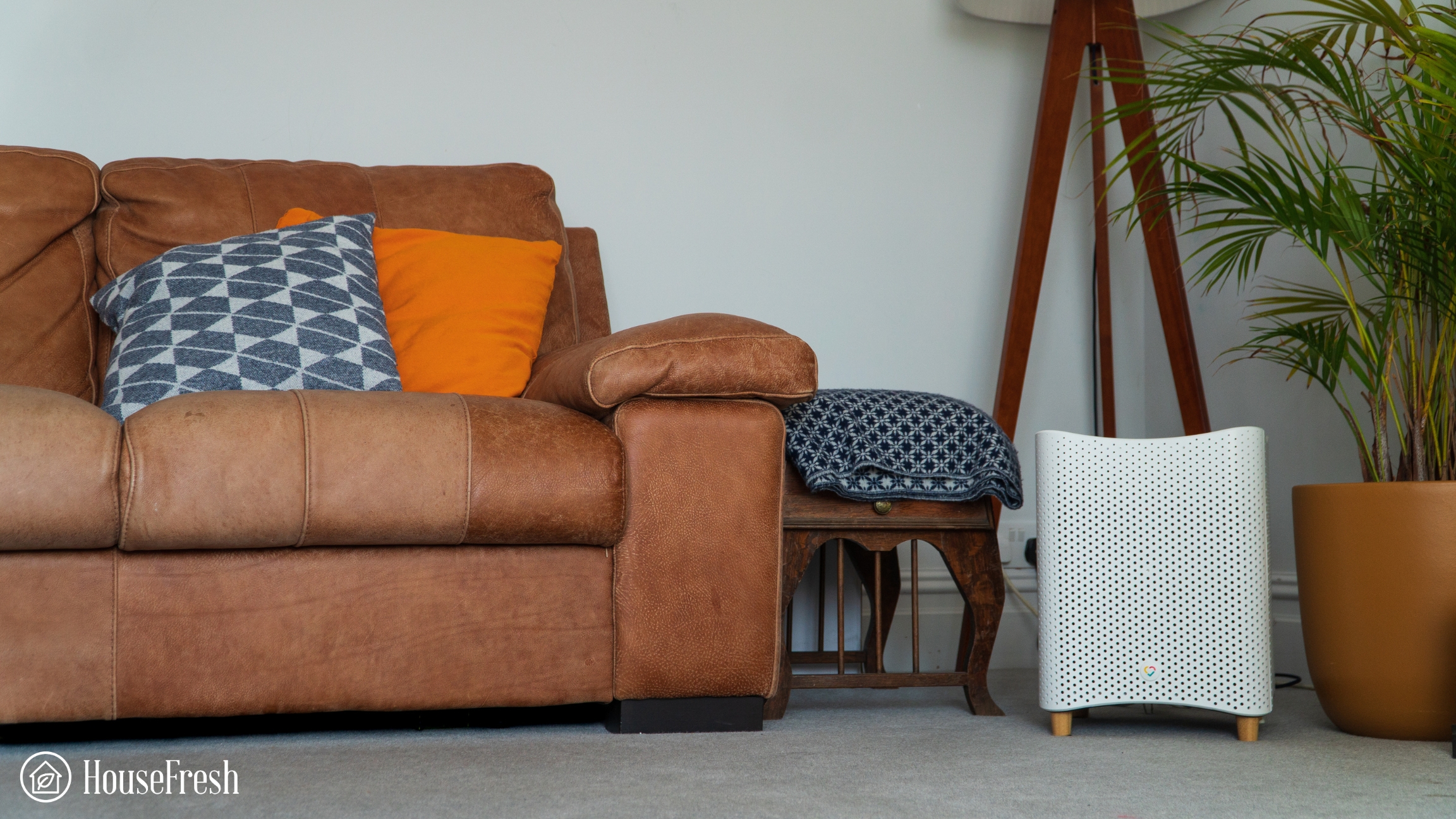 This super smart air purifier does all the hard work for you; simply switch it to Auto mode and reap the rewards of clean, odor-free air. 
Using advanced sensors and highly adjustable controls, Mila has developed an excellent air purifier that users can tailor to their space at the touch of a button. I was majorly impressed with the Mila's fast-acting fans, which drew on the unit's impressive CADR score of 263 CFM to react instantly to unwanted litter box smells.
As for filters, Mila offers a wide range of options to meet its users' needs best. This means varying HEPA densities, sizes and levels of Activated Carbon.
Their Critter Cuddler filter offers all-around protection from pet-related pollution. Still, if the smell from your cat litter box drives you crazy, I'd recommend upping the ante and opting for the Home Wrecker, thanks to its larger quantity of Activated Carbon.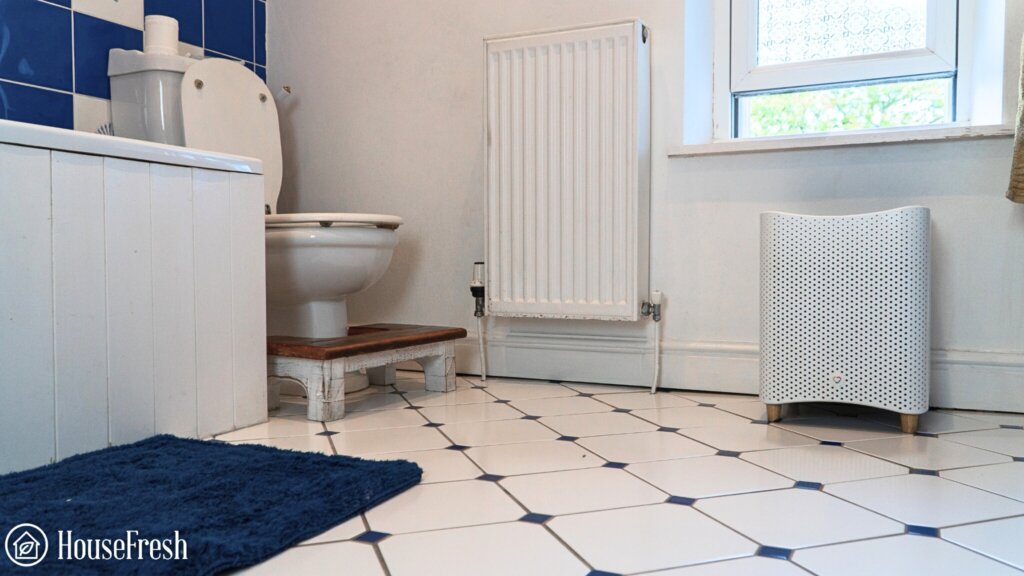 SPECS & FEATURES
6. Smart Air S (with Activated Carbon filter)
You'll find a serious motor and powerful fan underneath the cute exterior of the Smart Air S.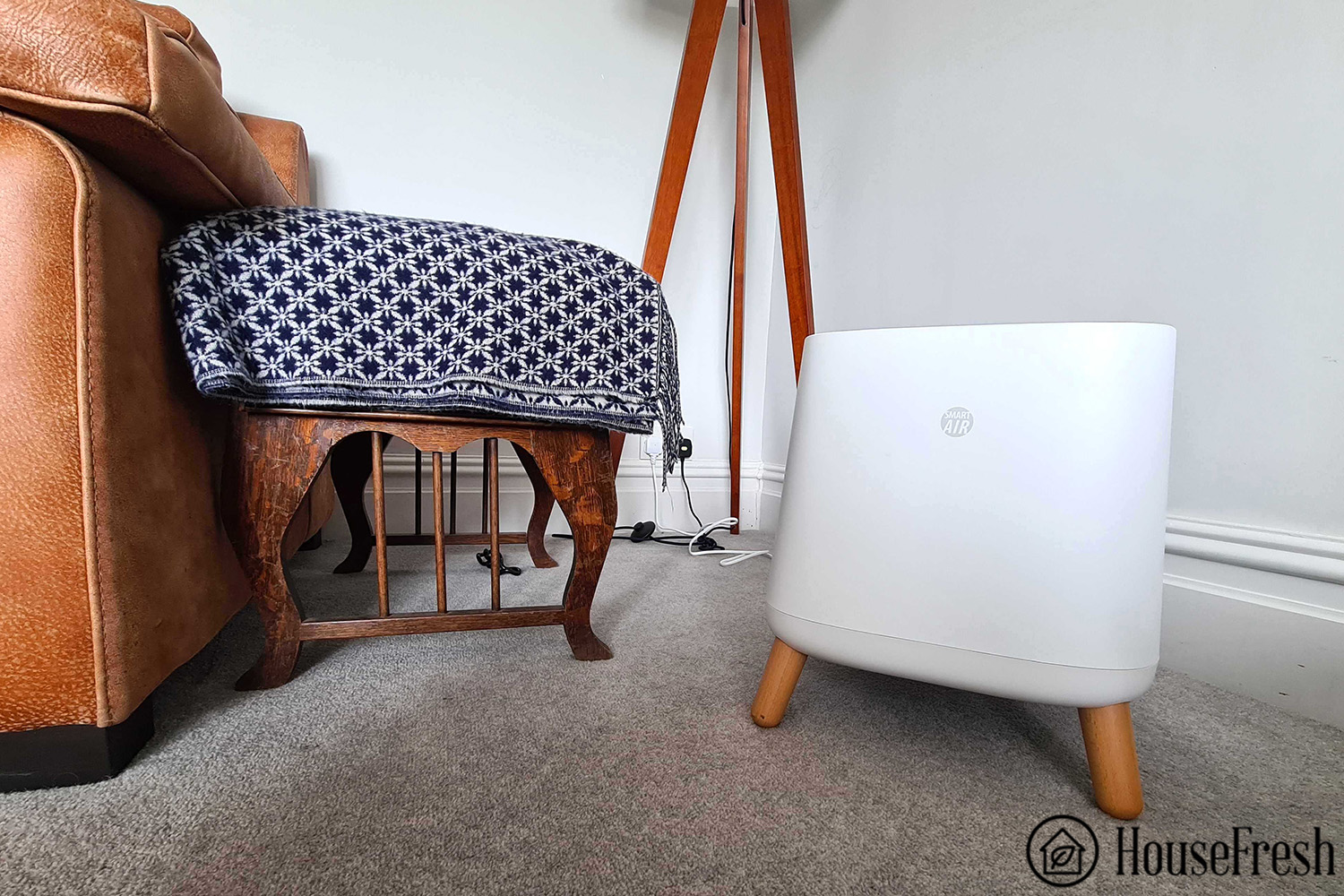 For this option to work its magic against litter box smells, you'll have to opt for the additional Activated Carbon filter. Even though I wish this filter came as standard, I can't deny it is an excellent choice, filled with carbon granules that provide a large surface area to capture odors such as funky cat litter.
Despite its compact design, it will be incredibly effective when cleaning the air in spaces as large as 430 square feet.
I loved how the Smart Air S can fit nicely on a shelf or table, so it's not eating up living space or gaining too much attention from our four-legged friend. Plus, its modern aesthetic complemented the appearance of any room I tested it in. 
SPECS & FEATURES
---
What to look for when buying an air purifier for litter box smell
Ventilation is key for ridding your home of unpleasant odors, but cracking a window isn't always an option with resident cats. Instead, air purifiers can deliver fresh air and eliminate the airborne particles causing the smell.
But with so many options on the market, knowing which features to look for isn't always straightforward.
From high-quality filters to futuristic controls, there is plenty to bear in mind when making your choice.
1. Is the purifier capable of removing odor?
For an air purifier to capture unwanted odors, it must utilize Activated Carbon filters. These filters work by locking gasses (known as VOCs) into the pores of a carbon substrate in a process called adsorption. The filter's more carbon equates to a larger surface area to lock in odors.
Remember that not all air purifiers use this type of filter as standard. Even units recommended on this list, such as the Smart Air Sqair, Mila and BreatheSmart Flex, require an additional or upgraded Activated Carbon filter. Be sure to add this filter to your basket if you choose one of these options.
2. Does the unit come with quality HEPA filters?
As well as unpleasant litter box smells, your home will be full of harmful pollutants, including allergens, mold and bacteria, especially if you have a pet. You'll want to double up on protection with a HEPA filter to eradicate these pollutants and leave your air fresh and healthy.
High Efficiency Particulate Air filters are now considered the industry standard for keeping the air clean. The HEPA certification guarantees that the filter can capture at least 99.7% of pollutant particles as small as 0.3 microns, so you know you're safe.
3. Will you benefit from any smart features?
Smart features increasingly appear in everyday appliances, with air purifiers no exception. These can range from App or smart speaker compatibility, allowing you to control your purifier remotely, to Auto or energy-saving modes, where the purifier monitors the air quality in your space and adjusts the purifier settings accordingly.
These features are advantageous. Just imagine firing up your unit while on your way home from work and creating an odor-free environment when you return. That being said, they can be overkill for many users and you may pay a premium for features you might not use. We also know that some consumers don't like a unit that will be constantly broadcasting WIFI or Bluetooth signals.
to look for when buying an air purifier for litter box smell
Each air purifier is designed to clean the air in a specific sized space. From small, budget-friendly units that will be effective in your snug or study, to powerful purifiers that can clean the air in large, open-plan spaces.
To make a difference to your air quality, you'll need to measure the room where the cat litter tray resides. You can select a purifier best suited to your space with measurements in hand. 
Make sure to use our handy calculator to find out what CADR rating you should look for in an air purifier to ensure it's powerful enough to clean your room:
---
Common questions about litter box smell
Final thoughts 
Tired of the funk from your feline friend? Investing in a quality air purifier can restore your home's aroma in minutes. Be sure to look for powerful units that circulate air quickly and ensure they utilize Activated Carbon filters for real odor-busting prowess. 
Last update on 2023-11-30 / Affiliate links / Images from Amazon Product Advertising API