At HouseFresh, we have been reviewing air quality products since 2010. In all these years, we learned not to rely on manufacturers' claims and the ever-so-glowing marketing materials. That is why we buy products with our own money, so we can write unbiased reviews after we've had enough time to evaluate air quality products in our home lab. Every unit we recommend has been thoroughly tested to assess its performance, energy consumption, and noise levels emitted in real-life environments. If you have any questions about our testing process for different types of air quality products, just drop us an email at
hello@housefresh.com
.
When researching air purifiers for your home, you can't help but come across Blueair. This well-known brand produces high-performance air purifiers designed and engineered by their Swedish team.
Pioneering the latest purification technology since 1996, Blueair offers units that not only clear the air of harmful pollutants using their unique HEPASilent™ filters, but they are designed and styled to fit into any modern home.
HEPASilent™ dual filtration technology allows BlueAir air purifiers to provide maximum cleaning performance on a lower power setting, which, in turn, means they use up to 29% less energy and emit up to 67% less noise (hence "HEPASilent").
In this guide, I'm going to focus on air purifiers from Bluair's Blue range.
This range offers a selection of units to suit a variety of room sizes and costs. For example, if you have a larger space to clean, the Blue Pure 211+ is the unit for you. if you're on a tighter budget Blueair has you covered with the Blue Pure 411+, but be aware this can only be used in small spaces.
In our home lab of 728 cubic ft, we light an incense stick to generate particle pollution and VOCs.

We set up our trusted Purpleair Indoor Sensor with the latest Bosch gas sensor to track levels of PM1ug/m3, PM2.5ug/m3 and PM10ug/m3 and VOCs in the air.

We switch the air purifier to its highest speed and measure how long it takes to get our room air quality down to PM1 level to 0.

We use an energy meter to measure precisely how much electricity is used when running the unit at the lowest and highest fan speed settings.

We track sound levels emitted by the air purifier at different fan speeds with the help of a commercial sound meter.

By collecting all this data on each air purifier, we can find the best recommendations for your various needs and wants. For this guide, I compared all of the Blueair units we've tested side-by-side to pick four of the best.
Here are the considerations I made when choosing these recommendations:
✅ HEPASilent™ Technology – Blueair states that this is the best filter they've ever produced, so we wanted all our recommendations to contain their leading tech.
✅ Washable Pre-filters – Pre-filters trap larger particles that pass through an air purifier. Removing and washing a pre-filter is proven to prolong the life of a unit's HEPA filter.
✅ Energy Efficiency – The costs don't end with the initial price of an air purifier. We wanted units that wouldn't have you asking for a loan to run.
---
Staff picks: Top 3 Blueair air purifiers
Here are my top three recommendations out of Blueairs' vast range of air purifiers.
Last update on 2023-11-30 / Affiliate links / Images from Amazon Product Advertising API
---
Now you're familiar with Blueair as a brand, the performance tests we conduct, what we're looking for in a Blueair purifier and my top three recommendations, check out the rest of the guide, where I go into more detail about each unit I've selected.
A high performing Blueair unit that looks good, doesn't cost a bomb and will perform well in medium-sized rooms.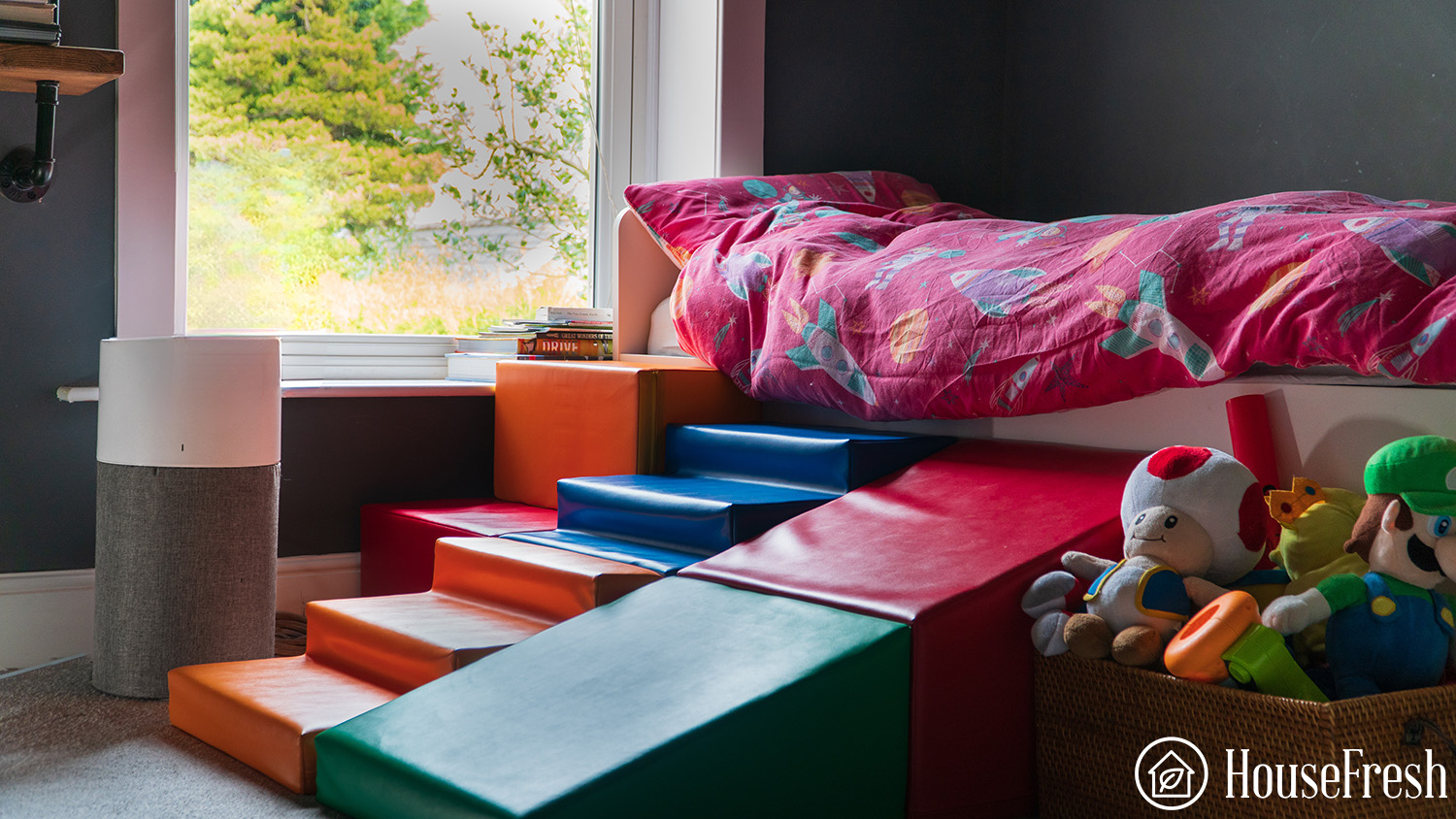 My favorite Blueair air purifier that we've tested is the Blue Pure 311 Auto. When we tested this unit, we were pleasantly surprised with its cleaning performance clearing our 728 cubic feet home lab in 21 minutes. It's not a large unit, but it sure acts like one. It is also quiet, easy to use and it definitely looks cool.
It doesn't look like the conventional white boxes we're used to reviewing (see the Levoit 600S) with its fabric pre-filter that you can customize to suit your home. Ours came in the Arctic Trail, but you can choose from four other colors: Night Waves, Archipelago Sand, Winter Reed or Aurora Light.
What we really like
A substantial step up in CADR from the 411+ — we're talking 250 CFM from 120 CFM
It only uses 34.5 watts of power when running at full fan speed
The pre-filters are more muted colors with 4 options to choose from
It is extremely simple to operate — one button does everything
What we think could be better
Putting on the pre-filter takes patience and sometimes the filter can fall out when moving
I would like to see an integrated air quality sensor like we see in units from brands such as Levoit and Alen
Blueair doesn't like to overcomplicate their products, so they've fitted the 311 Auto with one button that sits centrally on top of the unit to turn it on/off, control fan speed and engage auto mode.
When you twist off the top, it reveals the circular HEPASilent™ filter inside. Not only will the tightly woven maze of fibers trap harmful pollutants trying to pass through, but the 311 Auto also gives particles an electrical charge that makes them adhere to the fibers.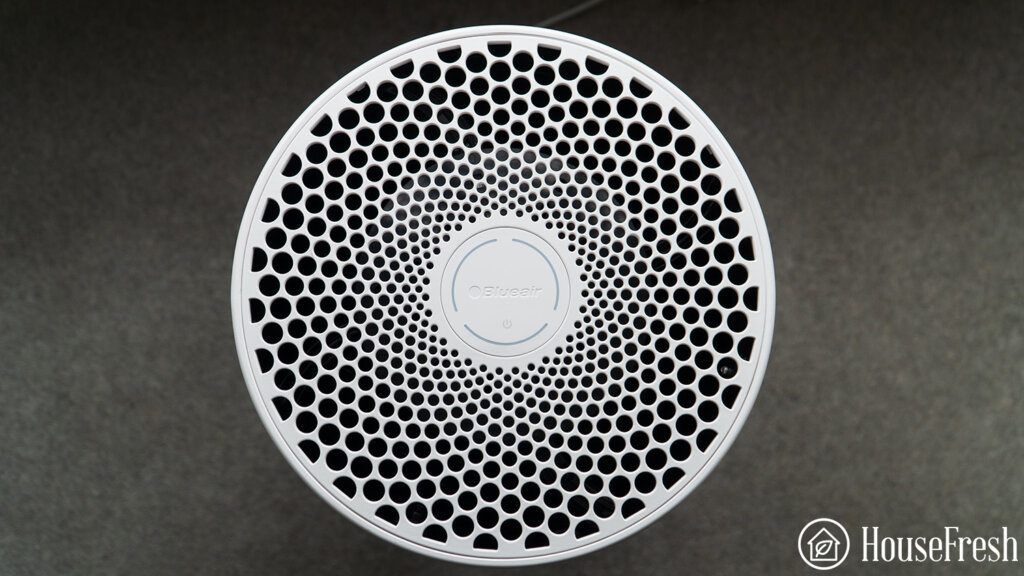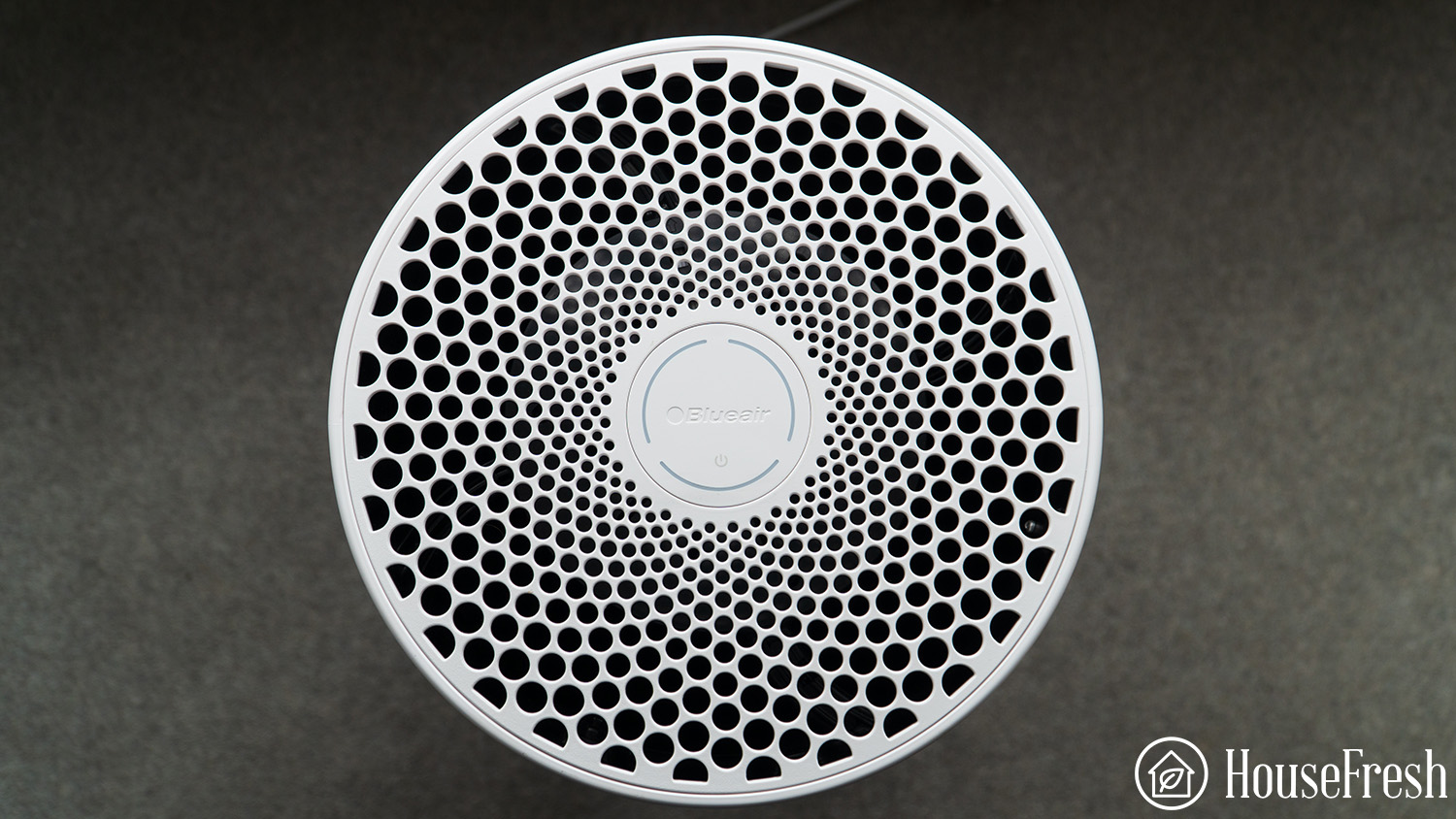 SPECS & FEATURES
The 311 Auto cleared all the contaminants from our performance testing home lab in just 21 minutes. That's pretty impressive when you compare it to much larger units like Alen's BreatheSmart 75i (24 minutes) and the Healthpro Plus from IQAir (25 minutes), which is why it's at the top of our list.
| | |
| --- | --- |
| HouseFresh Rating: | ★★★★☆ |
| Time to clean our test room: | 21 minutes |
| Air purifier technology: | True HEPASilent filter with activated charcoal |
| Recommended room size: | 388 sq. ft. |
| Clean air delivery rate (CADR): | 250 CFM (425 m3/h) |
| Dimensions (in inches / in cm): | 20.5H x 10.2W x 10.2D inches (52.1H x 25.9W x 25.9D cm) |
| Weight (in pounds / in kg): | 6.8 lbs (3.1 kg) |
| Noise level (low – high): | 23 – 53dB |
| Filter life: | 6 months |
| Manufacturer's warranty: | 1 year (can be extended to 2 years by creating a Blueair account and registering the unit within 60 days of purchase) |
| Estimated energy consumption: | $36.79 per year |
The 411+ is a serious upgrade on its predecessor, cleaning the air in our home lab 25 minutes faster than the 411. It's also quiet, energy efficient and good looking.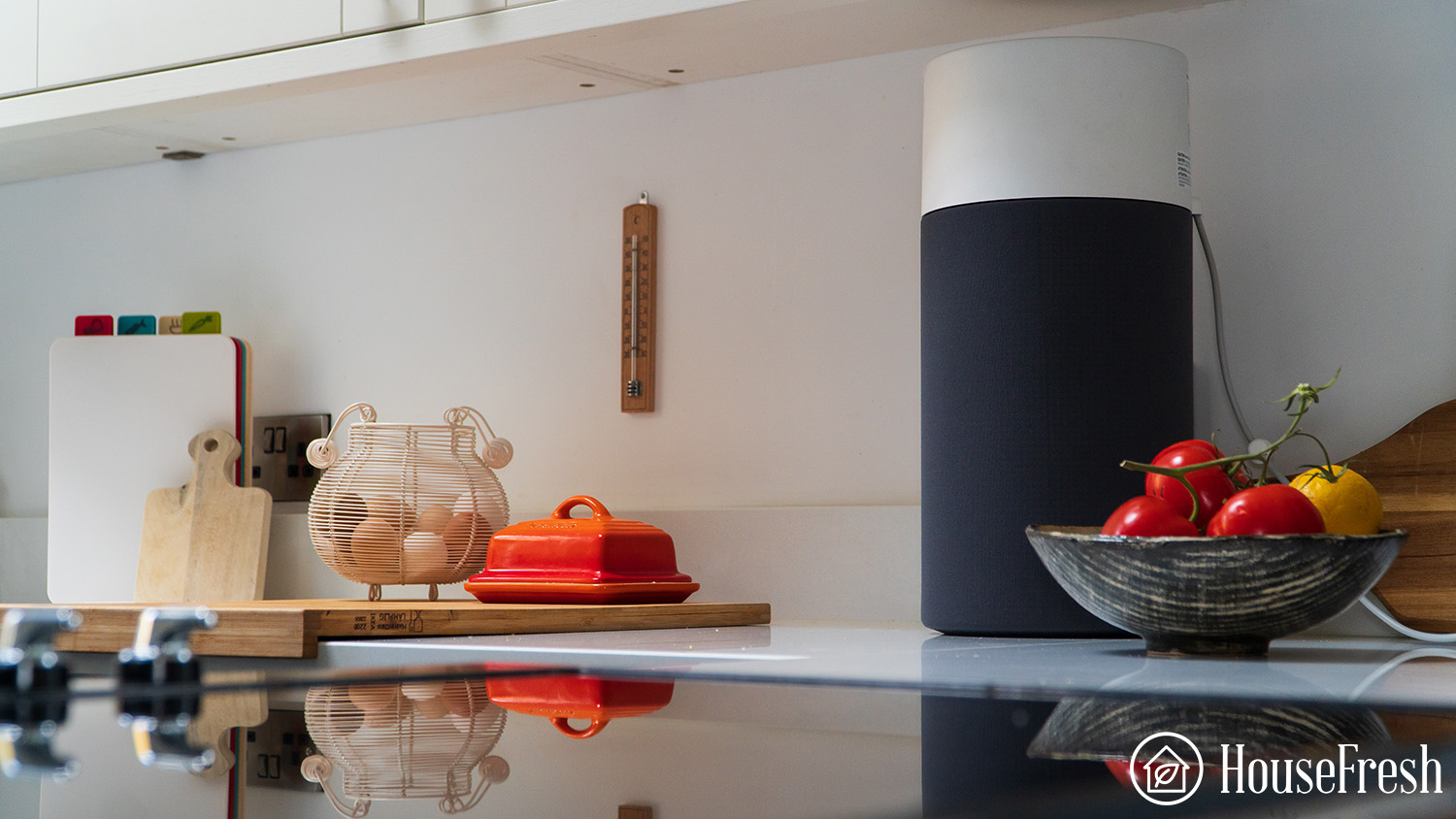 Your budget is a crucial consideration to have when looking to buy an air purifier. Not only do you have to think about the initial cost, but also the cost of running the unit over time. Luckily, Blueair has the ideal solution with their Blue Pure 411+.
The 411+ is a substantial upgrade on the 411 (Blueair's former release) with its vastly improved cleaning performance that cleared our room in 43 minutes, a whole 25 minutes faster than its predecessor.
What we really like
Excellent air cleaning performance for $ spent
Low noise — even when running at its top fan speed, the 411+ is one of the quietest air purifiers we have tested
It includes a magnet to keep the wire tidy
What we think could be better
The filter doesn't contain activated carbon pellets, it is just impregnated carbon fabric — not as good as it could be against smells and VOCs
The size of the 411+ means you can place it on the floor or a tabletop, making it ideal for use in your kitchen, bathroom, bedroom or home office. As with other units in the Blue range, the 411+ has a washable pre-filter available in various colors, so you can choose which looks best with your decor. Another feature of the Blue range is its one-button operation that adjusts the fan speed.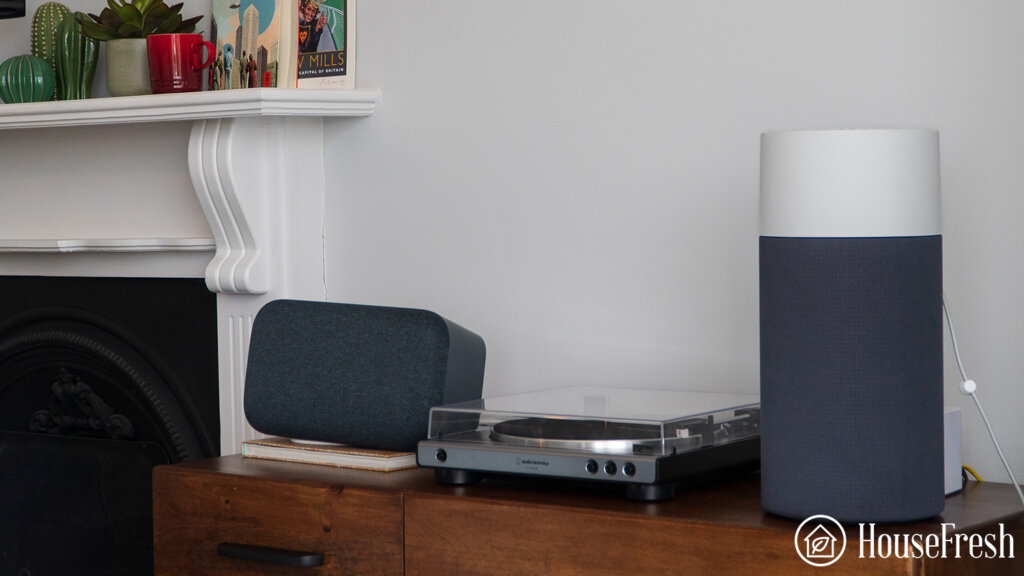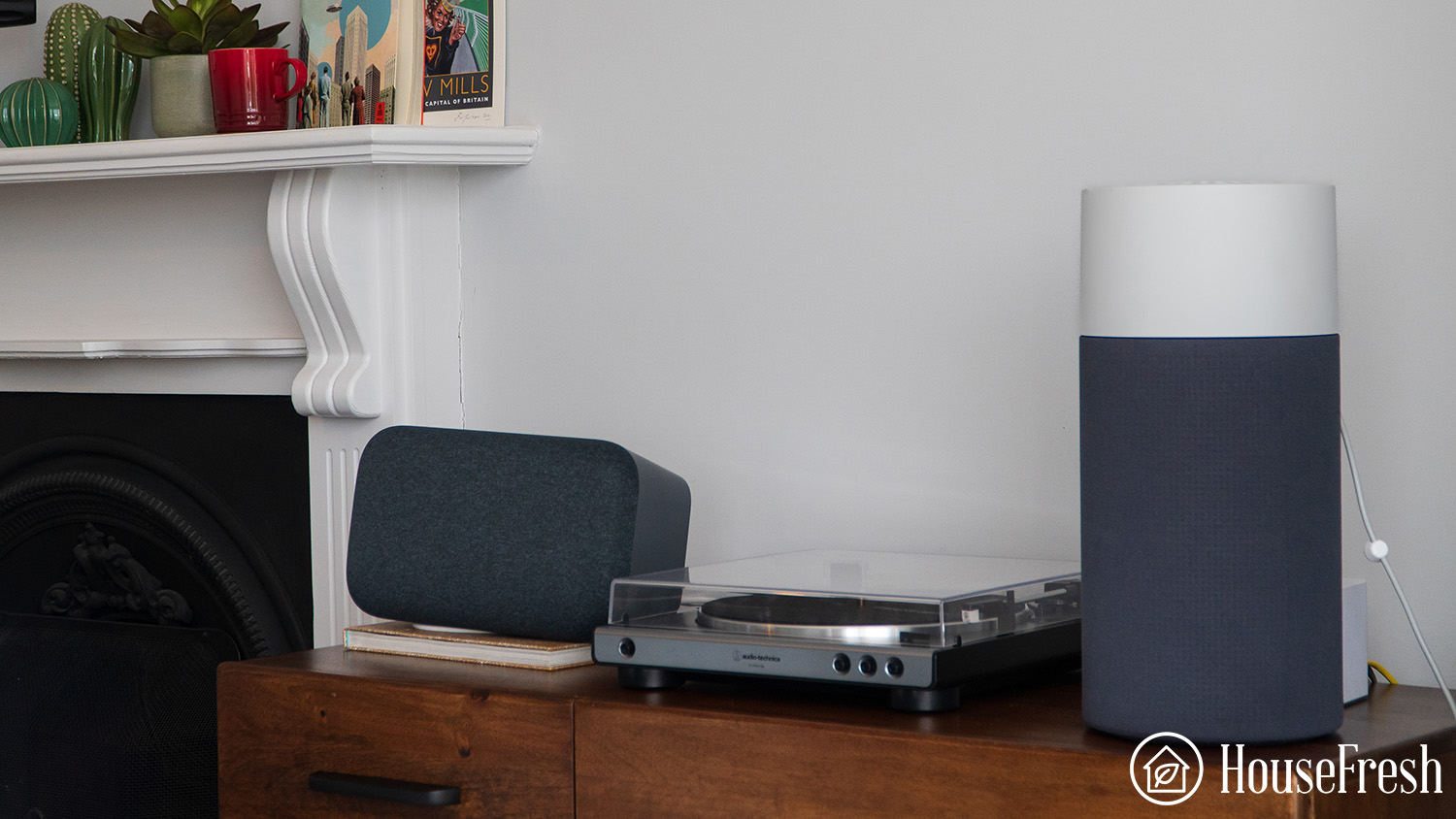 SPECS & FEATURES
Blueair has included their HEPASmart™ filter (for more info, see FAQs) in the 411+, allowing it to achieve its full CADR of 120 CFM on a mere 10 watts of electricity. This means the fan doesn't have to work as hard, which is why this air purifier is so quiet.
| | |
| --- | --- |
| HouseFresh Rating: | ★★★★☆ |
| Time to clean our test room: | 43 minutes |
| Air purifier technology: | 3-stage True HEPASilent filter with activated charcoal |
| Recommended room size: | 185 sq. ft. |
| Clean air delivery rate (CADR): | 120 CFM |
| Dimensions (in inches / in cm): | 17H x 7.8W x 7.8D inches (43.18H x 19.812W x 19.812D cm) |
| Weight (in pounds / in kg): | 3.4 lbs (1.54 kg) |
| Noise level (low – high): | 17 – 46dB |
| Filter life: | 6 months |
| Manufacturer's warranty: | 1 year |
| Estimated energy consumption: | $10.51 per year |
This chic, rectangular air purifier is optimal at eliminating airborne contaminants in rooms around 540 sq. ft., making it the best choice for large rooms or open plan spaces.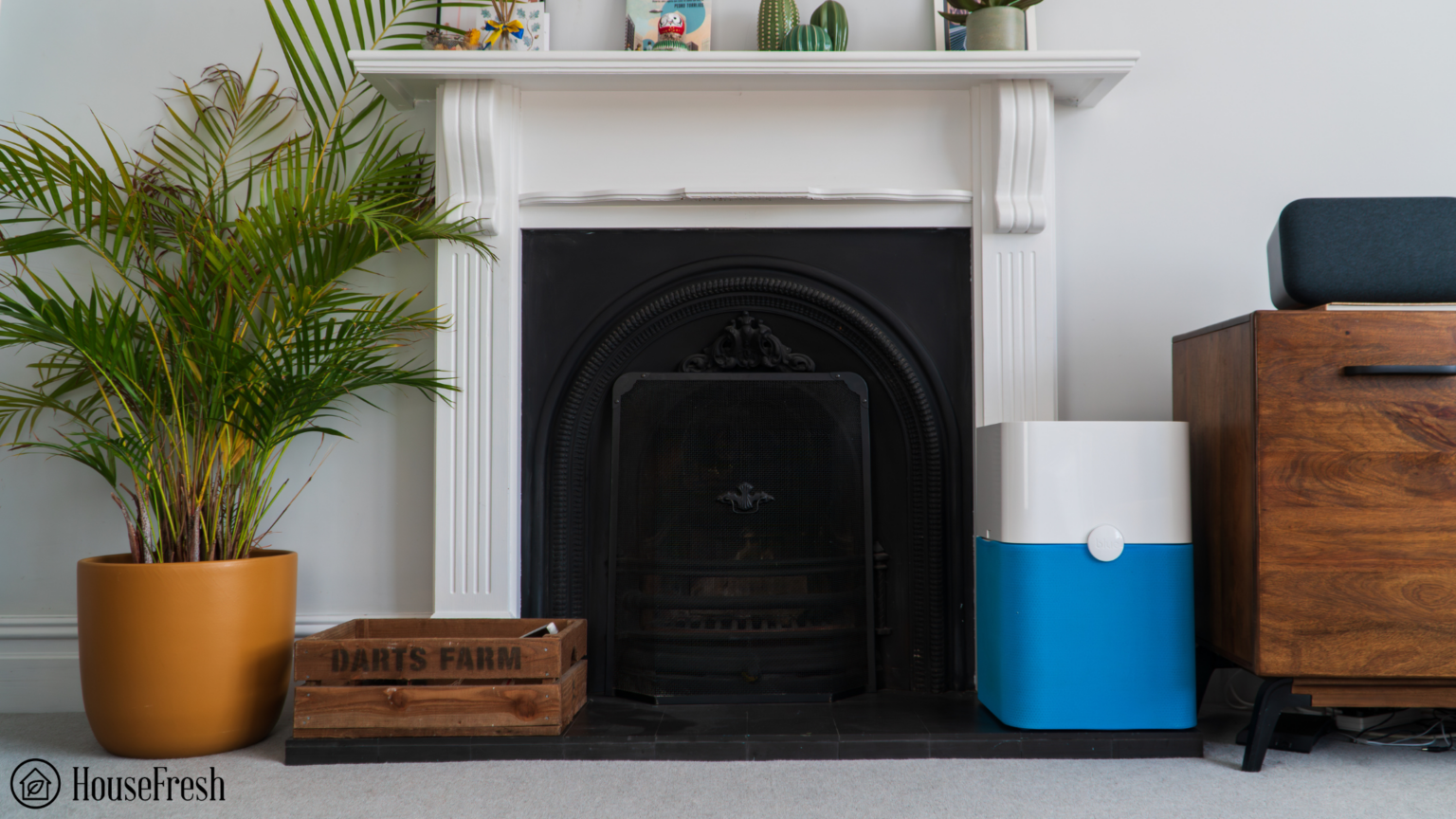 Let's start with its cleaning power. When we put the 211+ in our performance testing room, it made light work of clearing the pollutants from the air in 18 minutes with its high CADR of 350 CFM (Cubic Feet per Minute), which is only 1 minute longer than the huge Blast Mini air purifier from Smart Air.
Included is Blueair's extremely effective HEPASmart™ filter that combines the traditional HEPA technology with an electrostatic charge and a sheet of bonded activated carbon to remove VOCs and tackle odors like cooking smells or that lovely aroma of wet dog.
What we really like
High CADR and performance in our home test lab
Customizable pre-filter selection
One-button operation makes it easy to use
It takes in air from 360 degrees, so it doesn't matter if you have it against a wall
What we think could be better
After you've moved the 211 around your house, you might find that the top falls off when lifted — that's because the movement detaches it
Lack of activated carbon pellets as it also uses impregnated carbon fabric like the 411+
We bought our 211+ in the bold Diva Blue pre-filter, but you can choose which color suits your home: Lunar Rock, Crystal Pink, Dark Shadow or Buff Yellow (my favorite, but I was outvoted).
Another positive feature in Blueair devices is that the filters are super easy to replace; the 211+ is no different. As you can see from my video, it takes less than 25 seconds to remove the old filter and put a new one in.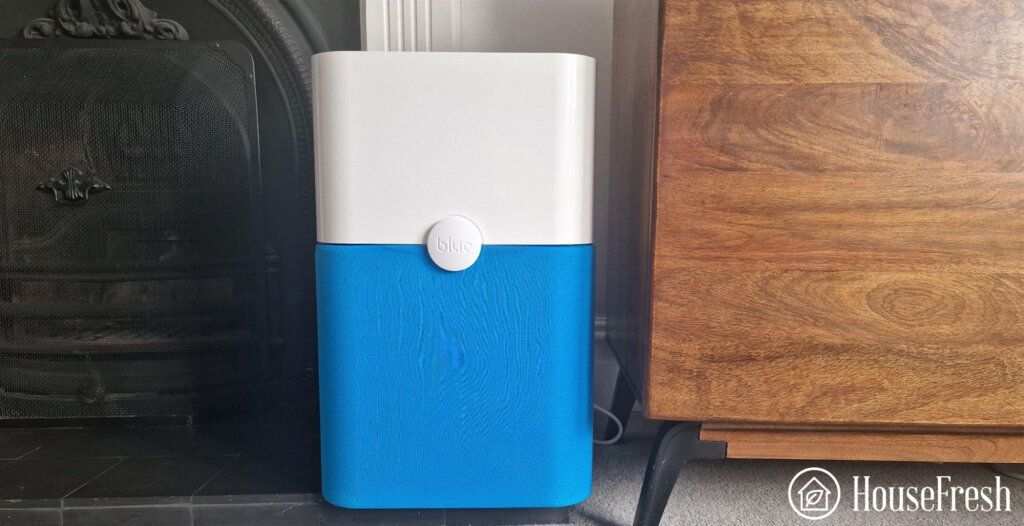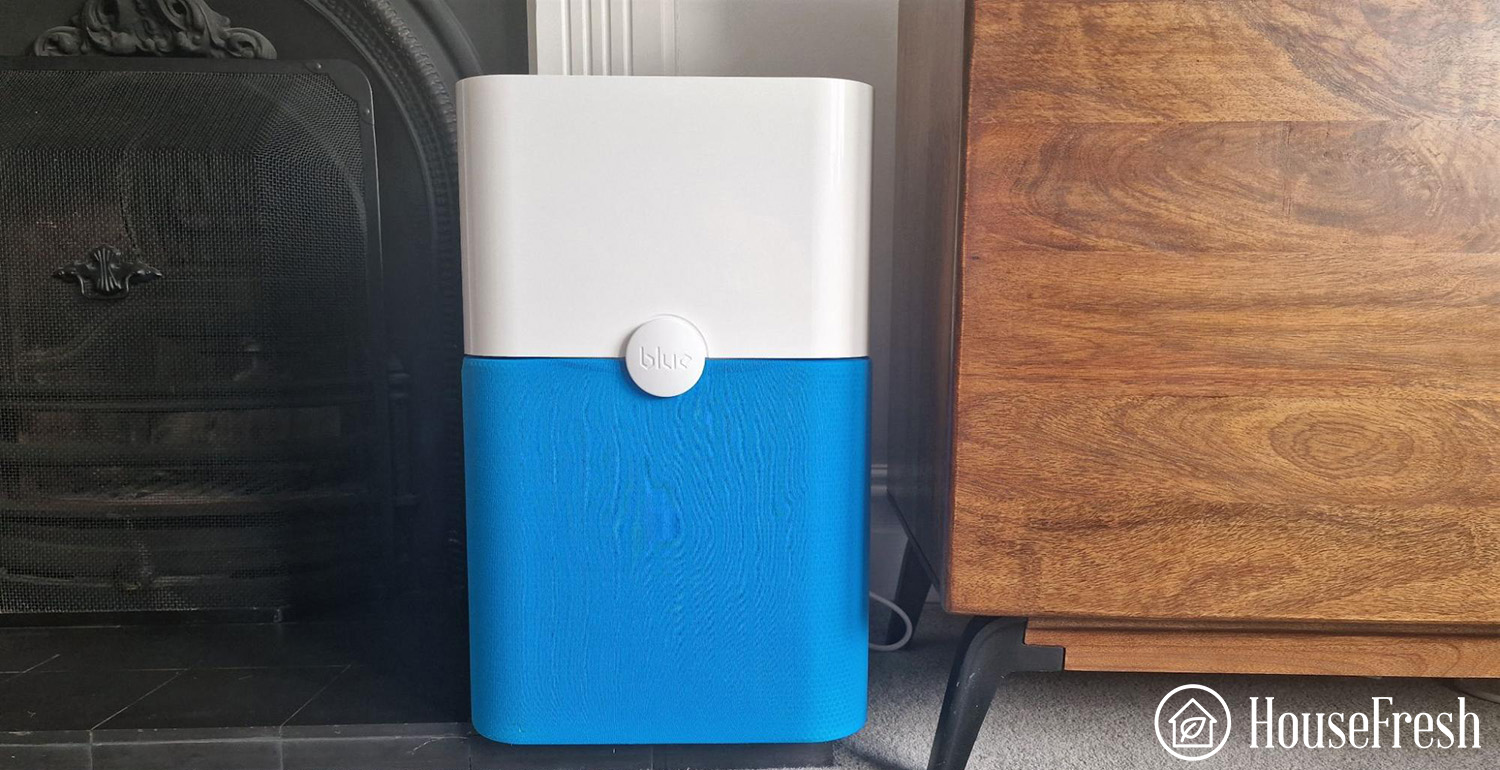 SPECS & FEATURES
The running costs are higher with this unit compared to the 311 Auto above, but the 211+ is a larger air purifier that requires more energy to run, so factor this into your budget.
| | |
| --- | --- |
| HouseFresh Rating: | ★★★★☆ |
| Time to clean our test room: | 18 minutes |
| Air purifier technology: | HEPASilent™ Technology and Activated Charcoal Filter + Ionizer technology |
| Recommended room size: | 540 sq. ft. |
| Clean air delivery rate (CADR): | 350 CFM |
| Dimensions (in inches / in cm): | 20H x 13W x 13D inches (51H x 33W x 33D cm) |
| Weight (in pounds / in kg): | 12.5 lbs (5.67 kg) |
| Noise level (low – high): | 31 – 56 dB |
| Filter life: | 6 – 8 months |
| Manufacturer's warranty: | 1 year |
| Estimated energy consumption: | $64.12 per year |
The best air purifier and fan combo in our tests, the Pure Fan Auto cleared the air in our home lab 45 minutes faster than the fastest Dyson combo unit we've tested.
So, you need an air purifier to clean your air and a fan to keep you cool, but don't want to pay for two separate devices? Well, the Pure Fan Auto is Blueair's introduction into the combo market and they haven't skimped out on cleaning prowess.
The Pure Fan Auto may be a short, boxy unit, but it towers over the rest of the competition in the fan/purifier combo market, including the two units we own from Dyson, the PH03 and the HP04, both of which cost significantly more to buy.
What we really like
It offers a powerful air cleaning performance, considering it's also a fan
The design is super cool and portable — it will fit any room in your house and not look out of place
It comes with the always handy auto-mode
It is a lot smaller than other combo units with similar cleaning power
What we think could be better
It doesn't contain any activated carbon so won't be able to deal with any odors or gasses
The fan is not as effective as the Dyson combo units
In our performance testing room, the Pure Fan Auto cleared all the airborne pollutants we created in 26 minutes, while the PH03 took 70 minutes and the HP04 had a staggering time of 84 minutes.
This performance is attributed to a combination of the powerful motor inside the Pure Fan Auto and its thick HEPASilent™ filter. This filter is hugely efficient at trapping and removing microscopic particles that can harm your and your family's health.
Blueair has included some cool extra features on this unit with a sleep mode that brings the fan down to its quietest fan speed and turns off all of the display lights and an auto mode that reacts to your air quality using a sensor and adjusts the fan accordingly.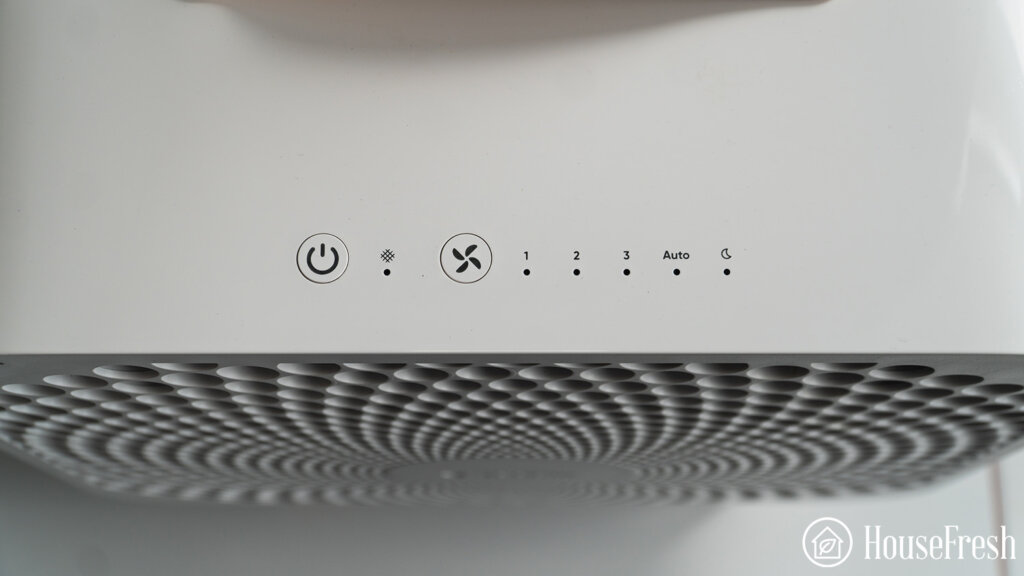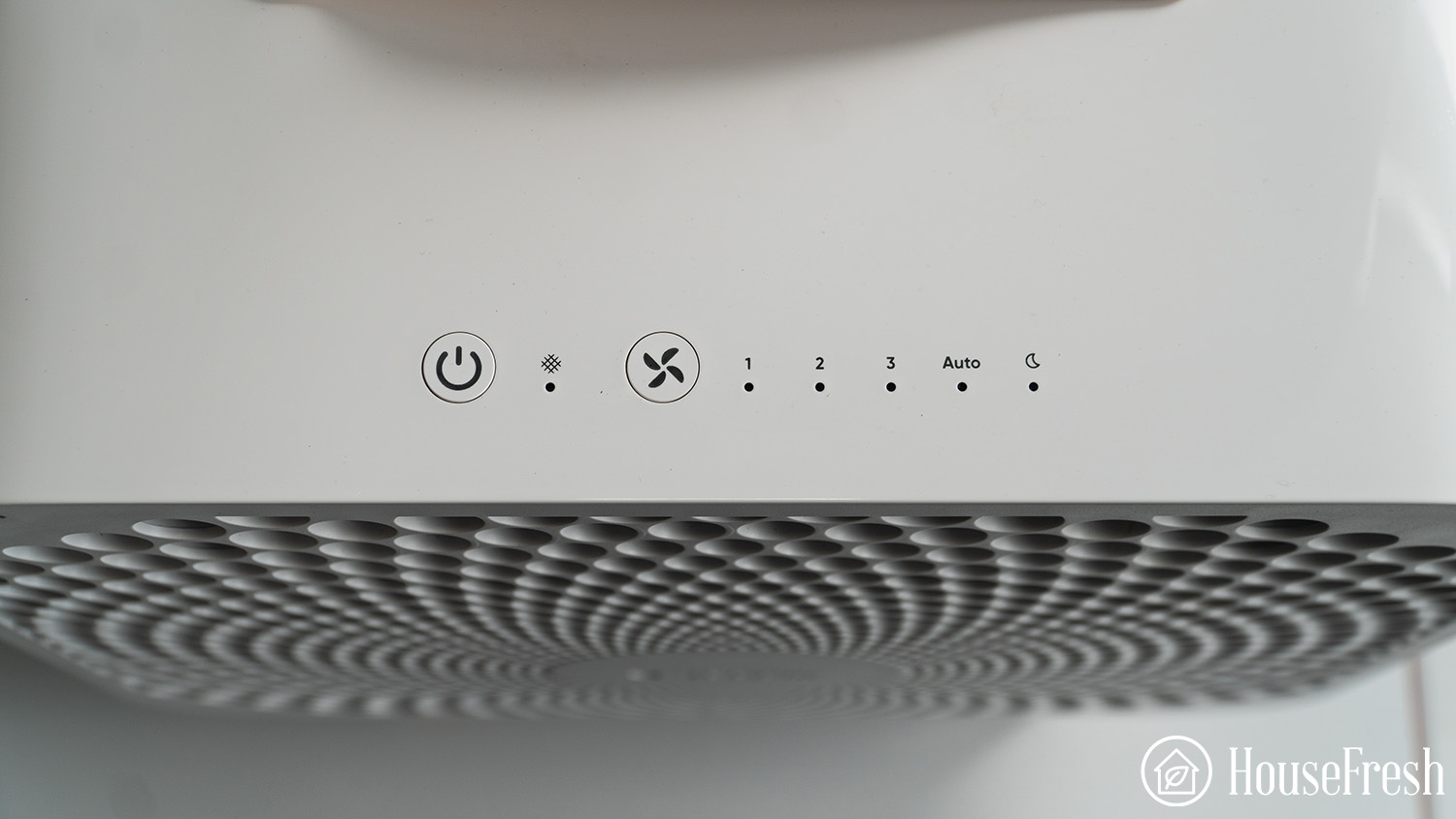 SPECS & FEATURES
If you're looking for a highly efficient air purifier/fan combo with excellent performance and a stylish design, you should seriously consider the Pure Fan Auto.
| | |
| --- | --- |
| HouseFresh Rating: | ★★★★☆ |
| Time to clean our test room: | 26 minutes |
| Air purifier technology: | HEPASilent™ filtration technology |
| Recommended room size: | 322 sq. ft. |
| Clean air delivery rate (CADR): | 250 CFM Pollen / 220 CFM Dust / 210 CFM Smoke |
| Dimensions (in inches / in cm): | 15.5 x 12.9 x 11.2 inches (39 x 33 x 29cm) |
| Weight (in pounds / in kg): | 10.38lbs (4.7kg) |
| Noise level (low – high): | 6 months |
| Filter life: | 25dB – 54dB |
| Manufacturer's warranty: | 2-year warranty when you register your air purifier |
| Estimated energy consumption: | $45.20 per year |
What to look for when buying a Blueair air purifier
According to the World Health Organization, in 2020, an estimated 3.2 million deaths were attributed to household air pollution. It's not just your mortality compromised by indoor contaminants, as exposure can lead to strokes, heart disease and respiratory diseases.
Air purifiers are the ideal solution for removing pollutants from the air in your home. Whether you want to avoid what I've mentioned above, suffer from allergies, have issues with traffic pollution or wildfire smoke, or even just want to keep litterbox odors at bay, there's an air purifier that is right for the job.
Unfortunately, not all air purifiers are created equal, so it's important you look for the right unit that matches your space and suits your needs. Here are a few things to consider when buying a Blueair air purifier.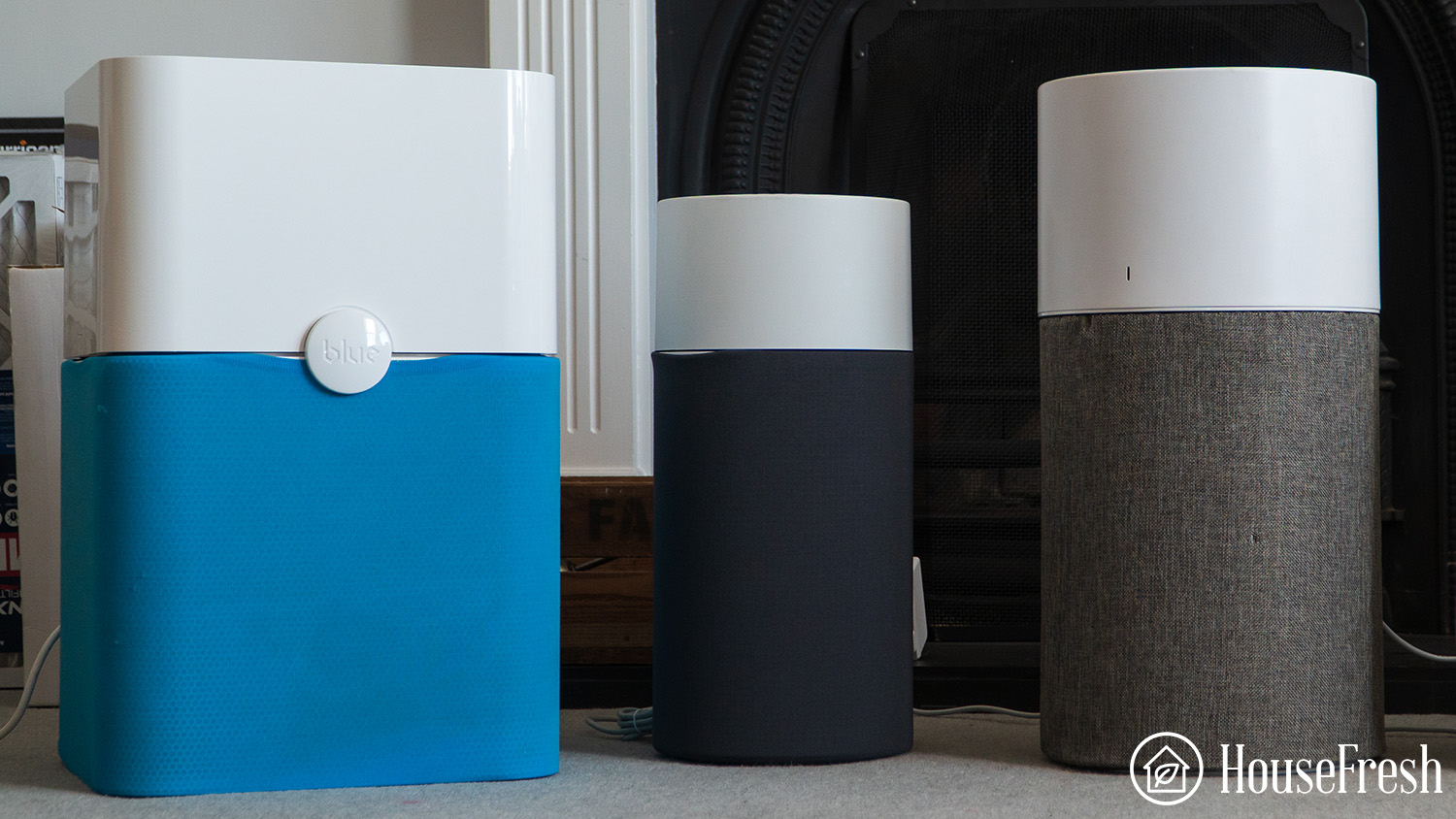 1. The size of your room
Different Blueair air purifiers are engineered to work in different-sized spaces, so measuring your room beforehand is particularly important. If you buy an air purifier that's too small, it won't be effective, yet buying one that's too big will be a waste of money and energy.
You can use our CADR calculator to find out how much CADR you need to thoroughly clean the air in your room:
2. The desired functionalities
Modern air purifiers can come with a multitude of extra features, from simple timers to wireless phone chargers. Some of Blueair's units come with an auto mode where air purifier sensors measure the air quality and adjust the fan accordingly without you needing to touch anything.
If this is something you need/want, look for a Blueair unit that has "auto" in the title.
The latest models of the Blue Pure range are called Max. Some have an 'i' at the end, which indicates they have an onboard air quality sensor and app support. But be aware that all these extra features (such as auto and smart modes) come at an extra cost.
3. The long term running costs
When calculating your budget, it's not just the unit's initial cost you need to consider. Air purifiers need electricity to run, which costs money. Different Blueair units need different amounts of energy to run; that's why we calculate the average annual cost per unit and put it on our 'Specs & Features' table.
Another additional cost to consider is replacing the filter in your air purifier. HEPA filters are the most effective way of removing particles from the air, but they have a shelf life. Once they become full of pollutants, they will no longer be effective.
Check out the 'Specs & Features' table to see how long the filter in each unit lasts so that you can factor this into your budget.
Common questions about Blueair
Blueair has pioneered this "genius" technology in order to get maximum effectiveness from a HEPA filter with less sound coming from the air purifier's fan (the noise comes from the fan working at top speed).
This is done by combining an electrostatic charge with the traditional HEPA filter. The electrostatic charge makes particles stick to the maze of fibers in the HEPA-like magnets, so they have more chance of becoming trapped, removing them from the air.
Both Blueair and Levoit are known worldwide for their high-performance air purifiers. After our indepth performance tests and reviews, the team at HouseFresh regulary reccomend the Levoit range over the Blueair models. The main reason is that HEPASilent™ uses an ionizer that you can't disable and potentially could bring chemical byproducts into your airspace. Blueair units are CARB certified but none of their Blue Pure range apart from the Pure Fan Auto have 0 levels of ozone.
As we test all of the air purifiers we review, we can compare them side-by-side. We pit the Levoit Core 600S VS Blueair Blue Pure 211+ in a battle royal to see which of these two cleaning giants comes out on top. Click the link to see which comes out on top.
HEPA filters work by trapping particles from the air when it passes through. As the particles don't go anywhere, over time, the filter becomes full, restricts airflow and eventually becomes ineffective. At this point, it's time to replace your filter with a new one so that you can continue to trap harmful contaminants from the air in your home.
Tip
All of the Blueair air purifiers I've recommended in this guide come with washable fabric pre-filters. By removing and cleaning your pre-filter, you will prolong the life of the HEPA filter.
Wrapping up
If it's a Blueair air purifier you're looking for, you've come to the right place. These recommendations have been made because of their cleaning power, filtration efficiency, price point and ease of use.
Follow our suggestions on what to look for in a Blueair unit, make certain considerations concerning room size, budget and functionality and read our 'Specs & Features' tables for each product to find the right air purifier for your home.
Last update on 2023-11-30 / Affiliate links / Images from Amazon Product Advertising API