We all know about the dangers that come with smoking cigarettes. Science has shown us that cigarette smoke is proven to not only damage our bodies but the bodies of those around us.
Whether you smoke yourself, face secondhand smoke from a household member, or even if fumes creep in from a nearby neighbor, exposure to cigarette smoke can subject your home and health to a range of irritable toxins, carbon monoxide buildup, along with smells that will stick around for a long time.
The best defense against cigarette smoke is to quit smoking. Of course, this is easier said than done, so reducing the smoke in your household is the next best thing.
Investing in an air purifier will equip you with a toxin-busting, odor-eliminating appliance that can deliver clean air throughout your home. Using our test data, I've hand-picked four top air purifiers to help eliminate cigarette smoke's toxic fumes and odor as soon as the issue strikes.
Speed is important when facing smoke, so each option performed amongst the best in its class during our speed tests. I've also paid close attention to filter technology used and Smart features that will help control the spread of smoke with minimal input and maximum efficiency.
---
Our 3 favorite air purifiers for eliminating cigarette smoke
If you're looking to tackle cigarette smoke ASAP, here's a peek at my top three picks:
For a more comprehensive guide to each recommended air purifier and why it's a good option against cigarette smoke, be sure to check out the full article below.
Capable of performing 4.8 air changes an hour in a room up to 558 sq. ft, this high-performance air purifier can quickly remove cigarette smoke from large spaces.
If you or someone you live with smokes inside the home regularly, then the Levoit EverestAir is my top recommended air purifier. I was amazed by its cleaning power when we tested it in our home test lab, as it cleared all incense smoke contaminants in only 13 minutes – the fastest purifier we've ever tested.
There's no escaping that this level of design comes with a hefty price tag. The EverestAir somewhat broke the mold of Levoit's low-cost product range. Costing over $600, you could alternatively purchase two Core 600S units (which features later in the list) and arguably achieve cleaner air with cash left over. But for those looking for a single unit that does it all, the EverestAir is the best air purifier available for cigarette smoke.
The EverestAir's sheer speed means that the toxic particles from second-hand smoke will be swiftly removed. Capturing both harmful particulate matter as well as odors and gasses in its huge 3-stage filter that comes stacked with a thick layer of activated carbon.

To show you just how chunky the activated carbon filter is, check out this comparison photo where you can see the EverestAir's filter to the left against the industry-leading IQAir Healthpro Plus' filter to the right: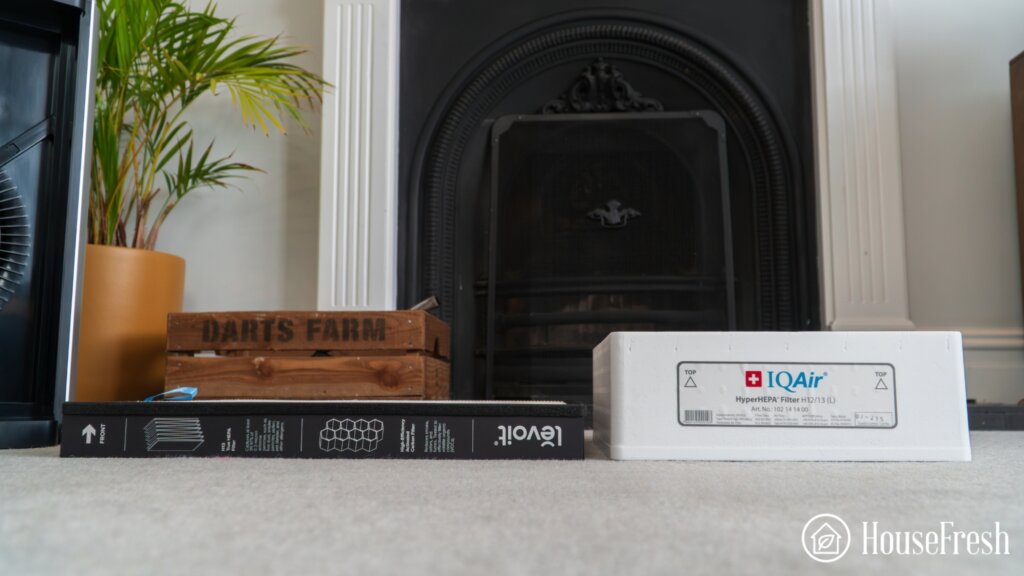 I was impressed by Levoit's new and improved control panel (see photo above), which shows highly accurate air quality readings in real time. The EverestAir also boasts handy smart features like Auto-Mode and the Levoit VeSync app that will help you fight cigarette smoke whenever required.
SPECS & FEATURES
Cigarette smoke is no joke. It is not only packed with dangerous breathable particles but it also leaves unwanted smells behind. If you're looking for the best possible air purifier to help with both, then the EverestAir is my top pick.
The Alen Flex is easy to use and easy on the eye, but most importantly, it contains a powerful fan and a choice of top-of-the-range filters.
Alen has a range of air purifiers to cater to different room sizes, like the BreatheSmart 75i and 45i. But for the issue of removing cigarette smoke from your room, I recommend the BreatheSmart Flex. Those concerned about chemical byproducts from ionizers will be happy that the Flex has no ionizer, so all filtration is mechanical with zero byproducts.
Where most air purifiers are aimed at dust and allergies and have small levels of activated carbon, with Alen, you can customize the Flex's filters to suit your needs best. The FL40-H Heavy Smoke Filter is the pick of the bunch, as it comes with 2.3 lbs of active carbon that is perfect for adsorbing the chemicals and gasses that cigarette smoking generates.
It's worth highlighting that Alen's filters go above and beyond most generic HEPA-type filters, too. Certified as medical-grade H13, they will capture 99.9% of particles as small as 0.1 microns in a single pass. This is great news for those who are immunocompromised or suffer from respiratory problems..
Overall, the Flex is very similar to Alen's most popular unit, the Alen 45i, but it doesn't include auto-mode, ionizer or smart features. In exchange, you can buy the unit for much cheaper. In real terms, this trade-off won't make a difference to air cleaning capability. The 45i completed our clean air speed test in 33 minutes compared to the Flex, which cleared all pollutants one minute slower.
However, it does mean that you'll have to take a more hands-on approach to using the air purifier, remembering to turn up fan speeds whenever cigarette smoke occurs. Nor will you be able to track levels of pollutants in the air, as this model doesn't have an in-built air sensor.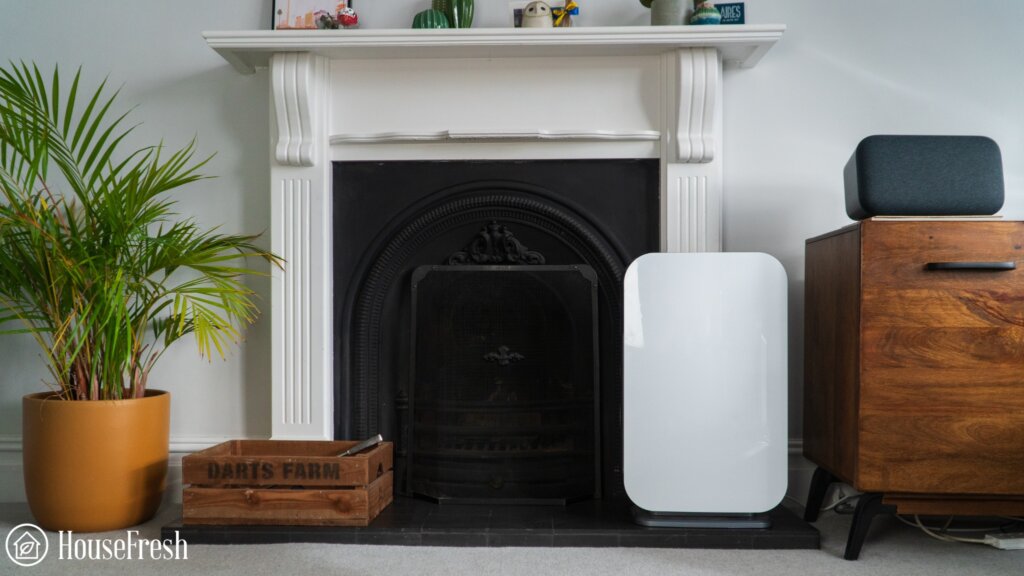 SPECS & FEATURES
Alen is the only manufacturer on the market to offer a lifetime warranty. This is a big bonus when considering the extra strain a purifier will go through when constantly battling thick cigarette smoke. But remember, you'll need an active filter subscription for this warranty to be valid, so I recommend considering the 12-month option that will keep you protected 24/7, 365 days a year.

3. Best performance per $ spent: Levoit Core 300S
A good alternative for those affected by cigarette smoke from a neighbor or who want to keep a small room in the house smoke-free without breaking the bank.
For households facing frequent cigarette smoke, I suggest looking at the other bigger units on this list. But for those affected by a neighbor or looking to keep a specific space in the house smoke-free, then the Levoit Core 300S can help keep your air clean without breaking the bank.
The 300S shares many of the same quality features as its bigger siblings from the Core range (400S and 600S). You'll find Levoit's 3-stage filtration, impressive CADR to $ costings and even Smart features such as an Auto mode that will kick into action whenever smoke particles are detected.
While most budget air purifiers use carbon-impregnated fabric, I love that the Core 300S uses activated charcoal pellets that provide a larger carbon substrate for dealing with the gasses and odors. With this unit, you'll also benefit from quiet operating volumes and low energy bills, allowing you to run the unit around the clock for 24/7 protection from cigarette smoke.
Although I am a huge fan of the 300 and 300S, with a lower CADR score of 145 CFM, it's only suitable for use in smaller rooms like bedrooms or offices. When we tested the unit for ourselves, it cleared the test room, which is relatively small at 705 cubic feet, in 40 minutes, so do bear this slower performance in mind if you're especially vulnerable to smoke or looking to eradicate smokey odors before they have a chance to take hold.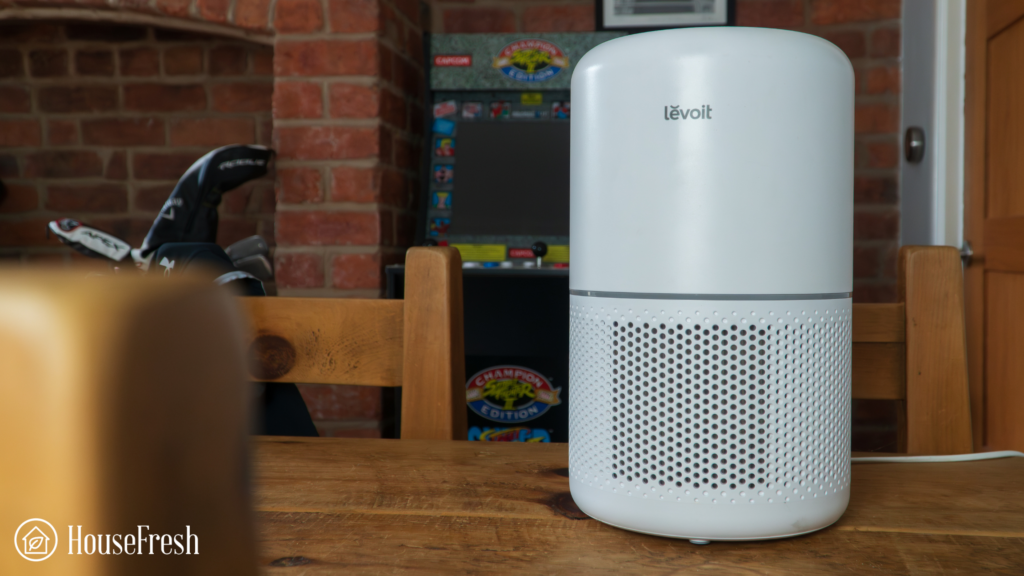 SPECS & FEATURES
If you find your budget is really tight, then the Levoit Core 300 can regularly be found for less than $100. This unit has no smart features or auto mode like its upgraded smart model, the Core 300S. But for those happy to react, the Core 300 offers excellent cleaning power for your buck, which is paramount when dealing with an issue like cigarette smoke
4. Best budget option for large spaces: Levoit Core 600S
An alternative for those with large rooms who don't want to spend more than $300 but still need a powerful unit to deal with cigarette smoke.
Looking for an air purifier suitable for large spaces but can't fit the EverestAir into your budget? Levoit's wallet-friendly yet fast-acting Core 600S has you covered. This is the second fastest air purifier we've ever tested, taking just 15 minutes to clean our test space – 44 minutes faster than the average unit (59 minutes).
These rapid results are fueled by the Core 600S' colossal fans and filters. This gives the purifier a CADR score of 410 CFM, making it the most powerful option on this list. The ability to clean such high quantities of air means that this purifier will eradicate toxic fumes and stale odors created by cigarette smoke in no time at all.
Opting for a Levoit device, you can rest assured you'll get bang for your buck across performance and user experience. The 600S comes with all the bells and whistles you'd expect, including QuietKeap tech that keeps the volume to a minimum, AirSight Plus for real-time air quality readings and Auto and App compatibility, which allows you to target cigarette smoke head-on, even if you're not in the space at the time.
The cherry on top is that the 600S will do all this for a fraction of the price you'll pay for a top-level air purifier.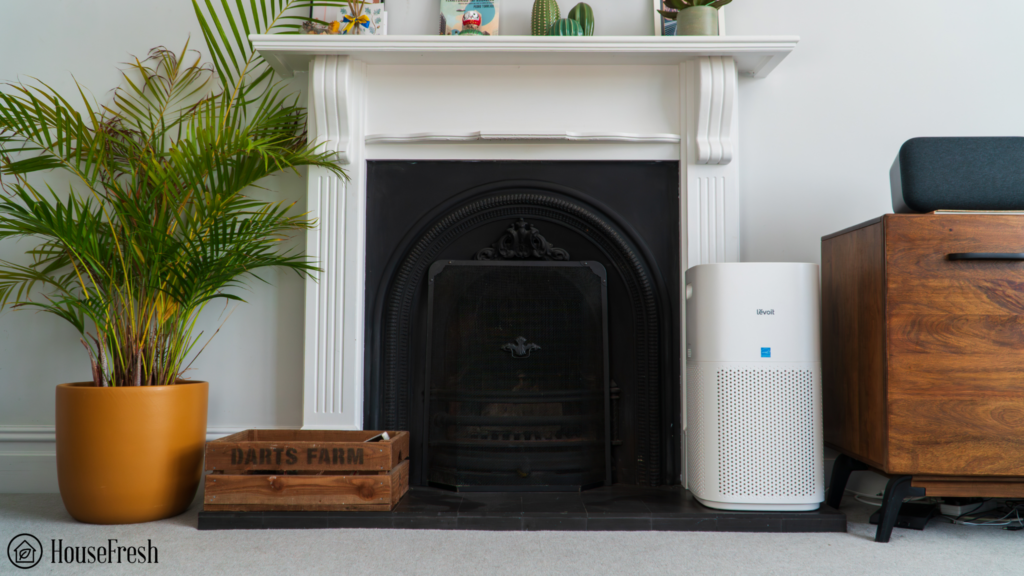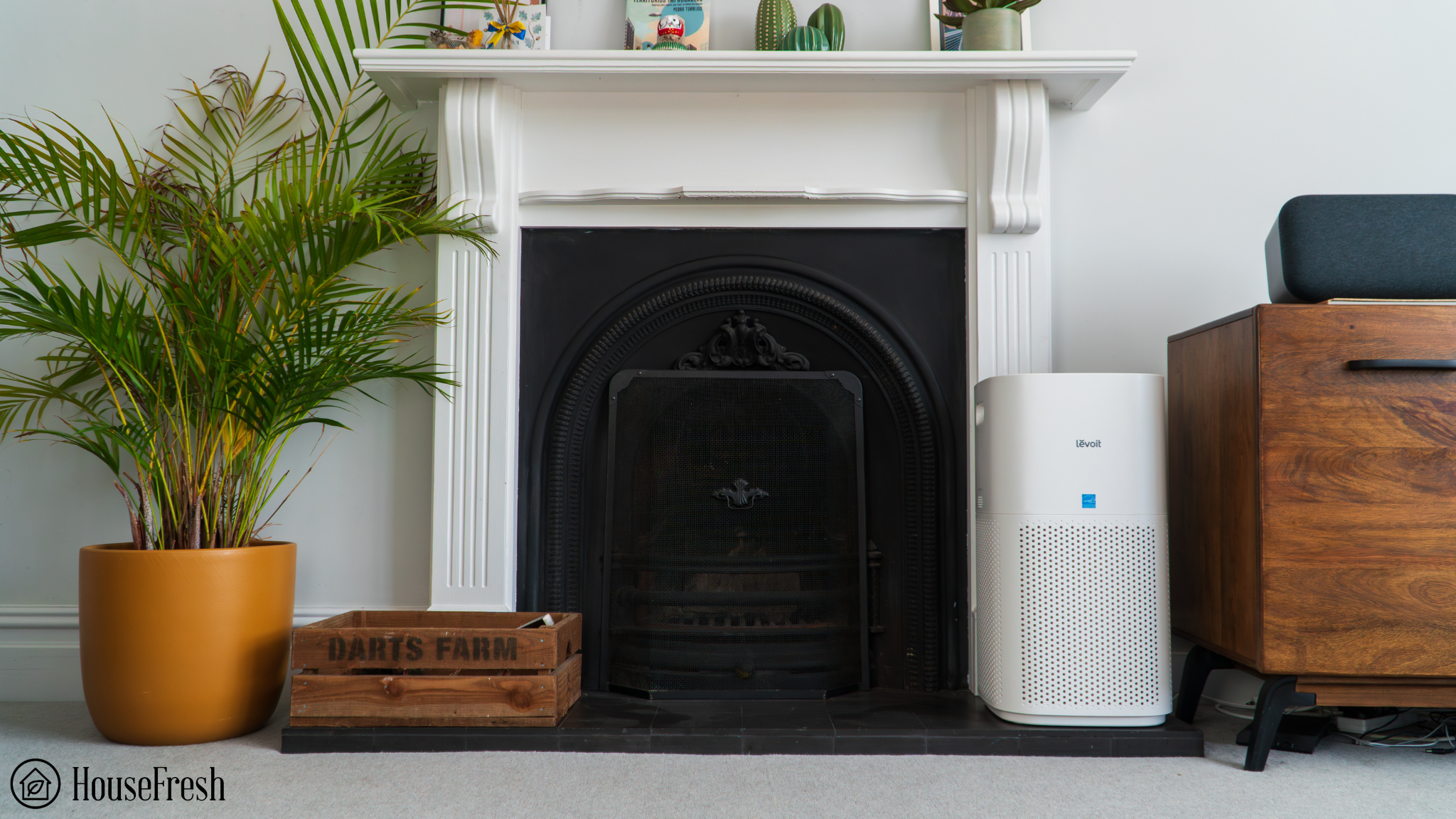 SPECS & FEATURES
Retailing at just $299, this is incredible value for money when considering other units with similar cleaning performances come in at over $500.
---
Other units we tested but don't recommend for cigarette smoke
Okaysou AirMax 10L Pro – A super popular air purifier thanks to its slick use of TikTok influencers, but it failed to match our expectations. It cleaned our test room in 4 minutes longer than the much cheaper Core 300, and it made claims about its 5-in-1 filter technology that wasn't true.
Dyson HP04 – A high price for a good-looking device, but it has a very small CADR, and it took 1 hour and 24 minutes to clean all pollutants measuring 1 micron in our test room. Unless you like the fan function, this will be nearly useless for cigarette smoke issues.
Levoit LV-H128 – At less than $40, this is a great price but a terrible air purifier as it took 2 hours and 42 minutes to clean our test room of 705 cubic feet of particle pollutants measuring at least 1 micron. It will be totally useless for any sized room for dealing with smoke from cigarettes.
Molekule Mini – You have probably seen adverts for this good-looking device from Molekule. We were a little suspicious of its PECO technology, and it took over 2 hours to bring down the levels of PM1 to breathable levels, and we found it hard to remove them completely. At this price level, it's just a total waste of money, and you are better off with any of the other air purifiers we recommend.
---
What to look for in an air purifier for cigarette smoke
To tackle the harmful pollutants created by cigarette smoke head-on, here are five key things to consider:
1. High-quality air filters for smoke particles removal
Up until recently, this tip would have read HEPA filters are a minimum requirement. But as Dyson recently took Levoit to court to challenge whether their filters were in fact HEPA certified, we've slightly readjusted this advice.
While True HEPA – a certification that an air filter can capture at least 99.97% of particulate matter as small as 0.3 microns – is a great way to identify a reliable air purifier, other efficiency rankings, such as MERV, exist.
We are still confident that Levoit produces some of the most effective air purifiers on the market (much better than Dyson, at least), thanks to our independent reviews in which we witnessed their impressive cleaning capability first-hand.
This blurs the line between what is a trusted filter and what is not. So be sure to check out our reviews, where we share how well each purifier's filter performed in the real world.
2. Activated carbon for cigarette smell removal
90% of cigarette smoke is a gas or vapor that won't be removed by a primary or HEPA filter.
Only air purifiers that contain activated carbon filters will remove odors and gasses in a process known as adsorption. During this process, harmful gas molecules become trapped in the porous surface of a carbon substrate. This is why I always recommend looking for filters with plenty of carbon inside.
3. High CADR rating for enhanced air cleaning performance
Cigarette smoke is thick and can travel easily between rooms. Experts advise removing smoke as quickly as possible to reduce its harmful impact.
To do so, ensure the air purifier you choose is powerful enough to combat thick, smoke-filled air, feel free to use our calculator below that will tell you what CADR you need for your room to provide 4.8 ACH.
4. A price you can afford without breaking the bank
These days, you can find air purifiers with excellent HEPA and activated carbon filters and a solid CADR rating to boot, all without paying over the odds. Check out the price ranges we covered above to find the best unit for your budget. Don't forget to check filter replacement costs and estimated energy usage, too, as these may affect your overall budget.
5. A unit that will be able to clean the air in your room at least 4 times per hour
In the air purifier world, size matters. Without adequately powered fans, the air purifier will struggle to circulate all the air in your space. Pay attention to the 'recommended room size' row in the specs tables of the air purifiers we have shortlisted above and find the one that suits your room best.
We also built a tool that allows you to input your room size and then it will tell you how much CADR you will need to provide 4.8 air changes per hour as per EPA guidelines:
---
Common questions about cigarette smoke
About HouseFresh
It usually feels like a safe bet to turn to large media companies like CNET, Forbes or Good Housekeeping for consumer advice.

But these big-name sites are simply cashing in on their large readership by recommending every product under the sun. From Airpods to air fryers, and you guessed it, even air purifiers.

These guides, mainly written by freelance writers who have never even seen the product, may rehash the manufacturer's marketing materials in an engaging way, but when it comes to purchasing an appliance charged with protecting your health, it's best to look for someone who's tried it for themselves.

Here at HouseFresh, we purchase each purifier for ourselves and pride ourselves on our impartial reviews. We have no obligation to manufacturers nor corporate strategy to adhere to. Our only goal is to help people improve the air they breathe.

If you have any questions about our testing process or have a question that I haven't covered in this guide, please feel free to email me directly to paul@housefresh.com
Last update on 2023-12-03 / Affiliate links / Images from Amazon Product Advertising API